BlackGoat in Mountbatten has great fried chicken burger and steak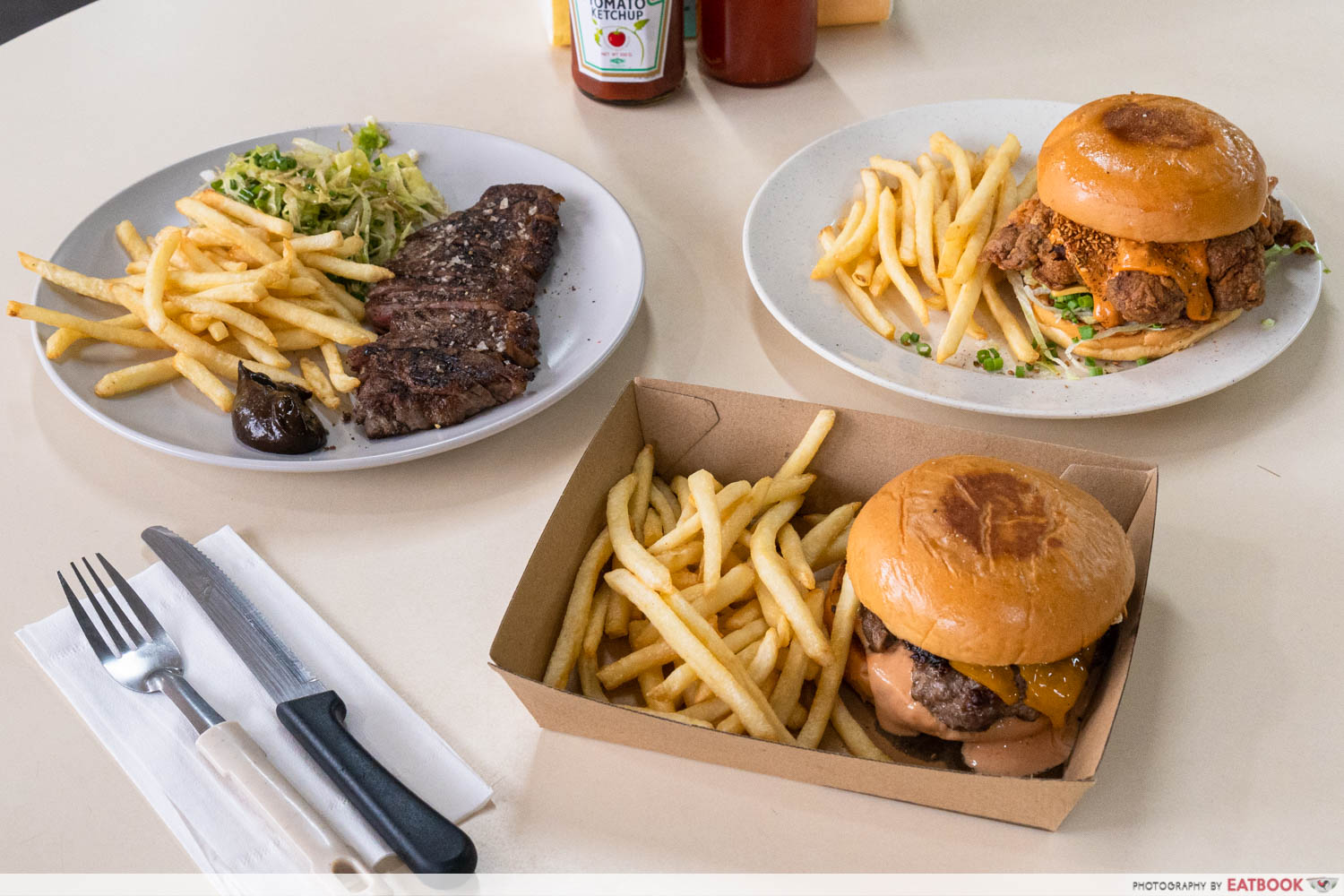 My colleague raved about the burgers she ordered in earlier this year, that saved her from a dreary quarantine birthday. Then, BlackGoat blew up online, but closed for a bit for Hari Raya celebrations and then some, but I finally managed to make time for a visit late last week.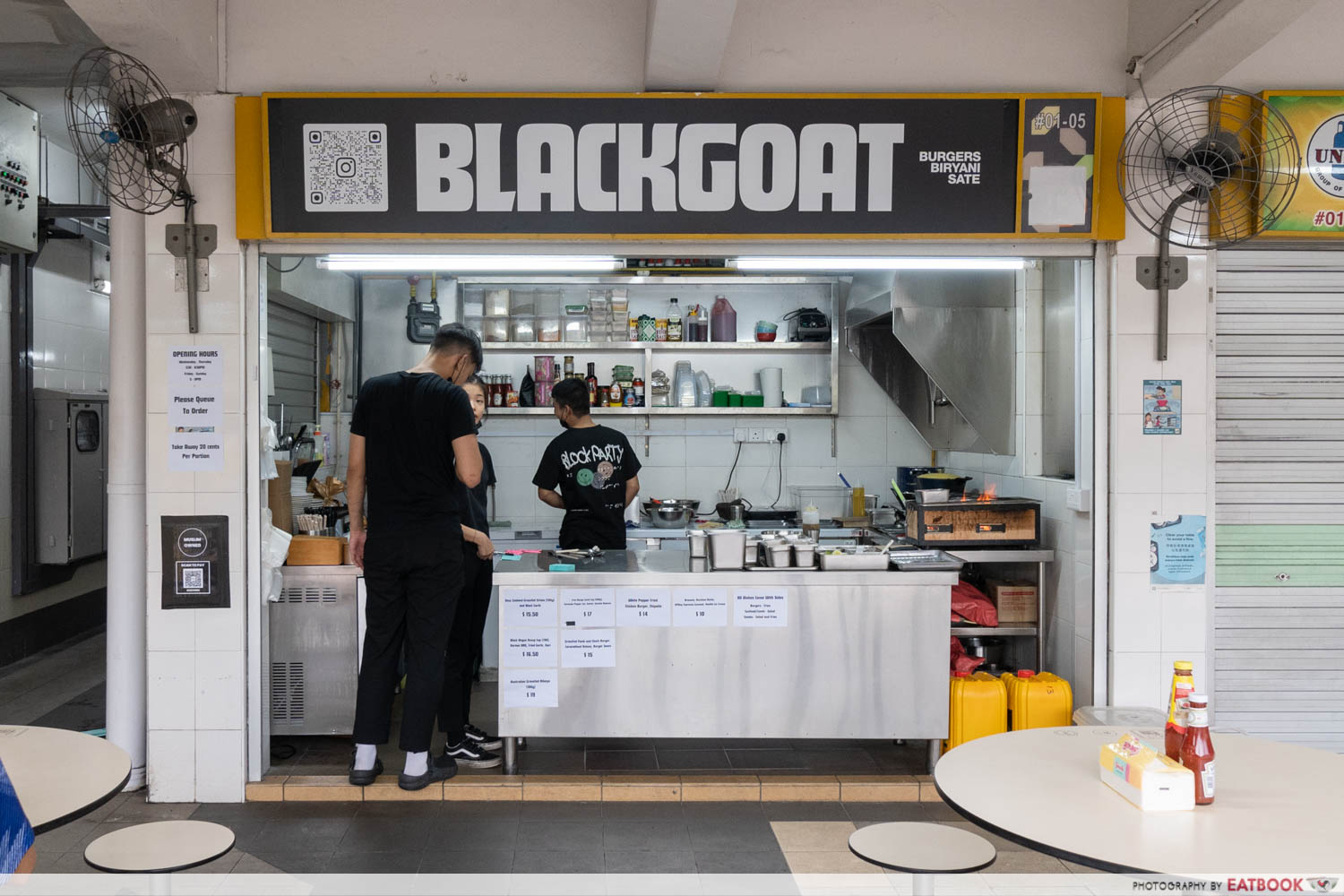 The black-clad team behind BlackGoat is relatively young, headed by 23-year-old Fikri Rohaimi, who's already got an impressive culinary resume for someone so youthful. He's previously worked at Burnt Ends and three-Michelin-starred Zen—apprenticing at the former while still in JC!
Food at BlackGoat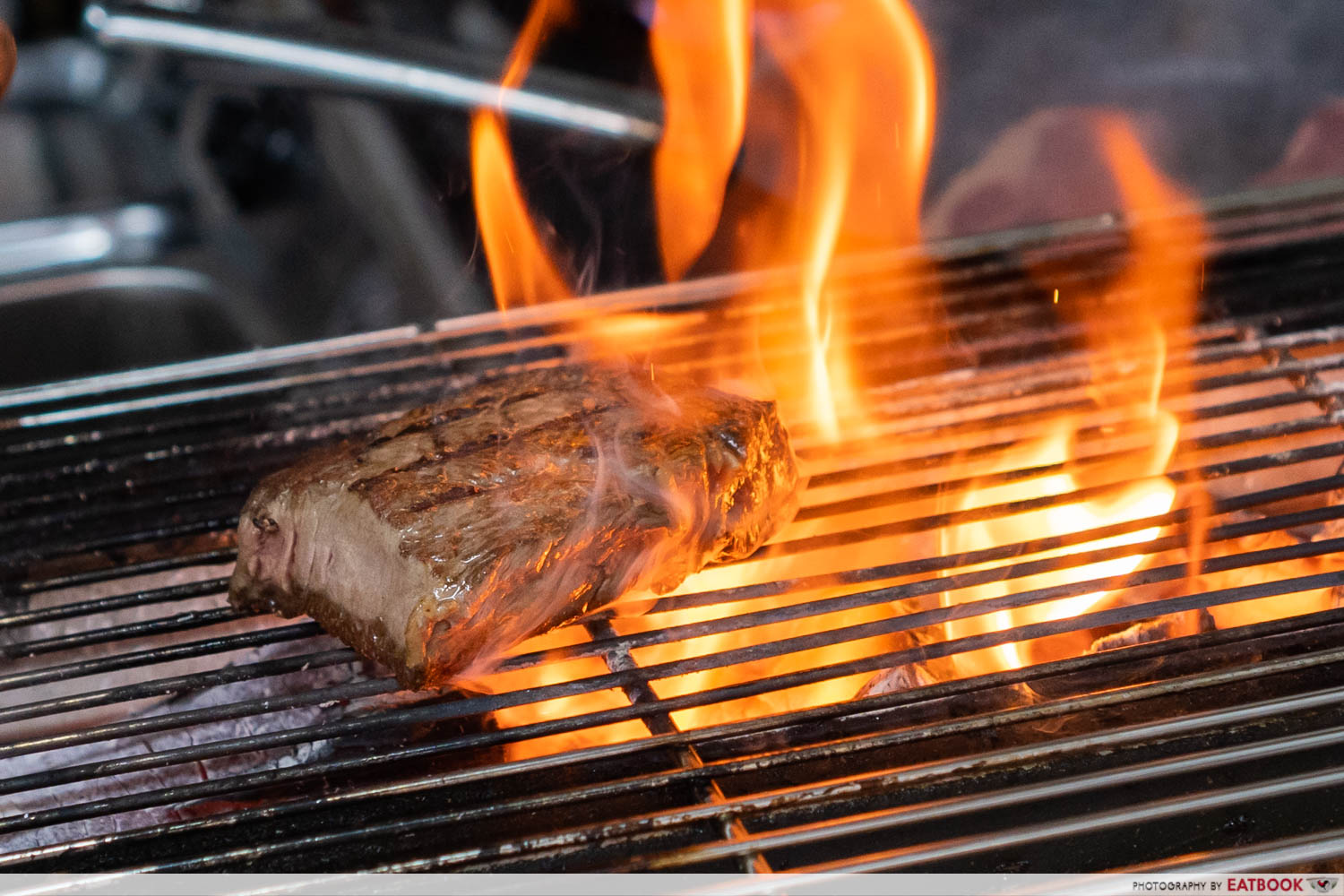 One of the first things I noticed at the stall was the small charcoal-fired grill fronting the shop, flames shooting up with the dripping fat from the beef. Each item is prepared to order, then rested, with a meat thermometer and press-check ensuring it's cooked to the exact doneness you've requested.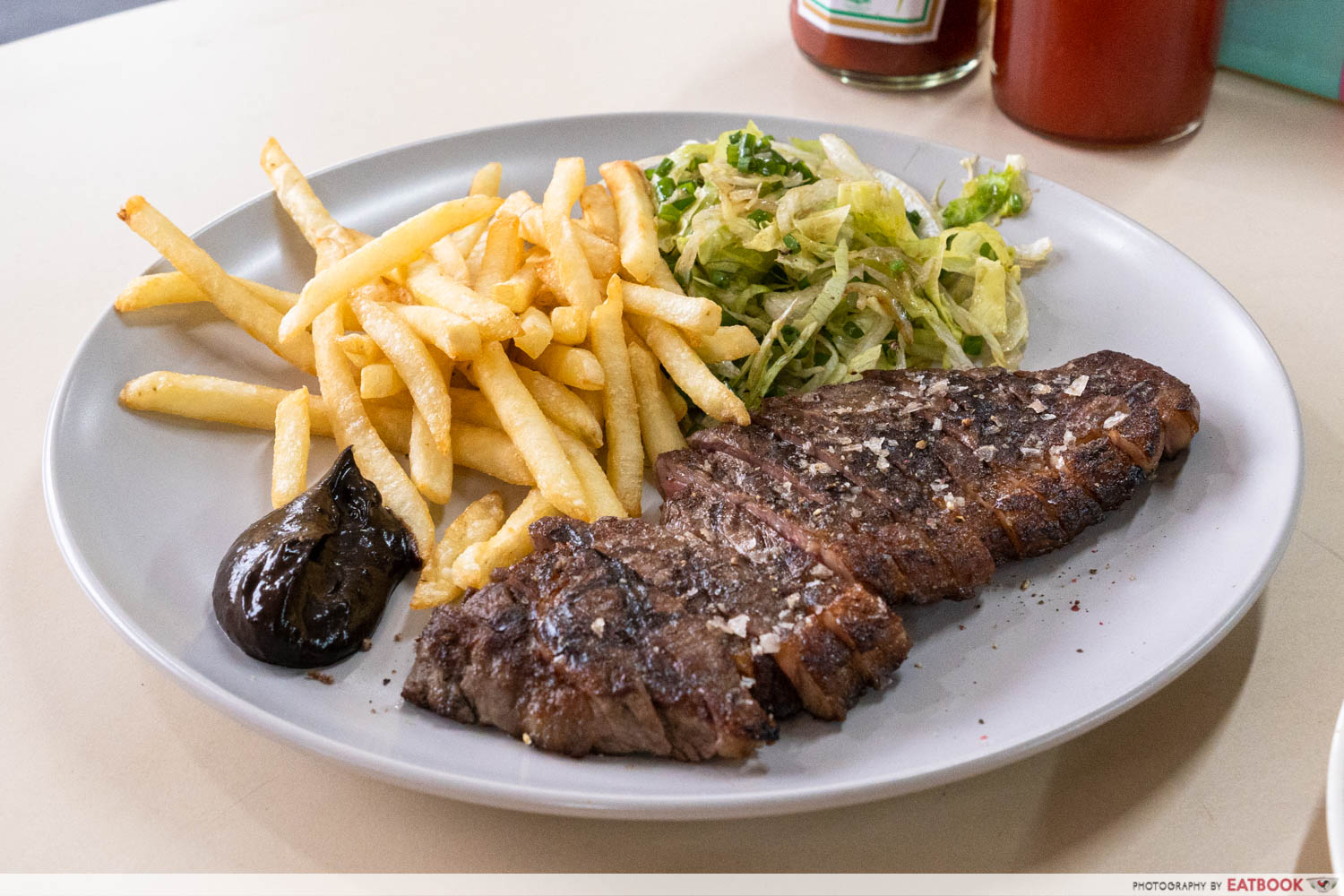 Something to note about BlackGoat is that there's no fixed menu: you'll have to head to their Instagram page to find out what they're serving for the week. On our visit, the New Zealand Grassfed Striploin with Black Garlic ($15.50) was our choice of steak, with other options including Black Angus Rump Cap with Korean BBQ Sauce, Fried Garlic and Nori ($16.50) as well as Free Range Lamb Leg with Sarawak Pepper Jus, Sumar and Sambal Belacan ($17).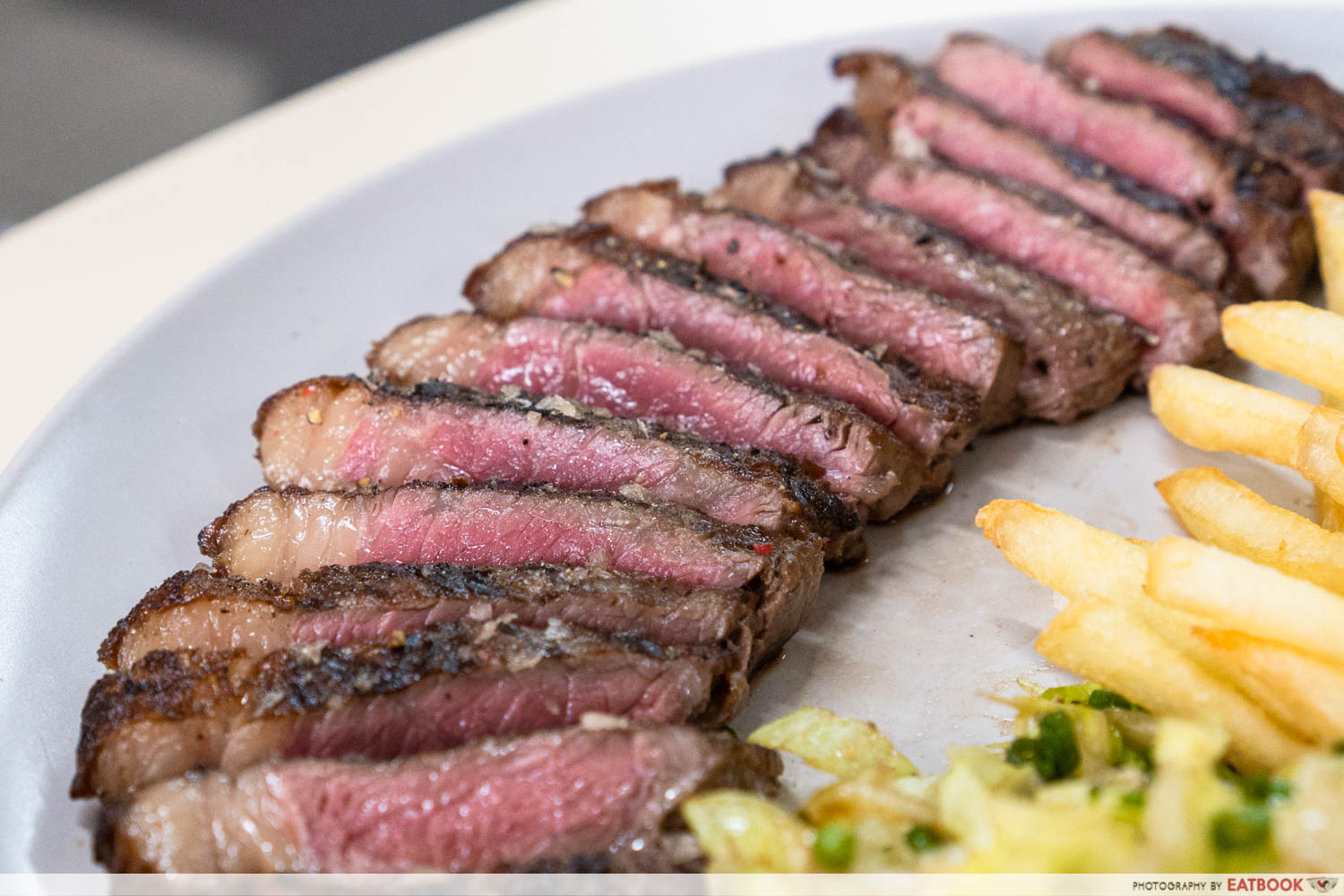 We asked for a medium-rare steak, and that's exactly what we were served, perfectly red-pink on the inside, with an even brown crust outside.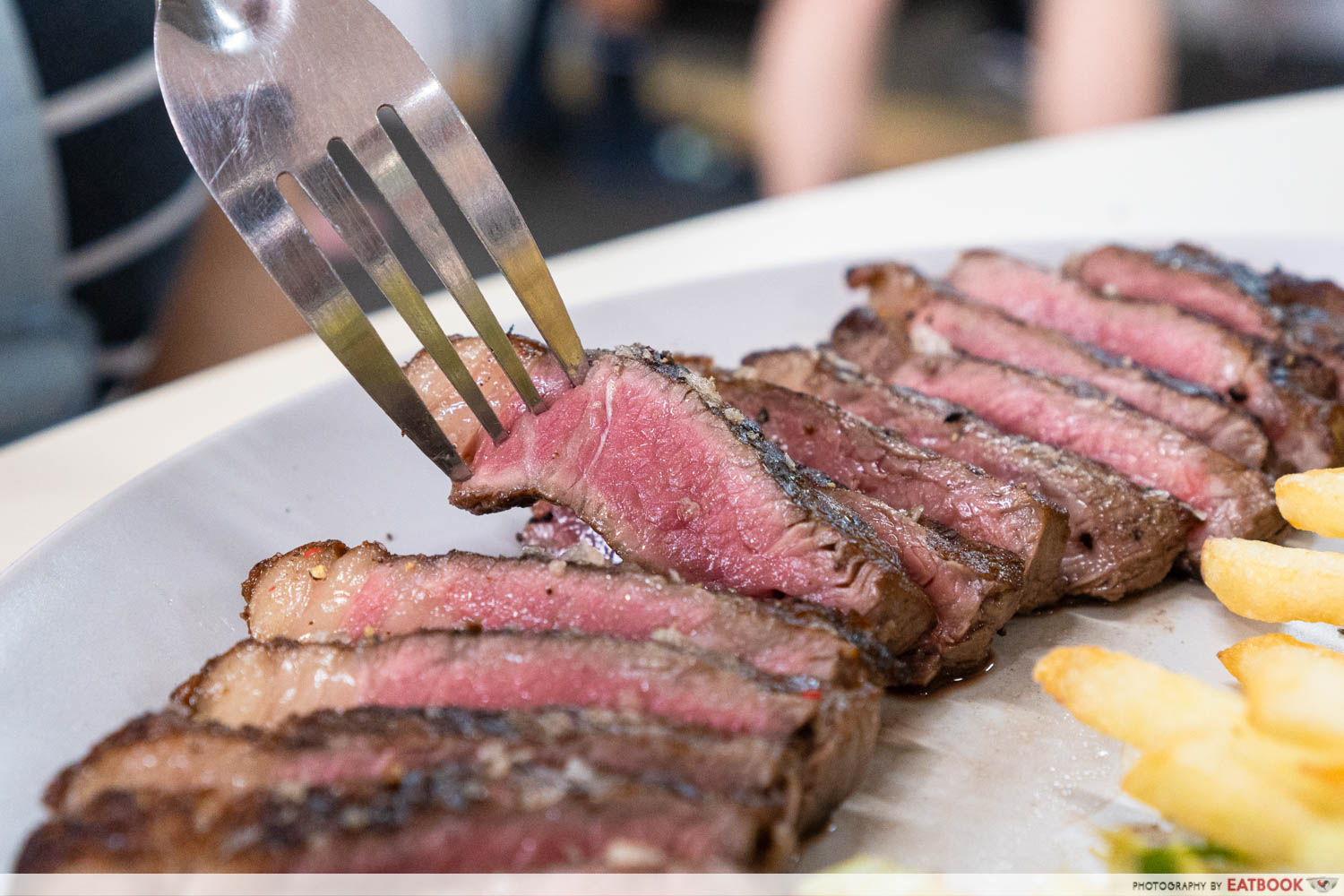 I appreciated how the steak was sliced for us, and extra points go to the extra-sharp knife that cut it, because it made for such easy, pleasant eating.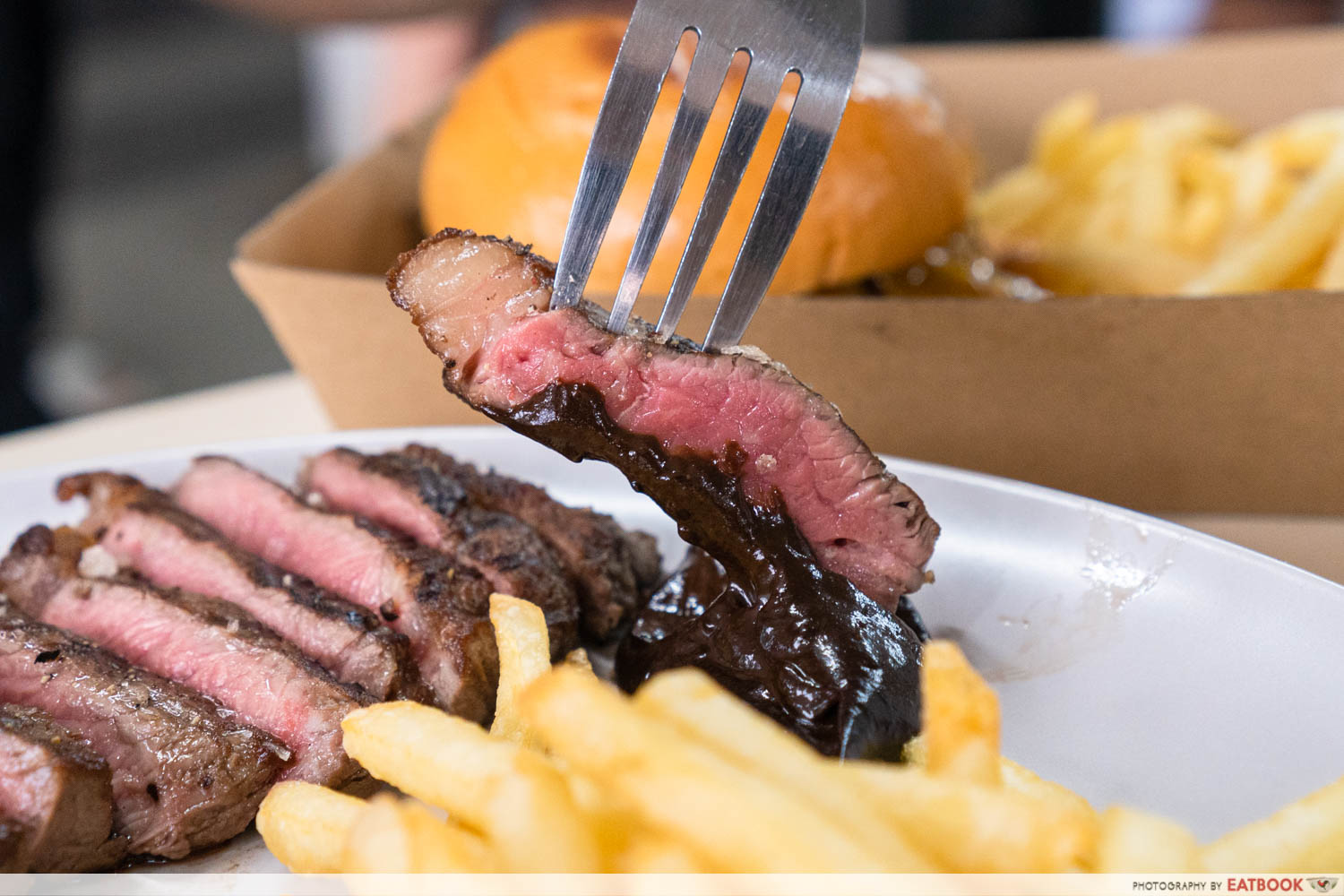 Salt, pepper, and good ol' charcoal smoke are all that flavours each steak, then enhanced with the umami-laden black garlic sauce on the side. While the fries are standard frozen stuff, I found them a superb vehicle for the garlic dip.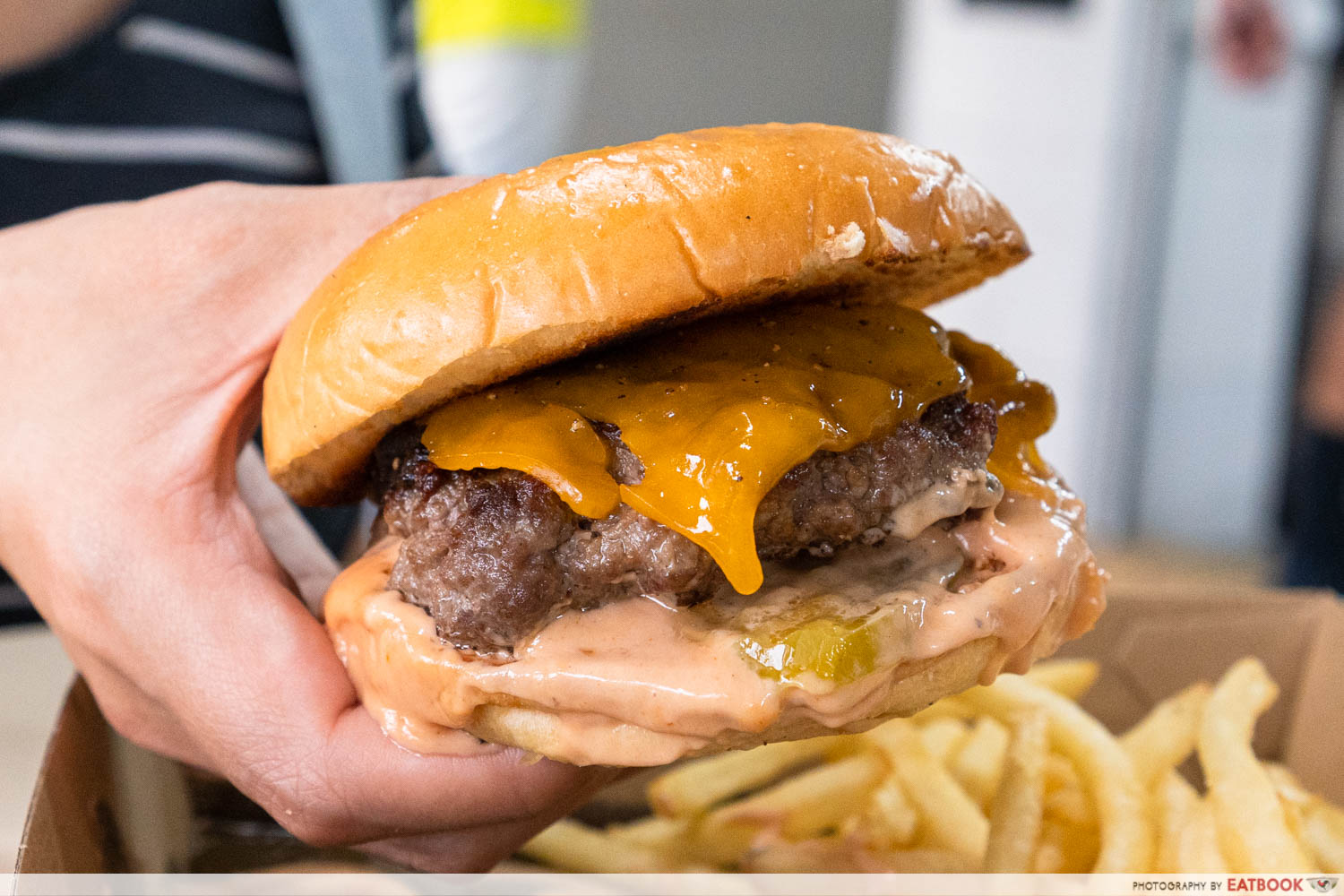 We got ourselves the Grassfed Flank and Chuck Burger ($15) too, sandwiched with caramelised onions and a house-made burger sauce.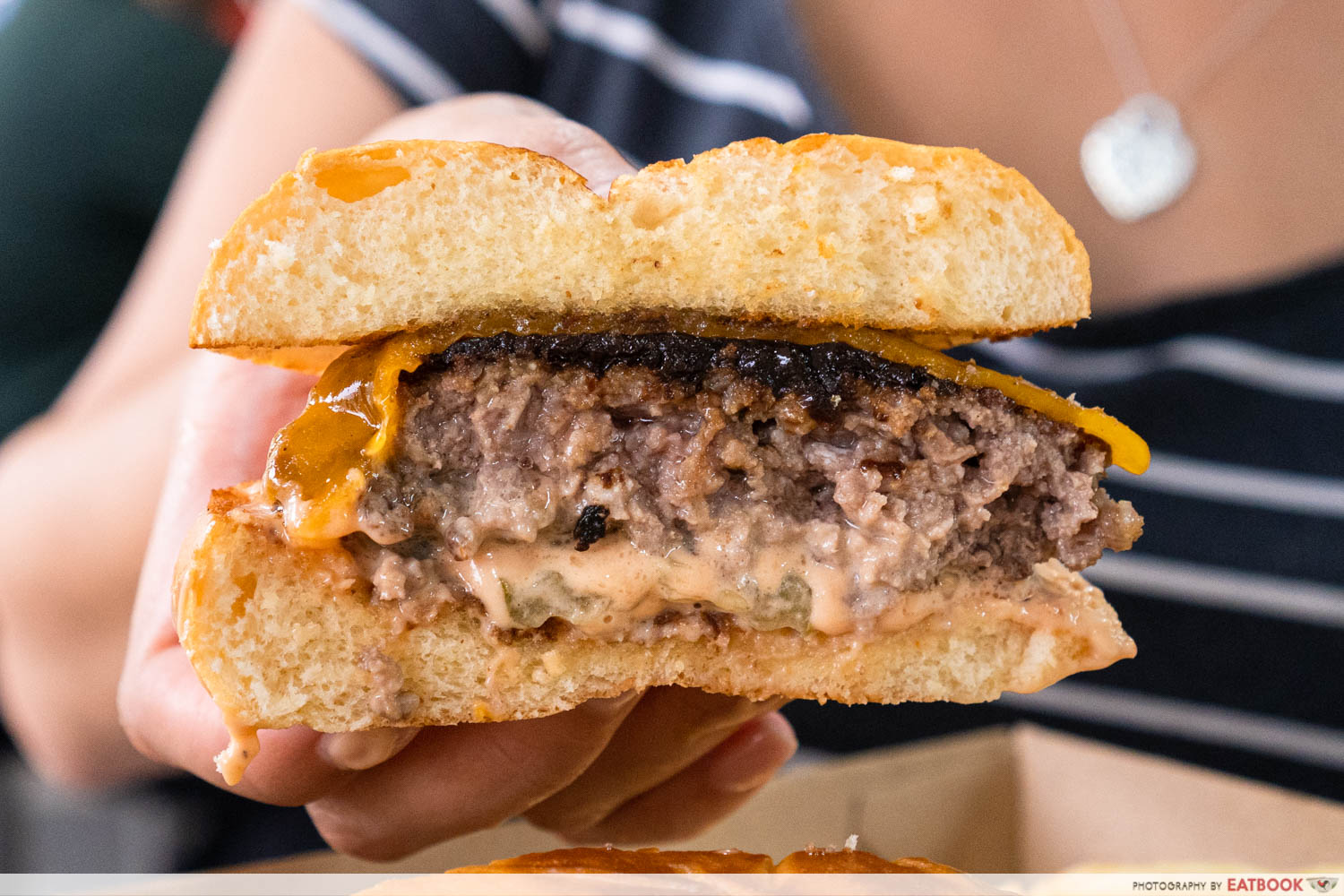 This burger is for those who love a good meaty patty—the meat is coarsely ground to Fikri's specific requirements, with 20% fat and a blend of both chuck and flank steak, that gives it that extra flavour and a good bite.
Each handmade 150g patty is lightly brined, just with a touch of salt, other than which it's all beef and nothing else. The star of this show is really the patty, livened up with the tangy mustard-mayonnaise-ketcup sauce that is slathered on the bun. It's so good, it's secondary that the burger buns come out of a bag.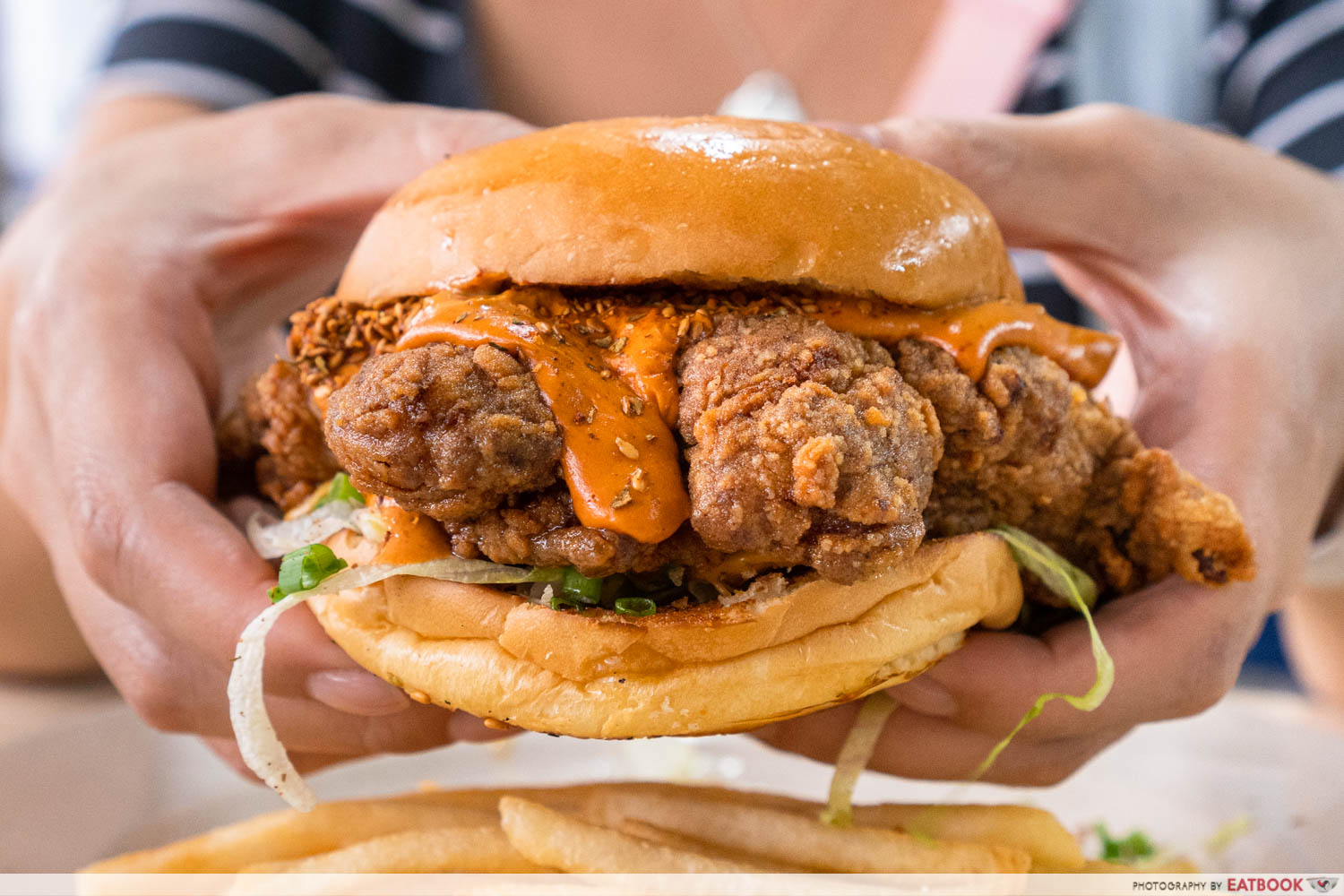 I've been building up to the pinnacle of our meal at BlackGoat, which we now come to: White Pepper Fried Chicken Burger ($14), where a whole deep-fried chicken thigh is drenched in a house-made chipotle sauce, then generously sprinkled with za'atar—a spice mix of Middle Eastern origin, which Fikri makes himself with toasted sesame seeds, smoked paprika, thyme and more.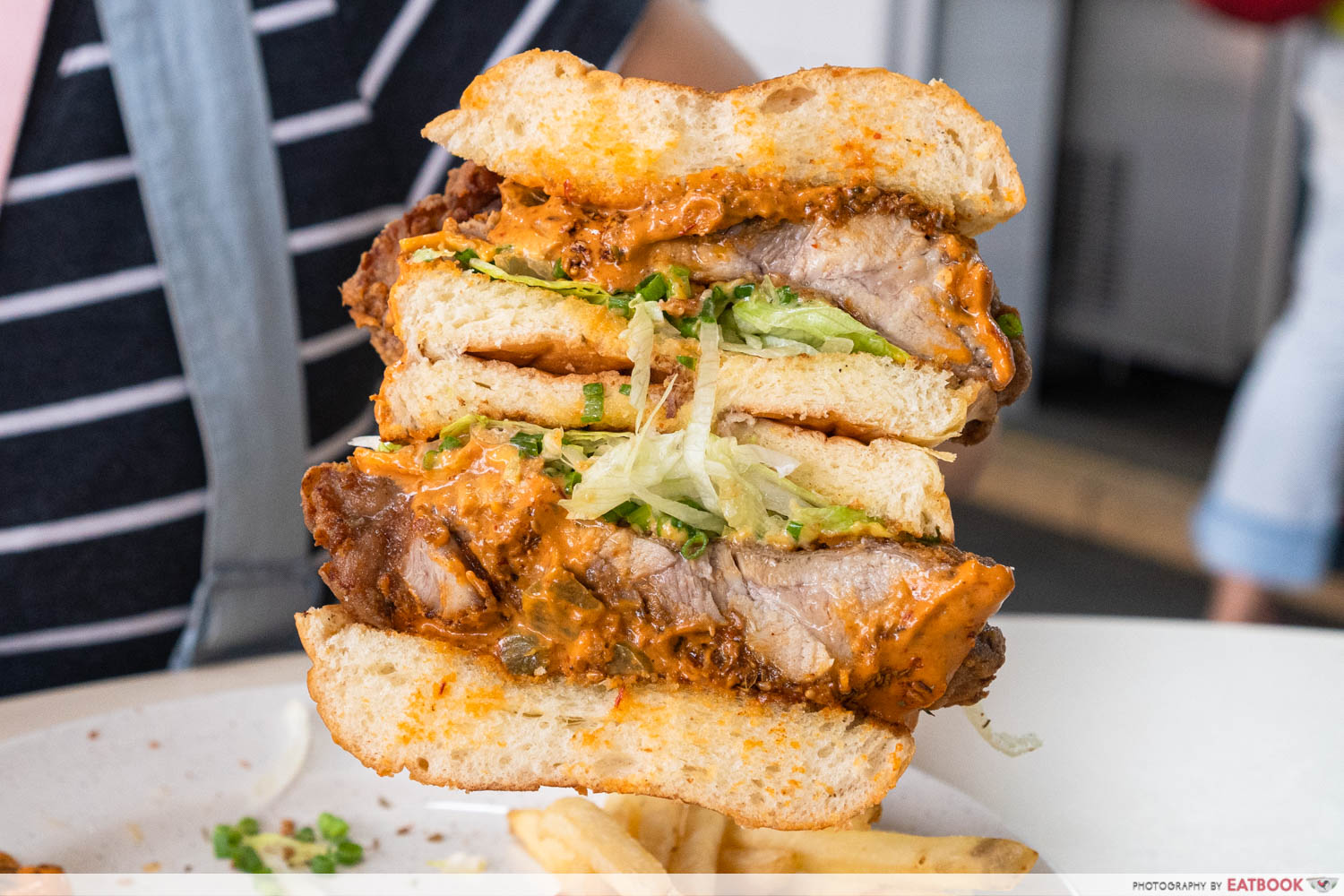 Each chicken thigh is marinated with white pepper—thus the name—and other spices, then brined in buttermilk, before it's double-fried. For a touch of freshness, you'll find a house slaw tossed with balsamic vinegar and extra-virgin olive oil beneath the chicken patty, though it's easy to miss with the ultra tasty chicken and that tangy-spicy chipotle sauce.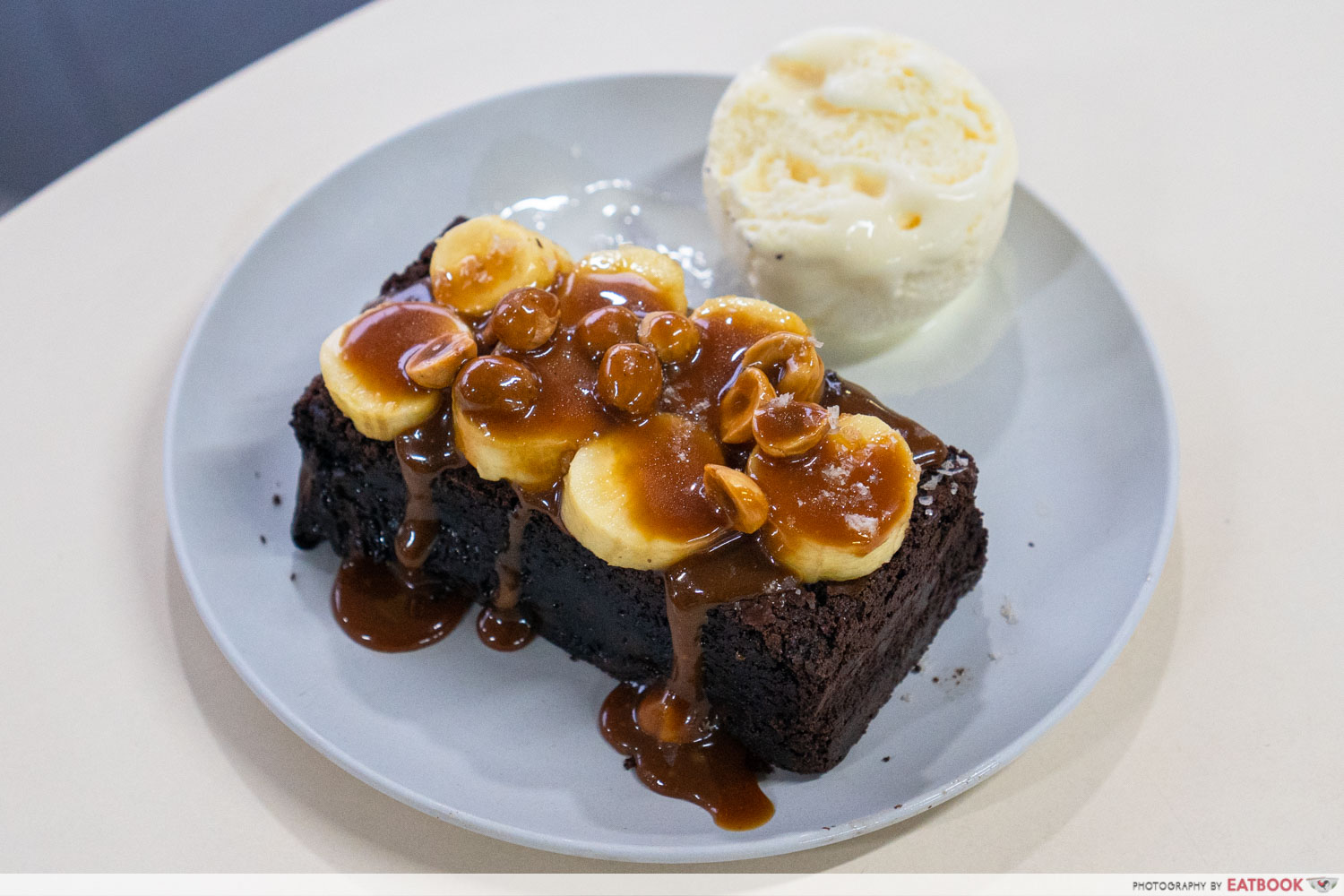 Occasionally doubling up as BlackGoat's front-of-house is Fikri's friend, Ethel, who comes up with the rotating menu of desserts at the stall. On the menu that day was Brownie, Hazelnut Roche, OffDay Espresso Caramel, Vanilla Ice Cream ($10), which properly impressed us—and we both aren't dessert fiends, mind you.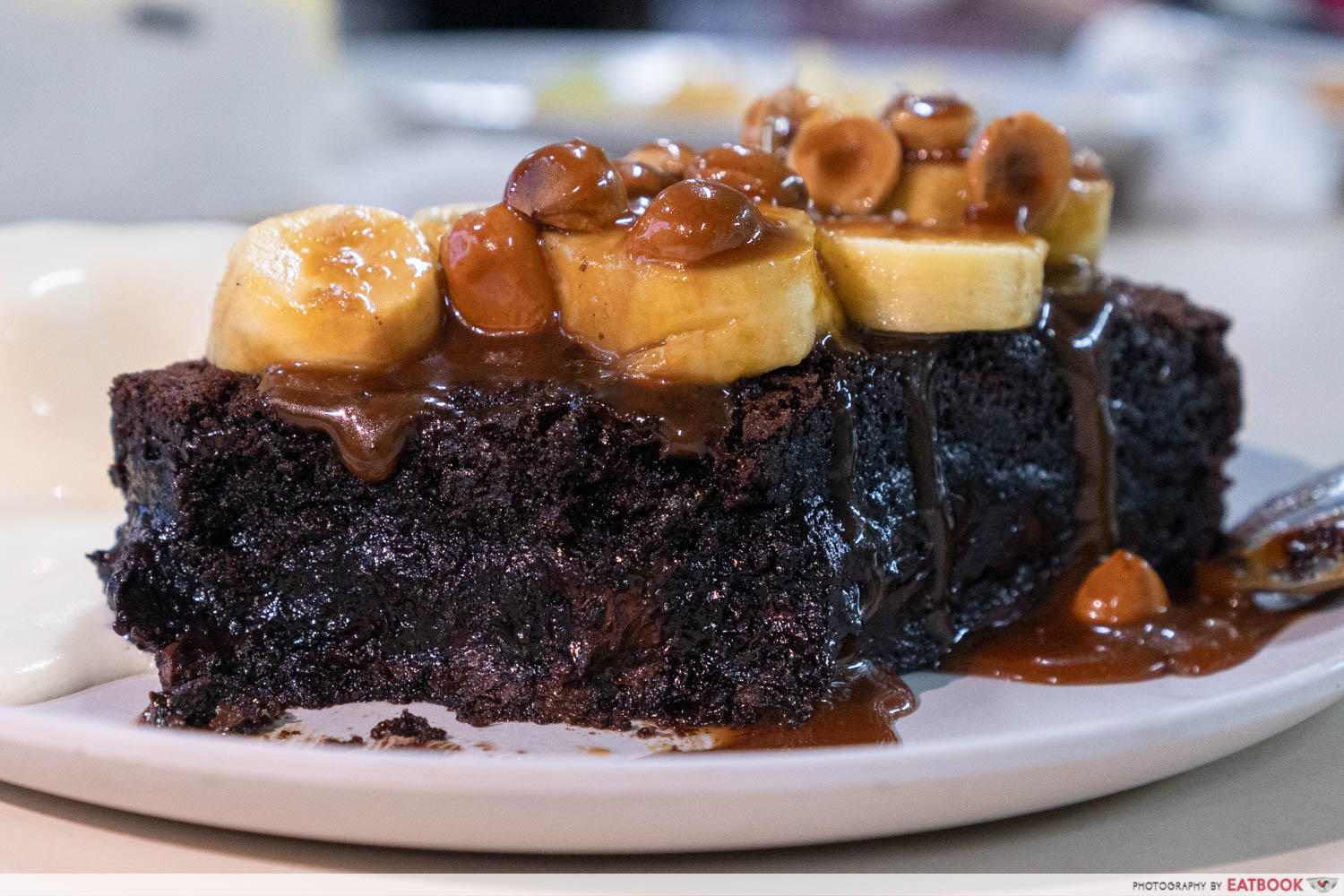 Heated up on that same grill, then drizzled with a house-made coffee caramel speckled with halved hazelnuts, this brownie was moist and lusciously soft, yet extra fudgy. There's a light sprinkle of salt too, though I wished the bananas could have been bruleed for that final touch.
Fatty Patty Burger and Grill Review: Vodka Beef Burgers And Whisky Ribeye By Young Hawkers
Ambience at BlackGoat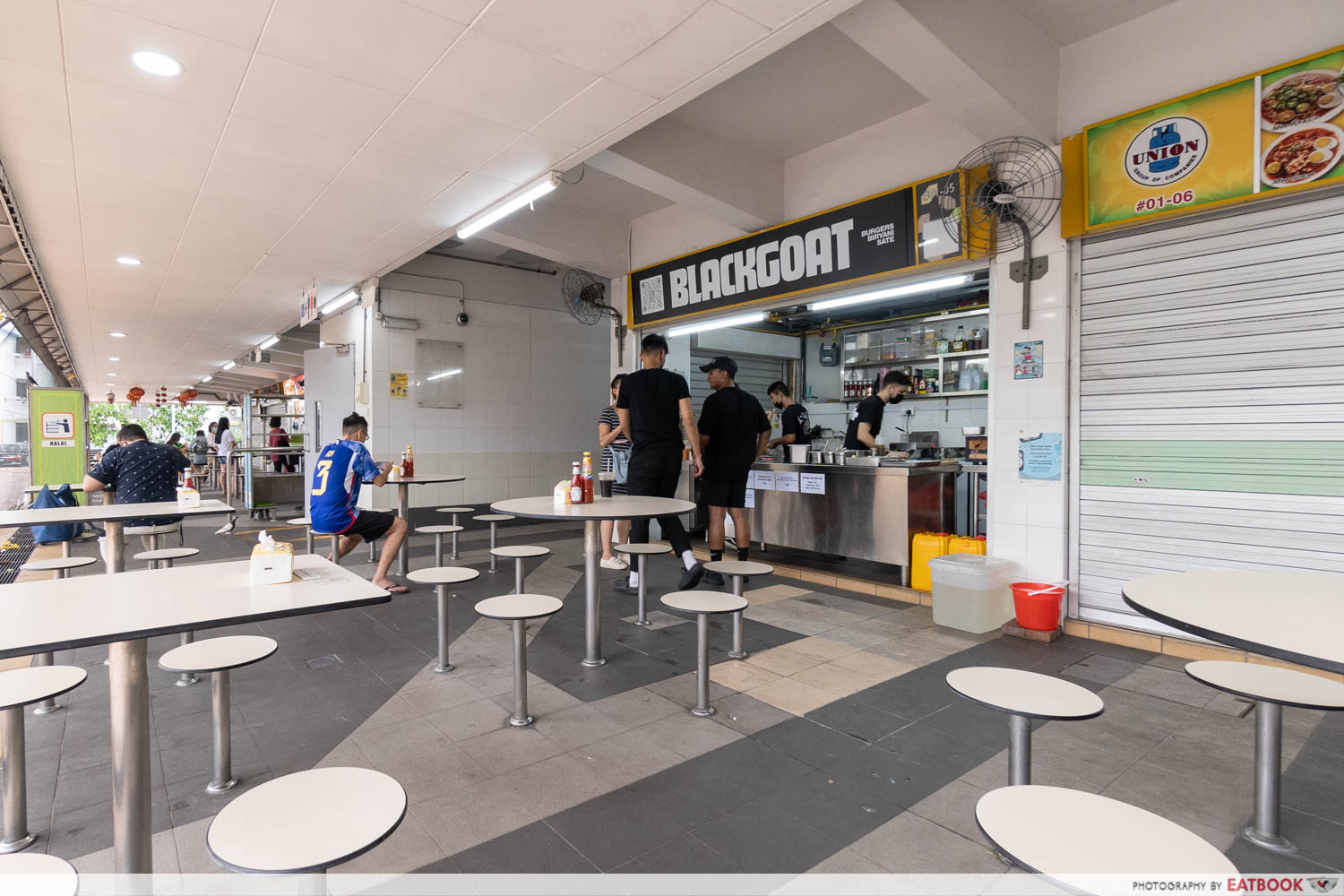 Jalan Batu Market & Food Centre is an 850m, or 11-minute, walk from Mountbatten MRT Station. It's not the most convenient place to get to, nor is the hawker centre the nicest and most modern. Built in the 1960s, it's a little basic, though clean and well-kept. Netting has also been put up around the hawker centre so you can be quite assured there won't be birds hovering around while you eat your burgers.
Keep an eye on BlackGoat's Instagram for the latest updates: they started taking orders at 5:15pm on the evening we visited, and the queues only built up as we had our meal there. P.S.: we hear that sometimes they're sold out as early as 6:30pm!
The verdict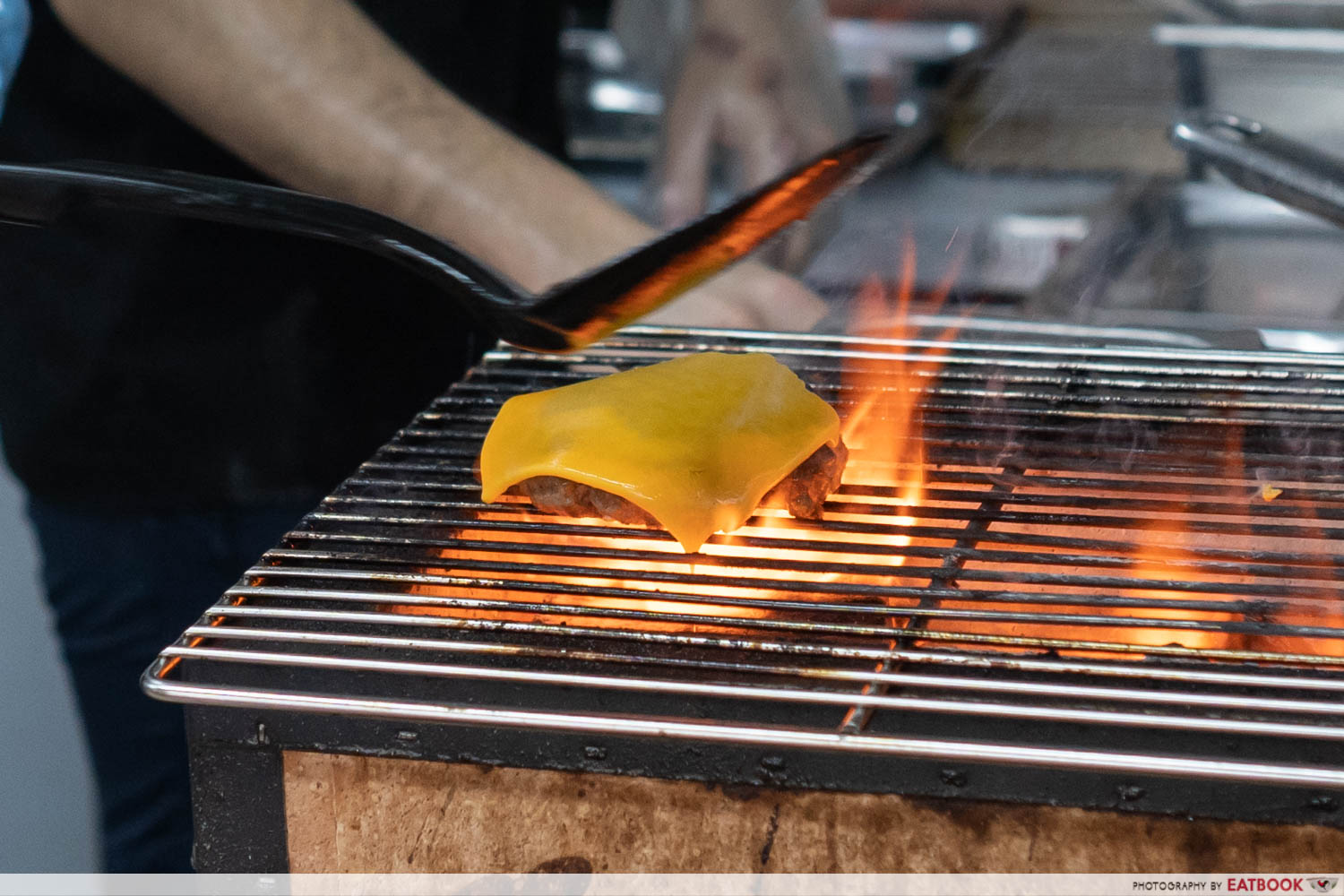 With only one small charcoal-powered grill and a lean team who want to serve good food, it's no surprise that you'll have to wait for your food. Come with the expectation that you won't get your food that quickly, unless you're one of the first to arrive. My lament here is that Jalan Batu is so out of the way; my dining companion would spoil himself with a BlackGoat treat every other week, while I told him my family might even have weekly cravings if we stayed nearby.
Burger fans should check out Fatty Patty in The Bedok Market Place for alcohol-infused burgers. Alternatively, One Fattened Calf near Buona Vista is said to have some of the best burgers in town.
Address: 4A Jalan Batu, #01-05, Jalan Batu Market & Food Centre, Singapore 432004
Opening hours: Wed-Sun 5:30pm to 8:30pm (or sold out)
Tel: 8383 5982
Website
BlackGoat is not a halal-certified eatery but uses no pork or lard
One Fattened Calf Review: Popular Butter Beef Burgers And Cheesy Loaded Fries In One-north
Photos taken by Melvin Mak.
This was an independent visit by Eatbook.sg
BlackGoat Review: XL Fried Chicken Burger, Black Garlic Steak And More In Mountbatten
BlackGoat Review: XL Fried Chicken Burger, Black Garlic Steak And More In Mountbatten -

8.5/10
Summary
Pros
– Excellent food
– Well-priced for the quality
Cons
– Location is out of the way
– Waiting time can be long
– Short opening hours
Recommended dishes: New Zealand Grassfed Sirloin and Black Garlic ($15.50), White Pepper Fried Chicken Burger ($14), Brownie ($10)
Opening hours: Wed-Sun 5:30pm to 8:30pm (or sold out)
Address: 4A Jalan Batu, #01-05, Jalan Batu Market & Food Centre, Singapore 432004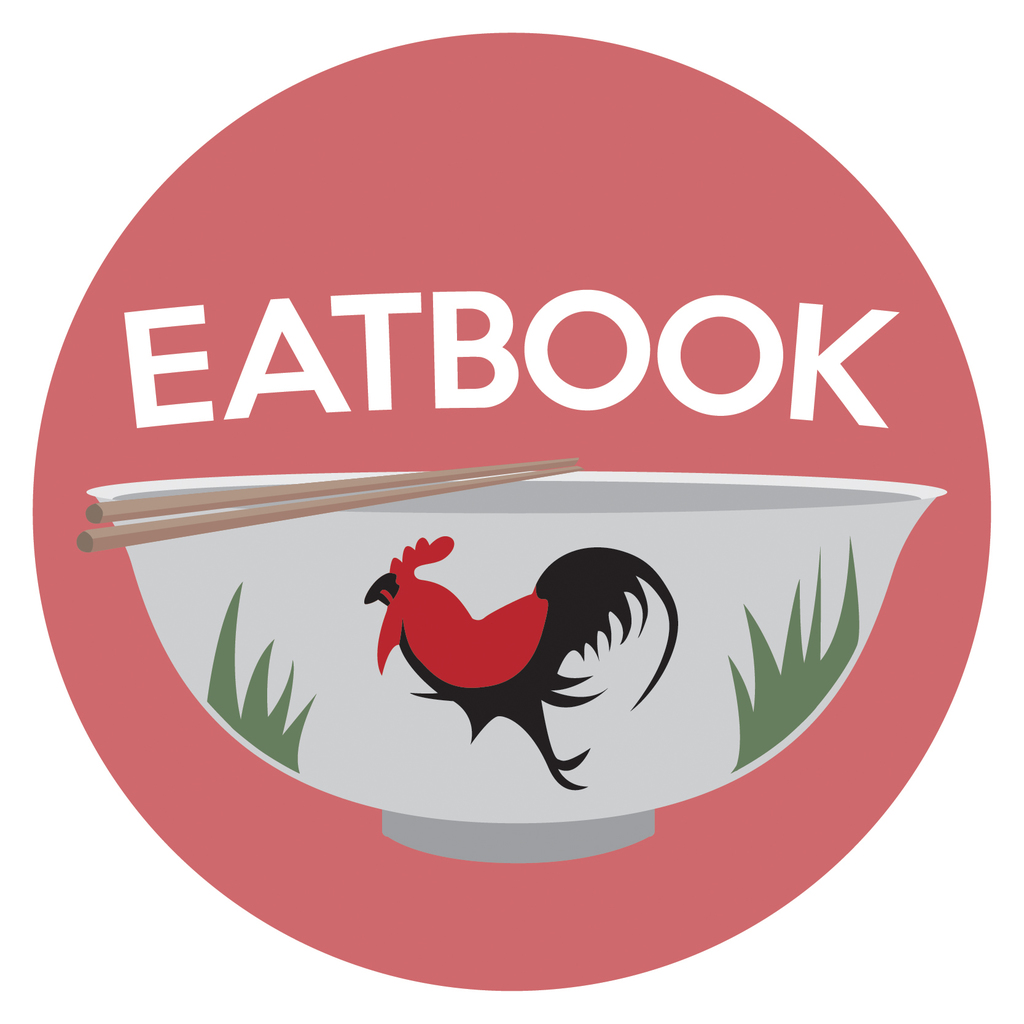 Drop us your email so you won't miss the latest news.