Fatty Patty Burger and Grill has alcohol-infused burgers in Bedok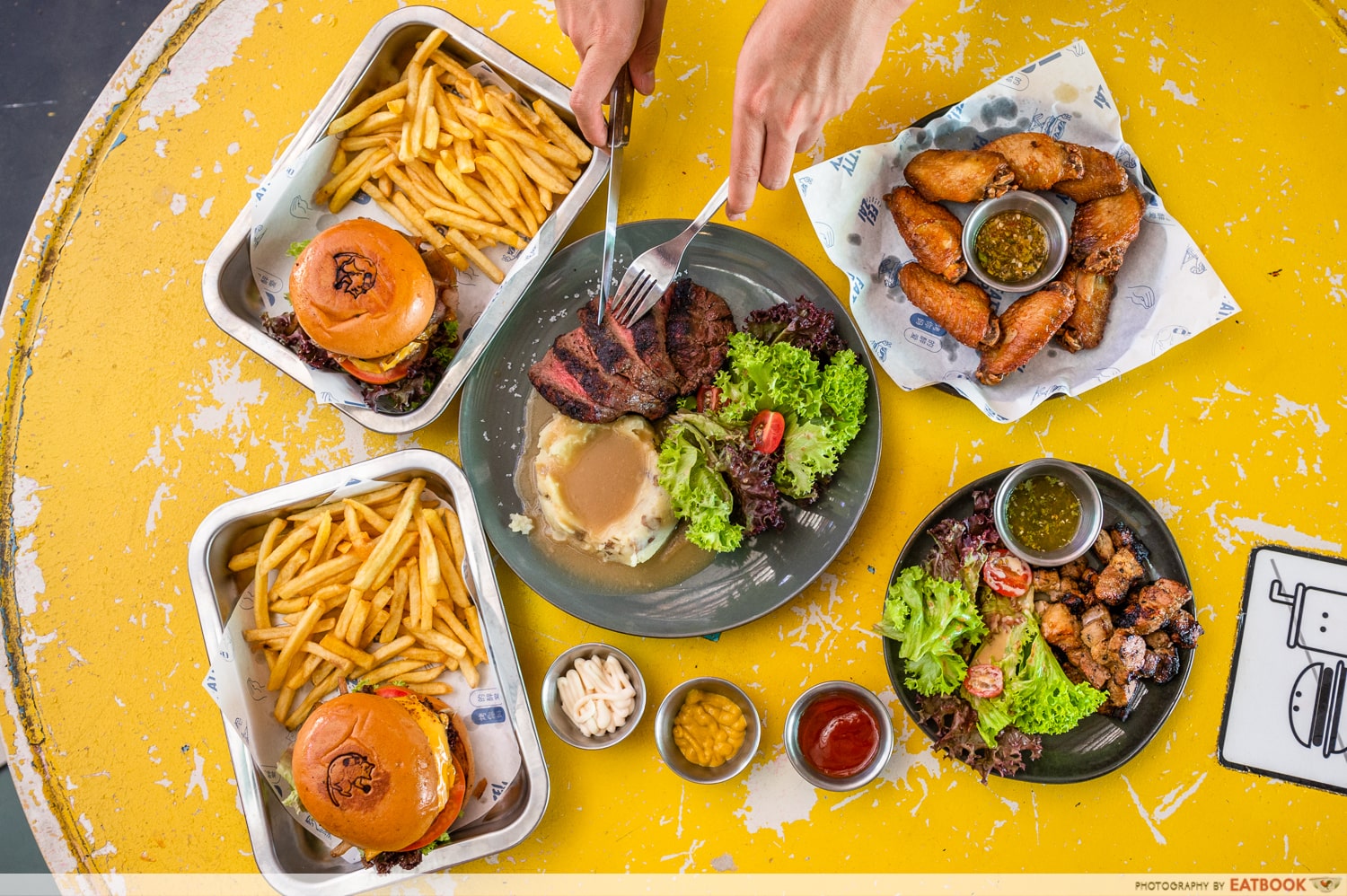 While I've had alcohol and burgers together in a single meal before, I had never tried them in a single dish. I mean, I've always thought that consuming them individually would allow me to appreciate their strong flavours better. That was until I visited Fatty Patty Burger and Grill, which has challenged conventional notions and introduced alcohol-infused burgers, bringing a unique twist to the classic burger.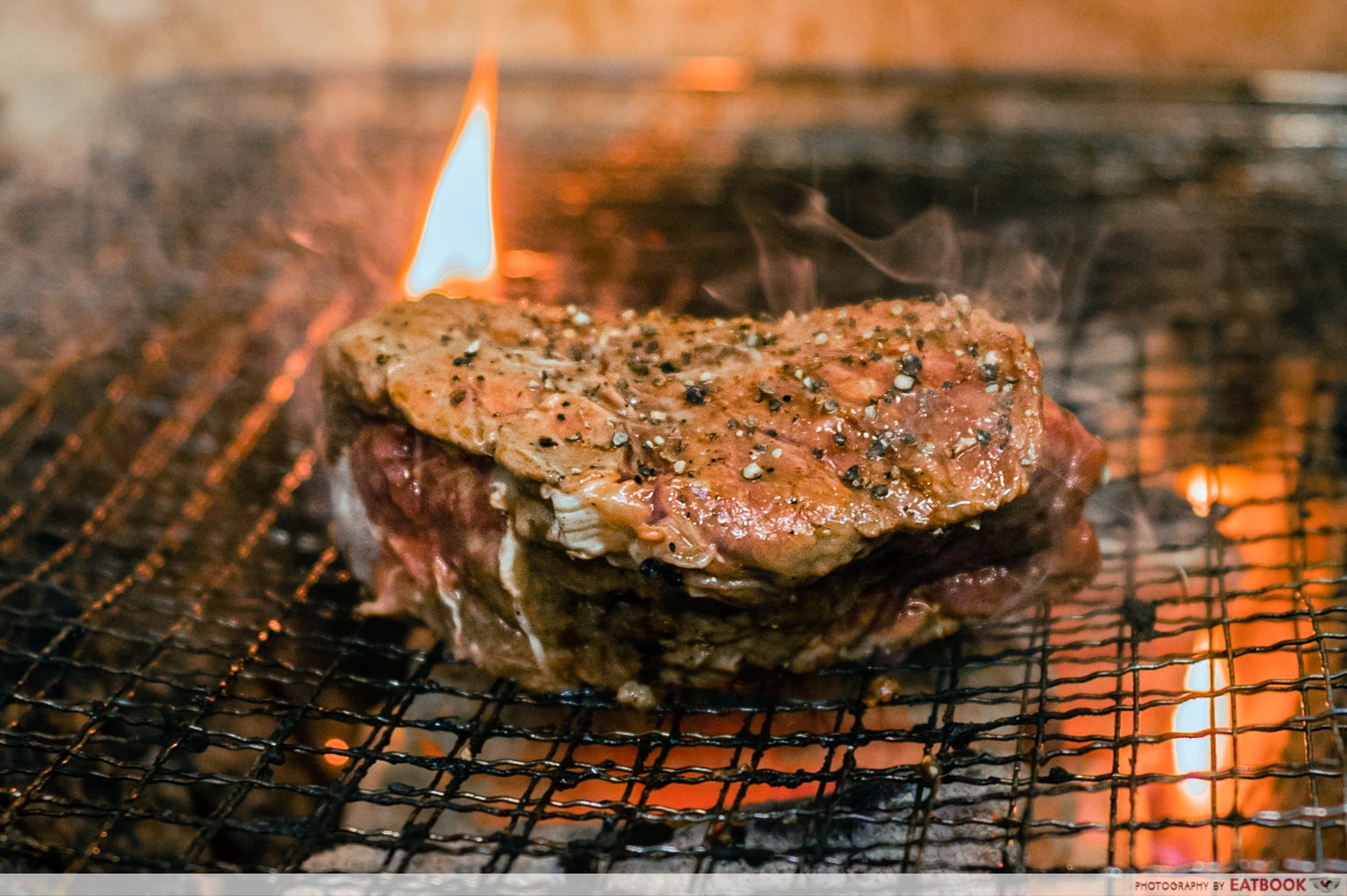 This burger joint has a bit of history to it. Heading the stall are two adventurous ladies—Nelly and Chrystal, who were childhood friends. Their friendship blossomed over food and alcohol, and their common passion eventually led them to start Homeground Grill and Bar. Nelly even went as far as to study culinary arts at Le Cordon Bleu Dusit in Bangkok, Thailand, for three months to refine her skills, particularly in the art of making sauces.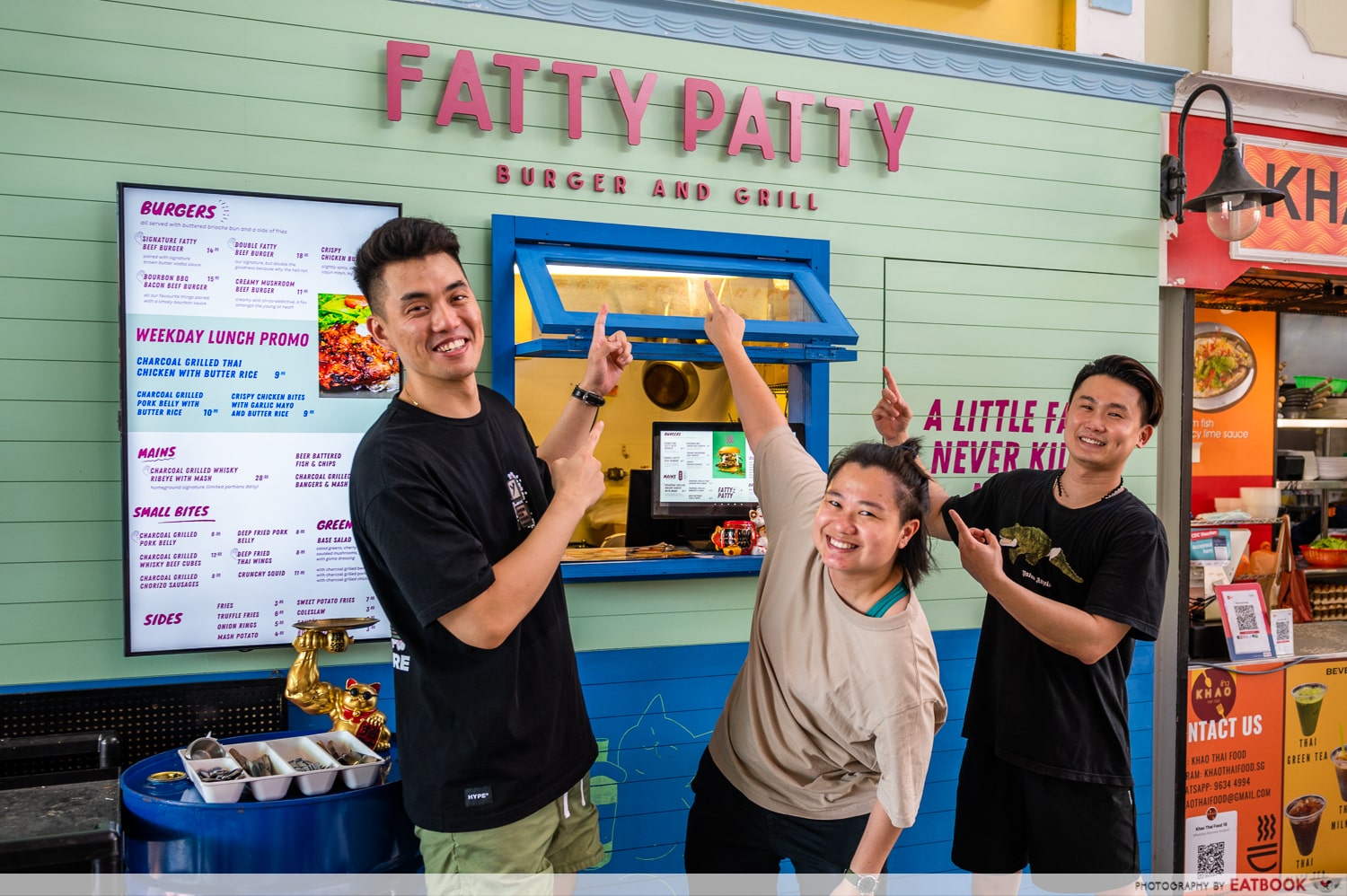 After running Homeground Grill and Bar for four years, Nelly and Chrystal decided it was time for a change. In December 2022, they closed their establishment and opened Fatty Patty Burger and Grill three months later with the help of two other co-workers, Kai Yang and Yi Heng. This new burger joint specialises in boozy burgers and charcoal-grilled meat, and has already generated a good deal of buzz for its unique menu items. 
Food at Fatty Patty Burger and Grill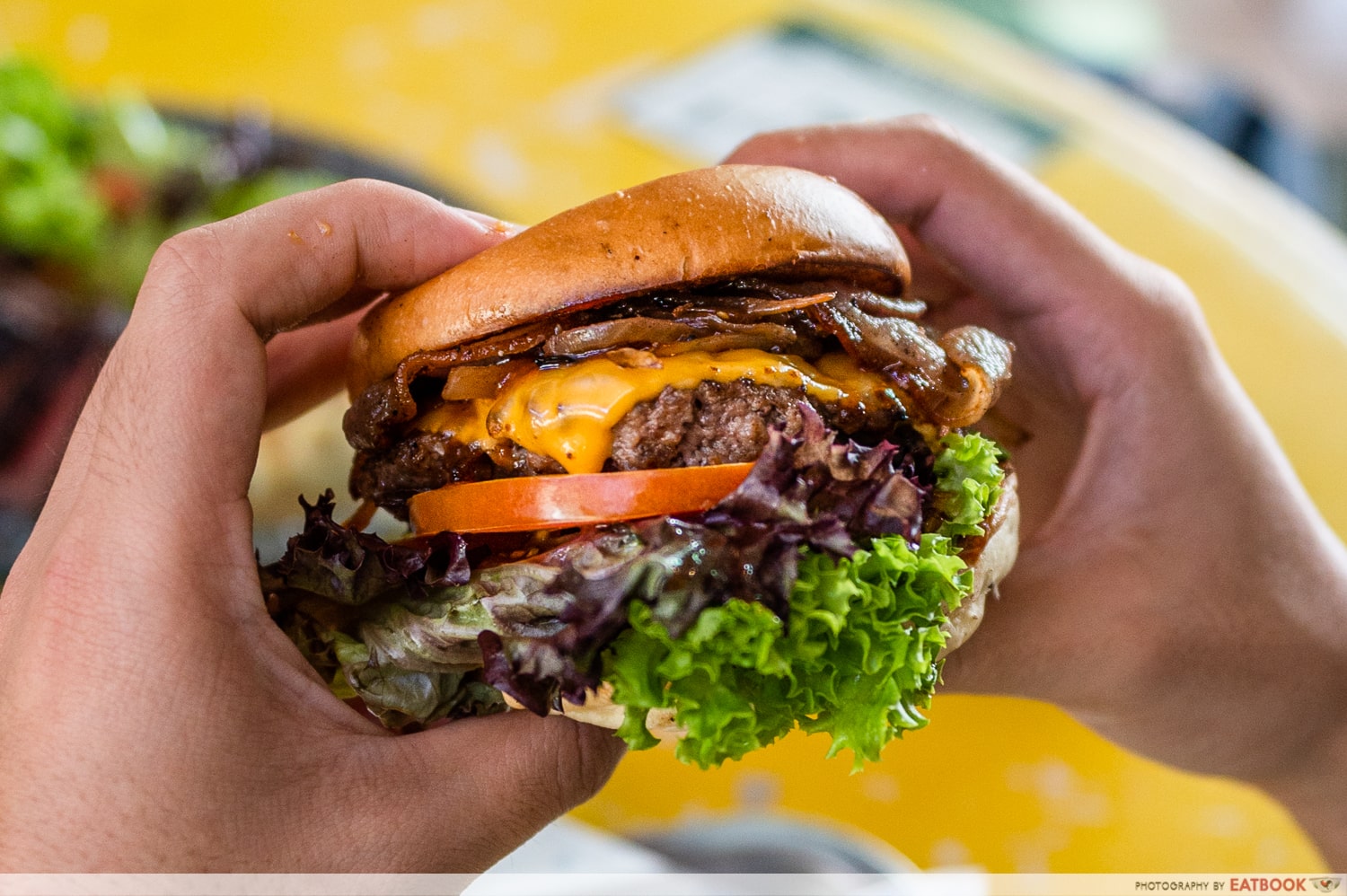 Nelly recommended that we start with their Signature Fatty Beef Burger ($14.90). As its name suggests, this hefty burger comprises a #thicc beef patty, layered with their house-made brown butter vodka sauce, stacked with tomatoes, lettuce, caramelised onions, and melted cheddar cheese between soft, fluffy brioche buns. 
Nelly also shared that this burger is the "most fun yet difficult" to make, as it requires immense skill to infuse vodka into the brown butter, while ensuring that the butter doesn't burn in the process. While the meat is not ground in-house, they season and custom-build their patties with a 4:1 meat-to-fat ratio for a juicer, more flavourful burger.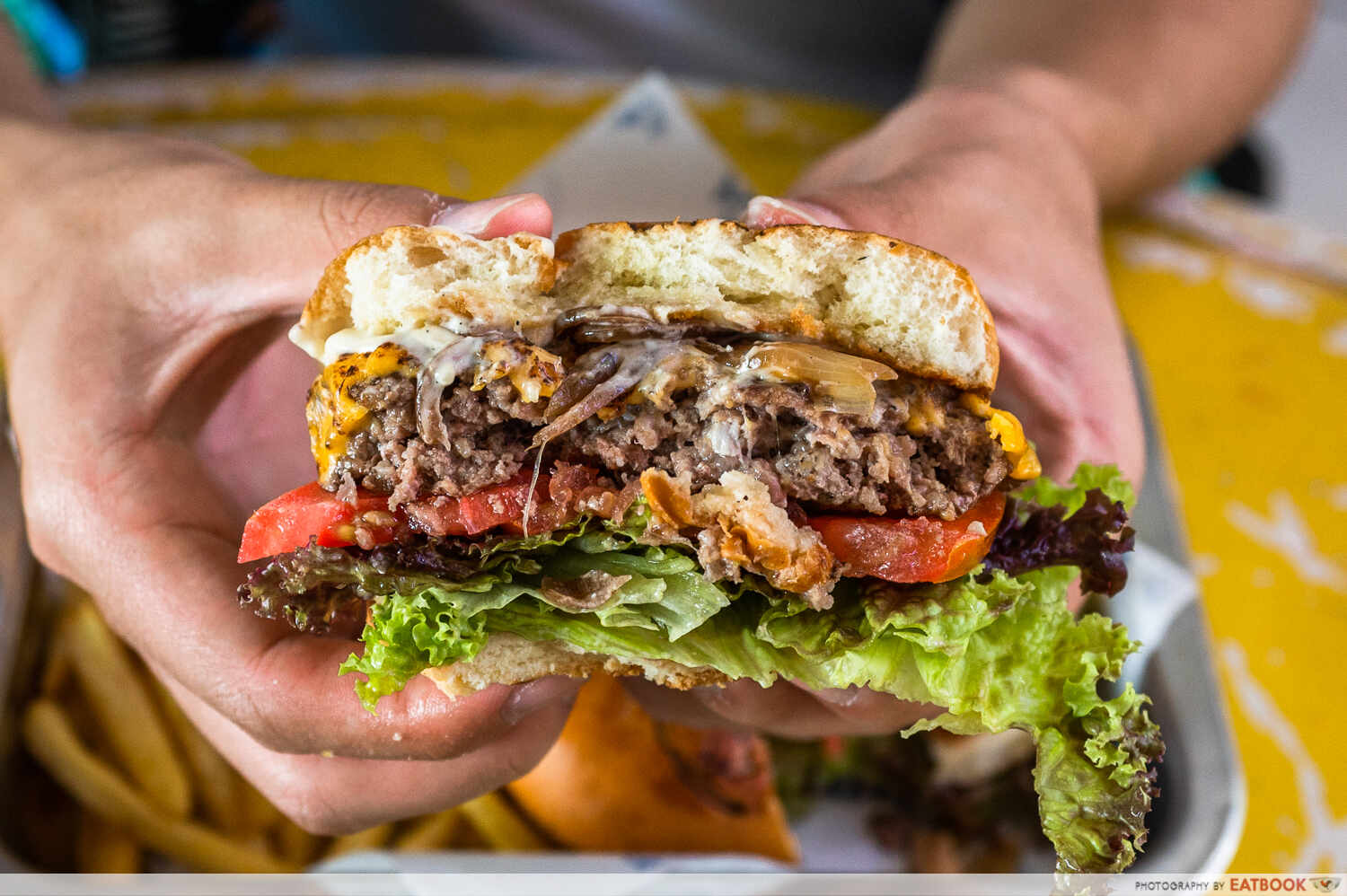 The juicy beef patty hit the mark with its strong punch of meatiness, a nice char from the grill's sear, and lastly a mellow tinge of booze that lingered on the tongue. The melted cheddar cheese elevated the burger with its creaminess, and the crunchy lettuce and lightly tart tomatoes gave a wonderful contrast in texture and taste. Each bite was literally bursting with flavour, and I could hardly stop myself from devouring the entire burger. TL;DR: this burger absolutely slays.
I was already struggling to chomp down on the chonky burger, but I also learnt that you can zhng it up by going for their Double Fatty Beef Burger ($18.90), which stars two beef patties to double up the goodness.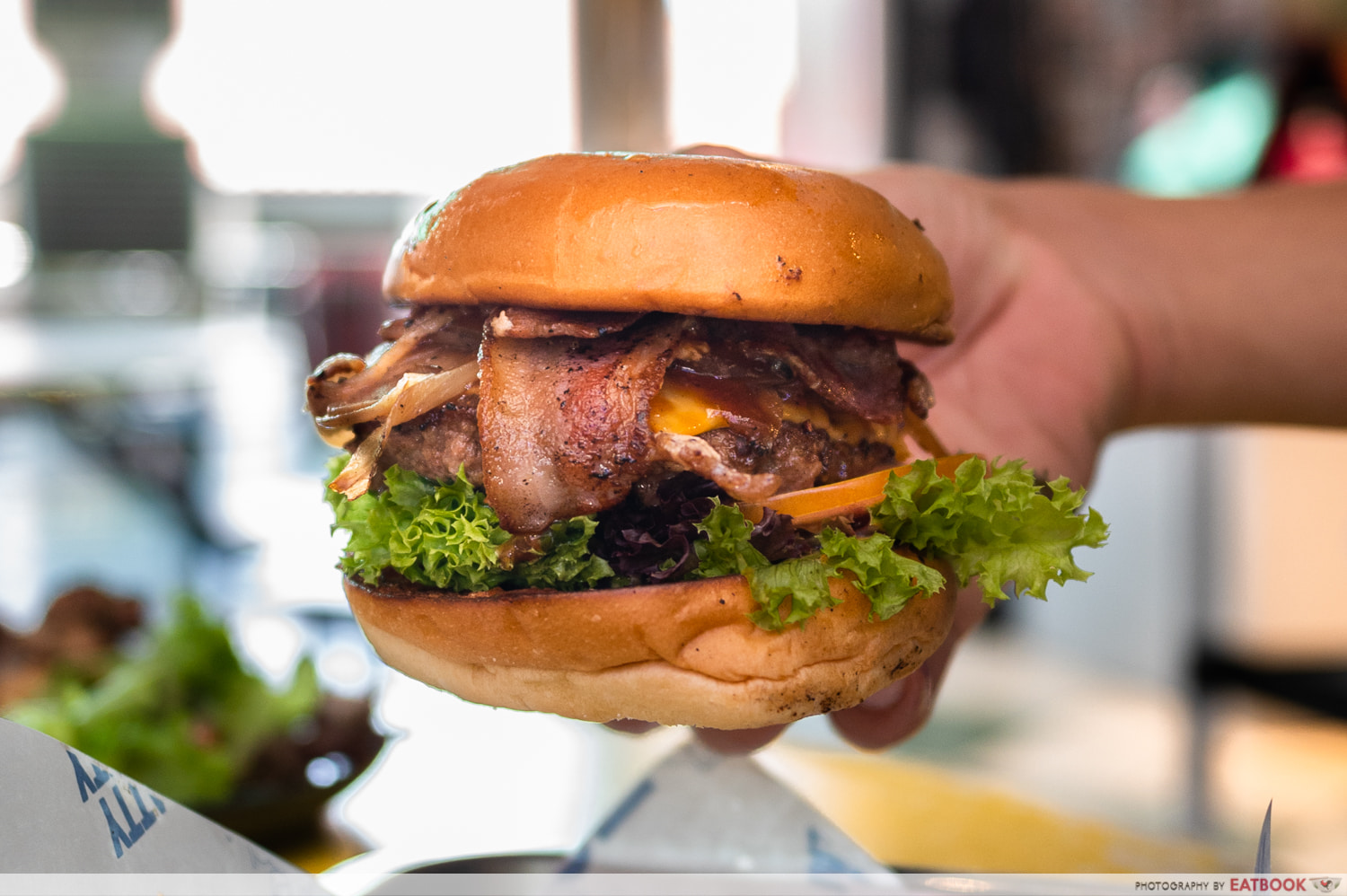 For bacon lovers out there, you'd love their Bourbon BBQ Bacon Beef Burger ($15.90), which features bacon slices atop the same beef patty, with a smoky bourbon BBQ sauce instead. 
What I appreciated about this burger is how the patty's rich flavour shone through, rather than being overshadowed by the salty bacon. The bacon worked well here by taking the edge off the strong taste of bourbon here, resulting in a brilliant balance of savoury, smoky, and sweet. It's worth the shot for those seeking a sinful yet indulgent burger experience.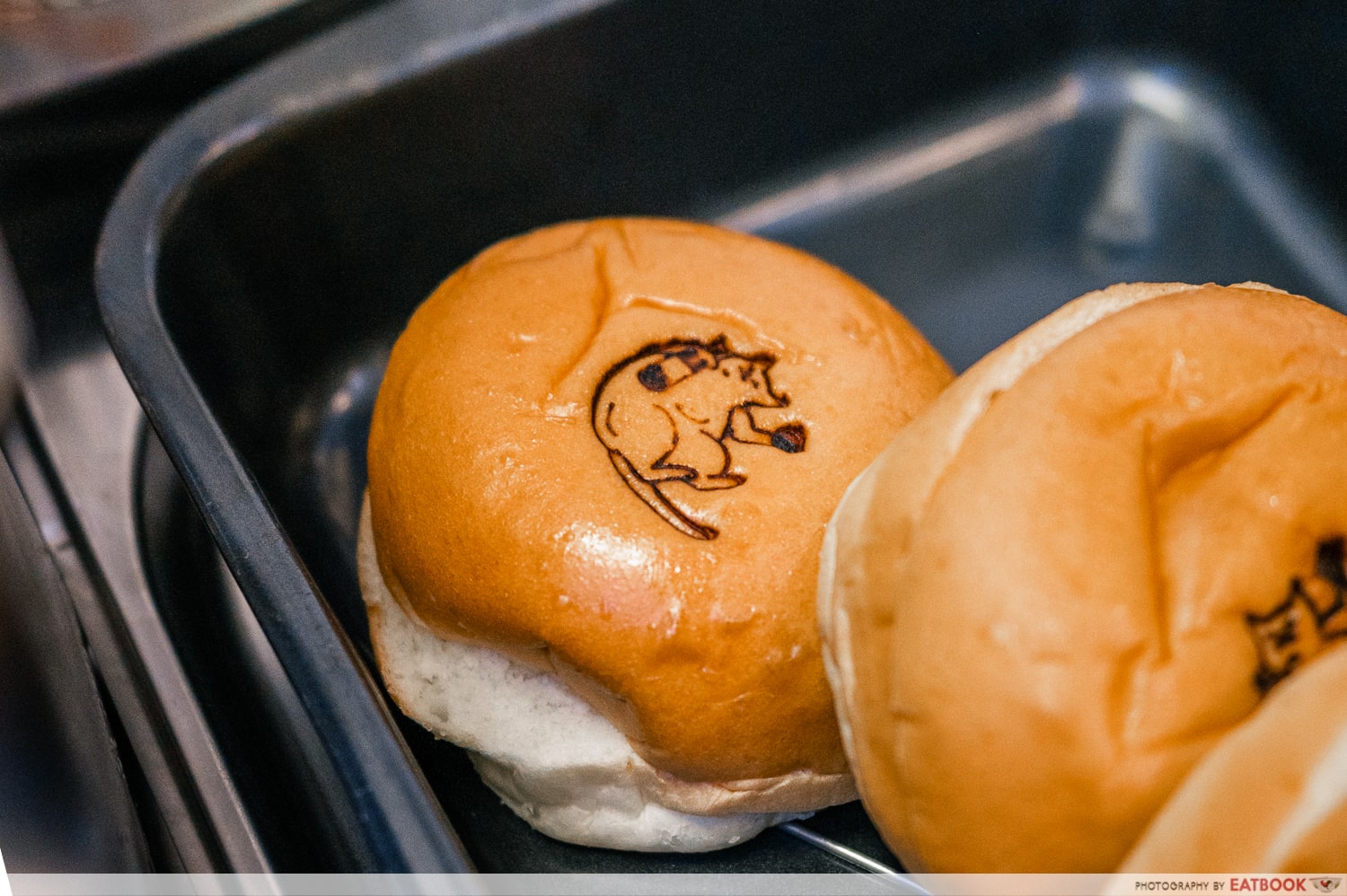 Let's talk about the burger buns too. While these buns are not house-made, they complemented the patties well with their slightly crispy exterior and soft, fluffy insides. The buns were not too thick too, giving the burgers a good patty-to-bun ratio and making each bite a substantial and shiok one.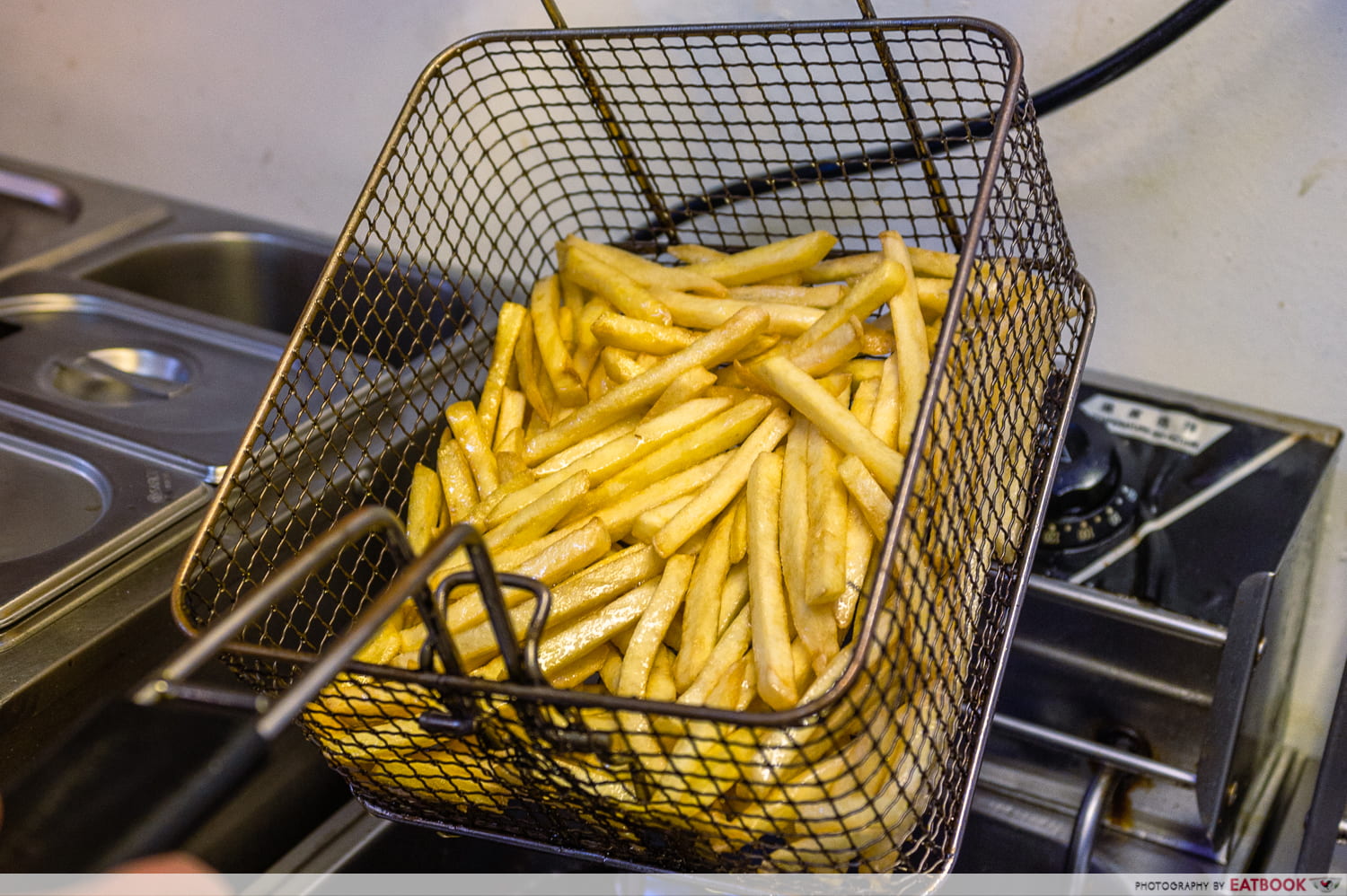 Each of the burgers comes with a side of fries. Unfortunately, I didn't find anything special about the fries, and they were a tad too salty for me. Nonetheless, it's just a minor blip in an otherwise excellent burger set.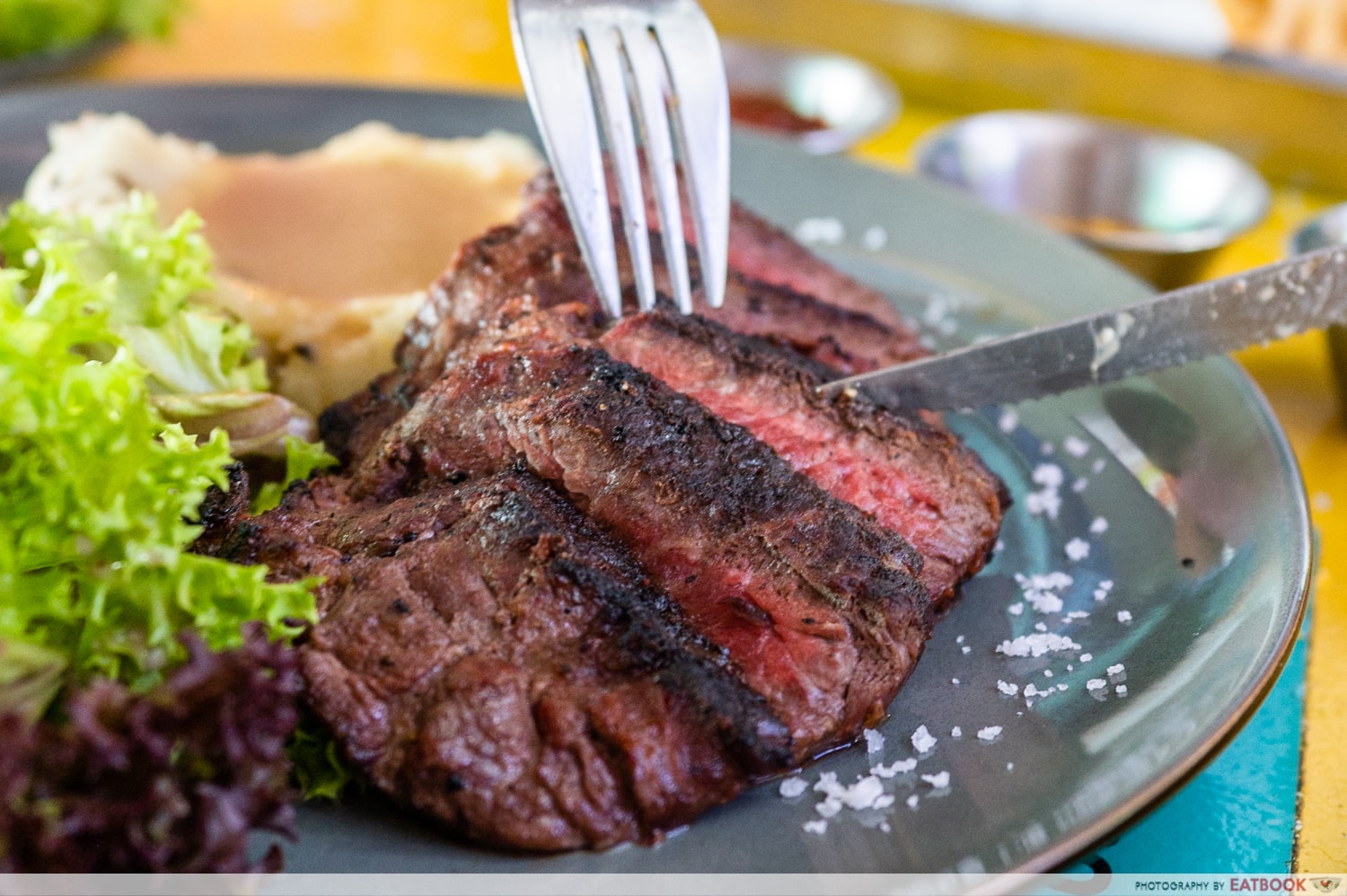 Apart from their burgers, we also tried their Charcoal Grilled Whisky Ribeye With Mash ($28.80), a signature dish that previously featured at Homeground Grill and Bar. There's only limited portions of this dish daily, so it's recommended to come down earlier if you'd like to try this item.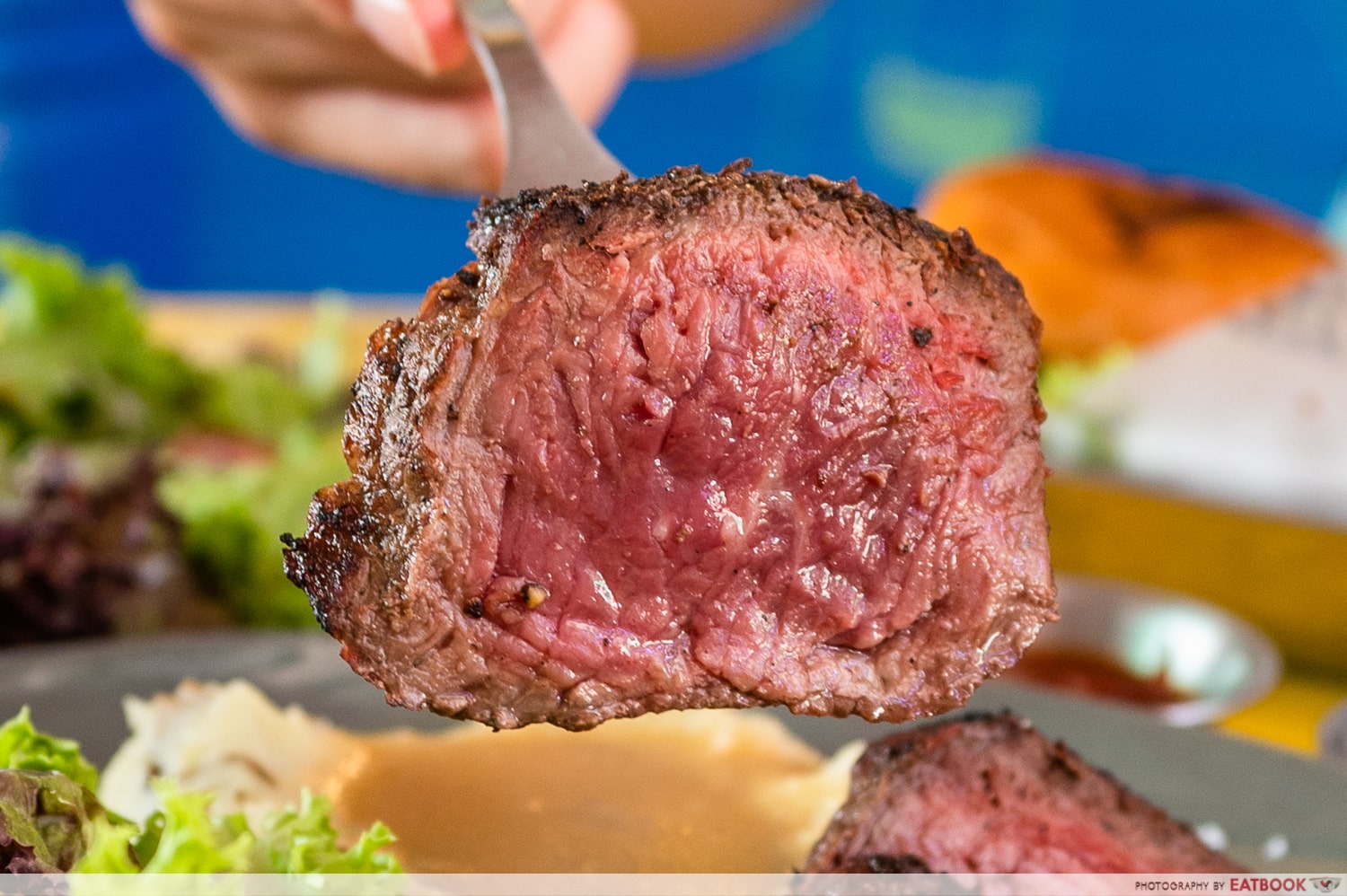 Each slice was a delightful treat with its rich, juicy beefy flavour. There were prominent hints of whisky, and a strong smokiness from the charcoal grill. My only gripe here was that the beef was a little too chewy for my liking, despite ordering it medium-rare.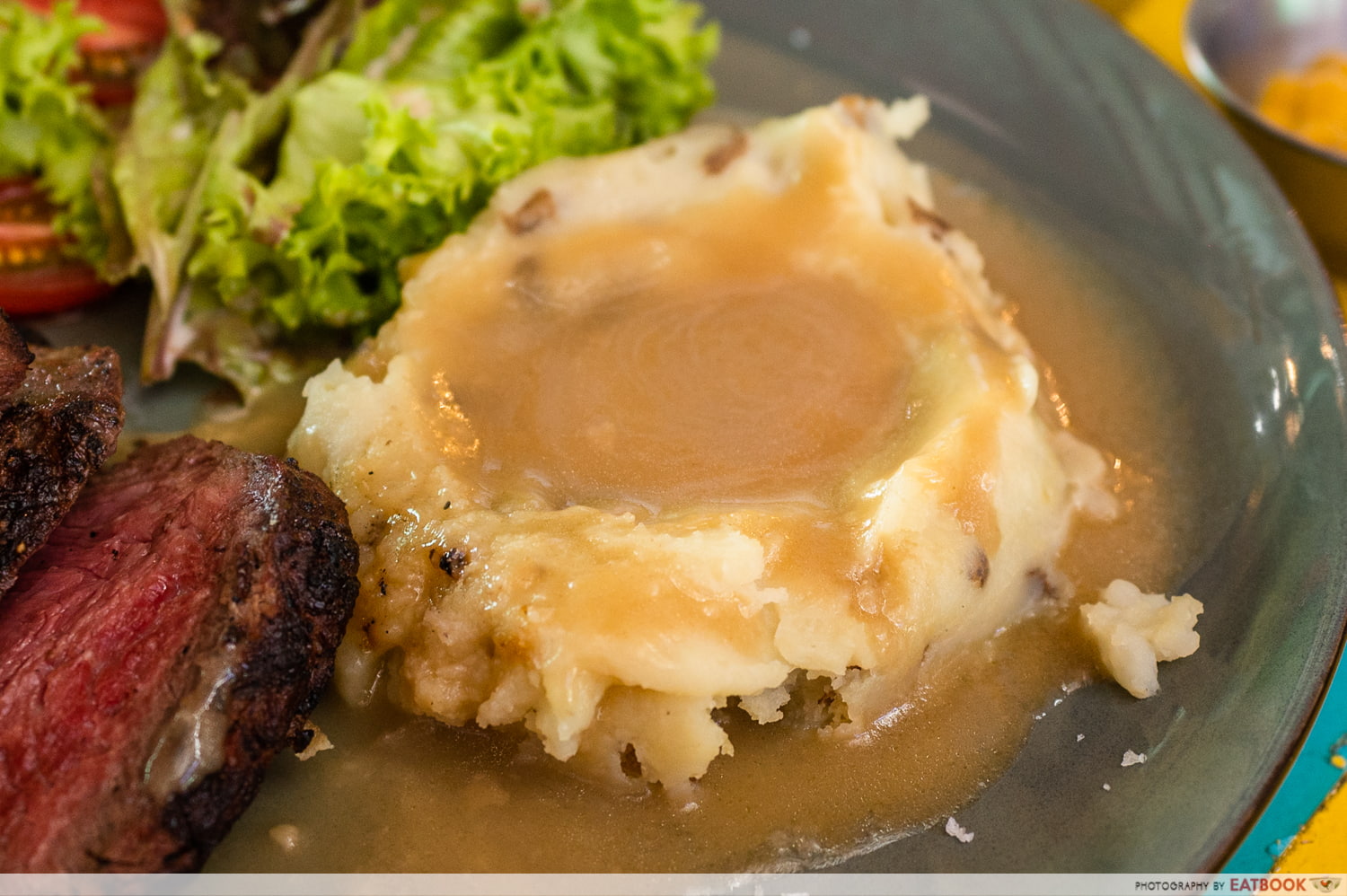 I was particularly impressed by their house-made mashed potatoes. Unlike the usual mushy, soft ones I previously had, the ones here are firmer and include potato skin, adding texture to the dish. Drenched in savoury house-made gravy, this mash paired well with the meaty flavours of the steak.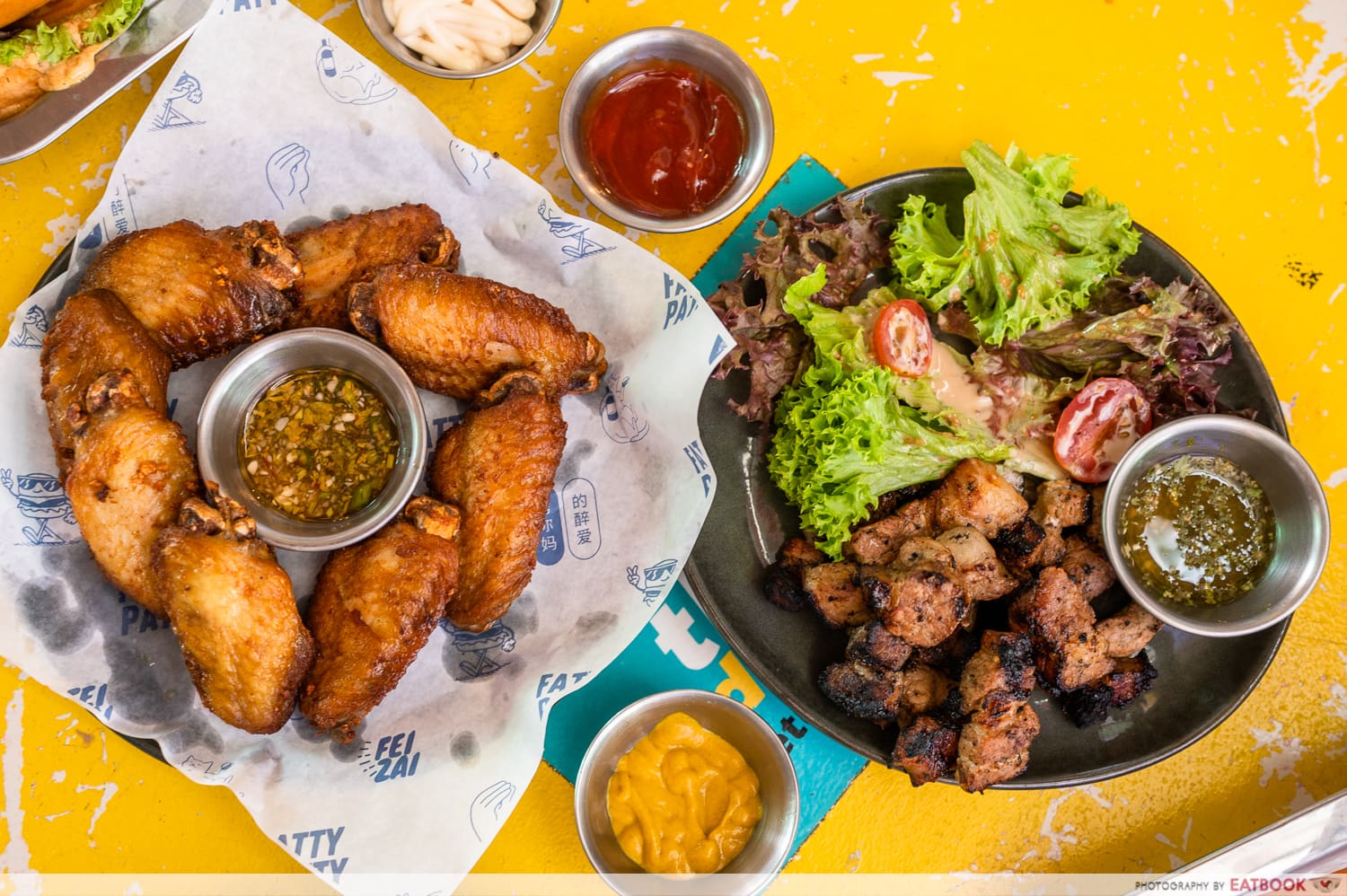 To complete your meal, don't forget to try some of their delectable small bites. We ordered the Charcoal Grilled Pork Belly ($8.80) and Deep Fried Thai Wings ($8.80), both served with their signature sauces—garlic chilli for the pork belly and Thai BBQ chilli for the wings. I have to admit, these sides were outstanding in terms of flavour. The chicken wings were particularly noteworthy for their umami-rich taste, while the pork belly had a delicious smoky aroma. 
Ambience at Fatty Patty Burger and Grill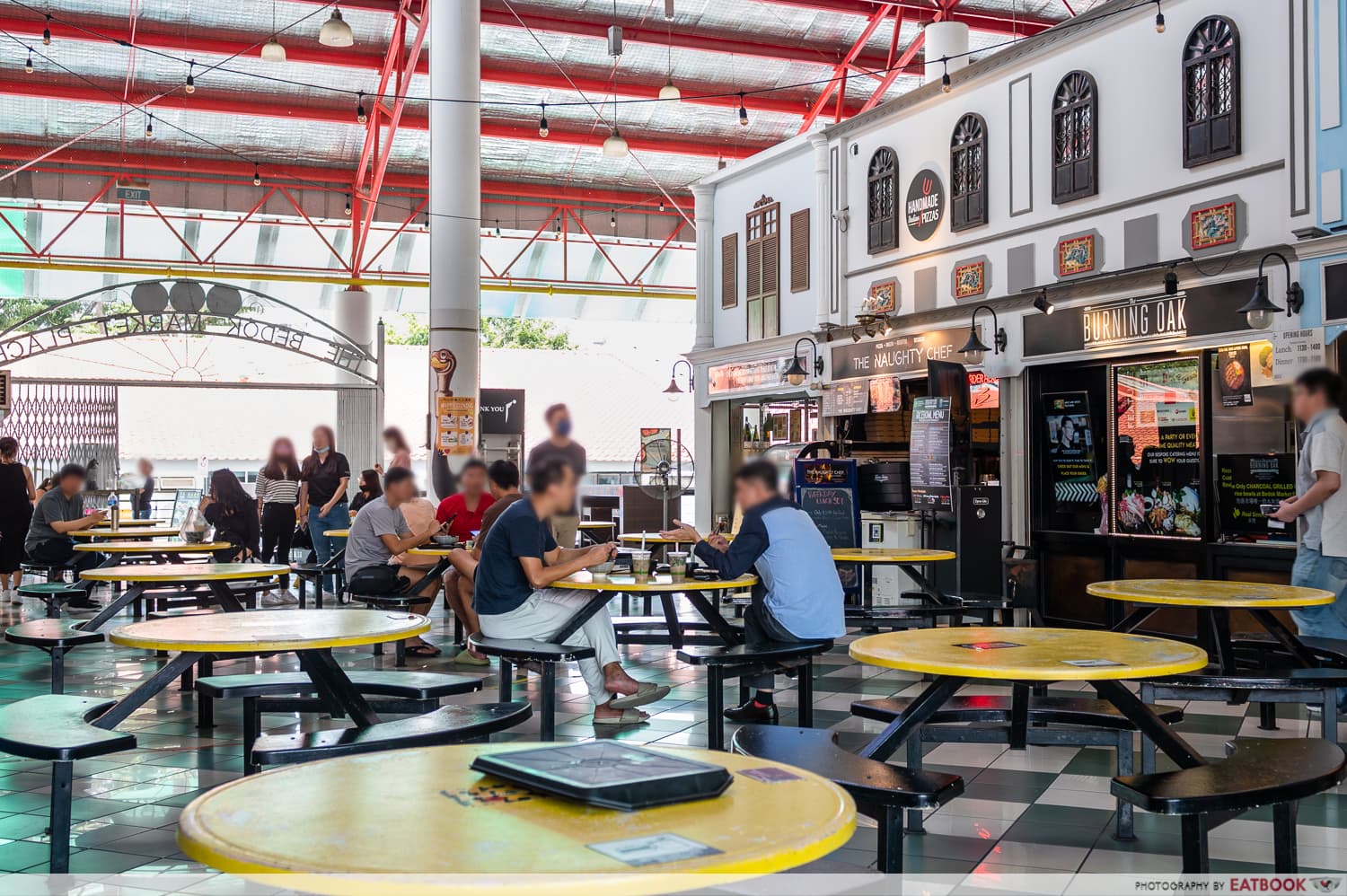 Fatty Patty Burger and Grill is situated in The Bedok Marketplace, a hippy hawker centre that houses various delicious eats, including The Burning Oak. The open-air hawker centre is well-ventilated, so you don't have to worry about sweating buckets while waiting for your food. Enjoy the nostalgic tunes played in the background, featuring artists such as Westlife and Michael Learns To Rock, which adds to the old-school ambience while you enjoy your meal.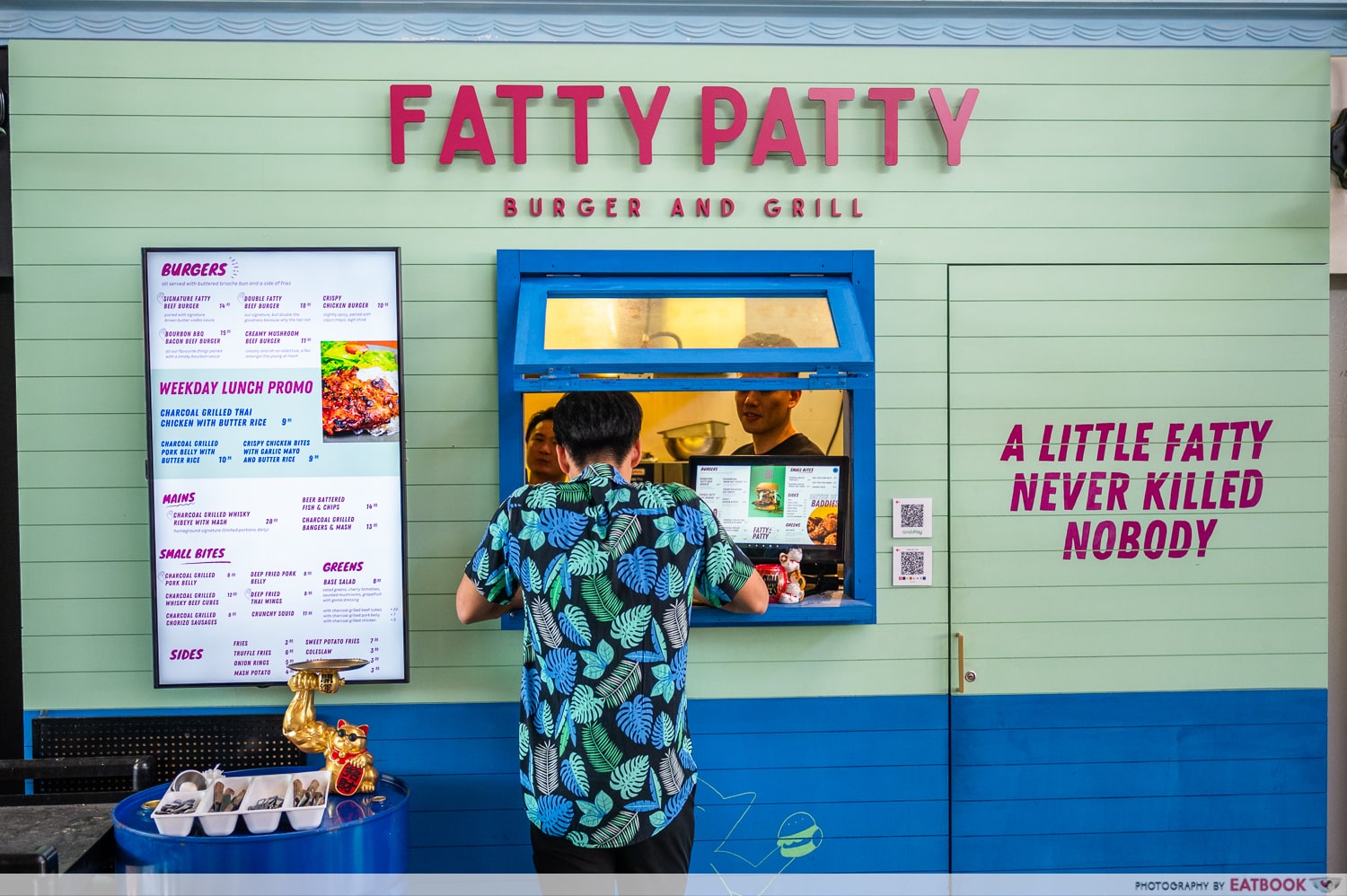 It's hard to miss them too, with their striking Hawaii-inspired storefront decorated in shades of teal and blue. One unique feature of their stall is the semi-open kitchen concept that allows you to observe the chefs in action. You can dress up in tropical prints like I did, and take a flaming hot #OOTD outside while waiting for your food. 
Fatty Patty Burger and Grill is an 11-minute walk from Tanah Merah MRT Station.
The verdict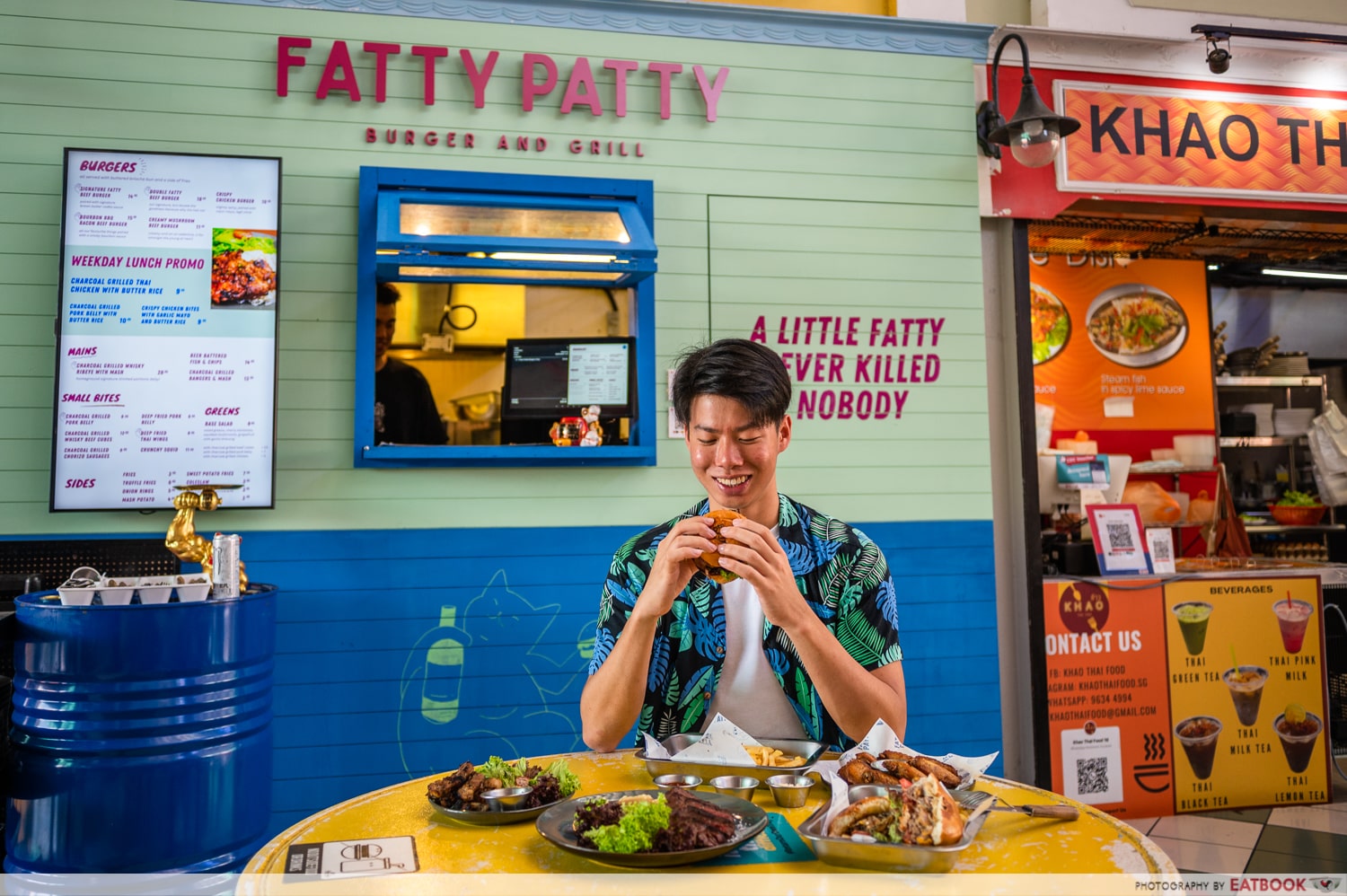 Fatty Patty Burger and Grill sets themselves apart by offering unique burgers with complex, distinct flavours. The chefs are meticulous in the preparation of food, and prices are reasonable for the exceptional quality of their food. I'm willing to rate them as one of the best burgers I've had in a hawker setting, and make a kind exception to spend my money and calories on their burgers. Because, after all, a little fatty never killed nobody. 
For more burger recommendations, read our guide to the best burgers in Singapore. Alternatively, check out One Fattened Calf, which is famous for their butter beef burgers and cheesy loaded fries.
Address: 348 Bedok Road, #02-09, The Bedok Marketplace, Singapore 469560
Opening hours: Tue-Sun 11:30am to 9:30pm
Website
Fatty Patty Burger and Grill is not a halal-certified eatery 
Photos taken by Ke-Ian J Leong ZhengXi .
This was a media tasting by Fatty Patty Burger and Grill.
Fatty Patty Burger and Grill Review: Vodka Beef Burgers And Whisky Ribeye By Young Hawkers
Fatty Patty Burger and Grill Review: Vodka Beef Burgers And Whisky Ribeye By Young Hawkers -

8/10
Summary
Pros
– Unique, flavourful alcohol-infused burgers
– Affordable prices for excellent burgers
Cons
– Charcoal Grilled Whisky Ribeye was a tad chewy
– Fries were too salty
Recommended dishes: Signature Fatty Beef Burger ($14.90), Bourbon BBQ Bacon Beef Burger ($15.90)
Opening hours: Tue-Sun 11:30am to 9:30pm
Address: 348 Bedok Road, #02-09, The Bedok Marketplace, Singapore 469560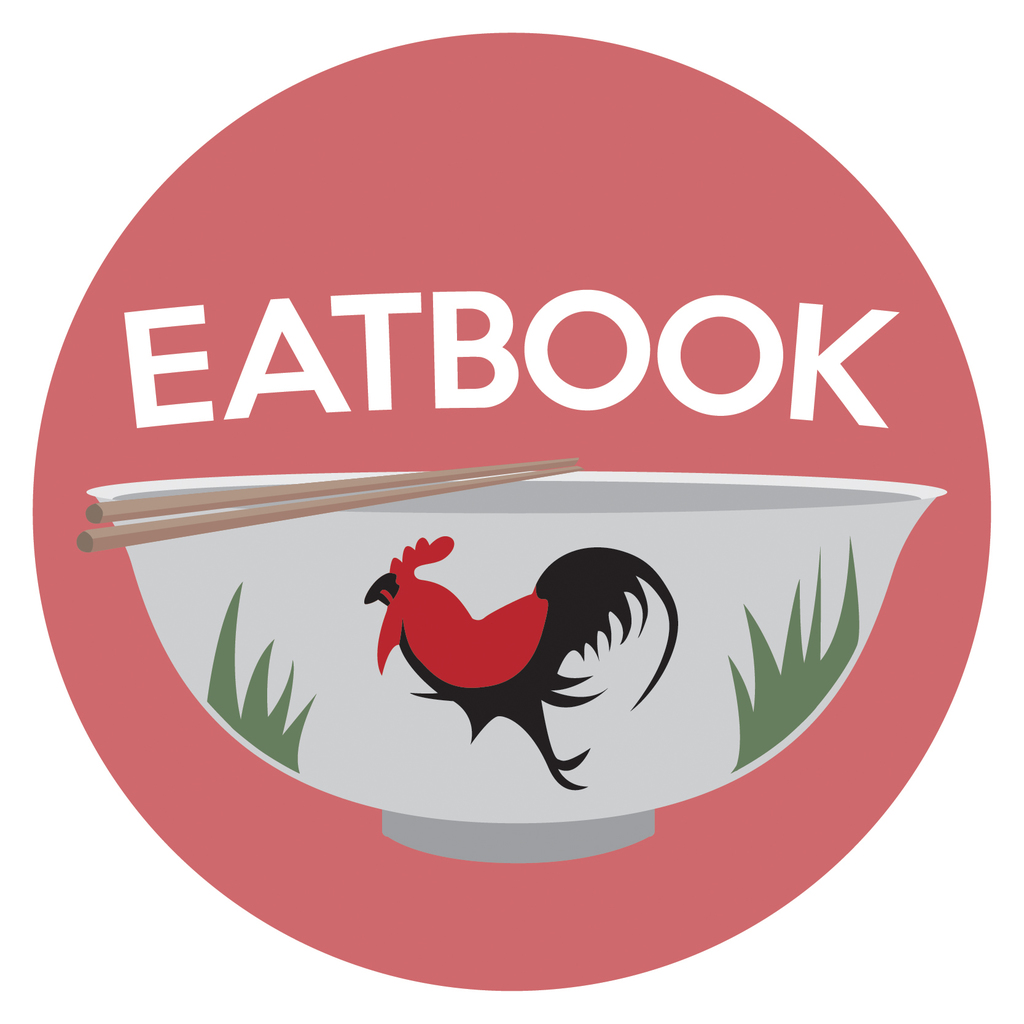 Drop us your email so you won't miss the latest news.