One Fattened Calf at One-north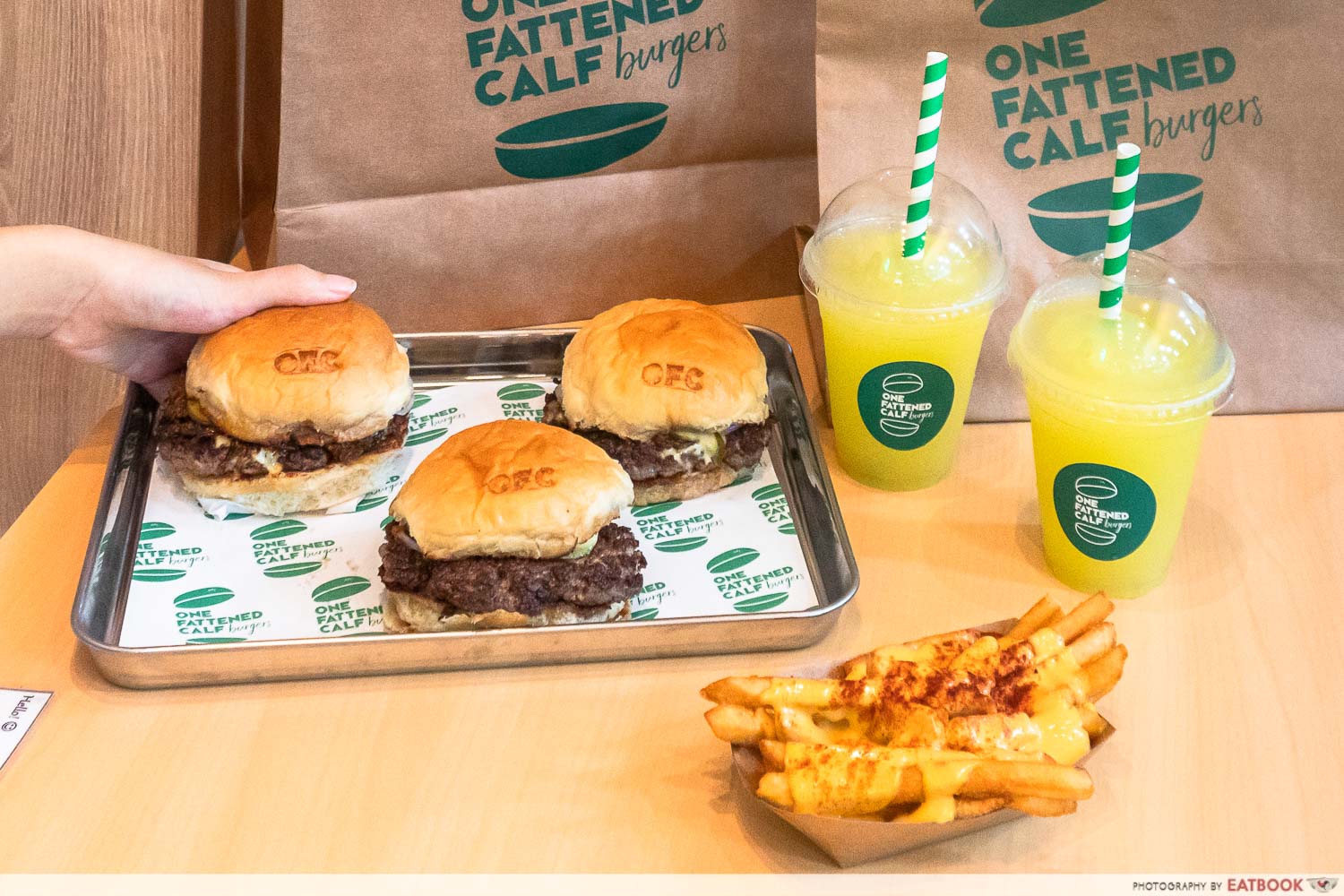 As someone who's spent a good portion of my schooling life in the West, I like to think that I have relatively good knowledge of all the good eats in the area. News of One Fattened Calf's opening in late 2021 flew right under my nose as it quietly opened its doors in a quiet part of Galaxis at One-north. 
Food at One Fattened Calf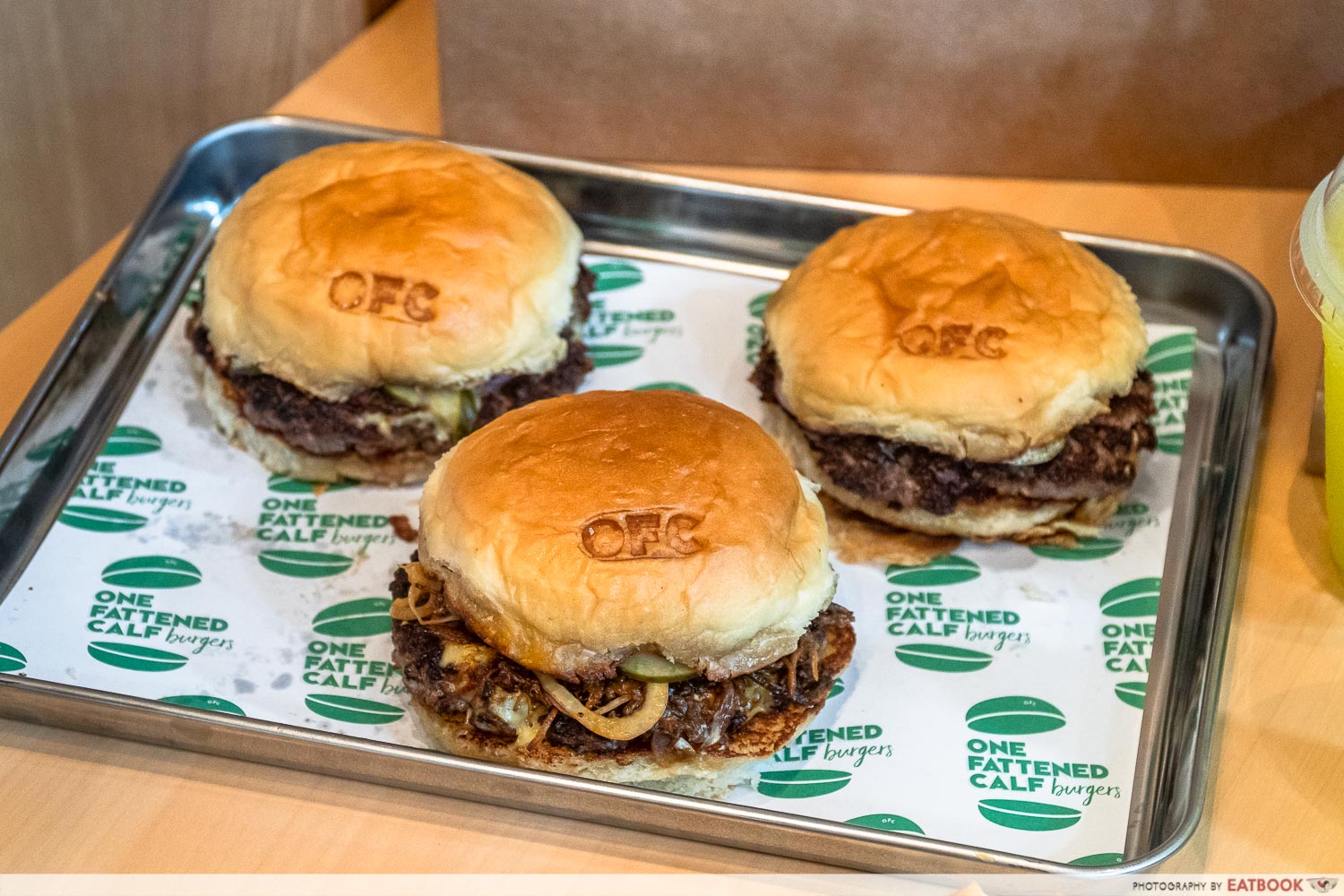 One Fattened Calf's menu is small, but the quality of the nosh makes up for quantity. There are a total of five burgers you can choose from, and we decided to go for their three bestsellers.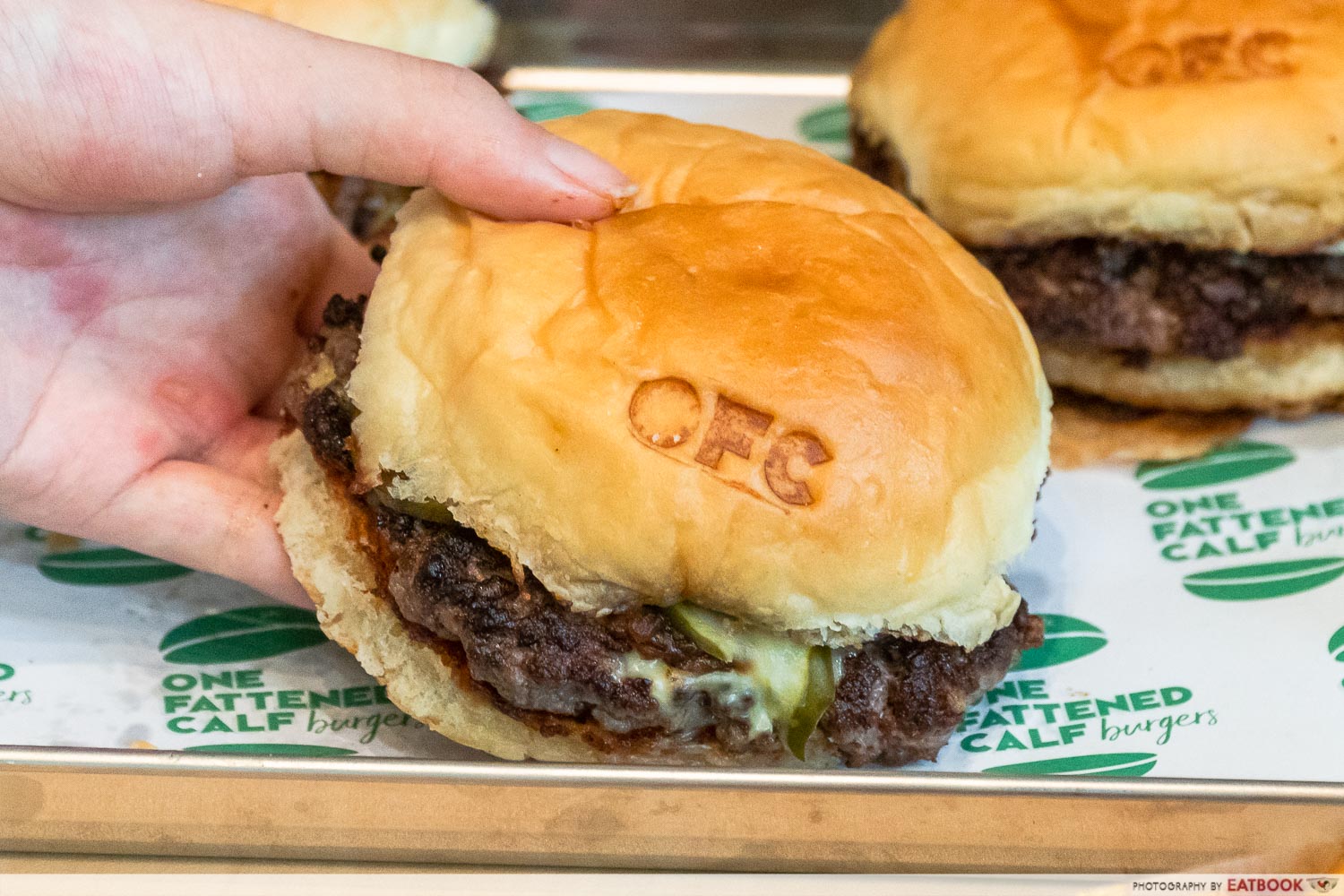 First of the three that we tried was the OFC Cheeseburger ($15), which we upgraded to a Burger Combo with an additional $4.90.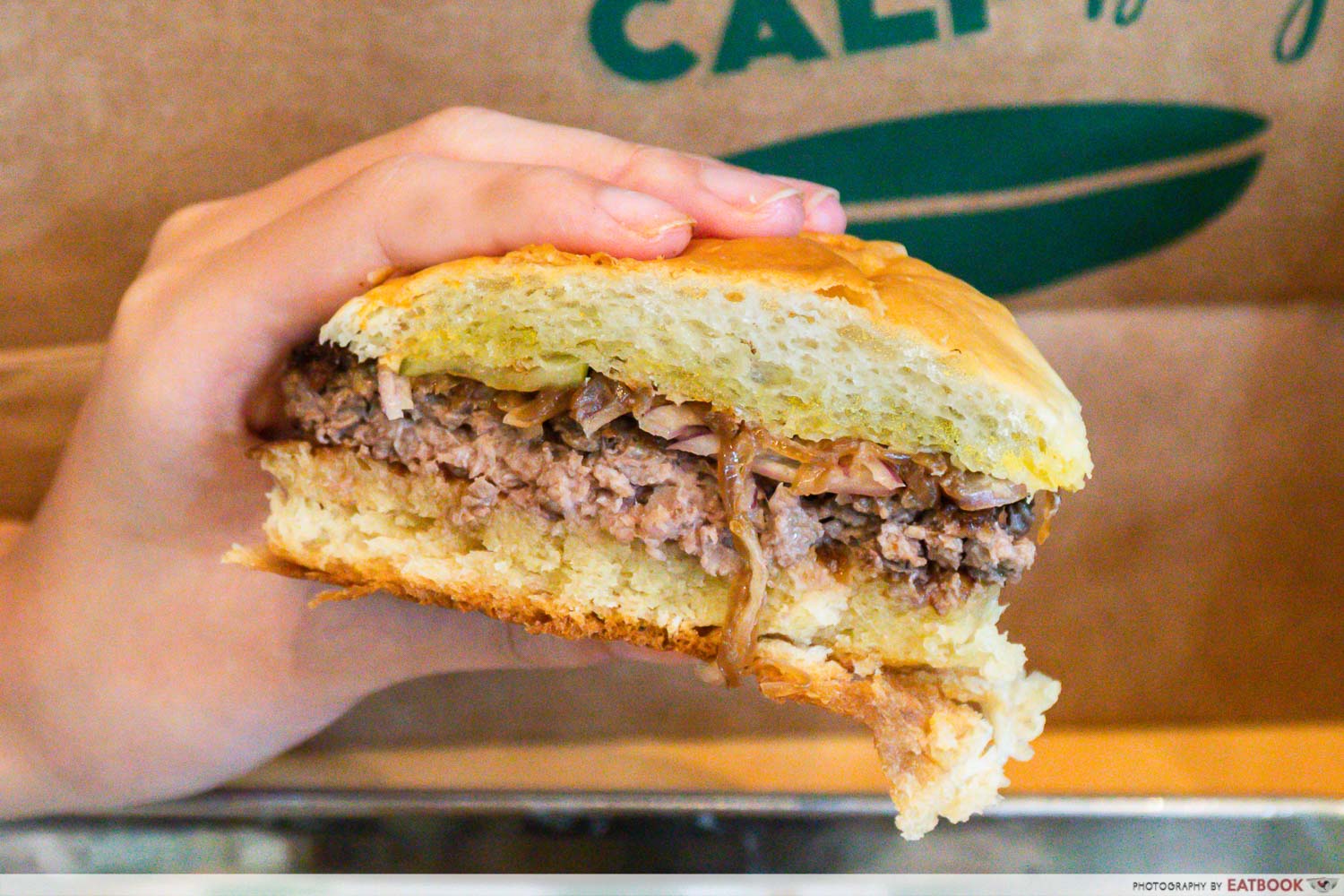 The 150g patty of premium New Zealand grass-fed beef that features in all their burgers is smashed on the grill and blowtorched before serving. This additional touch creates a wonderful char on the outside, while still maintaining the juiciness of the beef on the inside. 
Take a bite, and you'll immediately be rewarded with a burst of buttery flavour from the tender, succulent patty.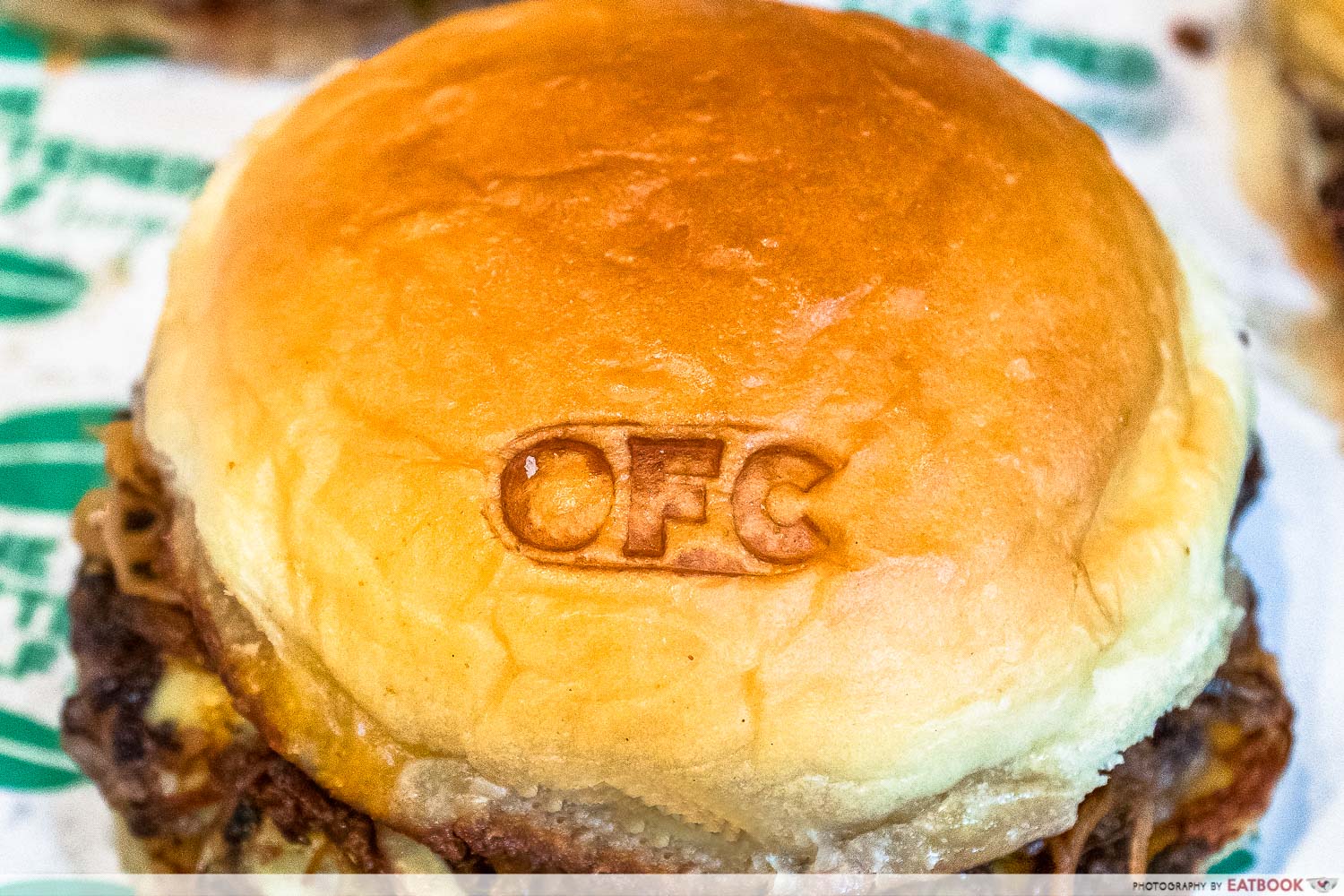 One Fattened Calf's potato buns are made in-house, and I would say that the effort to bake their own buns pays off. Light and fluffy with a touch of sweetness, the burger buns balanced out the more intense flavours of the beef.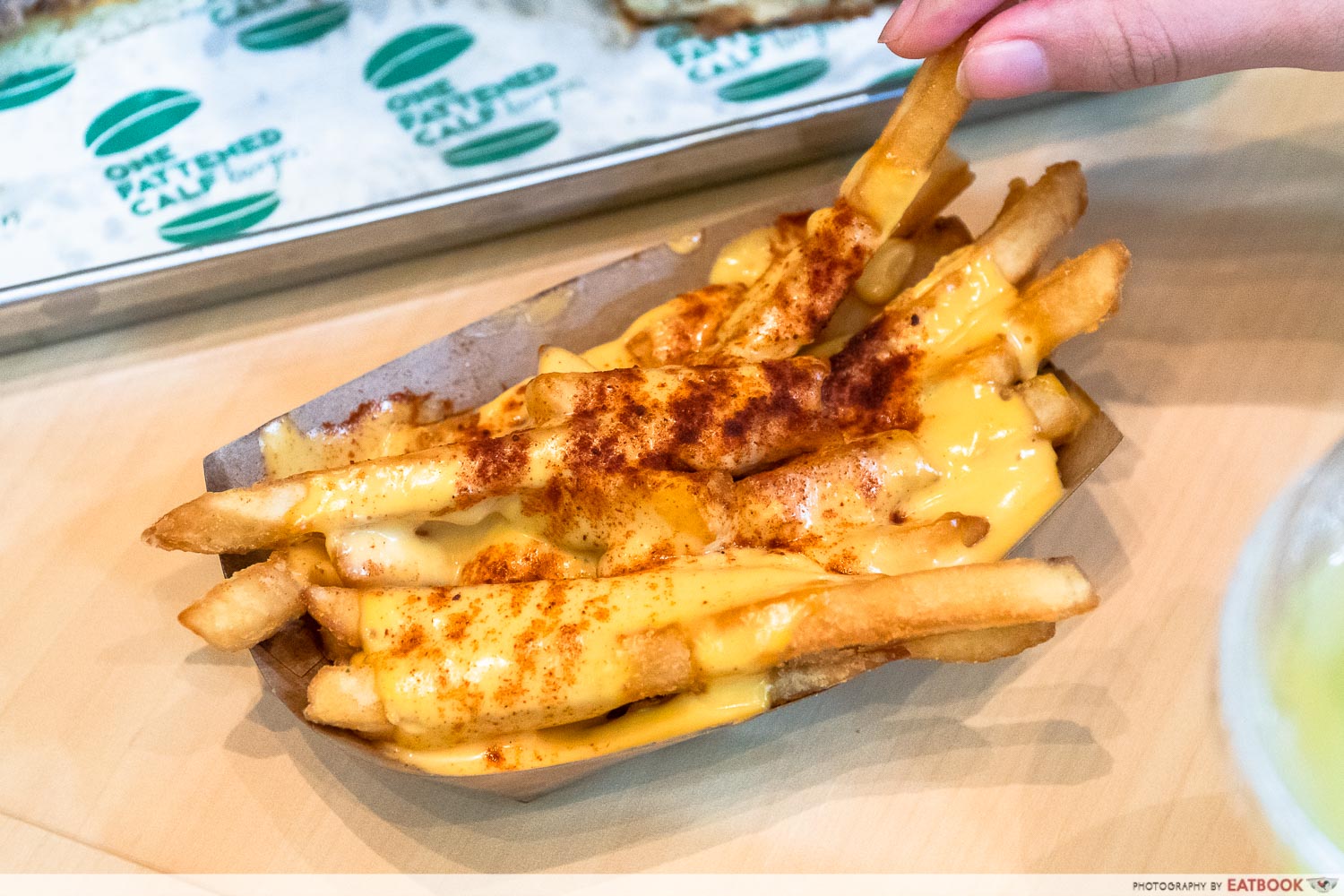 The burger combo comes with a serving of OFC Fries, which we upgraded to OFC Cheese Fries ($7.90) with a top-up of $2. If you prefer, you can choose to get a side of OFC Truffle Fries ($8.90) with an additional $2.50 instead.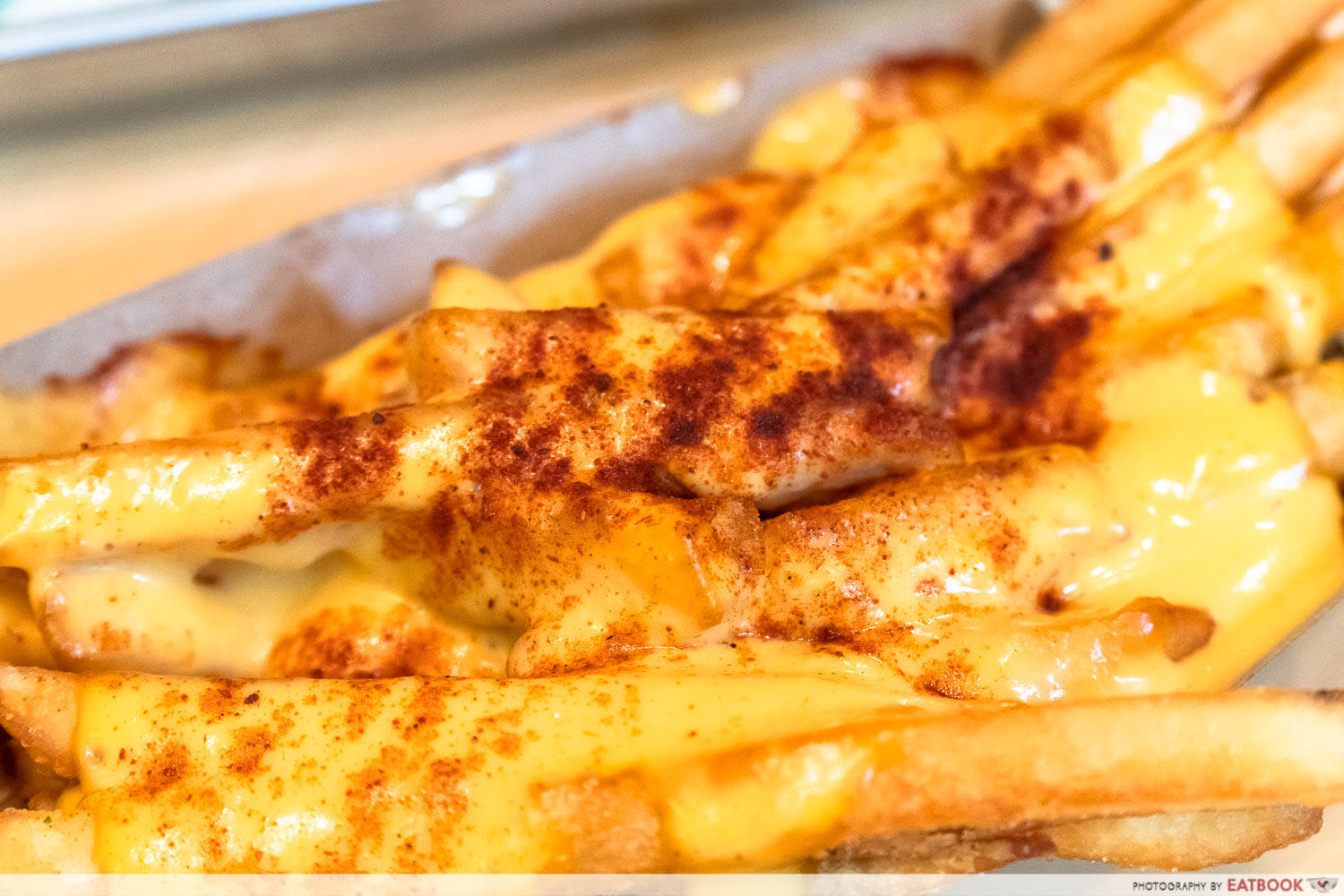 If it weren't for the additional dusting of paprika on top, I would've dismissed this as your usual cheese fries. The paprika added a mild kick of spice and general smokiness that, combined with the generous drenching of nacho cheese, made for an indulgent side that I couldn't stop reaching for.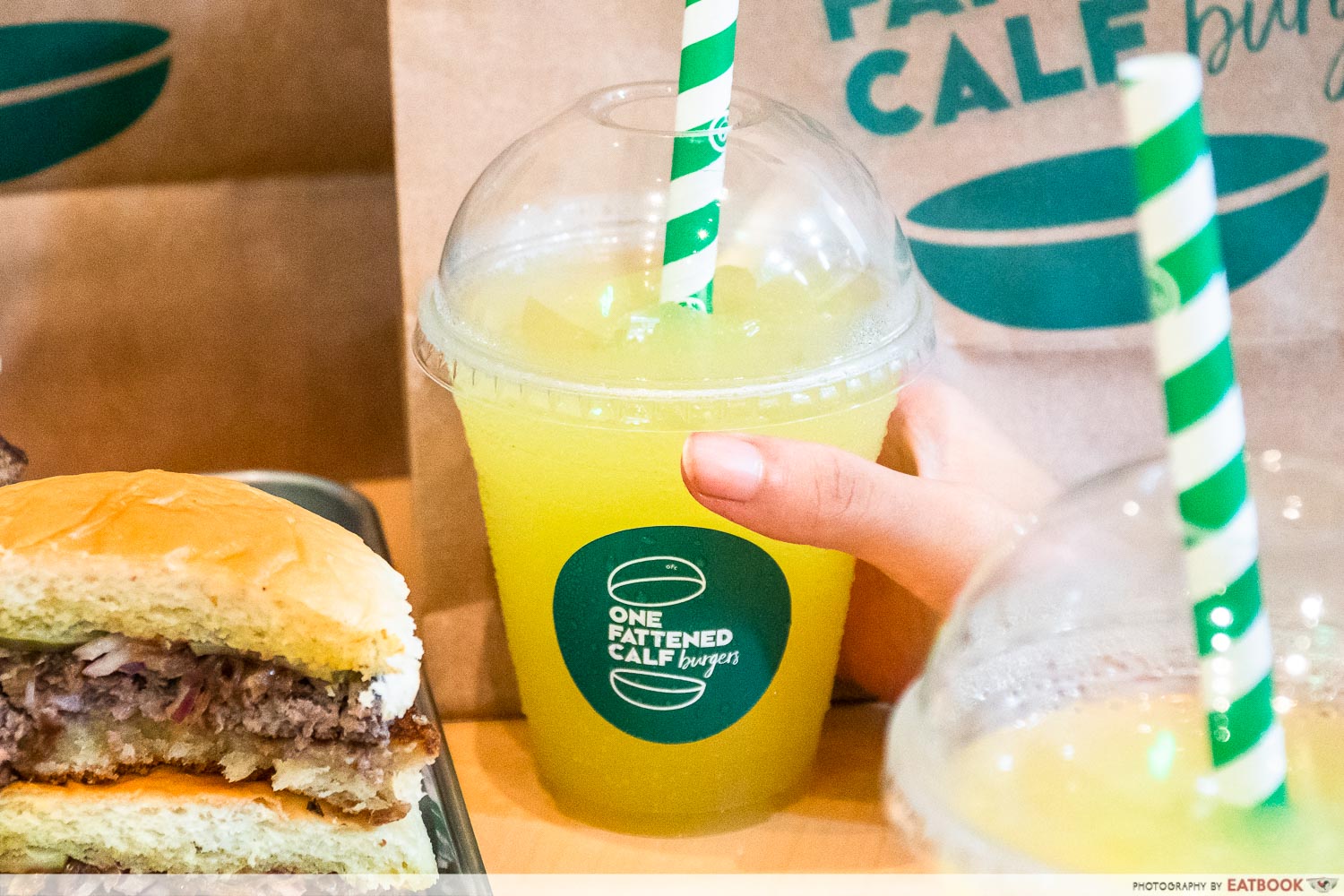 Each burger combo also comes with a drink of your choice, and of course, we had to try their OFC Golden Lime Slushie ($4.90). It tastes similar to calamansi juice, and I found it to be more sweet than sour. Nonetheless, it was a refreshing addition to our hefty meal.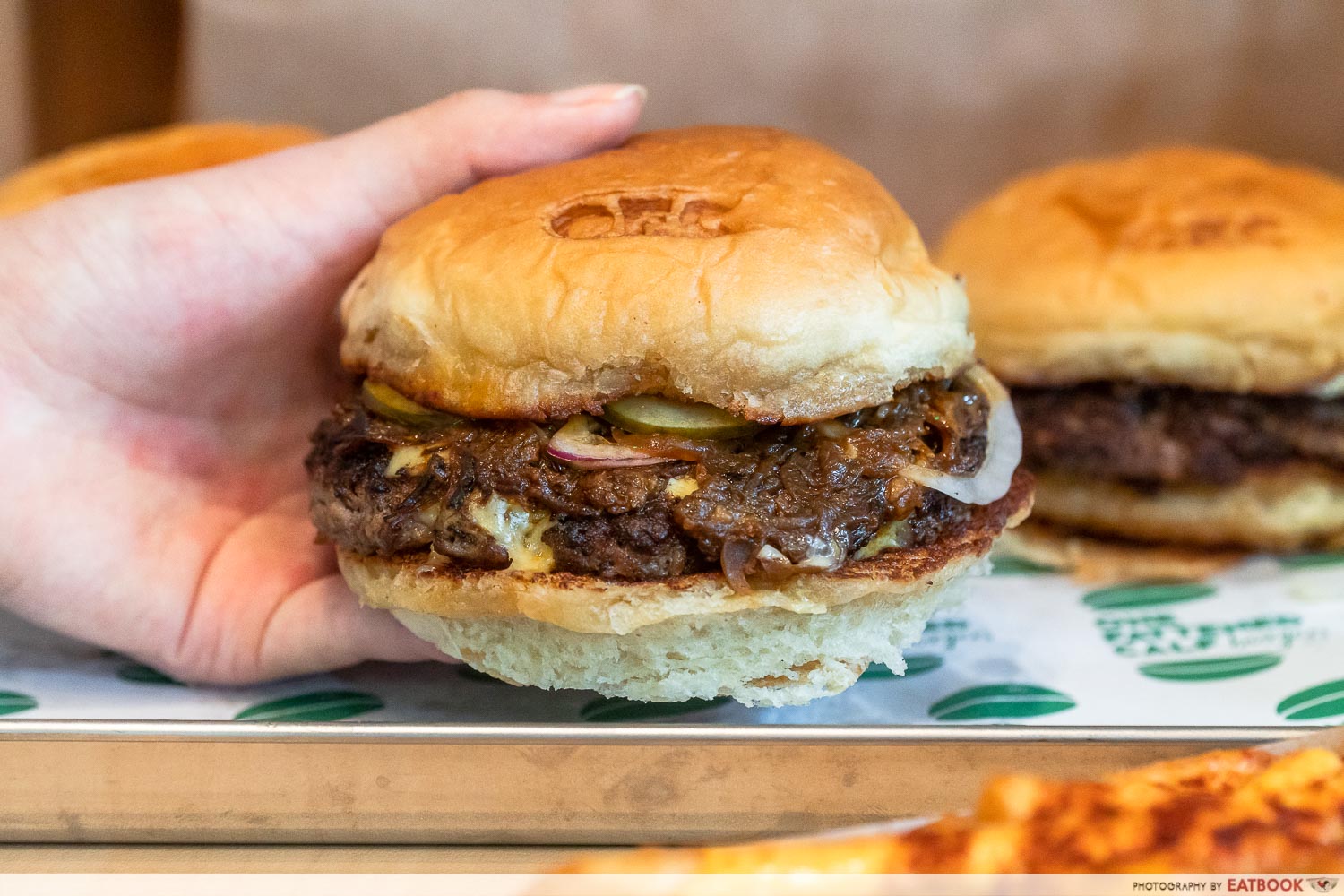 Next, we tried the OFC ButterBurger ($15). Its only difference from the normal OFC Burger is the addition of two thick slabs of cold grass-fed butter, similar to the ones you have in your kaya toast at Ya Kun. 
I applaud the owners for their decision to add the butter, because it did wonders to elevate the flavours of the beef. 
I loved how the cold butter immediately starts to melt on the hot patty, creating this luscious, fat-ladened sauce that coats the meat. In the same way that you would baste a steak with butter for extra flavour, the melting butter lent a creamy finish to the burger.
It's worth noting that this is the only burger from One Fattened Calf that is not available for delivery, so you will have to haul yourself down to the store to try it for yourself.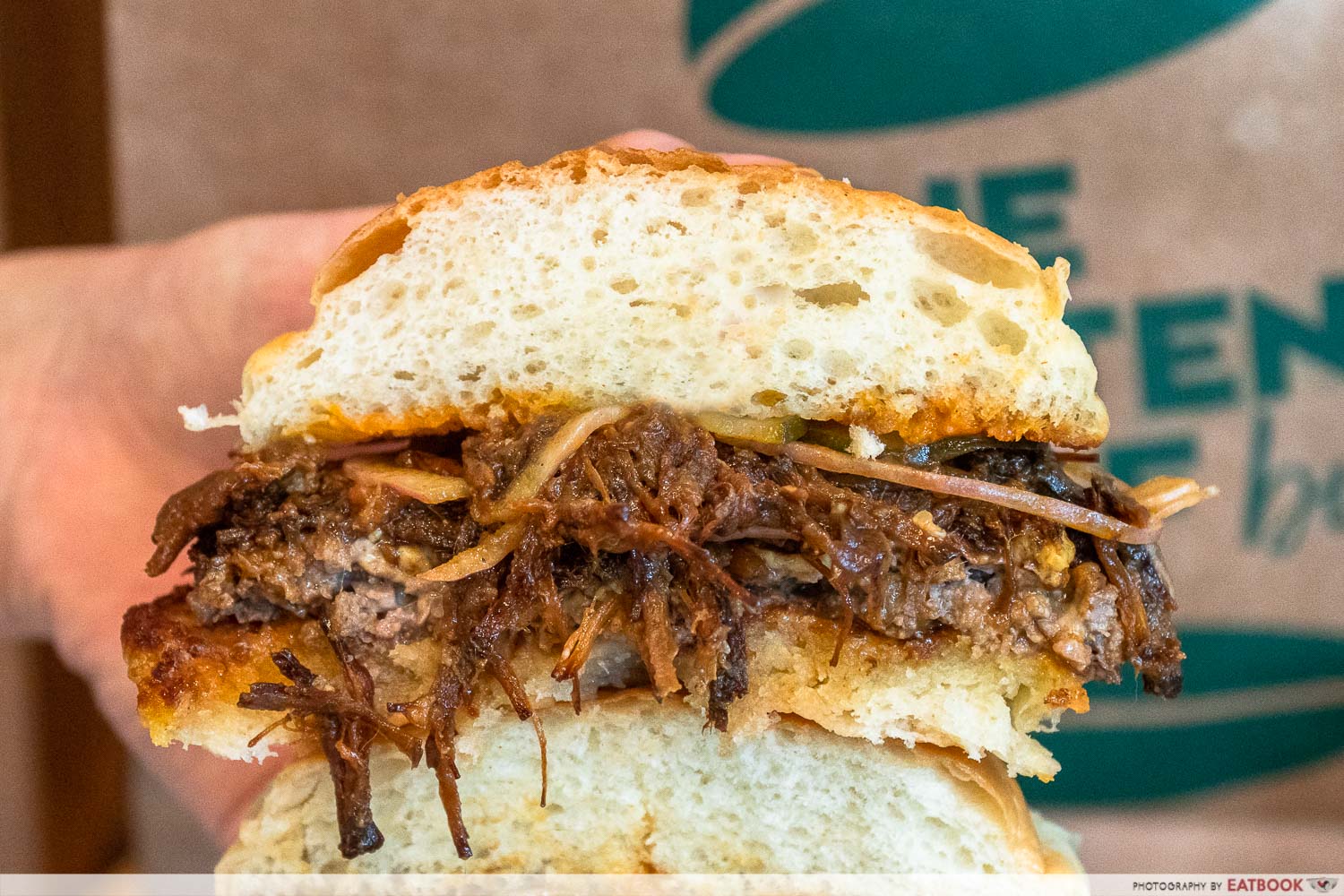 Last but not least, we tried the OFC GoldBurger ($18), which is loaded with pulled beef brisket on top of their standard affair of beef patty, onions, tomatoes and pickles.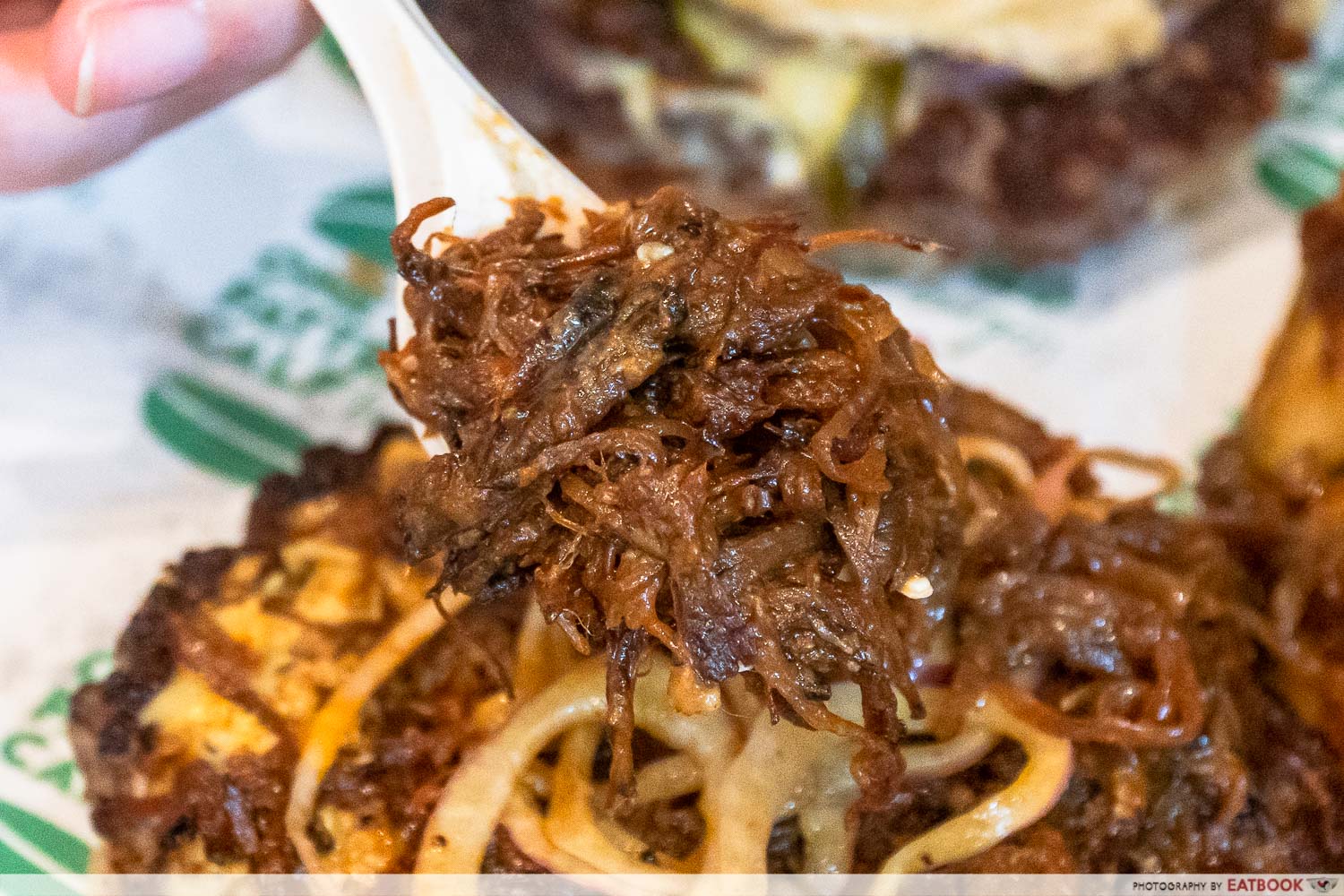 At first, I feared that beef on beef would be too overwhelming, but it actually contrasted the tender beef patty with some chewiness, while adding smoky notes too.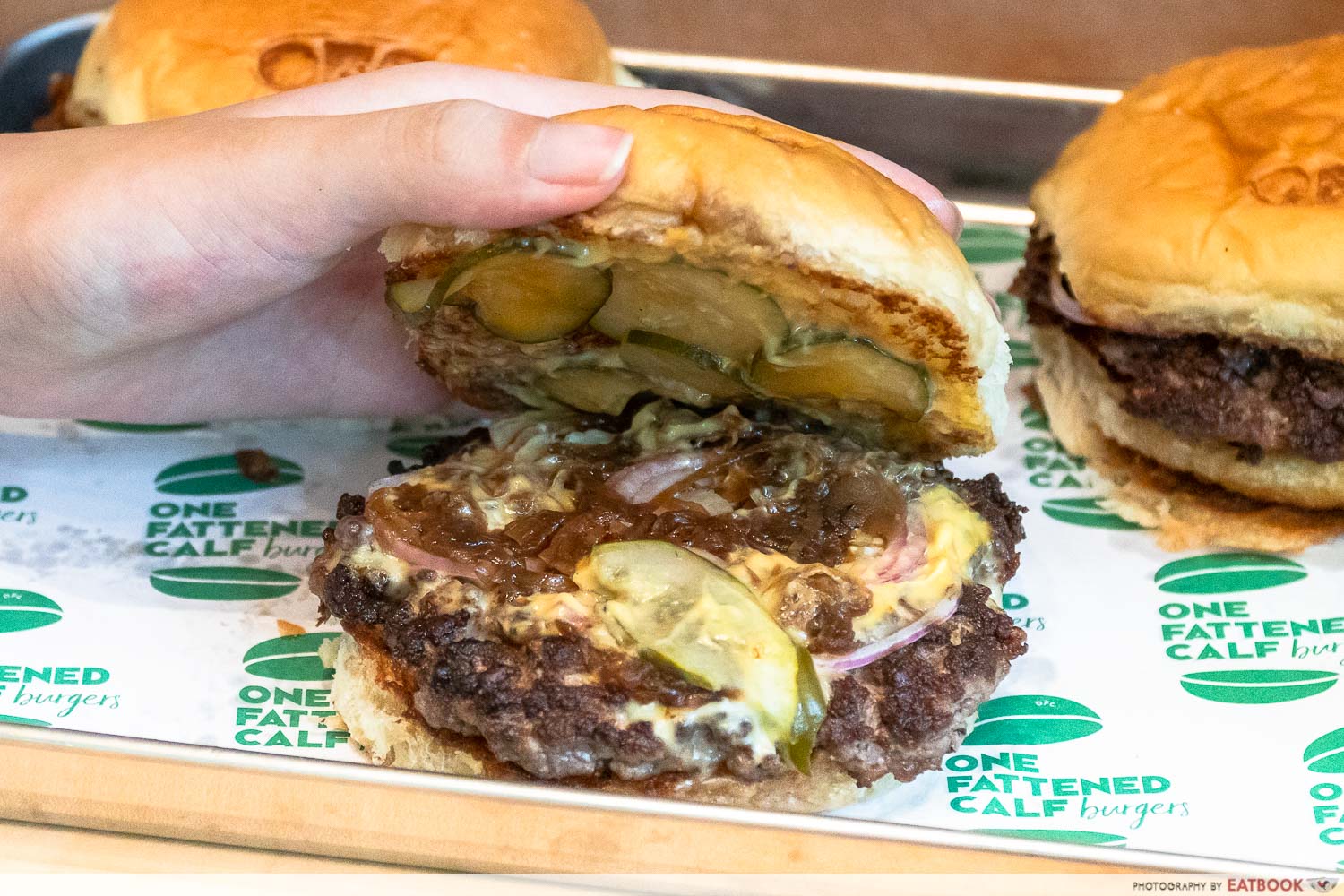 As mentioned earlier, each burger comes with its own share of charred onions, red onions, tomatoes, and house-made pickles, but I'd like to shine the spotlight on the pickles. I'm the type to pick the pickles out of my burger because I'm not a fan of the taste, but I found the ones at One Fattened Calf delightfully crunchy, without the unpleasant sourish and briny taste that I dislike. 
Burgs by Project Warung Review: Famous Muslim-Owned Burger Place Opens At Somerset With Prices Under $12
Ambience at One Fattened Calf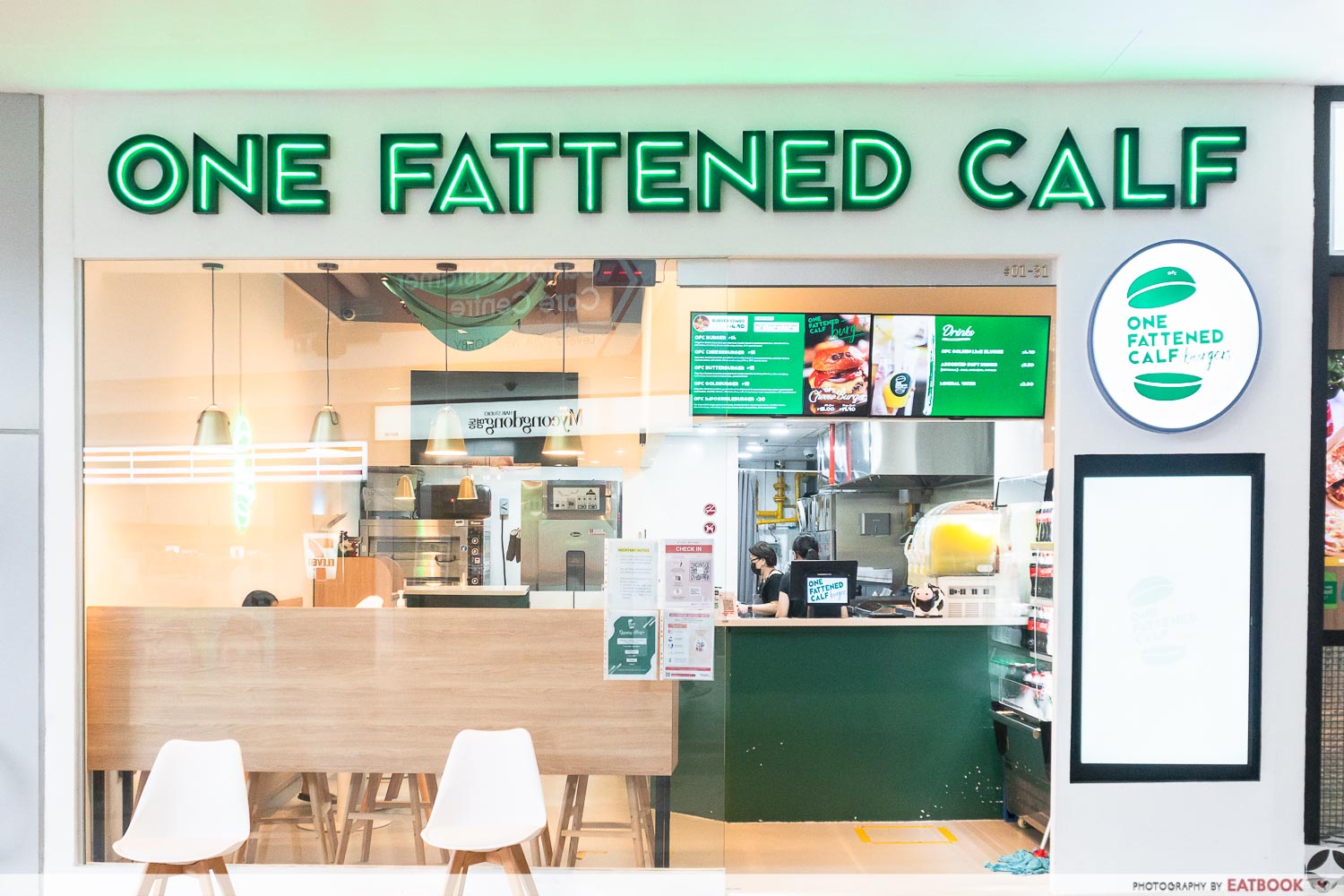 Galaxis is directly connected to One-north MRT Station, so getting here is definitely not a problem. Their current space is quite limited, seating roughly 15 people at any given time. The seats fill up pretty quickly during lunch hour thanks to office workers from the buildings nearby, so do head down early if you're looking to secure a seat. 
Their kitchen has an open concept, so you can watch as your burger is grilled to perfection and assembled upon order, before it lands on your tray. 
The verdict
It's safe to say that One Fattened Calf has beyond impressed me with their hearty burgers. For the quality you're getting, I would consider the grub here value-for-money, and I am definitely willing to brave the long lunchtime queues if it means I get to enjoy their burgers again. 
If you're looking for more burger joints, check out our list of 15 best burgers in Singapore at all budgets. For other halal burgers, check out our Burgs by Project Warung review for burgers below $12 from this Muslim-owned joint. 
Address: 1 Fusionopolis Place, #01-31, Galaxis, Singapore 138522
Opening hours: Mon-Tue 11am to 3pm, 5pm to 8pm, Wed 11am to 3pm, Thurs-Sat 11am to 3pm, 5pm to 8pm
Website
One Fattened Calf is not a halal-certified eatery.
Photos taken by Zu Yi Kong.
This is an independent review by Eatbook.sg.
One Fattened Calf Review: Popular Butter Beef Burgers And Cheesy Loaded Fries In one-north
One Fattened Calf Review: Popular Butter Beef Burgers And Cheesy Loaded Fries In One-north -

8.5/10
Summary
Pros
– Tasty beef patties
– ButterBurger was unique and delicious
Cons
– Few seats available
Recommended dishes: OFC ButterBurger ($15), OFC GoldBurger ($18)
Opening hours: Mon-Tue 11am to 3pm, 5pm to 8pm, Wed 11am to 3pm, Thurs-Sat 11am to 3pm, 5pm to 8pm 
Address: 1 Fusionopolis Place, #01-31, Galaxis, Singapore 138522