Burgs by Project Warung at 313@somerset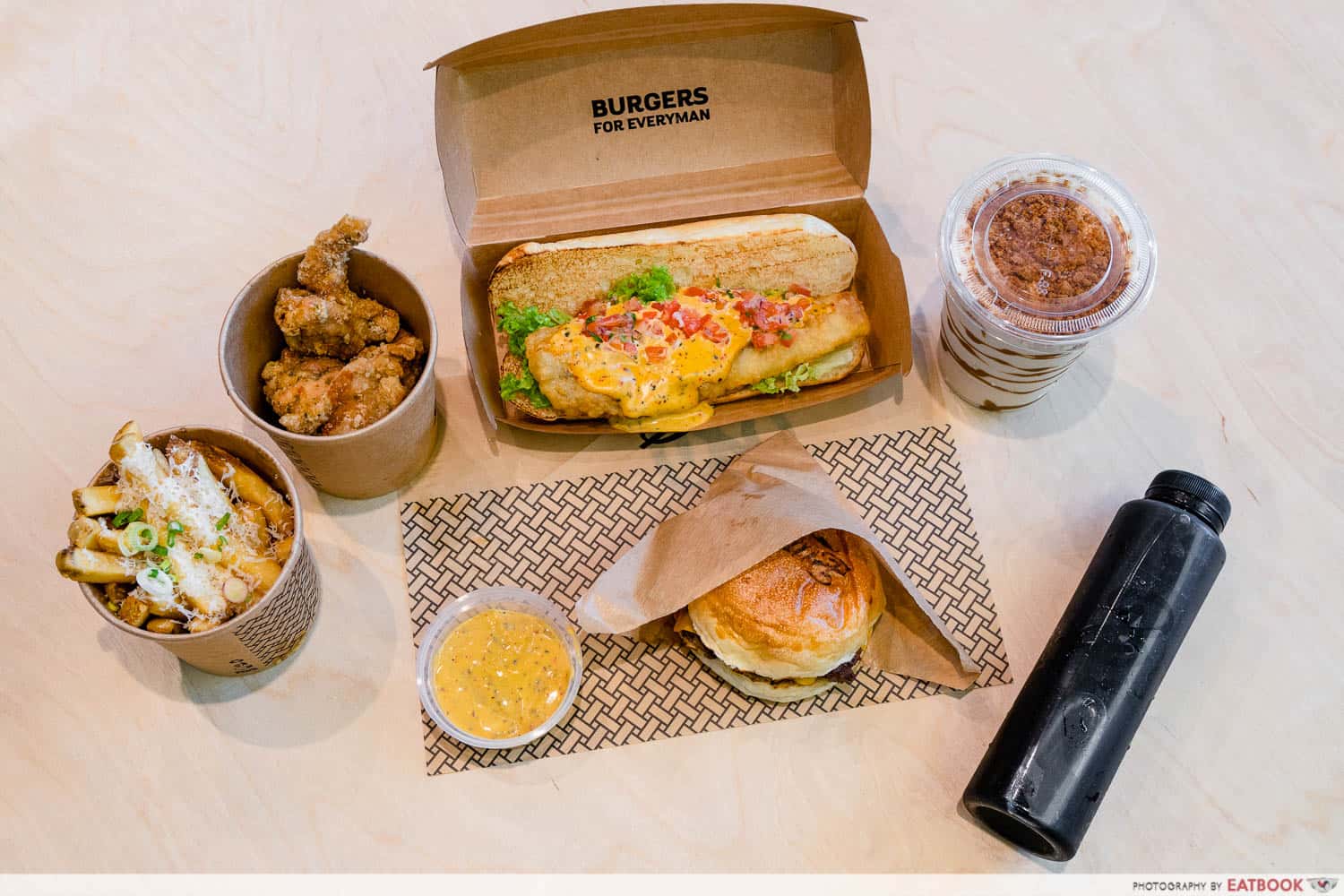 The famous Muslim-owned burger brand, Burgs by Project Warung, has recently opened a new outlet in 313@somerset. It is run by two local chefs, Indra and Ridz, who previously worked in Michelin-starred restaurants before starting this burger journey together. With their expertise, Indra and Ridz opened Burgs to specialise in top quality, restaurant-like burgers—but at affordable prices.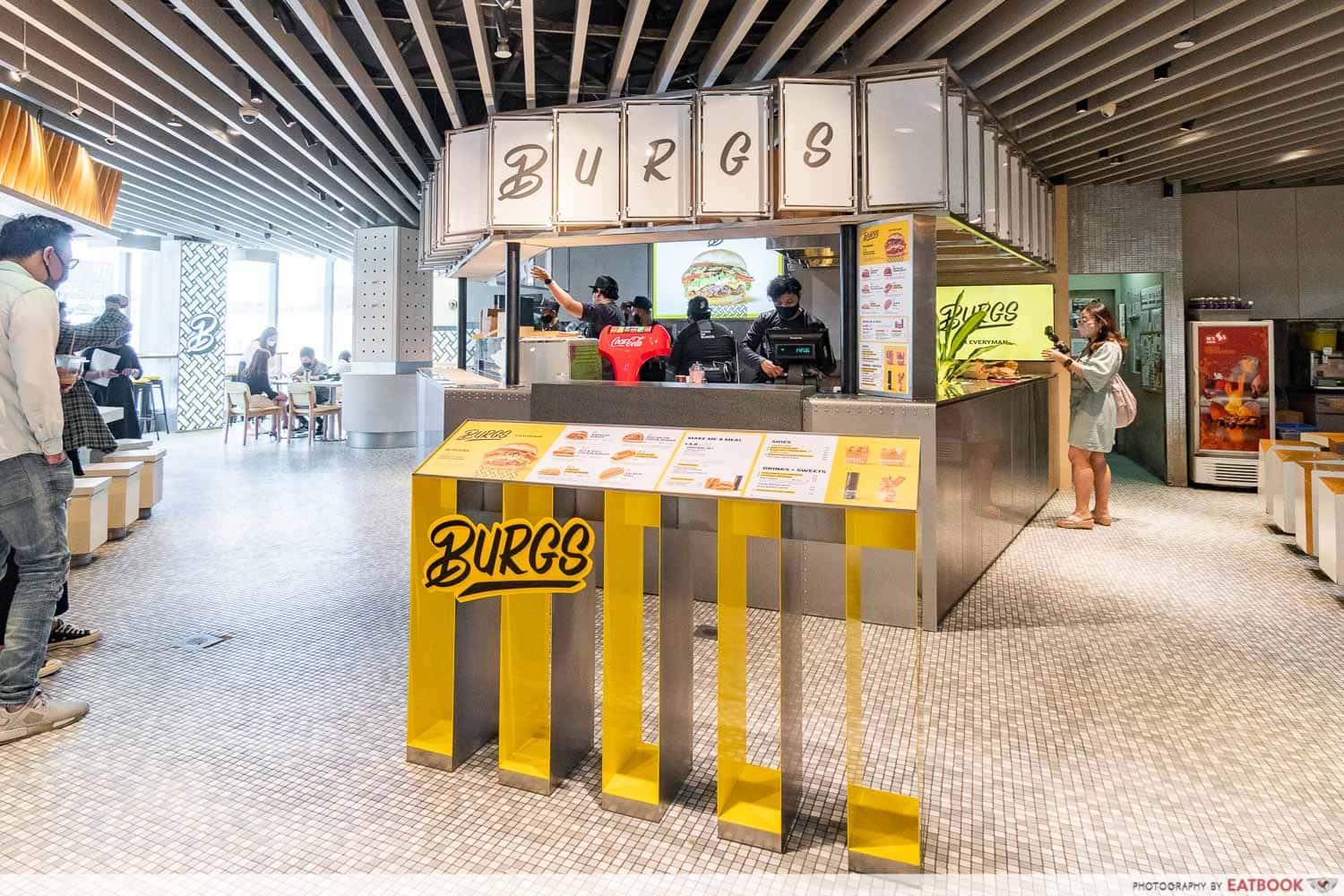 Since their first opening, Burgs has grown and expanded to four outlets around Singapore, with this new store being their fifth. Compared to the other four outlets, which are hawker stalls, this new branch is a fast-casual burger joint with a revamped version of their current menu and outlet-exclusive items.
Food at Burgs by Project Warung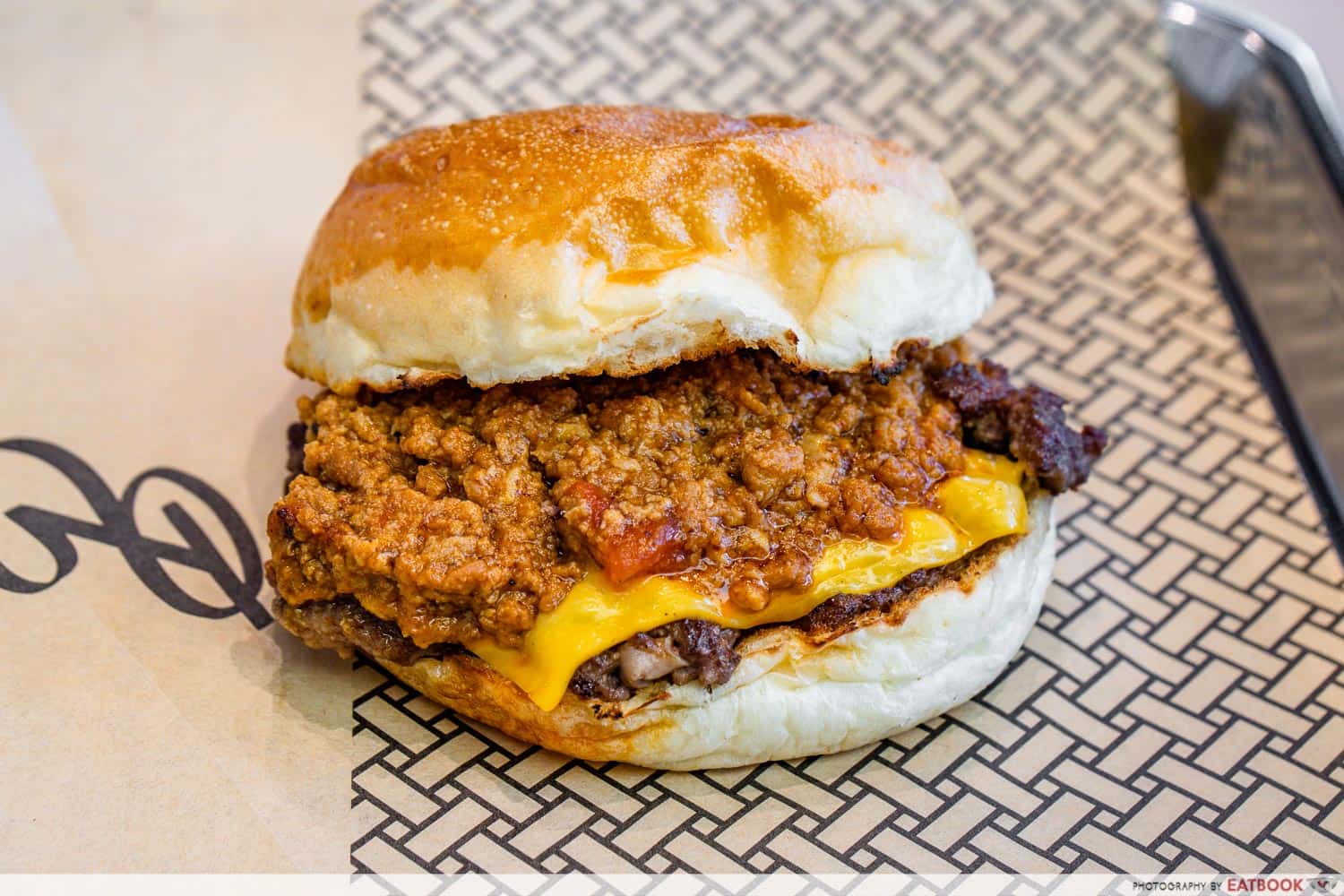 My colleague and I started our meal with Burgs' Chilli Cheese Burger, an opening exclusive that you won't find on their permanent menu. This came with the usual suspects: a beef patty, topped with a slice of melted cheese, dressed in a house-made, chilli cheese sauce, sandwiched between perfectly browned burger buns.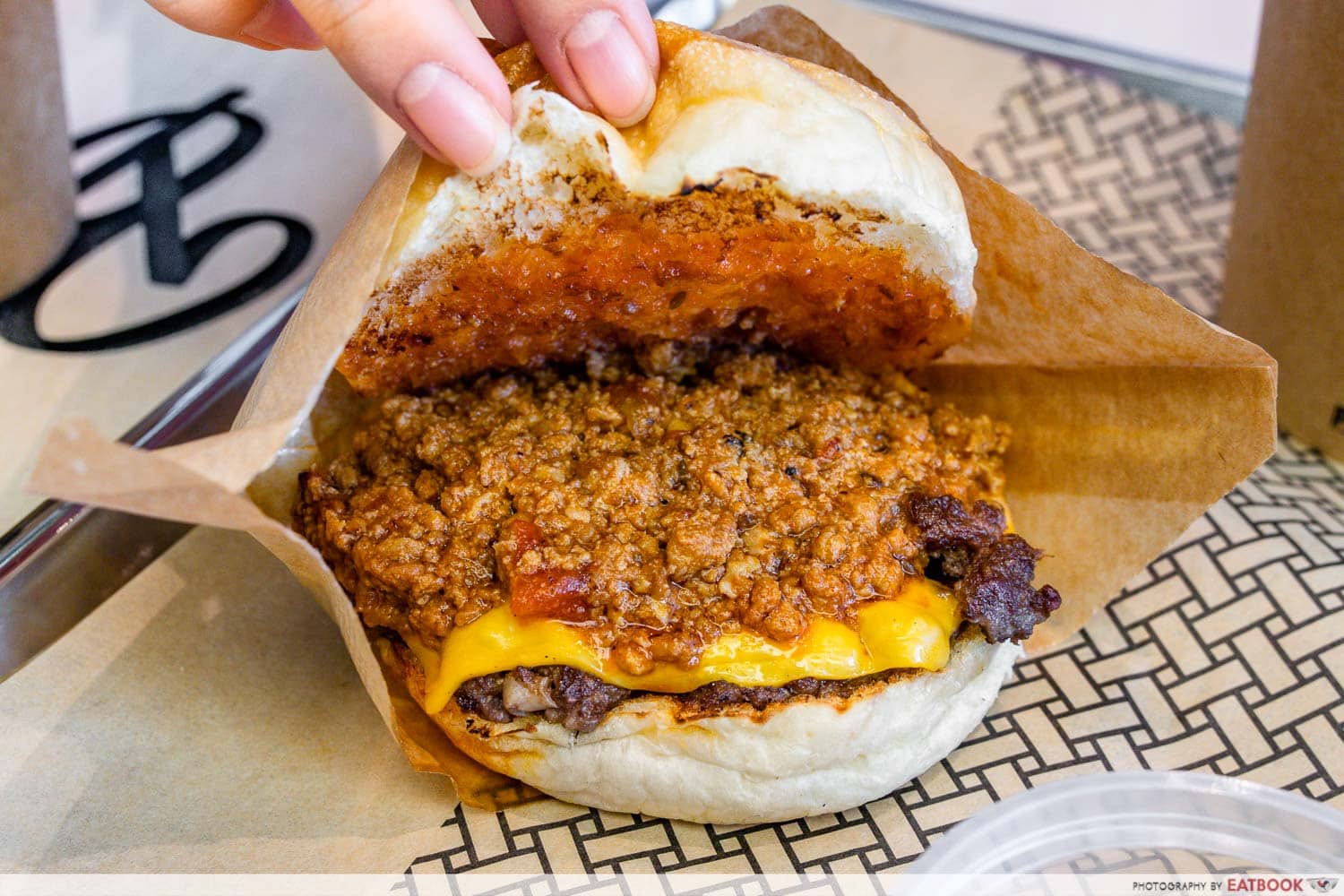 Burgs' chilli sauce was rather unique, as it came in the form of a chicken chilli con carne. It came in a bright, fiery-red colour, seeing which I steeled myself for a spicy onslaught. To my surprise, it skewed toward the sweeter end, tasting nearly similar to bolognese sauce, instead of hitting me with a spicy punch. It also had a faintly spiced aroma, which added an extra depth of flavour. I would have preferred if the chilli had a little more heat for oomph. 
Aside from the sauce, the patty was pretty memorable. Judging by how the handcrafted patty was rather thin, I was impressed by how juicy it still was. A bite into this patty revealed a slightly pink centre, which to me, is the perfect sign of medium rare doneness. 
If you missed out on the Chilli Cheese Burger, the chilli con carne sauce also comes with their Burgs' Cheese Fries ($4.90), which is a permanent item on their 313@somerset menu.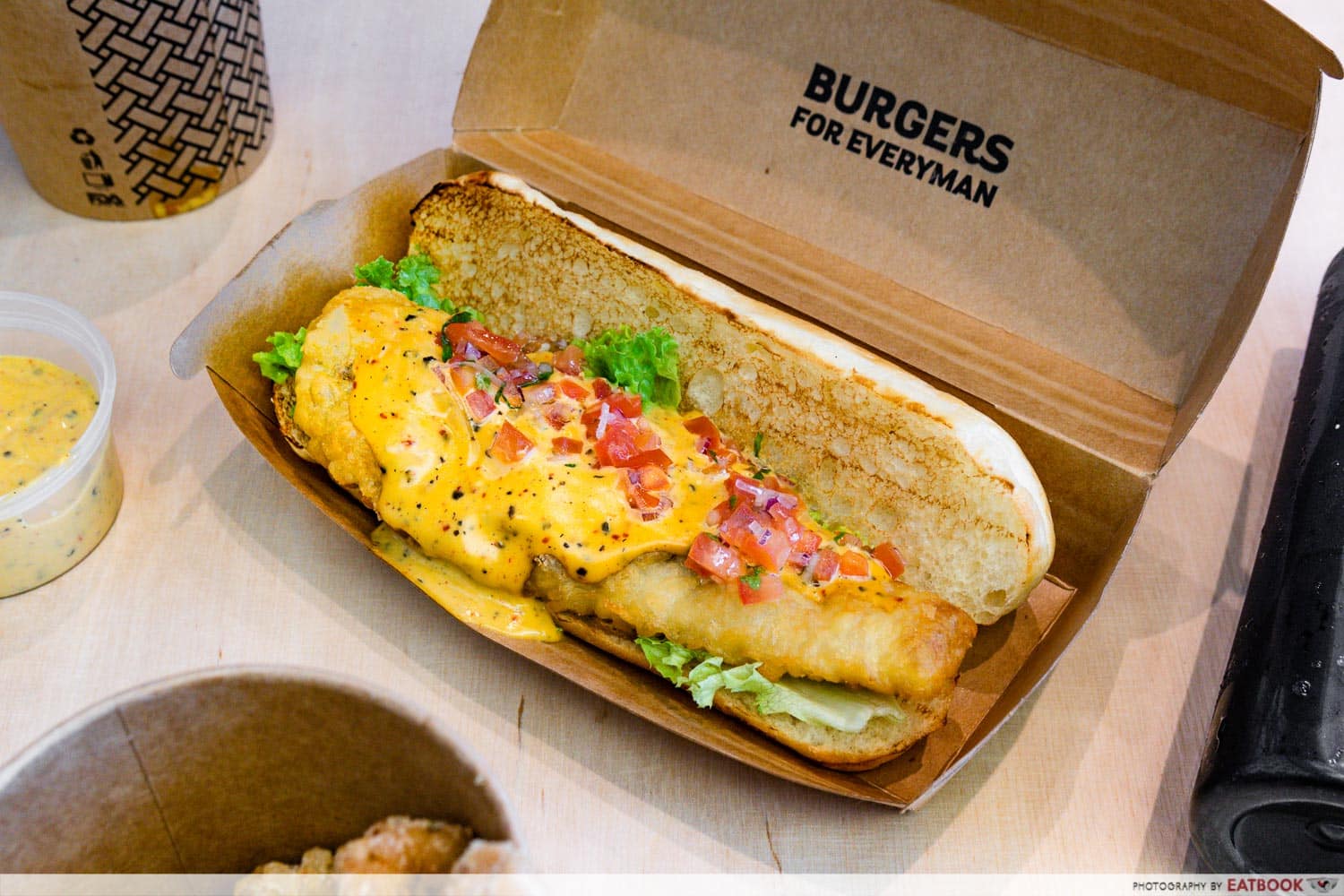 Aside from the regular patty burgers, Burgs also offers two fish burger options—Salmon Roll ($11.90) and Crispy Fish Burger ($7.90/$10.90). We tried the latter as it caught our eye with its hotdog bun-like shape.
Rather than the usual Dory fish widely used for fish and chips, Burgs chose to use the Alaskan pollock fish, which belongs to the cod family. The battered fish was fried to a perfect golden brown, doused in their house-made cheese sauce, and topped with fresh tomato salsa. The batter was slightly thin and a little soft. However, that could be due to it being left out for too long during the shoot, which led to the lack of crispiness.
Thankfully, the Crispy Fish Burger packed a punch. The salsa added a touch of sweetness and tanginess, balancing out the rich and savoury cheese sauce. However, instead of enhancing the natural flavours of the fish, I felt that the sauces stole the spotlight as they were a little overpowering. Nevertheless, the combination of flavours married well together, complementing the battered fish.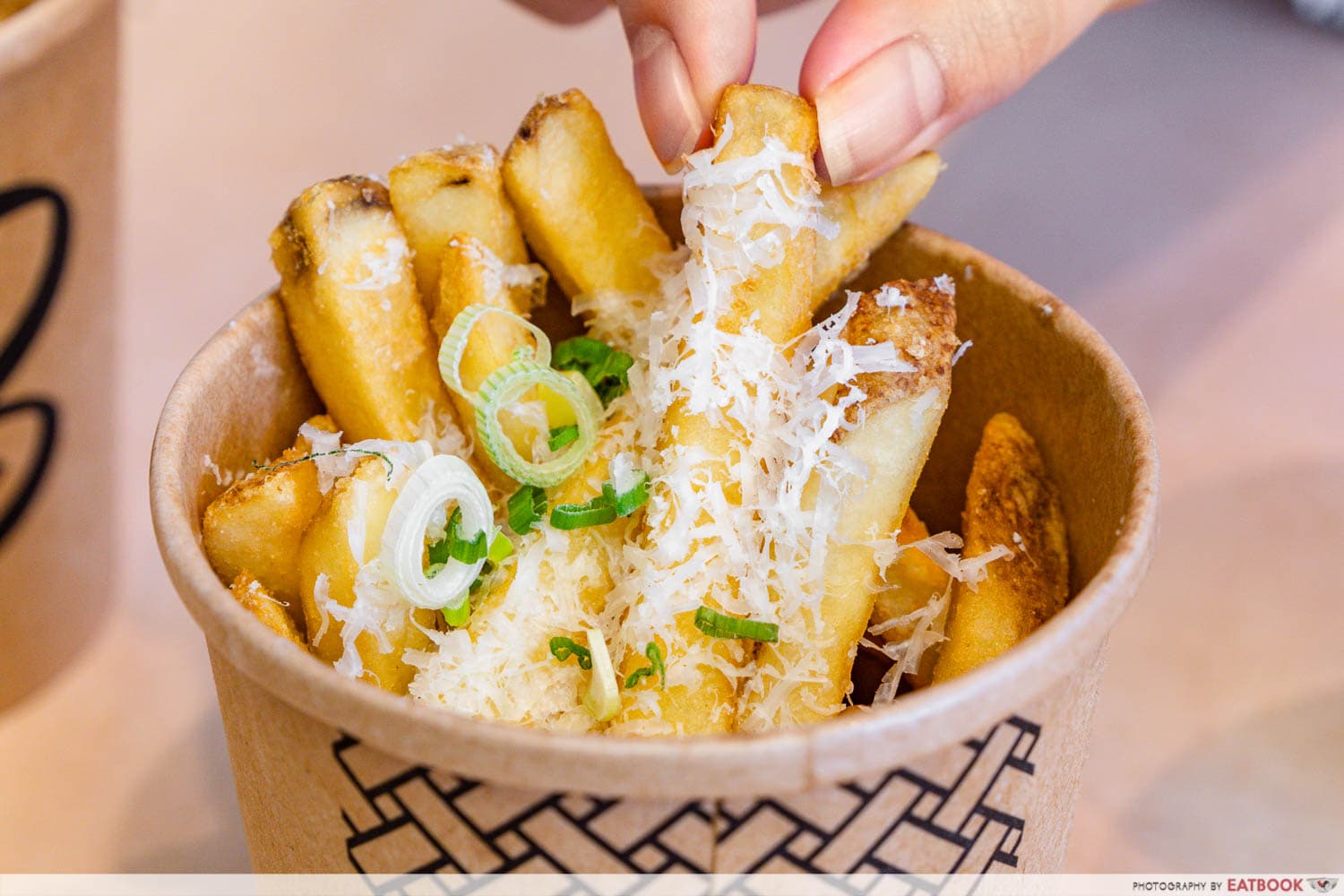 For me, burgers and fries are a perfect pairing. I would usually go for the basic Original Fries ($3.90), but to jazz things up, we went for their Truffle Fries ($5.90) and Nuggies with Cheese Dip ($5.90). The former came in a generous portion of thick-cut fries, drizzled with truffle oil, and topped with shavings of parmesan cheese. However, it was nothing to shout about, as the truffle flavour was rather faint.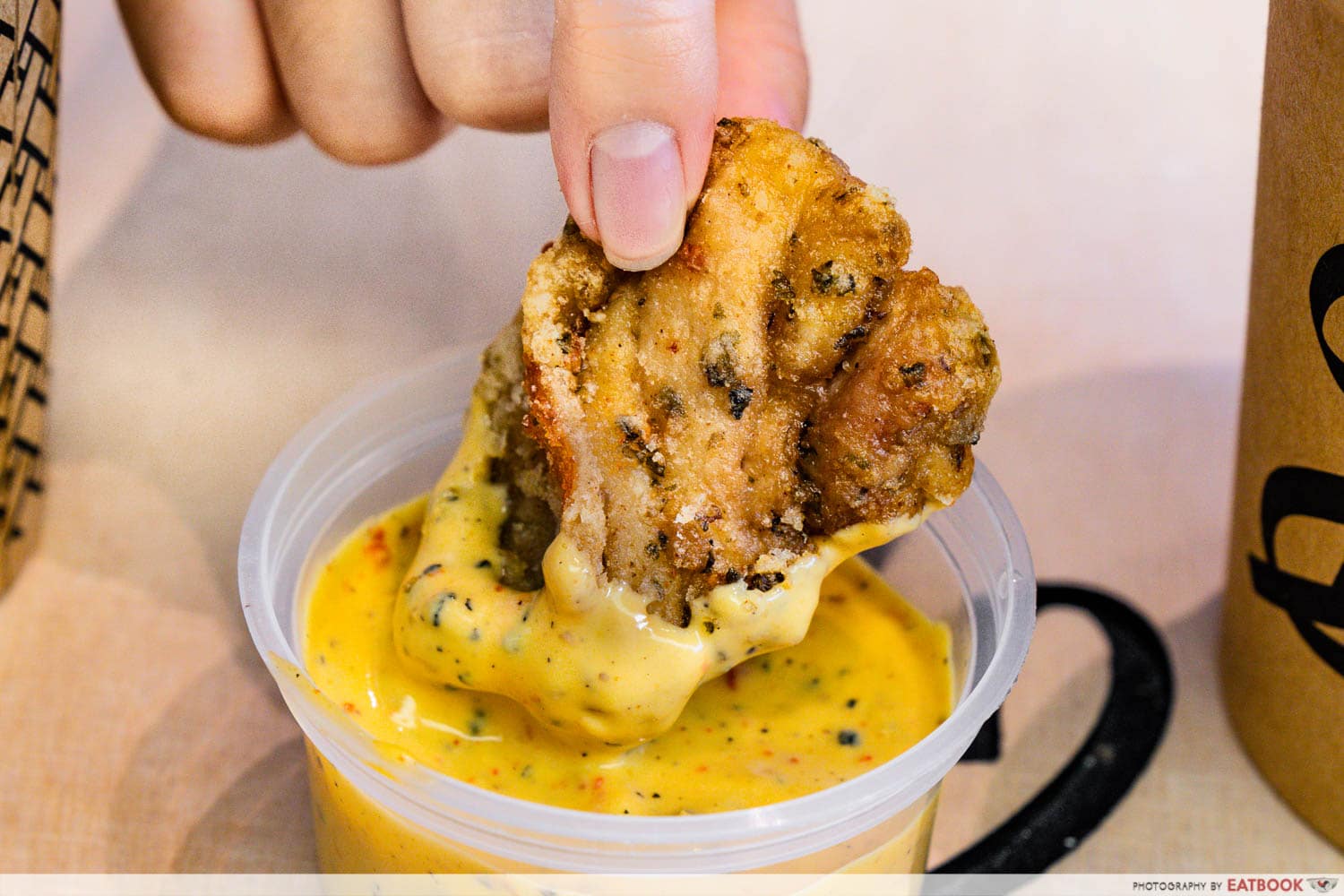 On the other hand, we were wowed by the Nuggies with Cheese Dip, which are Burgs' take on nuggets and cheese. The aroma of these nuggies was divine. Coated in a well-spiced batter and fried till golden browned, I was blown away by how crisp the exterior was, while each nuggie remained juicy within. Compared to regular nuggets, these were more juicy and tender.
Although I am not usually a fan of cheese, especially strong tasting ones, I was pleasantly surprised by how light in flavour this was. I found myself going back for more after every bite. It was a sinful, moreish snack that I'd gladly come back for any time.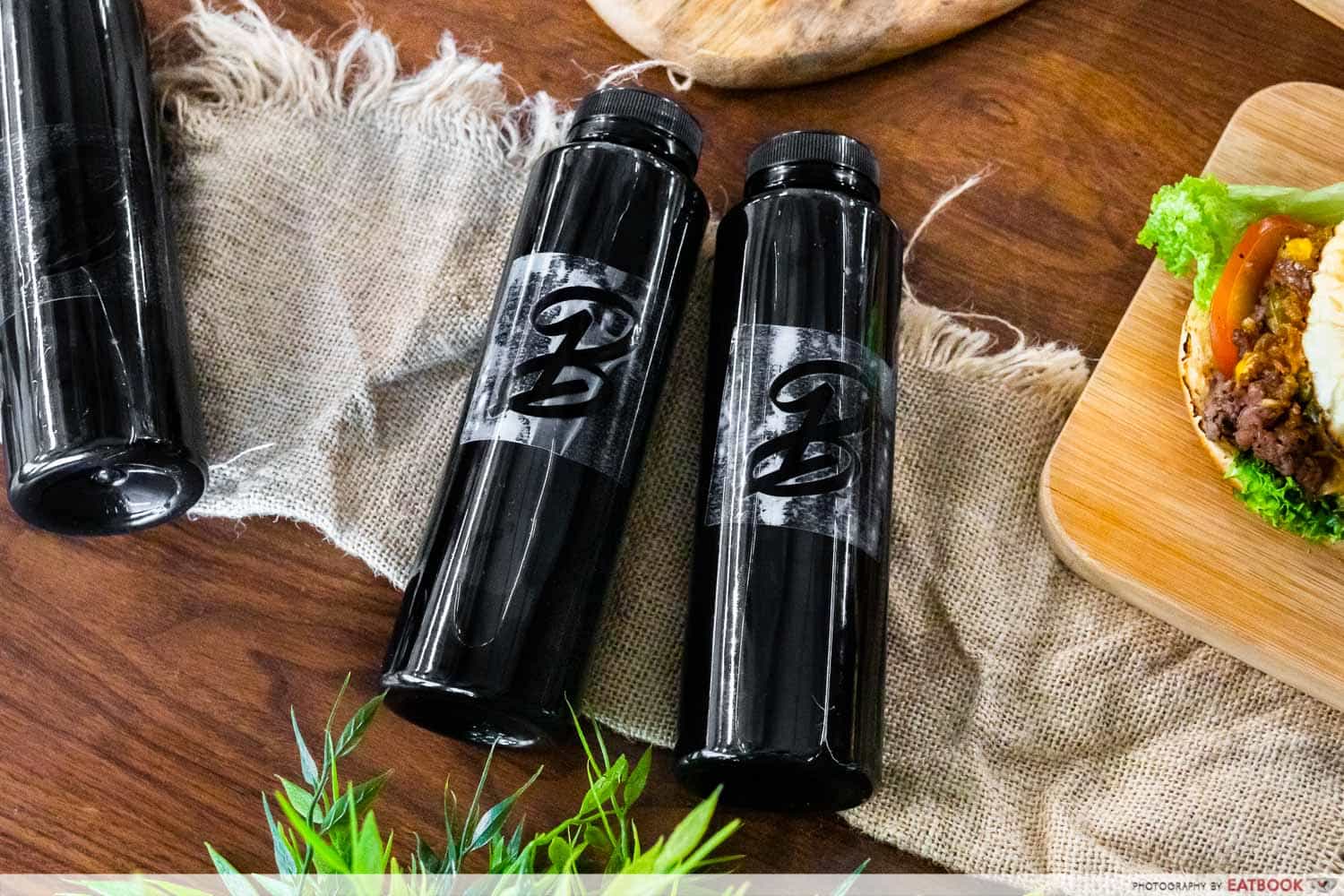 To quench my thirst, I opted for the Signature Black Lemonade ($4.50). Its sour and bright flavours helped wash down the meal, making it dangerously easier for me to munch on more nuggies. Although this lemonade was nothing out of the ordinary, the addition of activated charcoal was rather fitting as charcoal has been said to help cleanse your system after a hearty meal.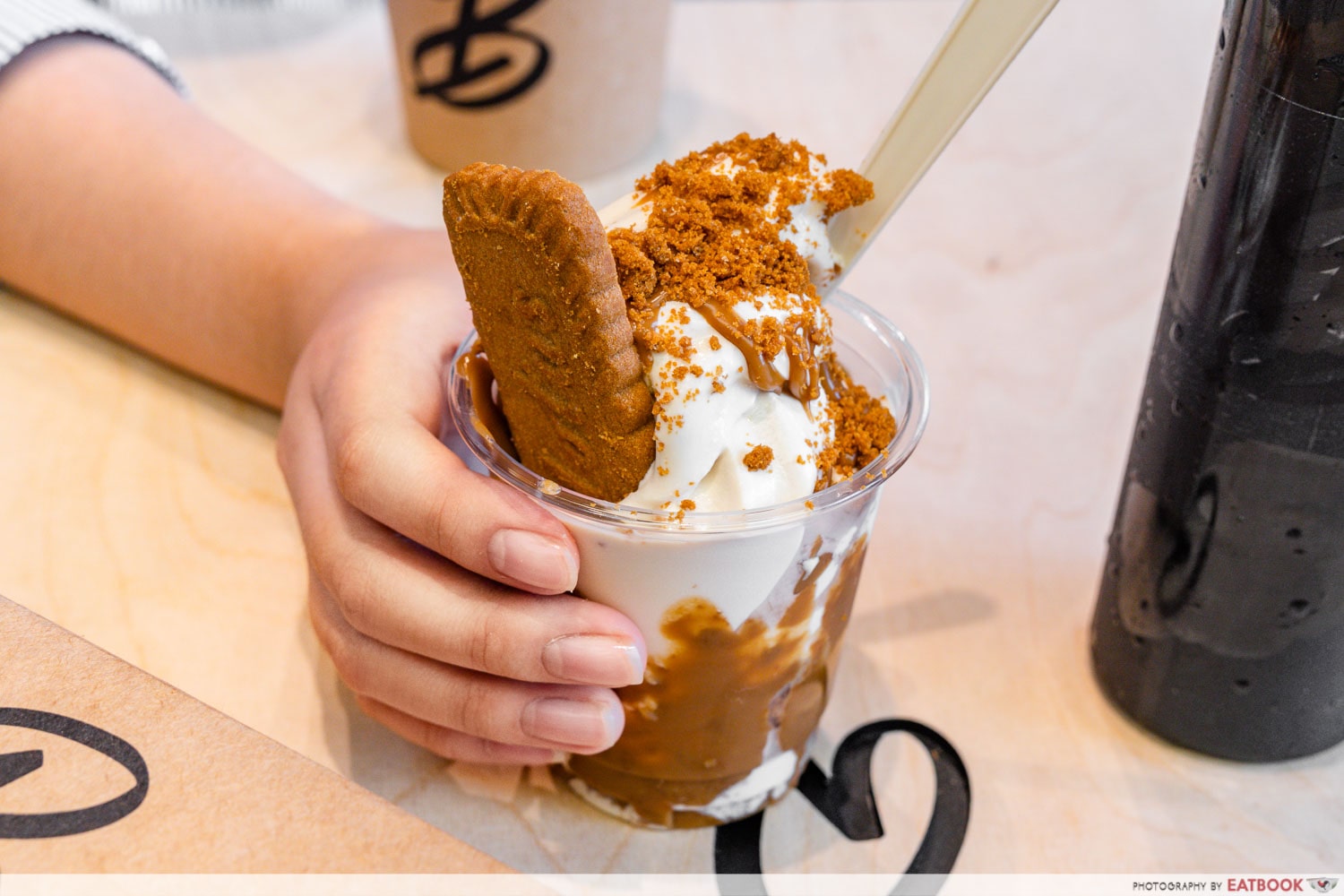 Lastly, we ended our meal with their lotus biscoff series—Lotus Biscoff Shake ($5.90) and Lotus Biscoff Soft Serve ($4.90). If you are a fan of these caramelly biscuits, I would recommend going for the latter, as it had a prominent biscoff cookie flavour. 
The soft serve came in a transparent cup, where you can see a generous amount of caramel syrup drizzled around the sides, packed with a cup full of ice cream, alternating with layers of biscoff crumbs. If it was supposed to be biscoff ice cream, I didn't find this apparent, although this worked out because the overall flavours weren't overwhelmingly biscoff-y. Each mouthful was a delight as the smooth and velvety ice cream contrasted against the crunch from the cookie bits. It was simply irresistible. 
Ambience at Burgs by Project Warung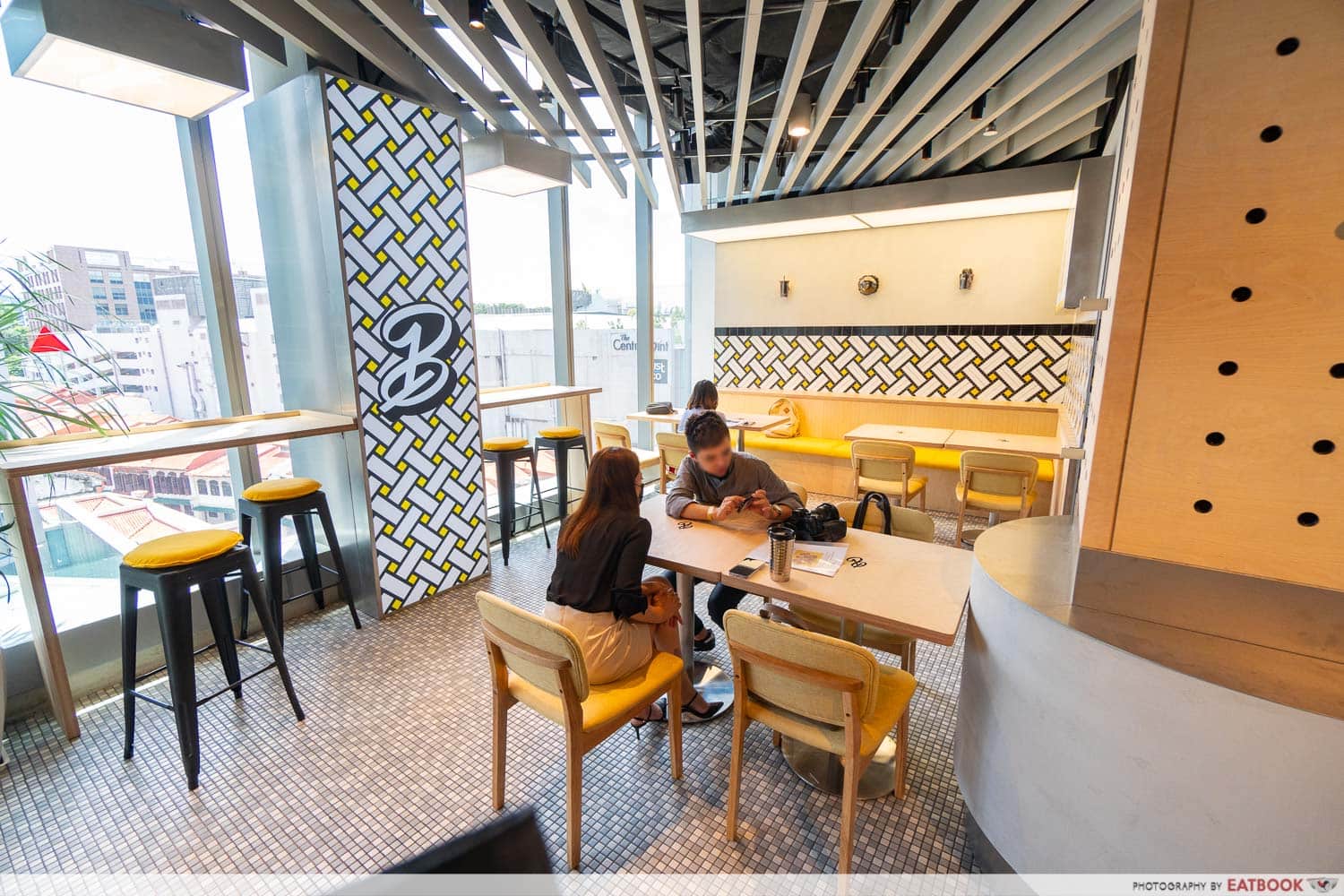 Located at Somerset MRT Station, Burgs can be found in one of the four corners at Food Republic, 313@somerset. They have a small designated area for their customers to dine in, which has a different vibe from the surrounding food court. It felt like I was stepping into a cafe, with its simple wall designs, a consistent colour scheme that follows their brand image, and a wide window view for an aesthetic IG shot. However, this area has limited seating, so do come early if you'd like a seat within their store. If not, there are ample seats available in the food court.
The verdict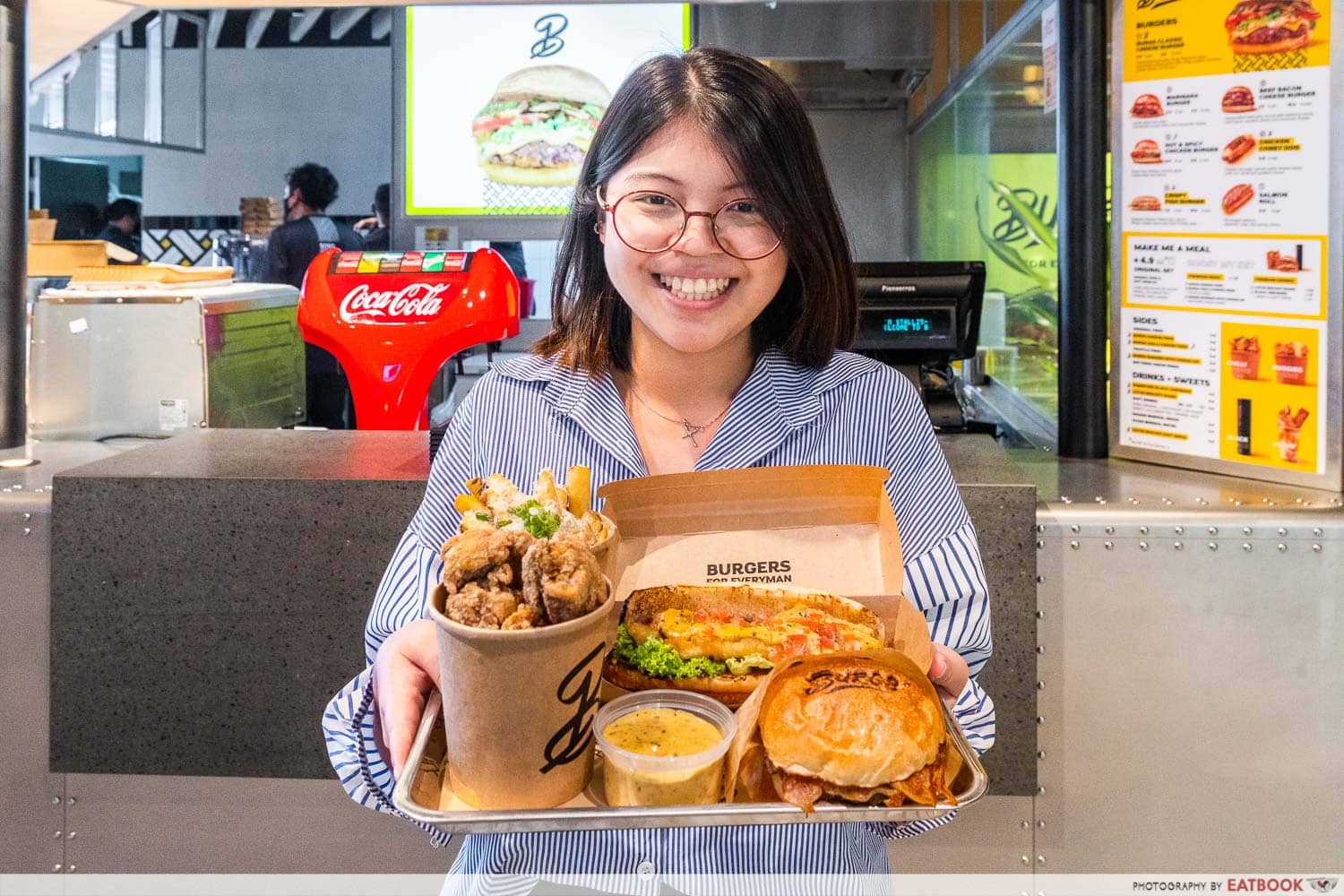 I have to admit that after experiencing what fast casual dining is like, I am definitely going to be on the lookout for more of such concepts. I love how it felt like a cafe with its cosy and comfortable setting, yet there was a menu of wallet-friendly, beautifully presented items. 
Moreover, I found the food to be of higher standards as compared to your usual fast-food chains. I appreciated how all the burgers were not too heavy on the palate, and didn't leave an unpleasantly greasy aftertaste in my mouth. Overall, I enjoyed my experience at Burgs, and will return for their nuggies in particular!
If you're looking for more burger options, check out our guide to the best burgers in Singapore without breaking the bank. Alternatively, read our Carne review—an all-day burger bar in Telok Ayer.
CARNE Review: Burger Bar By Chef Behind World's Best Restaurant Now In Singapore
Address: 313 Orchard Road, #05-01/02/03, Stall 25, Food Republic, 313@somerset, Singapore 238895
Opening hours: Daily 11:30am to 9pm
Website
Burgs by Project Warung is a halal-certified eatery. 
Photos taken by Melvin Mak.
This was a media tasting at Burgs by Project Warung.
Burgs by Project Warung Review: Famous Muslim-Owned Burger Place Opens At Somerset With Prices Under $12
Burgs by Project Warung Review: Famous Muslim-Owned Burger Place Opens At Somerset With Prices Under $12 -

7.5/10
Summary
Pros
– Convenient and comfortable location
– Quality burgers at affordable prices
– Nuggies were tasty and well fried
Cons
– Truffle flavour was not prominent in the Truffle Fries
Recommended dishes: Nuggies with Cheese Dip ($5.90), Crispy Fish Burger ($7.90), Lotus Biscoff Soft Serve ($4.90)
Opening hours: Daily 11:30am to 9pm
Address: 313 Orchard Road, #05-01/02/03, Stall 25, Food Republic, 313@somerset, Singapore 238895