Honbo will open in CHIJMES with famous smashed burgers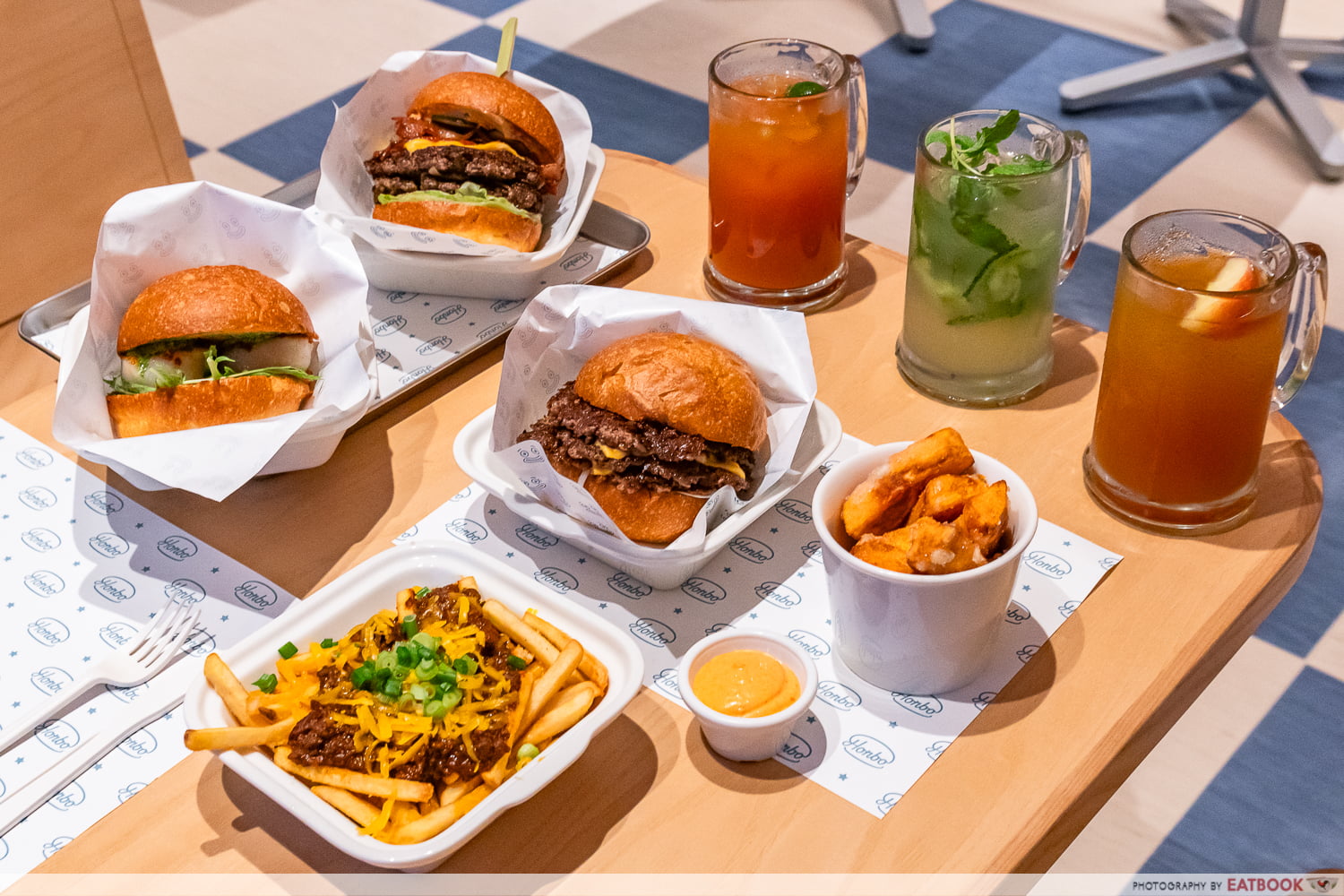 Burger fans, you'll want in on this: Honbo, a popular Hong Kong burger chain, will open its first international outpost right here in Singapore on 28 July 2023! The brand has six outlets across Hong Kong, and is beloved for their smashed burgers made entirely from scratch, which are supposedly tailored to the Asian palate.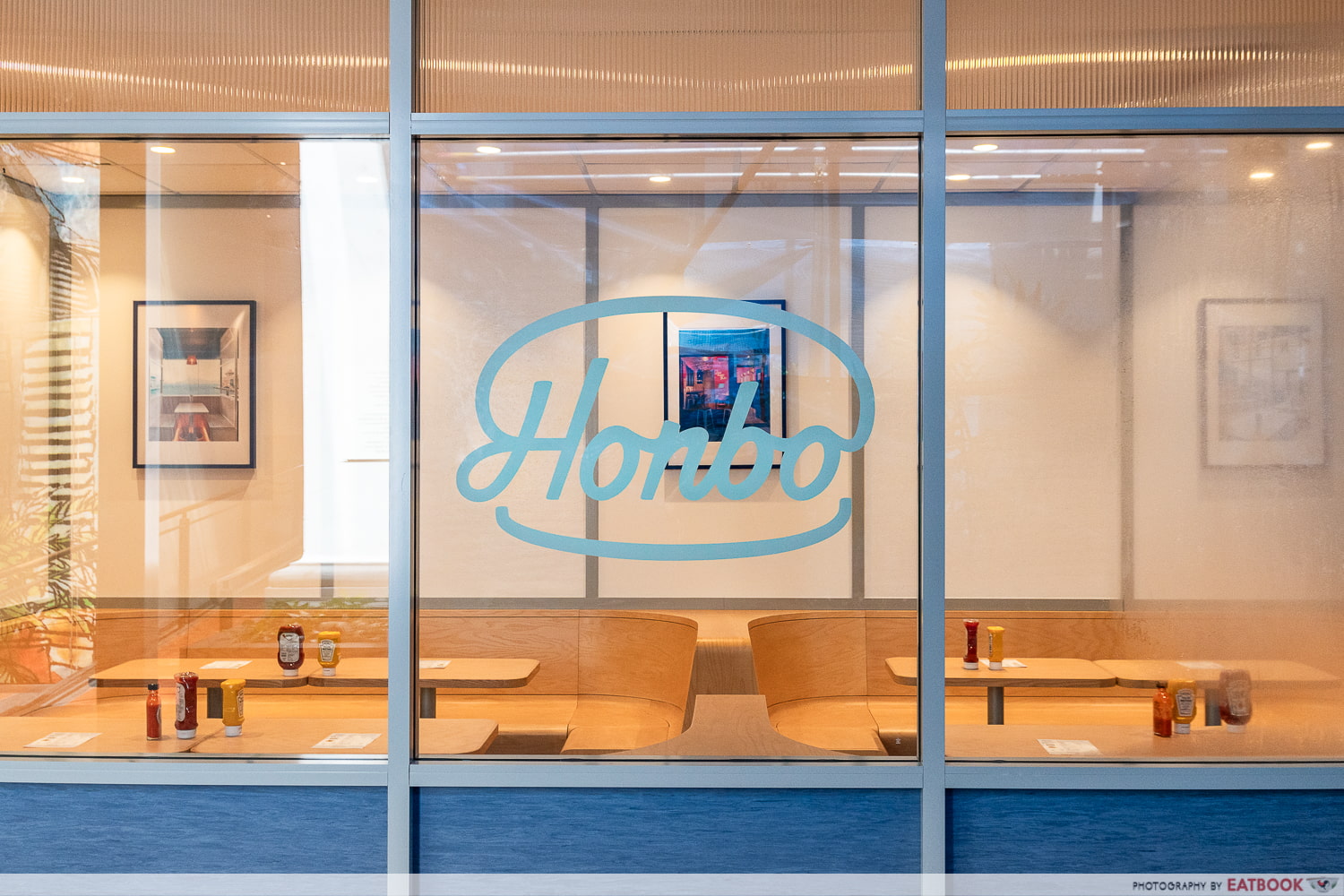 In case you were wondering what Honbo stands for, it's derived from 漢堡包 (hon bou baau), AKA 汉堡包 (hàn bǎo bāo) hamburger in Cantonese!
Food at Honbo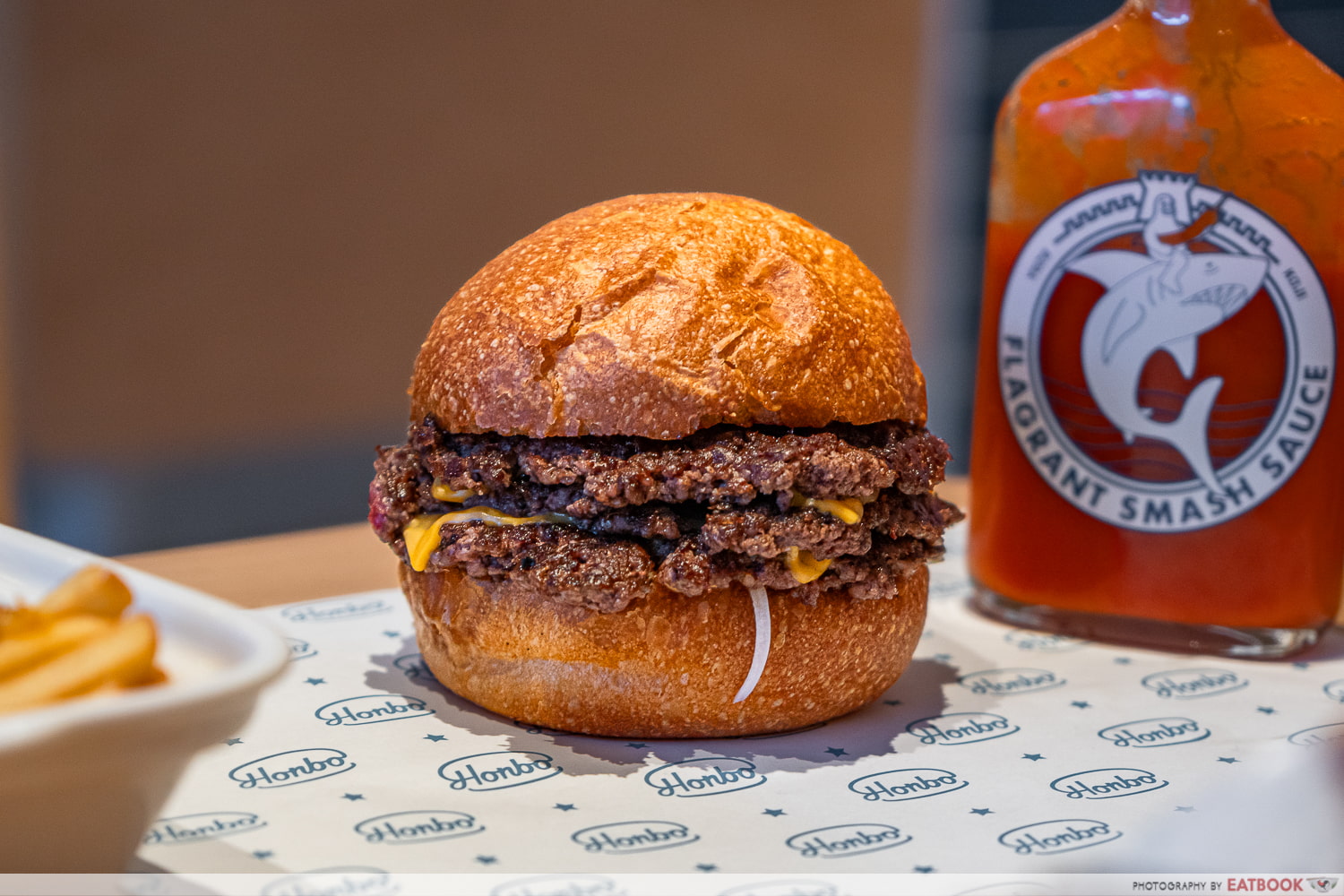 Their iconic Honbo Burger ($18++), which stars the brand's signature 2oz crispy beef patties, cheese, house pickles, onion, and a house sauce is where you should start your Honbo adventure, but we skipped this and went directly for the Honbo 1.5 ($23++), for three crispy smashed patties.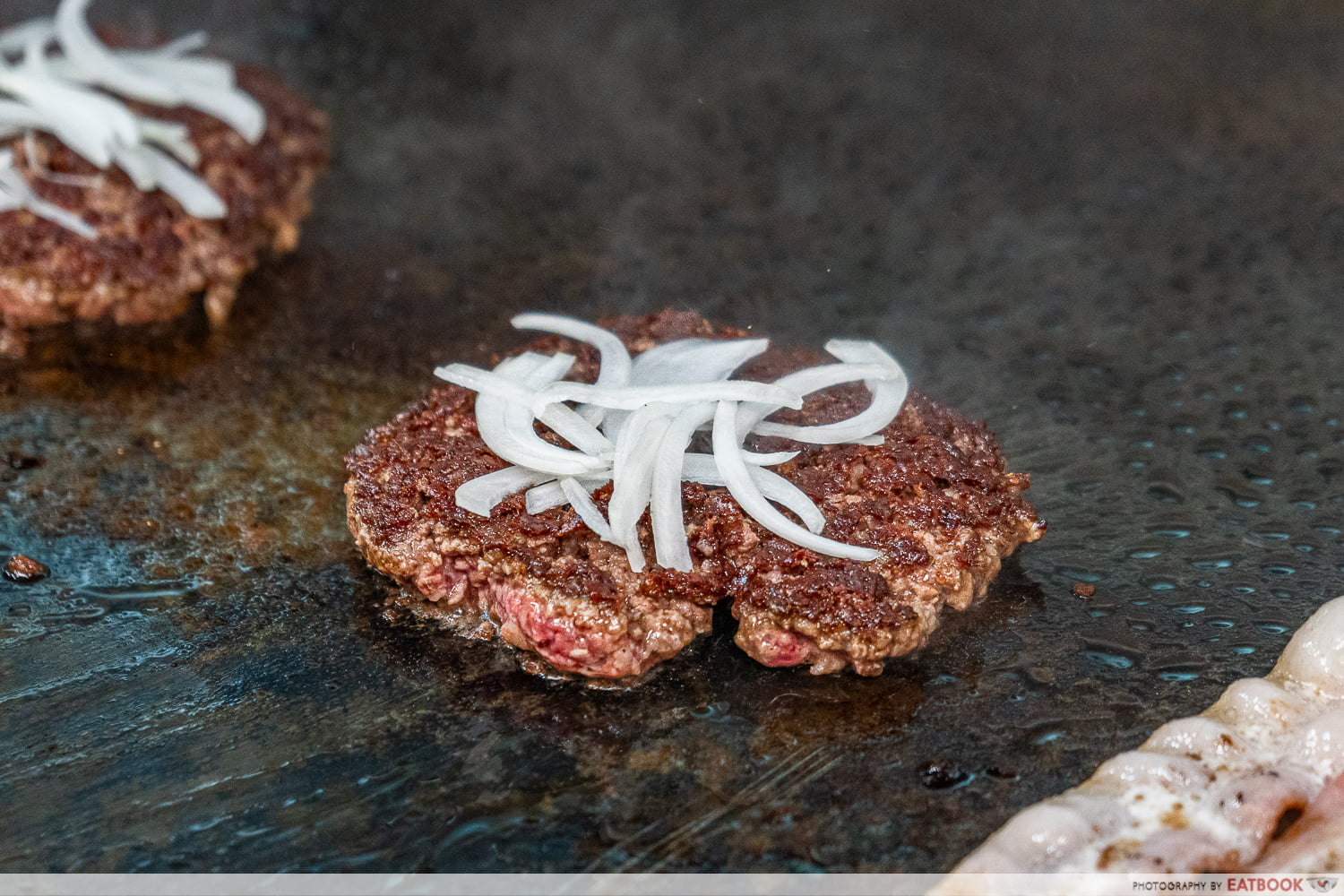 All the beef patties at Honbo are ground in-house daily, comprising 70% chuck and 30% brisket and short rib from specially imported USDA Double Gold beef from Wisconsin, USA. I really appreciated how the meat was coarsely ground, and not densely packed.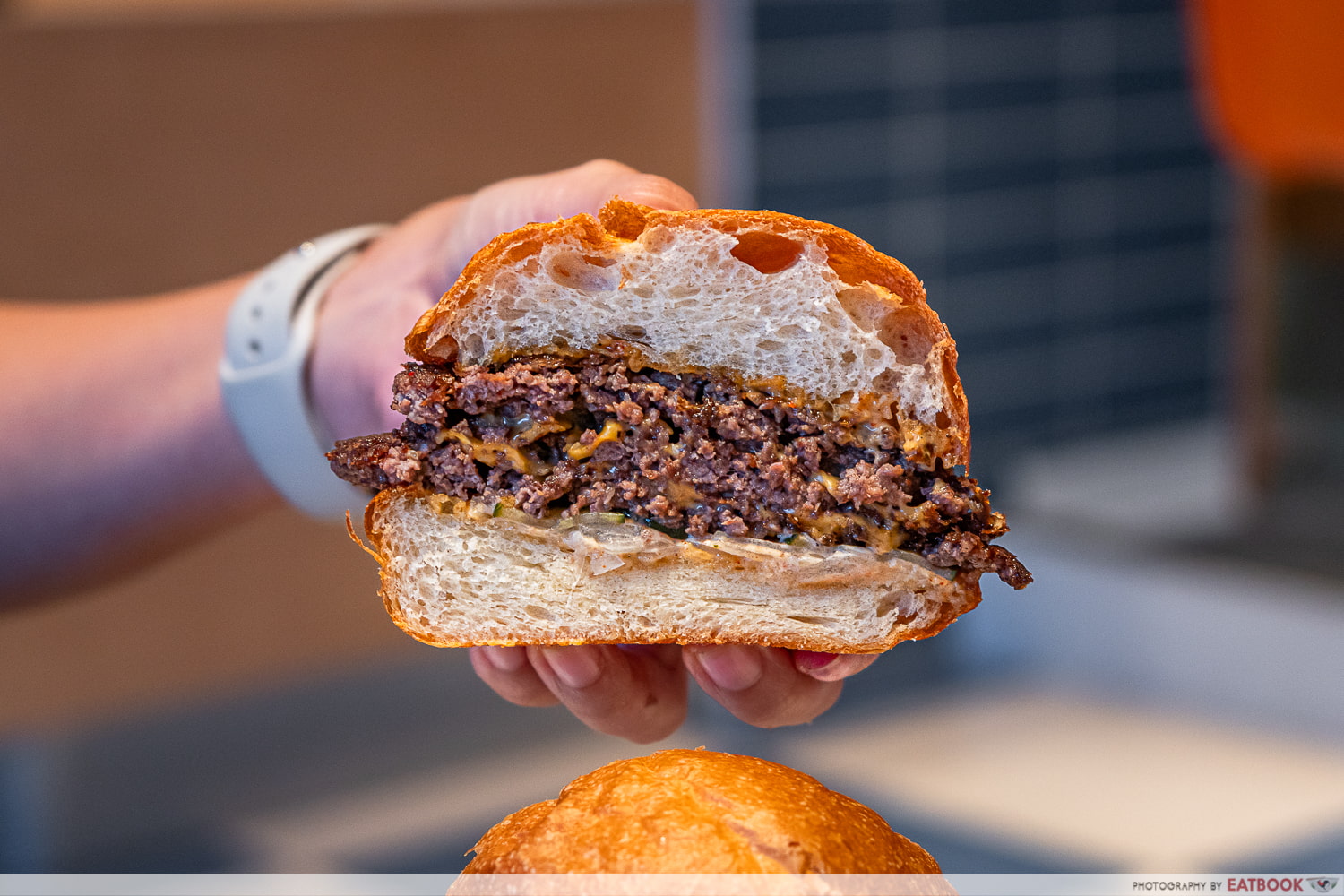 It doesn't end there—the cattle are entirely corn-fed, specifically bred to 36 months old, and are a breed of mixed Angus and Holstein. We're familiar with Angus, but Holstein beef is known for its high dairy content, making for meat that has an extra creamy and buttery flavour profile.
Bigger eaters can go for Honbo 2.0 ($28++), which comes with four crispy beef patties. No preservatives or MSG is used in Honbo's food; the patties are only lightly seasoned with salt and pepper when they hit the grill. Trust us when we say the crust on this smashed patty puts all other smashed patties to shame.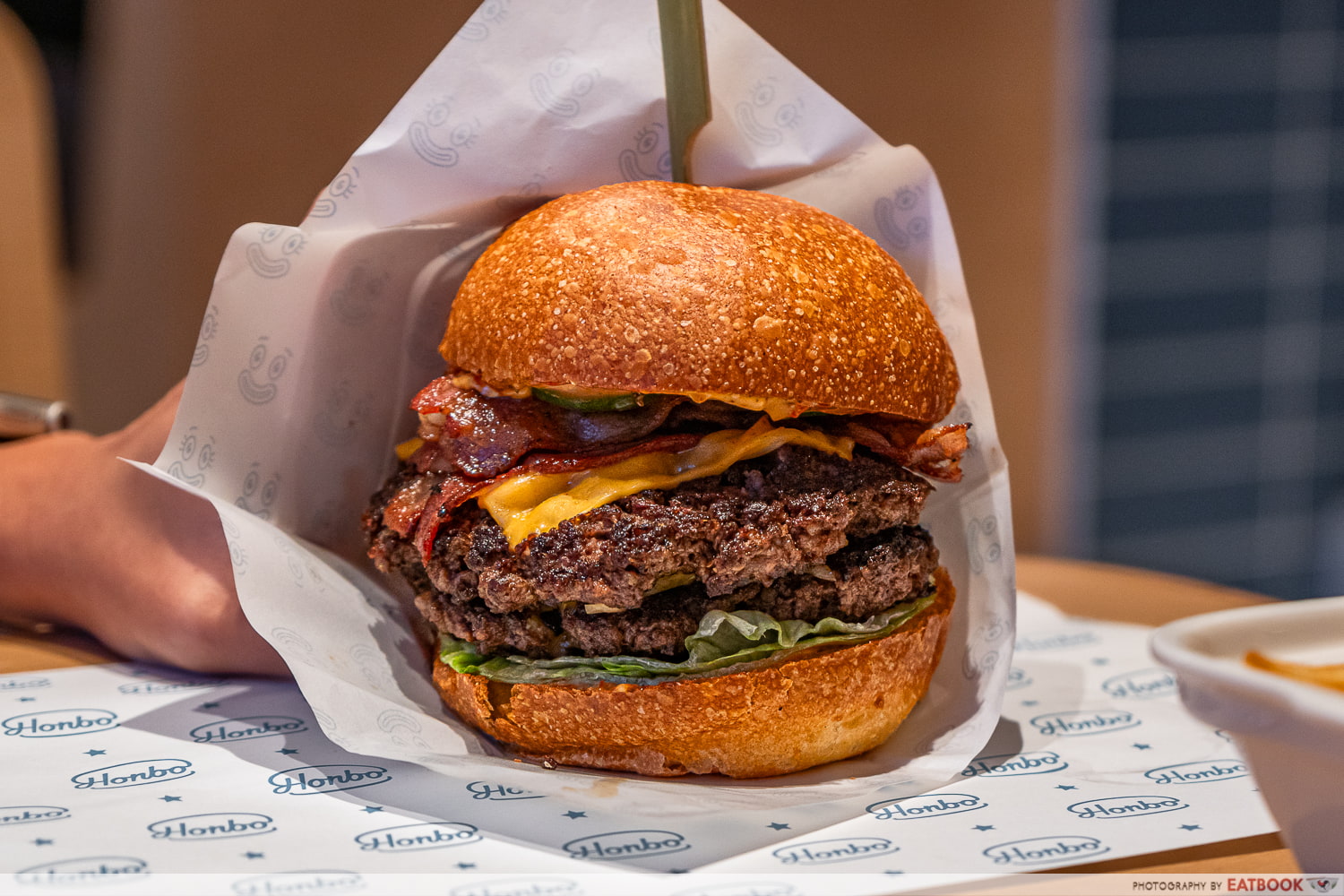 You'll find the same dill-free pickles—"not pickled to death," says Honbo founder Michael Chan—and house sauce in The Gold Standard ($28++), which is the Honbo, but with 4oz patties and added bacon and lettuce. If you prefer more meat to crust, go for these thicker beef patties; I find myself caught between thick and thin—it will depend on my mood for the day.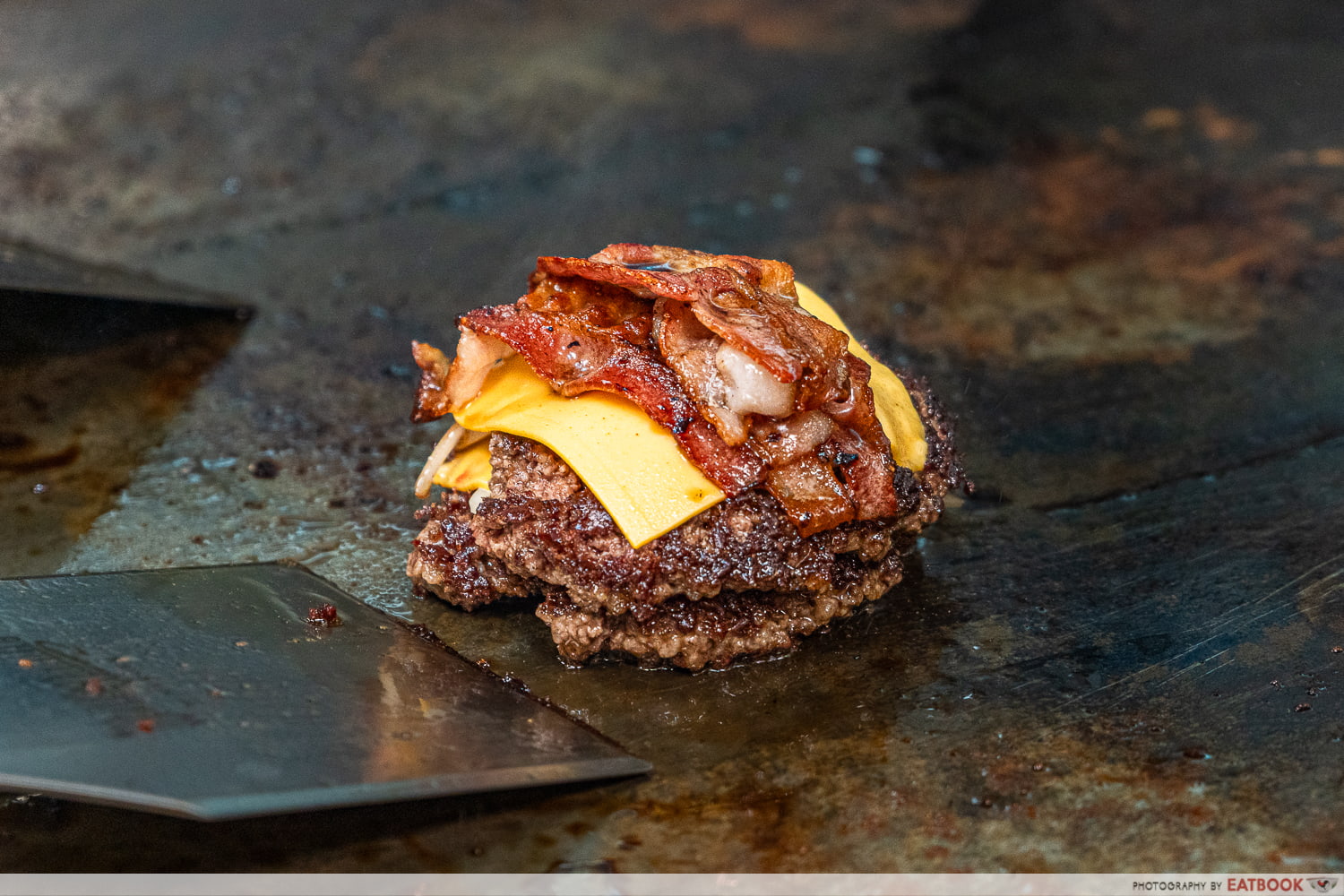 Iceberg lettuce serves the same purpose as the not-pickled-to-death pickles: to retain that element of crisp freshness in the burger. Meanwhile, the house sauce brings a touch of umami with its secret Asian ingredient. There's not a whole lot of this sauce, so it elevates, rather than detracts from, the whole burger.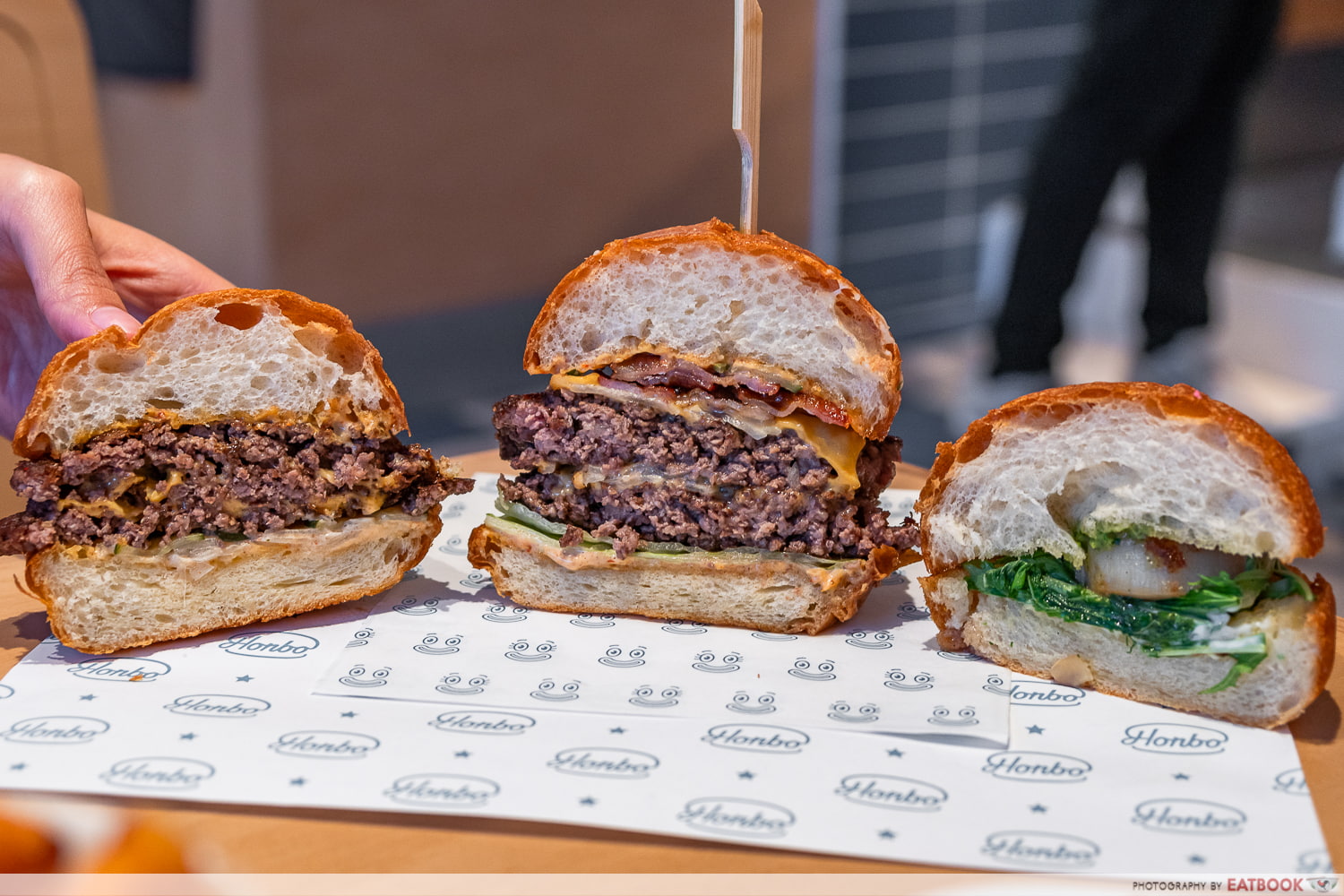 Another highlight is their potato milk buns, baked fresh daily by a contracted baker with a recipe that was specially formulated by famous French baker Eric Kayser. They're still not perfect, Michael says. He's still on a quest to marry the best of potato buns and Japanese shokupan to create his ideal burger bun that's chewy, light, and beautifully crusty.
Plus point: the buns did not lose their integrity or dry out even after we'd left them, sliced open, cooling on the table for more than an hour.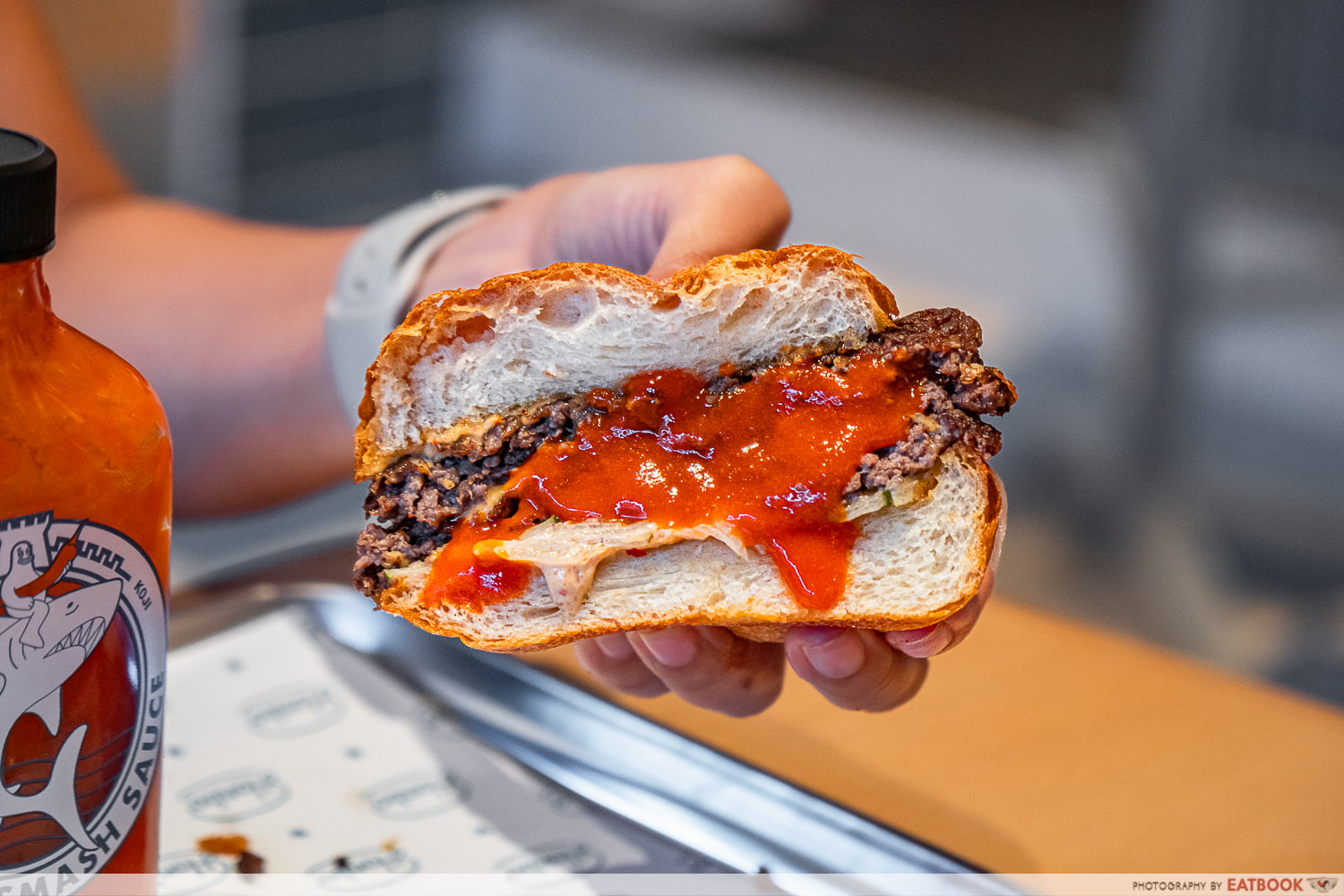 Just in case you tire of the beef midway through your burger, Honbo created their very own take on sriracha sauce and coined it Smash Sauce—a chilli prepared with yuzu and shio koji, a Japanese condiment made of fermented rice that's got a sweet, miso-like flavour.
Non-beef eaters are not excluded from the Honbo menu—there's a Teriyaki Chicken ($18++) burger, made with four-hour sous vide organic chicken, and an Impossible Burger ($22++).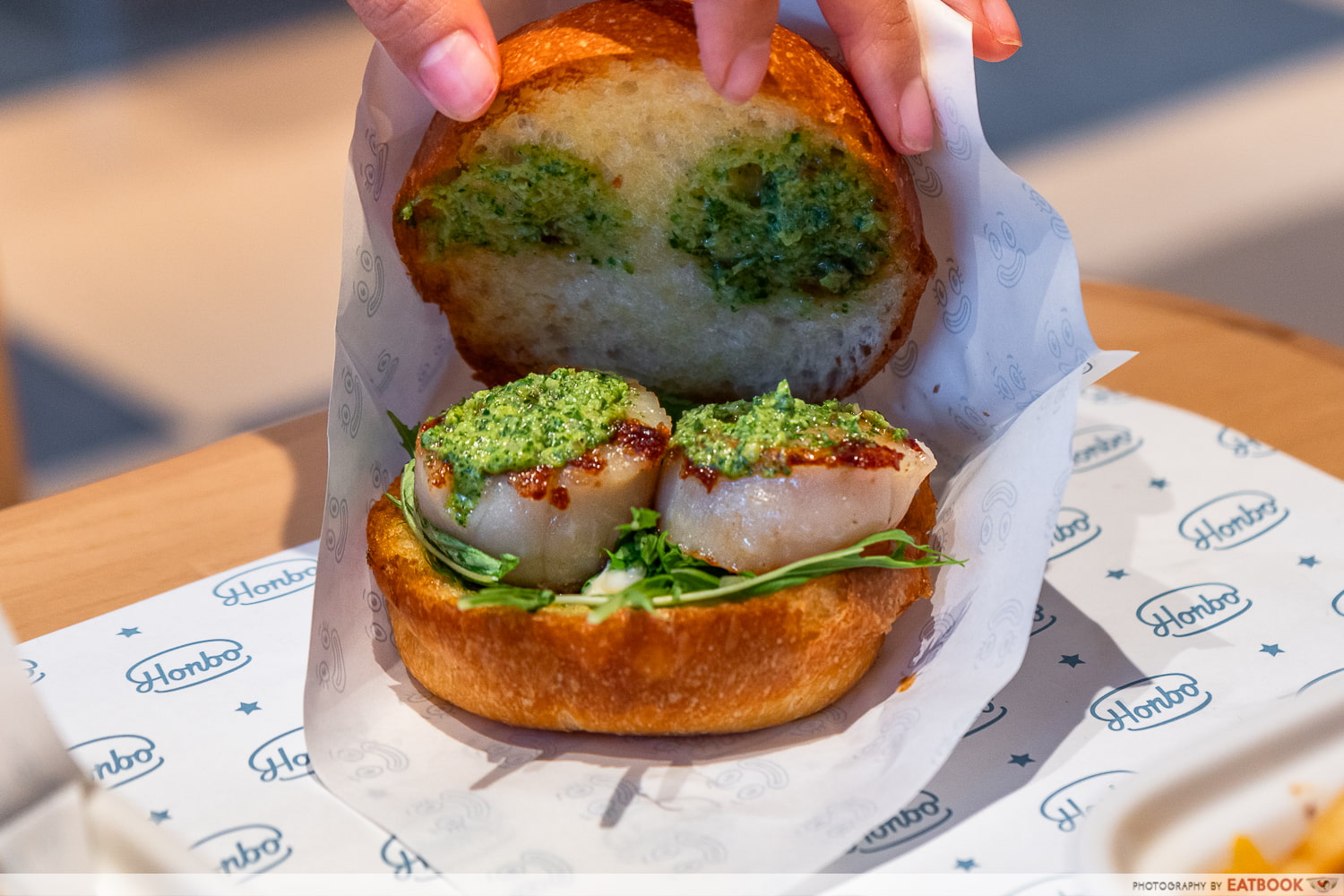 There's also a limited-time special Scallop Burger ($26++), which you'll be able to enjoy for the next three months. Plump sashimi-grade scallops feature here, just lightly seared on the grill, and topped with a wasabi-laced Pico de Gallo verde which I absolutely loved with the shellfish.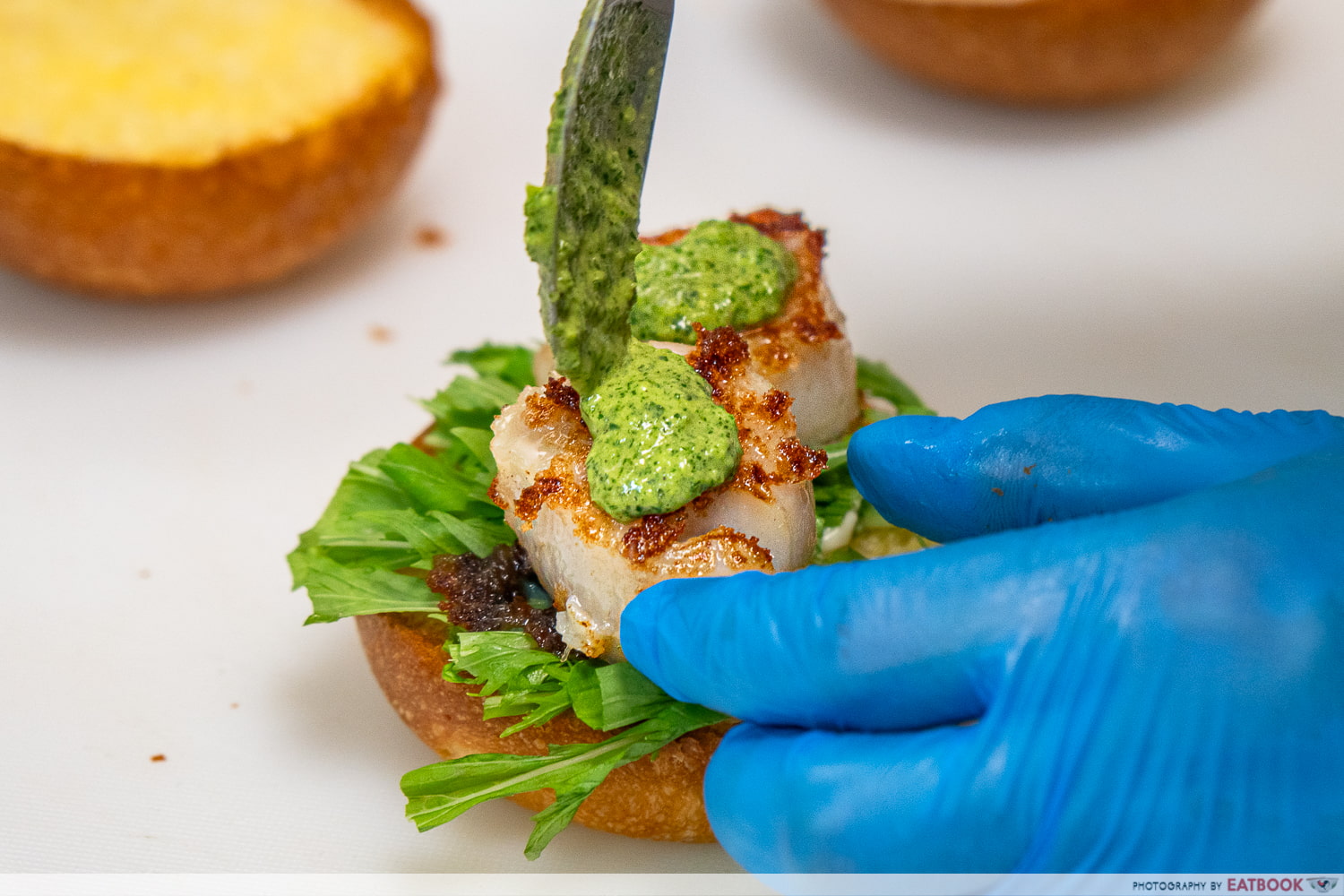 If I didn't tell you, you wouldn't even notice the wasabi. Rather, the green sauce was fresh and bright, bringing out the natural sweetness of the hotate.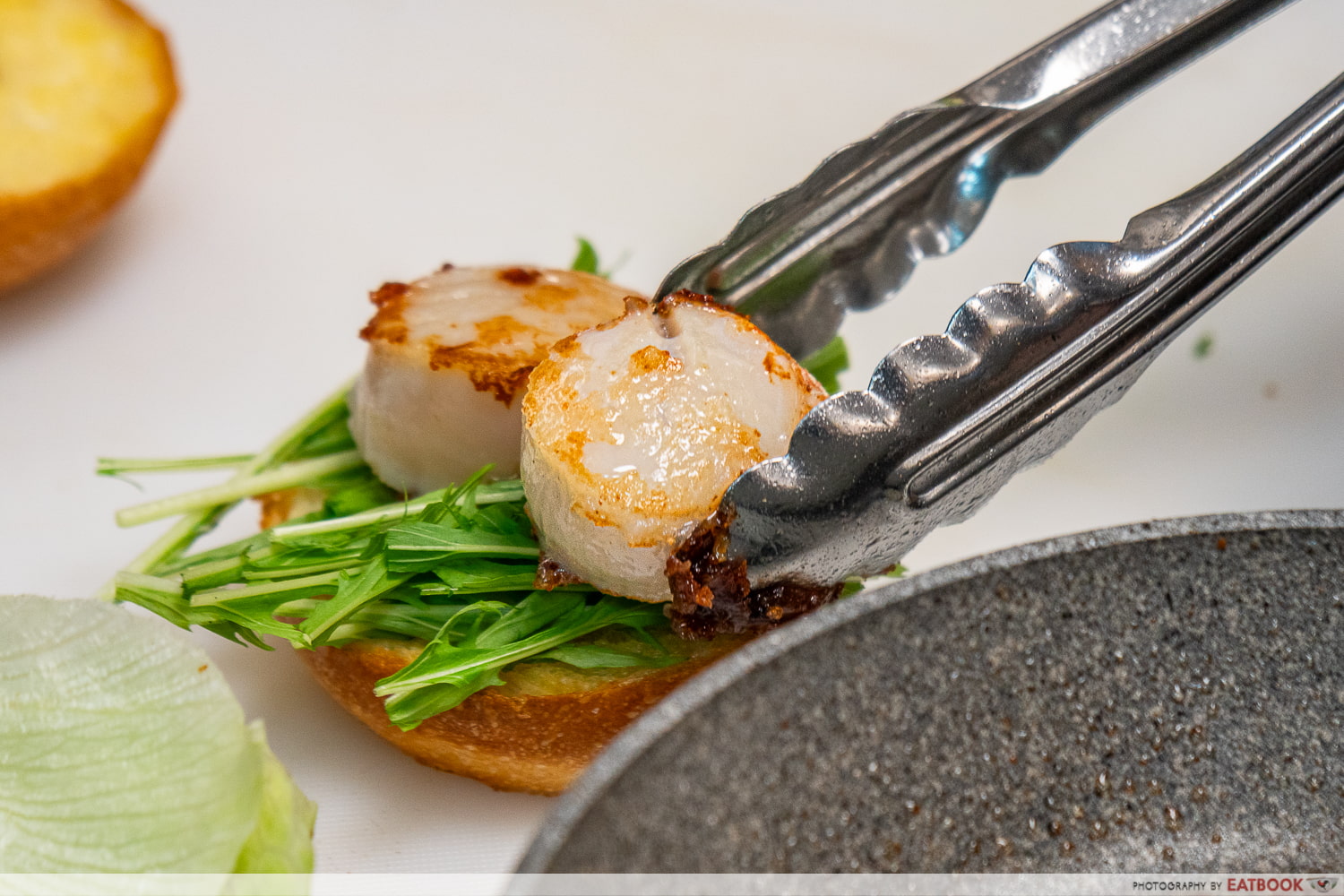 If I had one gripe, it would be that I only had two scallops in my burger, which wasn't enough to go around with all that potato milk bun.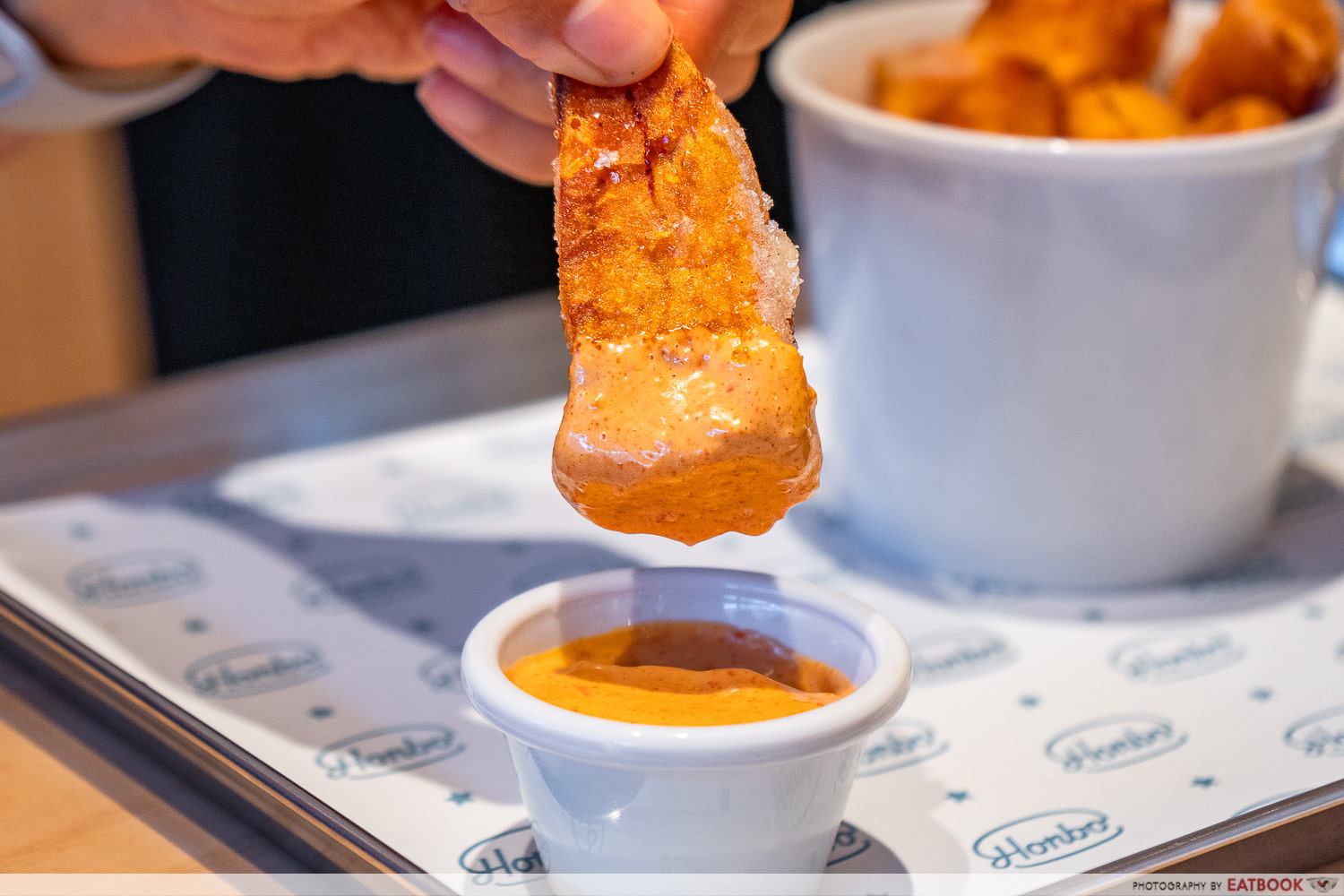 On the side, try their chonky Sweet Potato Fries ($8++), cut in-house from fresh orange sweet potato, speckled with sugar crystals, and paired with a super scrummy house-made garlic chilli dip.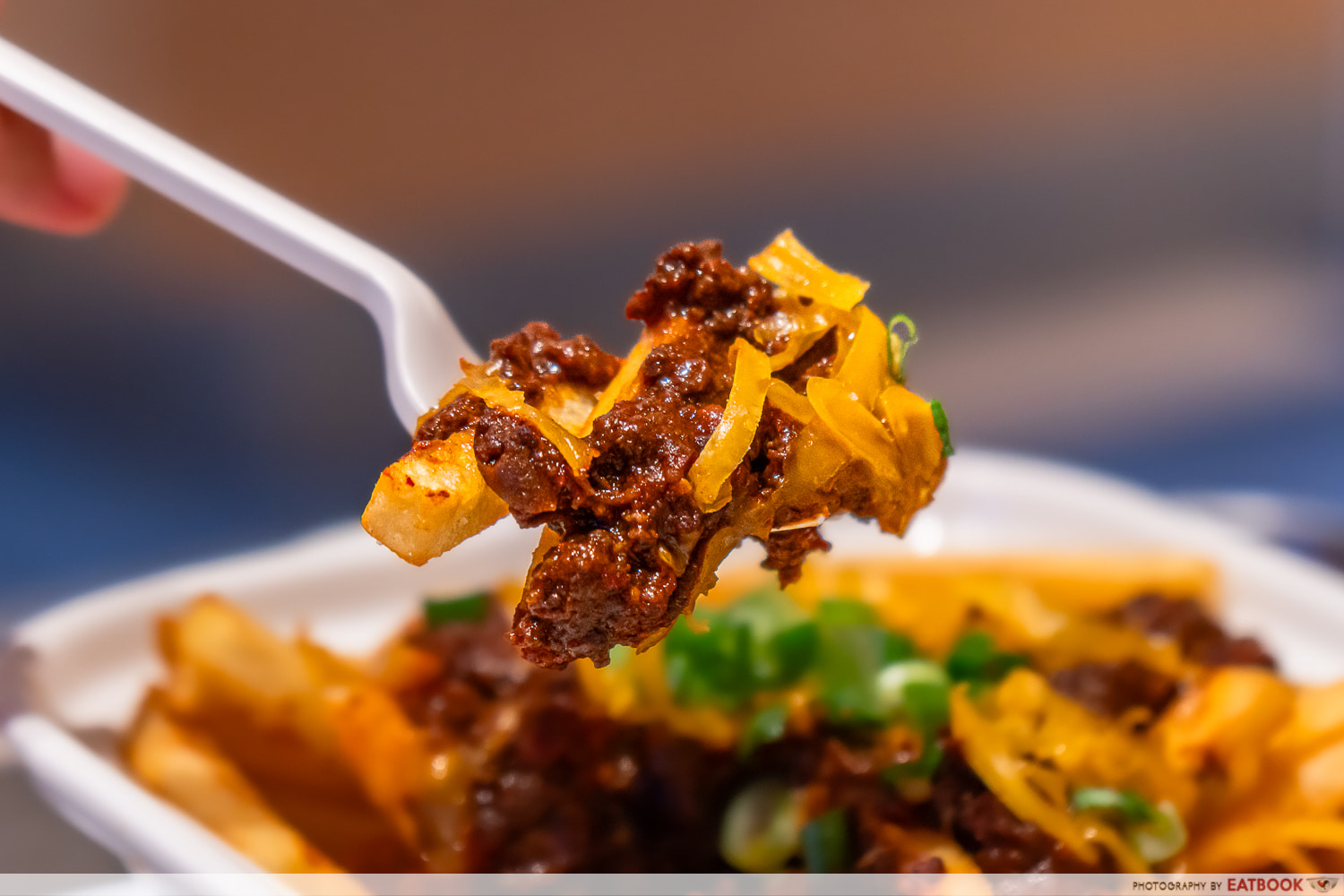 Alternatively, the Chili Fries ($15++) star a chilli that's continually stirred on the stove for three hours. Two kinds of fresh peppers and a house blend of spices go in here, along with kidney and pinto beans.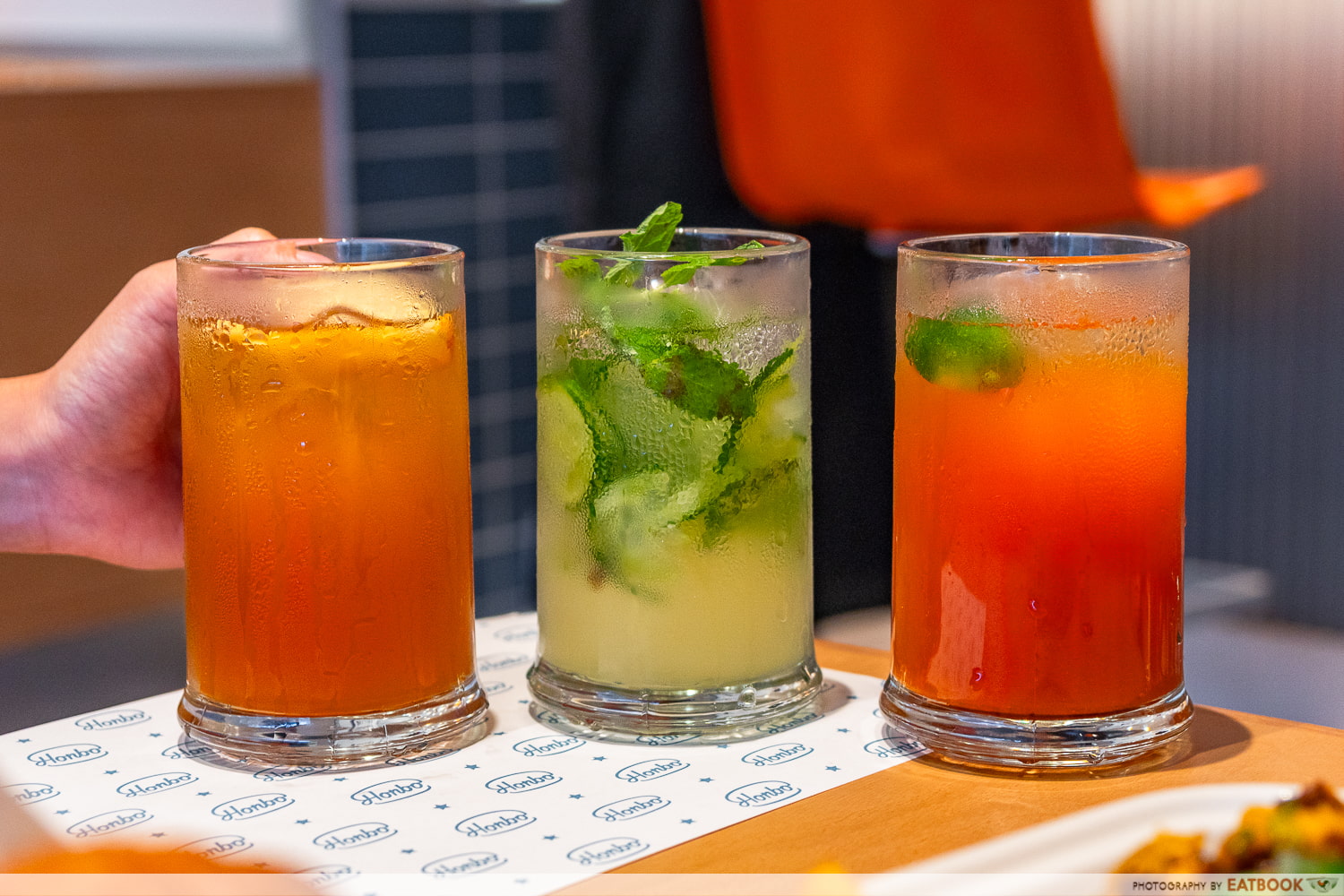 I did say that almost everything at Honbo is house-made with fresh ingredients, and this extends to the drinks: Mike's Lemonade ($7++) starts with a base of house-made lemon peel syrup, with Japanese cucumber and fresh mint mashed to order for each cup.
Similarly, they make their own cinnamon syrup for the Apple Pie Iced Tea ($7++), and if you're looking for something extra special and slightly boozy, go for Michelada ($7++)—Michael's take on a similarly named Mexican cocktail that's like a Bloody Mary, but made with beer instead of vodka. Here, it's further spiked with Honbo's Smash Sauce and dashi for a savoury edge that I surprisingly enjoyed. P.S.: the Michelada is only available on weekends!
This Hidden Retro Diner Has XL Buttermilk Chicken Burger, Spicy Bacon Cheese Fries And More In CBD
Ambience at Honbo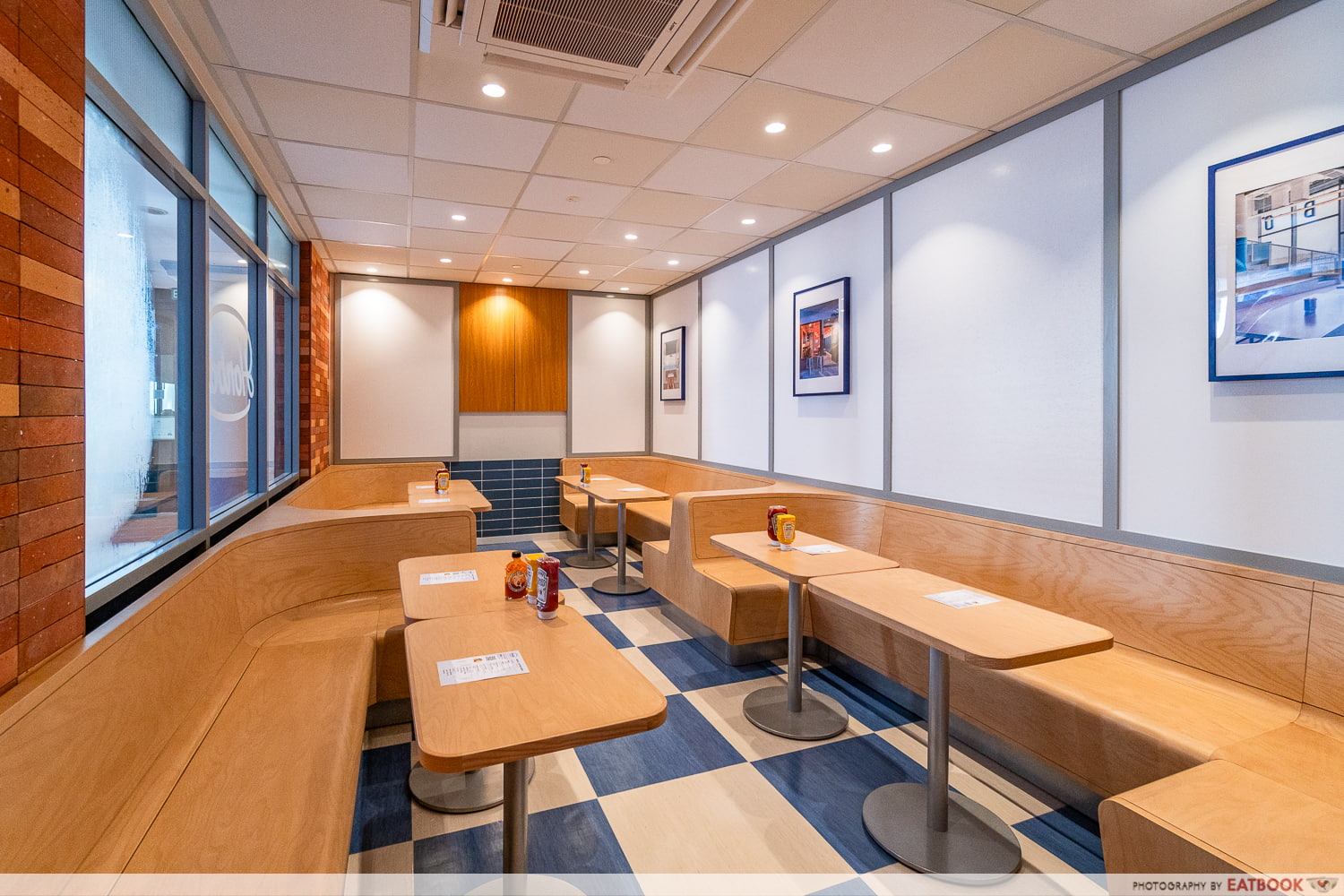 Honbo's first overseas outlet is located in CHIJMES—a short four-minute stroll from City Hall MRT Station. The 40-seater space is split between booth seats and a long bar.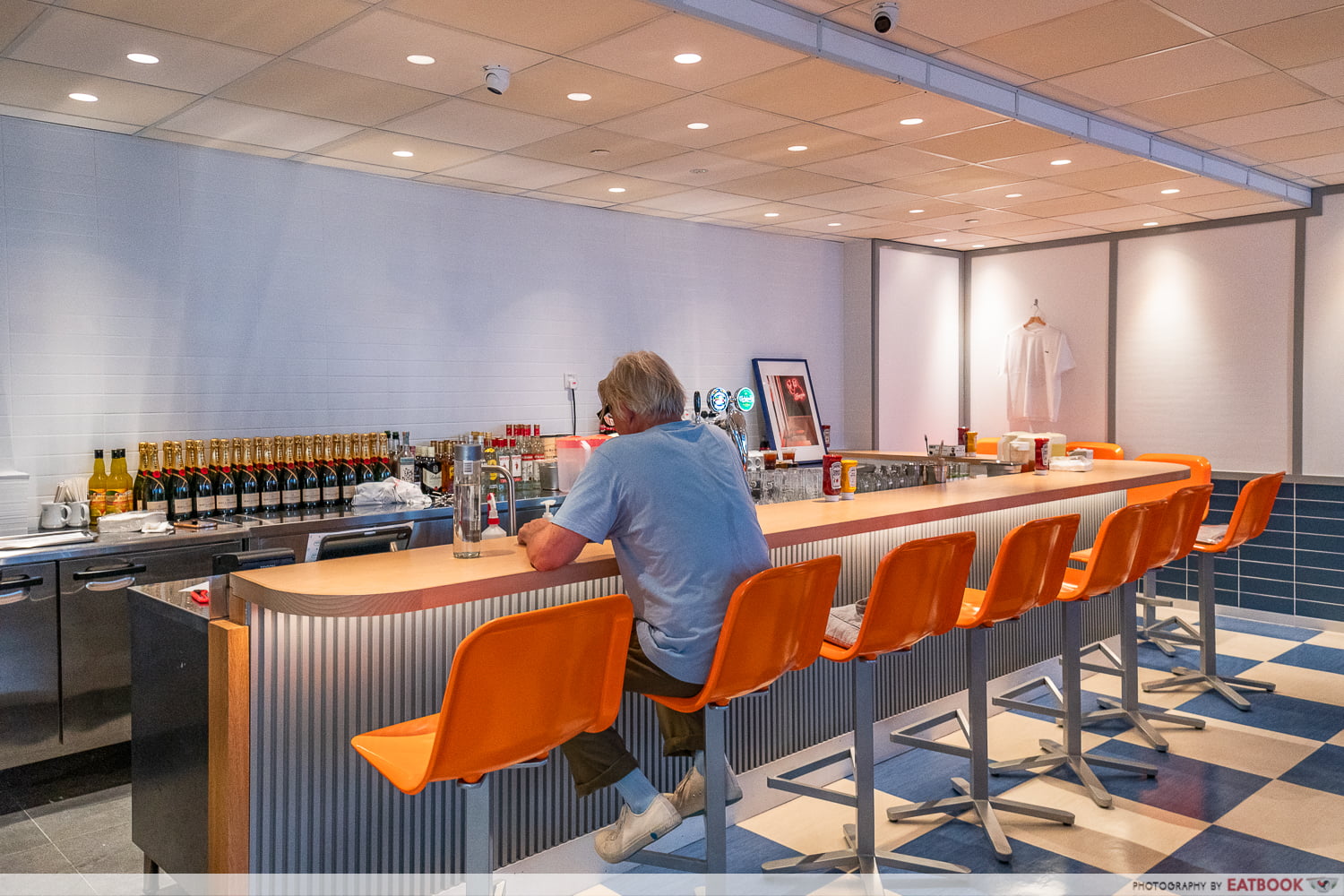 It's designed to resemble a cheery American diner, awash in bright orange and blue, and wooden furniture. They're not taking reservations, so you might have to be prepared to queue when they open.
The verdict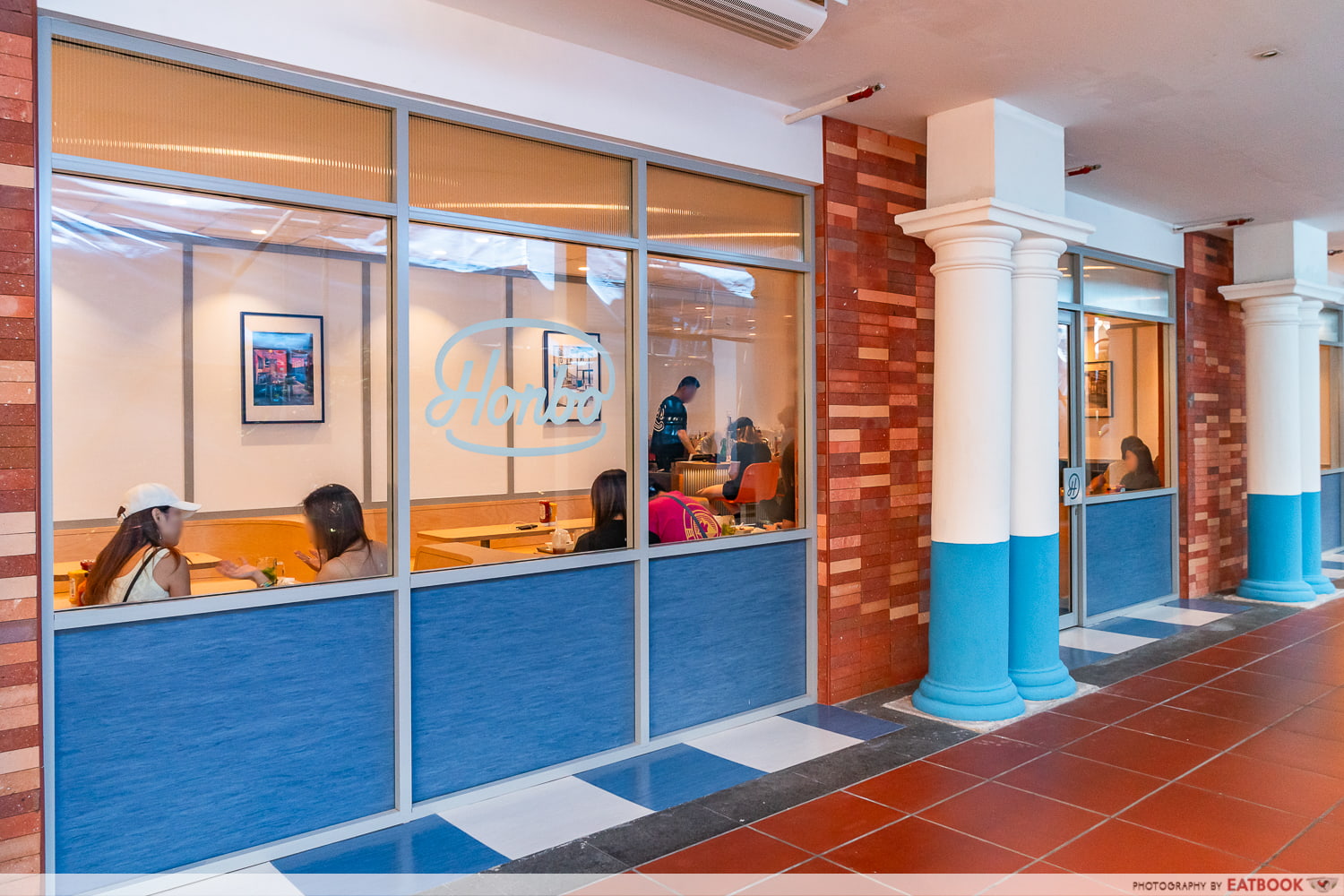 "You might not be mind-blown when you first eat our burgers," Michael says, "but two and a half months later, after eating other burgers, you'll come back because it's our burger whose flavour has stuck in your mind."
I beg to differ because I liked and have craved Honbo's burgers since I first had them in Hong Kong this CNY. Like me, my dining companion found them to be really good burgers, but we both balked at the prices, especially since they don't come with fries.
If you're looking for fancy schmancy, zhnged-up burgers, you won't find them here. Honbo serves excellently executed good ol' burgers that are made with quality ingredients in a highly accessible location, both of which are what you're paying for.
In related food news, famous French pastry chef Cédric Grolet is also coming to Singapore! His new cafe is slated to launch in the new Como Orchard, which will open sometime in September this year. Otherwise, check out The Bank, a new CBD burger joint that's hidden behind an ATM.
Address: 30 Victoria Street, #01-09 CHIJMES, Singapore 187996
Opening hours: Daily 12pm to 10pm
Website
Honbo is not a halal-certified eatery.
Famous French Pastry Chef Cédric Grolet Will Open A Cafe In Orchard This September
Photos taken by Aldrich Tan.
This was a media tasting at Honbo.
Honbo Review: Popular Smashed Burgers From HK Now In Singapore
Honbo Review: Popular Smashed Burgers From HK Now In Singapore -

8/10
Summary
Pros
– Buttery, meaty and crusty burger patties
– Fluffy potato milk buns
– No preservatives and MSG
Cons
– Expensive
– Scallop Burger only had two scallops
Recommended dishes: Honbo 1.5 ($23++), The Gold Standard ($28++), Scallop Burger ($26++)
Opening hours: Daily 12pm to 10pm
Address: 30 Victoria Street, #01-09 CHIJMES, Singapore 187996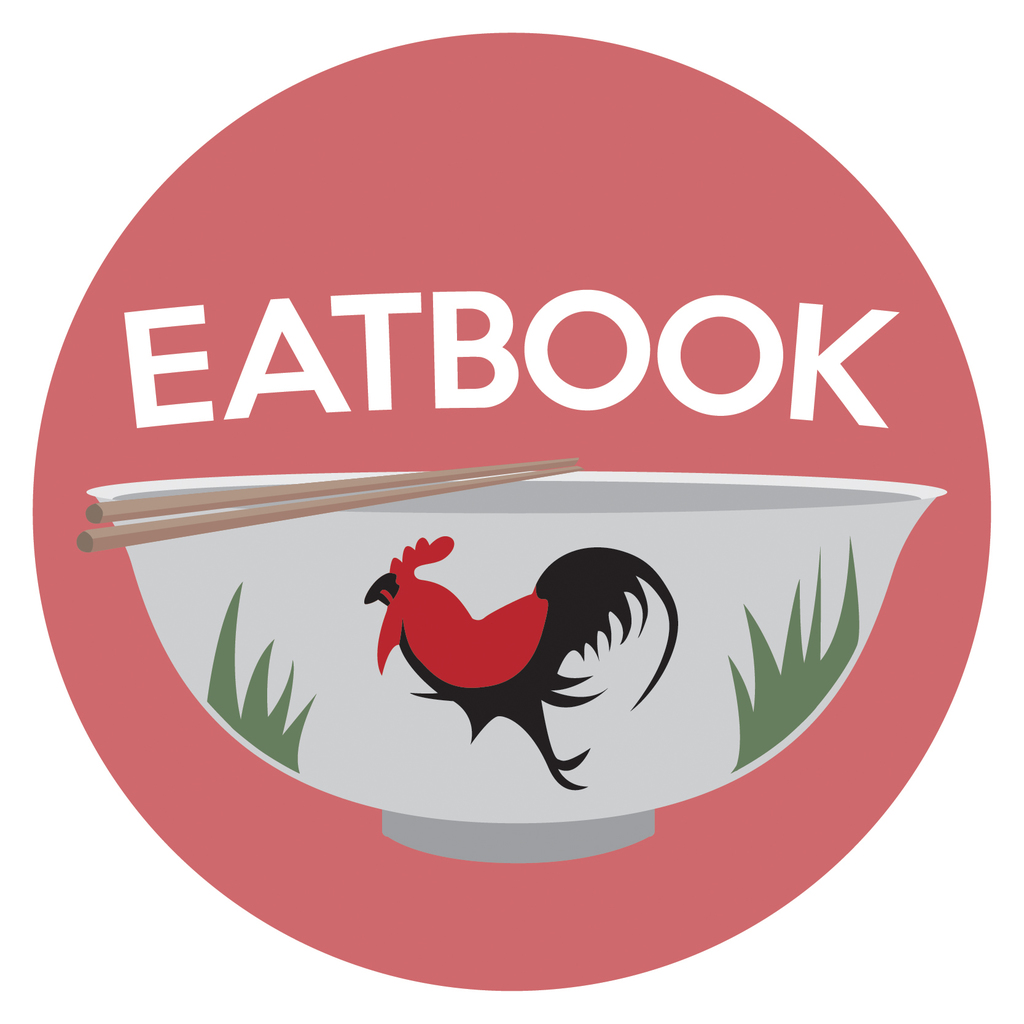 Drop us your email so you won't miss the latest news.