Rasa Sayang Western Food has old-school Western food in Ang Mo Kio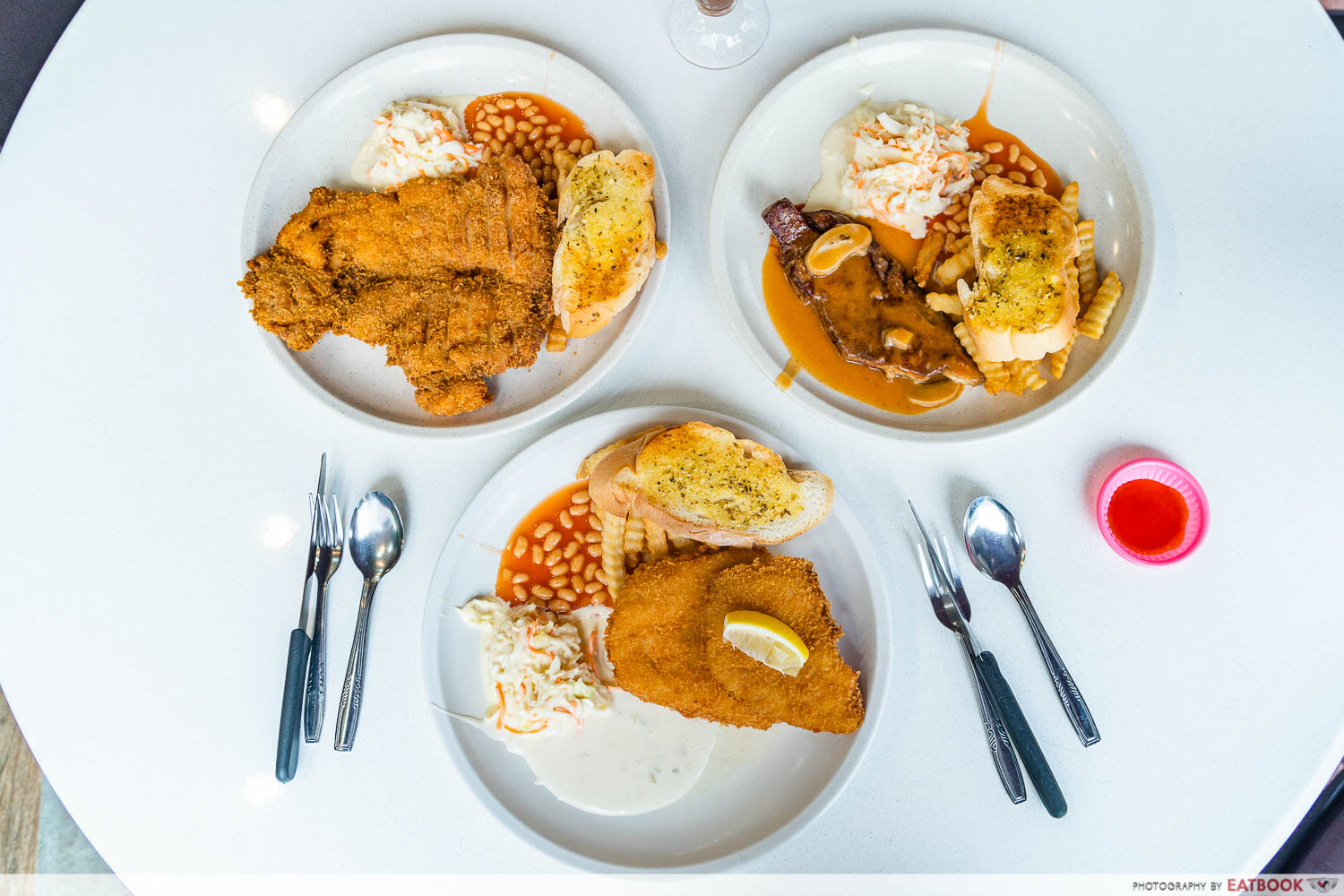 I've always loved having hawker-style Western food: a truly Singaporean creation that you won't find anywhere else. One of the most famous stalls specialising in this is Rasa Sayang Western Food, which was established back in 1994 at Ang Mo Kio Street 31, before they shut down in 2017, much to the dismay of longtime customers, and before I ever got to try their food. Then, they reopened in 2021, to huge crowds of fans both new and old━and I finally had my chance to visit this famed spot. 
Do & Me Review: Cheap And Good Western Food With Huge Portions At Yishun
Food at Rasa Sayang Western Food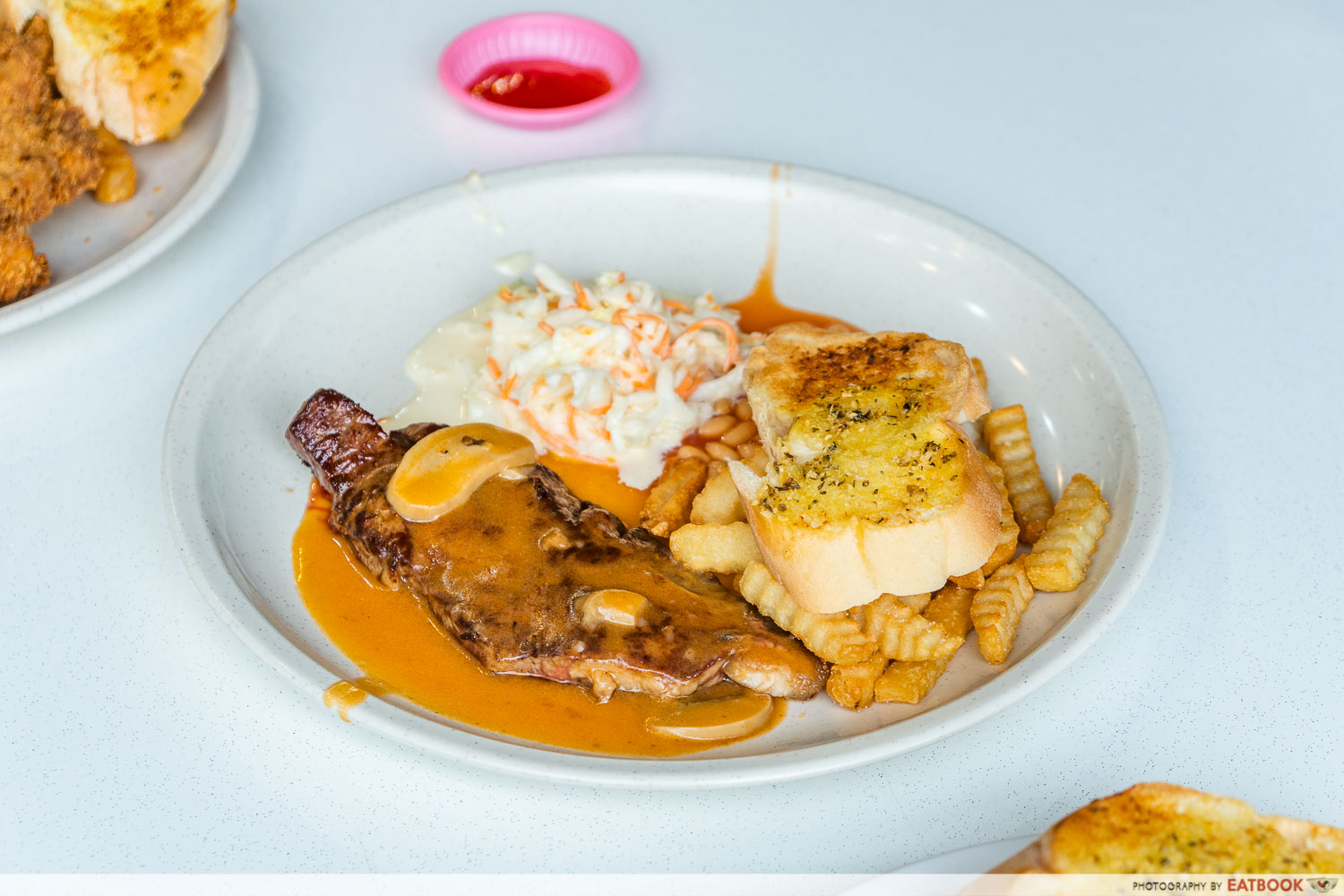 We started with their Sirloin Steak ($12.90). It's drizzled with a light brown sauce, with mushroom bits, which led me to assume that it was a mushroom sauce. However, it turned out tasting more like a tomato-based sauce, which I personally didn't like for its sourish notes and lack of flavour.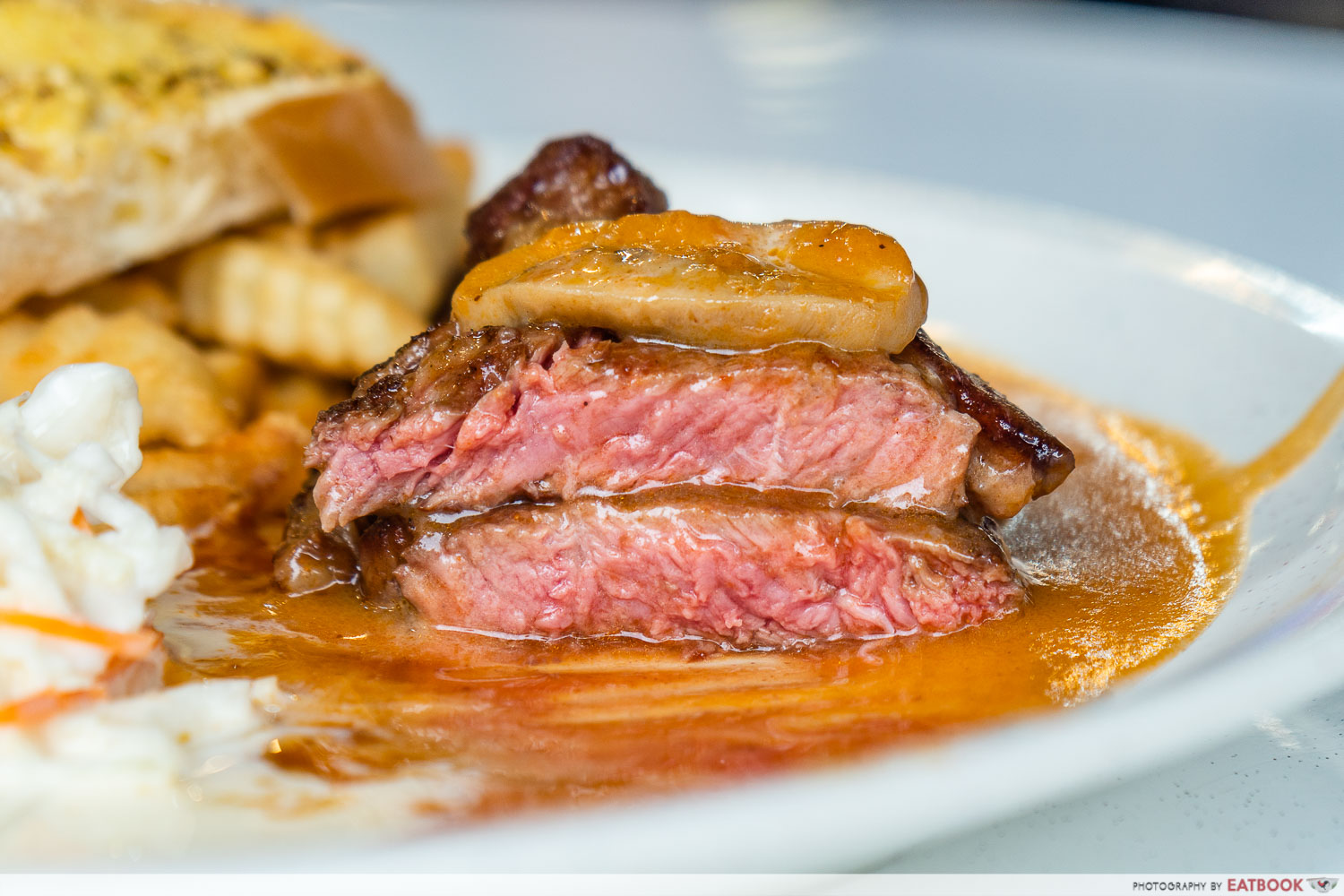 As for the beef, I found myself struggling to slice through a tendon that I encountered, and the meat here was slightly tough. Thankfully, the rest of the medium-rare steak was juicy, tender and flavourful. For the dish's price point, I would think you're getting your money's worth, since you also get a trio of crinkle-cut fries, garlic toasted baguette slices, baked beans, and coleslaw on the side.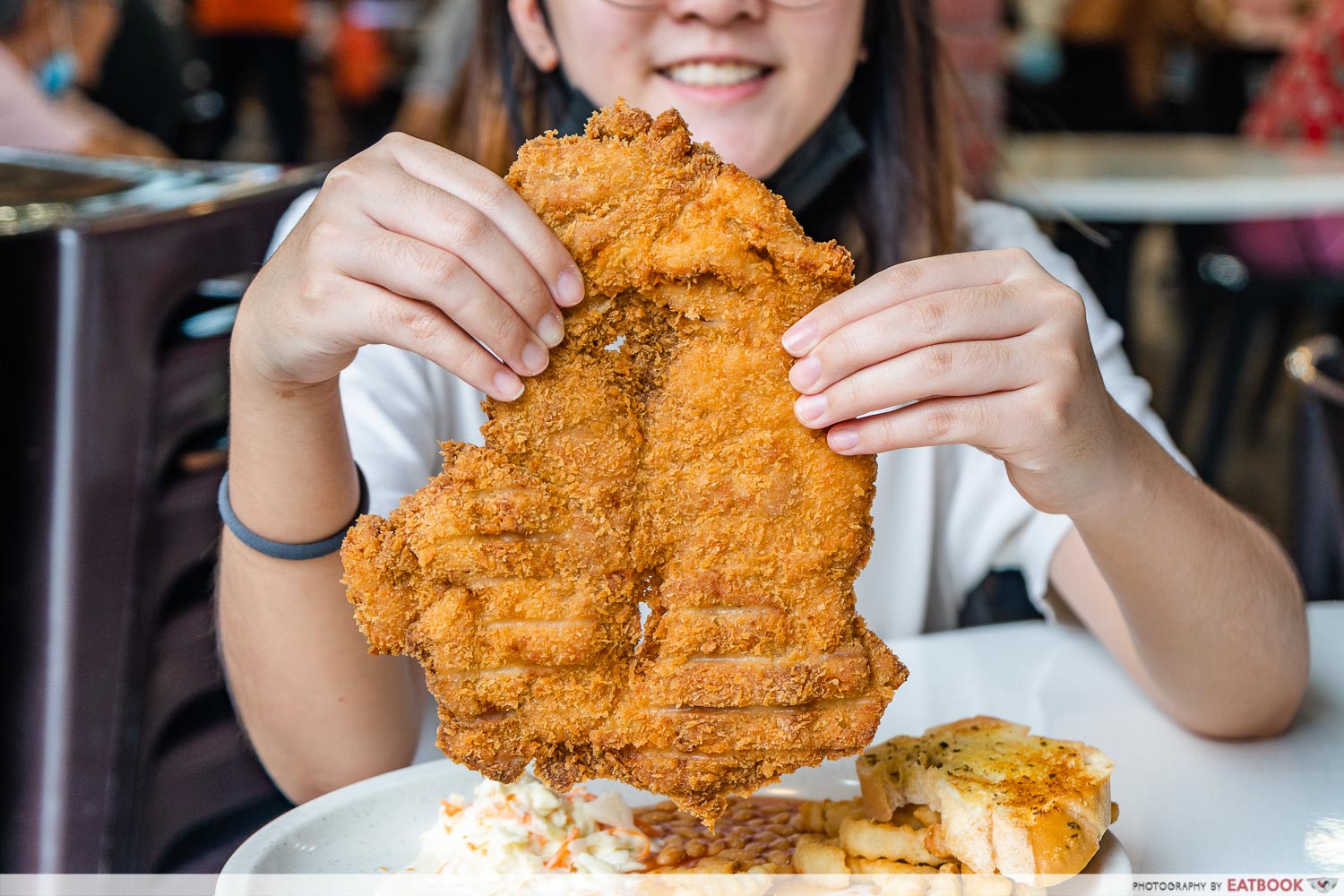 Next, we moved on to their highly raved Chicken Cutlet ($8). I absolutely love chicken, so I was excited to dive into this. I'd read about the massive size of this cutlet in other reviews online, and am happy to share that its size is not an exaggeration.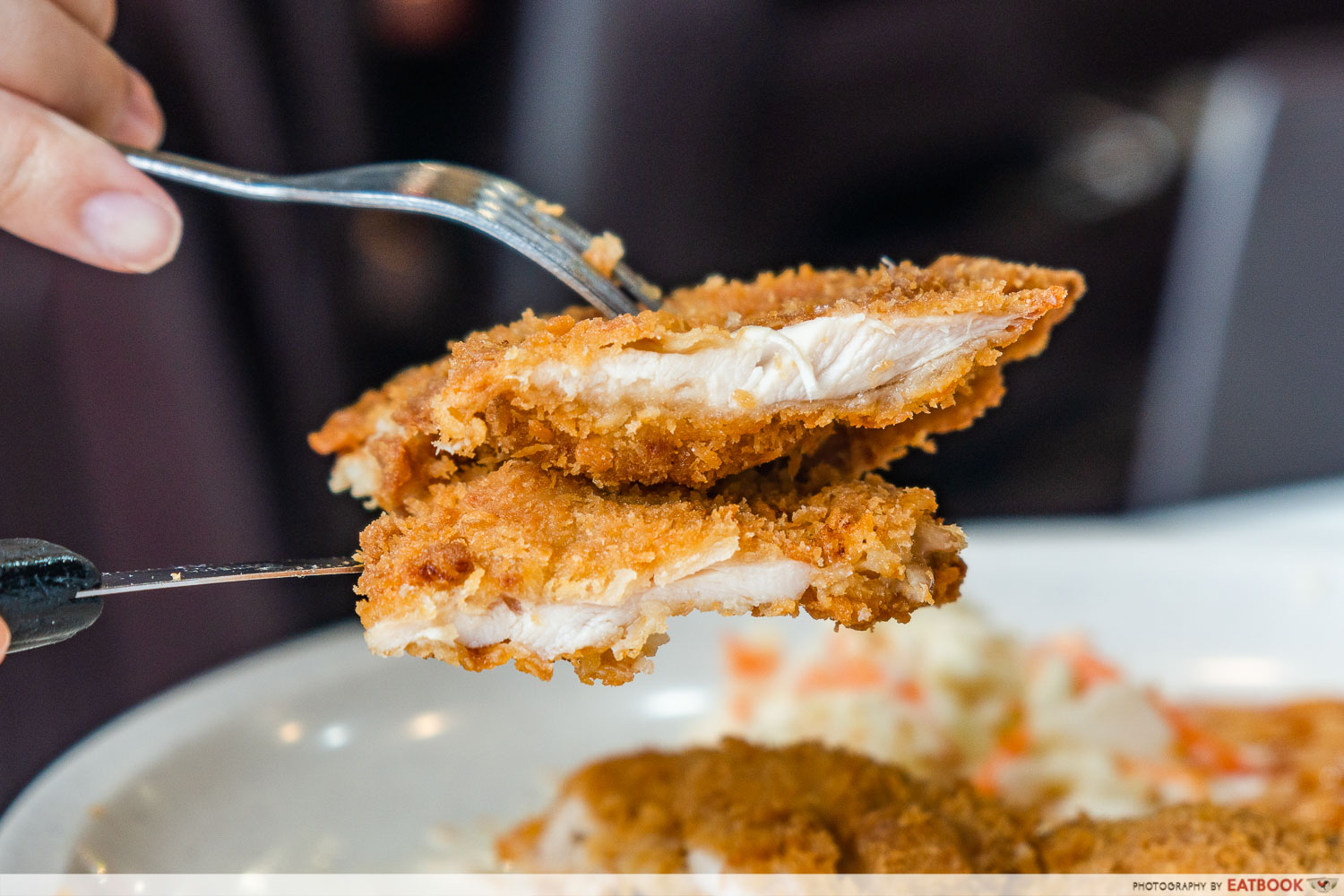 There were no disappointments here: there was an audible crunch as I cut through this, revealing a thin, crisp batter, and meat that was butterflied flat. I appreciated the tenderness of the well-marinated meat, and how there wasn't too much batter. It was neither too salty nor oily, so it never felt jelak. 
Nice Rice Review: Ex-Restaurant Chef Sells French-Japanese Rice Bowls From $6.50 At AMK Hub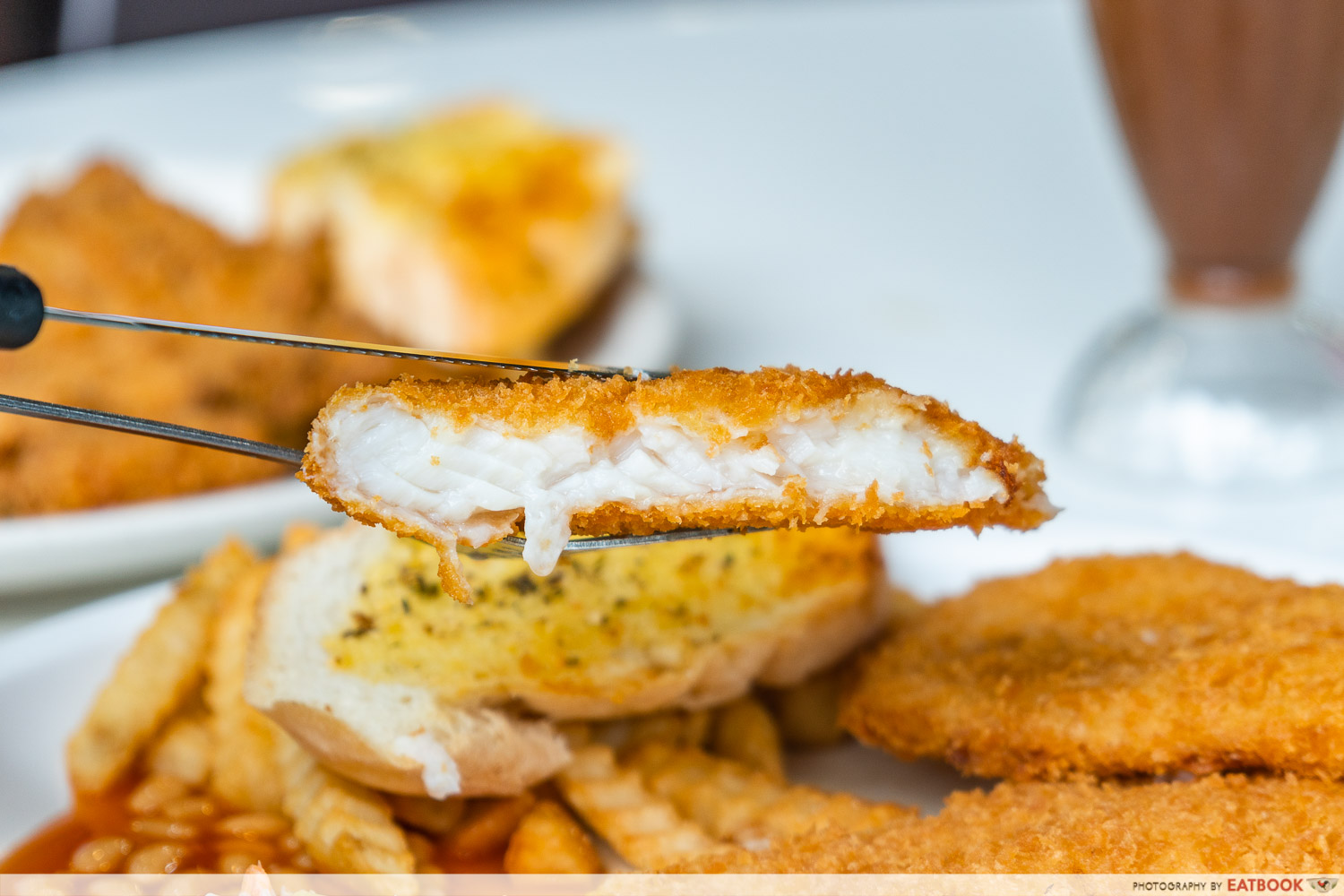 To end things off, we had their Fish and Chip ($7.50) which stars two golden-brown portions of fish. If you prefer breaded to battered fish, this one's for you. It was easily cut through, and like the chicken cutlet, had only a nice, thin layer of crumb. The fish came in meaty slabs, and was sufficiently moist, soft and flaky, though not particularly flavourful. Nevertheless, I still enjoyed it, although my colleague found it fishy.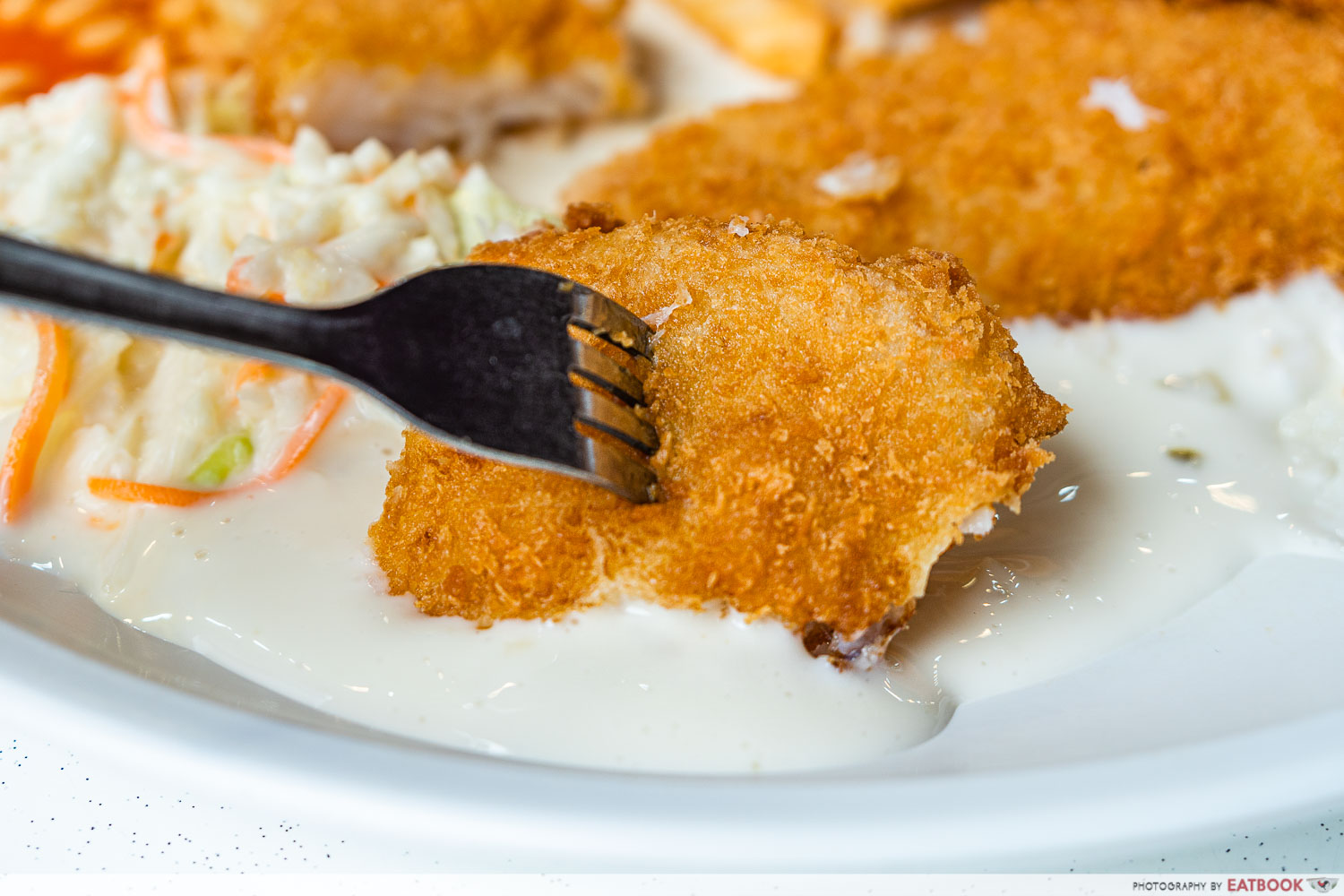 I quite enjoyed the fish with the provided tartar sauce, which was pleasantly less sour than others that I've tried. Unlike the usual tartar sauce, however, this came with almost no pickles, which I usually like for the crunch it adds.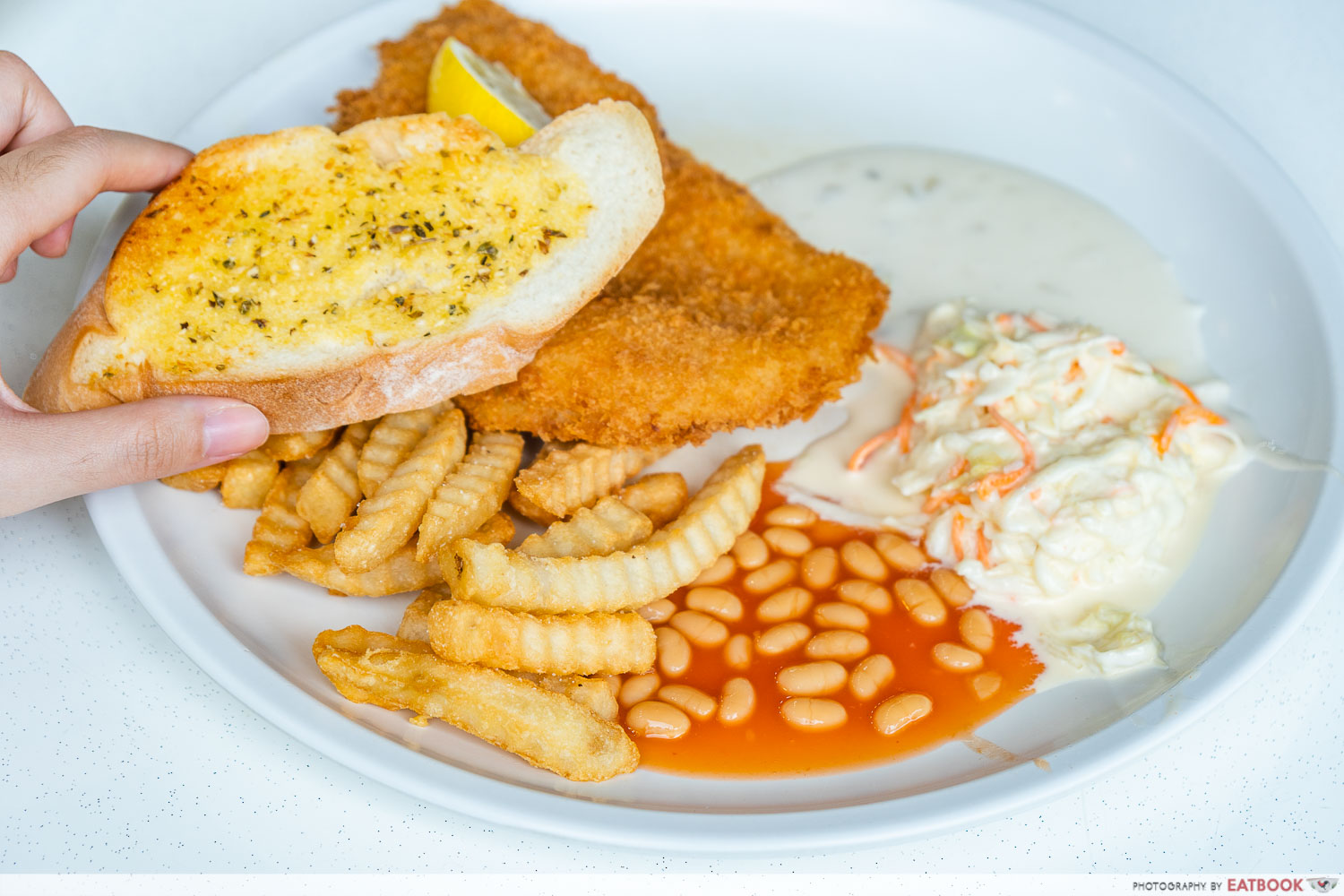 Like with the steak, all the dishes come with sides of coleslaw, baked beans, fries, and garlic toast. While the rest were not memorable, I enjoyed the garlic toast, which was sufficiently buttery, though I would have preferred it to be crispier, and with more garlic.
Ambience at Rasa Sayang Western Food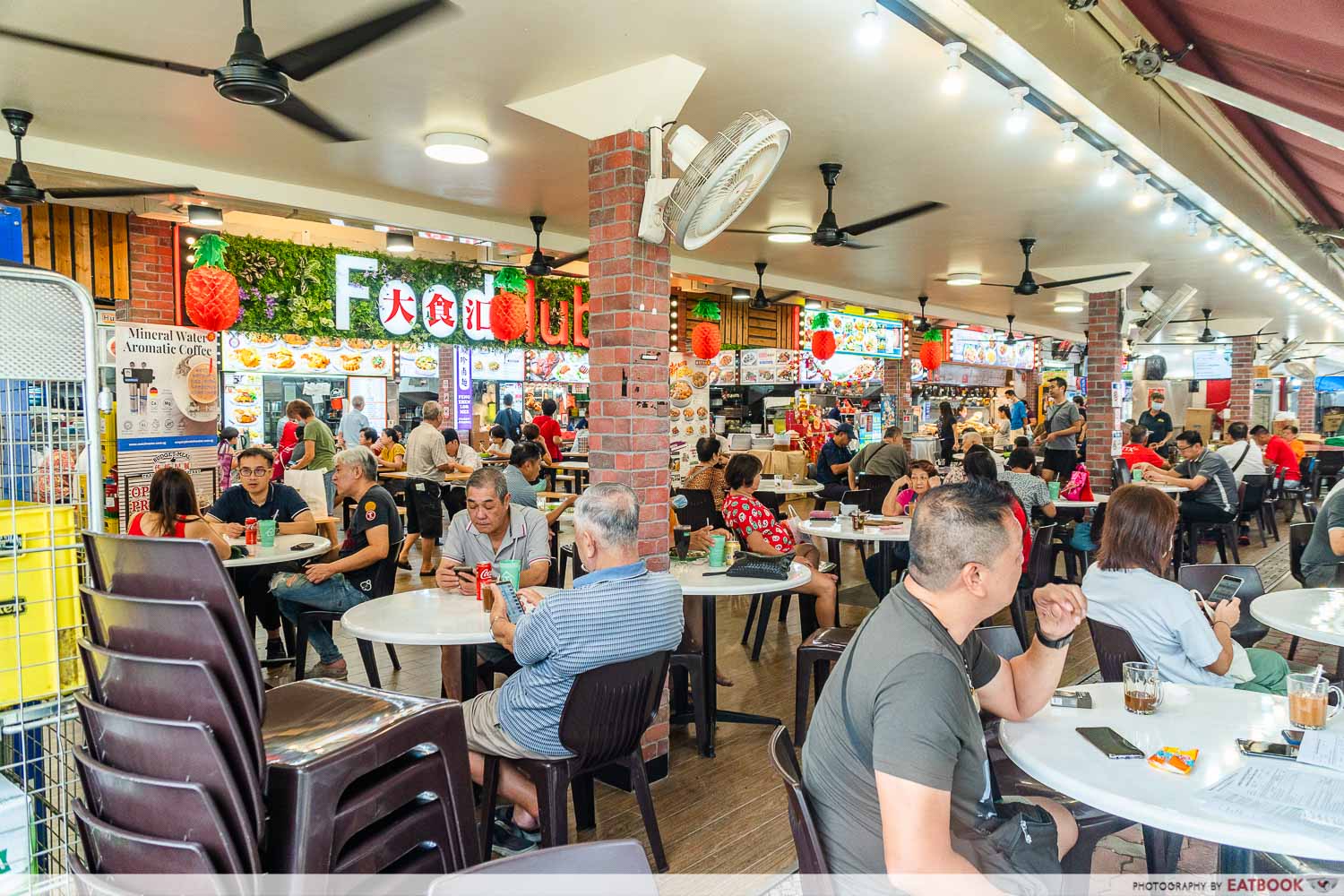 Rasa Sayang Western Food can be found at ST 31 Coffee House, which is a convenient five-minute walk from Ang Mo Kio MRT Station. We were there during lunchtime, and the kopitiam was packed. Surprisingly, I didn't encounter a queue at Rasa Sayang, and all three dishes that I'd ordered were ready within 15 minutes. 
Do note that the stall takes a mid-day break between 2pm and 5pm, so be sure to plan your visit accordingly.
The verdict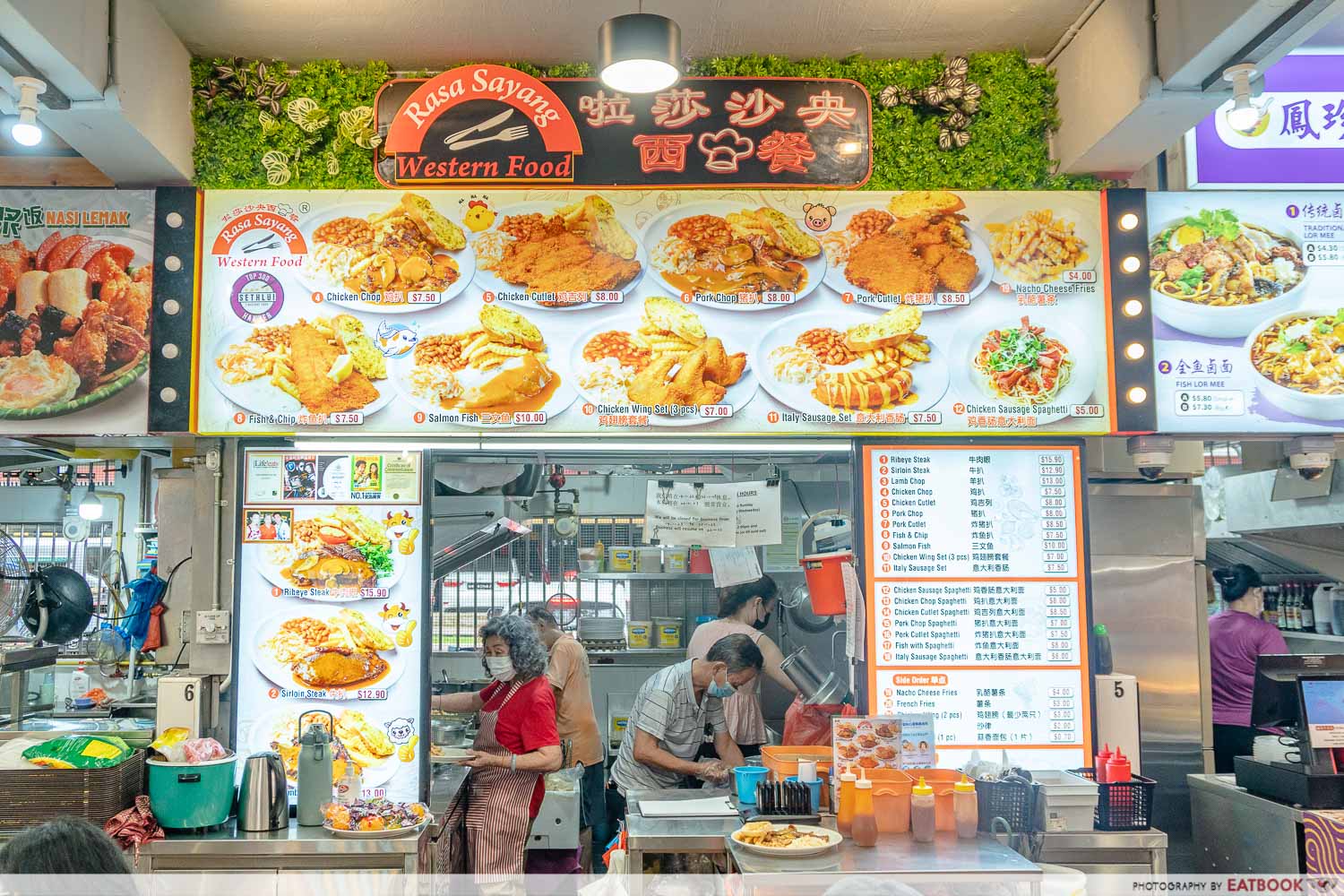 While my colleague and I quite enjoyed the Chicken Cutlet, we felt that the Fish and Chip and Sirloin Steak fell somewhat short. However, the affordability and generous portions of the dishes are reason enough to recommend this stall to anyone who lives nearby. 
For more food options in the same area, check out Nice Rice at AMK Hub for French-Japanese rice bowls by an ex-restaurant chef! Alternatively, if you'd like more Western food, read our guide to the best Western food stalls in Singapore, with chicken cutlet and fish and chips that start from $6.
Address: 347 Ang Mo Kio Avenue 3, #01-2142, ST 31 Coffee House, Singapore 560347
Opening hours: Thurs-Tue 11:30am to 2pm, 5pm to 9pm
Rasa Sayang Western Food is not a halal-certified eatery
13 Old-School Western Food Stalls In Singapore For XXL Chicken Cutlet And Fish And Chips From $6
Photos taken by John Lery Villanueva
This was an independent review by Eatbook.sg
Rasa Sayang Western Food Review: Famous Old-School Western Food Is Back In Ang Mo Kio
Rasa Sayang Western Food Review: Famous Old-School Western Food Is Back In Ang Mo Kio -

7.5/10
Summary
Pros
– Tasty chicken and steak
– Good portions, affordable prices
Cons
– Sirloin Steak was a bit tough and could have a better sauce
– Fish tasted a bit fishy
Recommended dishes: Chicken Cutlet ($8) and Sirloin Steak ($12.90)
Opening hours: Thurs-Tue 11:30am to 2pm, 5pm to 9pm
Address: 347 Ang Mo Kio Avenue 3, #01-2142, ST 31 Coffee House, Singapore 560347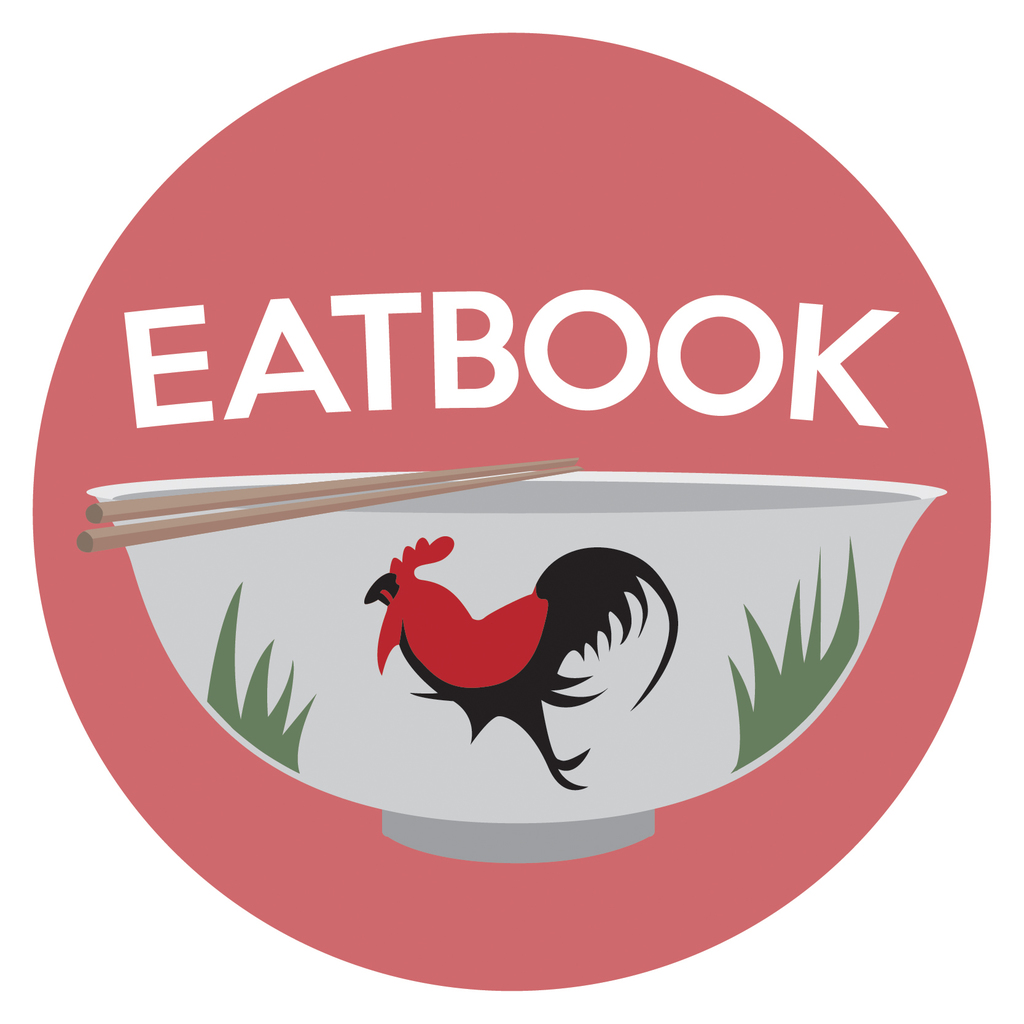 Drop us your email so you won't miss the latest news.