Nice Rice at Ang Mo Kio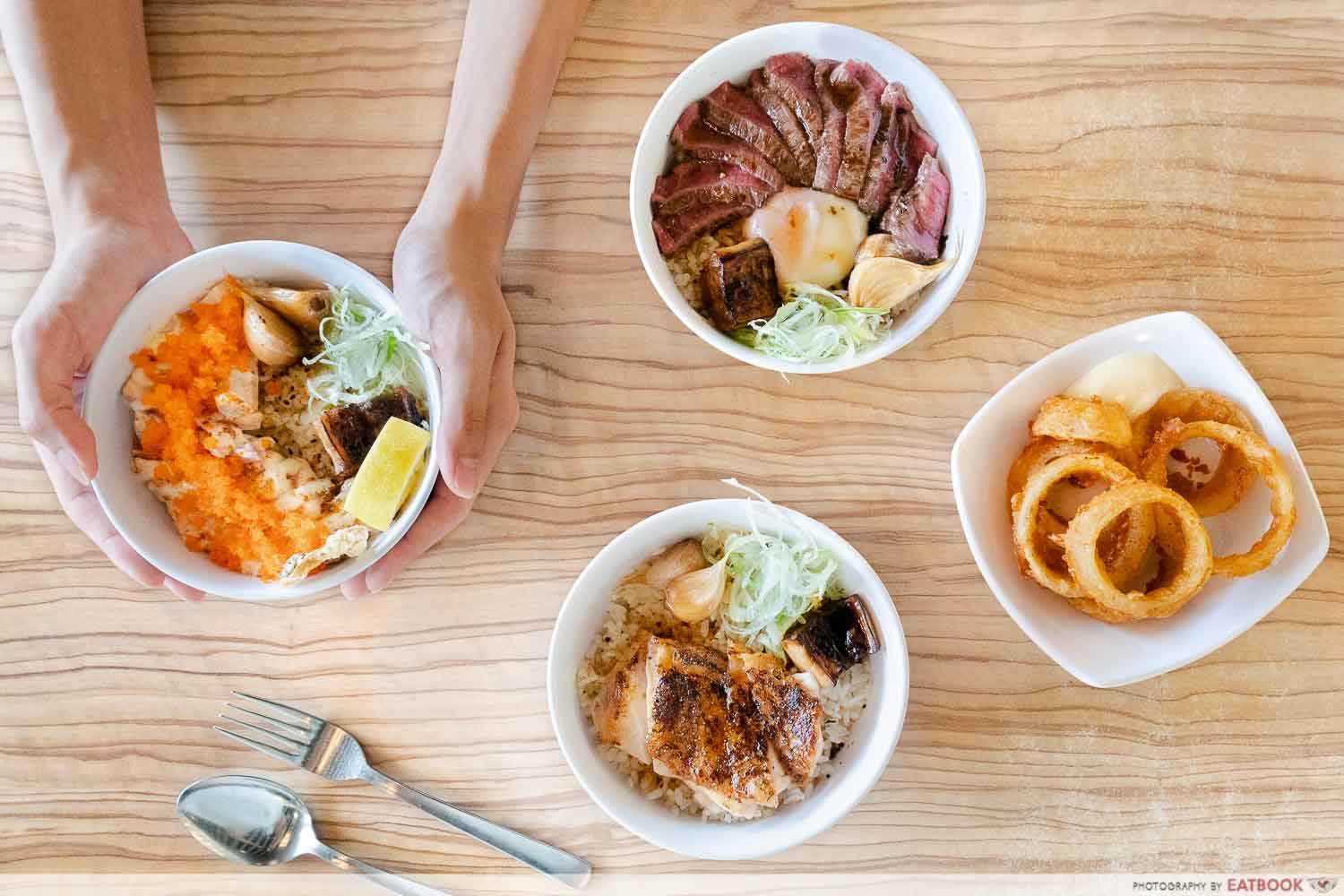 French and Japanese food are two of the most celebrated cuisines in the world, so it's no surprise that many chefs have tried to blend them together. While the finest examples of this are usually found in fine dining restaurants, Nice Rice, a stall in AMK Hub's food court, does justice to the fusion with a simple concept: rice pilaf bowls.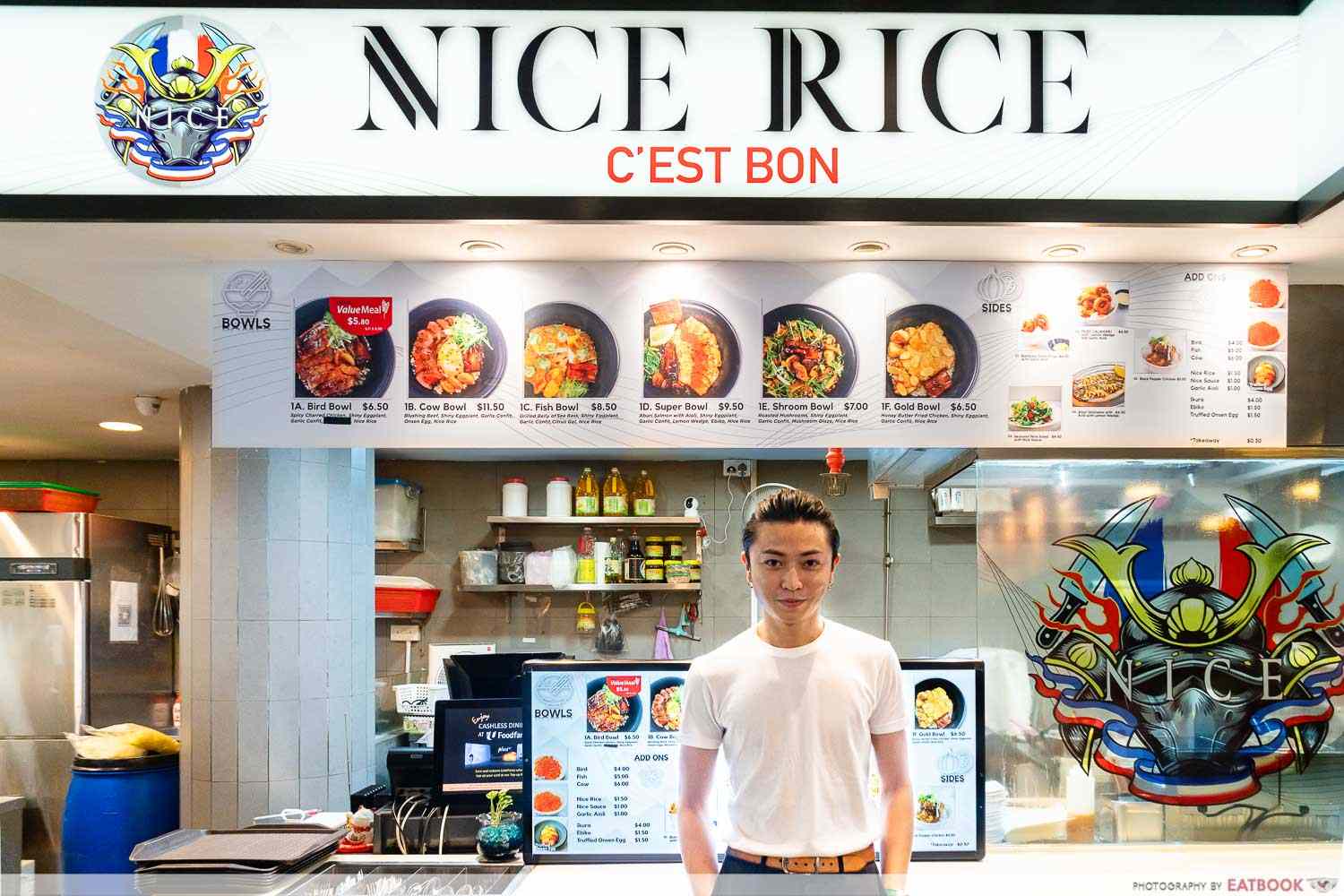 Equipped with the experience of working at one Michelin-starred French Vianney Massot Restaurant, the young chef that runs Nice Rice whips up affordable dishes that bring out the best of both culinary worlds—or so we heard. We decided to pay the stall a visit to find out for ourselves.
Donburi Maruya Review: Affordable Teishoku Tonkatsu Sets And XL Unagi Don In Geylang
Food at Nice Rice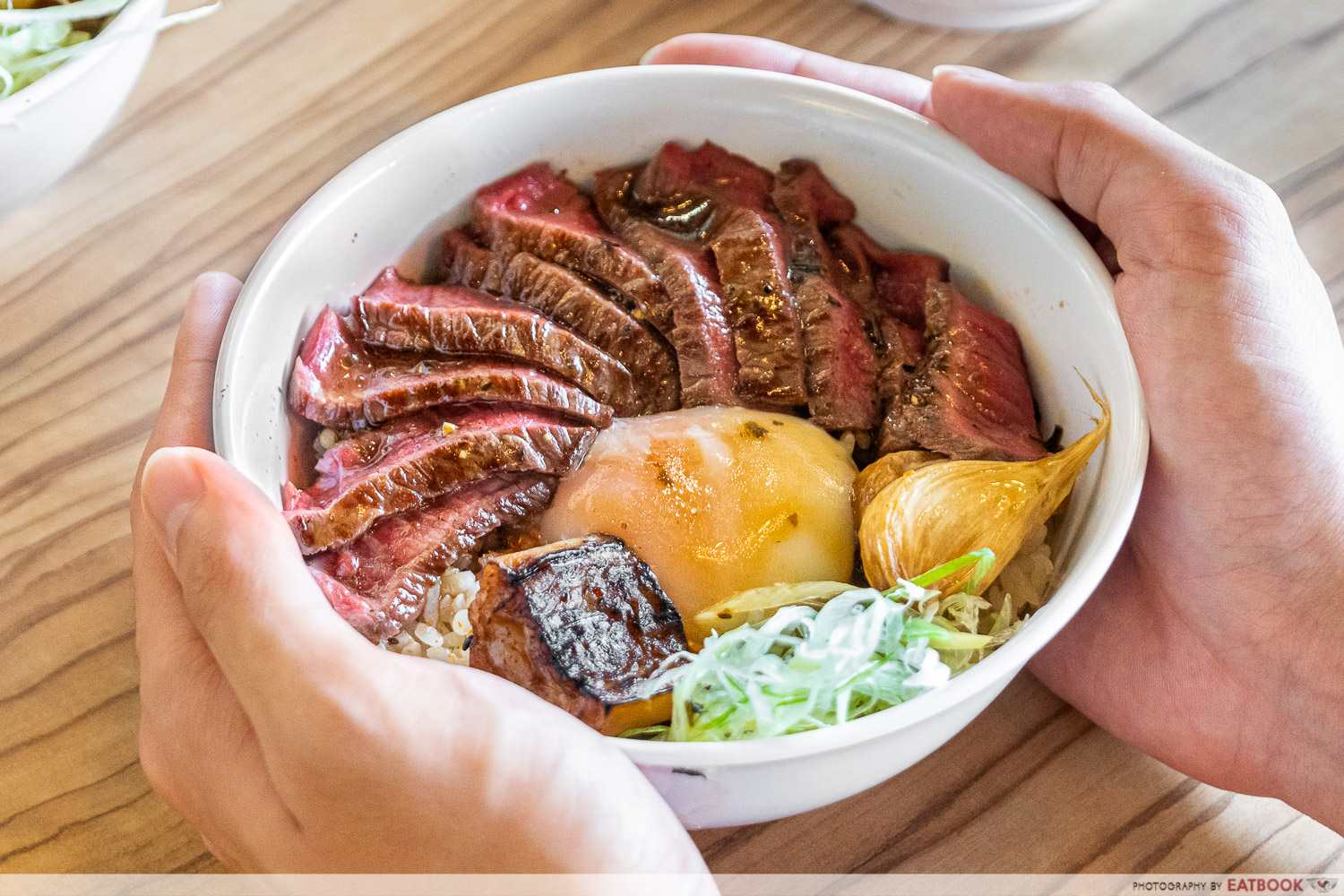 After taking a quick look at the menu, we decided to make the Cow Bowl ($11.50) our first dish. And no wonder, given the striking elements atop the rice: there were soy-glazed eggplants, garlic confit, an onsen egg and, of course, slices of beef rump cap with a gorgeous pink in the middle.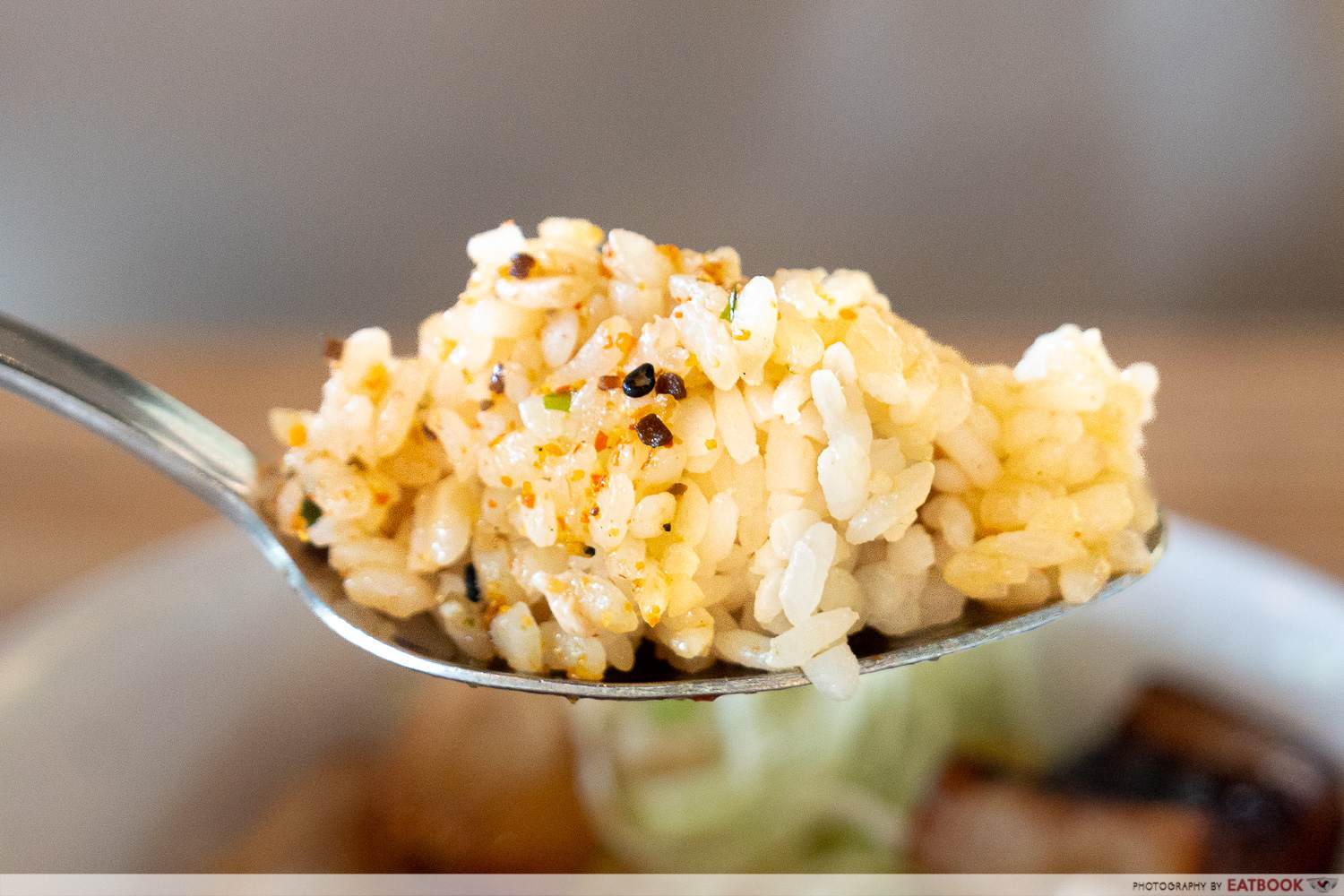 It's easy to be distracted by the razzle-dazzle of the ingredients, but we can't forget that this is Nice Rice we are talking about—special attention needs to be paid to those grains of white. Instead of traditional long grains, the stall uses Taiwanese pearl rice, which allows the rice pilaf's buttery flavour and rich fragrance to shine in a stickier, denser form.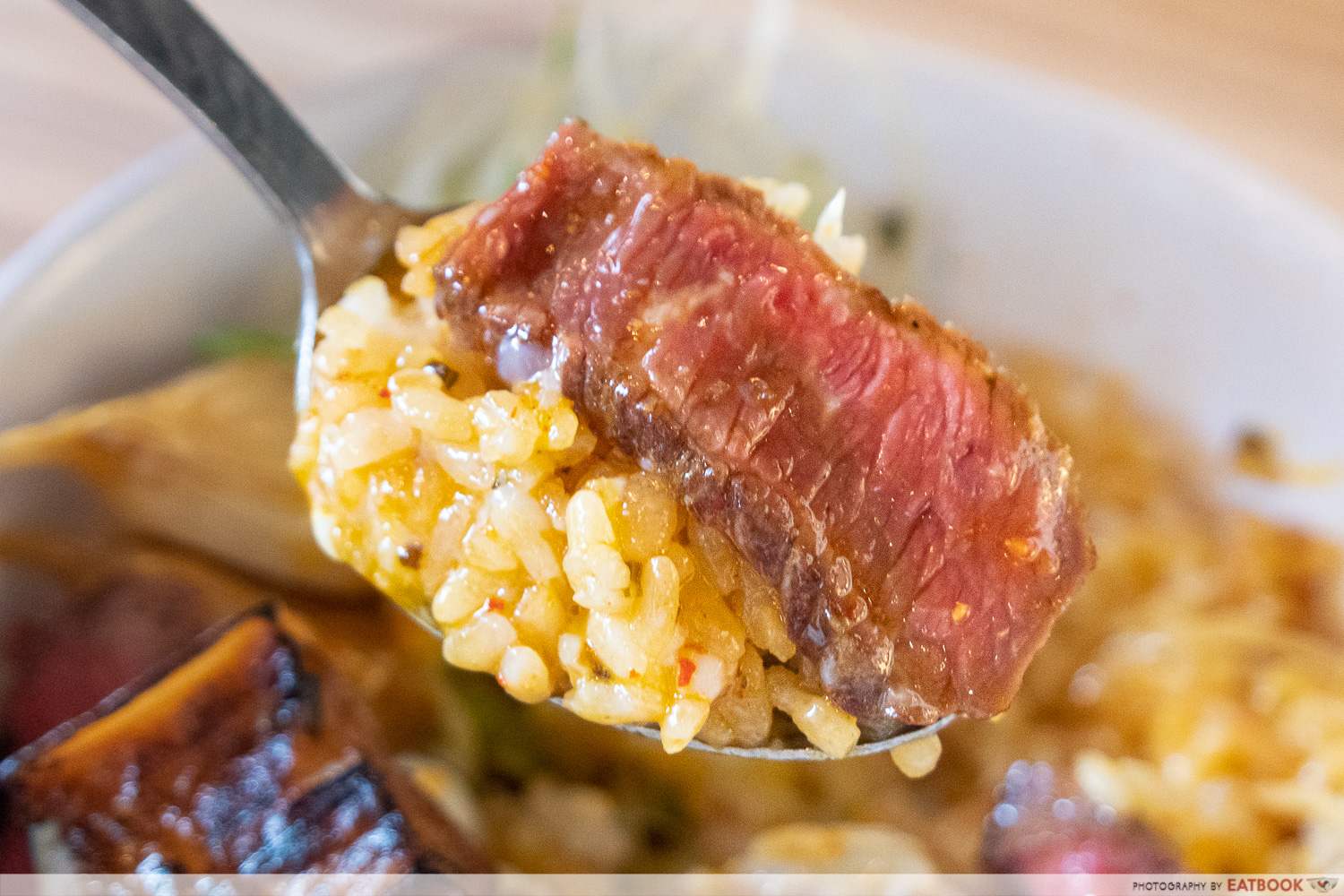 When mixed with the onsen egg and eaten with a beef slice, it all went together congruously. The tender and juicy beef was at the ideal doneness for my taste, and the earthy—but not overpowering—notes of the truffle oil added a depth of flavour. With the rice pilaf already jam-packed with aroma, let's just say nice is an understatement.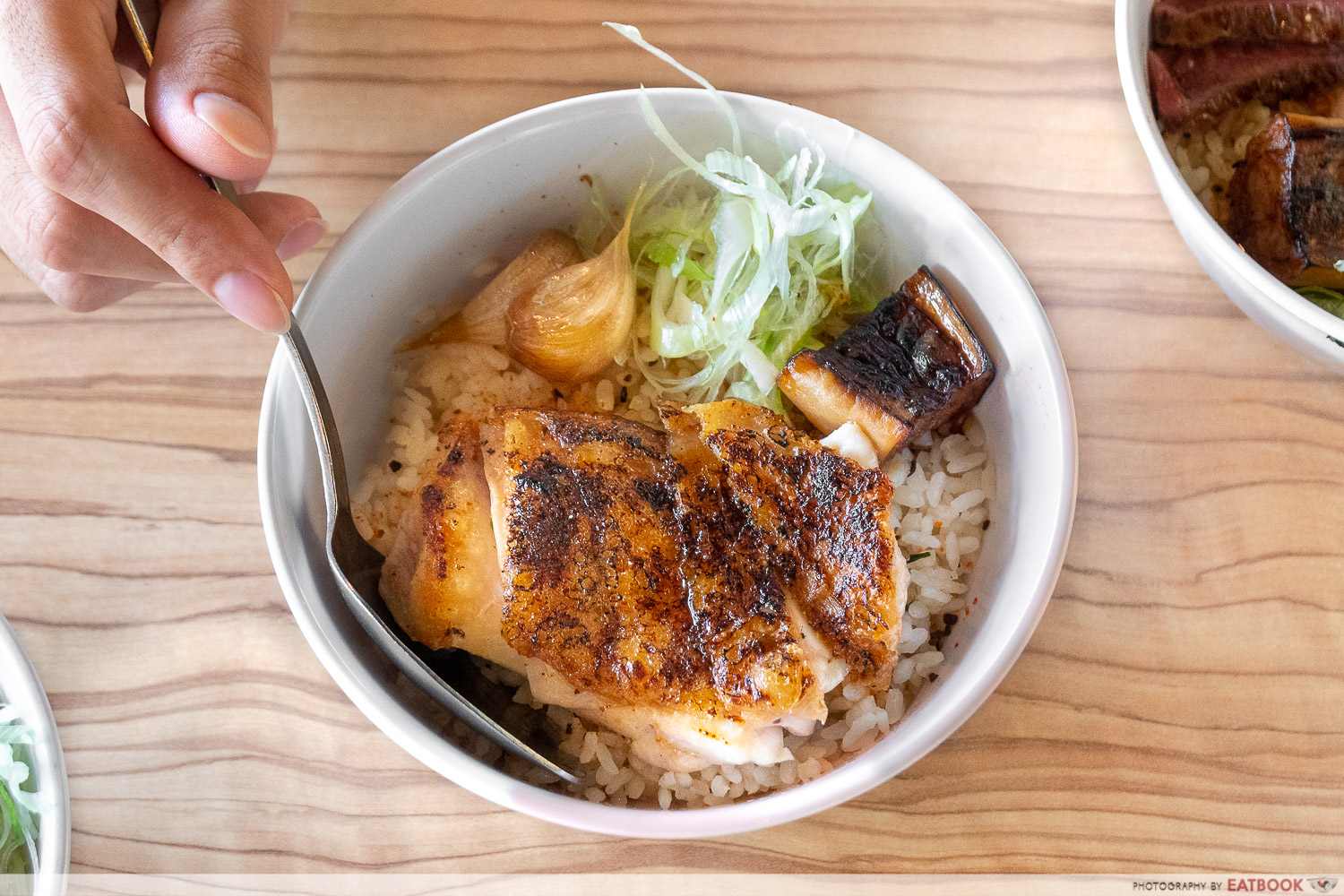 The cheaper but no less enticing Bird Bowl ($6.50) was our next dish. Most of the ingredients in the previous dish was carried over, except for the onsen egg and the beef, which was swapped out for slabs of charred chicken slathered in a spicy sauce.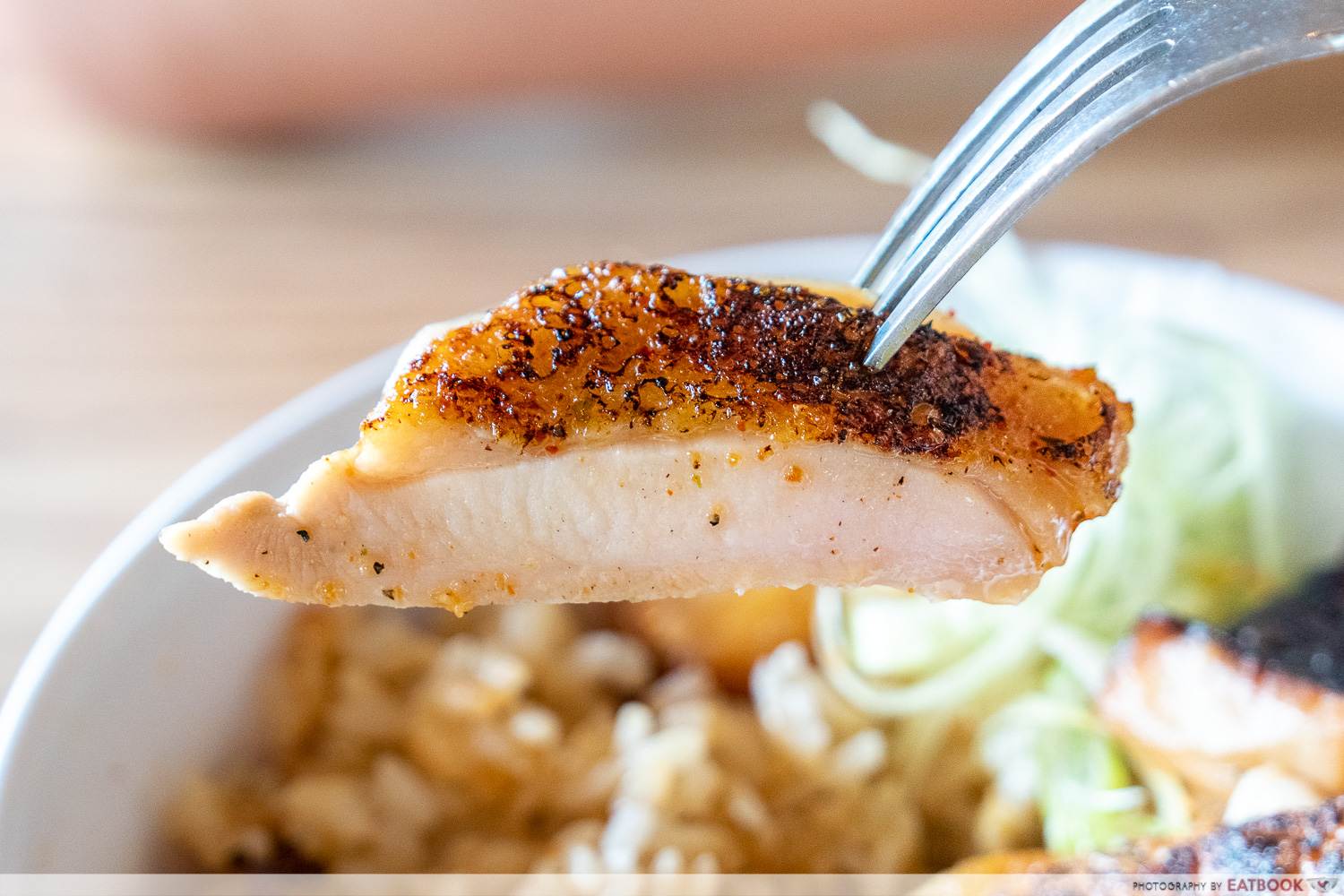 The chicken was quite succulent, with a slightly crispy skin that added some textural contrast. However, while the spicy sauce was mild and well-balanced, the chicken's char was almost overwhelming. Its strong, smoky flavour impressed upon my first bite, but the bitter aftertaste that followed soon became impossible to ignore.
Luckily, the rest of the dish helped alleviate some of that astringency. The eggplant and garlic confit were again brilliantly executed, adding savoury and sweet flavours to the whole bowl.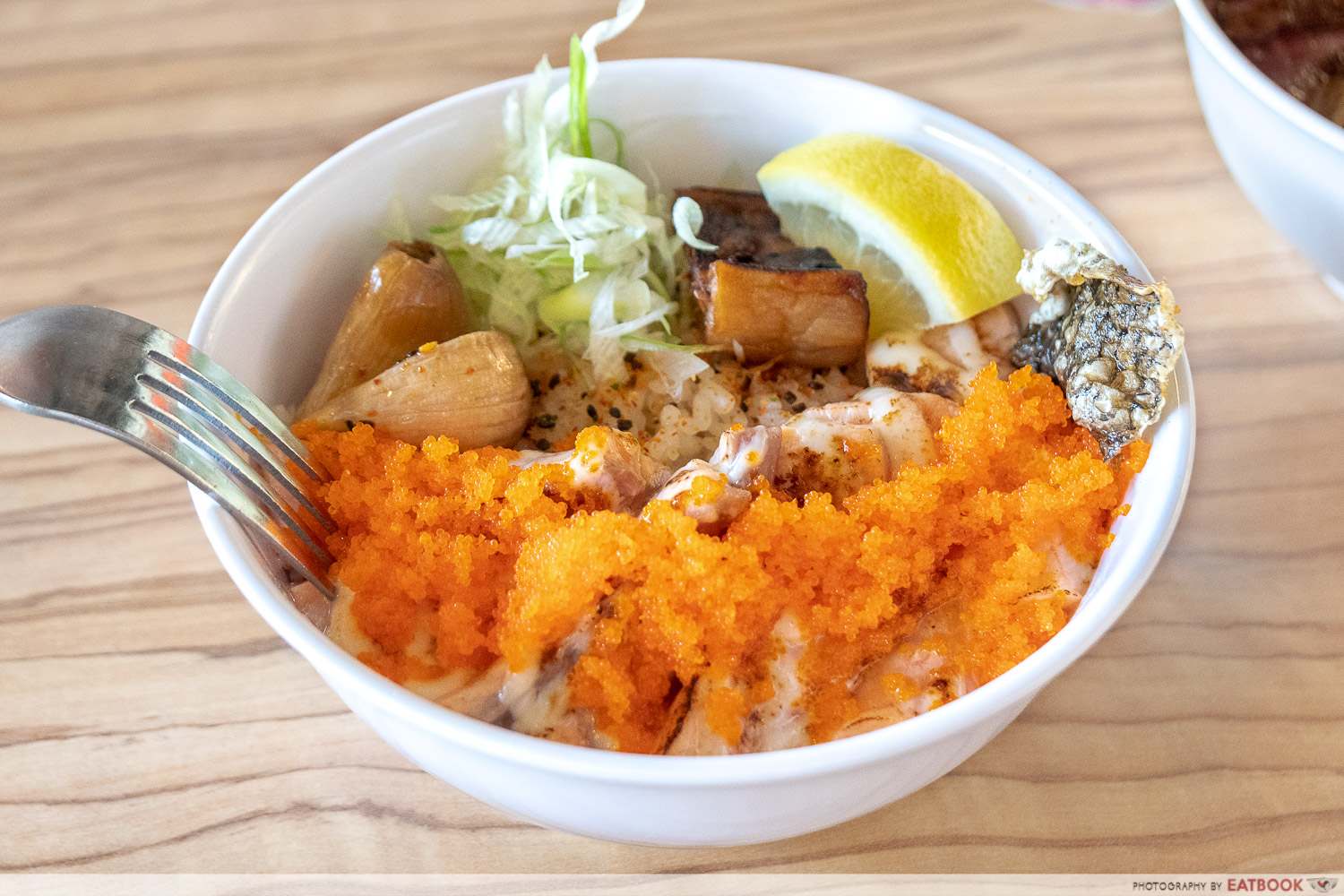 For our final dish, we went for the Super Bowl ($9.50). This time, aburi salmon with aioli was the star, and it was also joined by generous heaps of ebiko.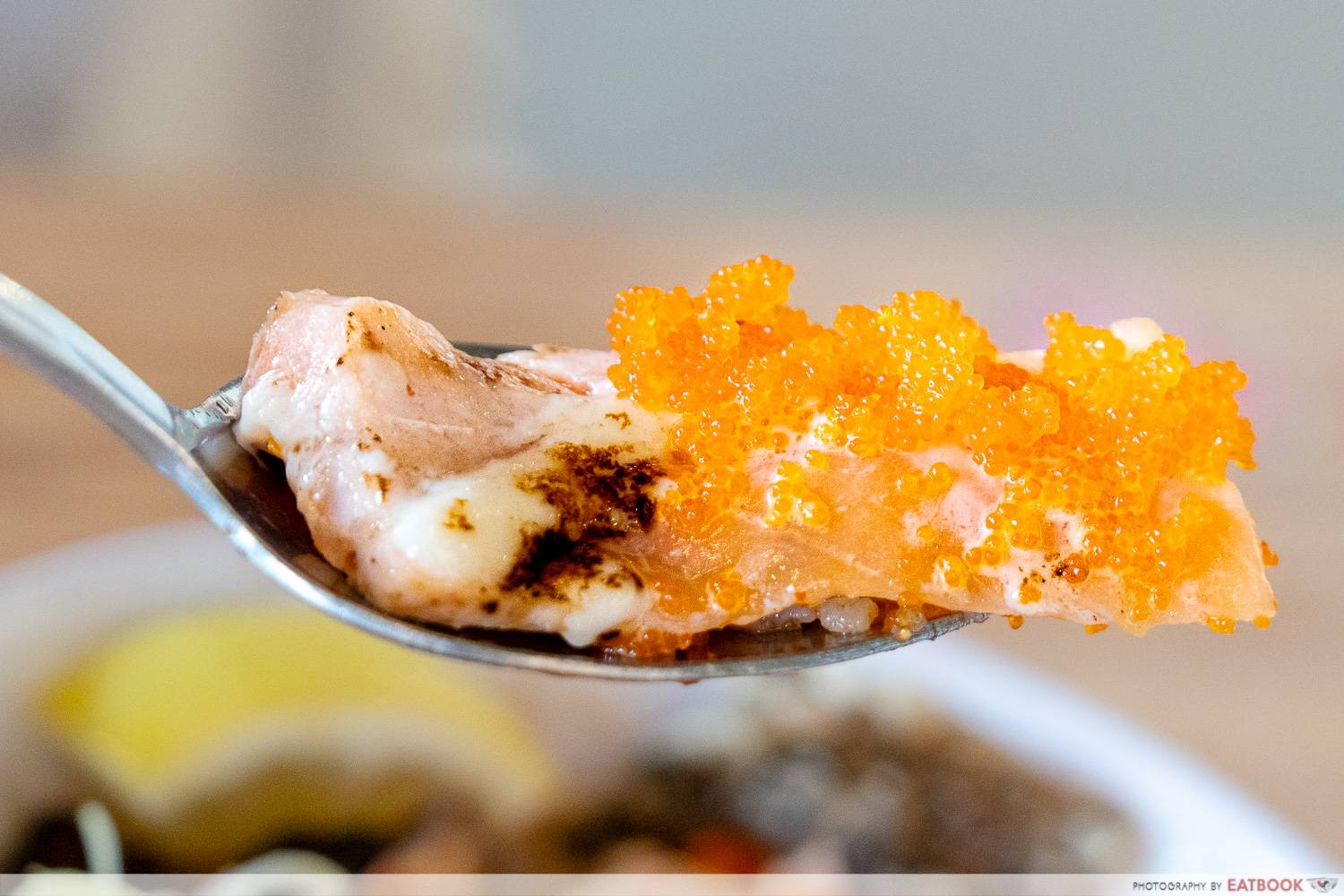 After the slight letdown of the previous dish, the Super Bowl was a fine return to form. The fresh salmon was thoroughly enhanced by the garlicky flavour of the aioli, and its outer char, unlike with the chicken, was tastefully done. Lastly, the ebiko added fun bursts of umami to round out this absolute touchdown of a dish.
Ambience at Nice Rice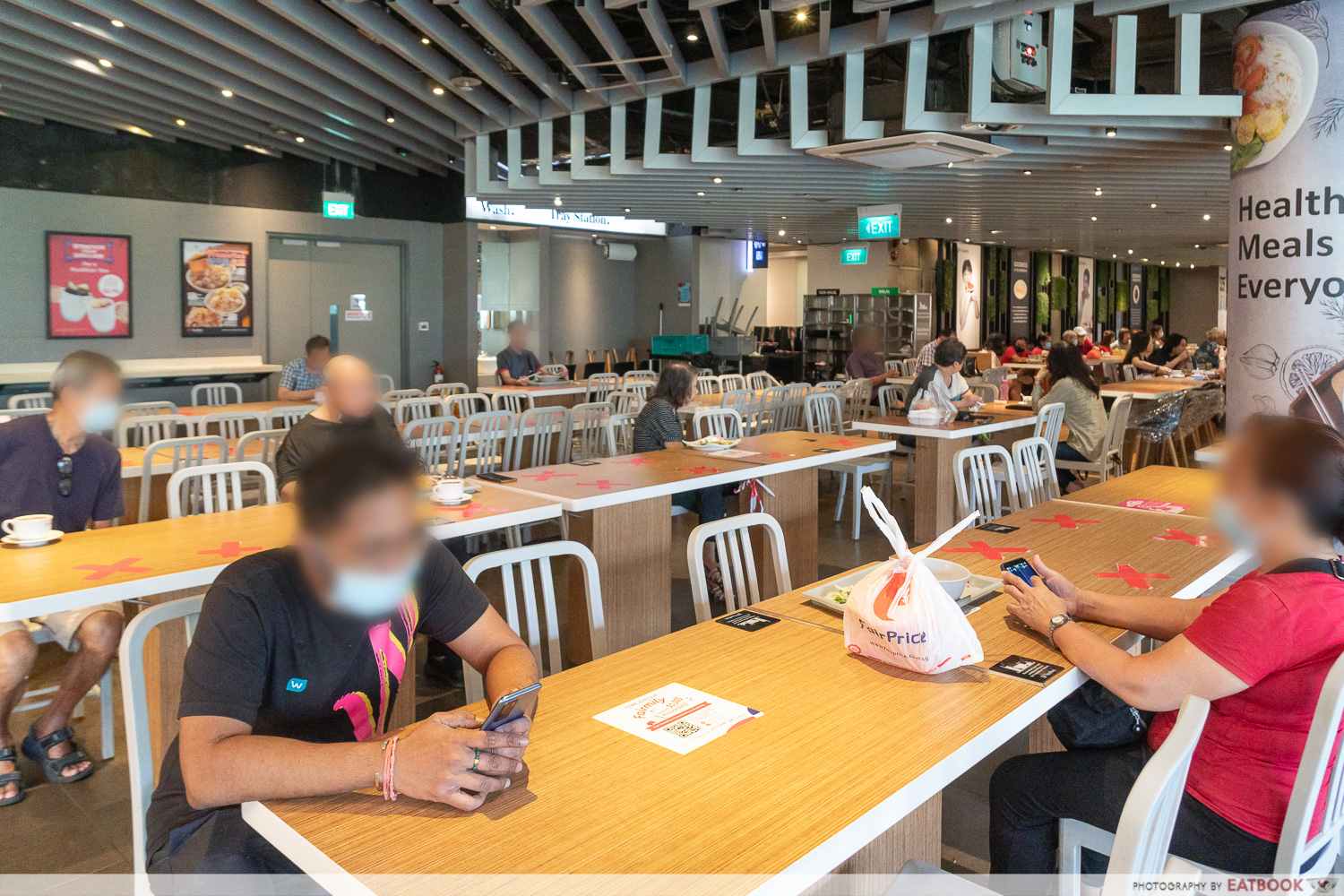 Nice Rice is located in NTUC Foodfare at AMK Hub, which is right next to Ang Mo Kio MRT Station. The food court is considerably more spacious than that of your average neighbourhood shopping mall, so even when it gets crowded during peak hours, you should be able to find a seat without too much of a wait.
The verdict
With its reasonable prices and wholly delectable rice bowls, there's much to love about Nice Rice. Though the Bird Bowl was a little disappointing, almost everything else about the food was, at the very least, nice—and in most cases, excellent. Be sure to give the stall a shot if you are in Ang Mo Kio.
If you're looking for more solid rice bowls, check out our Billion Bowls review. For more good food in AMK, check out our Ang Mo Kio food guide.
Address: 53 Ang Mo Kio Avenue 3, #03-12, AMK Hub, Singapore 569933
Opening hours: Tue-Sun 11am to 8pm
Website
Nice Rice is not a halal-certified eatery.
Billion Bowls Review: $6.90 Japanese Rice Bowls By Ex-Mikuni Chef
Photos taken by Tanya Tham.
This was an independent review by Eatbook.sg.
Nice Rice Review: Ex-Michelin Starred Chef Sells French-Japanese Rice Bowls From $6.50 At AMK Hub
Nice Rice Review: Ex-Michelin Starred Chef Sells French-Japanese Rice Bowls From $6.50 At AMK Hub -

8.5/10
Summary
Pros 
– Cow Bowl was delicious
– Super Bowl was superb
– Every element of these dishes was well thought out and executed
Cons
– Bird Bowl had a slight bitter aftertaste
Recommended dishes: Cow Bowl ($11.50), Super Bowl ($9.50)
Opening hours: Tue-Sun 11am to 8pm
Address: 53 Ang Mo Kio Avenue 3, #03-12, AMK Hub, Singapore 569933