Picanhas' value-for-money steak in the CBD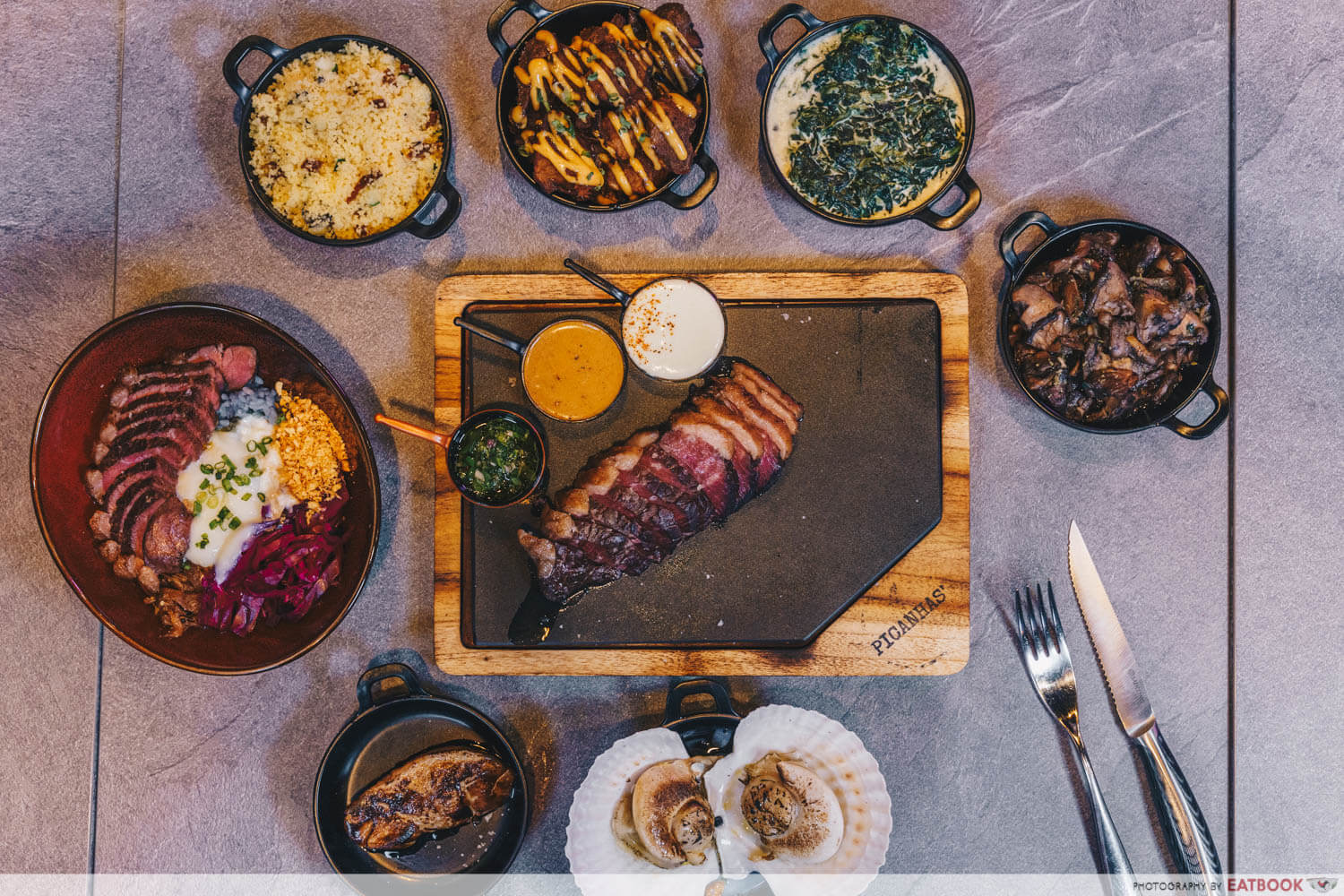 Taking over The Feather Blade on Club Street, Picanhas' is a new Muslim-owned restaurant serving value-for-money steak and interesting mocktails. As it is opened by a few of the staff from the previous steakhouse, you can expect almost similar vibes, prices, and dishes on the menu.
9 Cheap Steaks Under $30++ That Are Mouth-Wateringly Delicious
Food at Picanhas'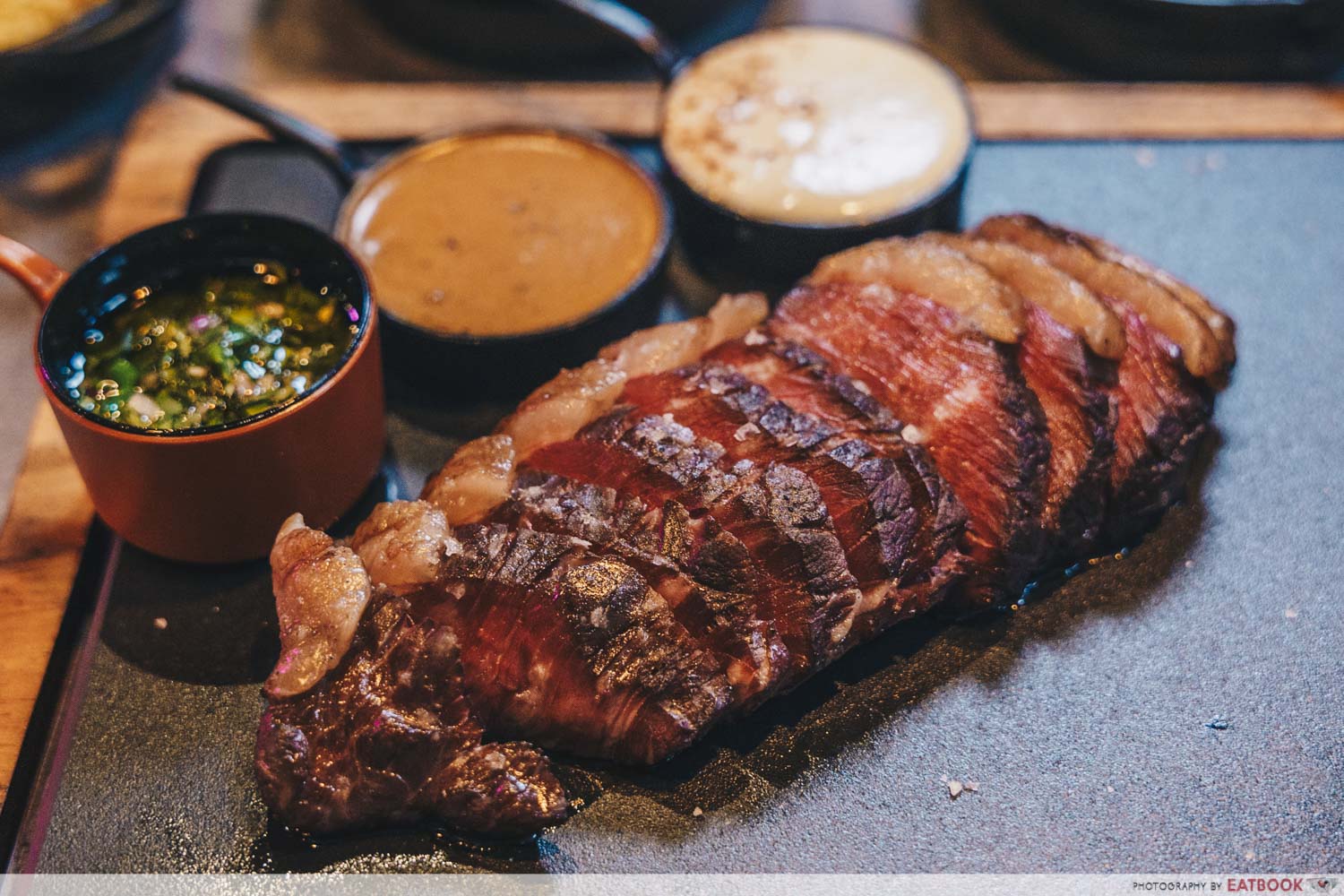 With a more concise menu, there are only two mains—the Queen of Steak ($25++) and Picanha Don ($17++). 
The Queen of Steak was served simply on a flat griddle, as if gutsy enough to be judged by its taster even when it is plain and bare. Seasoned lightly with salt crystals, the steak can also be paired with an extra serving of house sauces such as Chimichurri, Wasabi Cream, and Sze Chuan at $2++ each.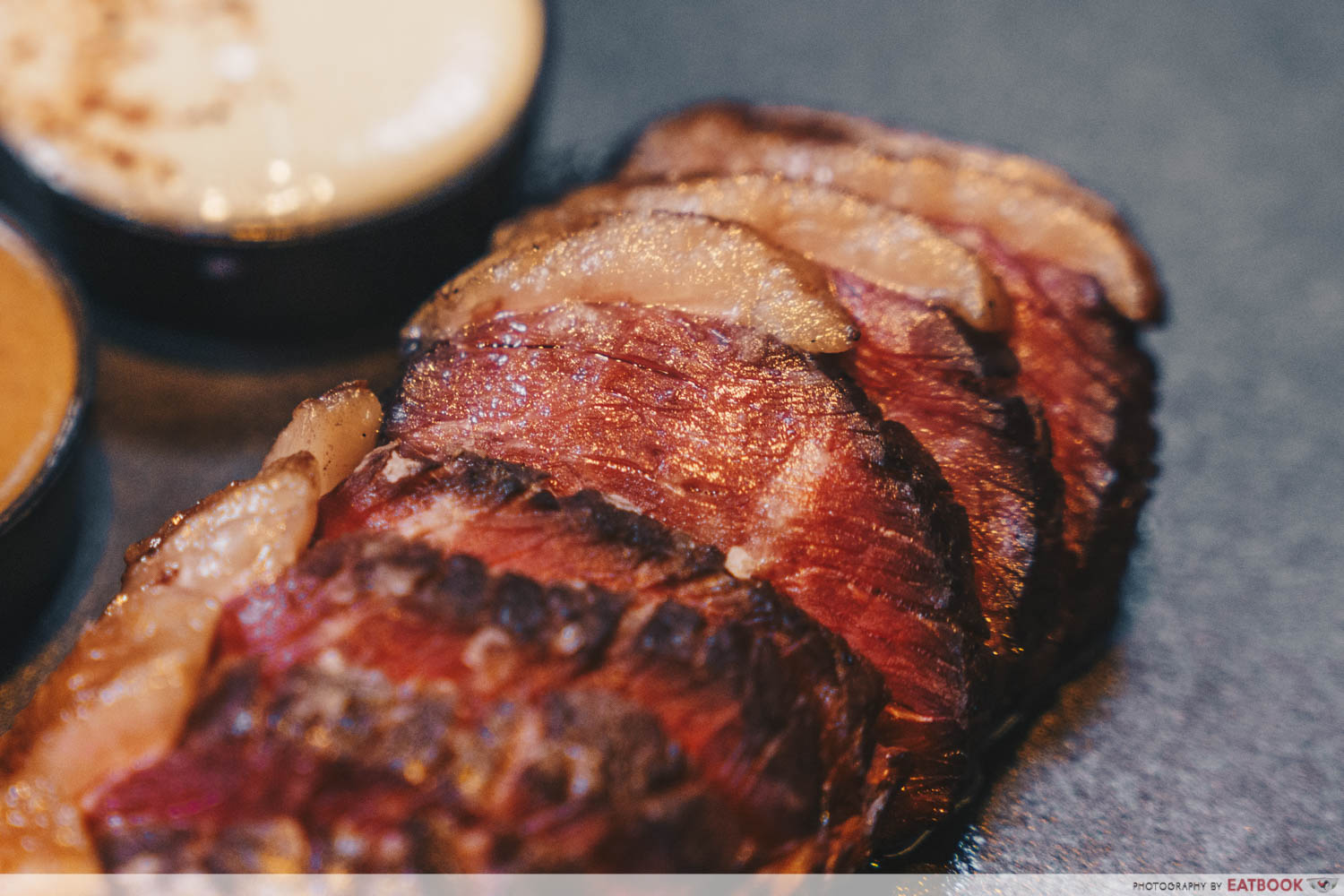 Also known as the rump cap, the picanhas cut might not be as tender as the ribeye or tenderloin, but here at the restaurant, it is salt-brined then sous-vide—to make sure the protein strands are broken down as much as possible without the steak drying out. It is then finished with a touch on the grill for a much-needed Maillard searing before serving. 
Cooked with binchotan (charcoal-infused) butter, each slice of the steak was undeniably juicy. Sadly, I still wished the beef could be a tad more tender, especially with the $25++ price tag. That being said, what the picanha cut lacked in terms of tenderness is made up with the wealth of beefy flavour.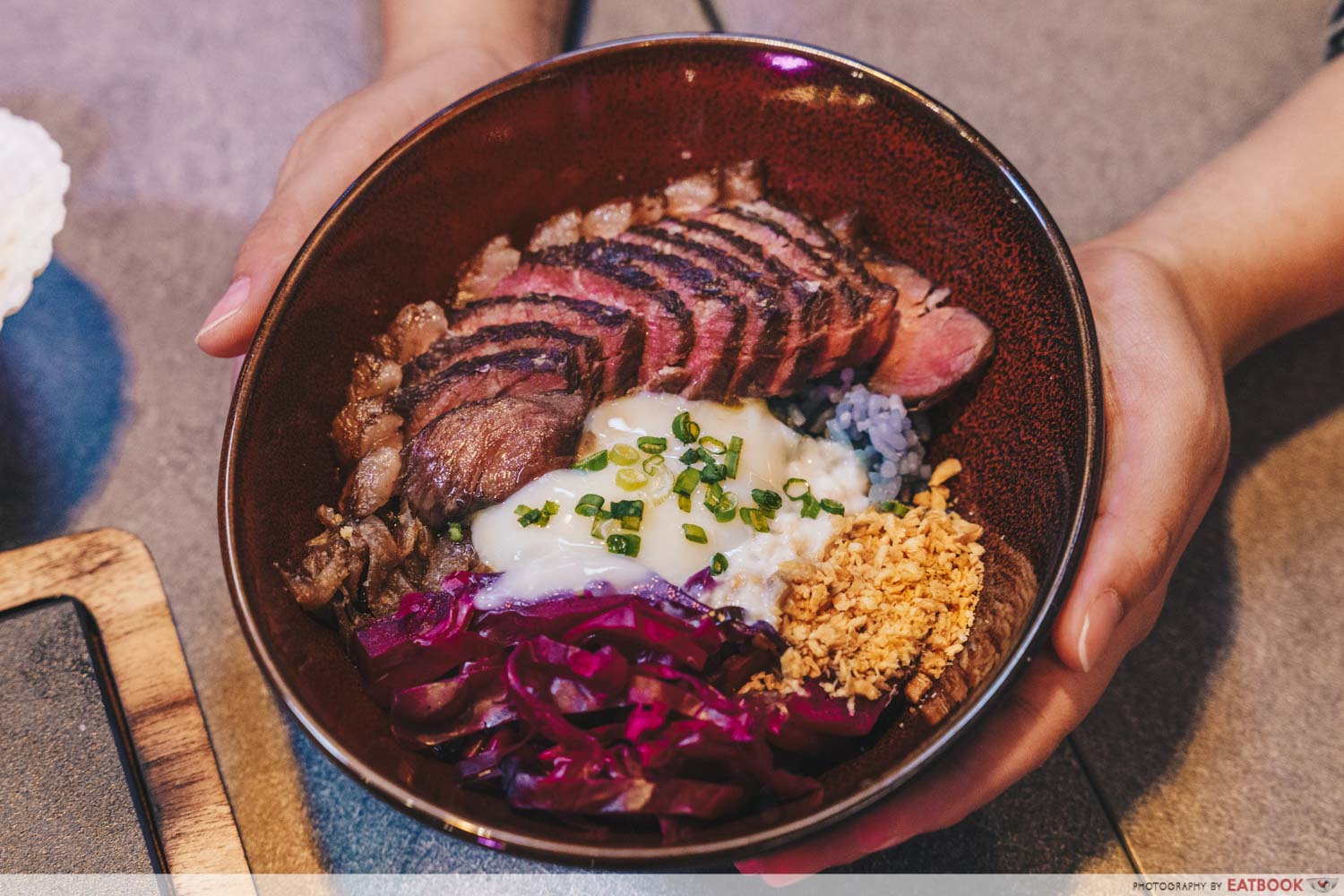 The next main was their Picanha Don, which comes with the same picanha steak, caramelised onions, pickled purple cabbage, golden-brown fried garlic bits, an onsen egg, and a bed of beautiful blue rice. 
I recommend ordering this dish over the Queen of Steak as the picanha is sliced more thinly, and thus more tender than the latter. The sweet onions, tangy cabbage, and aromatic garlic bits also made for a more complete dish, as it felt more like a well-rounded meal for me.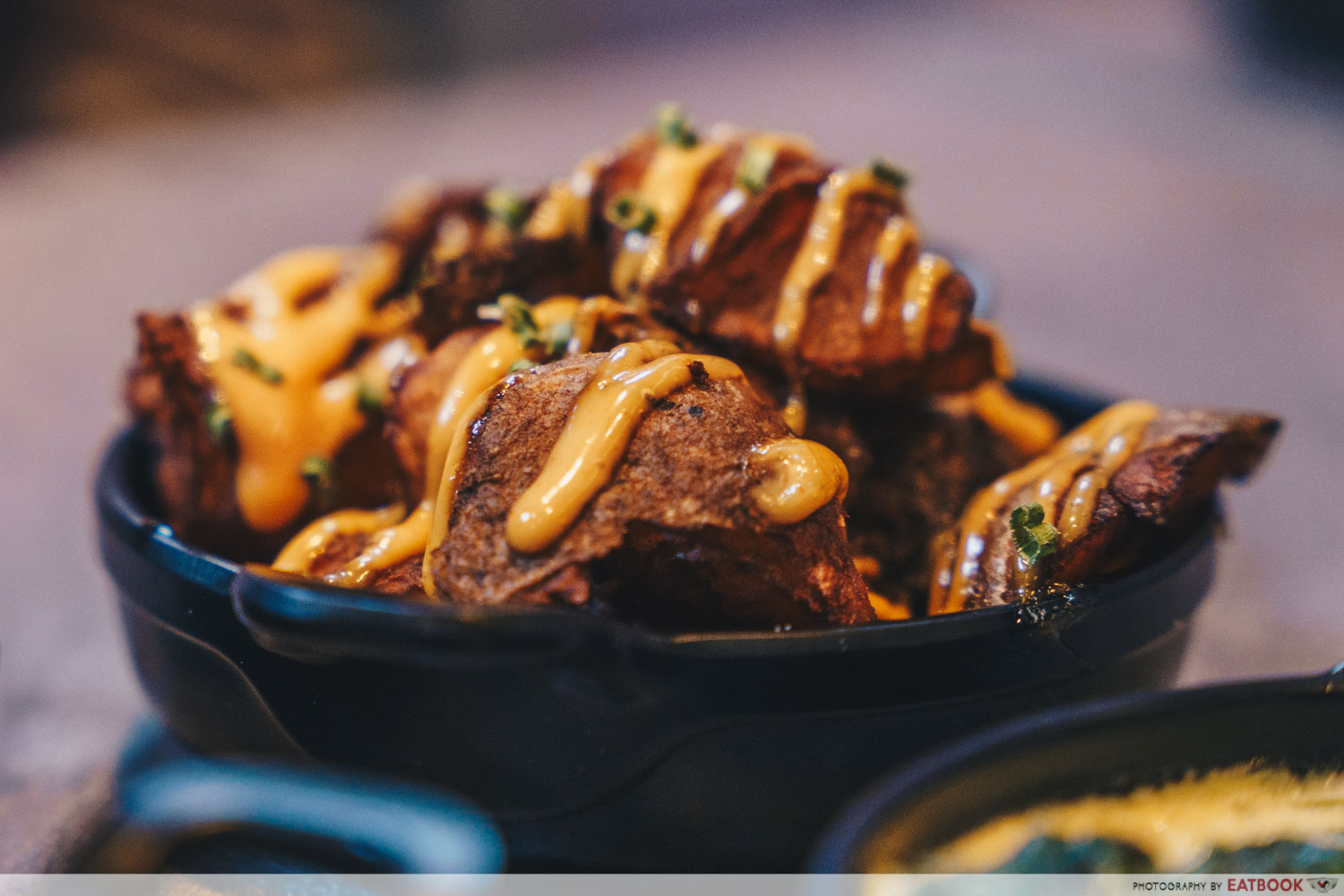 You can also order from an array of sides such as potatoes, mushroom, couscous, and spinach at $7++ a pop. Go classic with their steakhouse-style creamed spinach, or get a serving of double-cooked smashed potatoes. These are perfumed with an aromatic char, along with a drizzle of piquant Sriracha mayo.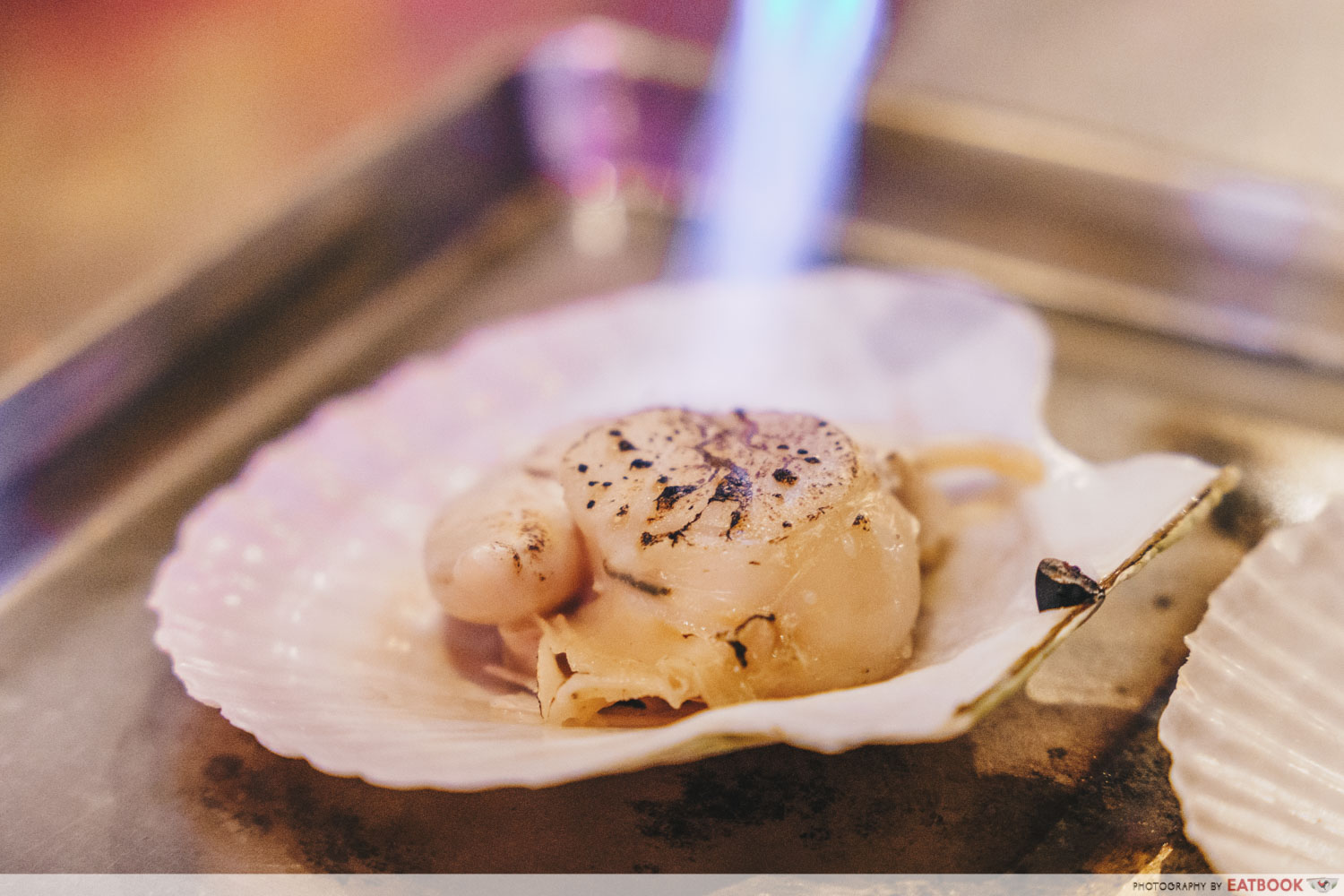 Those feeling spendy can also try out some additional toppings such as Hokkaido scallops and French foie gras that will set you back a hefty $11 apiece. These torched babies might not be 100% essential, but will surely elevate your experience when paired with the mains.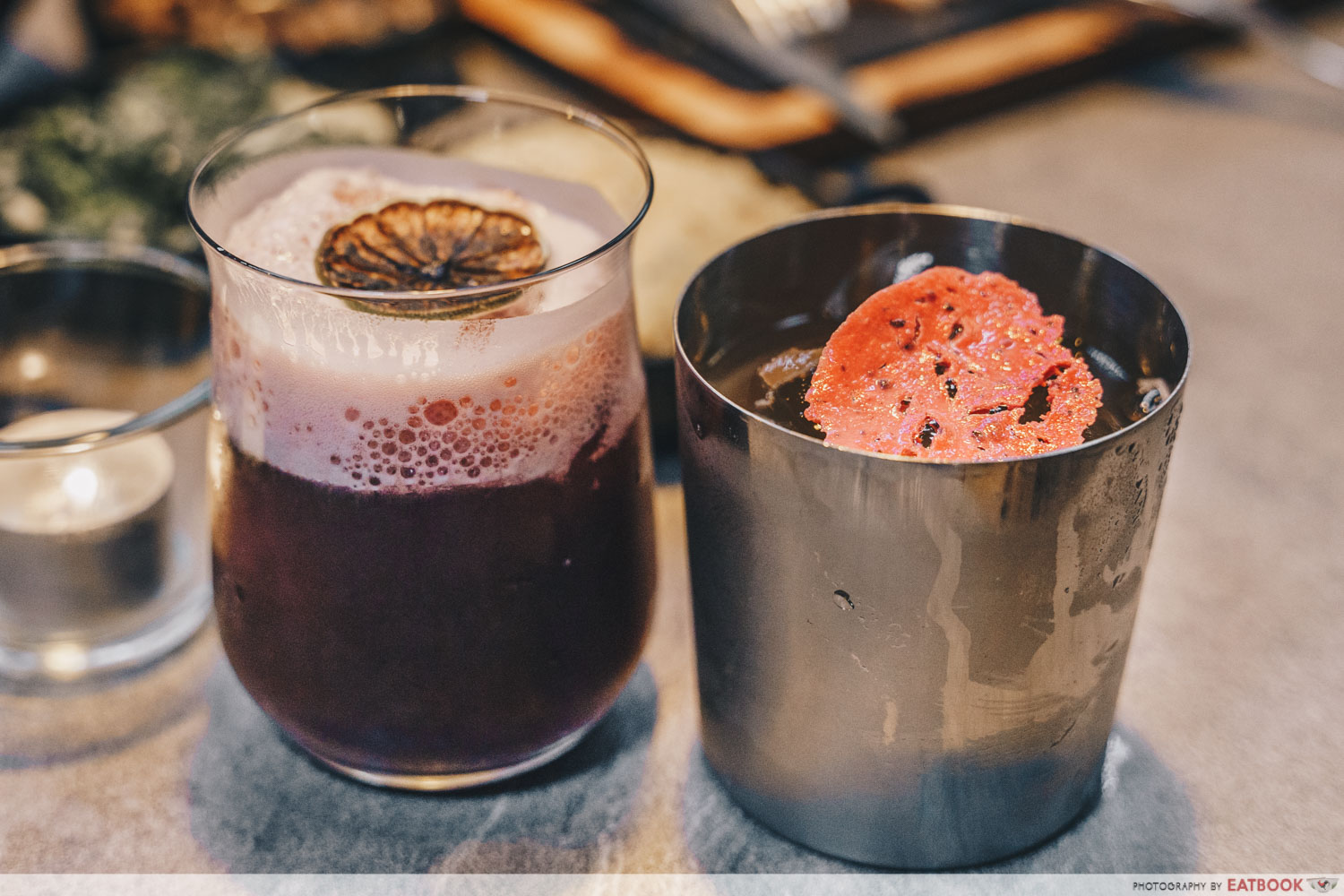 One thing that sets Picanhas' apart from other steak places would be their range of alcohol-free mocktails at $12++ each. These drinks are thirst-quenching and unique to the restaurant, as they are specially crafted by their in-house bartender. 
We tried Rose, which sported a pink tuile and a delicate bubble which disappeared in a blink of an eye. It is slightly milky yet floral, a drink my colleague coined as a "zhnged-up bandung". For something more full-bodied, try the Kyoho Sangria that is made with halal wine. The fruity and slightly tart drink makes for a good end to a heavy meal at Picanhas'.
10 Steak Buffets With Free-Flow Beef And Grilled Meats From $30 Nett
Ambience at Picanhas'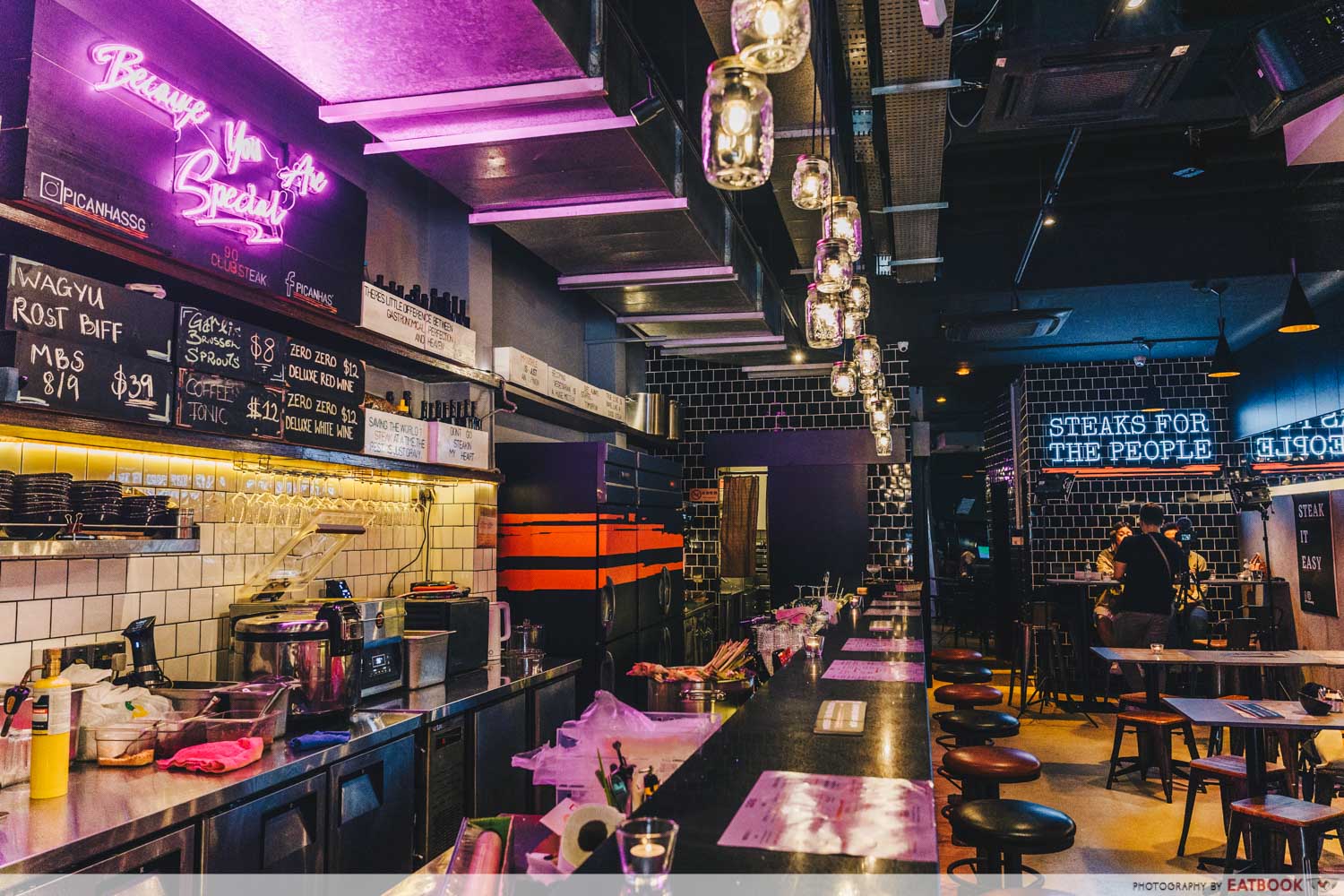 With the open-kitchen concept, neon lights, and walls decked with punny steak quotes, this restaurant exudes chill vibes, ideal for a meal after work around the area. The staff were also stellar, with good vibes and good cheer which added up to the atmosphere at Picanhas'.
The verdict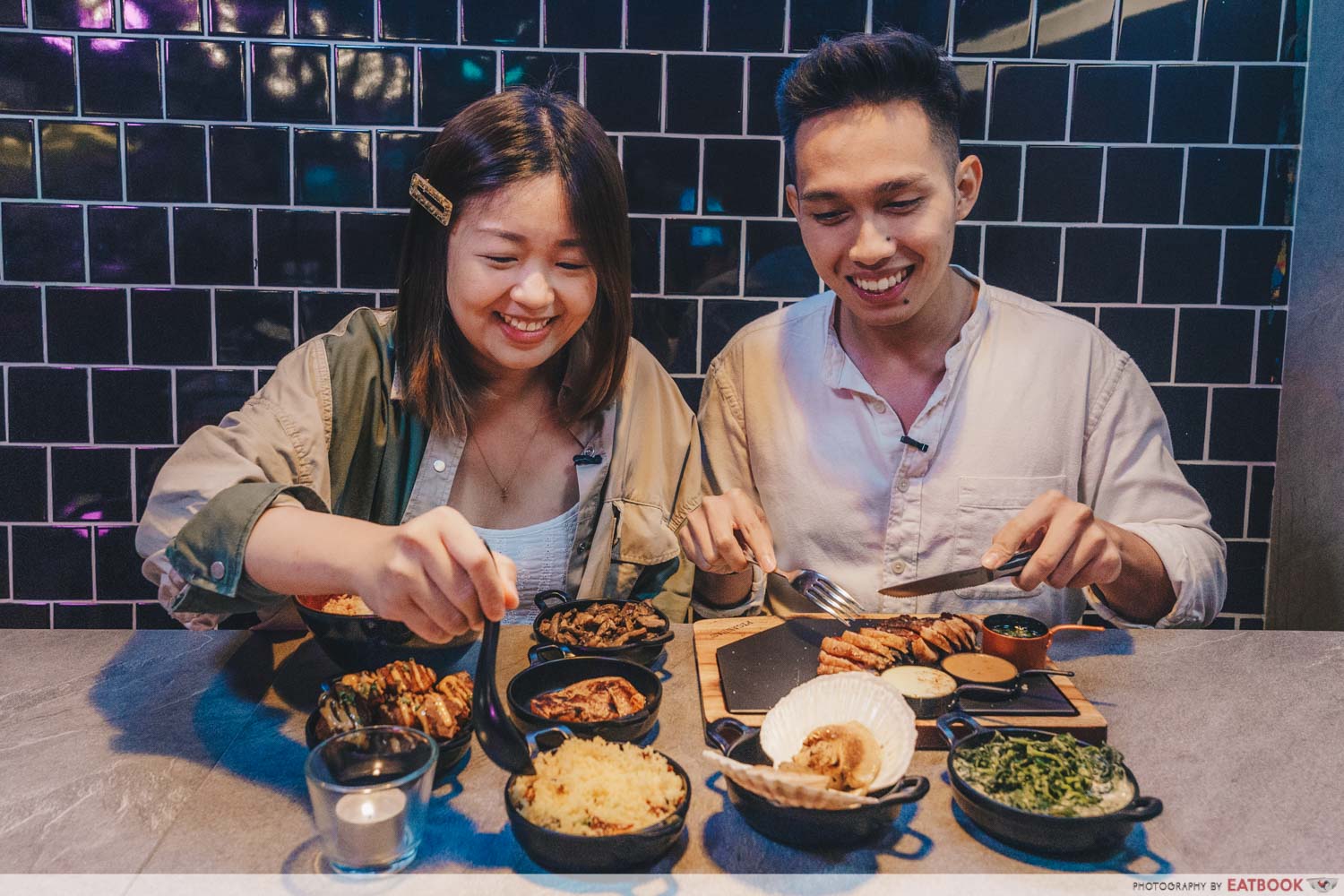 Though I think The Feather Blade might have delivered a more satisfying meal and menu, Picanhas' was well worth a visit. Given that it is still a pretty new eatery, they are going to need more time to get off the ground. Head down here if you're sick of the mainstream steakhouse, and are looking to try a secondary cut such as the Picanha! 
For more good food around the area, check out our LUNA review, where we try some artisanal cakes and pastries.
Address: 90 Club Street, Singapore 069458
Opening hours: Tue-Fri 12pm to 3pm, 5:30pm to 10pm, Sat-Sun 11am to 3:30pm, 5:30pm to 10pm
Website
Picanhas' is a halal-certified eatery.
LUNA Review: New Cafe At Amoy Street Selling Orh Nee And Dark Chocolate Cakes Under $10
Photos taken by Sherlyn Teo and edited by Gladys Lim.
This was a media tasting at Picanhas'.
Picanhas' Review: New Restaurant Serving Value-for-money Steak And Mocktails In The CBD
Summary
Pros
– Well-seasoned dishes
– Unique mocktails
– Great service staff
Cons
– Slightly pricey
– Tenderness of steak not consistent
Recommended dishes: Picanha Don ($16++), Potatoes ($7++), Rose ($12++)
Opening hours: Tue-Fri 12pm to 3pm, 5:30pm to 10pm, Sat-Sun 11am to 3:30pm, 5:30pm to 10pm
Address: 90 Club Street, Singapore 069458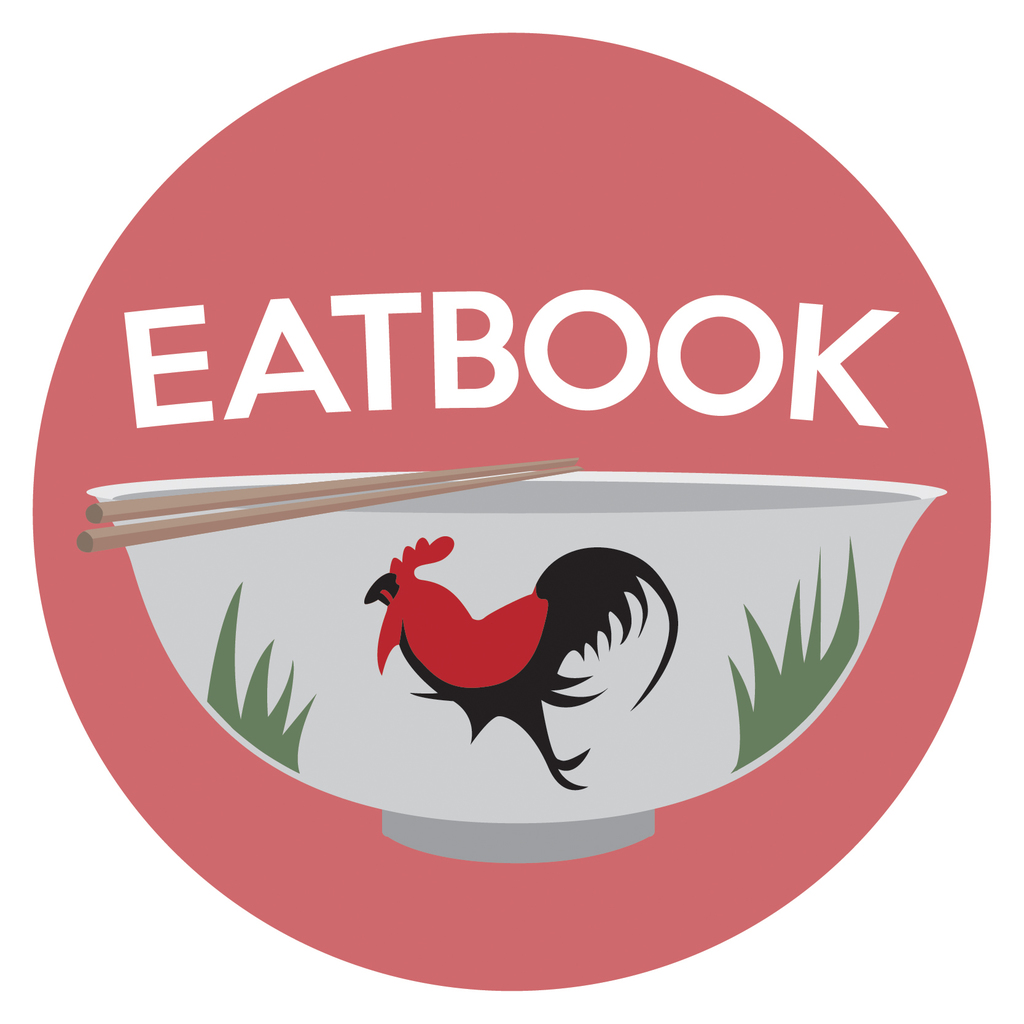 Drop us your email so you won't miss the latest news.