The Feather Blade in Singapore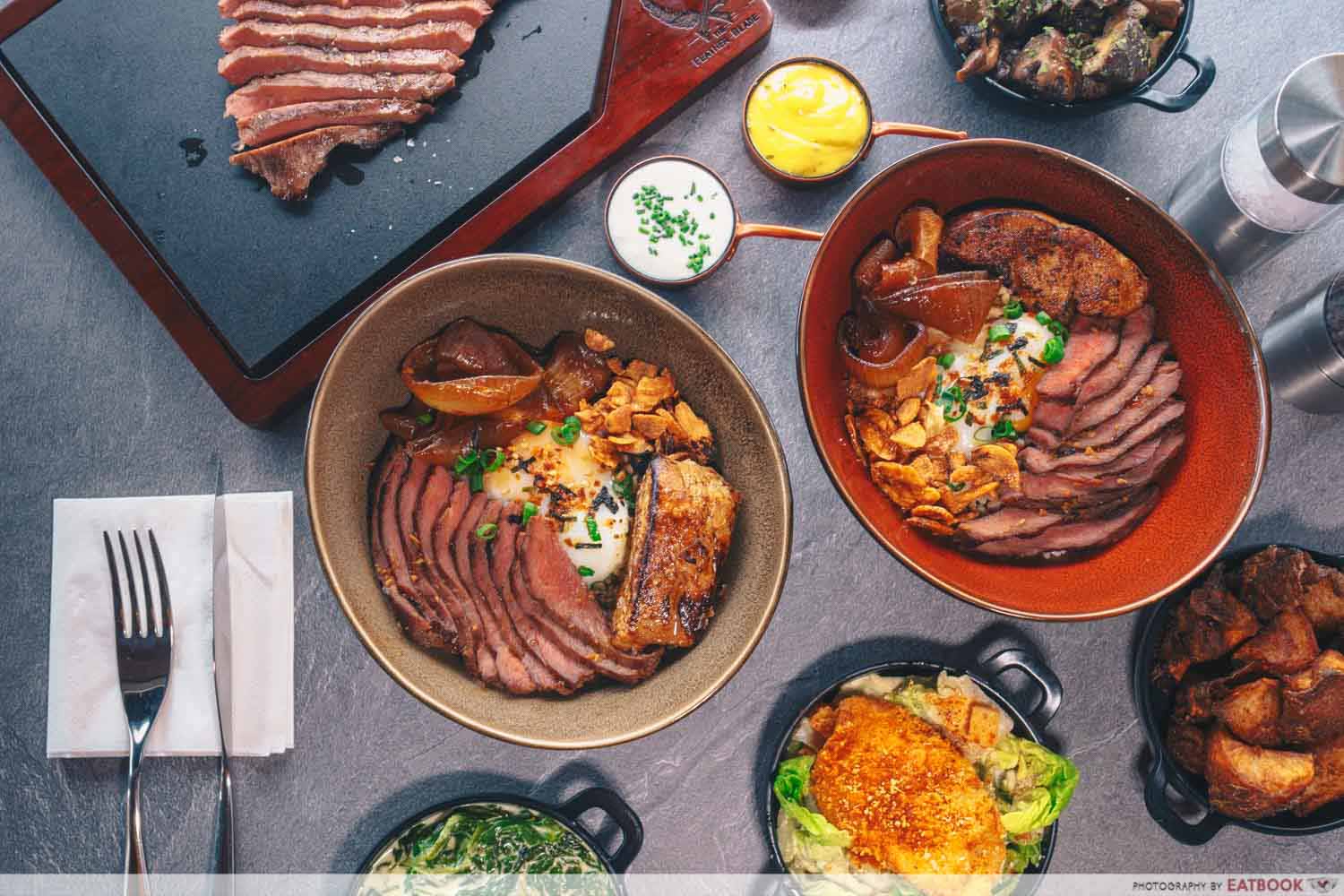 Since settling down and opening a permanent shop at Club Street earlier this year, The Feather Blade has quickly become a household name for steak. Positive feedback from regular customers has encouraged them to extend their opening hours beyond dinner, so those working in the CBD can now get robustly flavoured steaks even during lunchtime.
9 Cheap Steaks Under $30++ That Are Mouth-Wateringly Delicious
Food at The Feather Blade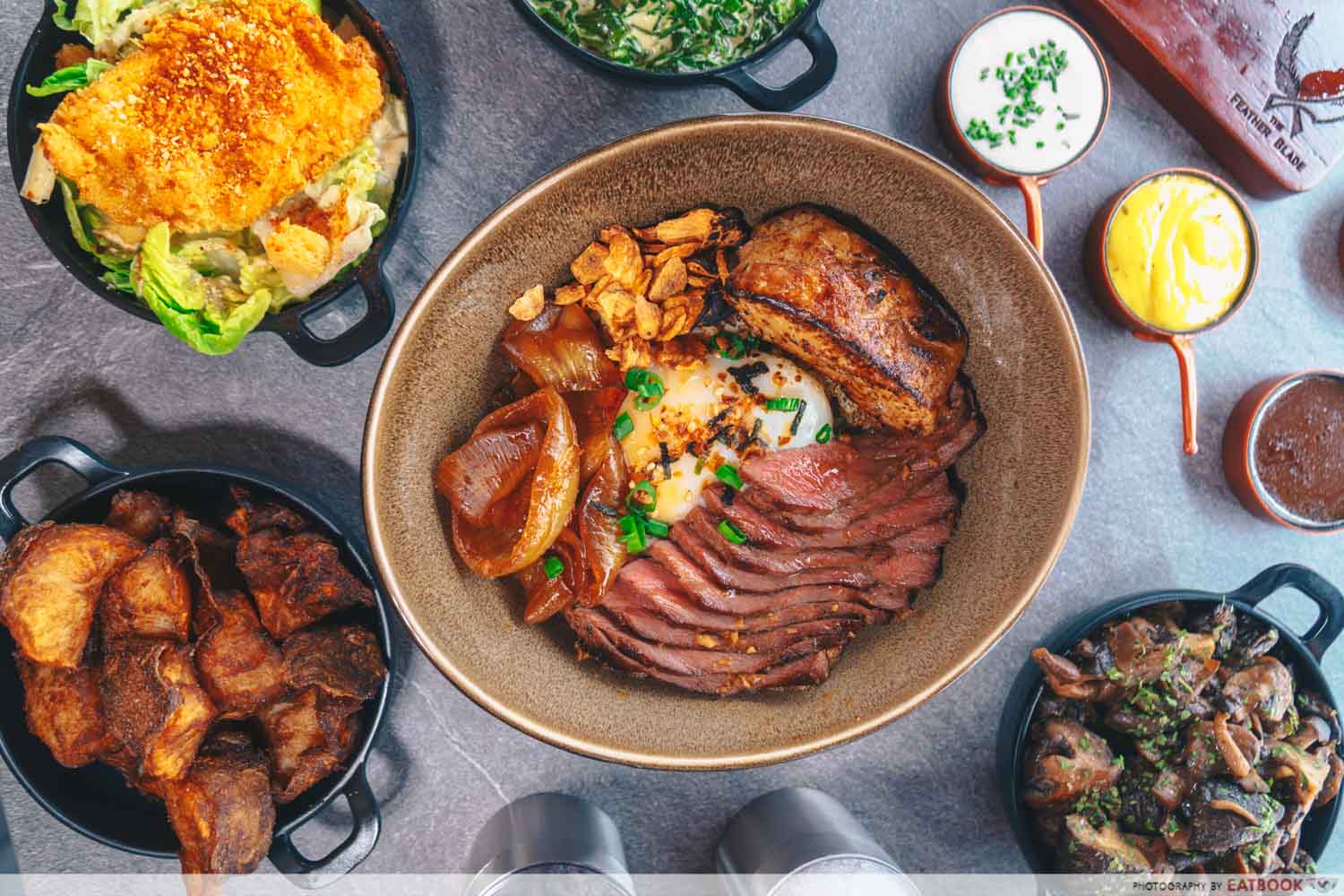 This new opening time brings with it an updated lunch menu and you'll notice a refreshing addition, The Feather Blade Gyūdon ($14++), to their otherwise minimal offerings. This Japanese-style beef bowl makes for more than just a quick and filling meal for those on a time crunch during their lunch break.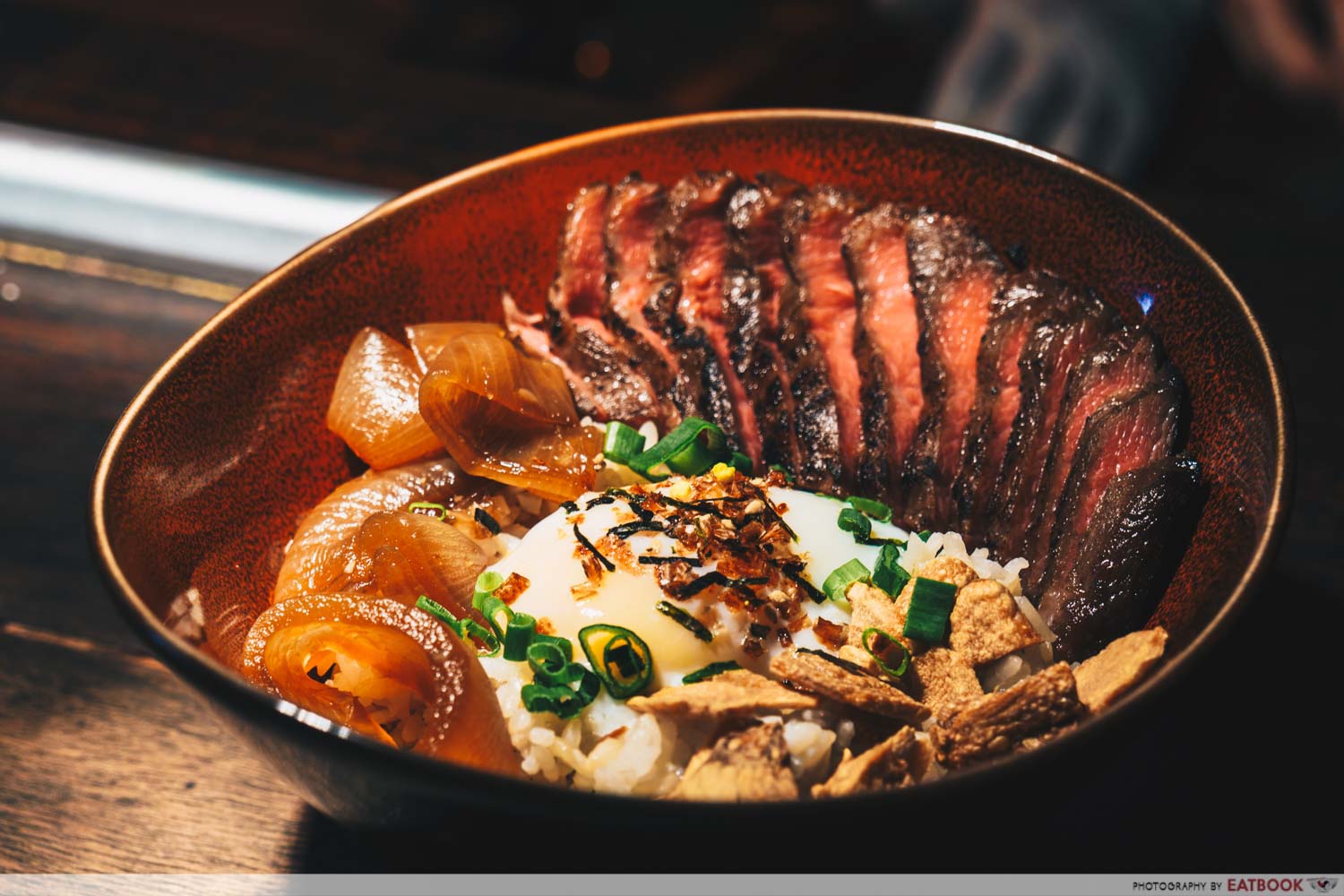 Just as how there is attention to detail in Japanese cuisine, The Feather Blade similarly constructs their Gyūdon carefully at the countertop of their open kitchen. 
They start with a solid base of Japanese rice accented with crunchy flakes of kombu, also known as dried sea kelp. Seasoning their classic flat iron steak in a house-made sukiyaki marinade, these charred slices of beef fan across the fluffy bed of grains. A lone onsen egg sits precariously in the centre of the dish. This visually stunning rice bowl is finished with a touch of caramelised onions, furikake, and garlic chips.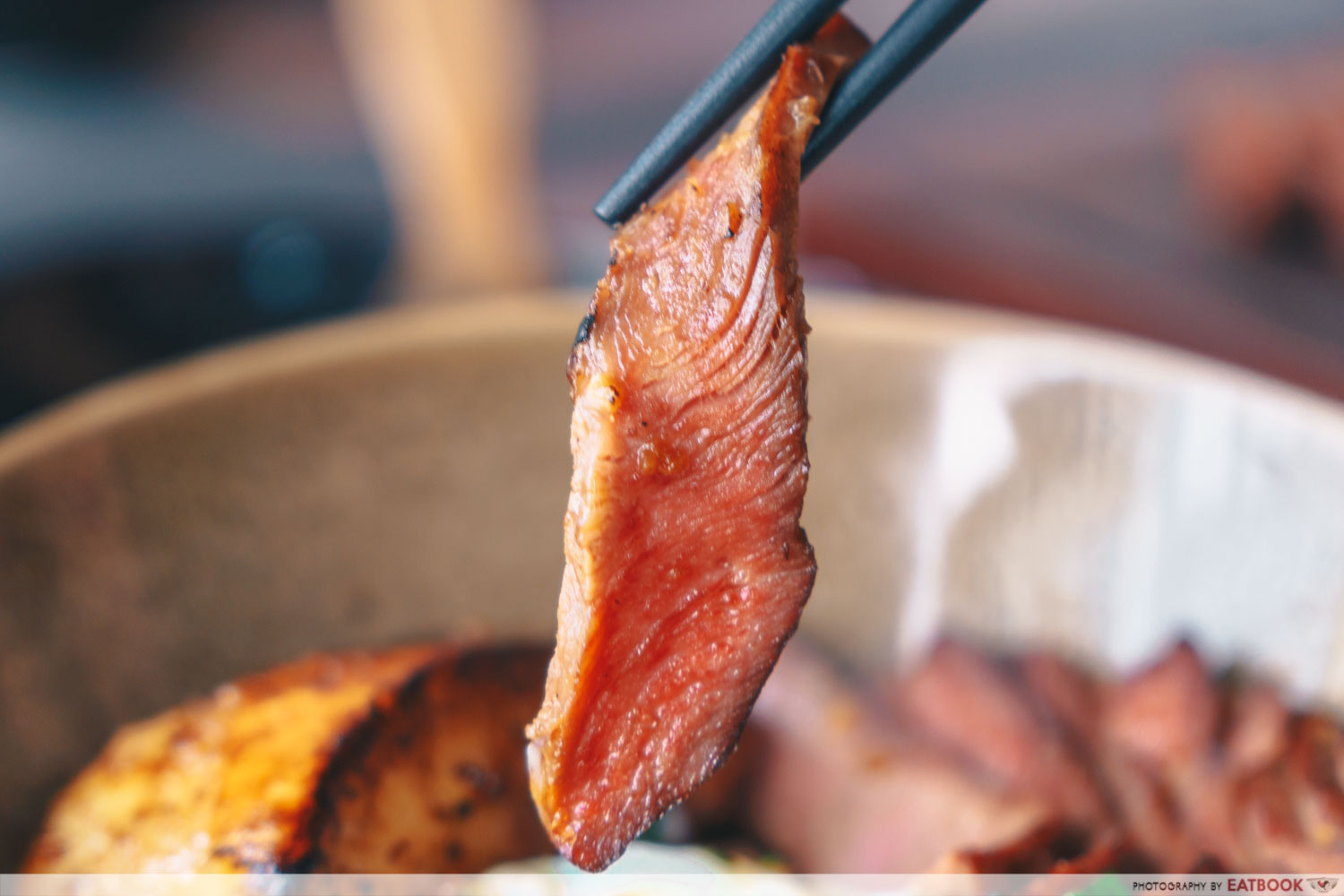 The steak had an evenly charred crust while boasting a medium-rare centre. A bite of this thinly sliced meat sent a burst of sweet and bold beefy flavours into my mouth. 
The best way to enjoy this mouthwatering dish is to mix the jiggly onsen egg, aromatic toppings, and beef slices into the rice. You'll get a mashup of textures ranging from the crunchy toppings to creamy egg. The Feather Blade makes up for the less desirable flat iron cut with melt-in-your-mouth tenderness.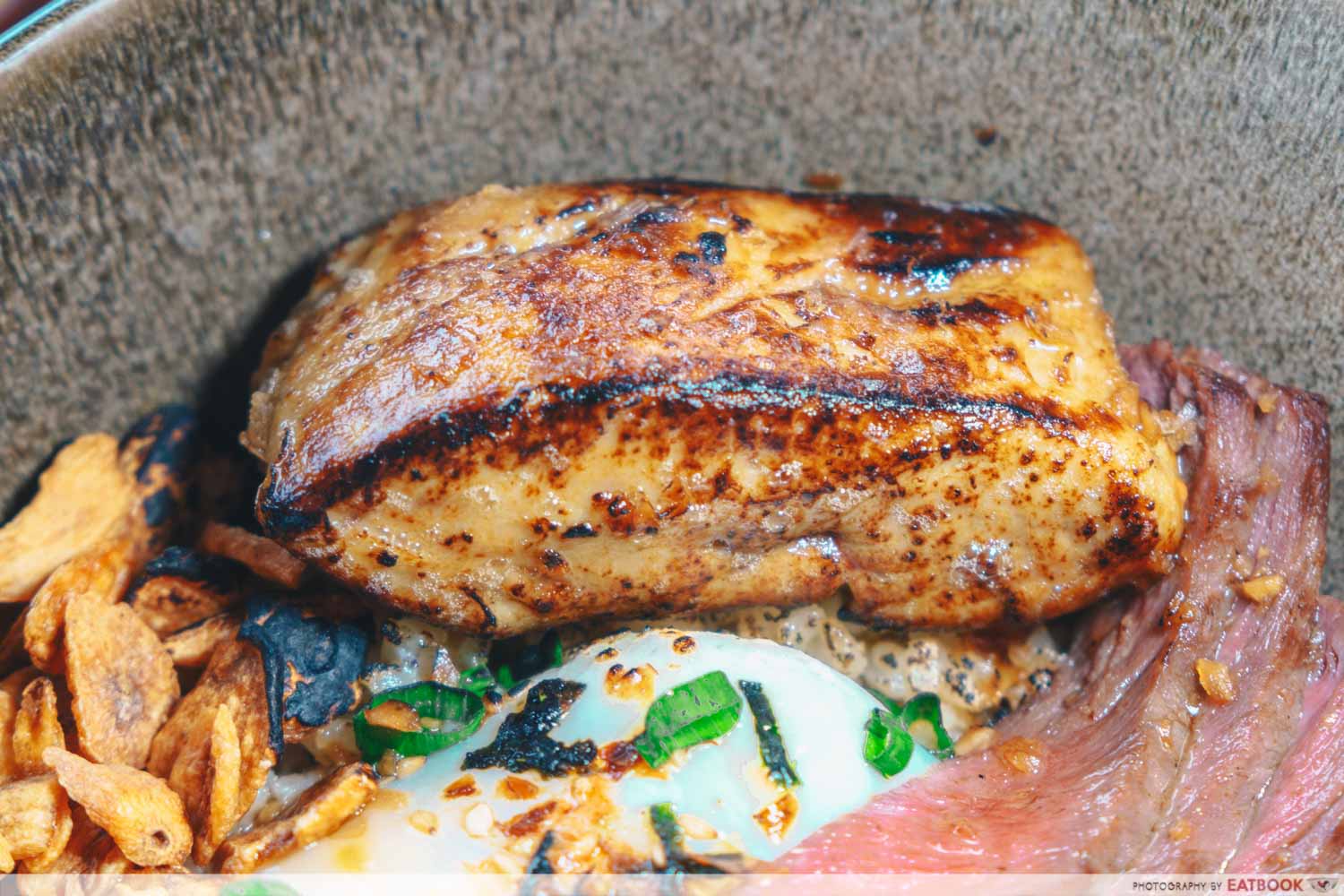 If you're in the mood to treat yo' self, add on a generous slab of French Foie Gras ($11++) to jazz up the Gyūdon. This thick hunk of goose liver adds buttery notes to the sweet and savoury rice bowl, but I personally found it too jelak for my liking.
Alternatively, seafood lovers can top off their beef bowl with succulent and fresh-tasting Hokkaido Scallops at $11++ a pop.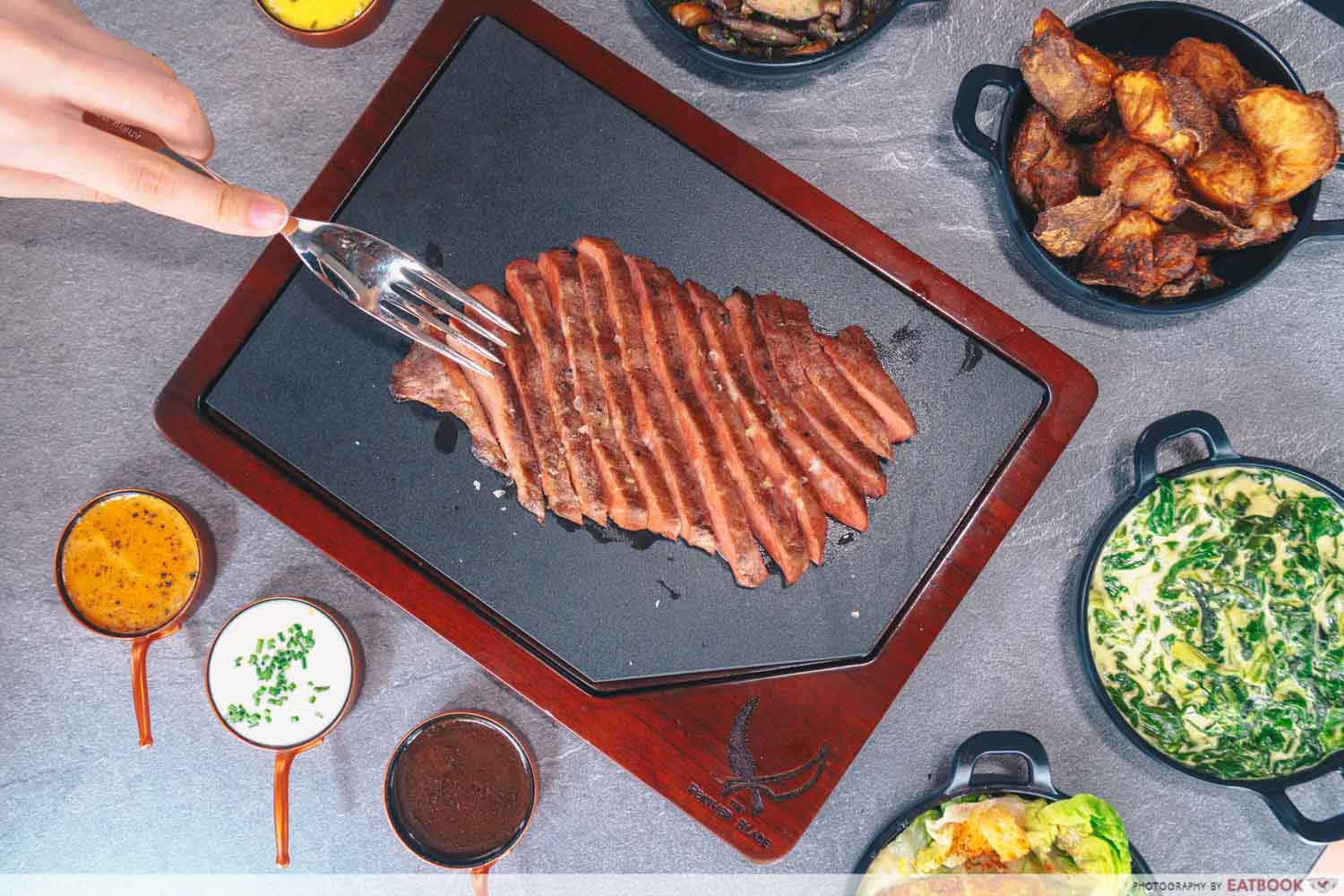 Besides the Gyudon, regular items including The Feather Blade Steak ($21++) which features 200g of flat iron steak, will also be served during lunch.
Have it with a range of their house-made sauces, including Sichuan Peppercorn, Bearnaise, Horseradish Cream, and Red Wine at $2++ each.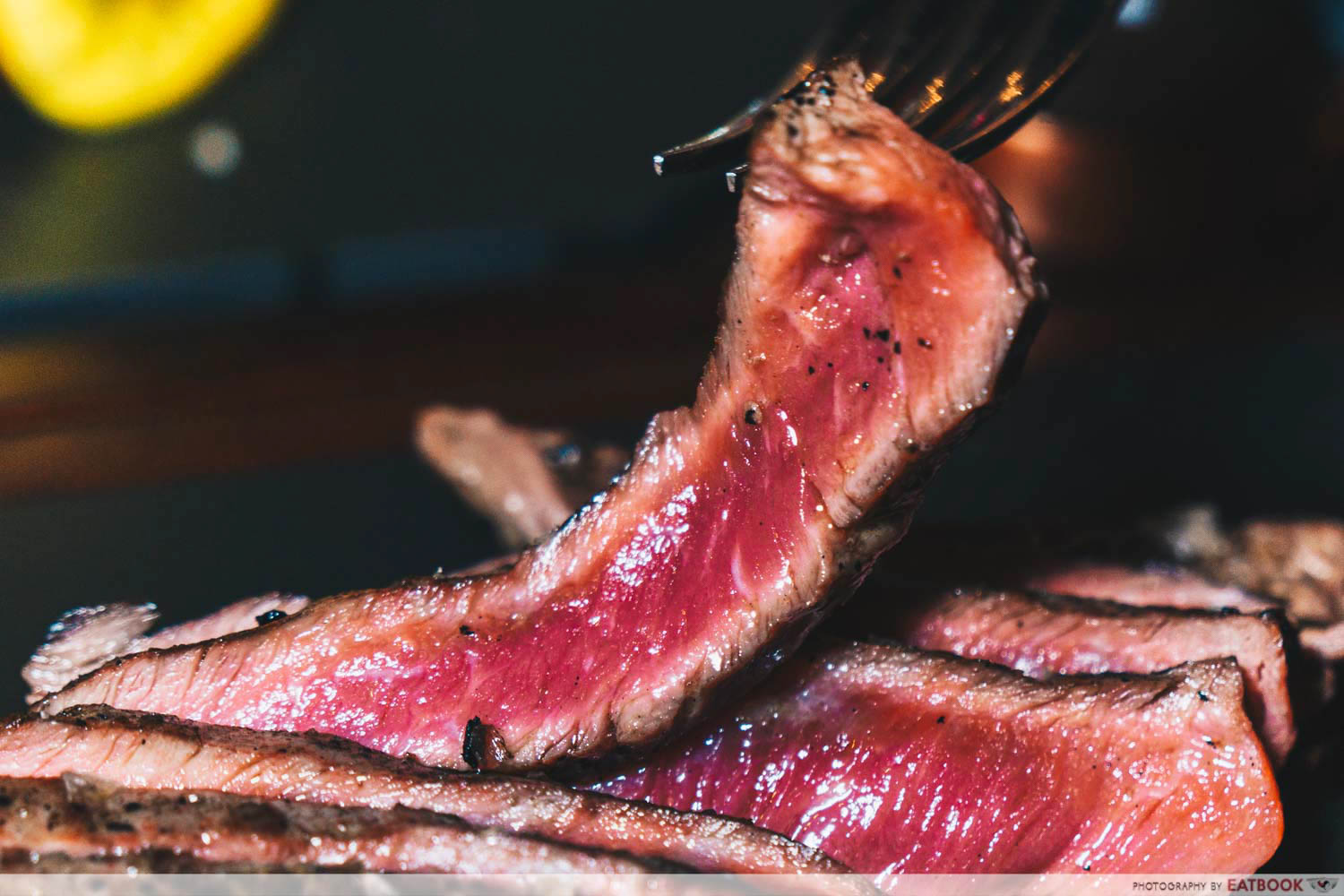 The best way to enjoy this hunk of meat is to have it done medium-rare. These tender slices of beef were evenly charred on the outside and spritzed with a good shower of brown butter and smoked salt; this gives you a good chance to experiment with their various house-made sauces.
The horseradish sauce stood out, as the wasabi-like dip enhanced the meat's robust flavour profile with a spicy kick.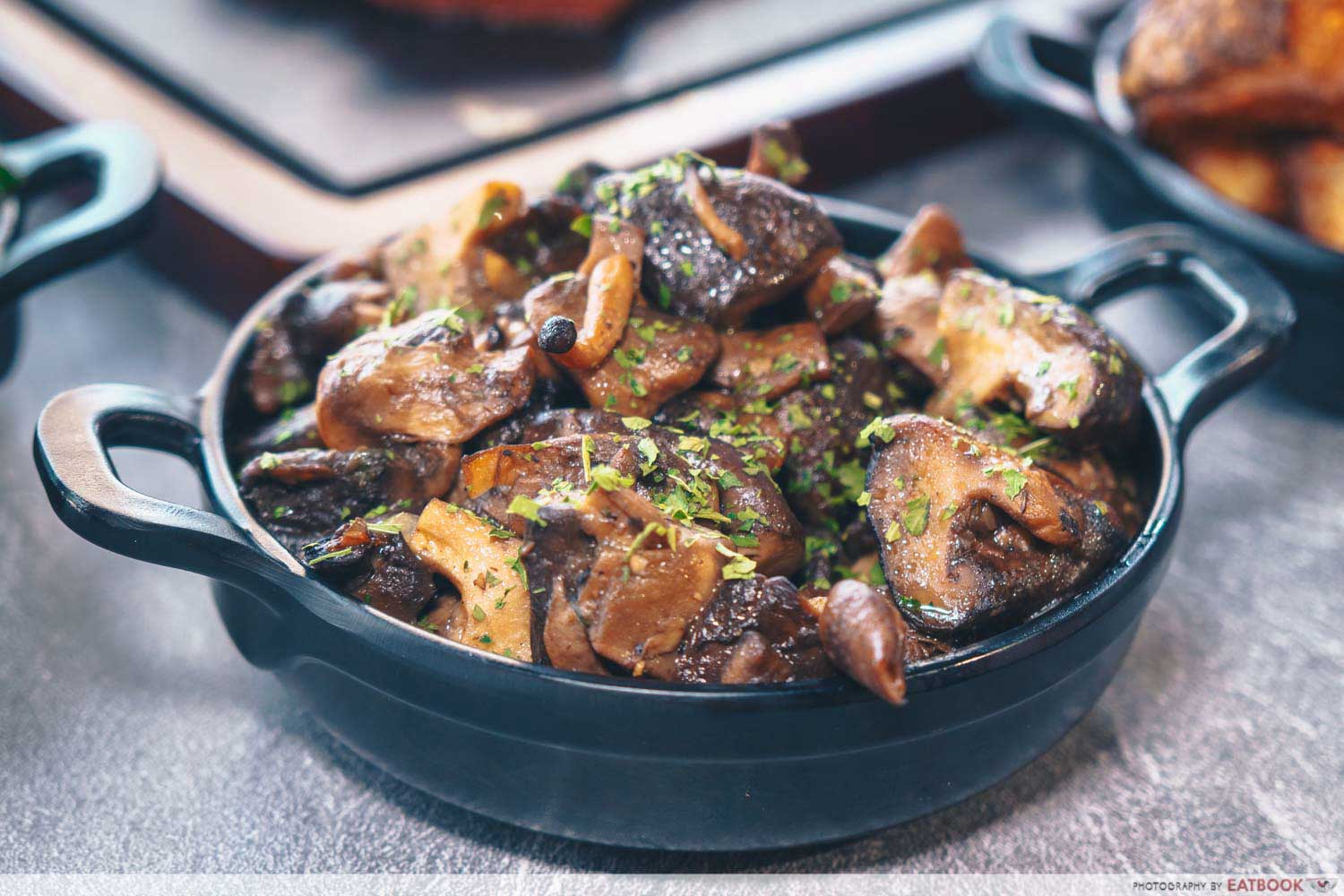 Bigger eaters can add on sides such as Potatoes, Spinach, Mushrooms, and Caesar at $7++ each. Despite not being a fan of vegetables, my dining companion's favourite pick was actually the creamy spinach!
Loyal fans of this steakhouse will be familiar with an off-the-menu dish, Handshake Burger ($21++). Made with the flat iron steak's trimmings, the beef patty was then grilled with beef fat for added flavour.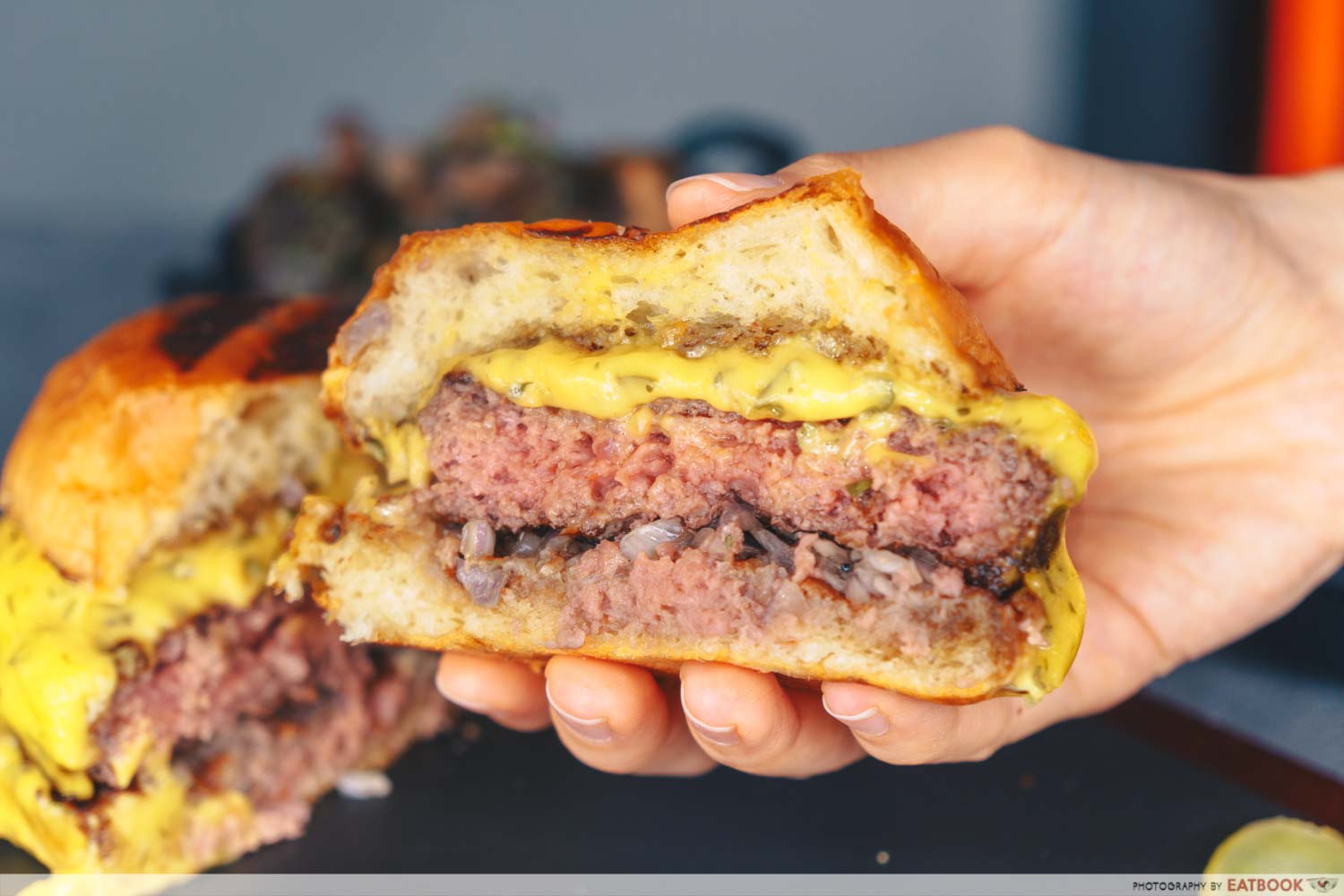 Don't be shy to chomp down on this burger with your bare hands. The crisp edges of the patty, coupled with its juicy and robustly-flavoured meat result in a symphony of textures and flavours.
Ambience at The Feather Blade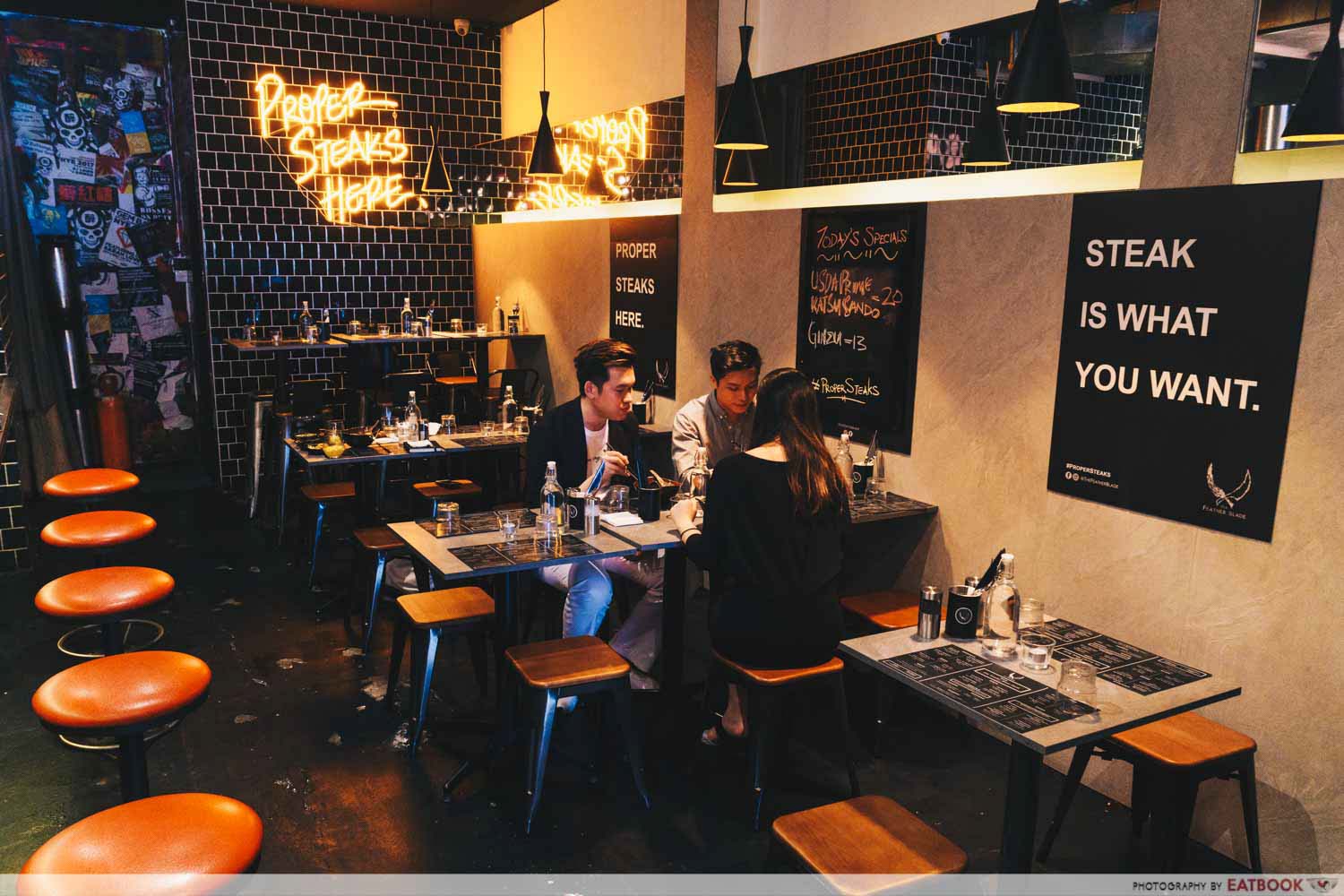 This hole-in-the-wall steakhouse isn't a traditional one. Instead, it is fitted with dim lighting, black wall tiles, and even a neon sign which attracts young diners like a moth to a flame. Situated in the hip stretch of Club Street, The Feather Blade is a chill place to impress your date at. 
The verdict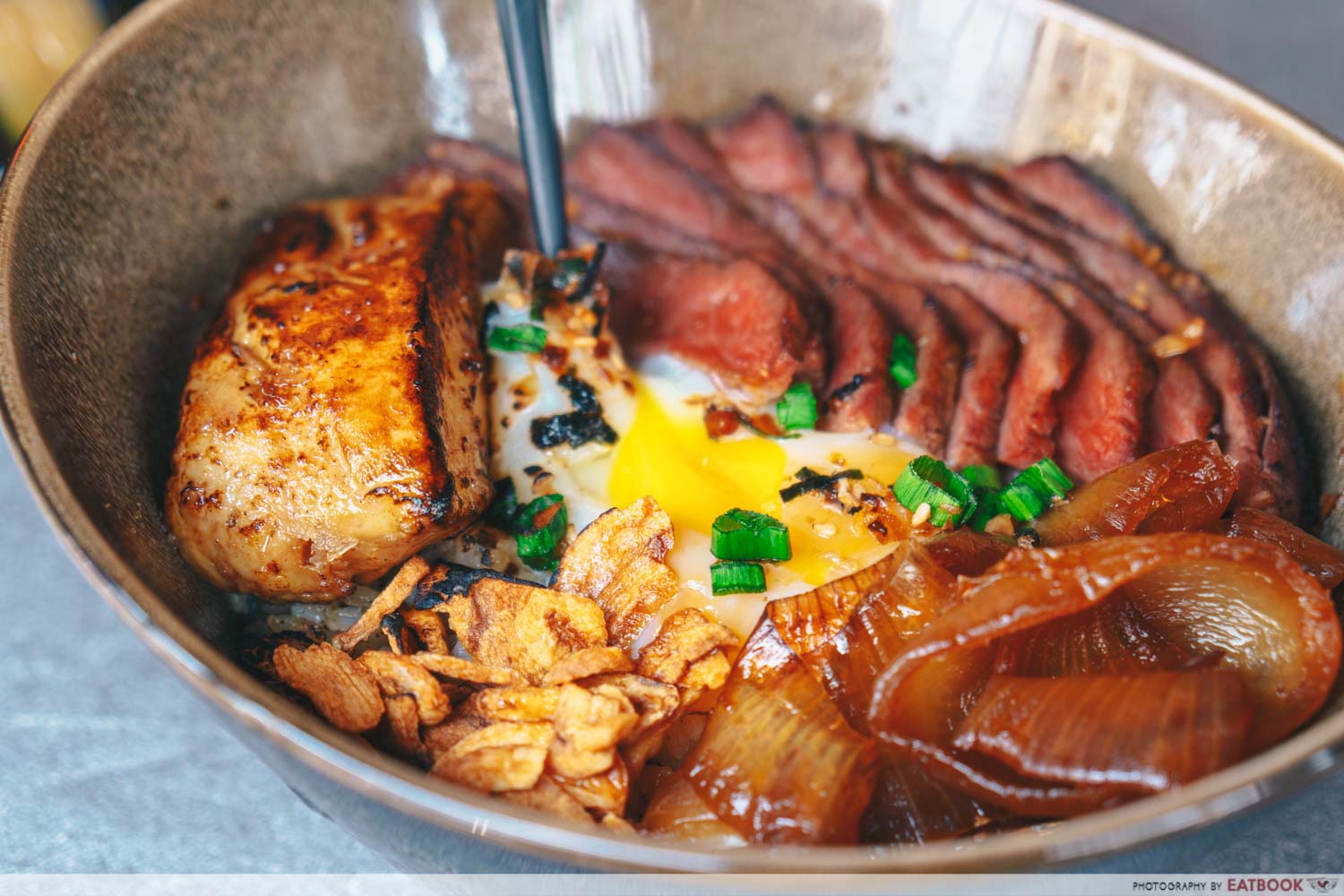 The Feather Blade is fuss-free steakhouse where you'll get what you pay for. It's heartwarming to see how they've slowly expanded their menu since their opening days. I look forward to seeing what they have in store in the new year ahead.
If you're looking for more steakhouses offering the flat iron cut, check out our full review of MediumRare! 
Address: 61 Tanjong Pagar Road, Singapore 088482
Opening hours: Wed-Sun 11:45am to 2:30pm, Daily 5pm to 10:30pm
Website
Photos taken by Koh Hui Qing.
This was a media tasting at The Feather Blade.
Summary
Pros
– Value-for-money steak
– Flavour-packed beef
– Delicious sides
Cons
– Limited seating
– Steep prices for sides
Recommended dishes: The Featherblade Gyūdon ($14++), The Feather Blade Steak ($21++)
Opening hours: Wed-Sun 11:45am to 2:30pm, Daily 5pm to 10:30pm 
Address: 61 Tanjong Pagar Road, Singapore 088482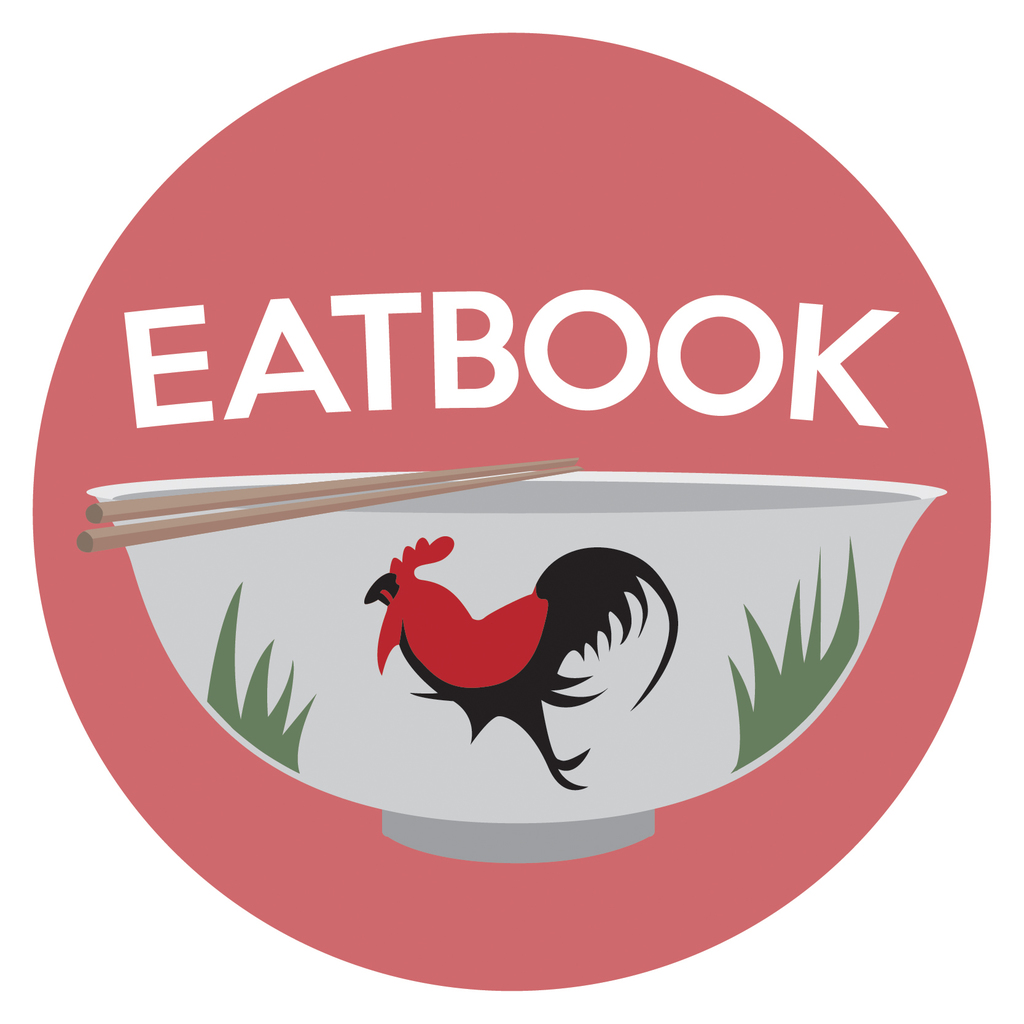 Drop us your email so you won't miss the latest news.