Talay Kata offers value-for-money Thai Buffet in Orchard
Update (March 2018): The post has been edited to reflect up-to-date prices of the buffet.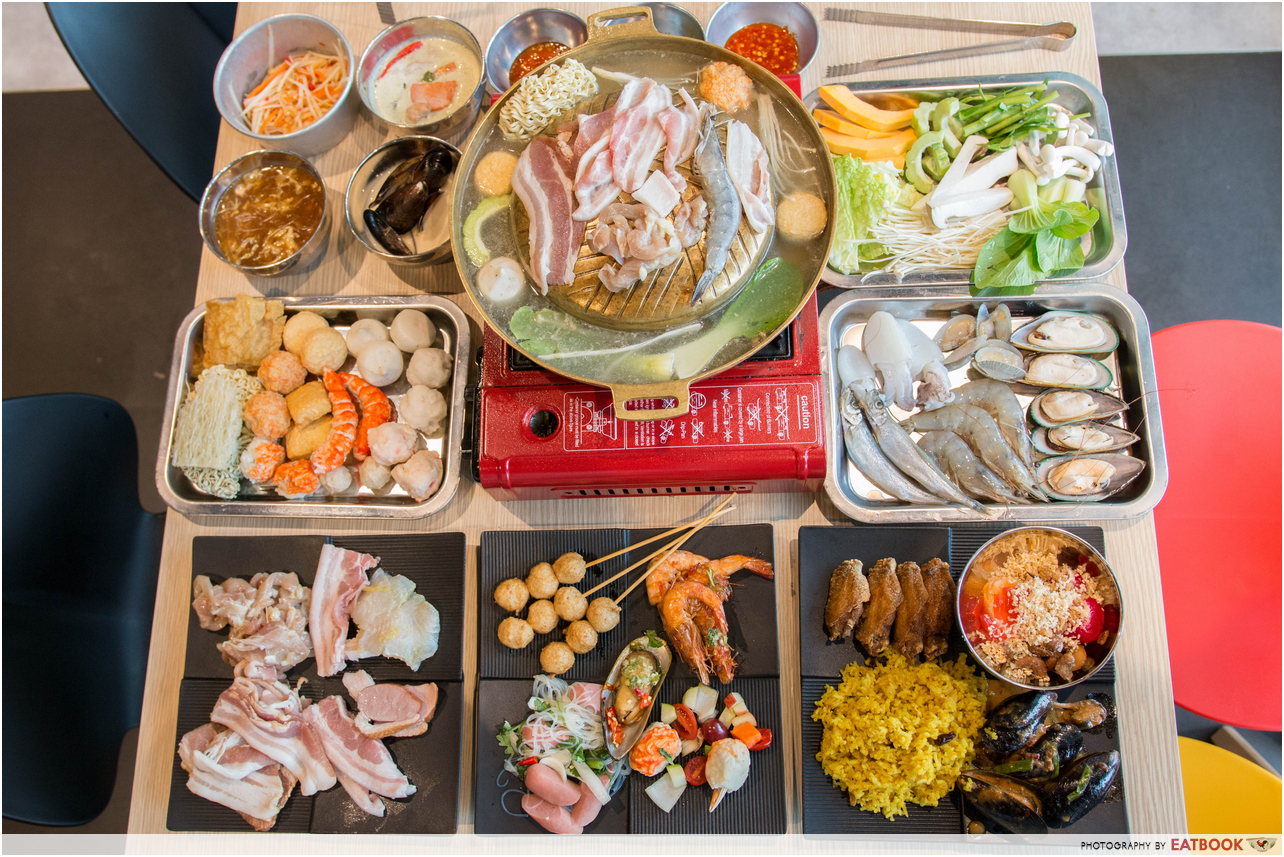 As an ardent Thai food fan, my love for the cuisine sees me flying to Bangkok every two months. But every few weeks or so brings about that pang in my stomach that can only be cured with really good tom yum, and I'd sadly have to forage into the food scene here to get my Thai food fix.
Found within Orchard Central, Talay Kata offers a Thai Seafood Barbecue Buffet. Here are the prices for the buffet:
Mon-Fri lunch (11:30am to 3pm): $19.80++ for adults, $9.40++ for children
Mon-Thur dinner (6pm to 10pm): $29.80++ for adults, $14.40++ for children
Sat-Sun, eve of PH & PH lunch (11:30am to 5pm): $29.80++ for adults, $13.90++ for children
Fri-Sun, eve of PH & PH dinner (6pm to 10pm): $35.80++ for adults, $16.90++ for children
Food at Talay Kata   

The buffet spread has a variety of Thai dishes, including Pineapple Fried Rice and Mussels With Thai Red Curry Sauce.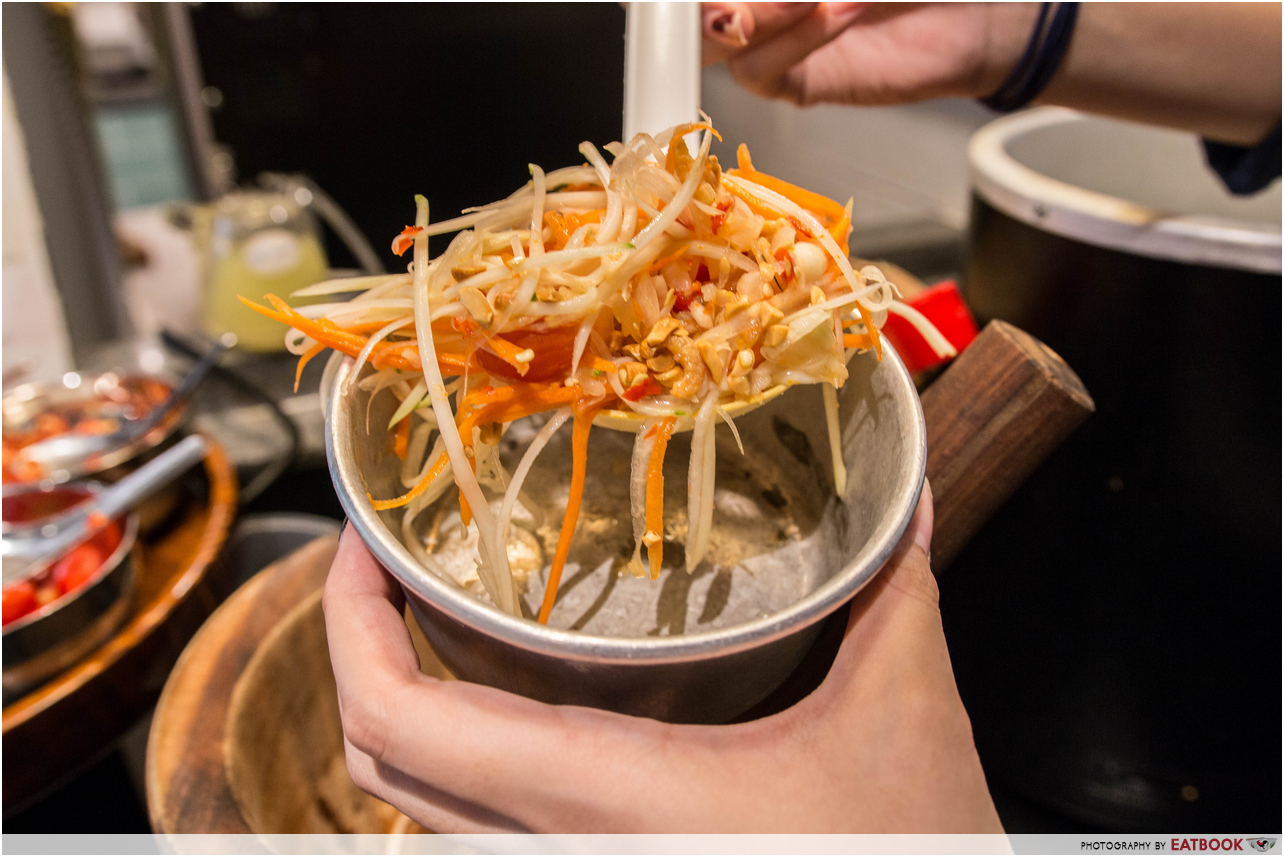 I started off my feast with a refreshing Thai Papaya Salad, or som tam in Thai. The appetising salad was made with crunchy carrots, green papaya, bird's eye chilli, peanuts, lime juice, and many other ingredients.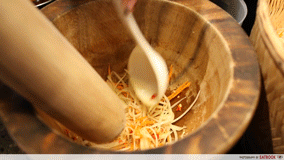 As it was served at a DIY station, you can always personalise the salad to suit your taste buds. If you're not sure of the sequence of the ingredients, they offer simple instructions at the side for you to refer to.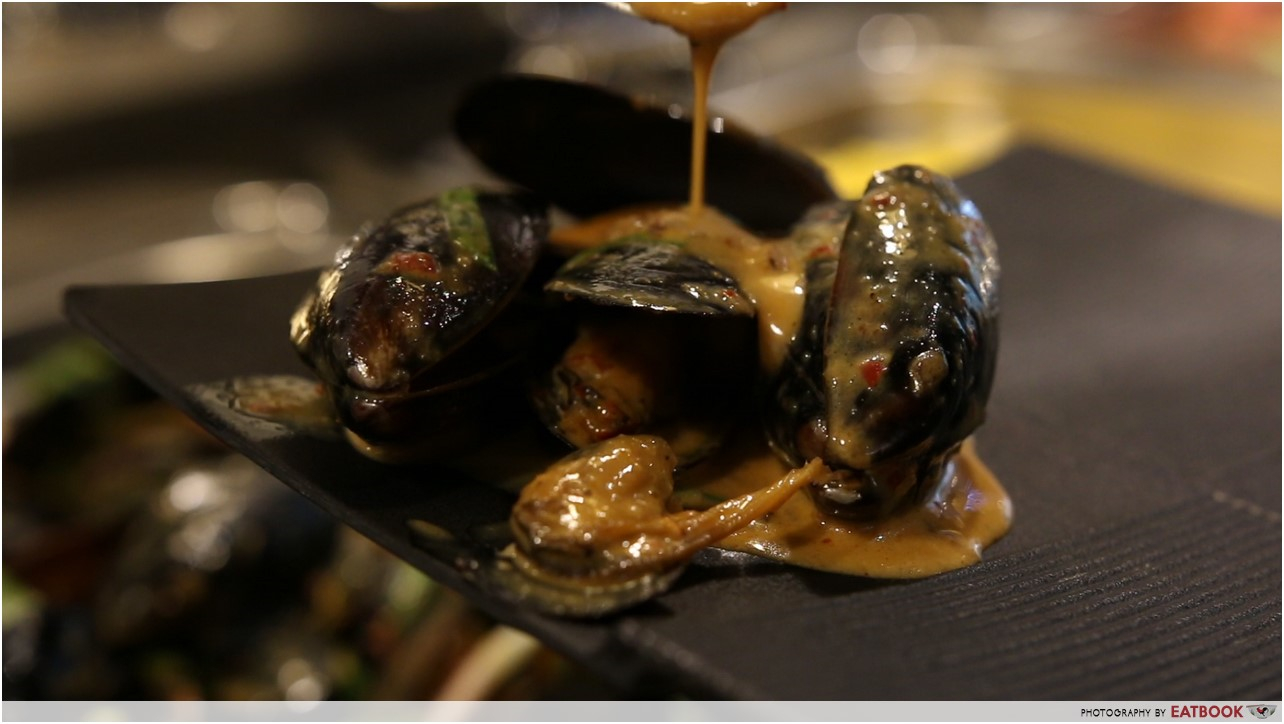 Be sure to go for their Mussels With Thai Red Curry Sauce. The paste the restaurant uses for the curry sauce is flown in from Thailand, and the chef tweaks it to suit Singaporeans' taste buds.
The mussels were plump and tossed in the curry sauce that had a slight kick – great for those with a low tolerance for spiciness. The curry was also creamy and bursting with a strong sambal fragrance.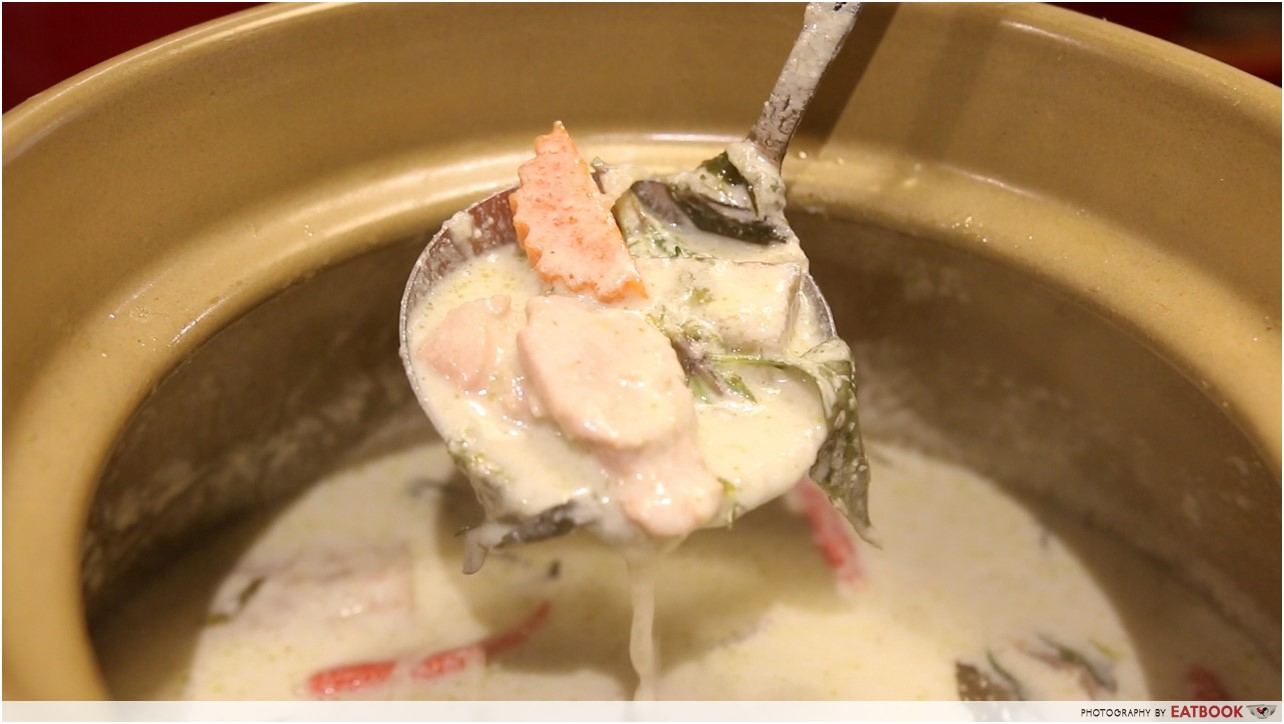 This Thai Green Curry was the highlight of the buffet. To make this dish, the chef first stir fries green curry paste till it's fragrant, then he mixes in their house-made chicken broth and coconut milk. The curry is then simmered for a few hours before serving.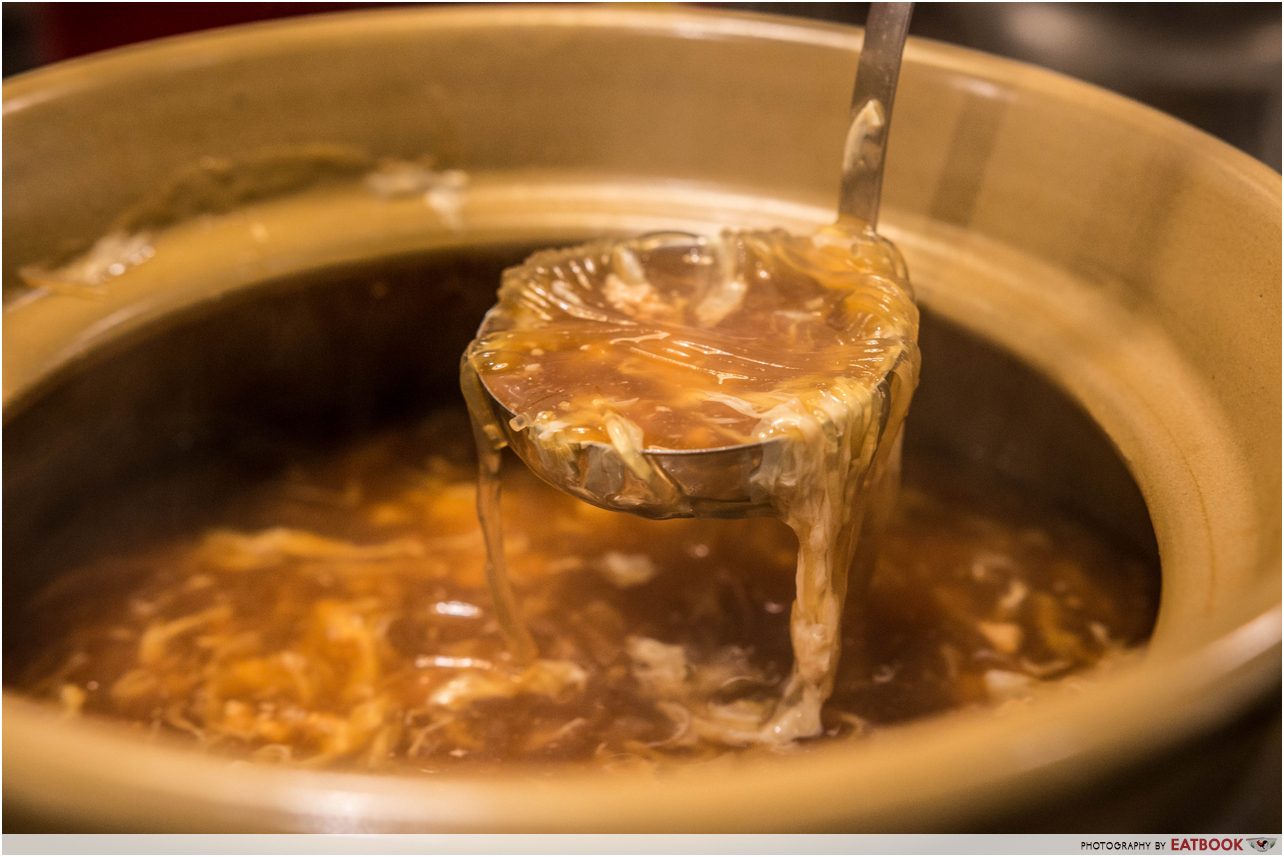 Their Shark Fin's Soup did not include actual shark's fin, and was mixed with glass noodles and bits of egg, making every mouthful a slurp of silky delight. The starchy broth also had a savoury-umami taste that kept me going back for more.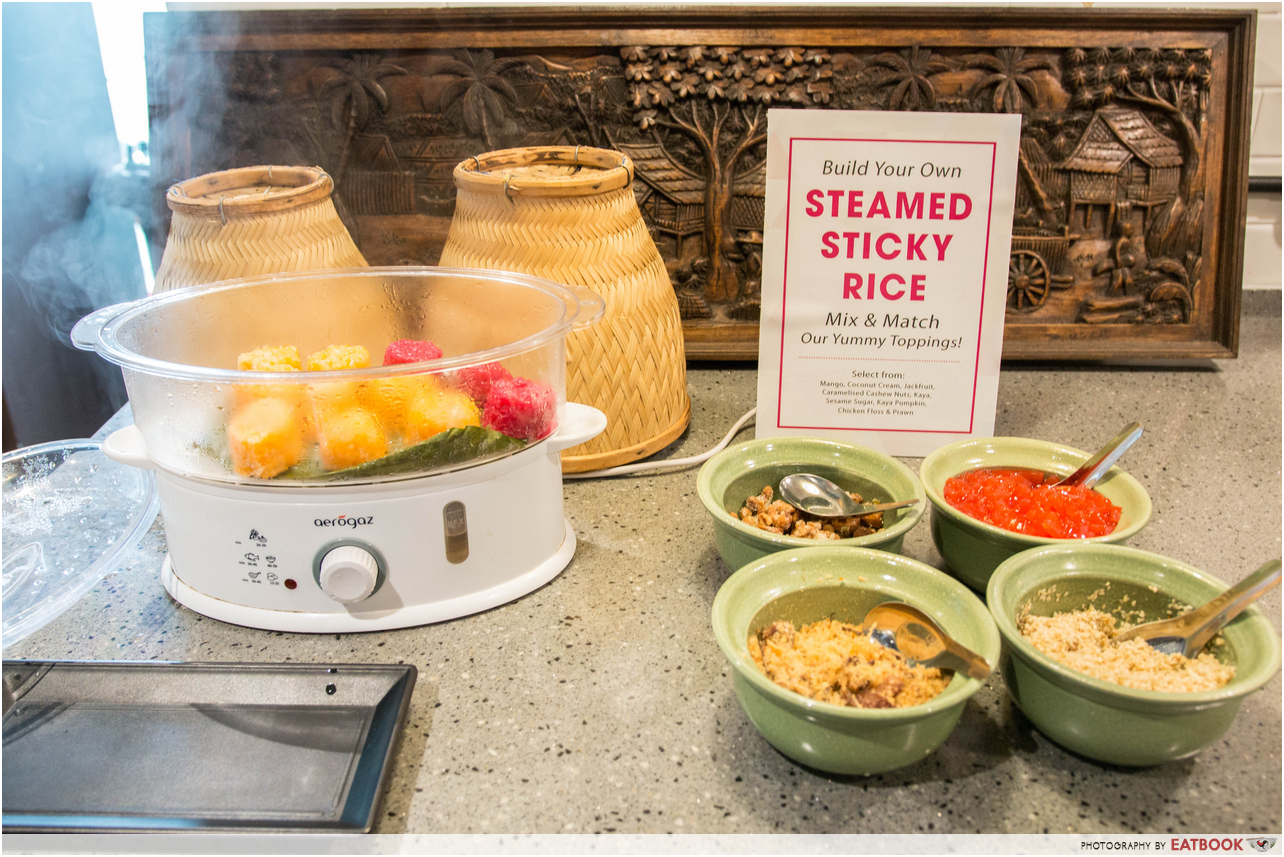 Of course, a Thai meal isn't complete without some sticky rice. One of their DIY stations offered Steamed Sticky Rice with toppings.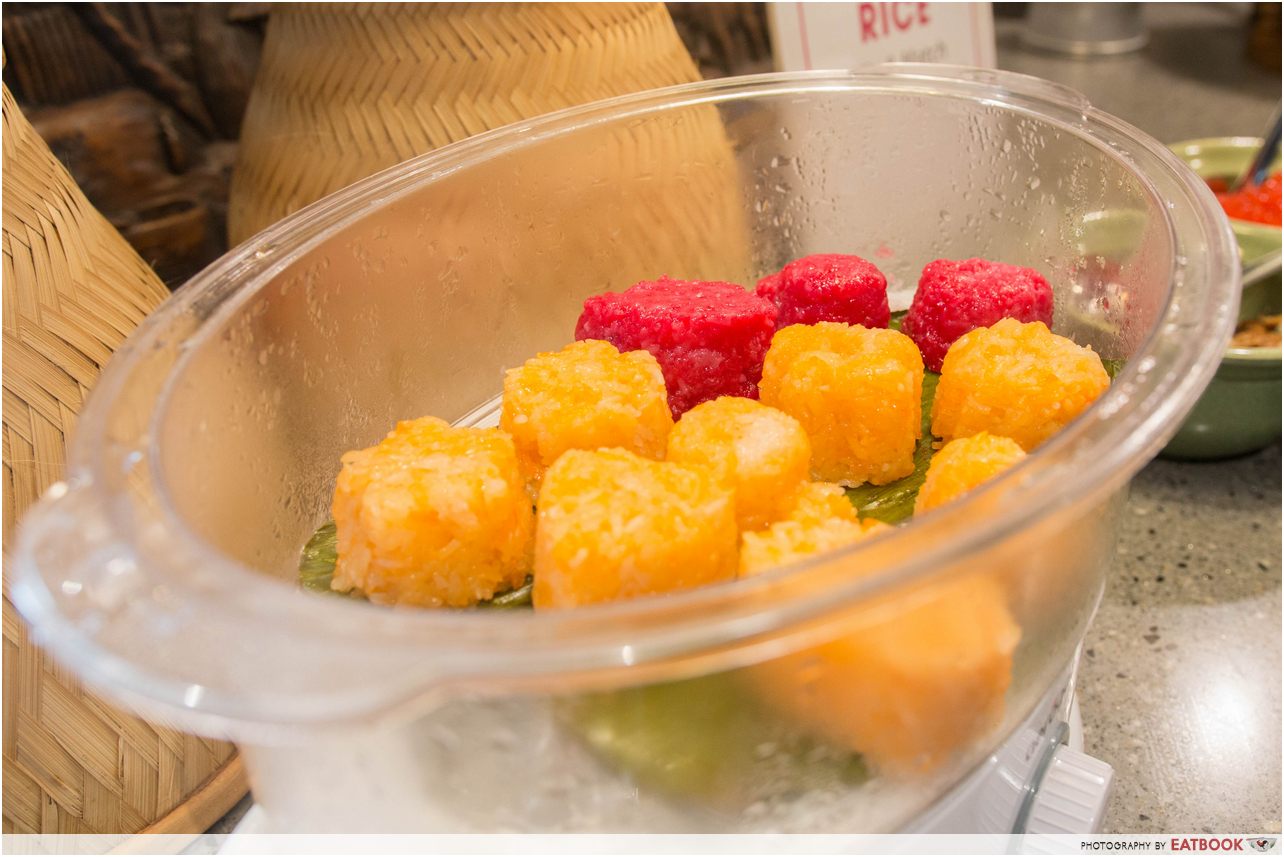 Glutinous rice was packed into various shapes and kept in a steamer. On its own, the rice was slightly sweet due to the syrup added. Consistency-wise, it reminded me of ba zhang.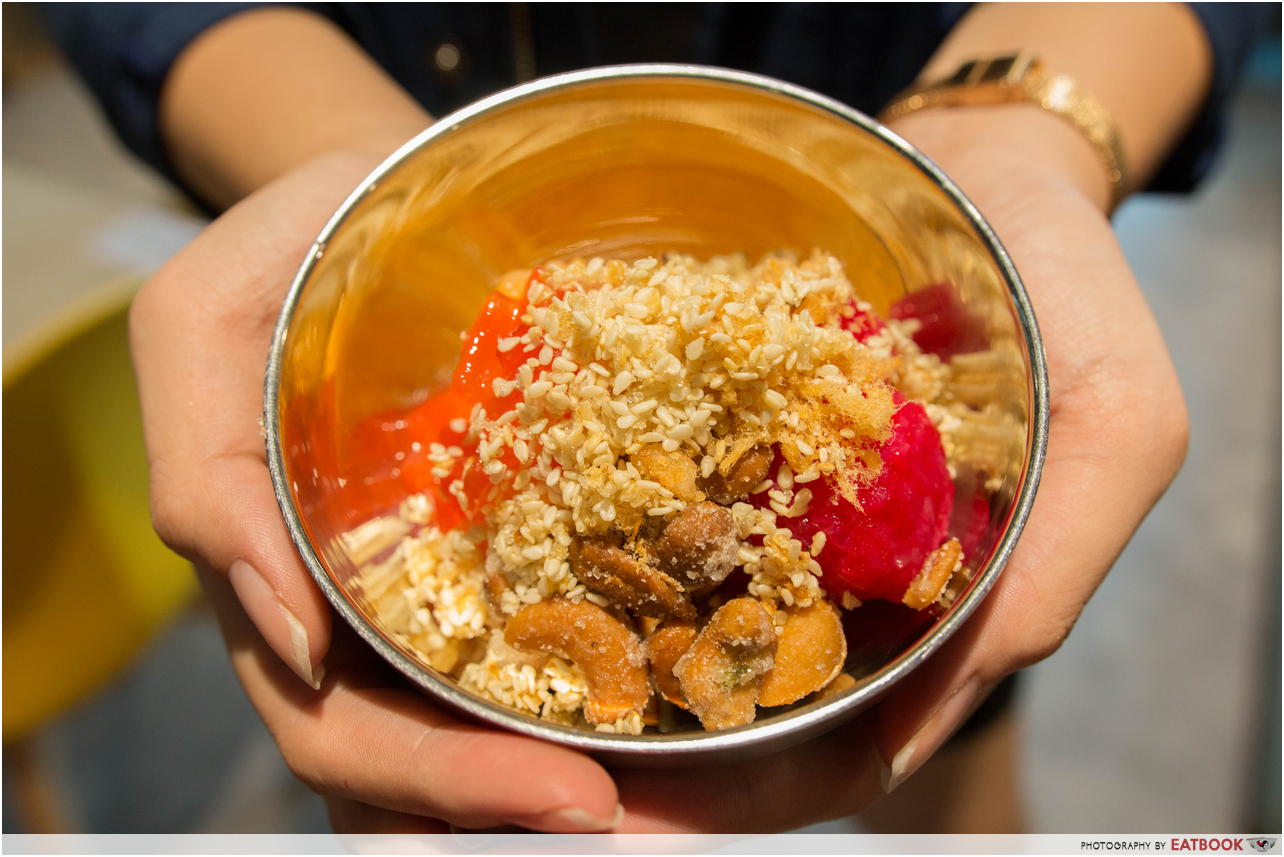 You can add toppings such as caramelised cashew nuts, sesame seeds, shrimp floss, and jelly cubes to your sticky rice. The crunchy cashew nuts were sweet, and the shrimp floss, salty. Together with the pandan glutinous rice, they struck a nice balance between sweetness and savouriness.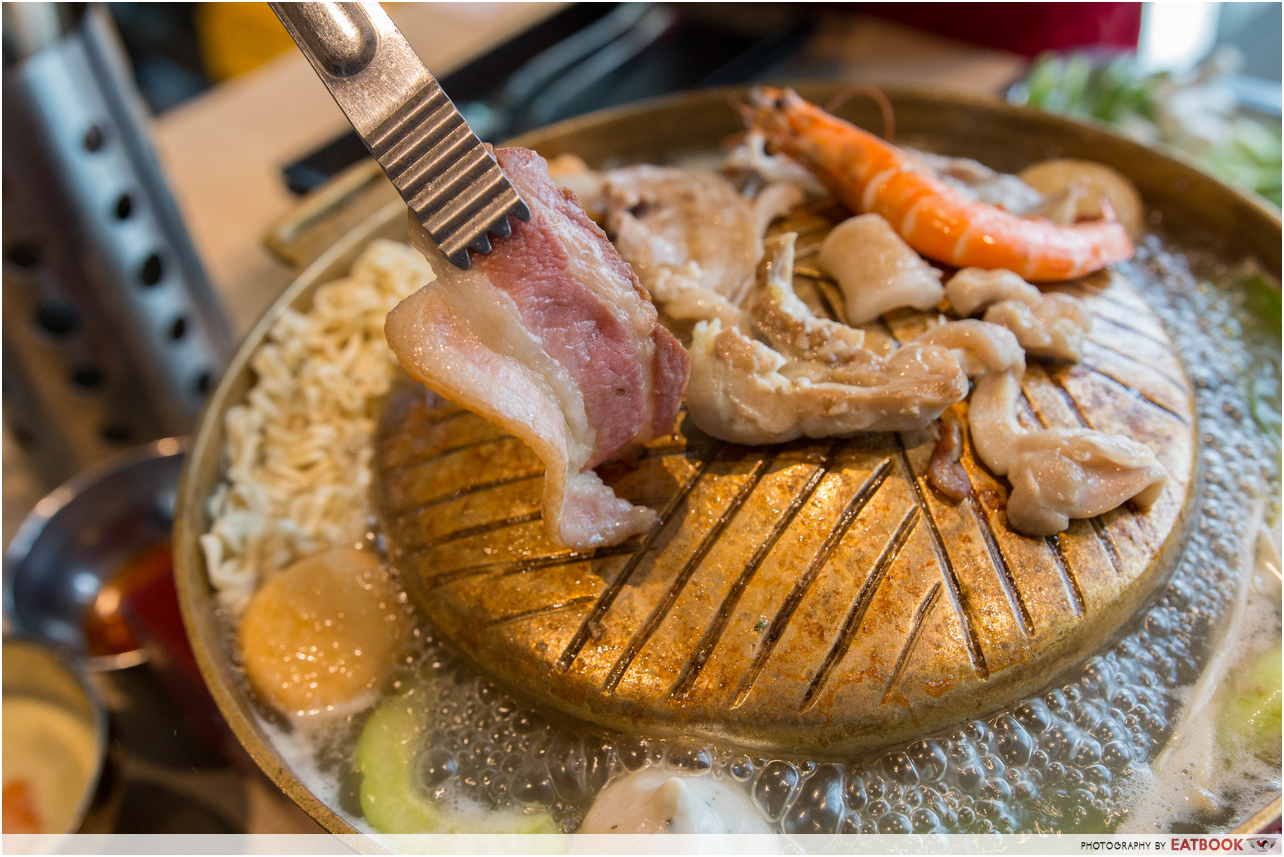 Their mookata buffet comes with free-flow soup, meats, seafood, vegetables, and some frozen steamboat ingredients.
They offer four different soup bases – tom yum, chicken, bonito, and salted egg. We initially opted for the salted egg soup but the owner warned us it might be jelak, so we went for the standard chicken soup base instead.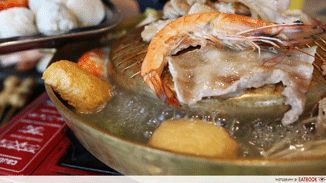 Unfortunately, the chicken broth threw me off upon first sip. It tasted like a mixture of chicken soup with heaps of sugar. I was told the chef simmered the broth with plenty of cabbage and chicken, which explains the overwhelming sweetness. I would have preferred the soup to be slightly more balanced, just so it wouldn't overpower the flavours of the ingredients.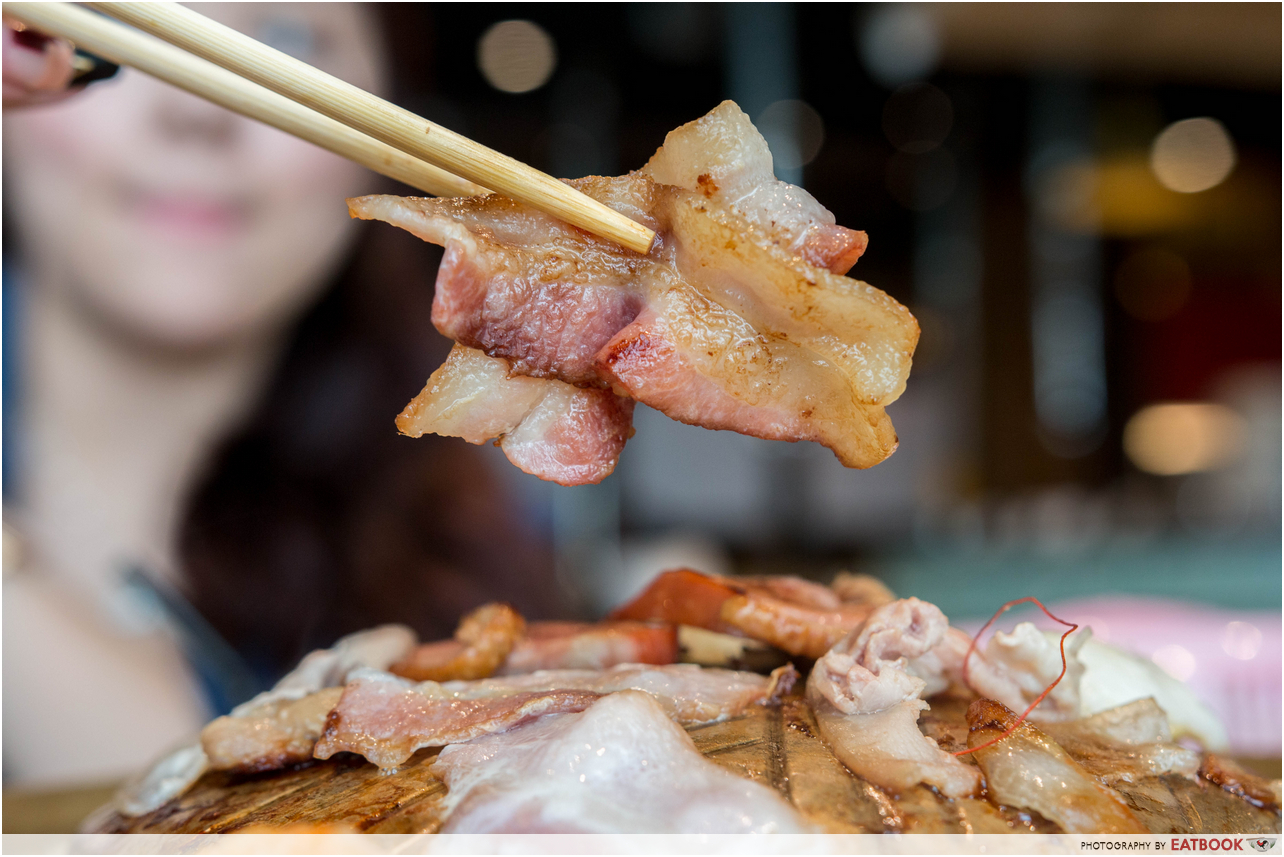 The Thai steamboat option offers a wide selection of meats for you to choose from, varying from pork belly slices to smoked duck. As the meats were thinly sliced, it did not take long to cook. The bacon had a good meat-to-fat ratio, making each bite juicy and satisfying.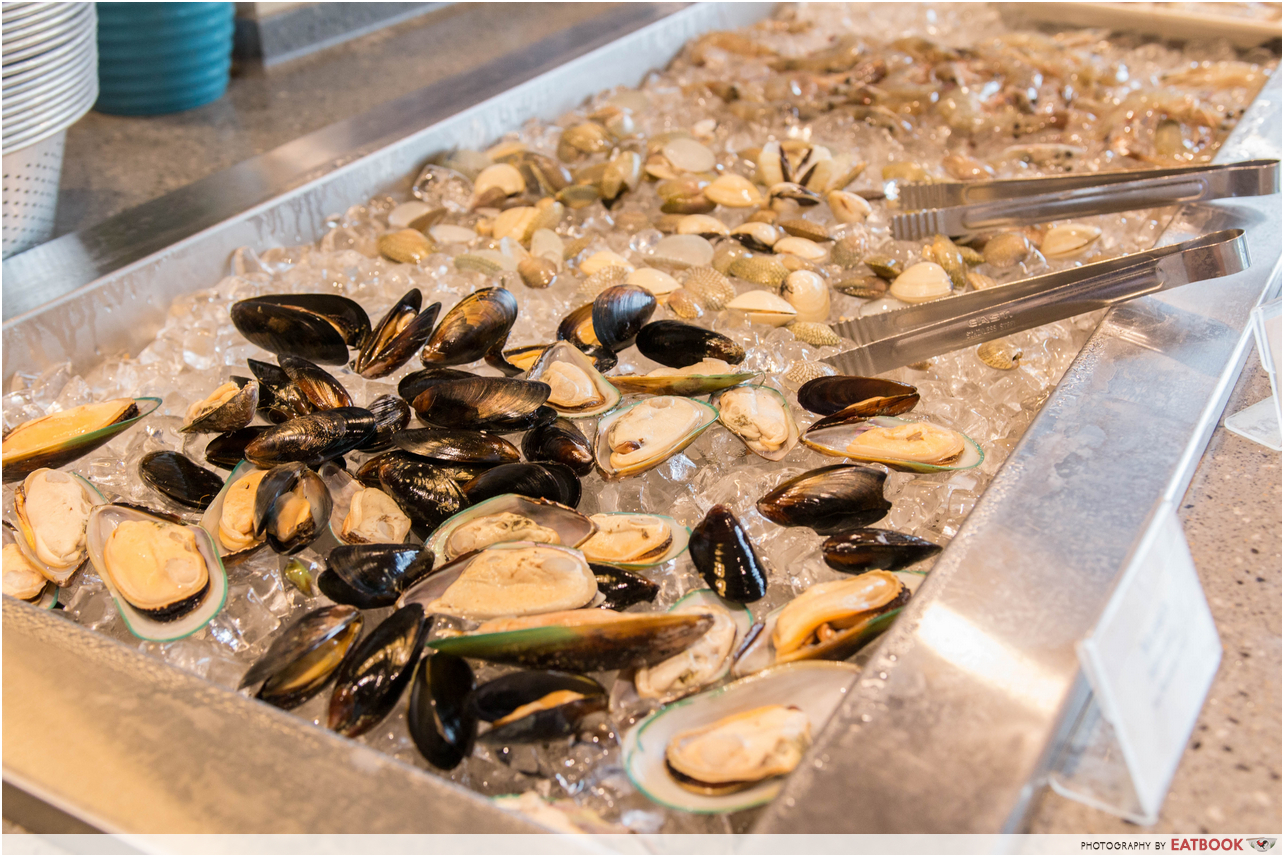 If you are a seafood person, you'd be glad to know they serve fish slices, mussels, clams, prawns, and squid. The seafood added a subtle briny flavour to the chicken soup.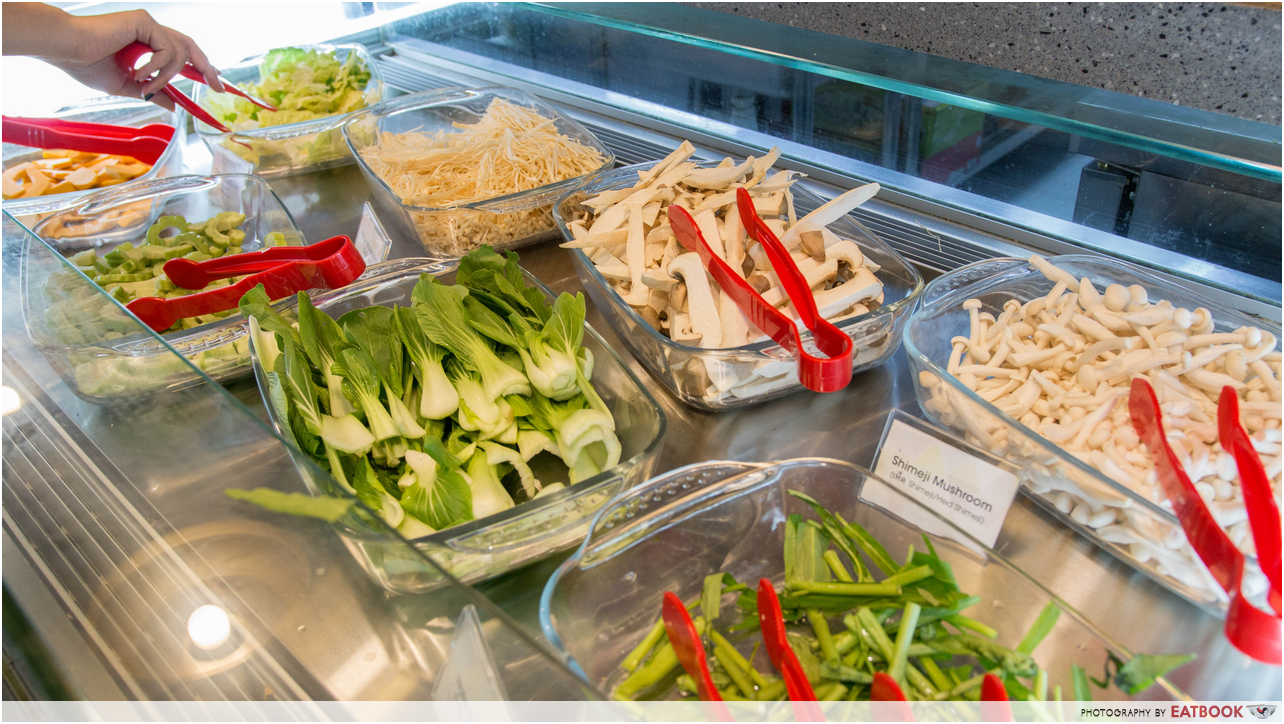 After devouring all that meat, balance out your meal with some greens. An assortment of vegetables and mushrooms including king oyster mushrooms, enoki mushroom, bitter gourd, pumpkin slices, and bok choy, were available.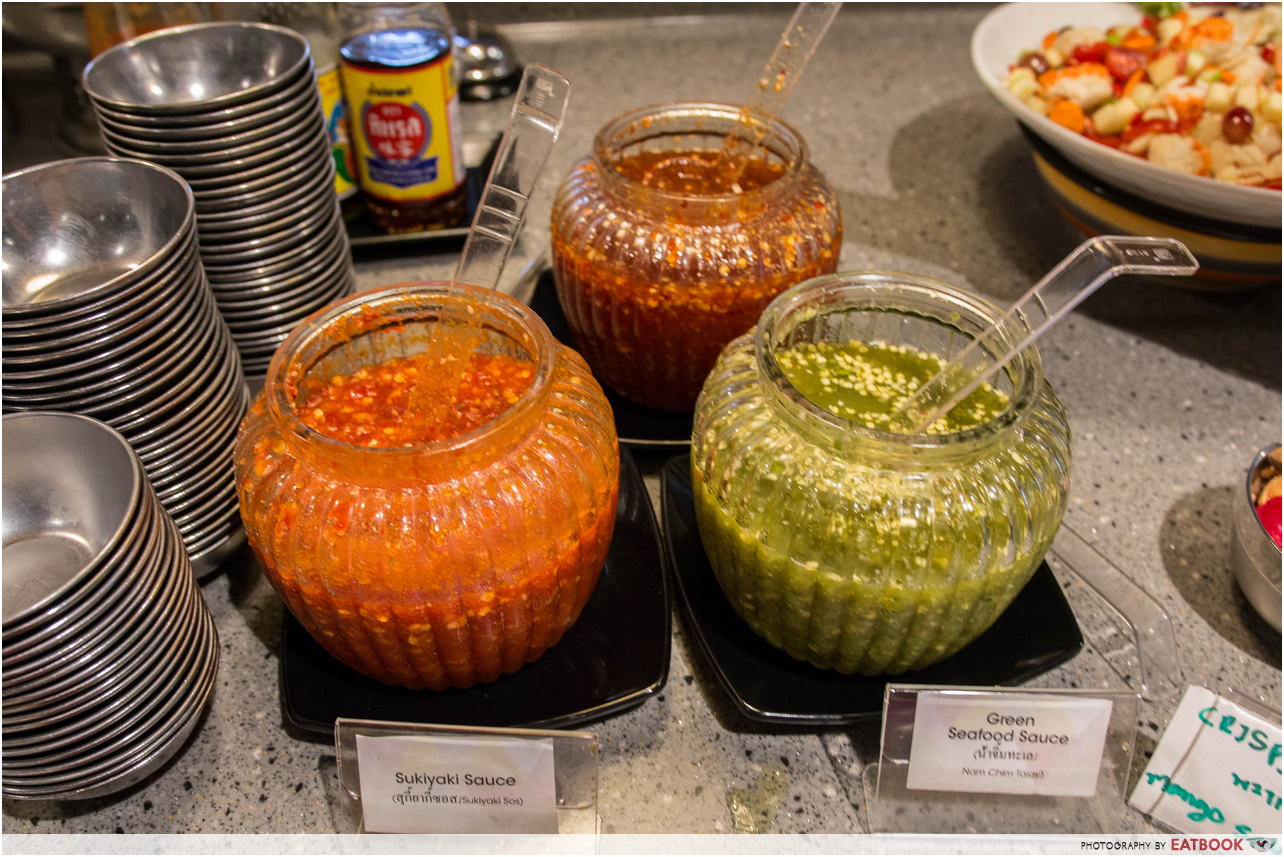 As some of the meats were not marinated, plunging them into the sauces offered made up for the lack of flavour. As a dipping sauce for the seafood, Green Seafood Sauce packed a sour and spicy punch. Their Sukiyaki Sauce, on the other hand, was more tangy and made a better complement to the meat. If you're looking for something on the sweeter end, go for some Thai Chilli Sauce that was more refreshing than spicy.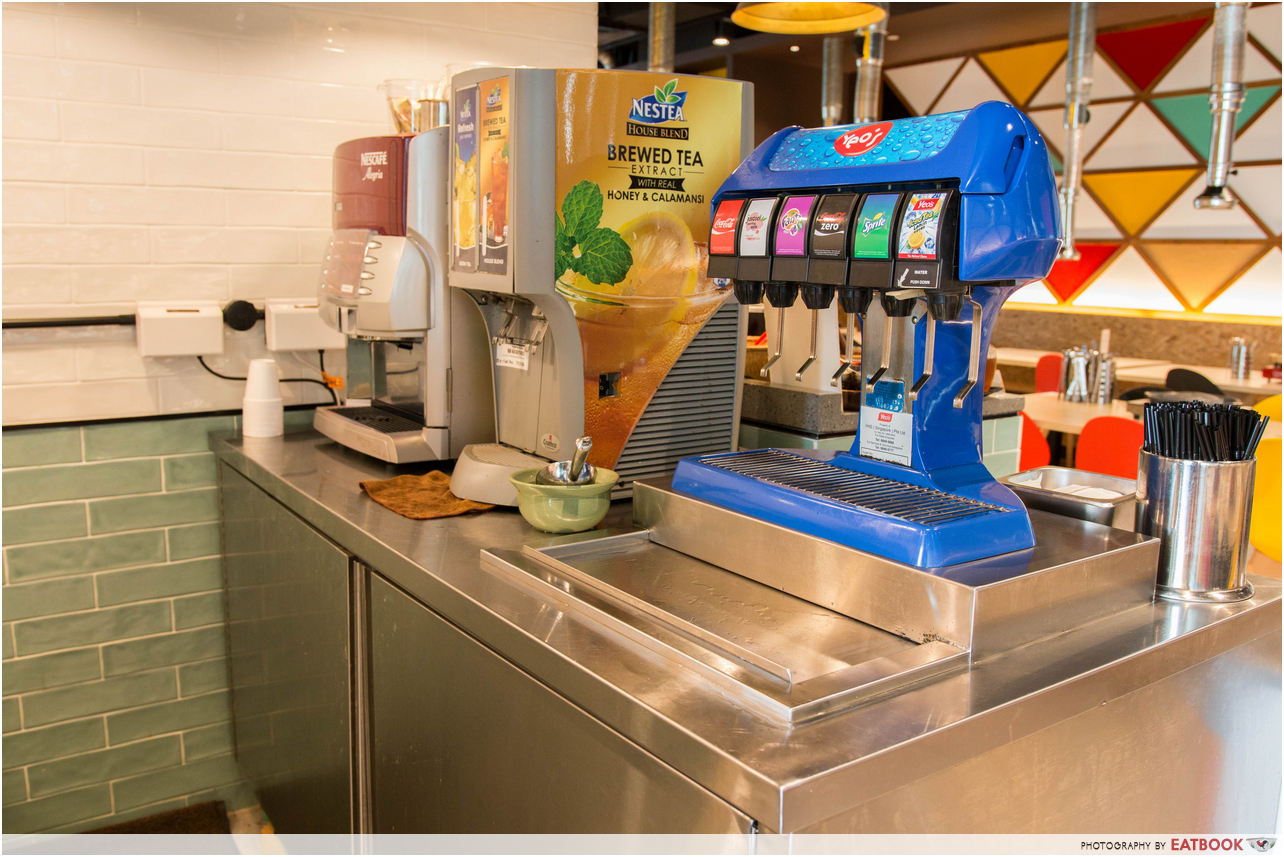 The buffet also offers an unlimited supply of drinks including soft drinks, tea, and coffee. If you have a separate stomach for dessert, wrap up your meal with scoops of ice-cream and fruits!
Ambience at Talay Kata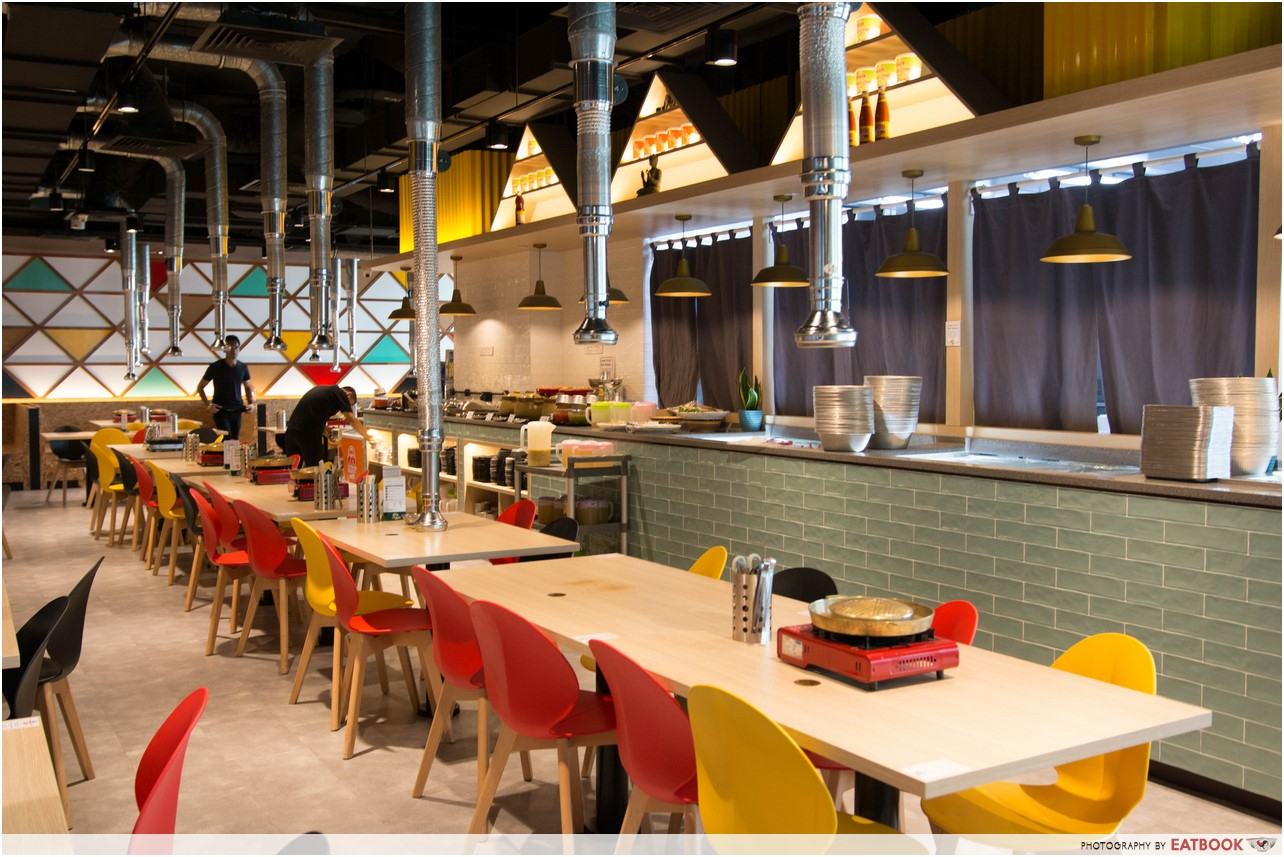 The restaurant was well-lit and decorated in bright colours. It was also air-conditioned, so you wouldn't have to worry about breaking into a sweat while eating. There were air vents installed at each table. Even though these do not fully prevent you from smelling like BBQ, it still helps with ventilation.
This place was rather empty during lunch hours, but we heard the crowds start in the evening, so make sure you make a reservation before coming. The staff members were friendly and efficient.
The verdict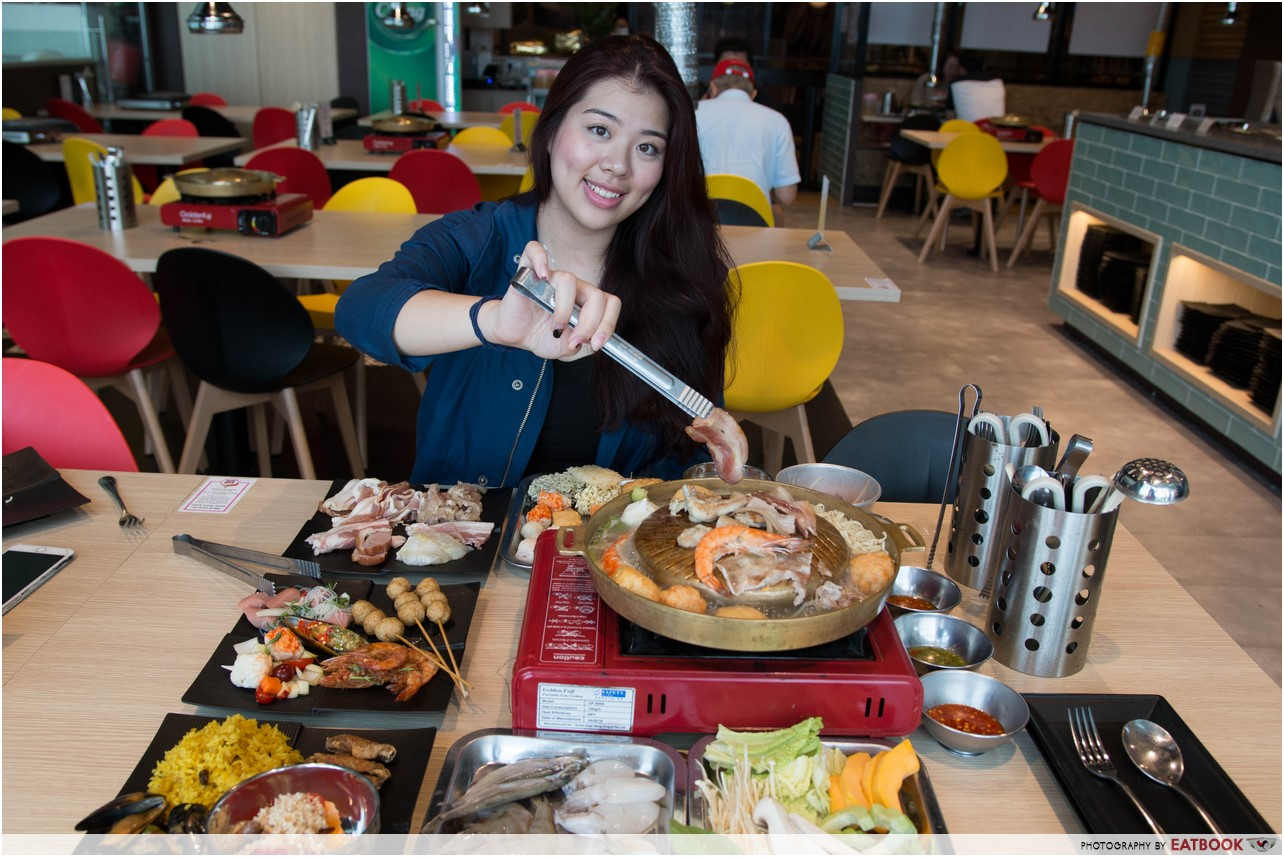 Even though the ingredients were not of the highest quality, the buffet and mookata combo was a definite steal considering its price and location. Check out more affordable steamboats below $20, or visit Sedap Thai for halal mookata!
Address: 181 Orchard Road, #08-04/05, Singapore 238896
Opening hours: Mon-Fri 11:30am to 3pm, 6pm to 10pm, Sat-Sun 11:30am to 5pm, 6pm to 10pm
Talay Kata is not a halal restaurant.
This is an independent review by Eatbook.sg.
Summary
Pros
– Value for money
– Can accommodate large groups
– Wide variety of food offered
Cons
– Quality of food was average
– May be crowded during dinner time and weekends
Recommended Dishes: Mussels With Thai Red Curry Sauce, Thai Green Curry, Steamed Sticky Rice
Operating Hours:
Monday to Friday 11:30am to 3pm, 6pm to 10pm
Saturday to Sunday 11:30am to 5pm, 6pm to 10pm
Tel:
6634 0551
Address: 181 Orchard Road, #08-04/05, Singapore 238896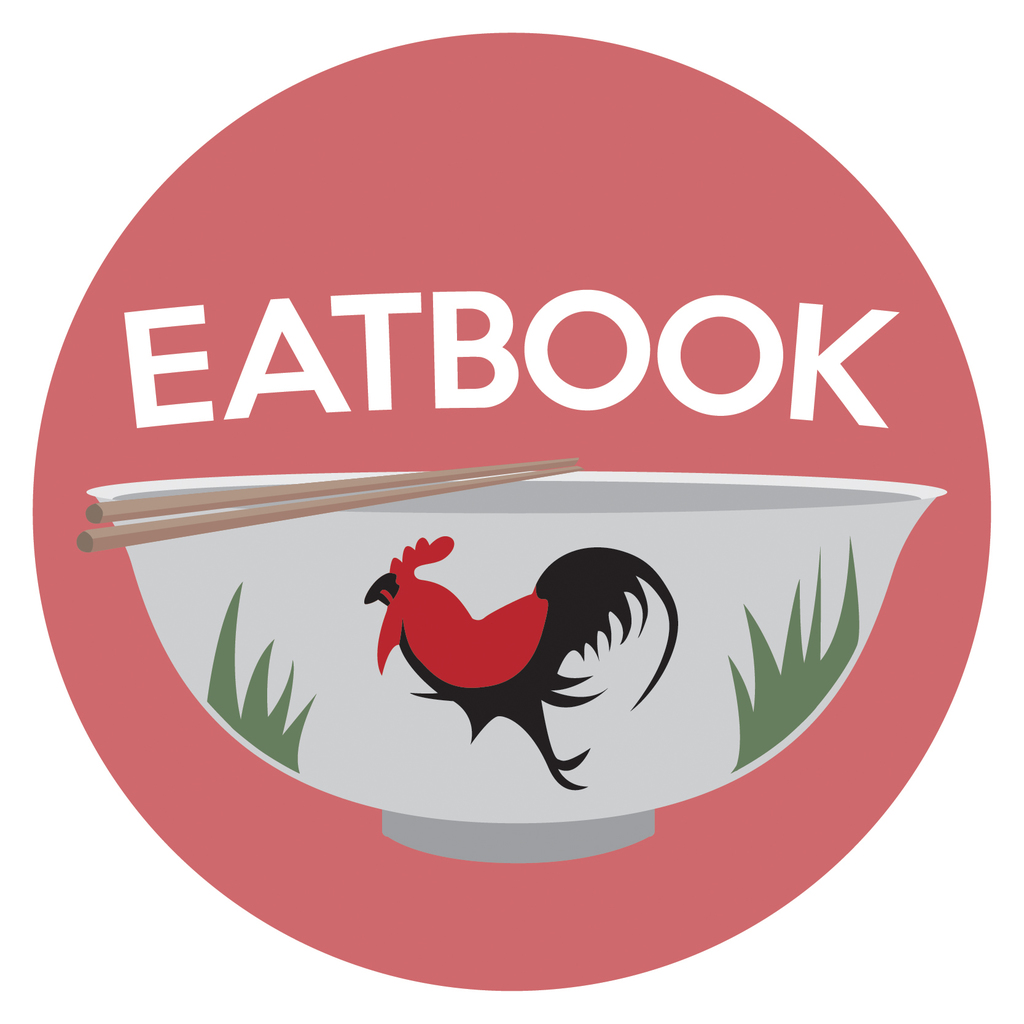 Drop us your email so you won't miss the latest news.