---
Affordable steamboats for those on a budget
---
It isn't true that all good food has to come with a hefty price tag, even if it's the ever well-loved steamboat. Singaporeans love a good steamboat regardless of rain or shine, and it's time to treat yo'self without breaking the bank. Here are 10 affordable steamboats you can get for a fix, with everything from the good ol' pots to hybrids that bring along special soups, a BBQ grill, or cooked dishes.
---
1. Emperor Pot
---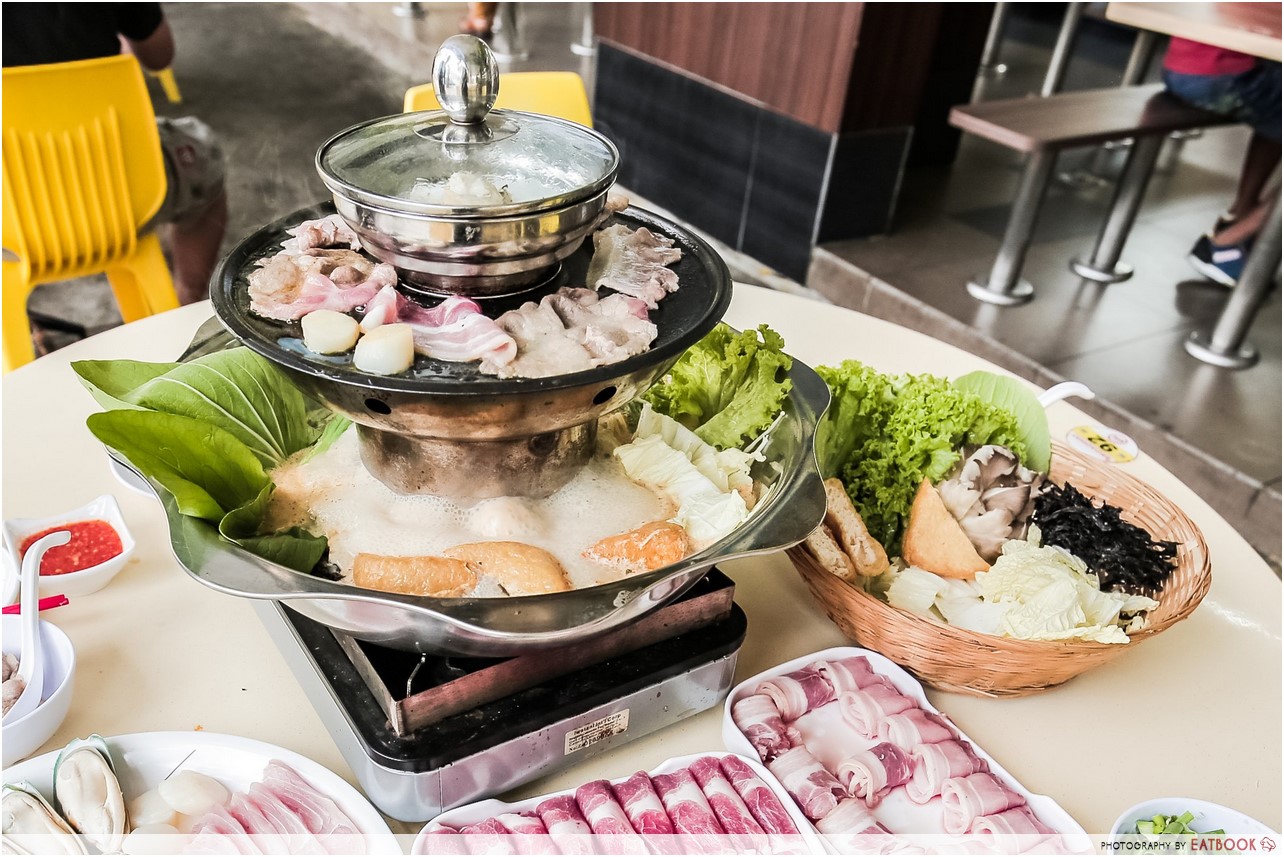 It doesn't stop at just steamboat at Emperor Pot. With a pot that allows you to boil, steam, and grill, it's no surprise this place holds a special place in our hearts. The Emperor's Treasure ($49.80) feeds groups of three to four, and consists of everything from fresh meat to vegetables and seafood – abalone and crayfish included. All sets come with their chicken soup base, and you can change it to Laksa, Tomato, or Spicy Mala, at an additional $3.
Check out our full review of Emperor Pot Steamboat!
Address: 100 Tyrwhitt Road, Broadway Food Centre, Singapore 207542
Opening hours: Daily 3pm to 11pm
Tel: 9858 1235
Website
---
2. Hao Lai Wu Steamboat & BBQ
---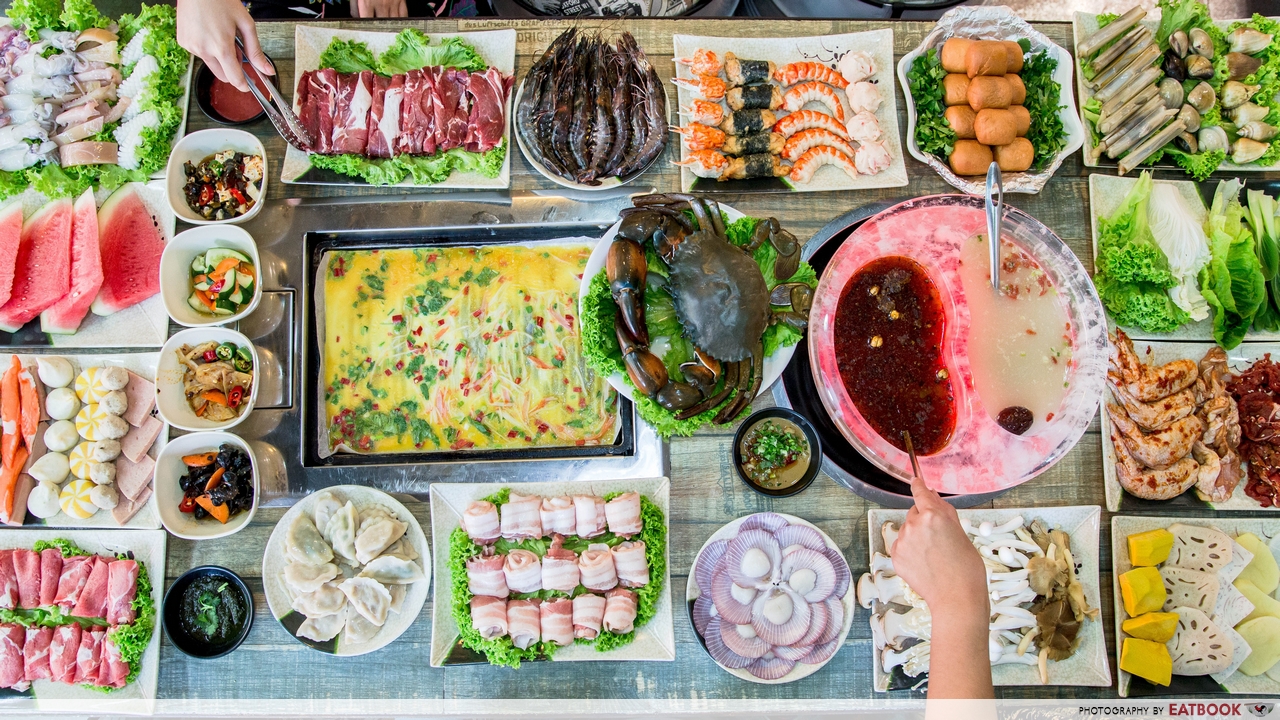 Instead of a tiered pot, Hao Lai Wu has a separate pot and grill to make things easier when you're eating in a group. On a weekday lunch ($16.80+) from 11am to 3pm, you get to indulge in their free-flow buffet that offers an astounding variety of food ranging from meat and vegetables to prawns and crab! While waiting for your food to cook, you can gorge on unlimited portions of Sichuan dishes, dumplings, and mantou.
Check out our full review of Hao Lai Wu!
Address: 8 Sago Street, Singapore 059012
Opening hours: Daily 11am to 3am
Tel: 6221 0065
Website
---
3. Wen Wen Pork Rib Big Prawn Mee
---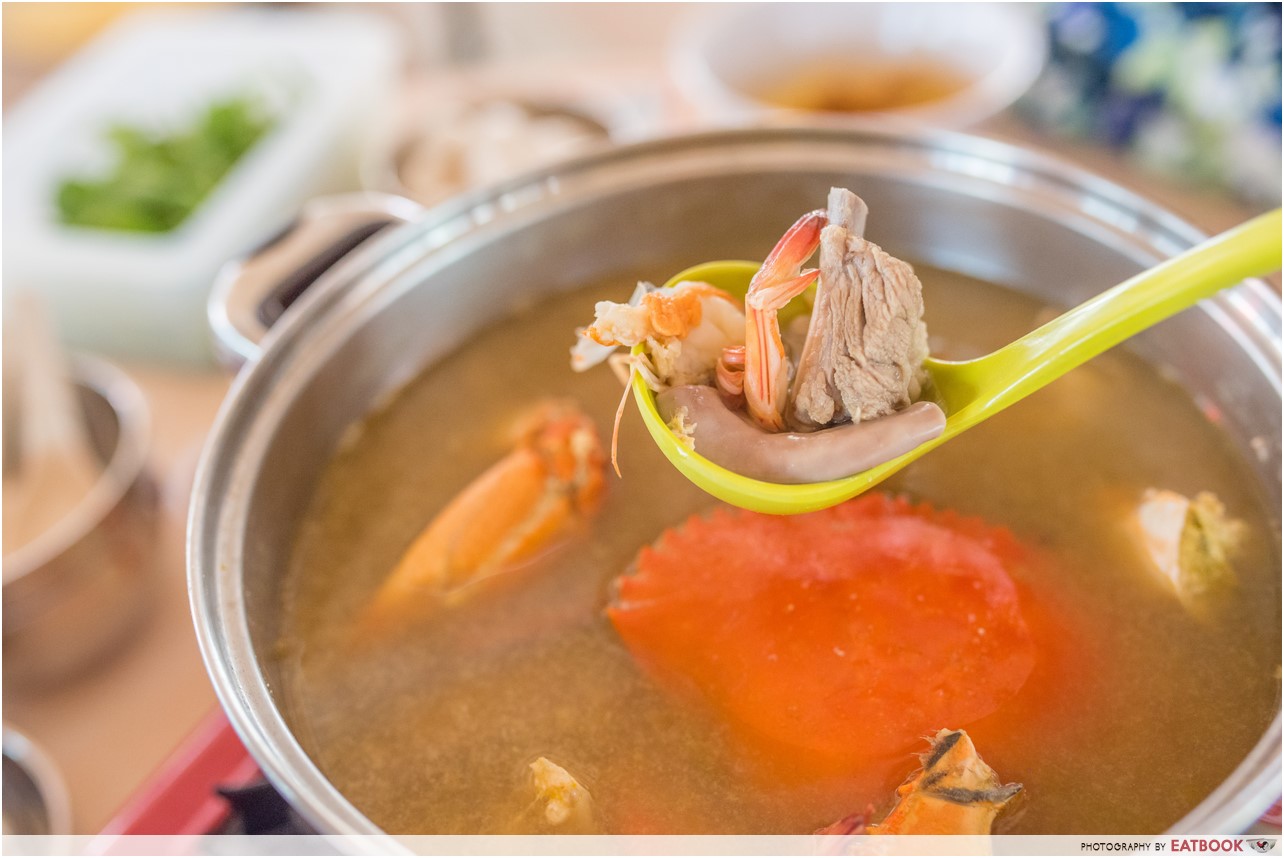 Wen Wen Pork Rib Big Prawn Mee serves their Seafood Prawn Mee Steamboat ($50 for two, $60 for three, $70 for four to five, $80 for six people) broth with prawns, la la, pig's intestines, pork ribs, pig's tail, and a whole crab. So you can't really fault for us for trying to lick the pot clean, which is totally possible with their free-flow noodles. You can bring your own ingredients along to level-up the pot, and we especially love how enoki mushrooms taste in the broth. Make sure you call a day in advance to reserve a pot before heading down!
Check out our full review of Wen Wen Pork Rib Big Prawn Mee.
Address: 51 Old Airport Road, #01-147, Old Airport Road Food Centre, Singapore 390051
Opening hours: Tue-Sun 12pm to 2pm, 5:30pm to 10pm
Tel: 9026 5983
Website
---
4. Yet Con
---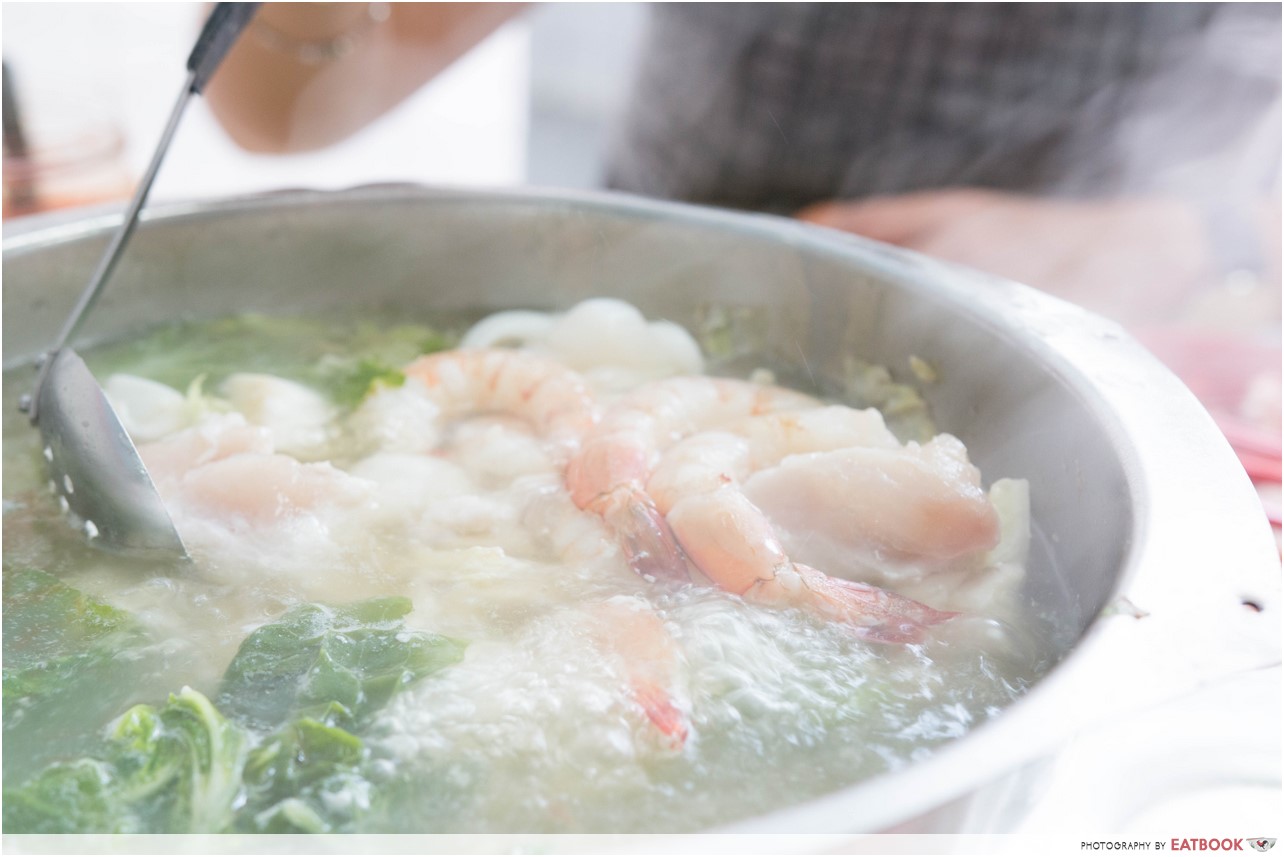 Yet Con is one of Singapore's oldest Hainanese restaurant that serves chicken rice and Chicken Rice Steamboat ($12 per person, minimum of two to dine), which lets you pick between a beef or seafood platter. The clear chicken broth is comforting and hearty, making it perfect to cook the meat and seafood in as it doesn't drastically alter their natural tastes. Get a bowl of their chicken rice ($1) and a plate of steamed chicken ($5) to complete your meal.
Check out our full review of Yet Con.
Address: 25 Purvis Street, Singapore 188602
Opening hours: Daily 11am to 9:30pm
Tel: 6337 6819
---
5. Qi Xiang Chicken Pot
---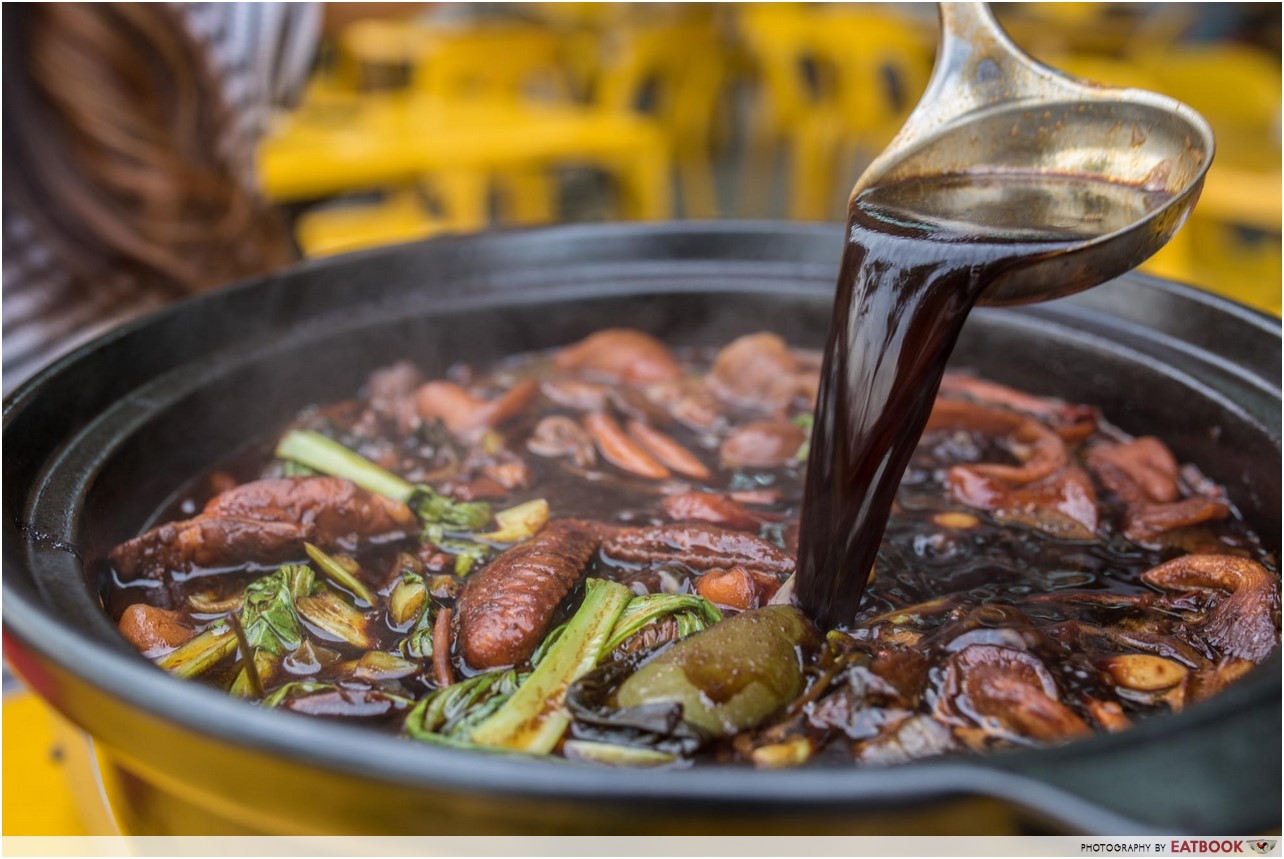 Here's a steamboat for days you want something a little more special. Qi Xiang Chicken Pot ($26.90 for half, $37.90 for a whole chicken, $25.90 for two drumsticks) has a spicy, dark soy sauce chicken broth with a consistency of gravy, and is made with chillies, onions, green peppers and more. Even in a group of three, we struggled to finish off the pot. Add extra ingredients such as thick tang hoon and quail's egg at $2.90 a plate to make your meal super shiok.
Check out our full review of Qi Xiang Chicken Pot.
Address: 973 Upper Serangoon Road, Singapore 534725
Opening hours: Daily 4pm to 1am
Tel: 8458 1921
---
6. Ah Pang Steamboat Seafood
---
Ah Pang Steamboat Seafood is the solution for times you're hanging out in a trio. Their steamboat set goes at $35 for a group of three, and you get a chicken corn soup base that is free from MSG. You can also order zi char dishes to add more texture and variety to your meal.
Address: 159 Mei Chin Road, #02-21, Mei Ling Food Center, Singapore 140159
Opening hours: Thur-Mon 9am to 10pm
Tel: 6476 8158
Website
---
7. Mermaid Steamboat

---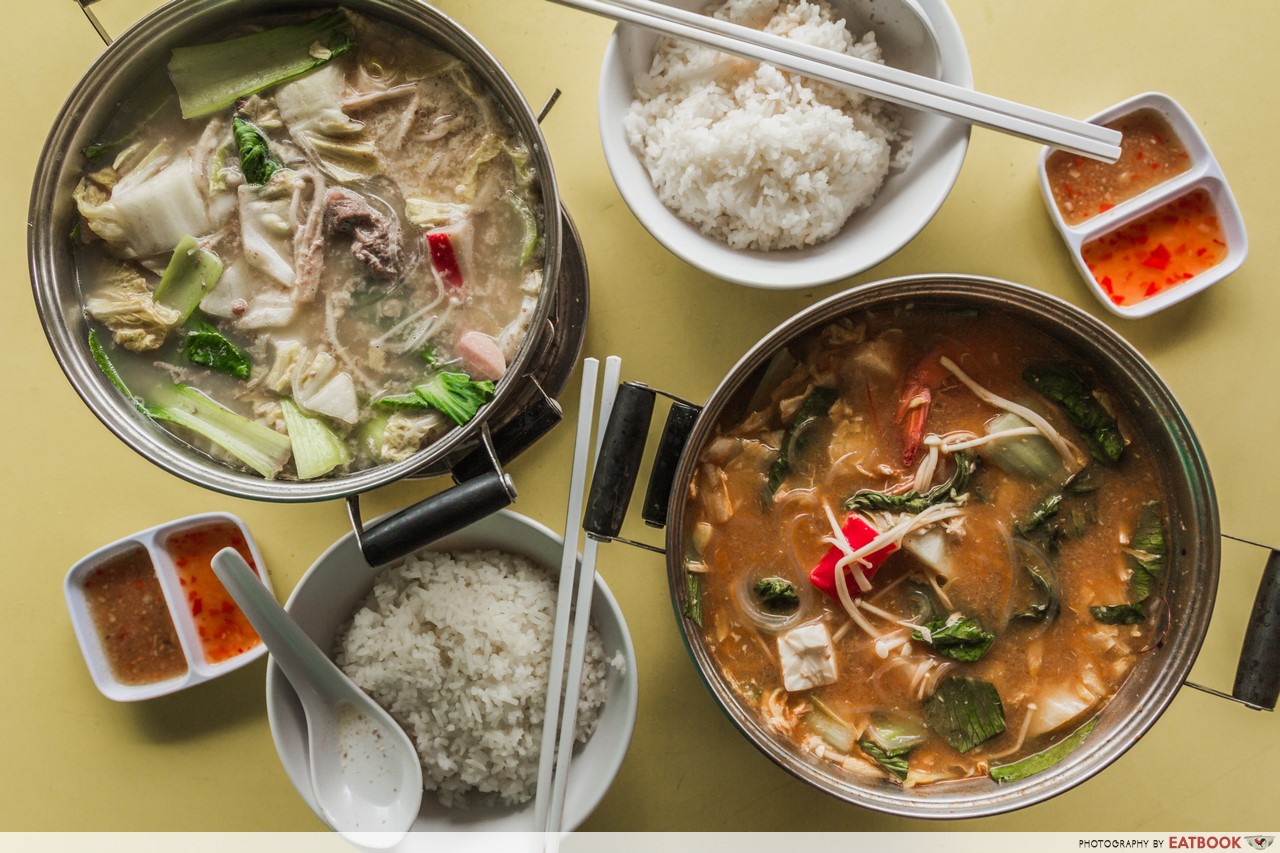 Mermaid Steamboat solves your woes if you're on a really tight budget. They have individual platters such as prawn, fish, and beef that go at $5 each, as well as soup bases such as Herbal Soup and Tom Yum Soup to choose from. Every set comes with a bowl of rice, and adding an egg would cost an extra $1. Larger groups can split the bigger steamboats, which range from $16 to $26.
Check out our full review of Mermaid Steamboat.
Address: 79A Circuit Road, Circuit Road Food Centre, Singapore 371079
Opening hours: Wed-Mon 11am to 9pm
---
8. Goro Goro Steamboat & Korean Buffet

---
Korean cuisine fans can hit up Goro Goro Steamboat & Korean Buffet during a weekday lunch ($16.80++) from 11:30am to 3pm for a steamboat buffet and free-flow Korean dishes such as japchae, tteokbokki and Korean-style chicken wings. Six soup bases, namely Beauty Collagen, Tom Yum, Ginseng Chicken, Mala, Vegetarian, and Tomato are offered here, and you'll get your choice of two for each table.
Address: 218 Orchard Road, #04-01, Orchard Gateway@Emerald, Singapore 238851
Opening hours: Mon-Fri 11:30am to 3pm, 5pm to 10:30pm, Sat-Sun 11:30am to 3:30pm, 5pm to 10:30pm
Tel: 6385 7854
Website
---
9. Shi Li Fang
---
Known for their affordable set lunches, Shi Li Fang promises a full meal at $9.90++. You'll get to pick two soup bases – chicken, tomato, and ma la are hot favourites – and a plate of vegetables, noodles, and a choice of protein. You are bound to leave feeling stuffed and satisfied, plus we hear they give out soft toys at times!
Address: 181 Orchard Road, #07-10, Orchard Central Singapore 238896
Opening hours: Daily 11am to 10pm
Tel: 6238 0800
Website
Full list of outlets
---
10. Chicken Legend
---
Chicken Legend makes their broth by boiling 11 types of herbs, kampong chicken, and juice straight out of a coconut. The result is a clear sweet soup that changes in taste depending on the ingredients from the sets you order. A Small Set ($20) that feeds two gets you half a chicken, prawns, enoki mushrooms, crab sticks, and more.
Address: 15 Upper East Coast Road, Singapore 455207
Opening hours: Tue-Sun 5:30pm to 10:30pm
Tel: 9295 0650
Website | Menu
---
It's getting steamy in here
---
Now you can indulge in your favourite comfort food without paying a hefty price. If we missed out your favourite steamboat place, let us know in the comments below!
---
Featured image adapted from Instagram.