Chicken rice steamboat at one of Singapore's oldest restaurants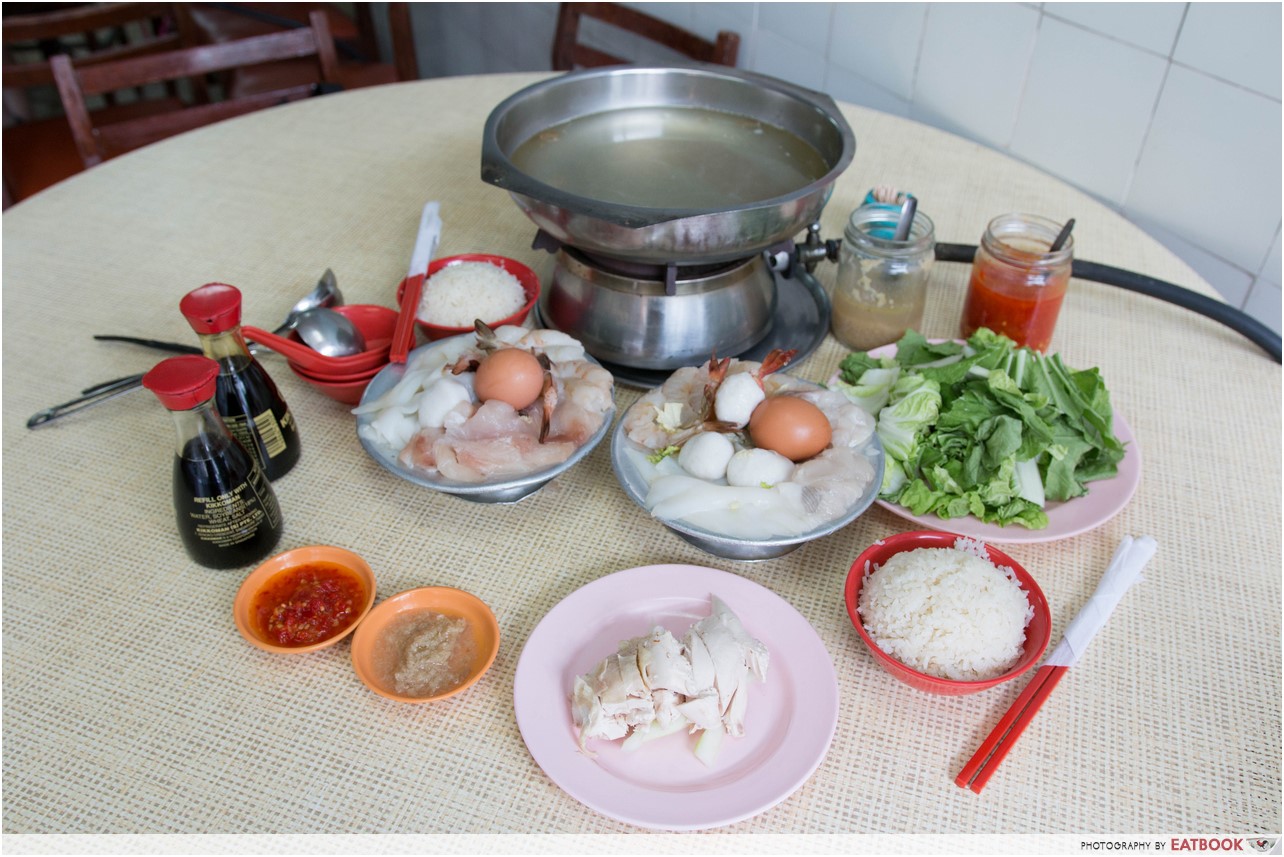 Nothing unites Singaporeans more than our love for FOOD. Similarly, nothing divides us more than timeless debates between which hawker stall does our fave dish best. An obviously, Hainanese chicken rice is not spared from this dispute. So to shed some light on it, we decided to check out one of Singapore's oldest Hainan restaurant, Yet Con, which serves not only chicken rice, but also chicken rice steamboat.
Chicken rice steamboat at Yet Con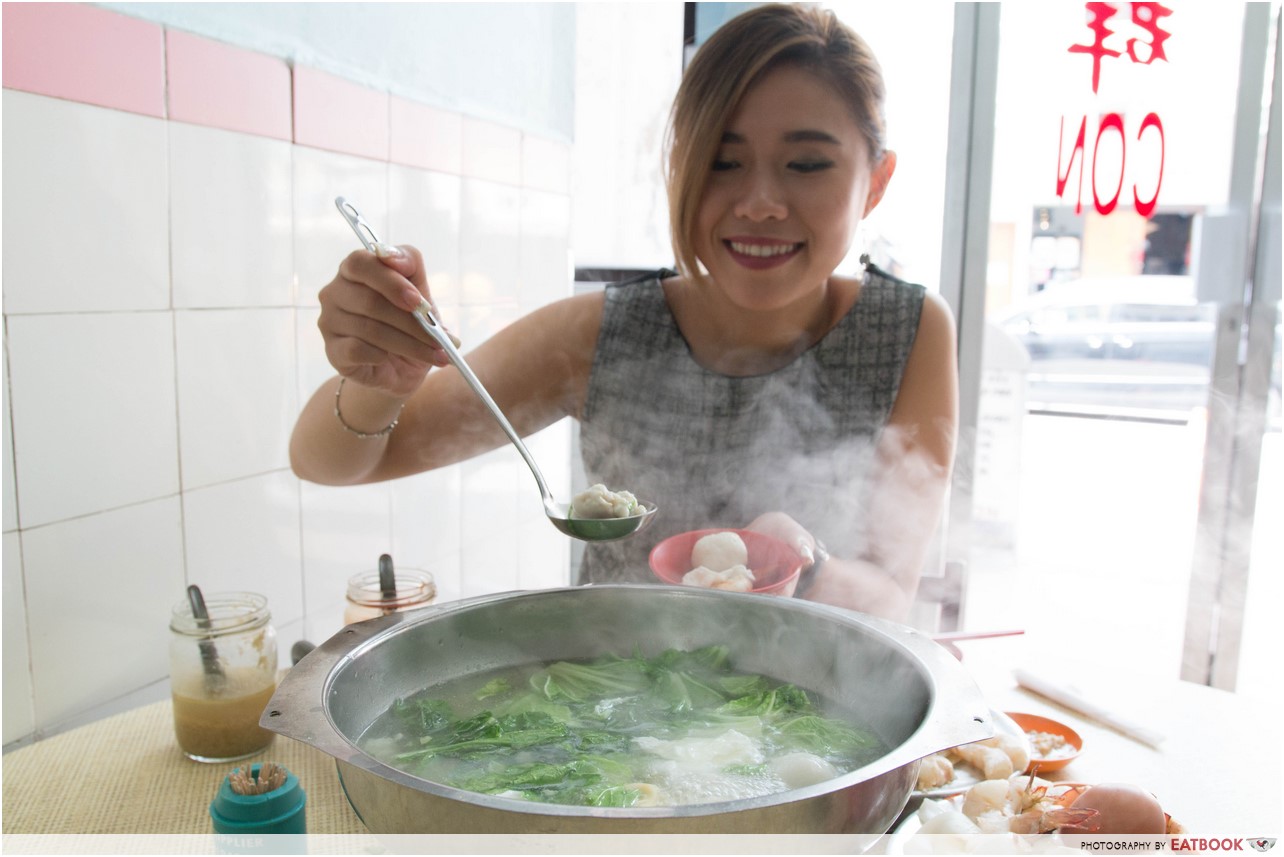 As there were only 2 waitresses, 1 chef behind the counter, 1 cashier and no menu, I was glad I already knew what they serve instead of having to ask. Things are pretty standard around here – when we walked in, we were asked, "How many?" then immediately seated with classic red bowls and chopsticks. Even before we've sat down, a waitress asked if we we here for Chicken Rice Steamboat ($12 per pax, minimum of 2 pax required). We nodded and she proceeded to ask if we wanted beef, but we opted for seafood, while adding 2 bowls of rice ($1 each).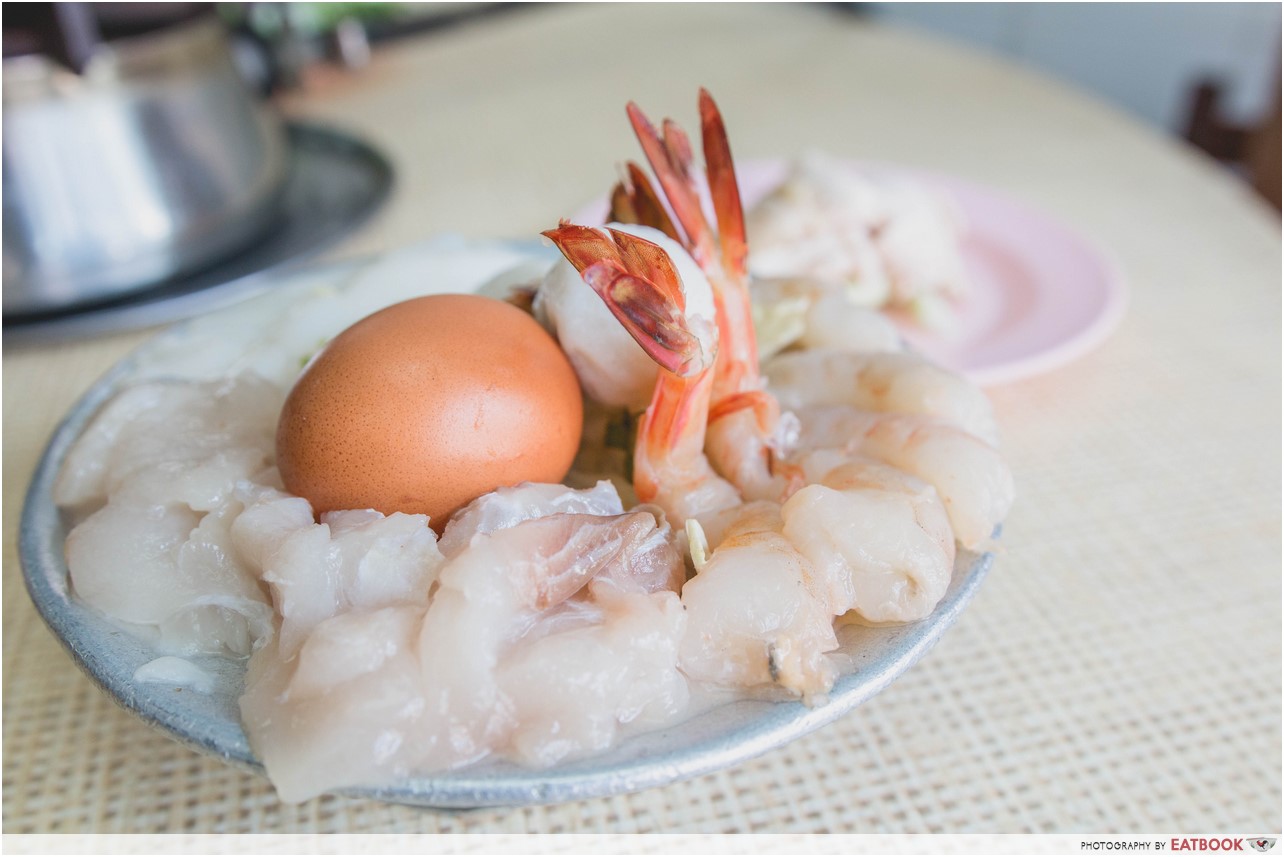 I wasn't quite sure what to expect when it came to a chicken rice steamboat, but what arrived on our table was a pot of hearty chicken broth with two seafood platters and a plate of vegetables. 
The seafood platters held a lot more than they looked – fish slices, fish balls, prawns, vegetables, sliced squid and an egg. Although not the freshest range of seafood, it was a surprisingly generous amount to the point where we were unable to finish everything.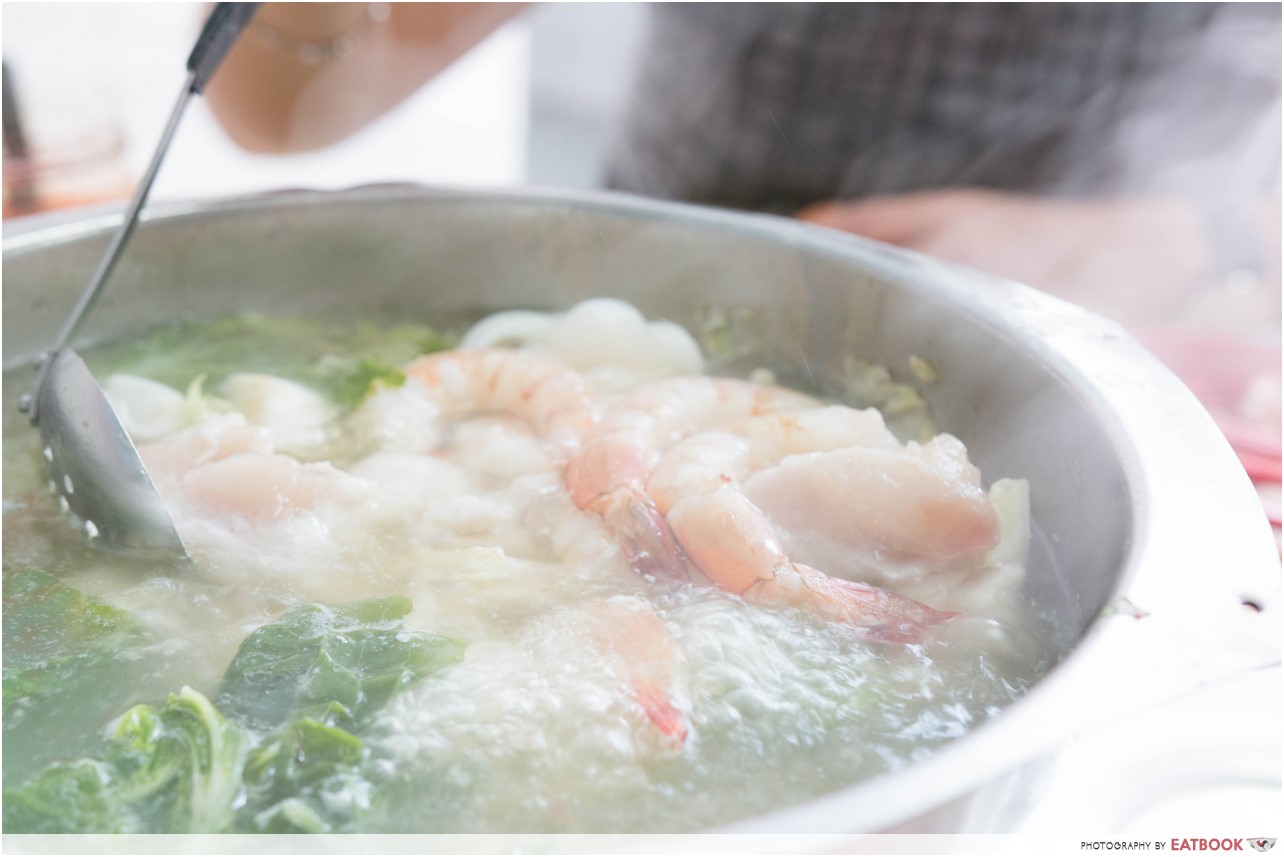 We tasted the soup before throwing everything in, and were pleasantly surprised by a broth that wasn't MSG-loaded. It was clear and reminded me of how my grandma would have cooked it. It got sweeter as we added more ingredients in, but the soup became increasingly salty towards the end of the meal. There's free-flow soup too, which means you can take your time eating here.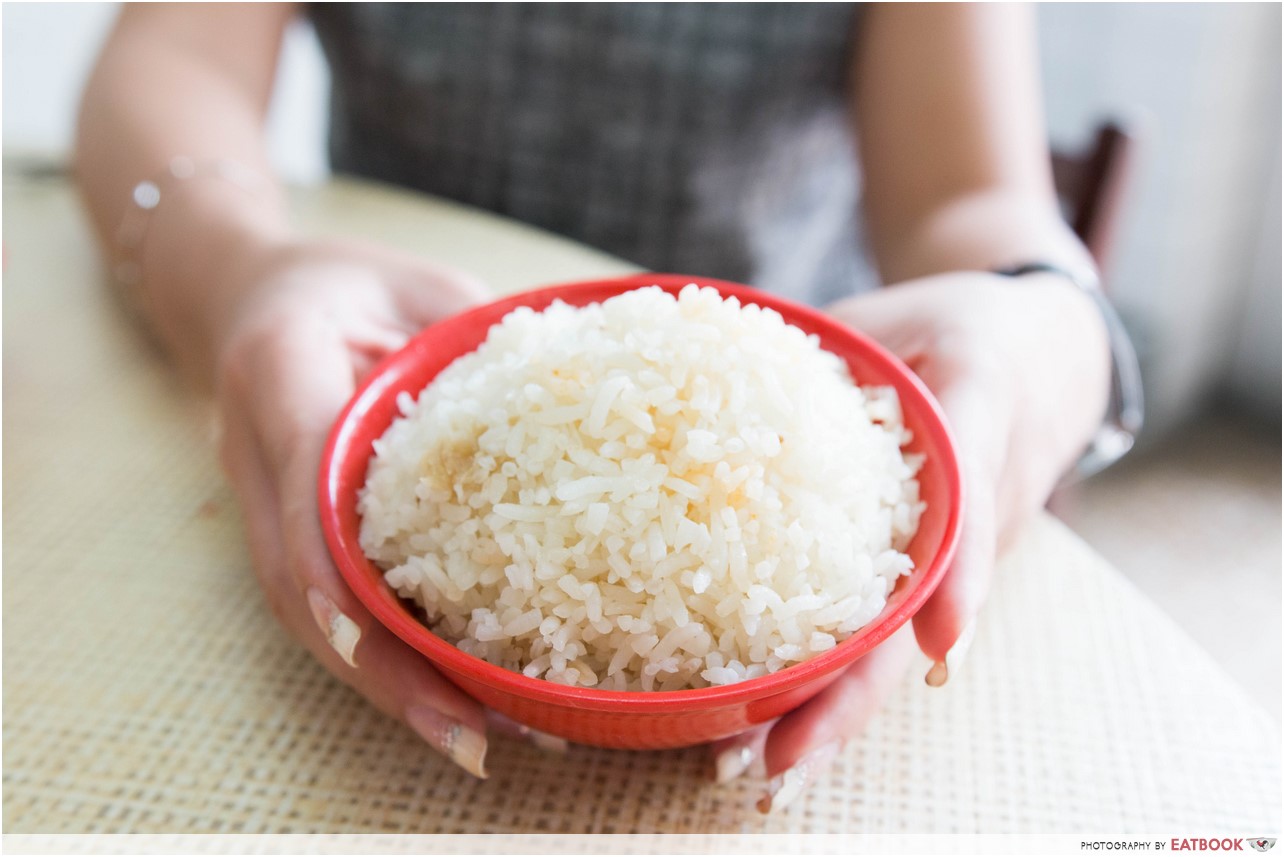 For the rice, I liked how the grains were distinctively separate, but it did not strike me as being memorably fragrant; in fact, it's probably less fragrant than what you'd get outside. However, its subtle taste turned out to be a blessing in disguise, as it made a good complement to the rest of the ingredients.
Steamed chicken at Yet Con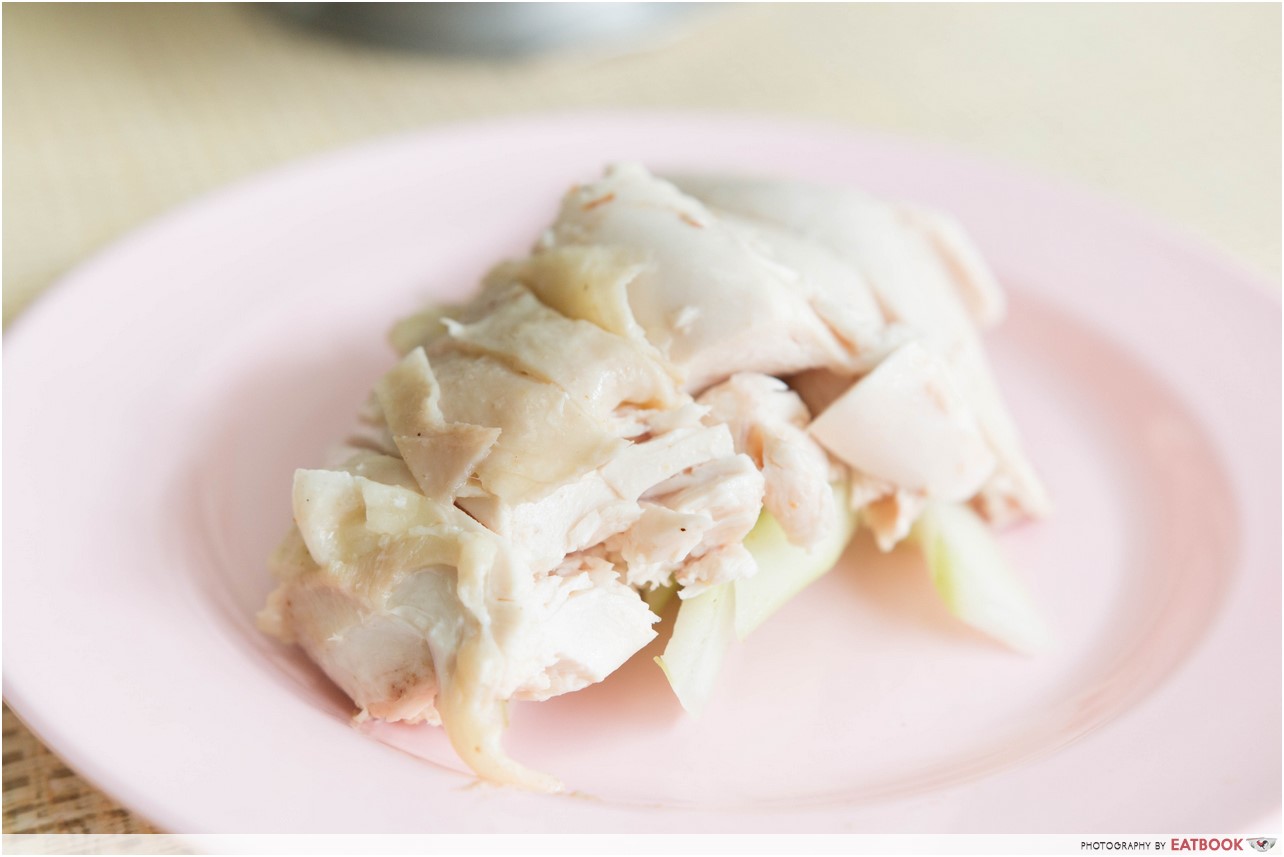 On the side, we ordered a plate of steamed chicken ($5) but were shocked when the chicken breast arrived in a such a small serving. Keeping to tradition, Yet Con doesn't soak their chicken in cold water after cooking, nor serve it with sauce. Hence, it's not as silky and and retained a strong natural chicken taste. For flavour, we added Kikkoman soy sauce, chilli and garlic paste.
Ambience at Yet Con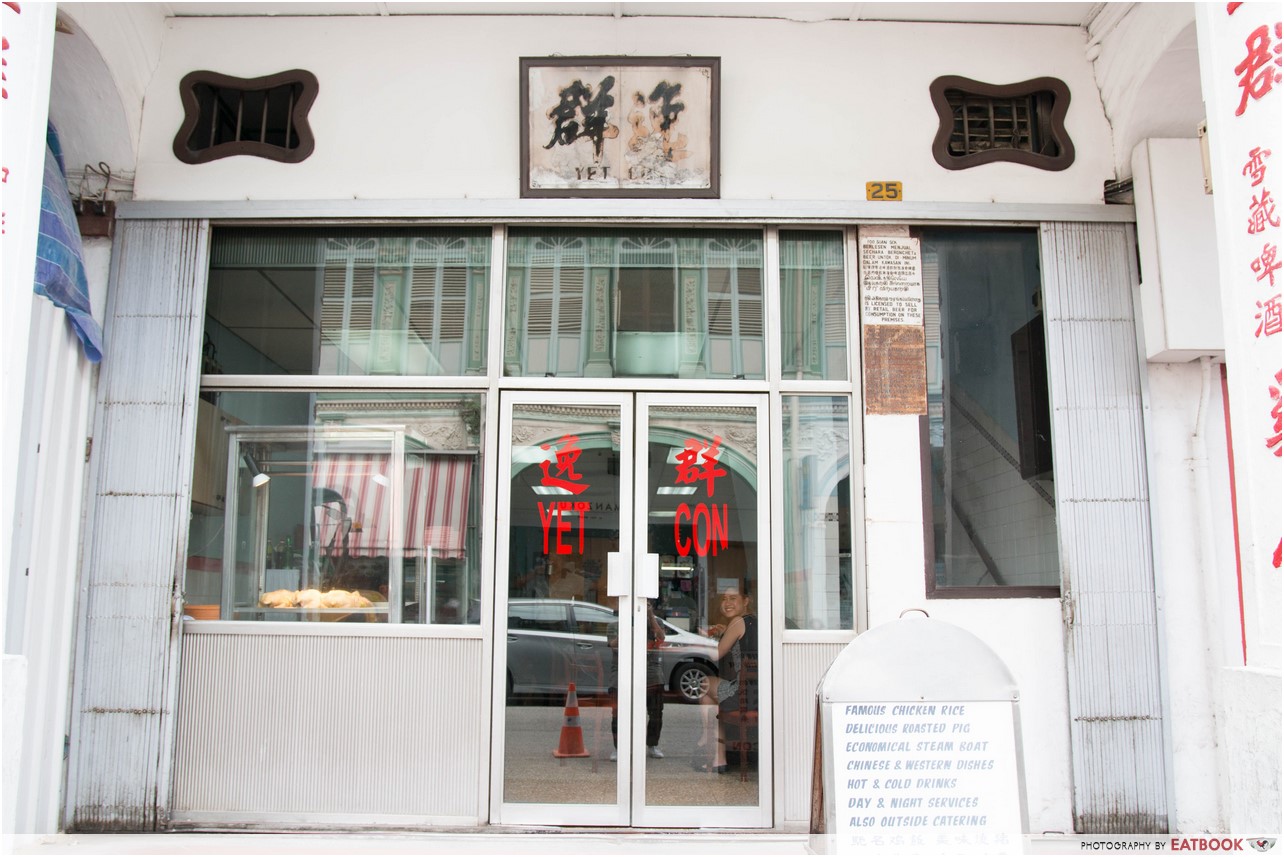 A walk down Purvis Street is like a trip through an erratic time machine, where both sides are filled with flashy new cafes tucked between traditional kopitiams. Hidden between two white pillars filled with punchy red Mandarin characters was Yet Con and its old-school vibes.
Walking in, I finally understood what others meant when they say time stands still at this place. It has no fancy decoration, except for a coin-operated telephone and abacus by the counter.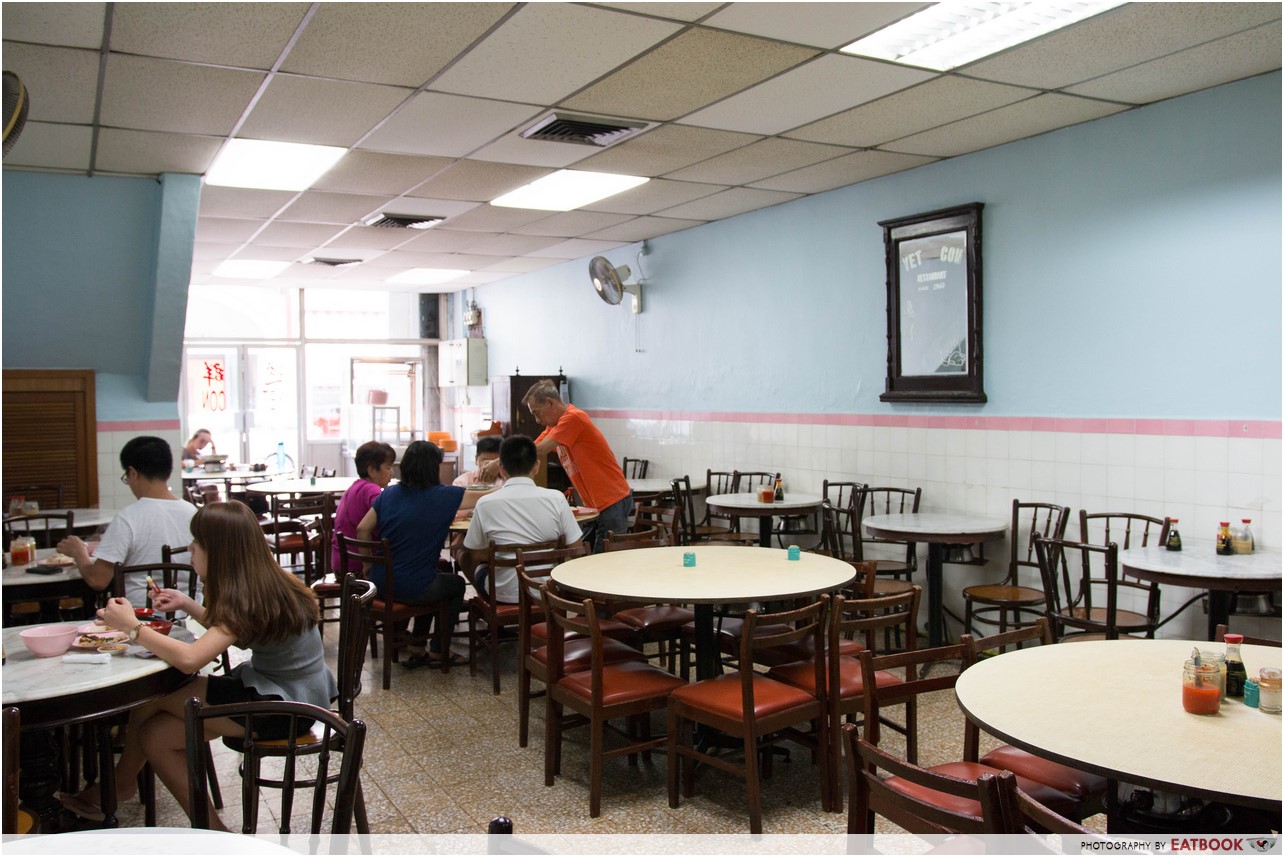 Other than that, it was a room with pastel blue walls, terrazzo flooring and three rows of traditional marble top tables with wooden chairs. I know what you're thinking, but don't fret, despite the traditional blast-from-the-past setting, you'd be glad to know that it's air-conditioned.
The verdict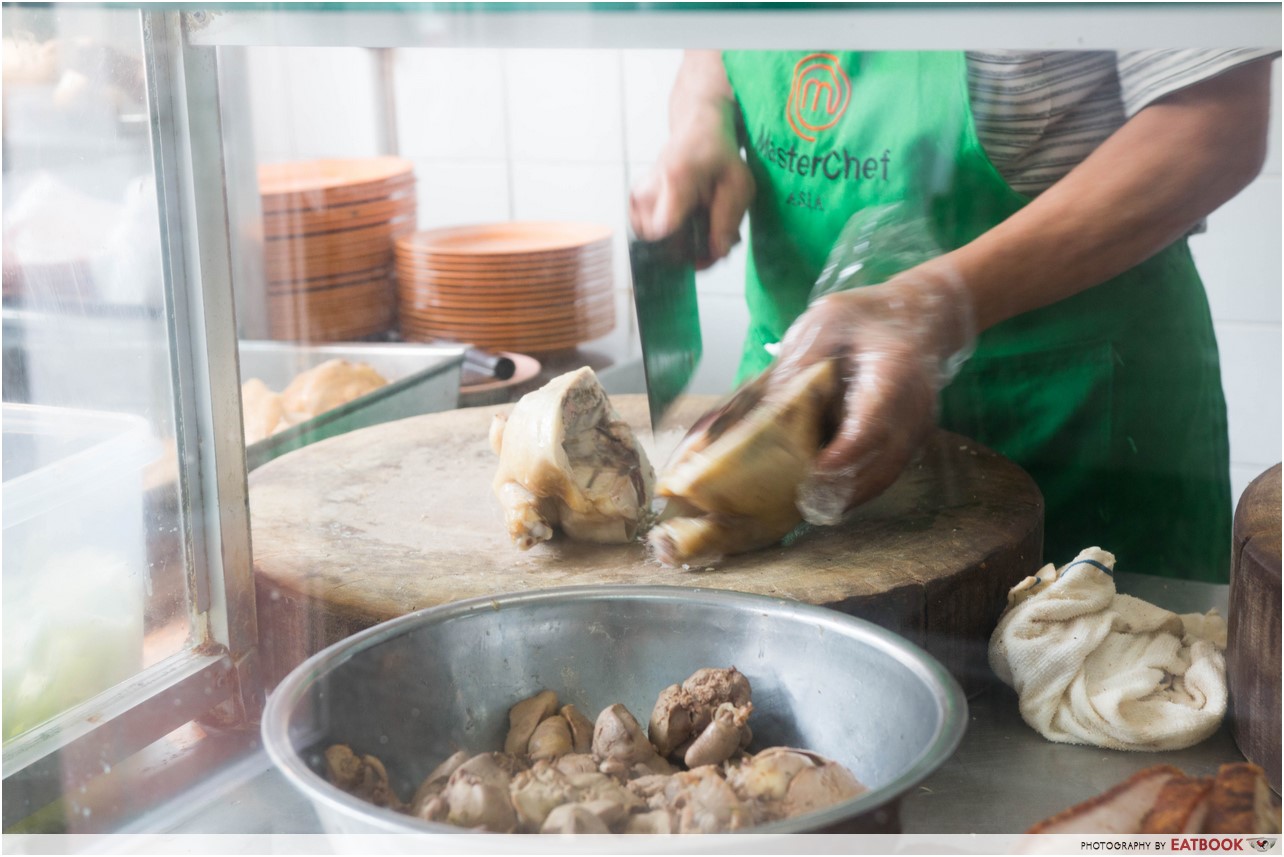 Despite the odd jokes from the chef as he posed for our photos, it's clear that customer service is not Yet Con's winning element as the no-nonsense staff expects you to already know what they have and would usually answer our requests with a curt nod than a smile.
What struck me most was how quiet the whole place was during lunchtime on a weekday, with no background music but occasional clapping of chopsticks against rice bowls. This stillness creates a laid-back vibe with a few Hainanese conversations being exchanged amongst the staff, who they would continue reading newspapers when they weren't called.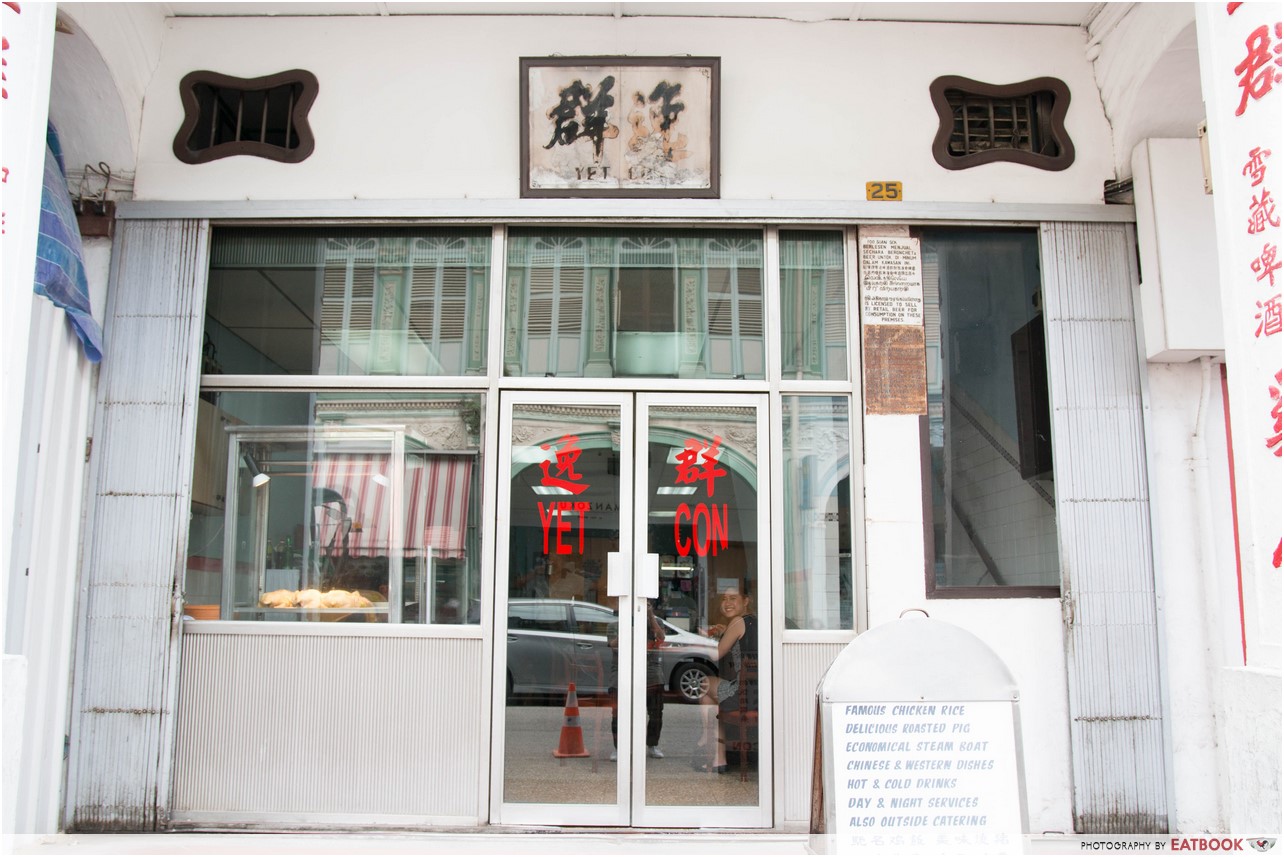 While it's not everyday that we see a chicken rice steamboat, the food at this 76-year-old restaurant holds true to its roots and does their food well in terms of authenticity, which might come off as too plain for what Singaporean taste buds are used to.
For those craving a variety, other items here include roast pork, Hainanese pork chops in sweet and sour sauce and Hainanese chap chye (mixed veg). Their group-friendly options and sharing plates are much more affordable and well-suited to larger groups, making this a good place to bring your family over for your next communal meal as you dig into this physical ode to the simpler days.
This is an independent review with all expenses borne by Eatbook.sg.
Summary
Pros
– Affordable
– Convenient location
– No service charge or GST
Cons
– Bad service
Recommended Dish: Chicken Rice Steamboat ($12 per pax, minimum of 2 pax required)
Operating Hours:
Monday to Sunday 11am to 9:30pm
Address: 25 Purvis Street, Singapore 188602