---
Give
ah gong ah ma
major feels
---
I'm always up for checking out new cafes, but sometimes, it's cool to visit a restaurant older than me too. From 76 to 171 years of age, these places are the epitome of yesteryear's old but gold, and will sweep you and your folks through a major wave of #flashbackfeels.
---
1. Ananda Bhavan Restaurant (92 years old)
---
With five locations around Singapore, you've probably seen Ananda Bhavan Restaurant around before. But bet you didn't know this Indian vegetarian chain has been around since 1924, and they've even got catering and home delivery services now. Their flagship outlet at Little India is open 24/7, so make sure you add them to your list of late-night supper spots!
Address: 95 Syed Alwi Road, Singapore 207671
Opening hours: Mon-Sun 12am to 12pm
Tel: 6398 0837
---
2. Tong Ah Eating House (77 years old)
---
Tong Ah Eating House needs no further introduction. While it used to be housed in their iconic red-and-white building at Keong Saik, this kopitiam and zi char joint can now be found at a new spot further down the same road. Be sure to grab a few slices of toast with homemade kaya when you pass by in the morning for a cheap and tasty start to your day.
Address: 35 Keong Saik Road, Singapore 089142
Opening hours: Thur-Tue 6:30am to 10pm
Tel: 6223 5083
---
3. Yet Con (76 years old)
---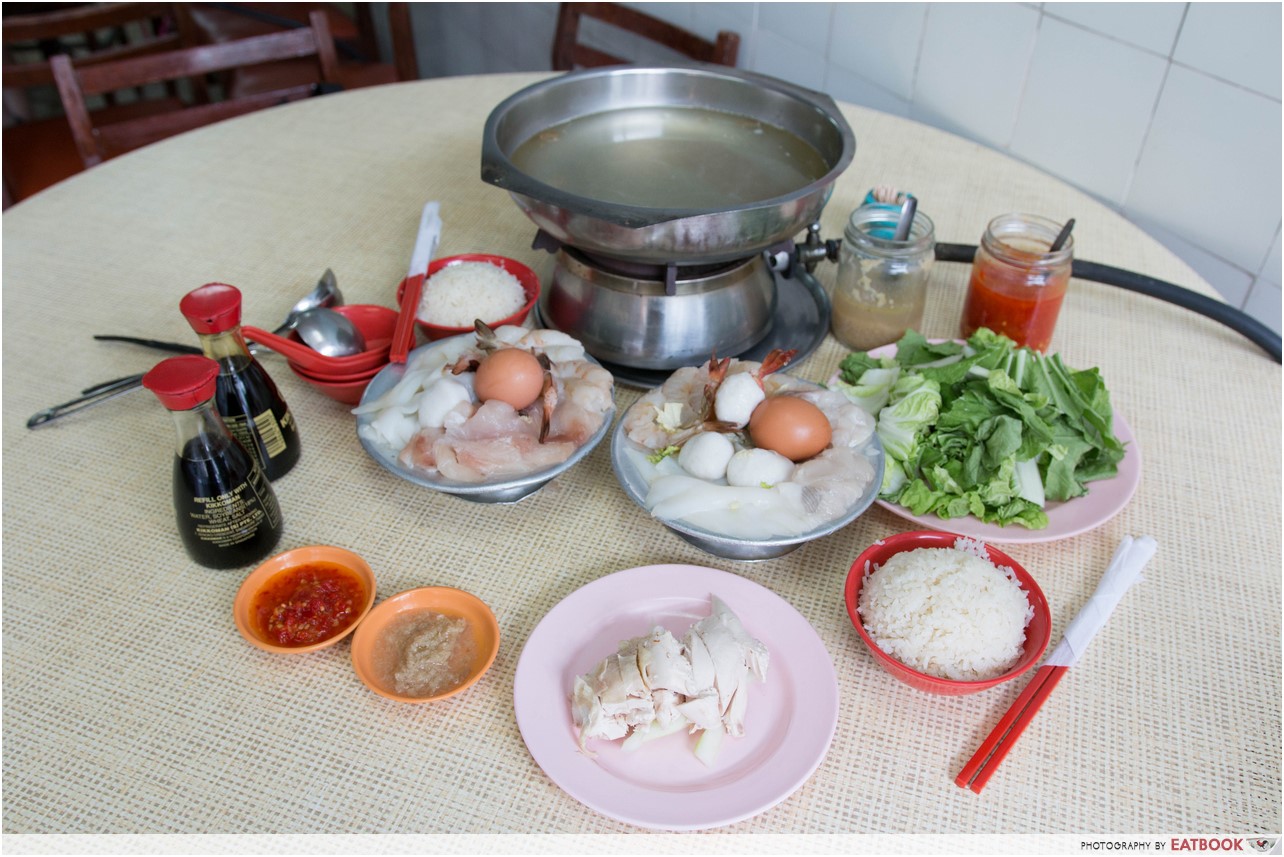 While you don't get rice balls here, the chicken rice at the 76-year-old Yet Con Restaurant is still incredibly traditional. Come in a group so you can huddle around a pot of Hainanese Chicken Rice Steamboat ($10 per pax), which comes with a robust base of chicken broth.
Check out our full review of Yet Con!
Address: 25 Purvis Street, Singapore 188602
Opening hours: Mon-Sun 11am to 9:30pm
Tel: 6337 6819

---
4. Mooi Chin Place (81 years old)
---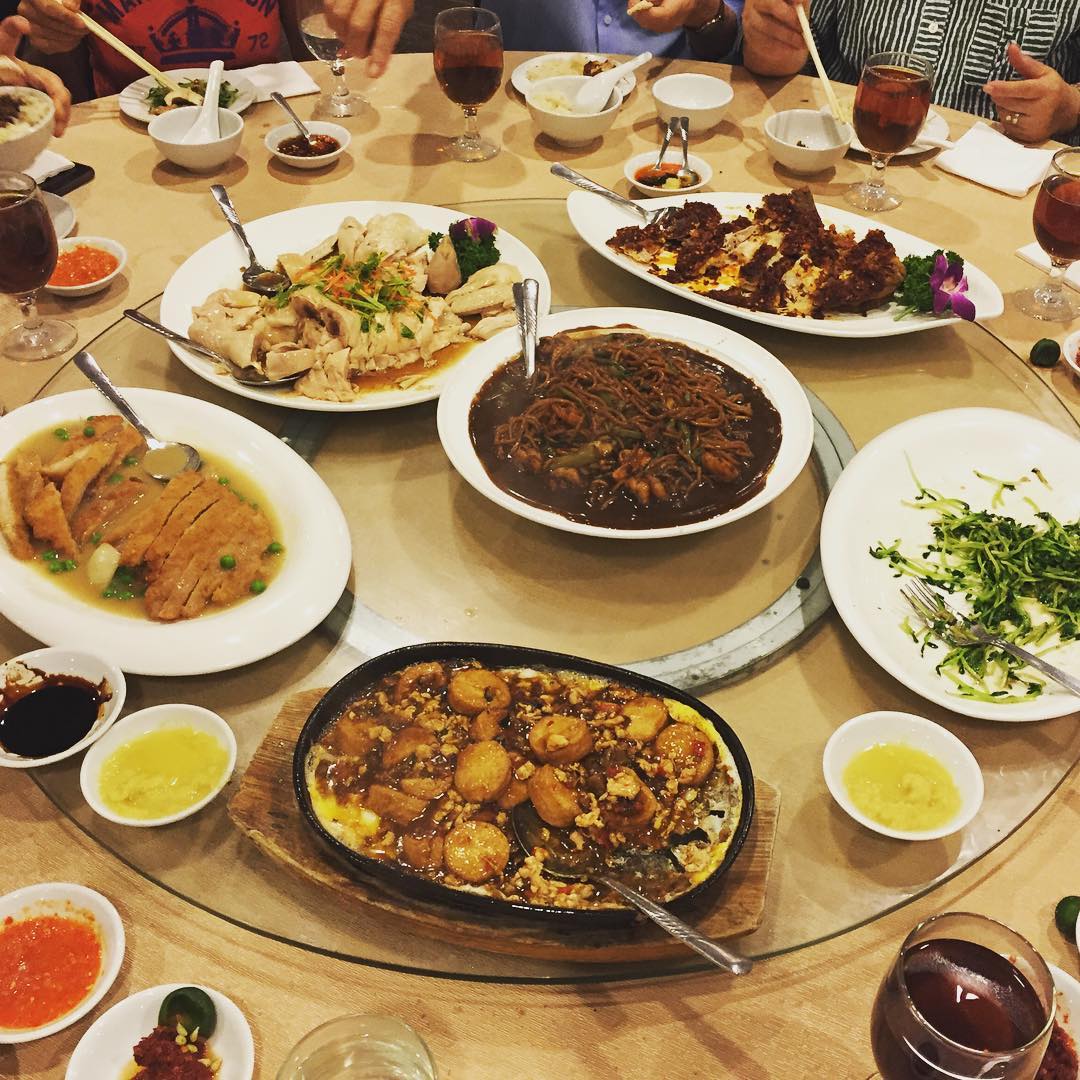 Source
Even though they're famous for their Hainanese Pork Chop ($12++), Mooi Chin Place also has dishes from other dialect groups as well as western fare. Think Teochew Yam Paste ($4++) and Beancurd with Crab Meat ($16++), which would probably please even the little ones with fussy tongues.
Address: 390 Victoria Street, #03-12A, Village Hotel Bugis, Singapore 188061
Opening hours: Mon-Sun 11am to 10:30pm
Tel: 6392 1600
---
5. Singapore Zam Zam (108 years old)
---
Whether you are 19 or 91 years old,  you should be no stranger to Zam Zam. Operating since 1908, their signature murtabaks are made in an open-air kitchen facing the sidewalk, from sizes small to super extra huge. Highly raved about in the food community, this century-old eatery is the perfect place to camp at with a cup of teh tarik.
Address: 697-699 North Bridge Road, Singapore 198675
Opening hours: Mon-Sun 7am to 11pm
Tel: 6298 6320
---
6. Chui Huay Lim Teochew Cuisine (171 years old)
---
The oldest on the list, Chui Huay Lim Teochew Cuisine has been around since 1845. To ensure they stay true to the traditional flavours of Teochew cooking, a Swatow-based food consultant is engaged to ensure the dishes' authenticity. Your grandparents will definitely not be disappointed with familiar favourites like Teochew Style Steamed Pomfret (seasonal price) at your next family gathering!
Address: 190 Keng Lee Road, #01-02, Chui Huay Lim Club, Singapore 308409
Opening hours: Mon-Sun 11:30am to 3pm, 6pm to 11pm
Tel: 6732 3637
Menu
Find out what are some other dialect restaurants in Singapore here.
---
7. Tiffin Room (117 years old)
---
Curry has been a mainstay at Raffles Hotel since 1899 even before its main dining hall was officially named Tiffin Room 77 years later. Come dressed in smart-casual and immerse yourself in this antiquated setting with a little taste of tradition at the British Indian Curry Buffet ($60++ for lunch, $75++ for dinner). Prep yourself for a scrumptious spread that includes colonial classics like Mulligatawny Soup, which is a dish similar to curry.
Address: 1 Beach Road, Raffles Hotel, Singapore 189673
Opening hours: Mon-Sun 12pm to 2pm, 7pm to 10pm
Tel: 6412 1190
Menu
---
8. Islamic Restaurant (96 years old)
---
Close to 100 years old, it is highly possible that your grandparents' squads hung out here after school last time. Islamic Restaurant was, and still is, well-known for its Nasi Beryani ($11) served with chicken, mutton or fish. They've even got a Dial-A-Beryani delivery service where you can get biryani at your doorstep!
Address: 745 North Bridge Road, Singapore 198713
Opening hours: Mon-Sun 10am to 10pm
Tel: 6298 7563
---
9. Killiney Kopitiam (97 years old)
---
As the oldest surviving Hainanese coffeeshop, Killiney Kopitiam is probably one of the places your ah gong brought your ah ma to for kopi c kosong while he was still jio-ing her. Come early to try their homemade kaya toast and rich Colombian Arabica kopi, or swap the toast for a slice of French toast – the famous dish which first made them popular.
Address: 67 Killiney Road Singapore 239525
Opening hours: Mon,Wed-Sat 6am to 11pm, Tue 6am to 6pm
Tel: 6734 3910
---
10. Moi Lum (87+ years old)
---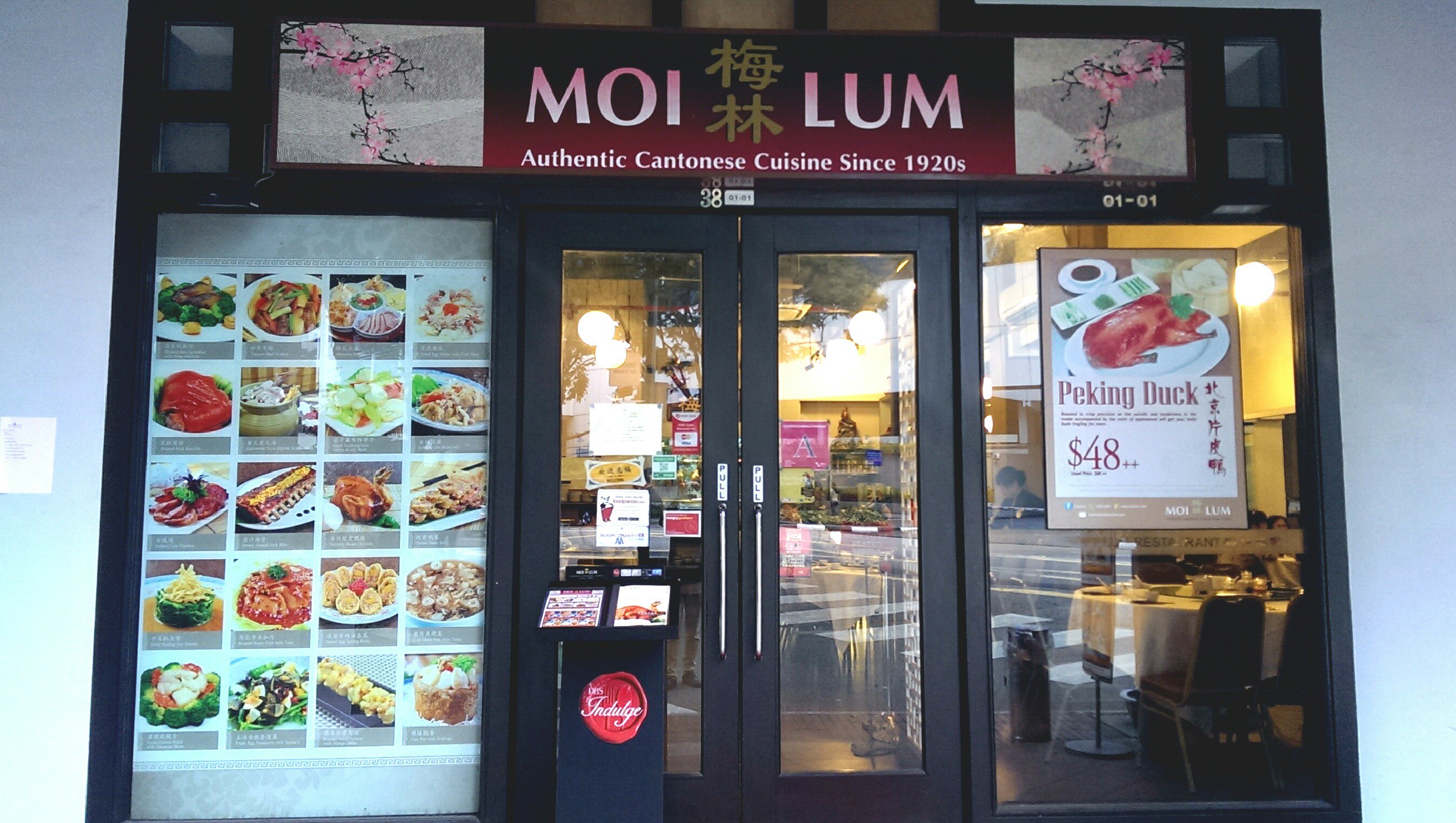 Source
Opened in the 20s, Moi Lum is known for their variety of Cantonese dishes. Try the Steamed Chicken with Ham ($40++) while you're there or drop by during lunch for set lunches below $10. End your meal with a Mango Gelato in Young Coconut ($7.50++) to give yourself a sweet, creamy treat.
Address: 38 Maxwell Road, #01-01/02, Airview Building, Singapore 069116
Opening hours: Mon-Sun 11:30am to 3pm, 5:30pm to 10pm
Tel: 6226 2283
---
A taste of nostalgia
---
No restaurant can survive decades without good food and the same goes for these restaurants. From nasi biryani to kaya toast and Borsch soup, these iconic restaurants have been sharing not just food, but also a little bit of Singapore's history. Let us know in the comments below which is your favourite old-school restaurant!
---
First image taken from emylogues.wordpress.com.