Seow Choon Hua Restaurant serves traditional Fuzhou dishes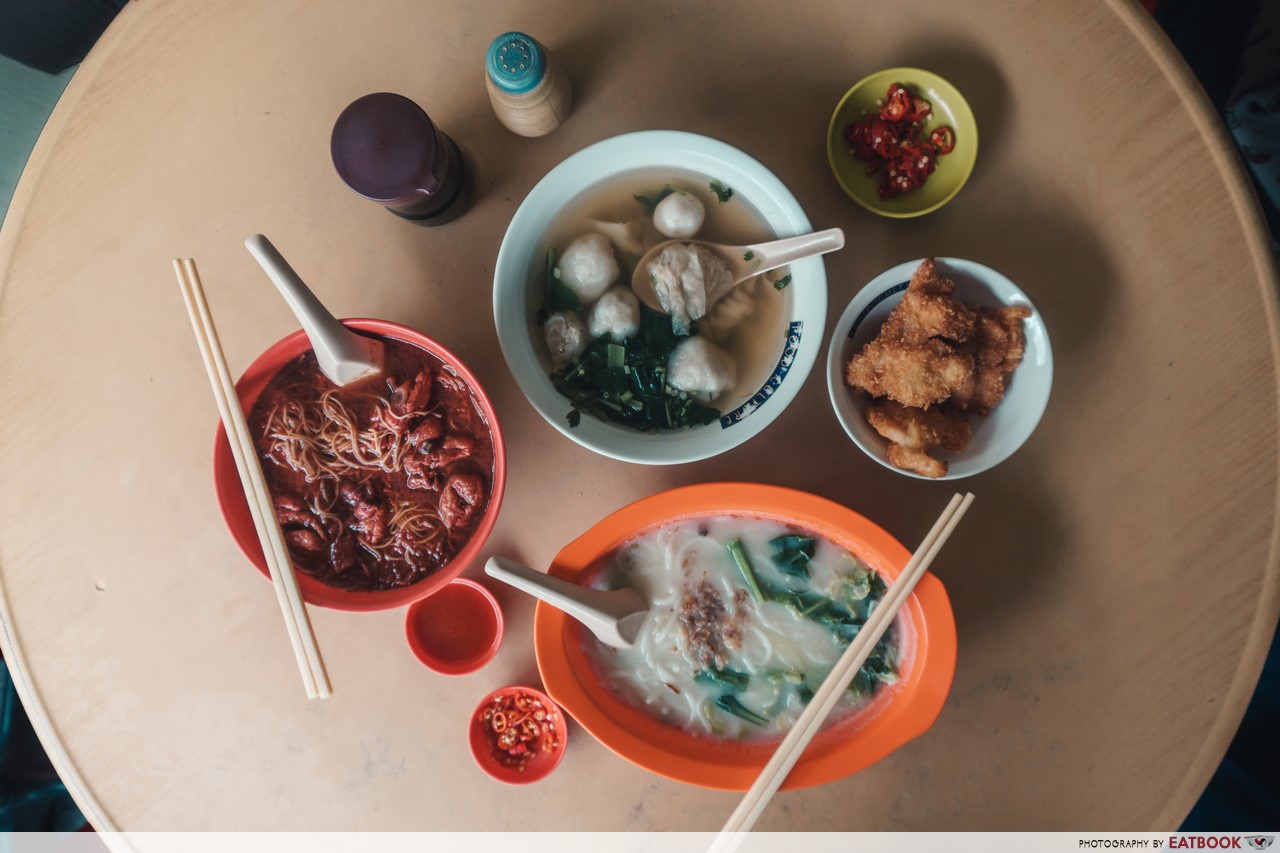 Whenever I visit my grandmother's place, I am always reminded of how comforting Fuzhou food is. It's a real pity that you can hardly find these traditional dishes being sold outside, especially considering how delicious they are. Thankfully, Seow Choon Hua Restaurant has got us covered. So whether you're a proud Fuzhou kid, or someone who has never even heard of red wine soup, you're sure to enjoy the humble and homely dishes from this rare find.  
Food at Seow Choon Hua Restaurant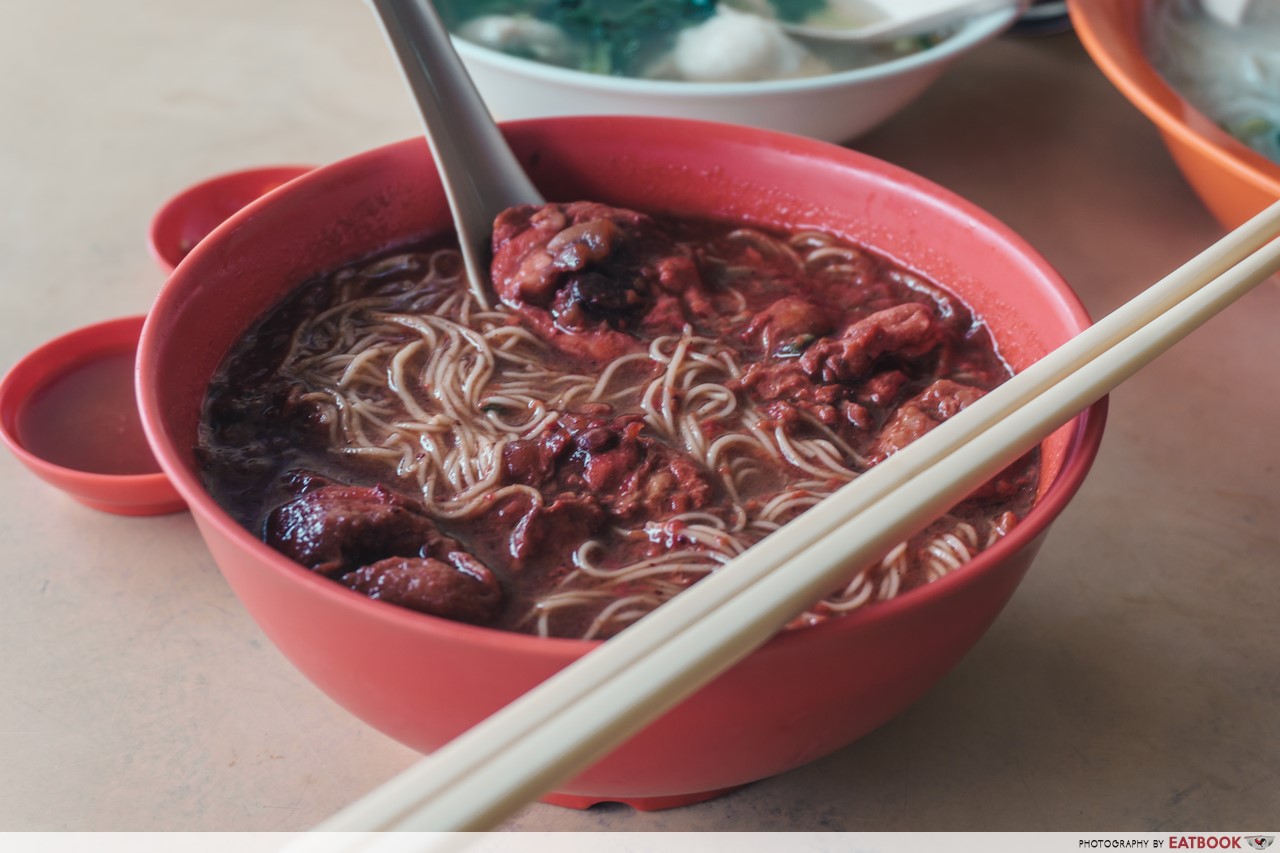 I know what you're thinking, this Red Wine Chicken Noodle ($5) looks way too intense to be edible, but don't let its intimidatingly deep red colour scare you off! This dish gets its distinct red tint from ang zao, which is a paste-like residue collected from the process of fermenting rice and red rice bran to make red glutinous wine.
Both the paste and wine are used to cook this dish. Though anyone can enjoy ang zao, it is believed that red glutinous wine dishes are good for women who have just given birth as it helps replenish the body. With that said, maybe you can feel a little better about the impending food baby you'll have after you eat here.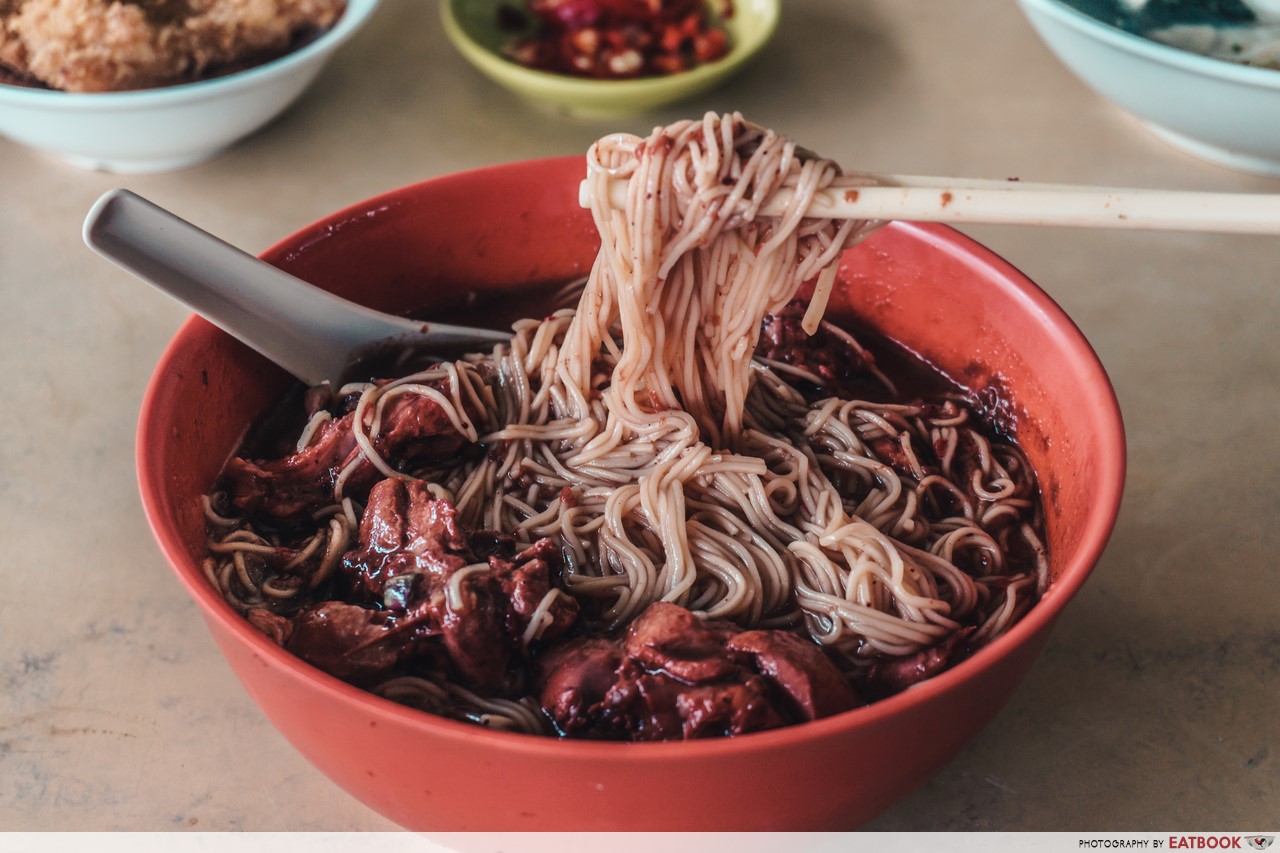 The soup had enough body to cling onto the soft and thin strands of meesua, coating each noodle evenly. The soup took on the intense flavours of the fermented ang zao, fragrant sesame oil and fried ginger. I found that the soup was on the sweeter side, relative to the homemade versions I have tried. Needless to say, this dish can be considered "heaty".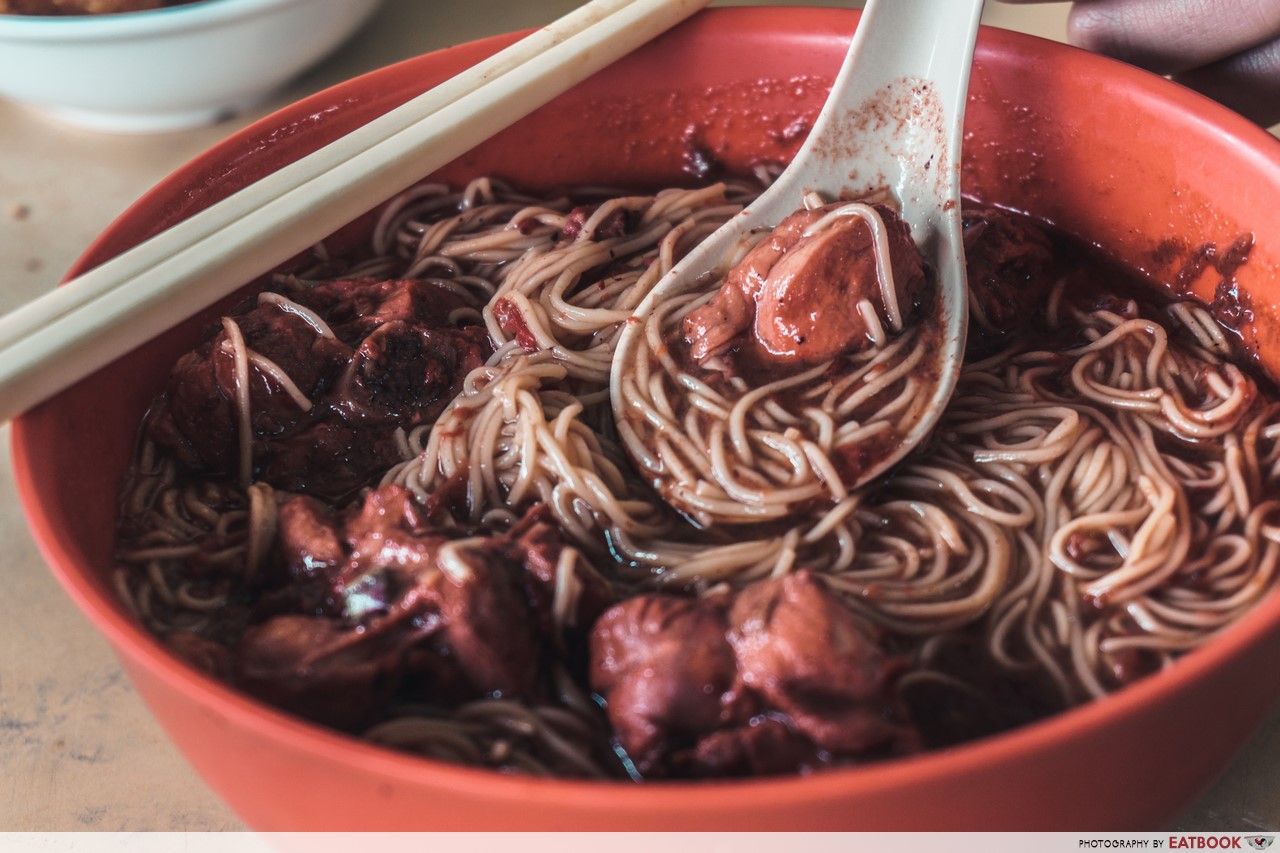 This bowl came with some pieces of chicken. The chicken meat was cooked just right and remained quite tender. It took on the flavour of the broth and made the meal more substantial. As someone who grew up with this dish, I thoroughly enjoy the taste of ang zao. However, I do think it's an acquired taste. The only way to find out if you'll like it is to try it out.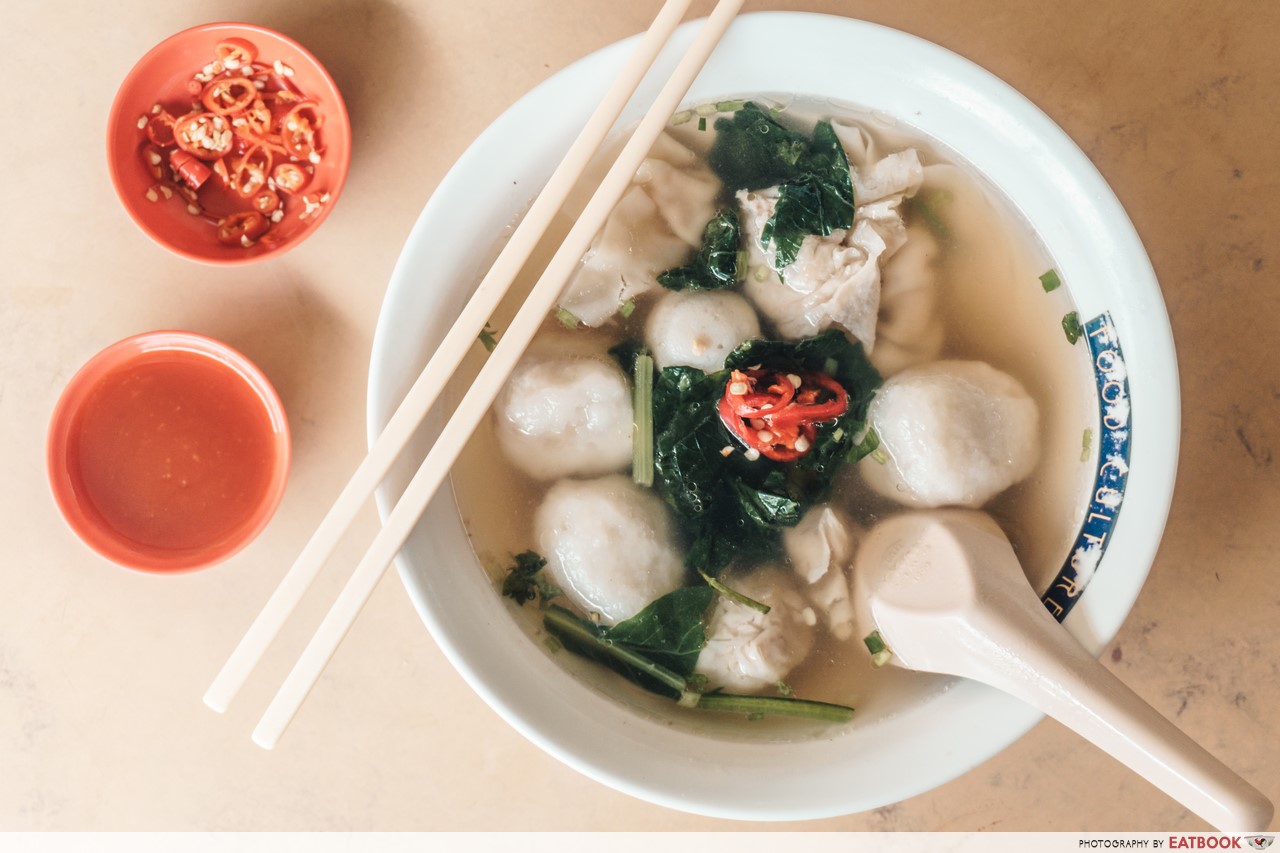 Ordering the Foo Chow Mixed Soup ($5) is a great way for you to try all their house-made goodies. The soup itself was a standard clear, savoury broth.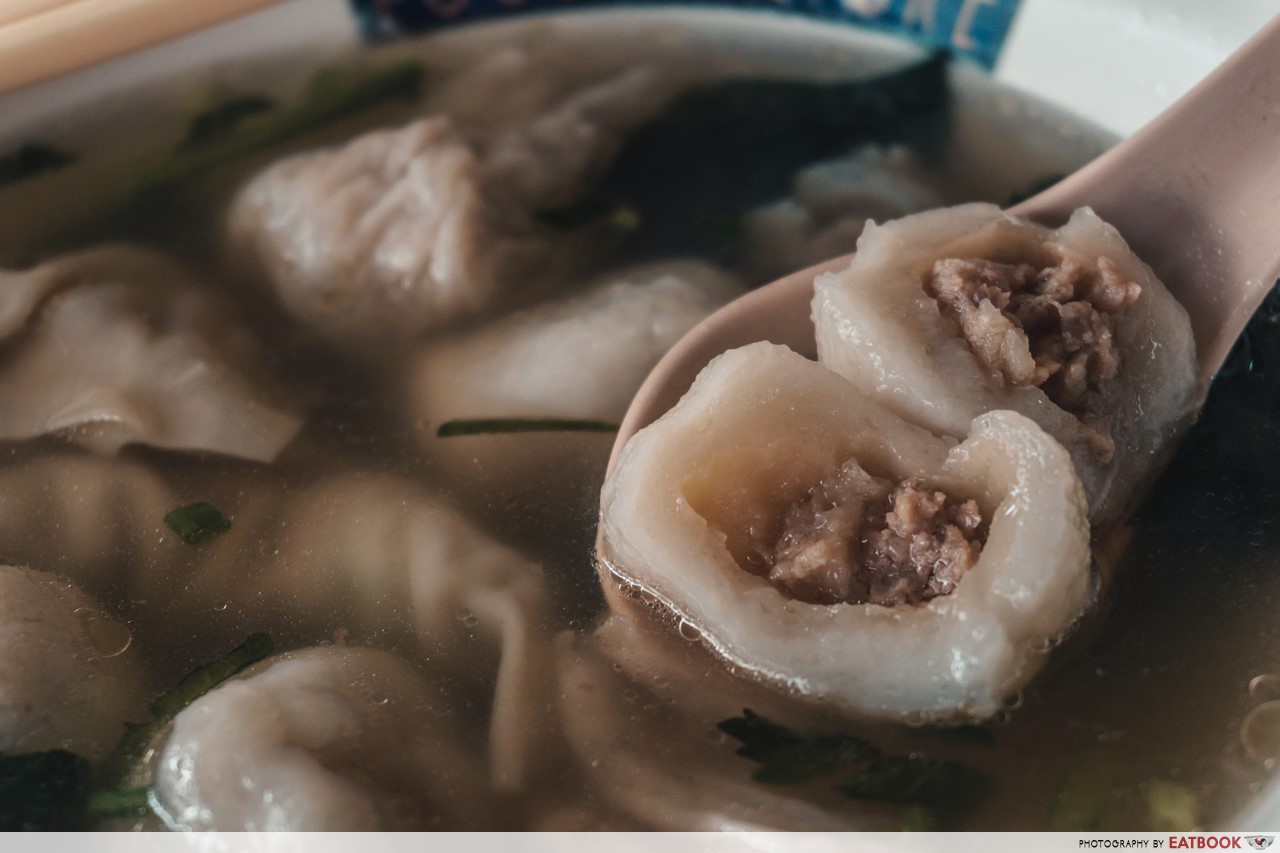 The stars of the show were the Fuzhou fish balls. Unlike conventional, springy and compact fish balls that can bounce off table tops, Fuzhou fish balls are much larger and contain a filling. The soft and almost doughy outer layer is made with fish paste while the filling is seasoned minced meat. It is easy to see why these are their specialty. The fish balls here were very satisfying to bite into and the meat filling reminded me of the juicy minced pork found in xiao long bao.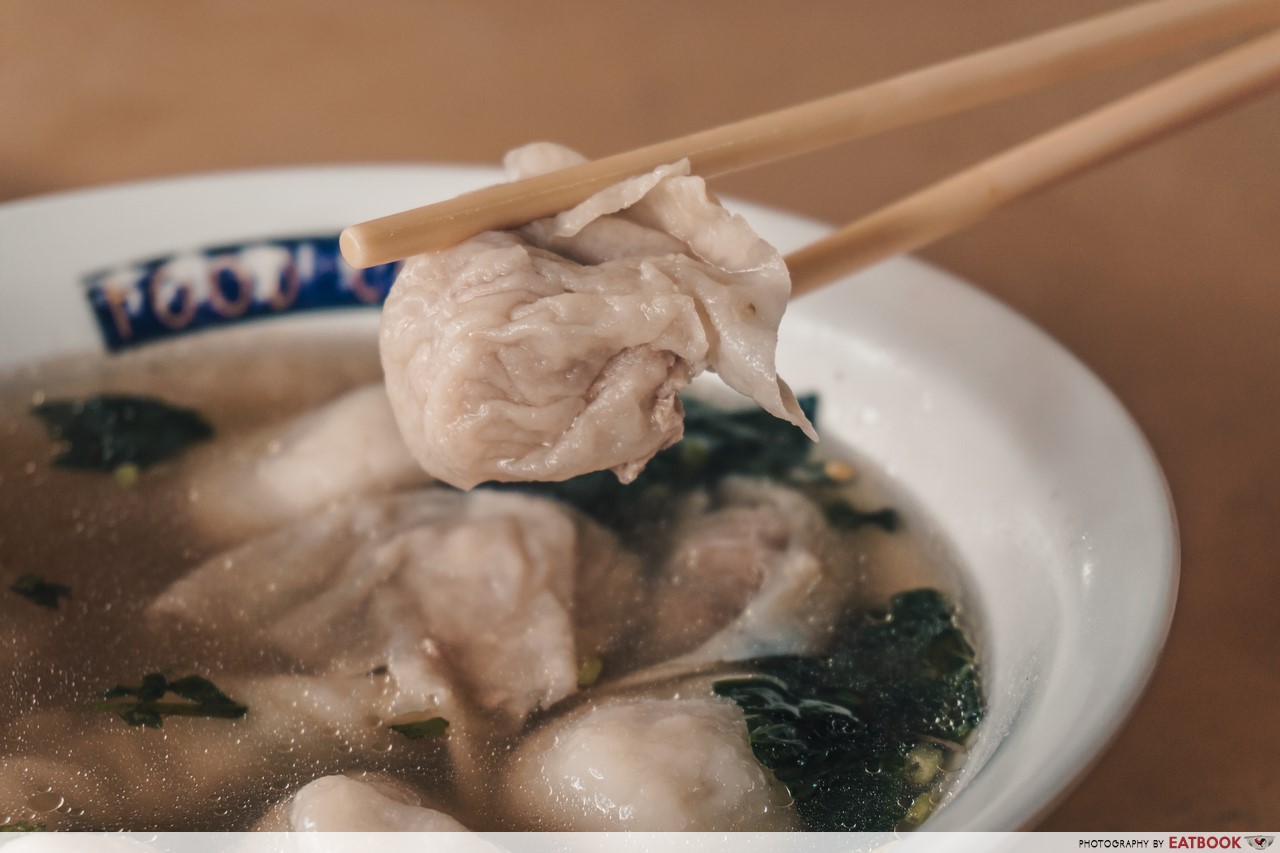 Another traditional dumpling featured in this soup was Fuzhou yanpi. Yanpi is a type of wanton skin that is made from lean pork meat that has been pounded with glutinous rice until it becomes stretchy. The thin wanton skin complemented the meat filling, which had quite an interesting texture. Aside from minced meat, the filling also contained water chestnuts that gave the dumpling more contrast in textures.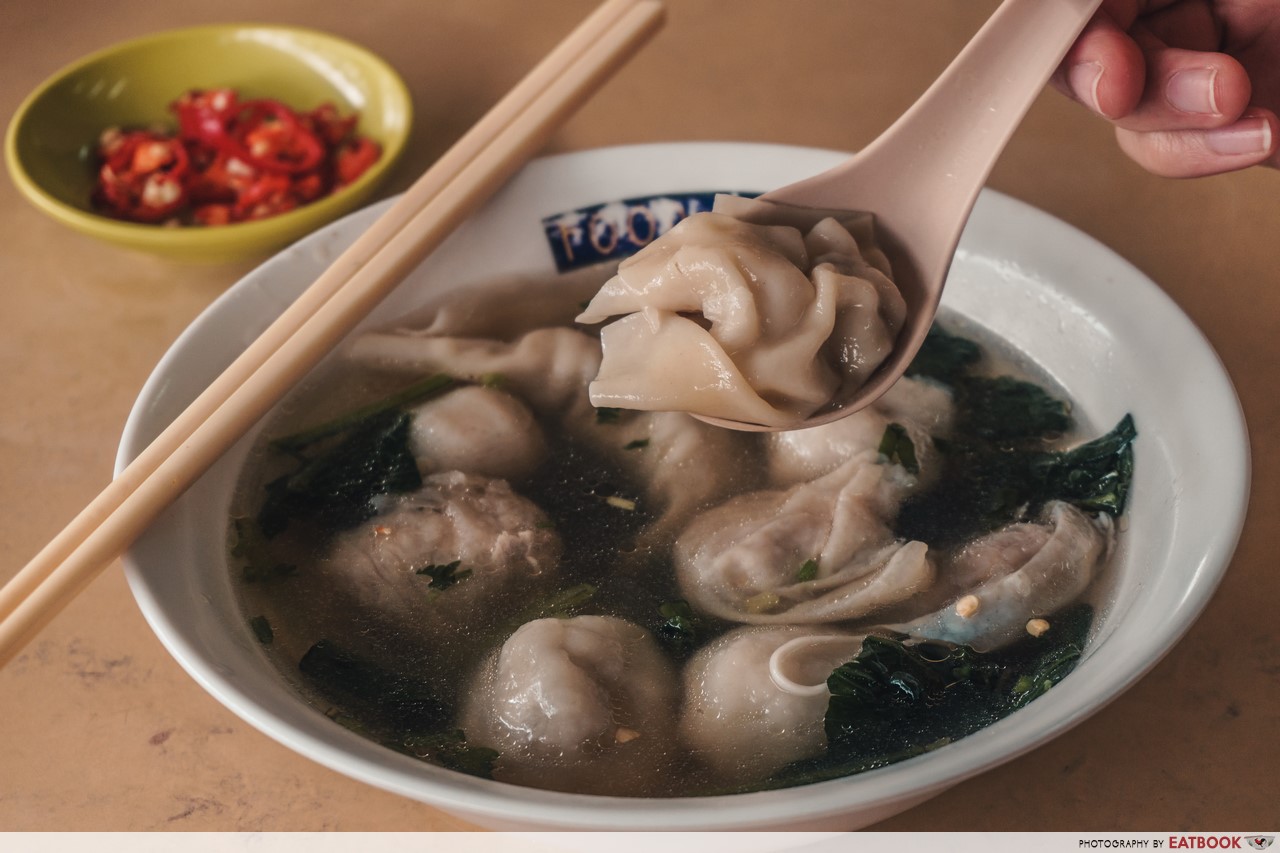 The other wantons were less savoury and had a sweeter meat filling wrapped in smooth, soft dumpling skin. These were like the run-of-the-mill dumplings you get in soups that are served on the side with Chinese dishes.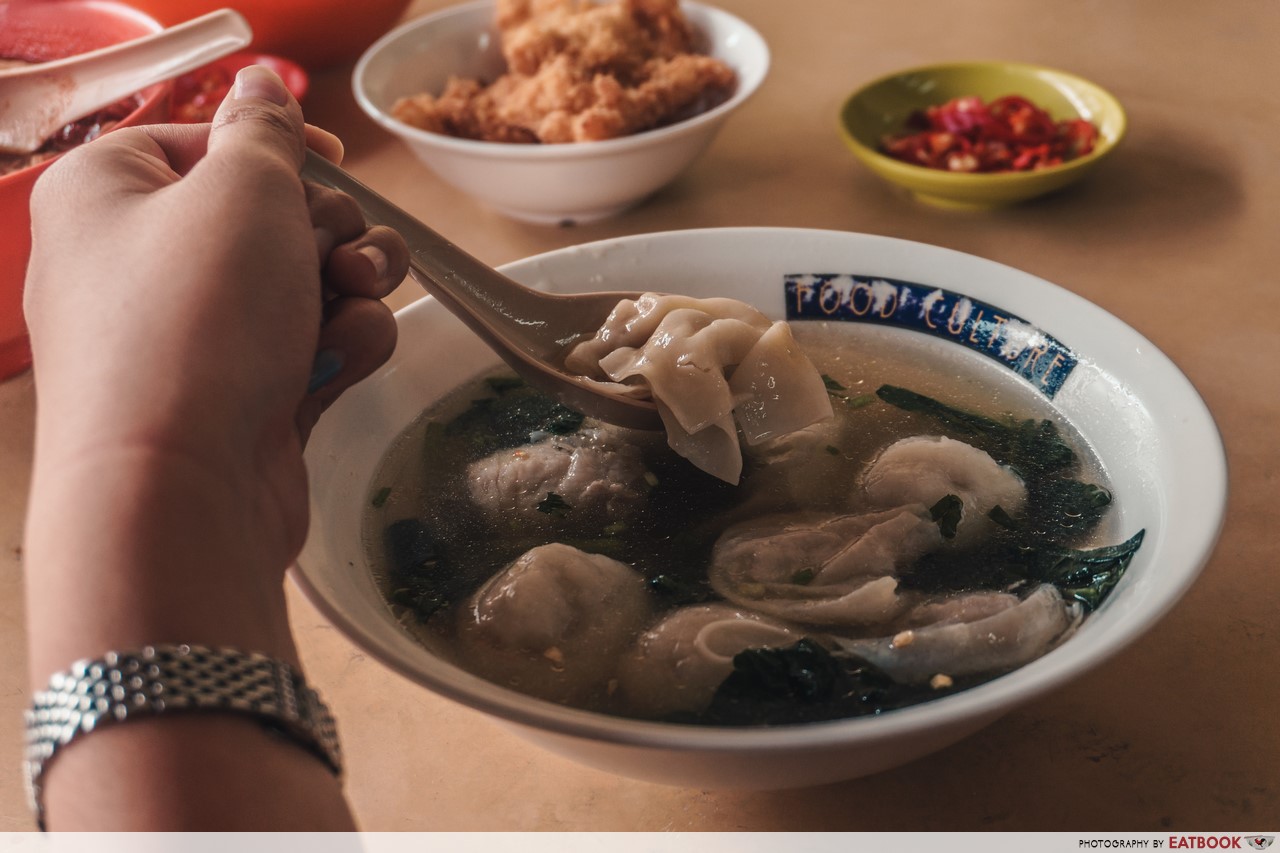 There was also a larger, longer wanton that had more crunch and a more herby taste from the various vegetables in the filling.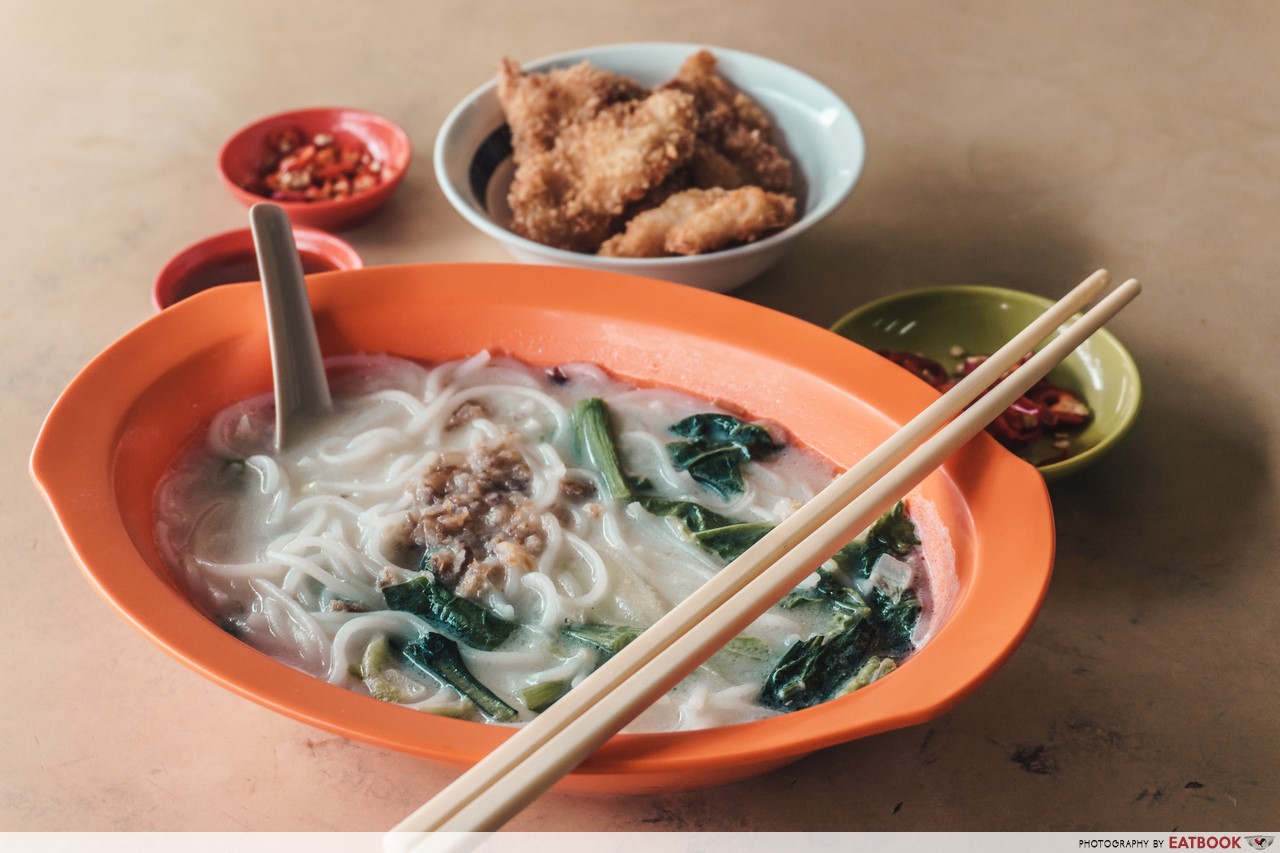 The Fish Slice Bee Hoon Soup ($4.50) would be my go-to comfort food on rainy days. The addition of milk to the savoury fish soup complemented the broth well and mellowed out the flavours. The white noodles were springy and gave the dish more texture.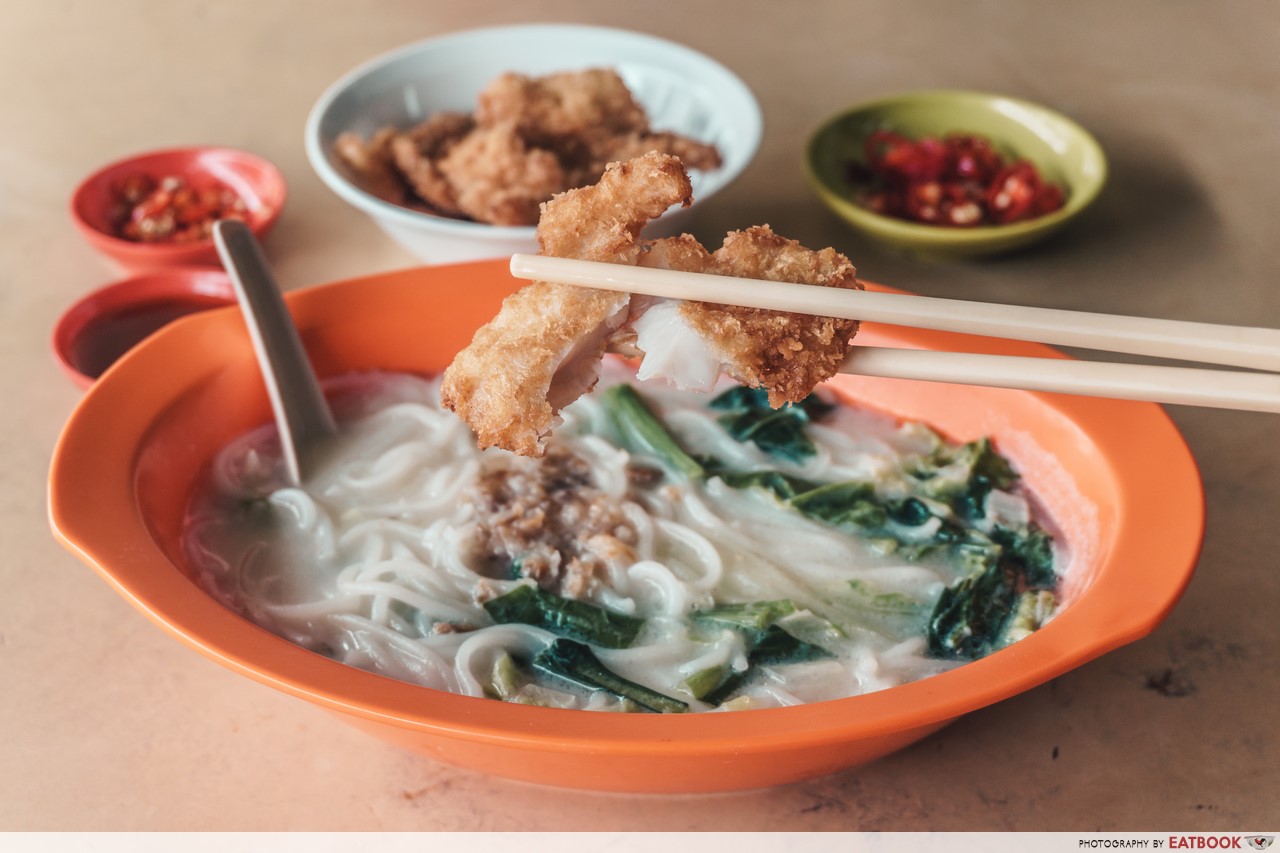 This noodle dish came with fried fish on the side. Each piece was lightly battered and coated with breadcrumbs before being fried, making them crispy without being overly greasy. The fish itself was tender and pulled apart easily. I liked quickly dipping the pieces of fish into the soup to soften them ever so slightly before eating them.  
Ambience at Seow Choon Hua Restaurant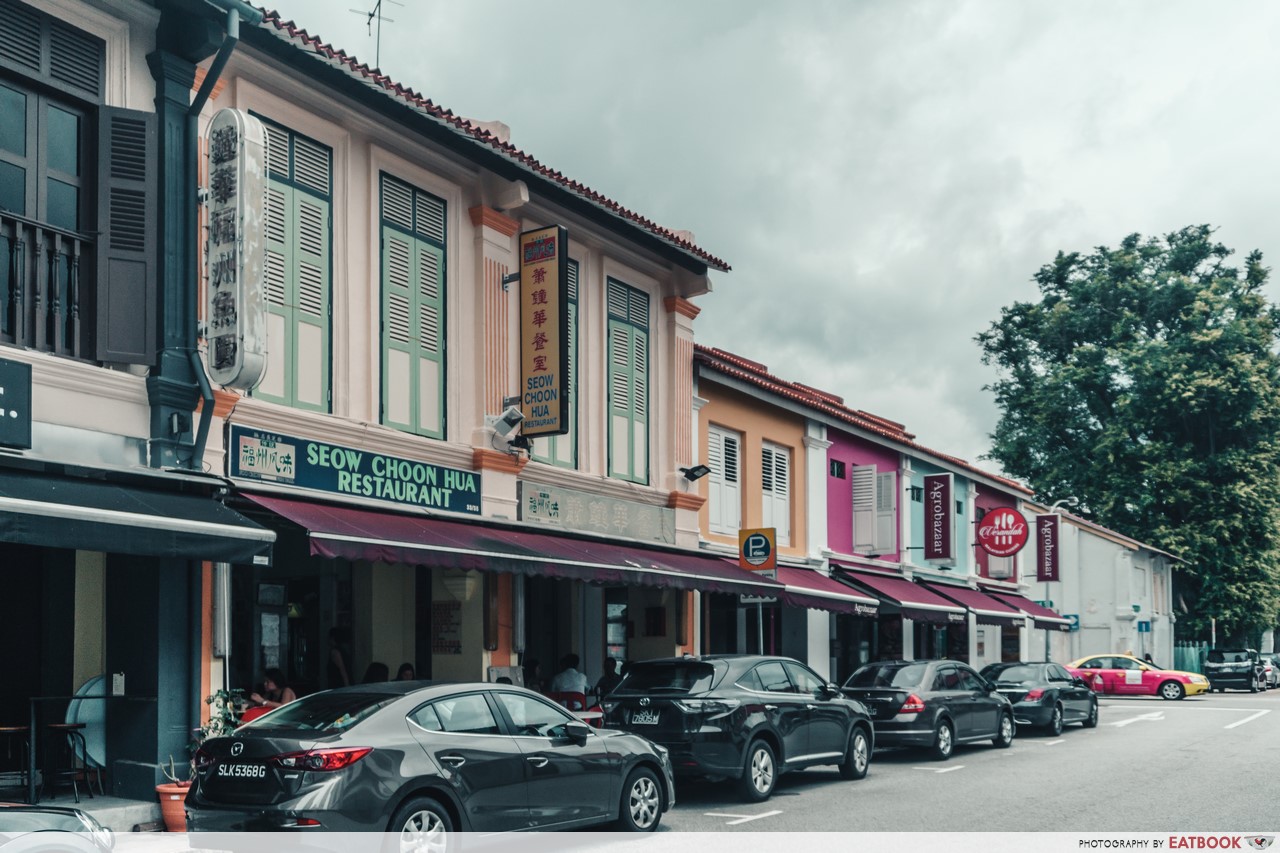 Contrary to it's name, Seow Choon Hua Restaurant is actually located in a humble coffeeshop that is a 10-minute walk from Bugis MRT Station.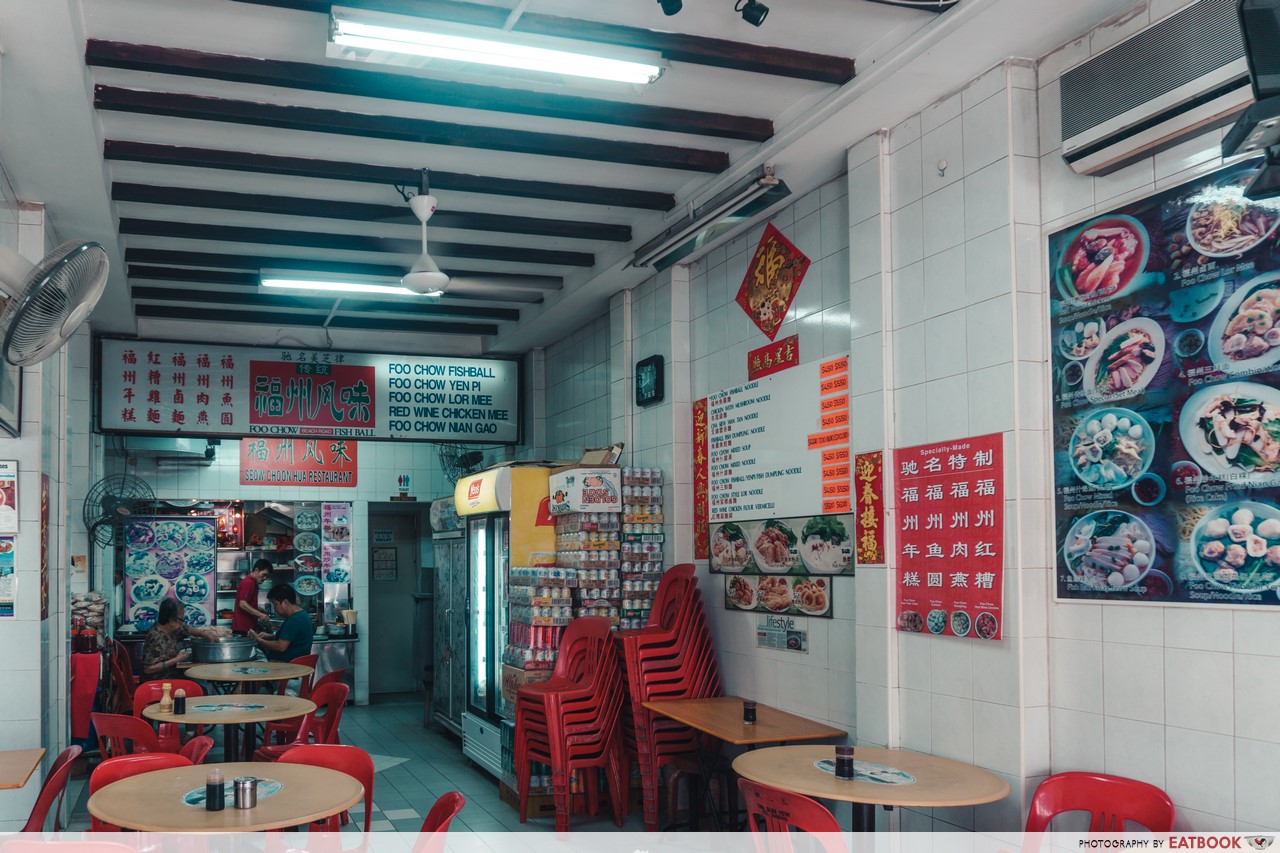 Just like any other coffeeshop, be prepared to deal with the bustling lunch crowd and humid Singaporean heat. However, a staff member was extremely efficient in taking our orders and the food arrived at our table quickly.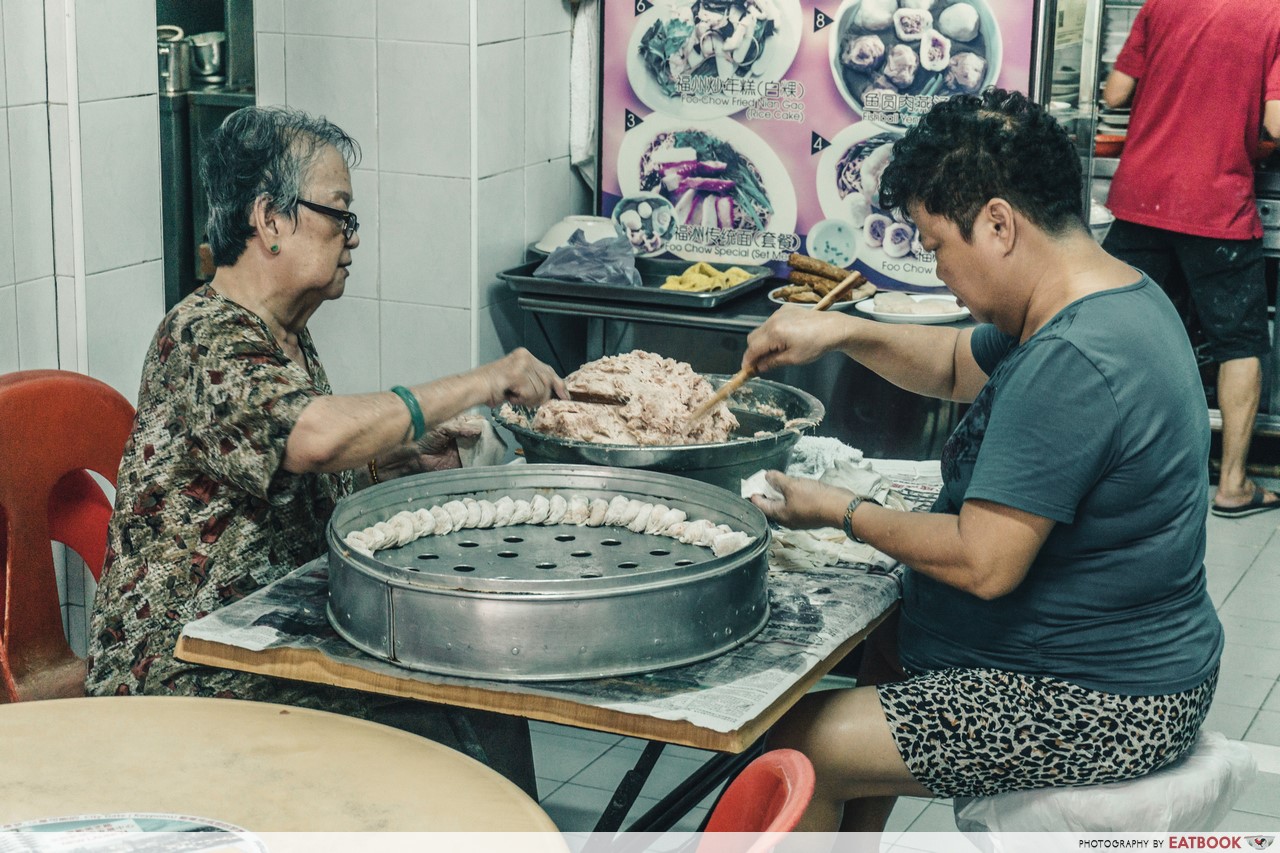 If you're lucky, you might even be able to see how the dumplings and fish balls are meticulously made.
The verdict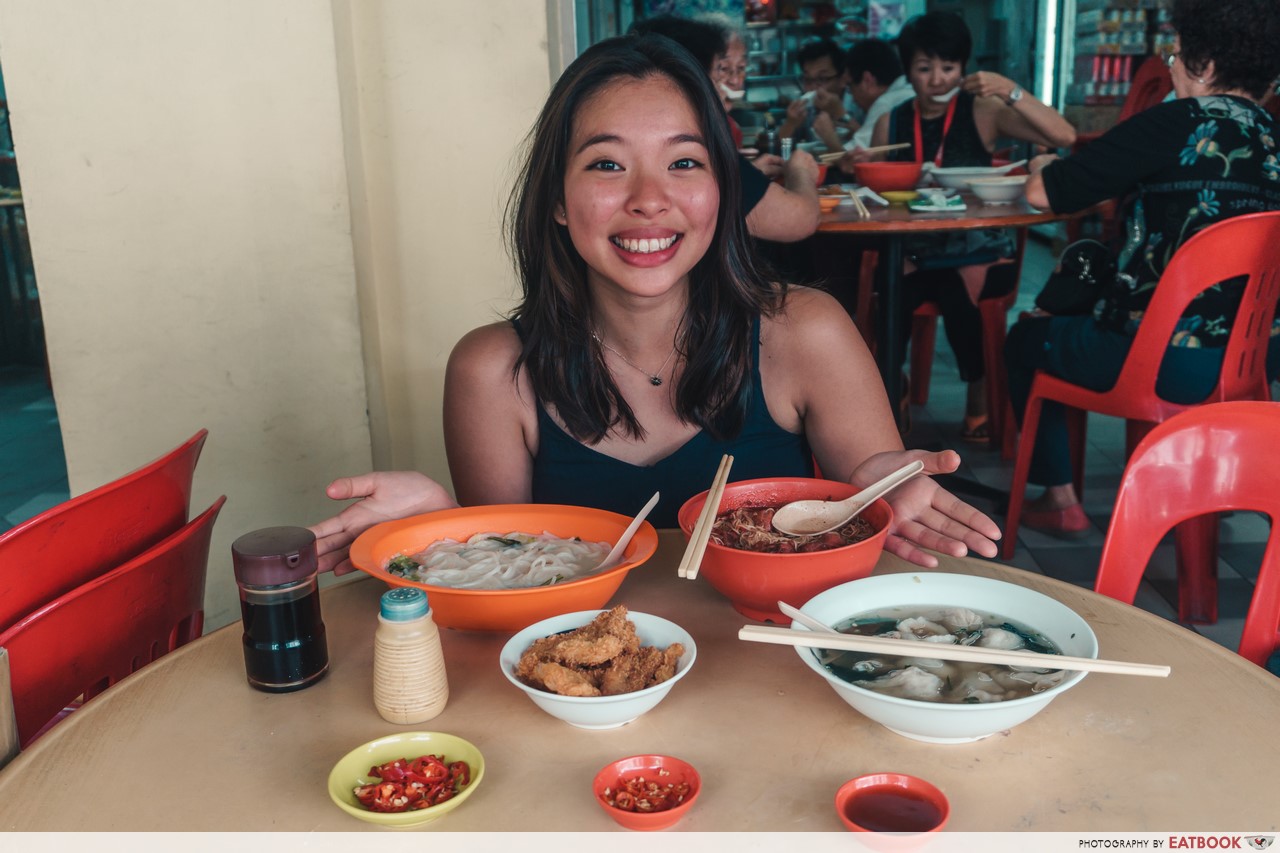 Visiting Seow Choon Hua Restaurant was a real treat for me, especially because Fuzhou speciality stalls are extremely hard to come by. However, regardless of whether you are part of this dwindling dialect group or not, the food served here will still be homely and satisfying. At the very least, it'll be a chance for you to try something new!
Address:  33 Sultan Gate, Singapore 198481
Opening hours: Daily 10am – 10pm
Tel: 6298 2720
This is an independent review by Eatbook.sg.
Seow Choon Hua Restaurant Review: Red Wine Soup And Fuzhou Fish balls At Bugis
Summary
Pros
– Serves Fuzhou cuisine, which is not common in Singapore
– Efficient service
Cons
– Limited seats
– Can get crowded during meal times
Recommended Dishes: Red Wine Chicken Noodle ($5), Foo Chow Mixed Soup ($5), Fish Slice Bee Hoon Soup ($4.50)
Operating Hours:
Daily 10am to 10pm
Tel:
6298 2720
Address: 33 Sultan Gate, Singapore 198481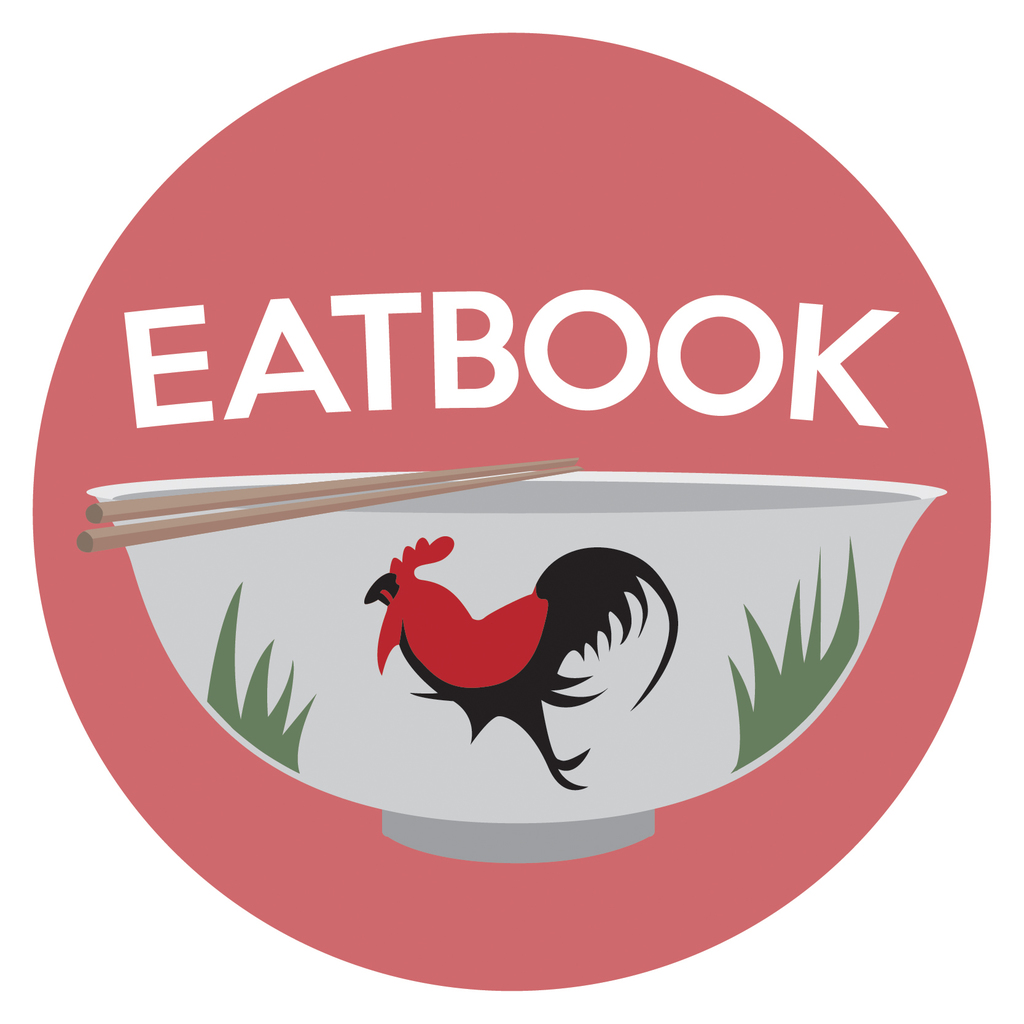 Drop us your email so you won't miss the latest news.