Chin Mee Chin Confectionery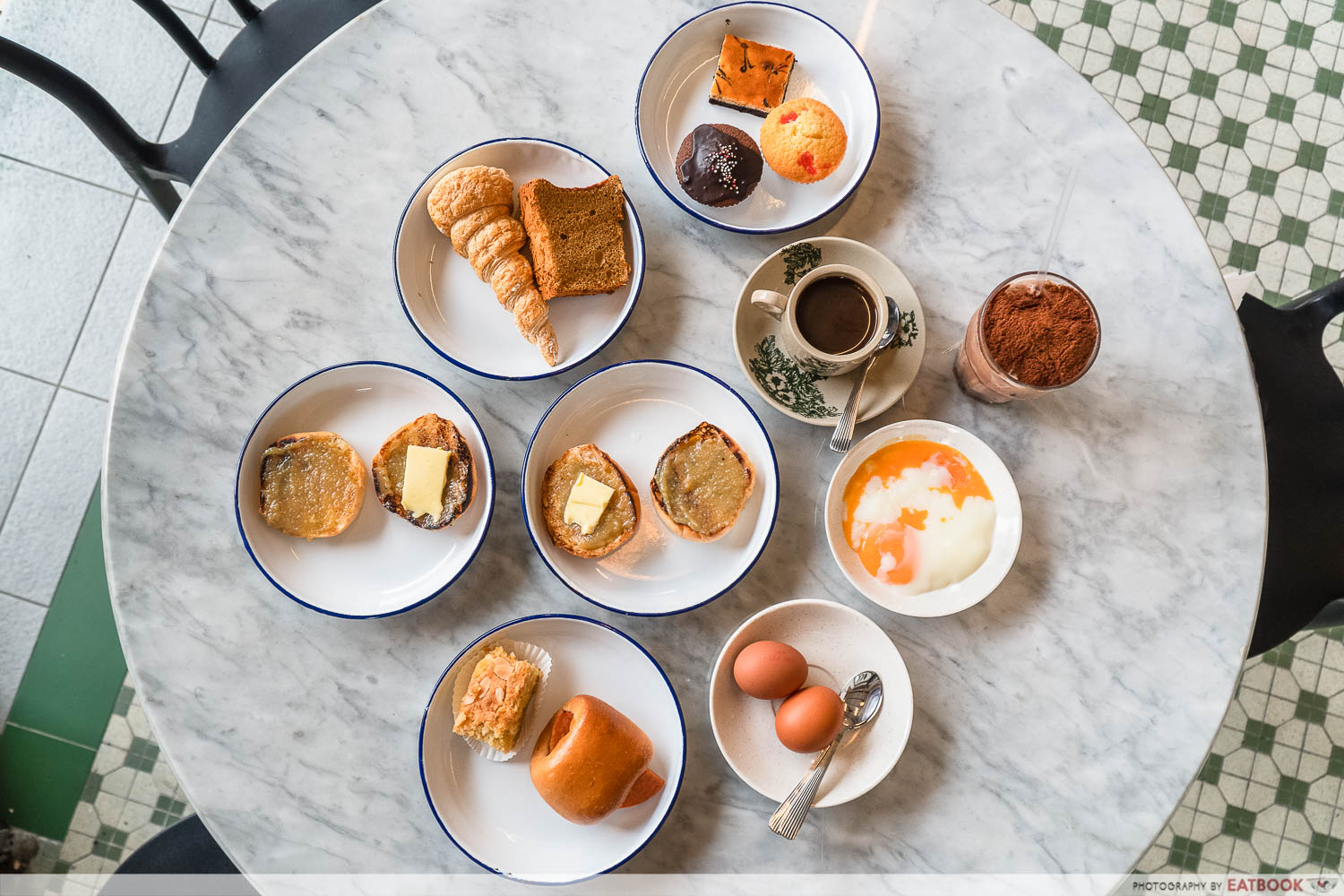 When it comes to old school breakfasts, Chin Mee Chin Confectionery used to be top of mind⁠—until they announced their closure in 2018. It was to the great dismay of many Singaporeans, who had grown up spending many a morning with the traditional bakery's luncheon meat buns, kaya toasts, and more.
Just in case you missed it, Chin Mee Chin has been around since 1925, which means they're 96 years old this year. Their closure was a brutal end to the fabled institution's story, although it has now turned the page to a new chapter. It's now led by the original family, in partnership with the Ebb & Flow Group. If the group sounds familiar, they're the same guys behind Tigerlily Patisserie's new brick and mortar store, also in Joo Chiat, as well as 8ASH!
Food at Chin Mee Chin Confectionery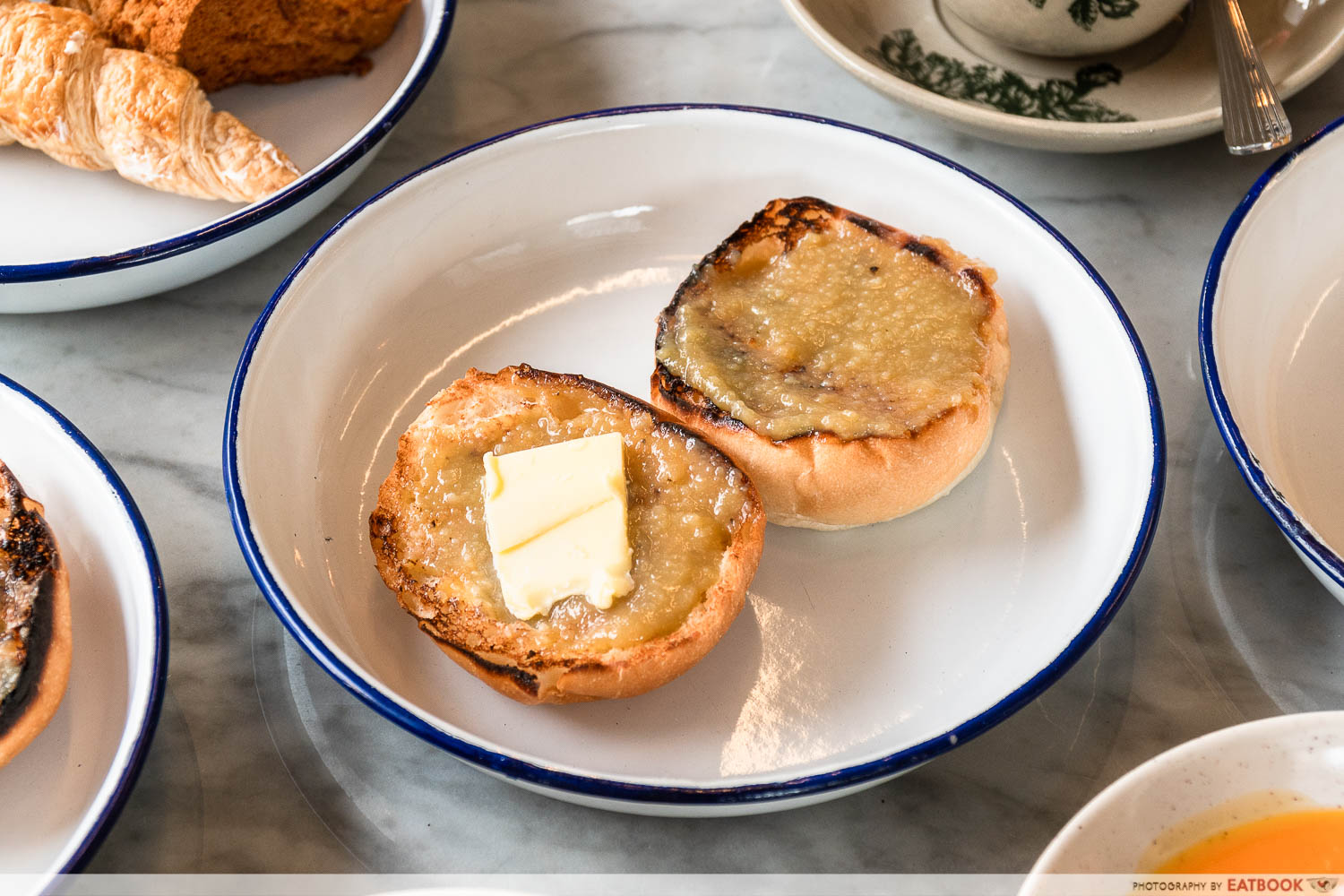 You can't possibly visit Chin Mee Chin Confectionery without having the Kaya Toast ($2.20) and Eggs ($1.60). The kaya is made with the same recipe, and in the same metal container, as when they first started in 1925! Toasted over a charcoal fire, the buns are pillowy and light. I do wish there was more butter, though, but that's a strictly personal preference.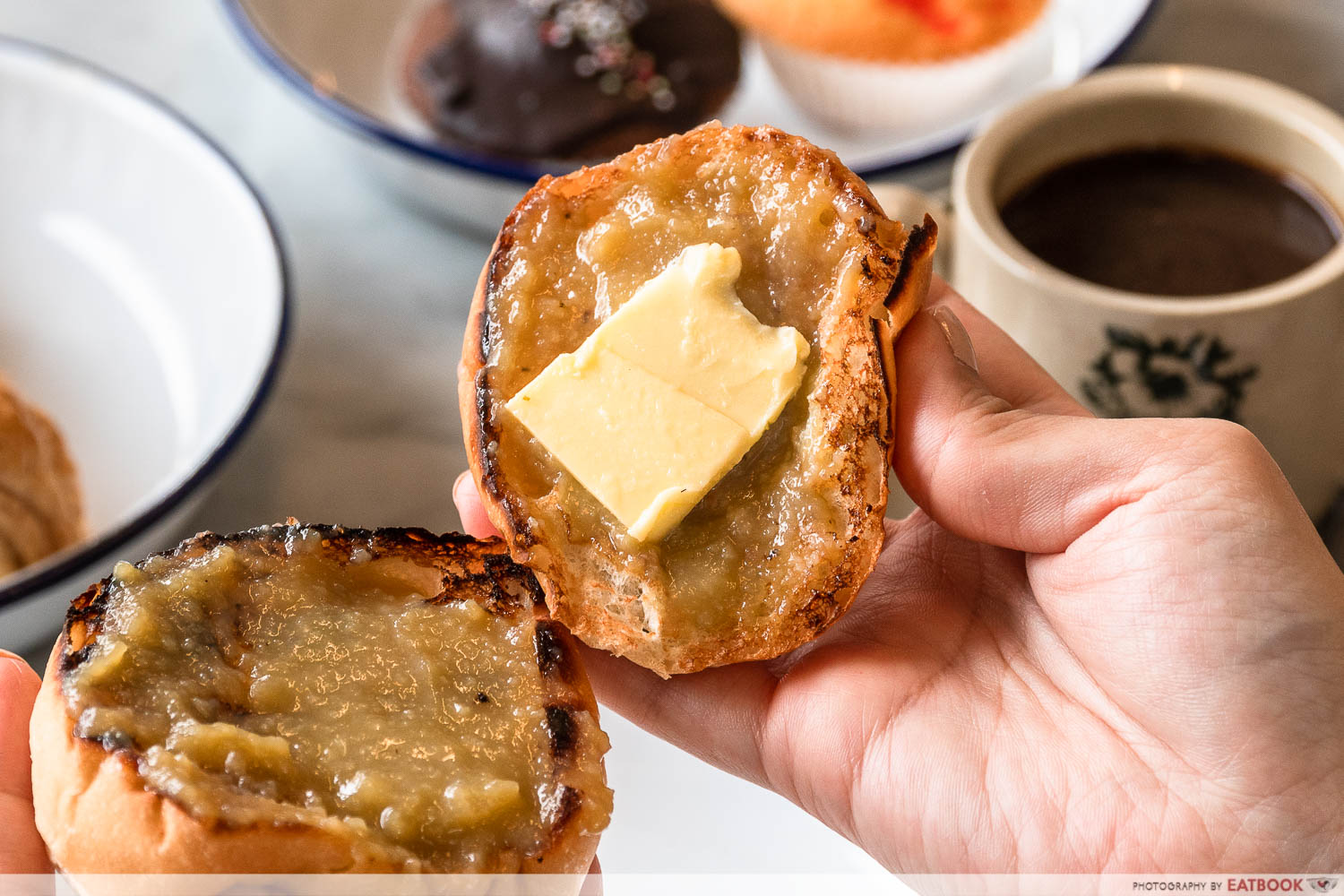 There's something deliciously homey about the Kaya ($7/$10), which you can usually purchase separately to enjoy at home. It's aromatic and not overly sweet, with a creaminess from the low and slow cooking of the egg custard.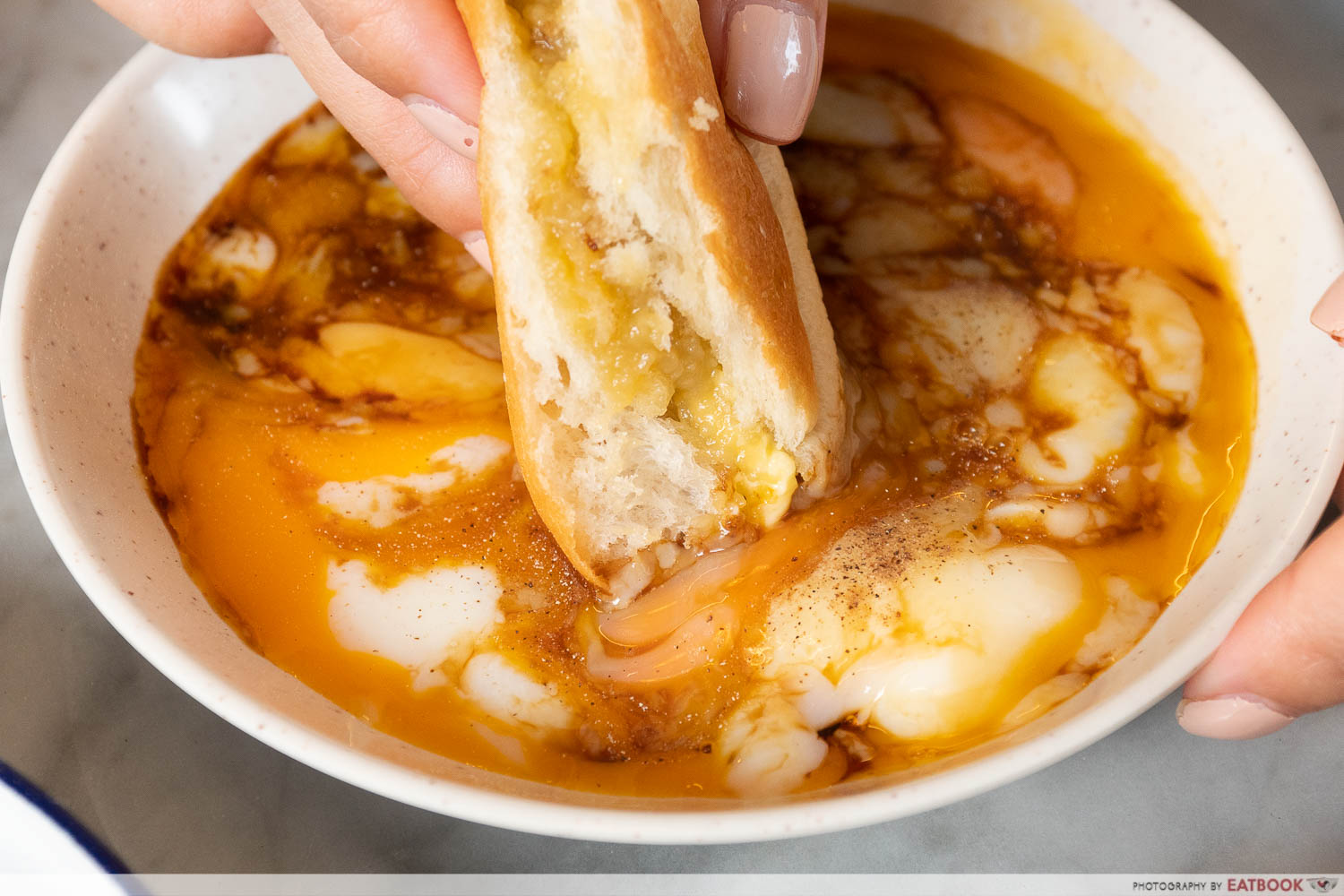 For a most traditional way of enjoying kaya toast, dunk it into the soft boiled eggs, mixed in with dark soya sauce and pepper!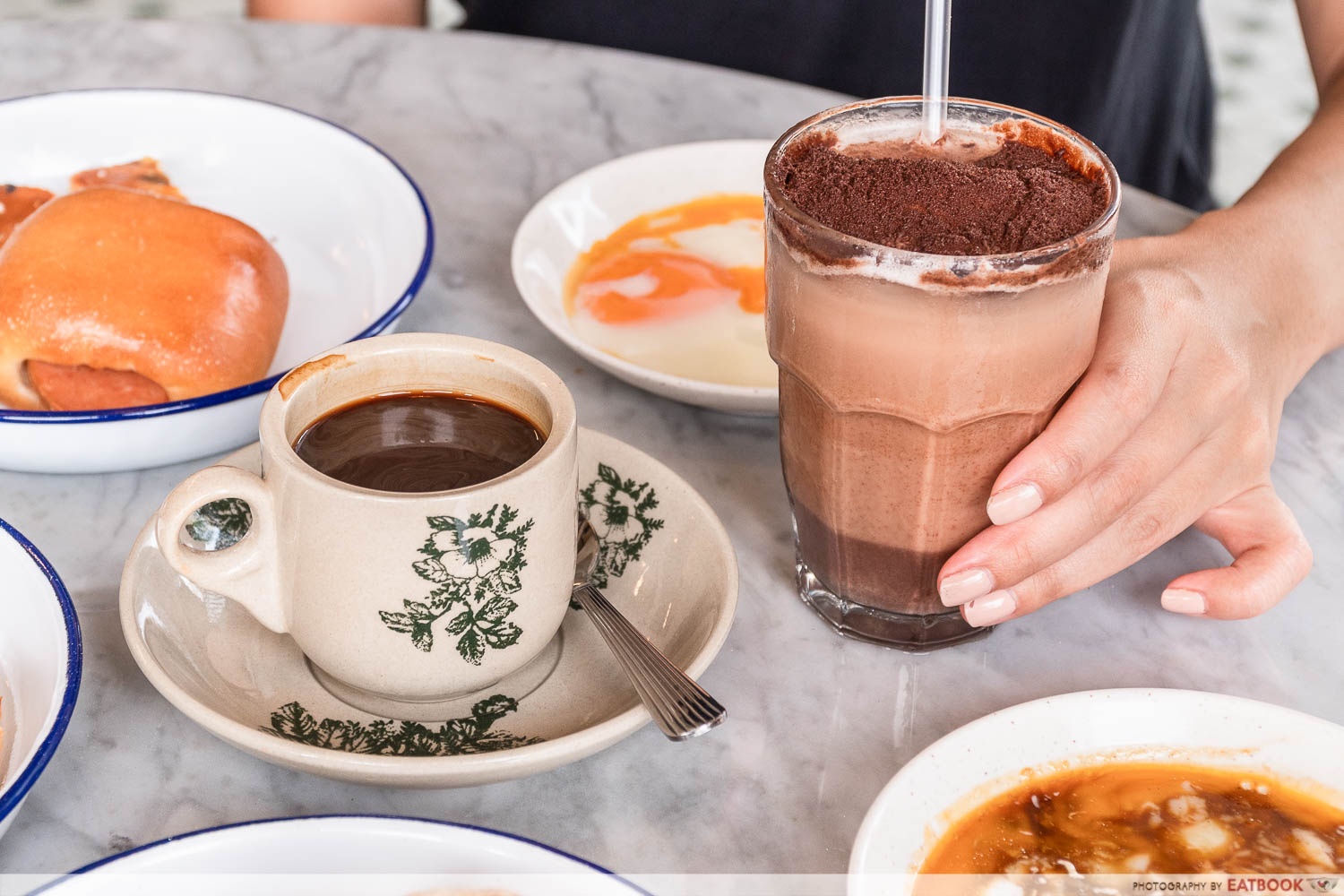 For better value, get the Kaya Toast + Eggs + Drink ($4.90) set, which comes with your choice of hot Kopi ($1.60) or Teh ($1.70). Alternatively, get the set for $5.20 when you choose Milo ($1.90/$2.40) as a drink. You could zhng it up to get a Milo Dinosaur ($3.40) instead, where your set would be priced at $6.20.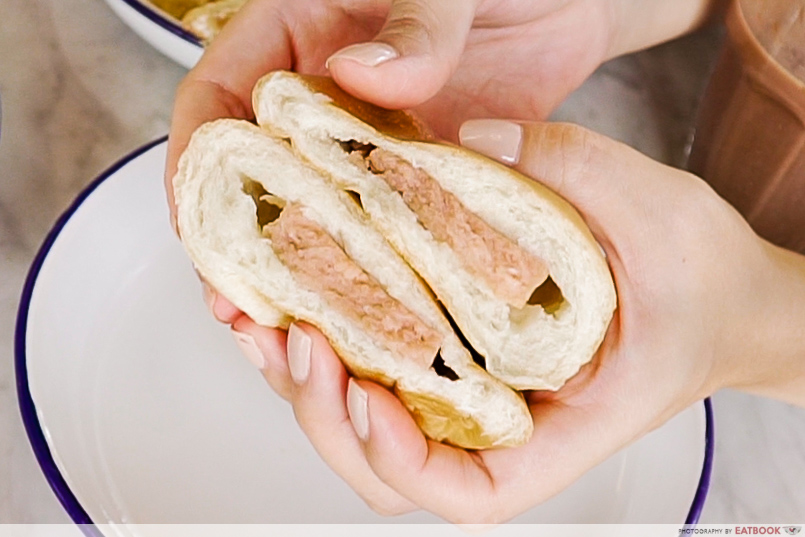 We also had the Luncheon Meat Bun ($2), which I felt was a bit of a disappointment. It definitely had that old school flavour, but I felt the bun could have been a little softer like the bun used in the Kaya Toast, and luncheon meat is what it is. There's good luncheon meat, and not-so-great ones—I'd say this was neither.
Having queued 45 minutes ahead of the opening, and being first in line, I'd thought that I'd be able to get my hands on everything on the menu. Sadly, only the Luncheon Meat Bun was available, and it didn't make sense to eventually join the end of the 30-person-long line later on when only a select few other bakes were available.
It's understandable, though, that there are opening day hiccups as the team is trying to figure out the operations and quantities needed. We heard that they'd been in the kitchen churning out bakes since 4am. The bun menu is now expanded to include Brown Bun ($2), Hae Bee Hiam Bun ($2.20) Otah Bun ($2.20), and Sausage Bun ($2), all of which we didn't get to try. I'd come back eventually when the queue dies down to give these a shot.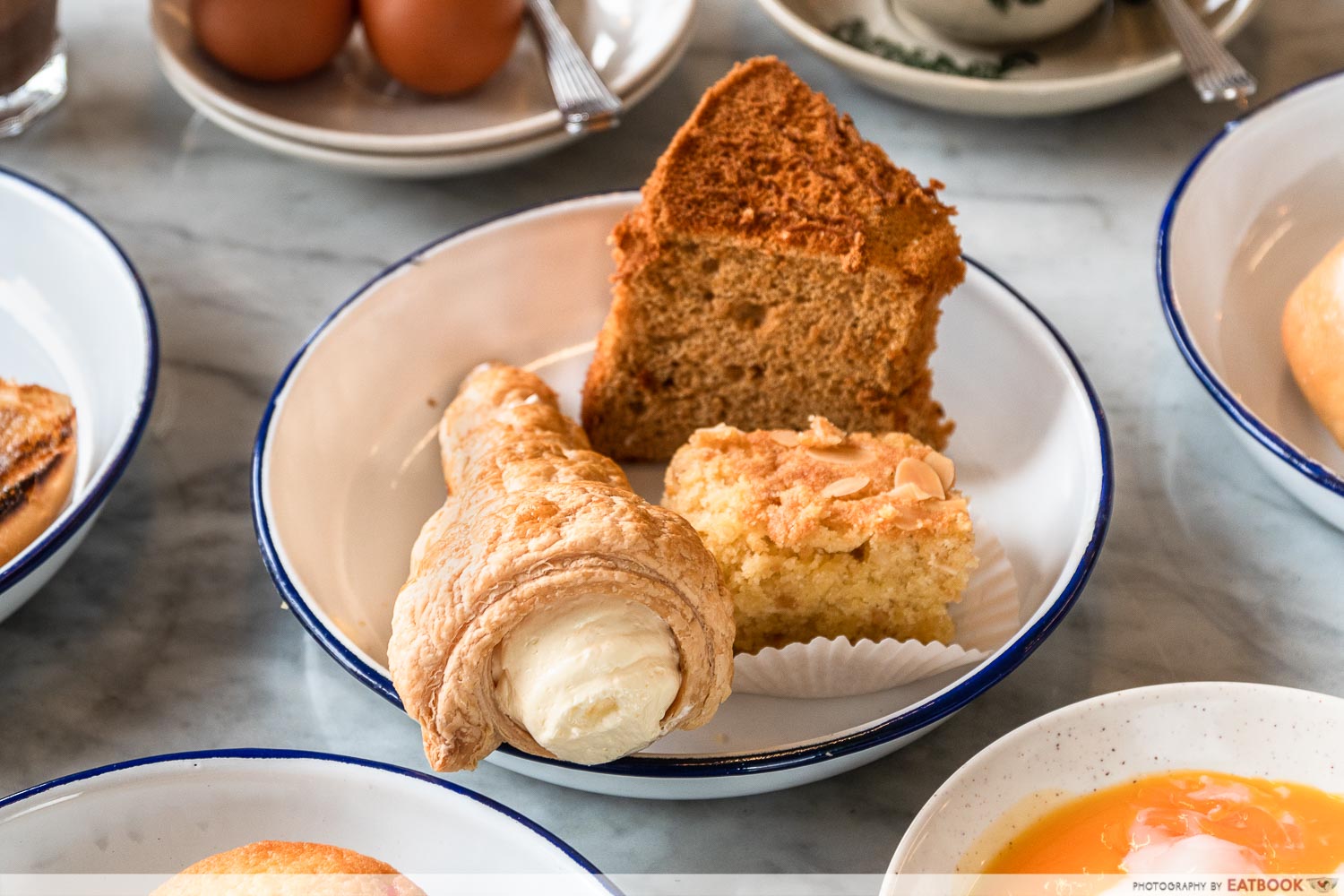 What I did enjoy, I must say, was the Cream Horn ($2). This generously sized pastry was light as air, and left no oily feeling on my fingers even as I ripped it into two. The pastry flaked like a dream, though you shouldn't expect any taste of pure French butter eating this. It's an old school pastry, done well.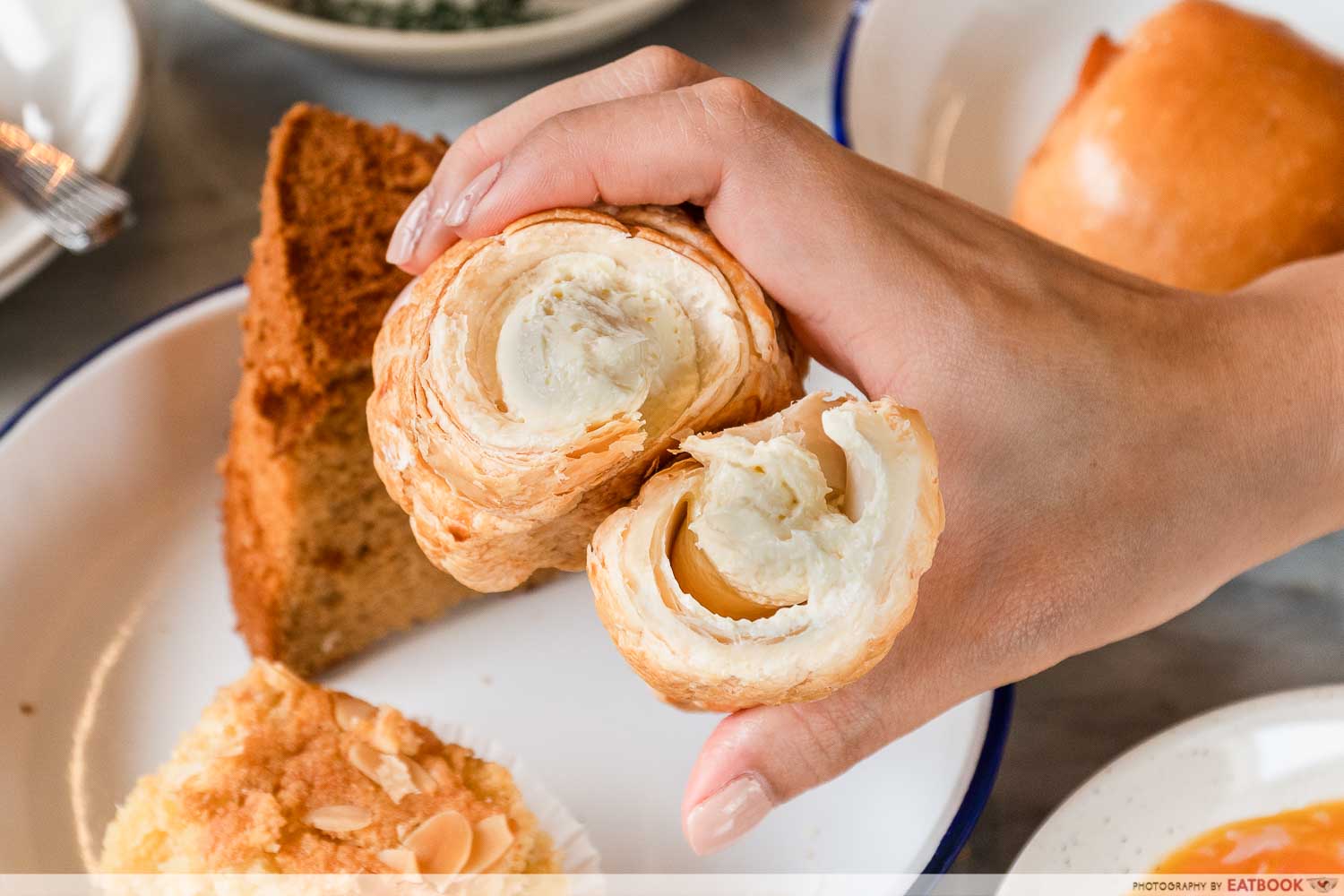 The pastry horn was piped to the brim with an equally light buttercream. There are no frills to this—no fancy flavours or additions—just good ol' plain buttercream. They aren't stingy with it too, so you'll be getting a good amount of poufy creaminess with each bite.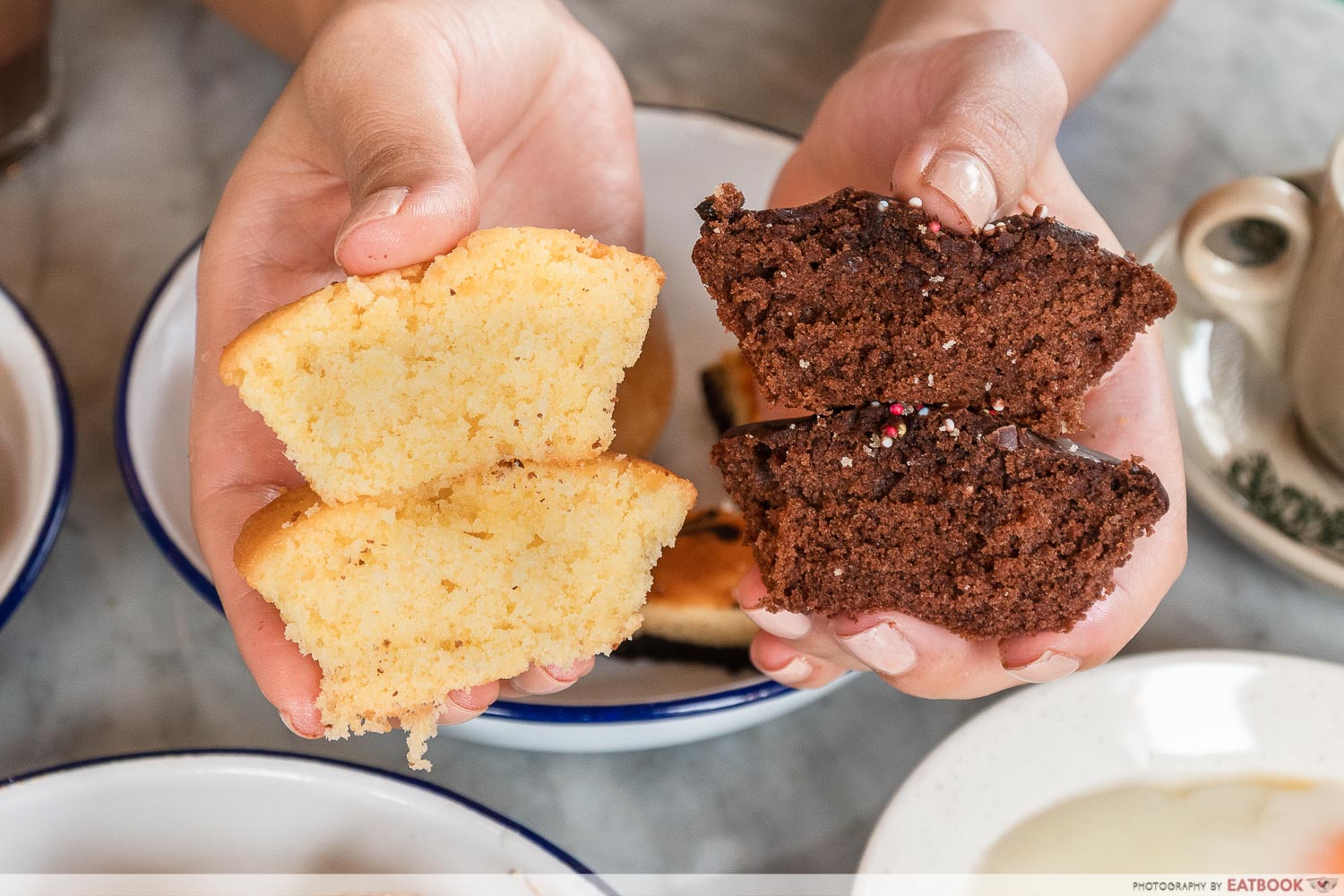 Thanks to Chef Maxine Ngooi, proprietor and Pastry Chef at Tigerlily Patisserie, who helped with the R&D here, the baked goods are much improved from what they used to be. The Plain Cupcake ($1.60) and Chocolate Cupcake ($1.80), while simple and uncomplicated, didn't taste artificially flavoured. I imagine this would enhance the appeal of these bakes to their newer demographic who are accustomed to the artisanal stuff.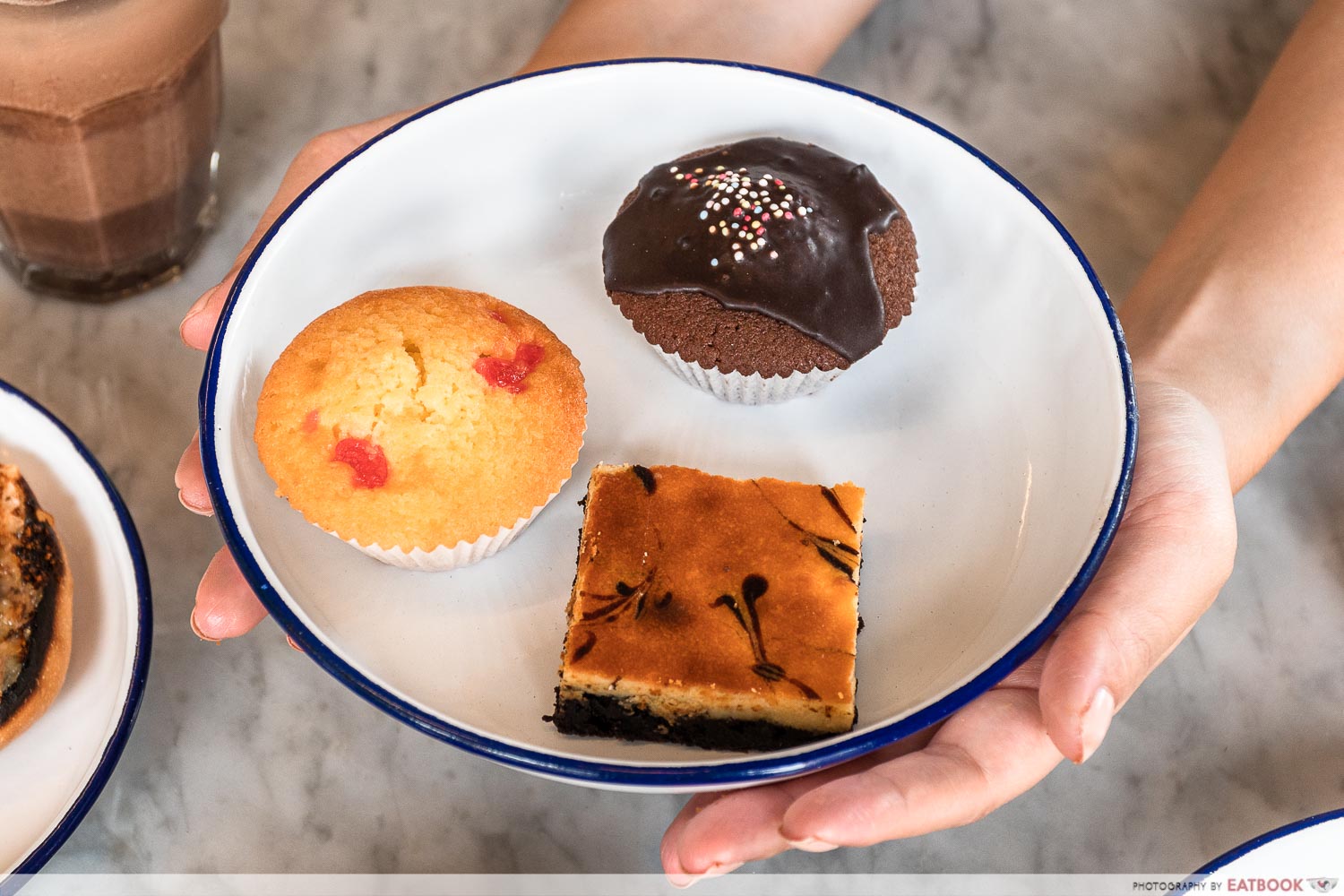 We also had the Cheesecake Brownie ($2.60), Gula Melaka Coffee Chiffon Cake ($2.20), and Sugee Cake ($2.30), of which I liked the Cheesecake Brownie best. The balance of the slightly tangy cheesecake with the decadent chocolate base made this a treat. I like that the serves here are portioned so you won't feel jelak when you overindulge, too. For this reason, I'm excited to try the Chocolate Peanut Butter Tart ($2.20) when I come back next.
Ambience at Chin Mee Chin Confectionery
In staying true to the OG Chin Mee Chin we knew and loved, much of the storefront and interior has been conserved and refurbished.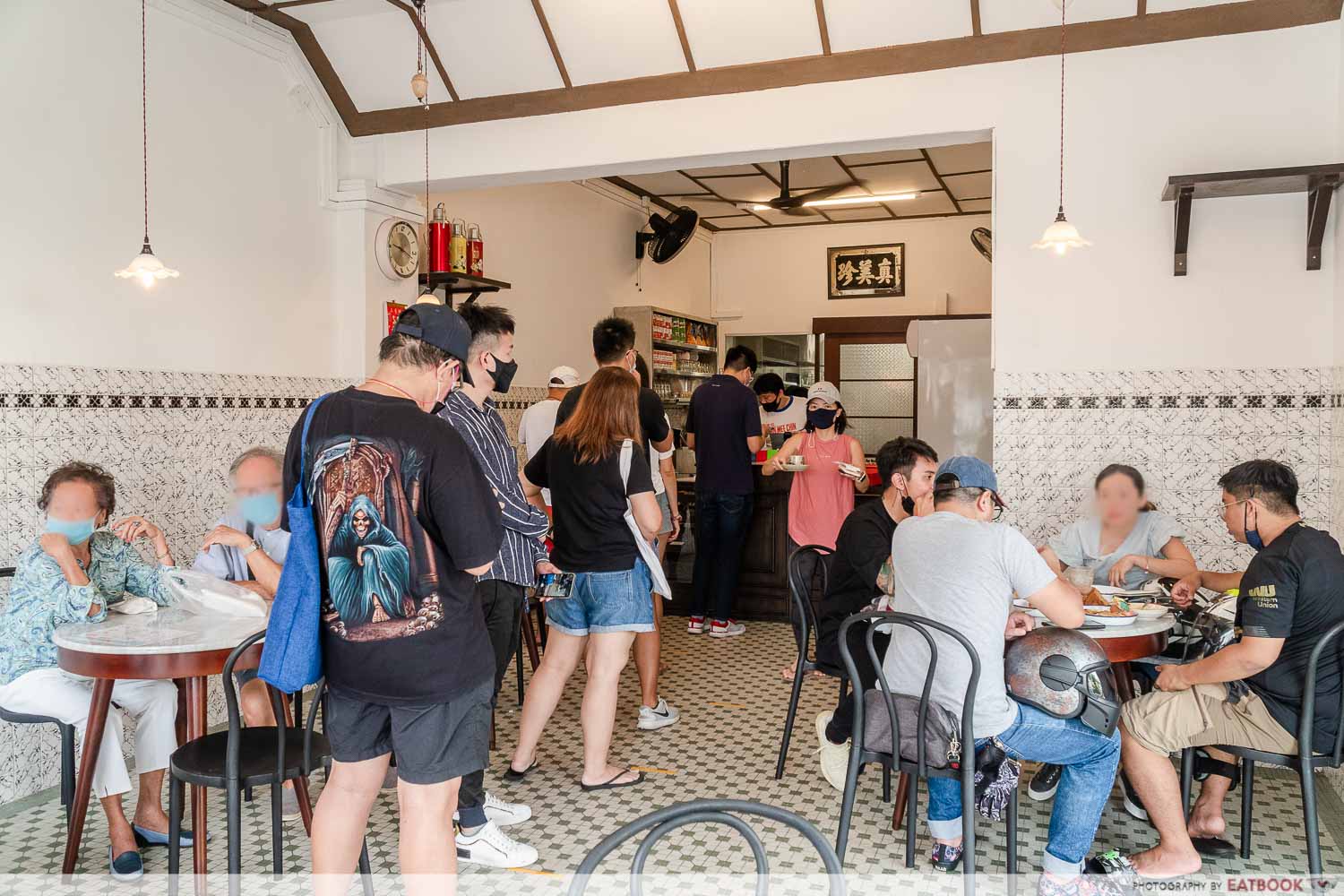 There are both indoor and outdoor seats at the revamped Chin Mee Chin. You can choose to sit indoors and bask in the original, albeit refurbished, feel of the place, although you'll have to contend with the proximity of other guests who are queueing for their turn to order.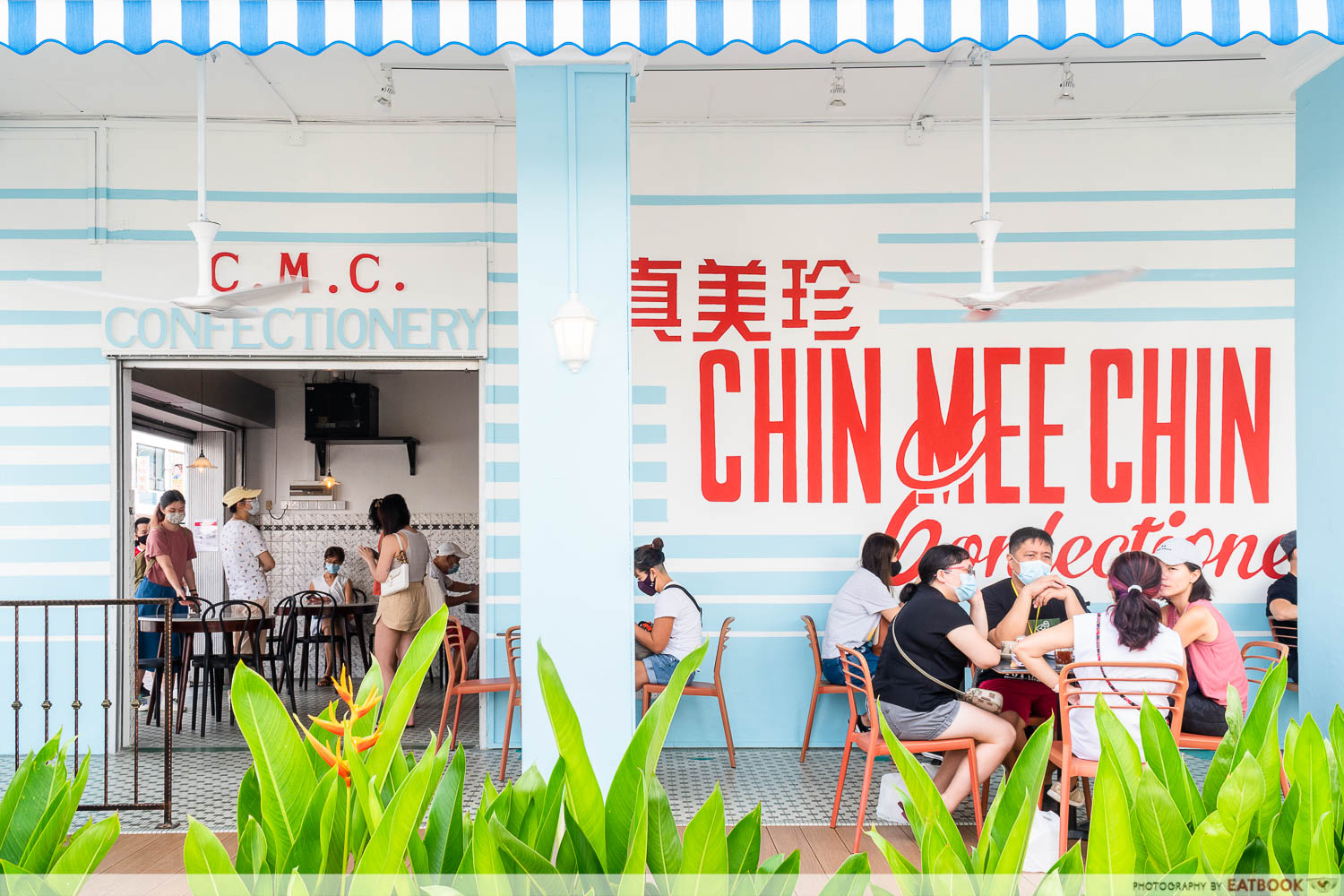 Otherwise, they have a small number of patio seats just outside, overlooking the quiet Chapel Road, and Church of the Holy Family. What's nice is that the patio is blocked off from the pedestrian walkway with potted plants, and there is a healthy distance. It's a little inconvenient to get here if you don't drive, because Eunos MRT Station is a 15-minute bus ride away.
The verdict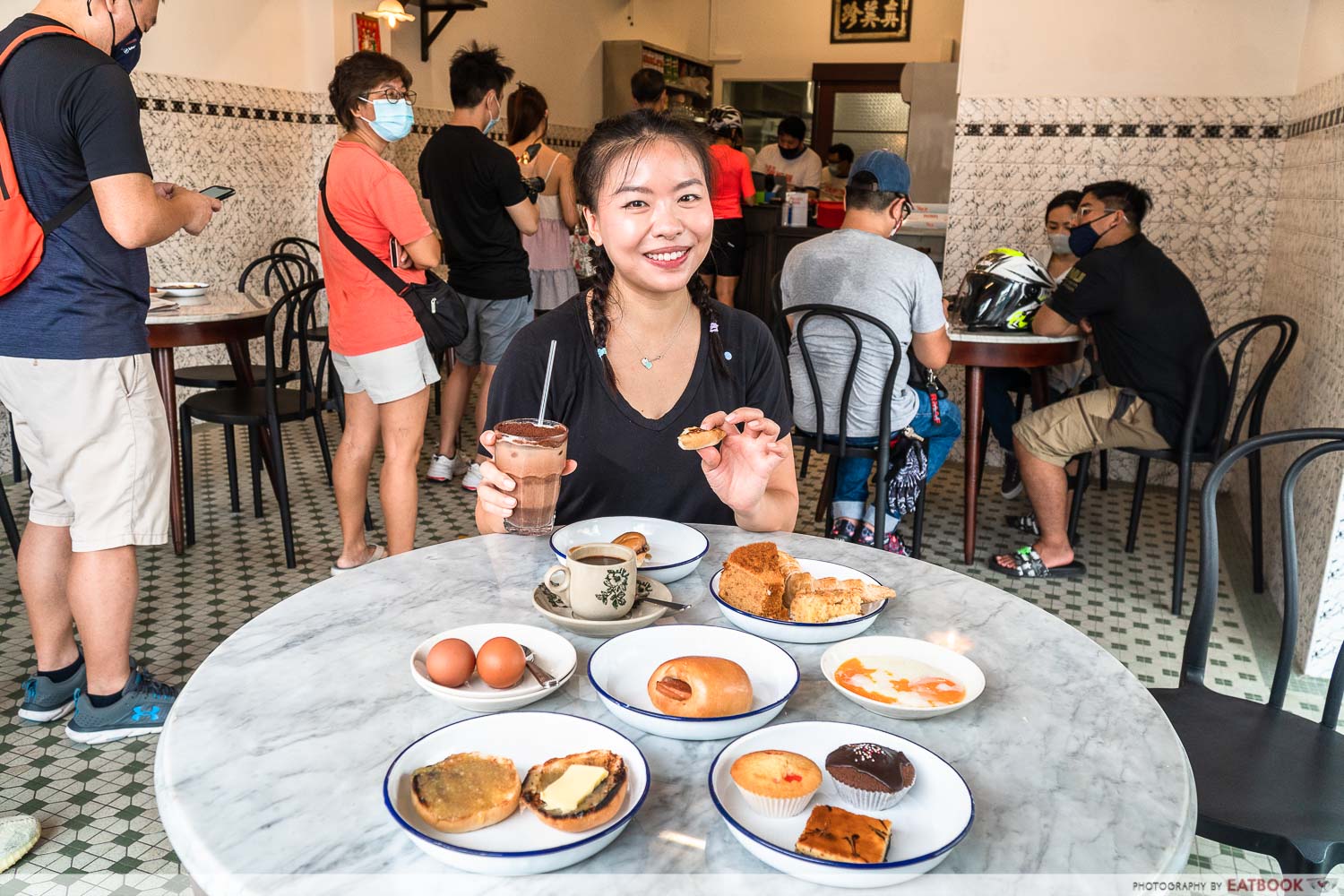 Chin Mee Chin's return has been glorious news for many of us, who've grown up with memories of the grand old dame. It's heartwarming to see that although they're back under new management, they've remained true to the soul of the brand, while making improvements to the original classics.
The line at Chin Mee Chin was relentless today, seeing as it's opening day and all, and I don't suppose it will die down for a while. Be prepared to wait, and do cut the uncles and aunties manning the front of house some slack while you're at it. Even when I passed by after lunch, there was still a queue outside.
Syiok Review: Orh Nee And Apple Pie Egg Tarts, Plus Old School Puffs In Beauty World
For other old school bakes, check out our review of Lau Chong Kee Mini Pte Ltd, a bakery in Chinatown that's been making the same custard horns and buns for more than 50 years! Otherwise, Syiok in Beauty World also makes old school pastries, and orh nee egg tarts!
Address: 204 East Coast Road, Singapore 428903
Opening hours: Tue-Sun 8am to 4pm (last order at 3:45pm, or sold out)
Website
Lau Chong Kee Mini Review: Old-School Bakery With Custard Buns, Char Siew Su and More From $1
Photos taken by Emily Teu.
This was an independent review by Eatbook.SG
Chin Mee Chin Confectionery Review: Nostalgic Charcoal-Toasted Kaya Buns, Cream Horn And More In Joo Chiat
Chin Mee Chin Confectionery Review: Nostalgic Charcoal-Toasted Kaya Buns, Cream Horn And More In Joo Chiat -

7.5/10
Summary
Pros
– Nostalgic goodies at low prices
– Classics have been made even better
Cons
– Long queues
Recommended dishes: Cream Horn ($2), Kaya Toast ($2.20)
Opening hours: Tue-Sun 8am to 4pm (last order at 3:45pm, or sold out)
Address: 204 East Coast Road, Singapore 428903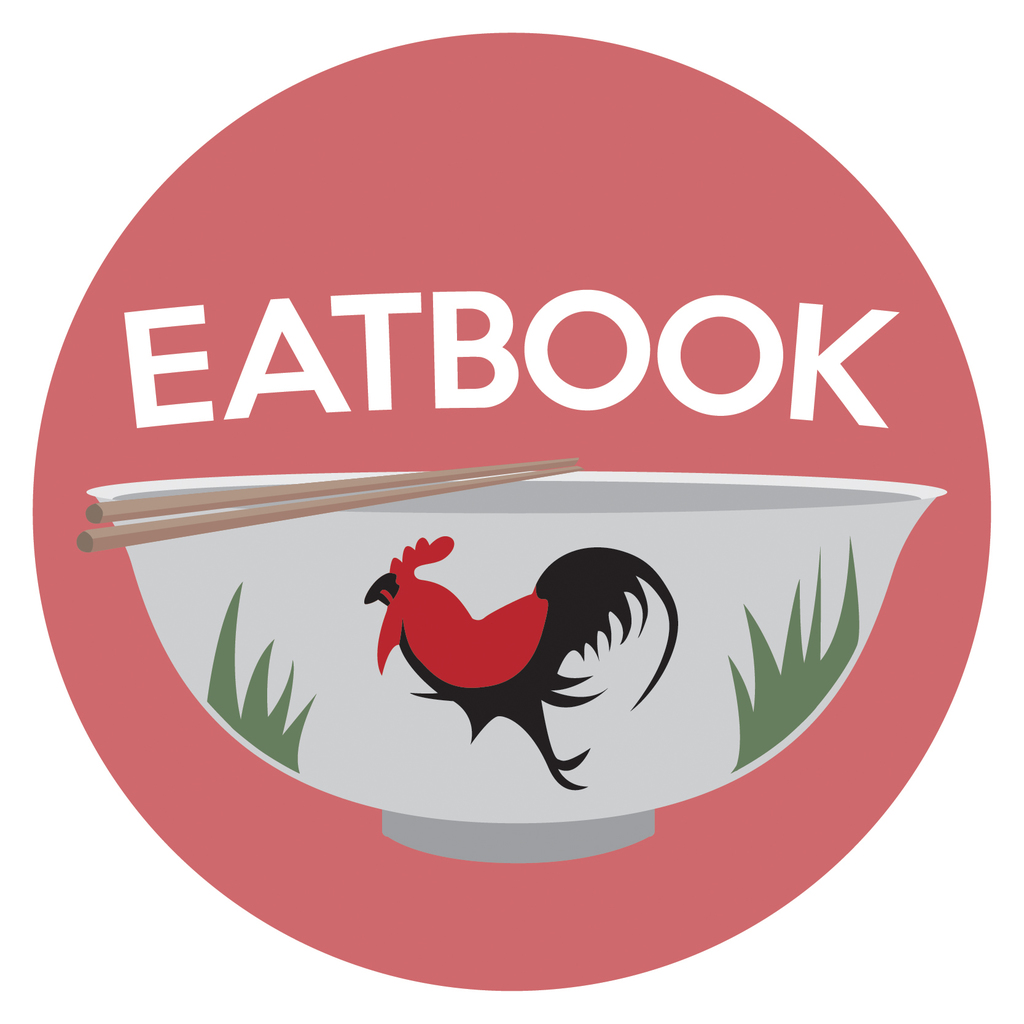 Drop us your email so you won't miss the latest news.