8ASH at Ann Siang Hill
Update: The $1 promotion has ended.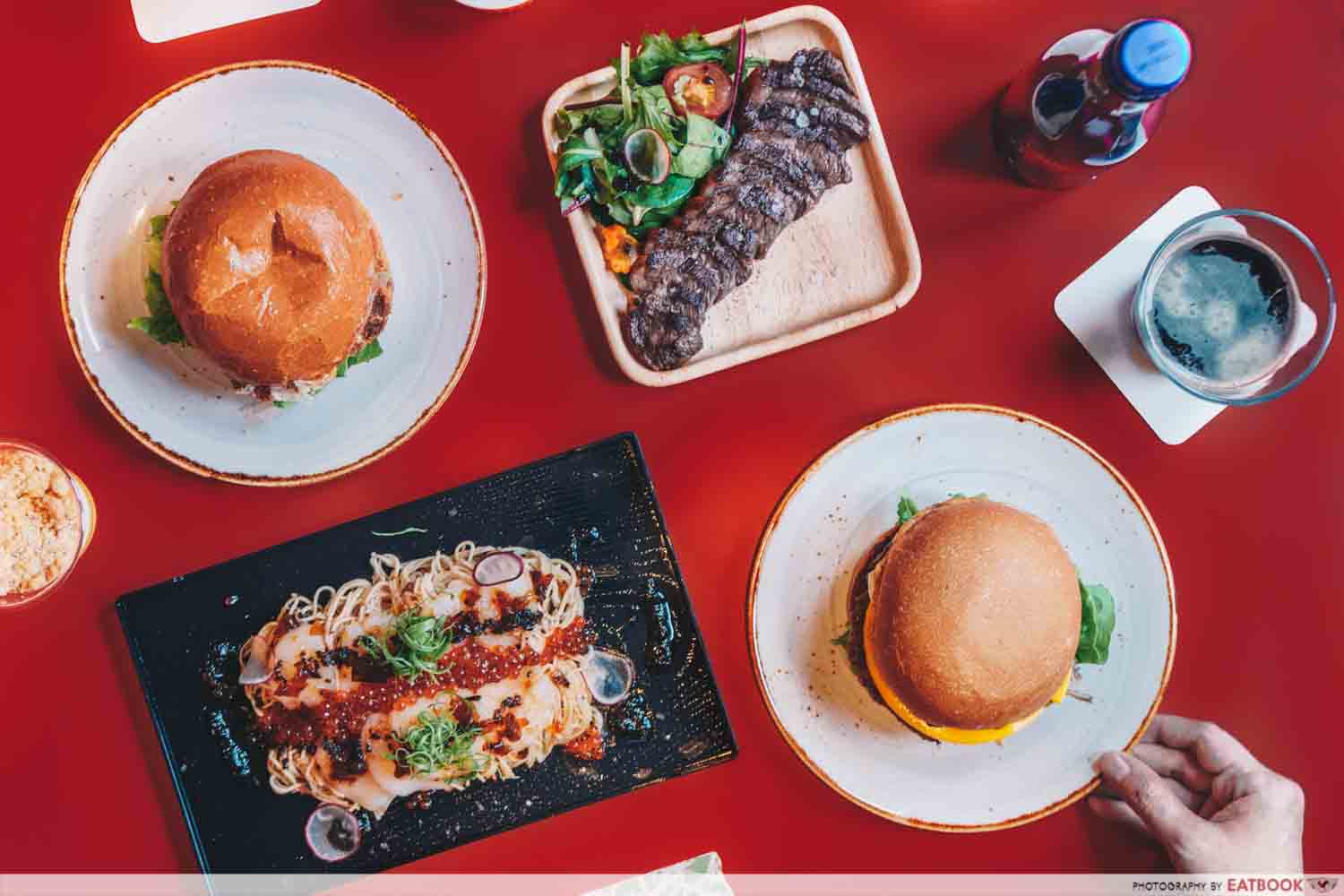 It's a known fact that Amoy Street is a treasure trove of food, with options ranging from Korean barbecue eateries to beautiful cafes. However, if you walk a little further, you'll reach Ann Siang Hill─another street that's equally brimming with tasty fare. 8ASH is a new restaurant in the area, and it's one you should keep a lookout for. Don't miss their opening promotion, where their signature dishes are priced at just $1!
10 Amoy Street Food Centre Stalls To Visit When You're In The CBD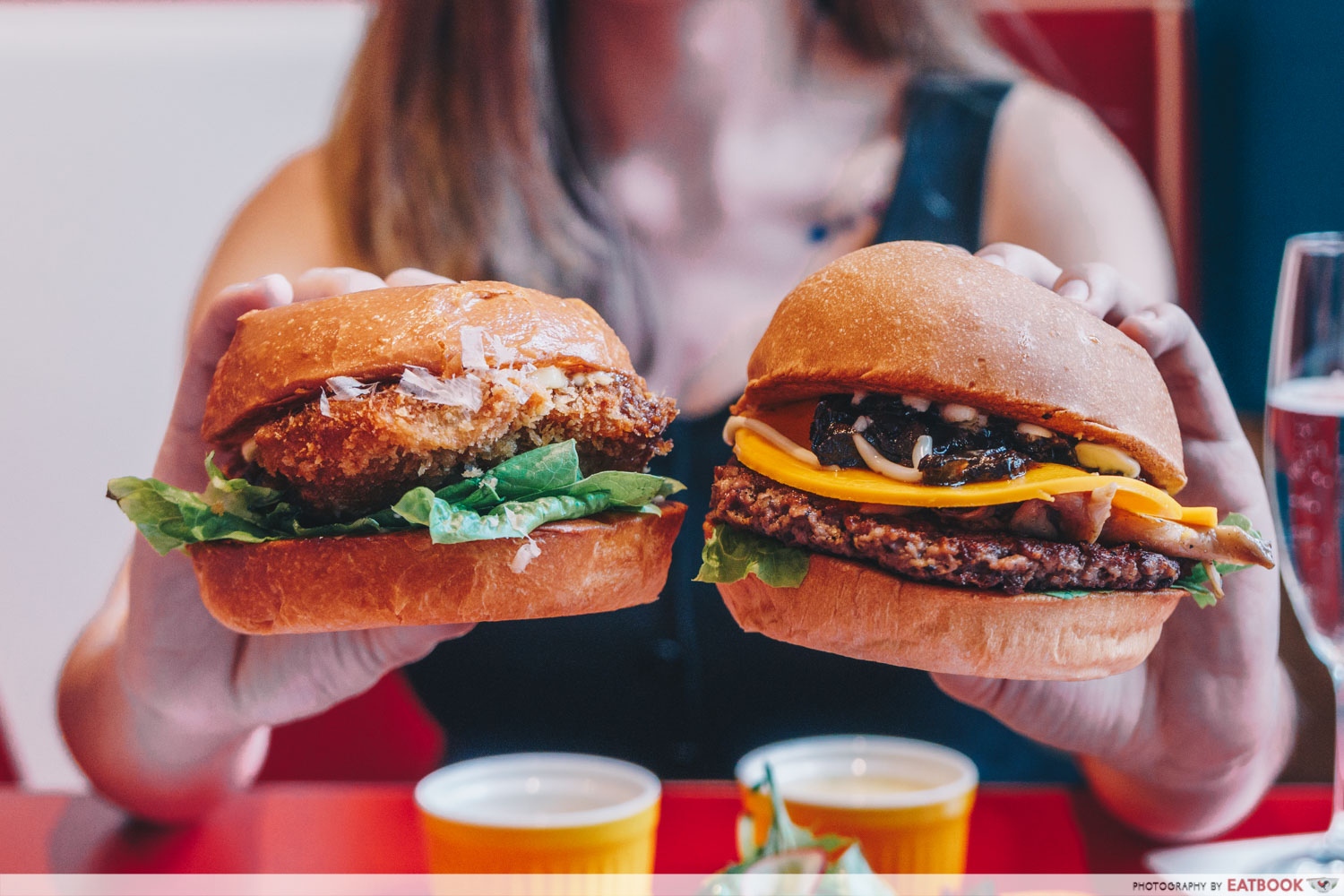 This diner presents a collection of three brands, namely Mirai Burgers for American-Japanese burgers, Hoshi Hill for casual-luxe Japanese set meals, and Love Handles for vegan cuisine. Each brings something unique to the table.
Also, if you haven't guessed it yet, 8ASH is an acronym of its location─8 Ann Siang Hill. This restaurant takes the spot that was previously occupied by Belimbing Superstar. It has an interior that gives off massive Riverdale vibes since it resembles the iconic diner, Pop's Chock'lit Shoppe, from the show. 8ASH, however, is more than just a pretty place, as they serve some lip-smacking dishes too.
Belimbing Superstar: The Coconut Club Opens A Peranakan Cai Png Store At Ann Siang Hill
Food at 8ASH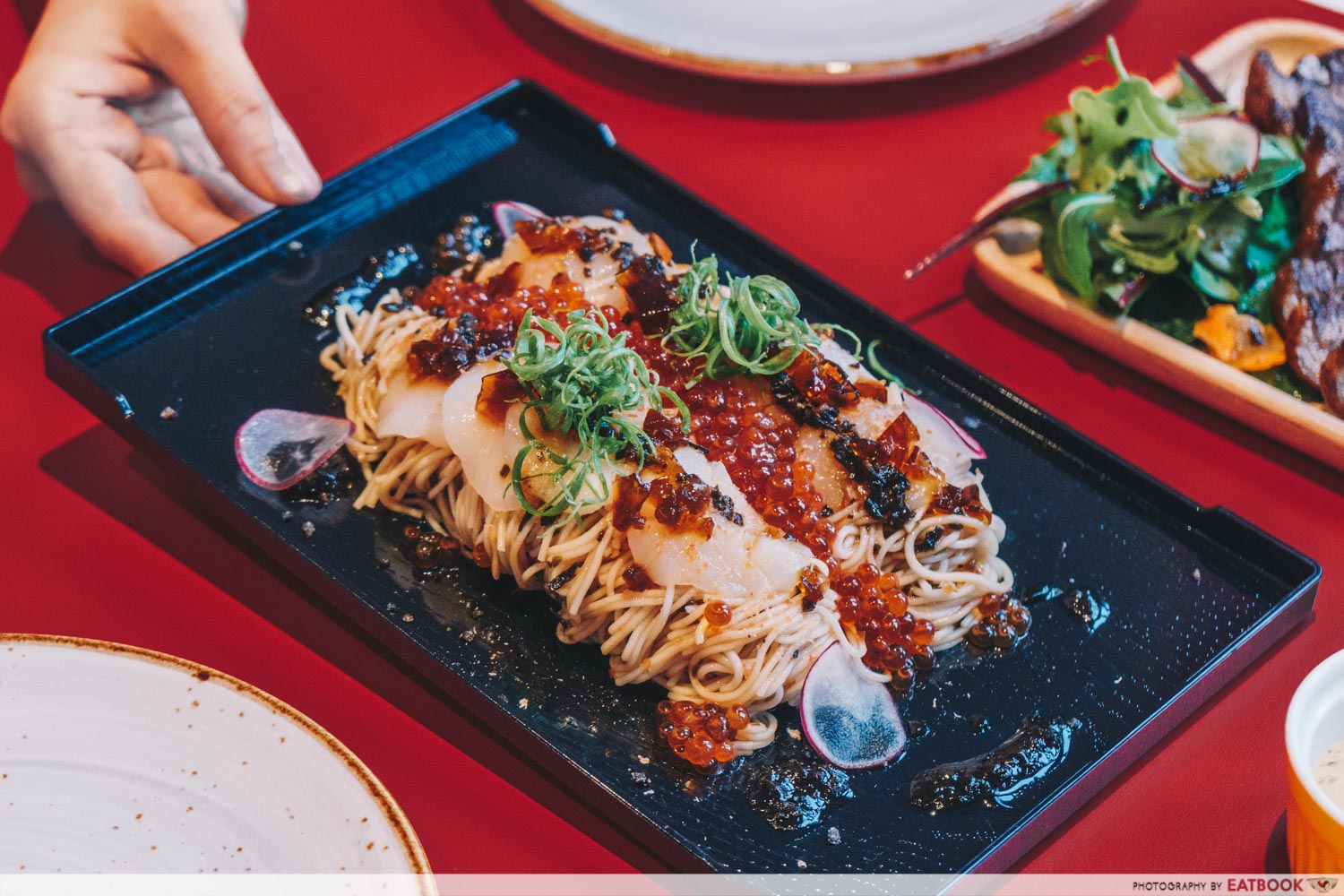 The Chilled Hokkaido Scallop Somen ($25) consists of chilled somen that's tossed in a shio kombu dressing, and topped with Hokkaido scallops, sakura ebi powder, ponzu jelly, and ikura. 
Refreshing and springy, the cold somen noodles were so satisfying to slurp. I've had noodles tossed in a kombu dressing before and most of the time, they put too much of it, causing the kombu to overpower everything else. However, the noodles here featured subtle hints of kombu, along with a rich briney flavour. 
The jewel in the crown was the scallops. Fresh, sweet, and so tender that it just melted in my mouth.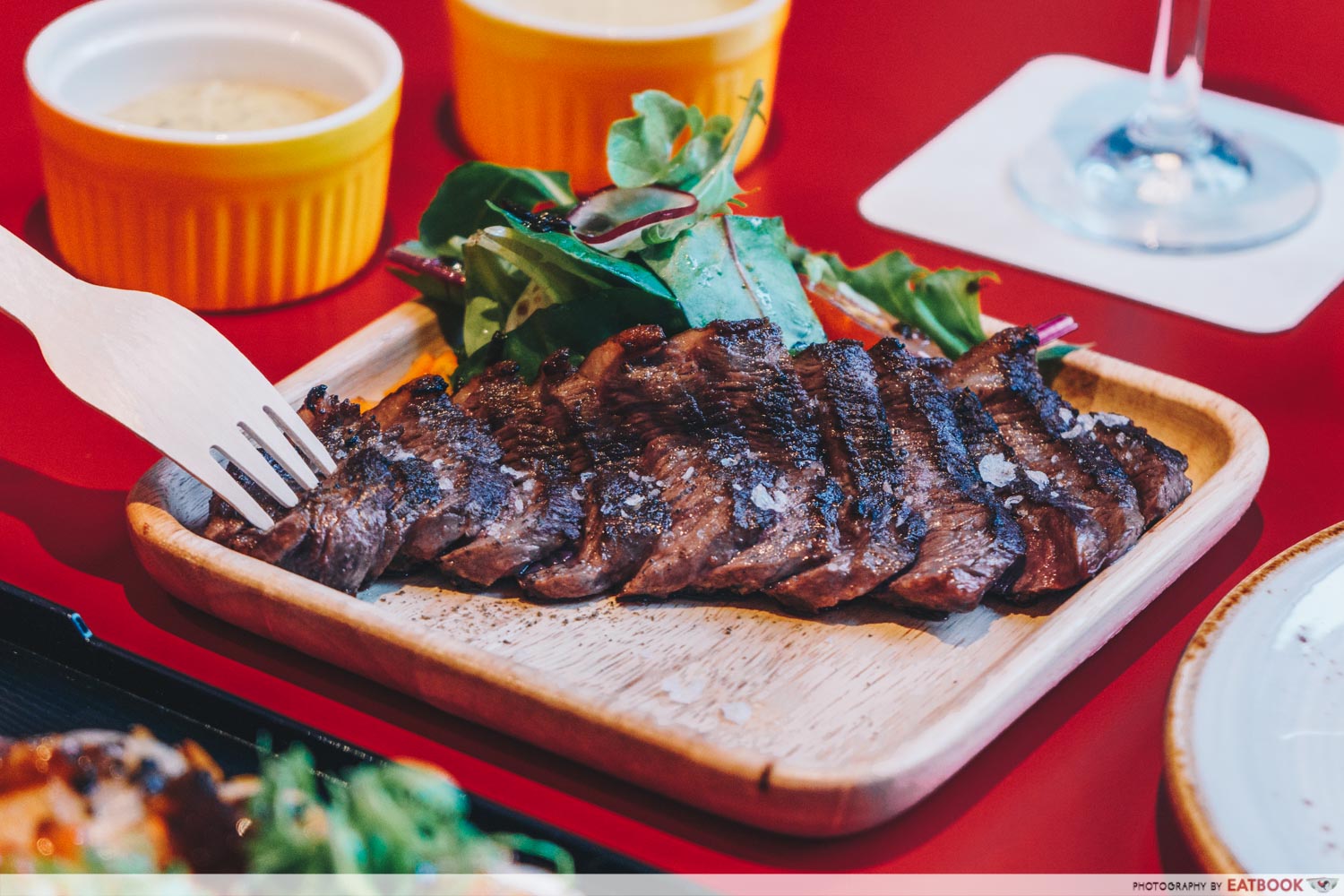 The Hoshi Wagyu Steak ($18) was another stunner, with its beautifully seared exterior and medium-rare centre. This side dish features Australian wagyu picanha, a Brazilian-style rump cut, accompanied with mustard cream, spring onion bearnaise, and a seasonal salad.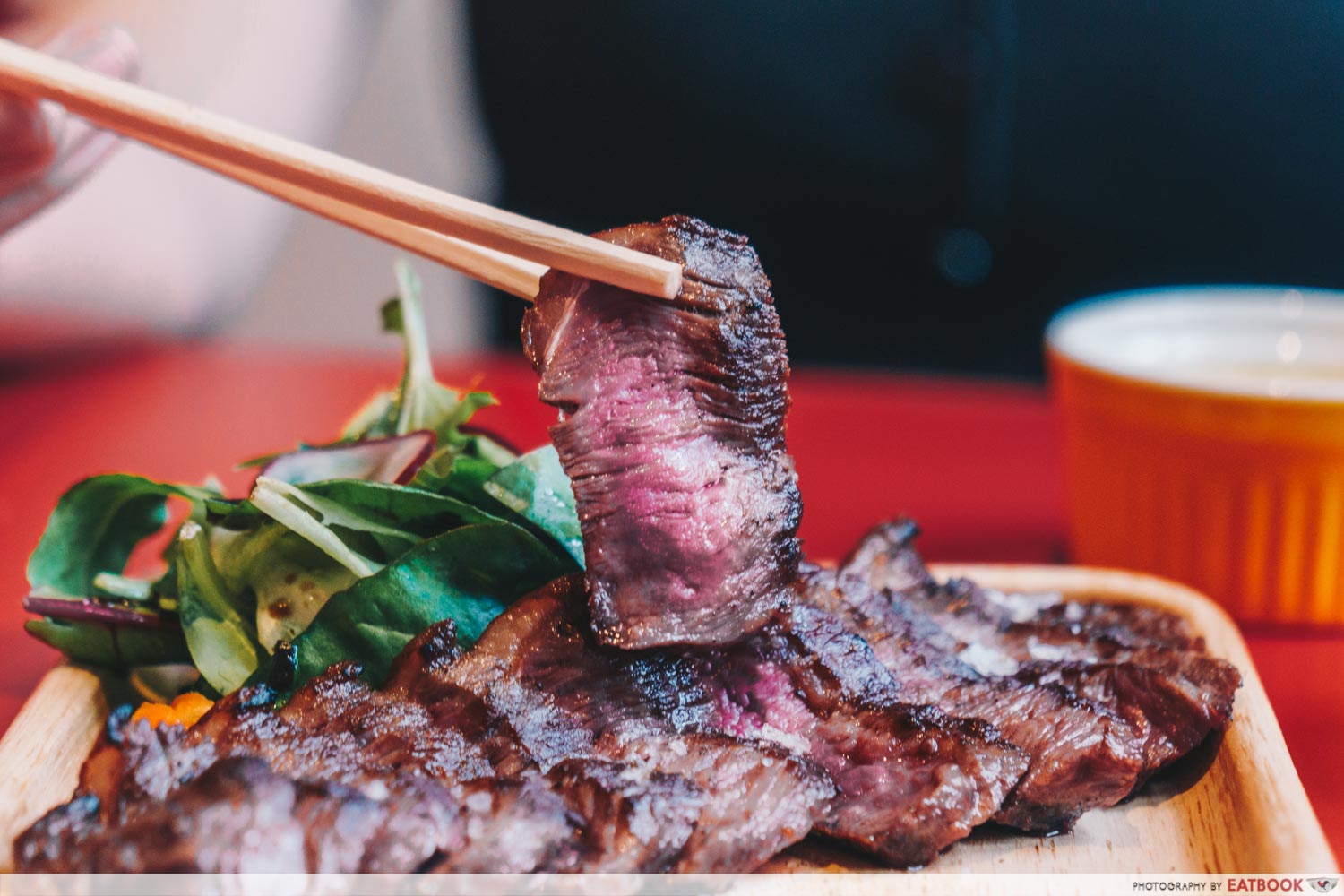 Each slice was lean, with just the right amount of fat. As expected, the beef was tender and full-flavoured. Savour it with the spring onion bearnaise sauce for a savoury, zingy hit.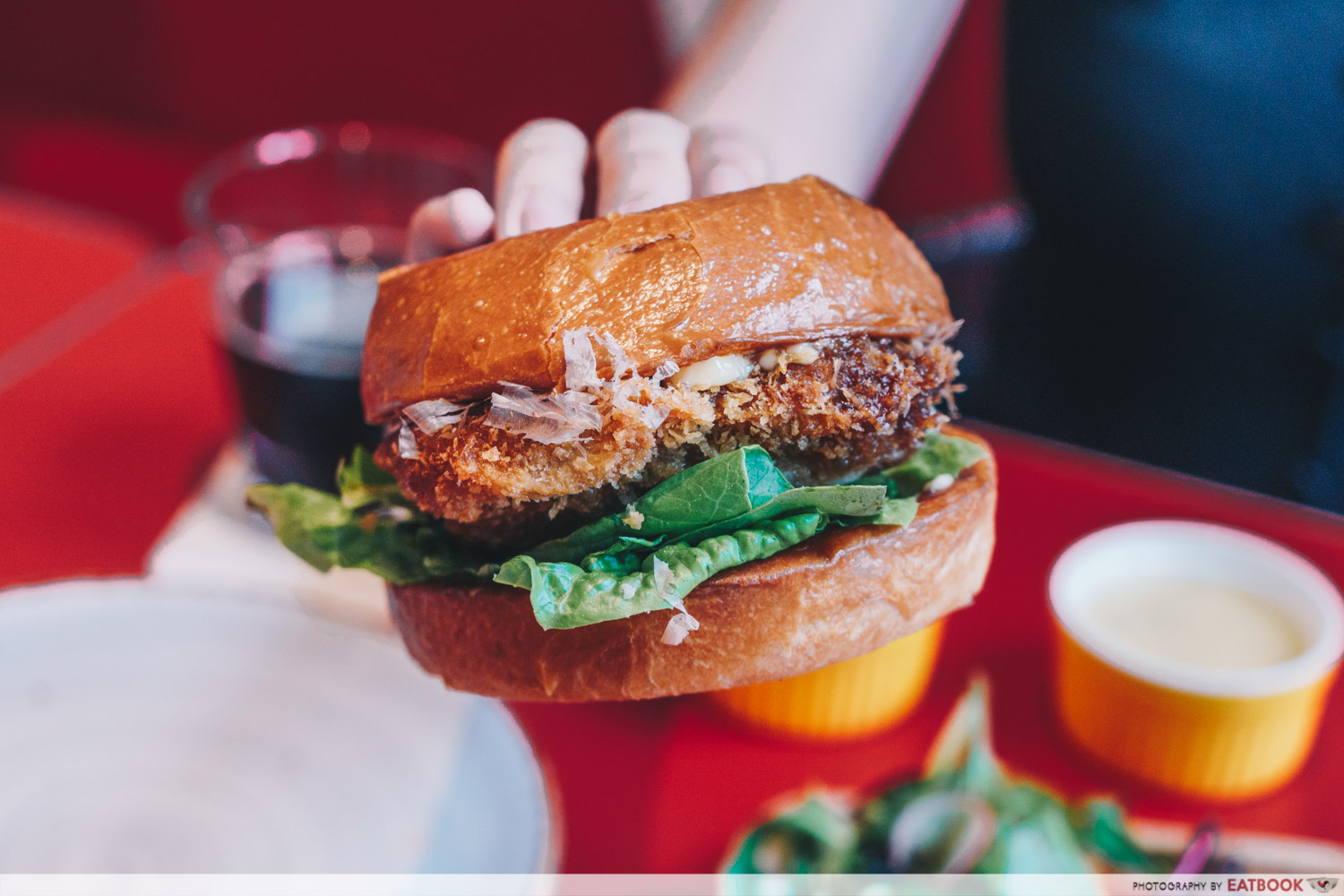 The Katsu Okonomiyaki Burger ($16), made with a pork katsu patty, ticks all the boxes of what a good burger should be.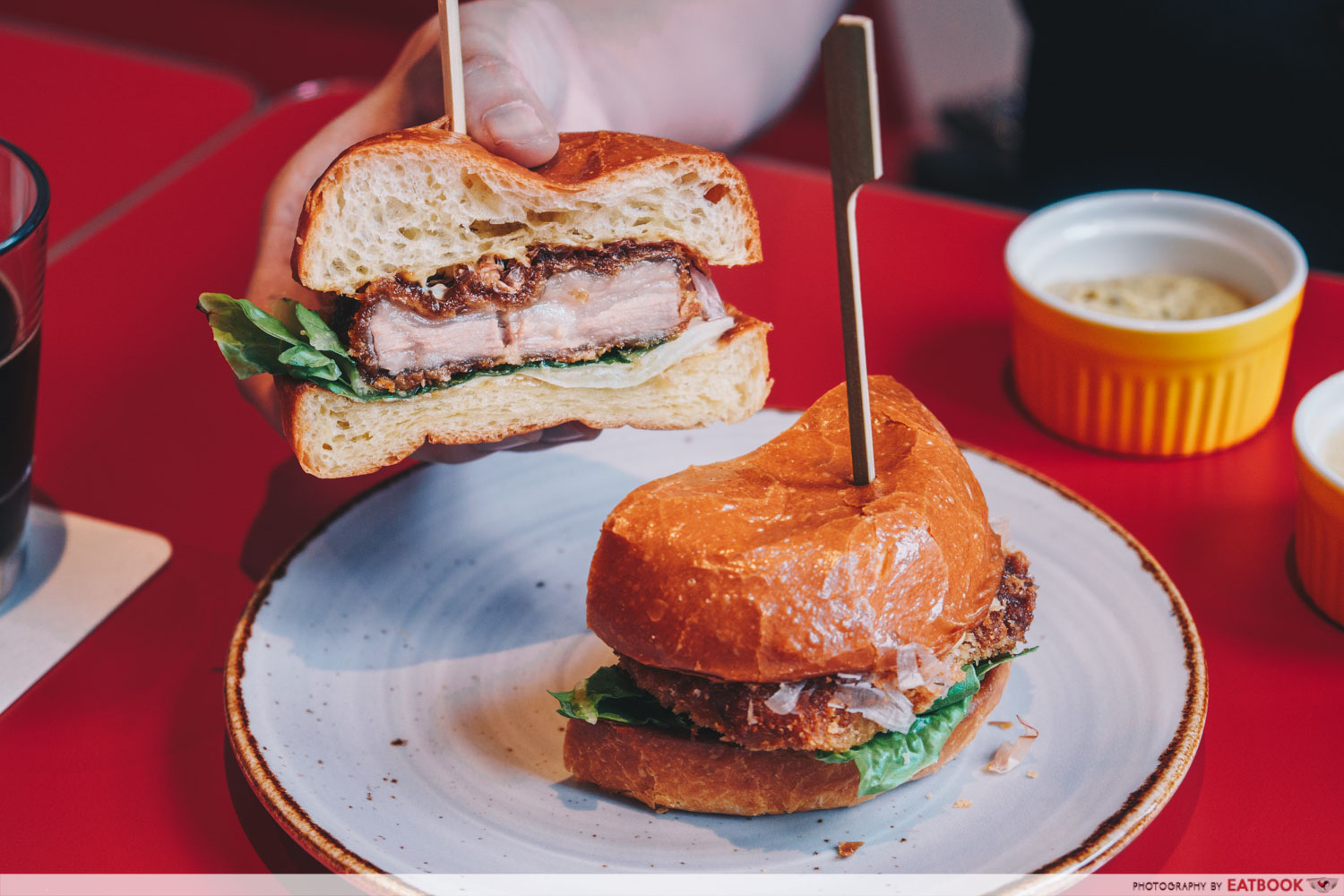 The crispy pork katsu was juicy and well-seasoned, with a good meat to fat ratio. Its distinct okonomiyaki flavour came from the use of sweet, tangy Bulldog sauce and bonito flakes. The lightly toasted bun was buttery and soft.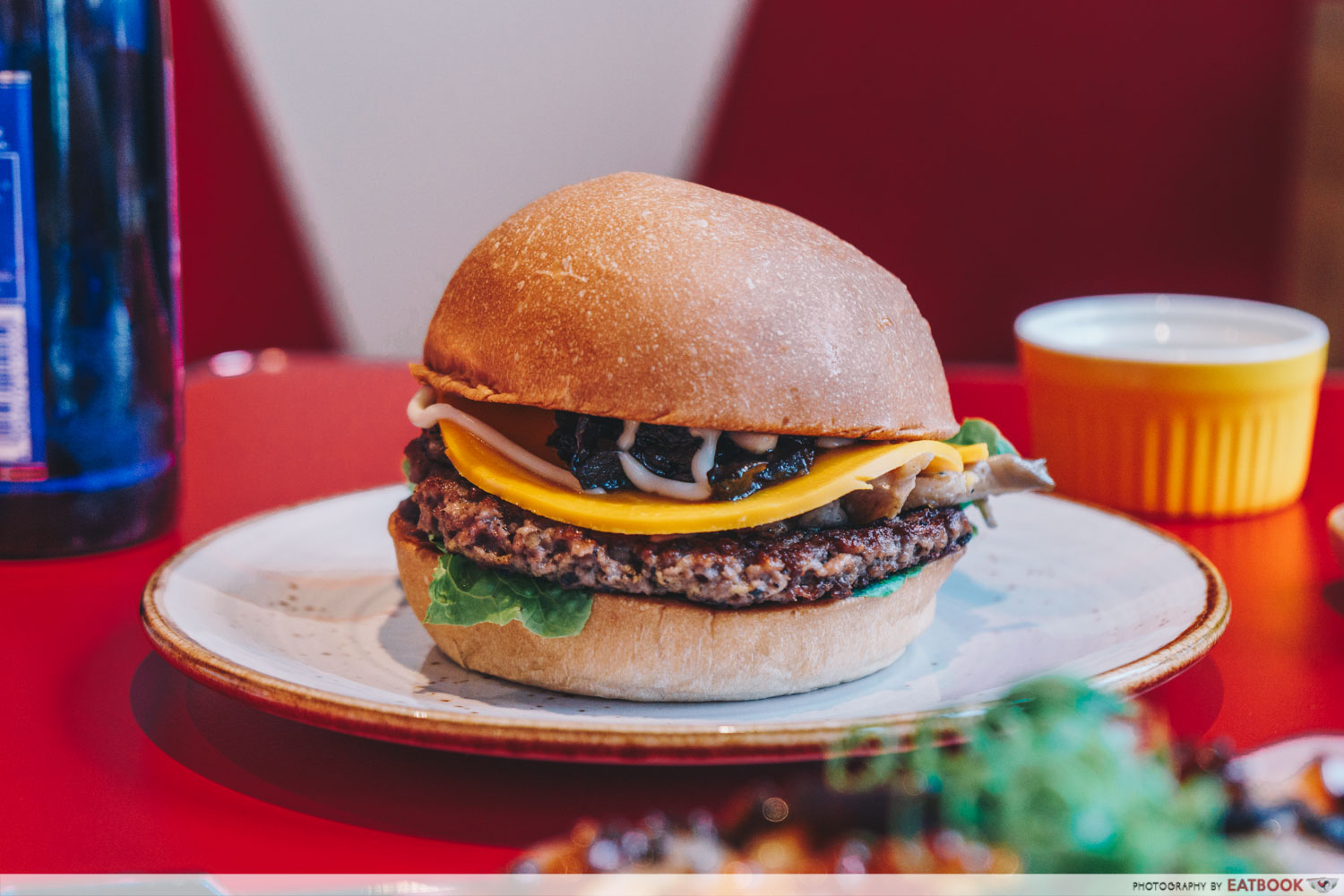 I didn't even realise that the Mushroom Cheese Burger ($17) was one of their meatless options even after digging into it. I was impressed as their signature smashed Impossible patty was almost indistinguishable from a regular juicy beef patty. I'm pretty sure even the biggest meat lover would devour this vegan burger within minutes. 
The burger also features other plant-based ingredients like vegan cheese and butter, too.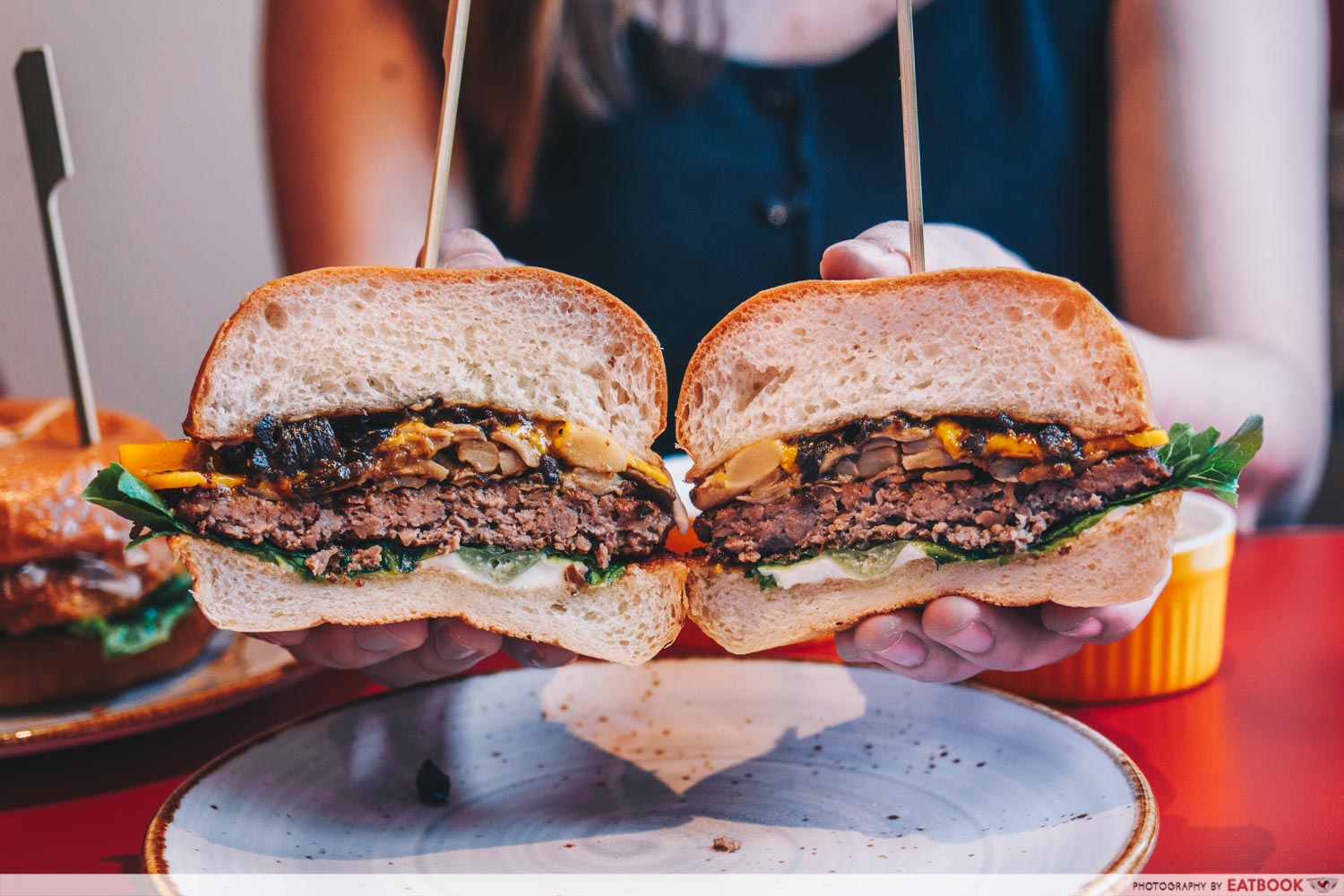 The mushroom mix comprises a blend of dry trumpet and morel mushrooms, which were rehydrated with a mushroom stock. Their umami profile was clear in every bite I took, and the mushroom pieces were pleasantly chewy. 
The garlic aioli was also the perfect complement to this delectable mushroom burger.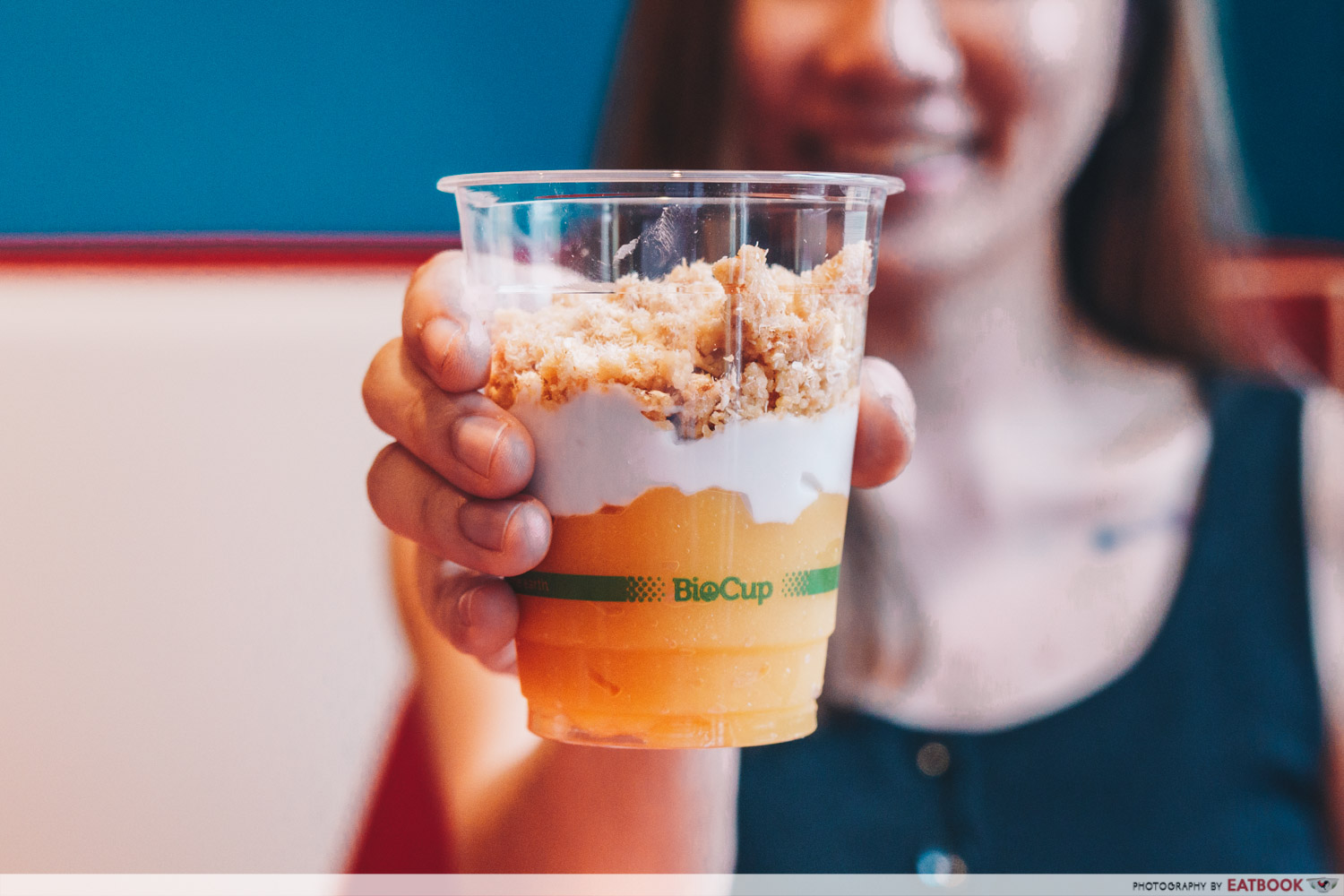 With the previous dishes surpassing the ordinary, the Lemon Crumble ($4.50) fell short of our expectations, coming across as rather plain.
This sweet treat has layers of tart lemon curd, crunchy crumble, whipped coconut cream, as well as desiccated coconut. 
If you're looking to indulge in an after-work tipple, 8ASH is the place for you. They offer a wide selection of craft beers and other unique alcoholic beverages. I'd recommend going for their crowd-pleasing Takara Mio Sparkling Sake ($20) that has a fruity and sweet bouquet. For those who are seeking for something more interesting, opt for the Lost Coast Great Peanut Butter Chocolate Milk Stout ($14)!
Ambience at 8ASH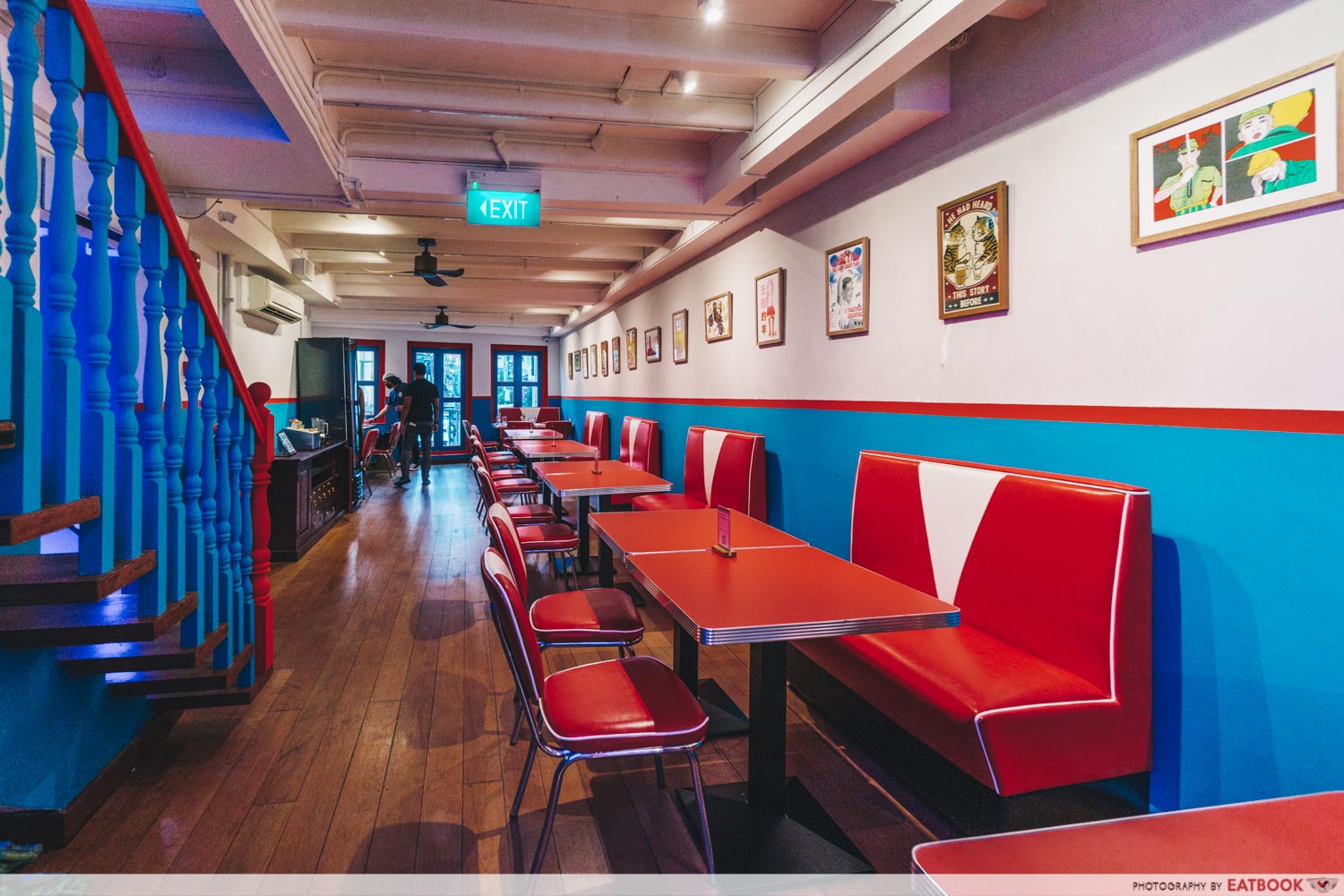 With the kitchen taking up the first floor, that leaves the second floor for dining-in. The interior screams retro. With Instagrammable neon signs, old-school diner booths, as well as walls clad in hues of blue and red, the space has an aesthetic resembling that of a 60s American diner. I definitely enjoyed its laid-back ambience.
It'd take you five minutes to walk from Telok Ayer MRT Station, making this place an accessible spot to visit.   
The verdict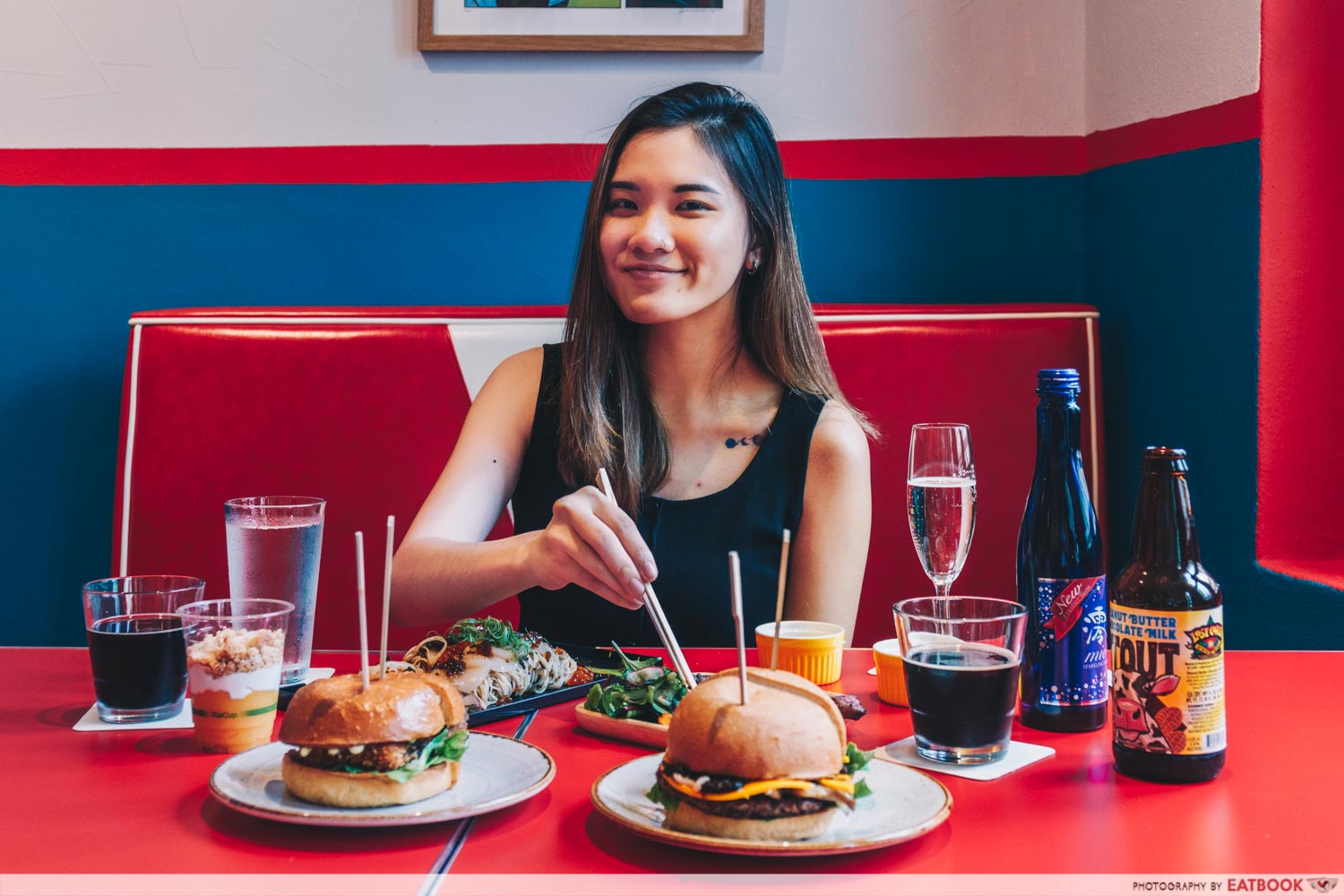 The quality and taste of their dishes were well above average, and I especially enjoyed the scallop somen and wagyu steak. I also liked the fact that their burgers were made with restraint. Sometimes, less is more and 8ASH clearly showcased this in their burgers, which only comprised a few elements that perfectly complemented the patty. 
Whether you're bringing a date or just planning to hang with your friends, 8ASH is a great location simply because of its Instagrammable setting, convenient location, delicious and value-for-money food as well as good vibes. Granted, the dishes here are a little pricey but for the quality of ingredients and techniques used, it's definitely worth the visit. If you're planning to eat there, just note that 8ASH uses biodegradable cutlery and plates.   
Be one of their first 150 customers on either 4-5 and 11-12 November, between 5pm to 9:30pm, and enjoy their signatures like the Hoshi Wagyu Steak and Vegan Ramli burger at just $1! This opening promotion is limited to one redemption per diner per day.
All you have to do is use their filter, available on their Instagram page, hit record and discover which dish the randomiser assigns you, and post it on your Instagram Stories, tagging @8ash.sg. Then, flash the posted IG Story to the staff to redeem the $1 dish! 
The Feather Blade Review: Flat Iron Steak And Hearty Beef Bowls Topped With Foie Gras At Club Street
Find out how we feel about the beef bowls at The Feather Blade, that's also in the vicinity. For more delicious burgers, check out our review on Skirt & Dirt, with their unique cheese skirt burger. 
Skirt & Dirt Review: Unique Cheese Skirt Burger Stall At Tiong Bahru Market
Address: 8 Ann Siang Hill, Singapore 069788
Opening hours: Mon-Wed 11am to 10pm, Thu-Sat 11am to 10.30pm
Website
8ASH is not a halal-certified eatery.
Photos taken by John Lery Villanueva.
This was a media tasting at 8ASH.
8ASH Review: Riverdale Pop's Diner-Lookalike Serves Katsu Burgers And Scallop Somen
Summary
Pros
– Delicious burgers
– Tender wagyu steak
– Refreshing and tasty scallop somen
– Unique, retro setting 
Cons
– A little pricey
– Lemon crumble was pretty average tasting
Recommended Dishes: Chilled Hokkaido Scallops Somen ($25), Hoshi Wagyu Steak ($18), Mushroom Cheese Burger ($17) 
Opening hours: Mon-Wed 11am to 10pm, Thu-Sat 11am to 10.30pm
Address: 8 Ann Siang Hill, Singapore 069788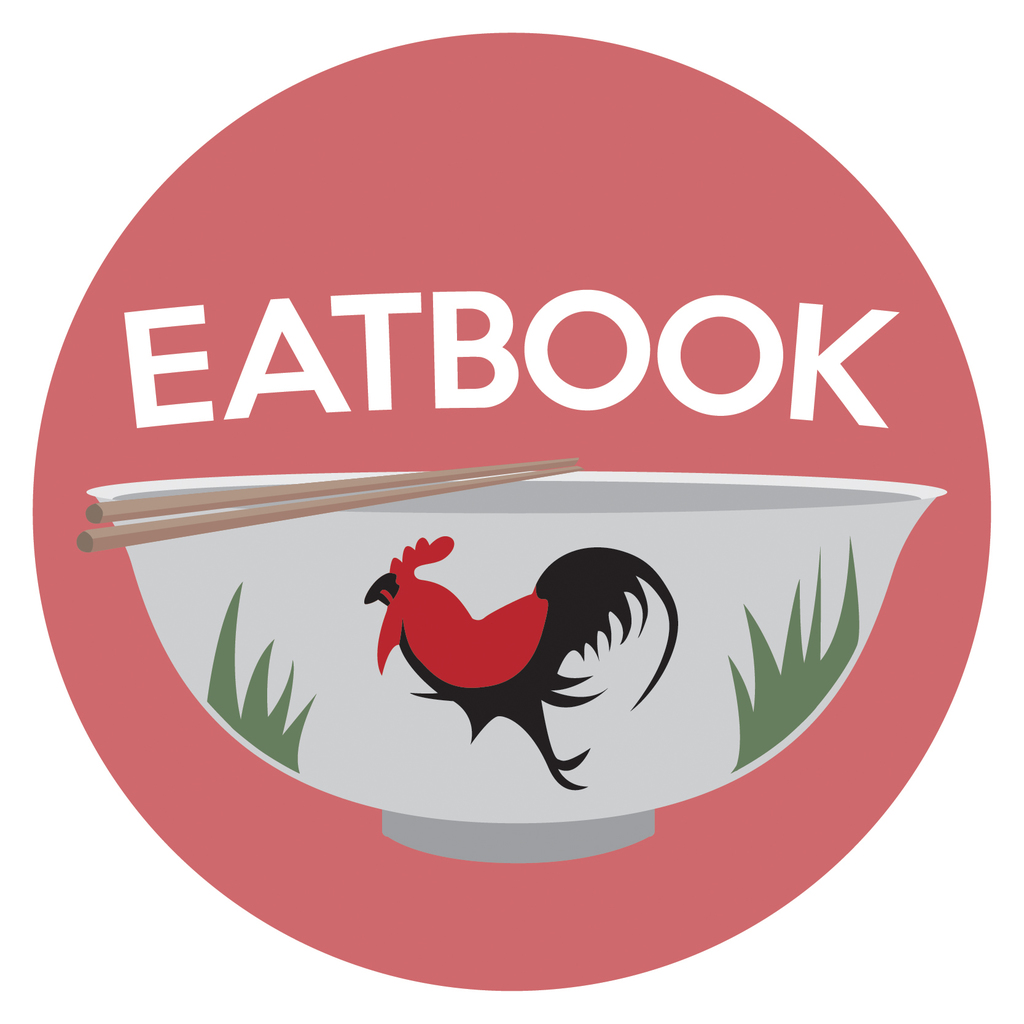 Drop us your email so you won't miss the latest news.