Cheese skirt burgers at Skirt & Dirt 

Food trends in Singapore come and go, but one that has stood the test of time is the humble burger. While concepts such as mala and salted egg yolk exploded and fizzled out over the past few years, the appeal of burgers has gone on to sizzle the food scene. 
The burger space in Singapore is well stocked with plenty of options, from international players like Shake Shack and Five Guys, to burger specialist restaurants such as Burger Frites. This doesn't mean that burgers are an expensive affair though. Options are aplenty in hawker centres and Hammee's is a fine example that ought to make any burger lover swoon. 
Hammee's Review: Juicy Handcrafted Burgers That Can Rival Hambaobao's At $6 Or Less
Skirt & Dirt joins the small but growing list of burger stalls in hawker centres. The locally-owned joint opened last month in August 2020, but has already generated some hype for their unique and value-for-money burgers.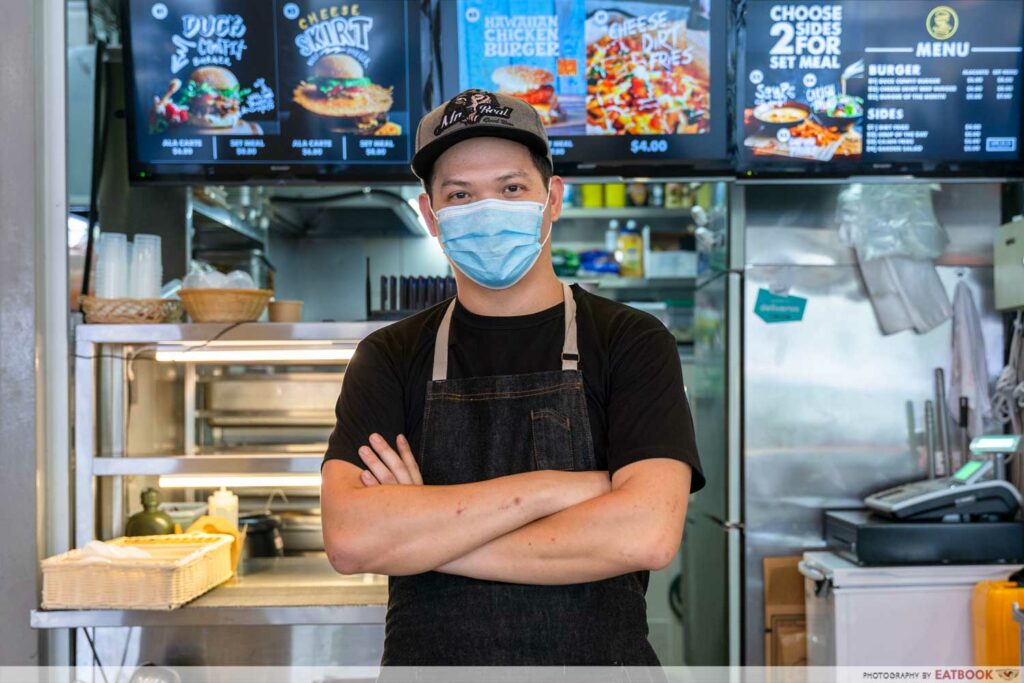 This exciting concept is started by Fabian Tan, who used to work as a Senior Sous Chef for the One Faber Group. Filled with loads of exciting ideas from his time at the hospitality group, he decided to branch out and create his own brand. 
Not wanting to serve up classic cheeseburgers, the 31-year old wanted to create unique burgers that would offer something different to the market. This eventually gave rise to the cheese skirt burger.
Burger Frites Review: Braseiro Opens New Restaurant Serving Quality Beef Burger At Joo Chiat
Food at Skirt & Dirt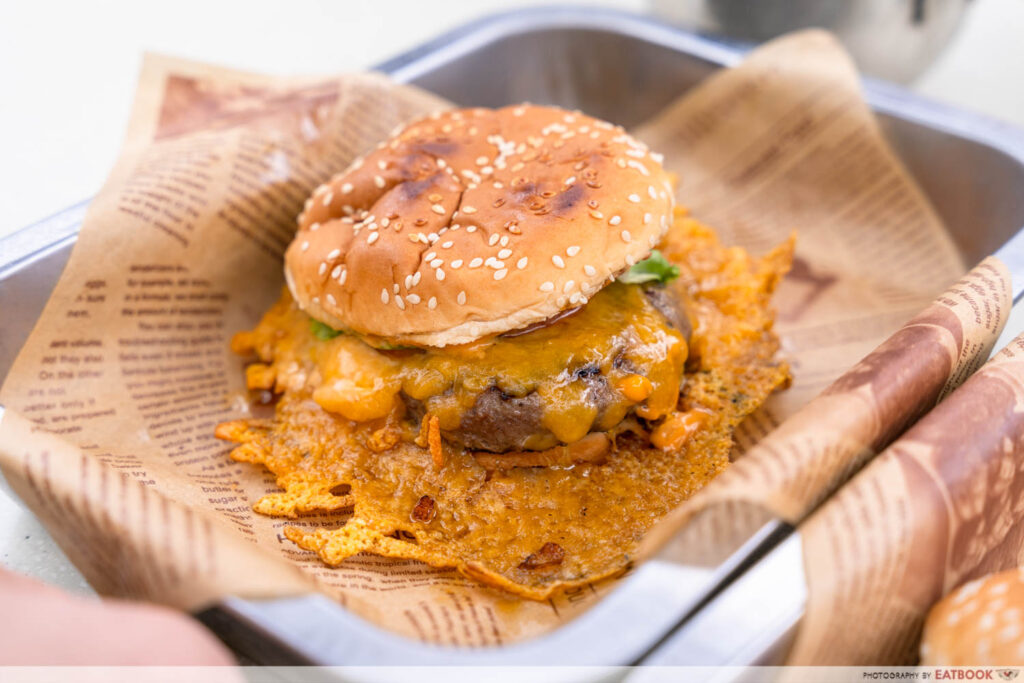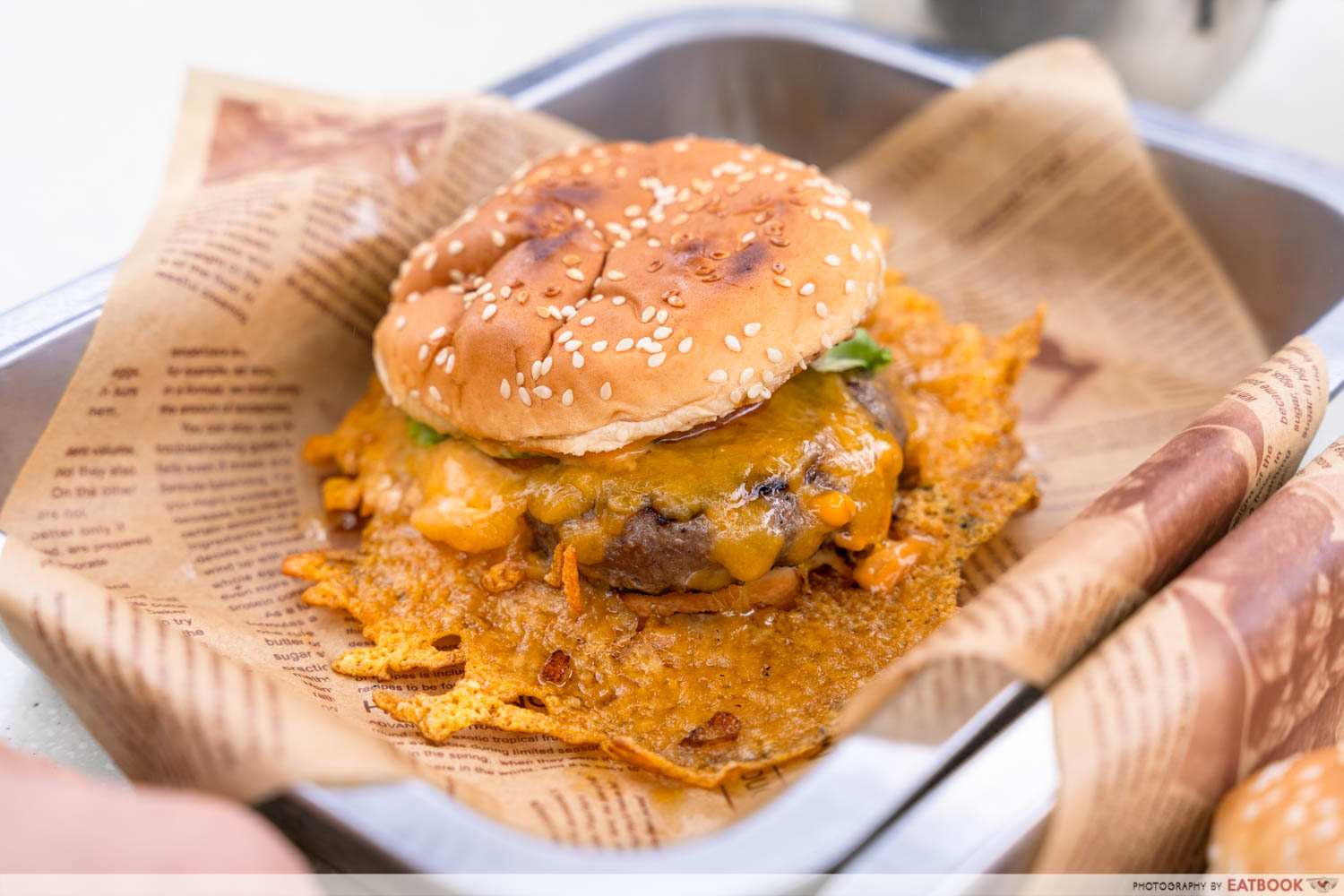 The Cheese Skirt Burger ($6.80) features the same bells and whistles as a regular cheeseburger, but is also given an attractive cheese skirt that sets it apart from the competition.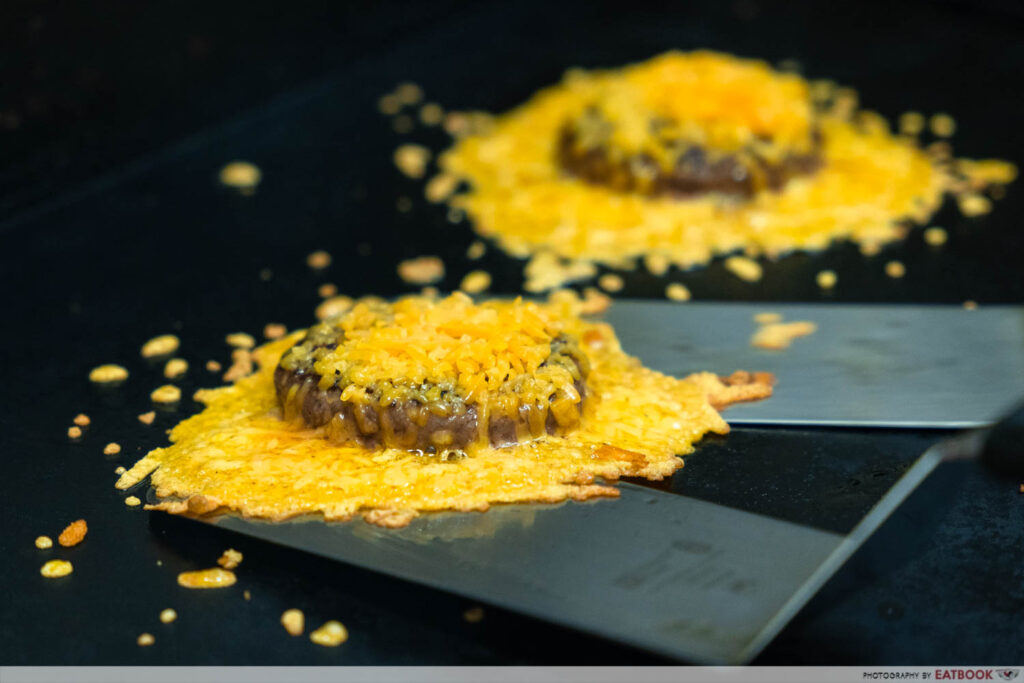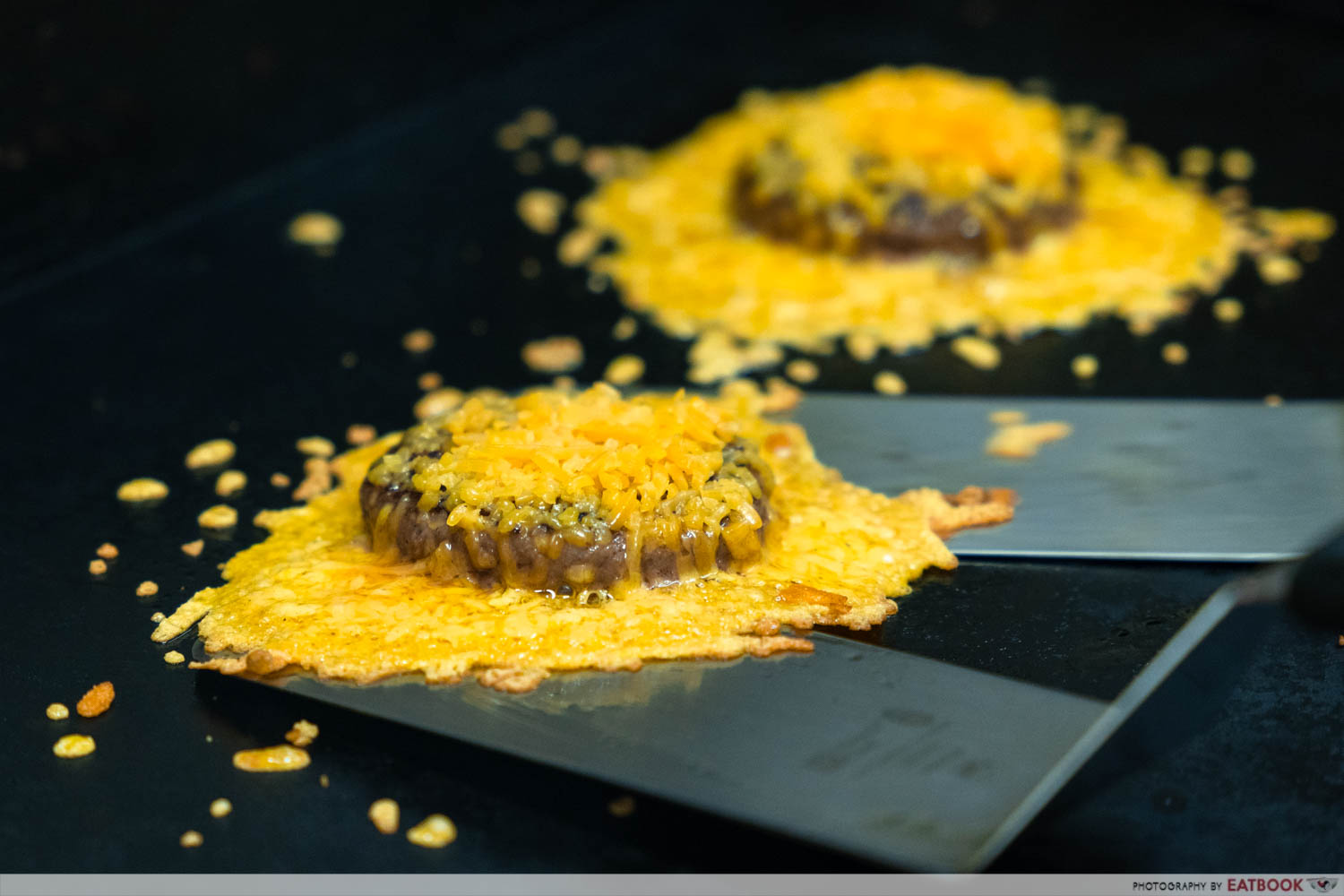 The cheese skirt is made by drizzling shaved cheddar over a hot grill and letting it form into a crispy crust. A meat patty sits onto it, making the cheese crisp look just like a skirt that covers the patty daintily. 
This cheese skirt is not all for show though. It gives a nice bit of sharpness to the burger and also a whole load of texture. You can choose to eat the cheese on its own or munch it down together with the burger. I like the flavour of the cheese and prefer to eat it on its own.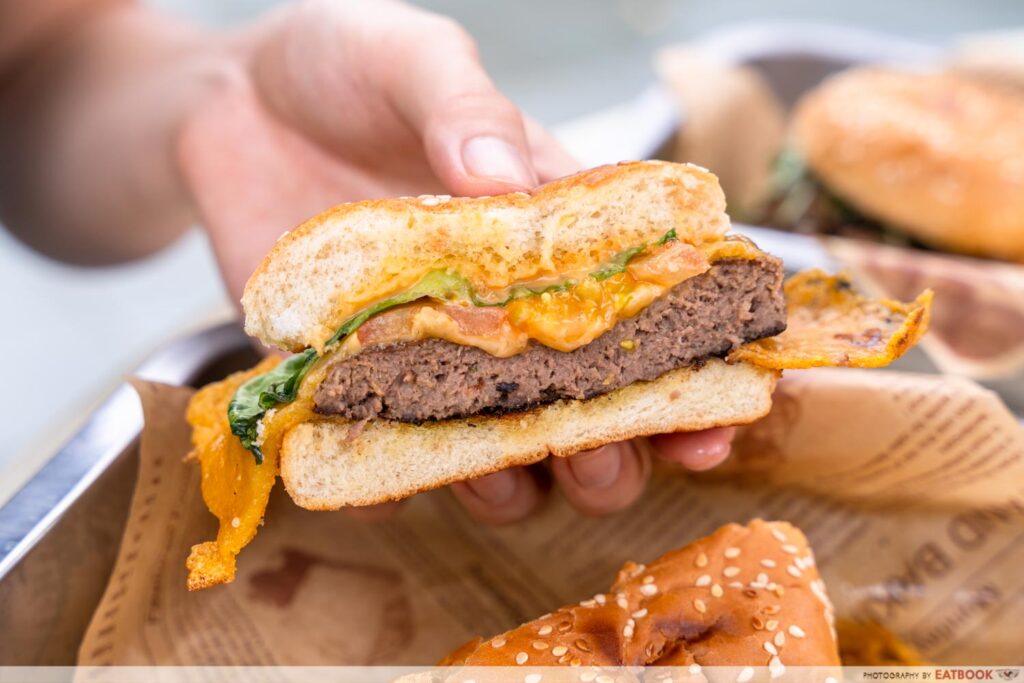 The burger has a good patty-to-bun ratio, a result of Fabian getting his custom-made patties from a local butcher. While it's substantial in size, I find that it was slightly missing out in flavour. It was lacking a real punch of meatiness which would otherwise make it a great burger. However, at less than $7, I wouldn't complain much. 
A plus point is the slice of juicy tomato and lettuce that also gave a good variance of texture Each component seems to complement each other pretty well and overall I quite liked this burger.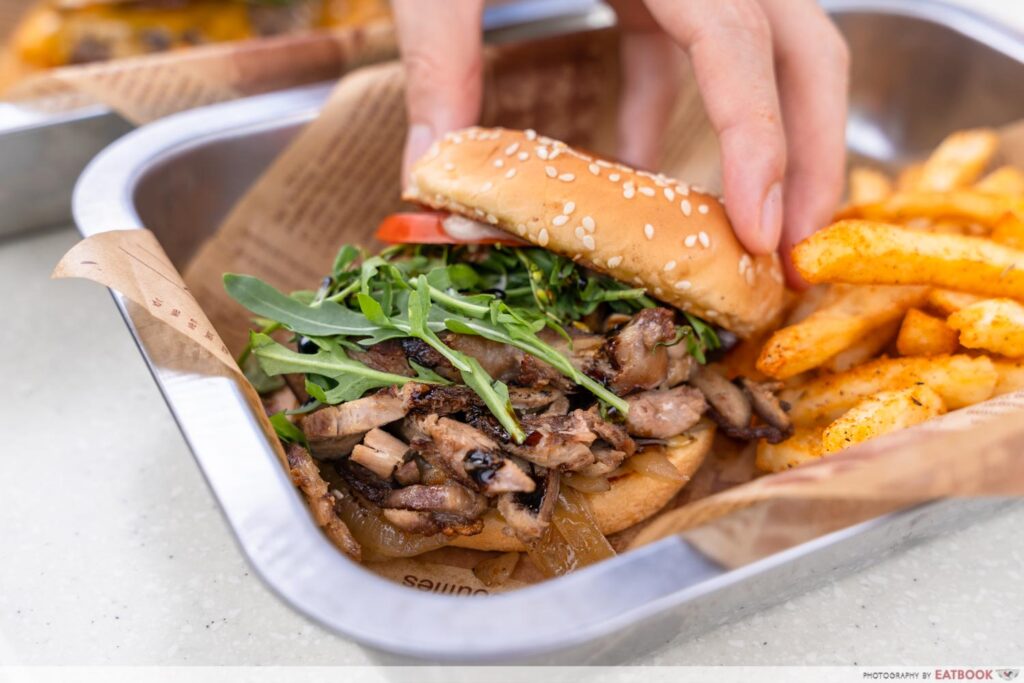 We also found room for the Duck Confit Burger ($6.80). Unlike the eponymous skirt burger, this one is only available for a limited amount of time. It features chunks of duck leg that are slow-cooked in its own fat and then given a quick sear to bring out its natural flavours. It's then accompanied by rocket leaves, caramelised onions, tomato, and truffle mayo to make it quite an attractive-looking burger.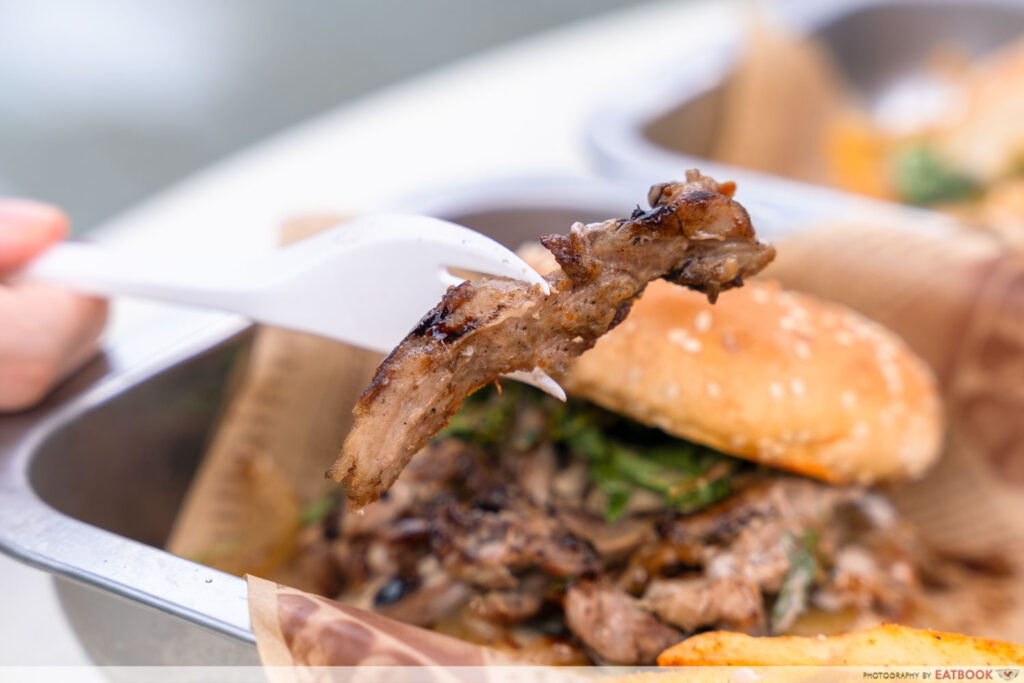 Duck confit at $6.80 is a real steal. However, the ones here were slightly missing the mark. They seem to have been overcooked, giving a dry and tough texture. One redeeming factor was how the burger was loaded generously with meat and that made for quite a filling meal.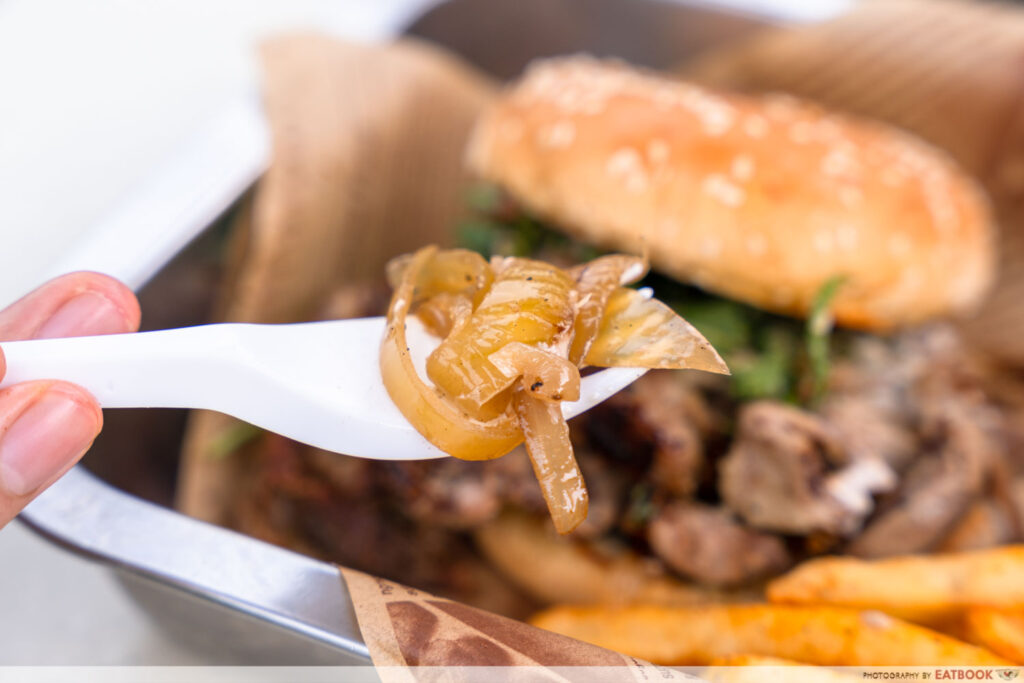 My dining companion and I also liked the caramelised onions. They were carefully cooked to a deep dark brown and packed in loads of flavour. Caramelising onions is a painstaking process and it's nice to know that the art is honoured in a quick-service concept like Skirt & Dirt.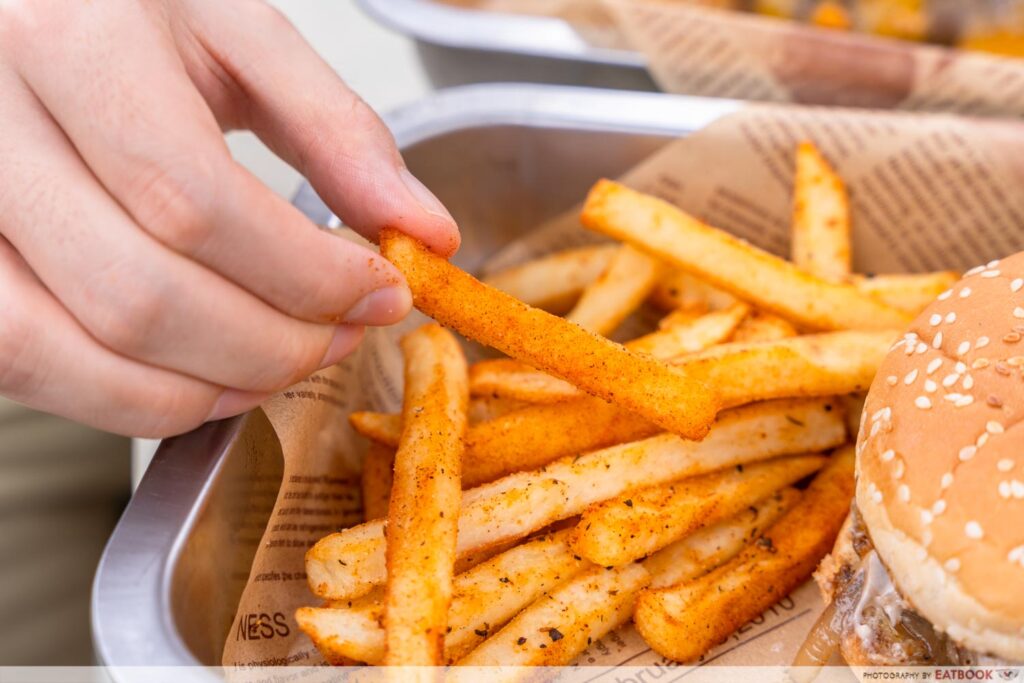 Diners are also able to top up their meal with a choice of two sides for $2. There are three sides on offer with cajun fries, soup of the day, and house salad to choose from.
The cajun fries were fried nicely and I liked how there was a generous sprinkle of seasoning as well. The fries were crispy, and while they were prepared from frozen, it was hard to dislike them.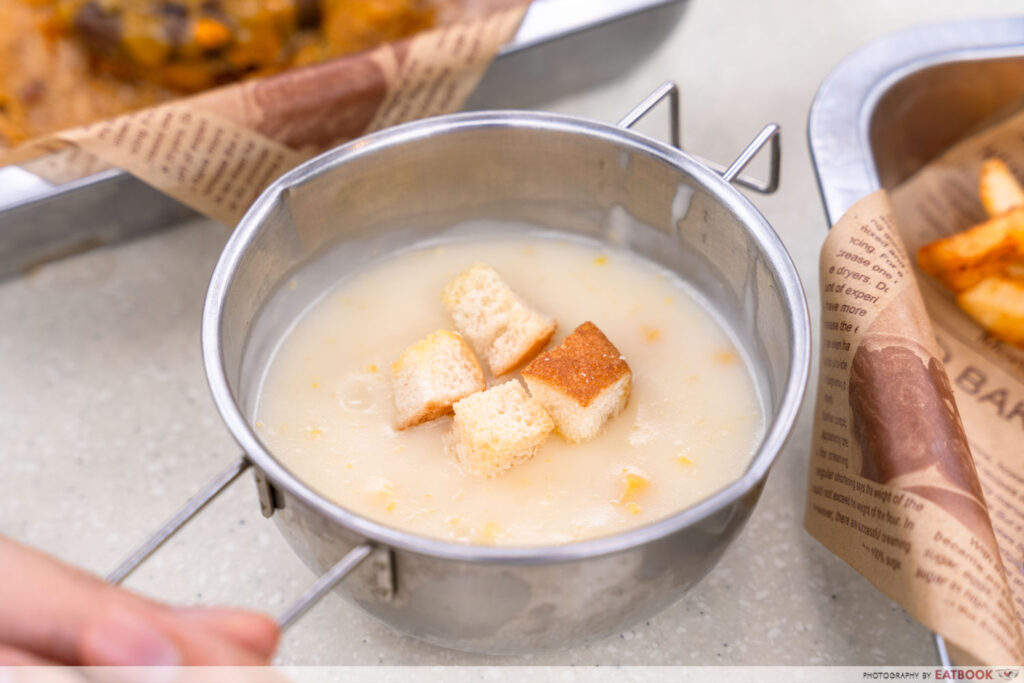 I found that difficult to say for the soup, which was a little too thick and gloopy for my liking. It came with free-flow croutons, which are a nice touch.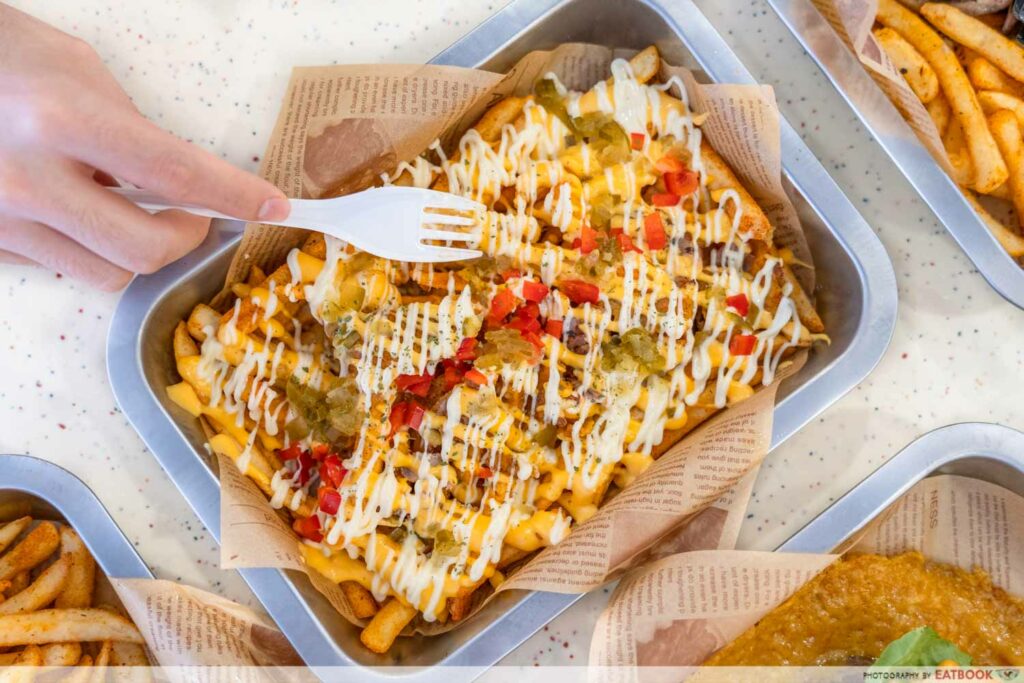 The stall also serves up Cheese Dirt Fries ($4). This heavy plate of fries is made up of an extra-large serving of fries, cheese skirt, chopped bacon, jalapenos, and relish. A heavy lashing of mayonnaise and cheese sauce finishes up this dish. 
At $4, these fries are great for sharing and I enjoyed how each component balanced each other out to make it quite an addictive treat. 
Ambience at Skirt & Dirt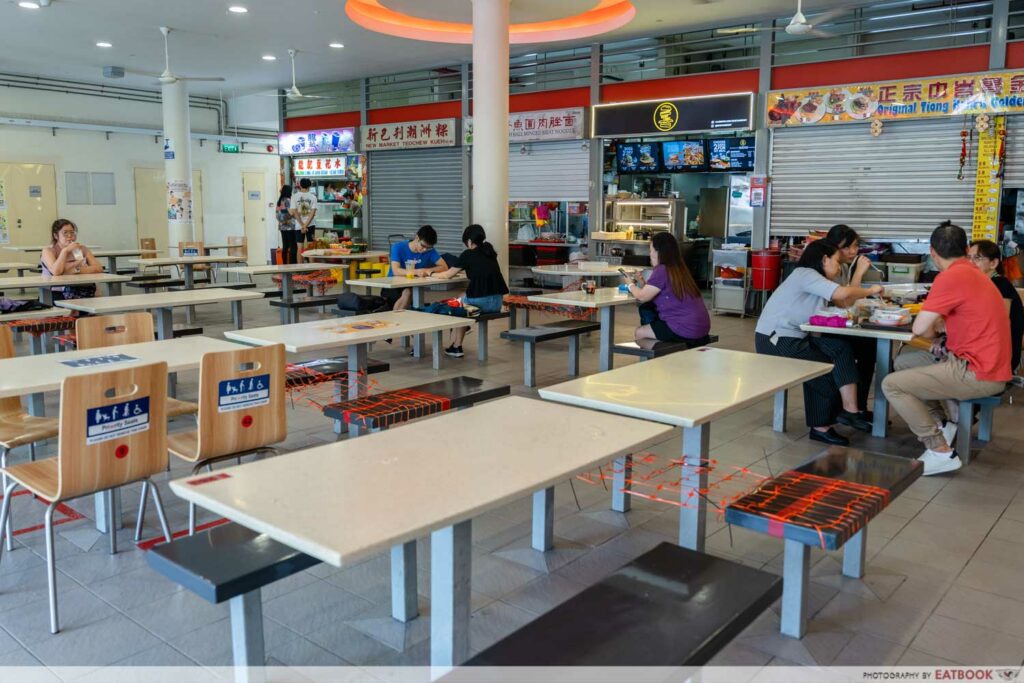 Skirt & Dirt is located at the sprawling Tiong Bahru Market. There are loads of tasty food options here, and seats are not too difficult to find. 
The stall gives a little buzzer upon making your order, so you don't have to wait in line for too long. 
The verdict
Skirt & Dirt is a burger concept that differentiates itself by serving up unique burgers. Despite all its fancy touches, I like how it does not come across as gimmicky. Prices are reasonable, and loads of attention to detail can be found in their food. 
Take note that the stall is still new and they're still fiddling with their menu. As a result, some dishes might not appear on the menu from time to time. Nevertheless, I'm certain that my first taste at this burger joint will not be my last. 
For the low down on the best burgers in Singapore, don't forget to check out our guide here! 
Address: 30 Seng Poh Road, #02-66, Tiong Bahru Market, Singapore 168898
Opening hours: Daily 11am to 7pm
Website
Skirt & Dirt is not a halal-certified eatery.
Photos taken by Lim An.
This is an independent review by Eatbook.sg.
Summary
Pros
– Tasty beef burger
– Unique concept
– Value for money
Cons
– Soup can be improved
– Duck confit burger is dry
Recommended dishes: Cheese Skirt Burger ($6.80), Cheese Dirt Fries ($4)
Opening hours: Daily 11am to 7pm
Address: 30 Seng Poh Road, #02-66, Tiong Bahru Market, Singapore 168898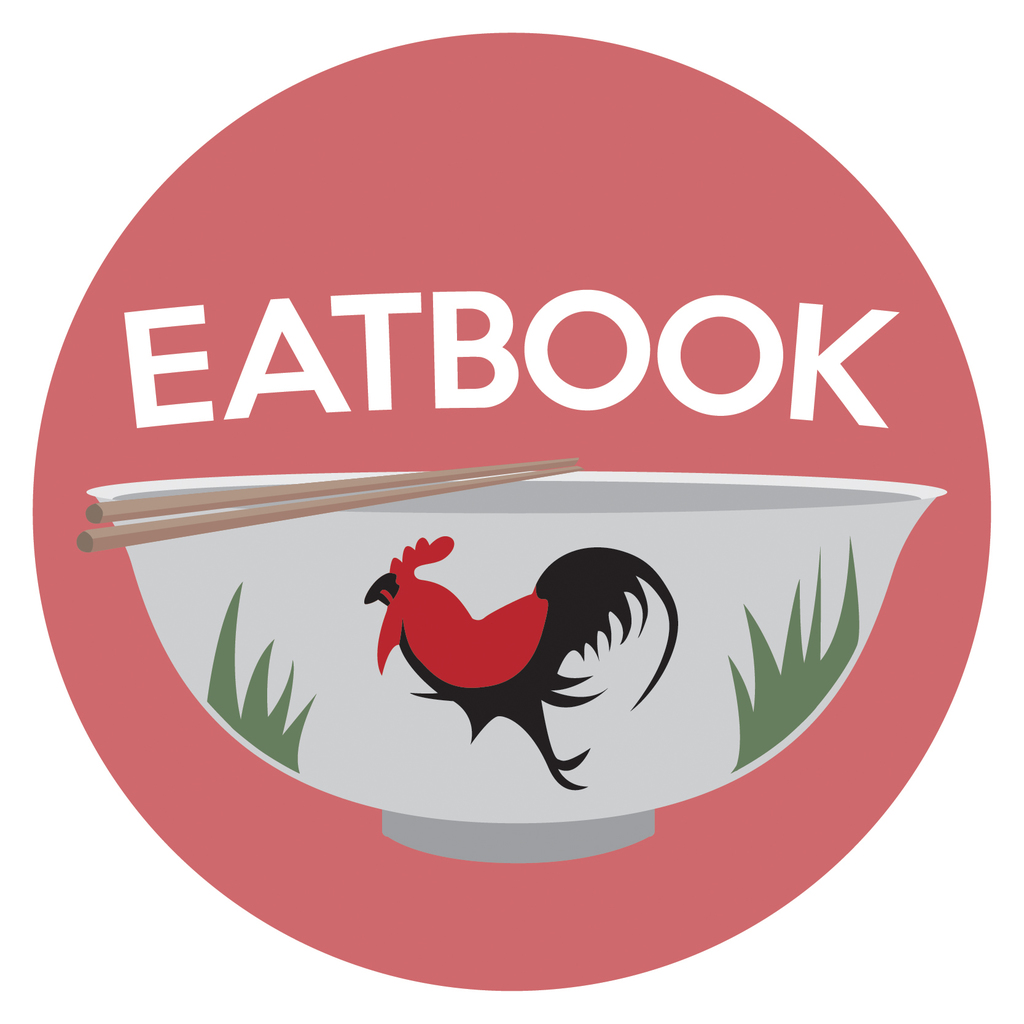 Drop us your email so you won't miss the latest news.