Beef Burgers at Burger Frites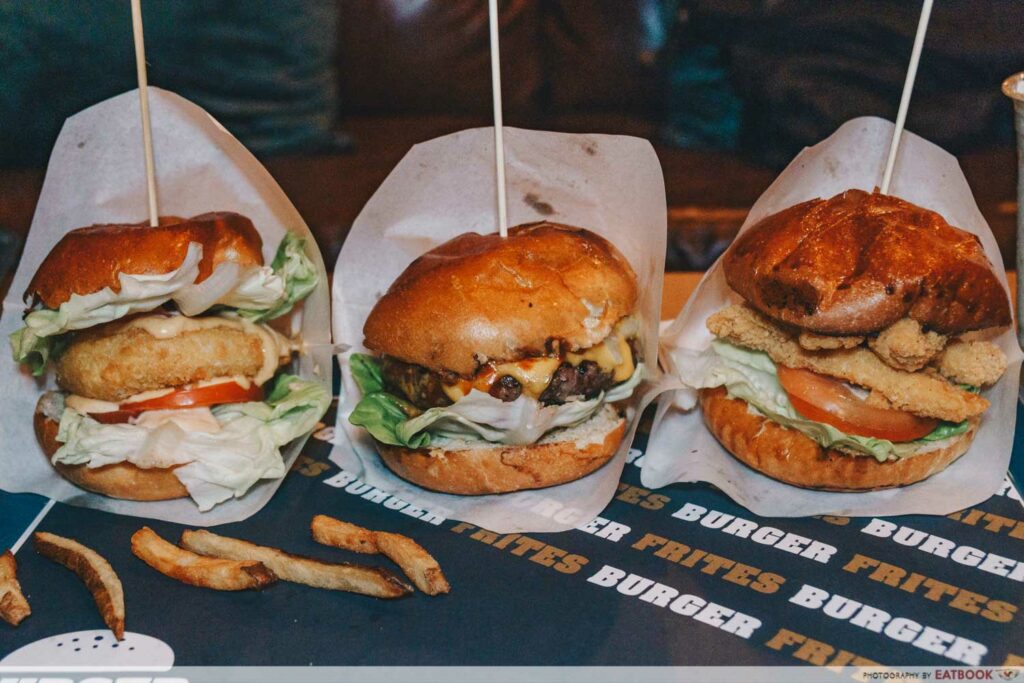 Easties and steak lovers might be familiar with Braseiro. The popular value-for-money steakhouse opened in 2015, offering $19.90++ ribeye steaks with free-flow fries. Close to five years later, the store has opened a new dining concept across the road with Burger Frites. 
Serving up gourmet burgers and housemade fries, this cosy restaurant opened in November 2019 and has been quite a popular hangout for burger lovers.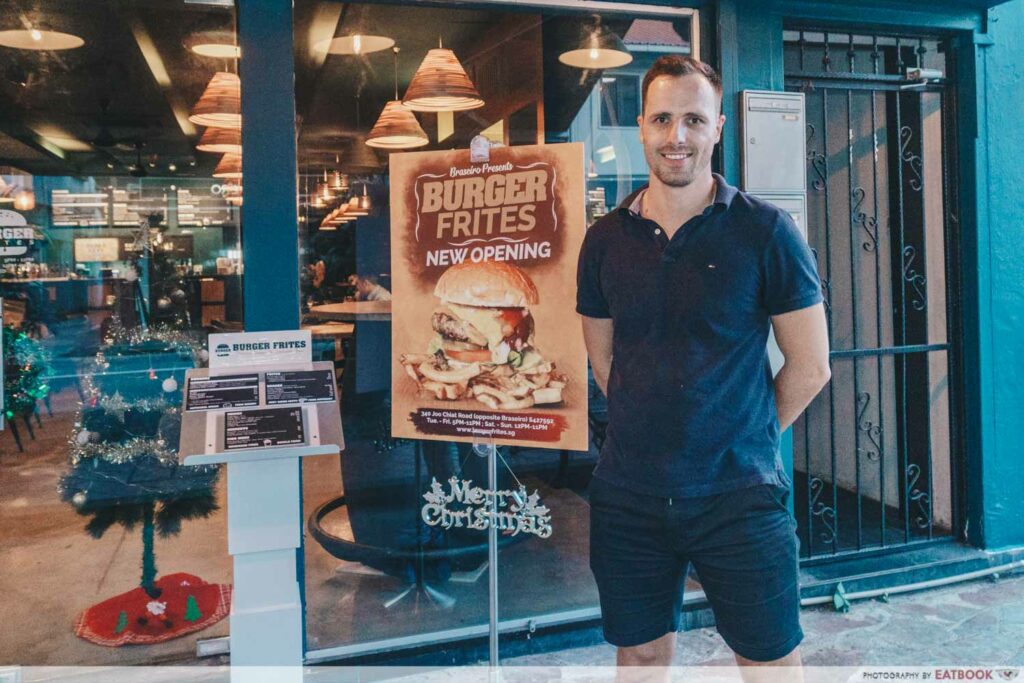 I managed to sneak in a chat with the owner, Alexandre Pini, during a recent media tasting. The chirpy French national opened up Braseiro when he was only 25 years old, and has spent close to half a decade living in Singapore. 
Alexandre sources his ingredients from the contacts he made during his time in Singapore. For instance, the patties are from Huber's butchery, the custom-made brioche buns are from Maison Kayser, and the fries are from his own Braseiro restaurant.
Food at Burger Frites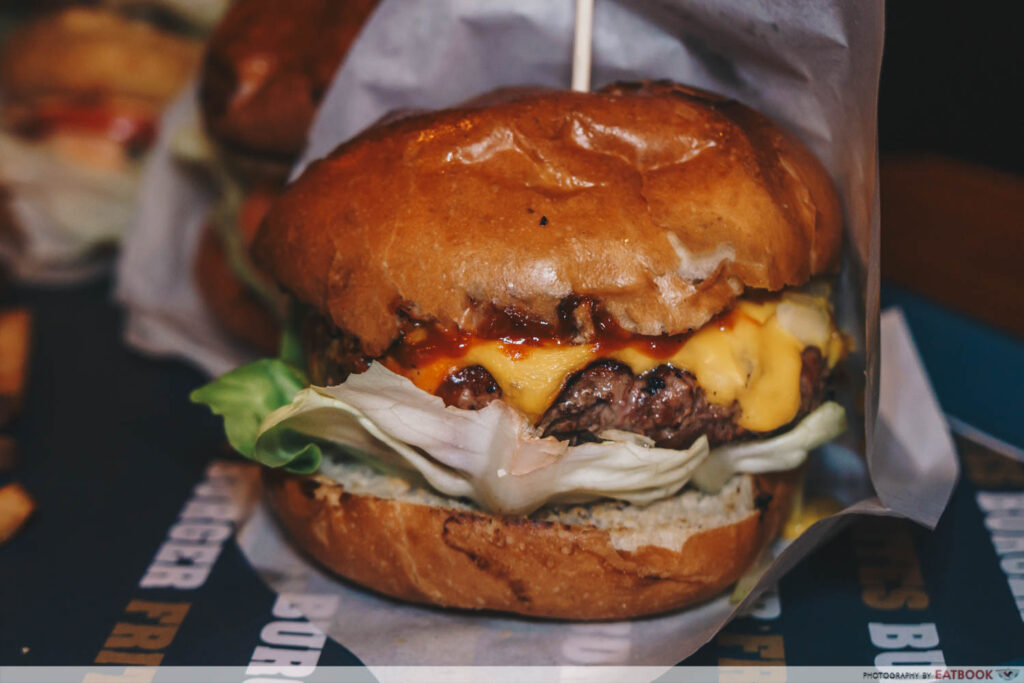 The burger options are kept to a limited selection, with beef, chicken, and brie to choose from. Each burger costs $16++, and there's also an option of adding cheese at $1++ and turkey bacon at $2++.
I was excited to try the Angus Beef Patty Cheese Burger ($17++). It's the restaurant's interpretation of a classic cheeseburger, and looks sinfully delicious with a respectable patty-to-bun ratio. 
It didn't come with any fancy ingredients such as caramelised onions or hot sauce, and only packs a slice of melted cheese, pickles, tomatoes, lettuce, and a sizeable beef patty.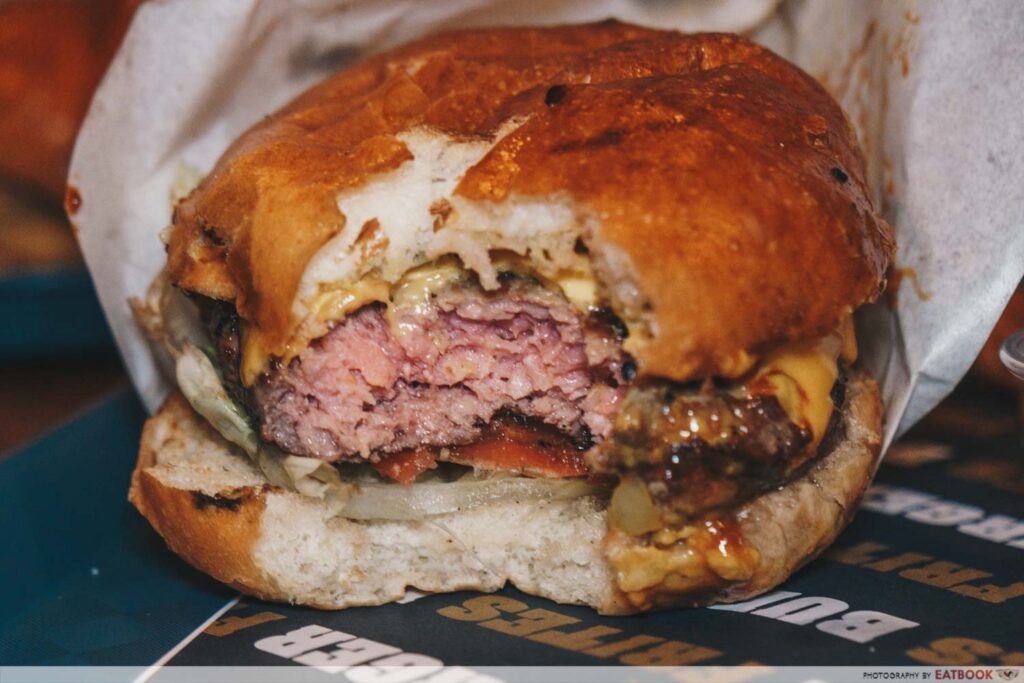 The beef patty comprises three components: USDA choice Angus brisket, USDA choice striploin, and Australian wagyu fat. It's quite an interesting combination, considering that most burger joints prefer to use an economical blend of chuck and round bits. The end result is a patty that has loads of nice beefy flavours, but also a good amount of fattiness to it. 
I enjoyed the specially crafted buns here. I usually stay away from brioche buns as they tend to draw too much attention away from the burger patty. But the ones here do away with the excessive buttery richness, and come with a mild milkiness and pillowy soft texture.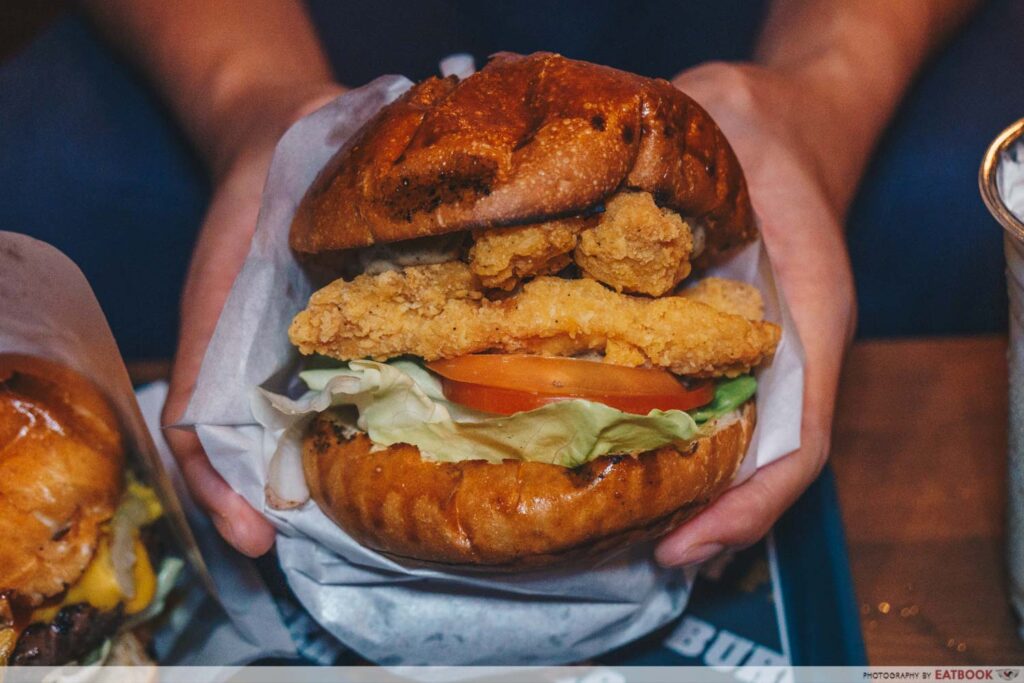 The Crispy Chicken Burger ($16++) might surprise those who're expecting a thick cutlet of deep-fried chicken thigh. Instead, it comes with four big strips of chicken tenders that are stacked on each other. 
Alexandre tells us that he wanted the burger to look huge, hence the stacked tower of chicken tenders. While this impressive-looking burger scored high on looks, it didn't rack up points for taste.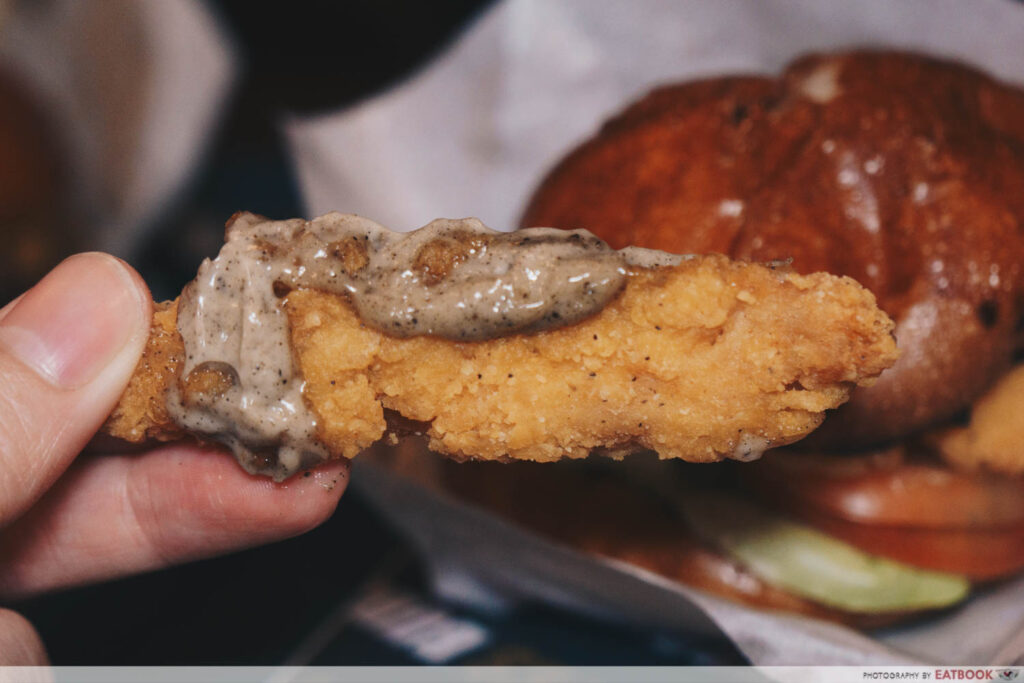 The individual pieces of chicken tenders are too dry for my liking, and didn't have much of a solid mouthfeel that a piece of chicken thigh would give. While the flavourful black pepper cream sauce gave some much-needed moisture and flavour, it still wasn't enough.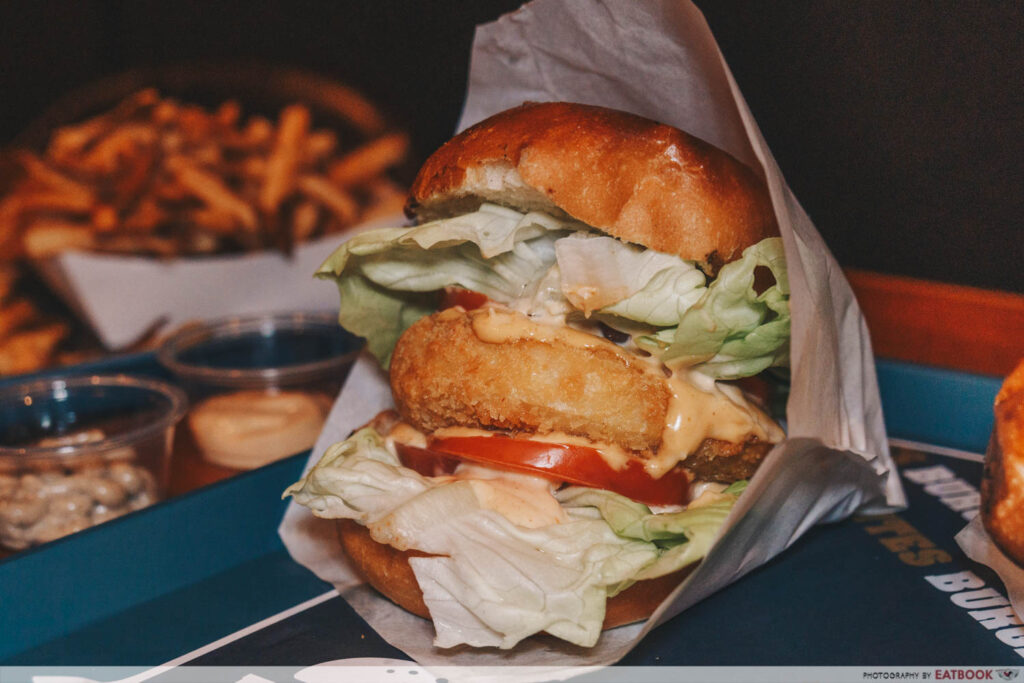 A sole vegetarian option is available, and I was quite impressed with the Breaded Brie Cheese ($16++) Burger. A whole block of brie is battered and deep-fried to a crispy golden brown. 
The semi-melted brie gives a substantial creaminess, while combining nicely with the panko breadcrumbs for a crunchy mouthfeel. This burger puts many other meat burgers to shame, and is a great option for vegetarians looking for a sinful yet indulgent burger experience.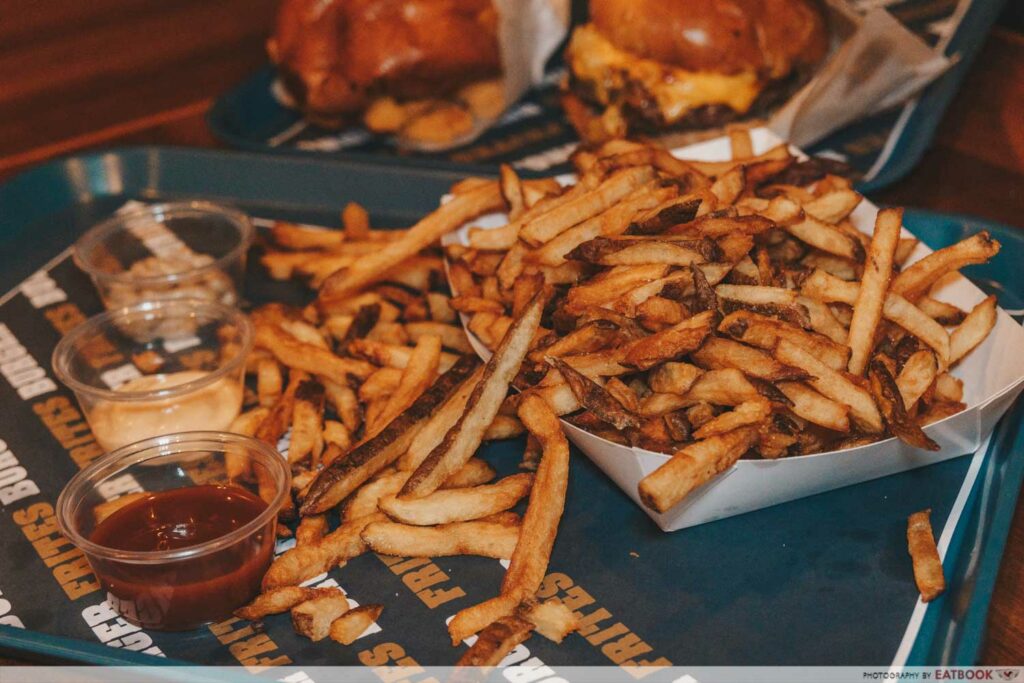 Unlike its counterpart across the street, you'll have to top up an additional $4++ for the Homemade Fries. It's also worth noting that the fries are not free-flow. 
The hand-cut fries here are similar to the ones at Braseiro. They're fried twice to give the right balance of fluffiness and crispiness, while also packing a bit of skin for a nice bit of earthiness. 
However, there ought to be enough for three people as the fries are literally overflowing out of the paper container.

Ambience at Burger Frites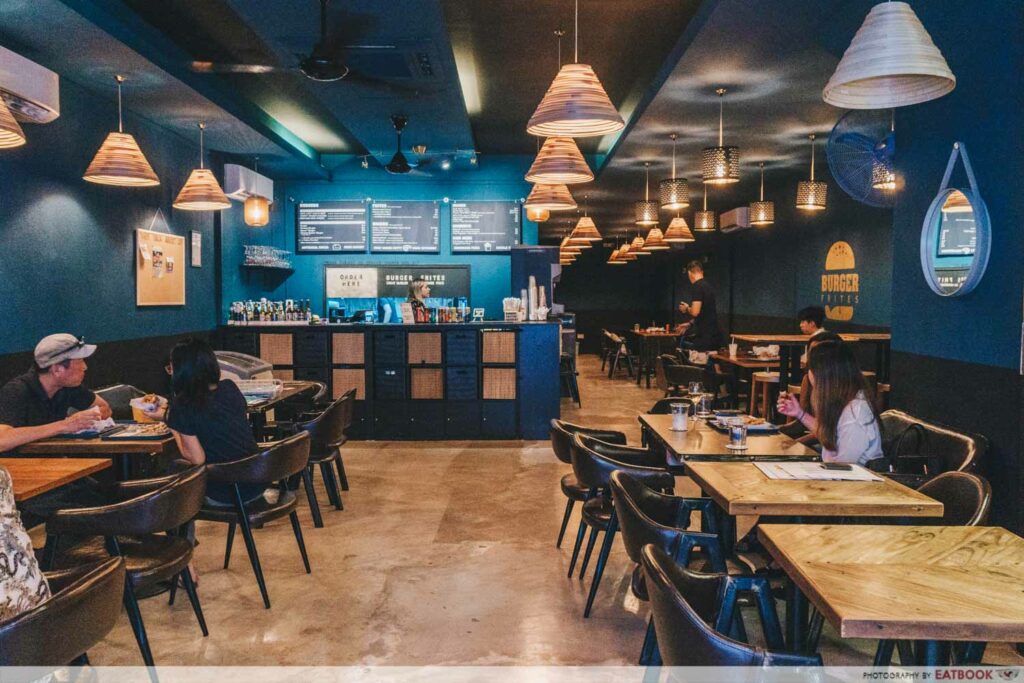 This burger joint has a calm and relaxing vibe, which is similar to most of the restaurants along Joo Chiat Road. Service is fast and efficient, and you can expect to get your burgers and fries to be served quickly. 
There are plenty of seats inside this 60-seater restaurant, which also includes a mini play area for kids. 
The verdict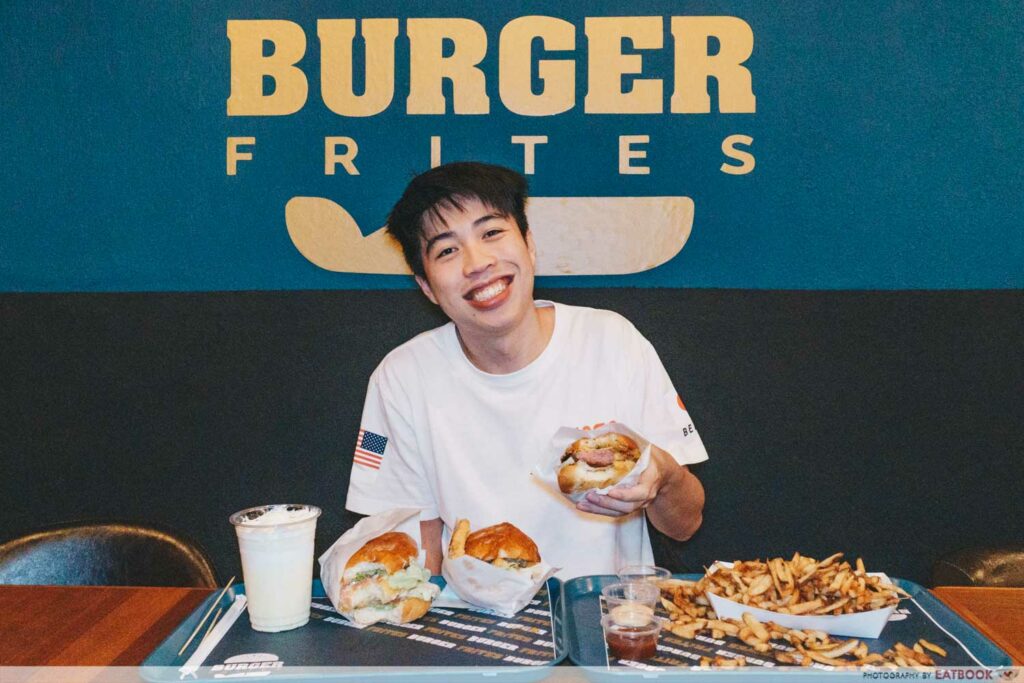 All in all, I was impressed with Burger Frites' excellent interpretation of a beef burger. It ticked all the boxes for a quality burger, and looking at the pictures while writing this article got my tummy rumbling. 
I wasn't too impressed with the chicken burger, but Alexandre mentioned that he's always looking for ways to improve his business, and might come up with different variations of chicken burgers in the future. 
However, unlike Braseiro, I felt the items here didn't score high on value. Paying $16++ for a beef burger doesn't qualify as being value-for-money in my book. Perhaps if fries were given on the side, more people might find the excellent burgers here easier on their wallets. 
For more burger recommendations, check out Hammee's at Commonwealth Crescent Market & Food Centre and Burger+ at Wisma Atria!
Address: 340 Joo Chiat Road, Singapore 427592
Opening hours: Tue-Fri 5pm to 11pm, Sat-Sun 12pm to 11pm
Website
Burger Frites is not a halal-certified eatery 
Photos taken by Huang Xiao.
This is an independent review by Eatbook.sg
Burger Frites
Summary
Pros
– Delicious beef burger
– Nice ambience 
Cons
– Inconvenient location
– Expensive
Recommended dishes: Angus Beef Patty Cheese Burger ($17++)
Opening hours: Tue-Fri 5pm to 11pm, Sat-Sun 12pm to 11pm
Address: 340 Joo Chiat Road, Singapore 427592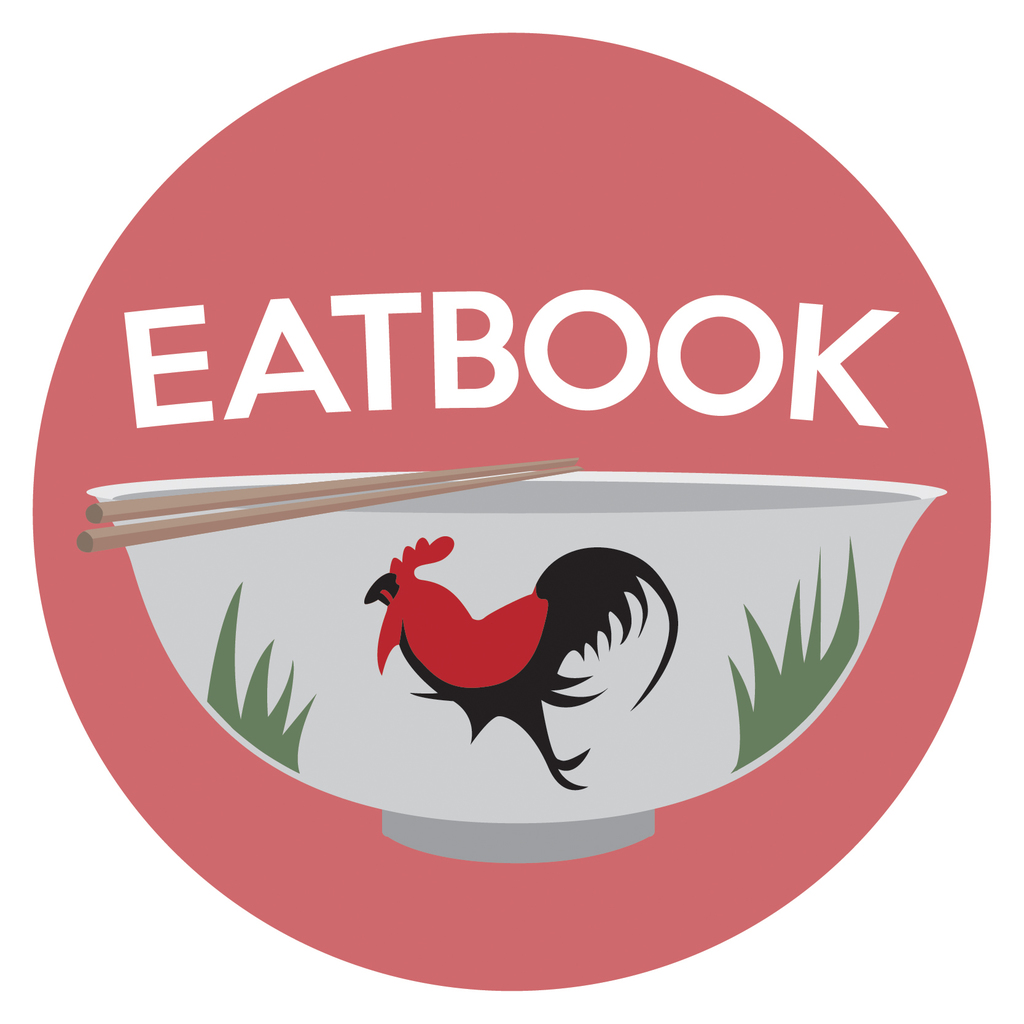 Drop us your email so you won't miss the latest news.