Burger+ sizzles up the burger scene
Update: Burger+ is permanently closed.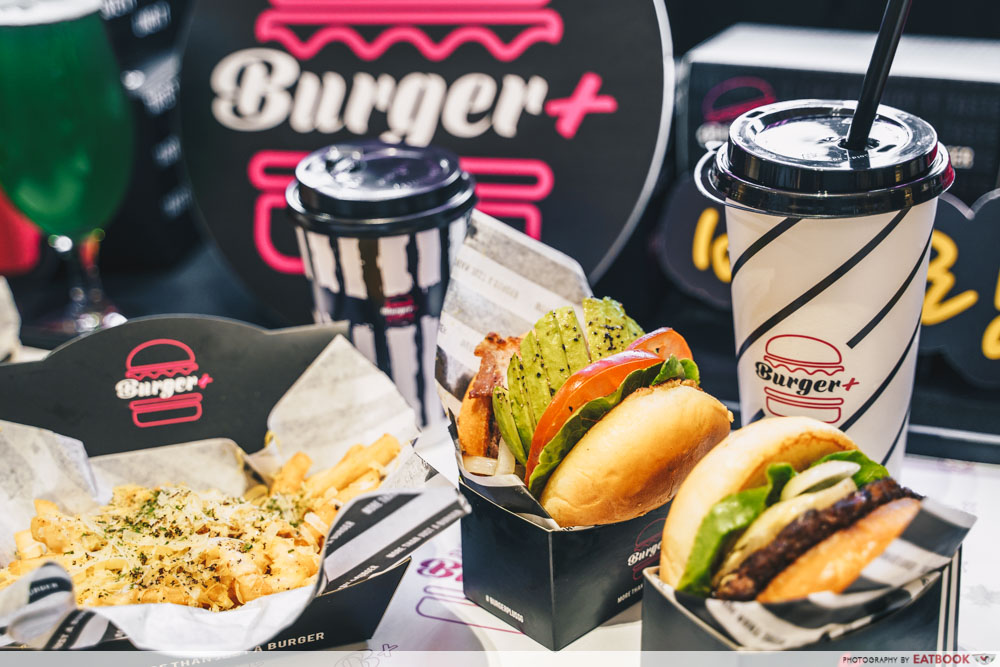 With popular stores such as Burger & Lobster, Shake Shack, and A&W opening their firsts outlets in Singapore earlier this year, Burger+ enters a competitive burger scene. 
Unlike the other foreign brands, this locally-owned burger store offers a refreshing take on burgers in Singapore—dishing up smashed burgers with a touch of Korean inspiration. They even bake their own potato flour buns in-house every day.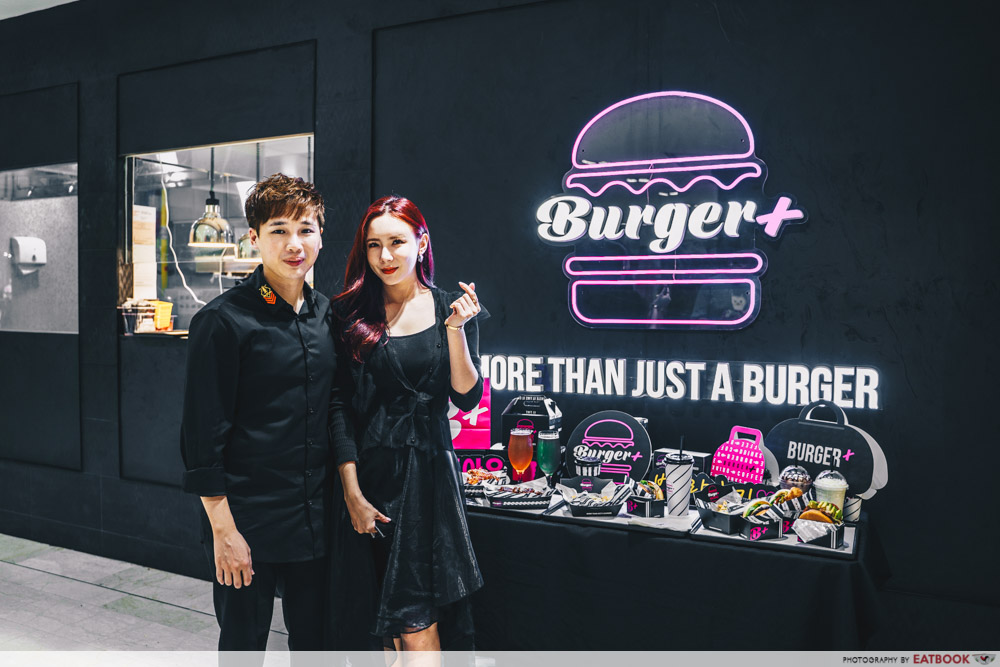 The store is opened by burger enthusiasts Daniel Koh and Lee Mihyun. The duo met through a mutual friend at Daniel's birthday party, where sparks flew between them and they soon got engaged.

The engagement proved to be an even sweeter match for the couple as they started to share their dreams of opening a burger store together. It seemed like a natural thing for them to do, as Mihyun used to work as an R&D chef at Korean fast food chains such as Lotteria for over 10 years, bringing in loads of valuable experience.
Although Burger+ only opened on the first day of July, we had already heard rave reviews about it. As such, we attended a media tasting to see if it is worth the hype.
Food at Burger+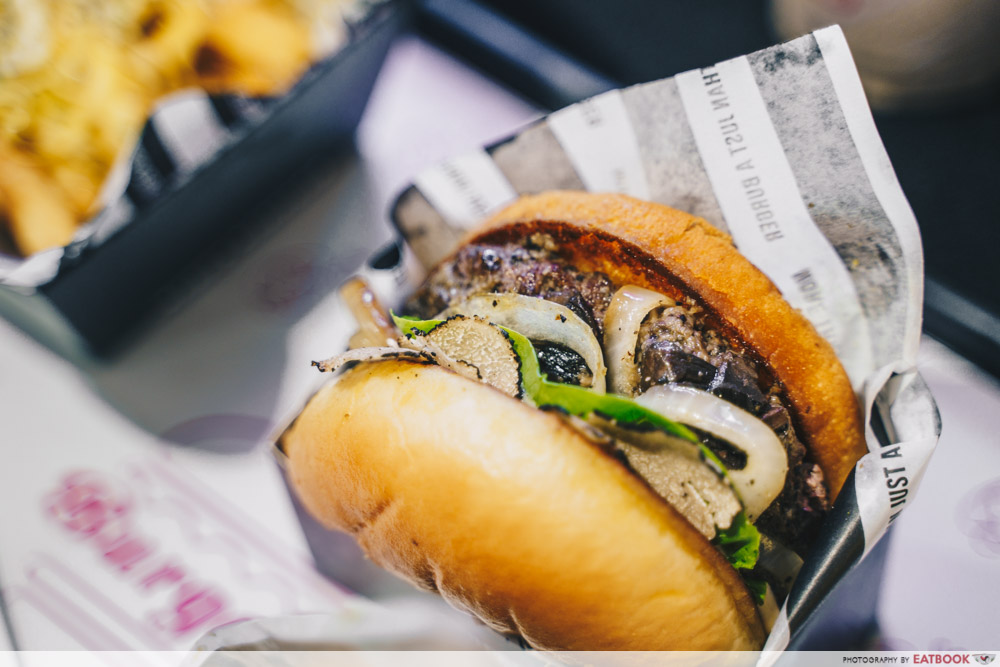 The first thing that came to my mind was how much these burgers looked like those from Omakase Burger at Picnic. After all, they both use soft potato buns and have their patties smashed on the griddle for an extra crispy crust. 
The Truffle Burger ($21) is definitely one for mushroom lovers out there. With truffle mayonnaise, truffle puree, sauteed button mushrooms and shaved truffle, this burger packed a whole ton of lush earthy flavours. 
Picnic Review: Marche-Like Food Truck Buffet At $39.90++ At Orchard
Surprisingly, the mushrooms didn't overpower the beef. Together with a few pieces of seared onions, the mushrooms enhanced the patty's beefy aroma. This was my favourite burger out of the whole lot. 
The potato buns were light and soft, with a nice pillowy bounce to them. While I'm a fan of these fluffy buns, I felt that they broke up too easily, dissolving under the grease after a while.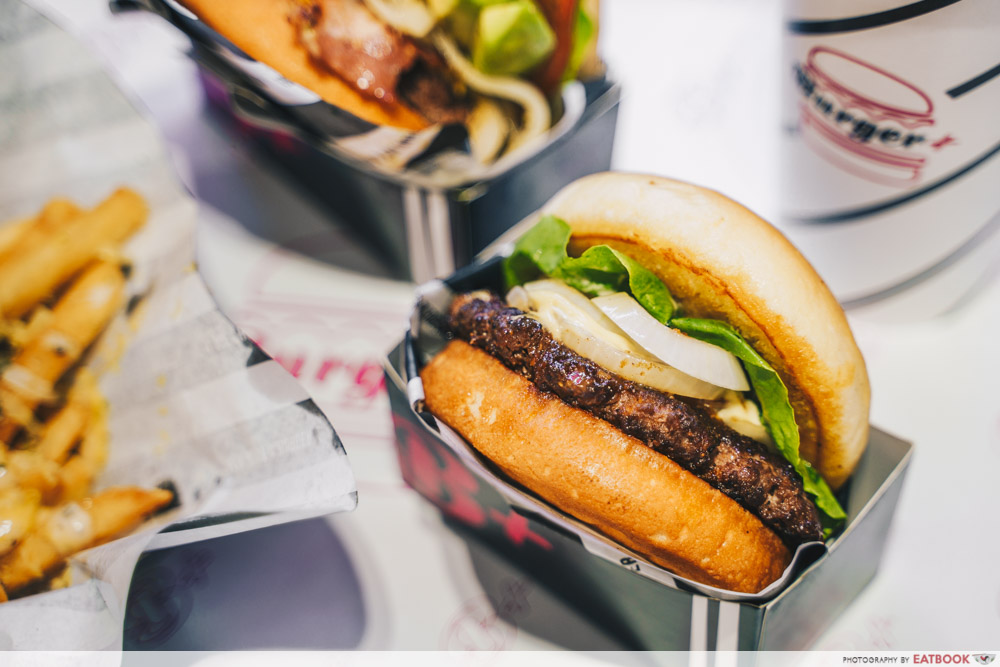 The Korean Bulgogi Burger ($13.80) is a slightly less elaborate version of its mushroomy cousin, packing in a sweet bulgogi glaze and seared onions. 
The ingredients in the burger complemented each other beautifully, with soft and sweet onions going well with the gooey and sweet dark-soy glaze. The caramelised crust on the patties also melded well with the sweet combination of sauces, making it a tasty burger overall. 
The patties are standard across all their burgers, with 130 grams of American beef making up each of them. The team was tight-lipped on the fat-to-meat ratio used in their blend. However, I could detect that a generous amount of fat had rendered in nicely with the meat. This kept the patty nice and moist, making it juicy to bite into.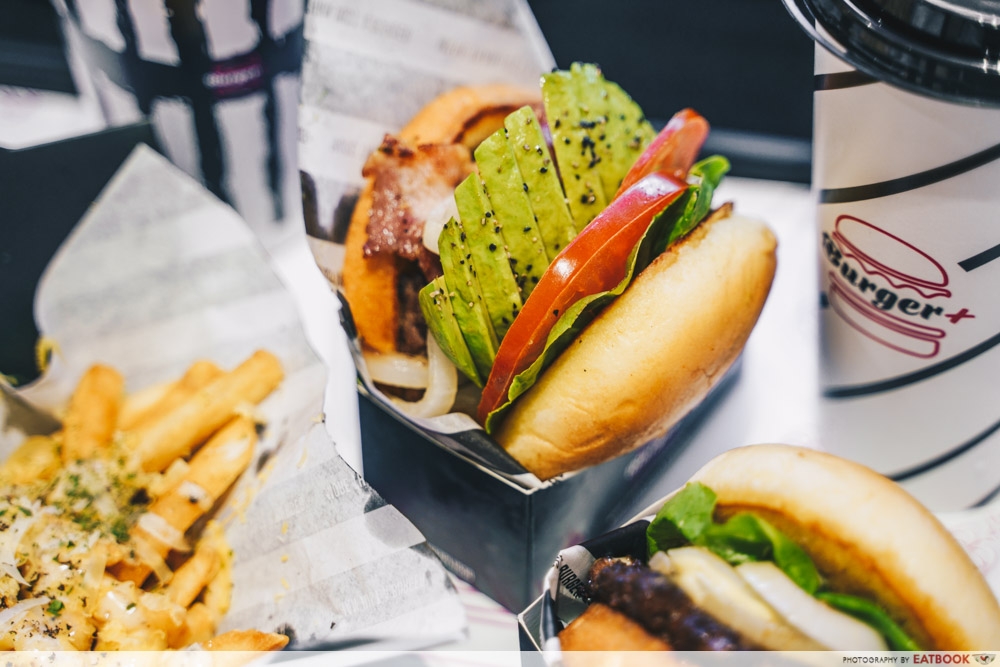 The prettiest burger we had here was the Avocado Bacon Cheeseburger ($17.20). Packing loads of vibrant colours, this burger comes with generous slices of avocados, tomatoes, cheddar cheese, and bacon. 
Unfortunately, the taste did not match up to how it looked. I felt that the avocado was a little under-ripe, giving a rough texture to the burger. The bacon also felt slightly undercooked, appearing rather limp.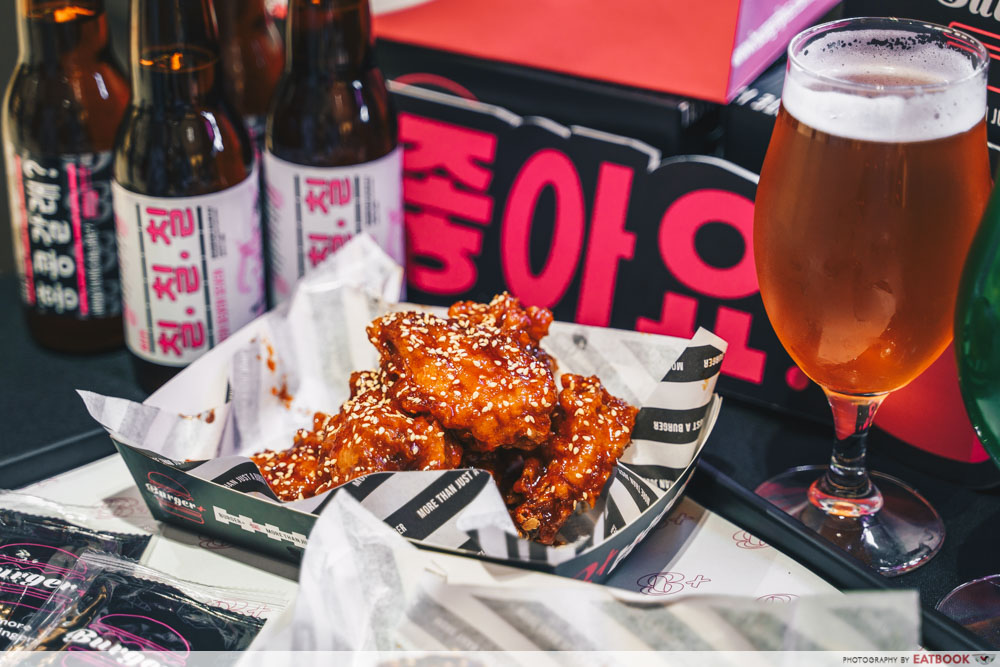 The restaurant also serves up two types of Korean fried chicken that you can chug down with a variety of imported bottled and draft beers. We started off with the Yangnyeom Chicken Wingettes & Drumettes ($9.20 for six pieces) that are coated with a nectary sweet sauce.

What's special about these wings is their craggy crust. It was crunchy and came with a light tempura-like texture that really elevated this dish. Burger+ also uses fresh chicken, resulting in meat that stays juicy and succulent.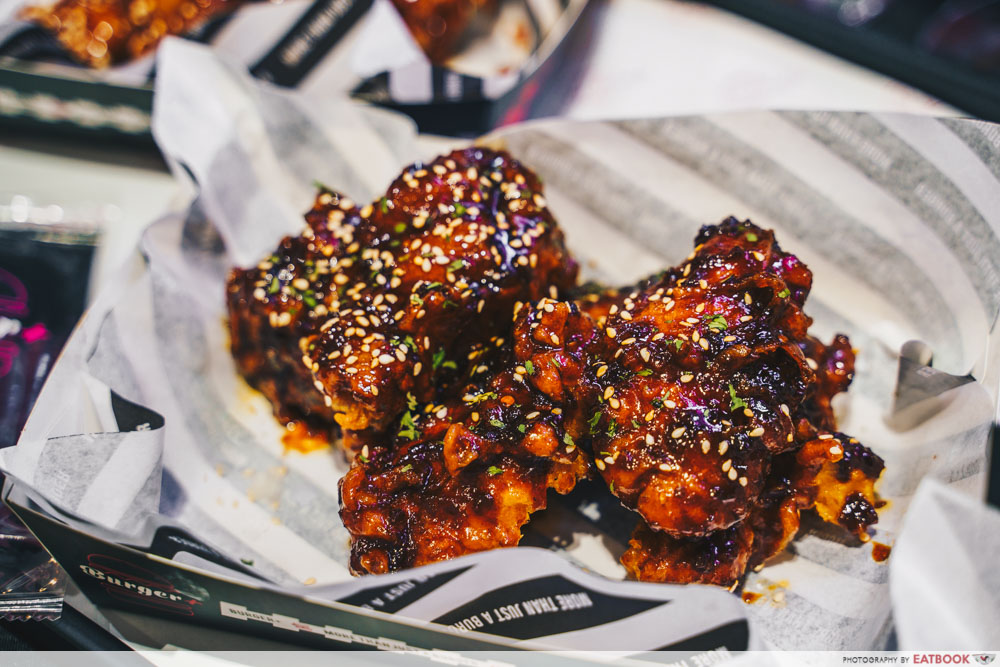 The Hot Yangnyeom Chicken Wingettes & Drumettes ($9.20 for six pieces) delivered a huge fiery kick, and the burn lingered on my tongue for a long time. 
While my dining companions seemed to be able to tolerate the spiciness, I found it too spicy for my liking and couldn't finish the wings. However, I'm the kind of guy who struggles to finish a bowl of medium-spiced ma la stir-fry, so I'm not the best judge of this dish.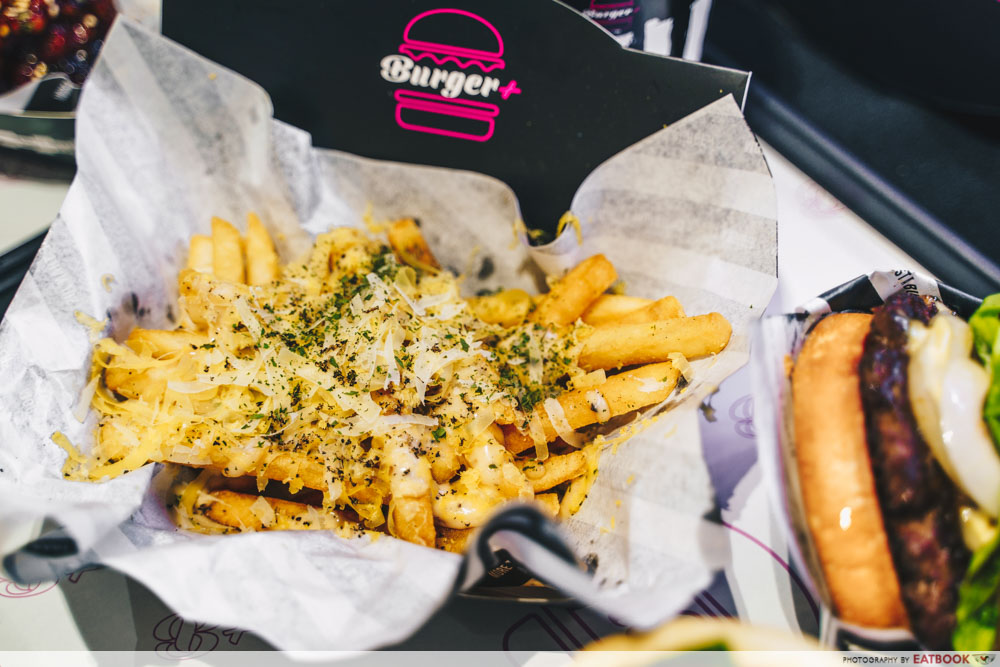 All their burgers are served without any fries or side dishes, so I would recommend ordering a portion of the Truffle Fries ($9.80/$12.80) to share around. Instead of the usual bar-style truffle fries where only truffle oil is used, truffle powder, truffle oil, truffle mayonnaise, and shredded black truffle can be found here.
The end result is fries that really pack in a whole lot of nutty and earthy truffle flavours. A touch of cheddar and Parmesan cheese are also shaven atop to give a rounded bit of creaminess to everything.

Ambience at Burger+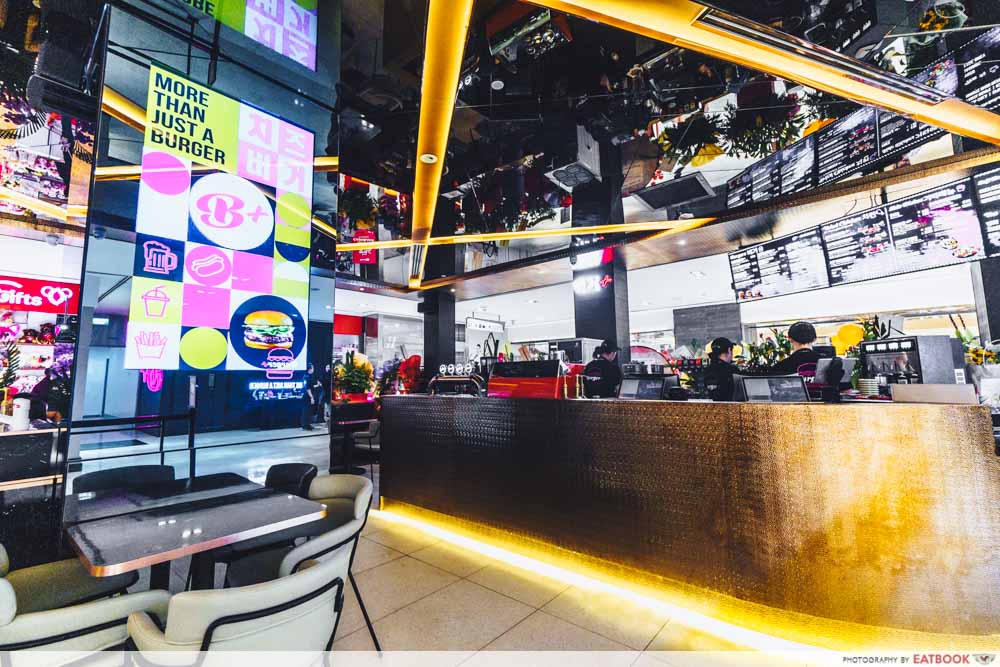 Featuring bouncy sofa seats, the restaurant is a great place to chill out over burgers and fried chicken. K-pop music blasts through the store, making it feel like you're in a fast food restaurant in Korea. 
You'll have to place your order at the counter, but the burgers will be delivered straight to your table. I like how Burger+ doesn't charge a service tax for this, unlike some burger restaurants that do.
The verdict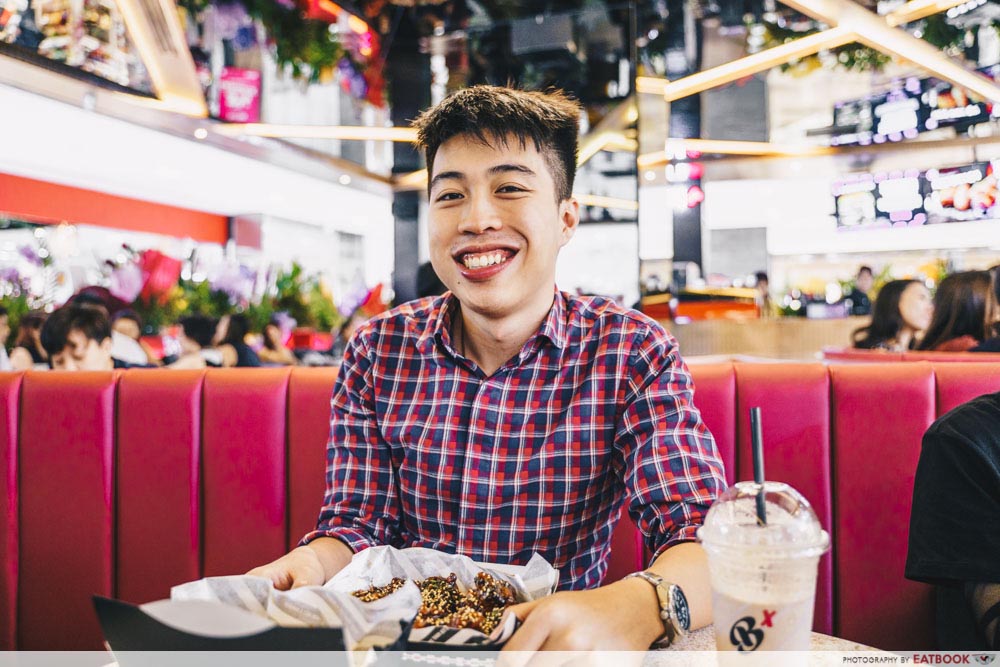 With delicately crafted burgers and a beautiful interior, Burger+ is a well-executed concept that impressed us. Their refreshing spin on American-style burgers is definitely welcomed, and I foresee more branches popping up in the future. Watch this space for the latest updates. 

The store is also having a special opening promotion that gives you a free Wooyu Jollypong ice-cream ($5.80) with every purchase of a burger or signature fried chicken set. This offer is valid from now to the end of July 2019, so it's a good idea to visit soon.

If you're still hankering for more burgers, be sure to check out Hammee's at Commonwealth Crescent Market & Food Centre. This humble hawker store serves up one of the best affordably-priced burgers around, and is worth a trip to the West. 
Hammee's Review: Juicy Handcrafted Burgers That Can Rival Hambaobao's At $6 Or Less
Address: 435 Orchard Road, #01-37/38, Wisma Atria Shopping Centre, Singapore 238877
Opening hours: Daily 10am to 10pm
Tel: 6694 1226
Website
Photos taken by Pepita Hope Wauran.
This was a media tasting at Burger+.
Burger+ Review: Must-Try Juicy Burgers At This Korean Restaurant In Orchard
Summary
Pros
– Tasty burgers 
– Central location 
Cons
– Avocado burger can be improved
Recommended dishes: Truffle Burger ($21), Truffle Fries ($9.80/$12.80)
Opening hours: Daily 10am to 10pm
Address: 435 Orchard Road, #01-37/38, Wisma Atria Shopping Centre, Singapore 238877