---
Telok Ayer cafes for chill brunch hangouts
---
Cafe-hopping gets a bad rep as a basic "white girl" activity. But honestly, what's wrong with that? It's hard not to love lazing in a beautiful cafe, sampling delicious food at each turn. Telok Ayer is well-known for its blend of street and cafe food in the CBD, with hawker behemoths like Amoy Street Food Centre just a stone's throw from hipster hotspots such as Park Bench Deli. With such an abundance of cafe options in the area, it may be difficult to decipher what each has to offer. To help, we've compiled a list of 10 noteworthy Telok Ayer cafes to reward yourself after a gruelling spin class.
---
1. My Awesome Cafe
---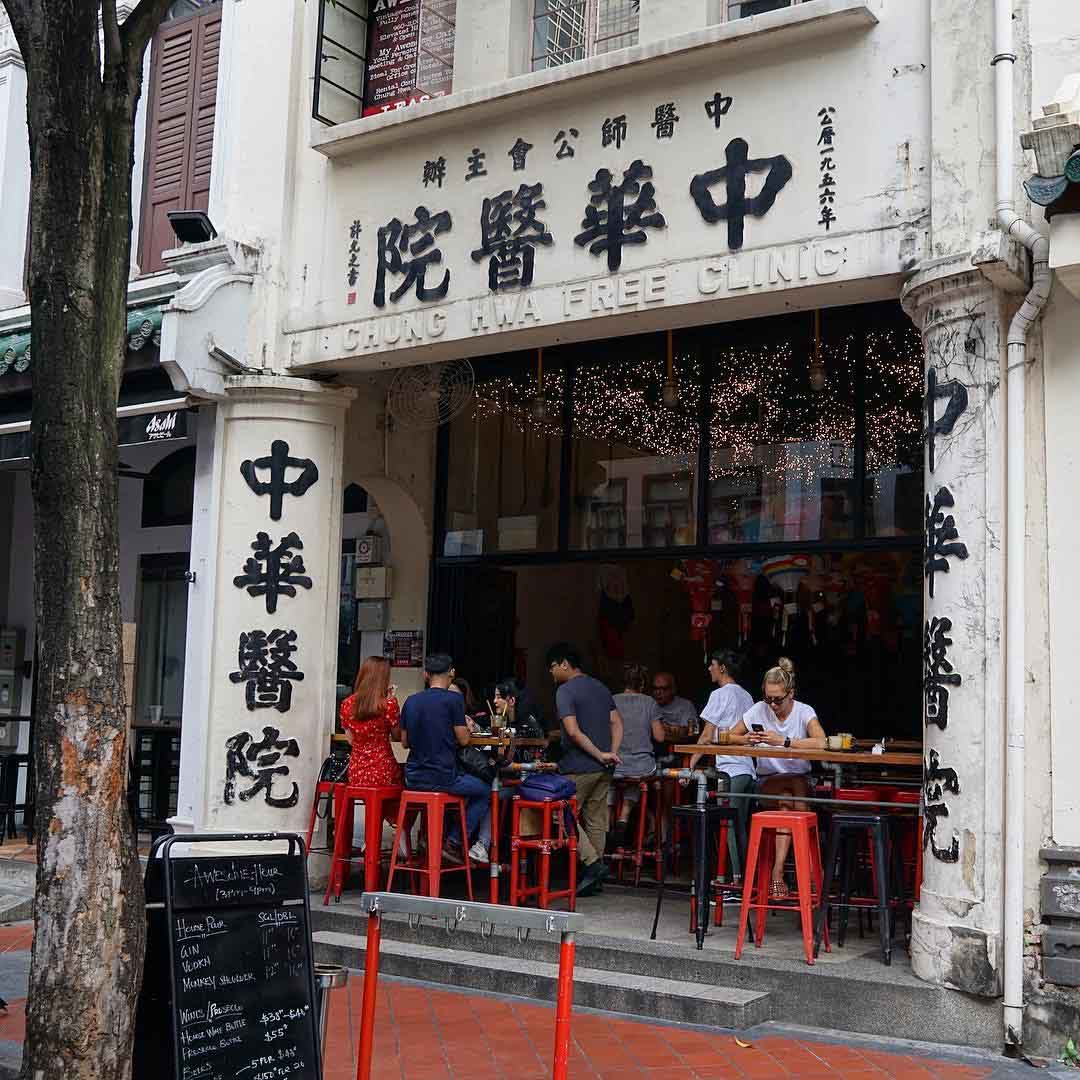 Image credit: @roland_of_the_lowlands
Since raising its shutters in 2014, Frenchman Franck Hardy's My Awesome Cafe has become a stalwart amidst the Telok Ayer cafes, renowned for its tasty food and old-world charm. The cafe complements its throwback Chung Hwa Free Clinic facade with retro, industrial fittings inside. The bare bulbs and school desks imbue the space with vintage Singaporean charisma, even as you chow down on European cafe fare.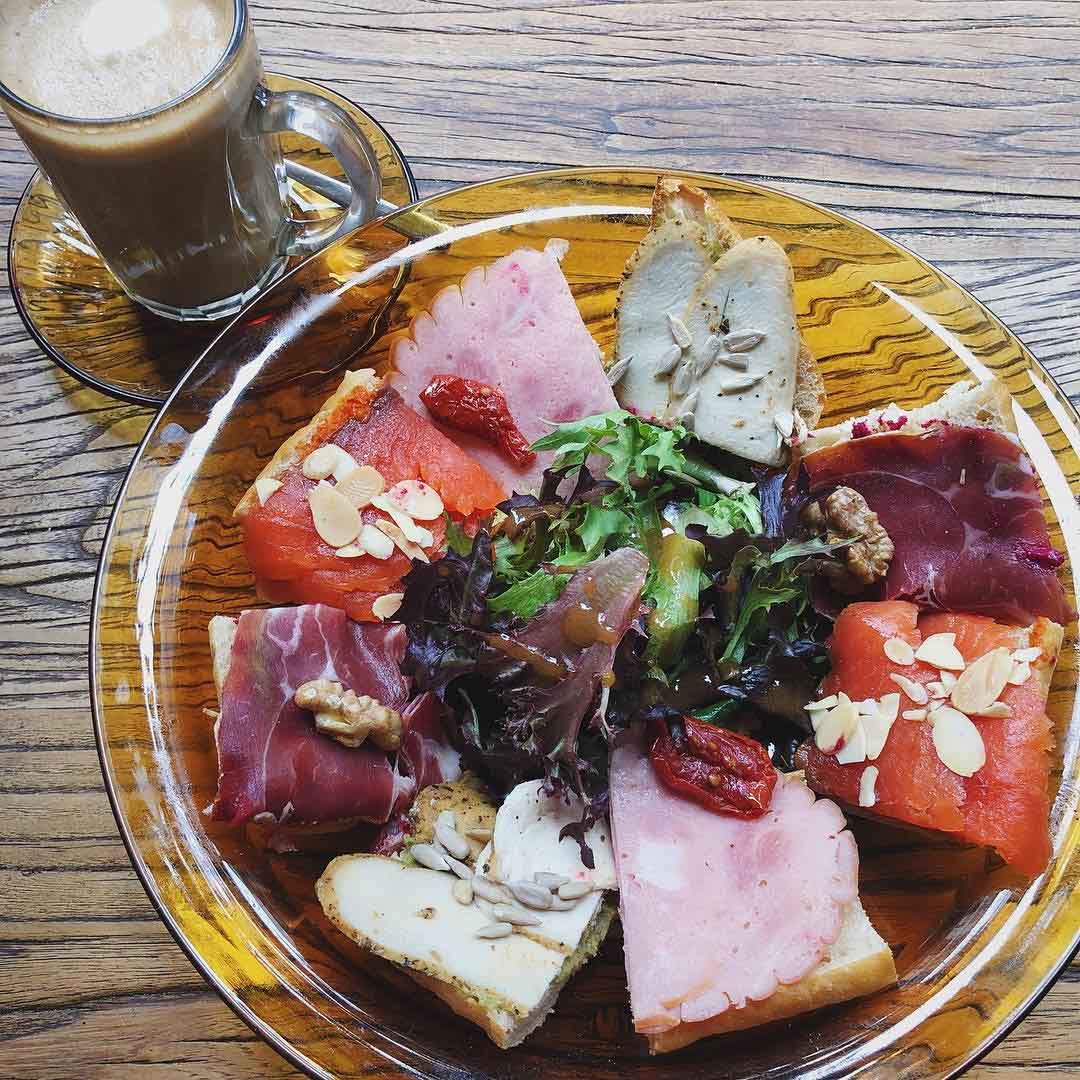 Image credit: @sabrinahahhh
Their signature My Awesome Salad ($17++) is a fan favourite here, flaunting smoked salmon, herby chicken breast, duck rillettes, tomatoes and avocados with a cluster of salad leaves. I'm a certifiable carnivore who usually avoids ordering salad, but the allure of velvety duck rillettes and sumptuous strips of smoked salmon is wickedly tempting.
An expansive menu is available here, particularly for drinks. They have homemade sodas, along with coffee, tea, and a wide range of boozy options too.
Address: 202 Telok Ayer Street, Singapore 068639
Opening hours: Mon-Fri 8:45am to 12am, Sat-Sun 8am to 12am
Tel: 6222 2007
Website
---
2. Merci Marcel
---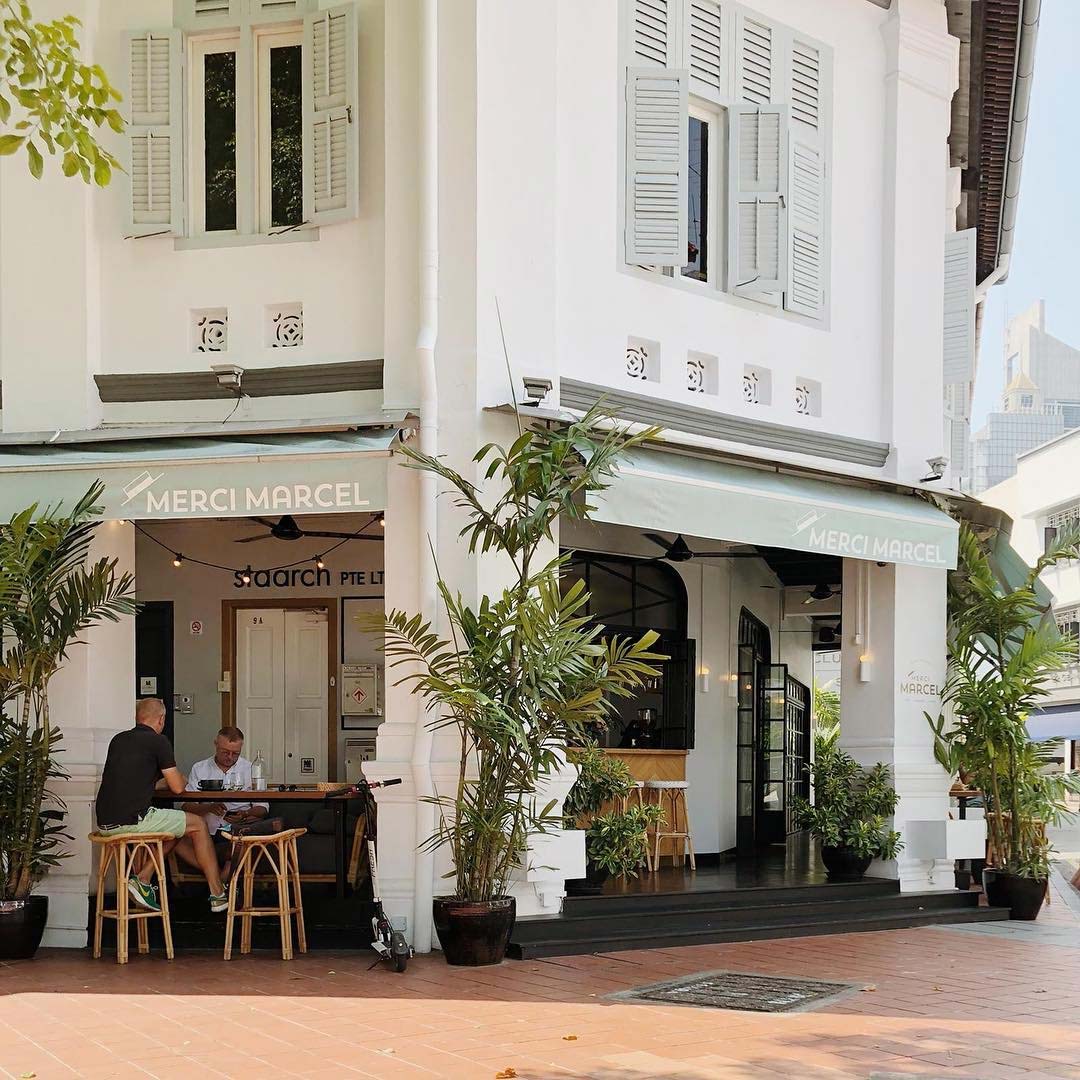 Image credit: @cafeteriors
While our previous French cafe integrated Asian culture, Merci Marcel remains firmly entrenched in its roots, making customers feel like they've been whisked off to a pretty Parisian street. Expanding from its original space in Tiong Bahru, this Club Street outlet has a stylish yet relaxed vibe, the kind of place you'd imagine a gaggle of pretty Parisian people would spend their Saturday at.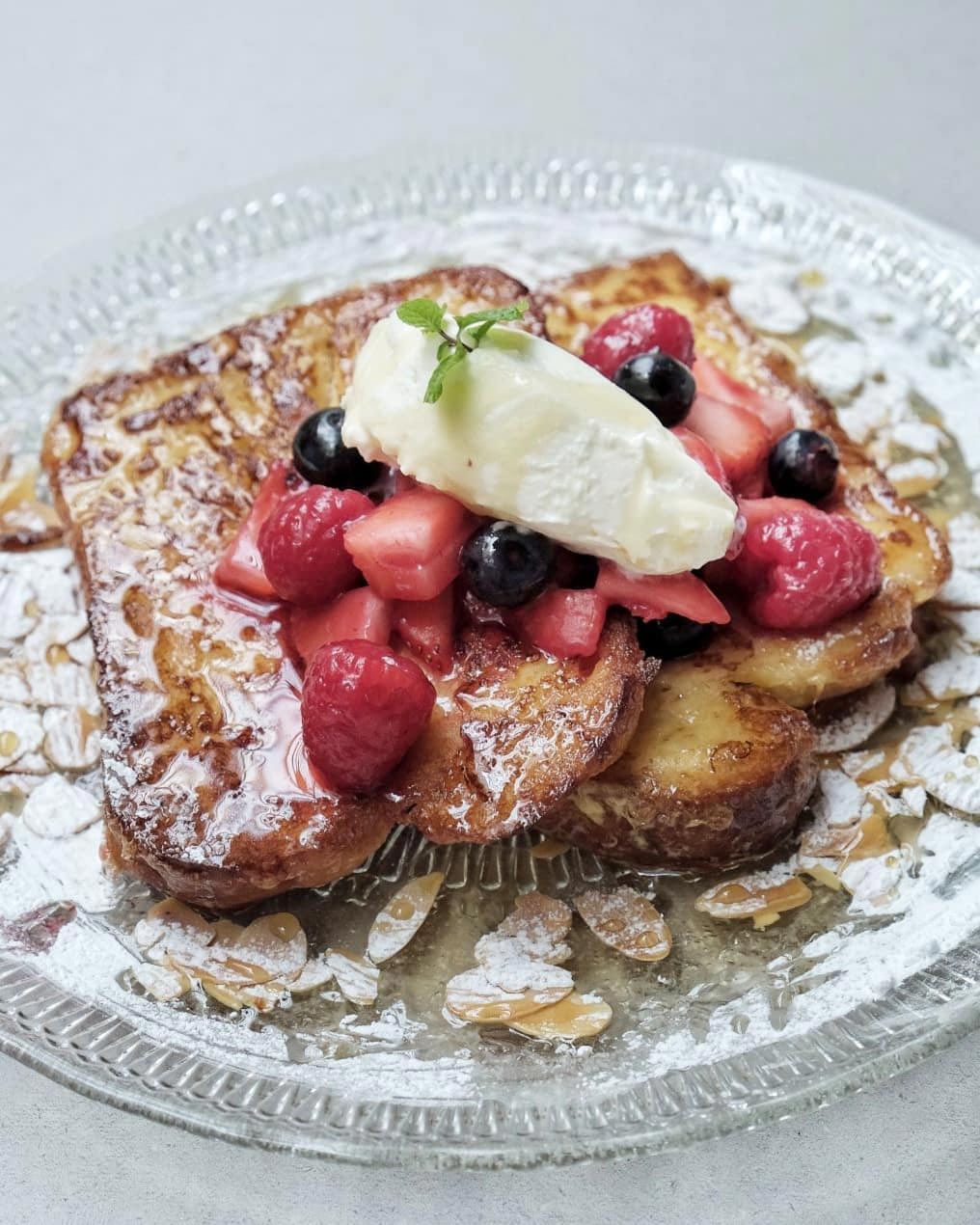 Image credit: @mercimarcel
It seems almost rudely stereotypical to order French Toast ($17++) at a French cafe, but whoever Marcel is, his rendition of this brunch classic is stonking. Fluffy and lightly crisp brioche slices are bathed in berries and honey for a decadent way to start the morning. This is only, however, on their brunch menu, available from 8am to 5pm.
Marinated Crab Tartine ($19++) is a less conventional route for brunch, featuring sourdough bread capped by marinated crab and avocado. During dinnertime, sharing plates dominate the menu, with Tarte Flambee ($25++), a thin crust pizza with blue cheese, apple and bacon, and Duck Parmentier ($27++) ranking amongst the most popular choices.
Address: 7-9 Club Street, Singapore 069403
Opening hours: Daily 9am to 10:30pm
Tel: 6438 3913
Website | Full list of outlets
---
3. French Fold
---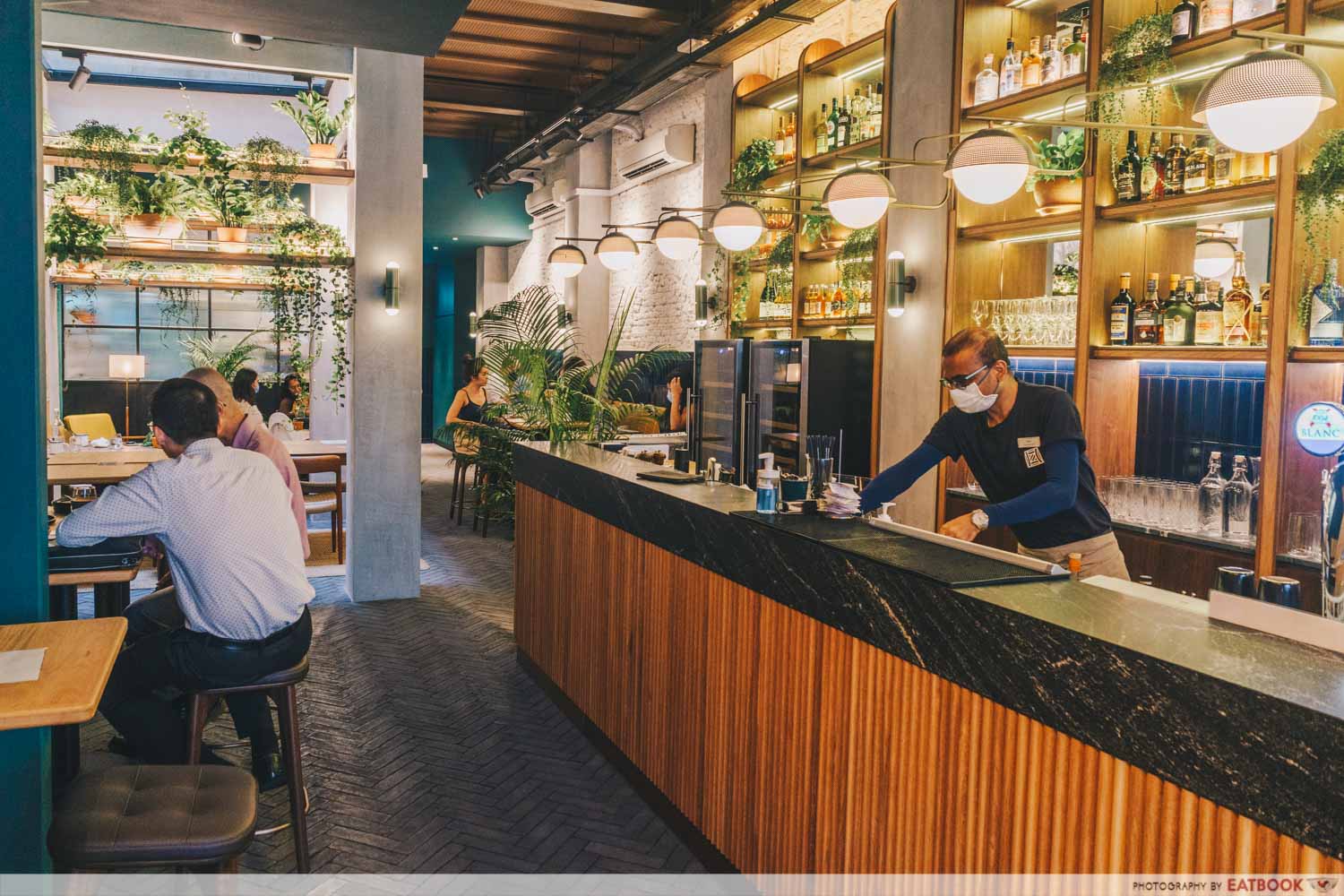 French Fold, the new sister cafe to Merci Marcel, may be new, but it made its presence in Singapore known with aplomb. Specialising in Breton buckwheat galettes and French crepes, the bistro is complete with a chic Paris-style interior, framed by lush greenery.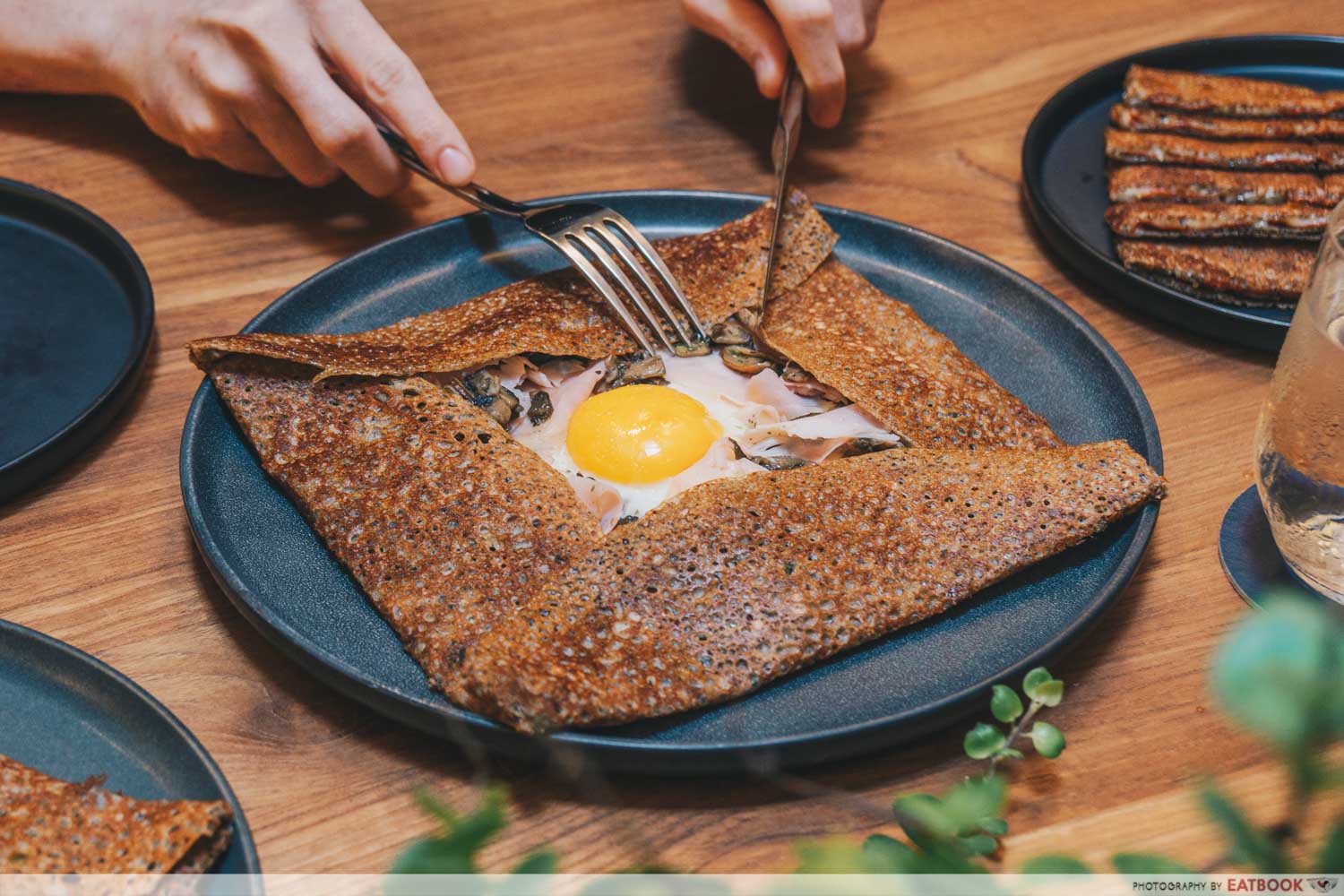 When it comes to food, go for the No.4 ($17), where a crispy crepe nestles cheese, egg, ham, and mushrooms, and finish off strong with any of their sweets on the menu. We love the Manuka Honey ($10) crepe topped with a scoop of Sea Salt Hojicha ice cream from Birds of Paradise, but we hear rave things about the No.21 ($12) too, topped with poached pear and dark Valrhona chocolate sauce.
Check out our full review of French Fold.
Address: 204 Telok Ayer Street, Singapore 068640
Opening hours: Daily 8am to 10:30pm
Website
---
4. Sarnies
---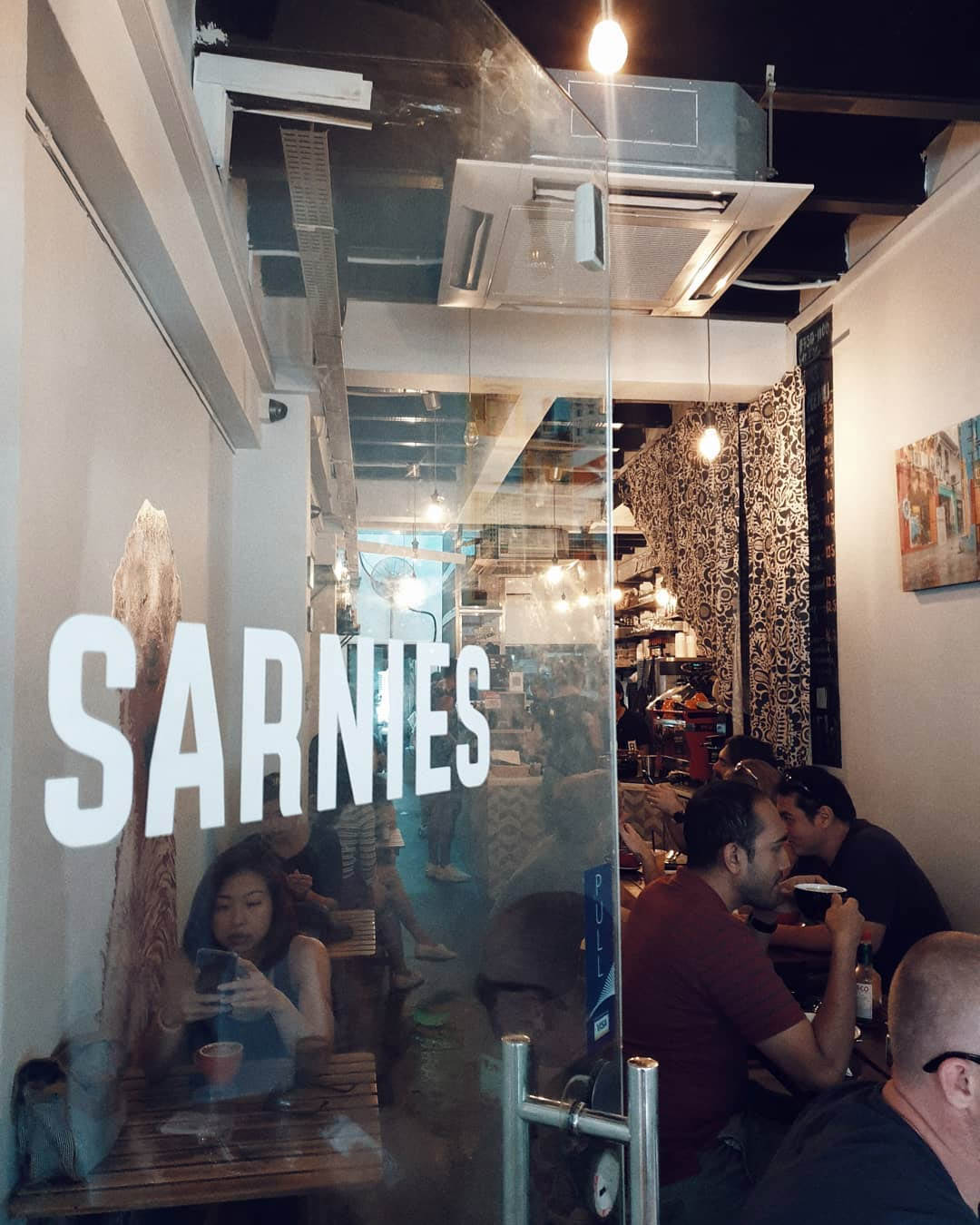 Image credit: @meeniemee
Ask your nearest "white girl" about their favourite Telok Ayer cafes and Sarnies will invariably enter the conversation. This Australian-inspired cafe has become an absolute fixture in Singapore's cafe scene, with its unpretentious and comfortable atmosphere attracting a loyal legion of regular customers.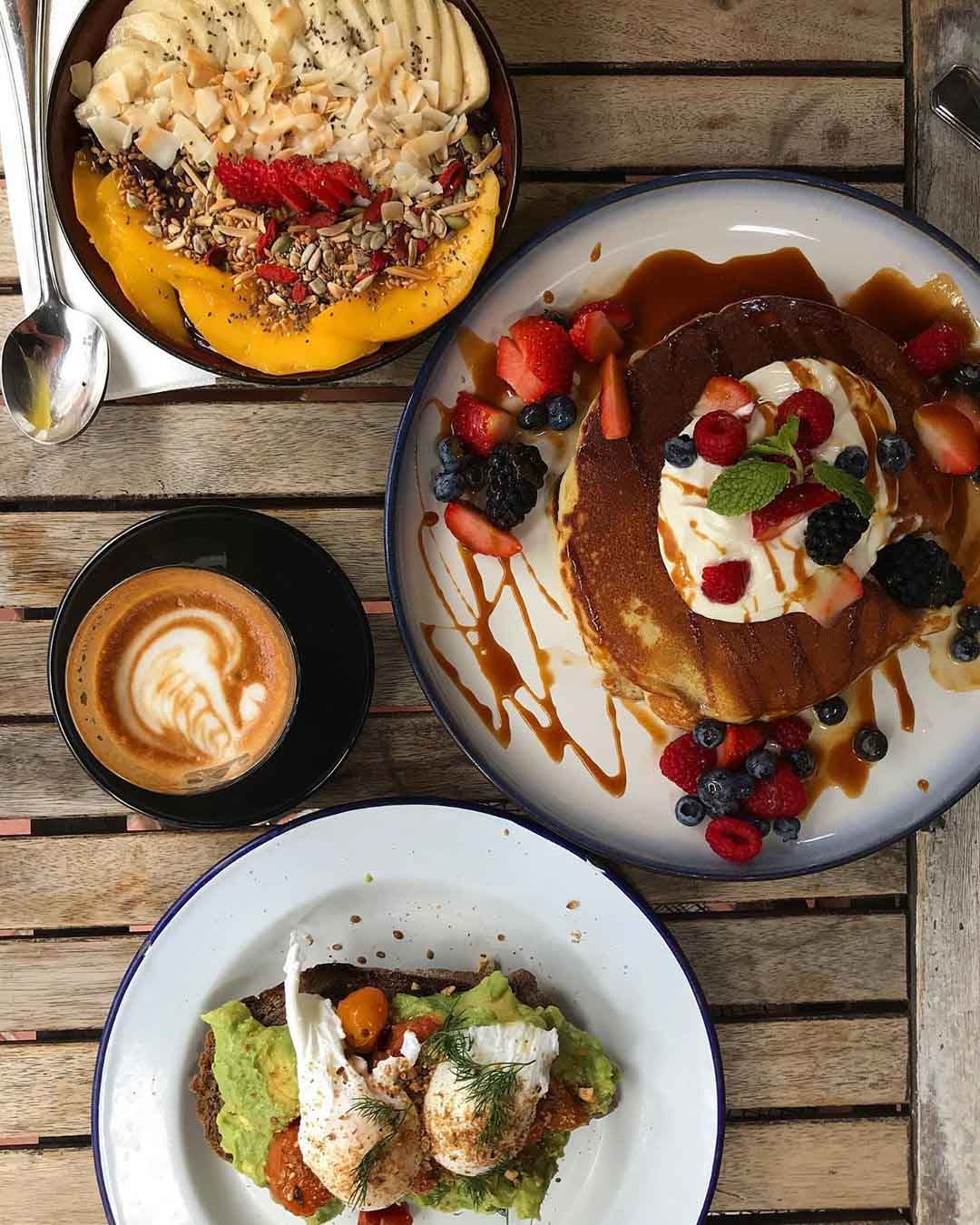 Image credit: @_food_for_foodies_
"Sarnie" is a British-Australian slang for sandwiches, so you won't go wrong ordering any of their eponymous items. Chicken Schnitzel ($14.80++) adds German influence to your lunchtime routine, featuring thick and juicy fried chicken cutlets between white bread. Grass Fed Steak ($16.80++) is their take on the classic roast beef sandwich, with a layer of steak sauce that coats sauteed mushrooms, onions and tender strips of seared steak.
Address: 136 Telok Ayer Street, Singapore 068601
Opening hours: Mon-Fri 7:30am to 10:30pm, Sat-Sun 8:30am to 4pm
Website
---
5. Free The Robot
---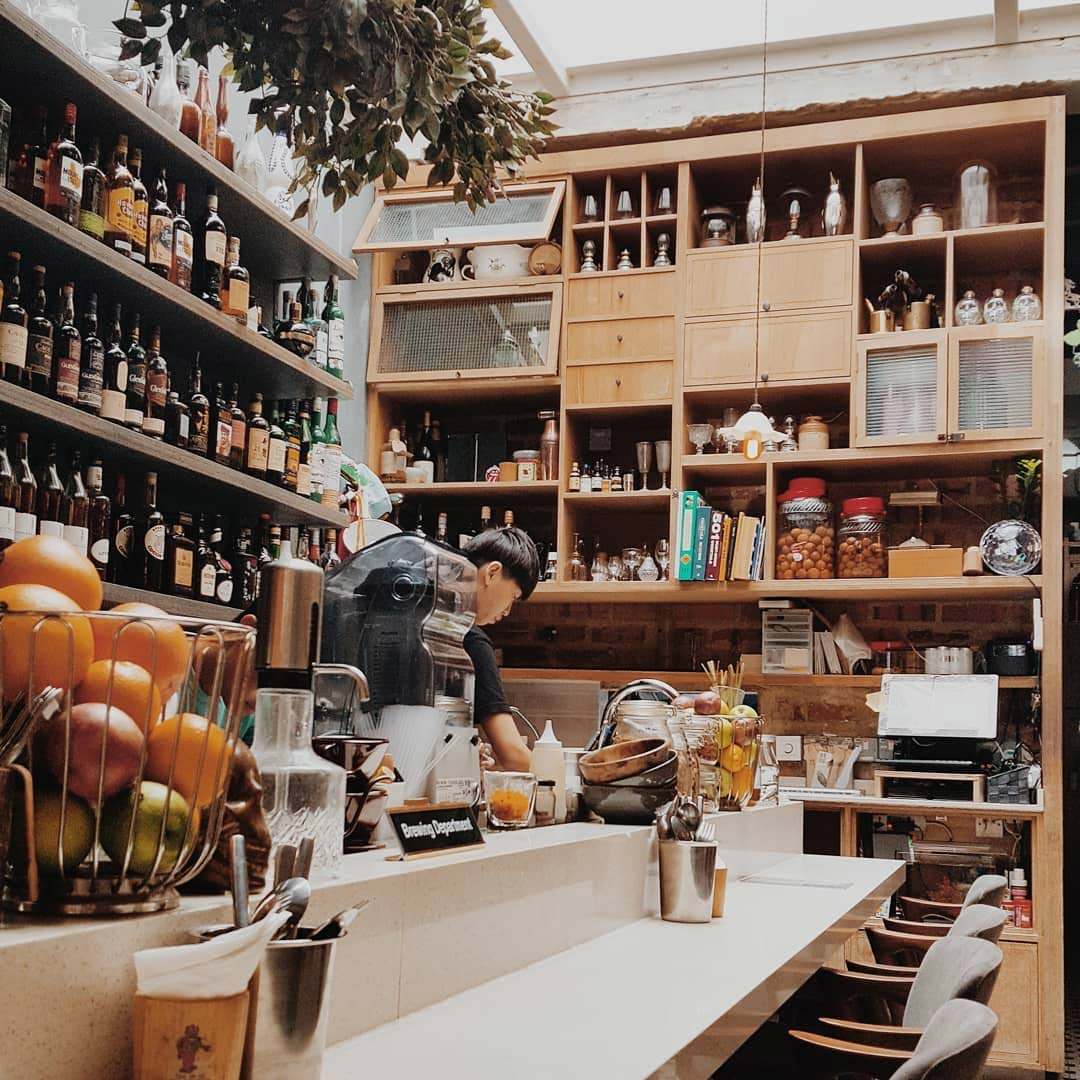 Image credit: @marcellameilyne
As implied by its name, Free The Robot is an android-themed cafe, with cute robot-inspired art and accessories everywhere you look. In the evening, this eccentric cafe undergoes a complete metamorphosis, becoming Bitter and Love, an uber-cool cocktail bar.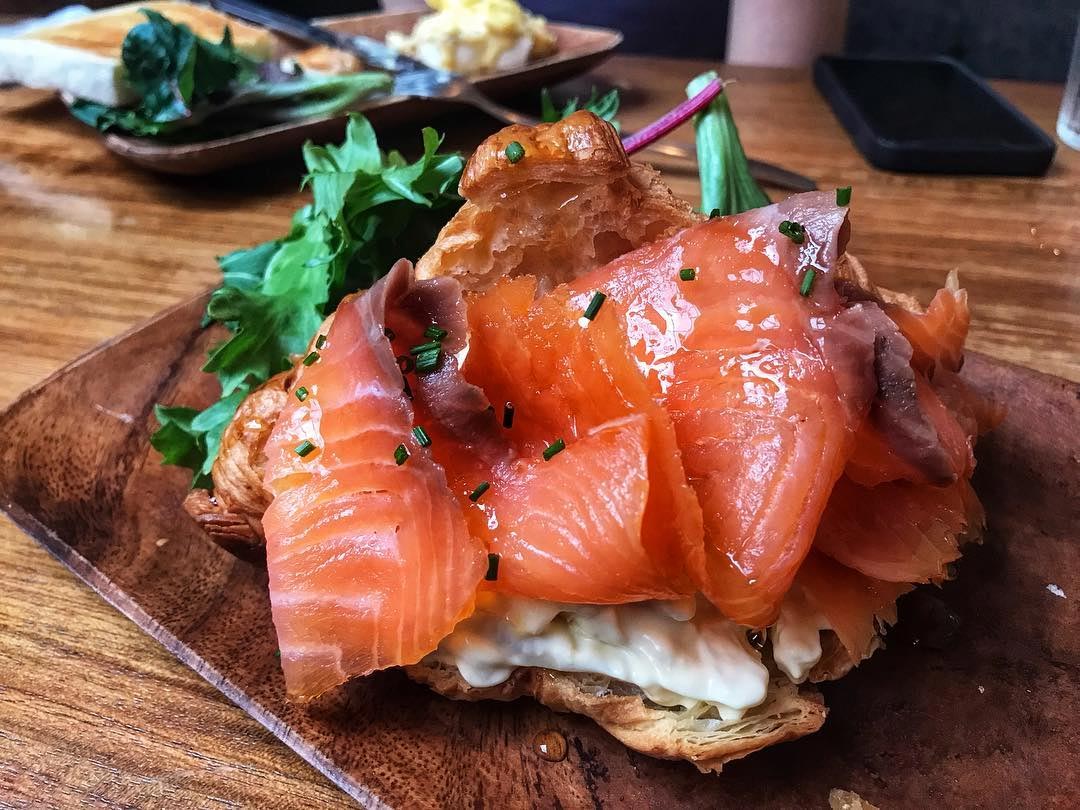 Image credit: @v.imperatix
Affordable cafe food is increasingly difficult to find in Singapore, but this quirky joint offers some of the cheapest brunch bites in the CBD. Despite its relatively cheap price tag, the FTR Beef Burger ($15+) makes no compromise on quality. Unpretentious and satisfying, the burger is headlined by a juicy beef patty and robust rashers of bacon, with backup from a jiggly sunny-side-up egg.
For a fresh start to the day that won't empty your pockets, Eggs and Toast ($8+) and Free The Robot Signature Coffee ($6.50+) comes to mind, the latter being a coconut-oil laced espresso.
Address: 118 Telok Ayer Street, Singapore 068587
Opening hours: Wed-Sun 9:30am to 5pm
Tel: 6438 1836
Website
---
6. Park Bench Deli
---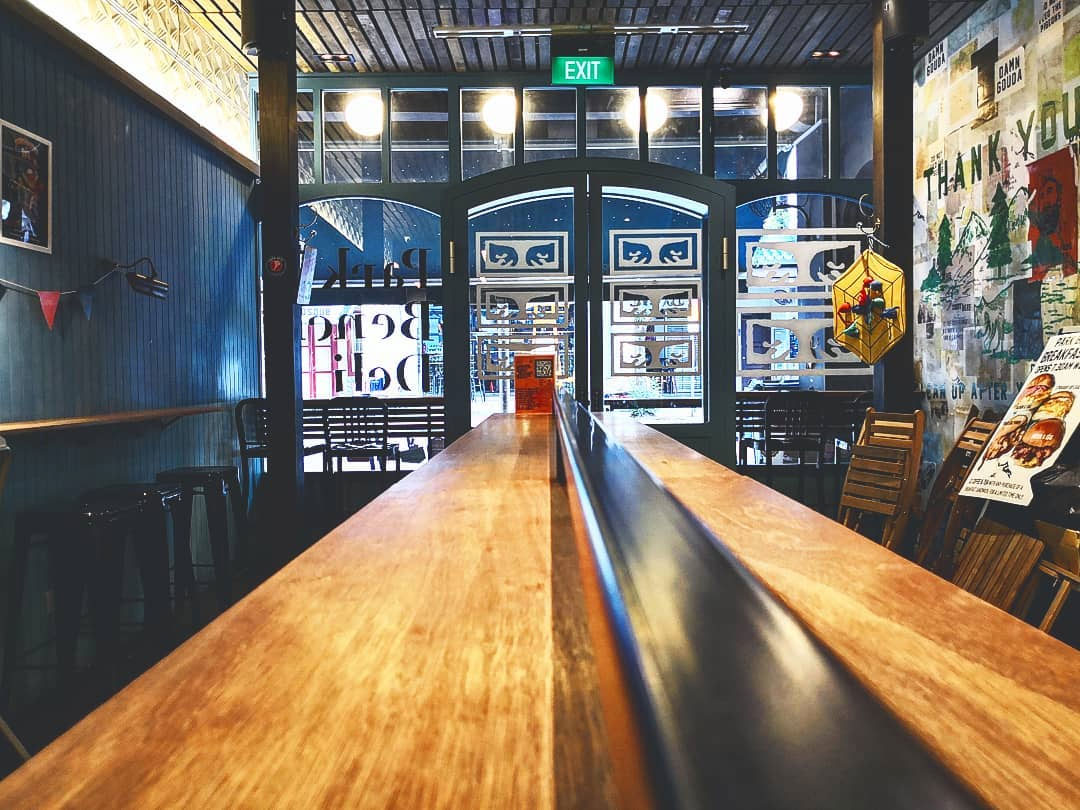 Image credit: @mistermarkfuentes
Park Bench Deli is arguably Singapore's premier sandwich specialist, serving up a wide range of bread-based brunch options inspired by the classic American deli. Located across the road from Amoy Street Food Centre, this perennially popular cafe is packed like sardines every weekend, so be sure to come at off-peak hours for a more relaxing sandwich experience.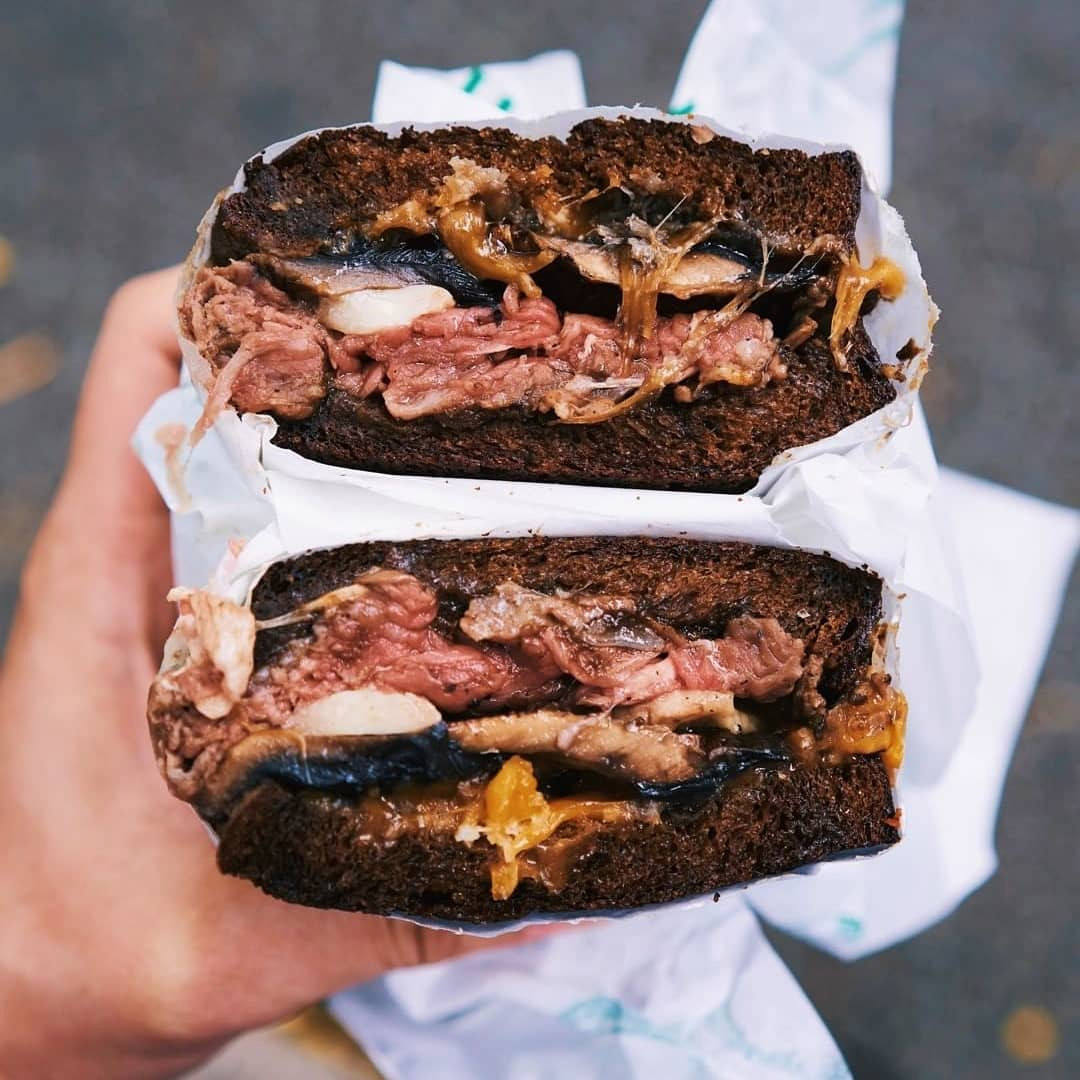 Image credit: @sandwich.edit
Philly cheesesteak is a decadent American classic that's hard to find in Singapore, but the Pastrami Reuben ($24+) is one of their most popular items. Copious amounts of house-brined pastrami brisket are layered with Swiss cheese and sauerkraut, then served on sourdough. For the more adventurous, try the Hot Fried Chicken ($16), where spicy fried chicken thigh meets a sesame potato bun. 
To sate your sweet tooth, PB-Stuffed French Toast ($16+) is the only option sandwich-wise. While it may seem like a steep price to pay for something that can be made at home in two minutes, this version kicks your Smuckers-and-Gardenia creation up a few notches. Artisanal rhubarb and strawberry jam made in-house is spread onto thick brioche French toast slices, along with a creamy almond hazelnut butter— a sugar high to start your day.
Address: 179 Telok Ayer Street, Singapore 068627
Opening hours: Tues-Sun 11am to 8pm
Tel: 6815 4600
Website
---
7. Pantler
---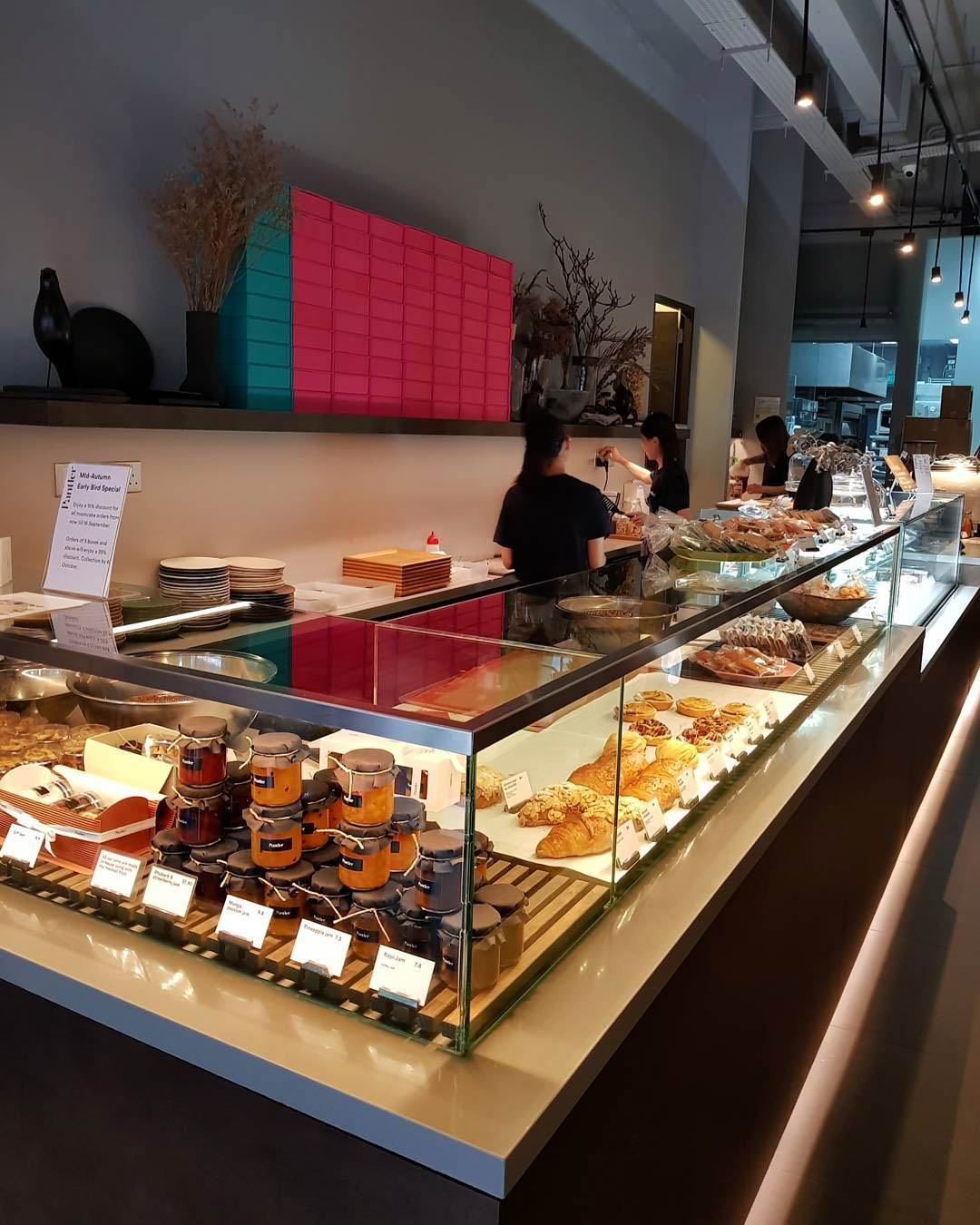 Image credit: @aaronthh
Across the road from Park Bench Deli, Pantler is a modern bakery and patisserie that delivers a selection of picturesque confectioneries. While the black logo may elicit numerous Black Panther references, "pantler" is actually a term meaning "a servant or officer in charge of the bread and the pantry in a great family". It's a manifestation of the owners' commitment to seriously good bakes, as well as their efforts to create a familial atmosphere in the cafe.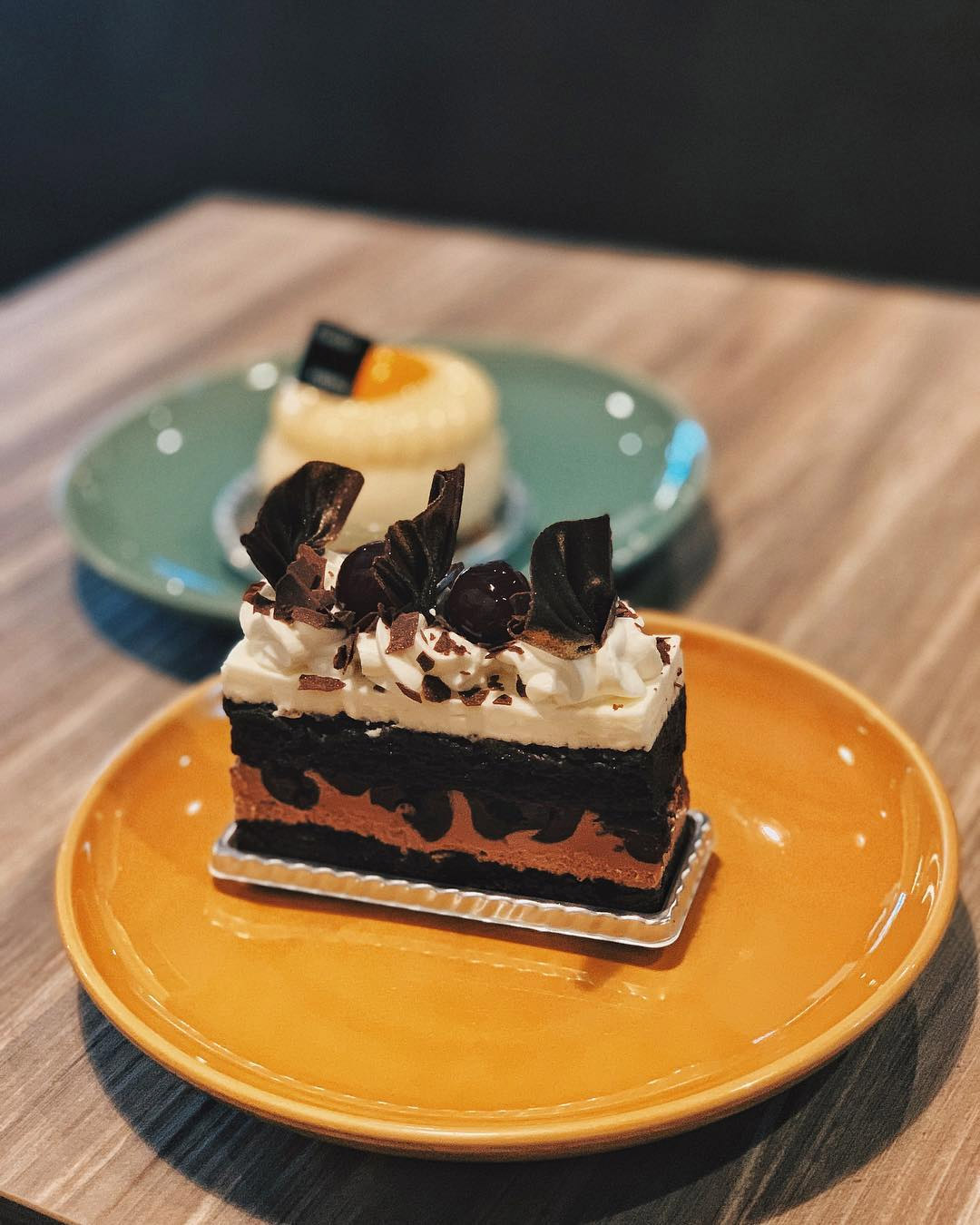 Image credit: @getcharred
Yatsura ($9.50 for a slice) is their flagship cake; a cacophony of chocolate and hazelnut, perfect for people who eat Nutella by the spoonful. Cakes aside, an assortment of other baked goods is up for grabs, such as eclairs and tarts. Especially notable is their Cassis Mont Blanc Tart ($9.50), where a mountain of fragrant chestnut paste meets a buttery tart shell.
Address: 198 Telok Ayer Street, Singapore 068637
Opening hours: Mon-Sat 10:30am to 5:30pm
Tel: 6221 6223
Website
---
8. Dapper Coffee
---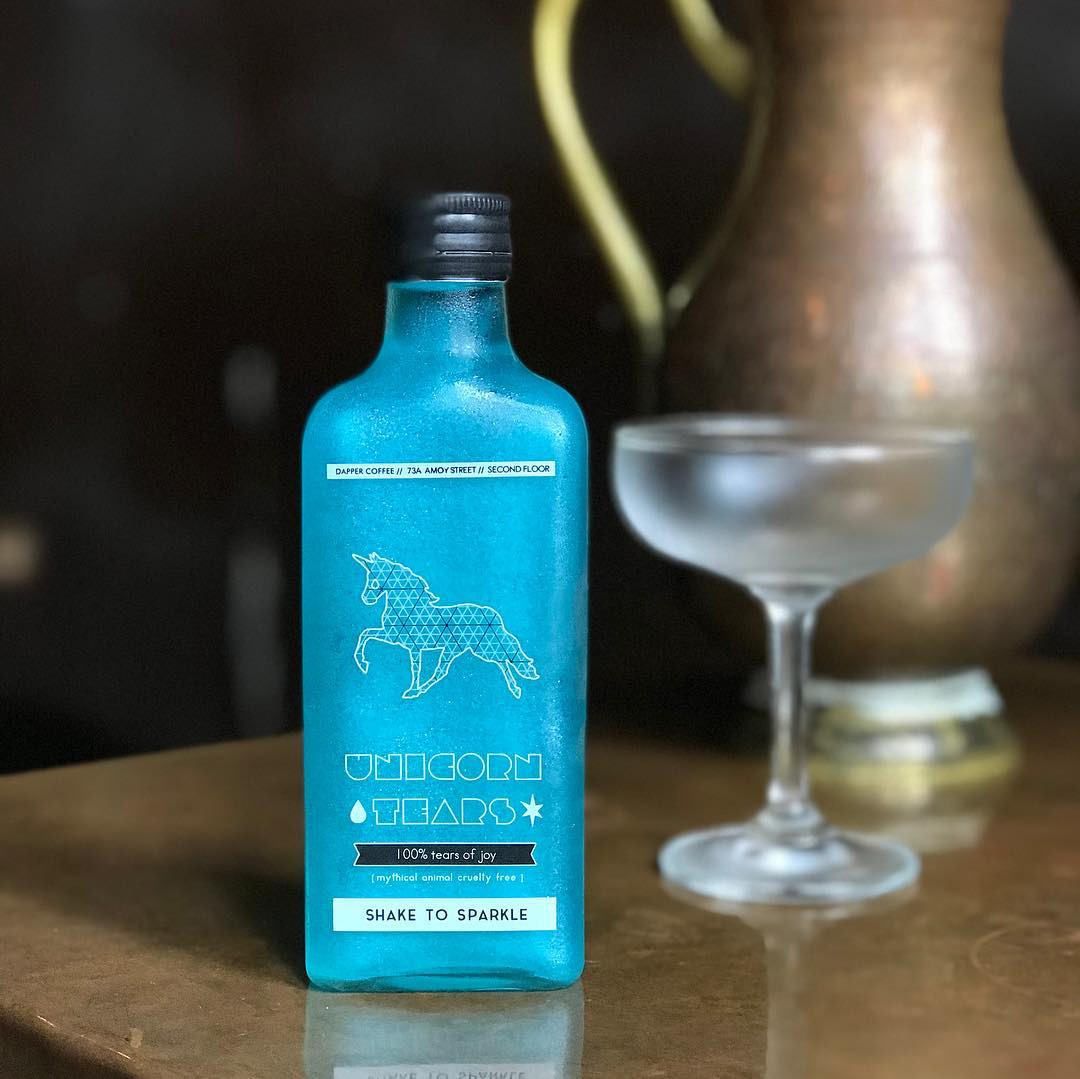 Image credit: @feieats
Dapper Coffee should be your go-to cafe if you're in need of a bit of sparkle to brighten up your day. Its dark, woody colour scheme and rack of alcohol bottles create a strange fusion of cafe and bar vibes, which is understandable considering that it turns into a pub, The Spiffy Dapper, at night.
Most popular is the sparkly, photogenic, sky-blue Unicorn Tears ($10). I'm not sure how comfortable I am drinking fluids from a mythical creature, but it certainly makes for an eye-catching IG story!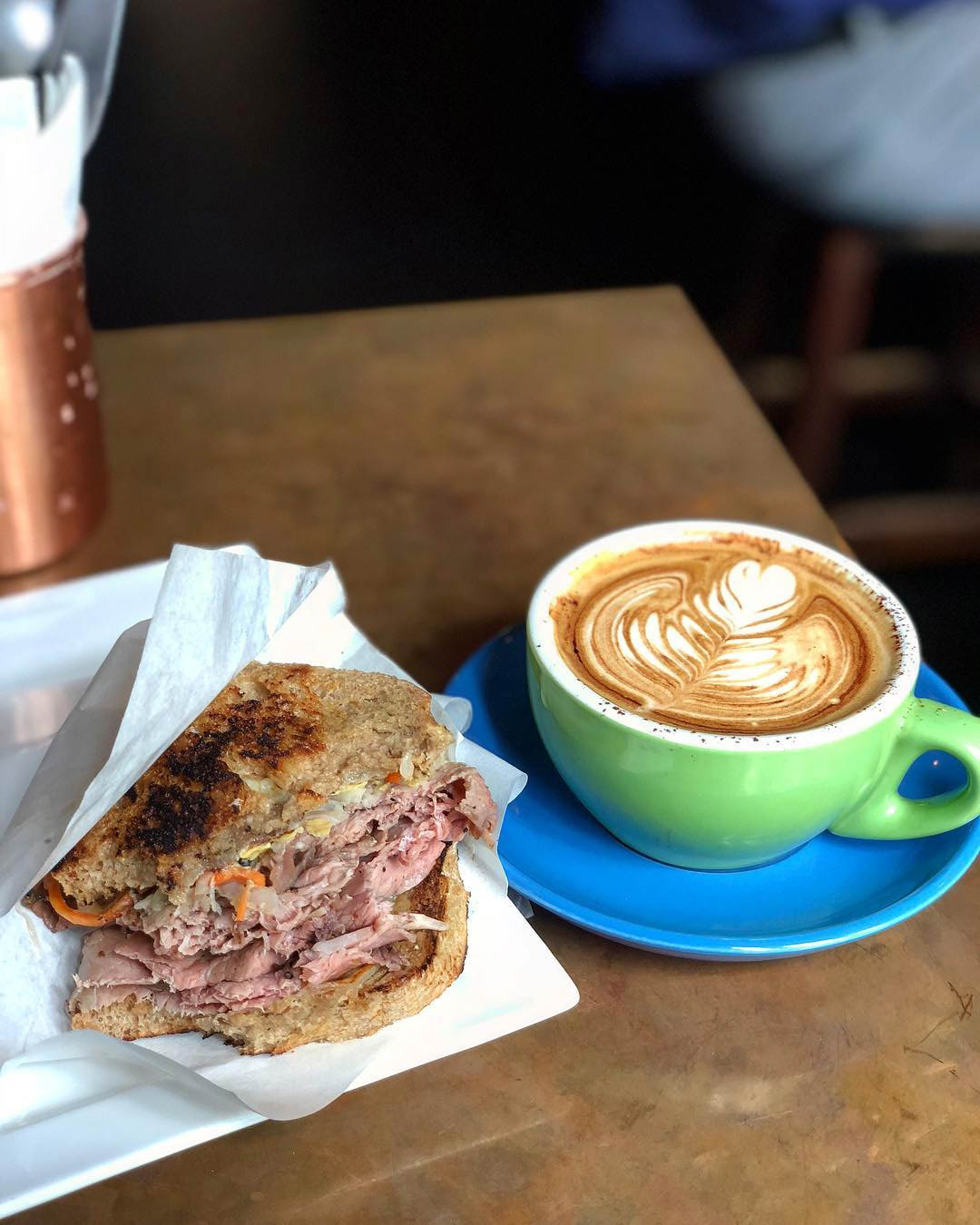 Image credit: @mrdidijiak
There's a series of house-made bakes up for grabs, but for a substantial meal, the kitchen also has sandwiches, and other mains like Japanese Currry Rice, and Mac & Cheese, all for $16.
Address: 73A Amoy Street, Second Floor, Singapore 069892
Opening hours: Mon-Fri 8am to 5pm, Sat-Sun 9am to 3pm
Tel: 8742 8908
Website
---
9. Shake Farm
---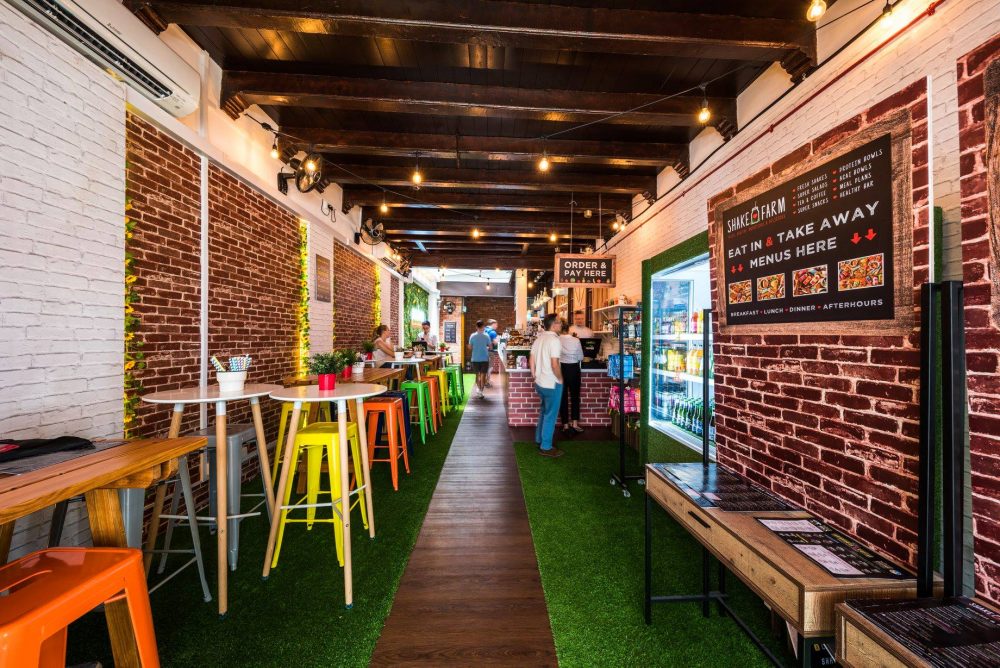 Image credit: Shake Farm
A hot favourite amongst CBD workers for its nutritious, colourful, and healthy menu items, Shake Farm is where you want to go for brunch without the guilt.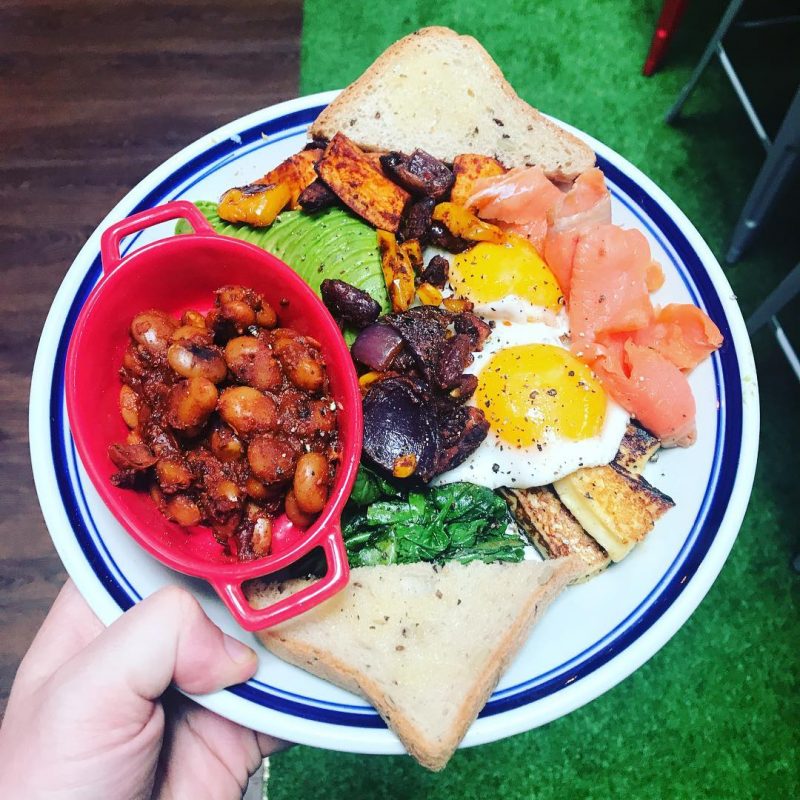 Image credit: Shake Farm
On weekdays, their breakfast menu includes classics like the Steak And Egg Sandwich ($13.90), as well as the high-protein Breakfast Keto Burrito Bowl ($18.90), and the Keto Pancake Stack ($17.90). Weekends see their brunch menu expand to all-day options, so you can get gems like Blueberry Protein Pancakes ($18) from 9am to 7pm.
Address:126 Telok Ayer Street, Singapore 068595
Opening hours: Mon-Fri, Sun 10:30am to 9pm, Sat 10:30am to 9:30pm
Tel: 9187 4407
Website
---
10. Plain Vanilla
---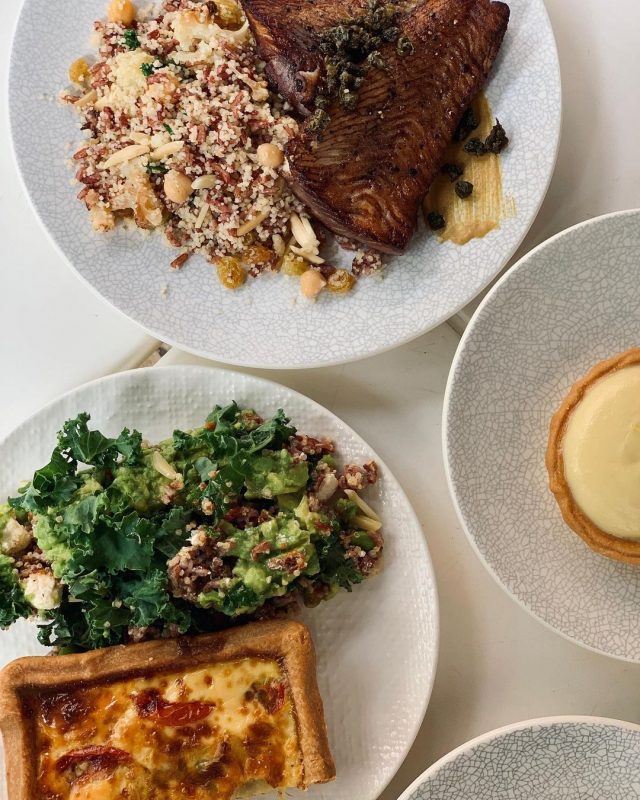 Image credit: @lettherebe.food
Singapore's OG cupcakery, Plain Vanilla, has a Telok Ayer cafe with an array of cafe-style fare to start your weekend on a sweet note. Their weekend brunch runs from 8am to 4pm, with classics like Eggs Benedict ($18) and French Toast With Mixed Berries ($18).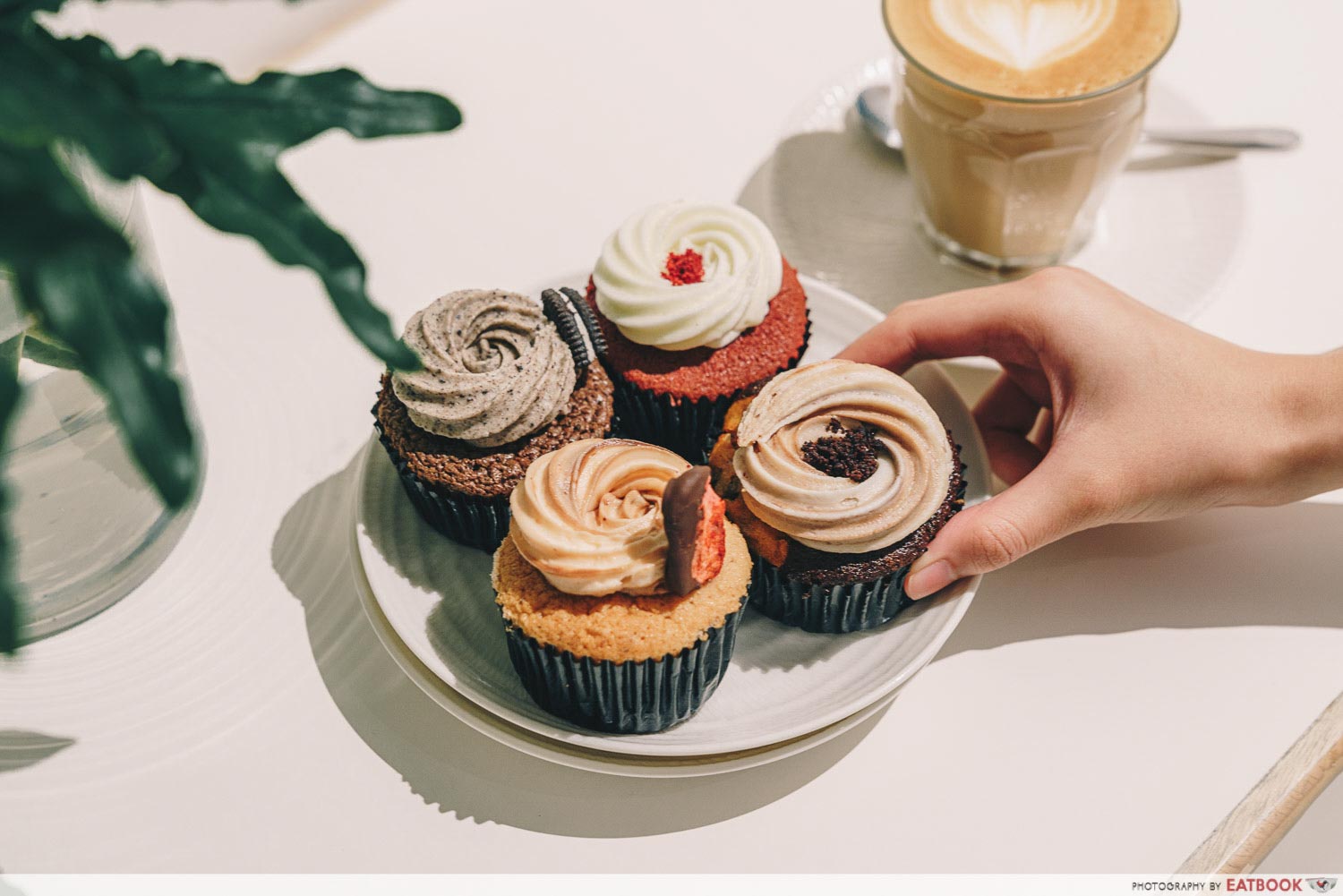 Their bakes are also available from 12pm onwards, so you can look forward to signatures like their Red Velvet ($4.20) cupcakes lining the shelves.
Address: 134 Telok Ayer Street, Singapore 068600
Opening hours: Daily 8am to 5pm
Tel:  8299 0674
Website
---
11. Genius Central
---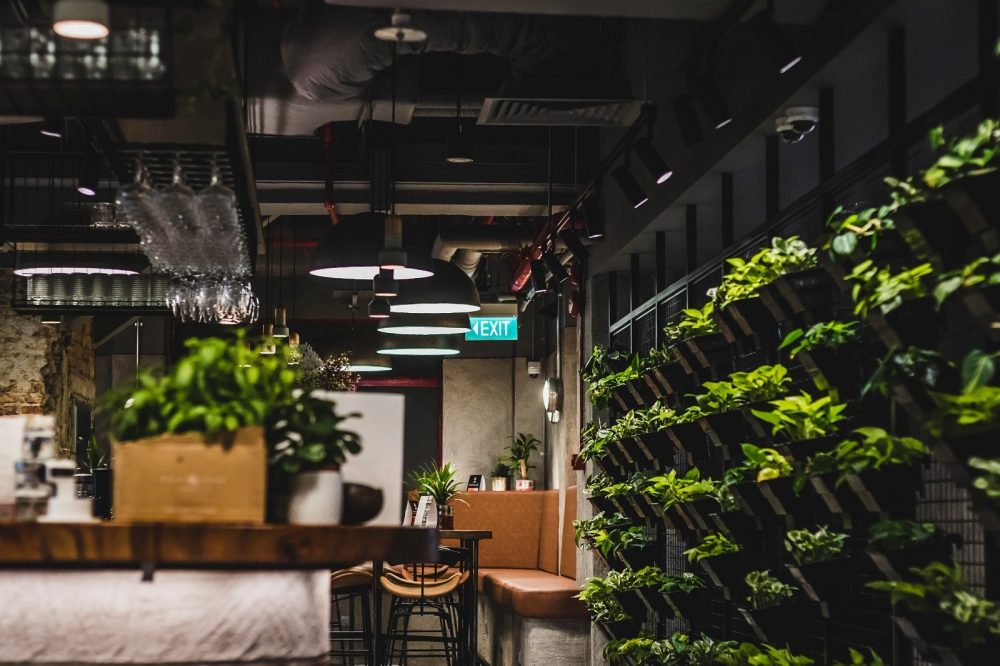 Image credit: Genius Central
Nestled in Far East Square is Genius Central, a whole foods haven amongst the Telok Ayer cafes that focuses on meals that are good for you. Most of the menu is vegan-friendly, and include gluten-free choices too.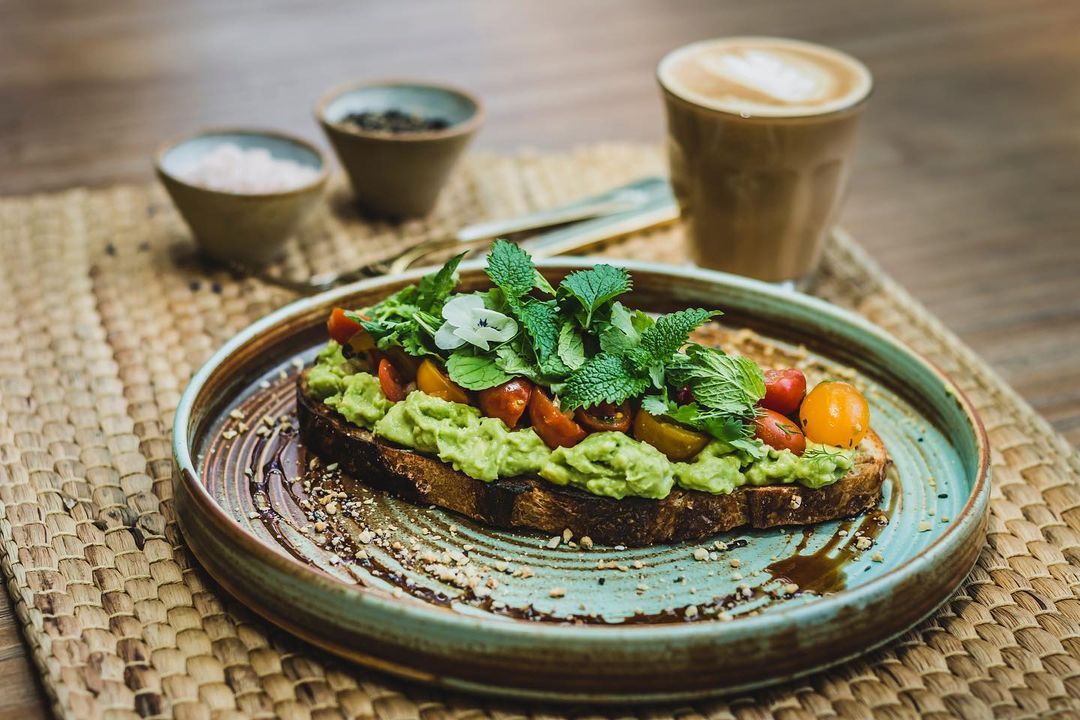 Image credit: Genius Central
Don't let that put you off, as nothing on the menu is lacking in flavour. Their Savoury French Toast ($14) for instance, is a medley of rustic sourdough, fresh cherry tomato, herbs and greens, while the Potato Hash ($16) features a hefty potato hash brown dressed with poached egg, and a crisp salad. For something a touch more classic, there's the Smashed Avocado ($14), which uses creamy Mexican a avocados to dress toast. They also have coffees and fresh juices to accompany your meal.
Address: 7-13 Amoy Street, #01-01, Far East Square, Singapore 049949
Opening hours: Mon-Sat 8:30am to 9:30pm, Sun 8am to 4pm
Tel: 8940 1200
Website
---
12. LUNA
---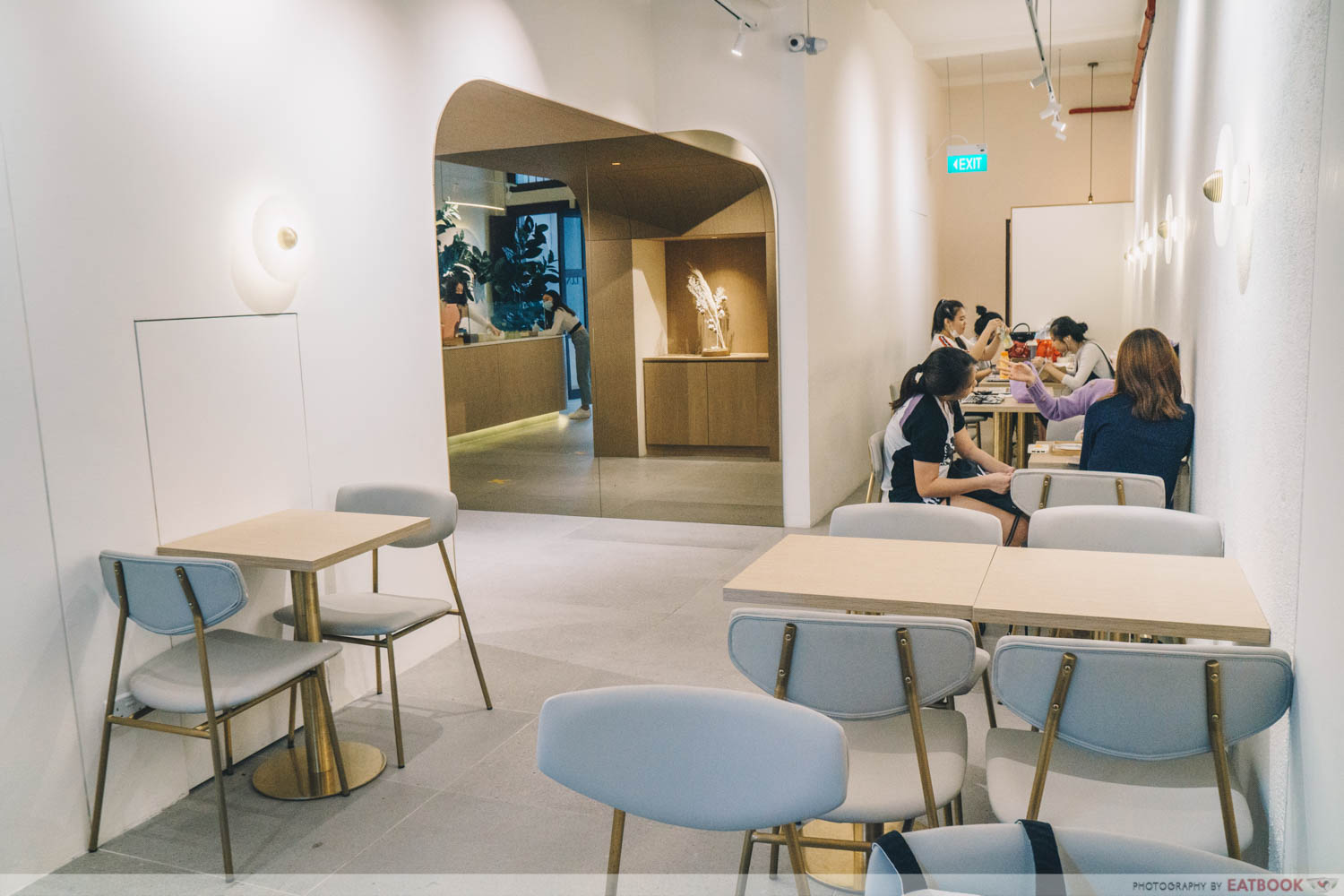 LUNA may be new, but this patisserie has already made a name for itself as a go-to cafe if your idea of a good brunch is just desserts. Their cakes are inspired by Asian flavours and taste as good as they look.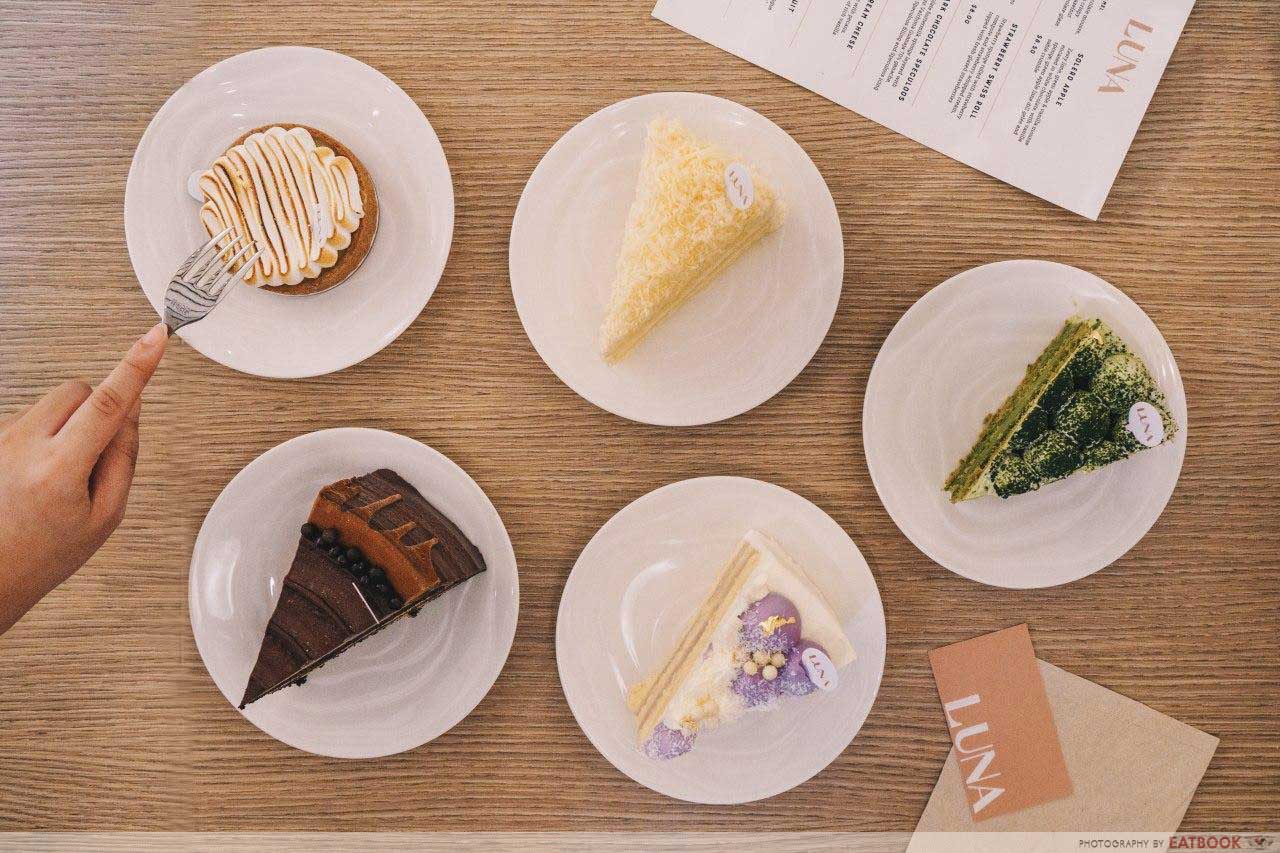 One of the most famous cakes to order is the Orh Nee Cake ($8), where a fragrant yam paste is layered over a vanilla sponge. Our personal favourite, though, is a toss-up between the aromatic Matcha White Chocolate ($8), and the Hojicha Tiramisu ($8). The latter gives you big-time IG opportunities, given that it flows like a waterfall when taken out of its plastic shell.
Check out our full review of LUNA.
Address: 53 Amoy Street, Singapore 069879
Opening hours: Mon-Fri 12pm to 6:30pm, Sat-Sun 12pm to 4pm
Website
---
Telok Ayer cafes for brunch
---
Telok Ayer is one of Singapore's most popular cafe-hopping areas, and it's easy to see why. From classic Melbourne cafe experiences to quirky eateries with local flair and sleek patisseries, it's hard to find a greater variety than the stream of Telok Ayer cafes that exist.
For more ideas to plan your next cafe-hopping jaunt, check out our articles on 11 Bugis cafes and best cafes for breakfast in Singapore.
12 Breakfast Places In Singapore For Pancakes, A Full English Breakfast And More
---
Featured image adapted from @aaronthh, @getcharred, @roland_of_the_lowlands, @sabrinahahhh, @marcellameilyne and v.imperatix. 
This article was originally written on 3 April 2019.