French Fold serves Brittany-style crepes and galettes
Having a French partner means I am 100% aware of how hard it is to find authentic French food in Singapore. While our city has a handful of good French restaurants, these mostly showcase the fancier tiers of France's gastronomic scene. Rarely are they able to capture the soul of the bistros, cafes, and bakeries that make France so magical to dine through.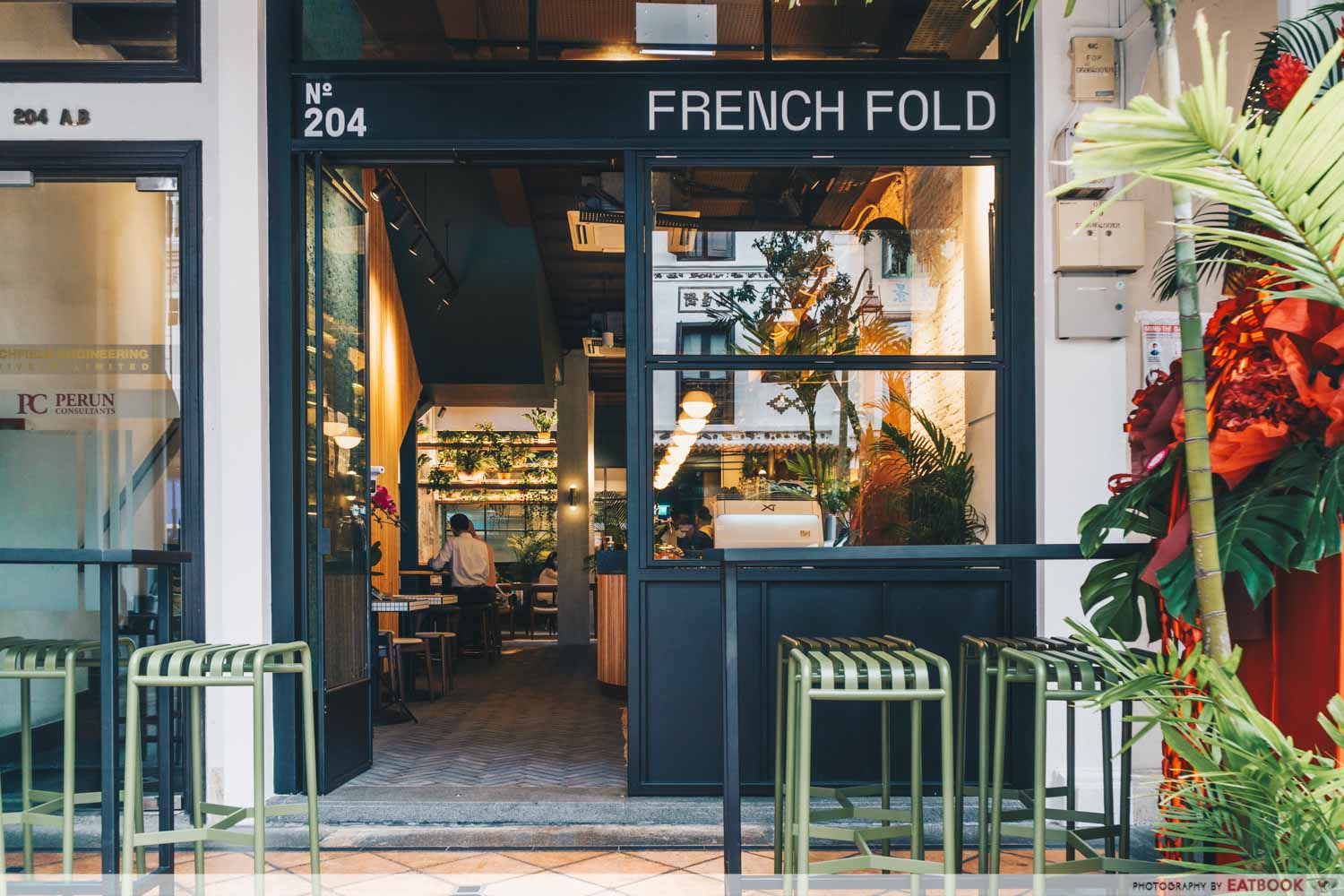 Enter French Fold, a new crepes and galettes concept run by the same folks behind Merci Marcel. Located in Telok Ayer, this cosy eatery looks plucked from the cobbled streets of Les Marais, seeming like the kind of French bistro that could fill the void we have long felt.
10 French Restaurants In Singapore For Affordable Crepes, Duck Confit, And More
Food at French Fold
For those puzzled by the difference between crepes and galettes, here's the rule of thumb: crepes are made with wheat flour, are softer, and typically enjoyed as a dessert. Galettes, on the other hand, tend to be larger, and are served as savoury mains. Breton-style galettes are typically made with buckwheat flour— this is the type served at French Fold, and their flour is specially imported too.
Previously, I could only find buckwheat galettes at Entre-nous, another creperie along Seah Street. French Fold's menu is a close rival, with plenty of options that change depending on the time of day. My dining companion and I went down during lunch, and opted to try a variety from the menu.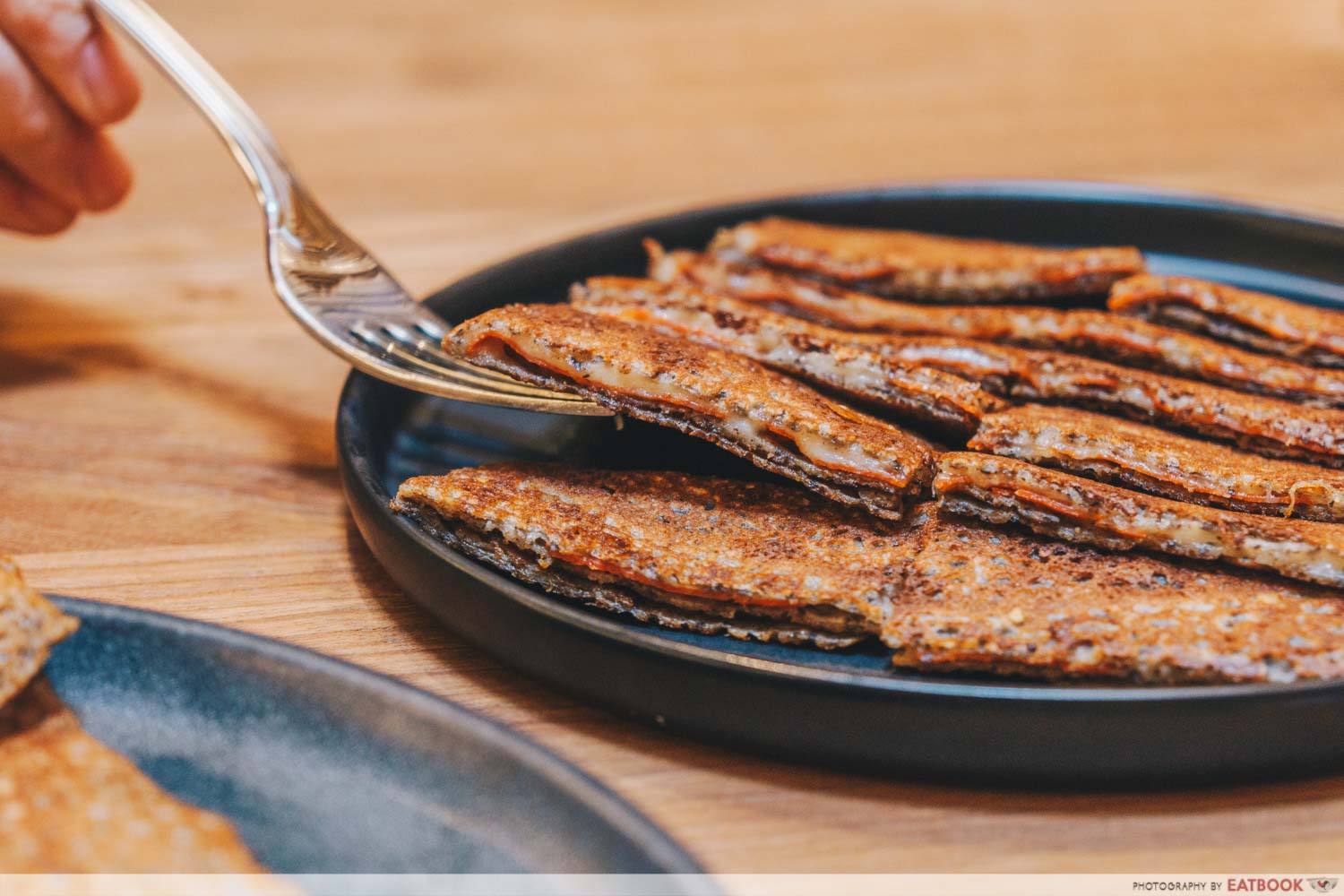 To start, their Mini Chorizo and Comte Cheese Galettes ($14). Made to share, this small plate comes with unassuming slices of dark galettes, stuffed with Comté, a hard cheese akin to Gruyere, and lightly-spiced chorizo.
The mix of the Spanish sausage and fatty cheese with the nuttiness of the buckwheat galette made for a mouthful I couldn't stop snacking on.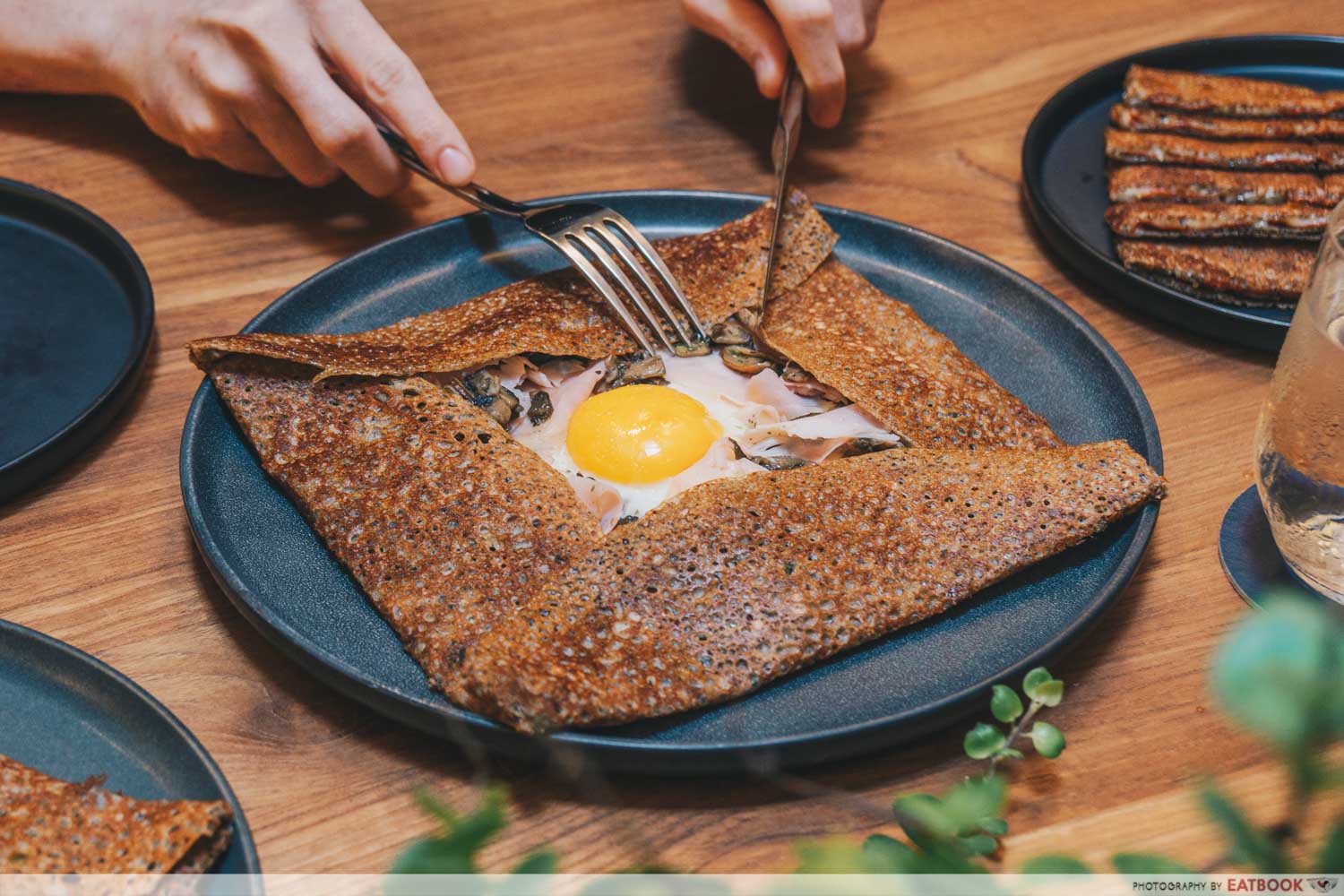 There are 13 galettes on the lunch menu, and we had the crowd favourite No.4 ($17).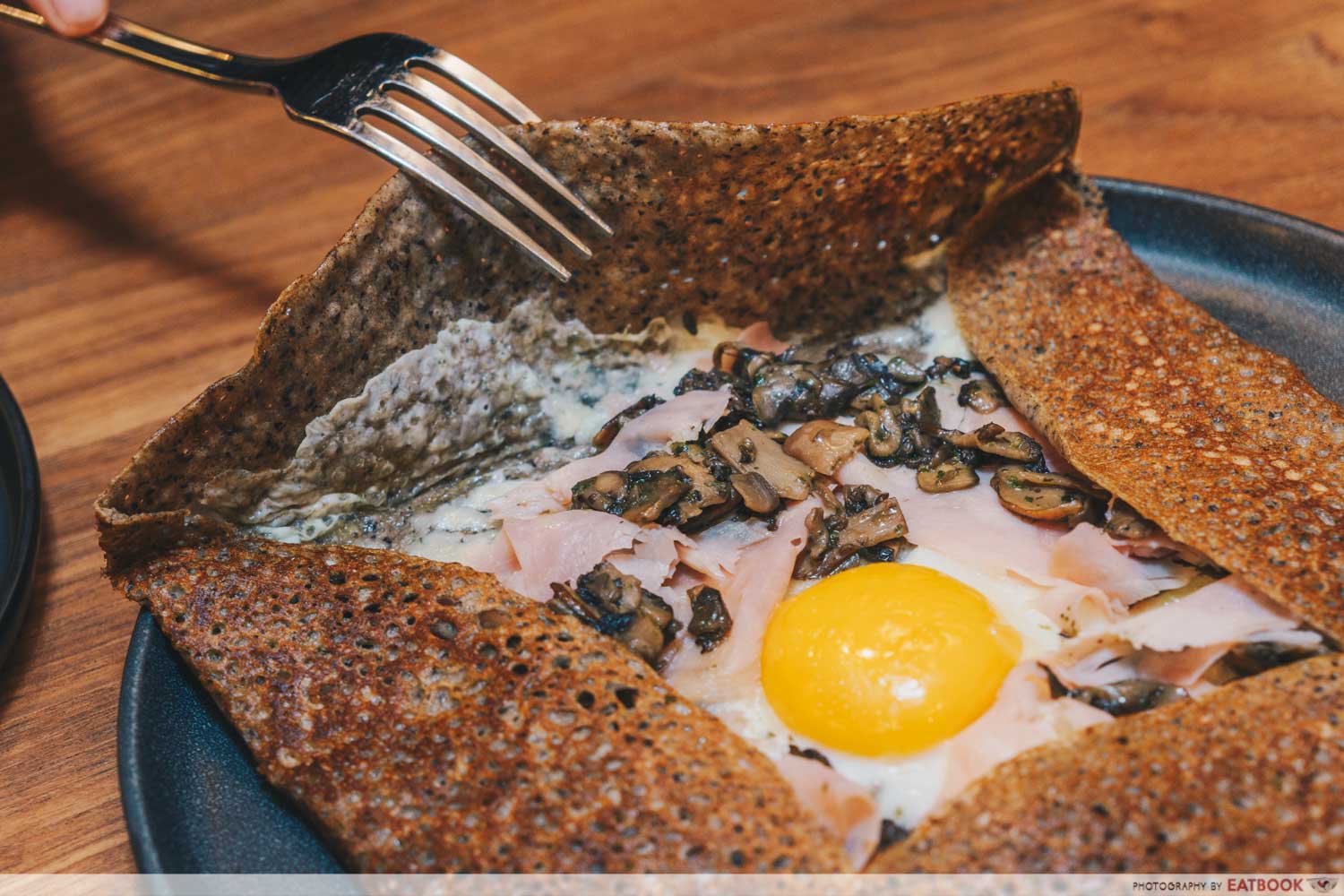 The crepe comes topped with ribbons of ham, tender sauteed mushrooms, Comté, and an organic sunny-side-up egg. This classic parcel, wrapped in a crispy crepe, tasted like a full breakfast without the heaviness.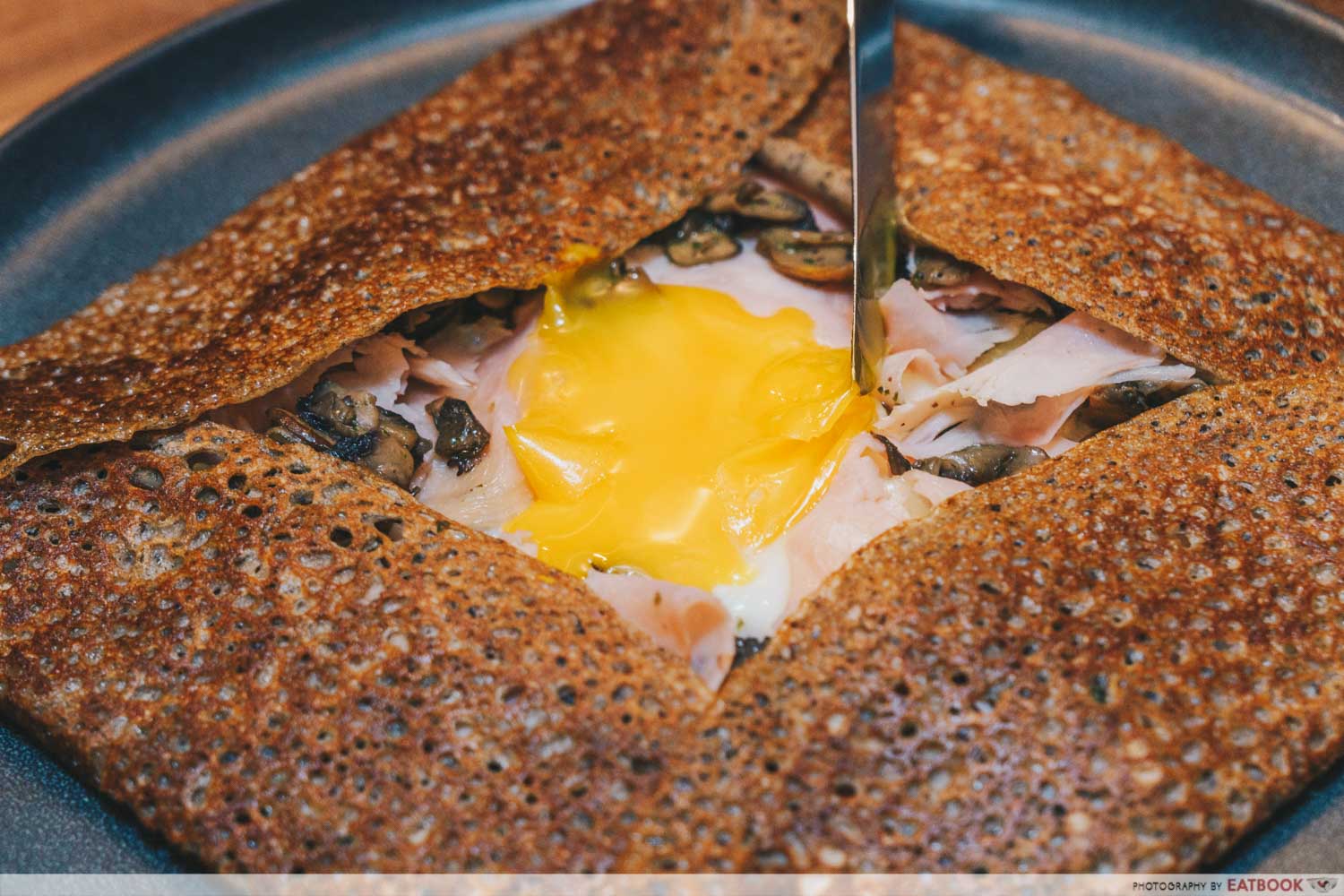 The runny, golden yolk made for a creamy finishing touch.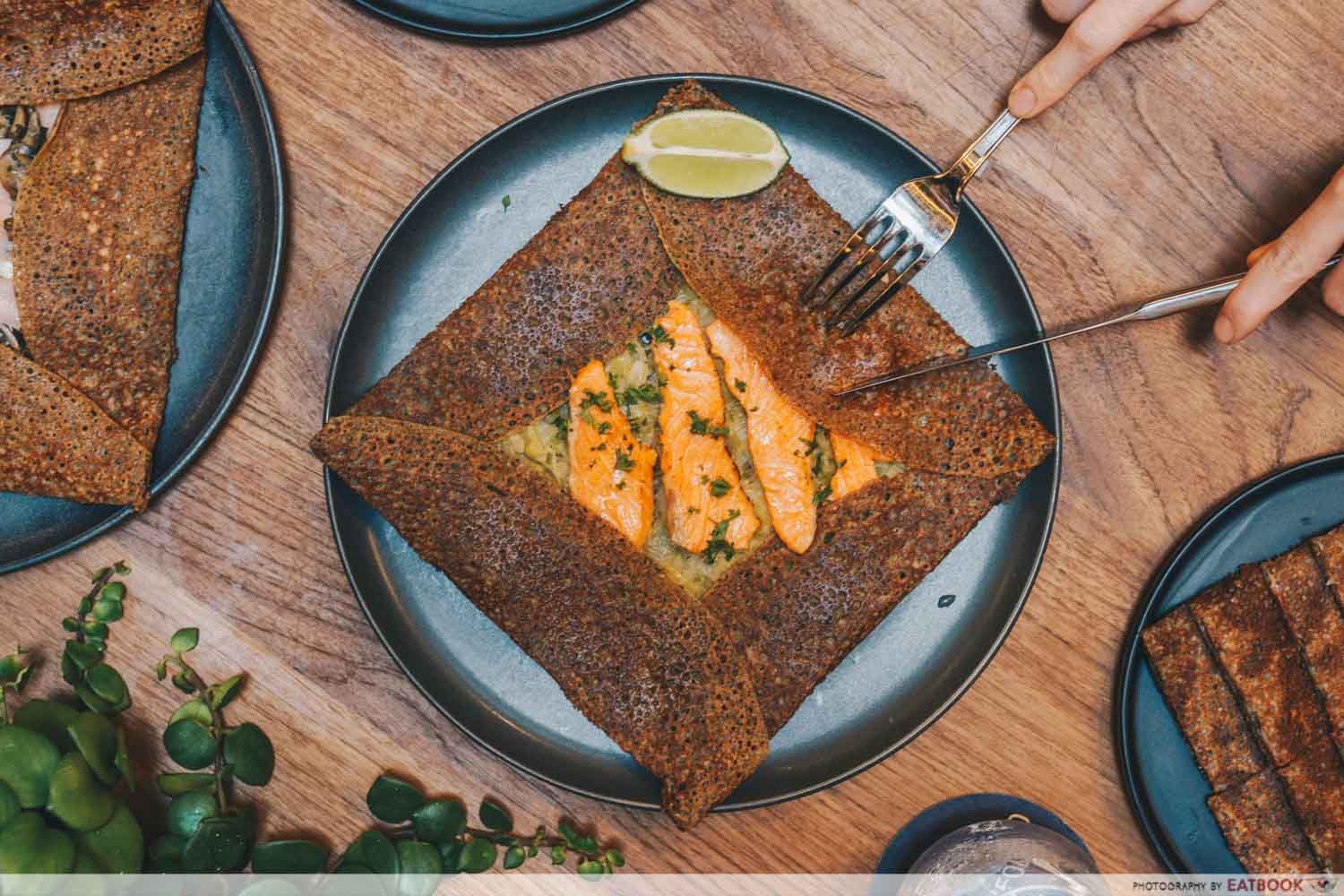 French Fold has a few galettes starring less familiar ingredients. We tried the No.10 ($19), a combination of wild trout atop leek fondue, served with a lime wedge.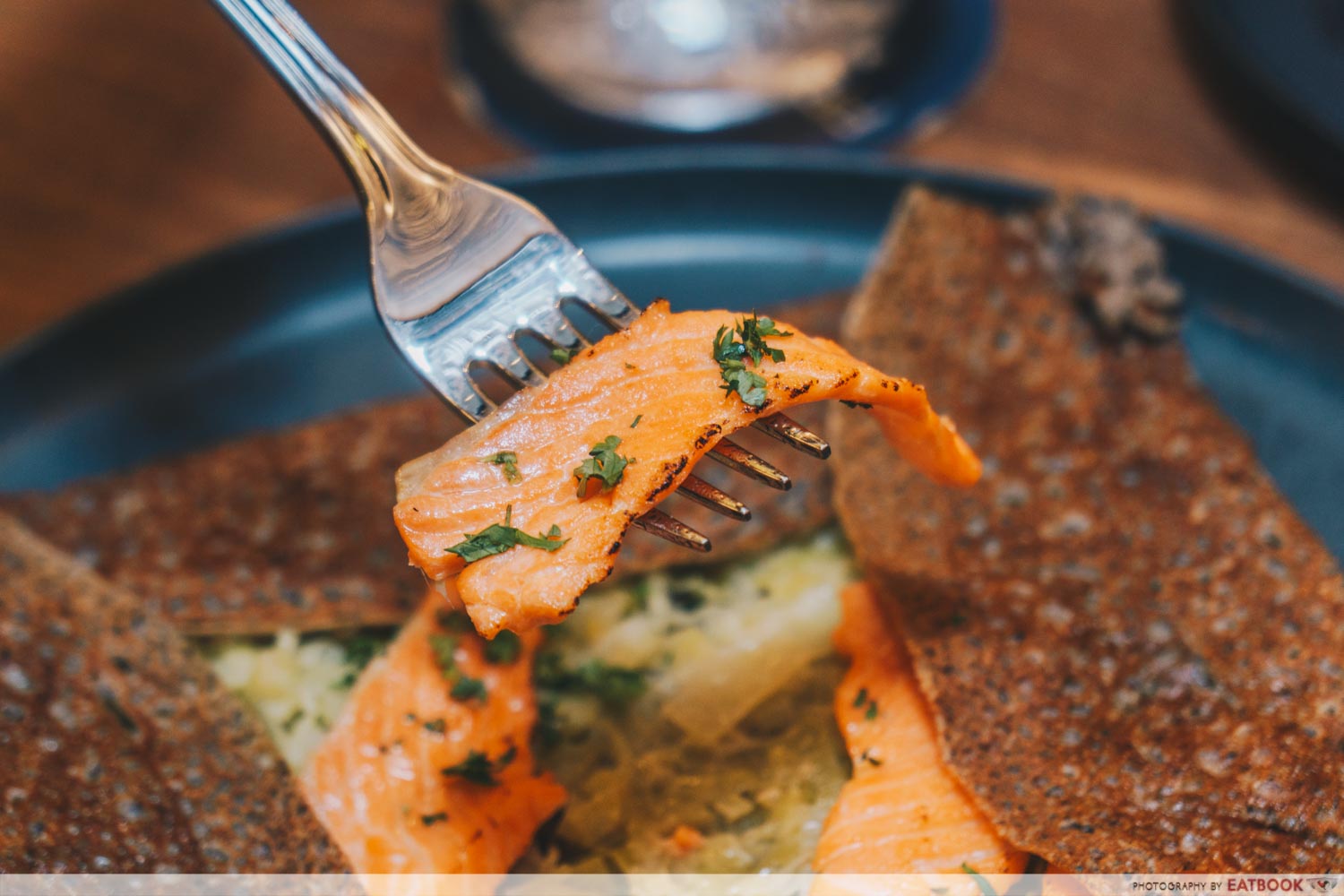 The pink slivers of trout were sweet, a testament to their freshness, though a touch dry. The leek fondue was well caramelised, a melt-in-your-mouth contrast to the chewy crepe, though you have to really enjoy onions to get on board with this one.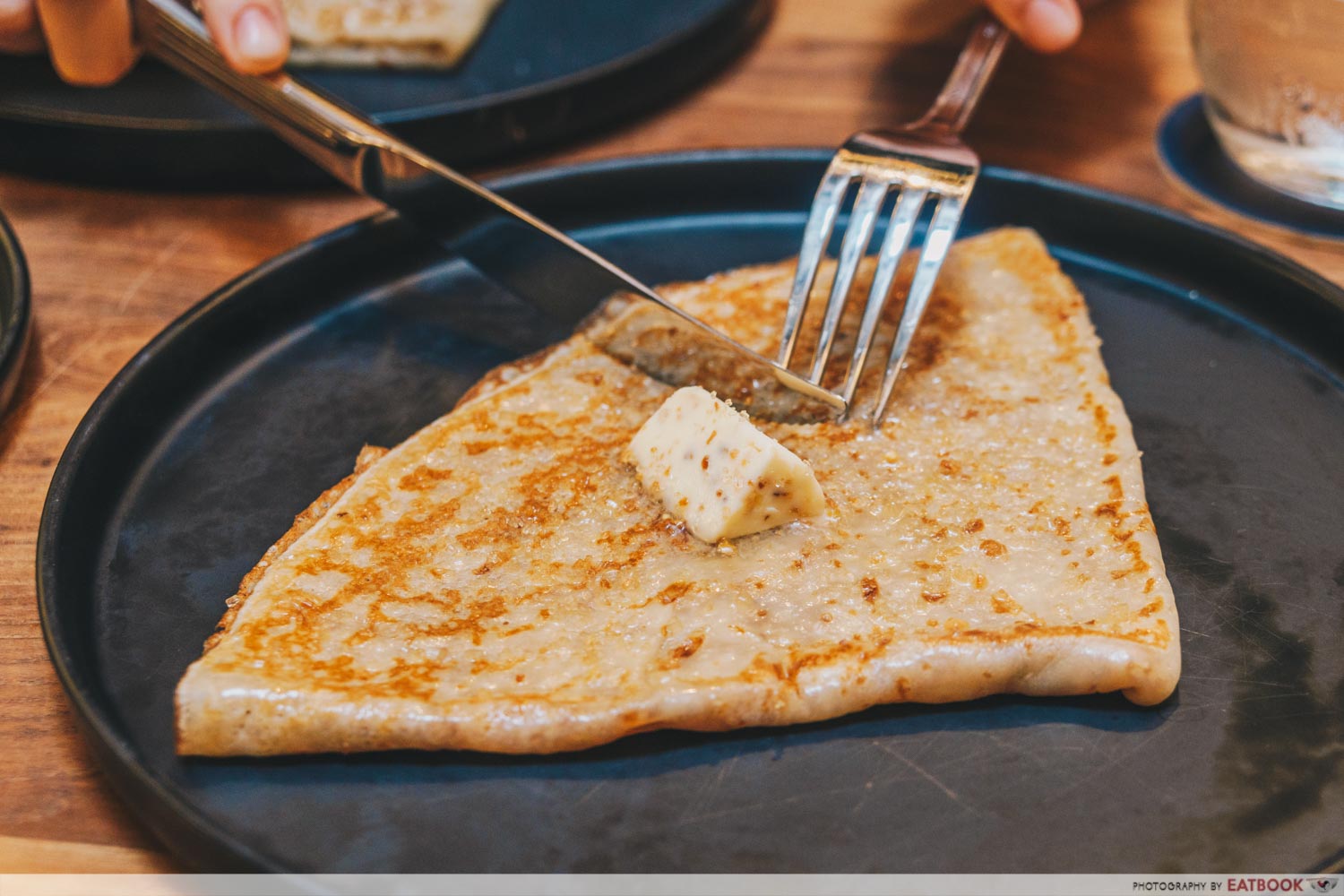 For desserts, we opted for the traditional Classic Butter ($9), a plain crepe made with premium French butter, then dressed with brown sugar, and—you guessed it—more salted butter.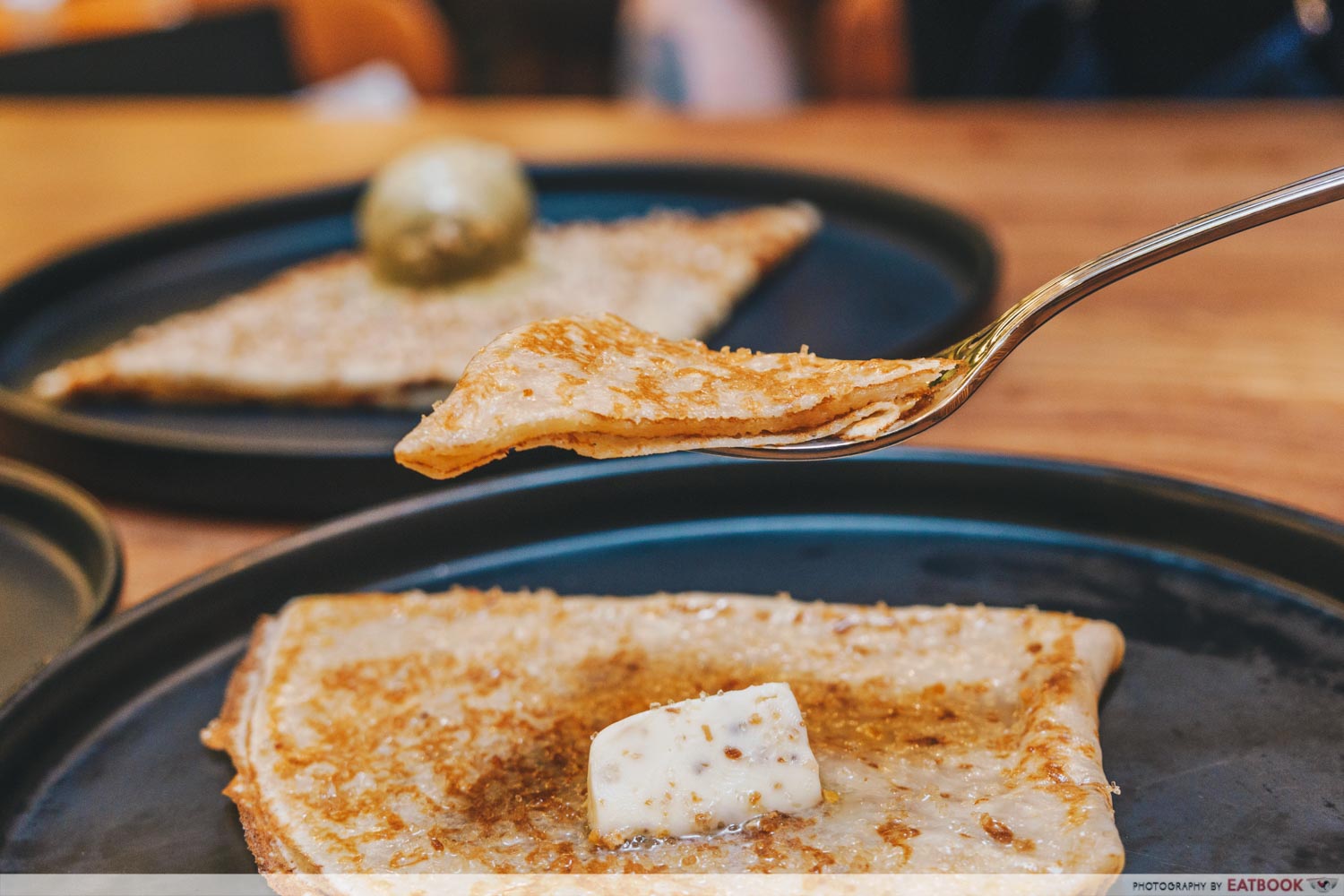 Drizzled with lemon juice for zest, this simple slice is elegant comfort food. No frills needed, just the wonders of browned butter, salt, and citrus.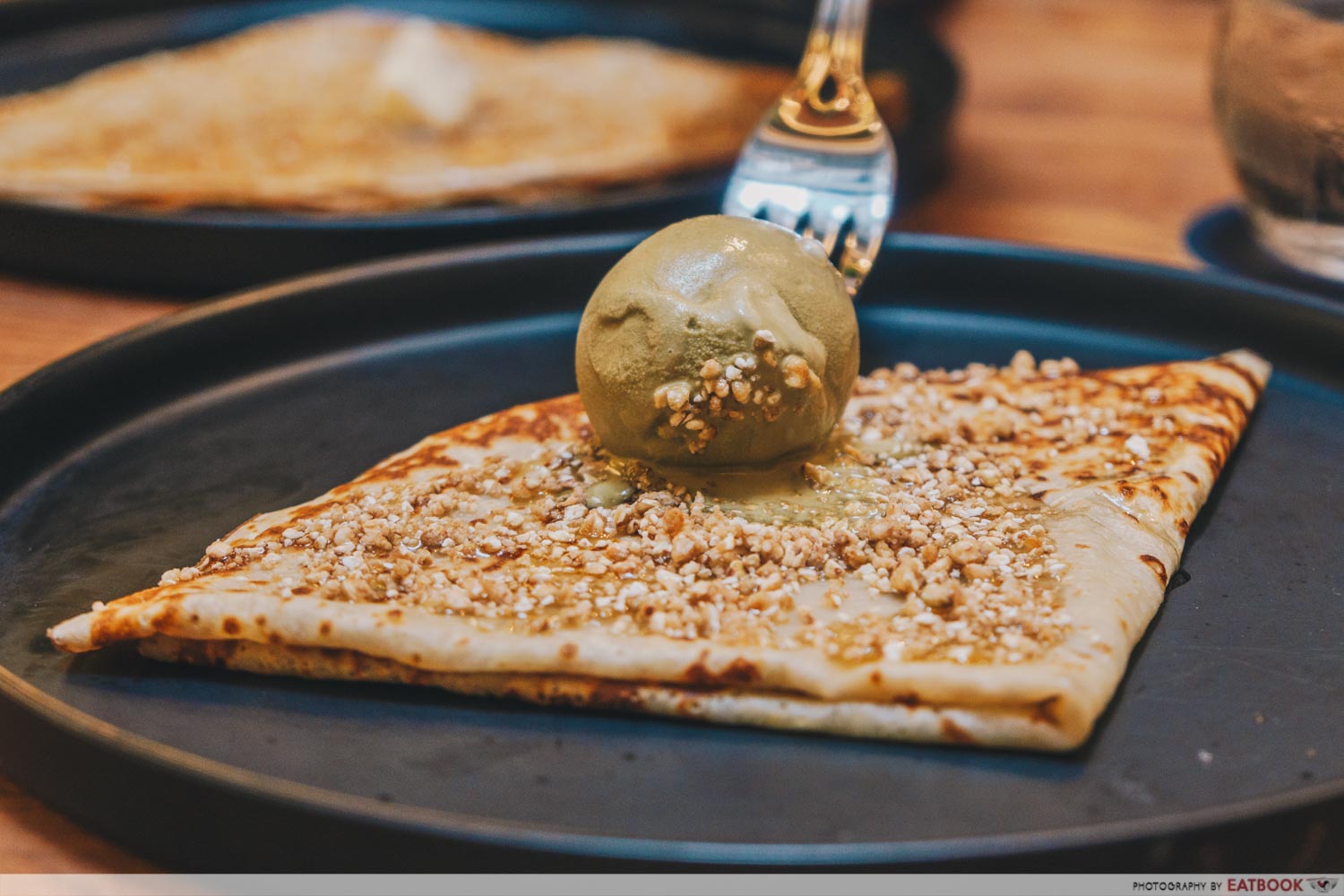 But, if like me, you prefer your crepes doubly sweetened, then choose to have yours with their housemade spreads, fruits, or with ice cream from local maker, Birds of Paradise. We tried the Manuka Honey ($10) crepe, which is drizzled with the prized honey, sprinkled with roasted buckwheat seeds, then topped with sea salt hojicha ice cream.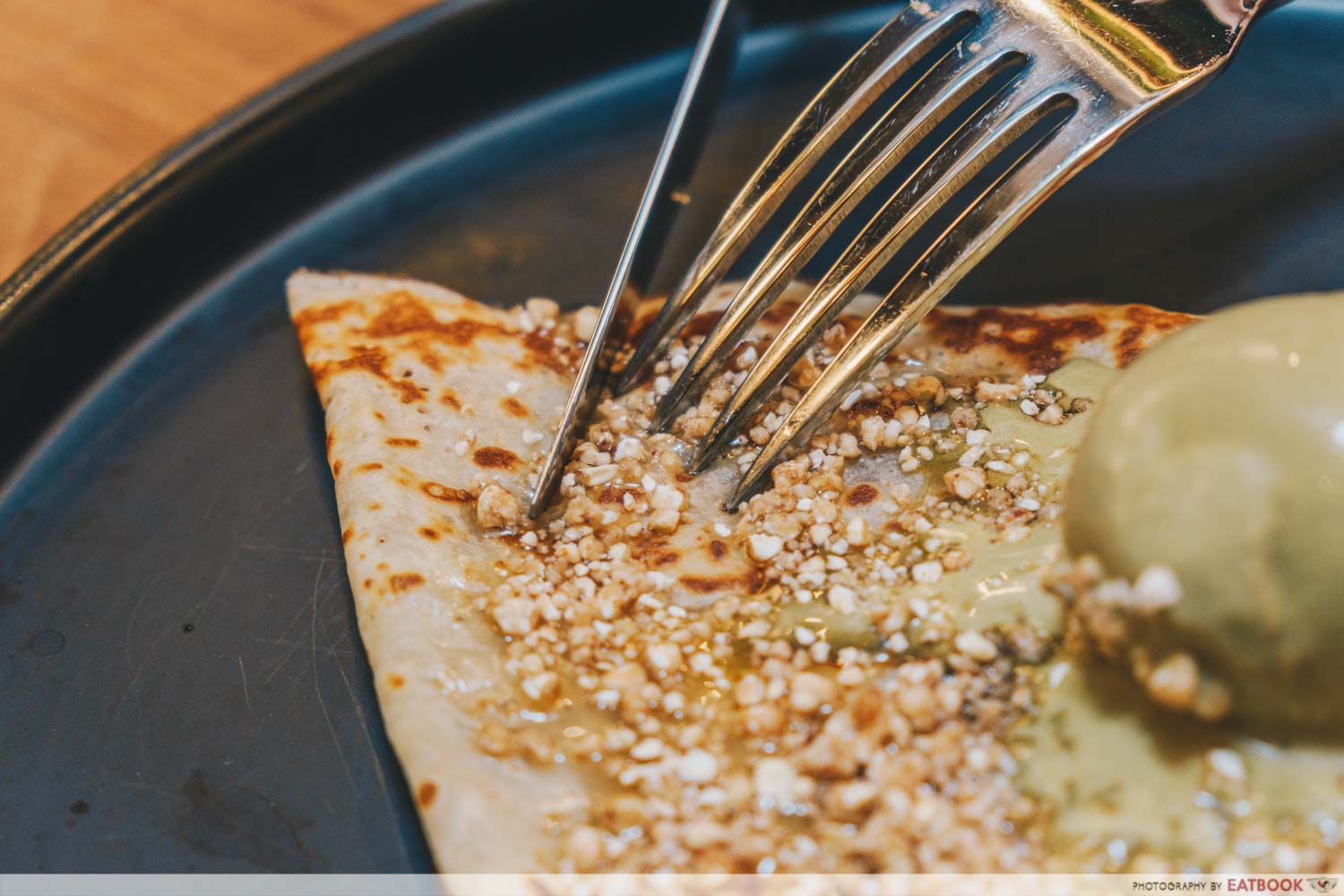 The scoop of ice cream is nicely sized, a minute detail that is so important, because the crepe doesn't end up soggy too quick. The buckwheat seeds amped up the roasted profile of the ice cream, though when they say 'sea salt', it is quite salty. I was a big fan of the medley, but my companion less so.
To accompany your meal, the bistro also serves coffees, teas, juices, as well as French ciders and cocktails.
10 Ice Cream Shops In Singapore With Locally-Inspired Flavours Such As Kaya Toast And Milo Dinosaur
Ambience at French Fold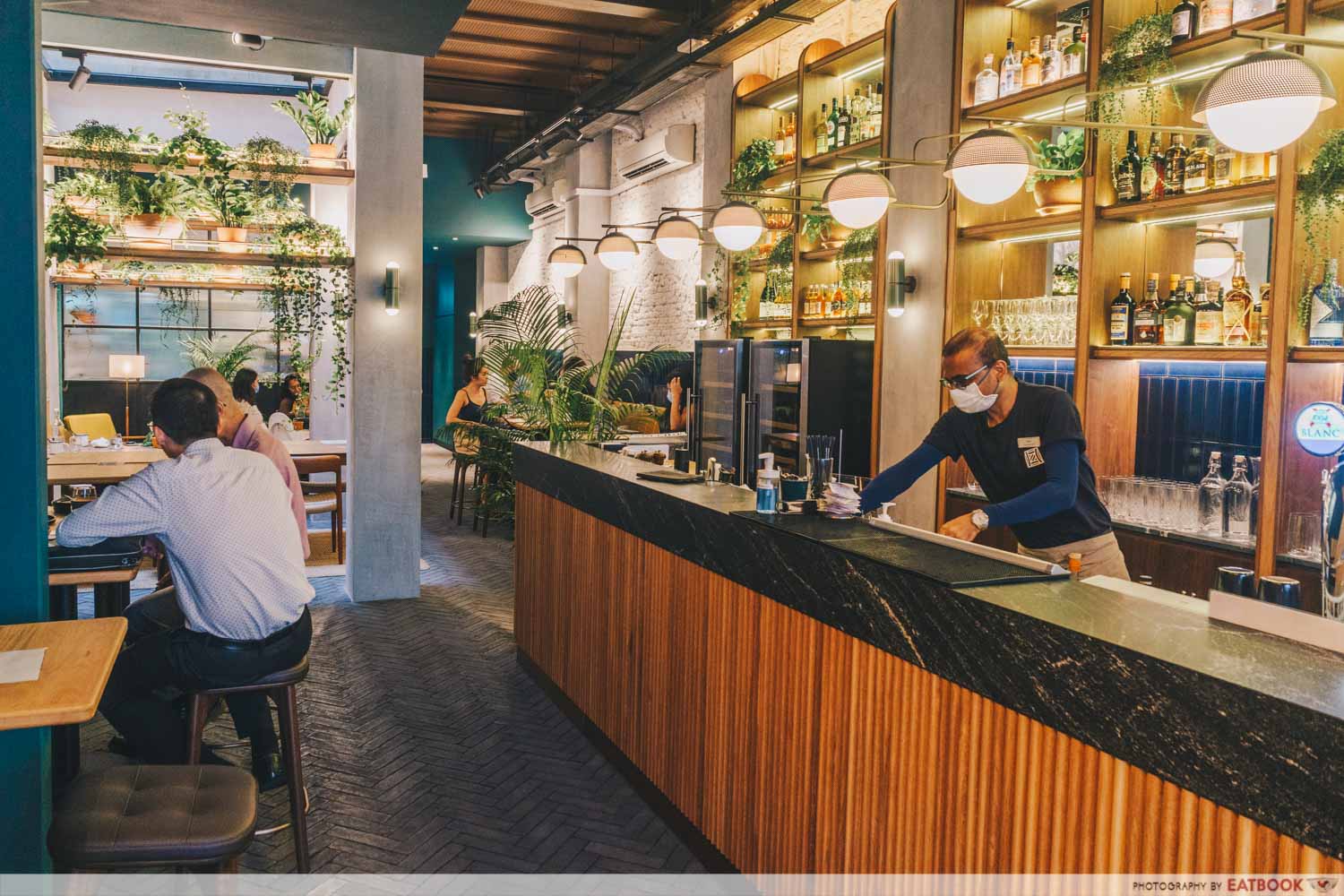 Nestled in the corner of Telok Ayer Street, French Fold has the distinctive Merci Marcel thumbprint in design. High ceilings with sky windows let lots of natural light in, while rows of plants, rattan accents, and wood give the bistro a #junaglow vibe.
It is also very convenient to get to, being just a quick walk away from Telok Ayer MRT.
The verdict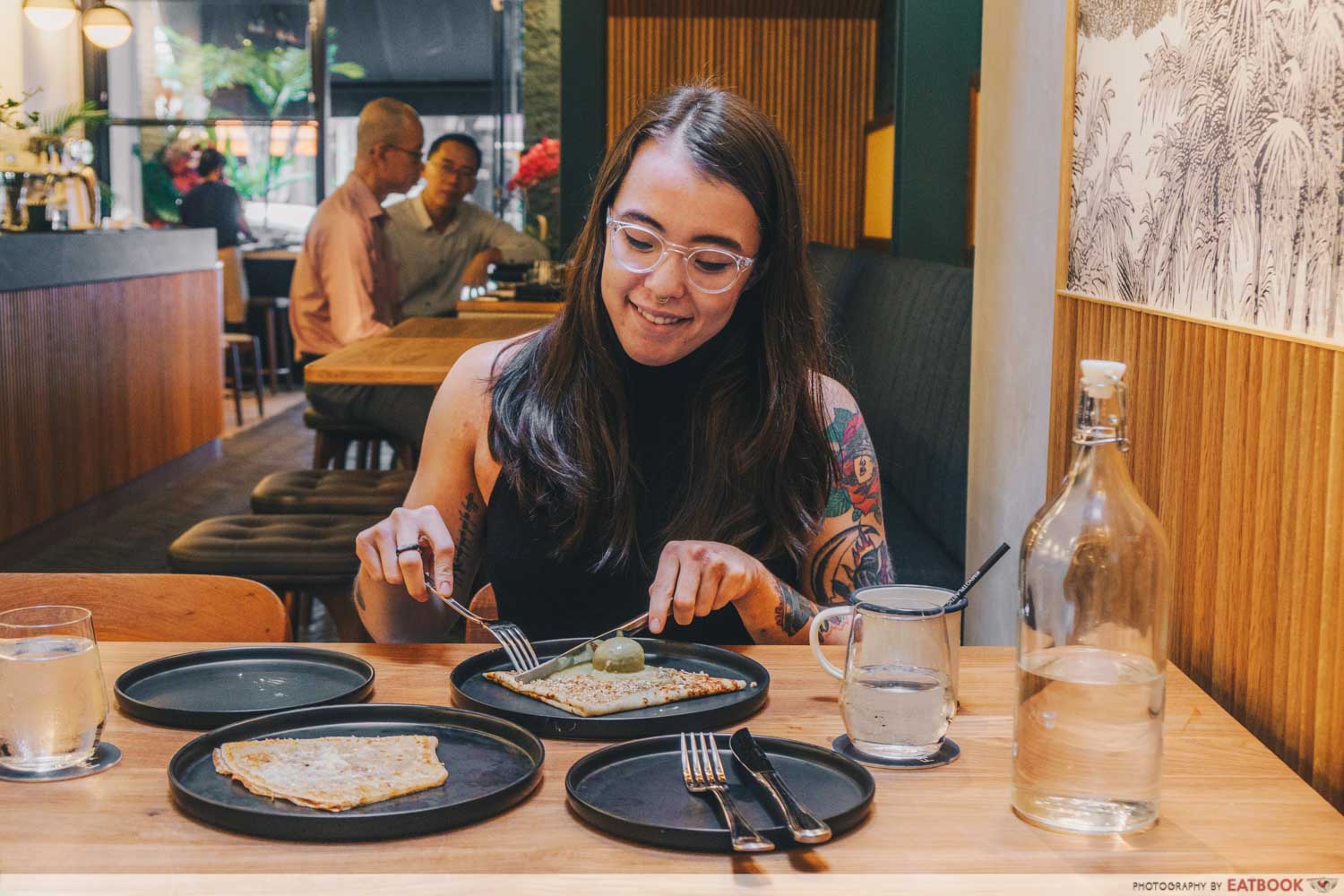 If you ask me what I miss the most about being in France, it is a toss up between the food and the landscapes. While I can't wake up to fresh air and scenic vineyards in Singapore, I can at least get my fix of crepes and galettes that are as close to authentically French as it gets, thanks to this new eatery.
French Fold has been generating a fair amount of buzz on social media lately, so it can be quite hard to bag a table. Nonetheless, a meal there hits the sweet spot, satisfying both my stomach and my nostalgia for French holidays long past—these days, I'll take what I can get without boarding a plane, so I'll definitely be back.
For more to pique your sweet tooth, check out our full review of Durian Lab, an all-durian cafe by Ah Seng Durian. Otherwise, suss out the Korean fare at Tanjong Pagar with our dining guide.
Durian Lab Cafe Review: Ah Seng Durian Opens Dessert Cafe At Bukit Merah
Address: 204 Telok Ayer Street, Singapore 068640
Opening hours: Daily 8am to 10:30pm
Website
French Fold is not a halal-certified eatery.
Photos taken by Lim An.
This was a media tasting at French Fold.
French Fold Review: New Bistro Serves French Galettes And Crepes With Gelato In Telok Ayer
Summary
Pros
–  Authentic French-style crepes
– Simple, well-executed fare
Cons
– Can be a challenge to reserve a table
Recommended dishes: Manuka Honey crepe ($11), No.4 ($17)
Opening hours:  Daily 8am to 10:30pm
Address: 204 Telok Ayer Street, Singapore 068640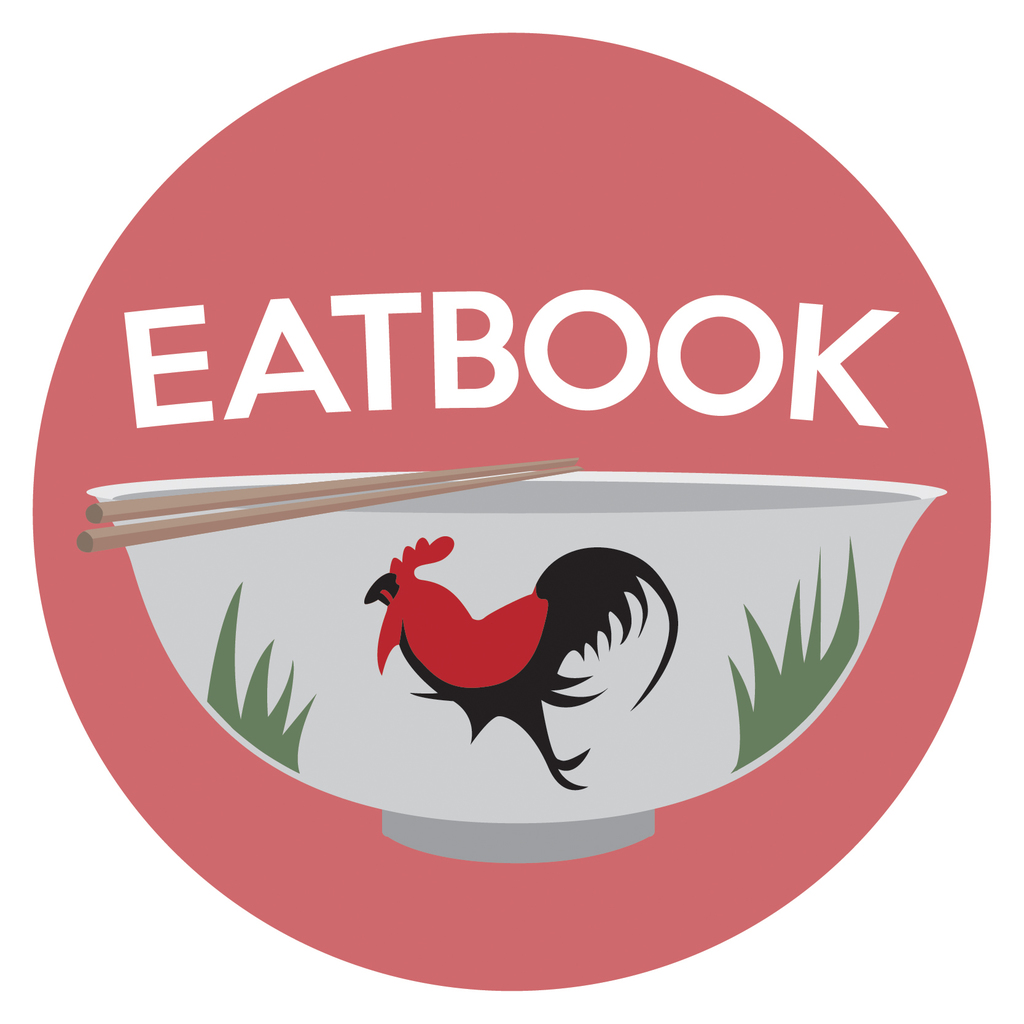 Drop us your email so you won't miss the latest news.