---
Breakfast in Singapore
---
Breakfast in Singapore is sacred, and many of us swear that a good breakfast can power you through the rest of the day. Some days, especially on weekends, you want a little treat, so a cafe breakfast is what you ought to go for.
7 Old-School Breakfast Spots To Visit For Kaya Toast And Kopi Before They Disappear
Whether you're craving a hot stack of fluffy pancakes or a sinful English breakfast platter with sausages and bacon, we've got you covered with options. Here is a guide to some of our favourite places to get breakfast in Singapore, complete with good food and great vibes.
---
1. Baker's Bench
---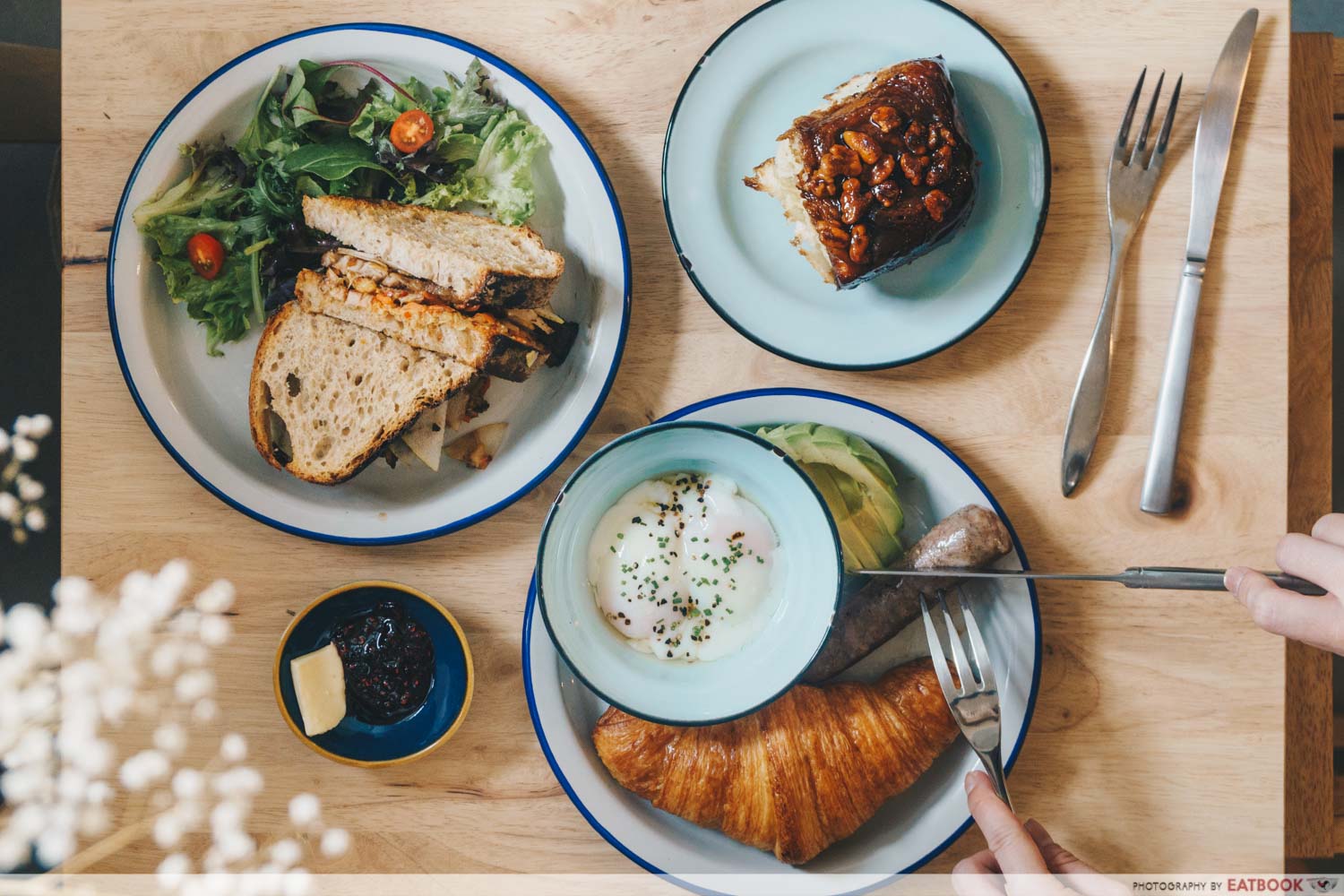 Tucked in the enclave of Bukit Pasoh is a little bakery cafe called Baker's Bench. There is a selection of tasty pastries to buy — we highly recommend the Sticky Bun that's $5 —  but our eyes are really set on the Build-Your-Plate menu so you can build your own breakfast.
There are a variety of options to choose from here, starting with a carb – one croissant is $5, while sourdough or pumpernickel bread is $4 for two slices. Then you can choose between scrambled eggs ($5), sunnyside-up ($3) and a  63.5°egg ($3), which is poached. You can also add some meats to your plate like sausages or bacon ($5 each), and vegetables like avocado ($3) or roasted mushrooms ($4).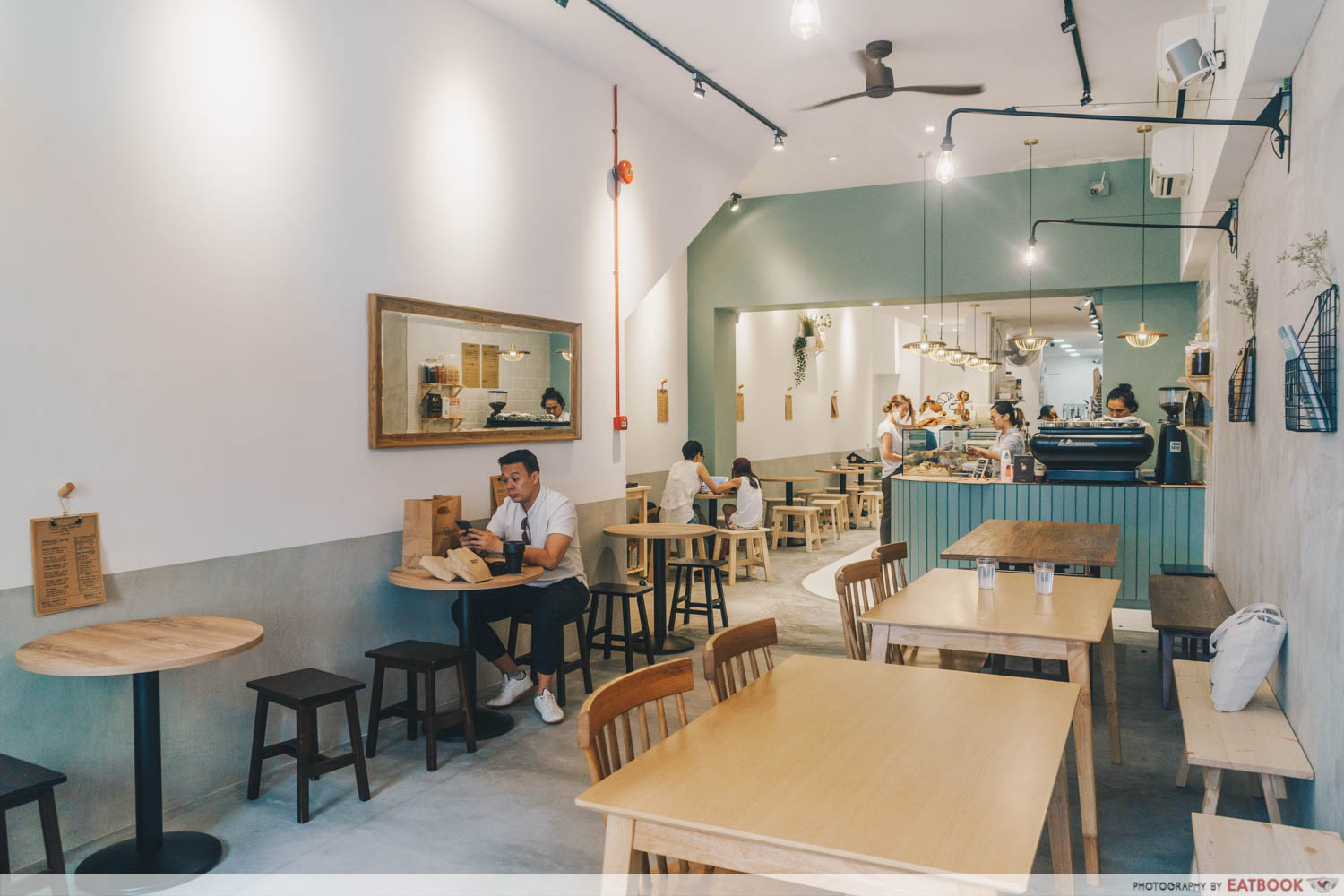 Check out our full review of Baker's Bench.
Address: 6 Bukit Pasoh Road, Singapore 089820
Opening hours: Wed-Mon 8:30am to 5pm
Website
Baker's Bench is not a halal-certified eatery.
Baker's Bench Bakery Review: New Minimalist Cafe With Build-Your-Own Brunch Platters And Pork Belly Sourdough
---
2. Brawn & Brains
---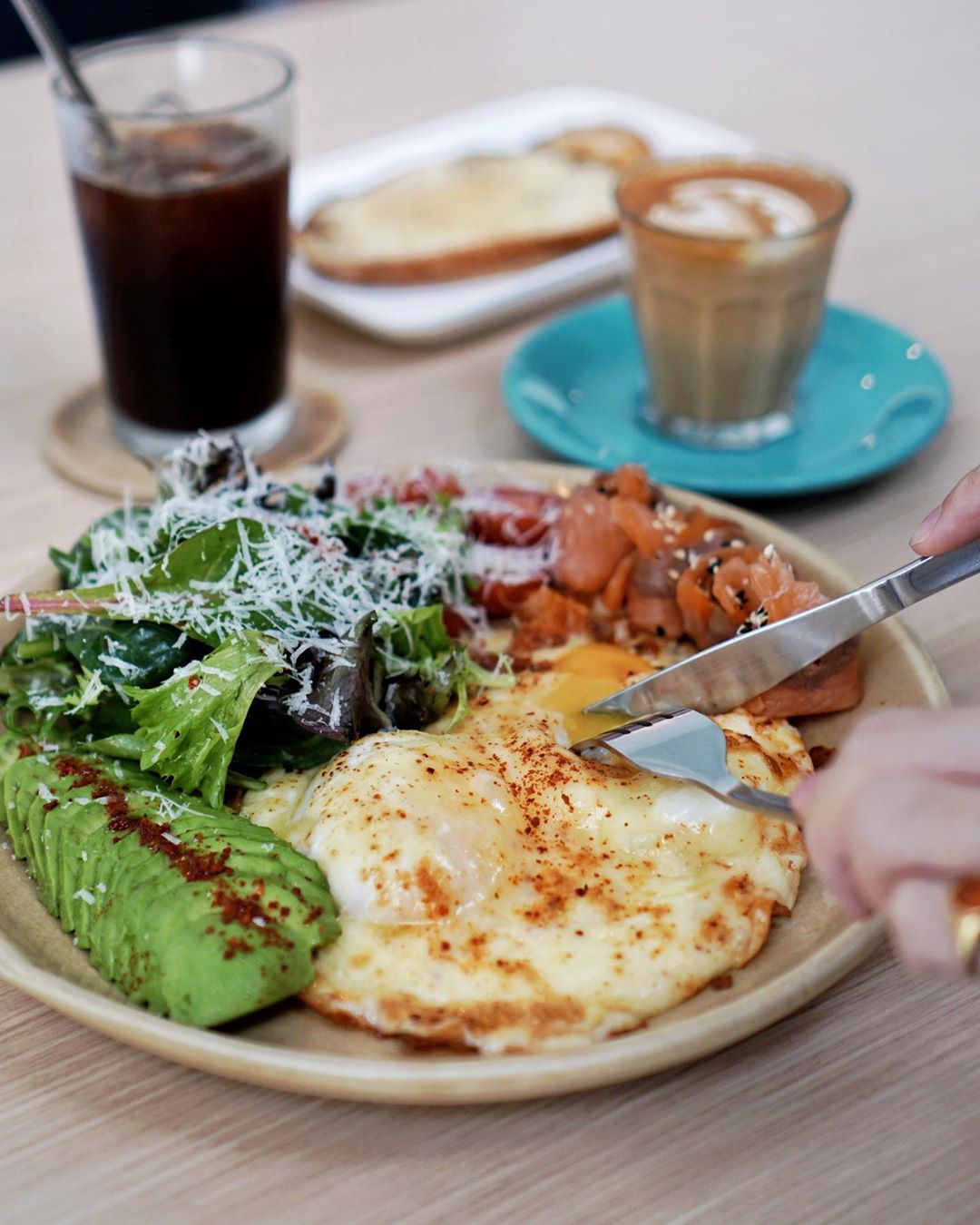 Image credit: @travlim
Brawn & Brains is a great spot for breakfast in Singapore. Best known for the Oven Baked Molten Eggs ($17.90), the dish features a plate filled with cheesy eggs on a tortilla, a generous serving of avocado, smoked salmon, and some fresh vegetables.
Image credit: @brawn_and_brains
The portion sizes here are quite large, so definitely go with friends or family. For something sweeter, get the Good Ol' Pancakes ($14.80). They're not as dense as most pancakes tend to be, meaning you can pack away quite a stack. Toppings include housemade jam or kaya, butter and maple syrup. Their coffees are excellent too!
Website
Full list of locations
Brawns & Brains is not a halal-certified eatery.
---
3. Hub & Spoke Cafe
---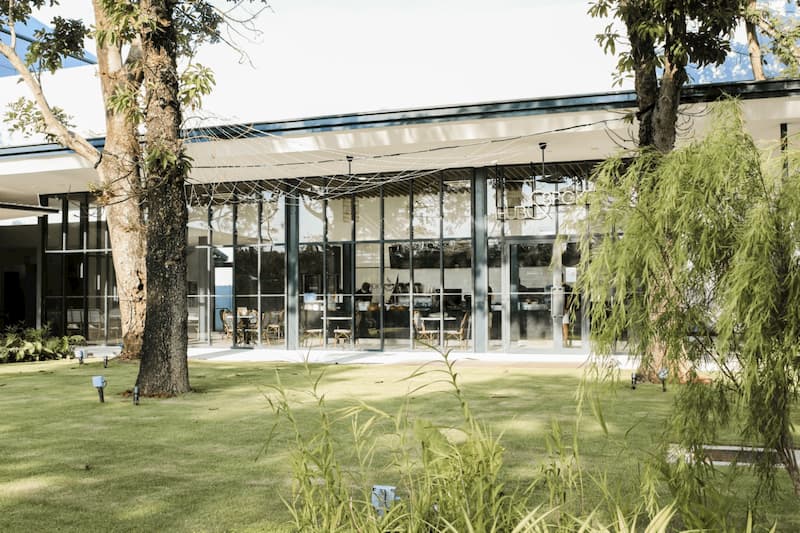 Image credit: Hub & Spoke Cafe
All the way in the East near Changi Airport is Hub & Spoke Cafe. The new eatery takes quite a bit of travelling to get to, but once you've arrived at the tranquil location you'd forget all about that given how beautiful the cafe looks. Prices are also on the affordable side here.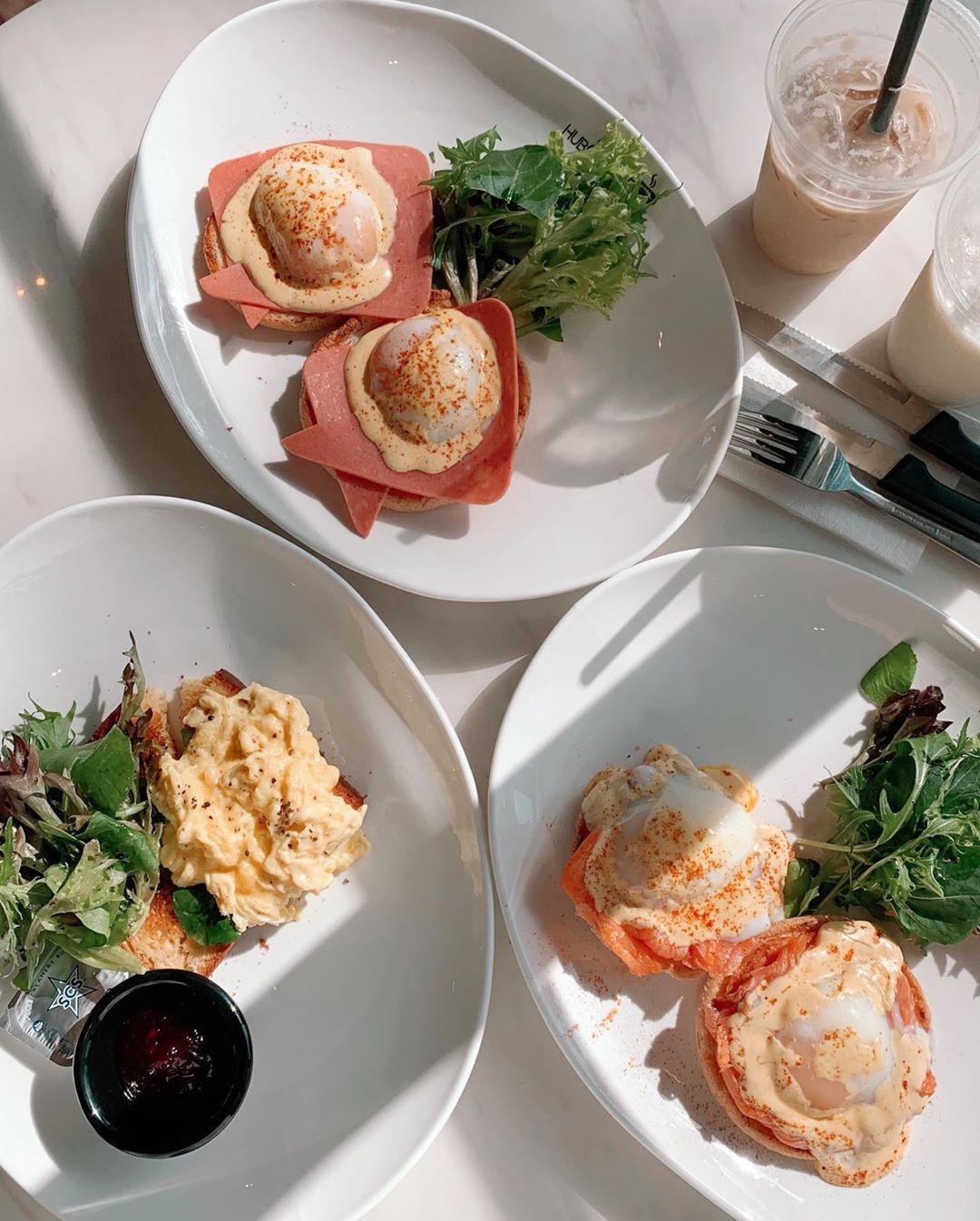 Image credit: @crystaltannn
For example, the Hub & Spoke Big Breakfast only costs $15.90, while their local dishes like Nasi Lemak (from $6.90) and Mee Rebus Java ($6.90) are also value-for-money. Though you're having breakfast in Singapore, you'll feel like you're dining abroad too.
Address: 60 Airport Boulevard #01-T2S-02, Kampong Changi, Singapore 819643
Opening hours: Mon-Thu 7:30am to 8pm, Fri-Sun 7:30am to 9pm
Website
Hub & Spoke is not a halal-certified eatery.
---
4. Group Therapy
---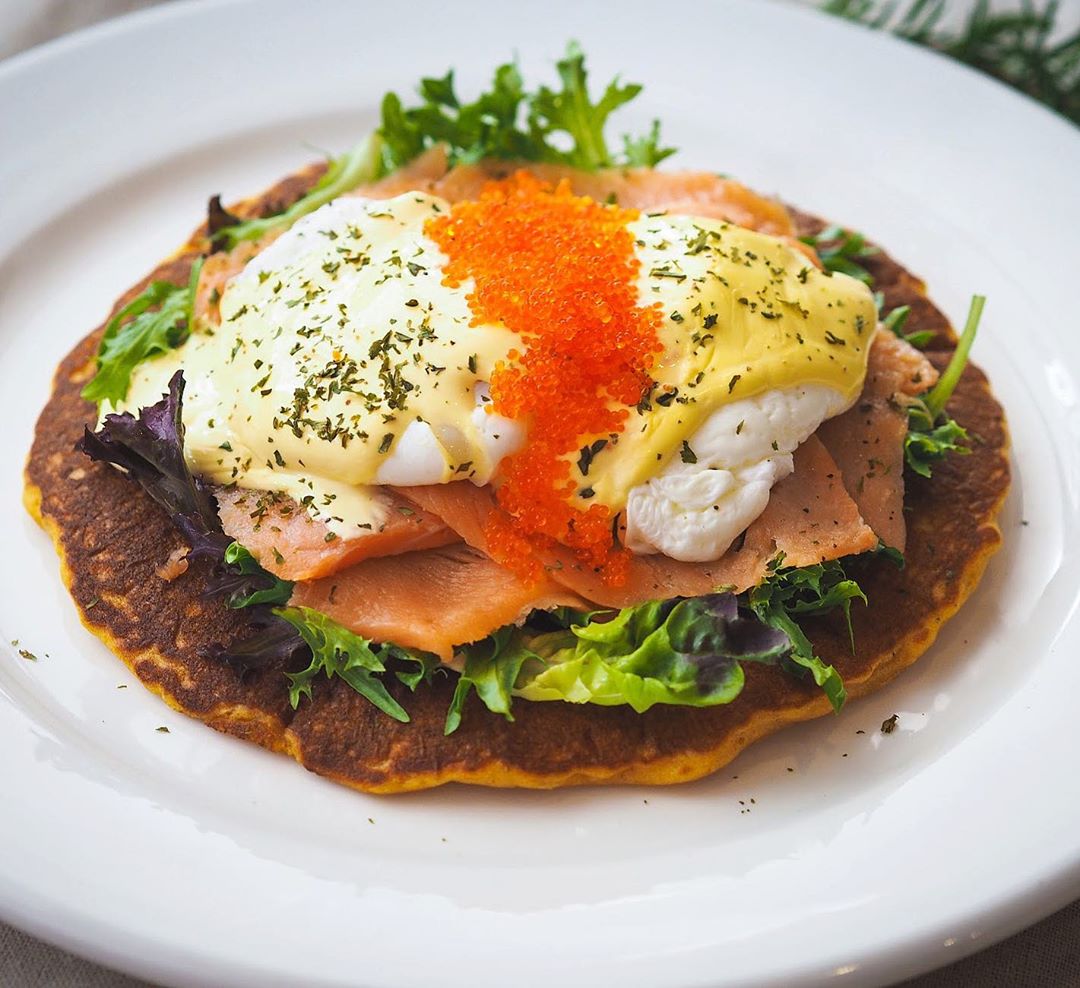 Image credit: @grouptherapycafe
Group Therapy is best known for their coffee and their pancakes, the latter of which comes in multiple versions. You can get the traditional Breakfast Pancakes ($19), served with two fluffy pancakes, a sunny-side-up egg, bratwurst sausage and some bacon.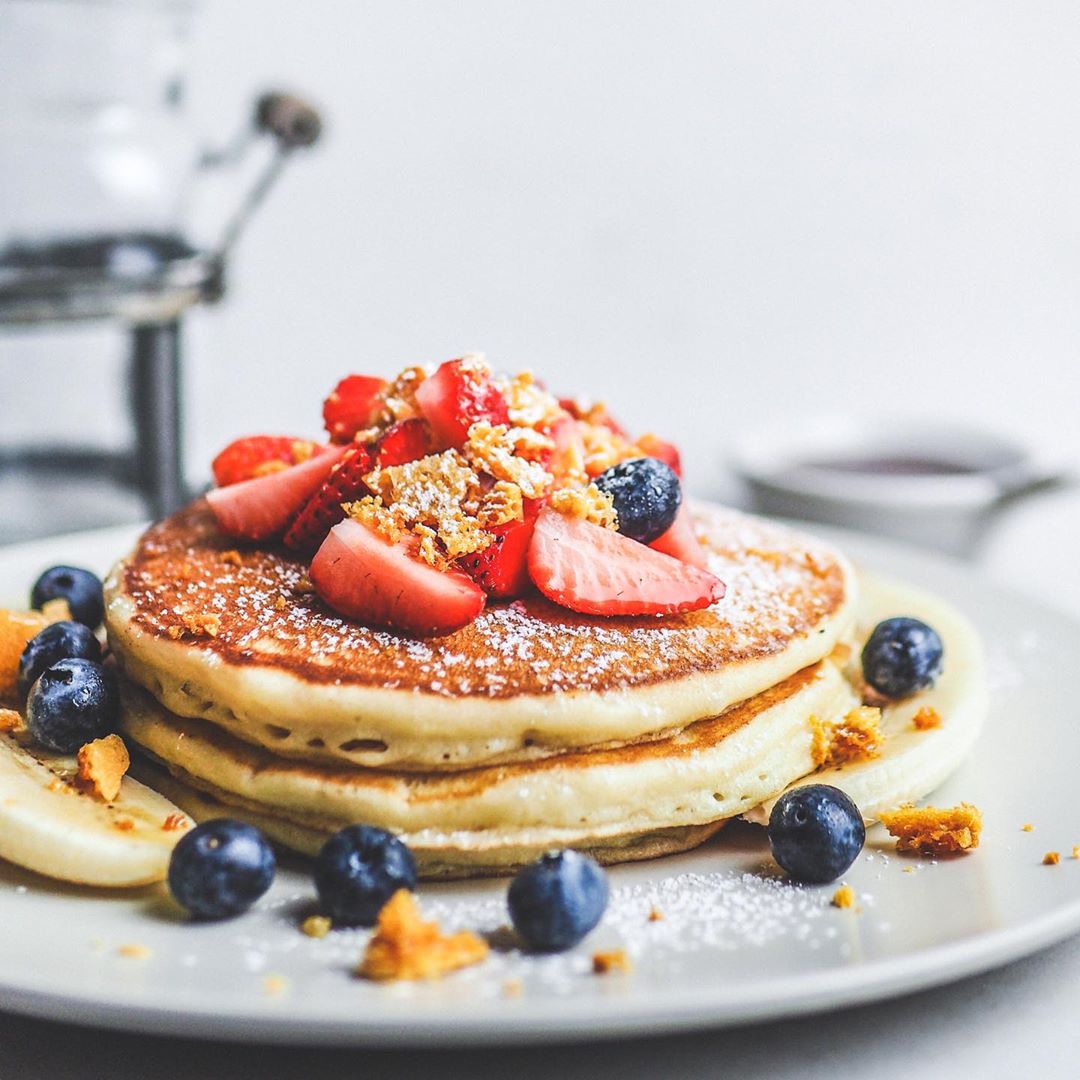 Image credit: @grouptherapycafe
There are also healthier options in the form of their signature Pancake Stack (from $15), or the Pumpkin Pancake ($19). The former comes with a generous serving of bananas, berries, honeycomb, and maple syrup, while the latter is a single pancake with poached eggs, smoked salmon, hollandaise sauce, and tobiko roe.
Website
Full list of locations
Group Therapy is not a halal-certified eatery.
---
5. Clinton Street Baking Company
---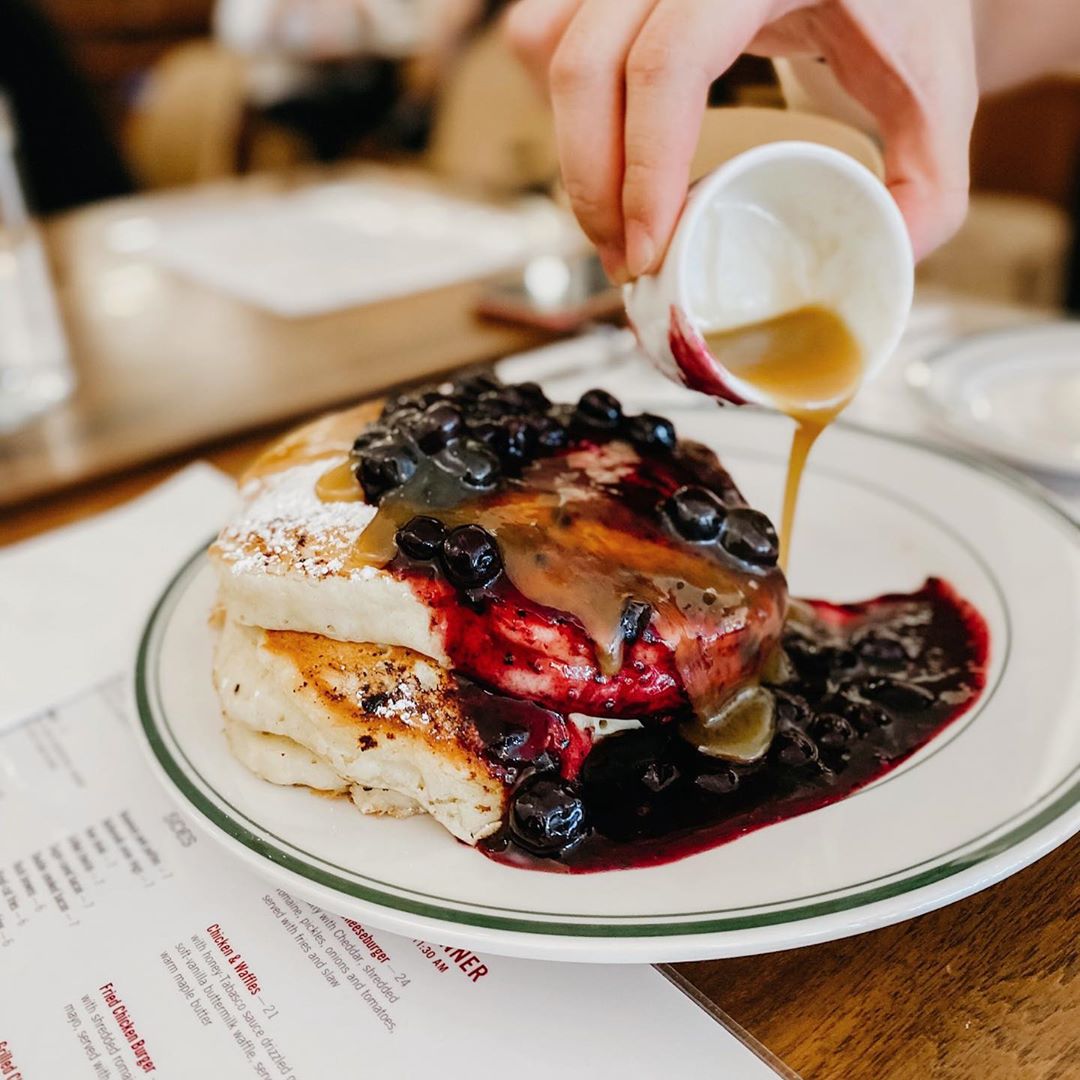 Image credit: @fatandhungryyy
The Pancakes with Warm Maple Butter ($20) from Clinton Street Baking Company are the ultimate test of willpower because you have to resist taking a bite before the camera. Perfectly fluffy and served in a massive portion fit for two to share, these are a must when having breakfast at this Purvis Street cafe.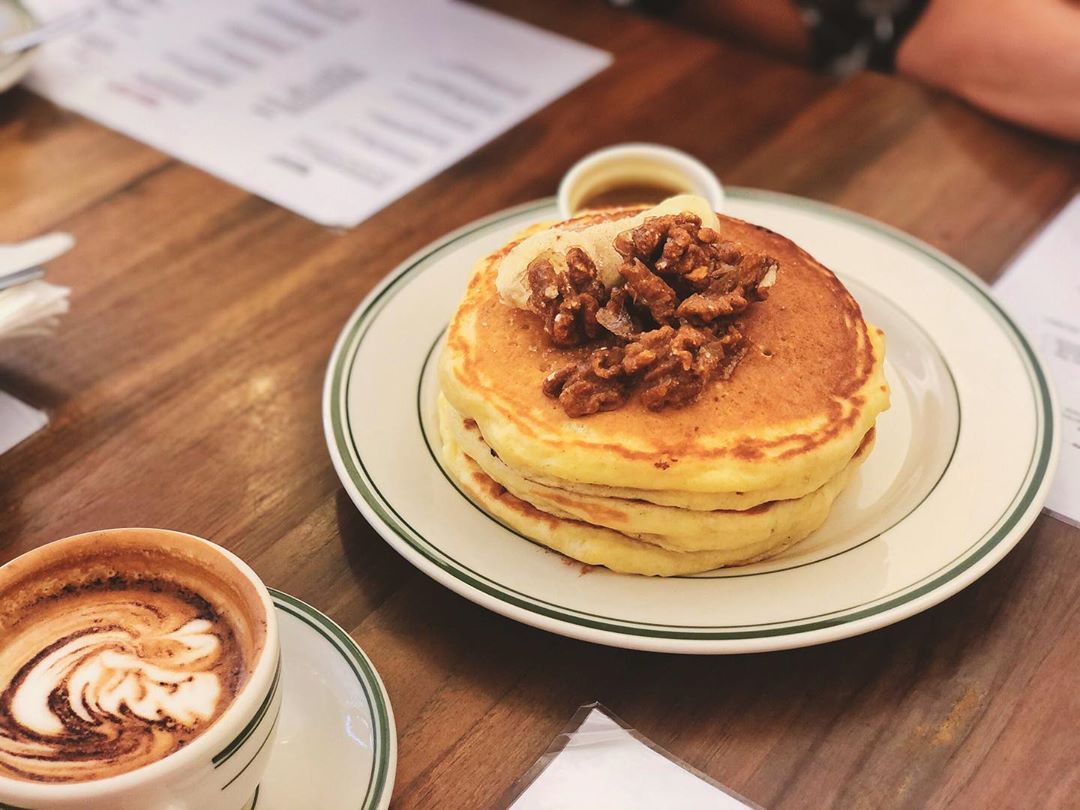 Image credit: @thelightersidesings
Feel free to add on toppings to your pancakes for a small fee. Choices include bananas and walnuts, blueberries, or chocolate chunks.
Address: 31 Purvis Street Singapore, Singapore 188608
Opening hours: Mon-Fri 9am to 6pm, Sat-Sun 8am to 9pm
Tel: 9654 6822
Website
Clinton Street Baking Company is not a halal-certified eatery.
---
6. The Beast
---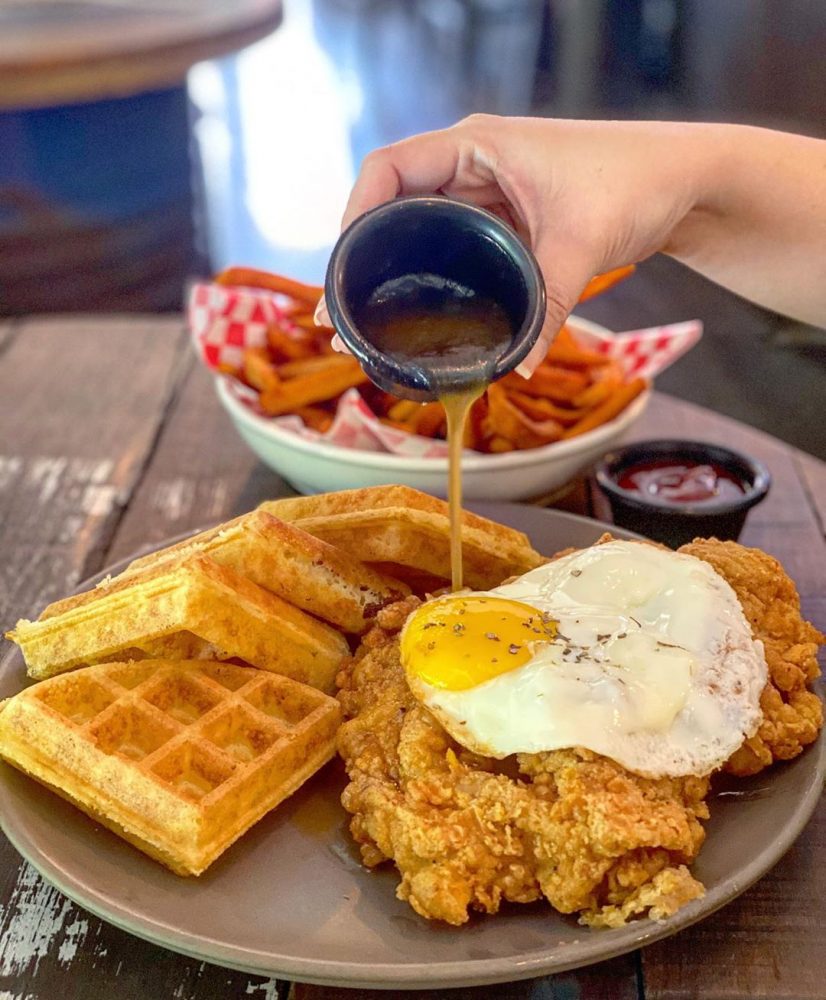 Image credit: @dailynomsdiary
Late risers who prefer brunch to breakfast in Singapore will find The Beast near Bugis a great dining option. The menu here will transport you to Southern USA, where bourbon and fried chicken reign supreme.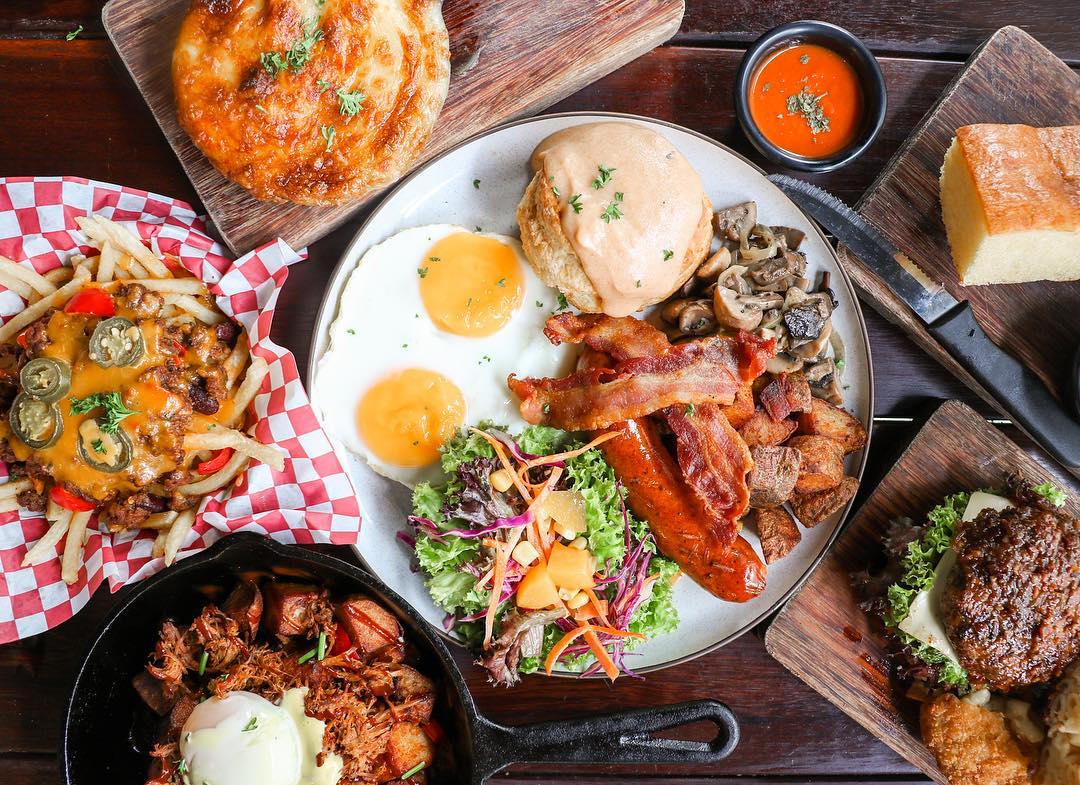 Image credit: @thebeast_sg
You can have Fried Chicken & Waffles ($20) for a sinful start to your day, or you could go the conservative route and order the Southern Big Breakfast ($22), which has the standard items in a Cajun breakfast platter, such as andouille sausage, eggs, mushroom, southern coleslaw, and country gravy.
Address: 17 Jalan Klapa, Singapore 199329
Opening hours: Tues-Sun 11:30am to 10pm
Tel: 6295 0017
Website
The Beast is not a halal-certified eatery.
---
7. Symmetry
---
Image credit: @symmetrysg
Symmetry is one of the few cafes that have perfected eggs benedict. Not only are their eggs poached at a consistent 64 degrees celsius, but the sauteed portobello mushrooms and melt-in-your-mouth tater tots elevate this dish to another level. It is a little on the pricier side at $24 but it's worth every bite.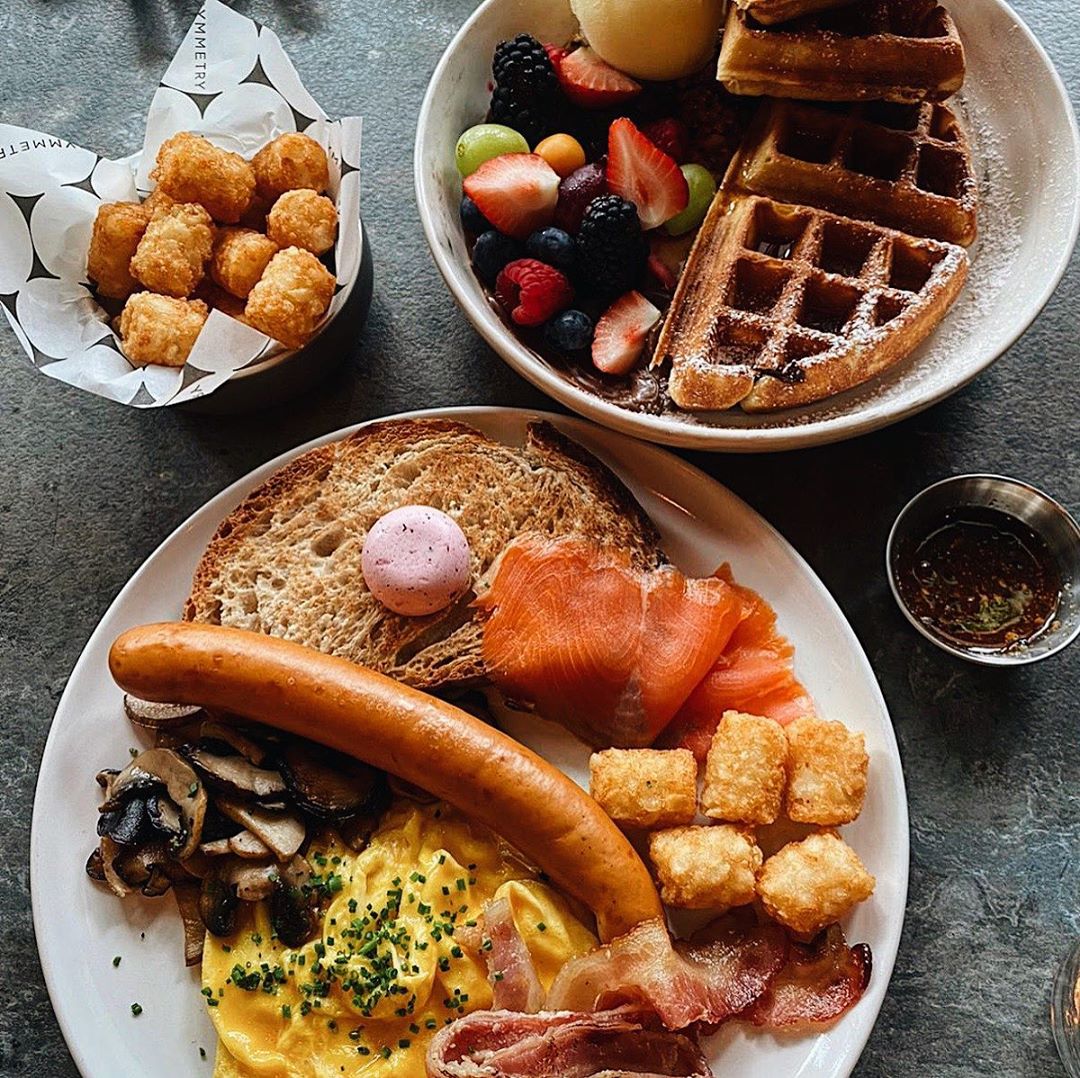 Image credit: @keon.toh
Vegans won't be left hanging with the option of having the Broccolini Benedict ($23), which replaces the bacon with smashed avocado.
Address: 9 Jalan Kubor, #01-01, Singapore 199206
Opening hours: Mon 11am to 9pm, Tues-Fri 11am to 11pm, Sat 9am to 11pm, Sun 9am to 7pm
Tel: 6291 9901
Website
Symmetry is not a halal-certified eatery.
---
8. Earlybird Cafe
---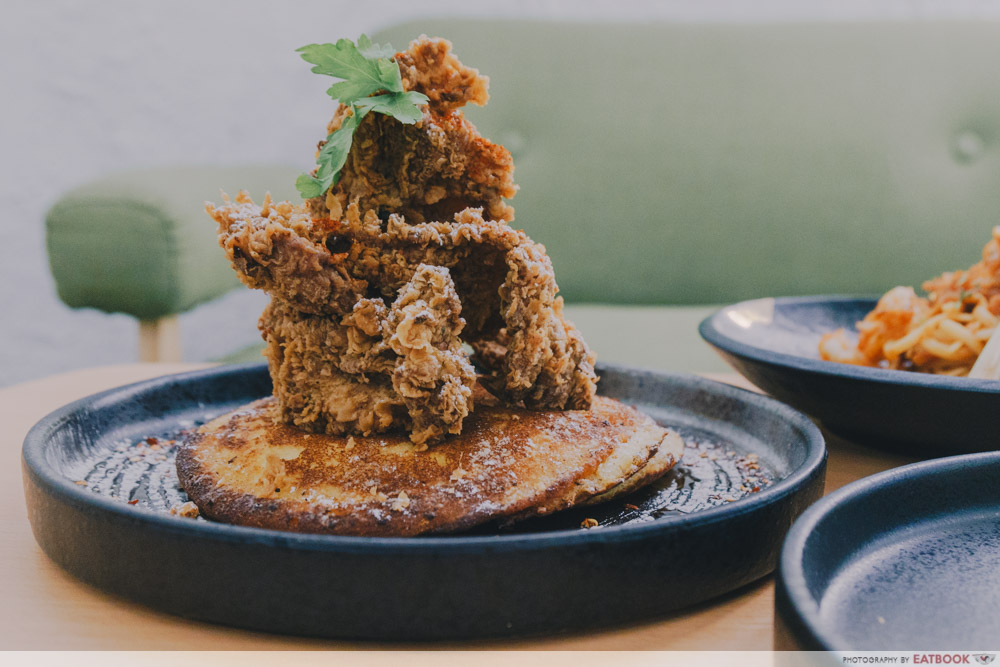 An order of Chicken & Pancakes ($19) at Earlybird Cafe is a guaranteed way to satisfy your sweet and savoury cravings all in one go. The buttermilk pancakes are cooked to crispy perfection, yet still soft on the inside, which complements the fried, juicy chicken.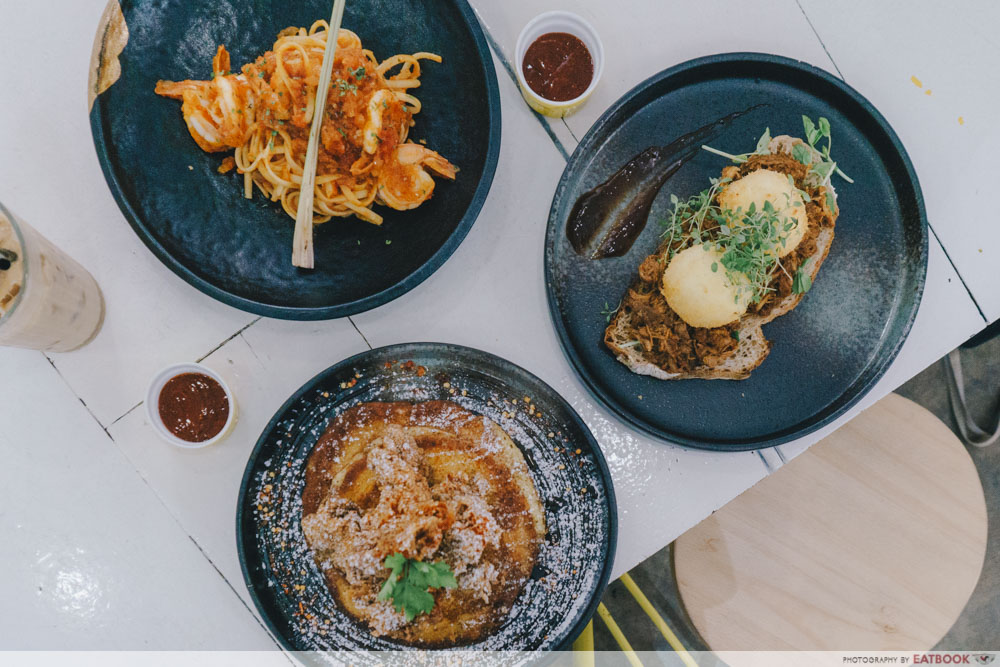 While that is undoubtedly their signature dish, other breakfast choices include the King's Brekkie ($24), served with the full works —  eggs done how you like, sausage, bacon, hash browns, mushrooms, salad and sourdough toast.
Check out our full review of Earlybird Cafe.
Address: 17 Jalan Pinang Singapore, Singapore 199149
Opening hours: Mon-Fri 10am to 9pm, Sat-Sun 9am to 9pm
Tel: 9788 6856
Website
Earlybird Cafe is not a halal-certified eatery.
---
9. Common Man Stan
---

Image credit: @commonmanstan
The CBD sibling to Common Man Coffee Roasters is known as Common Man Stan. Though prices are slightly steeper here, the menu justifies the cost, especially once you sink your teeth into the braised Ox cheek in their Eggs Benedict ($25) or their Common Man Fluffy Pancakes ($23).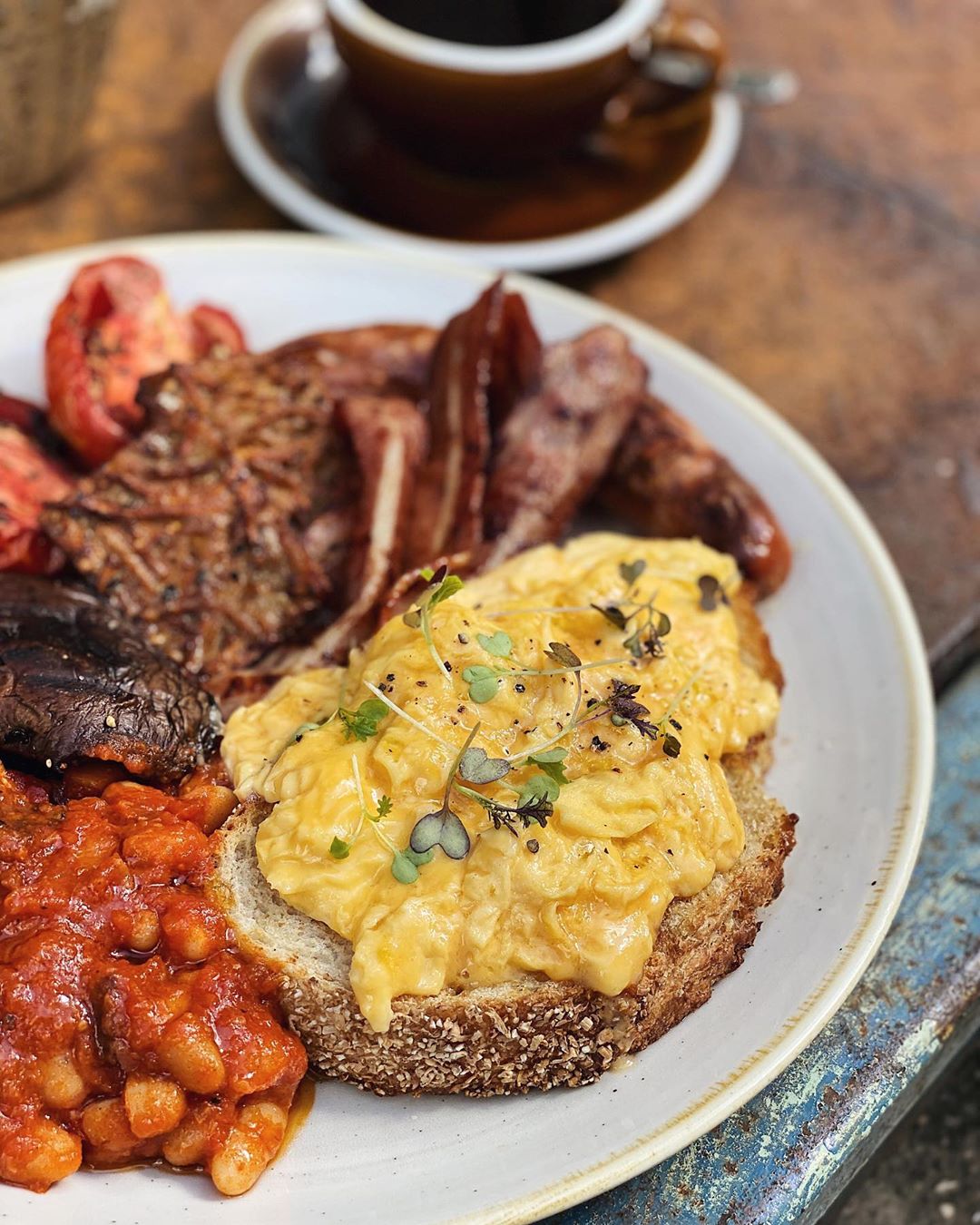 Image credit: @commonmanstan
If you're after a lighter breakfast, you can go for the Bagels ($7.50) or the Toast & Eggs ($8), where you can add on options like smoked salmon for $7 to you bagels and avocado or halloumi to your toast for $6.
Address: 11/12 Stanley Street, Singapore 068731
Opening hours: Daily 7:30am to 5:30pm
Tel: 6877 4855
Website
Common Man Stan is not a halal-certified eatery.
---
10. Cafe Melba
---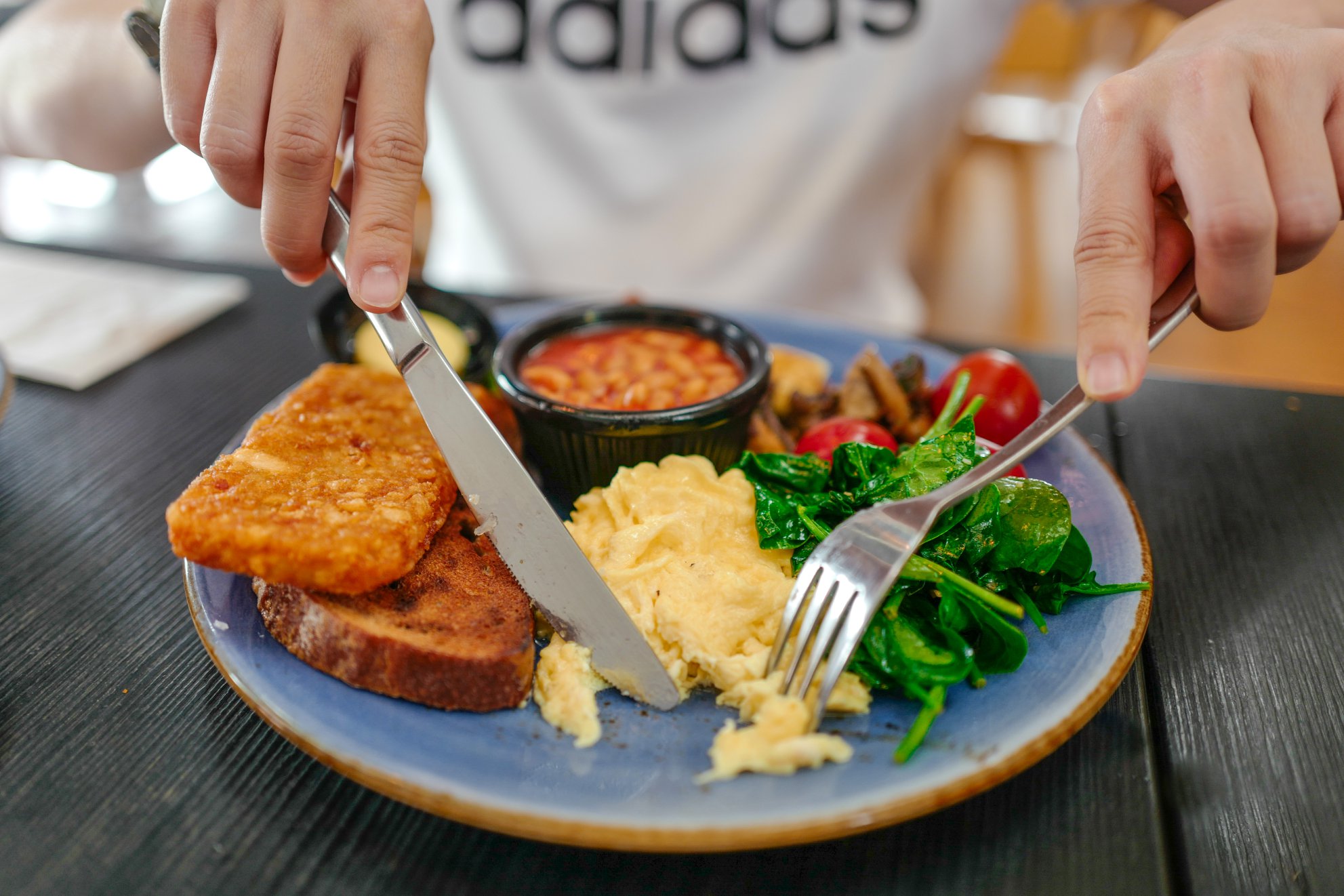 Image credit: @cafemelbasingapore
Cafe Melba's two locations in Goodman Arts Centre and Mediapolis serve as an idyllic backdrop for when you're filling up your bellies with their Australiasian breakfast menu. The no-brainer choice is the Full Melba Breakfast ($25) that has their house-made pork sausage, bacon, and the works. It also comes in a vegetarian version at the same price, where the meat is replaced with halloumi cheese, Hass avocado, and baby spinach.
Website | Full list of locations
Cafe Melba is not a halal-certified eatery.
---
11. Curious Palette
---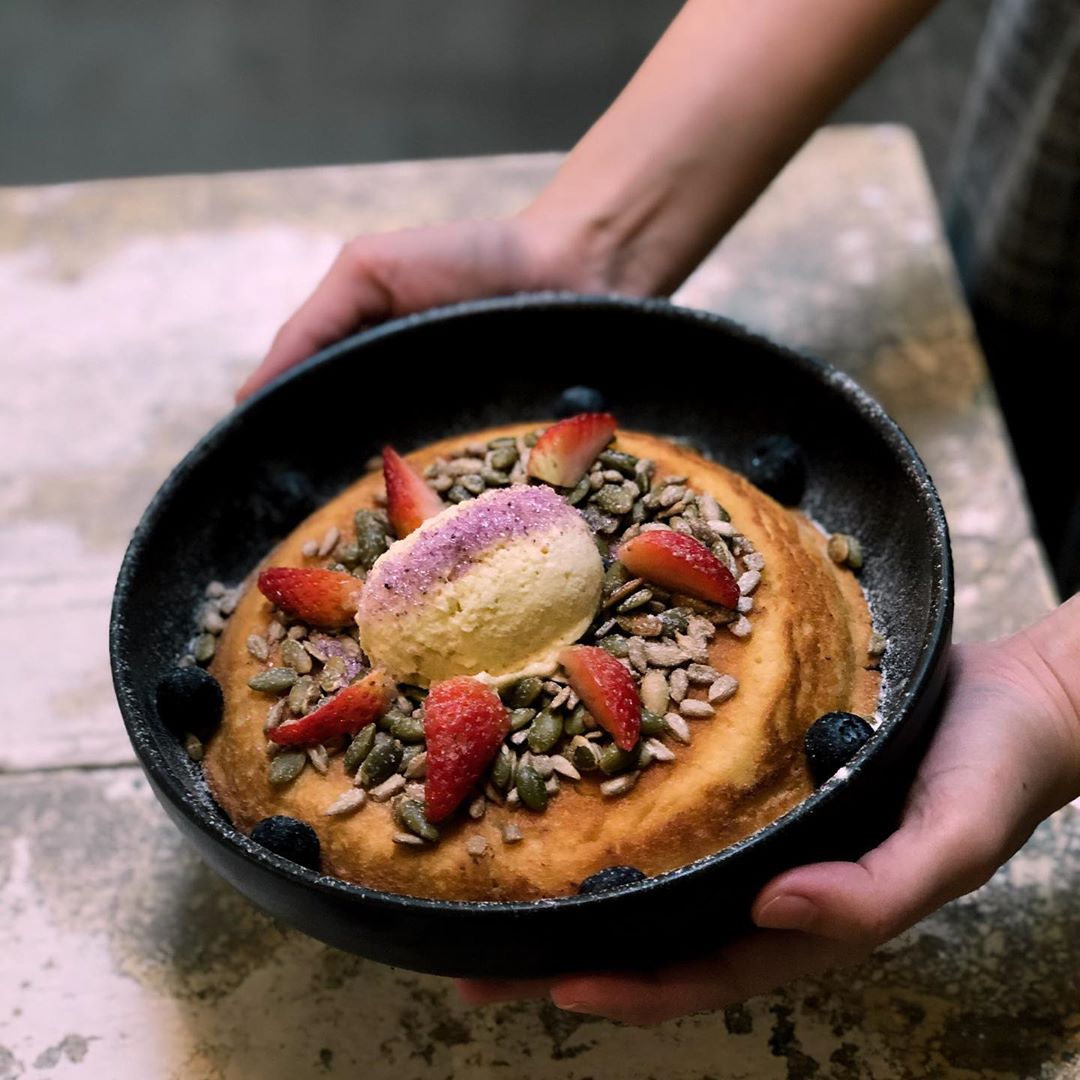 Image credit: @curiouspalette
All you need to say when ordering at Curious Palette are three words, "Berry Ricotta Hotcake." The $14.90 breakfast item is the star of the cafe. It comes with a thick, fluffy ricotta pancake topped with vanilla ice cream, berries, mixed seeds, and maple syrup. Though it sounds more like a dessert, it is a great morning pick-me-up if you have a sweet tooth.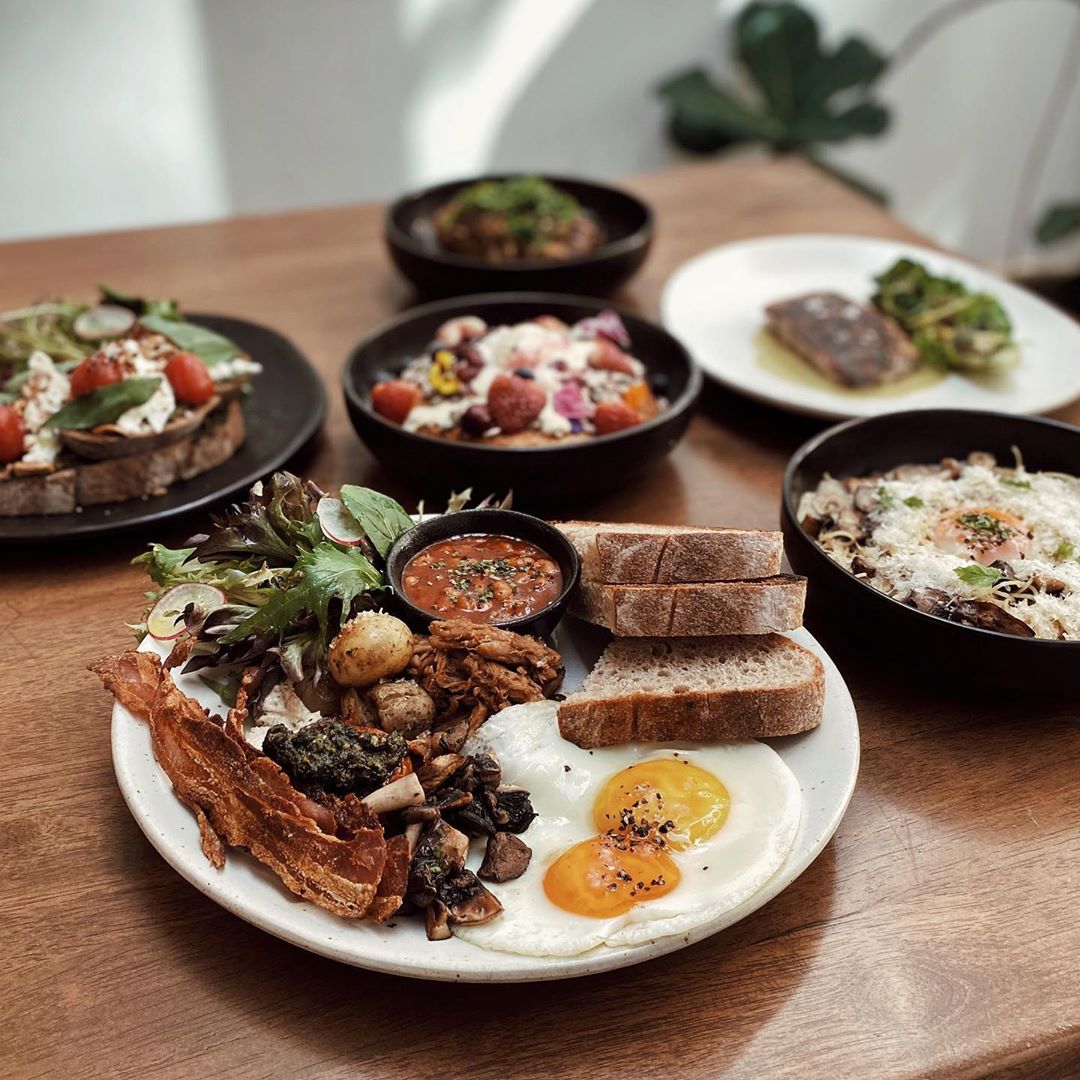 Image credit: @curiouspalette
If not, there are a lot more breakfast choices on the menu like the Curious Breakfast ($23.90), with pulled pork and a scrambled egg omelette, as well as as the Kaya & Coffee Butter ($9.50), an upgrade on the humble kopitiam breakfast.
Address: 64 Prinsep Street, Singapore 188667
Opening hours: Daily 9am to 10pm
Tel: 6238 1068
Website
Curious Palette is not a halal-certified eatery.
---
12. Grids And Circles
---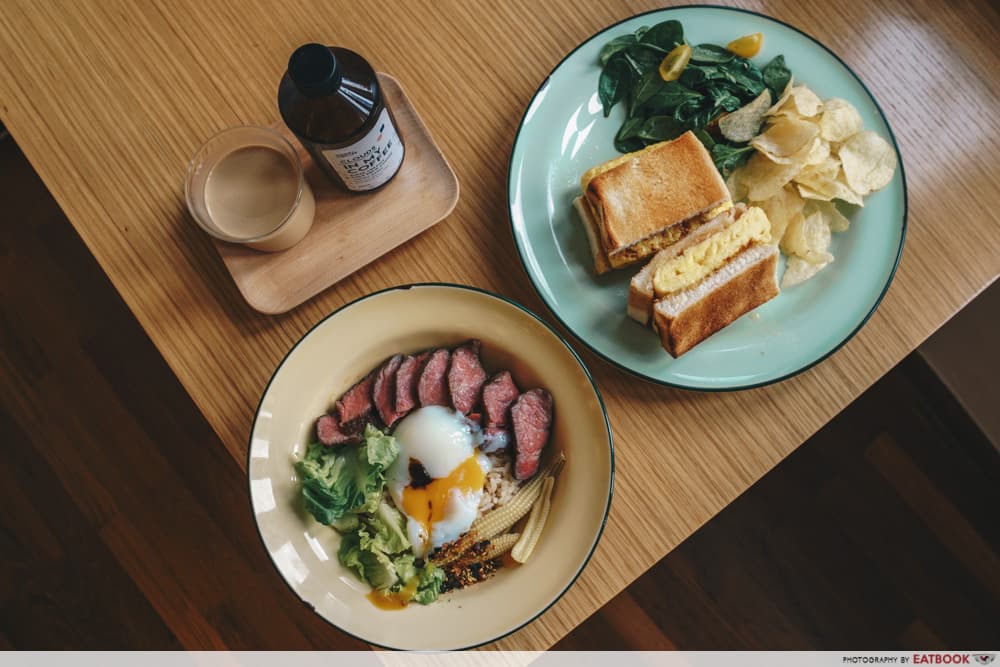 Minimalistic Japanese cafe Grids And Circles has a breakfast menu where pancakes ($11) and sandos are a specialty. We highly recommend the Tamago Sando ($12), a delicious serving of fluffy Tamago eggs with pear sauce and kombu mayo sandwiched between two slices of toast.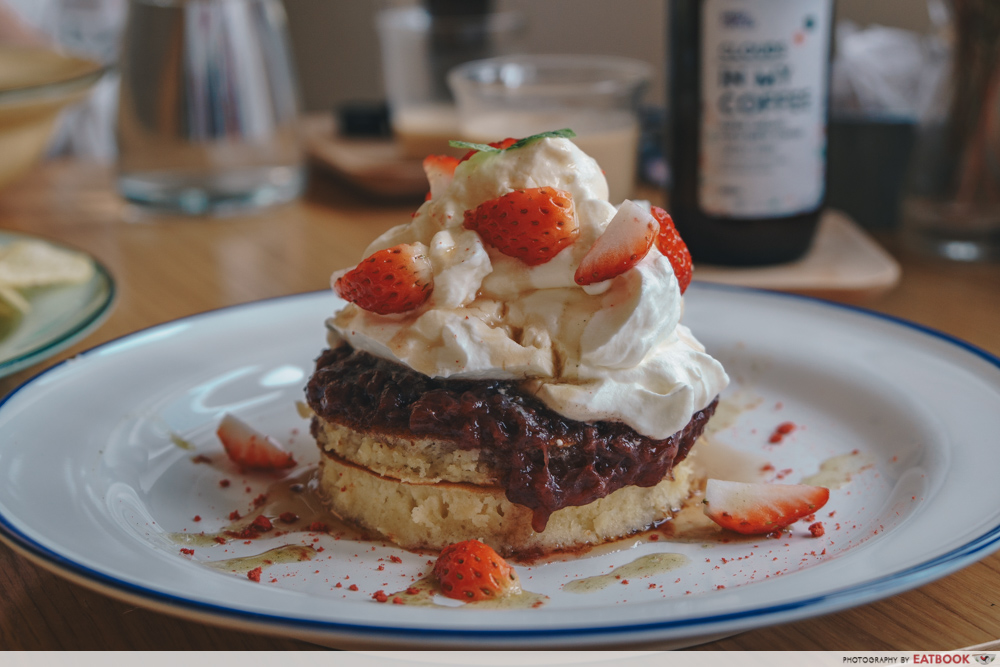 You can also upgrade your pancakes to the Strawberry Wonderland ($16), which adds fresh strawberries, strawberry compote, chantilly cream and basil mint sauce on top of two fluffy pancakes.
Check out our full review of Grids And Circles.
Address: 200 South Bridge Road, Singapore 058749
Opening hours: Daily 9am to 5pm
Tel: 6935 3546
Website
Grids & Circles is not a halal-certified eatery.
Grids And Circles Review: New Minimalist Japanese Cafe Near Chinatown MRT Station
---
Where to have cafe breakfast in Singapore
---
Your options for breakfast in Singapore aren't limited to just kaya toast and roti prata, no matter how delicious they may be. Try out some Western brekkie variations if you feel like treating yourself at any of these cafes.
Featured image adapted from @fatandhungryyy, @keon.toh, @commonmanstan, @curiouspalette, @crystaltannn, and @travlim.