Baker's Bench Bakery at Outram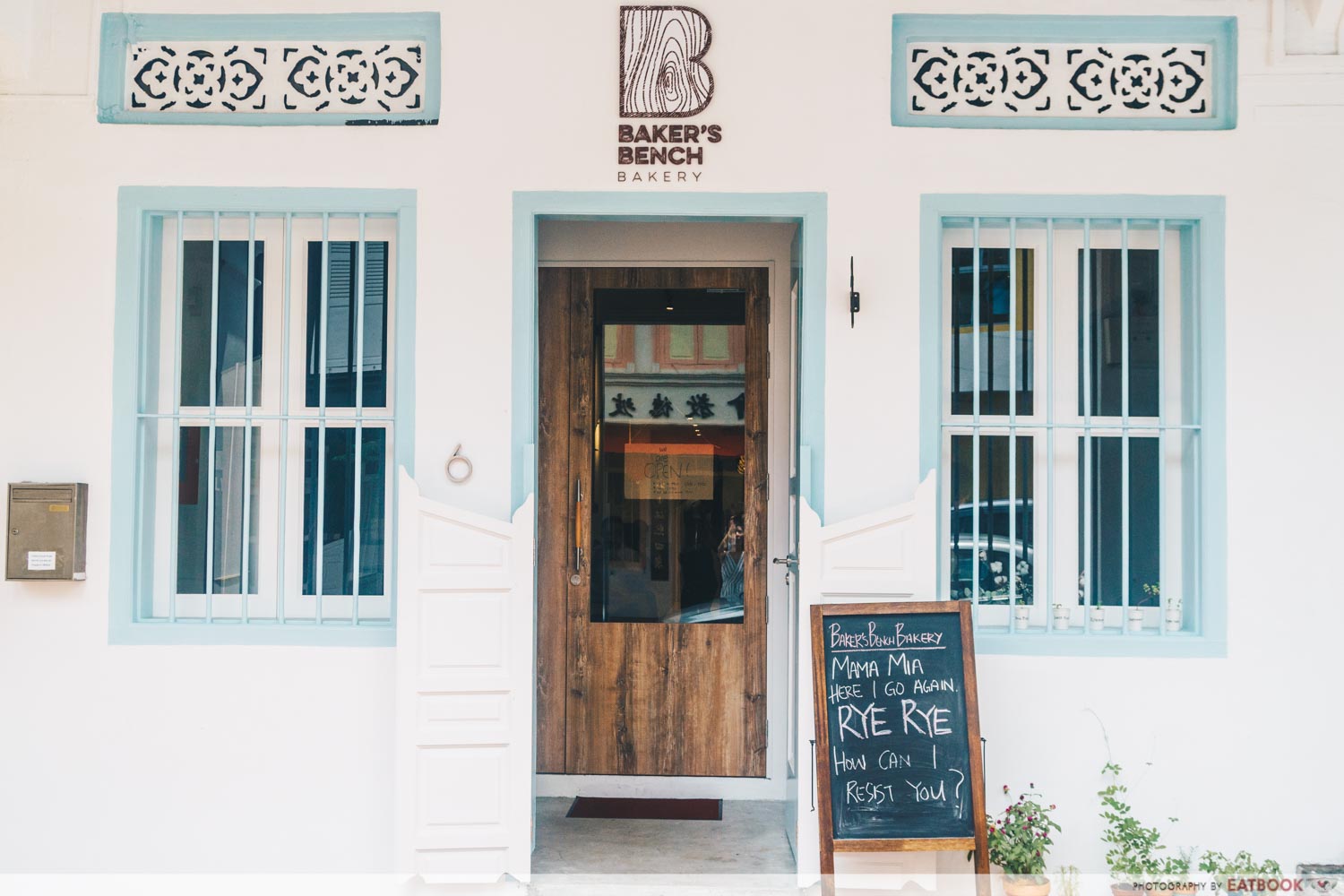 Walk down the cute little pastel lane of heritage shophouse fronts, and you'll find yourself at Baker's Bench Bakery, a wholesome artisanal bakery cafe that quietly opened at Bukit Pasoh. 
The cafe is as dainty and soft-spoken as it comes—you might walk right past it without realising it's a bakery. A cheeky little chalkboard sits at the entrance alongside dots of wee pot plants. It feels almost like someone's home. 
Food at Baker's Bench Bakery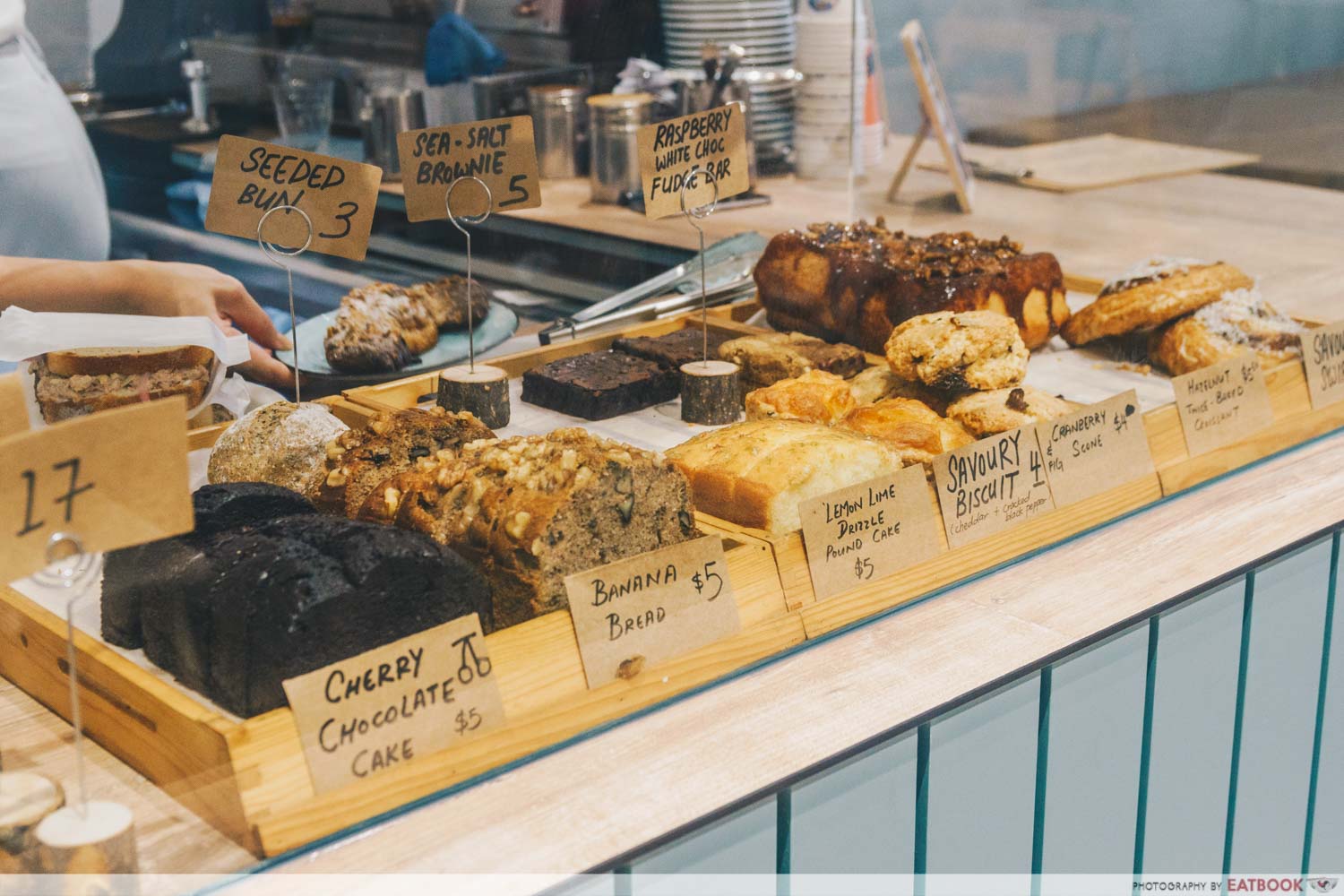 I pushed through the vintage wooden door and immediately found my eyes glued to the counter. Almond croissants, cheesy biscuits, banana bread, a frighteningly black chocolate cake—a smorgasbord of sweet treats sat snug as I stared at them in awe.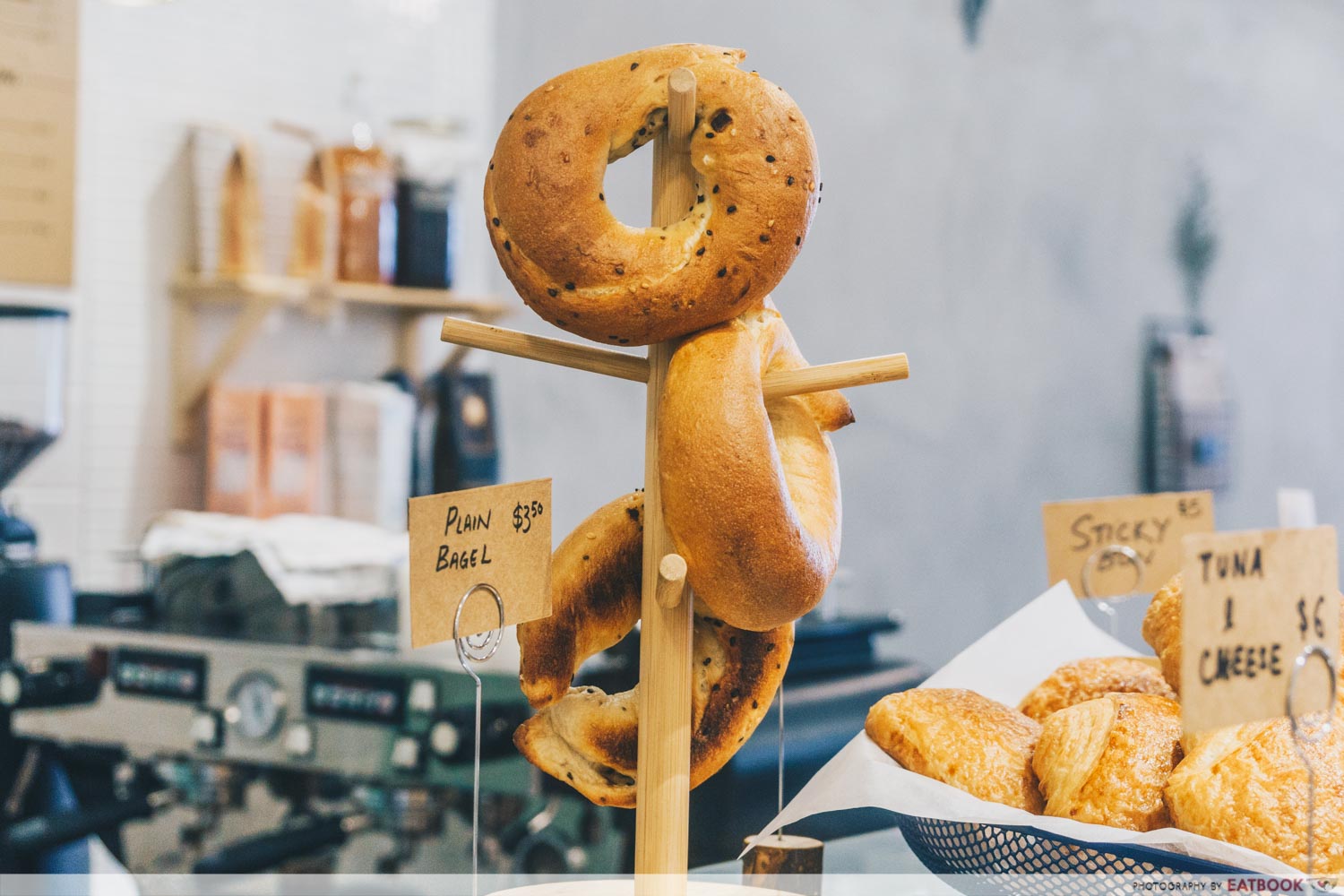 The top of the counter was spilling with treats as well. PB&J sandwiches stacked high; plain, seeded, and all kinds of bagels hanging from a stand. The shelf behind the counter was capped with all kinds of bread loaves from rye to white sourdough. The variety was overwhelming, and everything looked like they were made freshly in-house.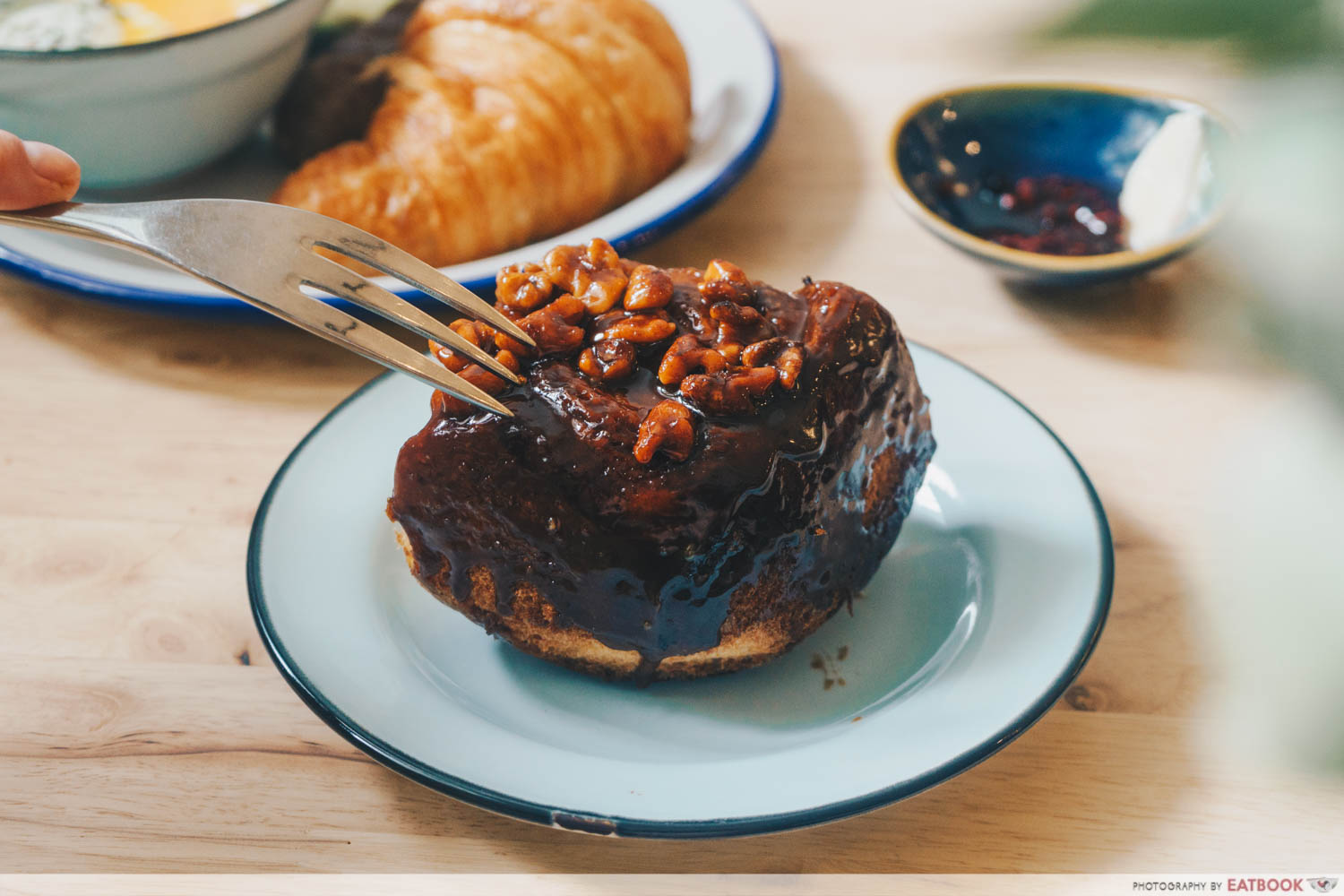 The first thing I reached for was the Sticky Bun ($5). There was a huge tray of them sitting at the top of the counter—warm and glossy in all their glory. Sold piece by piece and heated upon request, the buns were covered in heaps of sticky toffee and studded with walnuts.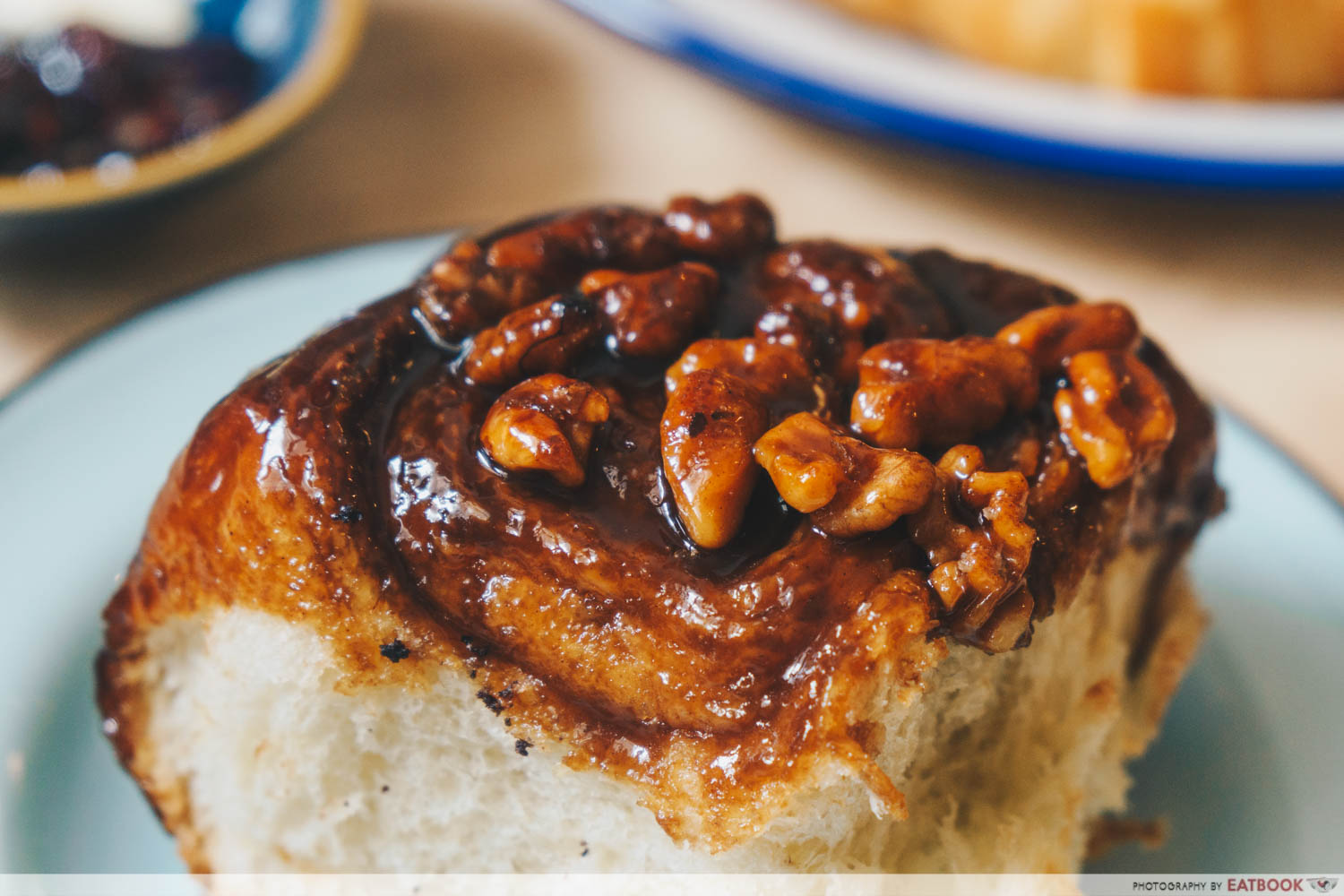 The sticky bun was a delight. It was a 'cinnamon roll meets monkey bread meets sticky toffee pudding' kind of party. The bun had a brioche-like texture—soft and pillowy with cinnamon speckled in its swirly pockets. The sticky toffee on top was treacly, and had just the right amount of sweetness. 
I wasn't the only one giving them love either. By noon, nearly all of the sticky buns had already sold out.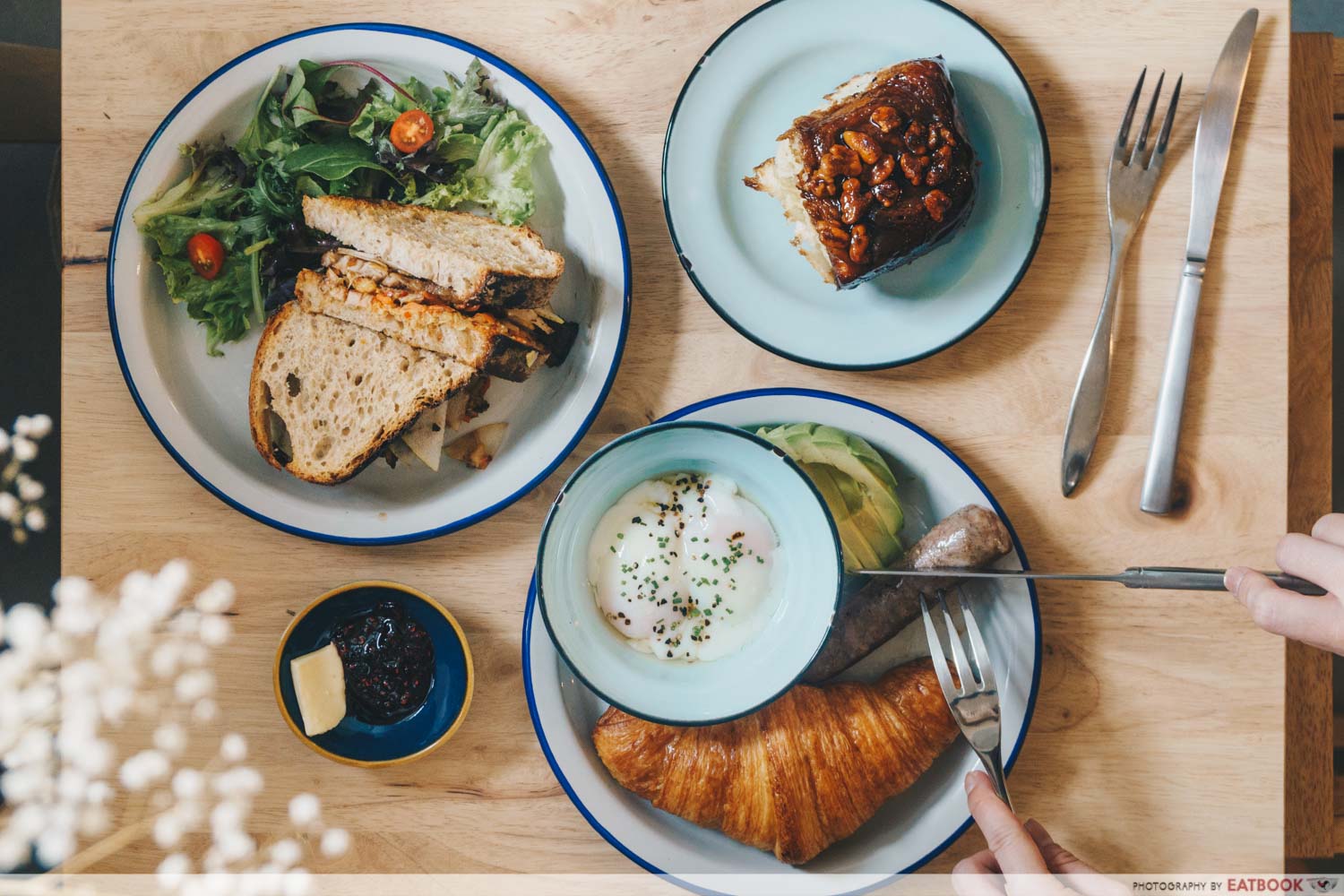 We took a break from the pastries to move on to the menu. The menu is divided into two sections: an array of poncy-sounding sandwiches, and a build-your-own-plate menu comprising brunch items.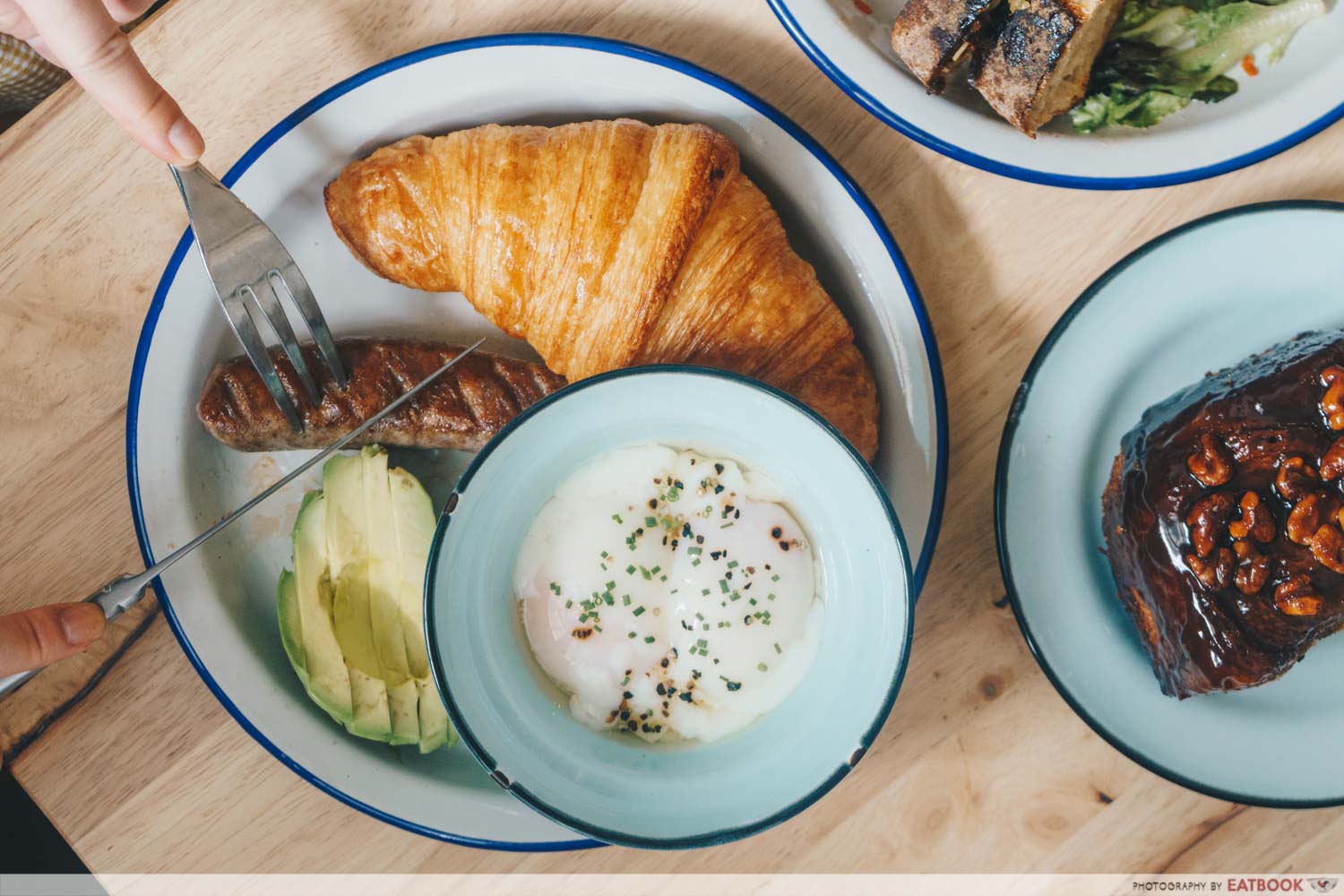 The Build-Your-Plate option comes with a choice of bread, vegetables, meats, and eggs done your way. I chose a Croissant ($5) with 65.5°egg ($3), Ripe Avocado ($3), and a Pork & Fennel Sausage ($5).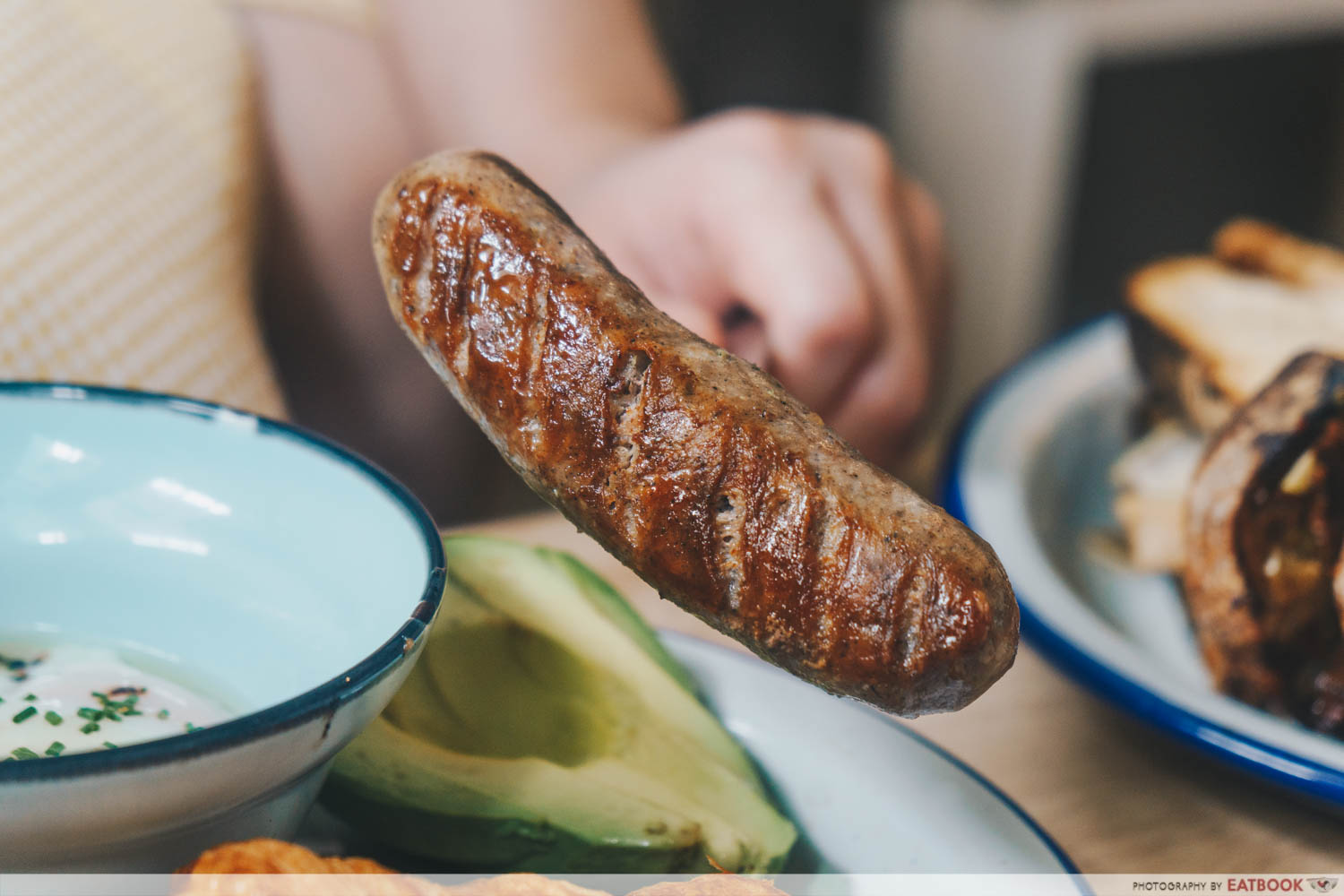 The Pork & Fennel Sausage was light in flavour and not too greasy. Just right for a brekkie banger. It was a proper Italian sausage—coarse in texture and with a lot of lean meat involved. We were told by the staff that their sausages are gluten-free, with no preservatives or artificial ingredients.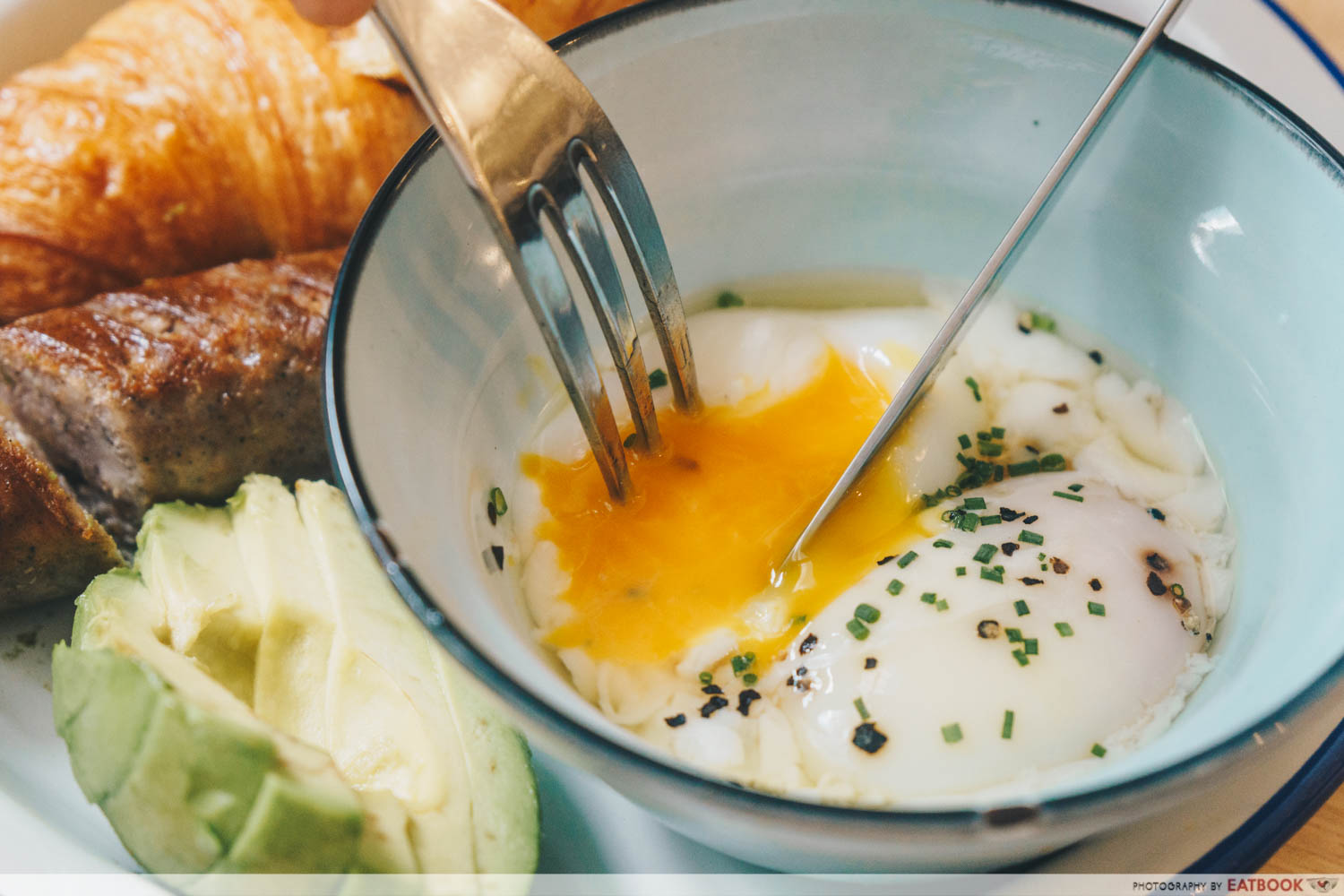 The 65.5° sous vide eggs ($3) came seasoned in black pepper and chives. There's really nothing more to note⁠—they're just eggs. I mean, I get it, the best poached eggs are sous vide. But two eggs in a bowl for $3, as well as the half-avocado for $3, seemed a little too steep in my books.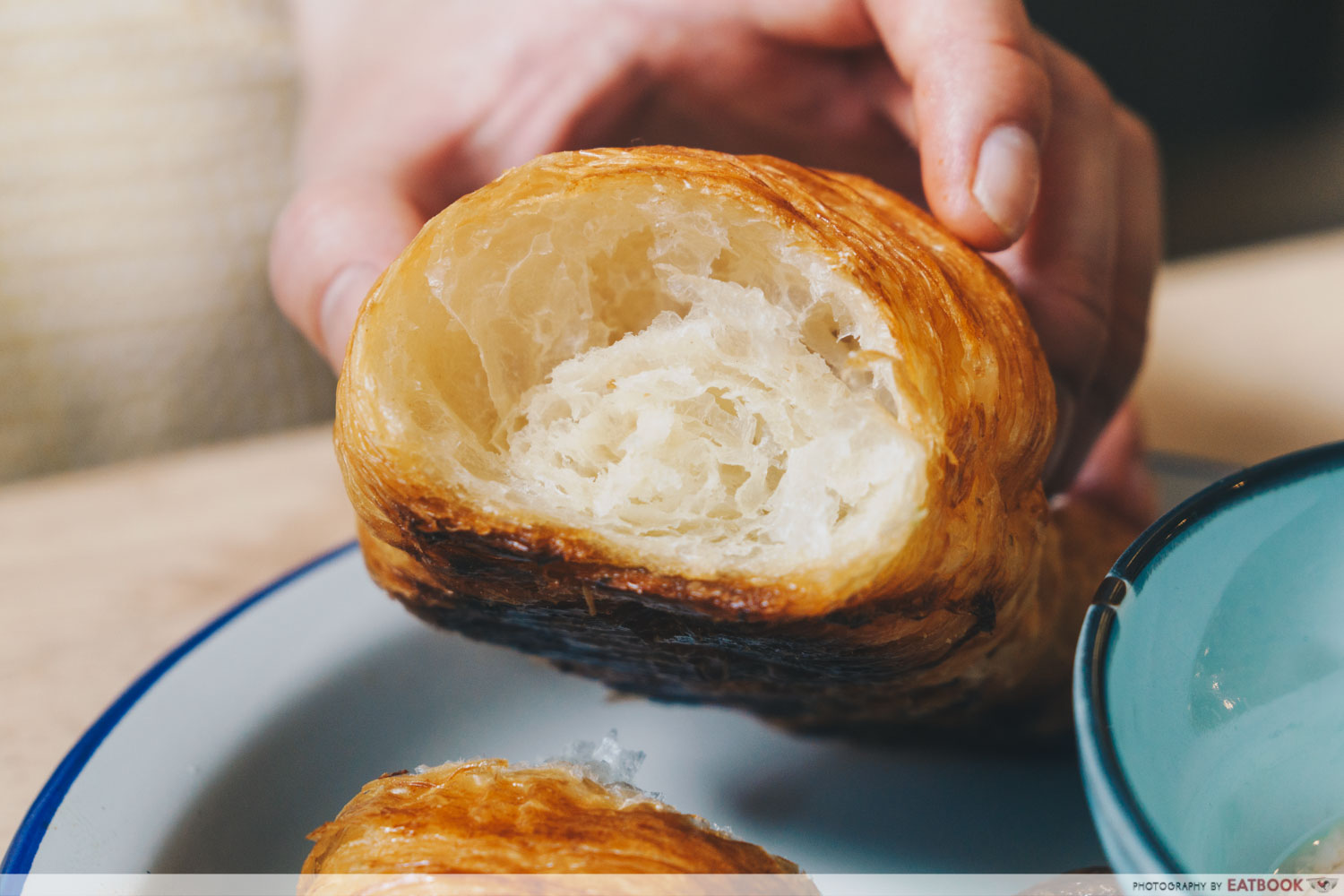 It was the Croissant ($5) that brought it all together. I pulled the croissant apart and it responded like Play-Doh—the dough fermented just right for the folds to stay moist. The cross-section was a gorgeous swirl of layers with the outer flakes intact. The bottom was browned but not burnt, just a bit caramelised. The aftertaste was buttery and caramelly in flavour.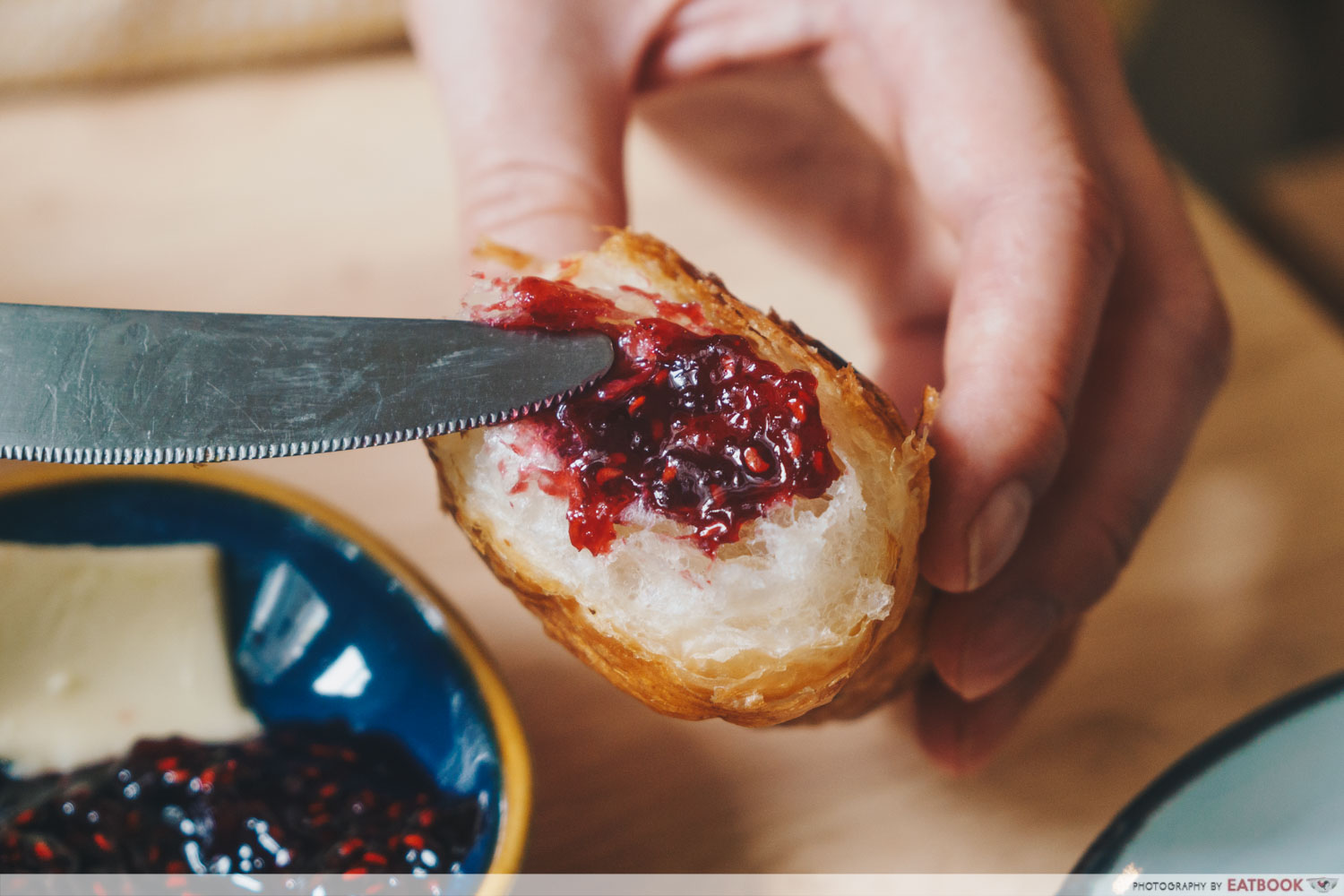 The plate came with a side of jam and butter. The jam was made fresh in-house with a mix of raspberries, blueberries, and lemon. Seedy and wholesome, it's the stuff your grandma might have whipped up from her own garden. 
The Build-Your-Plate was pretty straightforward stuff, no complaints there. But I'd honestly just skip all the extra frills and get a cuppa with the croissant and house jam—it's all you really need.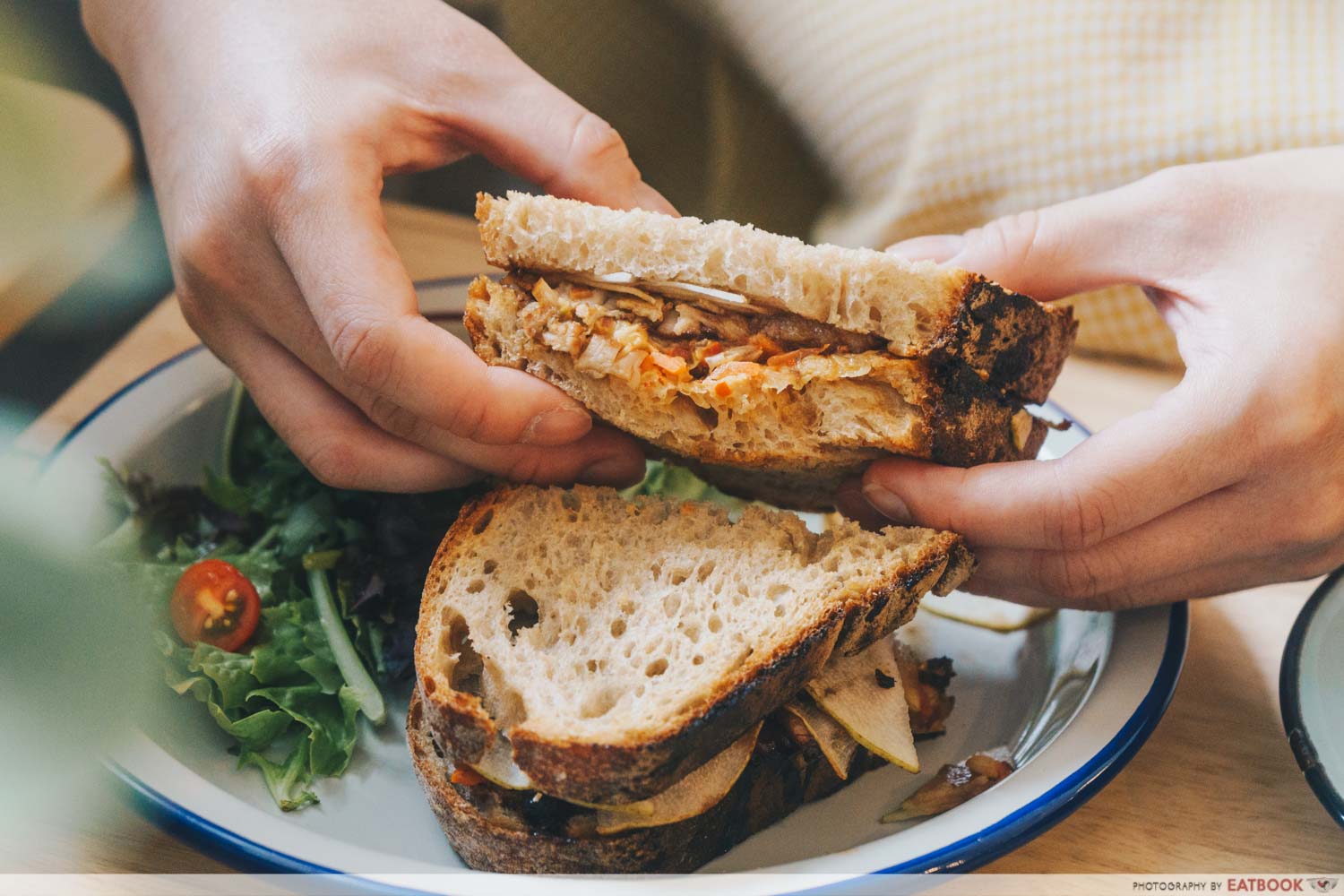 Out of the sandwiches, we chose the most popular Pork Belly Sandwich ($14) that came with a side of salad dressed in house-made vinaigrette. The sandwich had a base of house sourdough and was filled with a piece of pork belly cooked in a coffee glaze, fried garlic chips, slices of fresh pear, and kimchi mayo. Their signature sourdough is made not too sour on purpose using a mix of different flours. 
According to the chef, the coffee and pork pairing was inspired by bossam, a Korean steamed pork belly dish. Traditionally, coffee has been used to negate the porky smell of bossam, but in this case, it was more like a caramelising agent. The pork belly is pan-fried in a coffee marinade, with the marinade in question later reduced into a glaze. The result was a tender and juicy slab of umami, a sweet and smoky spin to the original.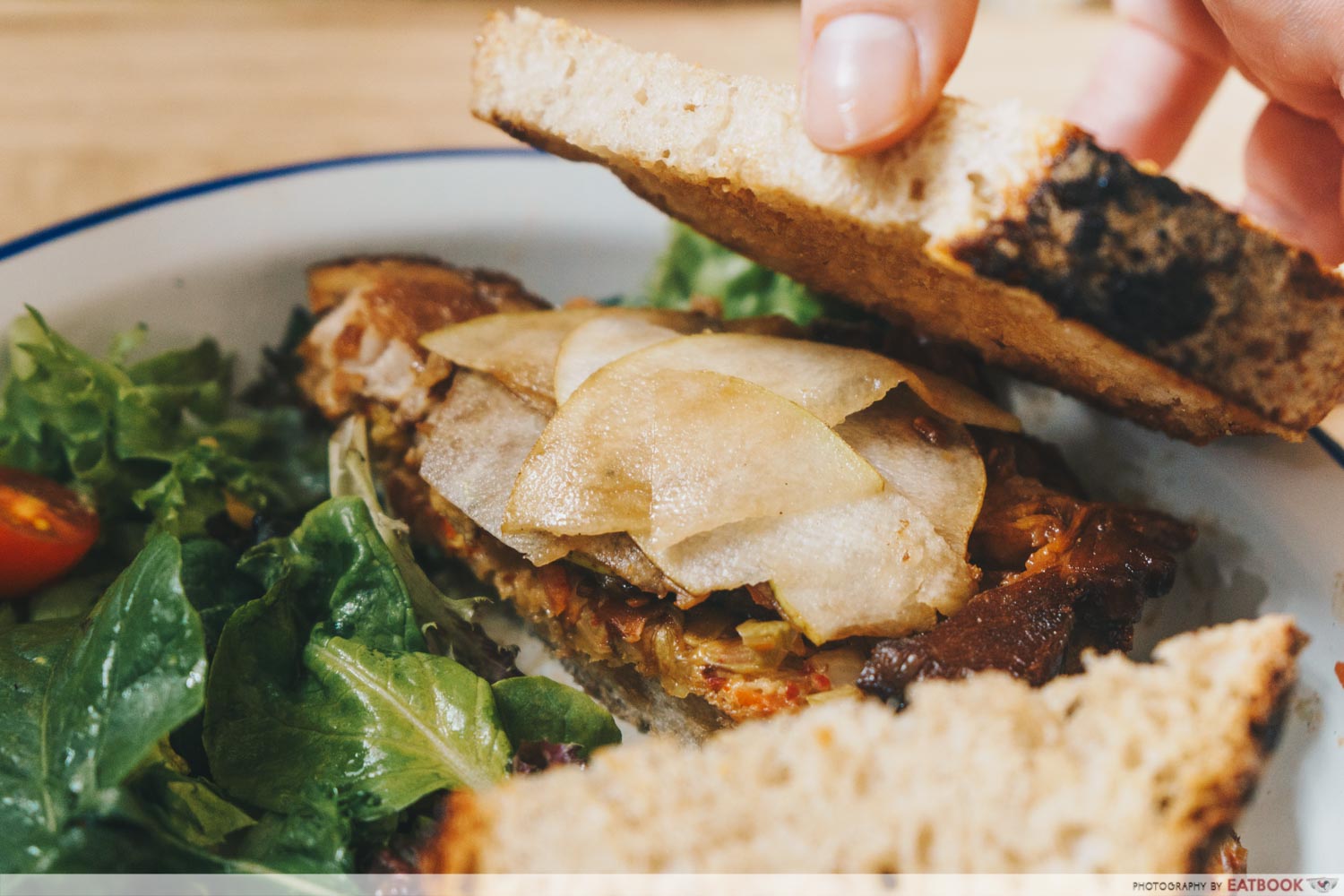 The pears were not of the crunchy Asian kind. They were Western, adding sweetness rather than texture. Everything inside the sandwich including the pork belly was soft to the bite, the crunchiness of the sourdough coming to play in comparison.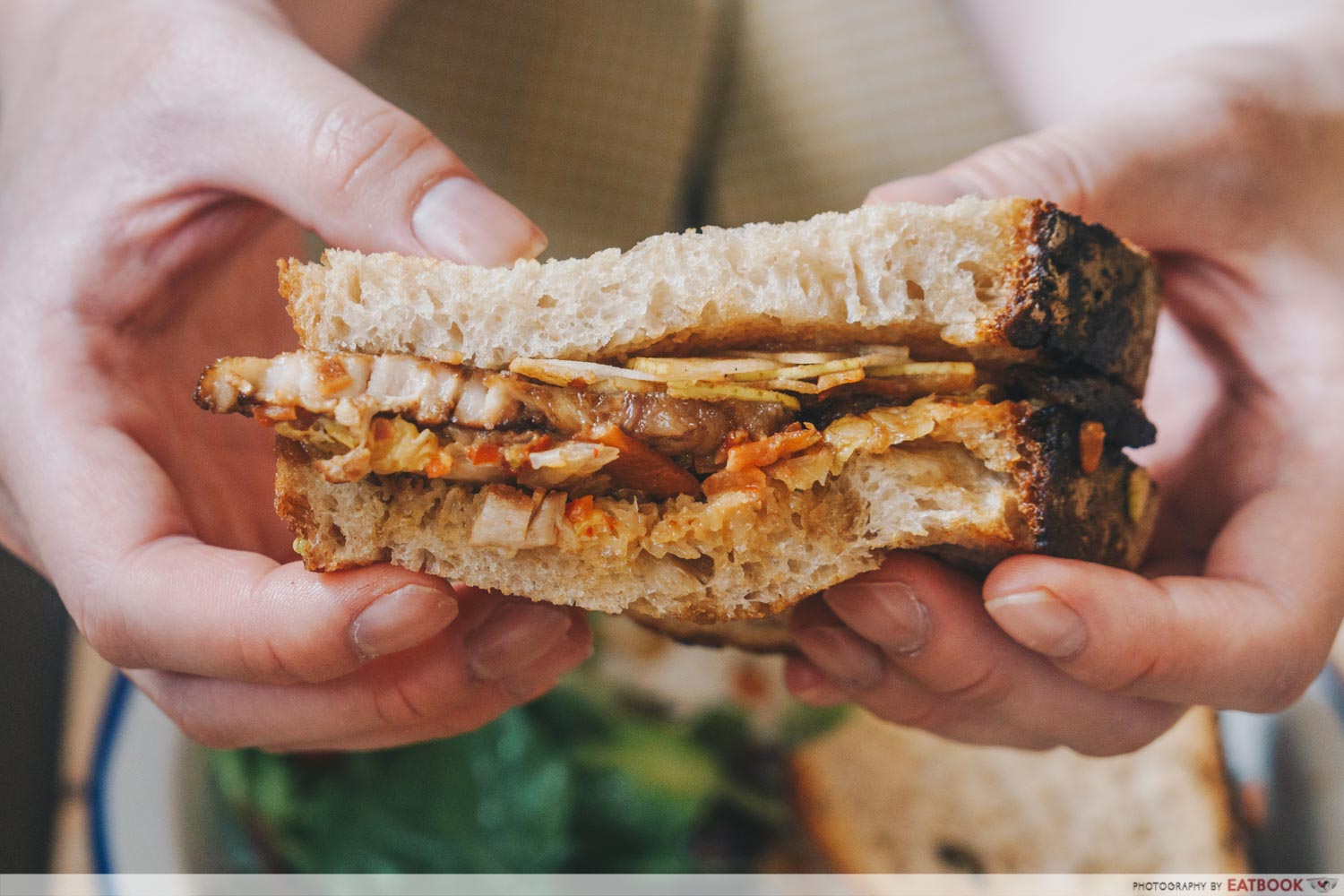 There wasn't a huge portion of pork belly inside, but the flavours were all there. The slightly garlicky aftertaste of the pork belly, the sweetness of the pears, and the punchy creaminess of the kimchi mayo—each element perfectly packaged inside a memorable sourdough.
Ambience at Baker's Bench Bakery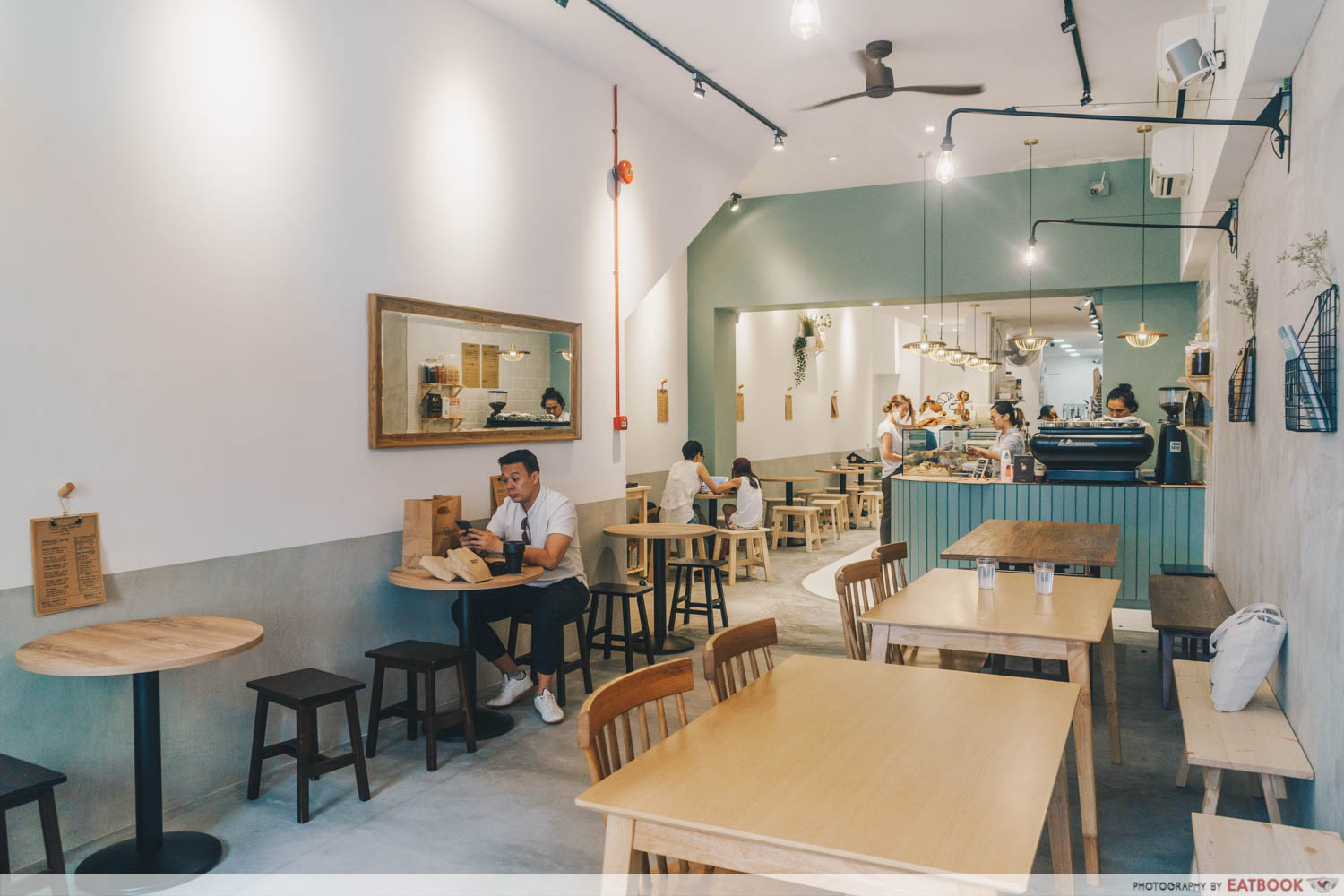 Housed in an old heritage street, the whole place is homely and a little nostalgic. The cafe is decked out in Scandinavian-style interiors from the wooden furnishings and muted colours to the pendant lights that line up at the counter. Around a dozen bundles of dried flowers can be found throughout the place—some hung up on the walls, some at the window, and some just by your table. 
The verdict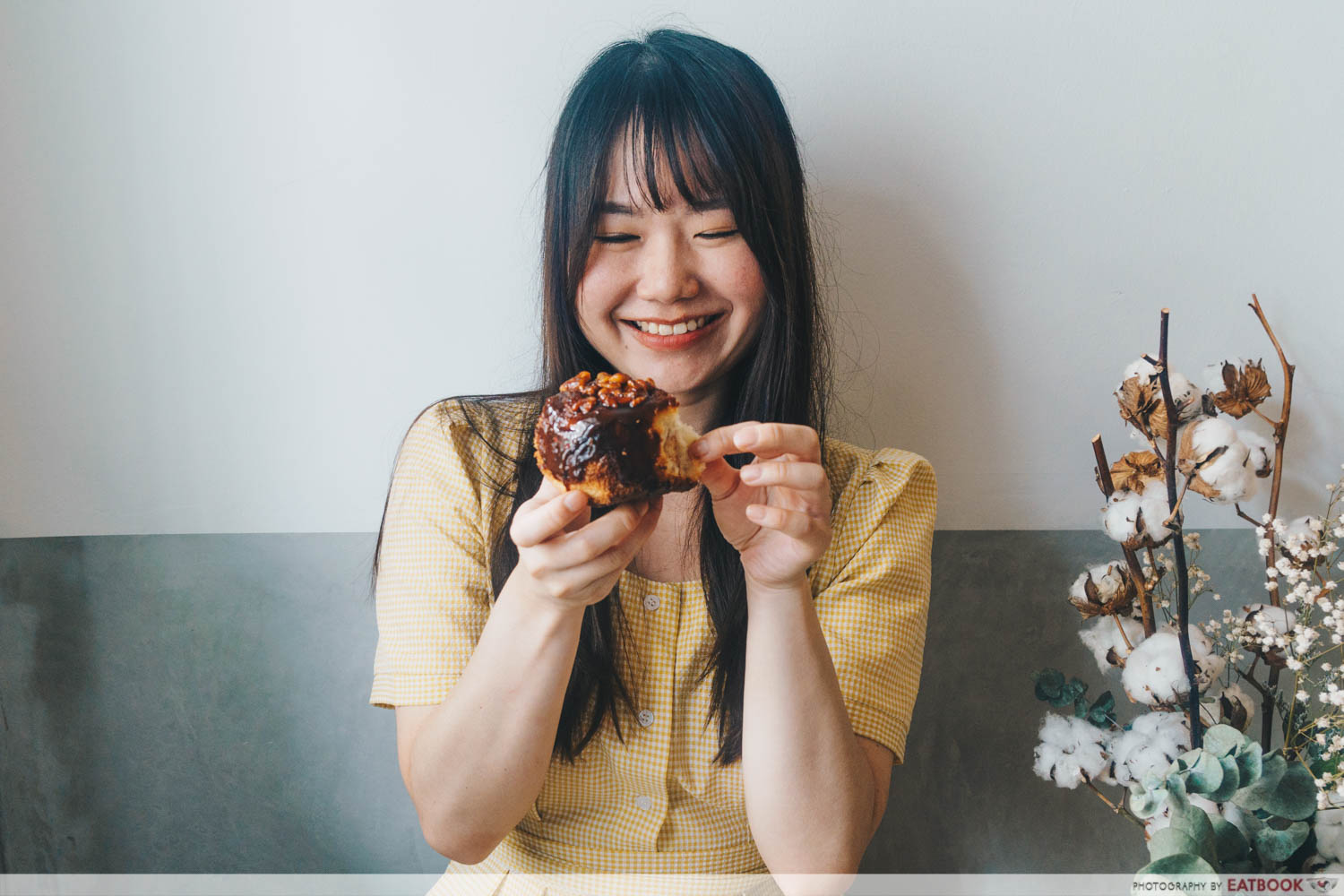 Baker's Bench Bakery is a laidback spot for a sandwich and a lazy morning chat. The brunch plate is a little steep, but really you're here for the baked goods. Along with their breads, everything is made in-house: condiments, jams, kimchi, and even their very own kombucha. The sticky buns are delish and they sell out really fast. So make sure you head over in the morning. While they do heat them up for you, the buns are even better when they come straight out of the oven. 
For more tasty buns, check out our list of sandwich joints, offering meaty bagels and more!
10 Sandwich Joints To Visit During Busy Lunch Breaks For A Quick But Hearty Meal
Address: 6 Bukit Pasoh Road, Singapore, 089820
Opening hours: Wed-Sat 8:30am to 5pm, Sun 8:30am to 4pm
Website
Baker's Bench Bakery is not a halal-certified eatery.

Photos taken by Lim An.
This is an independent review by Eatbook.sg.
Baker's Bench Bakery Review: New Minimalist Cafe With Build-Your-Own Brunch Platters And Pork Belly Sourdough
Summary
Pros
– Homely ambience
– Amazing baked goods
– Short walk from Outram MRT Station
Cons
– A little expensive

Recommended dishes: Pork Belly Sandwich ($14) and Sticky Bun ($5)
Opening hours: Wed-Mon 8:30am to 5pm
Address: 6 Bukit Pasoh Road, Singapore 089820