Have a leisurely afternoon at Earlybird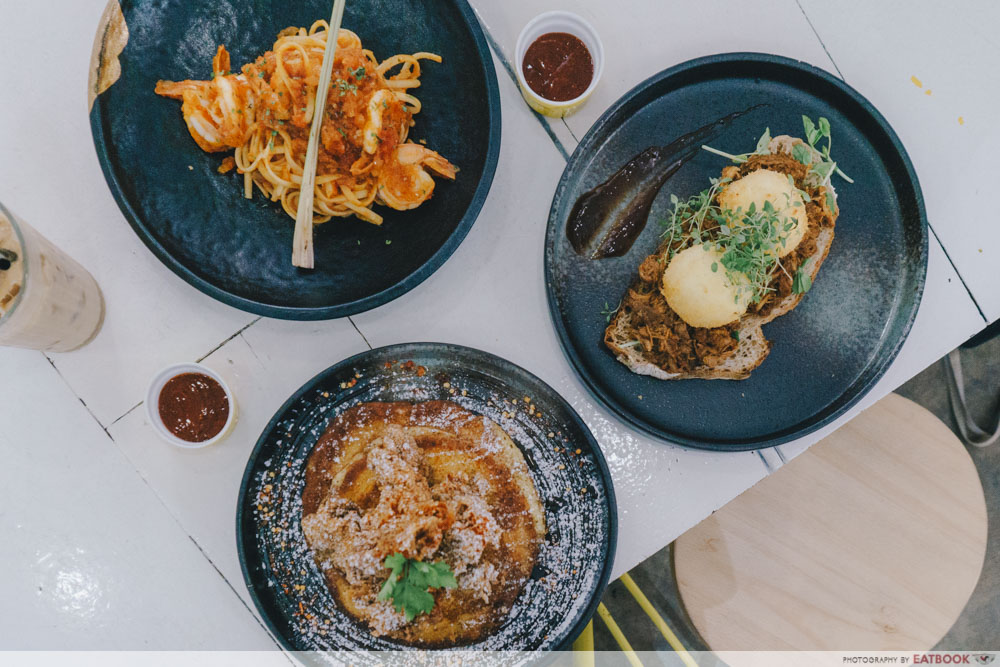 Brunch – a sumptuous repast I tend to avoid these days because #adulting. But there are times when a treat is in order, and one place I swear by is Earlybird. Taking over the space of the now defunct Artistry, this cheery-looking cafe pushes out food that puts you in the mood for a slow lazy day.
Food at Earlybird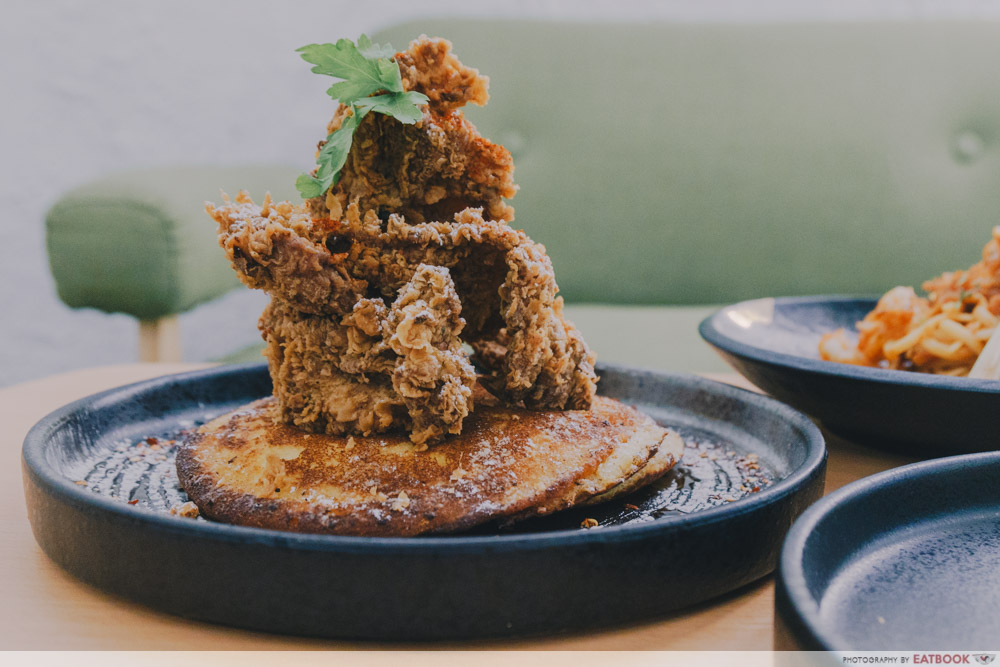 Chicken and waffles may no longer be trending, but Earlybird might just revive this Southern-style dish with their Chicken and Pancakes ($19).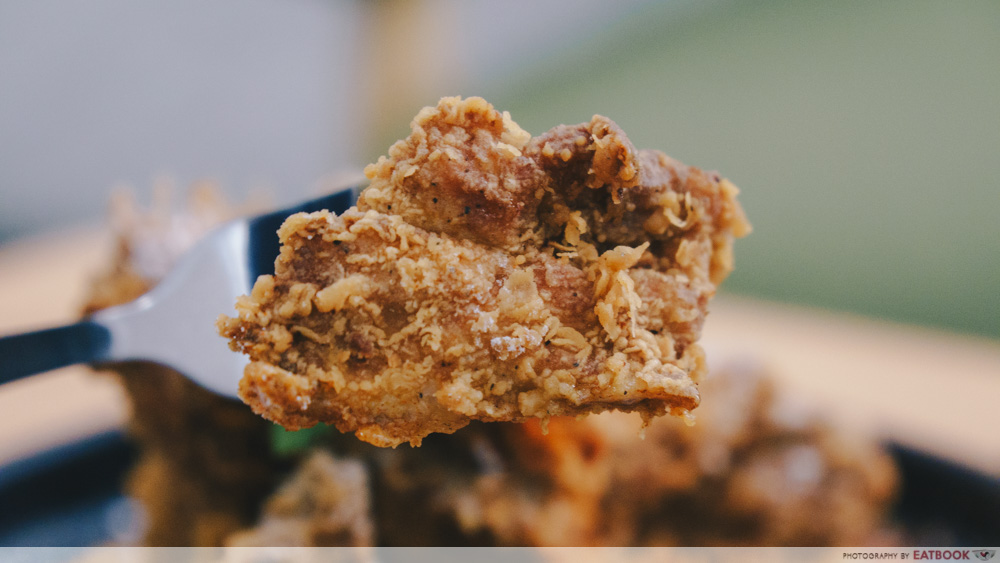 Seasoned in spices and herbs, the fried chicken reminded me of KFC's original chicken. Except, this version was more aromatic and refined in taste. The crispy skin did a great job in protecting the meat within, as it remained juicy and moist.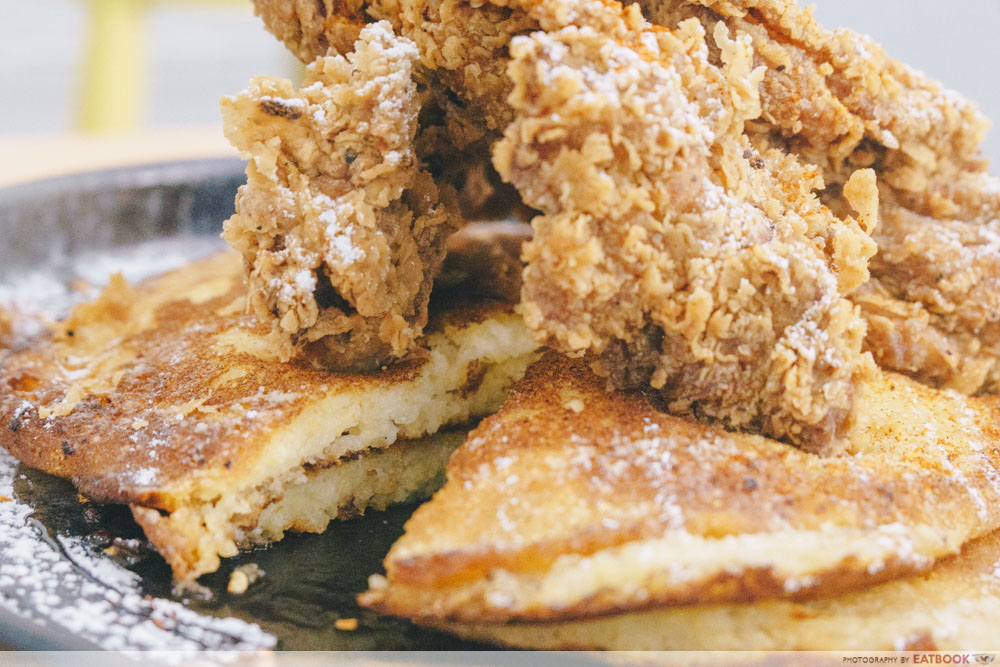 Pair the sinful greasiness with the subtle honeyed tang from the pancakes, and you will end up in food heaven. Sure, the pancakes are not the fluffiest, but they were soft, buttery and absolutely delicious. Ugh, my mouth is watering as I write my account of this golden beauty.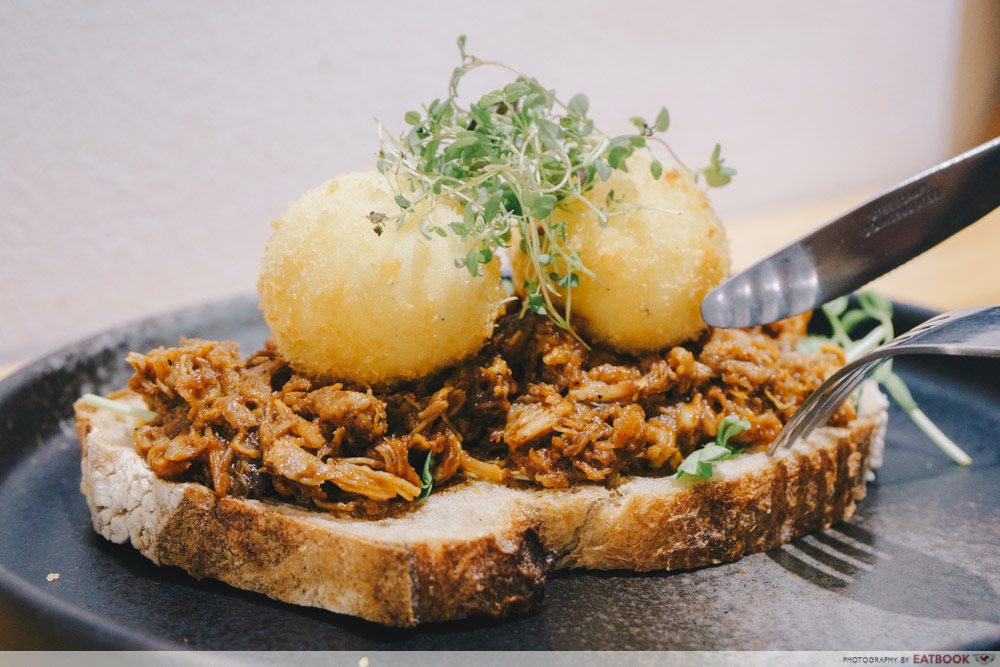 If you're a hater of McGriddles and sweet-savoury food combos, then the Crumbed Eggs on Toast ($18) might suit you better.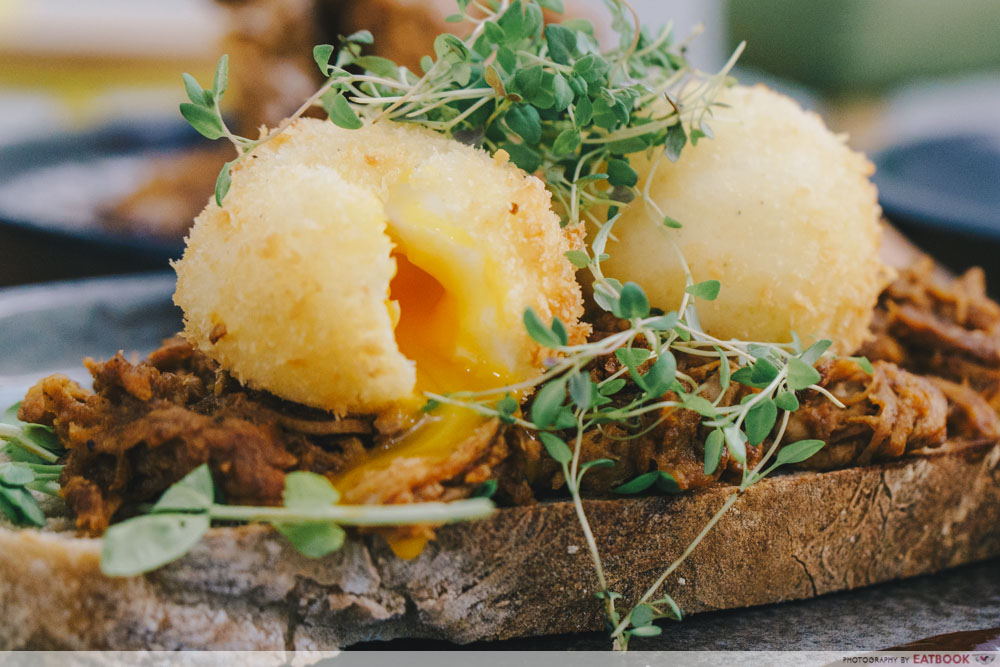 Instead of your usual eggs Benedict, this decadent open-toast sandwich features fry-poached eggs. A world of texture greets you when you pop the egg into your mouth, as the crispy outer-layer opens up to unleash a creamy richness.
Don't shy away from the flavour bomb, and stuff the sourdough bread, barbecued pulled pork and egg together into your mouth at one go.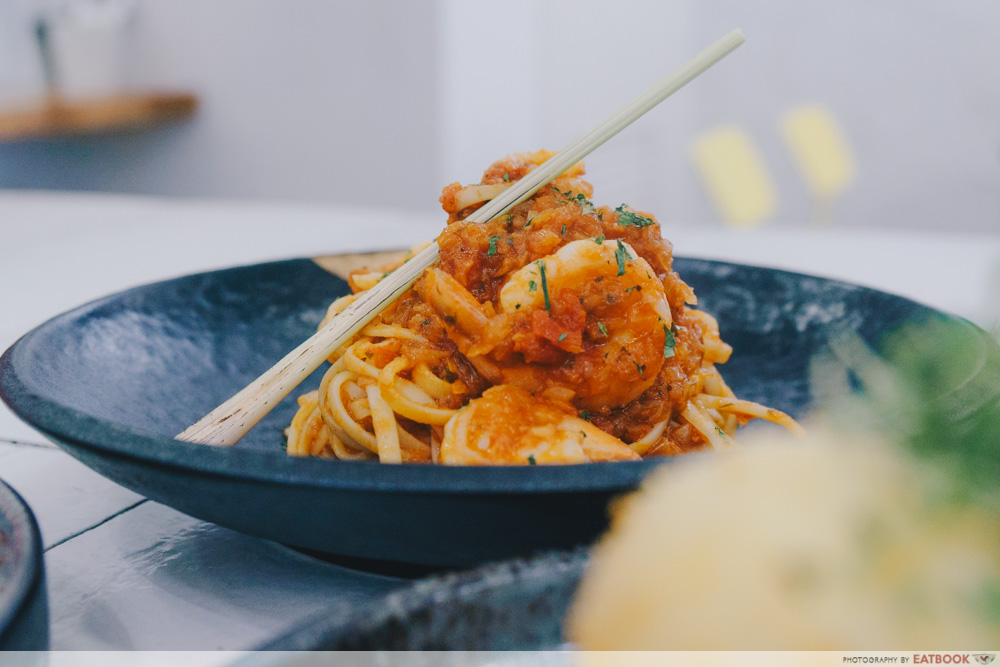 Fusion pastas are the norm, but Earlybird's Tom Yum Prawn Pasta ($20) reigns king. It had all the characteristics of a good tom yum soup, and was spicy, sour and appetising.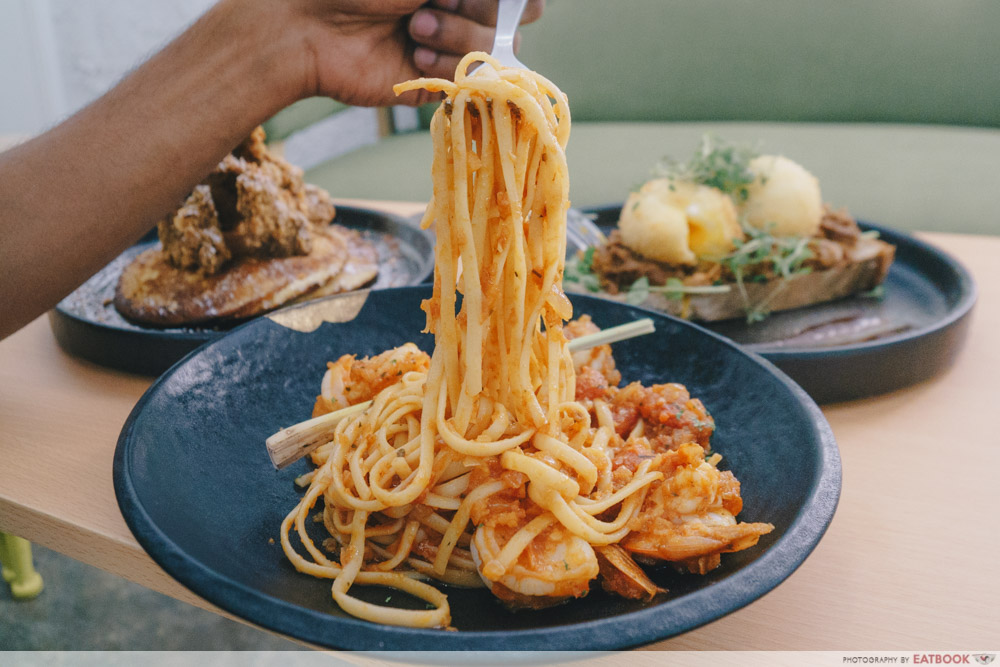 The piquant sauce clung onto the al dente linguine well, and every bite was a scrummy delight. I liked that the chef went heavy on the lemongrass, and it is this floral note that helped brighten up the dish's flavour profile.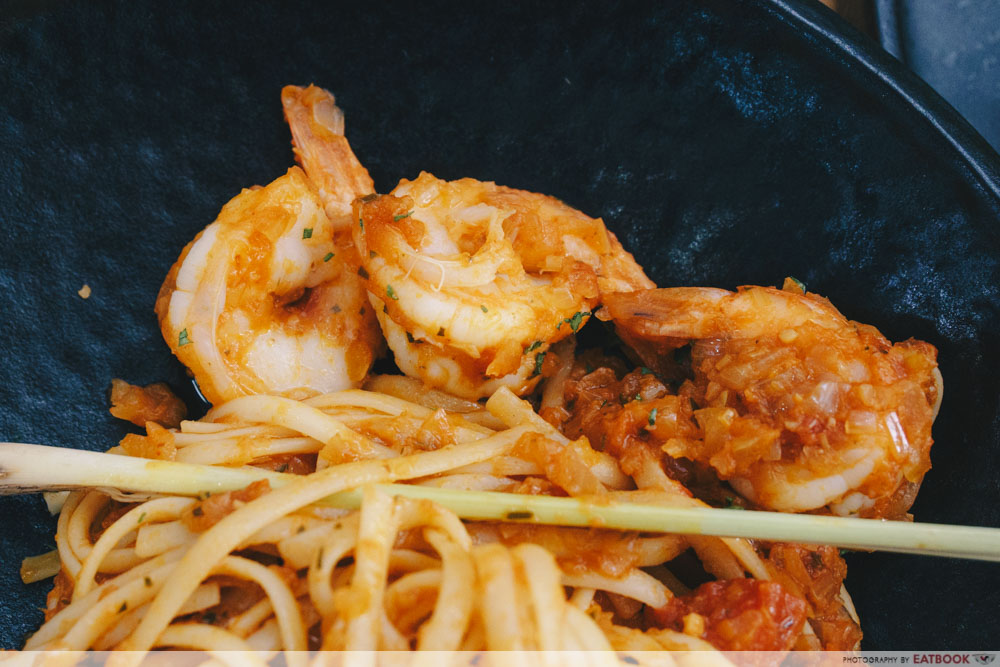 The prawns were fresh too, and I appreciated that they were de-shelled for my easy eating.
Ambience at Earlybird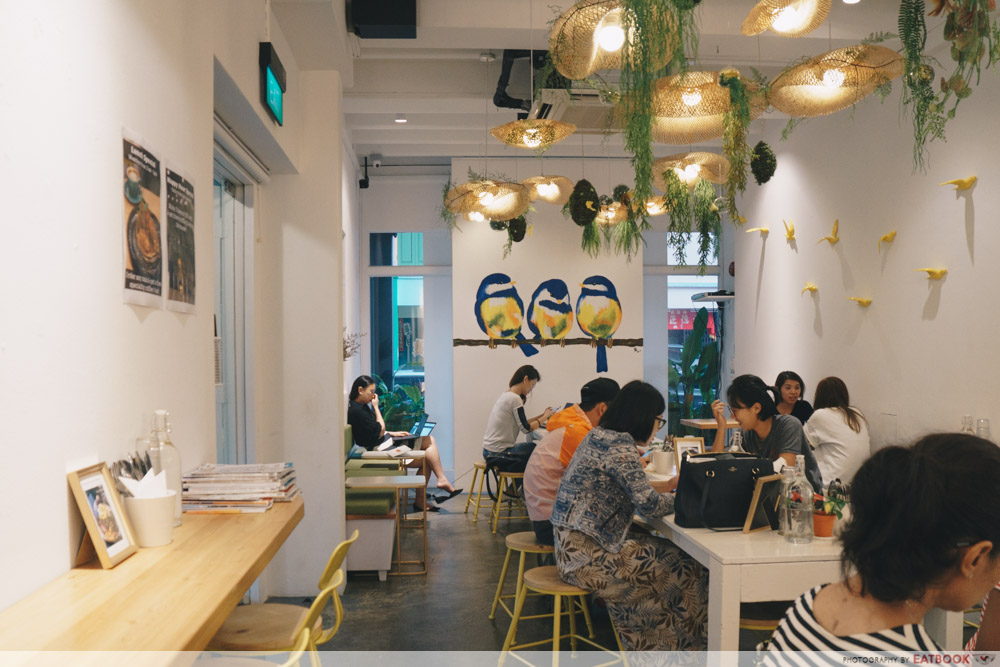 Bright and inviting, with wooden tables and wicker lamp shades, Earlybird's interior is simple, yet pleasing to the eye. It is also clear that much thought went into the design, as there are seats catering to every type of diner: long tables for large groups; a lounge area if you want to enjoy a cup of coffee; and a settee with side tables for single diners.
Do note that it's partly self-service, so you have to make your payment at the cashier. However, this means you don't have to pay service charge, which is great for those watching their purse strings.
The verdict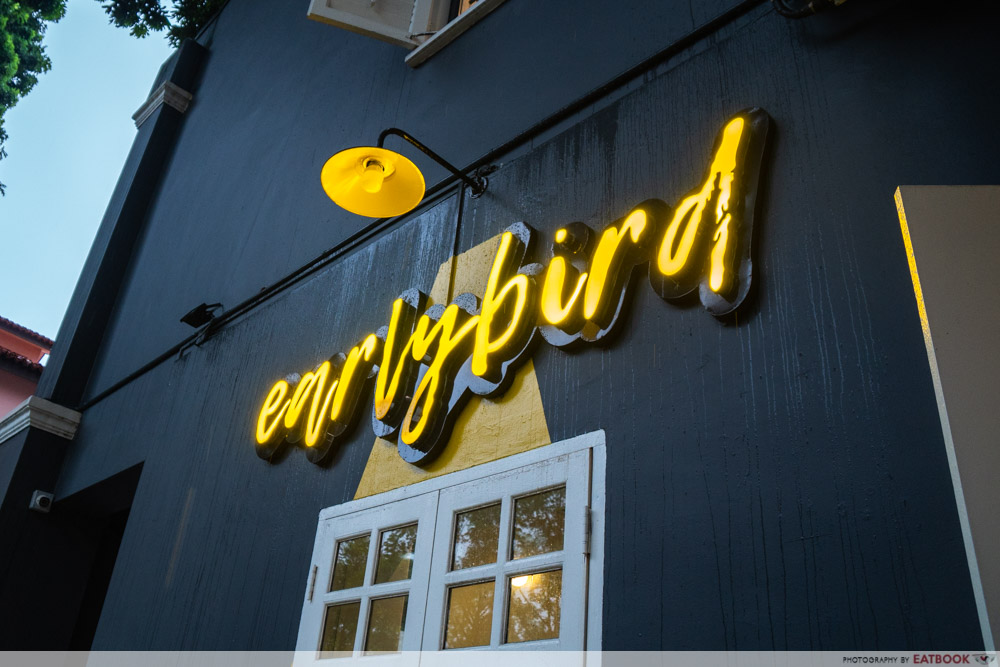 Every dish at Earlybird impressed, and it is safe to say that this is one of the best cafes to open in Singapore this year. Never did I think I would fall in love with brunch fare, but their dishes are really memorable. Do give this place a go if you call yourself a foodie!
Address: 17 Jalan Pinang, Singapore 199149
Opening hours: Sun-Thur 8:30am to 9pm, Fri 8:#0am to 10pm, Sat 9am to 10pm
Tel: 9788 6856
Website
Photos taken by Katie Boon.
This is an independent review by Eatbook.
Summary
Pros
– Great food
– No service charge
– Inviting ambience
Cons
– Slightly pricey

Recommended dishes: Chicken & Pancakes ($19), Tom Yum Prawn Pasta ($20), Crumbed Eggs on Toast ($18)
Opening hours: Sun-Thur 8:30am to 9pm, Fri 8:#0am to 10pm, Sat 9am to 10pm

Address: 17 Jalan Pinang, Singapore 199149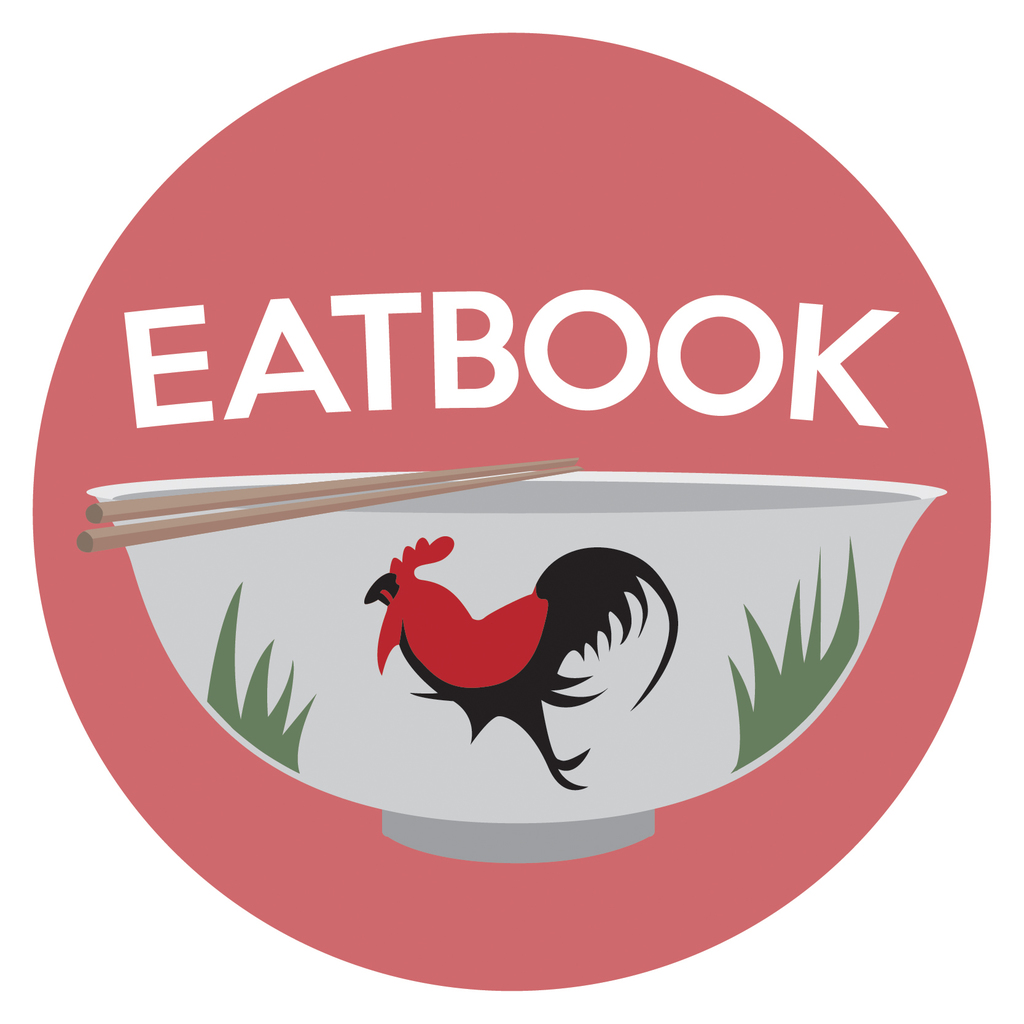 Drop us your email so you won't miss the latest news.