Cafe Natsu by Michelin-starred chef opens in Dhoby Ghaut 
If you're a fan of Cafe Natsu but don't live near Joo Chiat, we've got good news for you: the popular cafe has just opened a second outlet near Dhoby Ghaut, at the Clemenceau Citadines Connect Hotel! Helmed by one Michelin-starred Chef Lewis Barker, Cafe Natsu first rose to internet fame for their pretty aesthetics and Japanese-inspired brunch. The new cafe will see the same Japanese flair with a spin: it promises a relaxed ambience akin to that of an Australian cafe.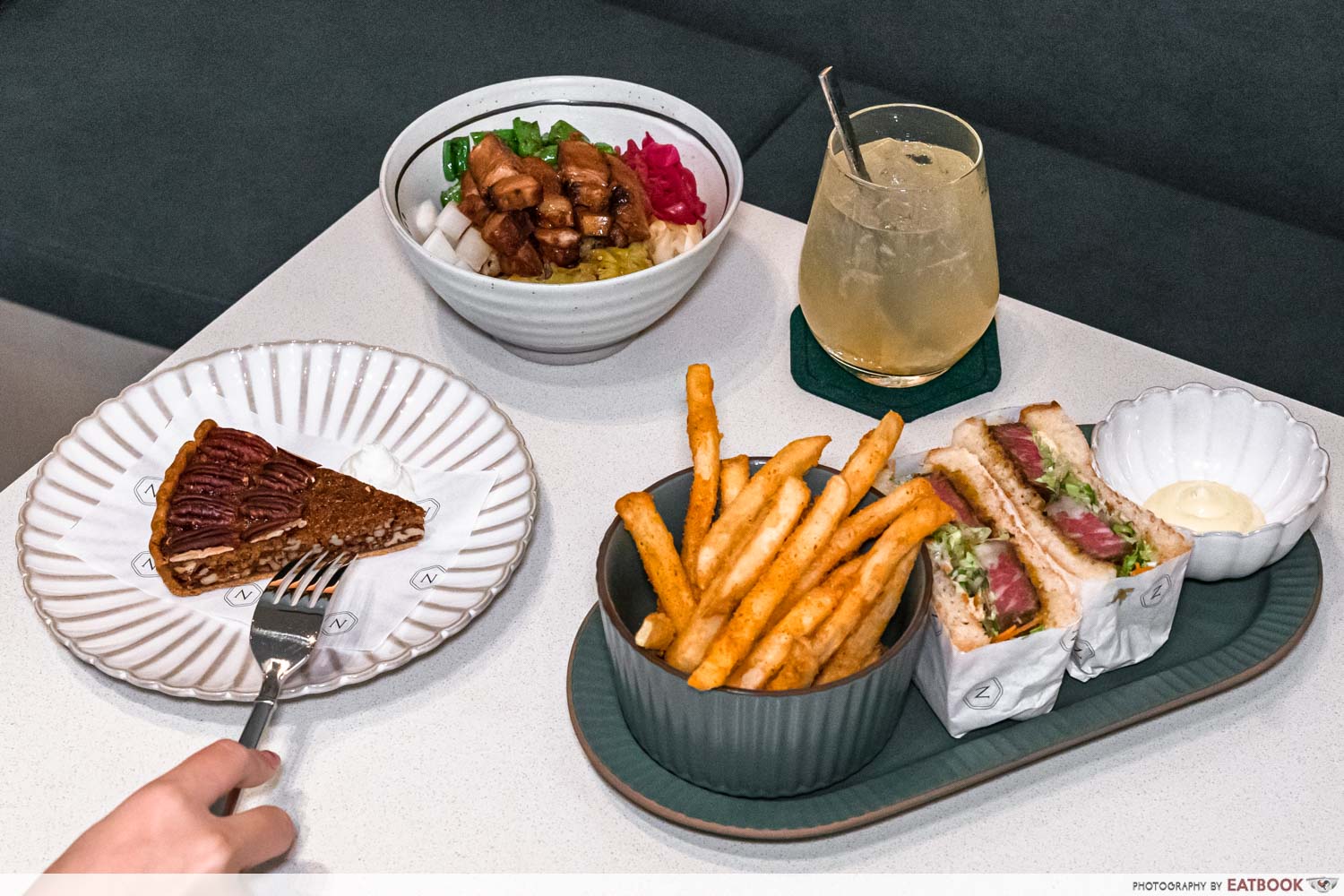 Food at Cafe Natsu
Expect to see the familiar favourites on the menu, including the popular Florentine ($30++), featuring two toasted English muffins topped with poached eggs, a miso hollandaise sauce, spanner crab, and a slightly peppery wasabi spinach. Then there's the Shio Kombu Gnocchi ($24++), which spotlights chewy potato dumplings in a sweet kabocha pumpkin sauce, finished with salted kelp.
On our visit, we had the Wagyu Sando ($26++), starring slow-cooked Wagyu with toasted shokupan, sandwiched by shishito pepper ketchup and zesty yushu kosho mayo. Togarashi fries—skinny fries topped with a Japanese spice mix—are included on the side for a complete meal.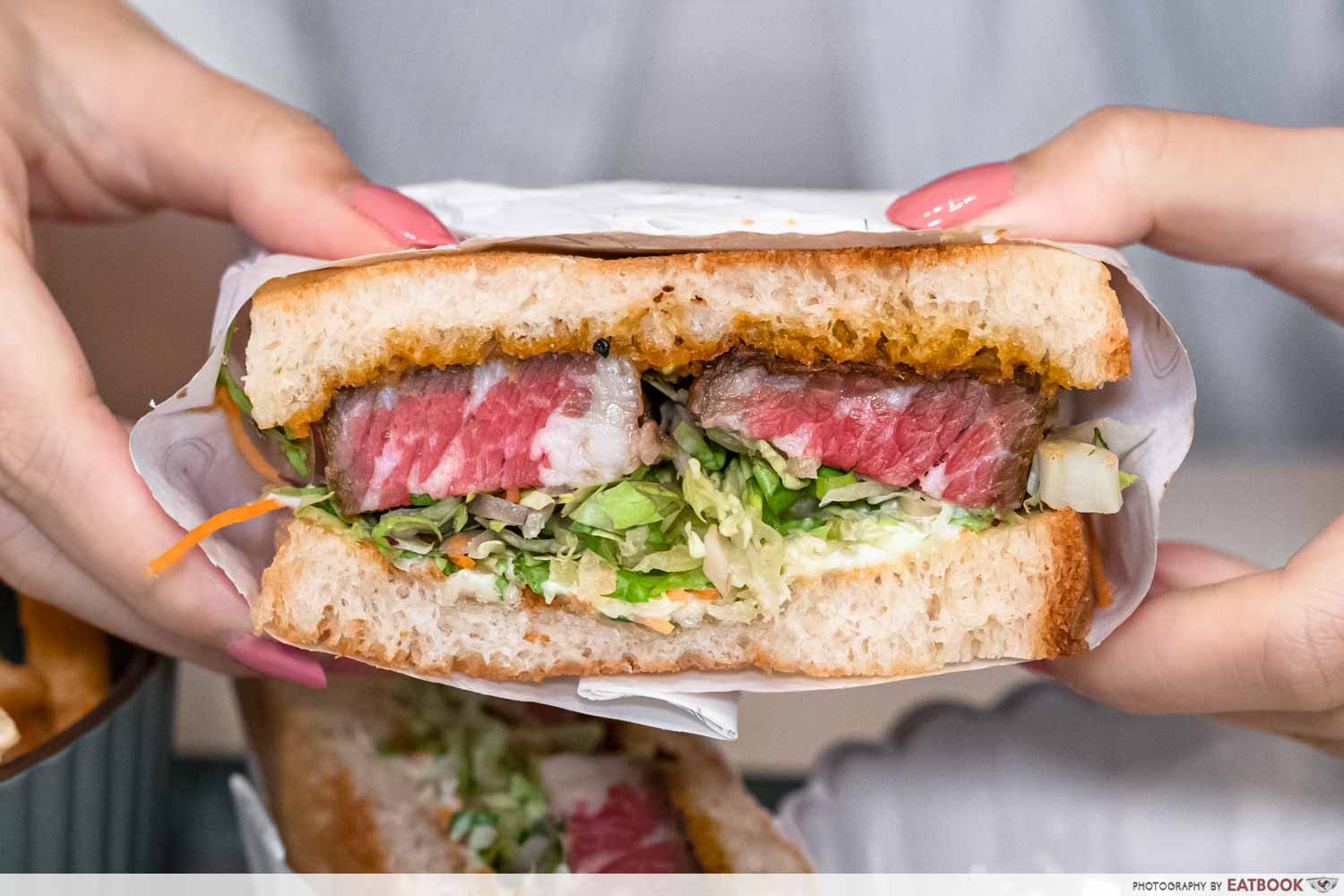 I didn't want the Wagyu to dry out during our shoot, so I sneaked in a quick bite of the sandwich before we began. Chunky, tender, and fatty are words that best describe the Wagyu. It also had a distinct beefy taste, though I would have preferred an extra touch of salt. Although the meat was a tad bland for my liking, this could have been done purposefully to allow the natural flavours of the Wagyu to shine.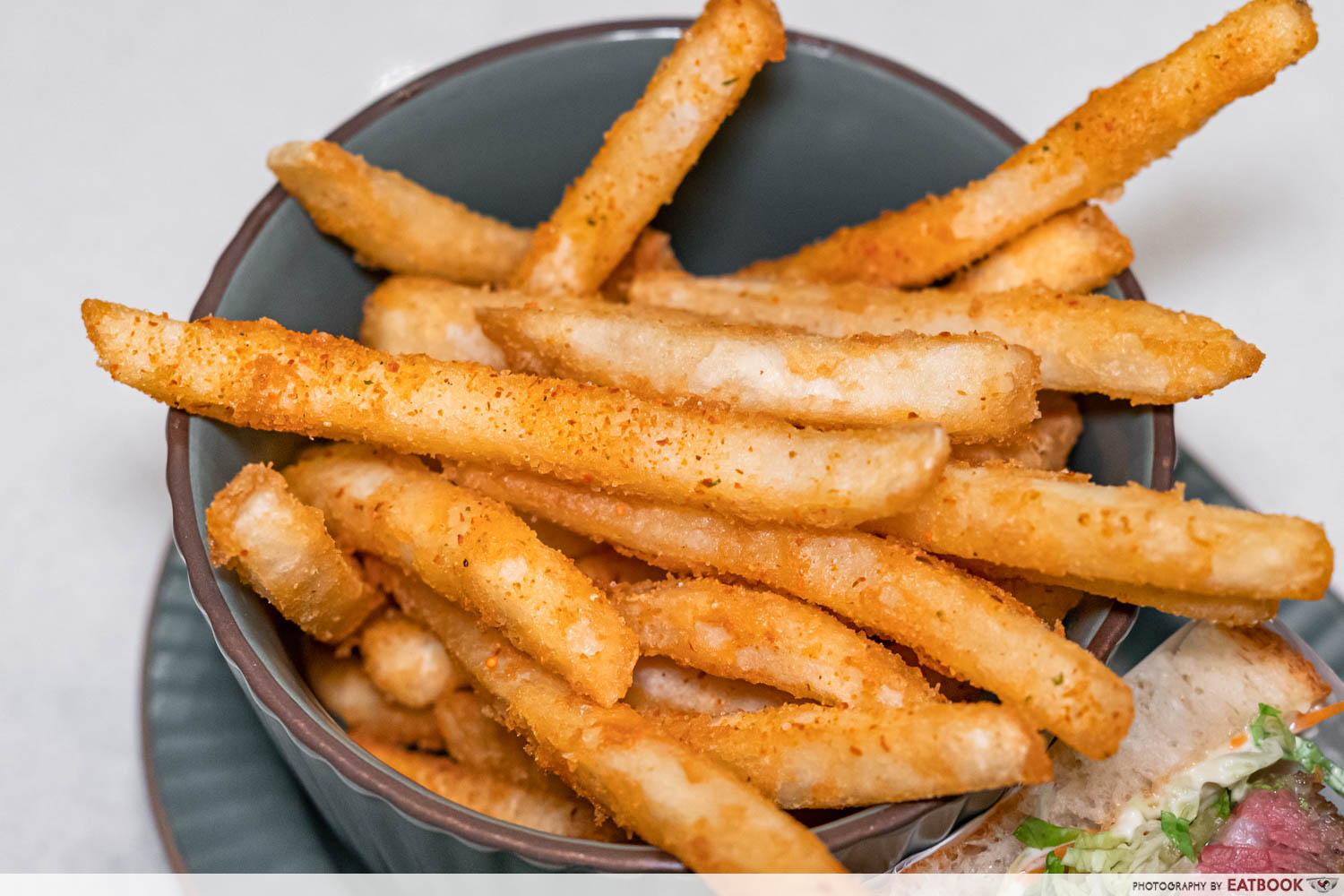 The fries were definitely the star of the dish. Crispy on the outside and soft on the inside, the fries were spicy and flavourful without being too oily. While the citrusy yuzu dip did an excellent job of tempering the spiciness, I still found myself reaching for a glass of water now and then.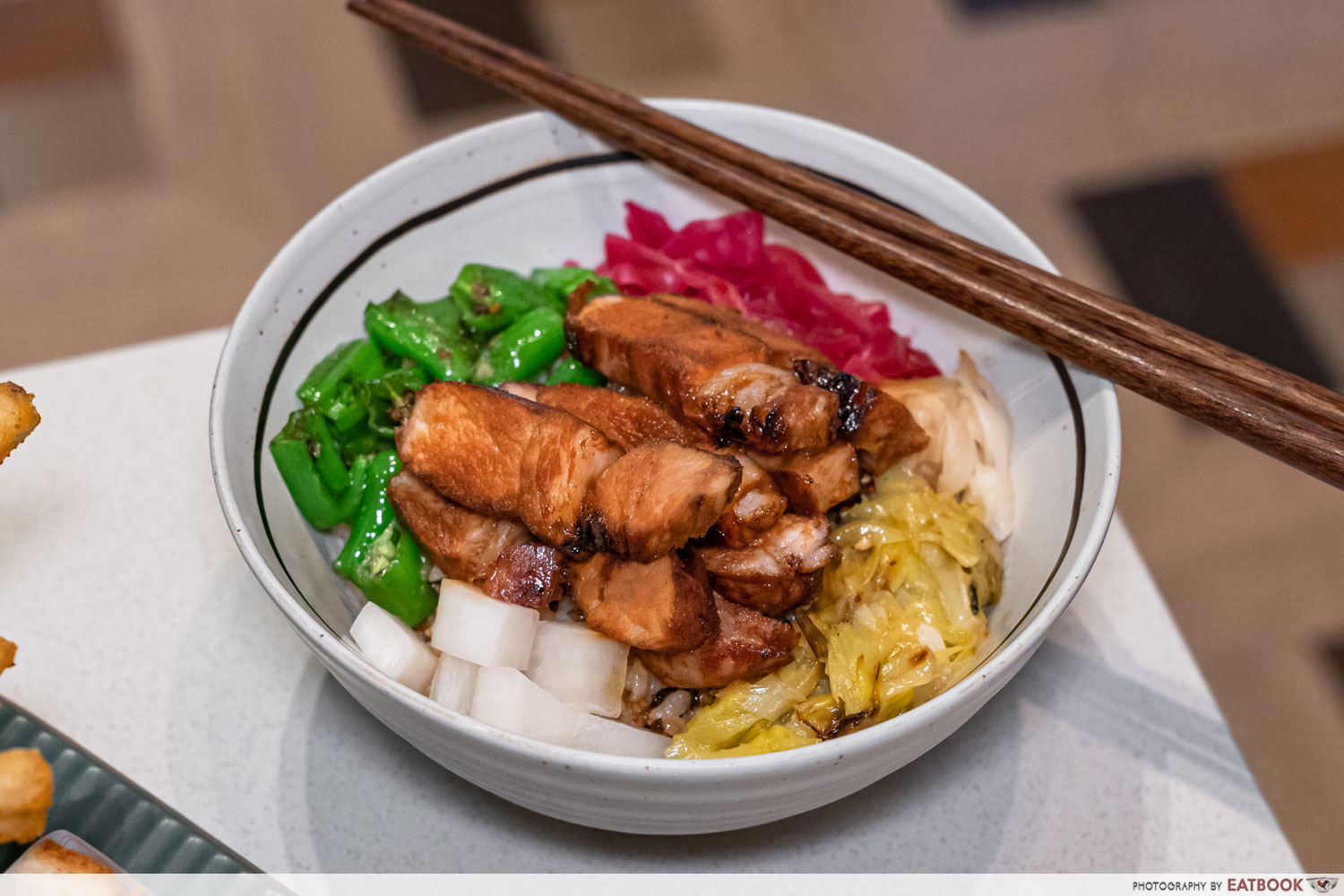 We were also treated to the BBQ Shirobuta Don ($24++), the newest introduction to the cafe's Natsu Don range. This dish had slices of pork belly sitting atop a bed of white Japanese rice, plated alongside piquant shishito peppers, onions, and assorted Japanese pickles.
I enjoyed the tender pork slices, which had a good meat-to-fat ratio and a hint of sweetness from the soy caramel sauce. The dish gave me "atas Tori-Q vibes", though the meat wasn't as charred or smoky as I would've liked, and the rice was on the clumpy side. Otherwise, I found this to be a decent attempt at Japanese donburi—one that was tasty with well-balanced flavours.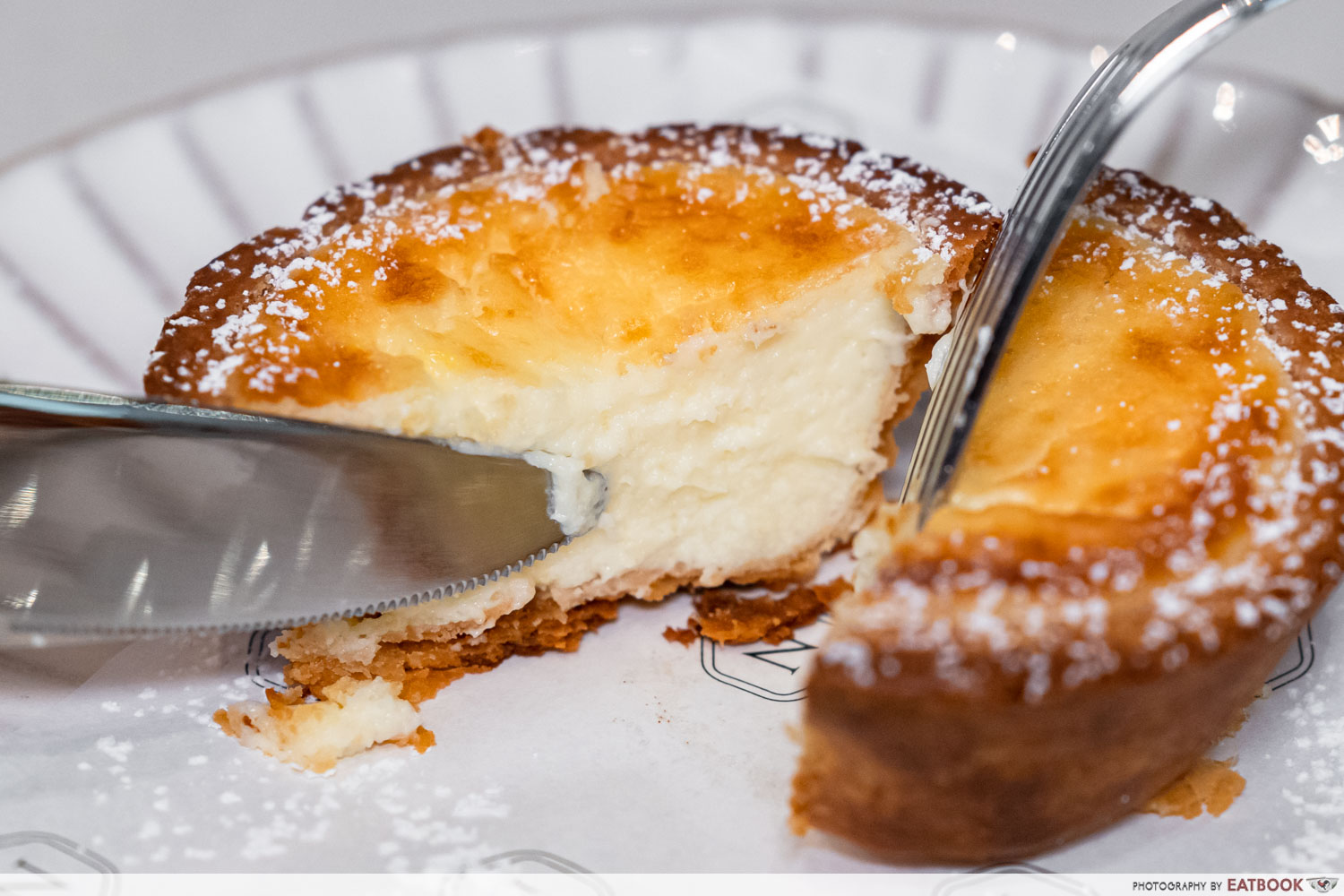 For dessert, we tucked into the Baked Hokkaido Cheese Tart ($8++), comprising creamy and velvety cheese filling nestled on a light, buttery crust. I appreciated that the cheese was sweet without being too cloying, and enjoyed the discernable notes of lemon, which added some zestiness to the tart.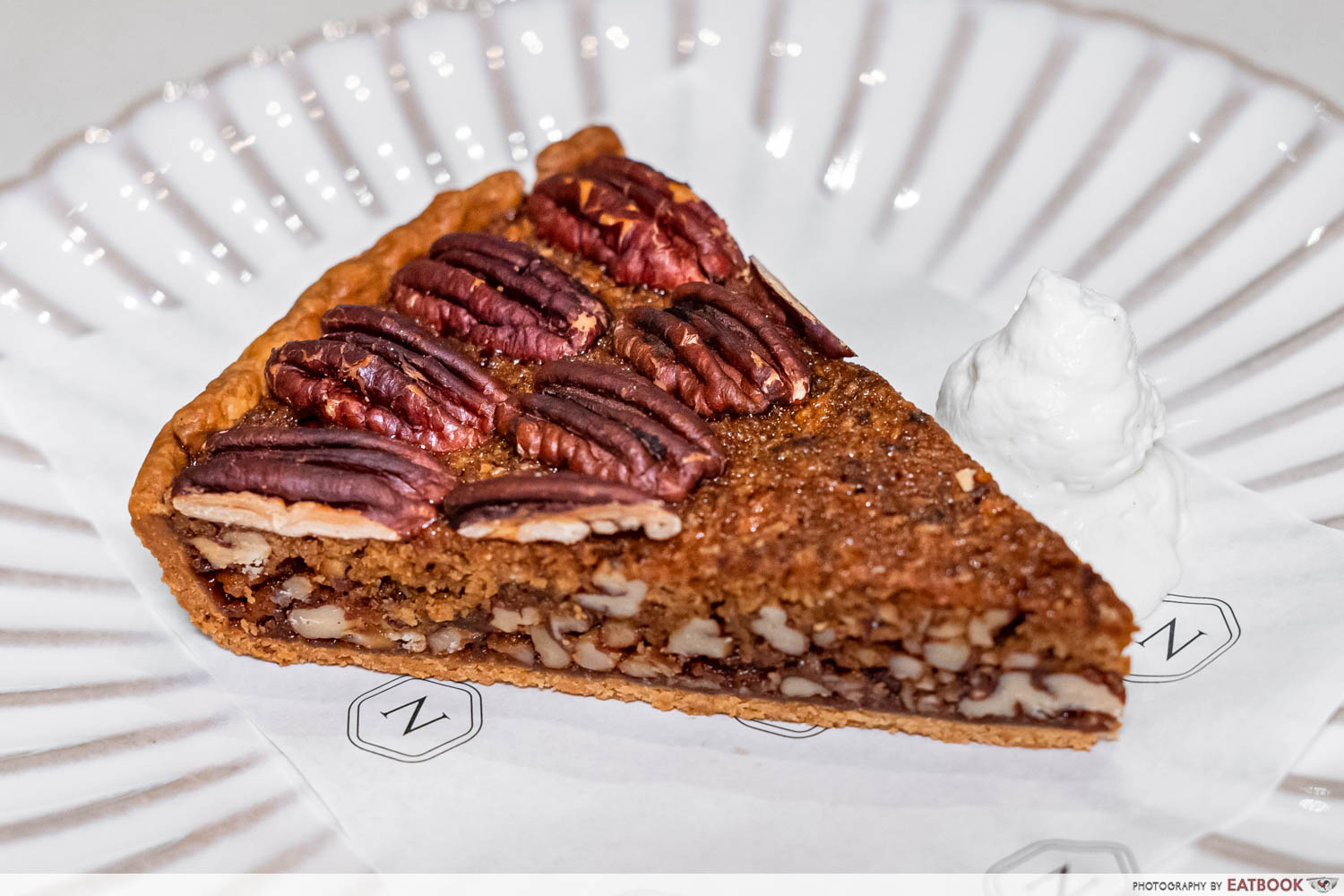 My colleague preferred the Kurozato Brown Sugar Tart ($12++), which was paired with pecans and vanilla cream. I wasn't a fan of its sticky, nougat-like texture, although my colleague took a liking to its chewiness. She also liked how the pecans offered a mild, slightly bitter aftertaste to tart, which would have otherwise been too sweet on its own.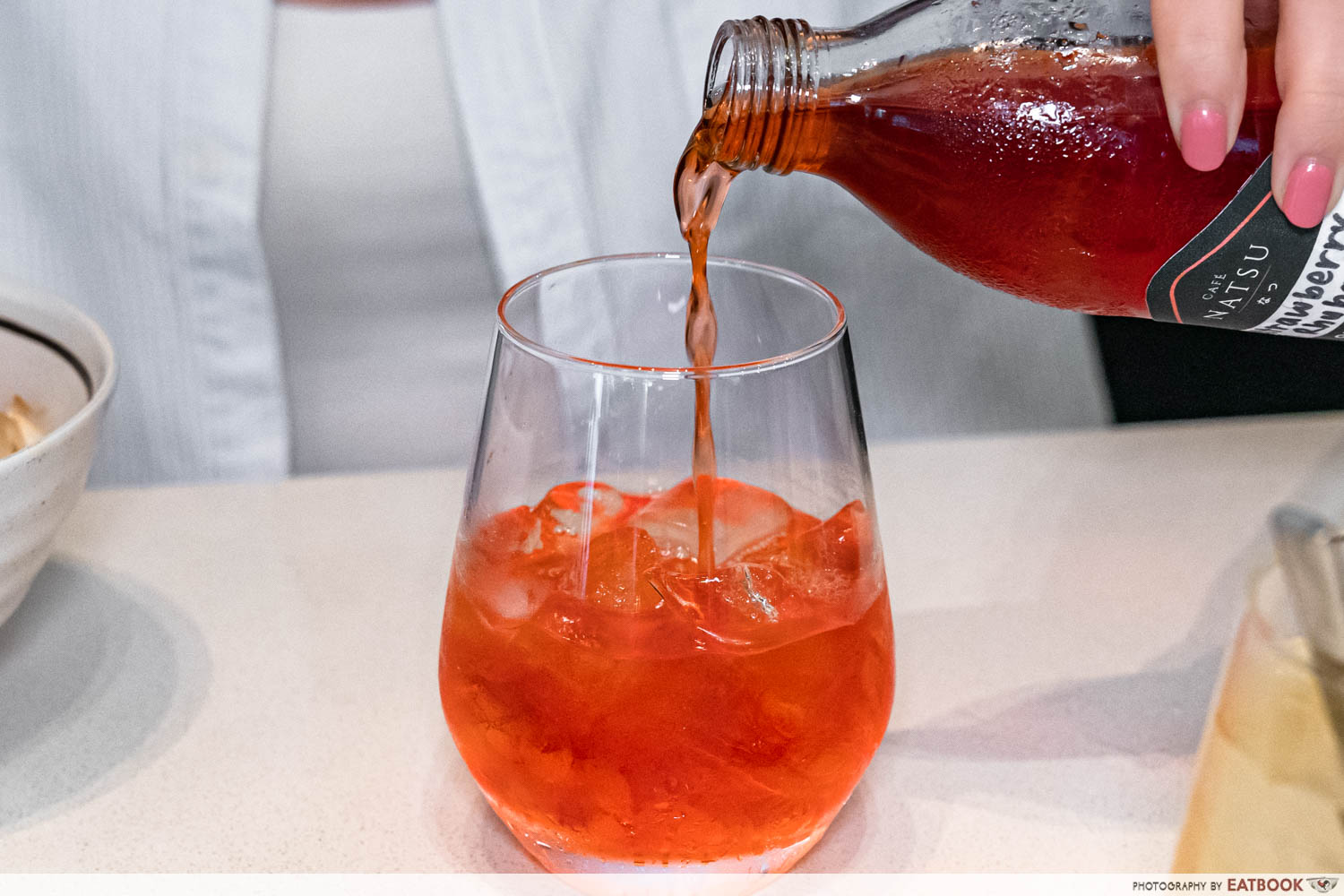 We wrapped up our meal on a refreshing note with the Strawberry Rhubarb Kombucha ($8++) and Yuzu Spritz ($7++). I preferred the former with its sweet and sour notes reminiscent of roselle tea, although it overshadowed the earthy aroma of the fermented black tea.
Cafe Kitsune Review: Famous Cafe Opens In Capitol Singapore With French Pastries, Sandos And More
Ambience at Cafe Natsu Clemenceau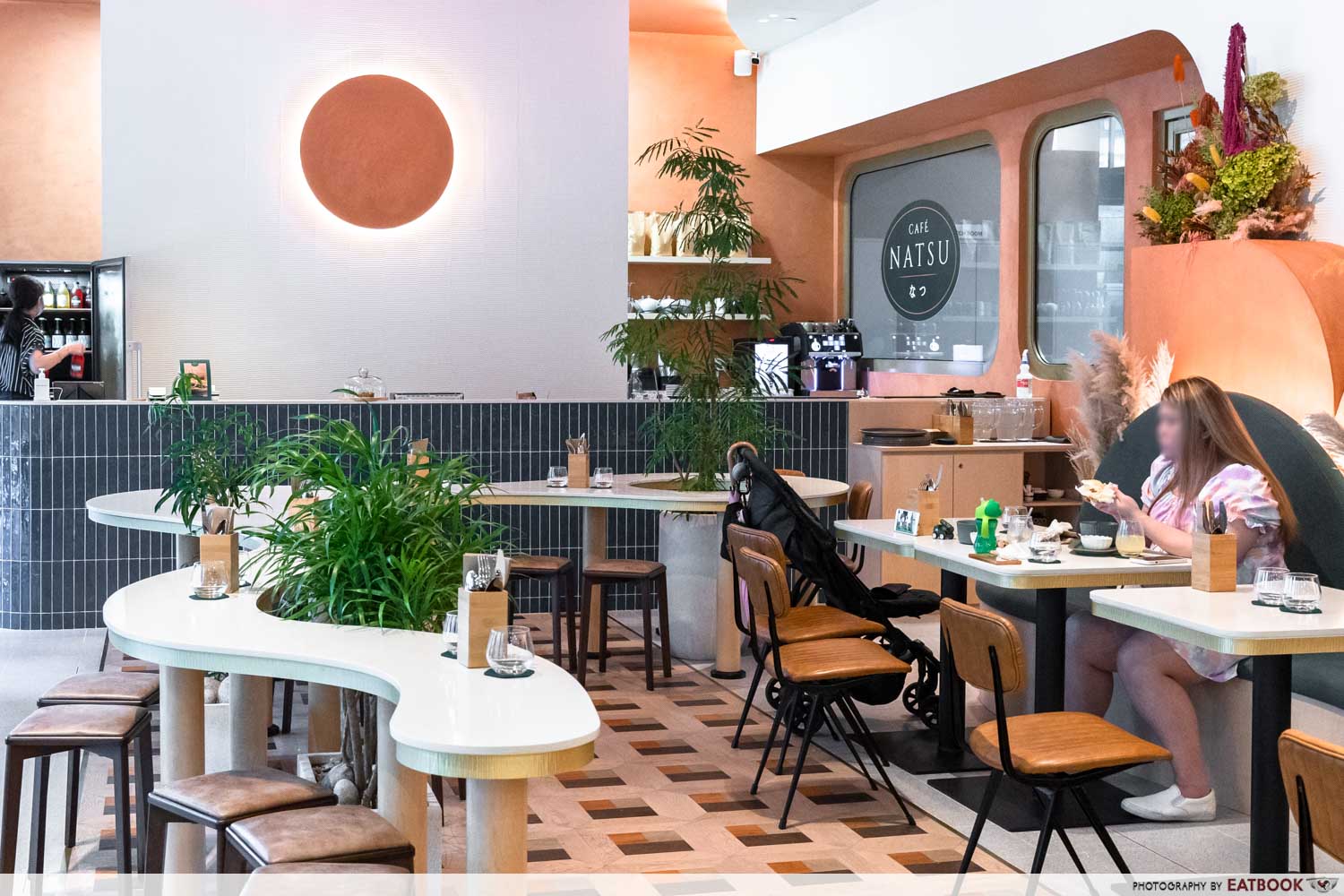 Cafe Natsu is in the lobby of Clemenceau Citadines Connect Hotel, where the new interiors exude the laidback vibes of a Melbournian cafe elevated by a touch of Japanese elegance. The name Natsu means "born In summer", and we can see this ideology being reflected in the cafe's bright orange hues, touches of greenery, and iconic "sun" emblem.
Cafe Natsu is a three-minute walk from Dhoby Ghaut MRT Station.
The verdict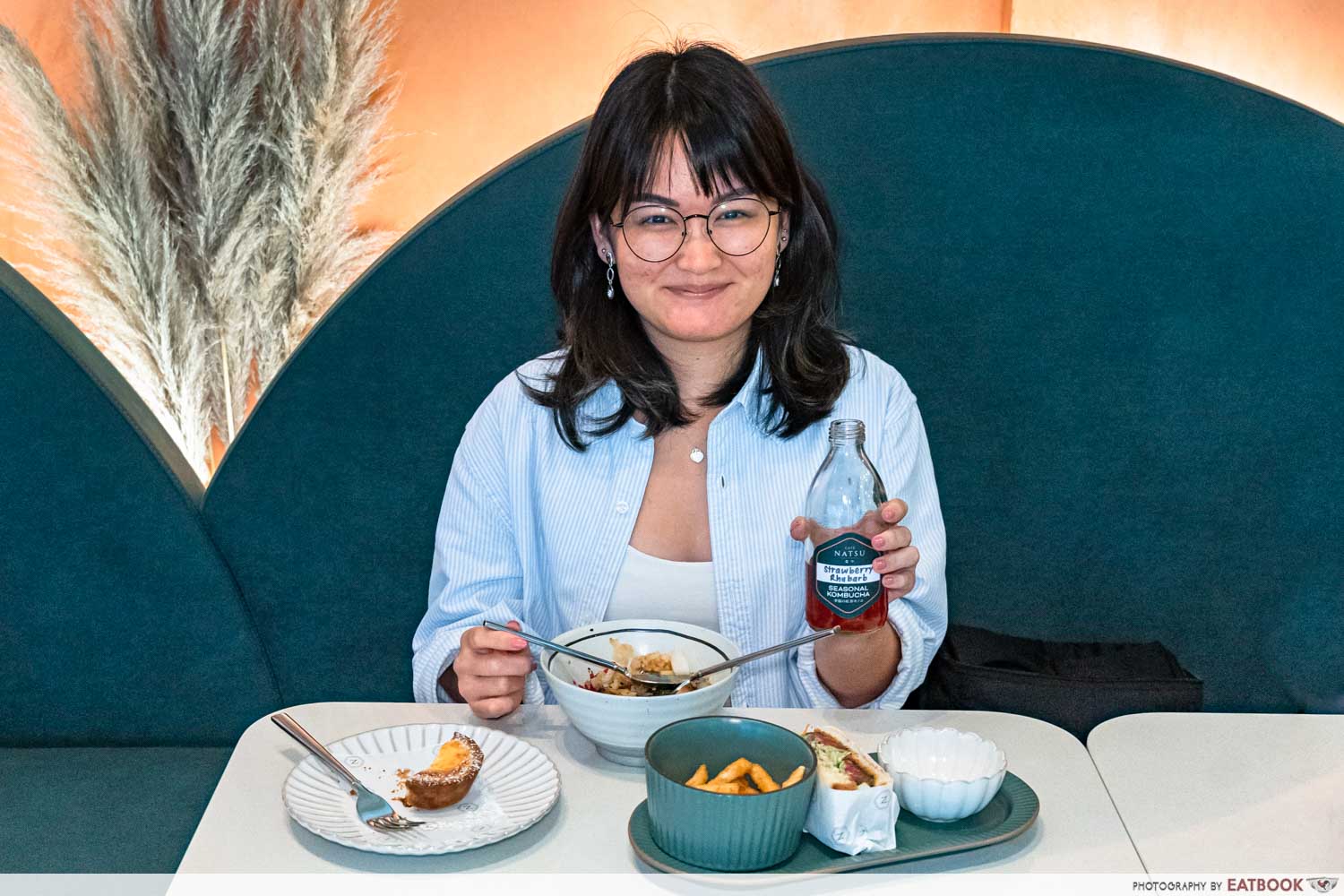 Cafe Natsu is a gorgeous place to enjoy brunch away from the hustle and bustle of Dhoby Ghaut and Orchard Road. The Wagyu Sando and Baked Hokkaido Cheese Tart were memorable dishes, and I even took a liking to the BBQ Shirobuta Don, despite having a few complaints. If you're looking for a quiet cafe to spend your afternoon with friends, Cafe Natsu is worth paying a visit.
If you're looking for more grub in the area, head to Mama Diam, a unique bar in Dhoby Ghaut with old-school decor and bites. Otherwise, read our guide to the best Korean BBQ restaurants in Singapore, including affordable options!
Address: 182 Clemenceau Avenue, Singapore 239923
Opening hours: Daily 8:30am to 5:30pm
Website
Cafe Natsu is not a halal-certified eatery.
Photos taken by Hui Hui Lau.
This was a media tasting at Cafe Natsu.
Cafe Natsu Review: New Brunch Cafe In Dhoby Ghaut With Wagyu Sando, Brown Sugar Tart And More
Cafe Natsu Review: New Brunch Cafe In Dhoby Ghaut With Wagyu Sando, Brown Sugar Tart And More -

7.5/10
Summary
Pros
– Decent brunch offerings including sandos and Japanese rice bowls
– Baked Hokkaido Cheese Tart was delicious
– Aesthetic ambience and quiet surroundings
– Near Dhoby Ghaut MRT Station
Cons
– Food is quite pricey
– Wagyu Sando was a little bland
– BBQ Shirobuta Don could have more sauce
Recommended dishes: Wagyu Sando ($26++) and BBQ Shirobuta Don ($24++)
Opening hours: Daily 8:30am to 5:30pm
Address: 182 Clemenceau Avenue, Singapore 239923