Butterspace Bakery in Bedok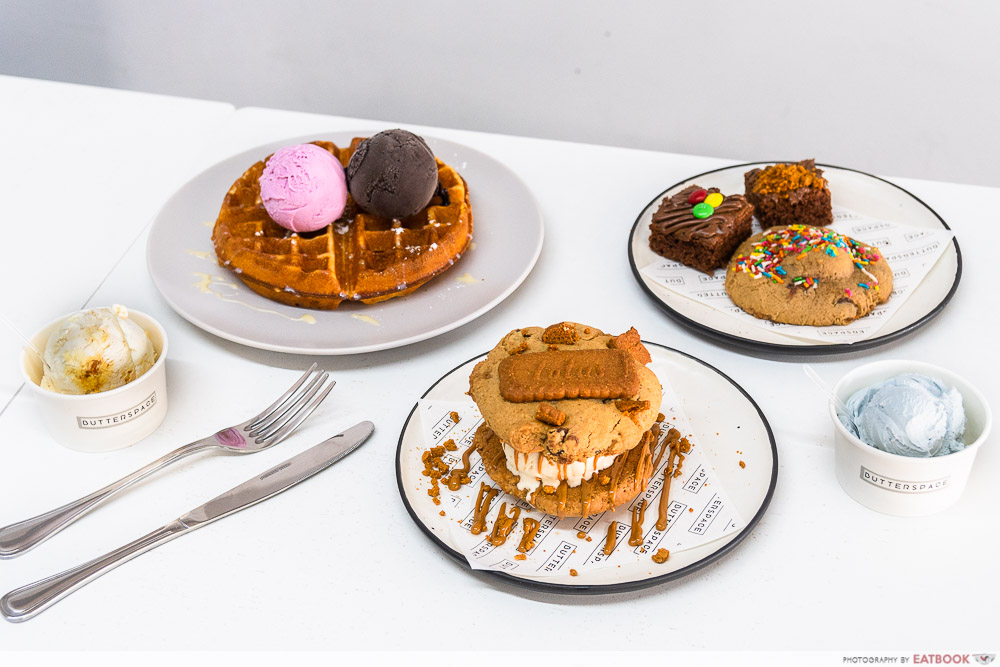 Since alcohol can't be served after 10:30pm, it seems many have turned to sugar instead, with a slew of ice cream cafes popping up that stay open till the wee hours. Butterspace Bakery in Bedok is one of these, serving not just ice creams, but also baked goodies till 2am daily.
I grabbed a colleague and headed to Butterspace Bakery to check out their IG-worthy Cookie Sandwich—where a scoop of ice cream is kiapped between two chonky, house-baked cookies.
Food at Butterspace Bakery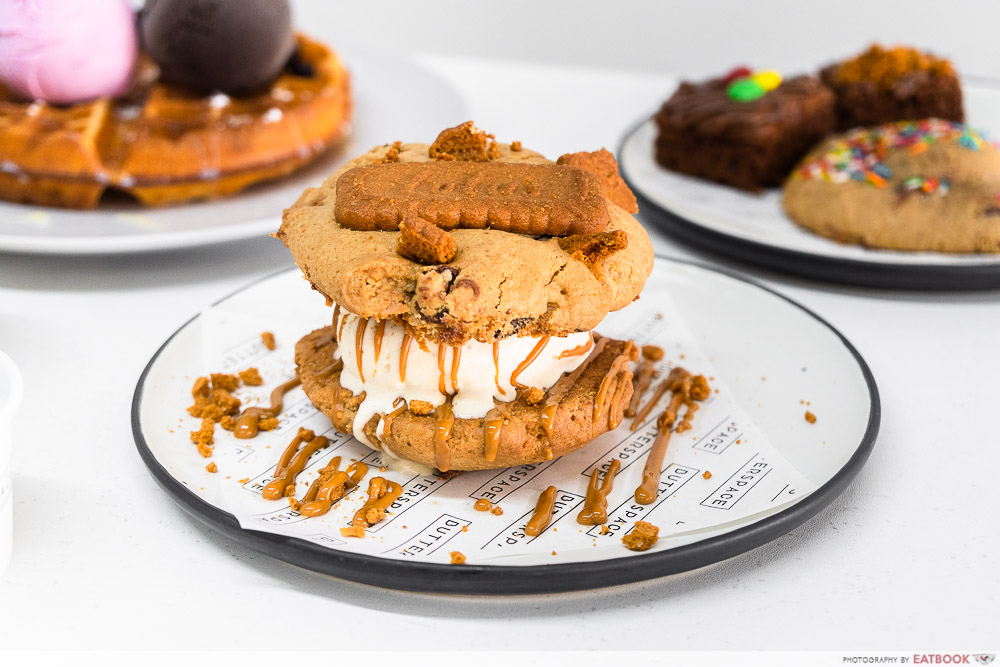 After you've placed your order, the cookies and brownies are lightly heated so you get them nice and warm. The waffles are made to order too. We started with the Cookie Sandwich ($8.50), which comes with your choice of ice cream, topping, sauce, and cookie.
We chose Horlicks ($3.50), which was delightfully malty, and paired well with the Biscoff cookie, although we found the whole confection unwieldy to bite into. To up the ante, we also selected the Biscoff sauce, with extra Biscoff cookies as a topping. Altogether, when the ice cream started melting, it got rather messy, but you get very tasty fingers.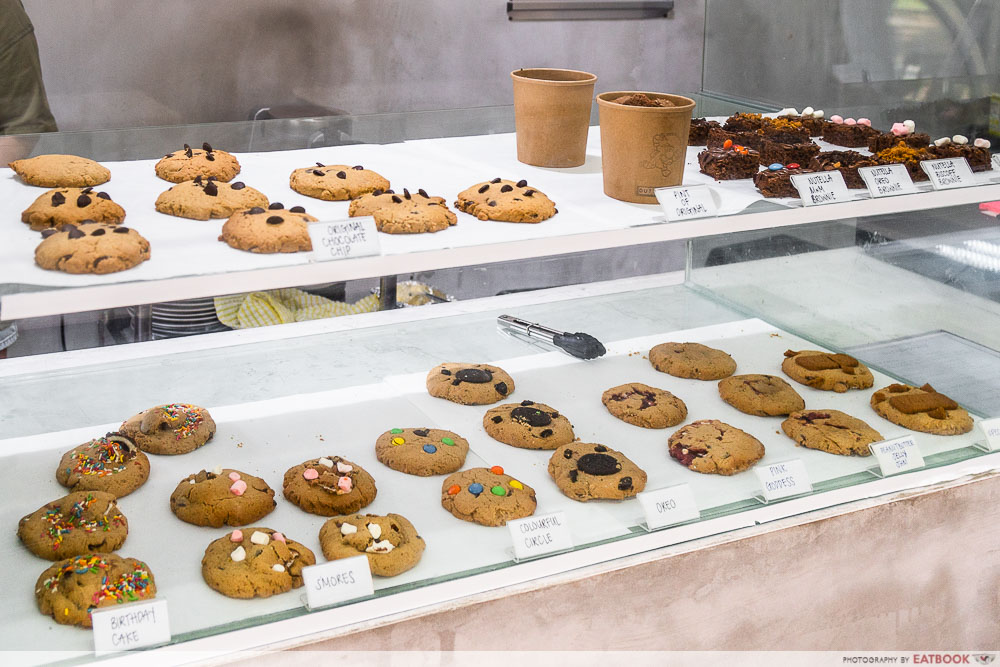 You'll have to pay small top-ups if you choose premium ice cream flavours ($0.80), an extra scoop of ice cream ($3), or extra sauce ($0.50). If you're confused when they ask you to choose a cookie, here's why: you get a standard chocolate chip cookie as the base, and your choice of cookie from what's available, which include S'Mores, Colourful Circle, Pink Goddess, and Peanut Butter & Jelly. There's a top-up of $0.50 for premium cookie flavours.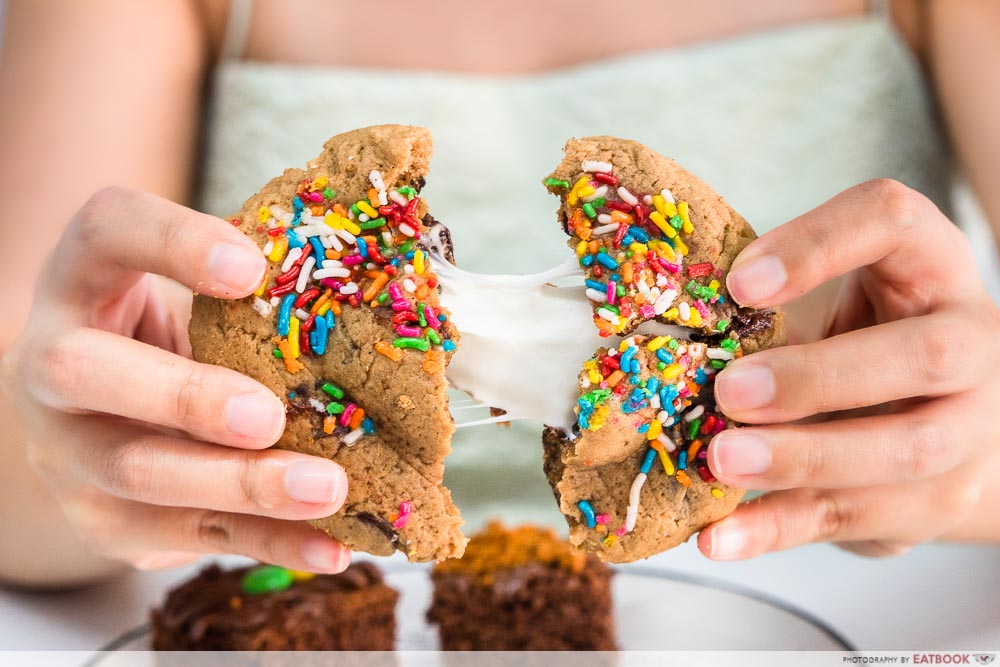 One of the other items that had caught my eye on the IG-sphere was a confetti sprinkle-covered cookie with an oozy-stretchy centre. This was the Birthday Cake ($3.80), which is stuffed with a whole marshmallow. You have to break the cookie apart while it's warm in order to get the marshmallow pull shot. While it looks nice, I thought it was a little too sweet.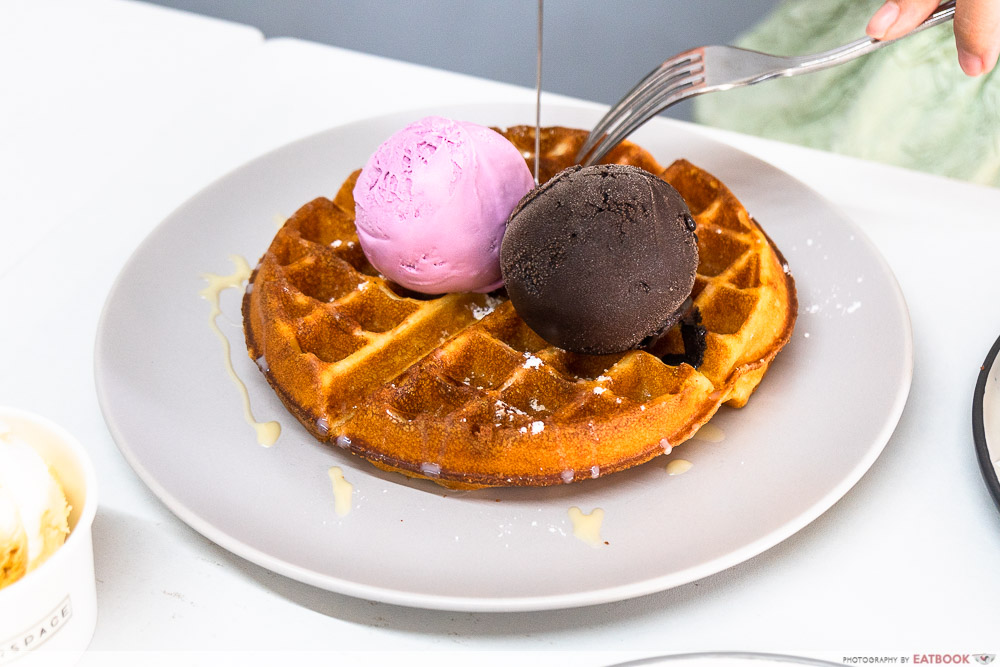 What we enjoyed was the Waffle + Ice Cream ($7.50), which we topped up $3 for an extra scoop of ice cream. The flavours we opted for were Dark Chocolate ($4.30) and Grape Yakult ($4.30)—both premium flavours. The waffle was nicely light, buttery, and crisp on the outside.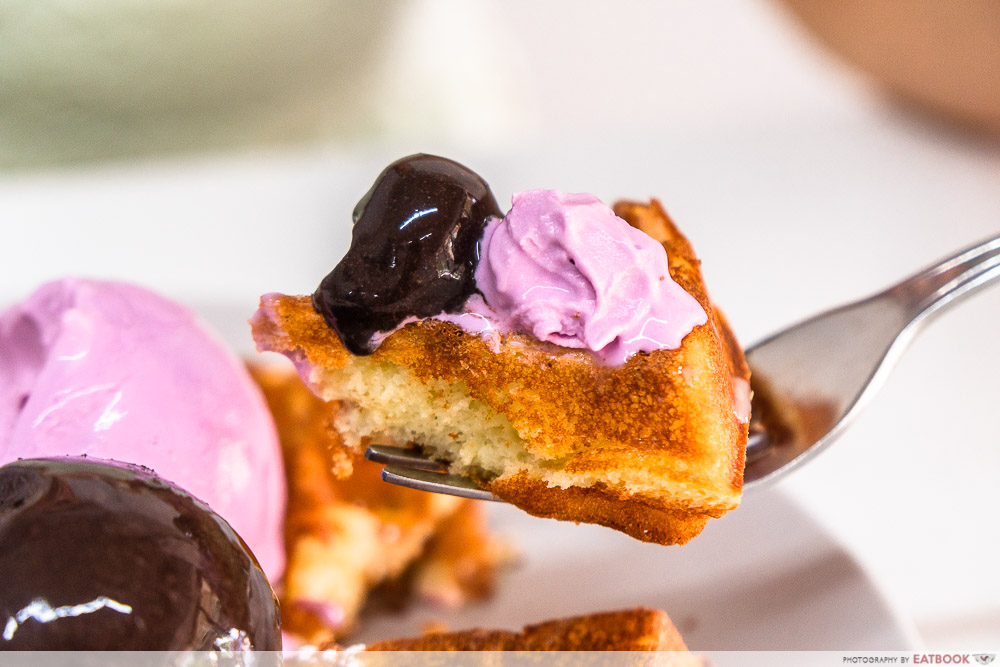 The slightly bitter Dark Chocolate was great with the waffle, but the Grape Yakult wasn't. I'd recommend having this flavour on its own. We didn't care for its fruity, tangy brightness with the toasty notes of the waffle.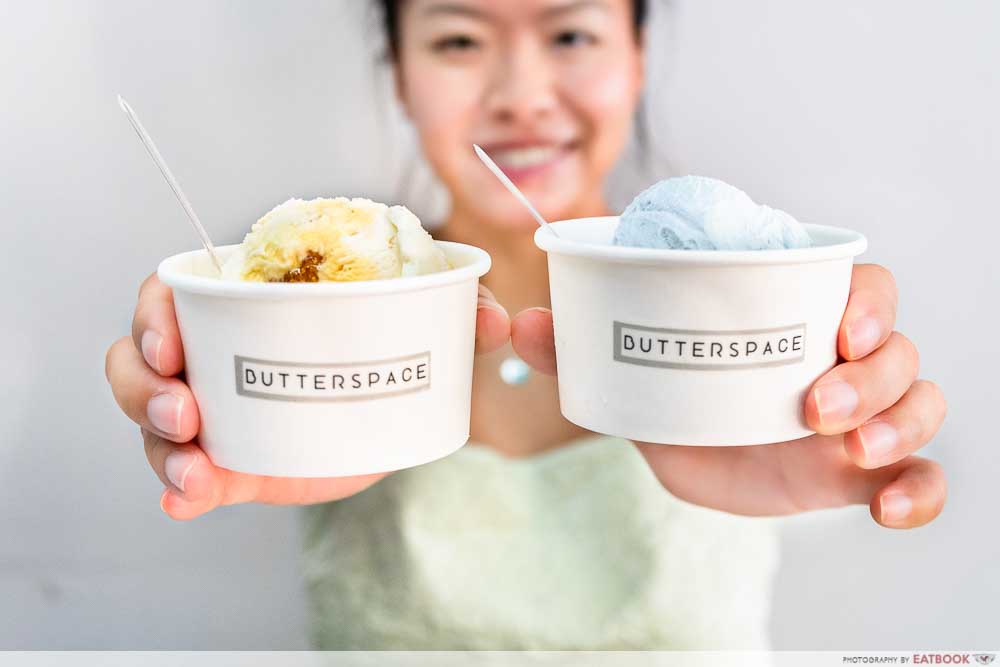 On the side, we selected Blue Clue ($3.50) and Milk & Honey ($3.50) to try. The former is one of their signature flavours, and sports a pastel blue hue that's naturally derived from blue pea flowers. It's very lightly perfumed with lemongrass, which may be an acquired taste for some.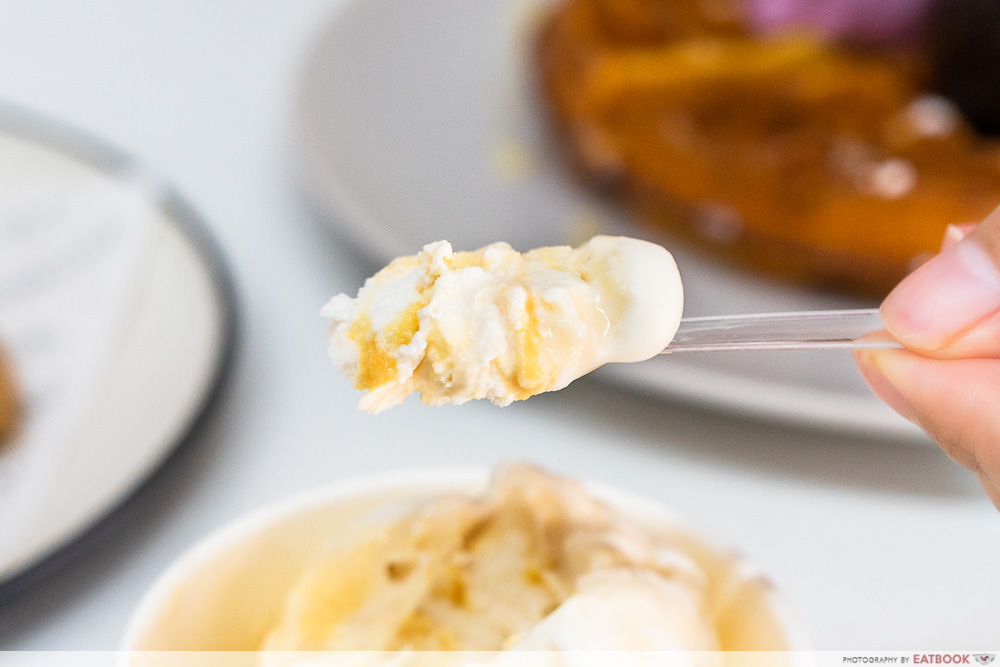 On the other hand, Milk & Honey was our favourite ice cream of the session. It was swirled through with honey, bringing a delicate, earthy sweetness to the otherwise milky ice cream base.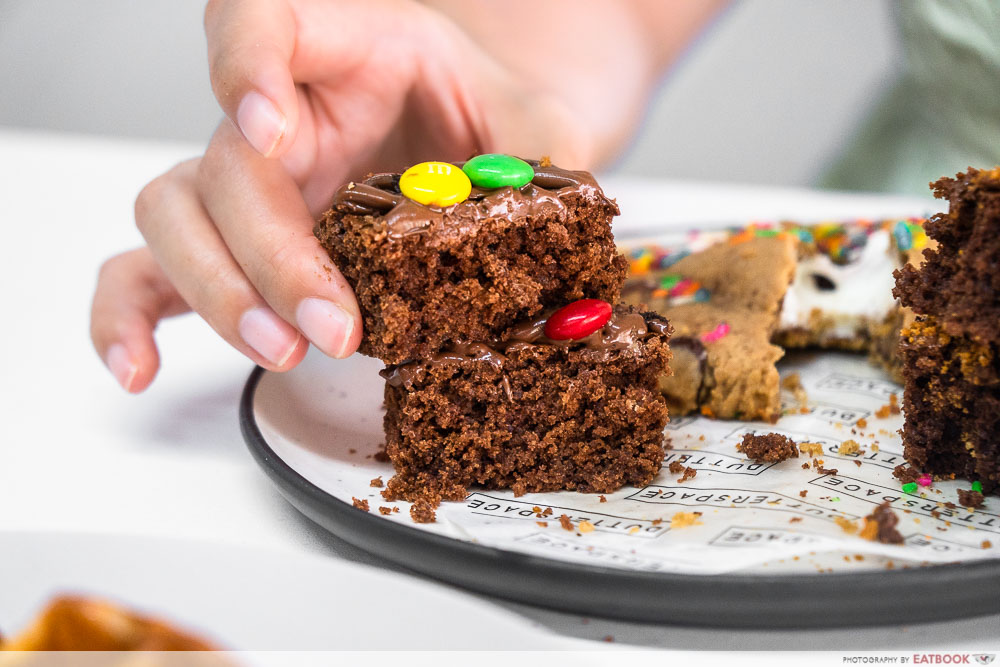 Personally, the Brownies ($1.60 for one, six for $9.50, 16 for $25) were a no go. In my books, brownies ought to be dense, ultra fudgy, and extra chocolatey. The ones here fell flat, feeling more like crumbly chocolate cake, without the decadent chocolaty-ness I was expecting.
Ambience at Butterspace Bakery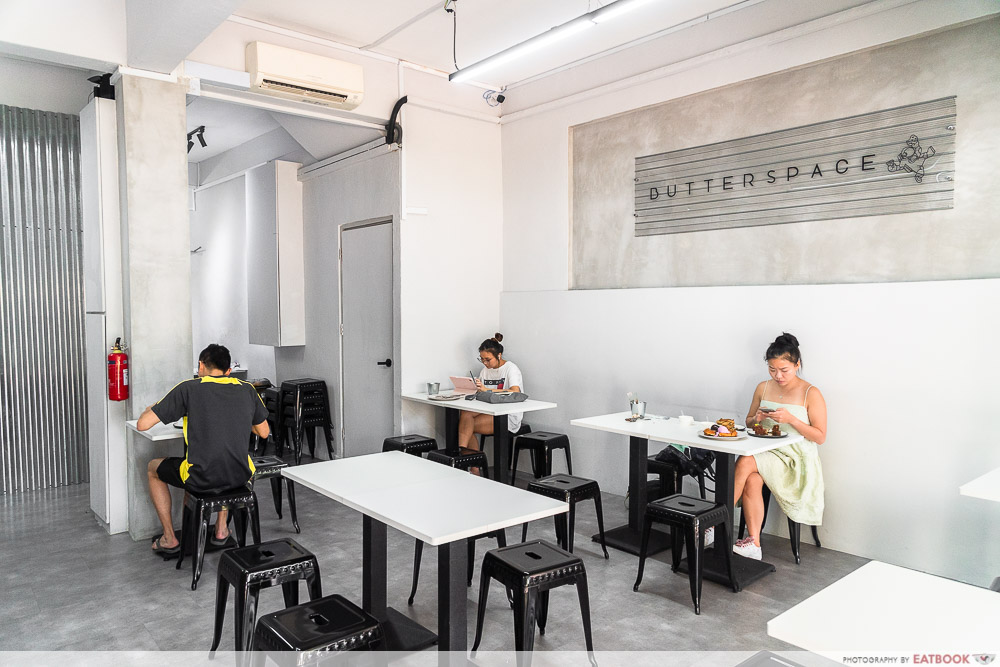 Butterspace Bakery is located a 24-minute walk from Bedok MRT Station, or 19 minutes via the bus. The decor is monochromatic black and white, with a single neon sign in the window. It's not a space you'd come to for comfortable lounging, but the air conditioning and cold, sweet treats are a definite plus in Singapore's tropical heat. There are both indoor and outdoor seats available, so you do have a choice.
Burnt Cones Has Free Ice Cream On 22 October At New Marina Bay Outlet
The verdict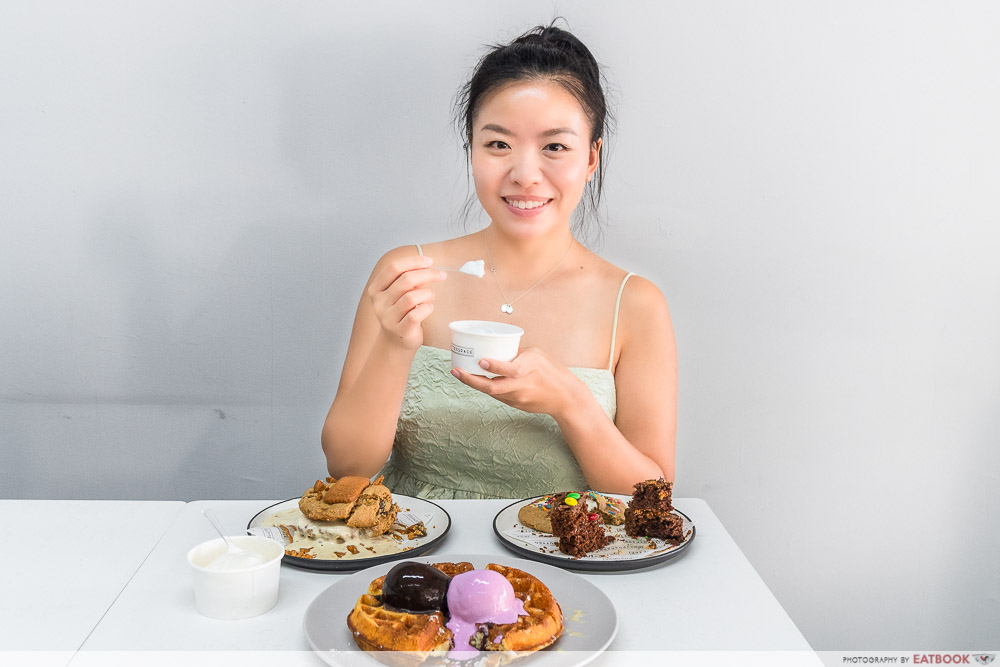 With everything on the menu, except a pint of brownies, costing under $10, it's not a tall task to dial up a friend and spend a couple hours here over cookies and ice cream. While the seats are not the comfiest, that's a small downside to get over. With a weekly updated selection of ice creams, and constant fresh bakes, it's easy to see how Butterspace Bakery can enjoy repute as a popular hangout in the neighbourhood.
In more ice cream news, Burnt Cones has opened a new outlet in Marina Bay, while Creamier is set to expand to Punggol by the end of 2021.
Address: 55 Chai Chee Drive, #01-198, Singapore 460055
Opening hours: Daily 12pm to 2am
Tel: 9850 7754
Website
Butterspace Bakery is not a halal-certified eatery.
Creamier To Open In Punggol By End-2021, Their Fourth Outlet In Singapore
Photos taken by Chew Yi En.
This was an independent review by Eatbook.sg
Butterspace Bakery Review: Ice Cream Cookie Sandwich And More In Bedok, Open Till 2AM Daily
Butterspace Bakery Review: Ice Cream Sandwich Cookie And More In Bedok, Open Till 2AM Daily -

7/10
Summary
Pros
– Milk & Honey ice cream was interesting and balanced
– Open till 2am daily
– Prices are affordable
Cons
– Brownie was too cakey
– Cookie Sandwich was a little inconvenient to eat
Recommended dishes: Milk & Honey ($3.50), Waffles + Ice Cream ($7.50), Horlicks ($3.50)
Opening hours: Daily 12pm to 2am
Address: 55 Chai Chee Drive, #01-198, Singapore 460055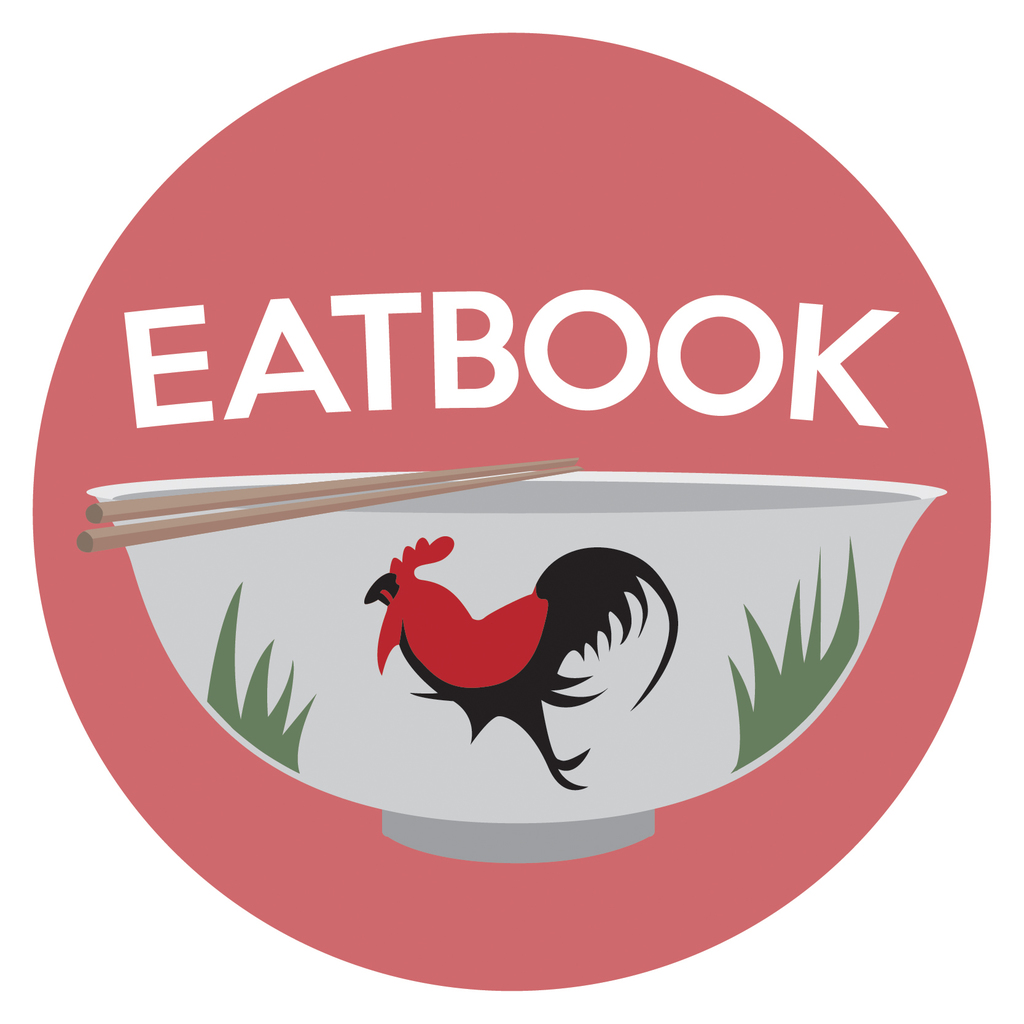 Drop us your email so you won't miss the latest news.