Blue Willow is a new Avatar-themed cafe in the West
[Update: Blue Willow has been rebranded to Fresh Fruit Lab with a new interior and menu]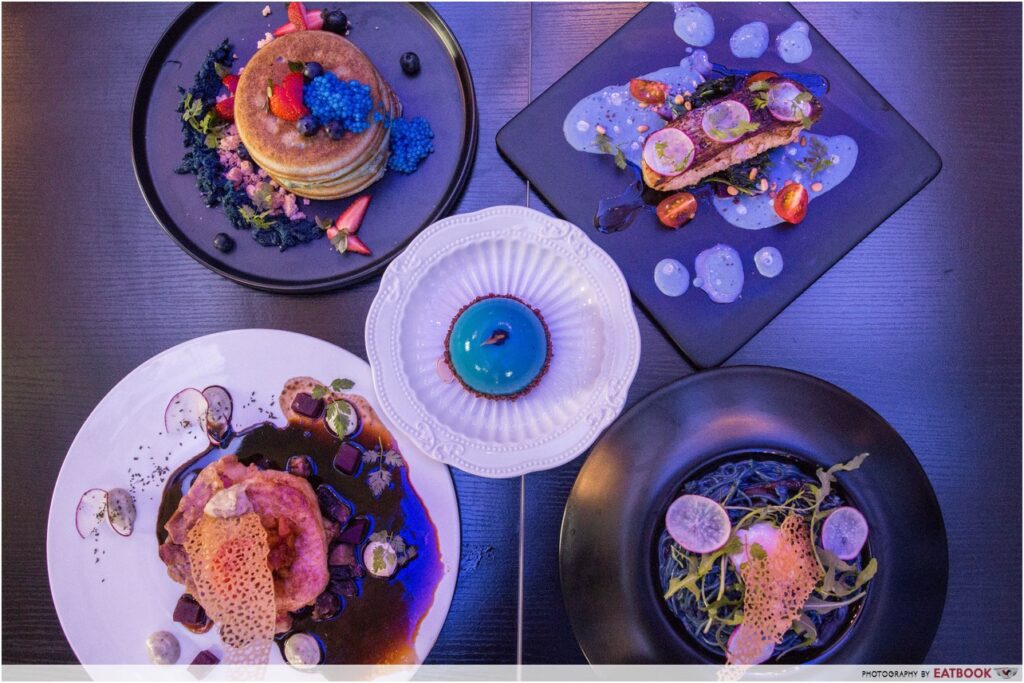 Watching movies, to me, is entrusting my emotions to a drama I expect will make me happy and hopeful at its ending. But sometimes I'm just curious how far someone's imagination can stretch. I love movies that are set in another world, letting me explore it vicariously through their characters. I've quite a goldfish memory but some good plot lines and iconic visuals stick. Those that have me mulling deeper meanings are extra satisfying, especially because the show won't quite feel like it's ended.
Themed cafes are an extension of the stories we can't let go of. In the west of Singapore along Clementi Road, an Avatar-themed cafe sprang up last week as Blue Willow quietly opened its doors. The sister cafe to Platform 1094 serves some grub that's naturally dyed with butterfly pea. Think Na'vi-blue pasta, pancakes, and cocktails. Past sunset, a Tree of Souls illuminates their backyard in blue, beckoning you to Pandora.
Food at Blue Willow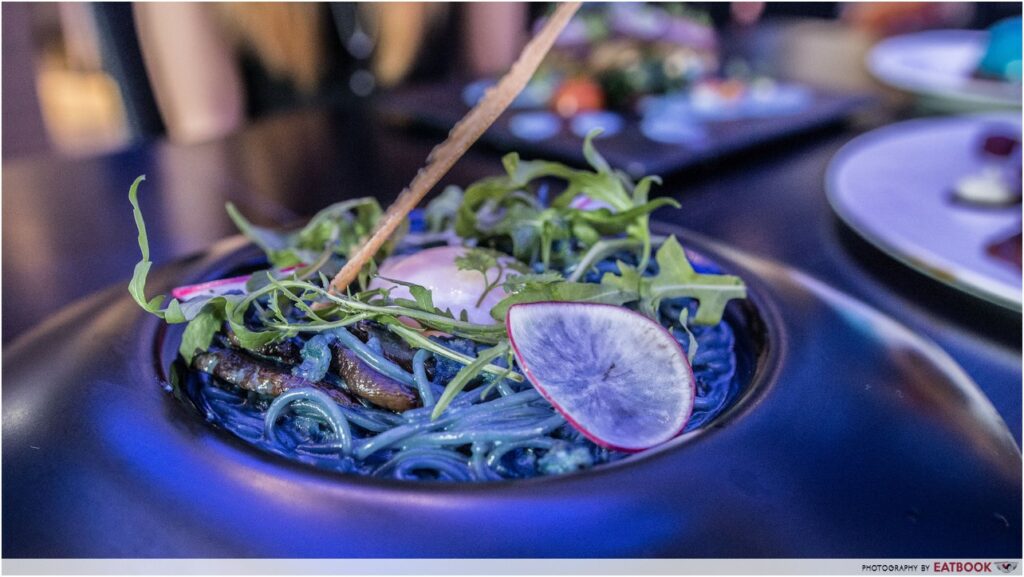 In a large round dish was Eywa Natural Blue Carbonara ($14+) that reminded me of a black flying saucer. Blue pasta filled the centre of the plate, and was garnished with a sous vide egg, thin slices of red radish, rocket leaves, and a tuile.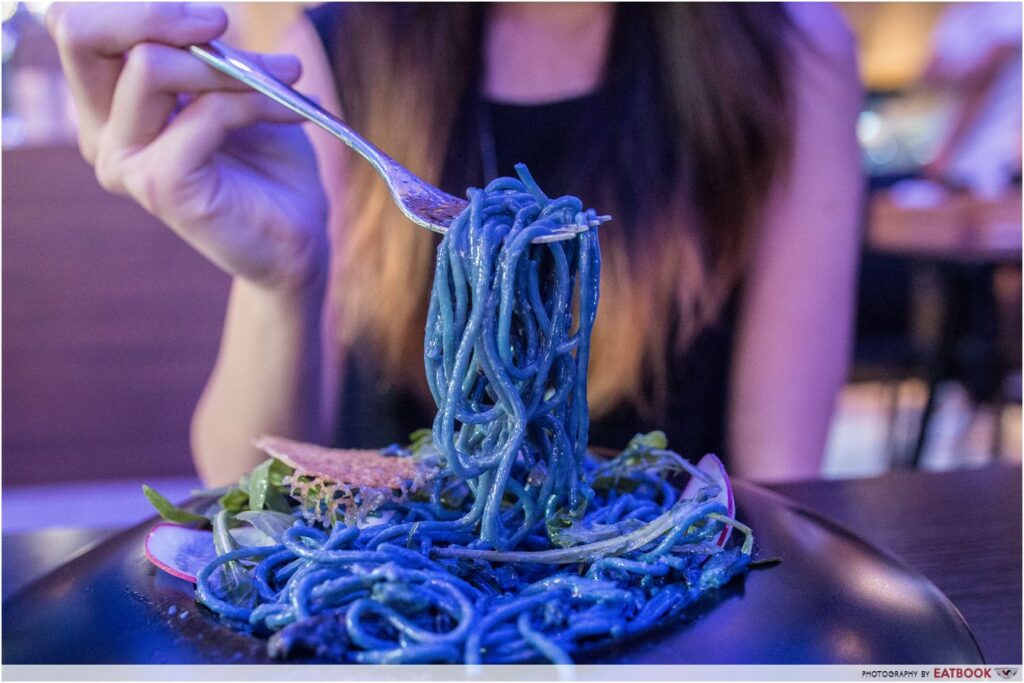 Thick cream clung to the thin strands as I twirled up a forkful of pasta, releasing a delicious scent of sauteed bacon. It was savoury without being cloying, with slices of button mushrooms adding texture and taste. The egg yolk broke and mixed into the noodles, giving it richness while the rocket leaves lifted its flavour. I was eager to scarf down this carbonara but I felt myself sink into its flavours which made me enjoy it slowly.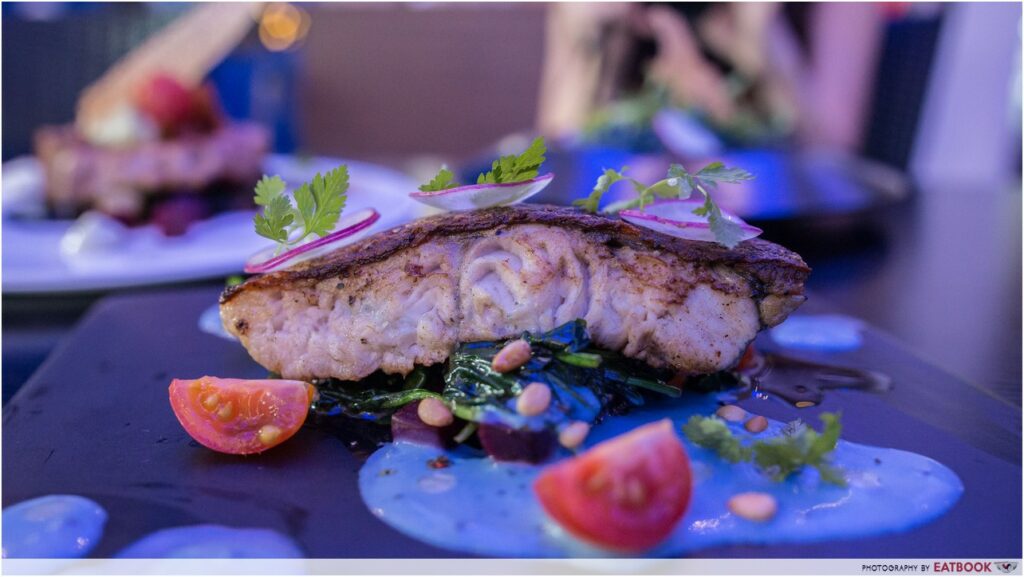 Blue Willow's Barramundi ($20+) was served on a flat square plate. A thick piece of grilled fish rested on baby spinach and two long slices of sweet purple beets. Decorating the dish were small pools of light blue mustard cream sauce, pine nuts, cherry tomatoes, and radish slices.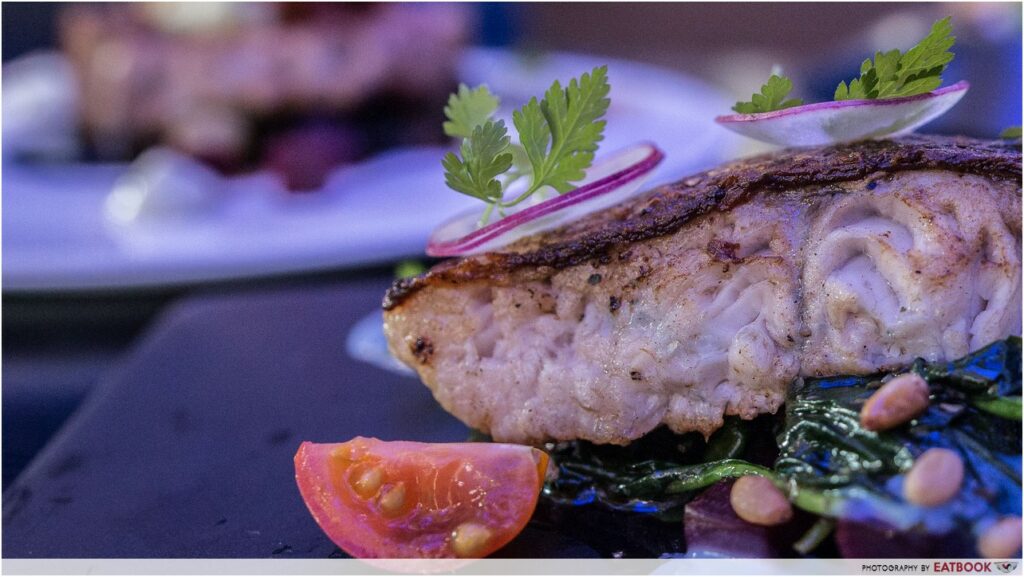 The boneless barramundi was grilled till its sides were slightly browned and its skin crackled as my knife sliced in. It was firm, moist, and meaty with large flakes, making it a solid protein meal. Its mild seasoning easily gave way to its naturally savoury taste which flavoured most of the meal.
I picked up some of the baby spinach that were neatly packed under it. It had a strong taste of garlic and notes of black pepper that the barramundi balanced out. The blue sauce was unexpectedly mild but I won't complain since the fish and greens made the meal feel complete. Plus it didn't lack texture with pine nuts and radish adding crunch.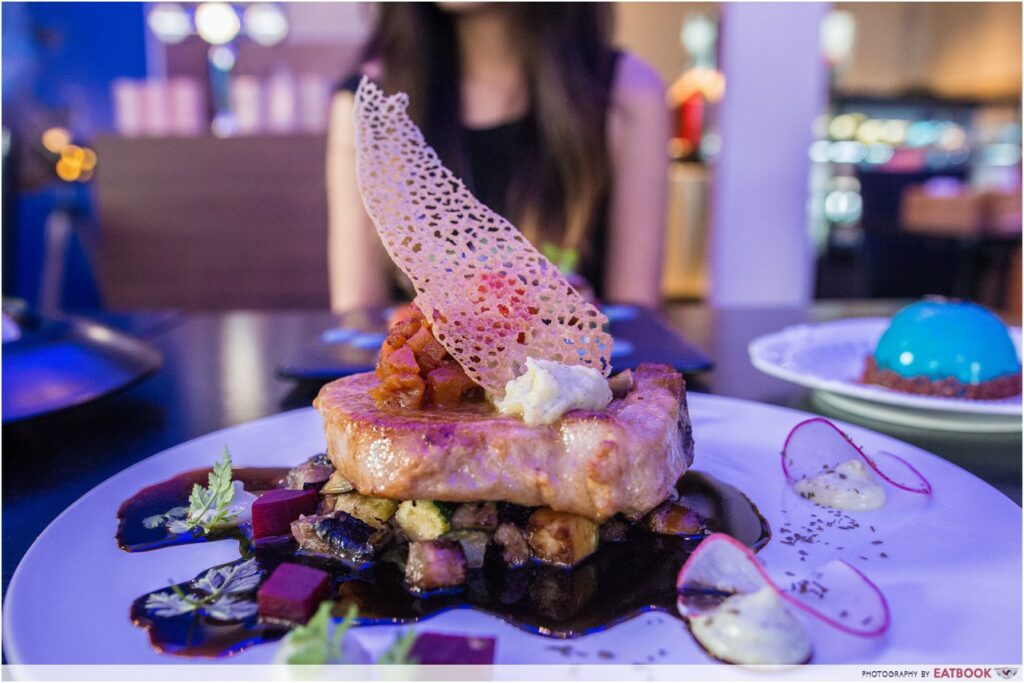 I can't help but praise their best-selling Grilled Pork Loin ($16+) for being beautiful. A thick round of meat was elegantly arranged to sit on a bed of chopped vegetables. It had dark sauce underneath and was topped with chunky apple chutney, a peeled cherry tomato, eggplant pesto mashed potato, and finished with a tuile. Dollops of pesto mayo sauce, squares of purple beets, and thin slices of radish surrounded it.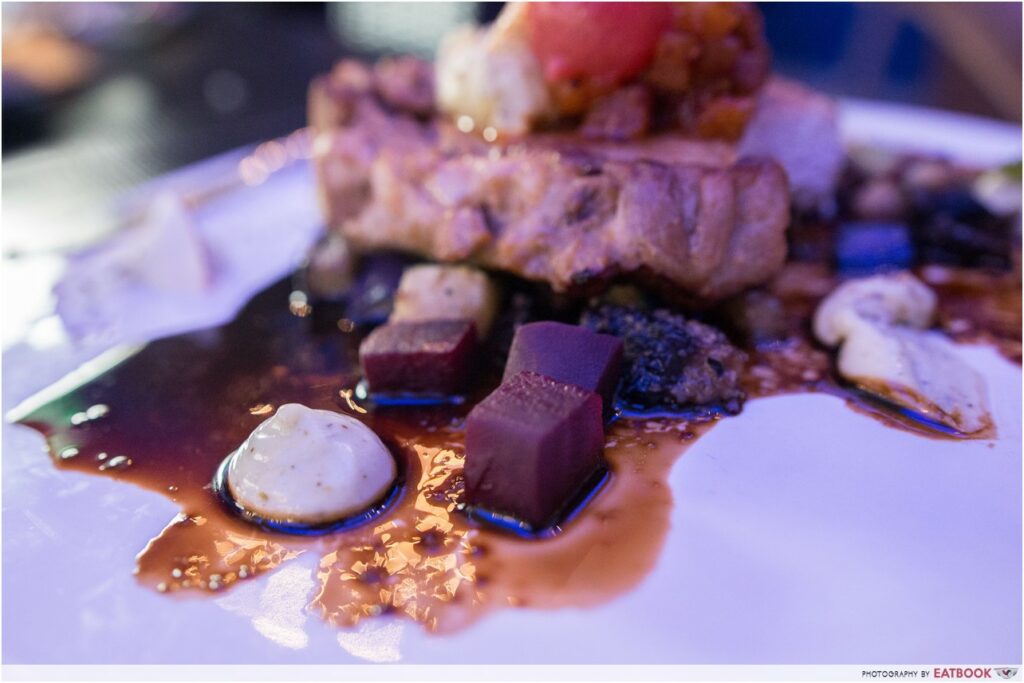 All the food we were served tempted me with their aromas but this excited me most. I smelled it before I saw it. The meaty chunk was quite lean with a strong flavour, making it the heaviest meal we tried. It was chewy without being overdone and tough. I liked the pesto flavour in the mashed potato and the soft and crunchy mushrooms and zucchini underneath. The house-made sauce was interesting to figure out and thick sweet black sauce — like the one in fried carrot cake — was one of its ingredients.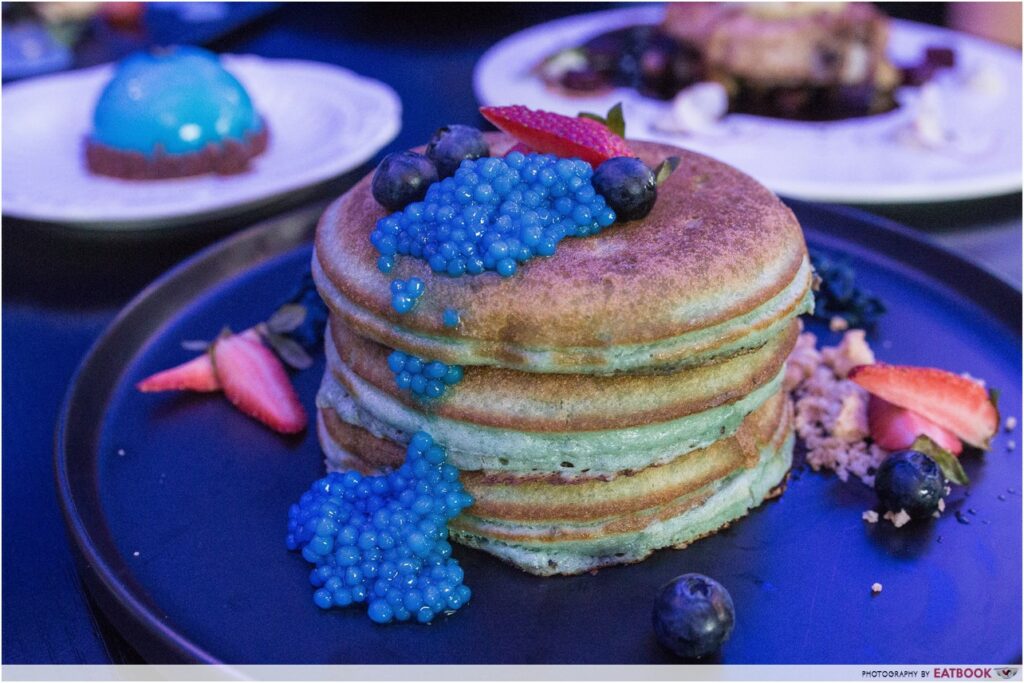 Blue Willow has a weekend brunch menu you can catch before 3pm and Neytiri's Blue Pancake Stack ($14+) makes an Instagrammable choice. Three thick and blue pancakes were embellished with blue maple sago, blueberries, butterfly pea, strawberries, and crumbles.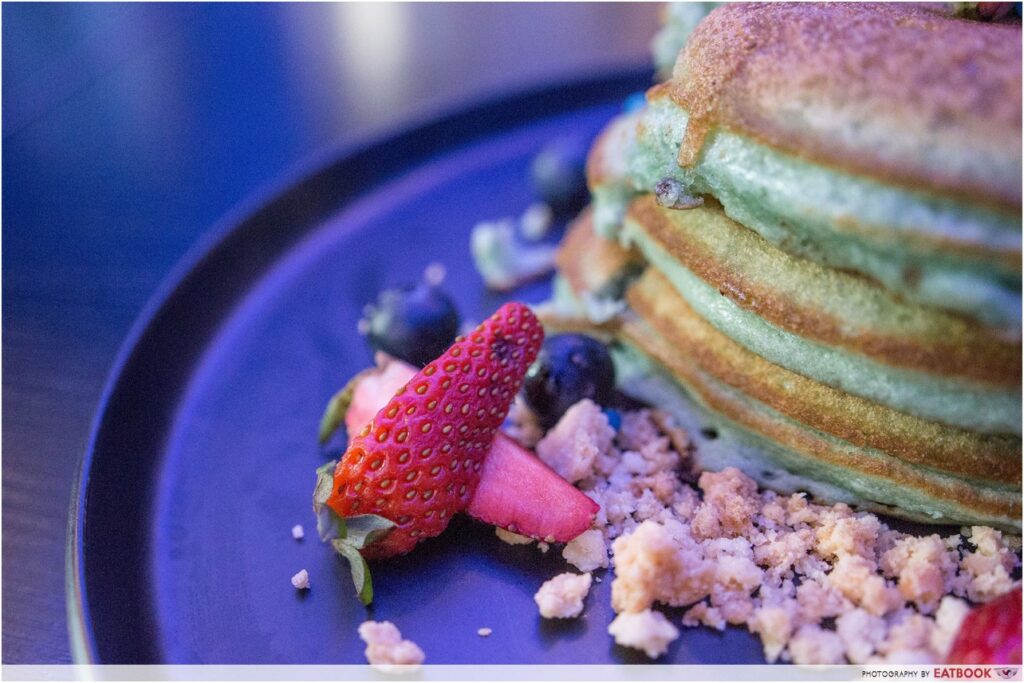 My knife easily sliced through the fluffy pieces which were cooked till brown. Though the fruits weren't sweet, maple syrup from the sago soaked into them. the crumbles were dry and tasted like sweet cookie bits. The barramundi and pork loin aren't available during weekend brunch hours but these pretty pancakes make a great start to a slow Saturday or Sunday.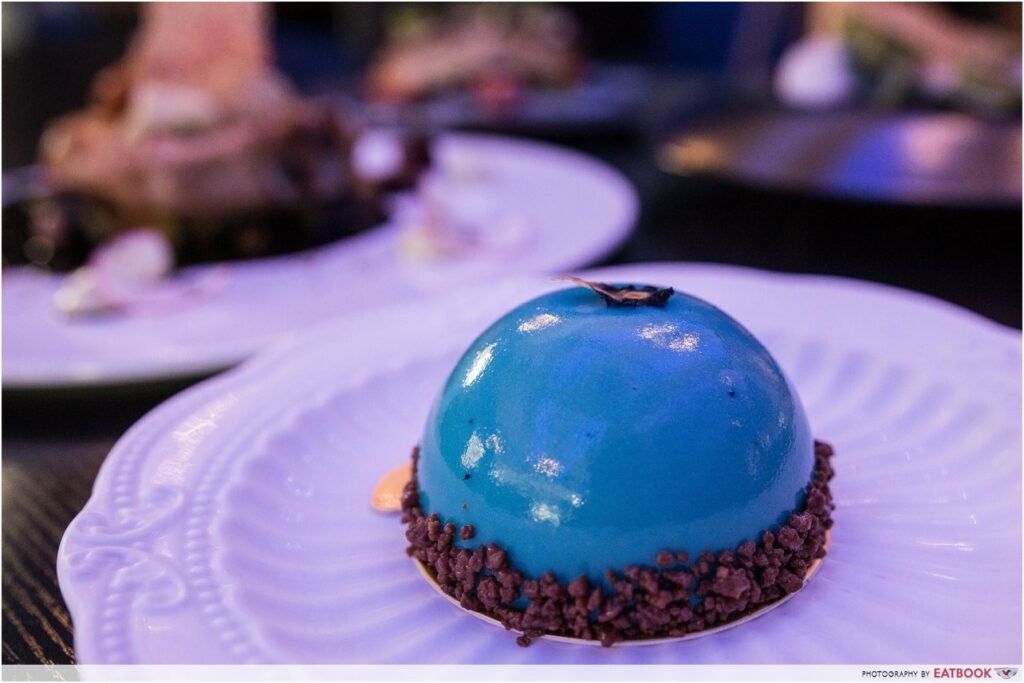 Tea by Lupica ($7.50+) is a dome-shaped cake that's made with Japanese tea. It was filled with mousse and cake layers that didn't leave a cloying aftertaste. The bottom of its blue shell was embellished with brown bits. Stop reading here if you want to be surprised! They popped with sweetness in my mouth when I crunched down.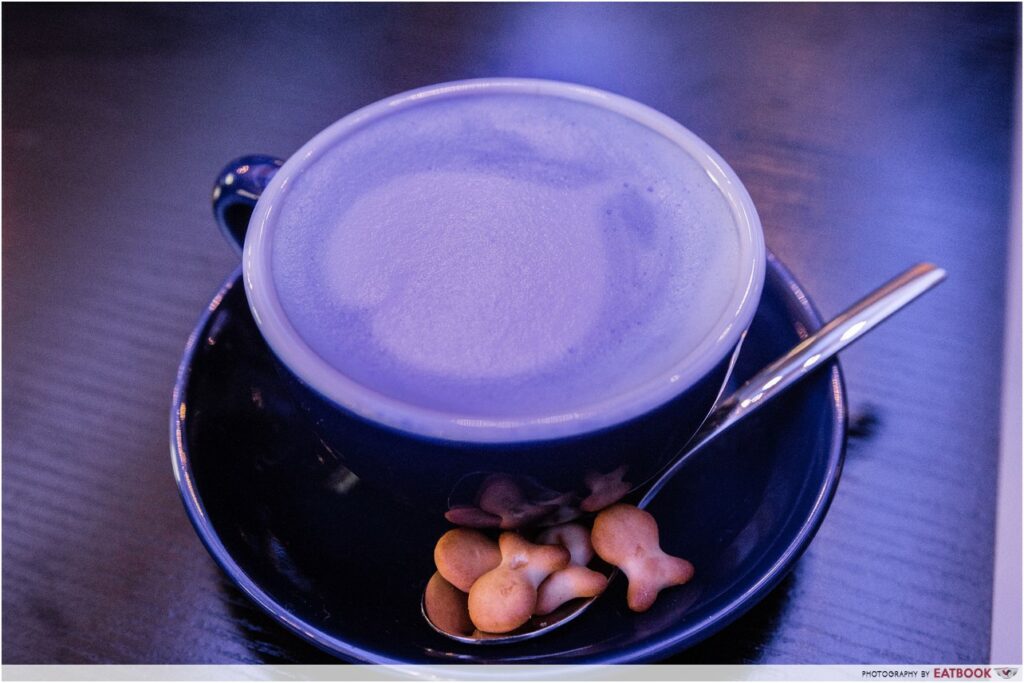 A good drink for children is Blue Flower Latte ($6+) which comes with goldfish crackers on the side. Latte directly translates to milk in Italian so this cuppa has no coffee. It has thin and frothy warm milk that easily washed down the sweet food.
If don't know of blue wine yet, get in on the viral international trend while surprising your date at Blue Willow come Christmas. It's a sweet alcohol from Spain made cobalt-blue with grape skin, but it hasn't debuted in Asia after hitting U.S. shelves in August.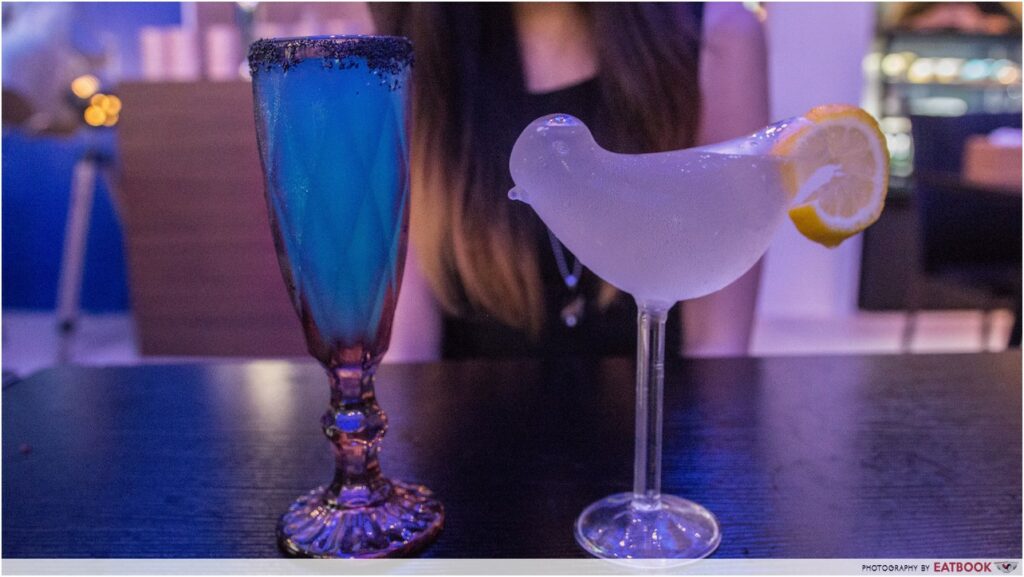 Meanwhile, there are aesthetic cocktails like Osmanthus Elixir ($15+) in a cute bird-shaped glass. It's a strong gin and tonic with osmanthus and citrus notes. I preferred The Last Shadow ($15+) though which was Blue Lagoon and pink grapefruit sweetened with soda.
I usually rather have mocktails when eating lest I get carried away and drunk with a belly of food. Blood of Navi ($11+) was a fragrant chai tea with blood orange, that was infused with the aromas of cinnamon sticks, star anise, and cloves. Potion of Pandora ($10+) was purple and yellow with butterfly pea tea, elderflower, plus a hint of lime juice.
Ambience at Blue Willow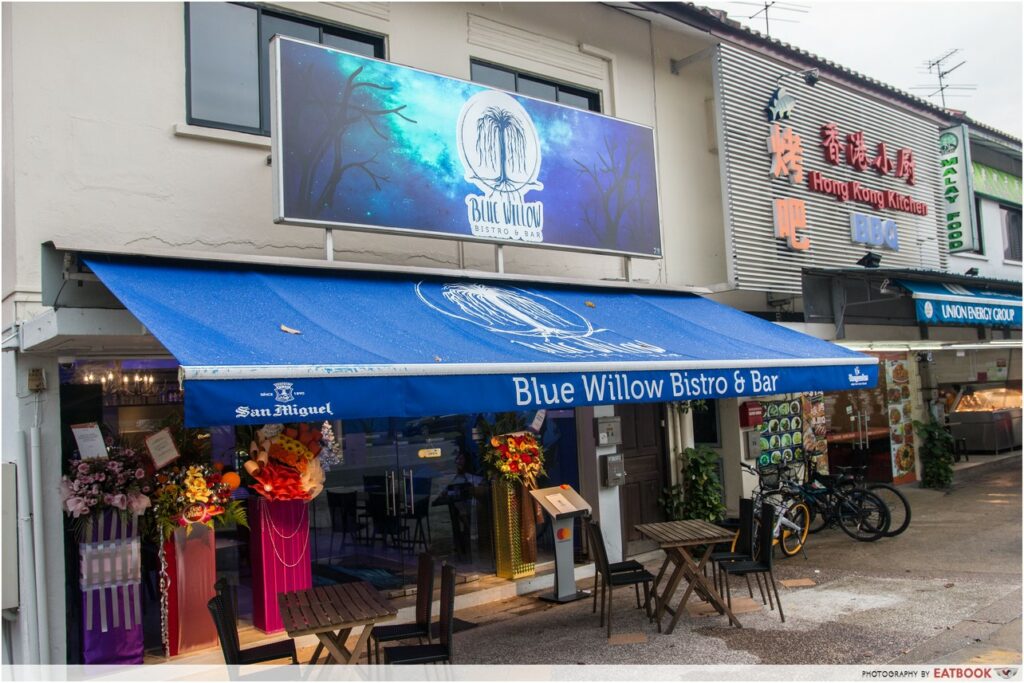 Blue Willow is near NUS but it's in a part of the West that most would have to deliberately make a trip to visit. It can seat about 70 customers and there are children's chairs available.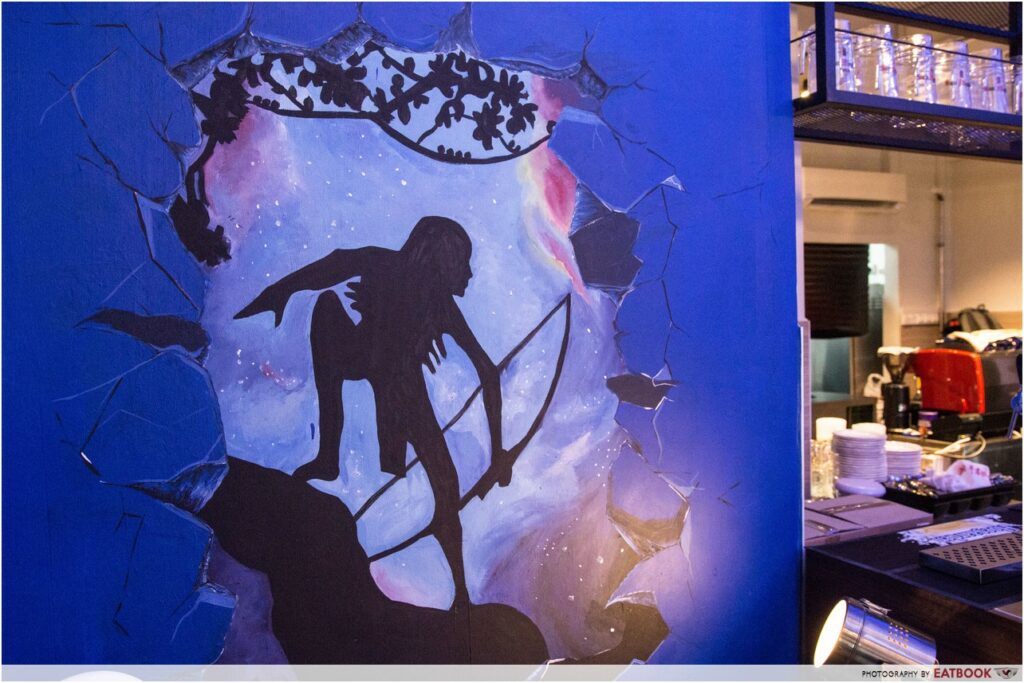 Murals are painted on the walls and one even greets you on the floor as you step in past their main door. Golden antler-shaped chandeliers helped balance out the blue walls with warm lighting.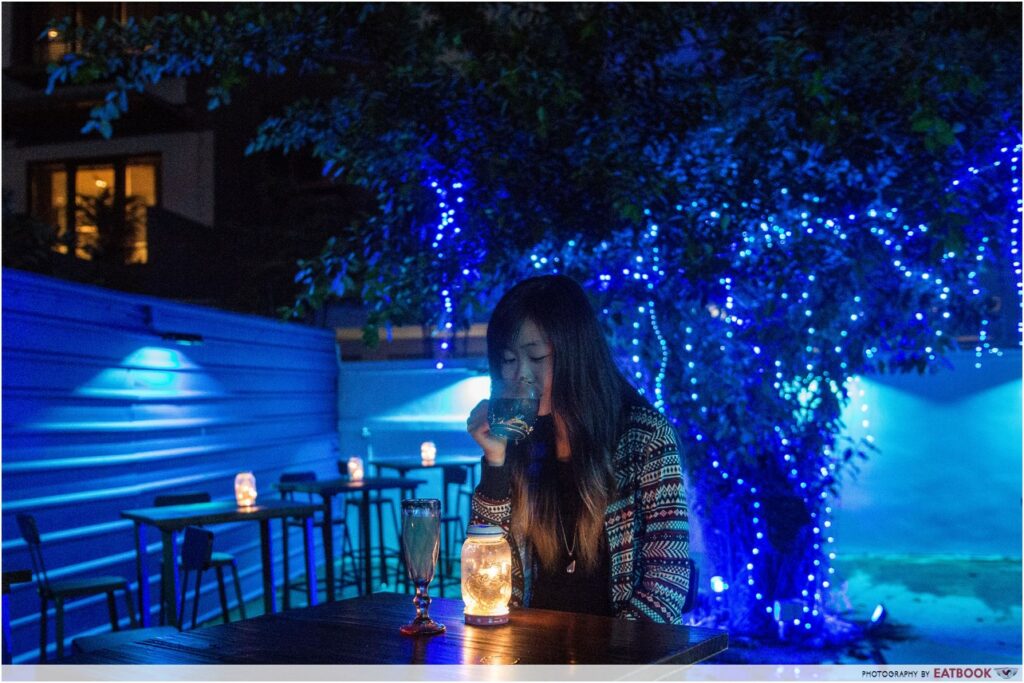 Inside, a glass door leads to their backyard which is the most mesmerising part of the cafe when the sky gets dark. A short tree strewn with blue fairy lights spread a blue hue across the outdoor section. Tables for two were perfect for dates with tall bar chairs, and each had a fairy light jar that would cast a soft warm glow on your partner's face. In case you miss it when you're there, the caps of the jars are replaced with buzzers to call for staff.
The verdict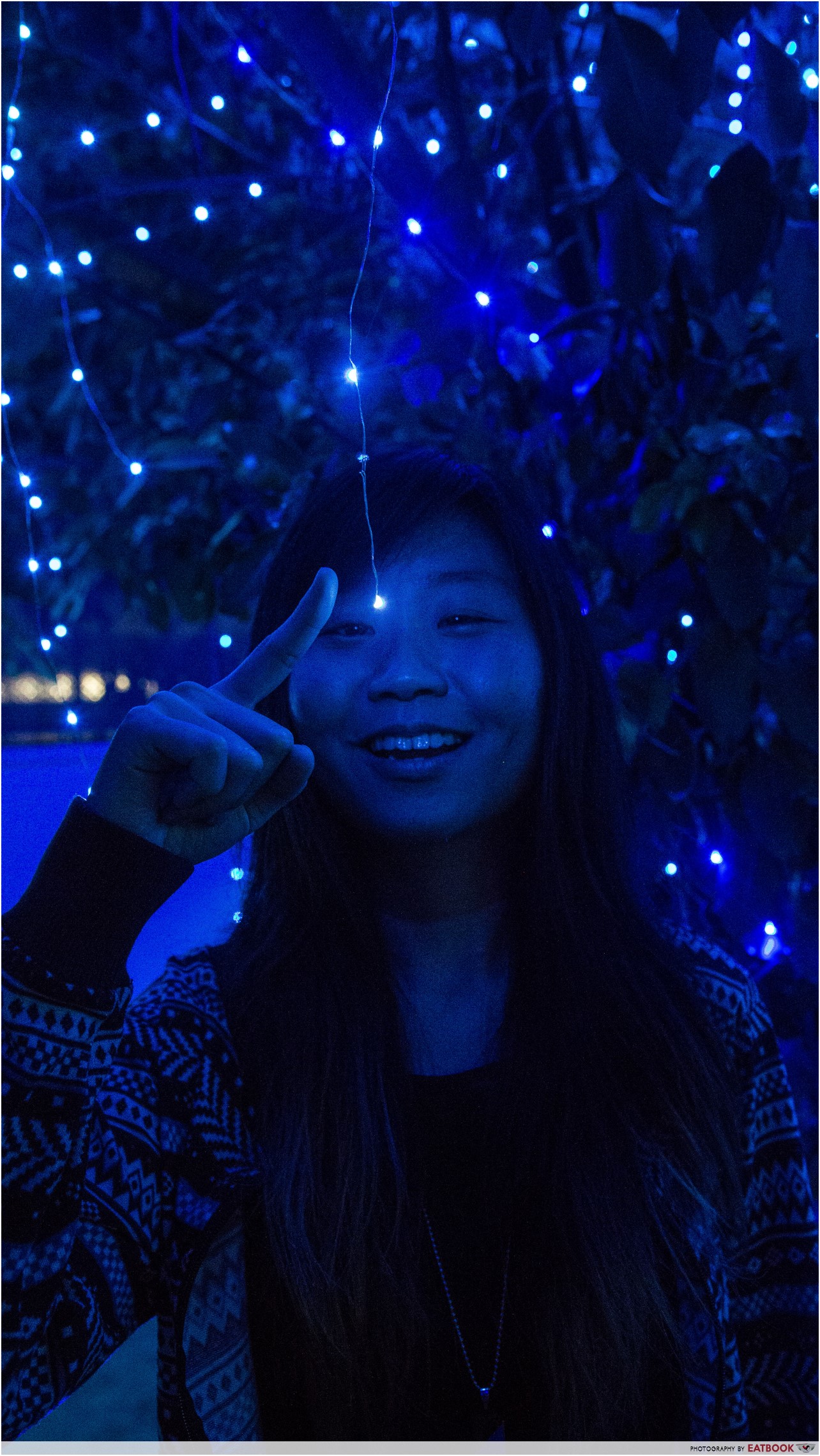 There's no lack of dining options in Singapore but Blue Willow stands out for its blue food in a way that helps with Monday blues. This place didn't immediately strike me with the thought of Avatar when I first entered, but the dishes were so toothsome and aesthetic without being too pricey. The Avatar-theme may not be very prominent but the place did immerse me in a romantic realm once the Tree of Souls lit up the backyard. If you love dining at gorgeous themed cafes, check out Enchanted, which has a fairy tale theme, or this list of film- and tv-themed cafes!
Address: 28 Clementi Road, Singapore 129754
Opening hours: Tue-Fri 12pm to 12am, Sat-Sun 11am to 12am
Tel: 6803 7472
Website
This was a media tasting at Blue Willow.
Summary
Pros
– Food is Instagrammable and tasty
– Romantic backyard ambience after sunset
– Unique experience
– Variety of themed and blue menu choices
Cons
– Inconvenient location
– Lack of ambience before sun sets
– No props
Recommended Dishes: Eywa Natural Blue Carbonara ($14+), Grilled Pork Loin ($16+), Neytiri's Blue Pancake Stack ($14+), The Last Shadow ($15+)
Operating Hours:
Tue-Fri 12pm to 12am, Sat-Sun 11am to 12am
Address: 28 Clementi Road, Singapore 129754