Enchanted cafe is where to go to up your Instagram game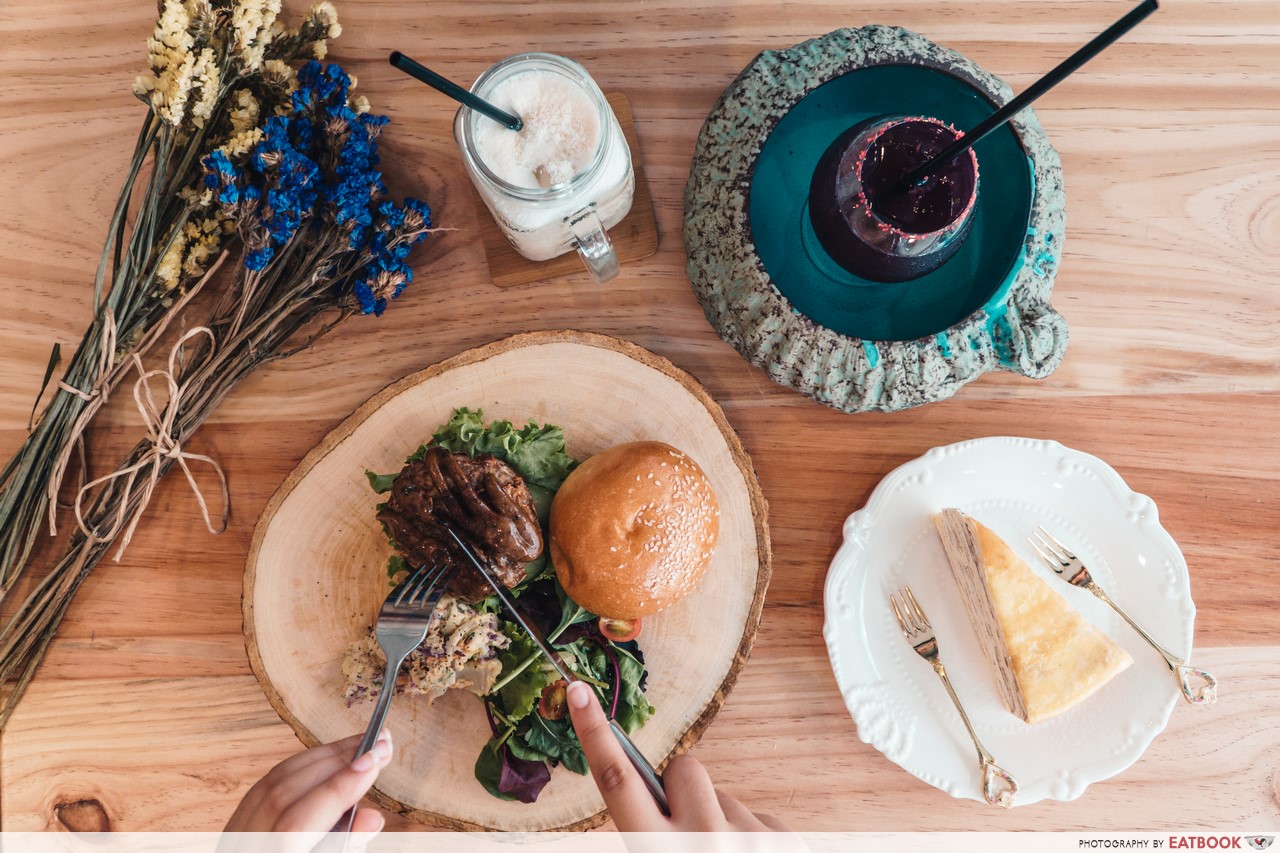 Nowhere as twisted or complicated as the movie, Enchanted at Rangoon Road is a treasure trove of picturesque details and wonderfully curated food. Coupled with a cosy ambience and friendly staff, the Giselle in you isn't going to end up poisoned by the promise of a happily-ever-after here.
Already being a fan of cafe grub, I was pleasantly surprised by Enchanted's take on common cafe foods. Combining elements of Singaporean food into many of its dishes to take them up a notch, this relatively new cafe also has a range of delectable desserts and drinks.
Food at Enchanted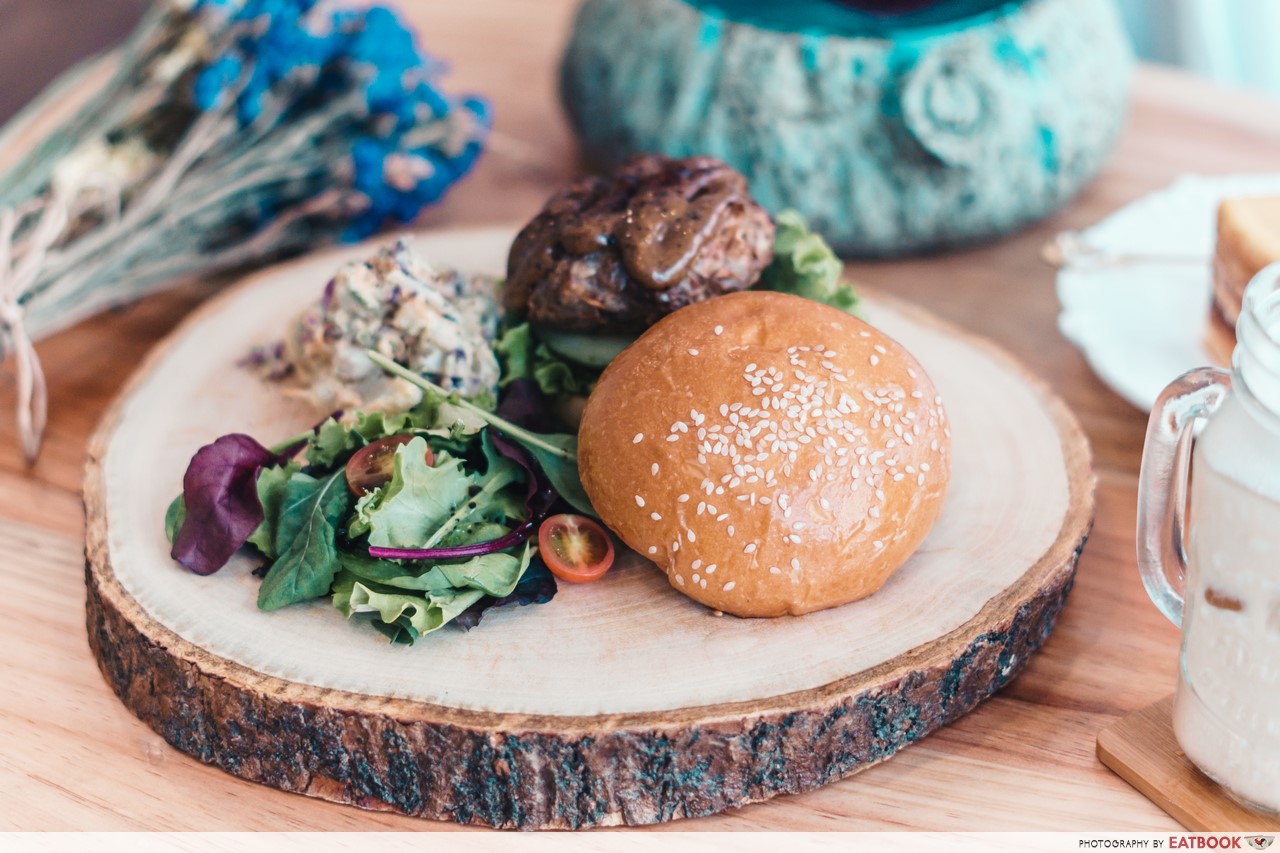 Ngoh Hiang Burger ($18.90) is a twist on the classic ngoh hiang. Instead of being tubular in shape, this tender pork patty was marinated in five-spice seasoning and mixed with chunks of water chestnut before being compacted. The water chestnut added a crunchy texture to the otherwise soft patty.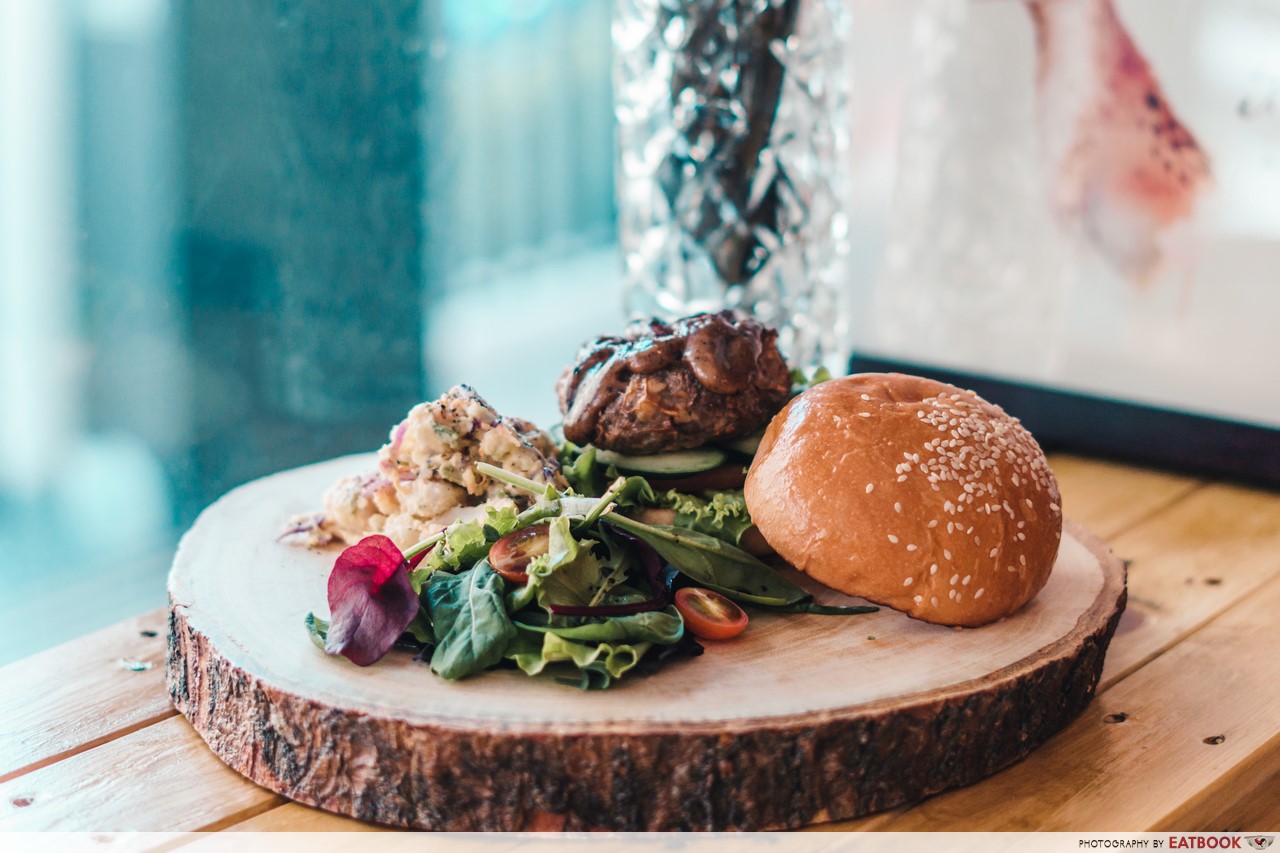 The cooked patty was then encased in bean curd skin, as ngoh hiang traditionally is, before being topped with a black garlic sauce. Perhaps it was because we left it out for too long before consuming it, but the taste of ngoh hiang was slightly overpowered by the black garlic sauce – although this wasn't necessarily a bad thing.
Slightly tangy and with an earthy richness, the sauce complimented the burger very well. There were also slices of cucumber and tomato in the burger, which added a cooling, refreshing crunch to the entire thing. Their buns, made in-house, were well-buttered and grilled, and reminded me of brioche buns.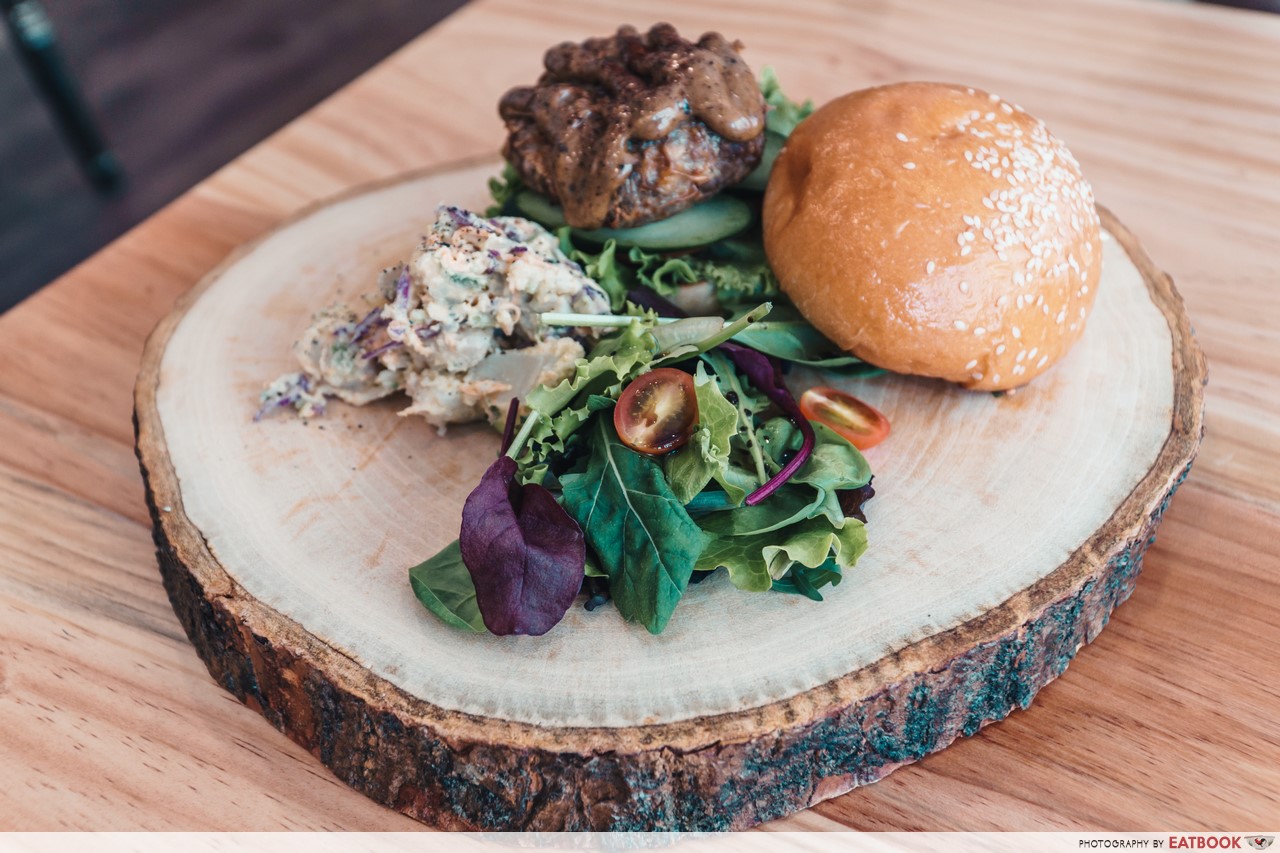 The burger came with a potato salad that included julienned cabbage and carrots, as well as a fresh salad with cherry tomatoes. Both were refreshing as palate cleansers in-between devouring the burger. Overall, this burger was a hit. The staff also recommended pairing the burger with scrambled eggs, so be sure to give that a go when you head down!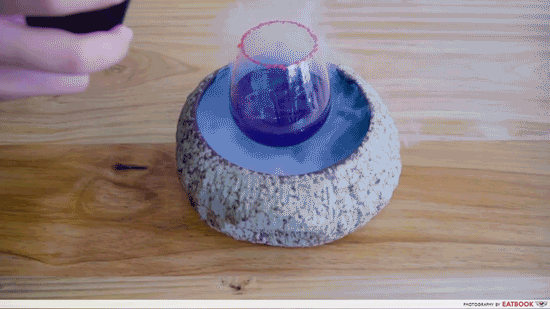 To wash down the burger, we ordered Sorcerer's Elixir ($9.90). Their star drink, it was one of the things we were most excited about, and the theatrics did not disappoint. A glass containing a sparkly purple drink was set down in a stone dish filled with water and dry ice, causing wispy smoke to emanate.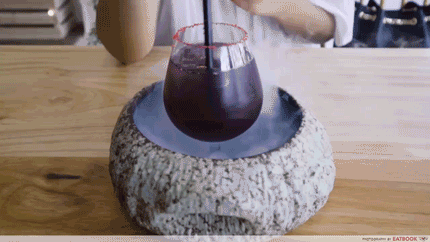 The staff then let us prepare our cameras before pouring a second drink from a small bottle into the glass. Slightly orangey in colour, this drink changed the colour of the first drink to a deep red, then a deep purple. Stirring the drink with a straw, glitter swirled around in little wisps, adding a dreamy magical effect to the show. This experience was way more entertaining than I anticipated.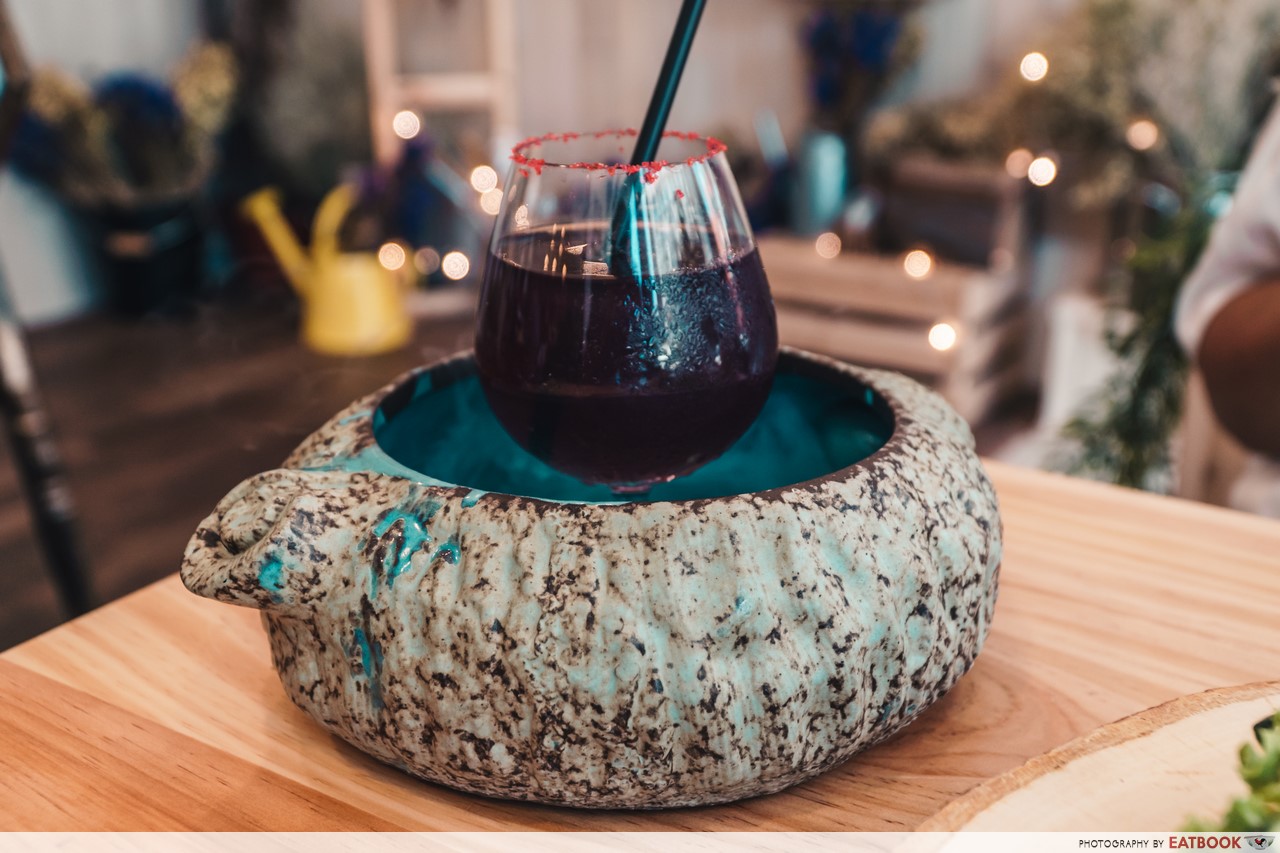 Taste-wise, it strongly resembled a sugary lychee syrup that you'll either love or run away from. I personally wasn't a big fan as it was too sweet, but if you have a sweet tooth, like my colleague, this would be a sure hit. I asked the staff what the initial purple drink was, but all she divulged was that it had floral notes, keeping the recipe a secret.
Leaving the drink out for a while, the floral notes did emerge eventually, although not very strongly. While we can't guarantee the identity of the flowery drink, we're pretty sure it's made from blue pea. This is slightly on the pricey side for a drink you may or may not enjoy, but if you're all about that Instagram life I say go for it, because the presentation and theatrics here really deserve top praise.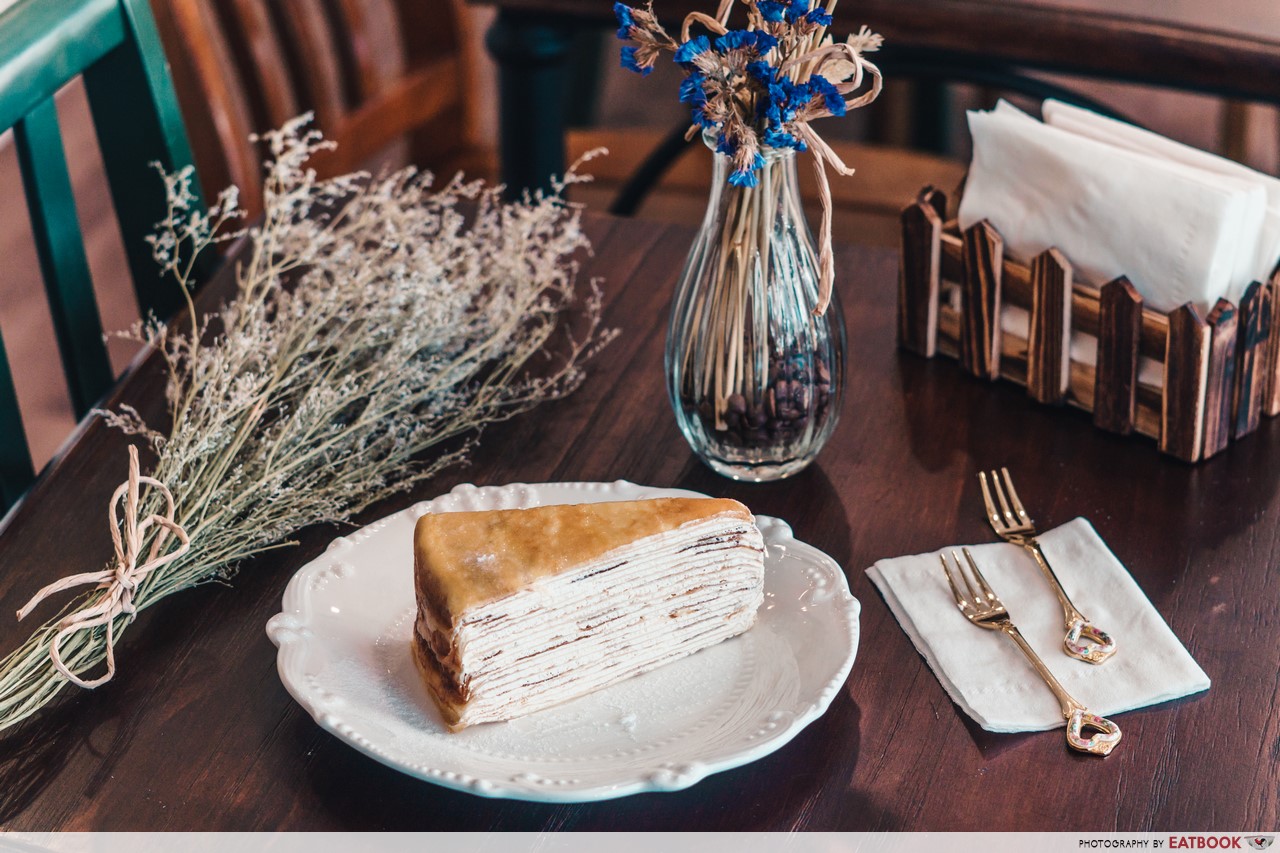 No meal is complete without dessert, and I fell in love with this French Vanilla Crepe Cake ($7.90) upon first bite. Setting the plate down on our table, the beautiful layers of crepe and cream were extremely tempting to dig right into. With slightly thicker crepe layers than in your average crepe cake, I thought this worked well with the light, milky, fresh vanilla cream.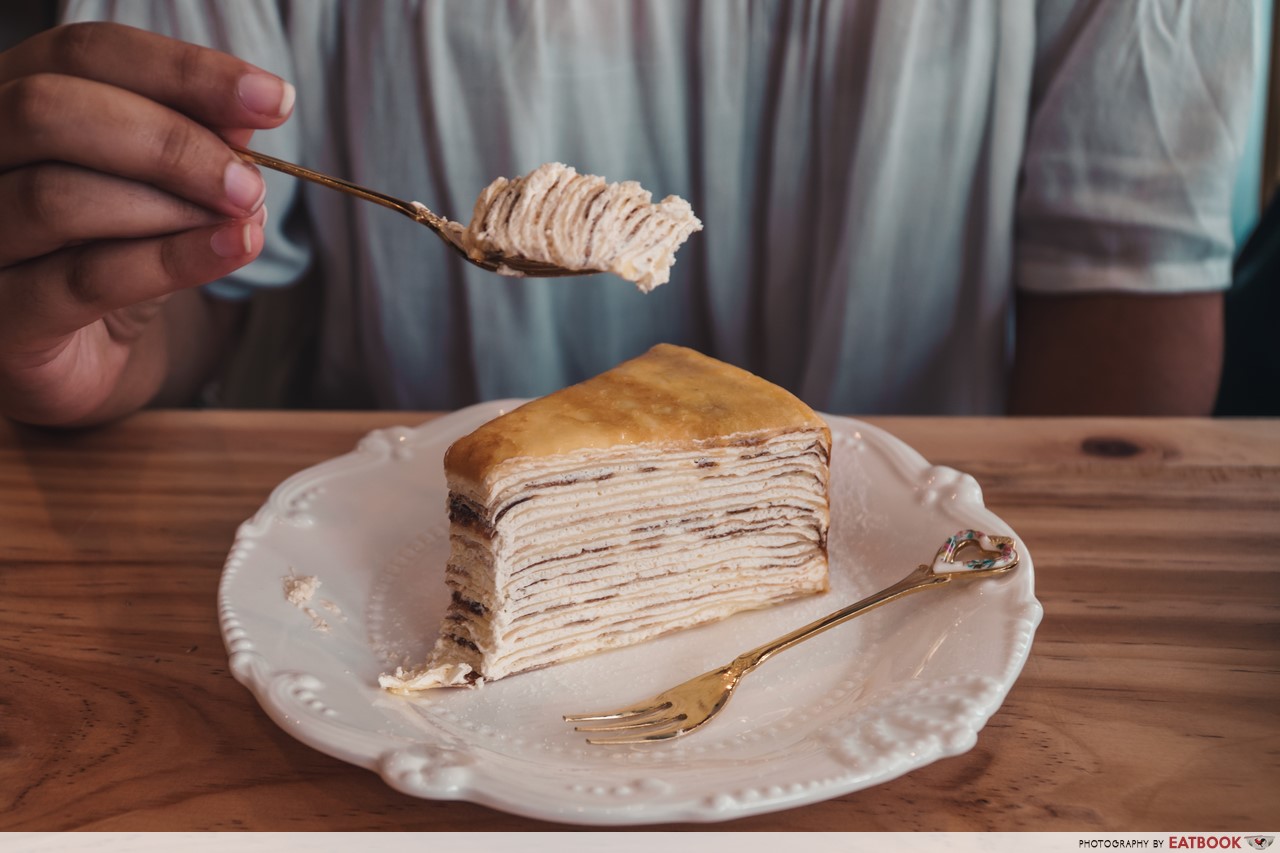 The crepes slightly resembled thin pancakes, with a fluffy interior that carried the generous slathering of light, airy cream well. Thankfully, the cream wasn't cloying, making it very hard to put that fork down. If you're a dessert nut, this cake could easily be wiped clean by a party of one.
Cake is always better with an accompanying drink, and looking through the menu, Iced Ondeh Ondeh ($6.90) from their Milky series caught my eye. Traditional ondeh ondeh contains a well-balanced combination of pandan flavour, coconut, and gula melaka, so I figured the drink, too, would contain these elements.
I asked the owner about what went into the drink, and she divulged that she boiled gula melaka down with pandan leaves into a concentrate, and added coconut milk as well as grated coconut.
The icy cold milky drink was extremely refreshing. It was very smooth, and definitely one of those drinks you'd dream about on a sunny day out. It was very milky and I found the flavour of gula melaka to be a tad too strong, making the drink slightly too sweet for my liking. It did remind me of ondeh ondeh though, or perhaps a slightly milkier version of chendol.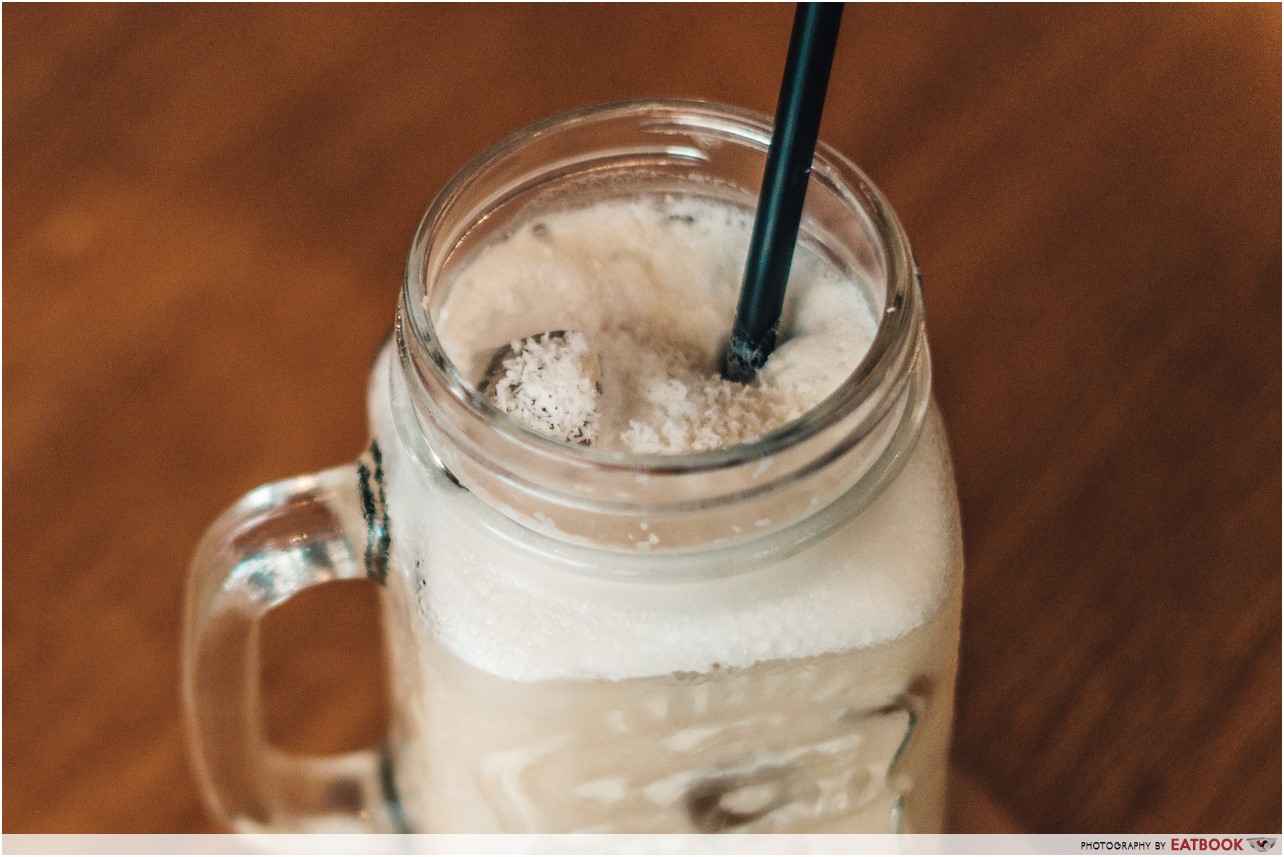 To my delight, Enchanted offered the option of adding a shot of espresso ($3) to the drink, so after a few sips, I decided to go for that. The espresso balanced out the flavours better, adding a hint of bitterness to cut through the sweetness of the gula melaka, resulting in a delightfully refreshing coconut-flavoured latte with a hint of gula melaka. This drink was my favourite item out of all.
Enchanted's concept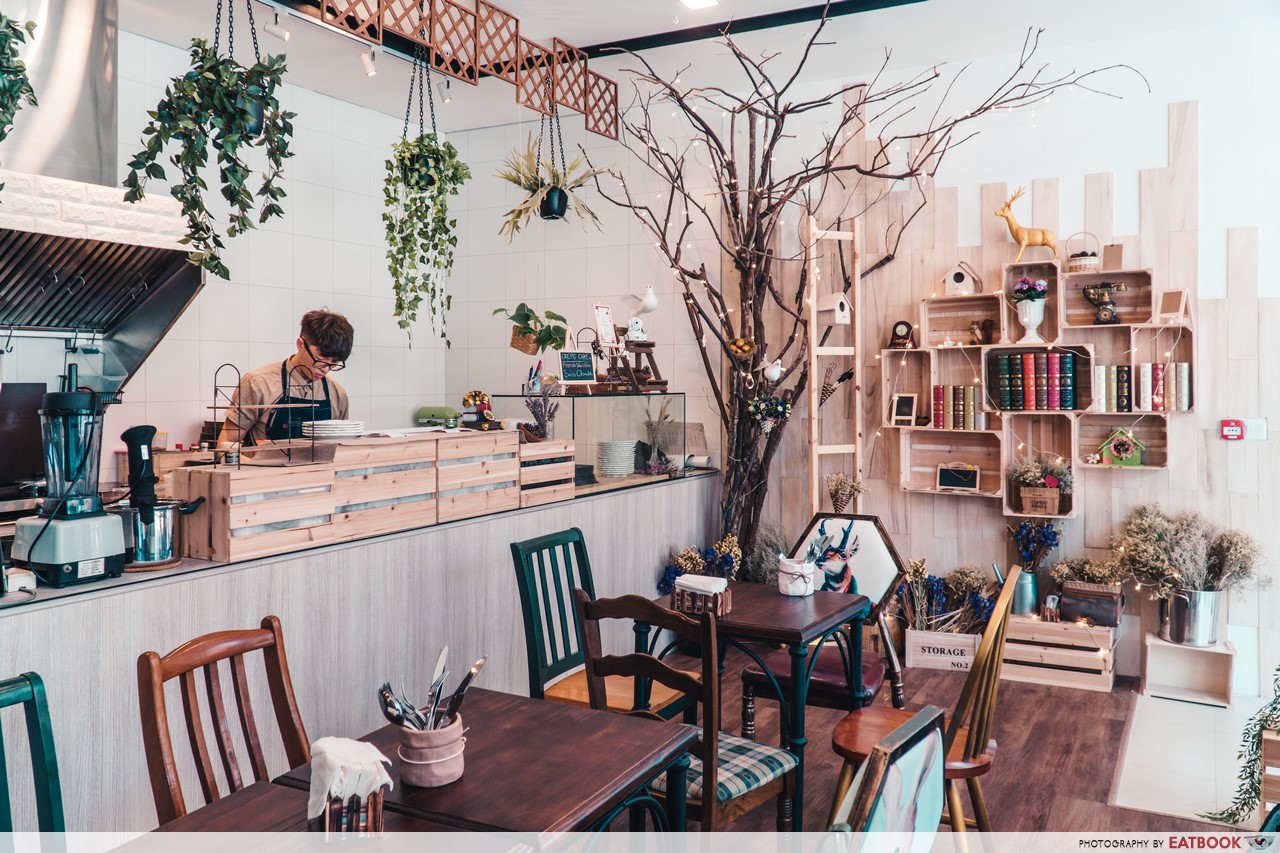 We reached the cafe at 11am, right when it opened, and were the first customers of the day. This meant that we could chat with one of the owners, who gave us some insights to the cafe's concept. With the name "Enchanted", you'd expect a whimsical menu filled with perhaps fairy tale-like items. While you won't get whimsical in that sense, the twists the owners put on their food do make them enchanting in their own right.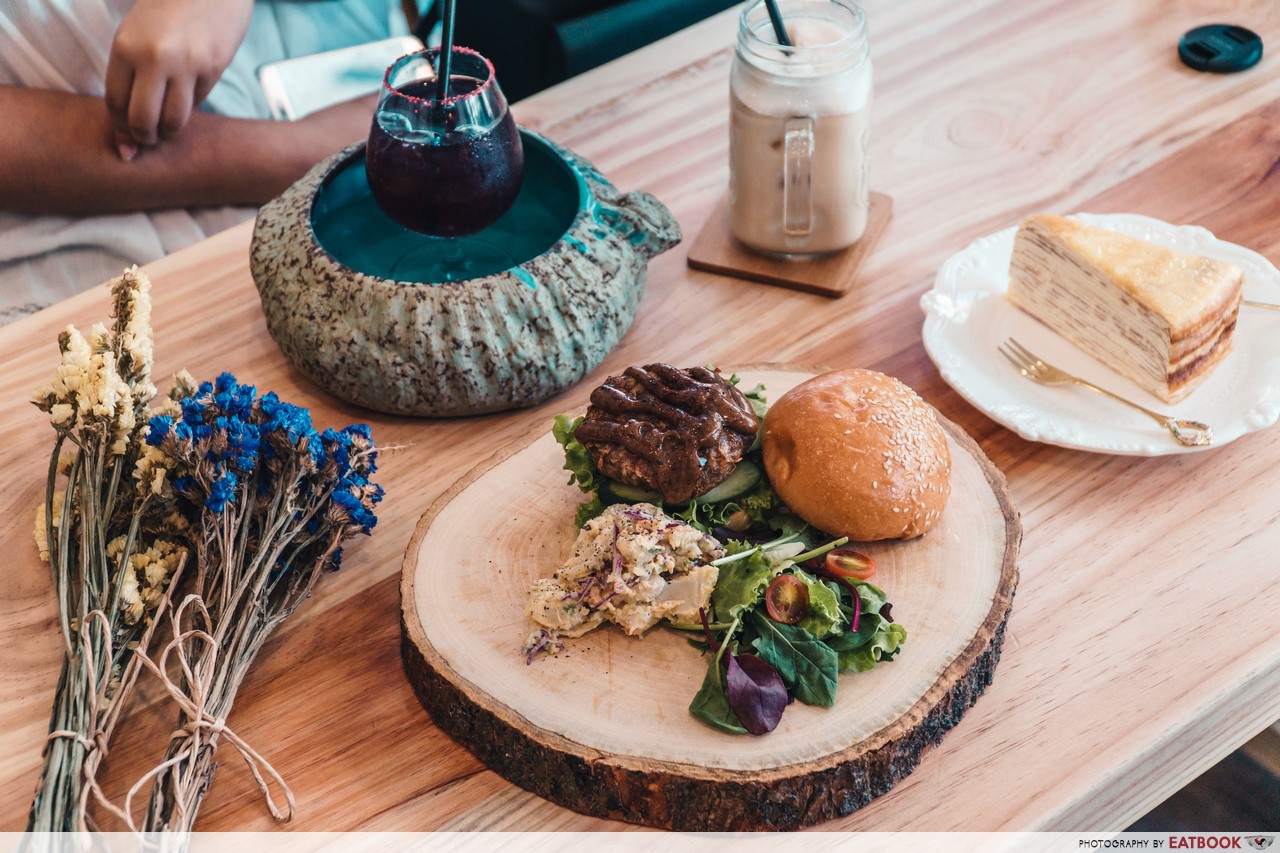 Taking their burgers as examples, the Ngoh Hiang Burger was born out of a desire to add something Singaporean into a classic Western dish. Another of their burgers is Lu Rou Burger ($17.90), which was created after one of the owners made a trip to Taiwan. Having eaten lu rou fan (braised pork belly with rice), she loved the flavours, but figured pairing pork belly with rice is too common, so she experimented with other things such as pasta before settling on putting it in a burger.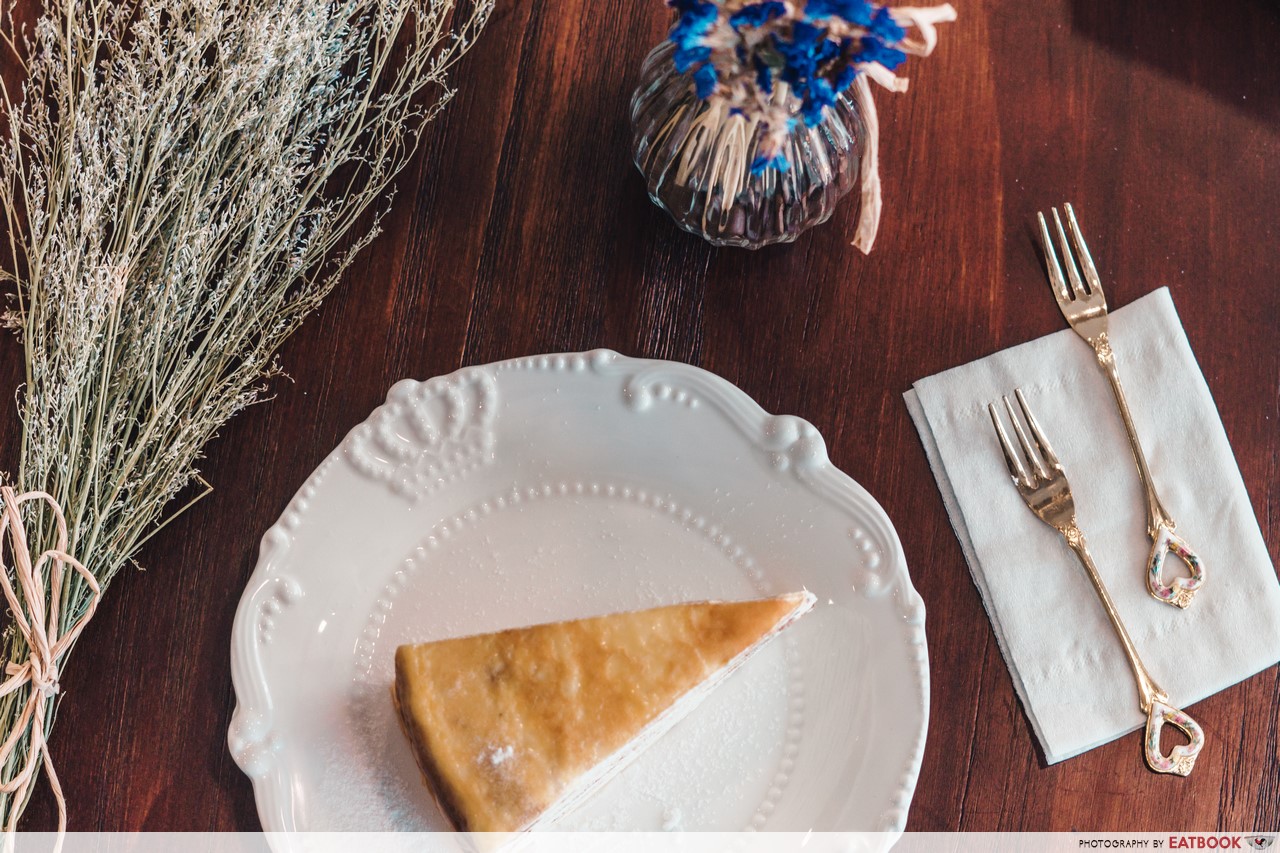 Everything else they make in-house as far as possible, from burger buns and soups, to sauces and condiments such as mayonnaise, pesto, and black garlic sauce, ensuring that everything you're consuming is as fresh as it can get.
Ambience at Enchanted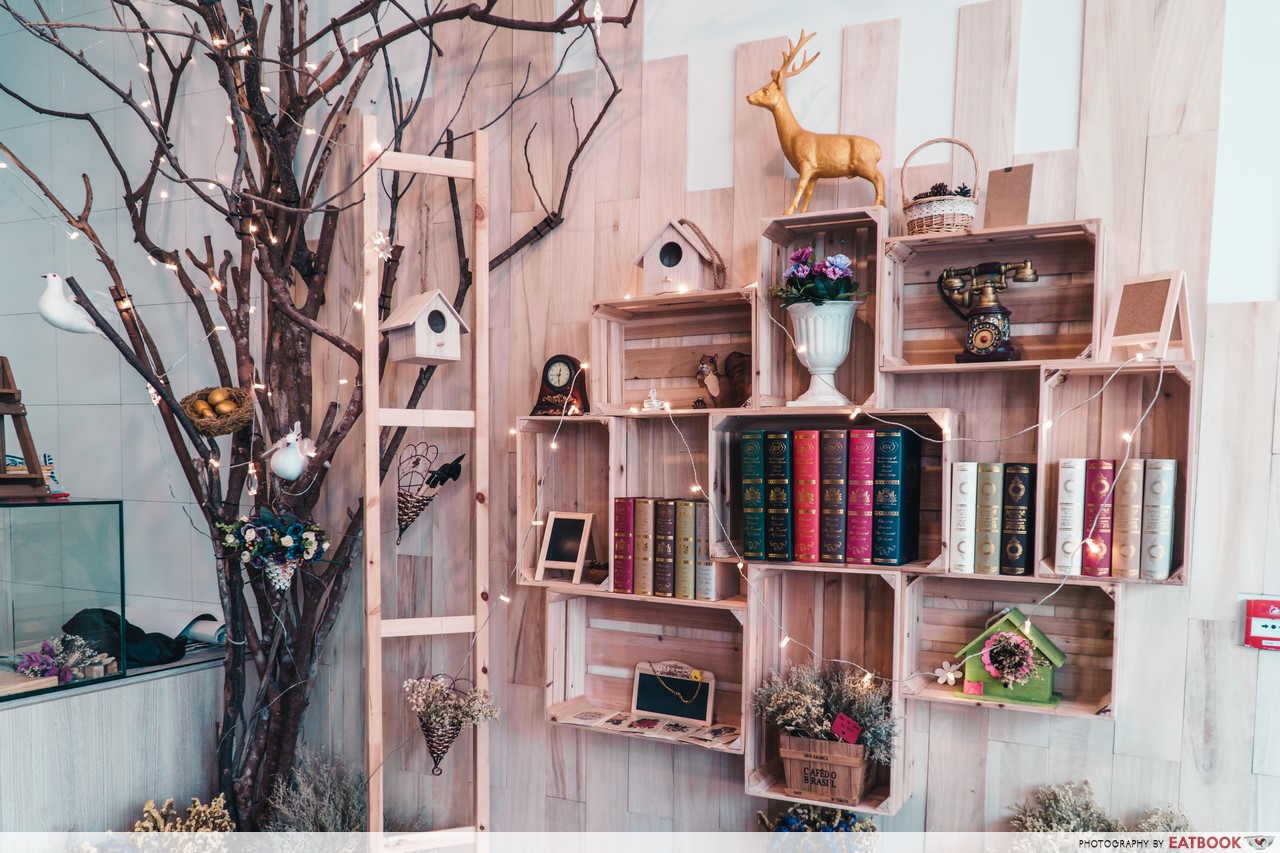 An Instagram lover's dream, the interior is beautifully decorated in a whimsical fairy tale garden theme. Large books sit on a wooden bookshelf, and bronze and brass frames surround a twig mirror on a brick wall. The interior is also speckled with vases and crates of beautiful flowers and trees. The tables and chairs were mismatched, and lended a sort of Alice in Wonderland feel to things.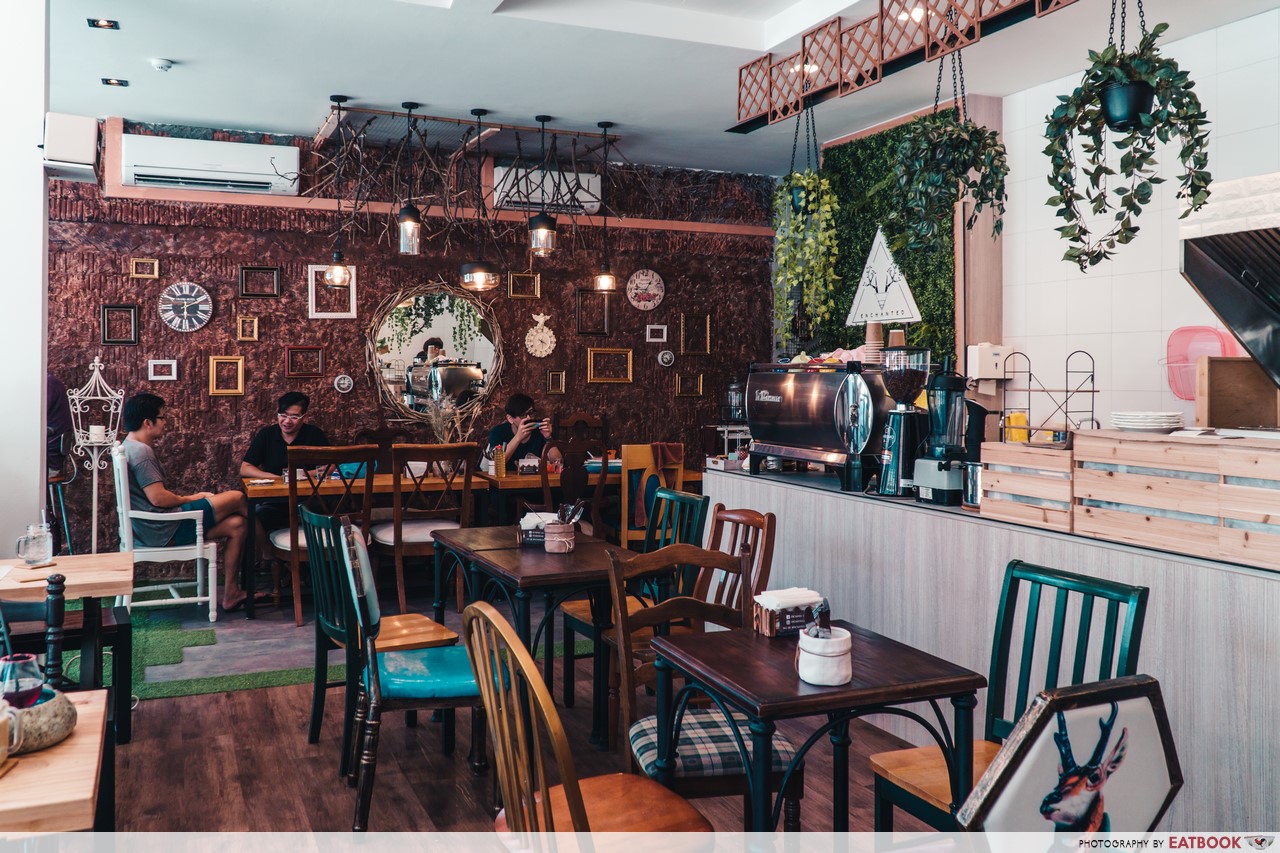 No expense was spared in ensuring consistency in the theme, with potted plants dangling from the ceiling. The chandeliers, too, were surrounded with twigged details, and fairy lights were scattered around the trees. It's no surprise that the owners said they got inspiration from Pinterest, because the interior of this cafe is truly #goals. The icing on the cake for me, however, was their rad taste in music, including the likes of Jason Mraz.
The verdict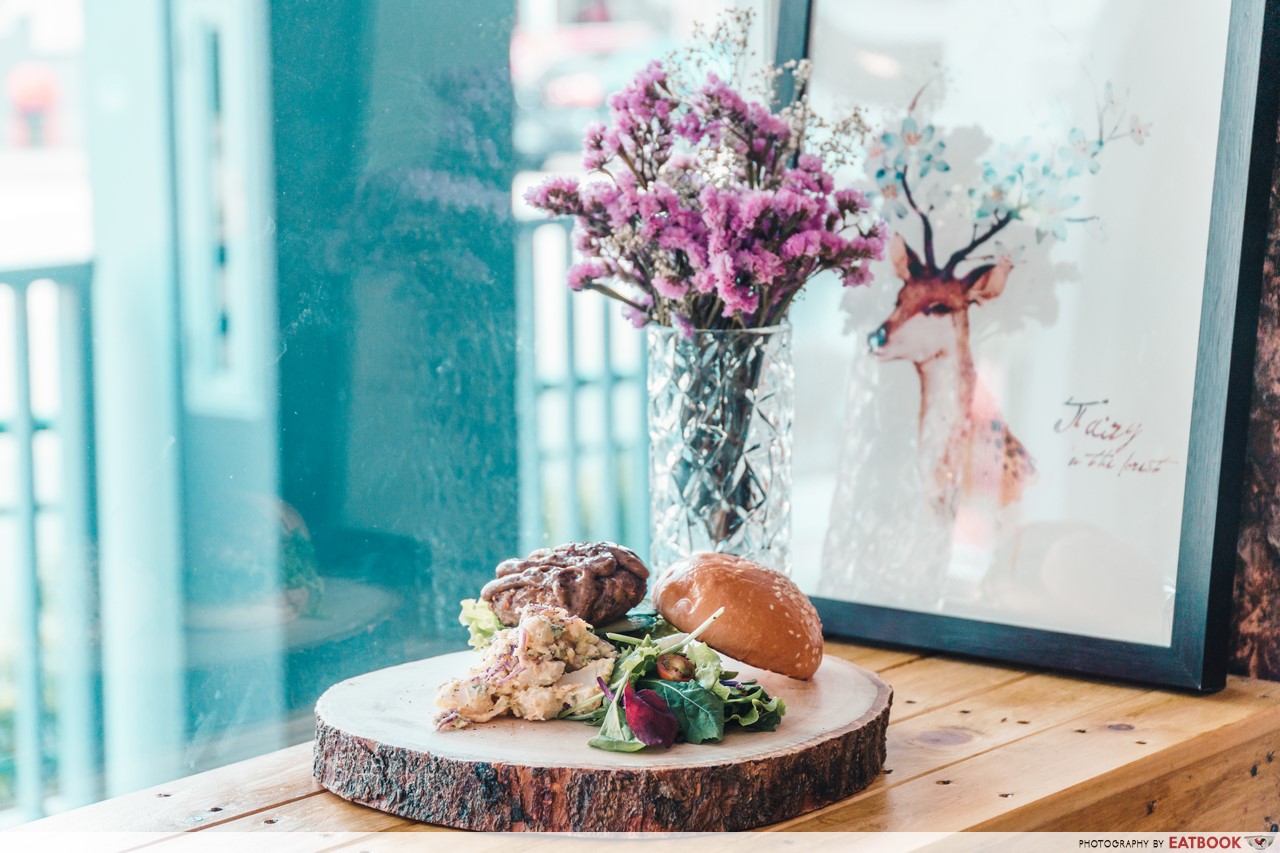 The vibes in here were truly uplifting, with such friendly staff and a comfortable ambience – not to mention delicious food and drinks. This is a cafe that I would not only love to visit over and over again, but also spend hours at each time, either for a good ol' catch-up session with friends, or just to read a book with cake and coffee for company. The best part is, it's just a five-minute walk from Farrer Park MRT Station, making it extremely convenient to get to. If themed cafes are your thing, check out these film- and TV-themed restaurants and cafes as well!
Address: 88 Rangoon Road, #01-04, Singapore 218374
Opening hours: Tue-Fri 12pm to 10pm, Sat 10:30am to 11pm, Sun 10:30am to 8pm
Tel: 8813 1086
Website
This is an independent review by Eatbook.sg.
Summary
Pros
– Unique dishes
– Friendly staff
– Comfortable ambience
– Good food
– No GST or service charge
Cons
– Slightly pricey
– Drinks are slightly too sweet
Recommended Dishes: Ngoh Hiang Burger ($18.90), French Vanilla Crepe Cake ($7.90), Iced Ondeh Ondeh ($6.90)
Operating Hours:
Tue-Fri 12pm to 10pm, Sat 10:30am to 11pm, Sun 10:30am to 8pm
Tel:
8813 1086
Address: 88 Rangoon Road, #01-04, Singapore 218374