---
Wine and dine at these affordable French restaurants
---
French food is something that's rarely suggested during dinner jio—and understandably so. Shows like Ratatouille and Food Wars paint it as something that's too sophisticated—and pricey—for common taste buds. Then, there's the supply—affordable French restaurants are hard to find. While it's true that French cooking requires a lil' more finesse, you don't really need deep pockets or an elevated tongue to appreciate the likes of foie gras, escargot, and duck confit. Hidden all over Singapore are French restaurants that dole out affordable dishes that are great for your next fancy date.
---
1. The French Ladle
---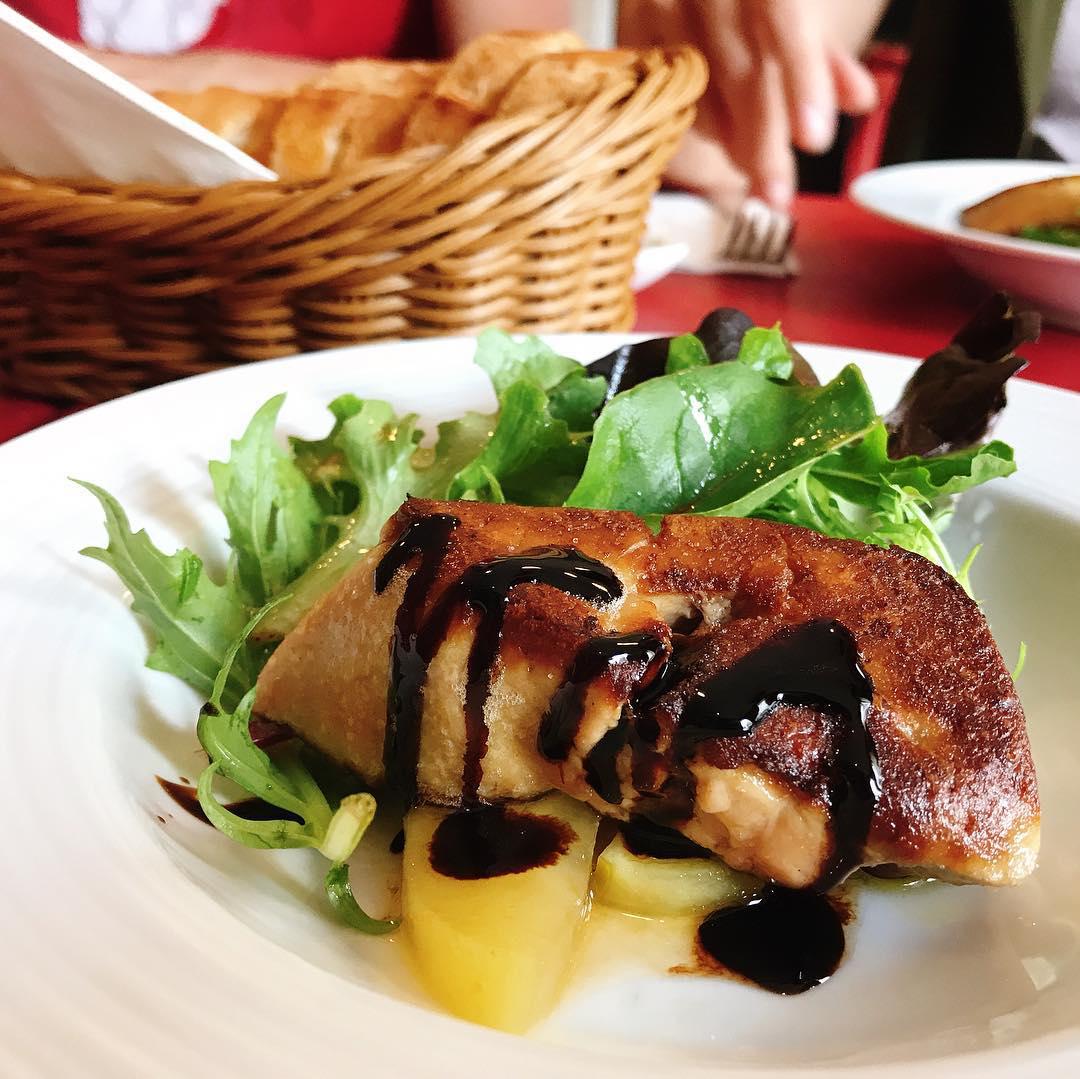 Image credit: @xiaohuixh
A condominium complex isn't the first place that comes to mind when you think of finding French restaurants, but The French Ladle turns that notion on its head. 
Tucked away in Pandan Valley Condominium, this hidden gem French bistro has been up and running for over seven years now, dishing out classic French food that's both delightful and affordable. The team behind The French Ladle makes most of their dishes from scratch, including their sauces and pâté. The cherry on top: all prices are nett.
Their menu boasts French classics, such as Escargots de Bourgogne ($15) that's prepared with garlic, herbs and butter, as well as Confit de Canard ($32) featuring pillowy mashed potatoes. To get the best bang for your buck, head here during lunch for their Prix Fixe two- or three-course menu ($30, $34) which lets you choose from a selection of entrees, mains, and desserts. 
Address: 2 Pandan Valley, #01-206, Pandan Valley Condominium, Singapore 597626
Opening hours: Tue-Sat 12pm to 2pm, 6pm to 9pm
Website
---
2. La Petite Cuisine 
---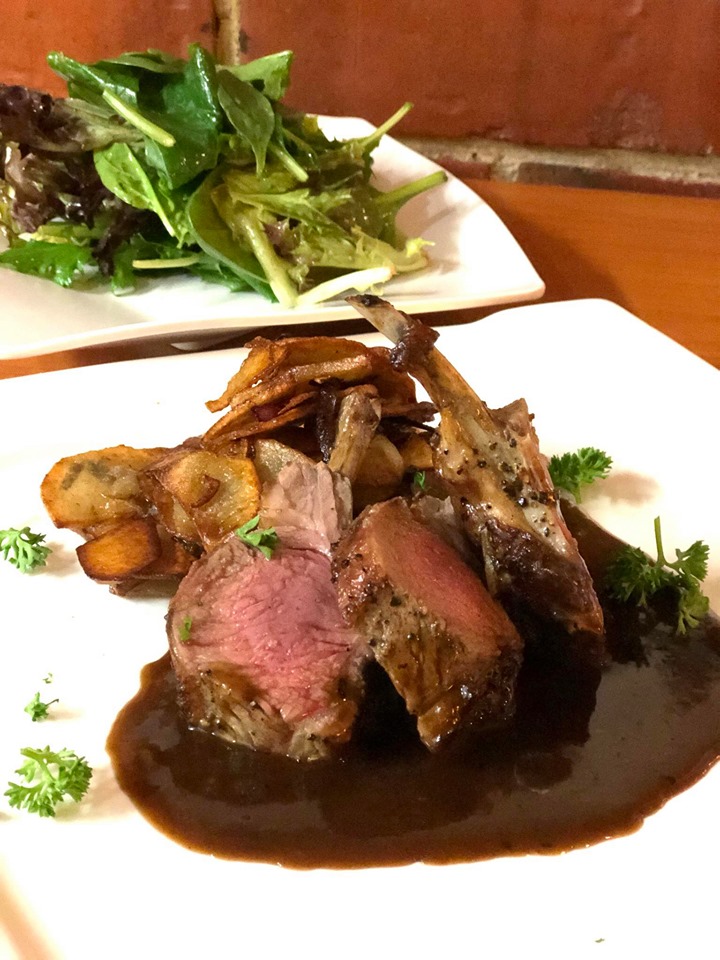 Image credit: La Petit Cuisine's Facebook page 
Another Westside gem, La Petite Cuisine in Serene Centre has been serving affordable French food since 2006. You'll be hard-pressed to find a place that serves classic French main courses for under $25. Plus, there's no service charge here either! 
The Sea Prawns with French Wholegrain Mustard and Confit de Canard both cost $22, and are served with sides of pasta and au gratin potatoes respectively. You can even find mains for under $20; the Dory with Burre Blanc ($19.50) and Fillet of Chicken with Cepes Mushrooms (17.50) are popular picks. Top up $5.50 to score a soup or dessert of the day! 
Address: 10 Jalan Serene, Singapore 258748
Opening hours: Tue-Sun 8:30am to 9:30am, 11:30am to 2:30pm, 5:30pm to 9:30pm
Website
---
3. Hunger's Kitchen by Arome 
---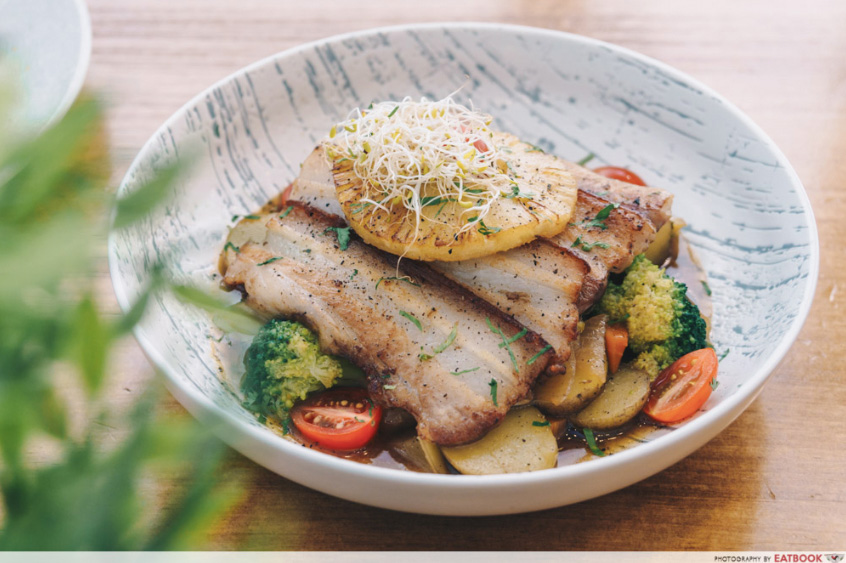 Saveur is everyone's go-to for affordable French food, but Hunger's Kitchen may just give it a run for its money. Opened in Shaw Towers by an ex-MBS And Raffles hotel chef, this casual French eatery serves up both classical French food and fusion dishes with a touch of local influence. 
You get two French favourites with the Duck Confit with Foie Gras ($24.90+)—a whole duck leg with crispy, crackly golden skin and a buttery interior—along with two portions of pan-seared foie gras. It's all served on a pillow of truffled mashed potatoes that's perfect for mopping up all that extra-flavorful jus. 
The 36-Hour Pork Belly ($14.90+) comes just as beautifully plated, with thick slices of sous vide pork belly atop a colourful medley of microgreens. Charred for a caramelised exterior, each bite is smoky and sweet, with the melt-in-your-mouth pork belly balanced out by the seared pineapple's acidity. 
Hunger's Kitchen by Arome Review: Affordable French Food By Ex-MBS And Raffles Hotel Chef That Can Rival Saveur
Address: 100 Beach Road, #01-01, Shaw Towers, Singapore 189702
Opening hours: Mon-Fri 11am to 9:30pm, Sat 12pm to 9:30pm, Sun 11am to 8pm
Website
---
4. L'Entrecôte The Steak and Fries Bistro 
---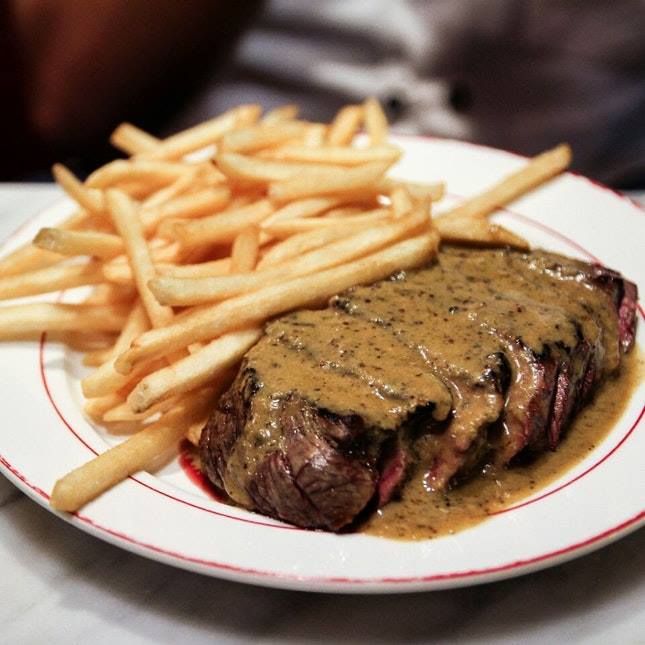 Image credit: L'Entrecôte The Steak and Fries Bistro's Facebook page 
Steaks that are doused in their legendary secret sauce and served with unlimited portions of crispy French fries sound like a match made in heaven. For an atmospheric date night that won't break the bank, head to L'Entrecôte The Steak and Fries Bistro for their famous Trimmed Entrecôte Steak ($36.80++). 
This tender premium steak cut is sliced and served medium-rare, accompanied by L'Entrecôte's trademark secret sauce that's buttery, balanced, and incredibly addictive. It also comes with walnut salad and free-flow golden fries for you to mop up all that amazing sauce. 
Address: 36 Duxton Hill, Singapore 089614
Opening hours: Sun-Thurs 12pm to 3pm, 6pm to 10:30pm, Fri 12pm to 3pm, 6pm to 11pm, Sat 5pm to 11pm
Website
---
5. Souffle
---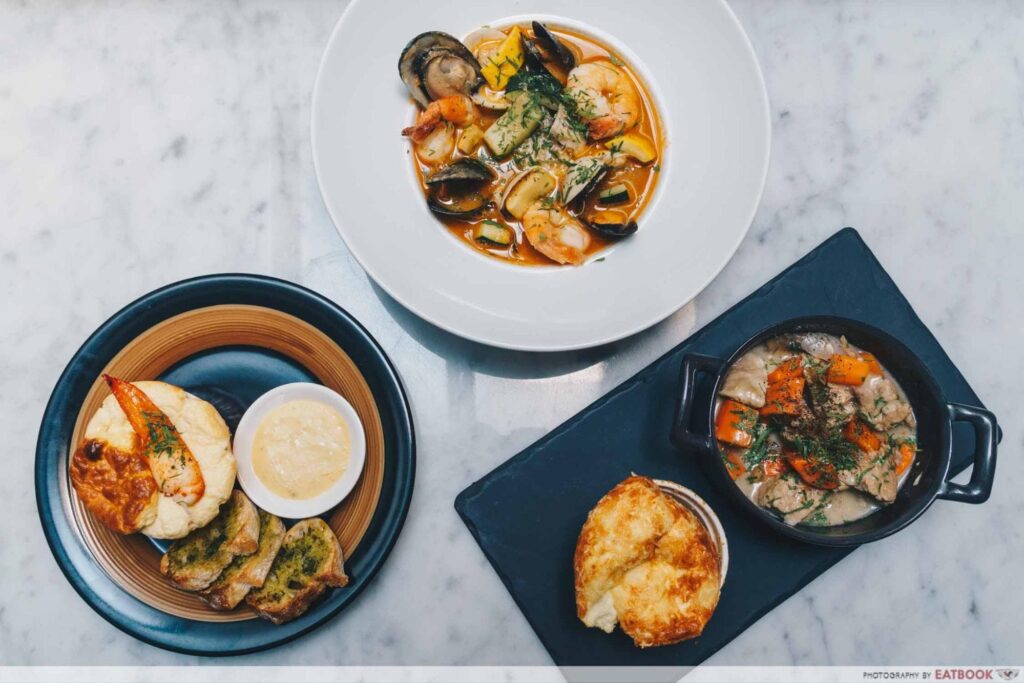 Souffle is a traditional French dish that's eaten both during mealtime and for dessert. Opened by the folks behind L'Entrecôte The Steak and Fries Bistro, Souffle is a chic restaurant at Duxton Road, with its turquoise chairs and walls. Certainly an ideal spot for weekend brunches with the girlfriends!
Each main comes with a side of souffle—sorta like how we Asians have a side of rice in our meals. Introduce yourself to the world of souffle with their Blanquette de Veau with Mini Comté Soufflé ($32++)⁠ featuring slow-cooked veal stew with white wine and cream⁠. It comes paired with a cheesy souffle to mop up all that rich, milky flavours.
For an interesting twist, get their Laksa Souffle ($23++) featuring a bowl of juicy prawns and piquant laksa sauce to pour over the fluffy souffle.
Address: 5 Duxton Hill, Singapore 089591
Opening hours: Mon-Sat 12pm to 3pm, 6pm to 10:30pm, Sun 11am to 10pm
Tel: 6690 7562
Website
---
6. Taratata Brasserie
---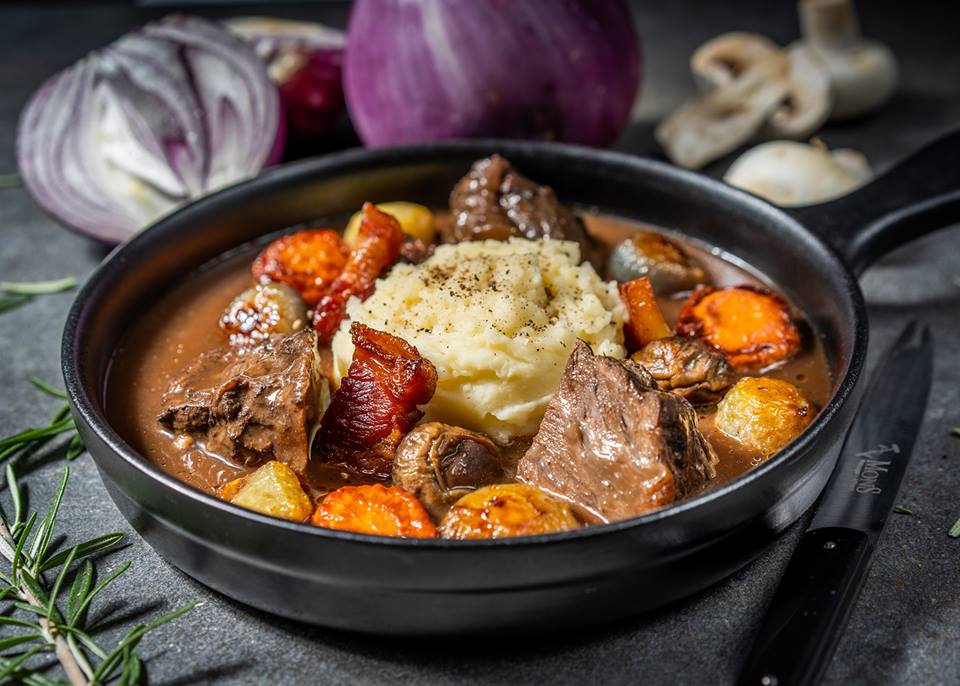 Image credit: Taratata Brasserie's Facebook page
If you're craving for French food on a budget, classic French bistro Taratata Brasserie on Keong Saik has got you sorted with their two- and three-course set lunch ($38++, $45++) which are available every day, including public holidays! 
Unlike many places where options are limited to just two or three choices per course, Taratata Brasserie's set lunch has twice the number of choices⁠—including mousse de foie, escargots, sirloin steak, and confit de canard! If you're staying for dessert, the molten-centred Moelleux au Chocolat ($16++) hits the spot. Alternatively, opt for two choices off their cheese trolley. 
Address: 35A Keong Saik Road, Ground Floor, Singapore 089142
Opening hours: Tue-Sun 12pm to 2:30pm, 6pm to 10pm
Website
---
7. Mon Bijou 
---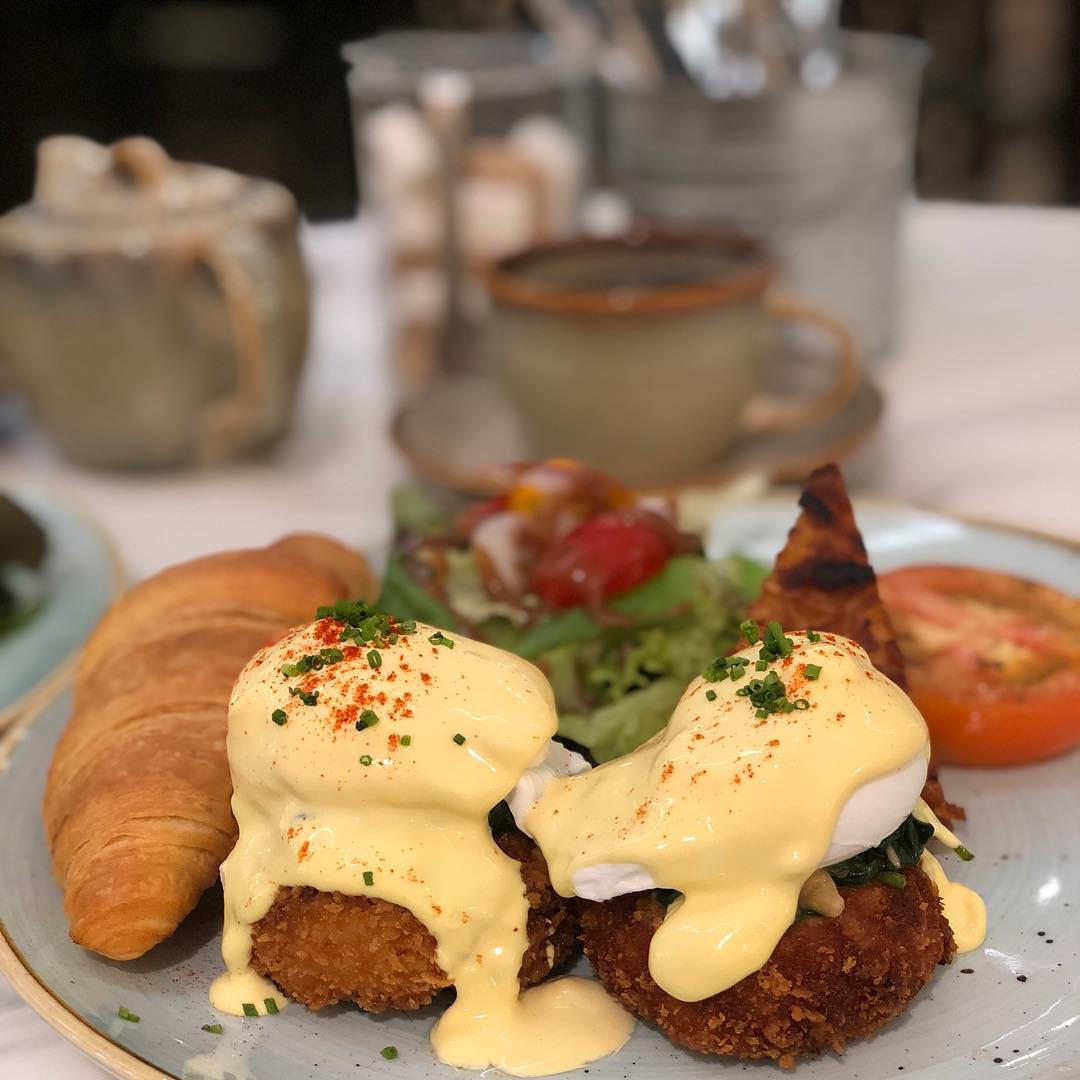 Image credit: @sebascqw
Hidden in Claymore Connect at Orchard Road, Mon Bijou is a French cafe and bistro that serves all-day French breakfast classics and mains at exceedingly reasonable prices. 
Their brunch menu is priced at $20 and under, and include dishes such as Brioche French Toast ($15++), Croque Madame ($16++), and Crab Cake Benedict ($20++) which comes with hollandaise and sautéed spinach. If you're not feeling brunch, opt for their classic French mains instead, such as Salmon and Seafood Stew ($24++), Chicken Roulade with Fries ($22++), and Duck Leg Confit ($24++).
Address: 442 Orchard Road, Claymore Connect, Singapore 238879
Opening hours: Daily 10am to 8:30pm
Website
---
8. Choupinette 
---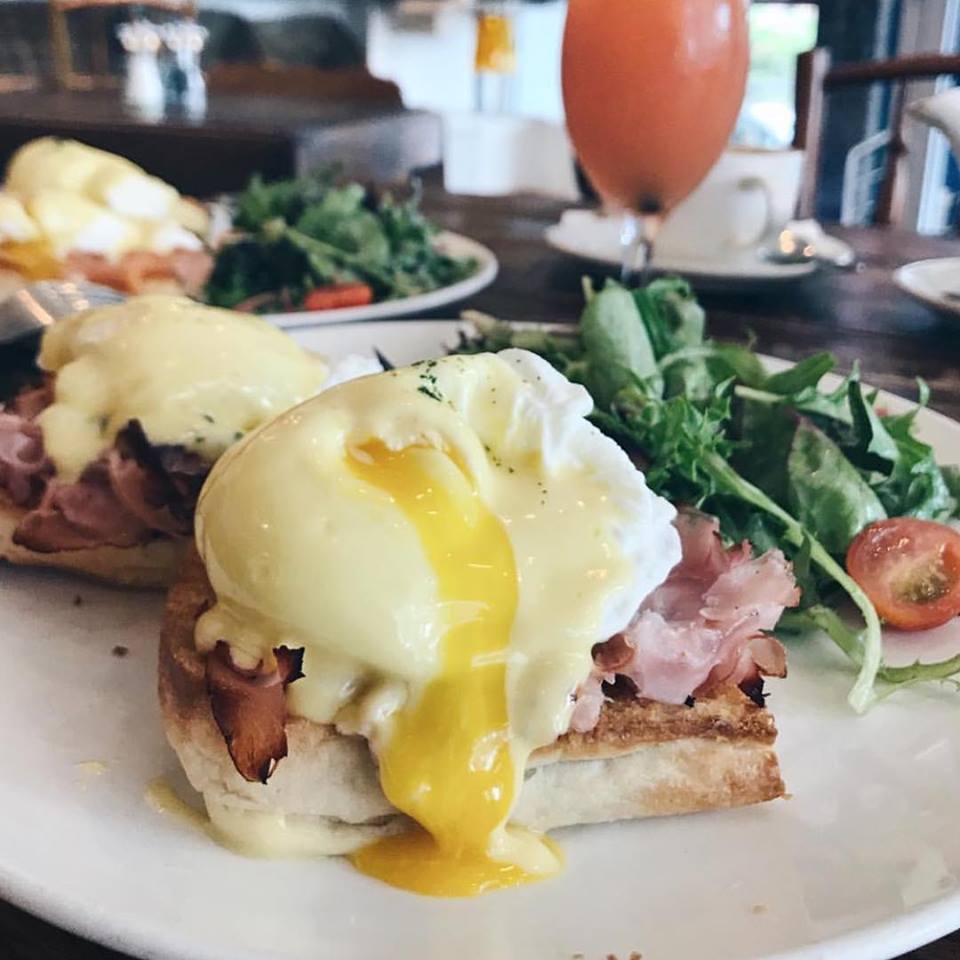 Image credit: Choupinette Cafe's Facebook page 
Tucked away in Bukit Timah, Choupinette has long been lauded as a brunch spot for one of the best Eggs Benedict on the island. This charming French cafe has brunch sets that include classic French breakfast favourites accompanied by fruit juice and a hot drink. 
These include Eggs Benedict ($22++) with house-made hollandaise and ham, and The Tristan ($21++), which comes with your choice of eggs and sausage, along with tomato provençale, mushrooms, and bread. For those with a sweet tooth, the Di Di's Set ($19++) is a great choice, with fluffy slices of French toast decorated with tart berry compote and honey. 
Address: 607 Bukit Timah Road, Singapore 269708
Opening hours: Tues-Sun 8am to 7pm
Website
---
9. Entre-Nous Creperie 
---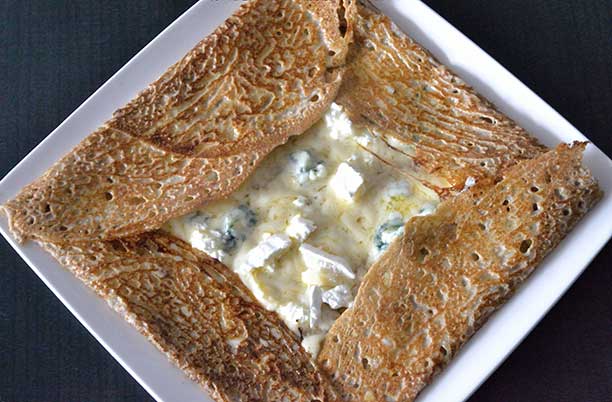 Image credit: Entre-Nous Creperie
If you've got a craving for crêpes, head to Entre-Nous Creperie. This cosy French restaurant on Seah Street specialises in two things: sweet crêpes and savoury buckwheat galettes. Made from scratch with flour imported from Brittany, the buckwheat galettes are priced between $14+ and $22+, depending on the combination of fillings you get. You can't go wrong with the classic Egg and Emmental Cheese ($15.90+). However, my personal pick is Stephan's Favourite ($21.90+) that comes with roasted chicken, wholegrain mustard, and house-made caramelised onions.
Address: 27 Seah Street, #01-01, Singapore 188383
Opening hours: Tue-Fri 12pm to 2:30pm, 6pm to 9:30pm, Sat 11am to 9:30pm, Sun 11am to 5:30pm
Website
---
10. The Masses
---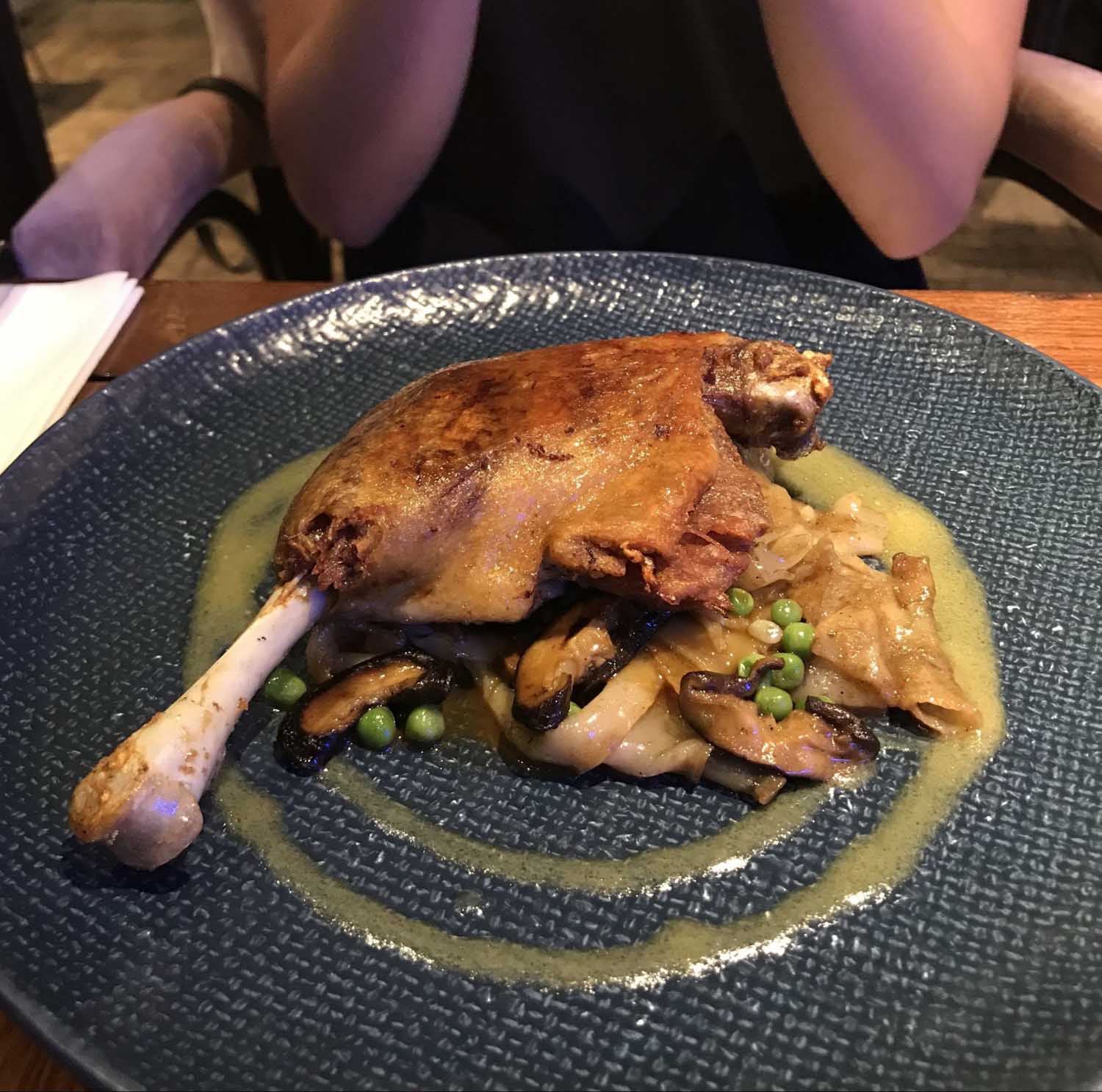 Image credit: @aliciaatsh
The Masses might not be one of the most classic French restaurants in town, but their fusion French-Asian dishes are well-worth their price point. Opened by the same team behind Saveur, The Masses serves creative and innovative dishes inspired by French and Asian flavours that won't burn a hole in your pocket. 
Many of their mains are available a la carte at under $20, such as the Drunken Chicken Roulade ($13.90++), and Duck Confit ($16.90++) with charred kway teow and salted egg yolk. 
Their Weekday Set Lunch menu is even more value for money, with two- and three-course options across the entire menu going at $23.90++ and $27.90++ respectively! 
Address: 85 Beach Road, #01-02, Singapore 189694
Opening hours: Sun-Tue & Thur 12pm to 10pm, Wed & Fri-Sat 12pm to 12am
Website
---
11. Merci Marcel @ Club Street/Tiong Bahru 
---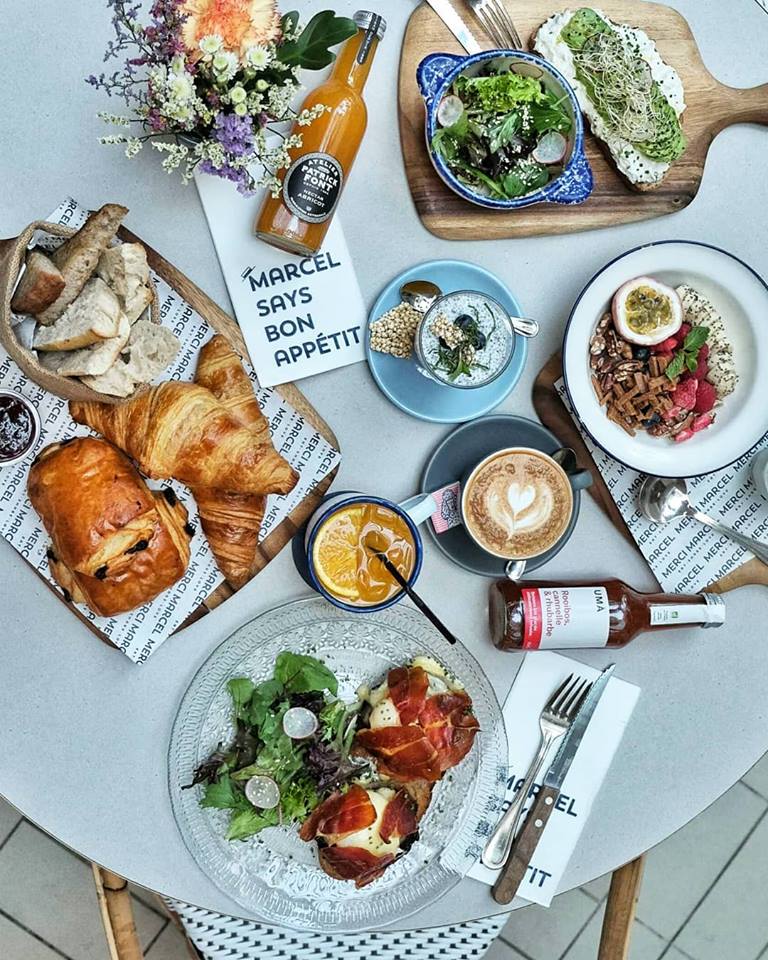 Image credit: Merci Marcel 
Having first opened at Tiong Bahru, French restaurant Merci Marcel now has a chic space at Club Street as well, with both locations serving up breakfast, lunch, and dinner daily. With cosy indoor seating and outdoor tables for al fresco dining, Merci Marcel nails it in terms of ambience. 
Go for the flaky Croissant ($3++) or Pain Au Chocolat ($3.50++) for a relatively lighter brunch option that still satisfies. If you're looking to pull out all the stops, get the Ravioles de Royan ($18++), which is a French dumpling pasta filled with cheese. At dinnertime, the Duck Rillette ($18++) with marinated pear and melted Camembert cheese, and Tarte Flambee ($24++) boasting bacon, apples, asparagus, and blue cheese, make for excellent sharing plates.
10 Beautiful Cafes In Singapore For That Instagrammable #Aesthetic In 2019
Address: 56 Eng Hoon Street, #01-68, Singapore 160056
Opening hours: Tue-Sat 8am to 11:30pm, Sun 8am to 10:30pm
Website
---
Affordable French restaurants in Singapore
---
These 10 French restaurants show that you can indulge in tasty French fare without breaking the bank. What's more, places such as The French Ladle and Taratata Brasserie offer multi-course meals so you can have a romantic night out.
If you need help planning future rendezvous sessions, check out this list of halal date night places which include steakhouses and Korean joints—all under $20.