Claypot chicken steamboat for the starving soul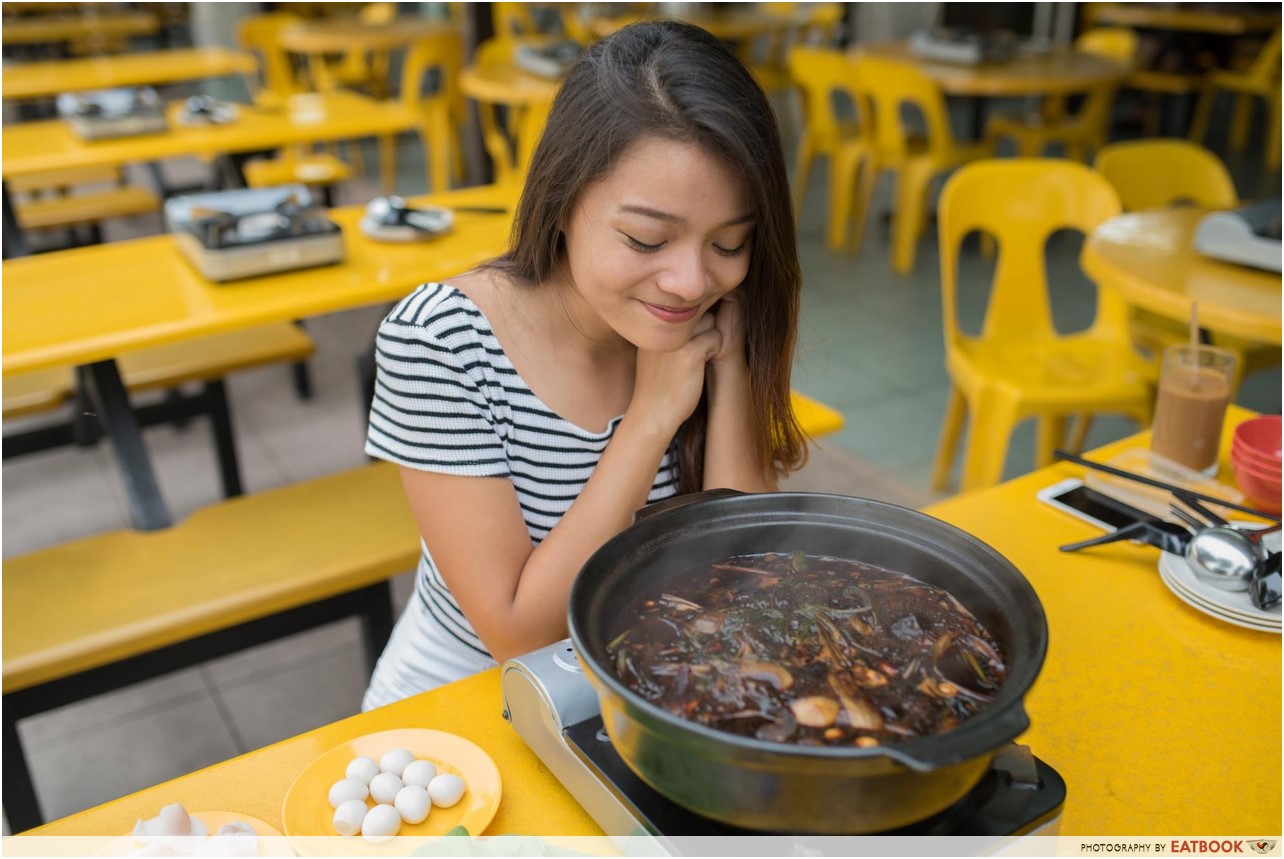 We all know dreary days equate to copious consumption of steamboat and it's almost become instinctive by now. Bad day? Steamboat. Rainy day? Steamboat. Any day? Still steamboat. Like a warm blanket on a cold night, this dish comforts like your mom's cooking, satisfies like a buffet and is guaranteed to put you in a happy place. But here's how to make that even better. Add a claypot, a little kick of spice and bam, Qi Xiang Chicken Pot – the epitome of comfort food.
Chicken pot at Qi Xiang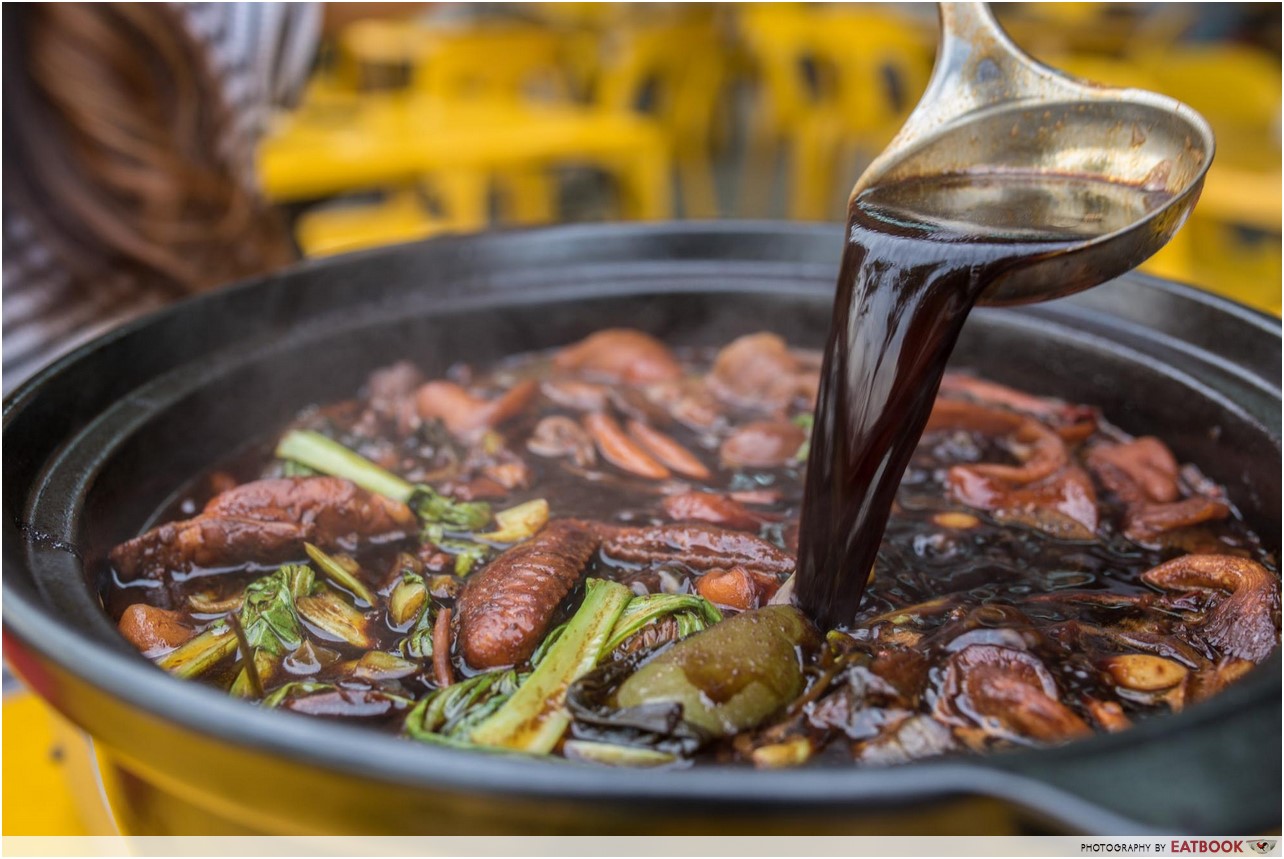 On a steamboat spectrum, Qi Xiang Chicken Pot ($26.90 for half chicken, $37.90 for whole chicken, $25.90 for two drumsticks) ranks high on uniqueness and taste. Regular clear steamboat soup could very well be Singaporeans' favourite, but they've created a spicy, dark soy sauce chicken broth that's thick enough to be called gravy, yet thin enough to lap up from your spoon.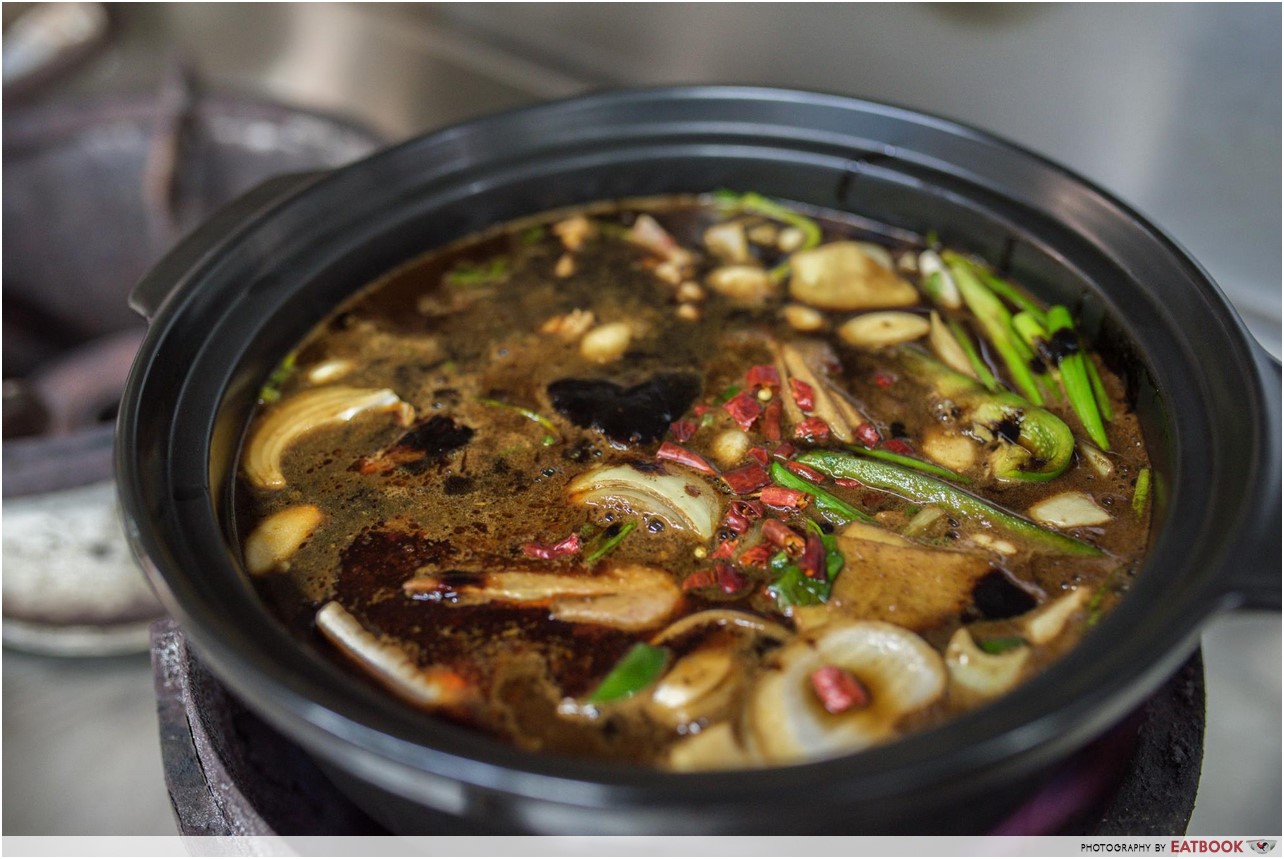 Seasoned with chillies, onions, green peppers and more, you're allowed to pick your preferred spice level. We settled for 'normal' and I'd recommend going with that so you get a nice splash of heat that complements the flavourful soup instead of a ma la pot that kills your taste buds.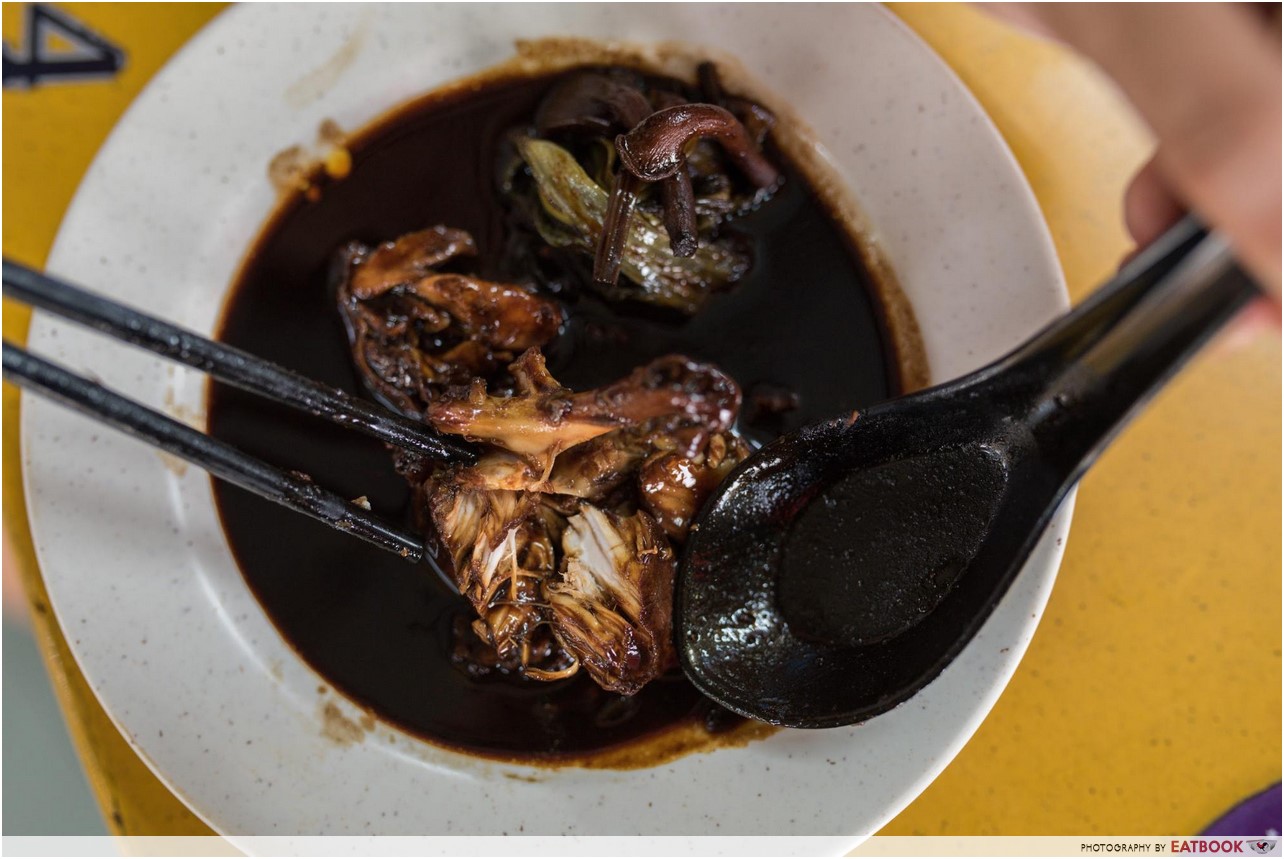 It's easy to get carried away by the broth, but the chicken that gave way to a slight nudge of my chopsticks earned an adoring stare from me. It was lean, with tender meat that hinted towards a herbal flavour instead of simply inheriting the taste of the broth.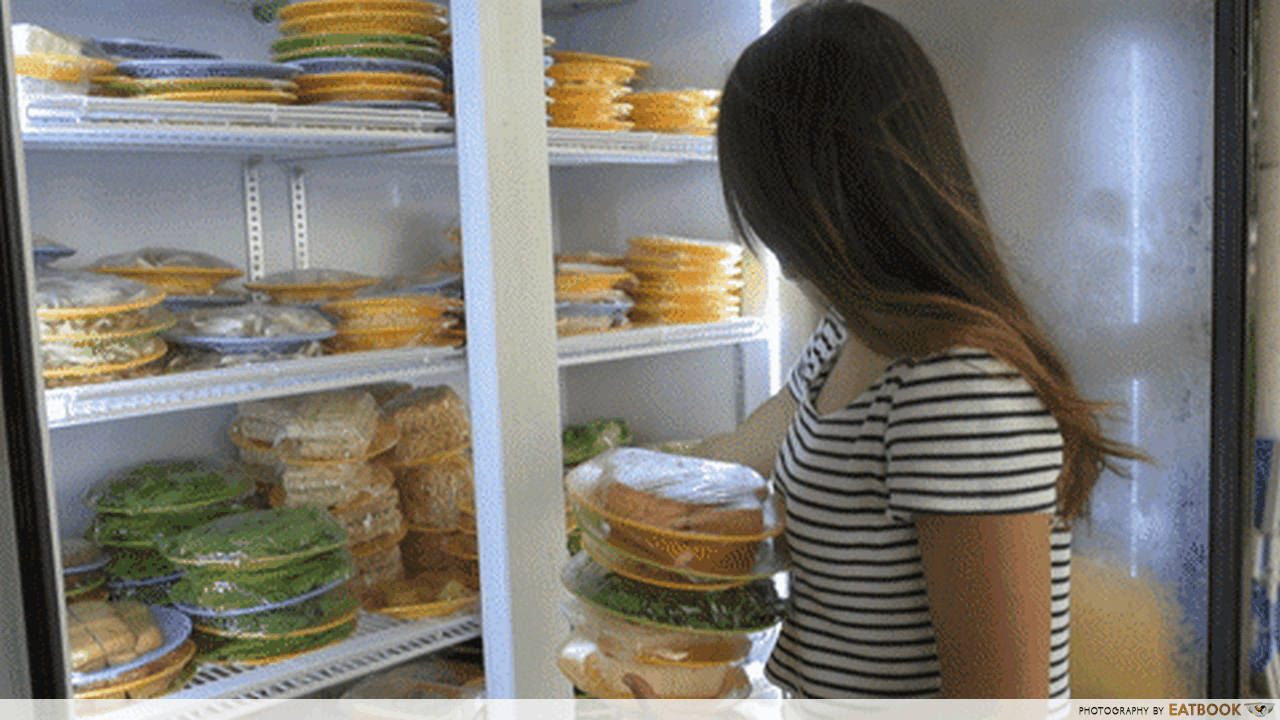 Of course, a steamboat isn't a steamboat until you have a myriad of other liao (ingredients) to add into the bubbling pot. At $2.90 a plate, it was only natural that we pile it on for a jeans-bursting meal.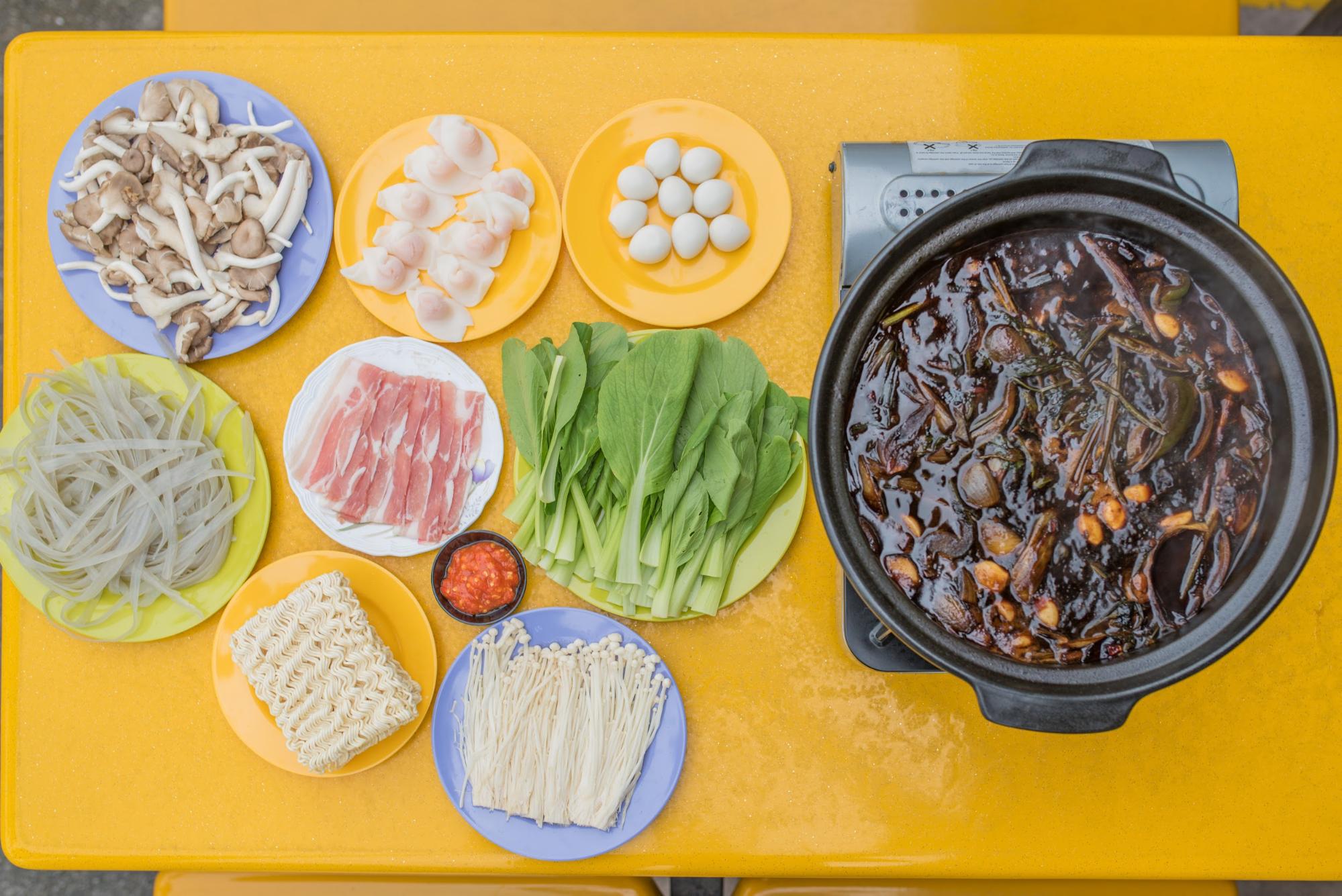 If the carnivore in you screams for more meat, you can add on pork or beef for $5 a plate. We got pork shabu shabu which had the perfect ratio of fats and chew, and the creaminess from the cooked fat helped to soften the spice.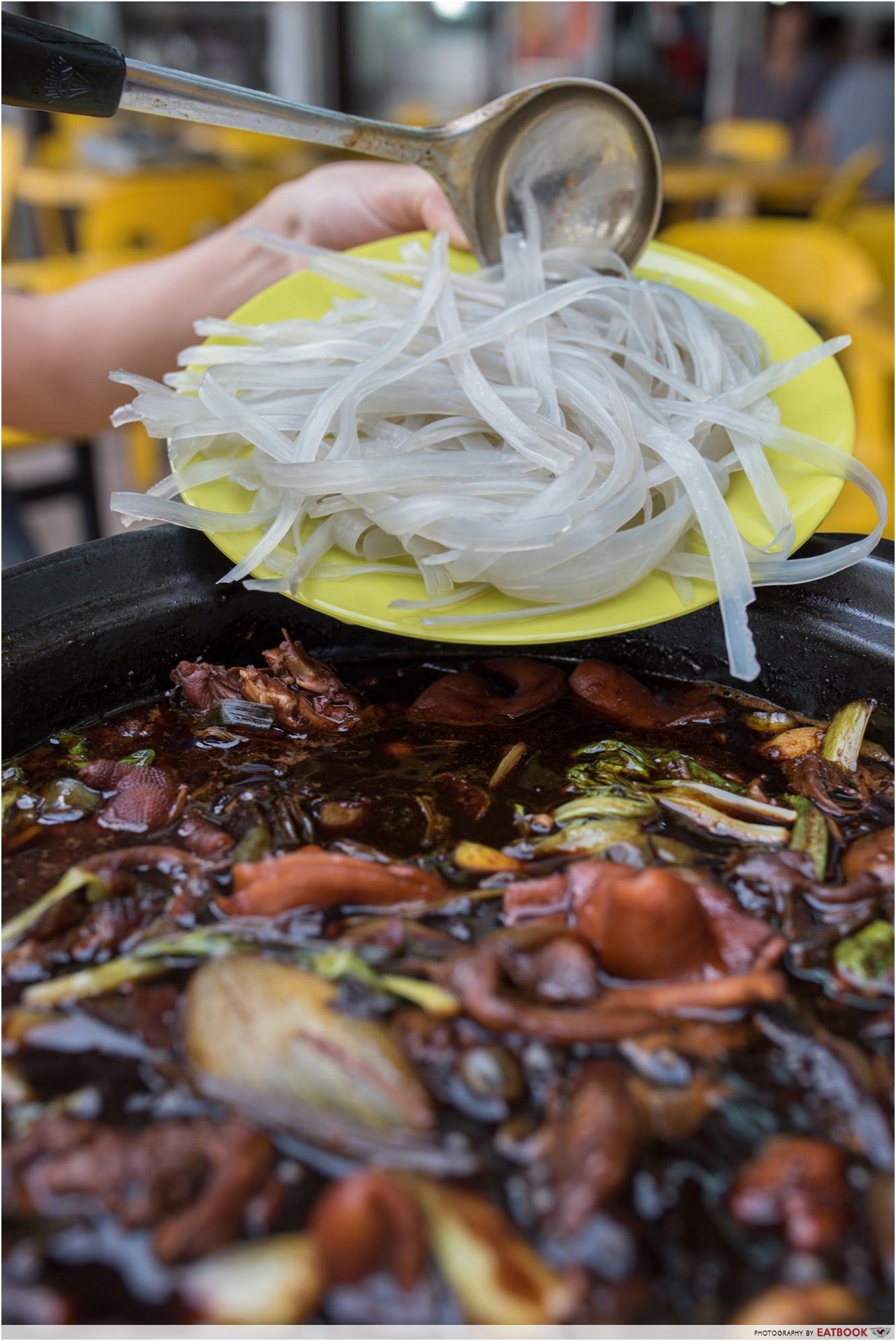 In the fridge, this plate of thick tang hoon wasn't visually stunning, but I went with it because of how chewy they appeared.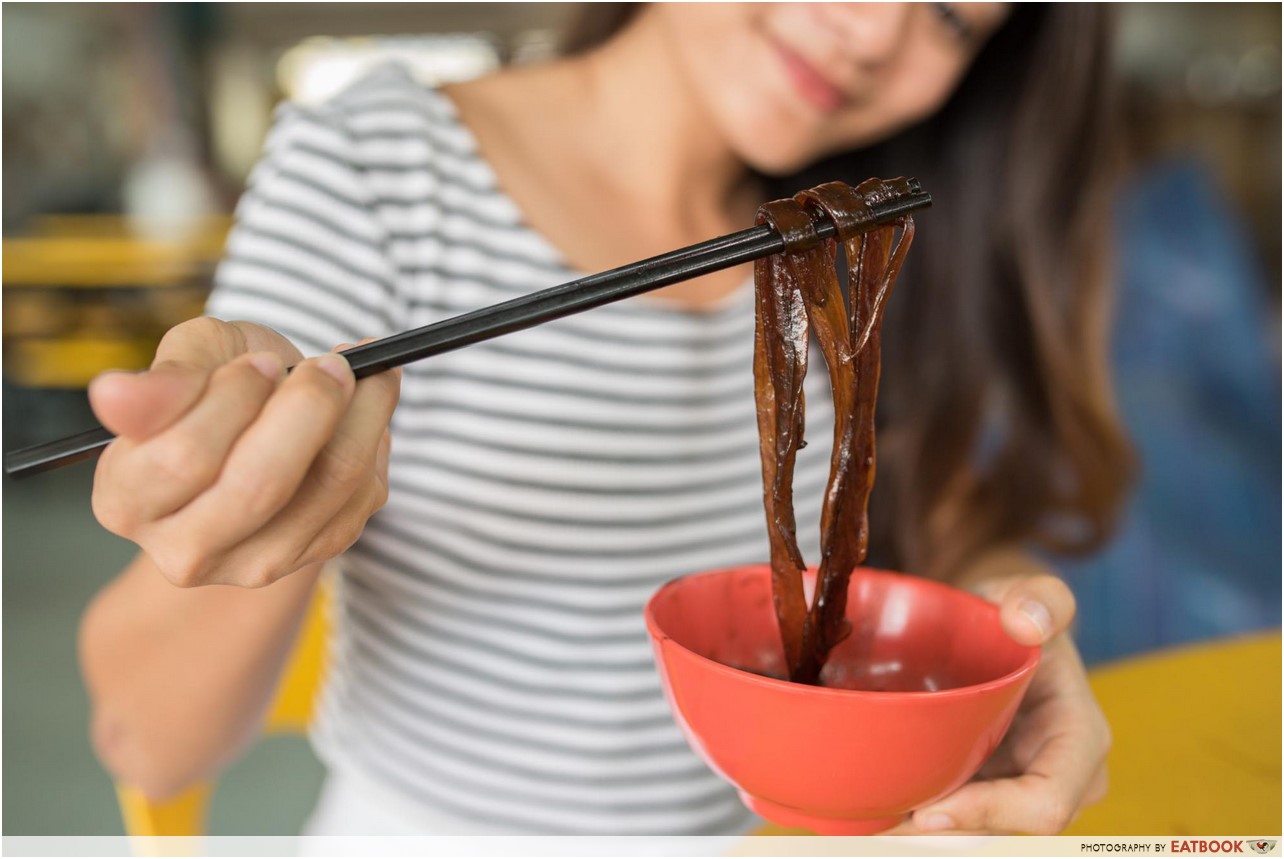 And boy, was I thankful I didn't judge a book by its cover. Dunking the noodles into the the rich broth, we unveiled QQ noodles that were super shiok. With a texture that hugged the broth close, this unassuming carb easily won the regular maggie mee.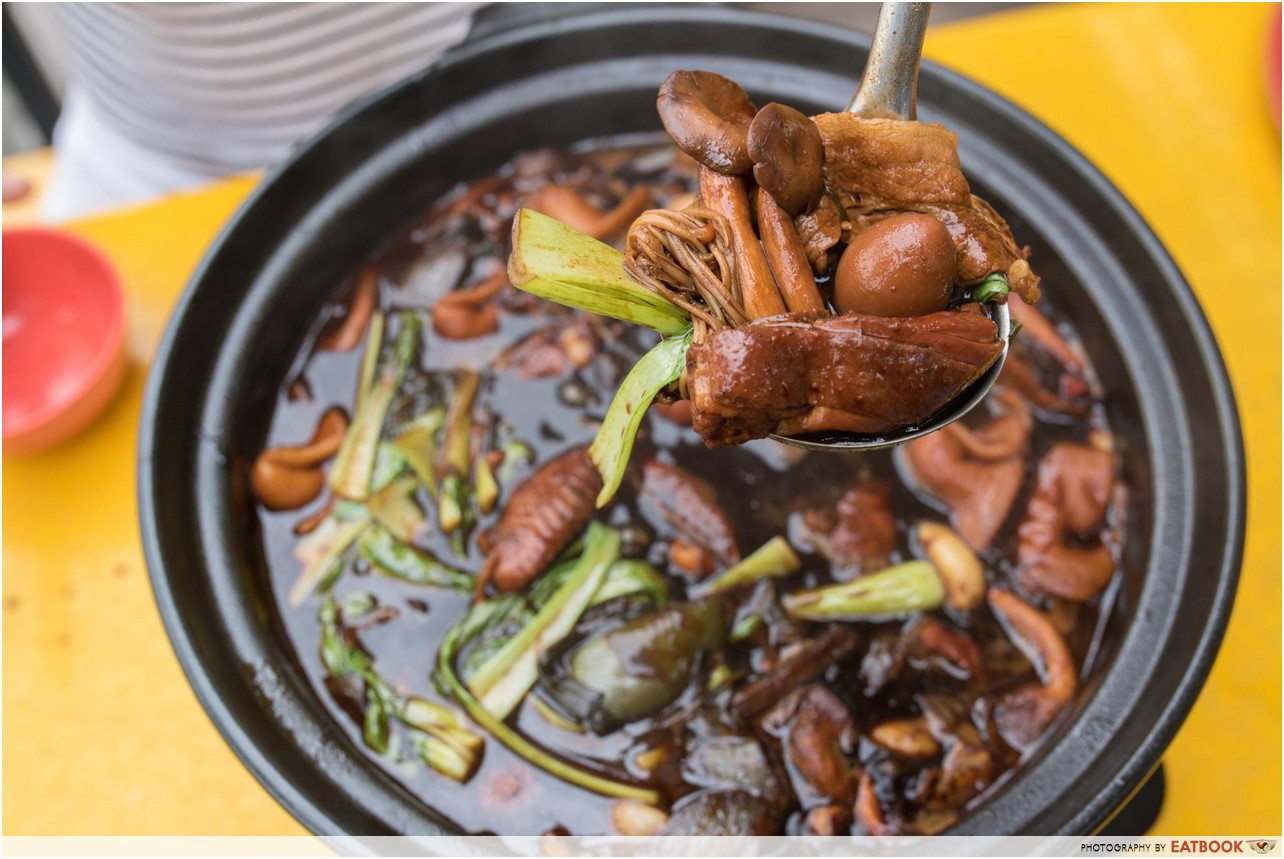 To bring it all together, we added mushrooms, quail eggs, enoki and xiao bai cai. The mushrooms were fleshy, bordering on chewy, and had a mild earthy sweet taste. The quail eggs had a flavour that reminded me of the eggs in braised pork, and the enoki was a perfect vessel to the spicy-savoury broth. Adding a crunch to the meal was xiao bai cai, and we wouldn't recommend leaving it as long as we did because ours almost disintegrated.
Ambience at Qi Xiang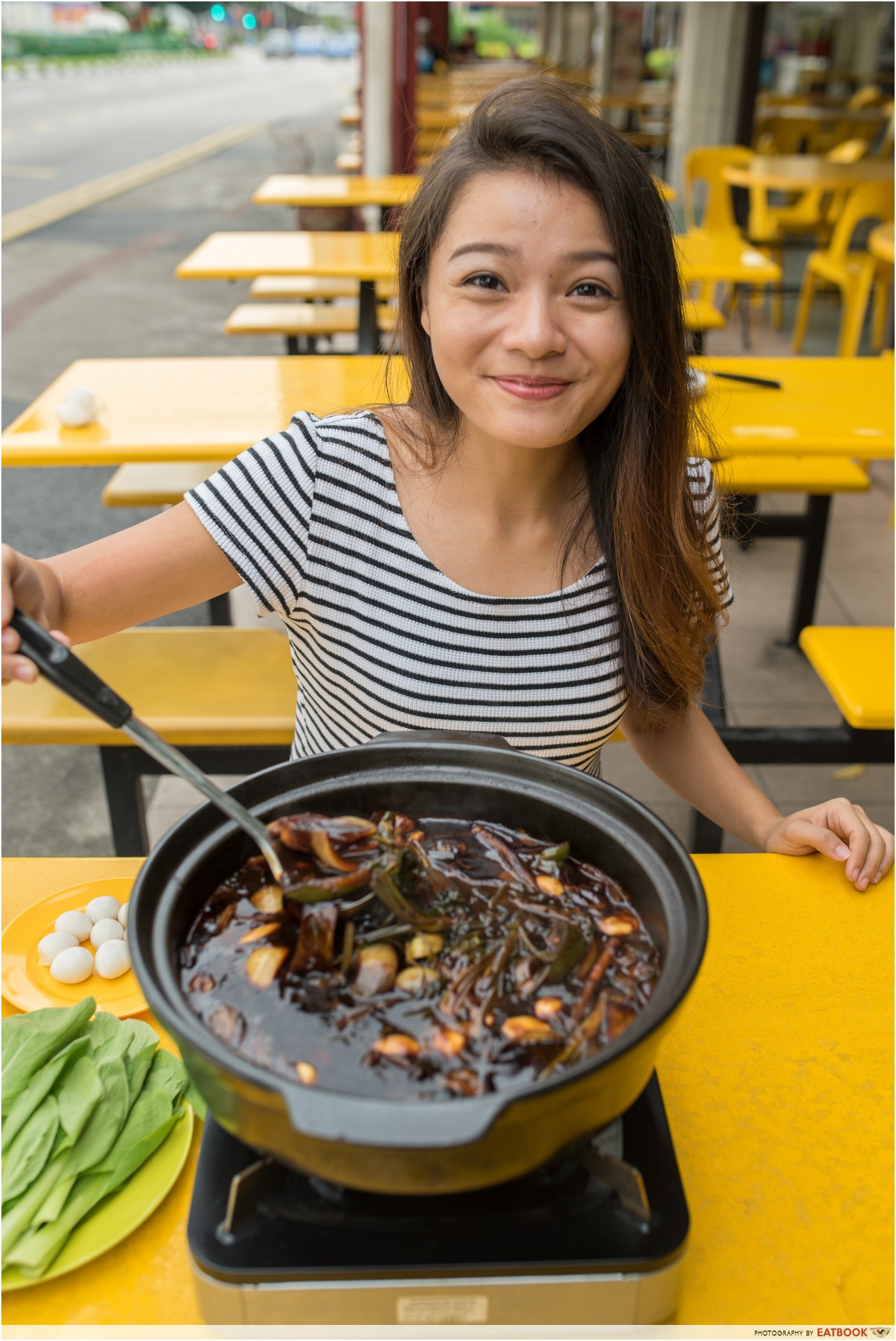 Qi Xiang isn't a place you'd stop by if you were merely passing, it's somewhere you go to because you were looking for it. It may look a little dodgy on the outside, we were unsure if it was open when we went because of how dimly lit it was, but don't let its exterior fool you. It's backed by a friendly crew and despite it being a kopitiam, there are fans to keep you cool and no dirty seats to put you off.
The verdict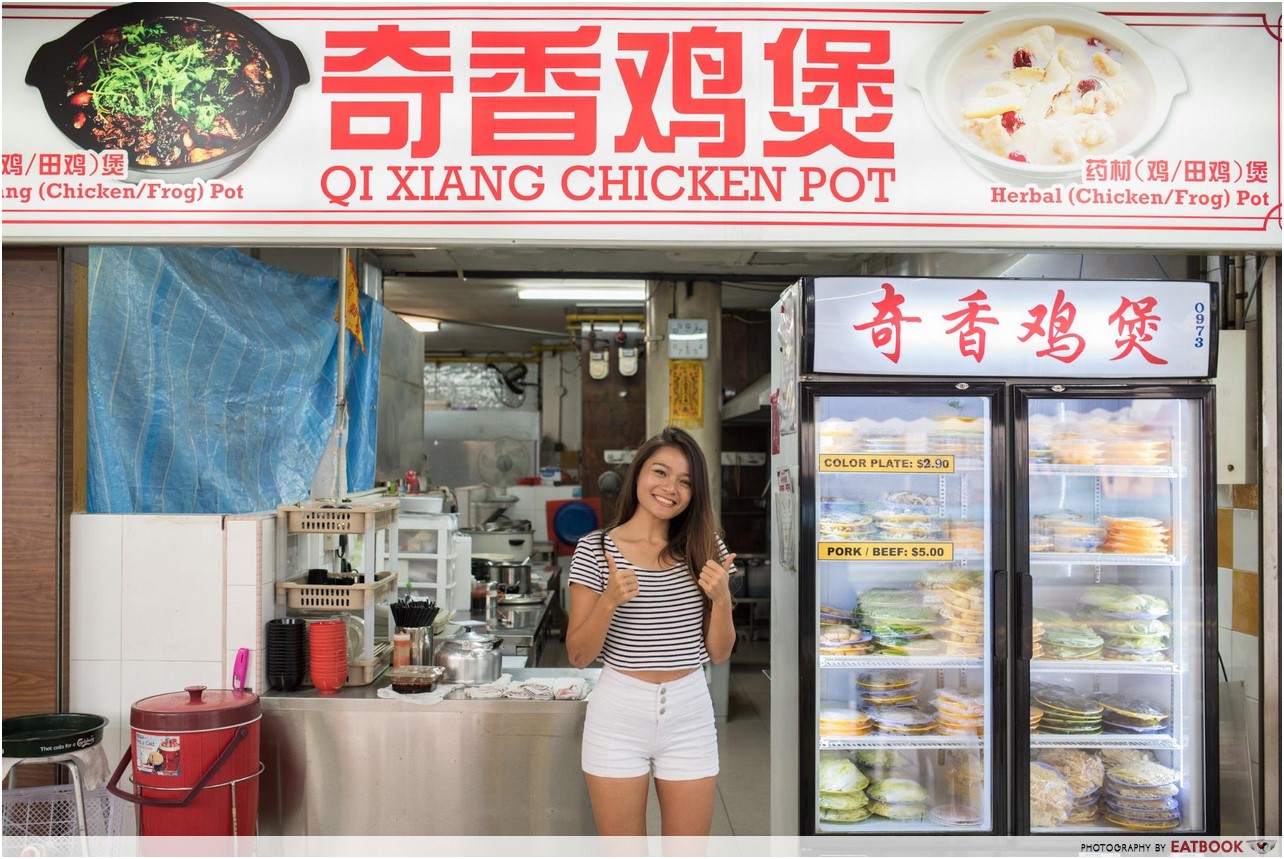 As a popular dish among Singaporeans, steamboat has evolved and we're seeing more and more quirky options like durian and prawn mee steamboat. With an addictive concoction, Qi Xiang Chicken Pot's claypot version is bound to please many taste buds. Plus, it's relatively quiet, so you can have your fix in peace! My advice is to bring a couple of friends with you. We went in a group of three and shared half a chicken but still struggled to empty the pot.
Other than their signature chicken pot, they also offer a Herbal Chicken Pot ($26.90 for half chicken, $37.90 for whole chicken, $25.90 for two drumsticks) and Frog Leg Pot ($28.90 for small, $39.90 for big) for the adventurous. Just a five-minute walk from Kovan MRT Station, this gem is located right beside the famed Ponggol Nasi Lemak. 
Qi Xiang Chicken Pot Review: Obscure Claypot Chicken Steamboat Near Kovan MRT
Summary
Pros
– Affordable
– Free-flow broth
– Large variety of ingredients
– Good service
– Close to Kovan MRT Station
Cons
– No air-conditioning
Recommended Dishes: Qi Xiang Chicken Pot ($26.90 for half chicken, $37.90 for whole chicken, $25.90 two drumsticks)
Operating Hours:
Daily 4pm to 1 am
Tel:
8458 1921
Address: 973 Upper Serangoon Road, Singapore 534725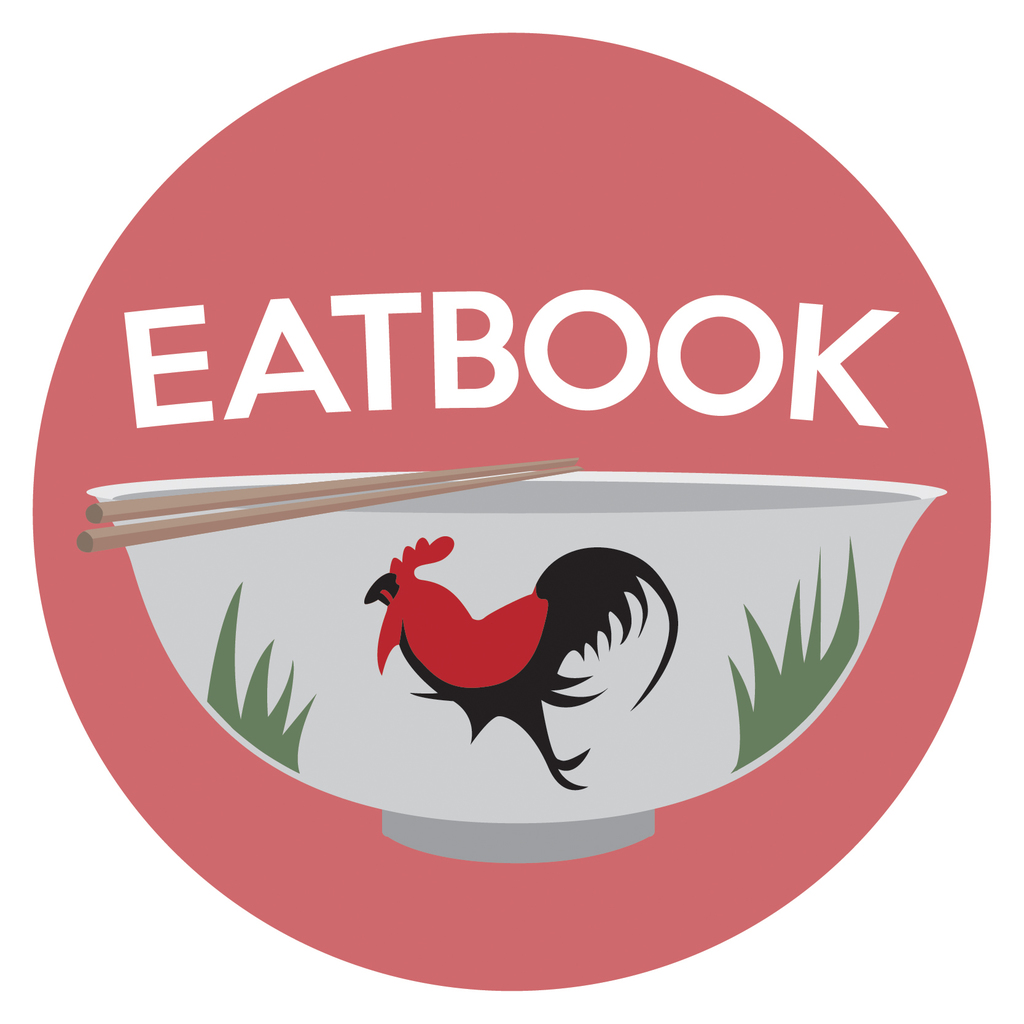 Drop us your email so you won't miss the latest news.