Boil, steam, grill: Steamboat done three ways
Update (4th April 2019): Emperor Pot has permanently closed.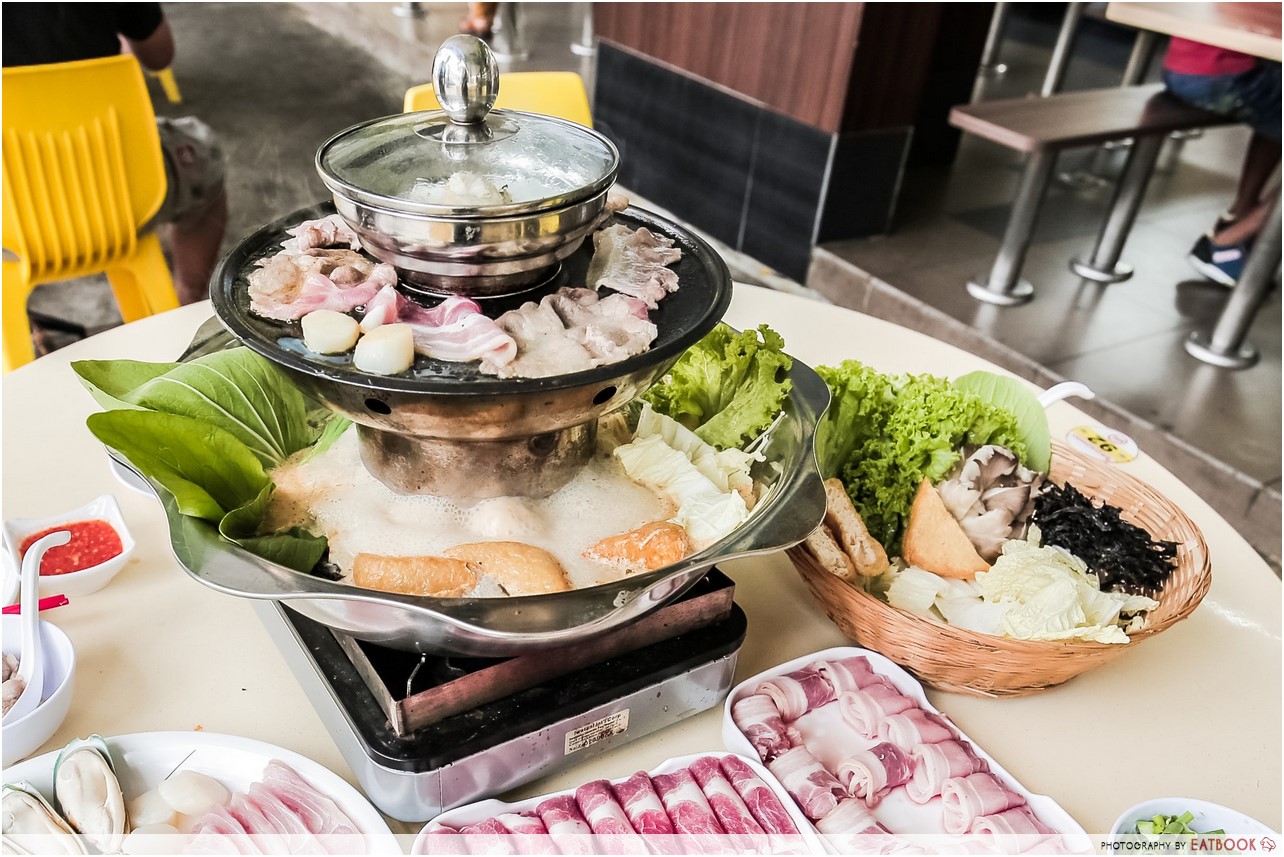 When it comes to steamboat, a wide variety is always welcomed. Whether it's seafood, meat or vegetables, it's always a case of the more, the merrier. At Emperor Pot, you won't only get a large range of ingredients, but also three ways to cook them! Whether you prefer boiling, steaming or grilling your meat, this unassuming kopitiam stall in Jalan Besar can help fulfil your tummy's wishes. Oh, did we mention you'll also have 4 soup bases and 9 dipping sauces to choose from? YUMS.
Also watch our vlog of this here!
Emperor Pot's Food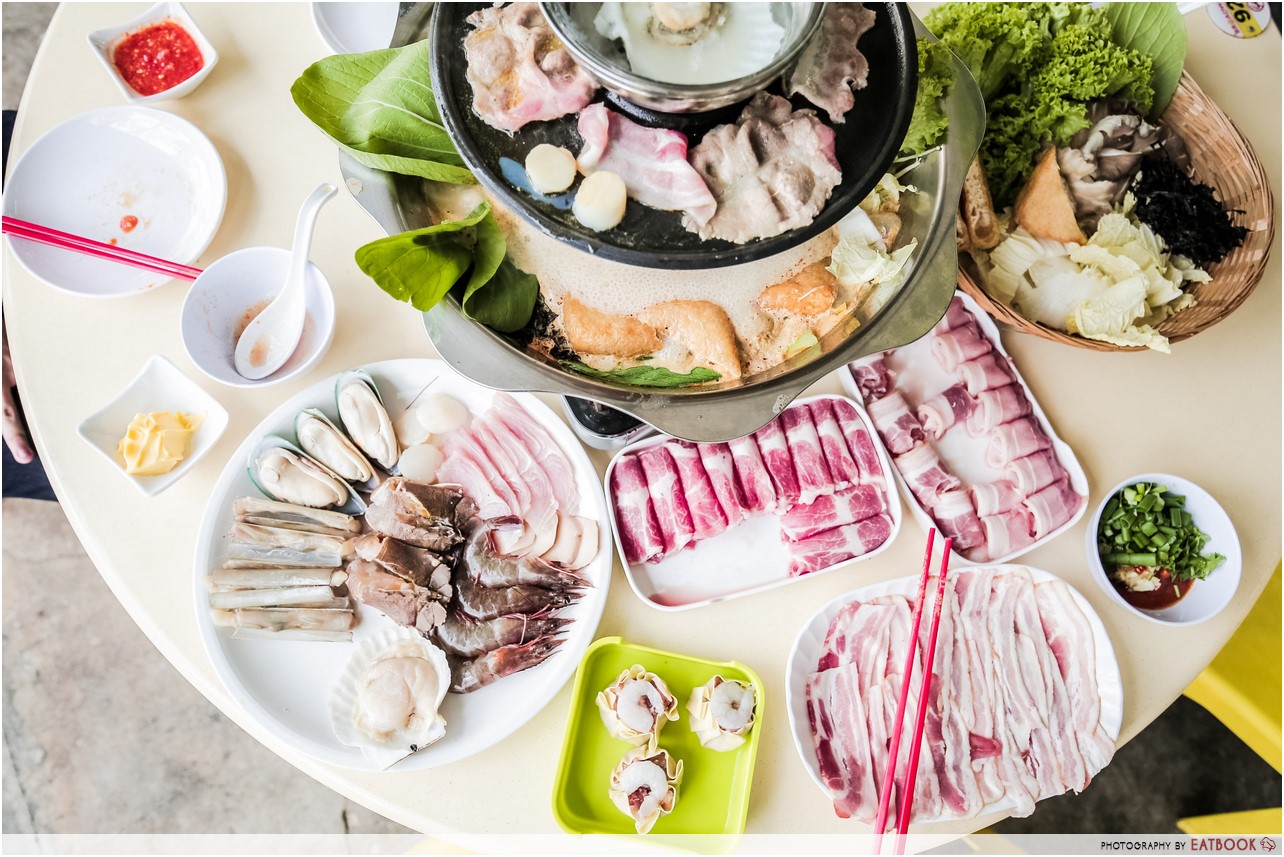 Emperor Pot's menu only offers 2 choices, but these are enough to help you enjoy your triple-tiered steamboat. Prince Pot ($5.90) comes with your choice of meat or seafood set, and it's a hearty portion for single eaters. For groups of 3 to 4, Mix Combo Set ($49.90) delivers a range of fresh meat, seafood and vegetables. We decided to have the best of everything and went with a Mix Combo Set.
Upon ordering at the counter, diners can choose between 4 soup bases at $5.90 each: Laksa, Tomato, Chicken or Spicy Mala. We decided to go with what they recommended – Laksa. However, at 5pm on a weekday, we were told we needed to wait for half an hour before the soup will be ready.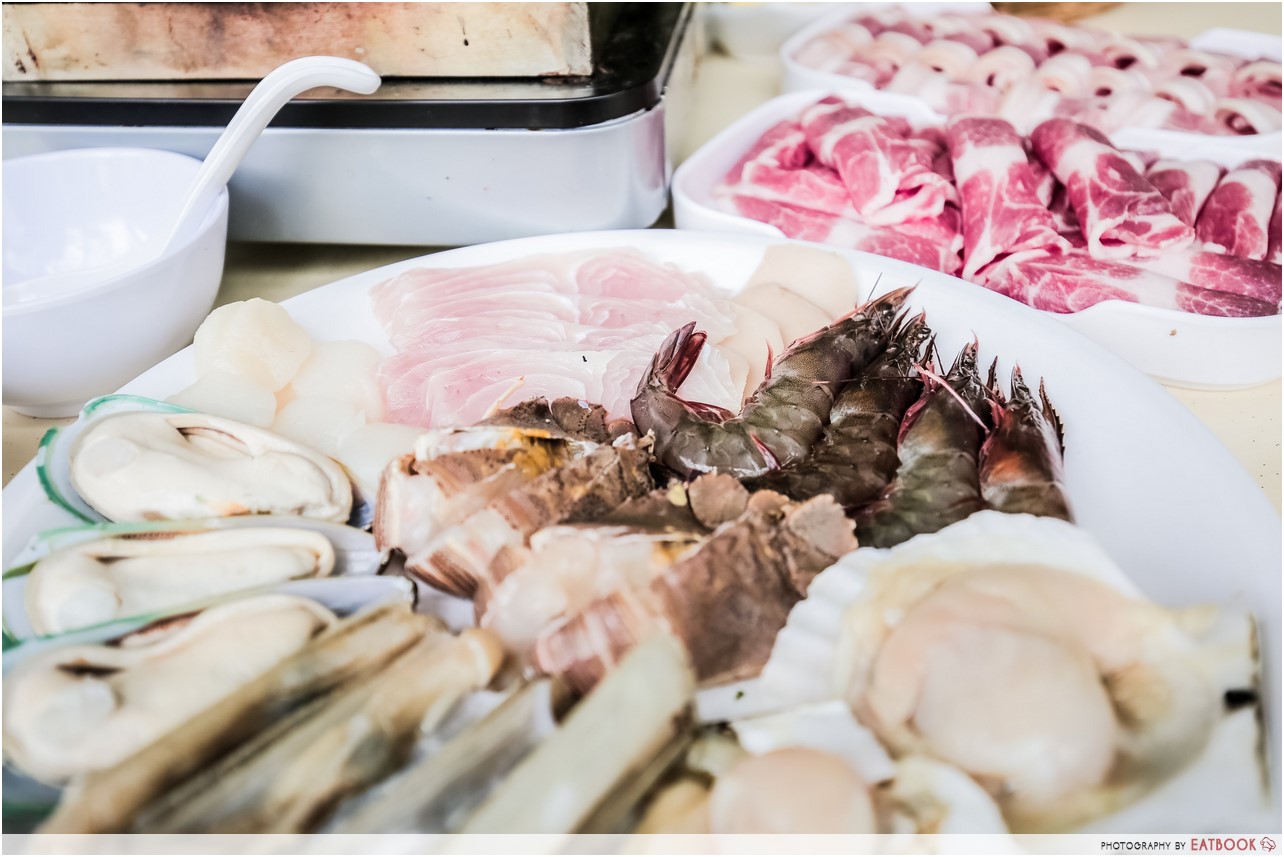 When they finally arrived to set up the steamboat after an hour, dishes came pouring in. For meats, we were given plates of beef, pork belly, pork collar shabu shabu and chicken slices. The best were bacon strips that became extra crispy when grilled.
As for seafood, the selection was equally wide – bamboo clams, crayfishes, half-shell scallops and even abalone slices. Vegetables included dried seaweed, golden mushrooms and fried beancurd.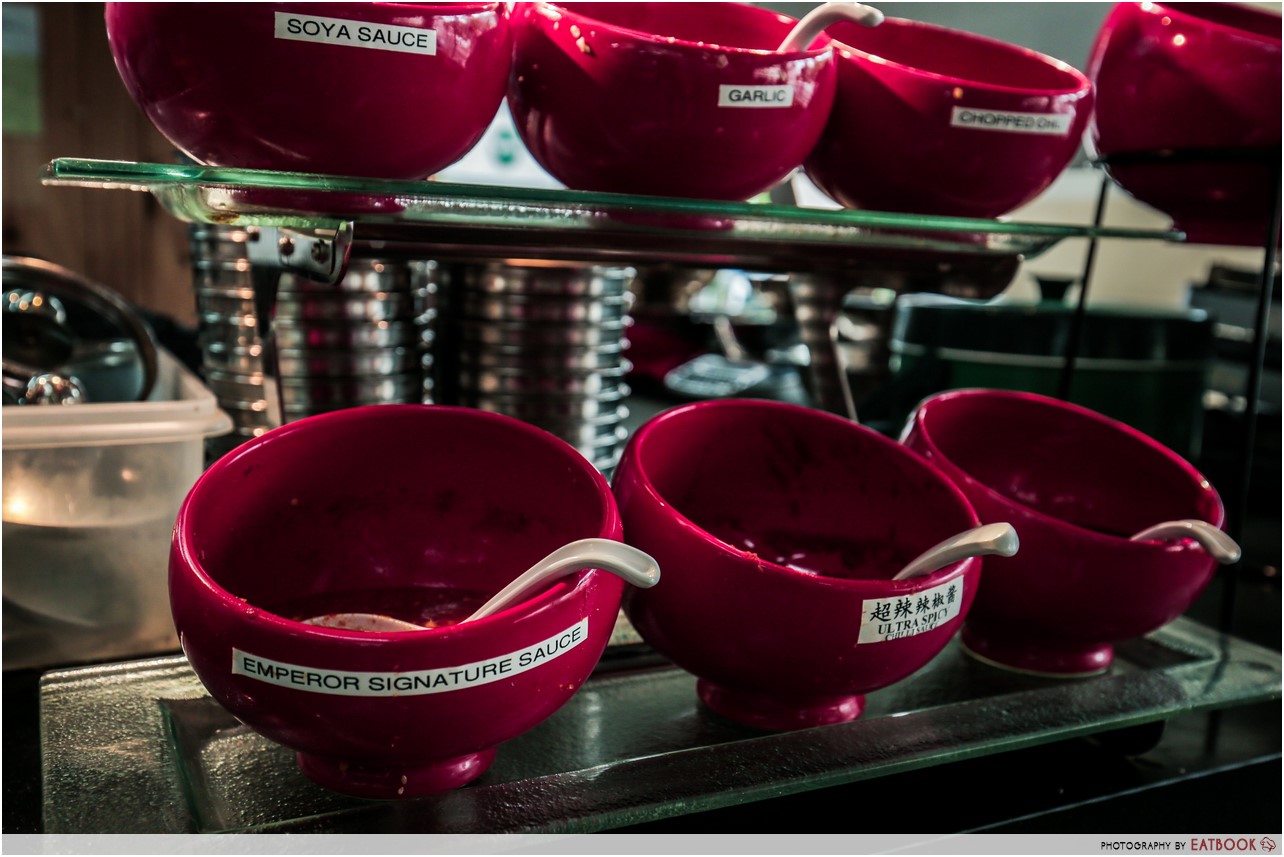 To spice up your meal, you'll be offered  9 different sauces and 2 dried condiments. These include sesame oil, dried chilli and their signature sauce – a light citrusy mix that isn't overly spicy. Definitely a must-try. Feel free to have each sauce on its own, or for those who want to take the DIY concept a little further – mix your personal favourites in a dipping bowl!
Emperor Pot's Service
Besides the waiting time, the service we experienced was good. Emperor Pot's staff would walk by once in a while to top up our soup base, and they even offered us a whole tupperware of soup when we wanted to takeaway what was left in our pot. Best of all, they open all the way until 2:30am on weekdays, which definitely makes us reconsider boiling a measly packet of maggi mee in the middle of the night.
The Verdict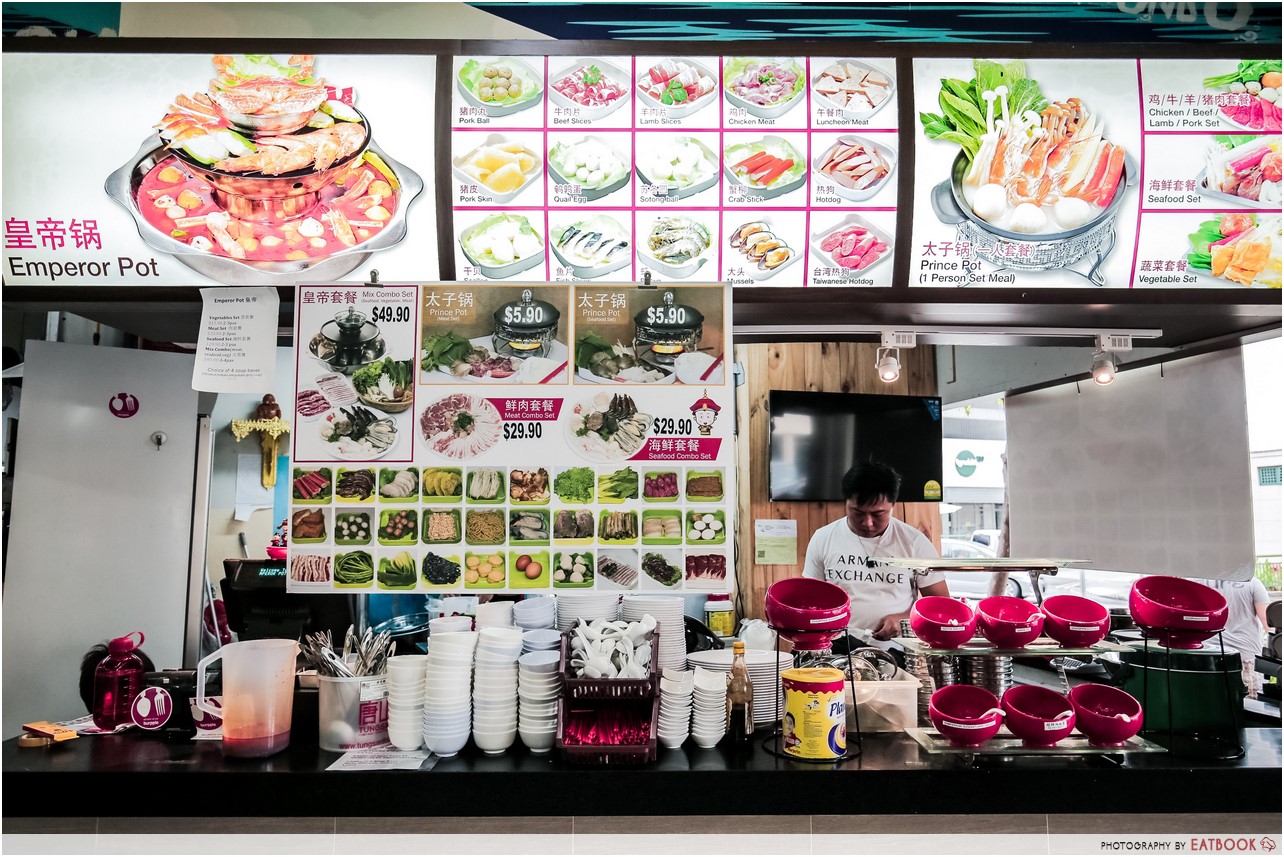 The biggest downside was the waiting time – definitely not the best option for hangry souls. Food wise, our soup got quite dense towards the end and may be a bit too heavy on the palate for some.
However, for what it's worth, the range of fresh seafood, meat and vegetables are definitely value for money. I would return for the triple-tiered steamboat experience and to try out other soup options.
This is an independent review with all expenses borne by Eatbook.sg.
Editor's note: Post has been updated to reflect price changes.
Summary
Pros
– Value for money
– Fresh and wide range of ingredients
– Good for groups
– Opens till late
Cons
– Long waiting time, even during non-peak hours
– Not air-conditioned
Recommended Dishes: Mix Seafood Set ($50++)
Operating Hours:
Monday – Friday: 11:30am – 2:30am
Saturday: 11:30am – 10:30pm
Sunday: 11:30am – 12am
Address: 100 Tyrwhitt Road, Broadway Food Centre, Singapore 207542