Sedap Thai serves affordable and halal mookata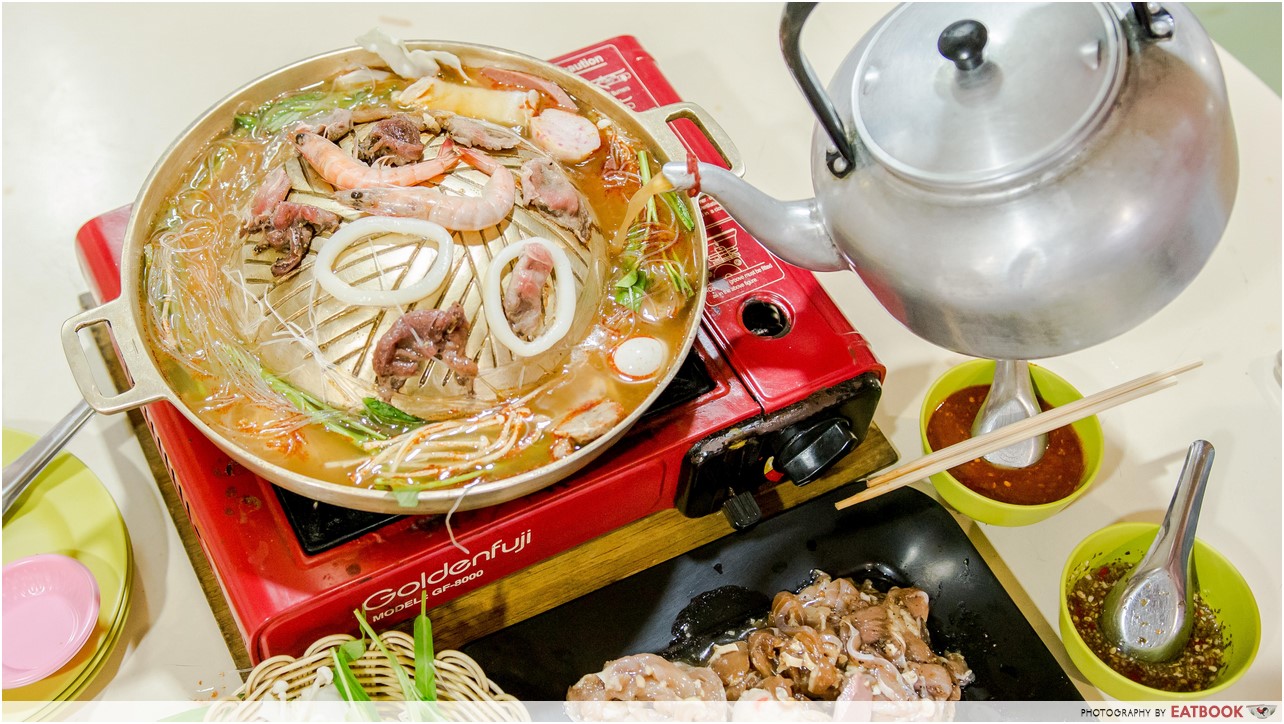 Though I enjoy chatting over brunch at a pretty cafe with my friends, it can get boring really quickly. That's why my friends and I sometimes turn to mookata joints for a good time. Whether it's competing to see who is the best at grilling, or fighting over the last piece of fatty meat, something about having mookata with great company always leaves me smelly but satisfied – more so the latter.
It's a pity that mookata places rarely cater to our Muslim friends since pork lard is traditionally used in the cooking process. But don't fret, Sedap Thai has got us covered! Halal-certified and affordable, Sedap Thai could be your group's new go-to mookata place.
Food at Sedap Thai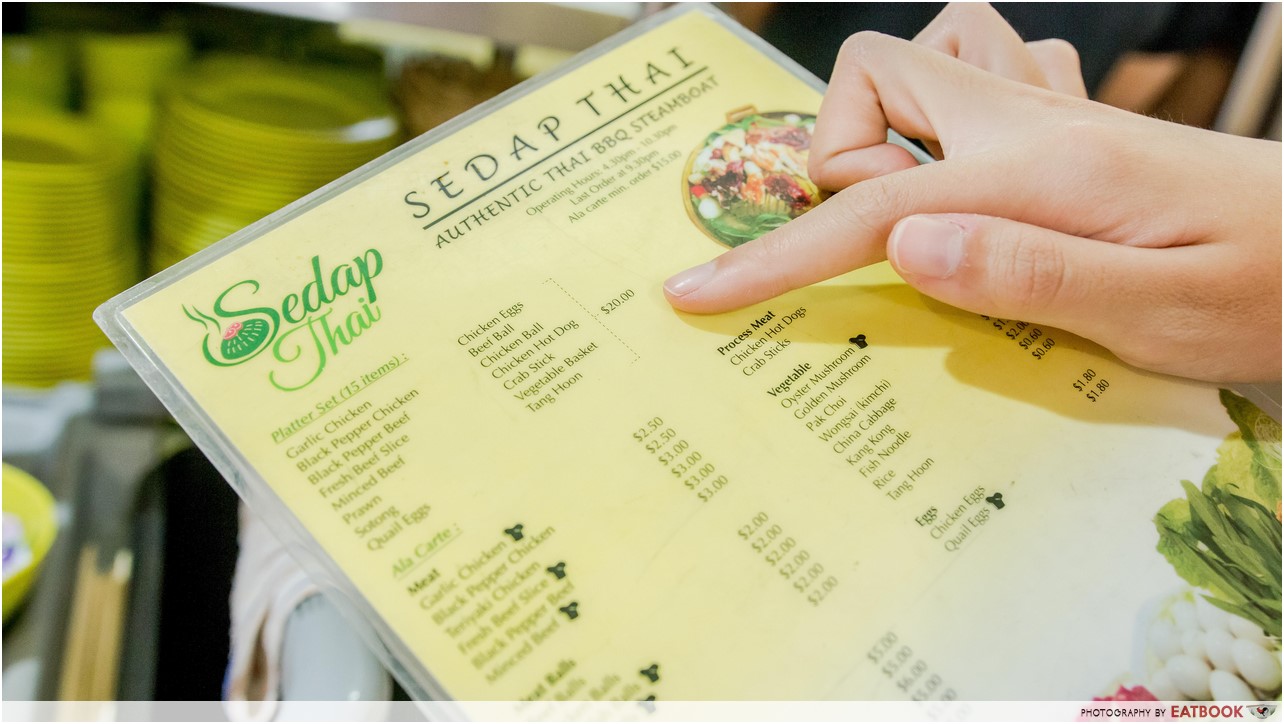 Though they have a la carte items on their menu, Platter Set ($20 for two people) is their most popular option. A platter comes with 15 different items in small quantities. It may not seem like much, but it's a substantial amount of food for two people, or possibly one very hungry person.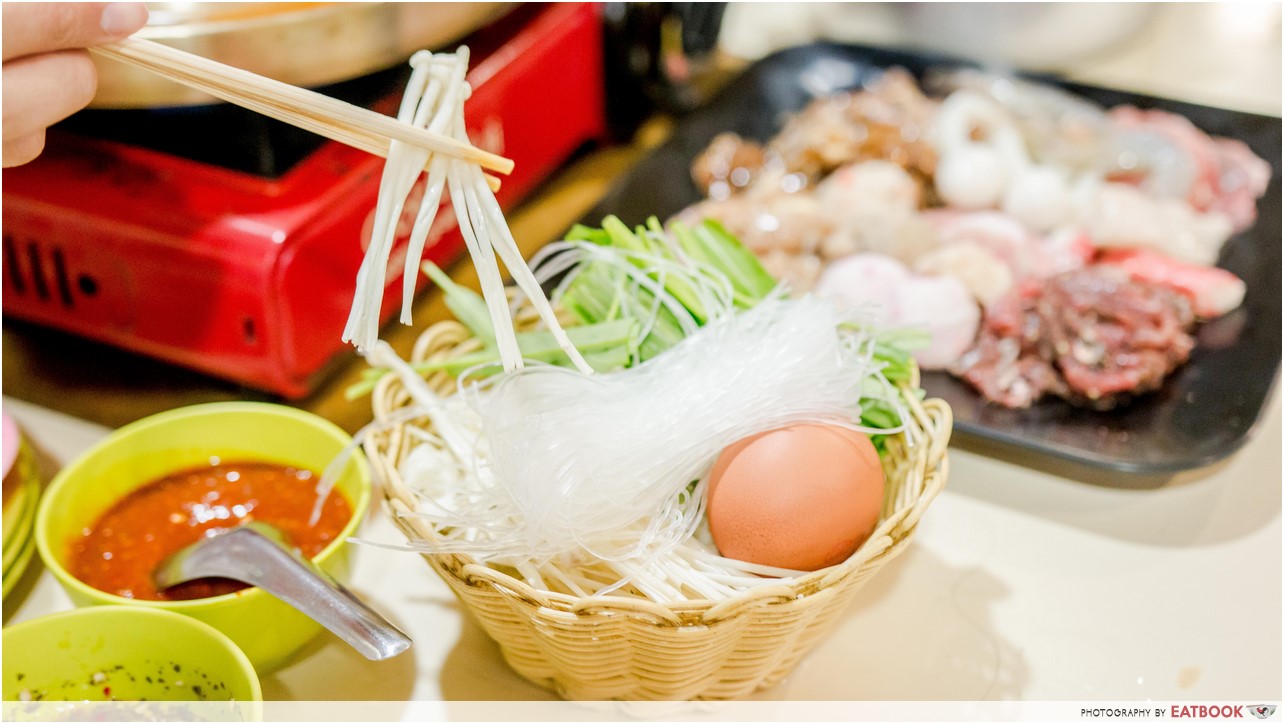 The sharing platter came with a basket of vegetables. This included kang kong, Chinese cabbage, enoki mushrooms, vermicelli and an egg.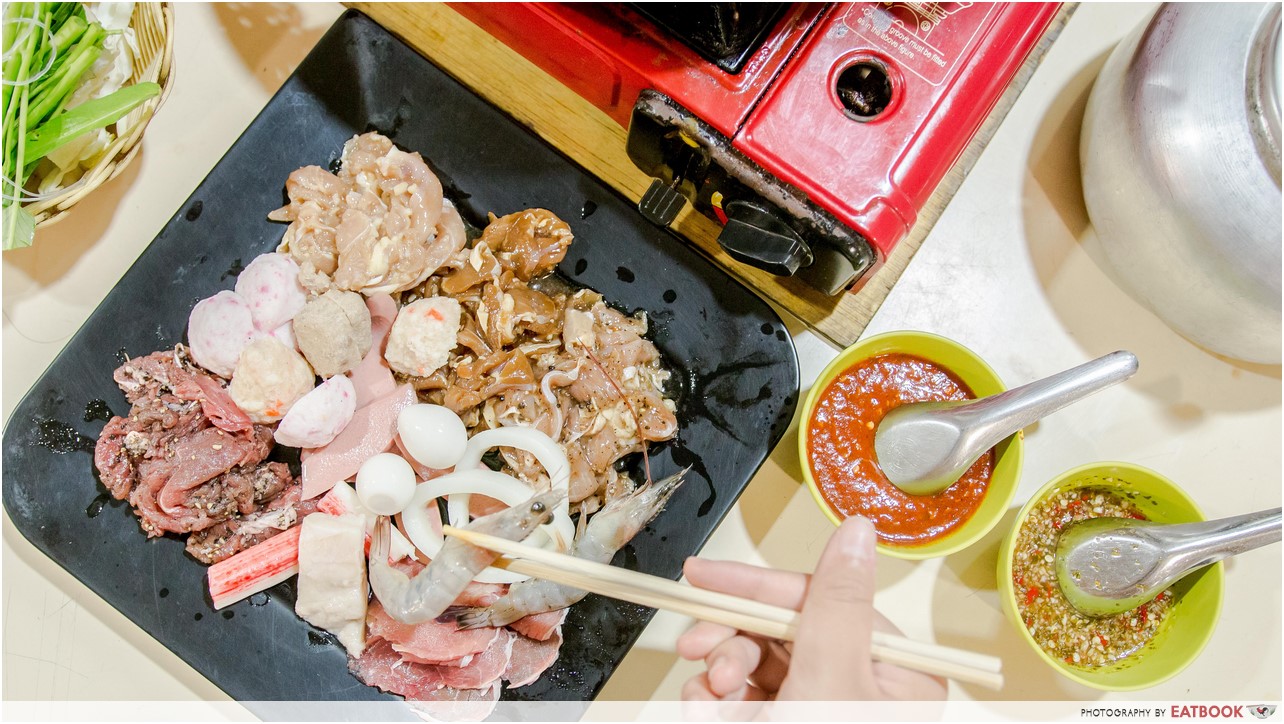 The bulk of the platter was made up of various meats, seafood and processed food, including prawns, crab sticks, beef balls and chicken balls. Instead of pork, they served marinated meats such as garlic chicken, fresh beef and black pepper beef. Though there was nothing particularly special about the selection, it's worth the price you're paying.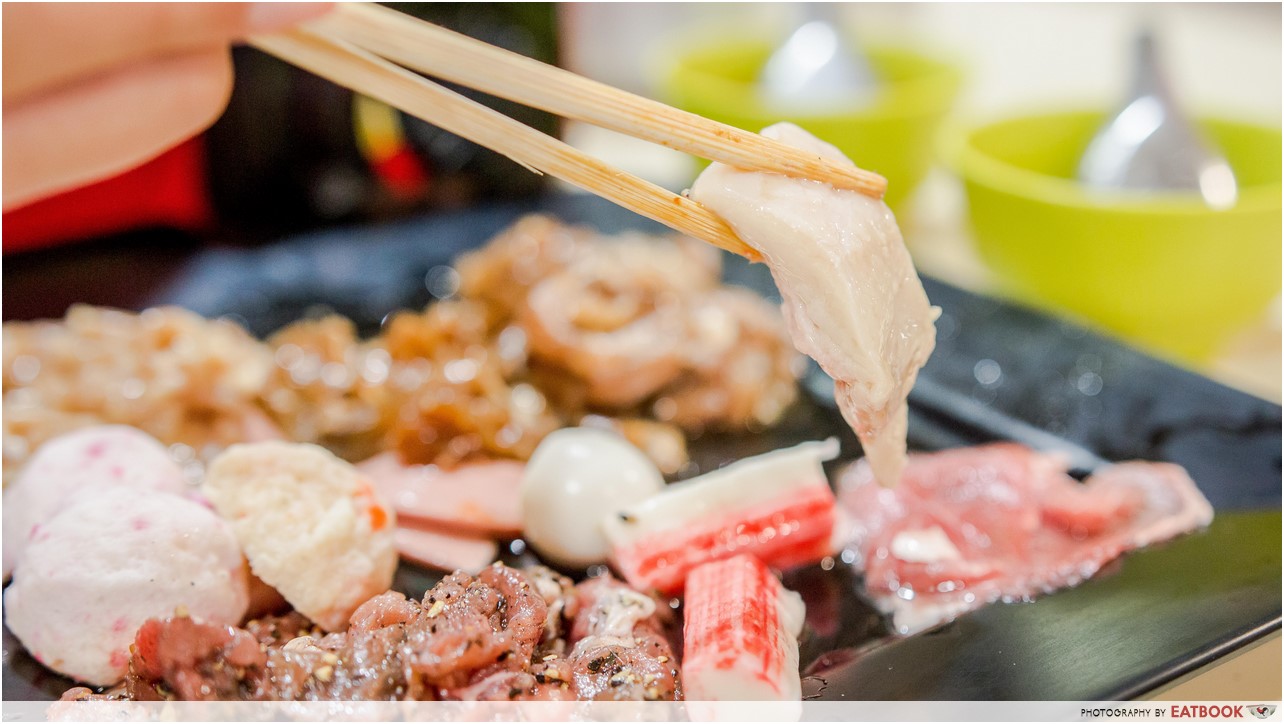 Here is the key difference between the mookata here and elsewhere. Sedap Thai replaced the pork lard used to grease the skillet with beef fat. The co-owner of the stall mentioned that many customers actually enjoy the substitution as it makes the meal less jelak.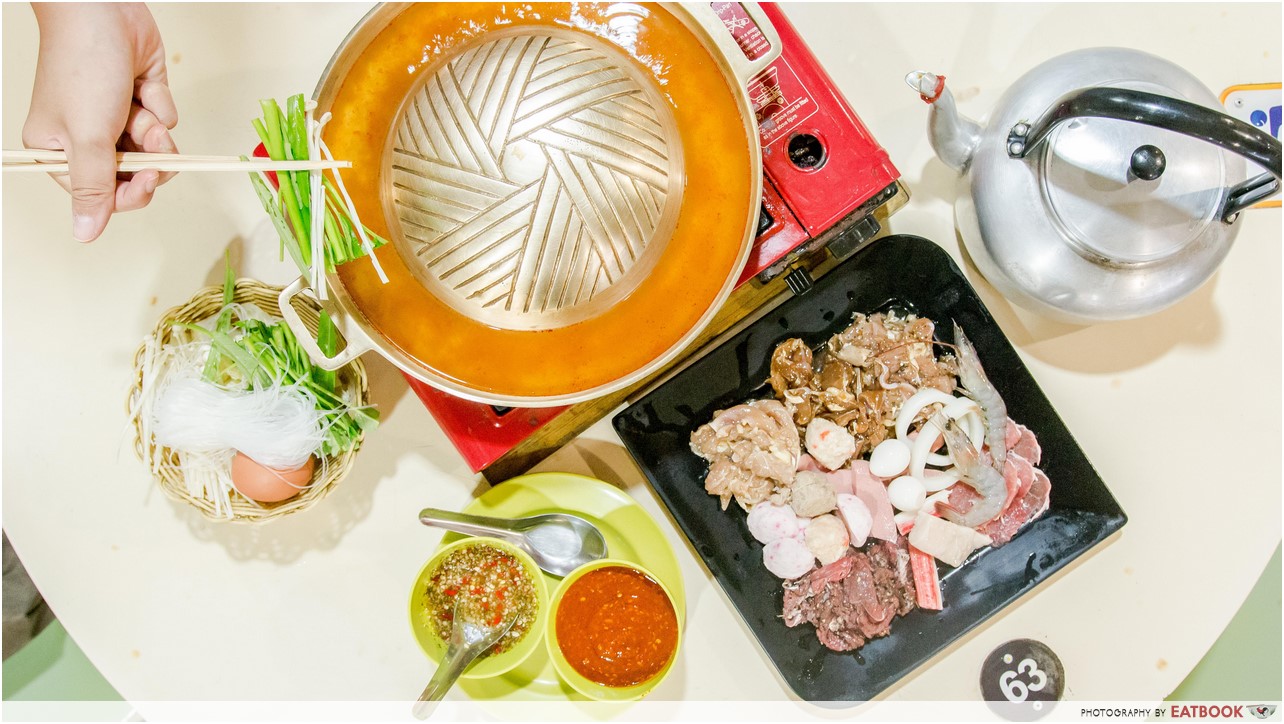 You have two soup options for the steamboat section. You can choose a chicken broth or top up an additional $2 for their tom yum soup. The chicken broth may start out quite plain but will become more flavourful as the juices from the cooked meat trickle down into the soup.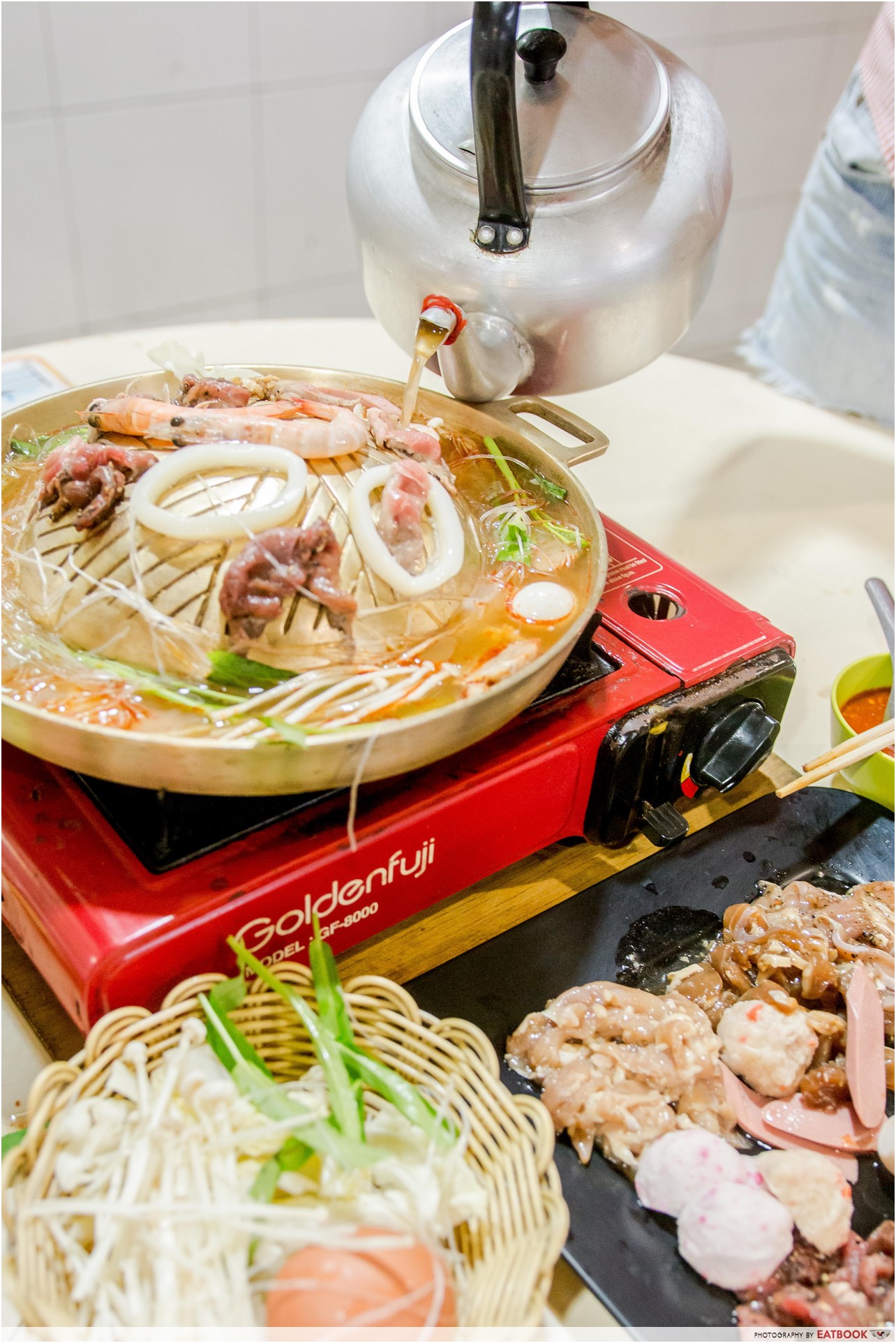 We chose the tom yum base despite the stall owner warning us that it would be on the salty side. As someone who can't handle spicy food well, I found their tom yum soup manageable. The tangy, savoury broth made the meat and vegetables we cooked more appetising. What's more, you'll get free-flow soup here.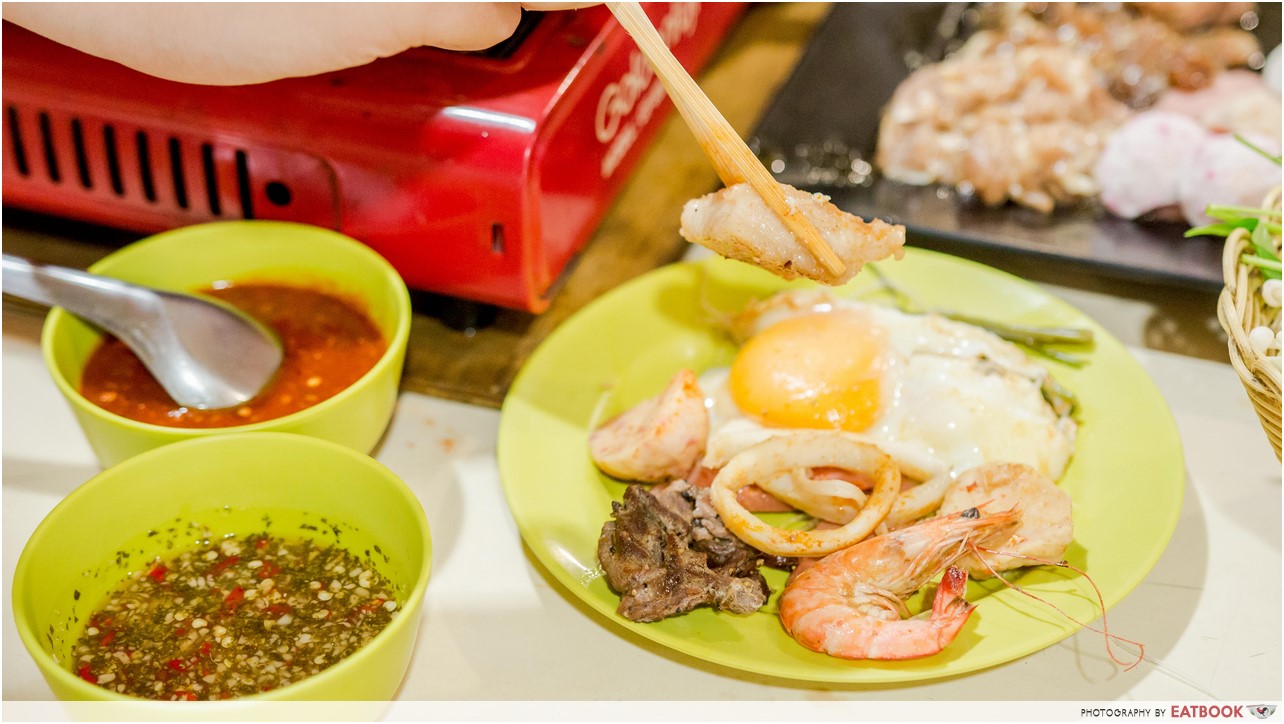 It didn't take long for the food to be cooked and ready to eat. I preferred the plain chicken and beef as the marinade they used was quite peppery. The beef fat gave the food a slight char without being jelak.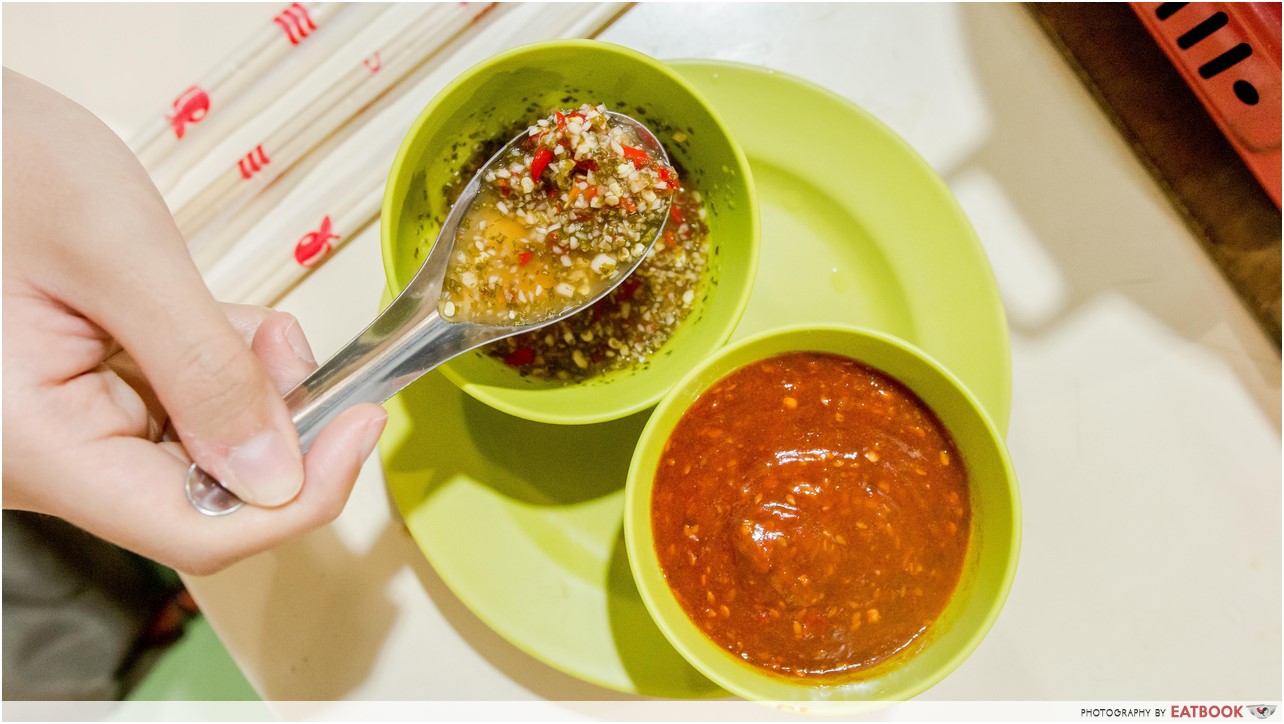 The two types of chilli sauce served on the side were also highlights. The thicker red chilli paste had a sweeter taste and coated the meat easily. The other sauce was more herby and tangy. This was more refreshing as it could cut through the greasiness of the grilled items.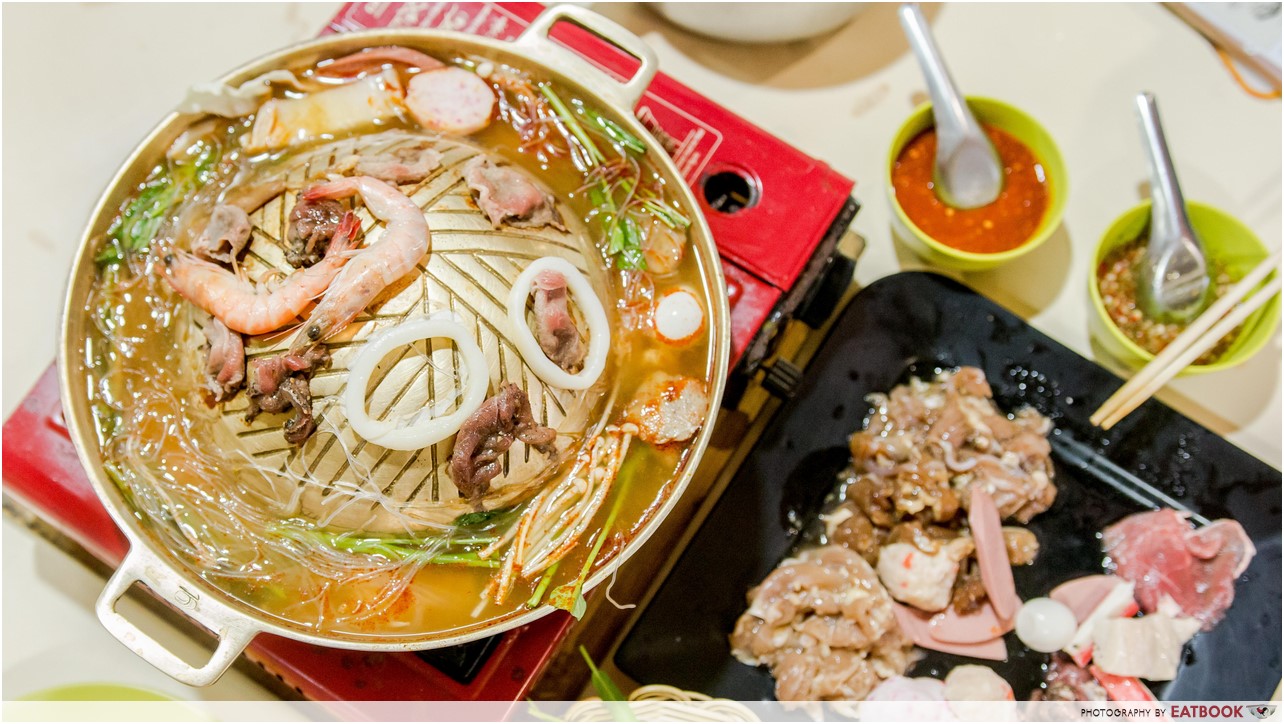 Though we were satisfied with the amount of food in the platter set, it may not be enough if you and your friends are starving. In that case, you can opt for an a la carte buffet ($20) that Sedap Thai recently introduced. You can order anything on the menu except the seafood category, which you will have to pay for separately.
Ambience at Sedap Thai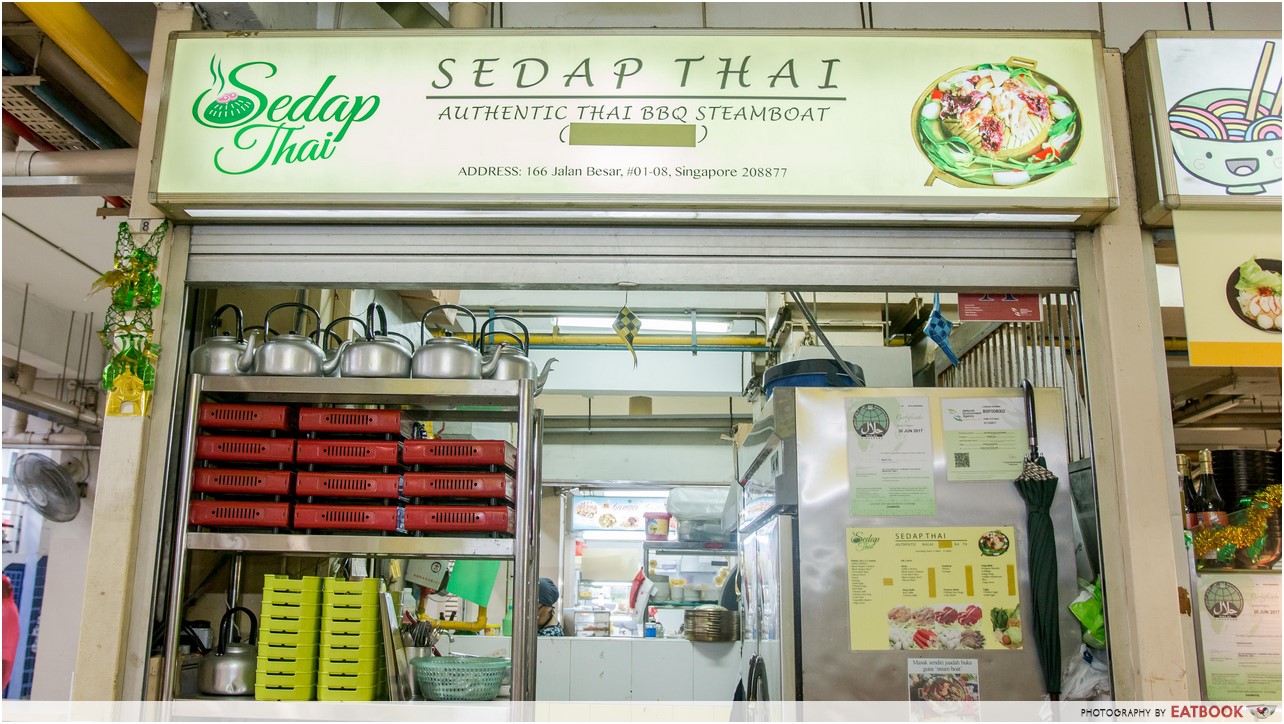 Sedap Thai is located on the first level of Berseh Food Centre, which is less than 10 minutes away from Farrer Park MRT Station by foot.
The hawker centre was surprisingly well ventilated. There were enough fans around the seating area to keep us cool even when we were grilling our food, so don't worry too much about the heat.  
The verdict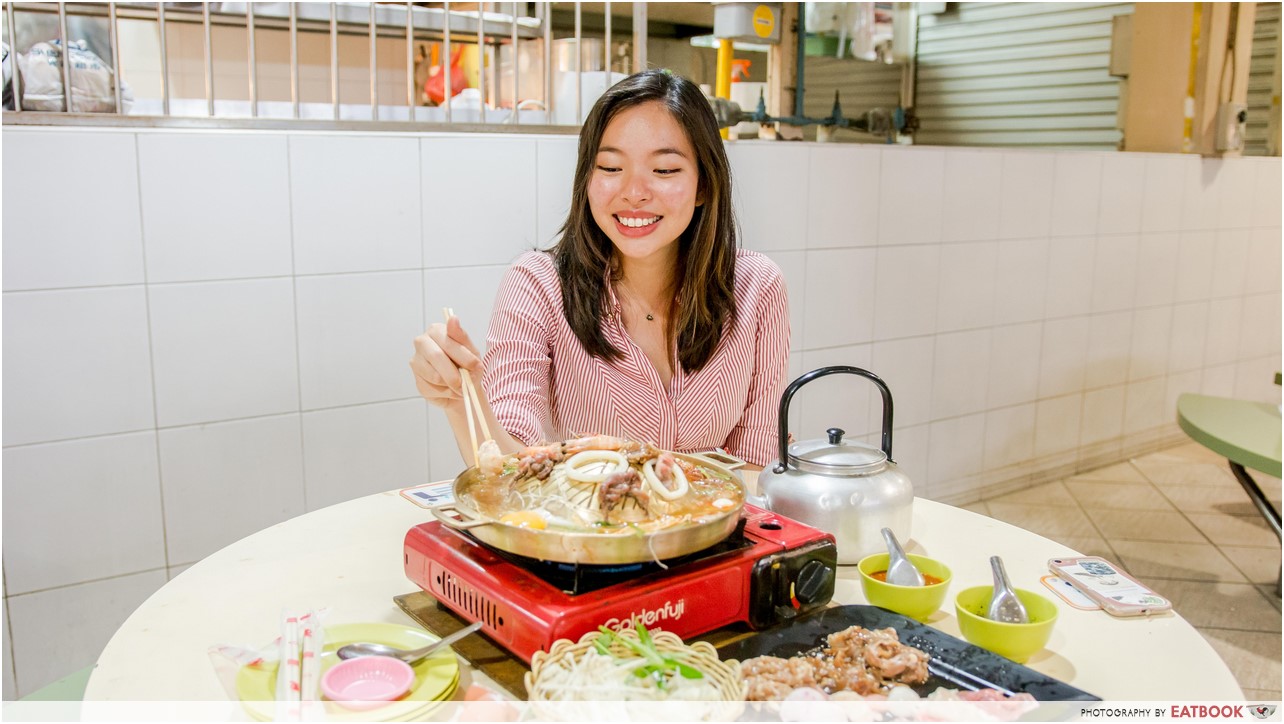 Sedap Thai is a rare find considering how it's halal-certified, affordable and good for big groups. Though you can't expect the highest quality ingredients or an extensive menu selection, I'd come back for mookata if I'm ever in the area with friends.
Address: 166 Jalan Besar, #01-08, Berseh Food Centre, Singapore 208877
Opening hours: Mon-Sat 4:30pm to 9:30pm
Tel: 8298 3579
Website
This is an independent review by Eatbook.sg
Summary
Pros
– Affordable
– Halal-certified
– Good for large groups
Cons
– Average quality
– Limited selection
Recommended Dishes: Platter Set ($20 for two people)
Operating Hours:
Monday – Saturday 4:30pm to 9:30pm
Tel:
8298 3579
Address: 166 Jalan Besar, #01-08, Berseh Food Centre, Singapore 208877