Limited-quantity at Hokkien Man Hokkien Mee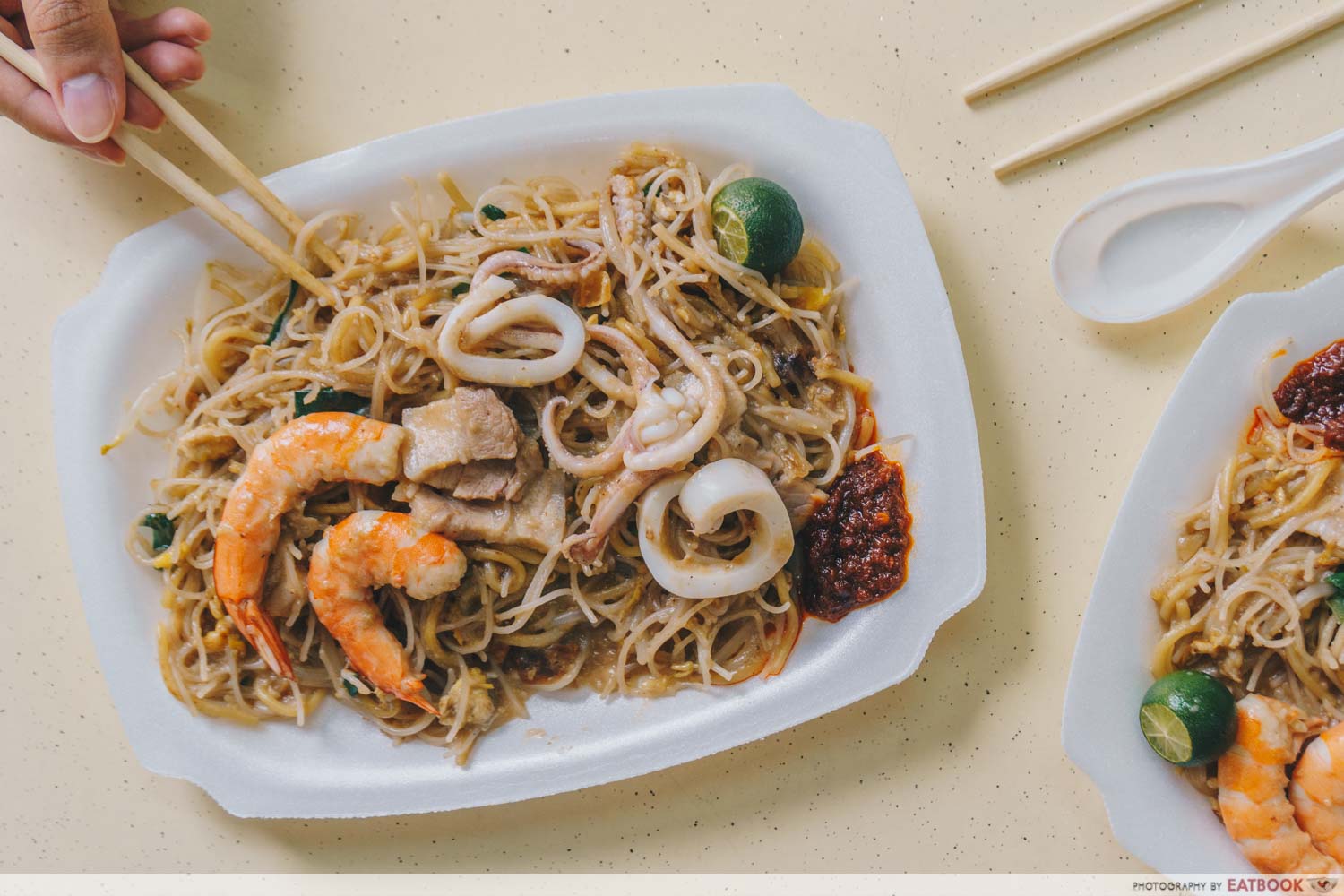 Hokkien mee is a staple at Singaporean hawker centres. Plenty of the classic stalls have been around for decades; Nam Sing, for example, has a rep for being one of the best around. But there are plenty of new contenders popping up to prove their worth, and Hokkien Man Hokkien Mee is one of these stalls.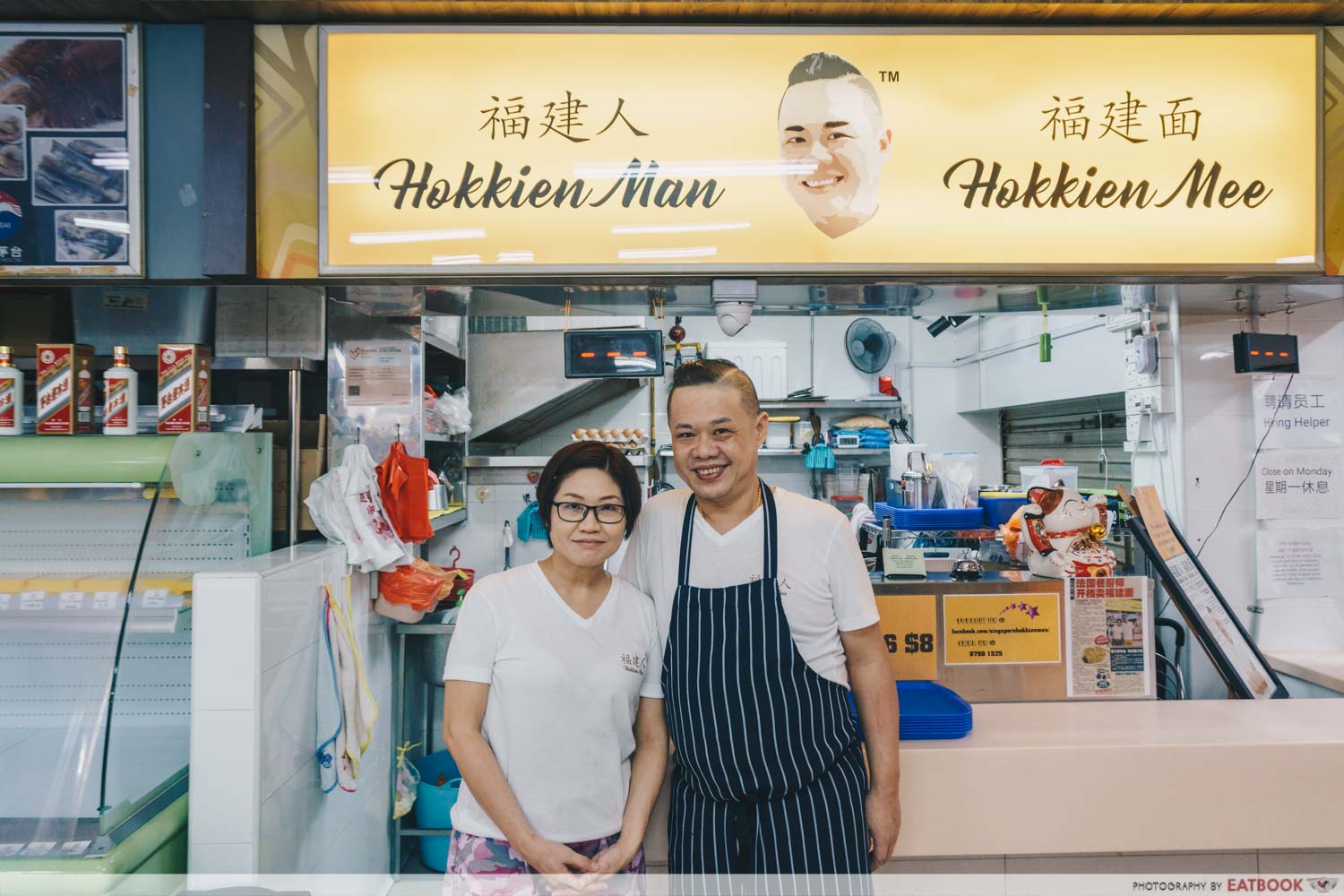 The stall is run by 43-year-old Xavier Neo and his wife, Alice Lai, 46. Xavier was formerly a sous chef at three Michelin-starred Les Amis, and applies techniques he picked up from the French restaurant when cooking Hokkien mee. Alice is no stranger to the kitchen either. The sambal recipe is adapted from the one she whipped up years ago when running a Nasi Lemak stall years ago.
As a habitual late riser, I was shocked to hear that the couple wake up at 5am every day, with only Mondays to rest. They spend hours making stock and preparing to open at 10am. Even though they close early, they stay back past closing time to clean up and prepare for the next day. By the time they're free to go home, it's already seven in the evening. 
The nine to five grind is exhausting for most of us. But having a 14-hour work day, six days a week, sounds incredibly gruelling. The two press on due to passion for their craft, and I can appreciate how much commitment they put into the stall.
Food at Hokkien Man Hokkien Mee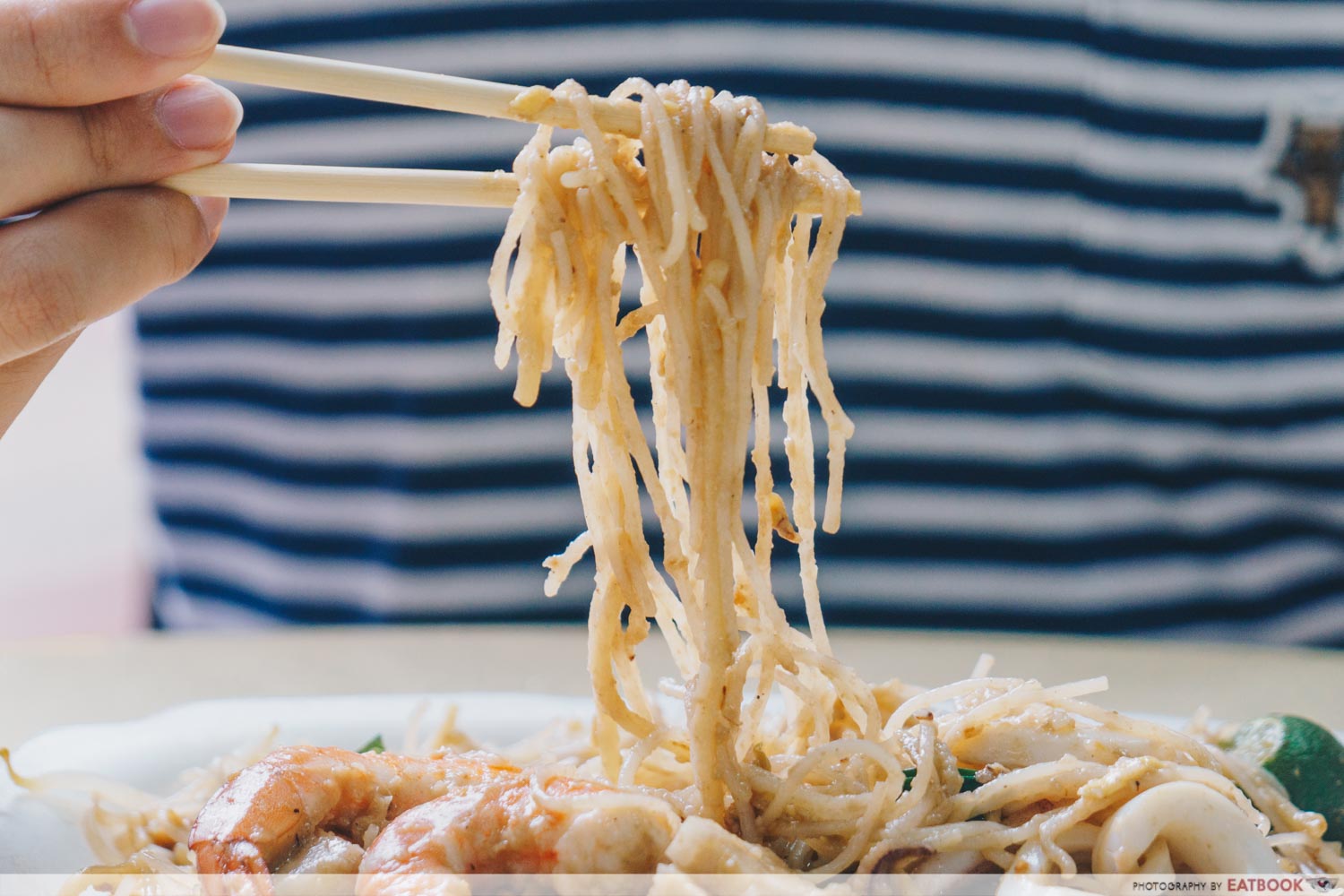 The Hokkien mee comes at three different price points: $5, $6, and $8. We went for the $6 plate, which was a pretty satisfying portion for one person. 
The noodles were a mix of yellow noodles and thick bee hoon. The robust stock clung to each strand, flavouring it with rich seafood flavours. I noticed that it wasn't as cloyingly oily as some of the other plates that I've had, even though the Hokkien mee was on the wetter side. 
There were chives and bean sprouts mixed in, which added some crunchy texture to the dish. A smoky wok hei aroma was present in each mouthful, and the yellow noodles were gently charred.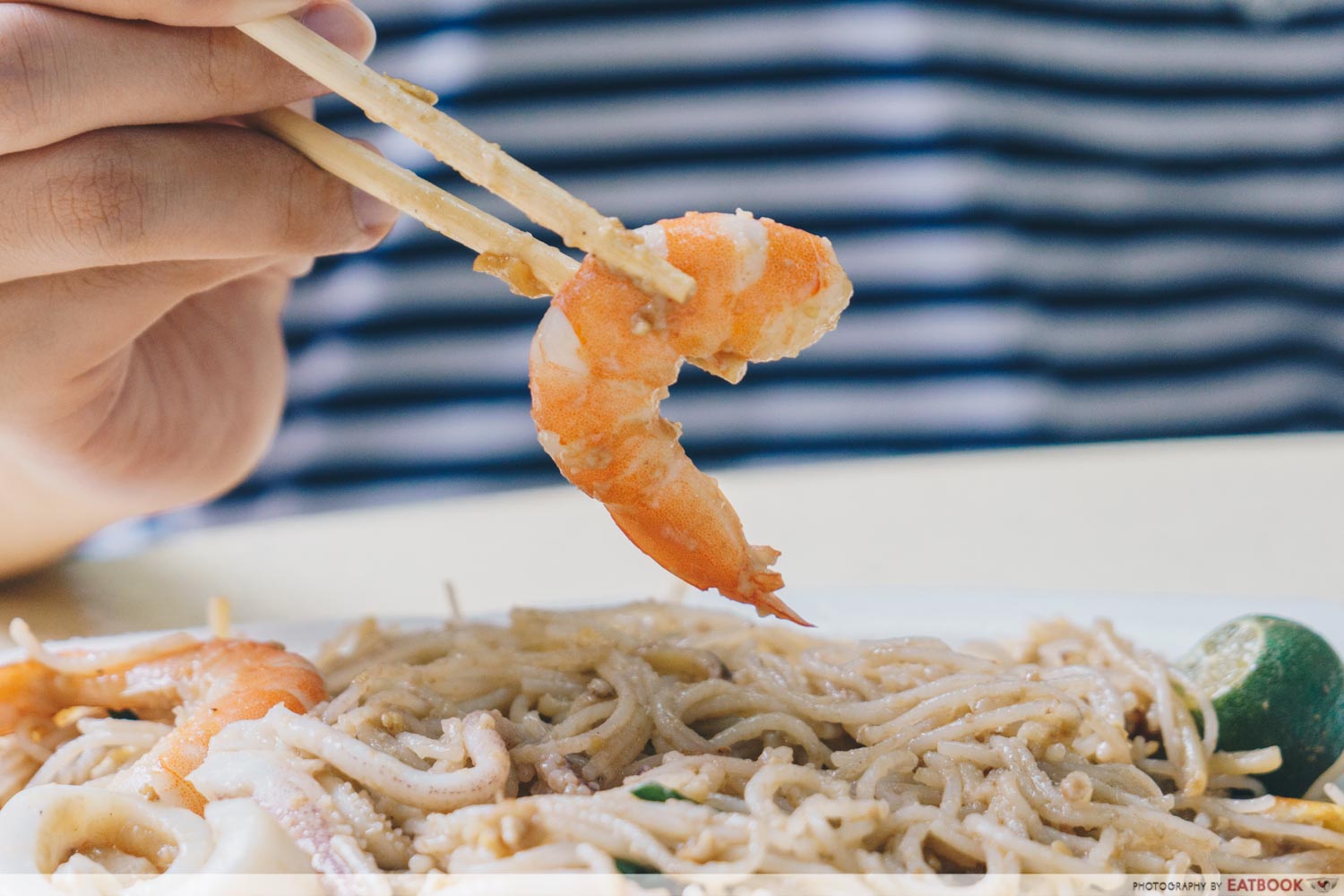 The $6 version came with two large juicy prawns. They were pre-peeled and fresh, so I didn't need to painstakingly pry the shells off with a flimsy plastic spoon. I loved the succulent meat, and the prawns had that satisfying snap when bitten into.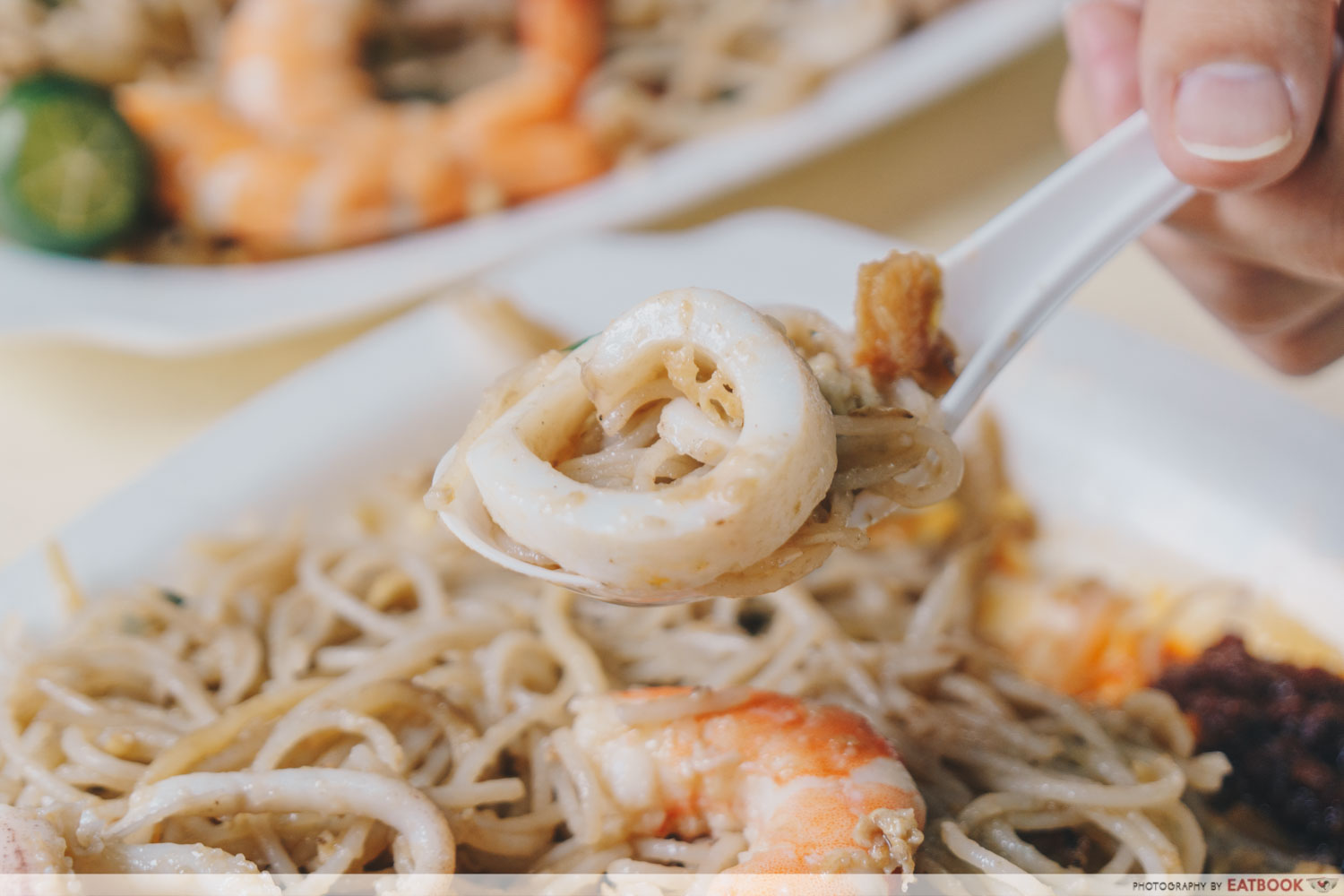 I liked the squid quite a bit. It was enjoyably chewy and not overly tough. The pieces were chunky and clean tasting too. I liked eating them with the crunchy pork lard bits that contrasted with the chewy texture of the squid.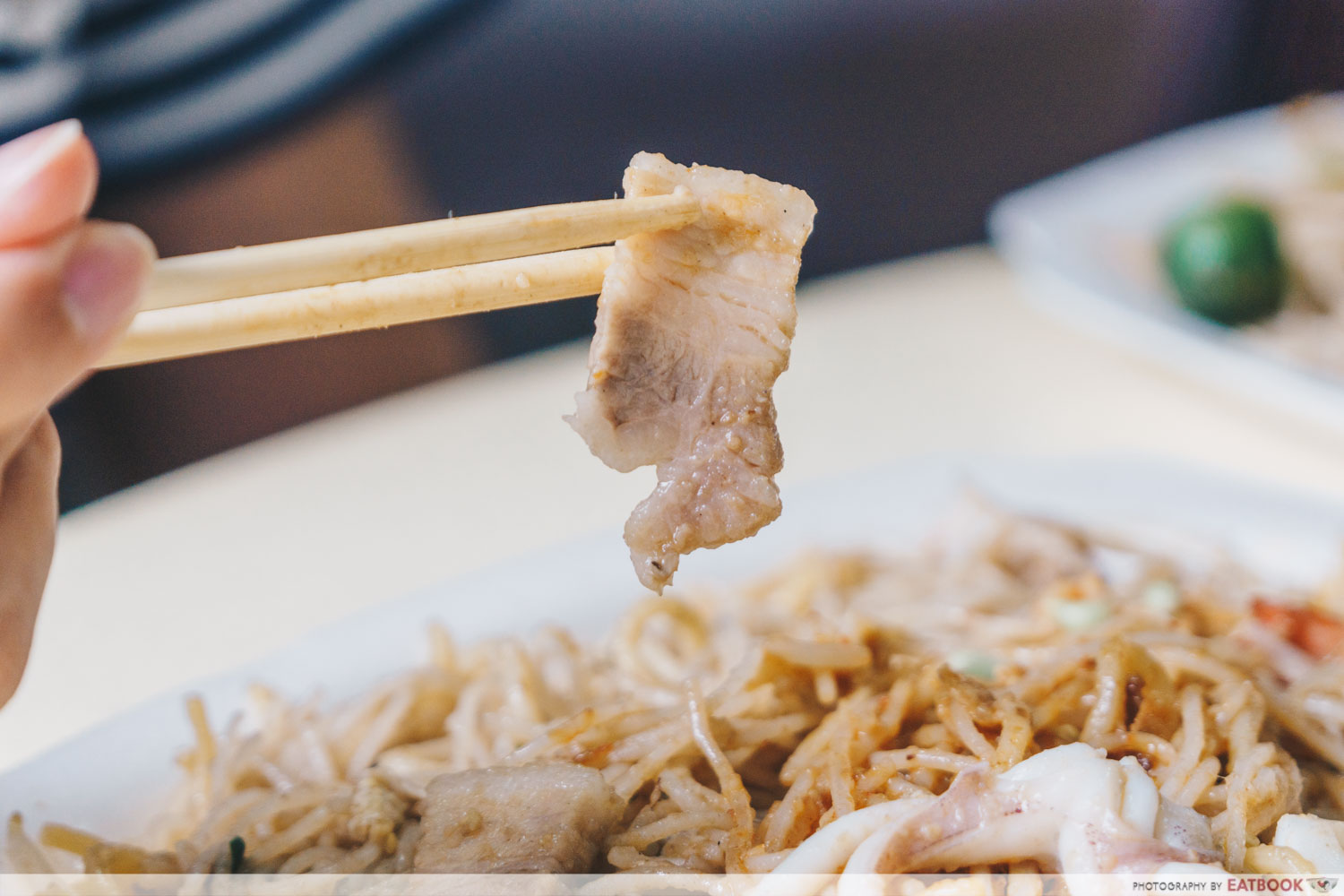 When eating pork belly cooked in lots of sauce—like in Hokkien mee and mala—I prefer them to be thinly cut. They go better with noodles if you can have them as slices. The pork belly was thinly sliced and soaked up a lot of flavour. The lean meat was tender, and the fattier portions were rich and unctuous.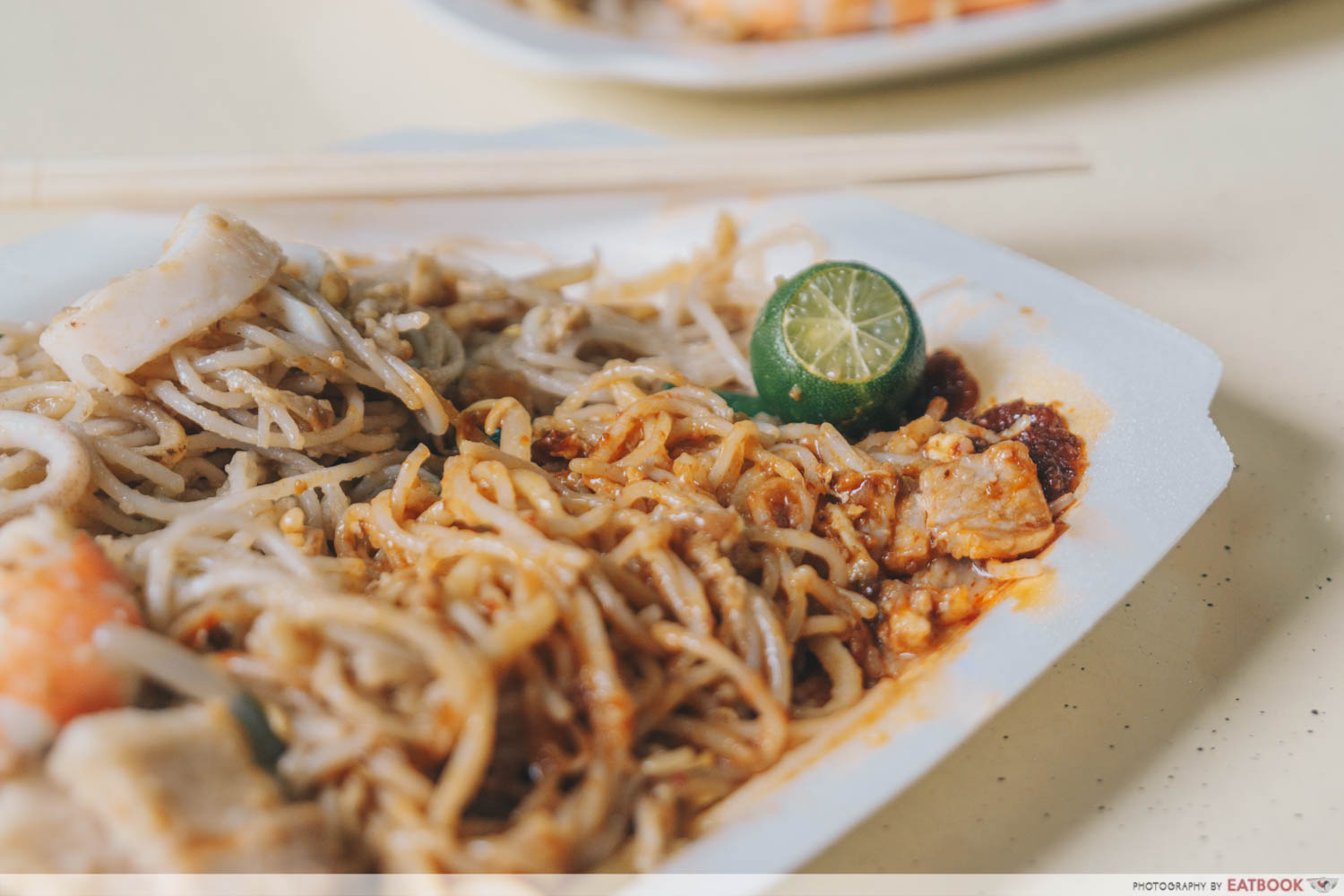 Chilli is a big part of Hokkien mee. I find that it helps to cut through the lard that sticks to my tongue. Alice's chilli recipe is a bit sweeter than what I'm used to. She told me that requesting additional chilli costs extra, because they put a lot of belacan into it to give a deeper flavour. 
My preferred way of eating this dish is squeezing a lime into the chilli-mixed noodles, so that's exactly what I did. The ensuing mix of sour calamansi, spicy-sweet sambal, and savoury seafood made for mouthful after mouthful of intense and delightful flavour. 
Overall, I was satisfied with this plate of Hokkien mee. There were enough ingredients to give the dish variety, and it got better with each bite. I'm quite a big eater, and the $6 portion was enough for a full meal.
However, a colleague visited a second time to get a taste of the Hokkien mee, and found the noodles to be inconsistent in taste. The garlic and seafood taste was far too strong, and the noodles lacked any wok hei. While I enjoyed my first meal, the consistency here isn't quite there yet. 
Ambience at Hokkien Man Hokkien Mee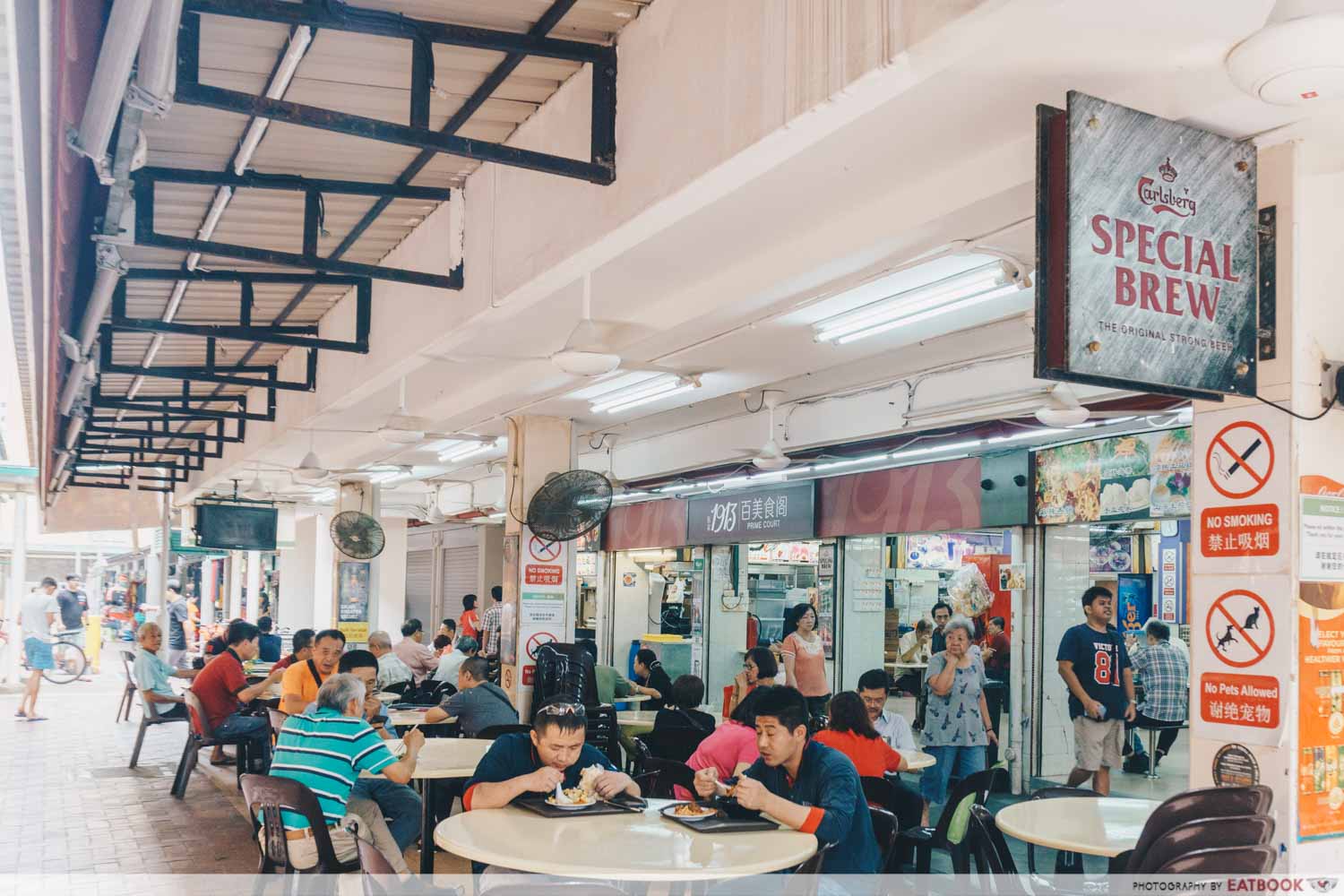 The previous stall was tucked away at the base of a residential block and located right next to a larger hawker centre. Xavier and Alice chose this spot since plenty of elderly residents live in the area. Many of their regular customers are fans of old-school-style Hokkien mee, and regularly visit the stall.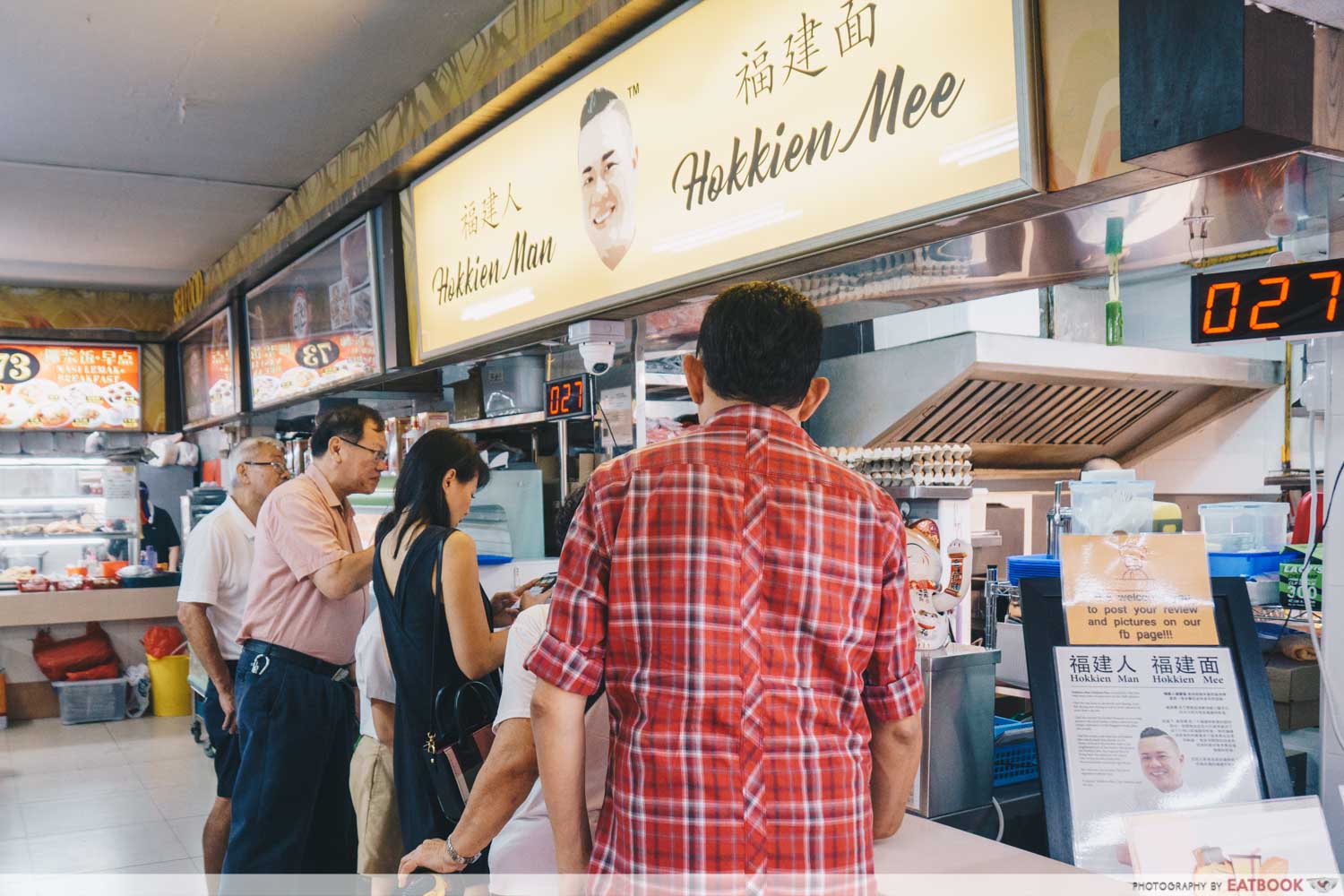 We came early, since we caught wind of the winding queues and 45-minute wait time. I made sure to call in advance and place my order the previous day, which allowed me to eat their very first batch. As it got closer to the lunch rush, the lines grew longer and longer, just like we were warned of. I thanked my lucky stars that we avoided the huge crowd. It wasn't quite as long as 45 minutes, but it was still quite a bit of waiting for customers who were queuing. Some of them were regulars that were willing to keep coming back and brave the line for plates of Xavier and Alice's Hokkien mee, which was a good omen for the meal.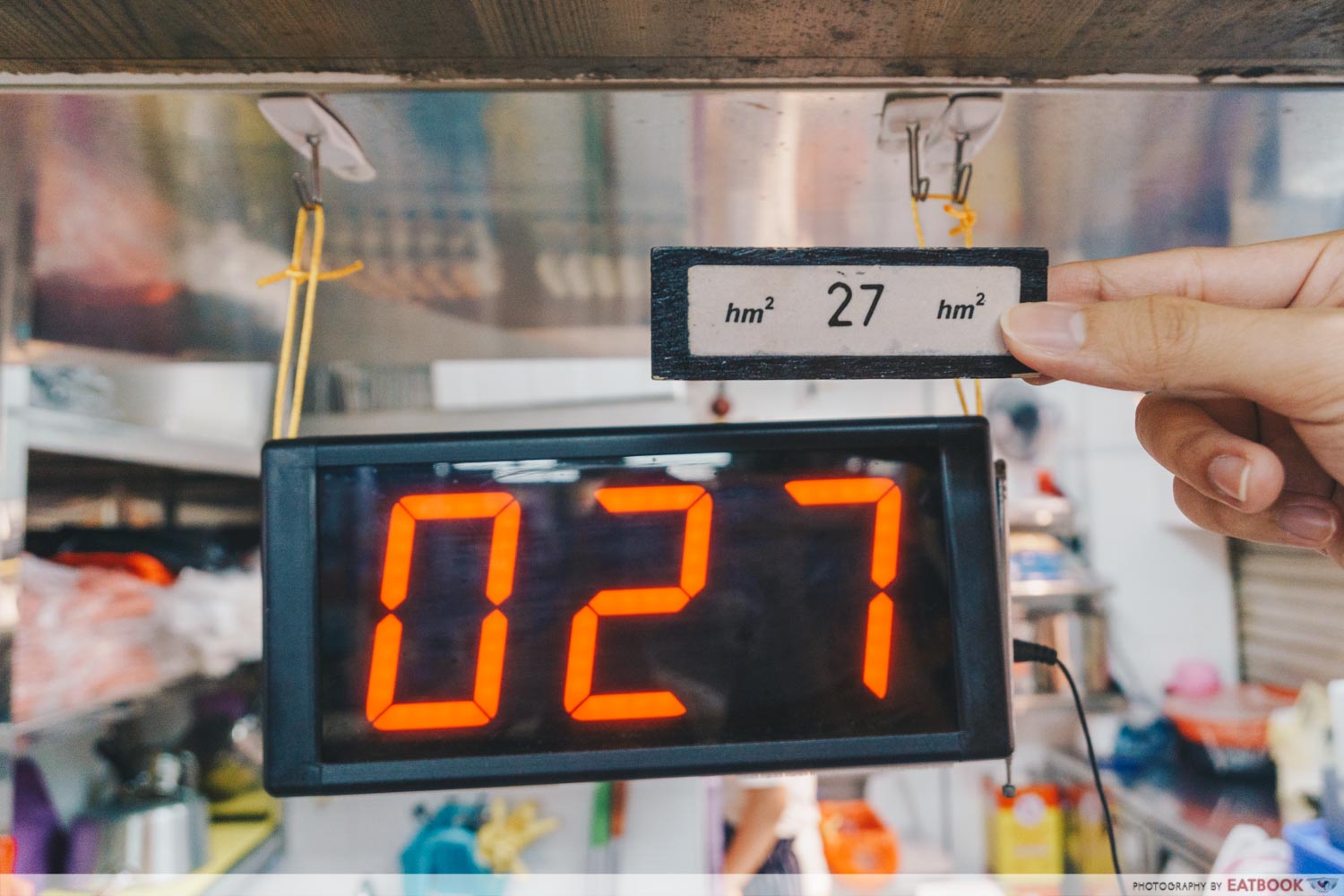 As we ate, the persistent 'DING' of the buzzer punctuated the air. Orders were done pretty quickly, despite how long the queue got. One thing I noted was the numbered blocks. There were 60 of them, and they certainly didn't look like they could have been bought anywhere.
When I asked about the blocks, Alice laughed and told me the story behind them. In the period before the store was officially opened, Xavier had a random burst of artistic inspiration. He sat down and decided to print out every single sticker and spray paint the blocks from scratch. 
Alice helped by waterproofing them and touching up the design. Each block has glittering golden flecks on the top and bottom. She laughed again as she gave her answer on what it was— nail polish.
Every detail about the store has a clear personal touch to it. From the cute story behind the blocks to the articles proudly pasted outside the stall like trophies and the signboard bearing Xavier's own face, eating here feels familiar and homely. The whole stall has a tight-knit, home-grown air to it, and we can see the personality of the owners shining through. 
Update: Since our last visit, Hokkien man has moved to a new location— though it's still within Toa Payoh. It's a 10-minute bus ride from Toa Payoh interchange, and then another short walk from the bus stop. They seem to have kept the overall aesthetic of their stall, including the big signboard and numbering system.
The verdict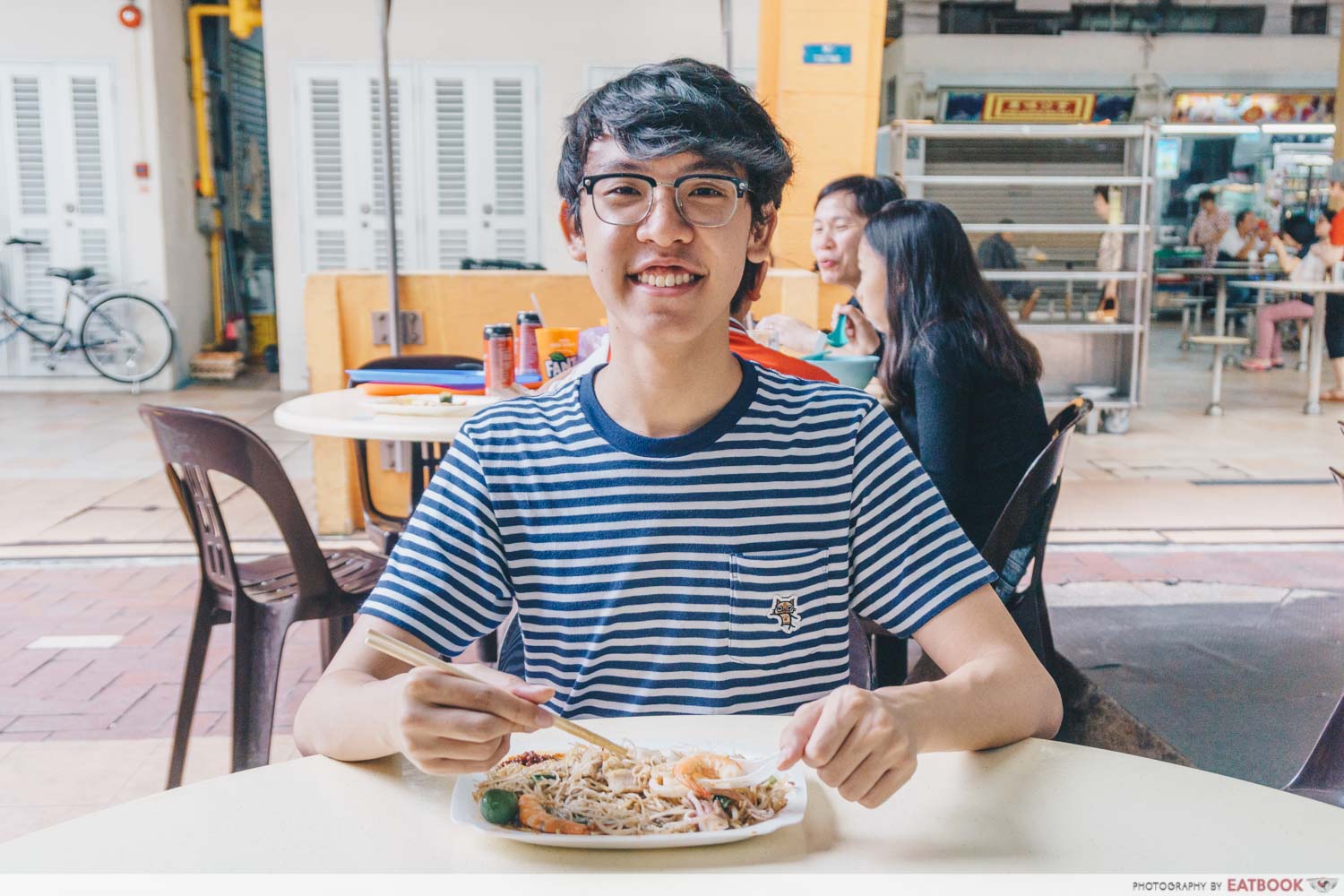 Hokkien mee is one of my favourite local food, and I can say that the homely stall has made it into my top three. I would be willing to queue up for a while to eat it, but luckily, I won't always need to. You can call or text their number a day in advance to preorder, making sure you can get your noodles as fast as possible. 
While the price is a bit higher than what you might find in other hawker centres, I'd say that it's worth the added cost. It's a good plate of Hokkien mee by a local couple who're devoted to making genuinely good food with no fancy frills.
If you want to try a unique spin on Hokkien mee, check out Mian Wang 1971 for noodles with salted egg calamari and sambal pork! 
Address: Blk 19 Toa Payoh Lor 7, #01-264, Kim Keat Palm, Singapore 310019
Opening hours: Tue-Sun 10am to 2:30pm
Tel: 8798 1525
Website
Hokkien Man Hokkien Mee is not a halal-certified eatery.
Photos taken by Huang Xiao.
This is an independent review by Eatbook.sg.
Hokkien Man Hokkien Mee Review: Hokkien Mee By Former Les Amis Chef At Toa Payoh
Summary
Pros
– Delicious Hokkien mee
– Large portions
Cons
– Be prepared to wait if you don't pre-order
– Stall closes early
– Inconvenient location
Recommended dishes: Hokkien Mee ($6)
Opening hours: Tue-Sun 10am to 2:30pm
Address: 18 Tor Payoh Lorong 7, 1913 Coffeeshop, Singapore 310018