Army Stew Steamboat at JW Korean Food Stories
Update (7 September 2020): JW Korean Food Stories is now located at Sixth Avenue. Check out the full address at the end of the article!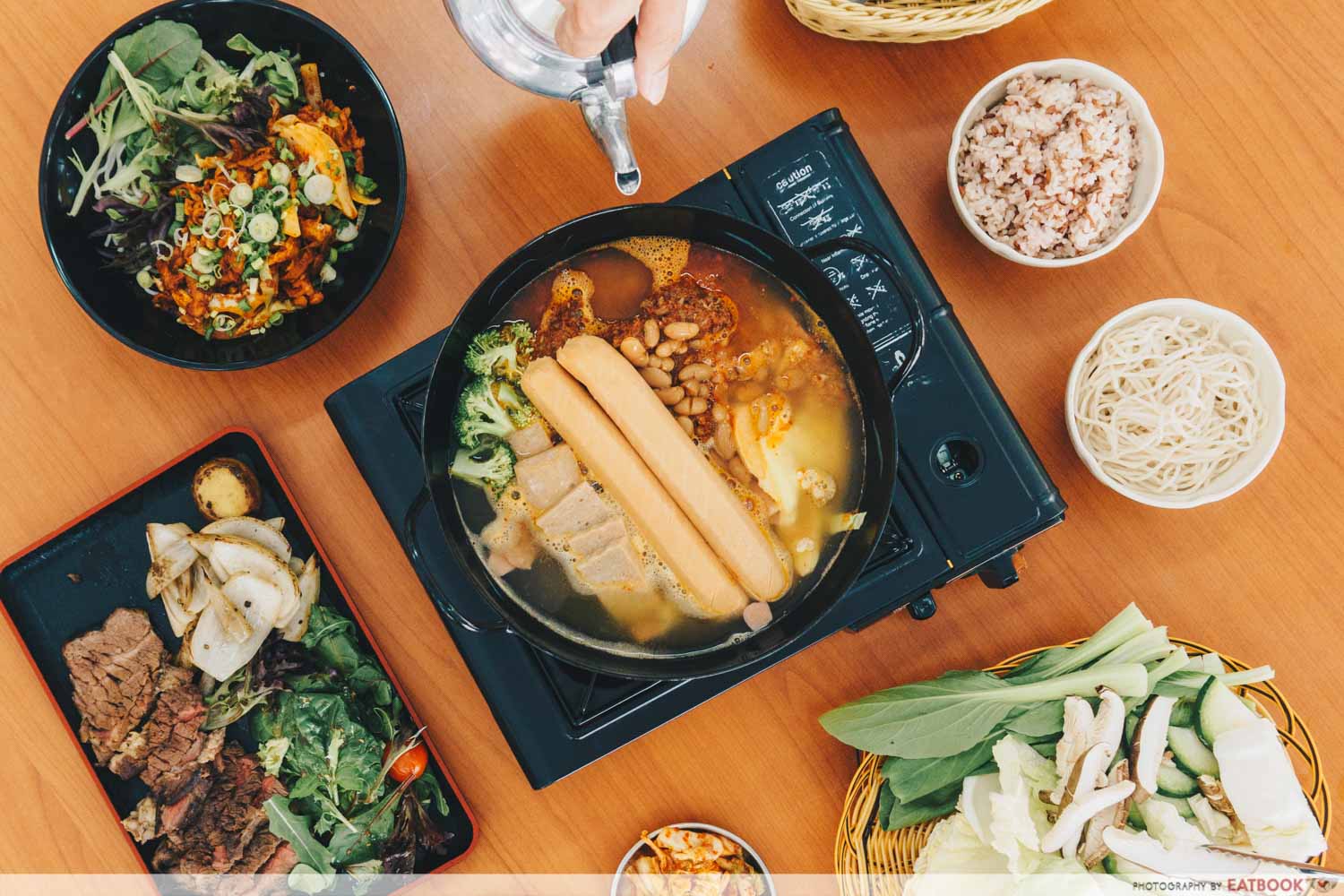 Typically found in restaurants or food courts in malls, halal Korean food can be hard to come across in hawker centres near residential neighbourhoods. 
Safwan, a former Pan Pacific chef, noticed this pattern and decided to do something about it. Along with his business partner, Safwan started up JW Korean Food Stories to make halal Korean food more accessible.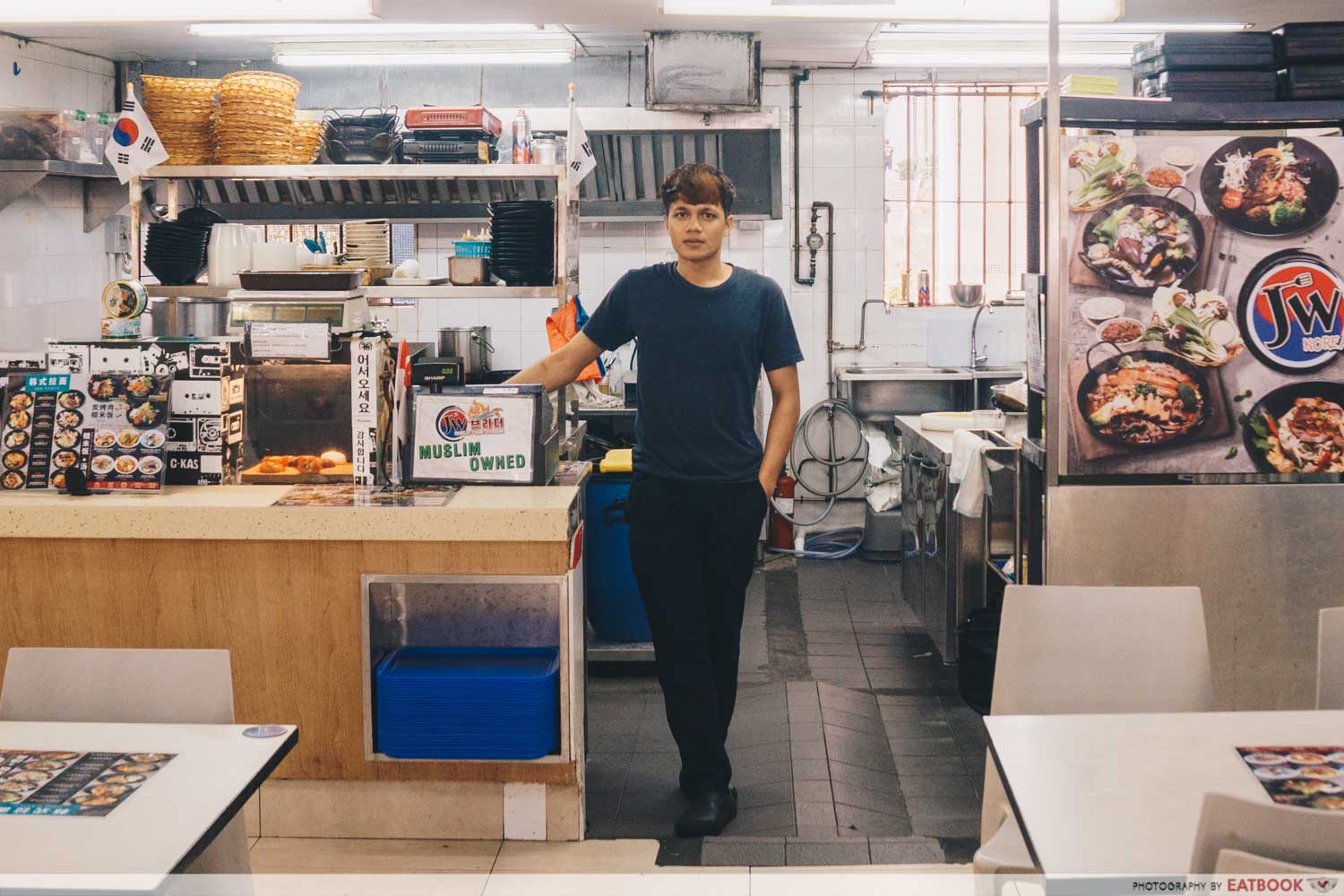 After his two-year stint at Pan Pacific, Safwan decided to move on and pursue other culinary adventures. He moved from kitchen to kitchen, trying out work in restaurants, bars, and cafes, before he finally settled on making his own brand. 
The stall occupies two whole units at the Ghim Moh Kopitiam. The 25-year-old chef bustles around the roomy kitchen, firing up the charcoal grill and chopping up ingredients.
Muslim-Owned Korean Hawker Stall With Army Stew And Spicy Ramyeon

JW Korean Food Stories is a new Muslim-owned stall which sells cheap army stew and tasty Korean food. The stew comes with giant sausages, loads of luncheon meat and free-flow soup! Be sure to also try the chicken ramyeon that's spicy.Find out more: https://eatbook.sg/jw-korean-food-stories/Address: 19 Ghim Moh Road, #01-229, Kopitiam Stall 8, Singapore 270019Opening hours: Daily 10am to 10pm

Posted by Eatbook.sg on Wednesday, October 30, 2019
Food at JW Korean Food Stories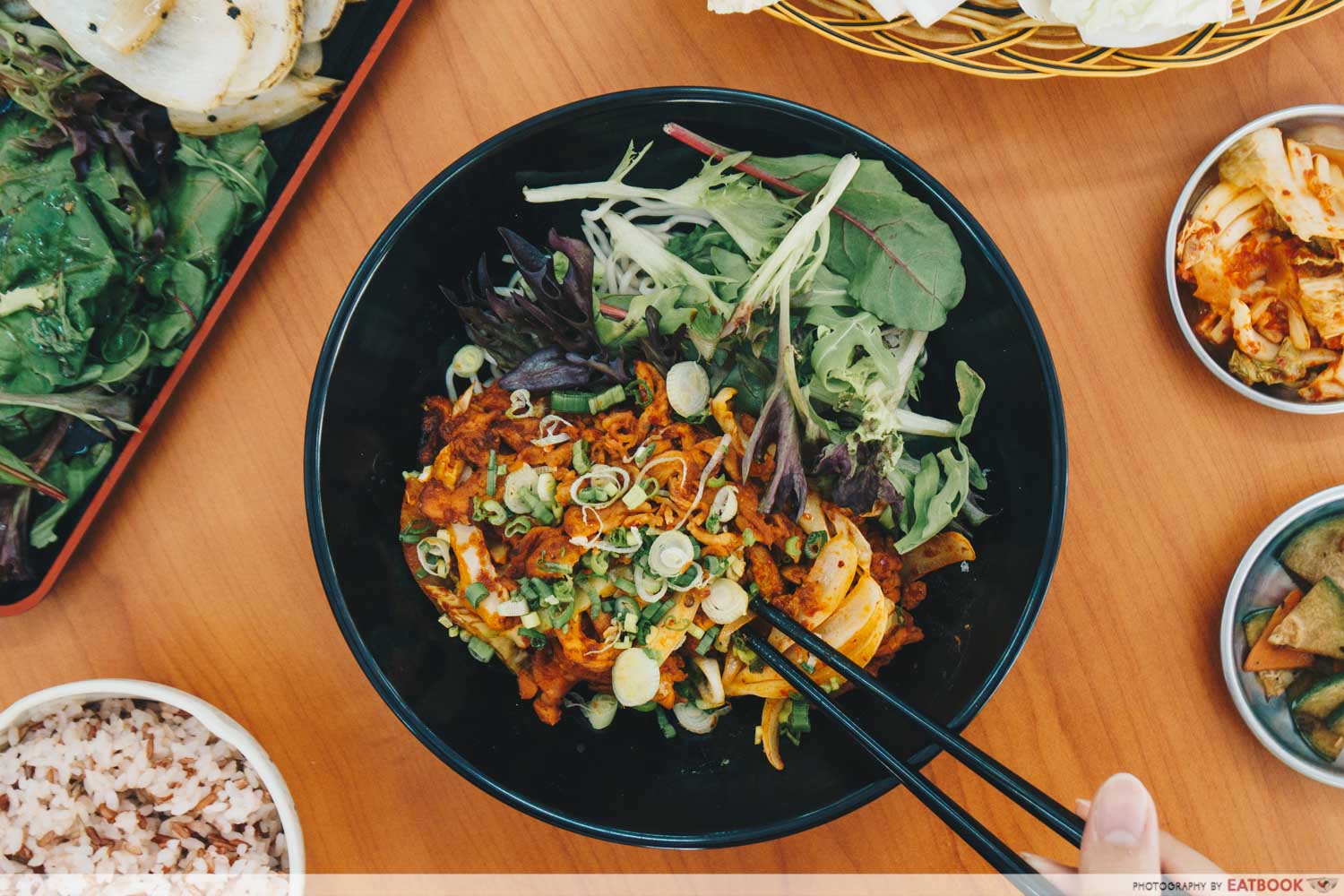 When asked about the three dishes that represent the stall best, Safwan recommended we try a bowl of ramen, a pot of army stew, and something from their special charcoal grill.

We tasted the Char-Spicy Chicken Ramen ($5.50) first. Safwan tells us that this dry ramen is popular with youths. It had a heap of chicken bulgogi on the side, and a chunk of their house-made spicy paste sitting at the bottom.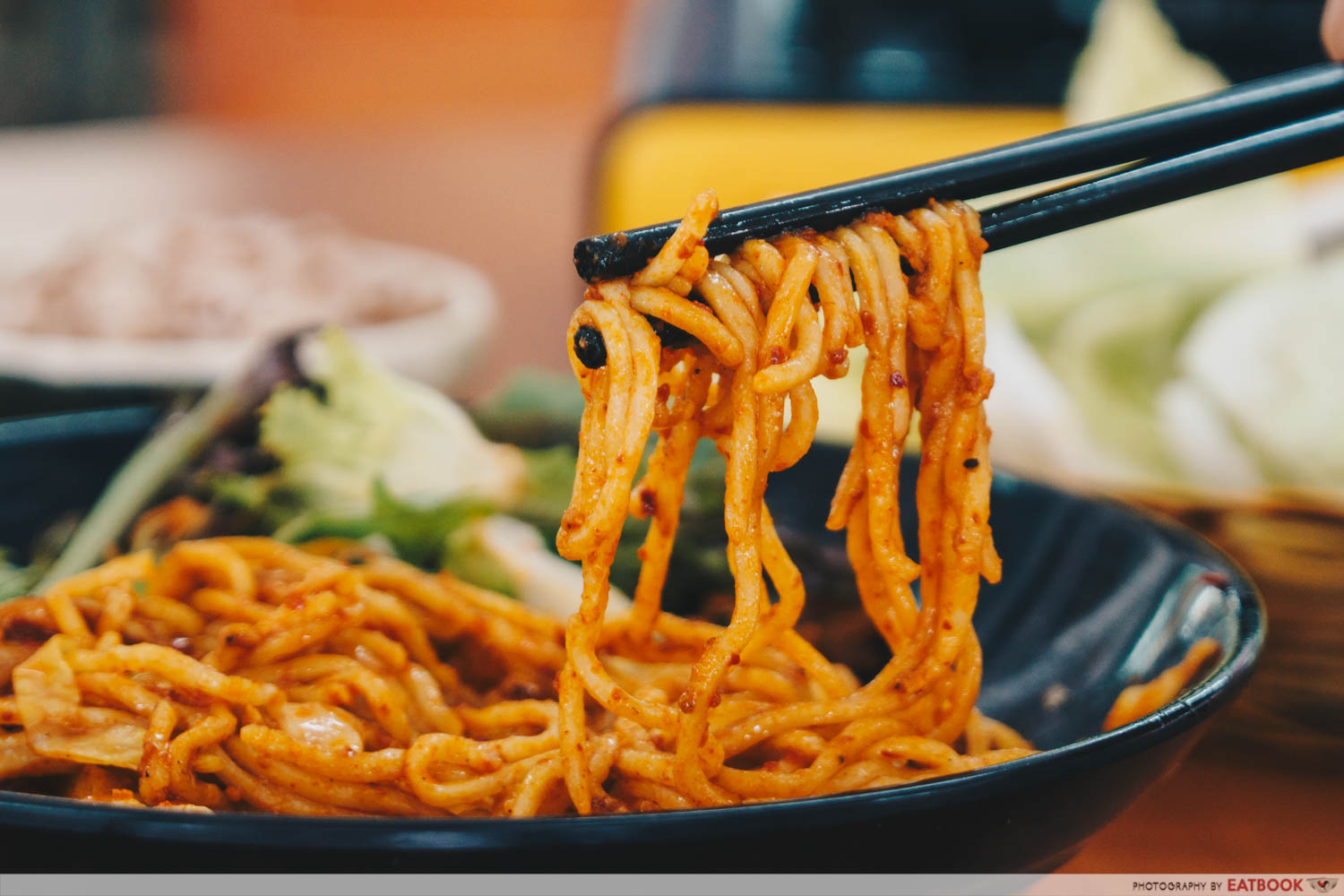 The noodles are handmade from a supplier and had a satisfying mouthfeel to them The sauce clung to it and flavoured the strands of ramen with spicy-sweet kicks of spice. Despite the hearty sauce coating the noodles, there wasn't excessive oil. 
A bed of greens sit by the side to provide a respite from the spice.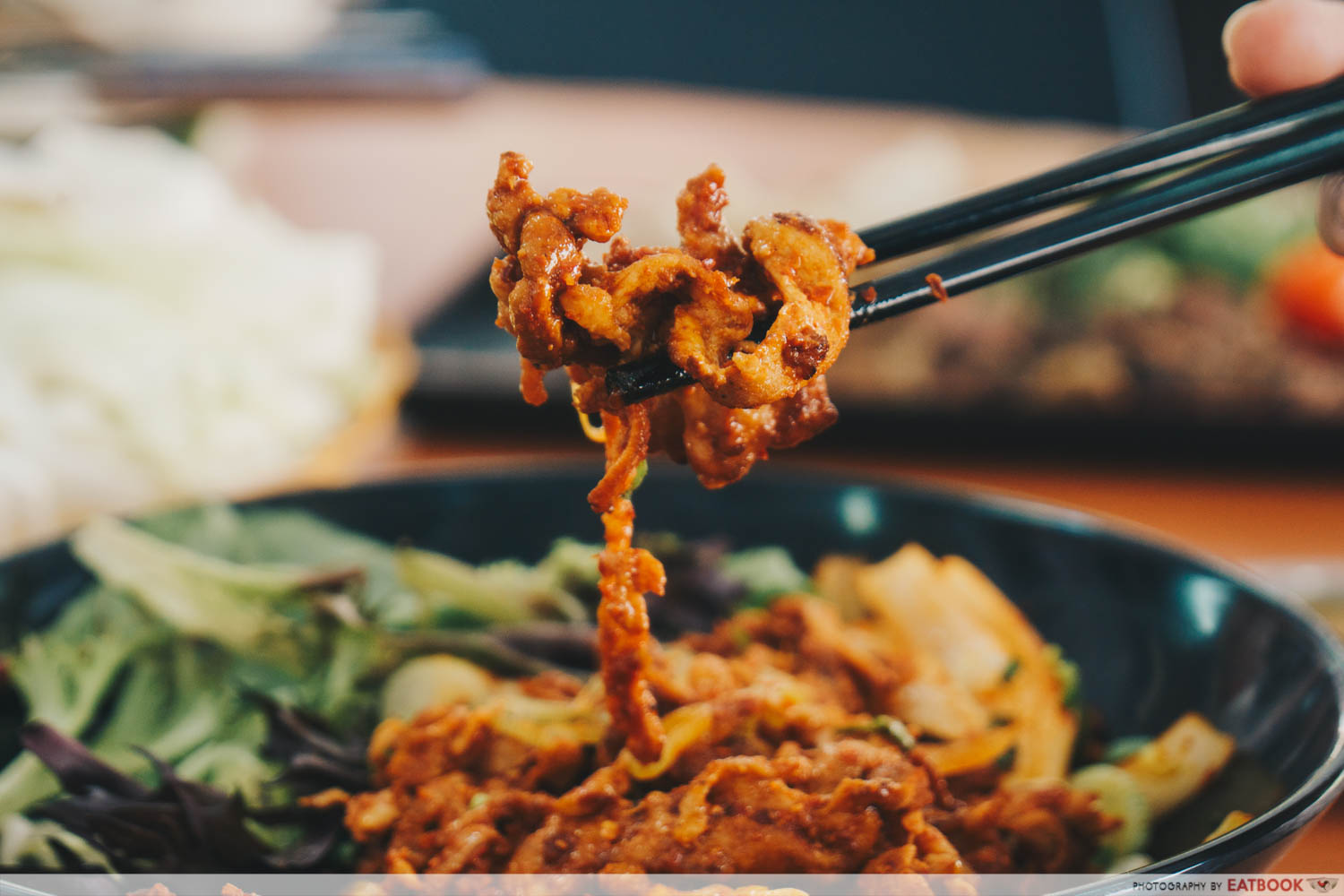 Despite being $5.50, the dish came with an impressive portion. It didn't skimp on chicken or noodles. The tender pieces of chicken thigh accompanying the noodles were also flavoured with the special spice recipe.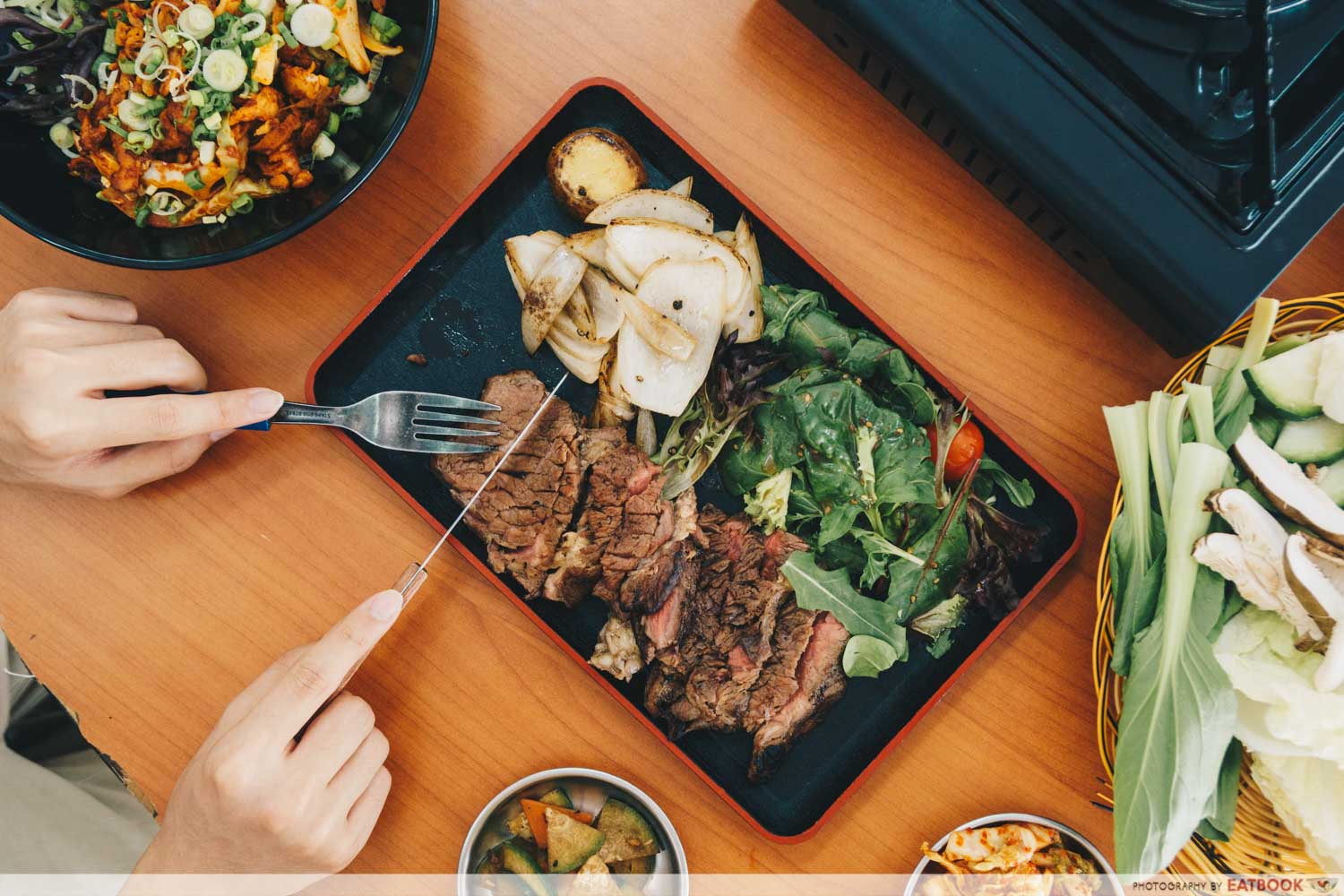 Next on the menu was the Sweet Soy Sauce Grilled Beef ($10). I was a little surprised to see that they were offering a 200g ribeye cut for such a low price.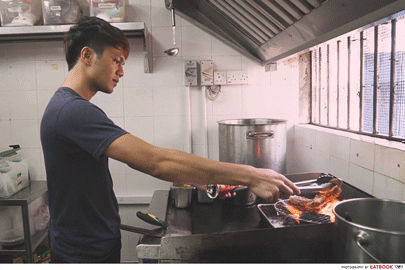 We watched Safwan prepare the Sweet Soy Sauce Grilled Beef ($10) right in the kitchen. Markings from the grill branded the meat with lines of dark char, and the whole thing was caramelised beautifully. Watching the whole process made it even more alluring.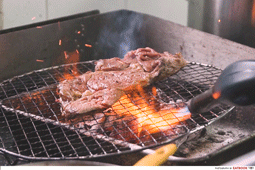 According to Safwan, directly torching the charcoal with a blowtorch infuses the meat with a distinct smokiness.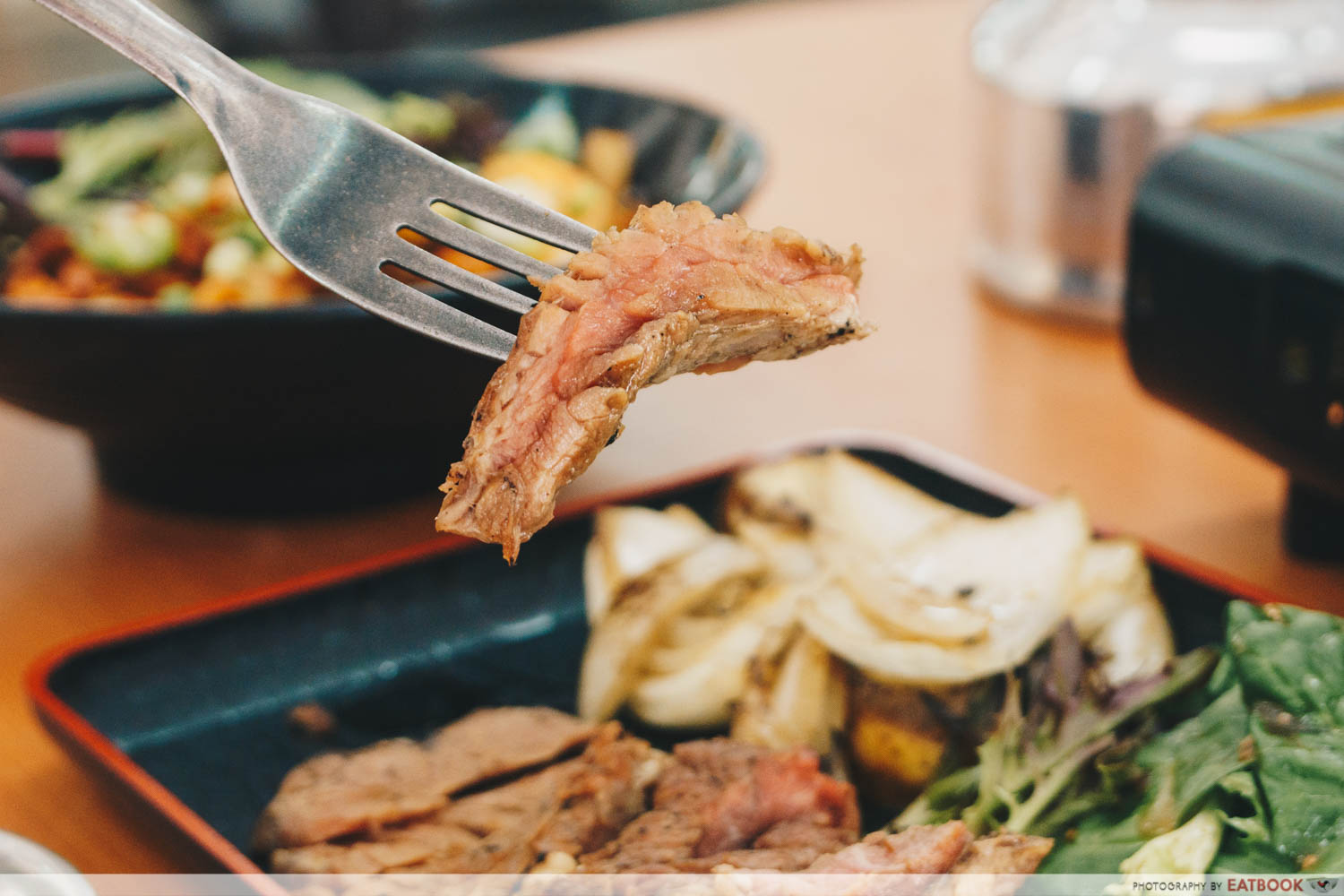 I couldn't wait to sink my teeth into the steak. It was still pink in the centre and the outside was a beautiful shade of brown. 
On our first visit, the steak was evenly seasoned but inconsistent in texture; some parts of the meat were a lot tougher than others, while some were unbelievably tender.
We went back again to try it a couple of weeks later. It fared better on the second trip, and was tender throughout this time. The sweet soy sauce seeped into the cut of steak and gave it an additional boost of flavour, while not overpowering the beef's juicy taste and smoky char. The size of the steak was still impressive. It comes pre-sliced too, for convenience. 
Overall, I really liked the steak. $10 at a hawker centre is pricey, but a lot of the bigger options here are meant to be shared between friends.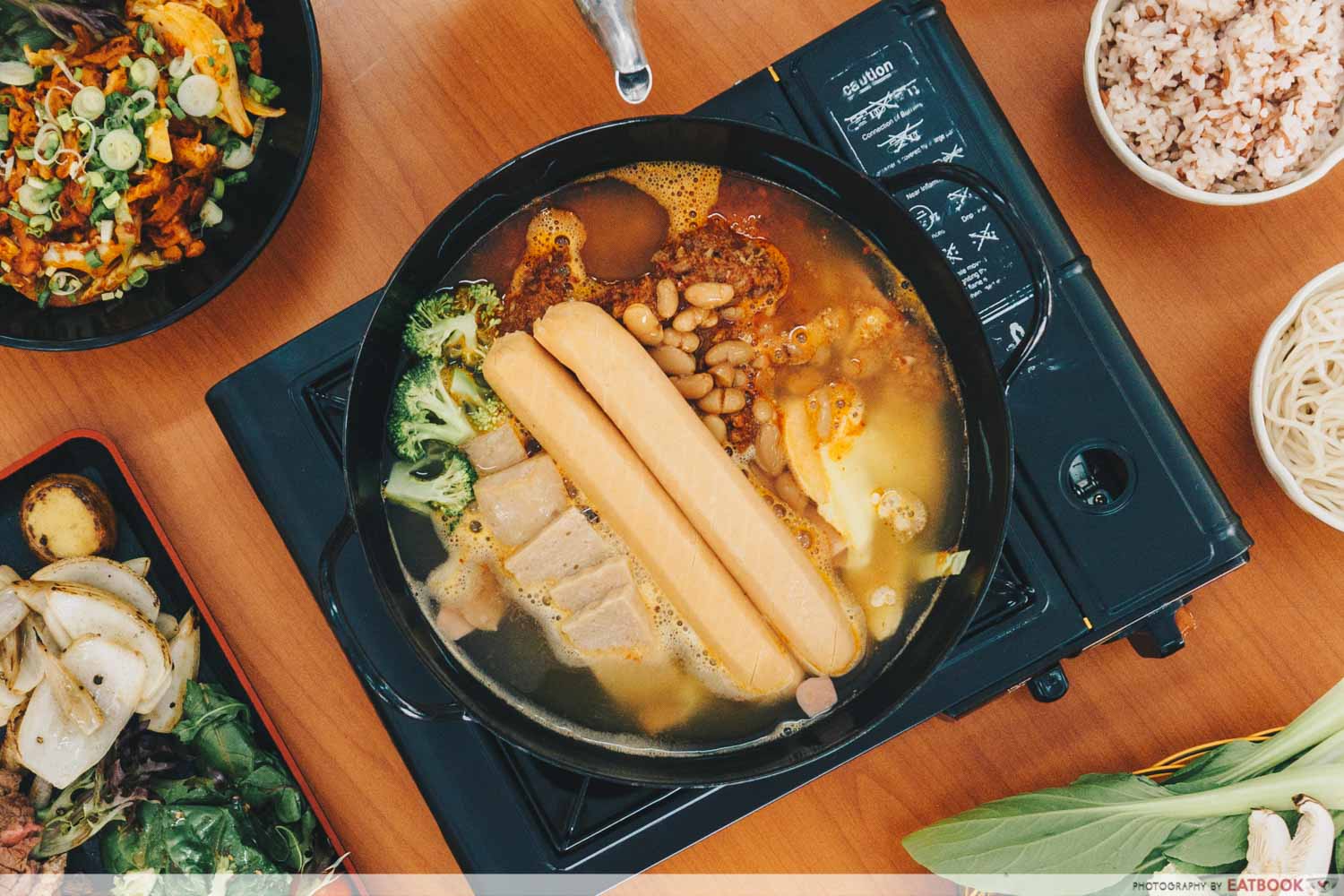 And speaking of sharing dishes, the crown jewel was set in front of us moments later. The Army Stew Steamboat ($19.80) had free-flow soup, a heaping portion of meats and vegetables, rice, and a bowl of ramen noodles at the side. It also came with house-made kimchi that's fermented for two weeks. A hefty serving of army stew paste sat in the broth, ready to be dissolved.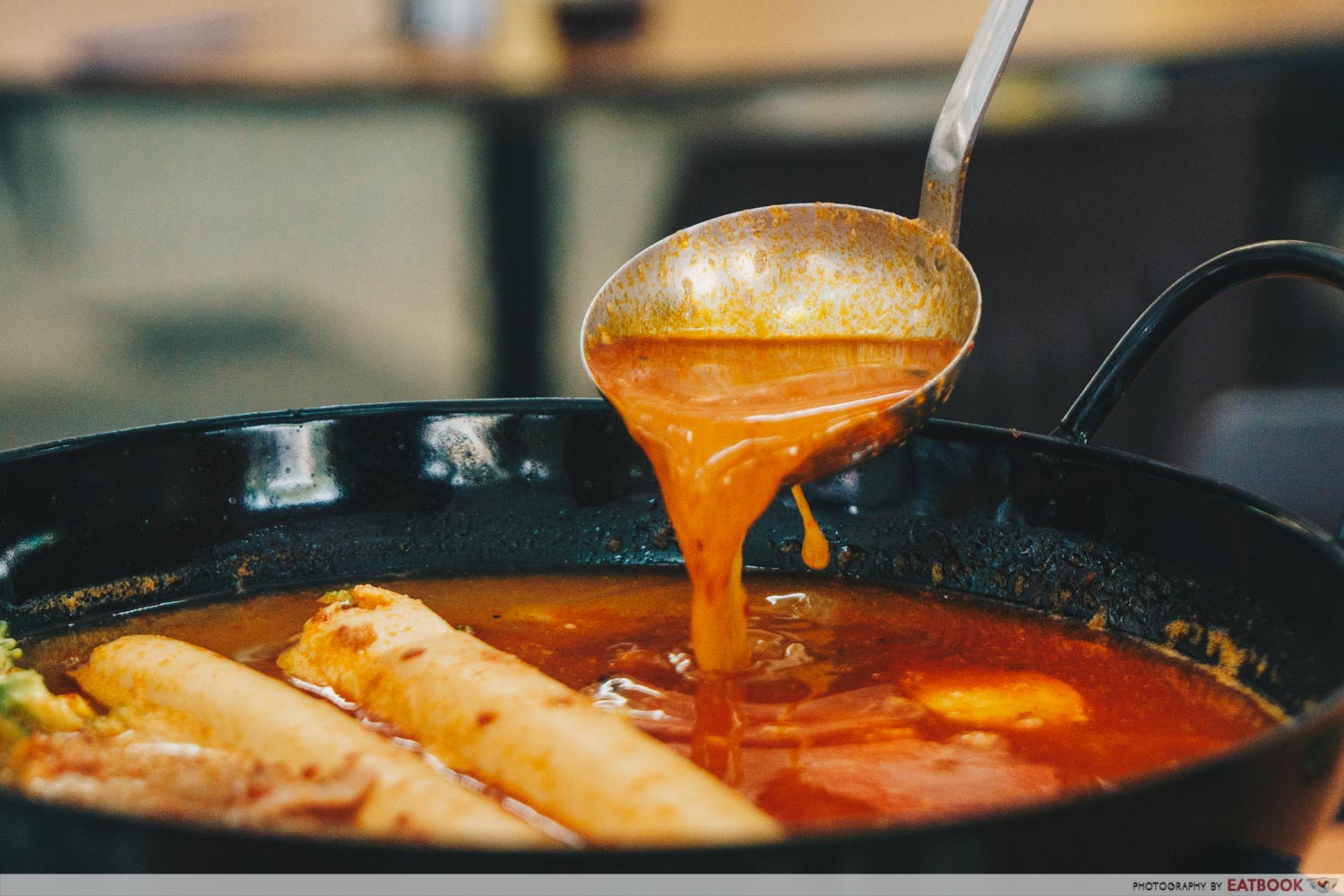 After stirring the paste into the soup, the army stew took on its distinctive red colour. The hot soup had a mild spice to it, and had an almost creamy mouthfeel courtesy of the cheese sausage. Safwan told us that he uses a beef base, giving it a distinct meatiness.
The second time we visited, we ordered the army stew again. The savoury soup had the same strong flavour, and was consistently good both times.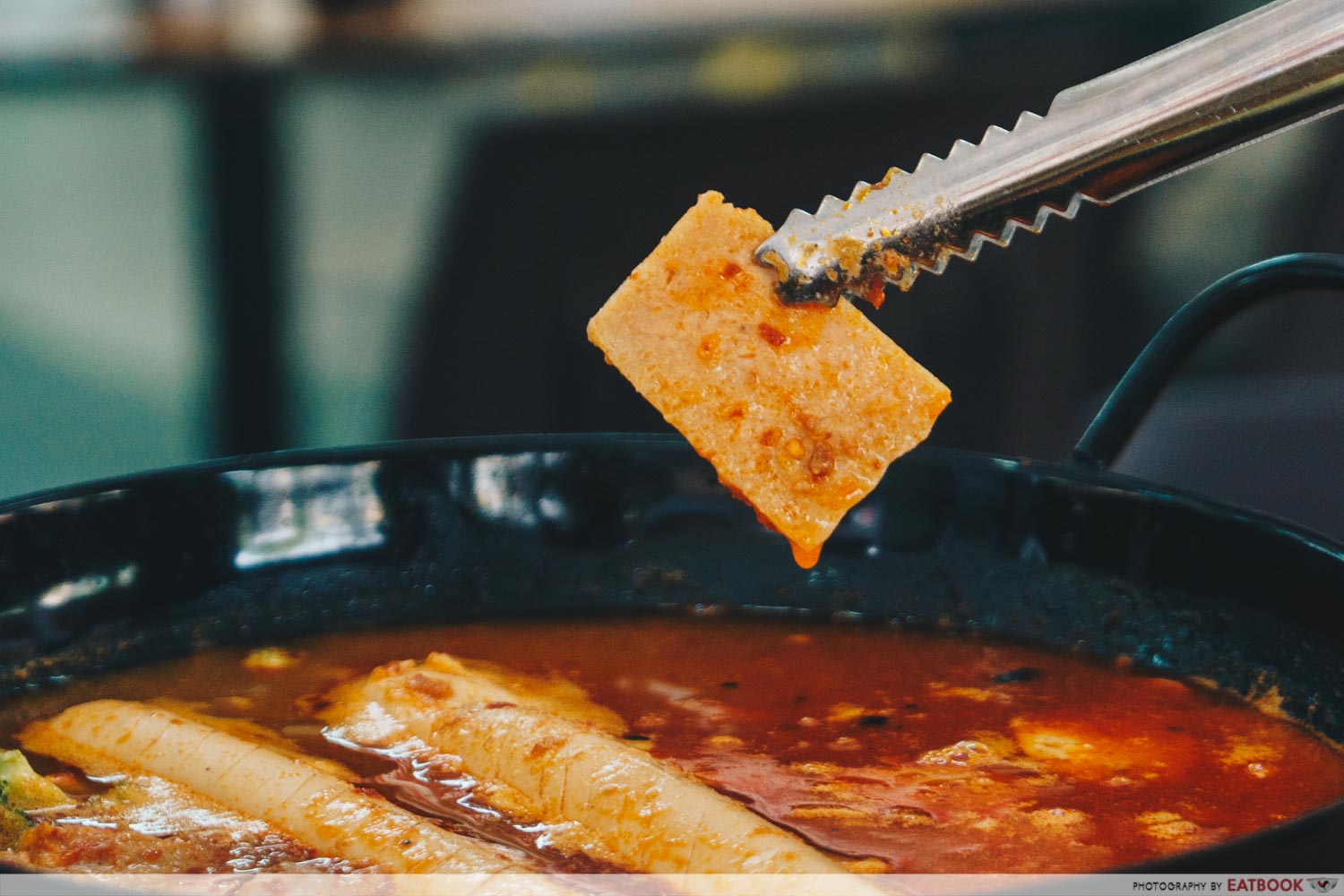 Two gigantic sausages, as well as slabs of chicken luncheon meat, sat there in the pot, ready to be distributed. There was enough meat for three hungry diners, and there was no need to fight over portions.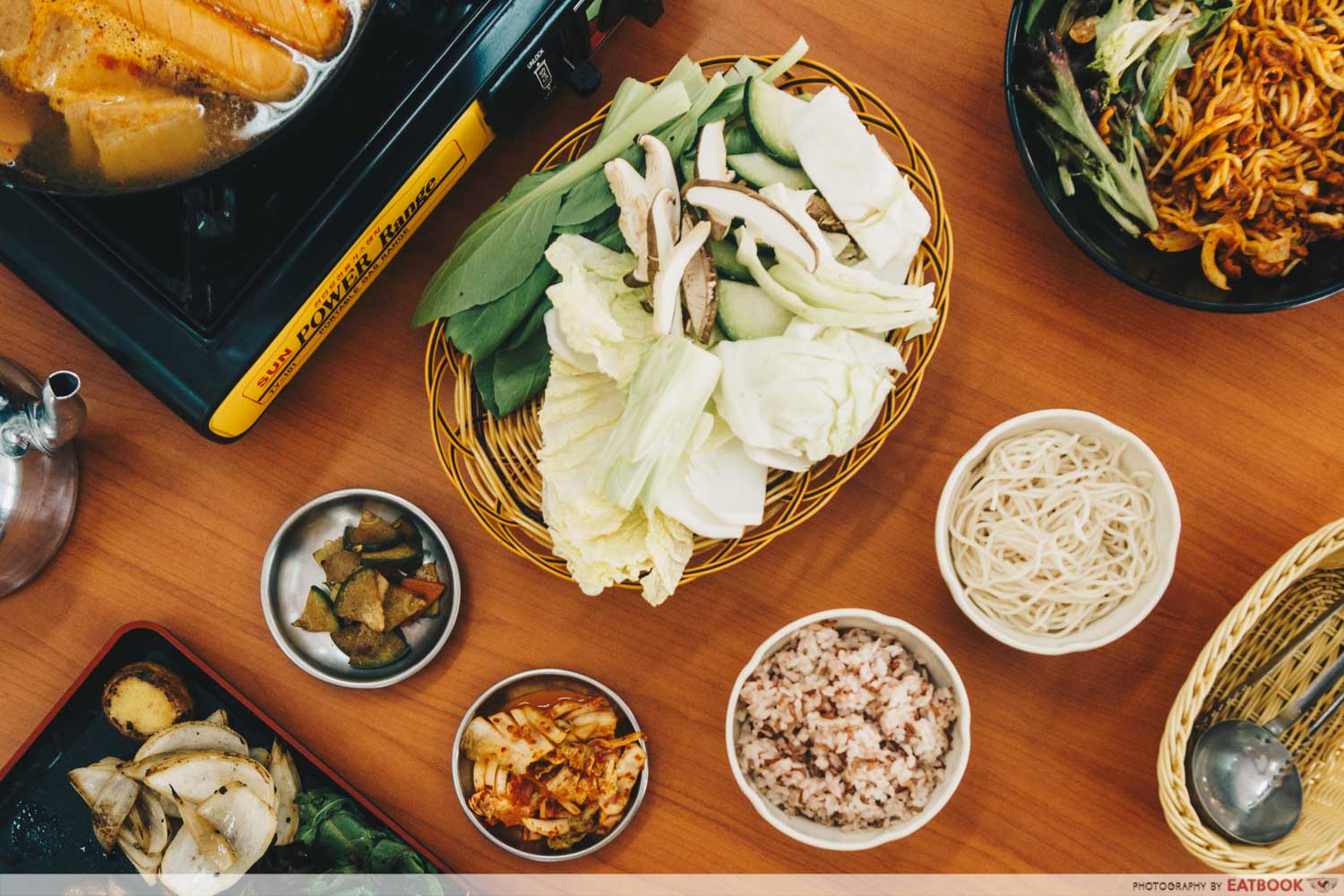 The extra items helped round out the dish. The crisp vegetables provided a clean, healthy counterpart to the rich soup, while the juicy mushrooms soaked up the stew and fused its spice with their earthy fragrance. Their kimchi is also made from scratch and was quite sweeter than those found at supermarkets or Korean BBQ.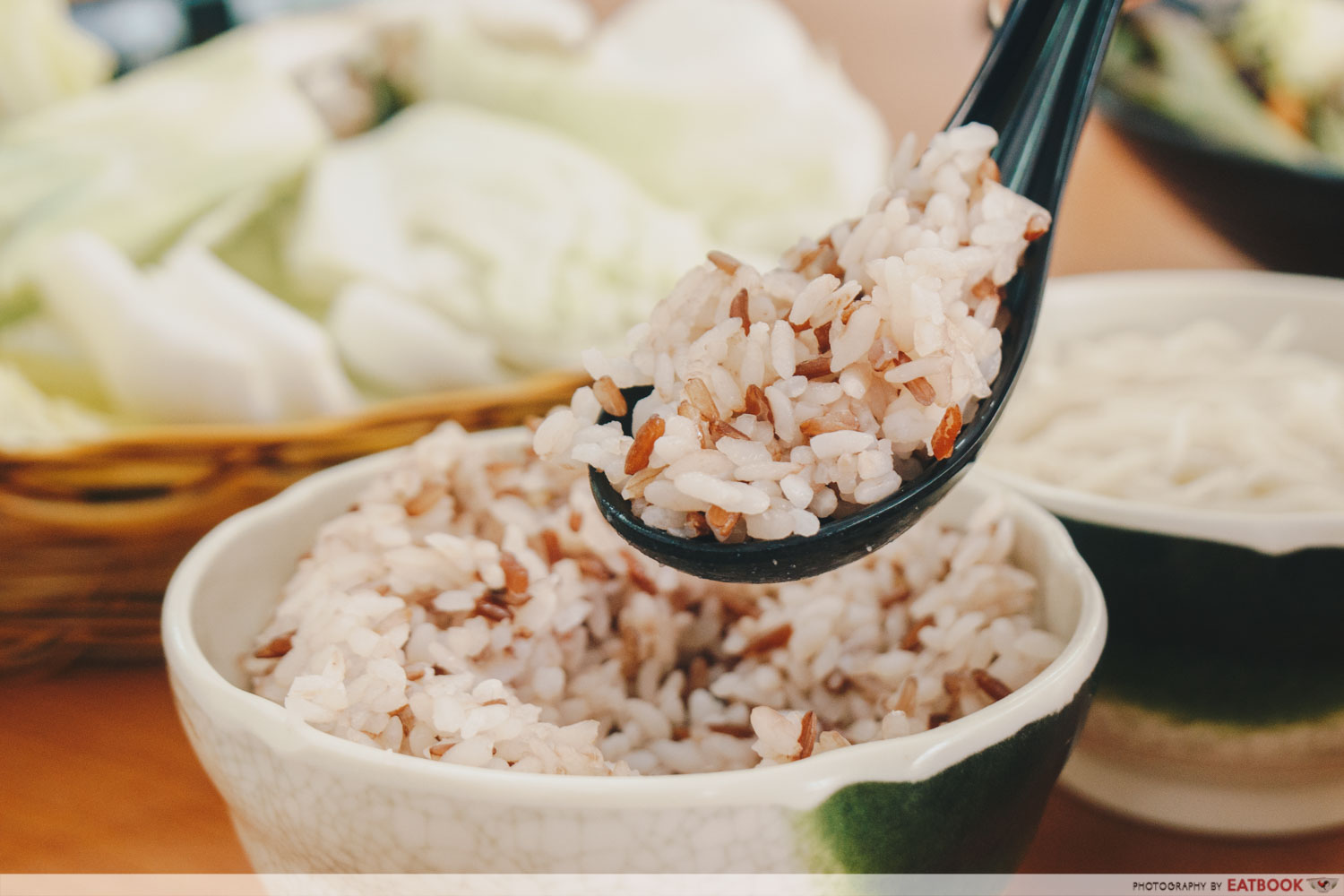 Their rice bowl combinations come with red rice instead of the typical white sort. The grains of rice were a lot less sticky than regular rice, and a little harder. The more solid mouthfeel of the healthier red rice went great with the soup and meat.
One thing I was slightly disappointed by was the lack of kimchi as a condiment. It only came with certain dishes and in limited quantity. I'm used to piling it on at Korean restaurants or at K-BBQ. But considering that the Kimchi is fermented right there in the kitchen—and in light of the lengthy process— it's perfectly understandable. 
Ambience at JW Korean Food Stories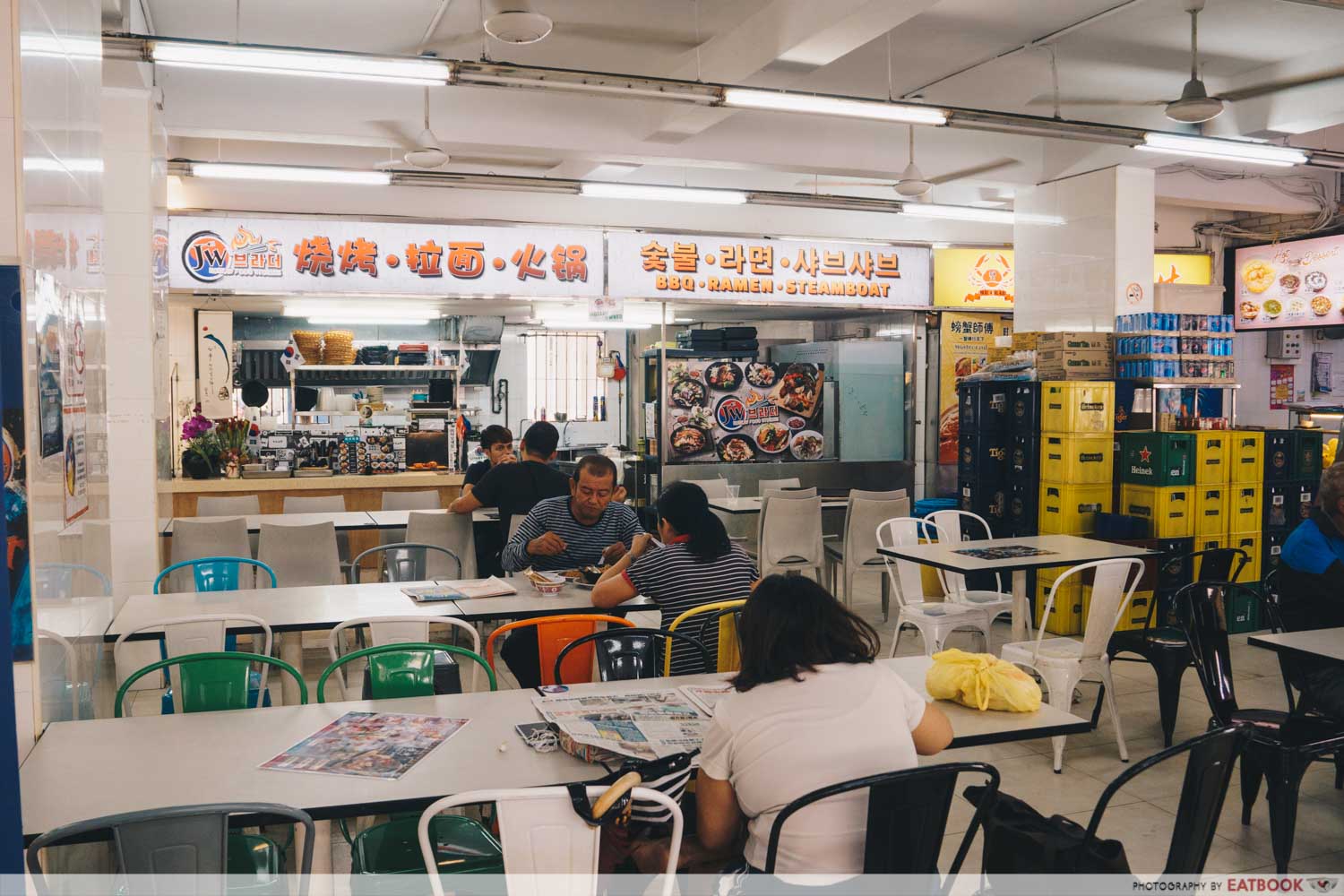 Residents of Ghim Moh are lucky to live nearby, but I can't say the same for anyone looking to travel, as the Kopitiam outlet is in a slightly inconvenient location. You'll need to make a ten-minute trek from Buona Vista MRT Station.
Apart from that, the coffee shop is wide open and have plenty of fans to keep you cool. I loved the atmosphere of sitting outside at one of the big round tables, and just chatting with friends while having a steaming pot of army stew in the middle of the table. 
The verdict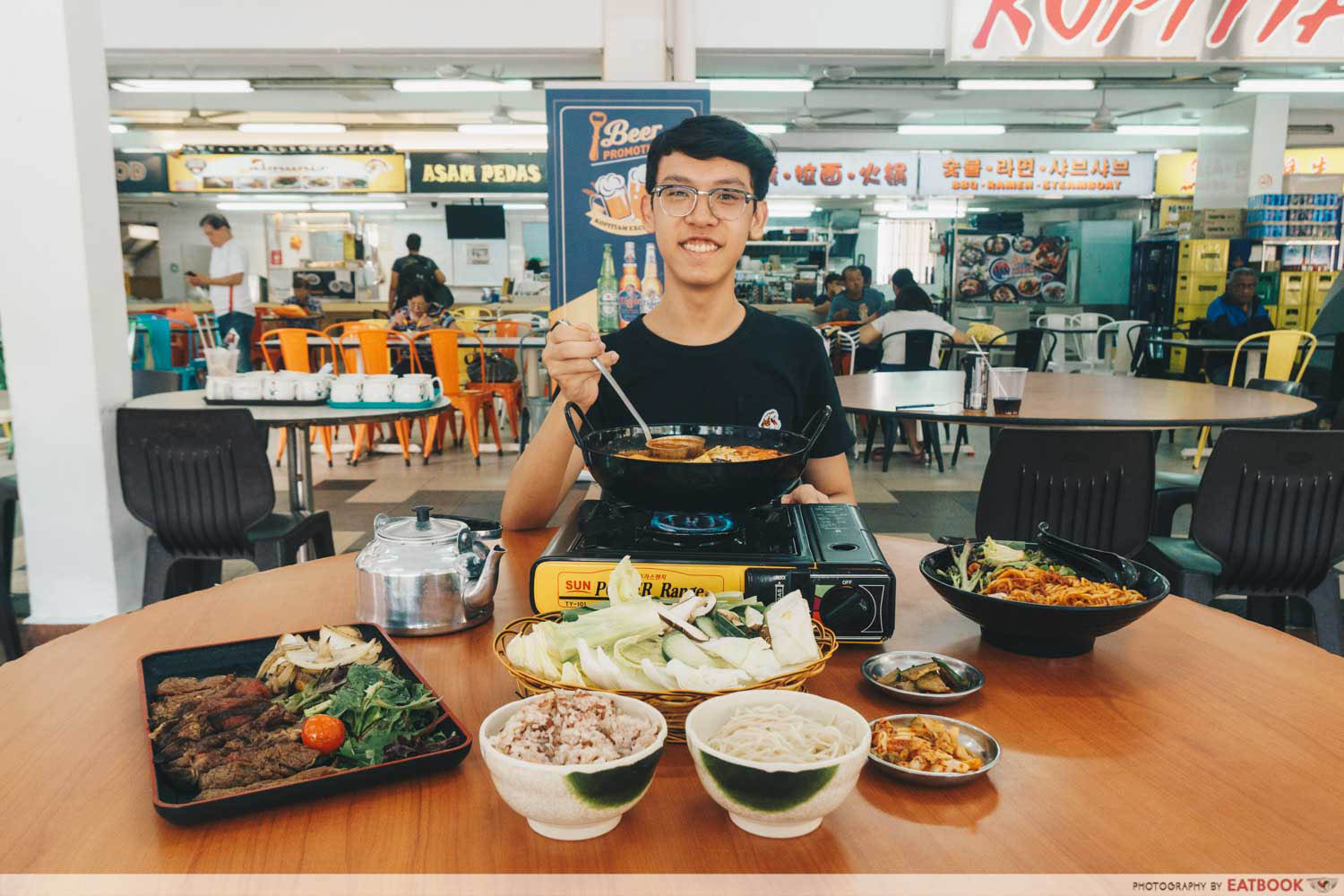 After tasting the house-made kimchi and watching Safwan and his business partner working in the kitchen, I could feel the sense of passion put into JW Korean Food Stories. 
The low prices are born out of a genuine desire to make good Korean food accessible for everyone. With such affordable items, you can get a good variety of dishes.

If you're looking for more halal Korean food, check out our review of Captain Kim for halal K-BBQ or Mukshidonna for some cheese-filled Army Stew.
Address: 10E Sixth Avenue, #01-01/02, Singapore 276474
Opening hours: Daily 10am to 10pm
Tel: 9115 2194
Website
JW Korean Food Stories is a Muslim-owned eatery.
Photos taken by Daren Khek.
This is an independent review by Eatbook.sg.
Summary
Pros
– Affordable halal-certified food
– Decent portions
– Good for groups of friends
Cons
– Inconvenient location
– Steak is a little tough
Recommended dishes: Army Stew Steamboat ($19.80), Char-Spicy Chicken Ramen (Dry) ($5.50)
Opening hours: Daily 10am to 10pm
Address:10E Sixth Avenue, #01-01/02, Singapore 276474