Mukshidonna serves halal Korean army stew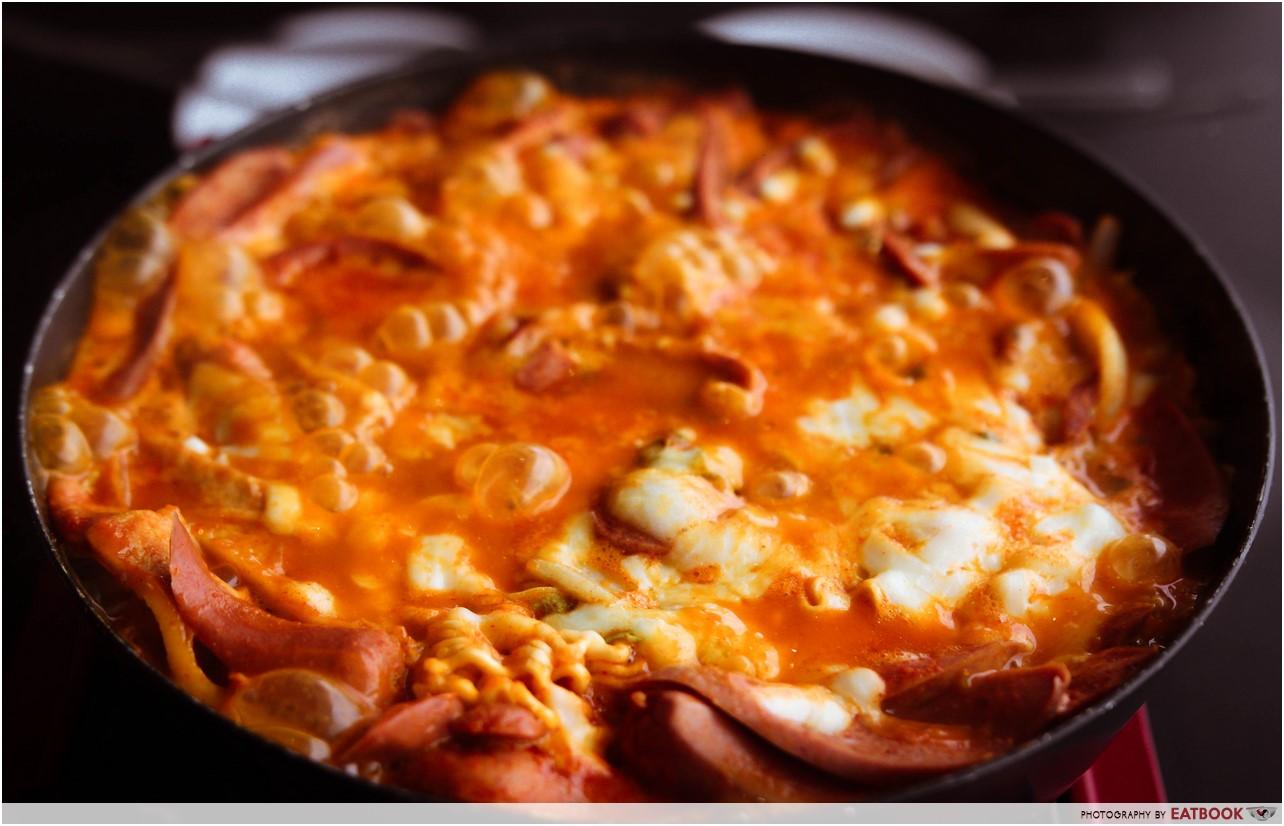 Ever since I was a teenager, I've enjoyed listening to Korean pop music and have subconsciously gravitated towards their variety shows and dramas. Before I knew it, I fell into the Korean wave and it is like a black hole that I can't get out of, even till now. I didn't know much about Korean food until I started watching Running Man. Watching the Running Man members passionately inhale their food was torturous. They never fail to whet my appetite with delicious jajangmyeon or ssambap.
Finding good Korean food is hard in Singapore, especially halal-certified ones. When I heard about Mukshidonna being certified halal, omo, I was so excited to try it out! I can finally fulfill my long-overdue cravings.
Food at Mukshidonna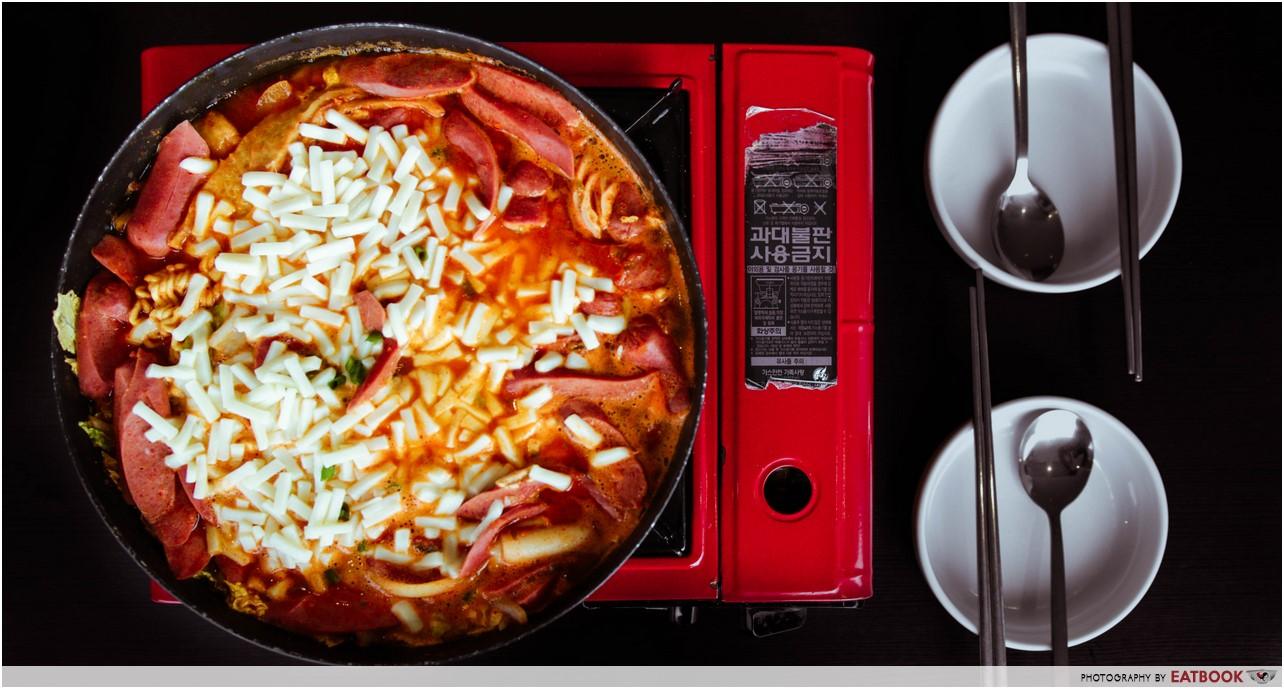 We didn't have to wait long for our food even though the place was fully packed. We ordered Cheese Tteokbokki ($13.90), the original Budae Teokbokki ($13.90) and additional Ramyeon ($3) noodles. All these came in one big pot. A staff member will bring the stew to your table and light up the portable stove for you. These ingredients are included in every stew: tteokbokki, odaeng (Korean fishcakes), vegetables, and gochujang (red chilli paste) stew.
The trick here is to let the stew simmer, and not boil. The gochujang stew was initially very soupy, so you'll have to leave it on medium-low heat and let the ingredients soak it up. Another tip is you'll have to occasionally stir it to prevent your ingredients from sticking to the bottom and the side of your hot pot. Let your stew thicken over time and you're ready to eat!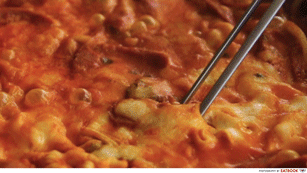 The mozzarella cheese melted really well. It was stringy as we picked it up together with the ramyeon noodles with our flat metal chopsticks. It would've been better if they provided more cheese.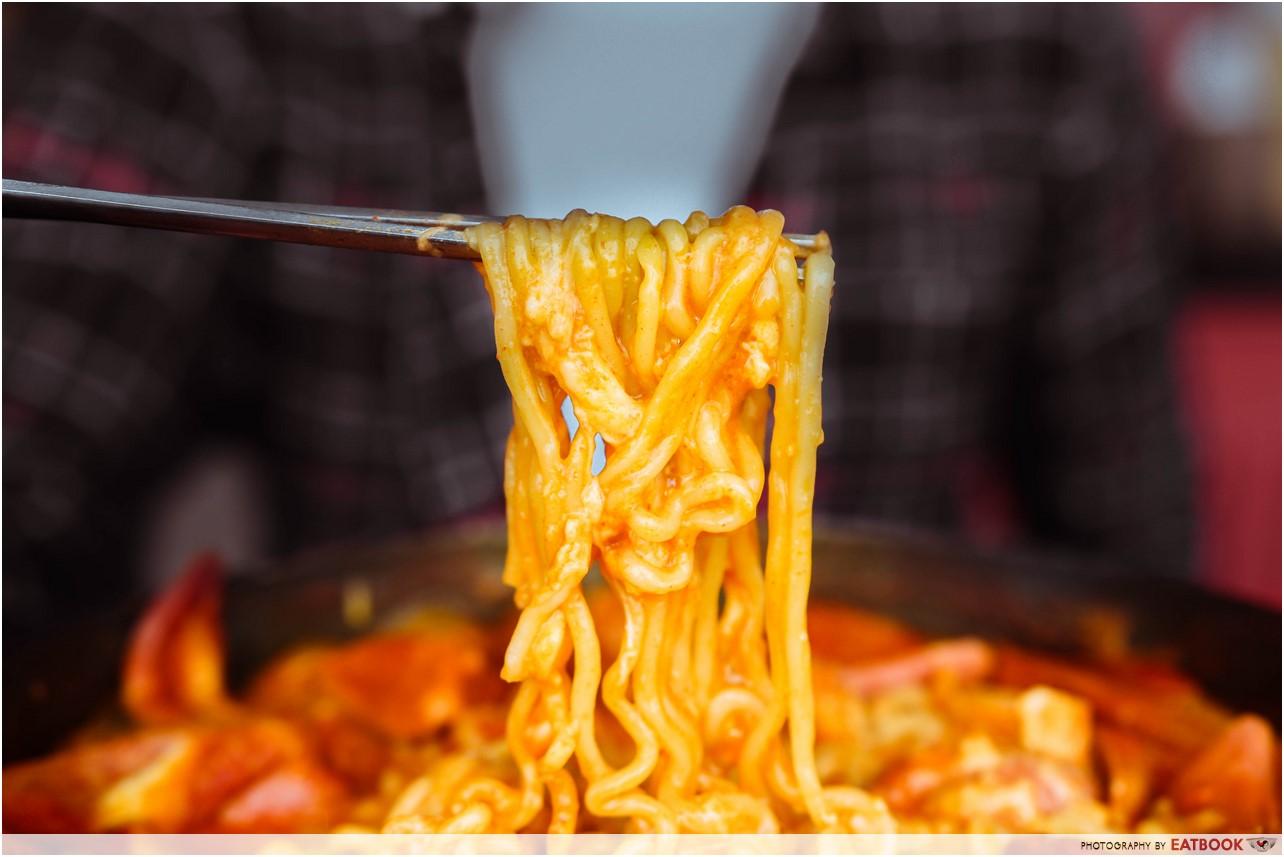 The noodles were still quite bouncy and chewy when we ate it. Depending on your liking, you can take it out earlier from the pot to prevent it from being soggy.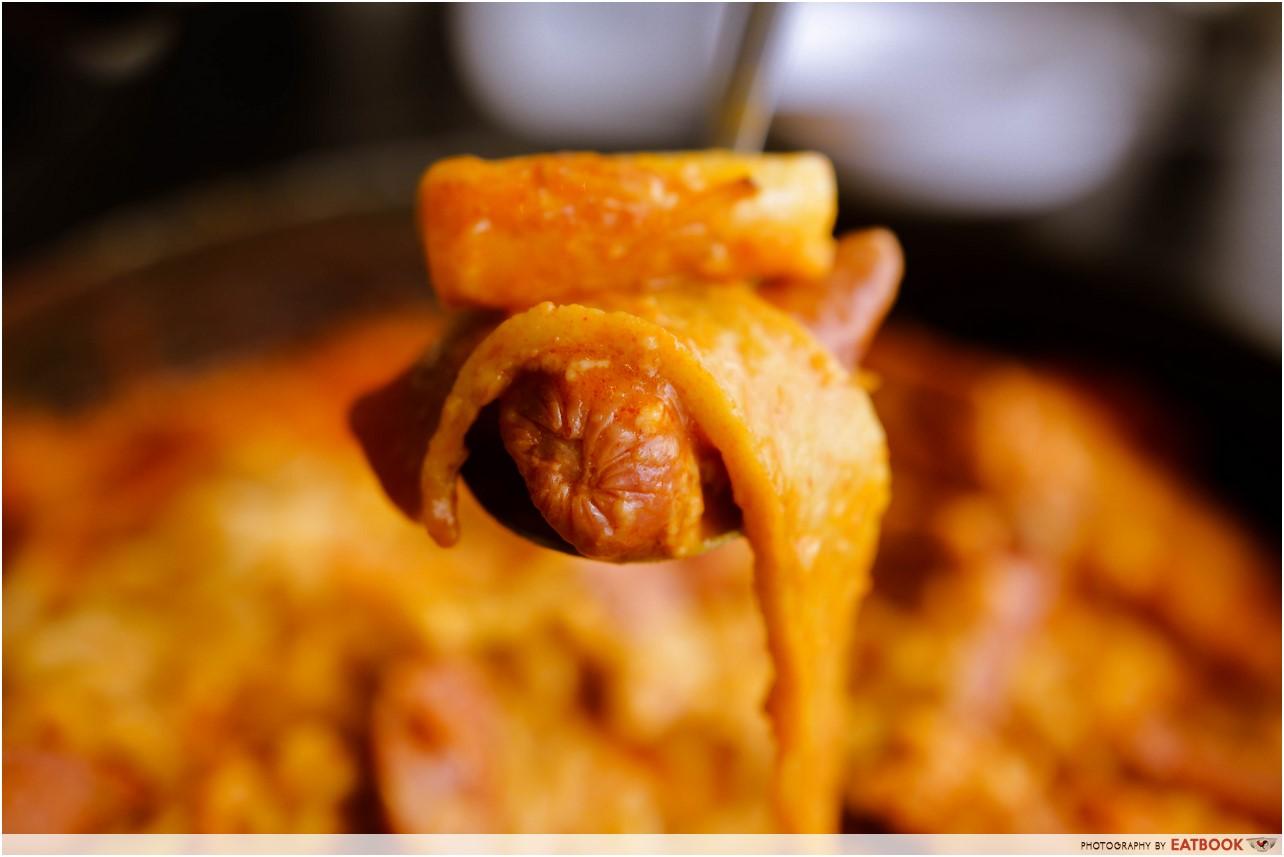 The gochujang stew itself was very mild, although we expected it to be very sweet and savoury. You can request for more spicy ($1) if you like. We were looking forward to the odaeng but much to our disappointment, it was tasteless.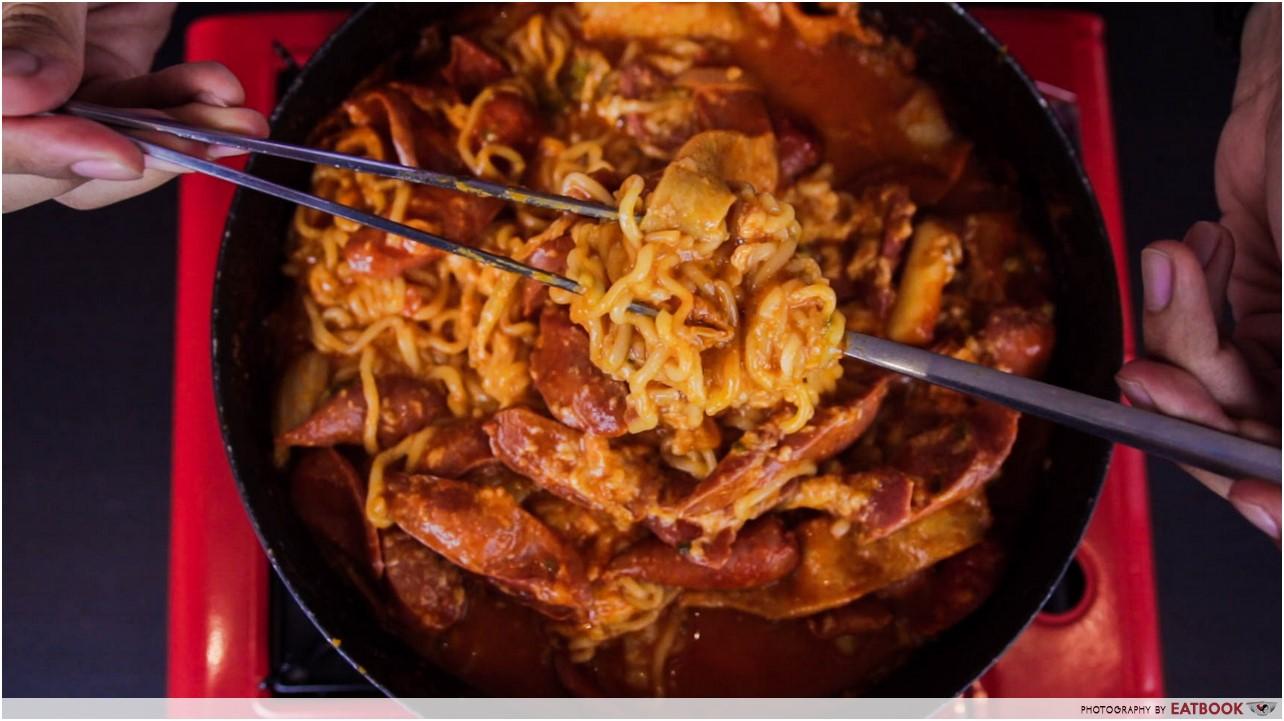 The tteokbokki was surprisingly soft – not too chewy or easy to swallow. The sausages managed to complement the stew as it was quite salty. You can add in more ingredients such as Ham ($3), Mandu ($3) or Scallops ($3) for more flavours in the stew.
Overall, the stew barely impressed me because it was lacking in basic ingredients such as kimchi, tofu, and luncheon meat. The portions served were rather inconsistent, as we got way more sausages than tteokbokki and cheese. Taste-wise, the gochujang base can be much more flavourful and spicy,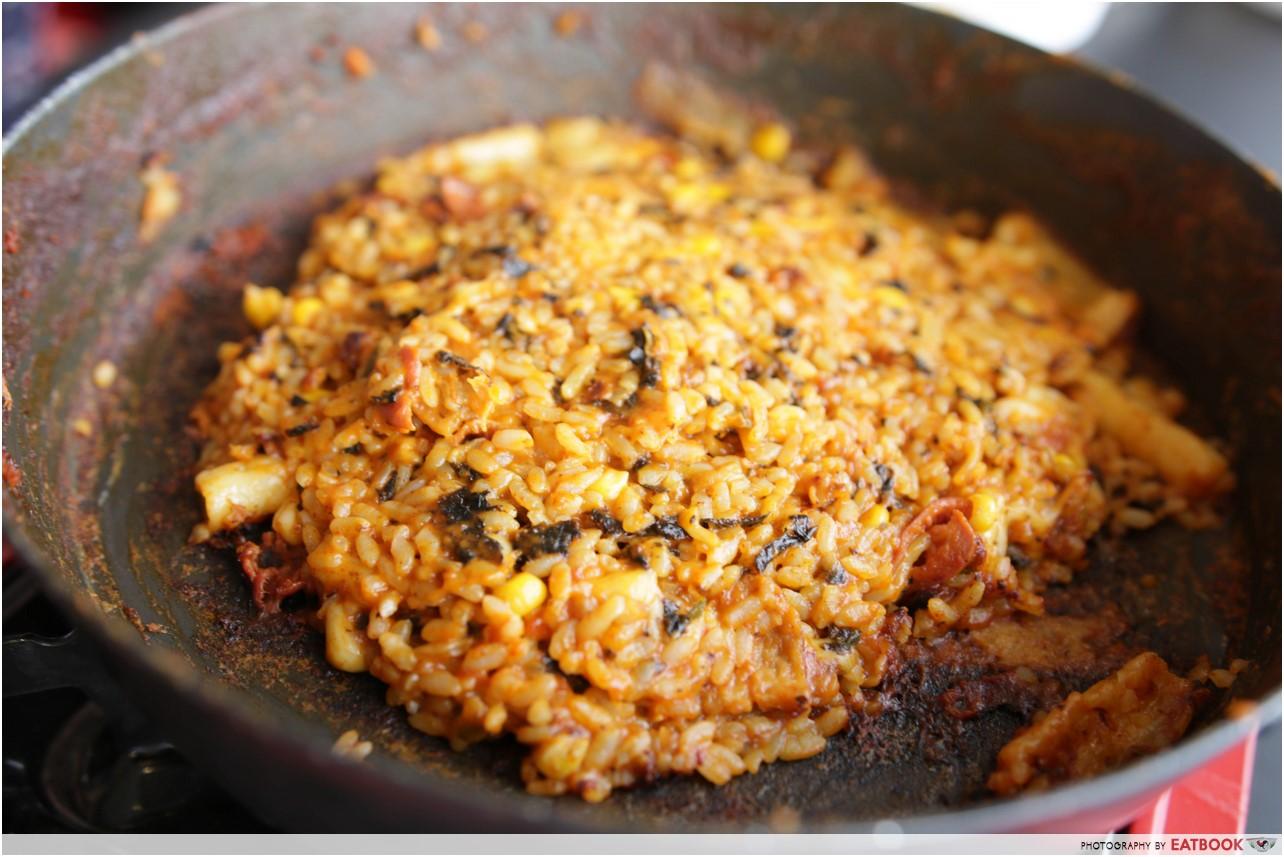 Leave some leftovers and sauce in your pot if you're ordering their fried rice! A staff member will take the pot to the kitchen where a chef will cook the fried rice using whatever is in your hot pot.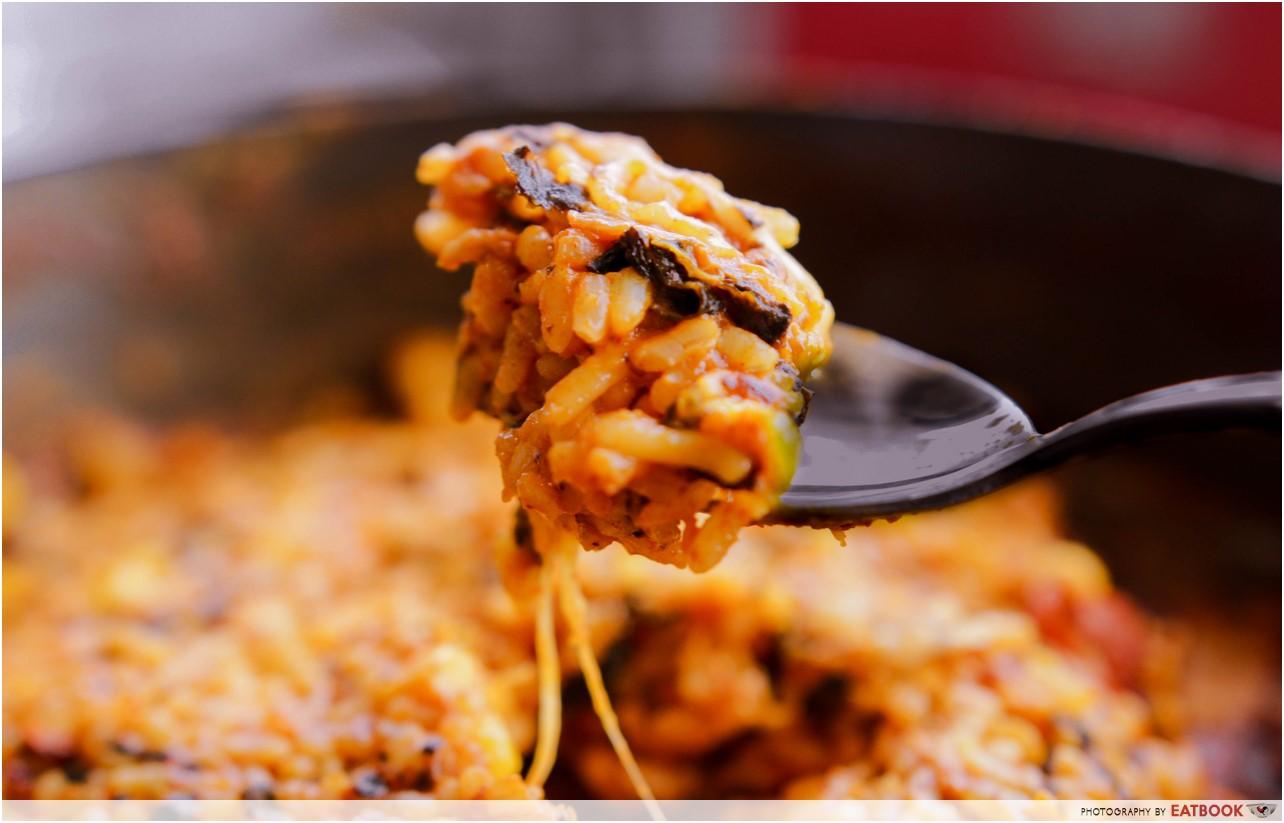 We ordered a portion of Fried rice with cheese ($7) which consists of mozzarella cheese, corn kernels, gim (seaweed), and the remaining sauce from the stew. In contrast to the stew, the fried rice was more flavourful as the gochujang taste was much stronger. The mozzarella cheese added a creamy note to it.
Ambience at Mukshidonna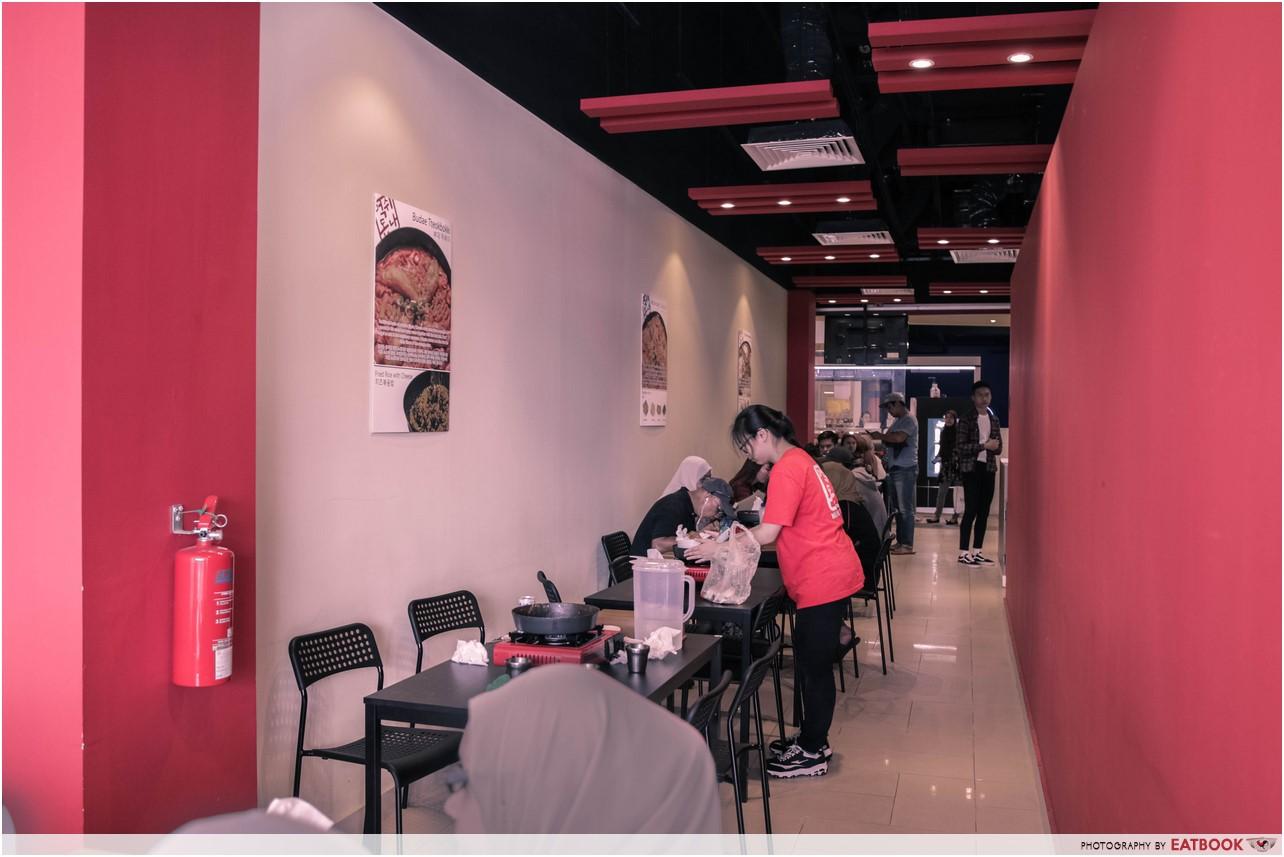 Expect to wait for some time when you go there. Don't even think about booking beforehand because they don't do reservations. We couldn't do anything but smell the aroma of their buddae jjigae (army stew) wafting through the air while queuing up. Do note that you will need a minimum of two people to dine in.
As soon as our turn came, we were served by a staff member and brought to our seats. You will be provided with an order form on a clipboard and a pencil. If you're unsure of anything, feel free to ask a staff member to explain it. Once you've decided, fill up the list and bring it to the counter along with your wallet.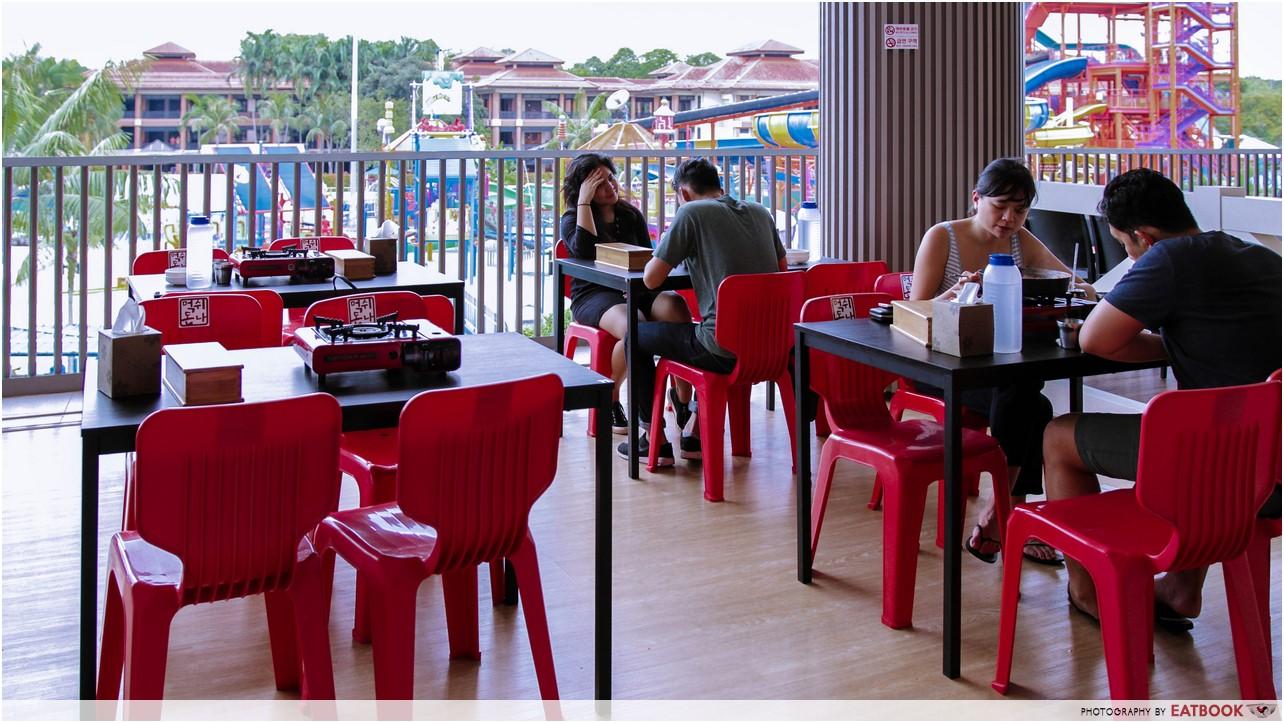 The indoor seating is fully air-conditioned and the tables are spaced out adequetely despite the small area. If you're an avid K-pop fan like me, be prepared to be amazed as the restaurant plays the latest hits on their stereo system.
Enjoy the view as the outdoor seats overlook the landscape of the vibrant Wild Wild Wet and Pasir Ris Park. It was very breezy and you'll be able to catch the beautiful hues of the sunset if the weather approves.
The verdict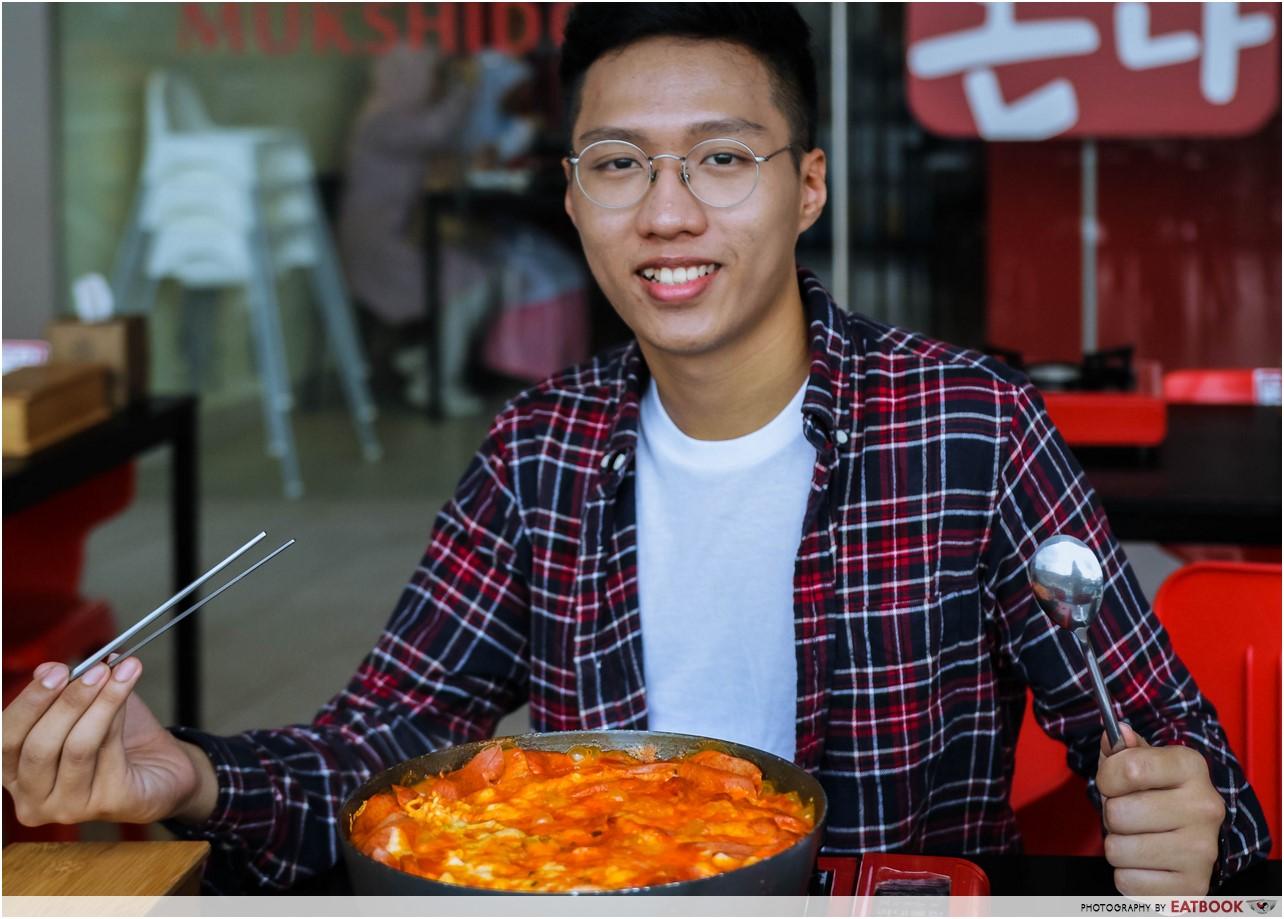 Fun fact: the term "Mukshidonna" is derived from the word eat (meok), rest (shi), money (don), and leave (na). In general, the food was quite underwhelming and has the potential to do better. It could also have came with banchan (side dishes) such as kimchi and danmuji (yellow pickled radish). These are essential sides that accentuate Korean dishes. Hopefully they'll improve in the future, 'cause I would like to come back with my friends for the experience. For more Korean food around Singapore, check out Dookki's tteokbokki buffet or Sea & Blue's Korean buffet!
Address:1 Pasir Ris Close, #02-324, E!Avenue, Singapore 519599
Opening hours: Daily 11:30am to 10pm
Website
Mukshidonna is a halal-certified eatery.
This is an independent review by Eatbook.sg.
Summary
Pros
– Halal Korean army stew
– Casual setting
– No GST and service charge
– Fast service
Cons
– Small seating area
– Lacking in taste
Recommended Dishes: Fried rice with cheese ($7)
Operating Hours:
Daily 11:30am to 10pm
Address: 1 Pasir Ris Close, #02-324, E!Avenue, Singapore 519599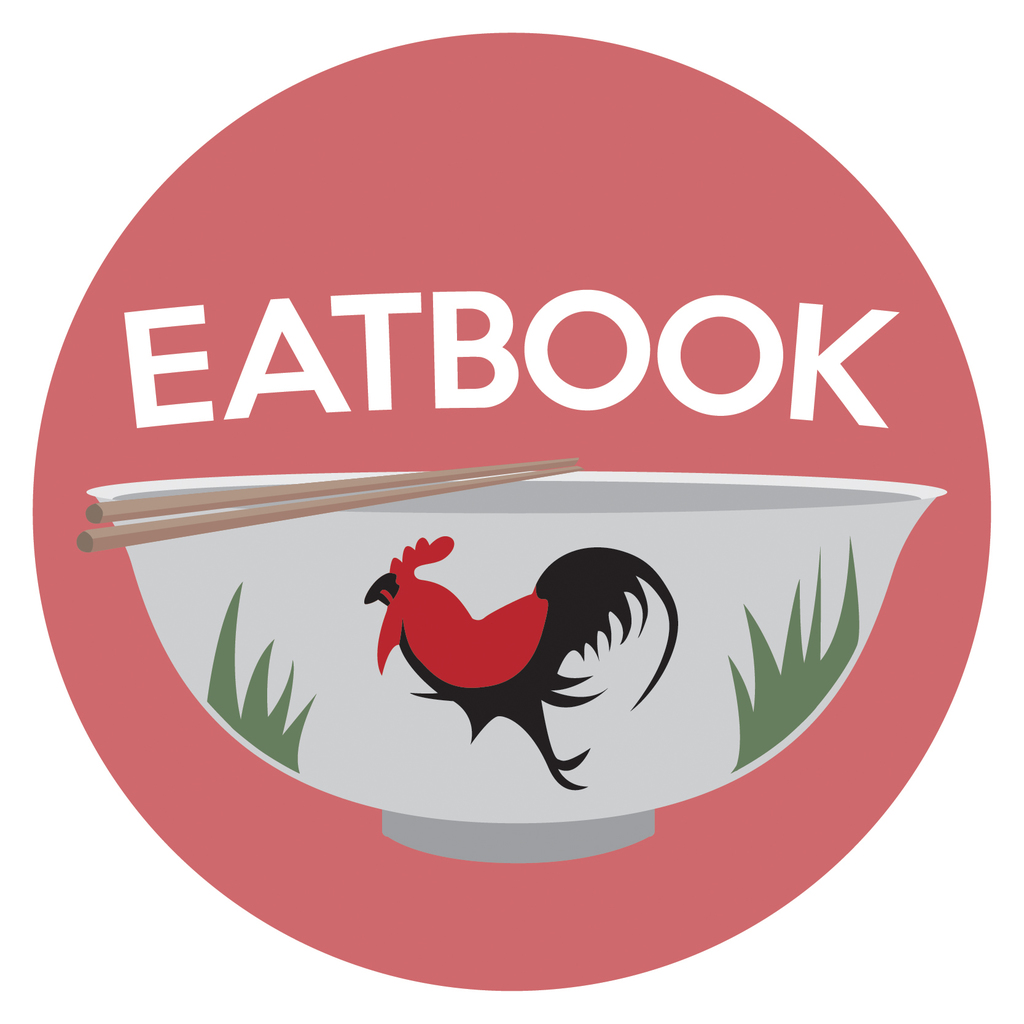 Drop us your email so you won't miss the latest news.