MEZCLA tacos in Tanjong Pagar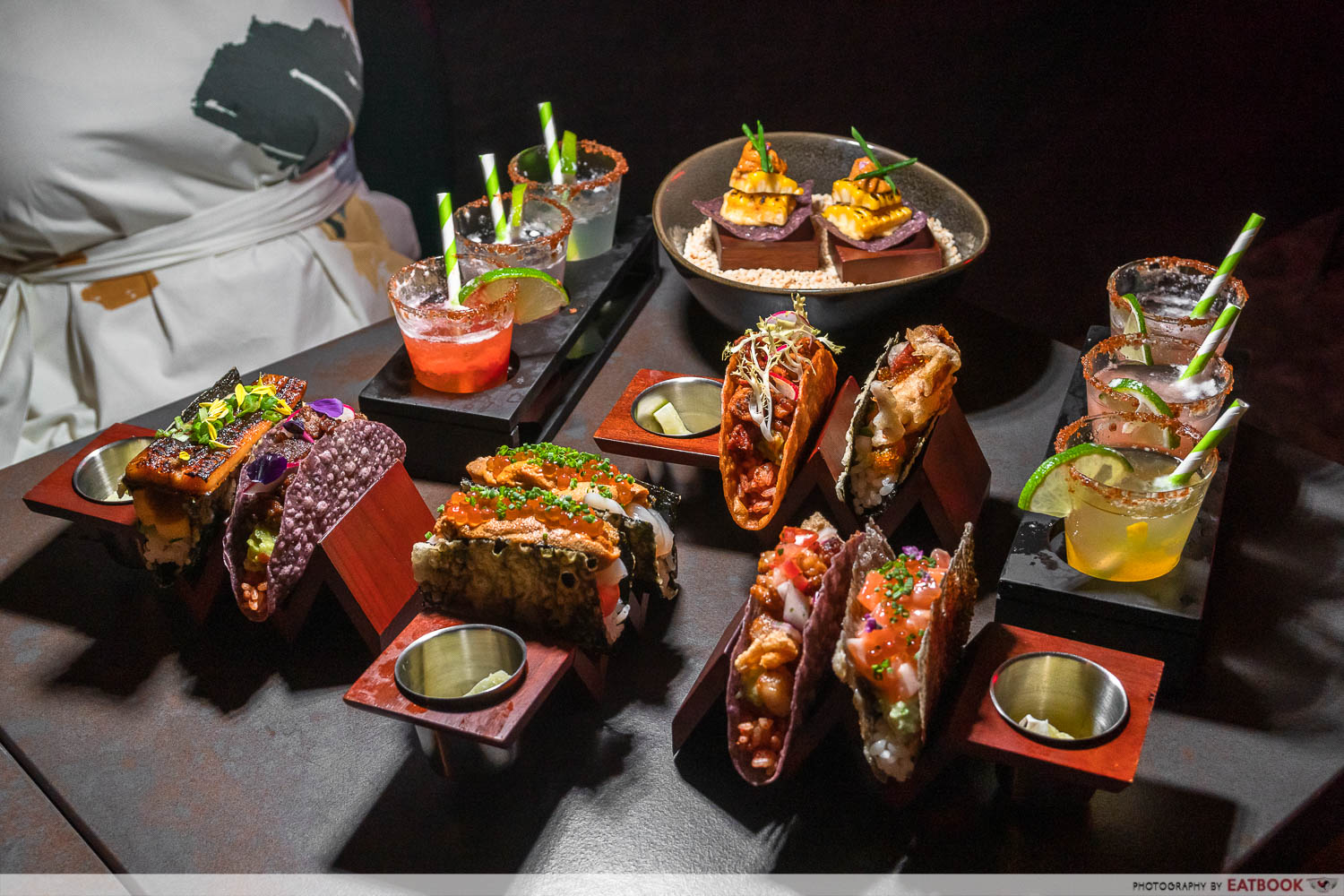 I'd previously heard great things about RAPPU Sushi Bar, so I was excited to hear that the founders opened a new, Mexican-Japanese taco bar concept. Like at RAPPU, there are similar uni-loaded items on the menu, so when I received the invitation to head down and taste the food at MEZCLA, I was thrilled.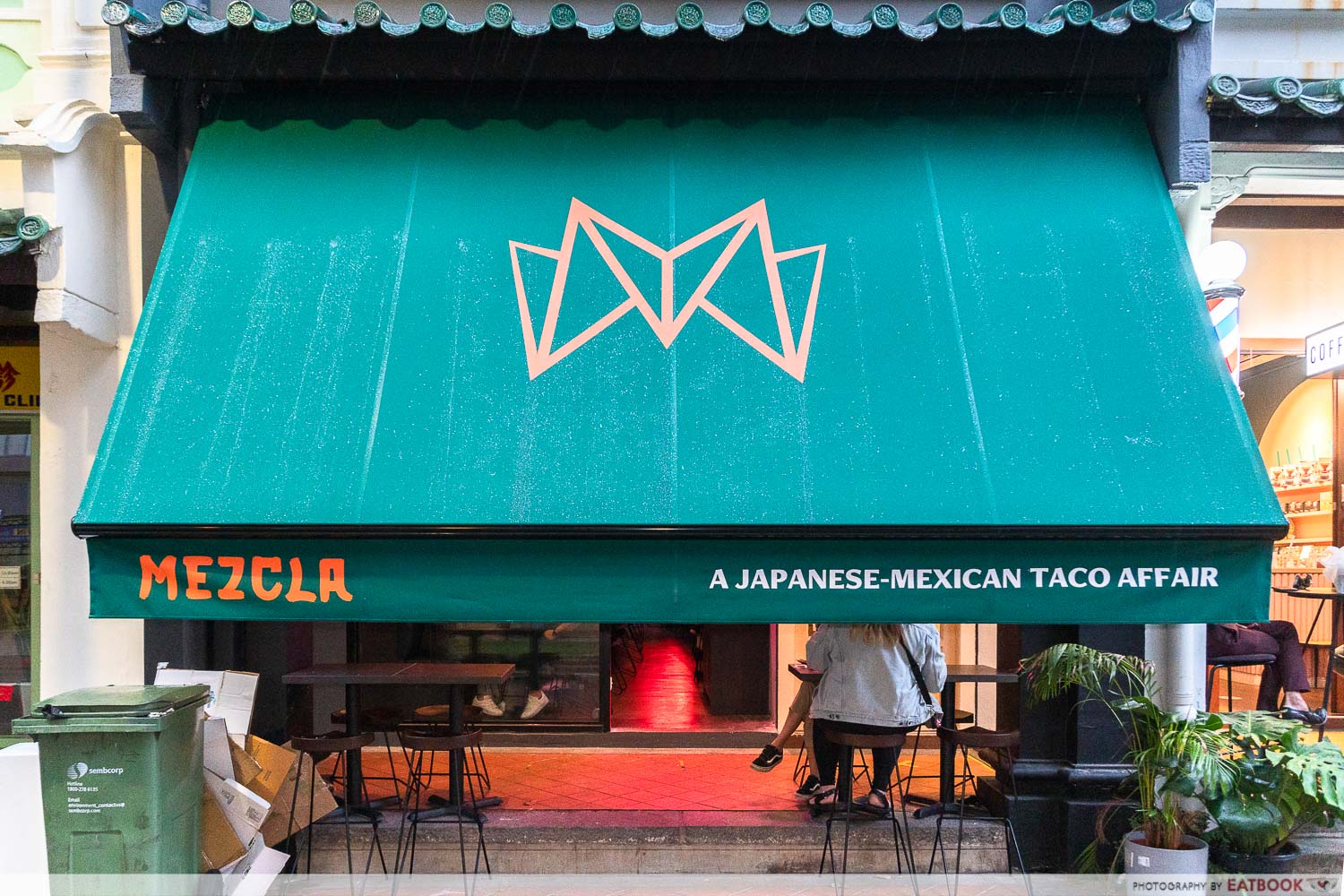 Located a little further down the road from Shake Shack's Neil Road location, MEZCLA claims a stake in the fusion eats scene with its concise menu of food and cocktails.
Rappu Review: New Sushi Restaurant By The Feather Blade Serves A Full Handroll Course At $36++
Food at MEZCLA
We started the meal with Unicorn ($18++ for two), an appetiser of Grade A uni on elote, or Mexican grilled corn-on-the-cob, paired with Cojita cream, on a purple tortilla chip. If you've had actual elotes, you'll know that they usually come sprinkled liberally with shaved cheese. The cheese here is Cojita, reimagined as a cream to accompany this snack.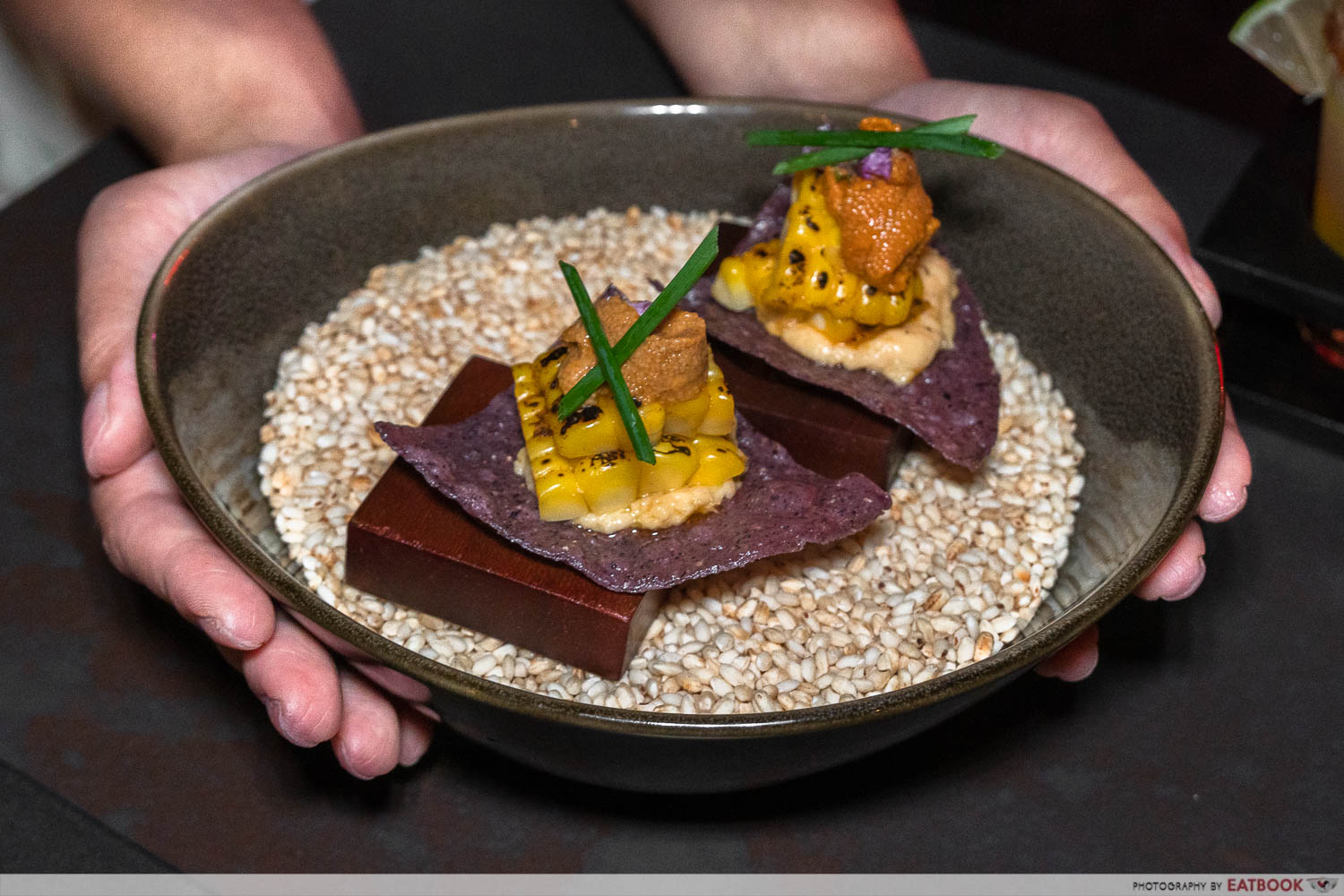 It looked visually appealing, but was a little unwieldy to eat, and I ended up eating the various components separately. I wished they'd come in more bite-sized serves, so I could truly savour the layered flavours in a single mouthful.
The stars of the show here undoubtedly are the tacos, of which there are eight. These are split, half-half, into more typical Mexican flavours, and Japanese-inspired ones.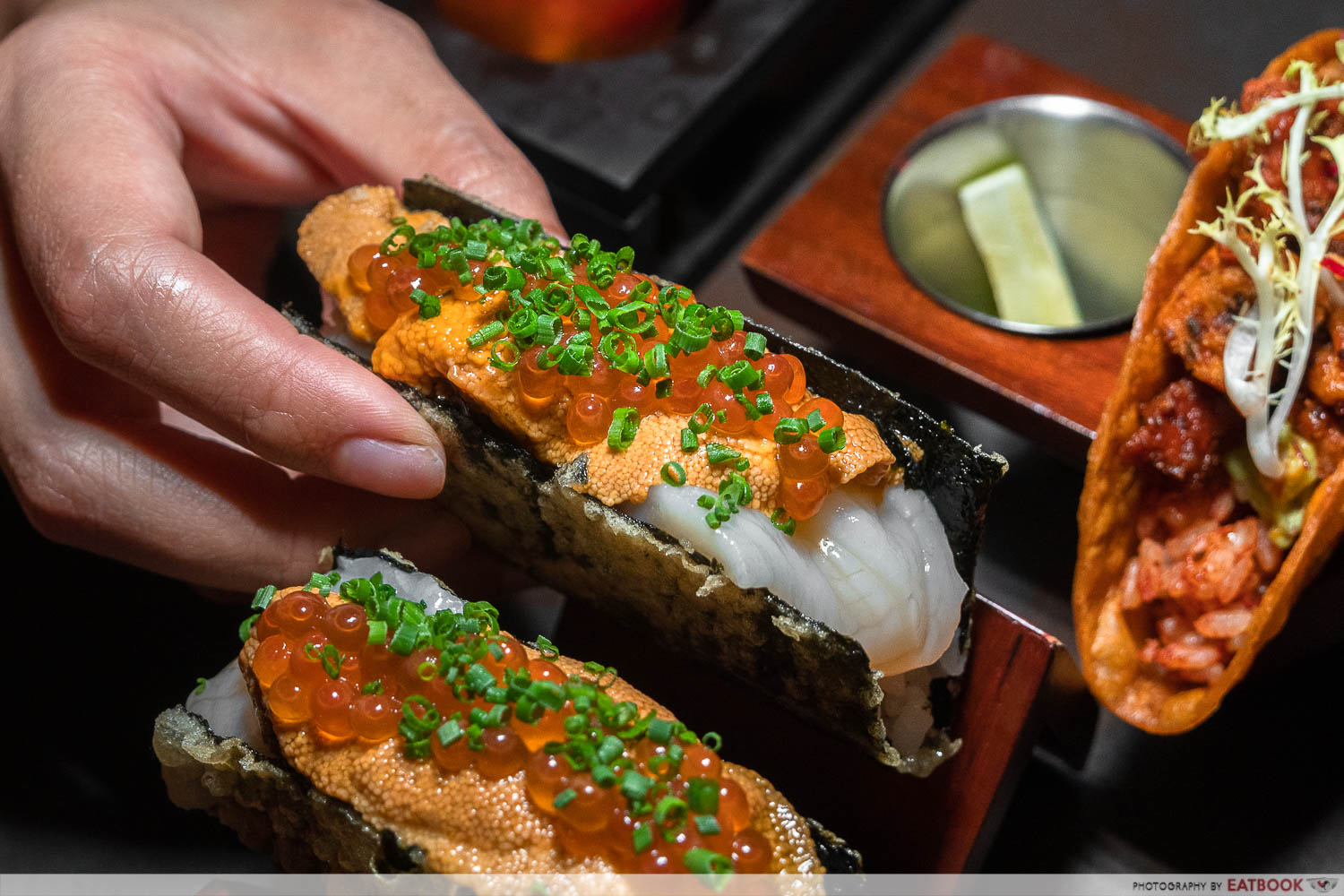 We dove right into the Uni & Scallop ($32++), the single most expensive item on the food menu. Uni, hotate, and ikura are a match made in heaven, and they're portioned pretty generously on the deep-fried seaweed taco. While we found the uni to be a tinge fishier than we would have liked, you can't quibble for the quantity of this premium ingredient that you're getting here.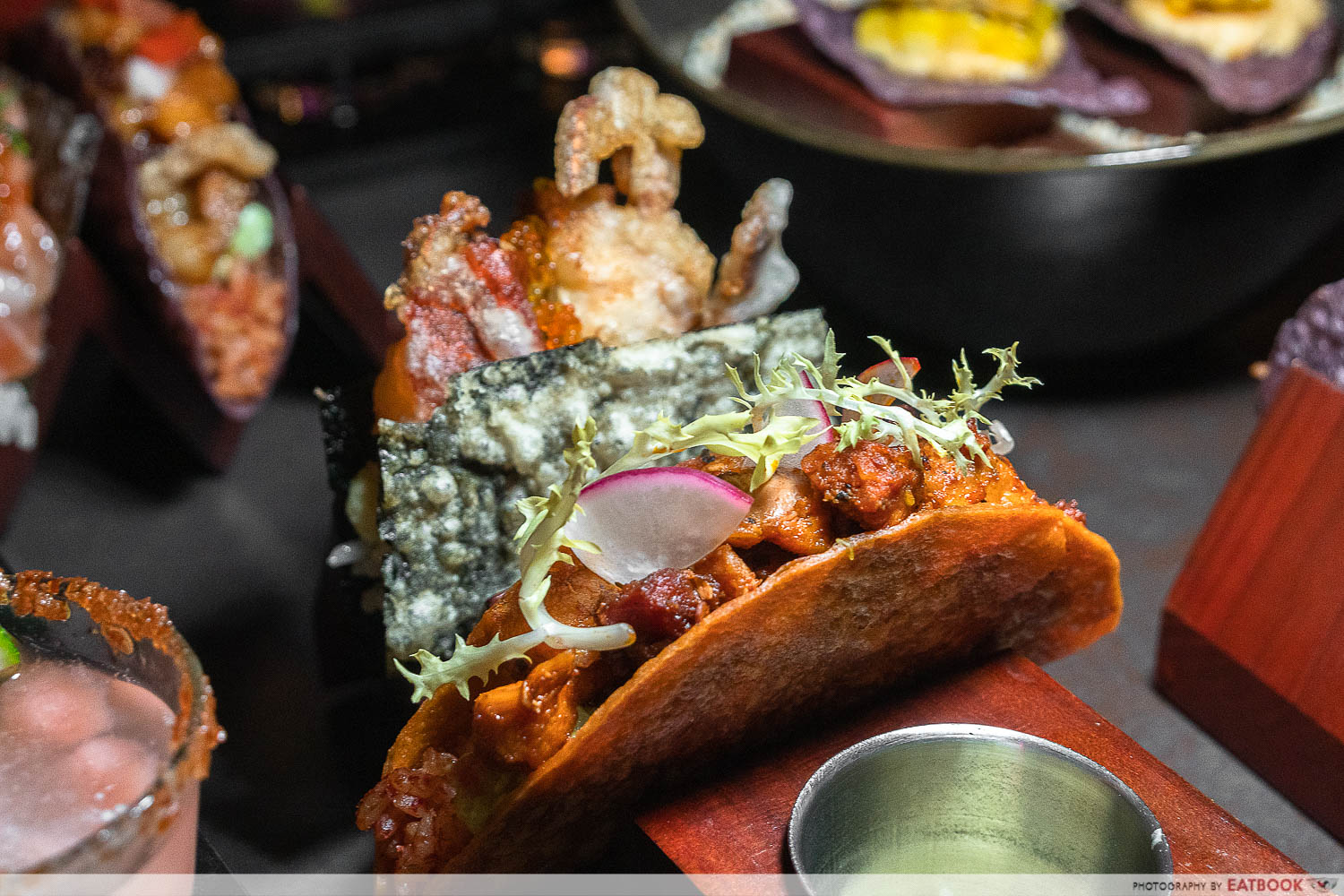 I enjoyed the classic tacos much more than the Japanese-inspired ones. There's the Chorizo ($8.50++), where a tomato tortilla envelops grilled chicken and chorizo, a peppery, lightly spicy sausage. Together with a chipotle salsa and guacamole, I found the flavours much more layered and punchy than the Japanese iterations.
If you're more of a sushi fan, the Crab ($11.50++) features a tempura soft shell crab with tobiko and spiced mayo. The flavours are more muted, especially when you have the plainer white rice here, so go for these if you've got a lighter palate.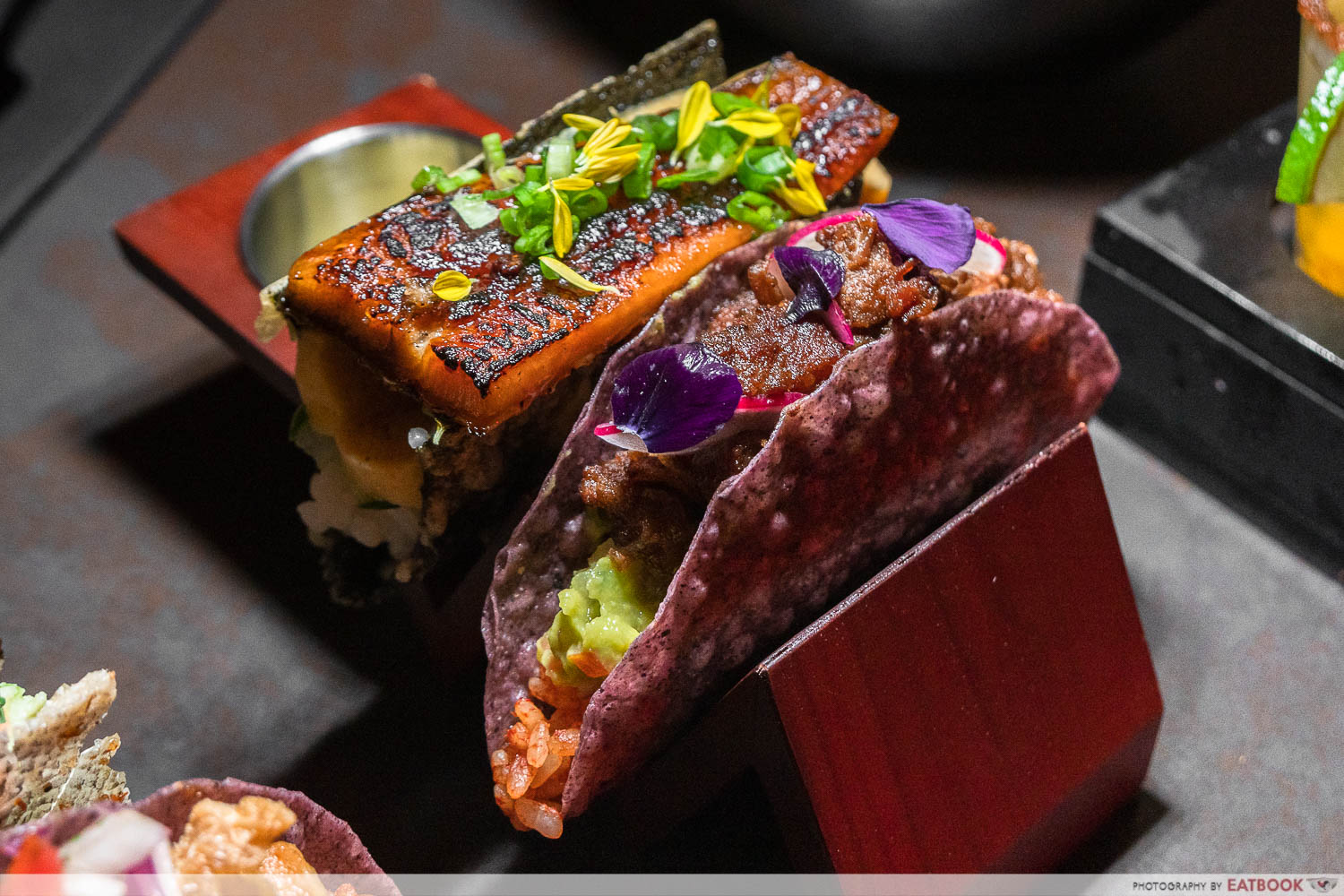 Similarly, the Unagi ($9.50++) differentiates itself from unagidon with a teriyaki sauce laced with chipotle, the smokiness of which you might not realise comes from the peppers. There's also a slab of tamago under the unagi, which brings some sweetness to each bite.
Go instead for the Wagyu ($11.50++), a meaty beef brisket that's spiced with gochugaru, or Korean pepper flakes, and guajillo, one of the most common Mexican chilli peppers. Here, pickled onions add acidity into the mix, and the lightly spiced rice mean additional flavour in the taco.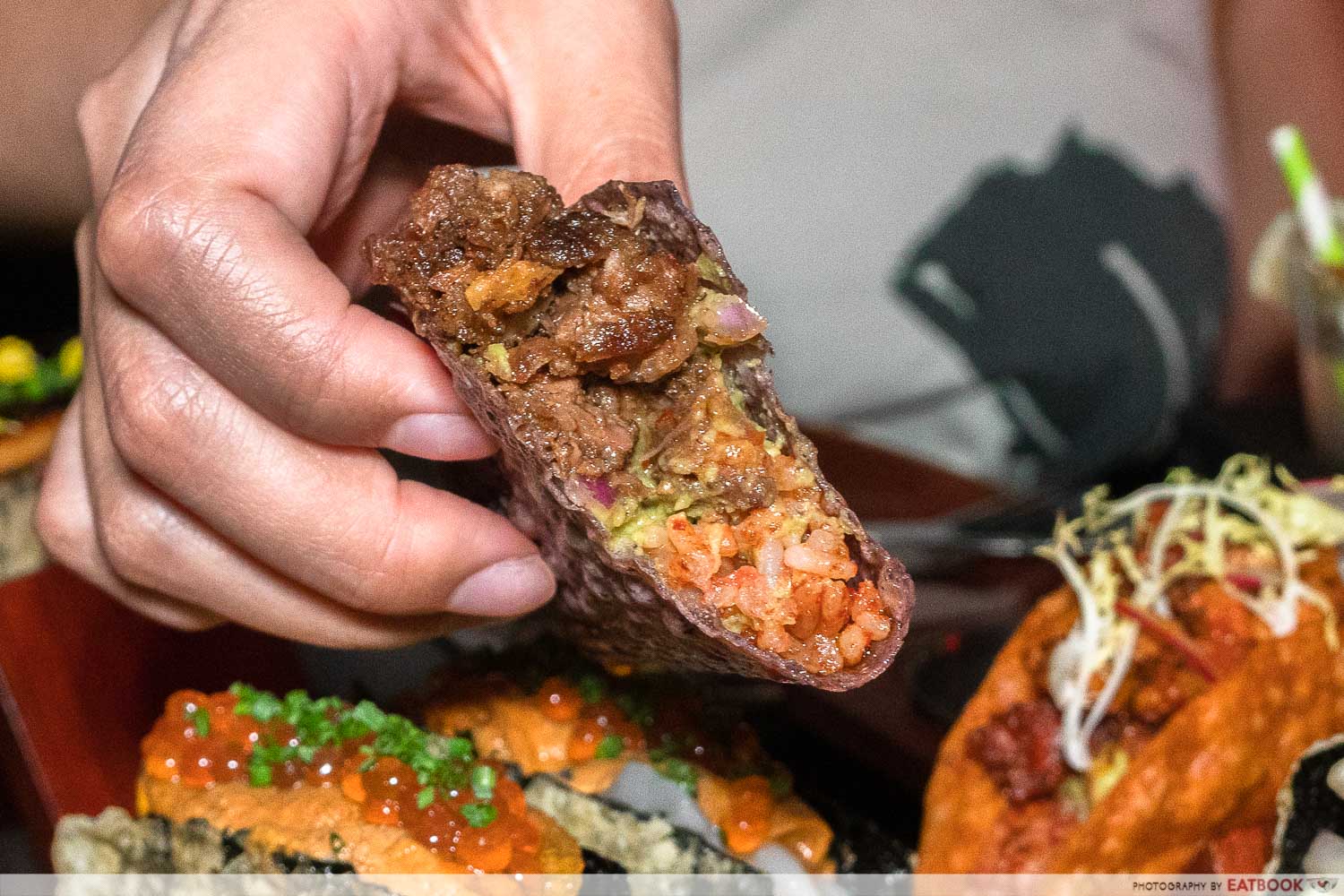 Fair warning though: eating these tacos can get messy, because the plentiful ingredients in each do start falling out when you bite into them. I'm not complaining though, because more ingredients are always better.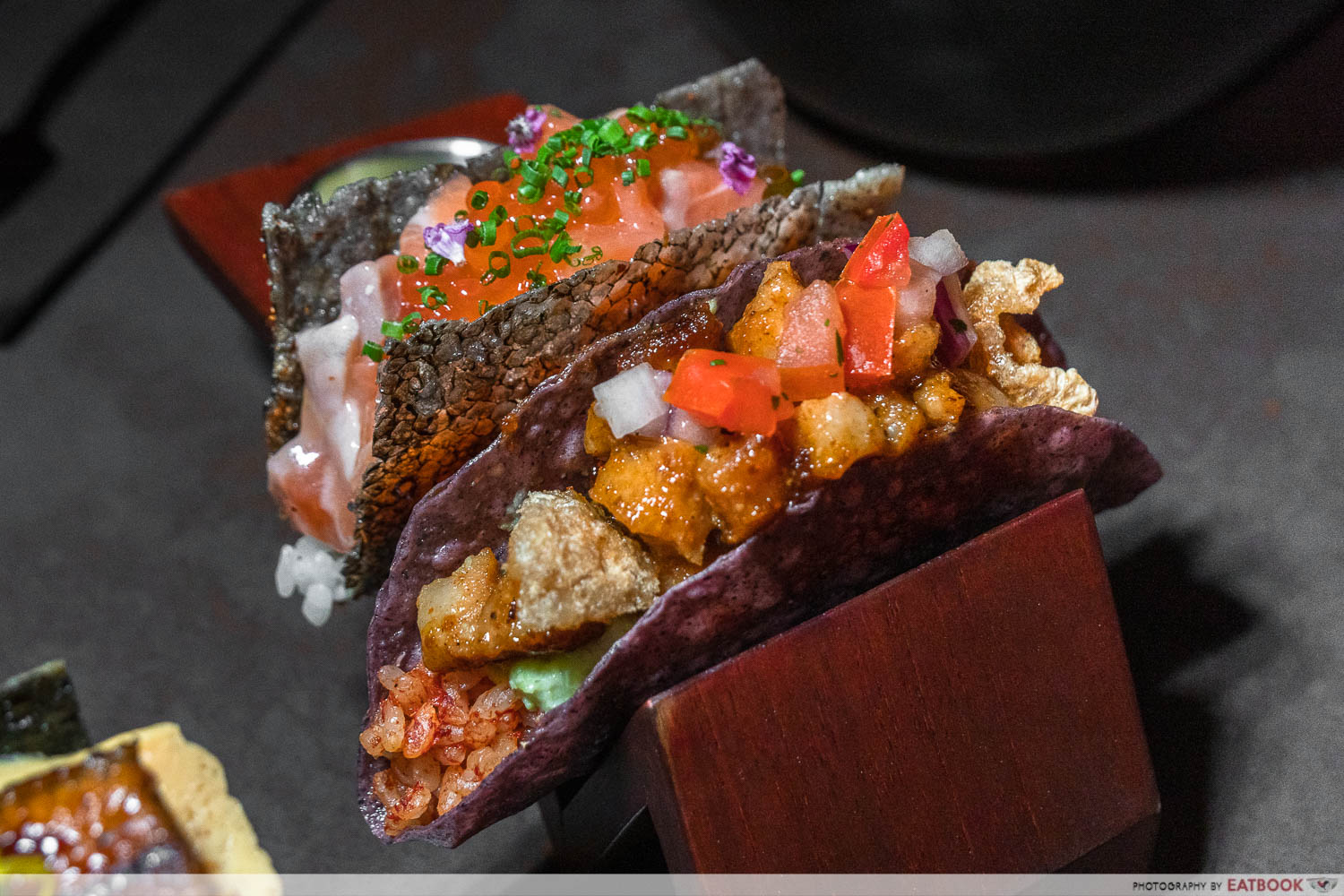 My favourite taco of the night has to be the Carnitas ($8.50++), which comes in a blue corn tortilla. Not only does this come with pork jowl, but it's also topped with chicharron, AKA uber crispy pork crackling. The smoky meat is also balanced with ancho chile and edamame refritos, a Japanese take on the classic fried beans.
Where the other Japanese tacos had a base of deep-fried seaweed, the Salmon ($12.50++) is the only one that comes in a receptacle made of crispy salmon skin. It's a shoo-in for anyone who loves IRVINS and the like. I recommend eating it fresh out of the kitchen because the fish skin does get chewy and slightly unpleasantly soggy the longer it sits.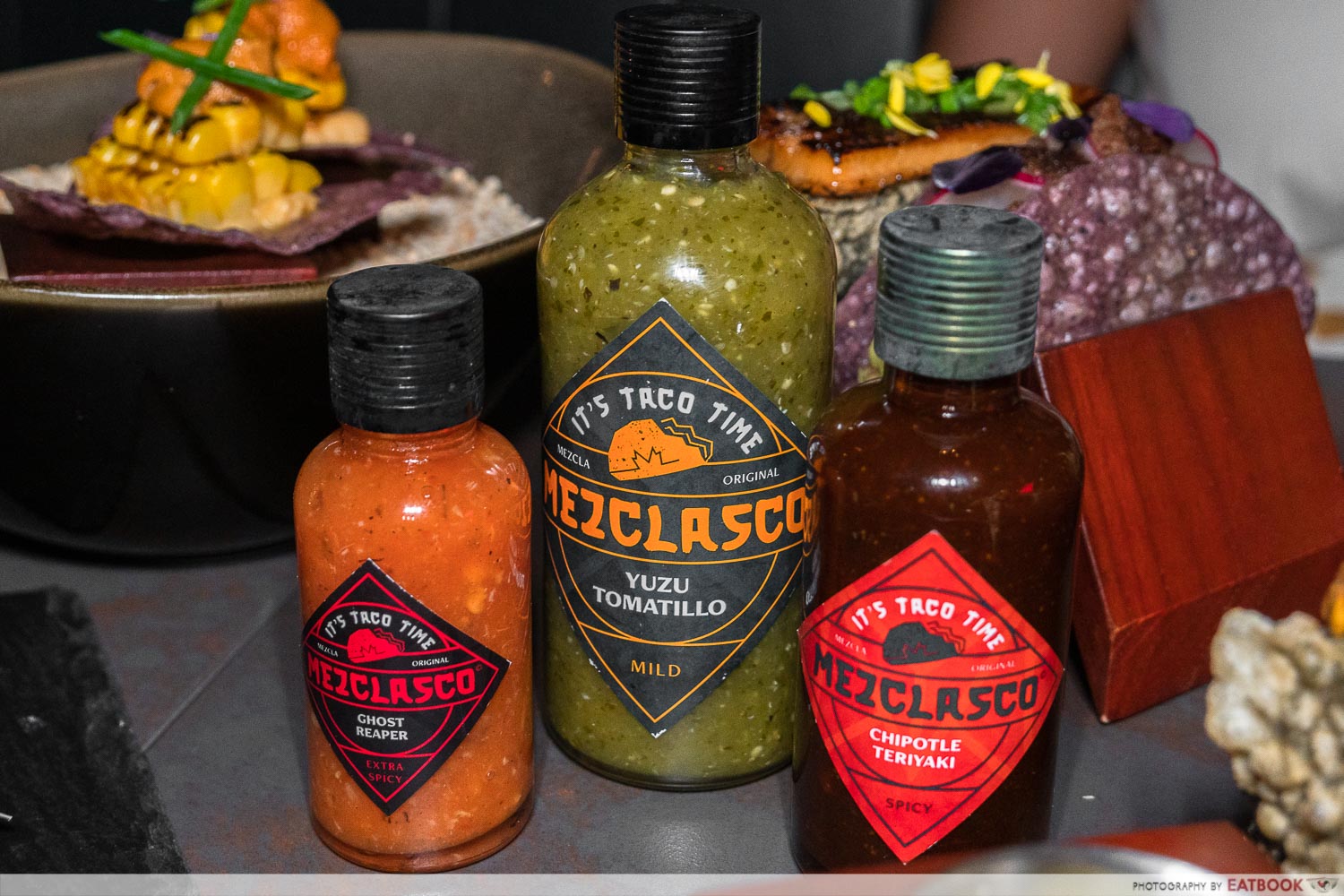 Nothing stood out in particular about the cured salmon, which felt more like a hearty, handheld serve of salmon sashimi. We dashed some of MEZCLA's Yuzu Tomatillo sauce on the fish, which immediately made a huge difference. It's one of their three signature sauces, the hottest of which is the Ghost Pepper, with a slow, lingering burn.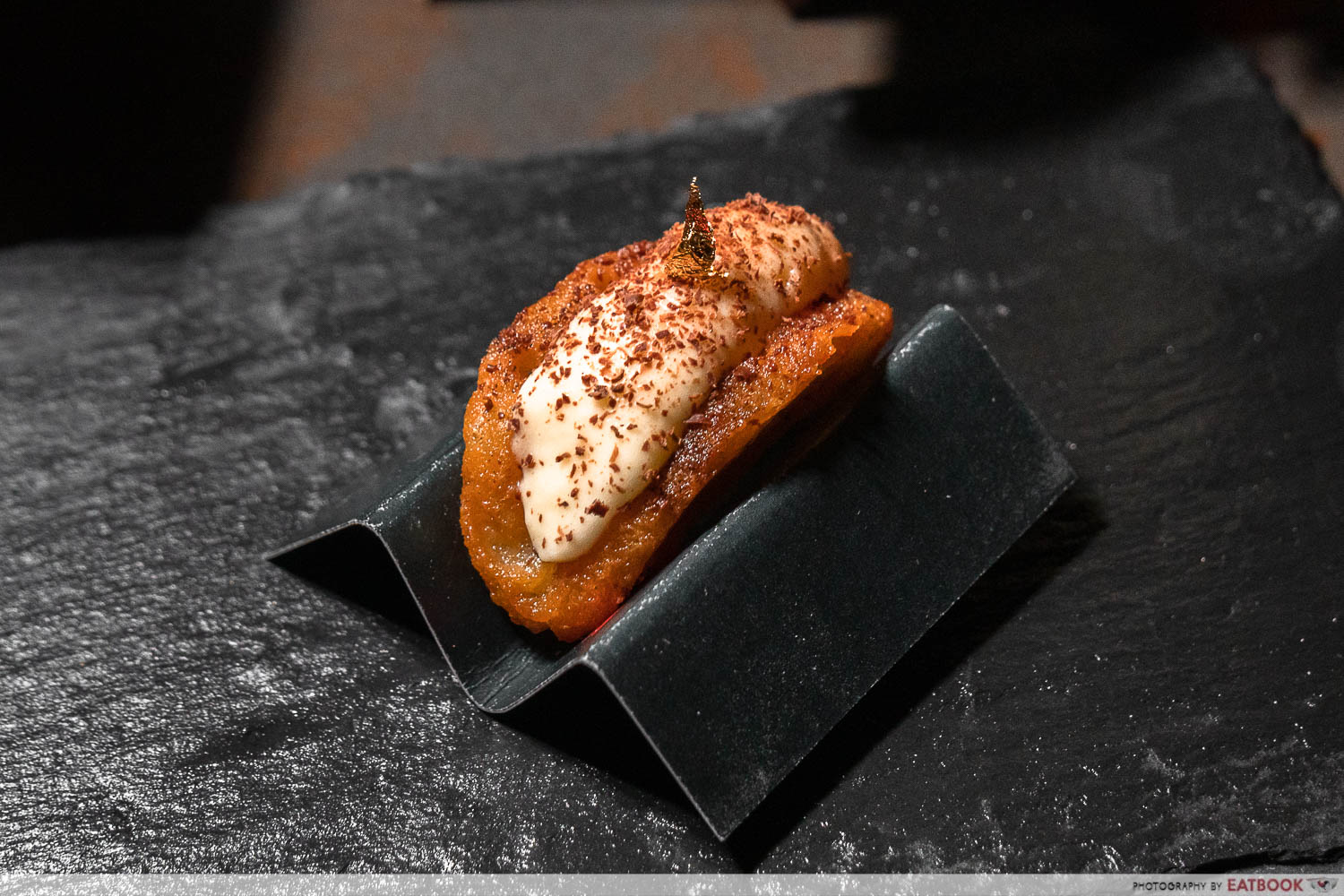 Finish your meal with Churros Tacos ($9++ for three), a miniature-sized taco that's a cinnamon sugar-laced churro! I rather enjoyed this sugary little bite, filled with vanilla creme, and dusted with Valrhona chocolate shavings. It's even finished with fluttering edible gold leaf that makes you feel oh-so-special.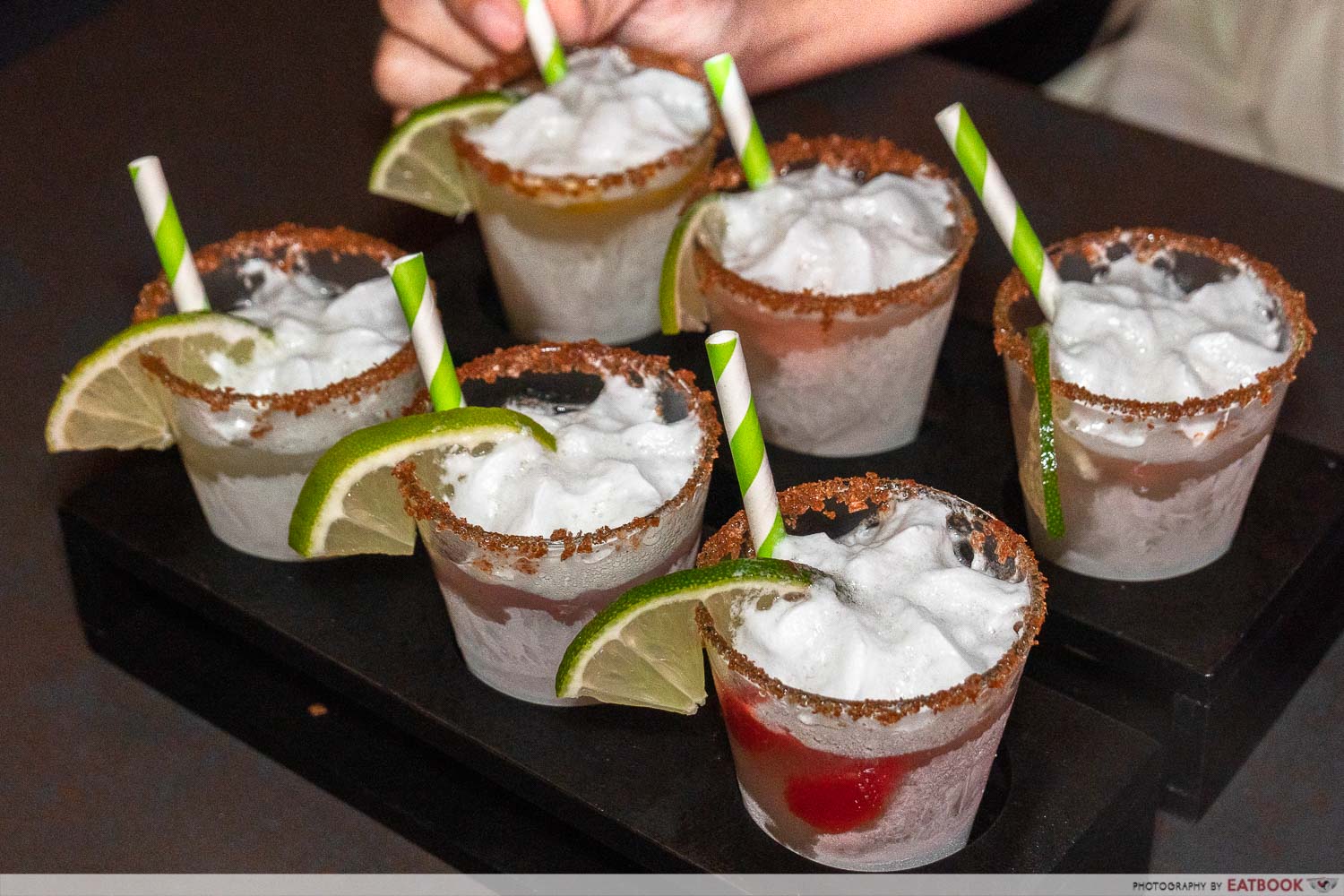 On the margarita front, I highly recommend the Flight of 3 ($16++), where you get three mini margaritas in your choice of flavours. Otherwise, a full-sized margarita, which comes in six flavours including Kyoho, Strawberry, Pink Guava, and Peach, is priced at $13++.
Ambience at MEZCLA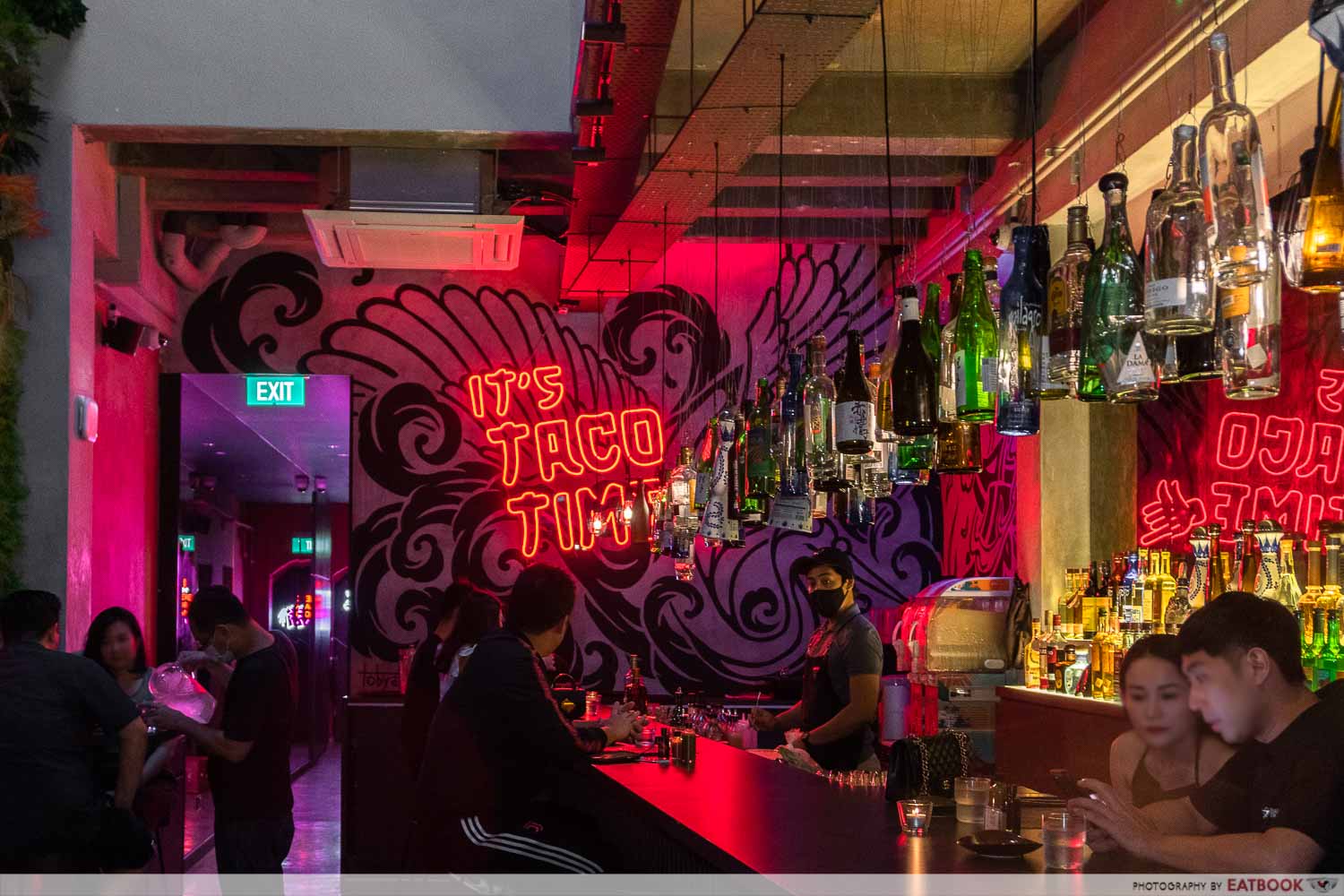 MEZCLA is a short five-minute walk from Tanjong Pagar MRT Station, or nine minutes from Chinatown MRT Station. Other than a small number of outdoor seats right by the roadside, there's a communal table that's an extension of the bar counter, bar seats, high tables, and a line of smaller tables along one wall.
As with old shophouse units, the space is elongated and narrow, with a skylight halfway through the unit. This offers some natural light before the sun sets, but otherwise, MEZCLA has a generally grungy aesthetic, with bold-coloured lighting offering some brightness.
Hvala Craig Road: New Tanjong Pagar Outlet With Exclusive Warabi Mochi And Waffles
The verdict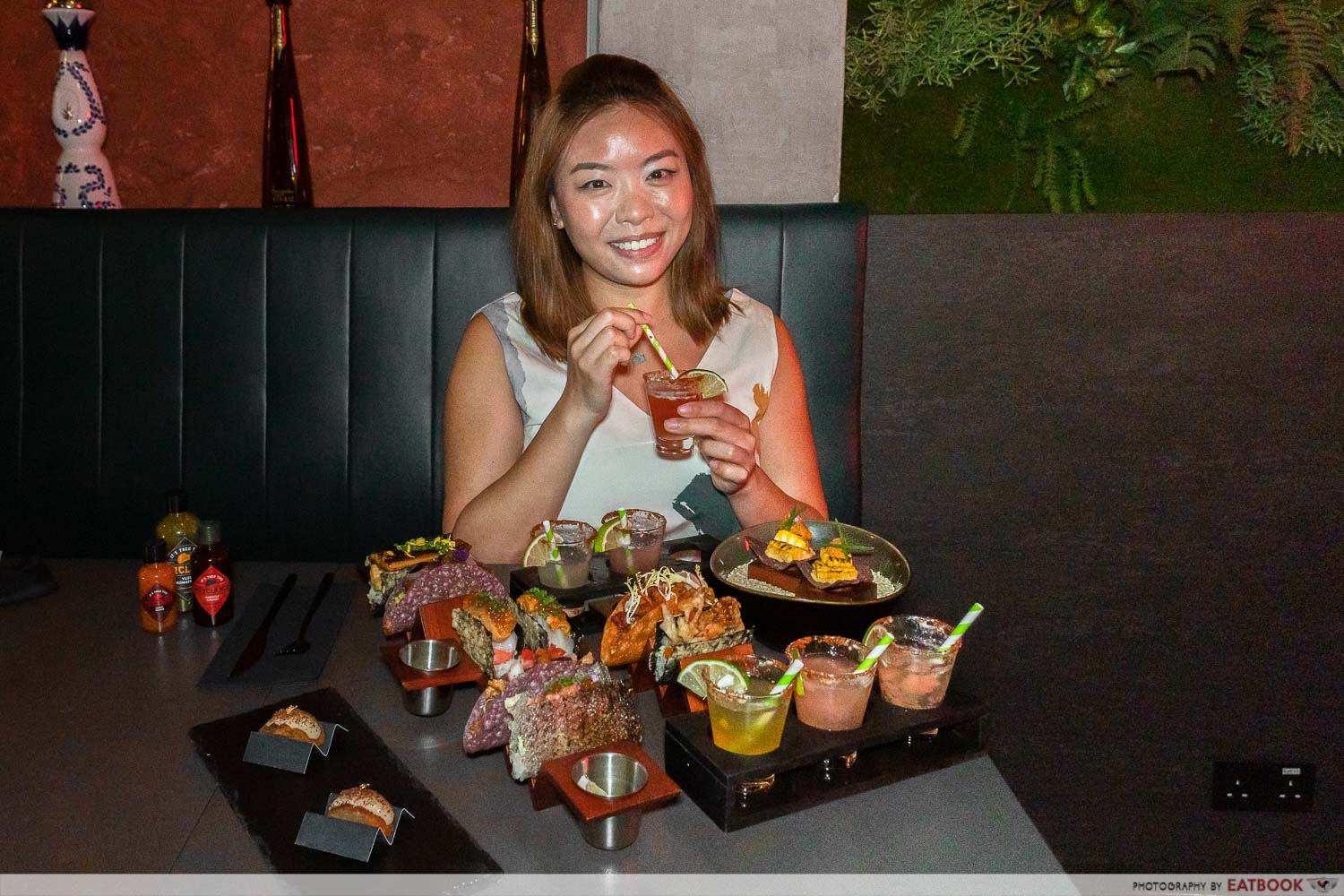 Be prepared to spend a fair bit if you're coming to dine at MEZCLA, especially if you're a big eater. The bill for these single-portioned tacos easily add up, when they cost at the very least almost $10 a pop. If you're looking to chill over bar bites and drinks after work, it's a pretty cool place though.
Just a few doors down from MEZCLA is Hvala's latest outlet, where you can head to for some zen and matcha drinks. Leckerbaer's also got their own shop space further down on Keong Saik!
Address: 43 Craig Road, Singapore 089681
Opening hours: Thurs-Sun 11:45am to 2:30pm, Wed-Sat 6pm to 12am, Sun-Tue 6pm to 10:30pm
Website
MEZCLA is not a halal-certified eatery
Popular Danish Bakery Leckerbaer Opens New Cafe In Keong Saik This November
Photos taken by Emily Teu.
This was a media tasting at MEZCLA. 
MEZCLA Review: Japanese-Inspired Tacos With Uni And Wagyu In Tanjong Pagar
MEZCLA Review: Japanese-Inspired Tacos With Uni And Wagyu In Tanjong Pagar -

7/10
Summary
Pros
– Mexican tacos were flavourful
– Interesting concept
Cons
– Slightly costly
– Japanese-inspired tacos felt like glammed-up sushi
Recommended dishes: Carnitas ($8.50++), Chorizo ($8.50++), Churros Tacos ($9++)
Opening hours: Thurs-Sun 11:45am to 2:30pm, Wed-Sat 6pm to 12am, Sun-Tue 6pm to 10:30pm
Address: 43 Craig Road, Singapore 089681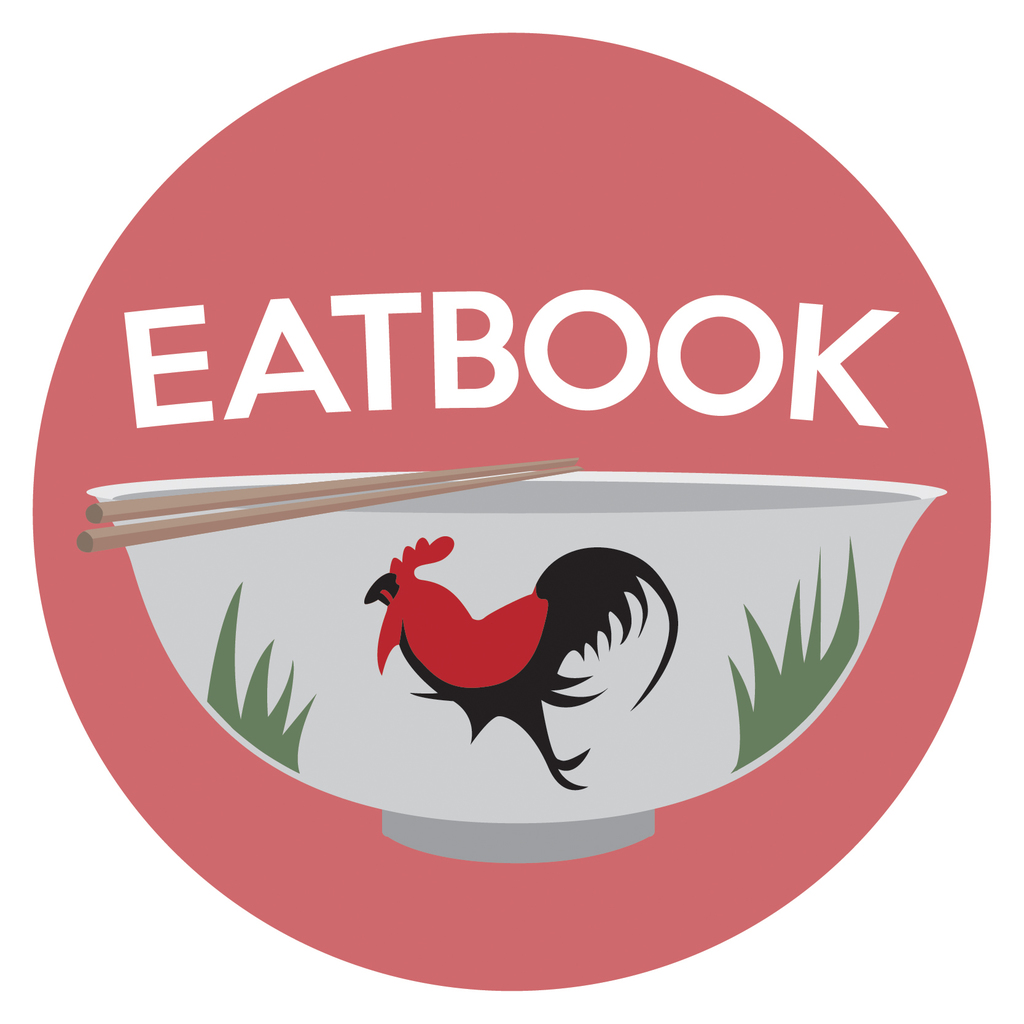 Drop us your email so you won't miss the latest news.