Dookki offers a tteokbokki buffet at Suntec City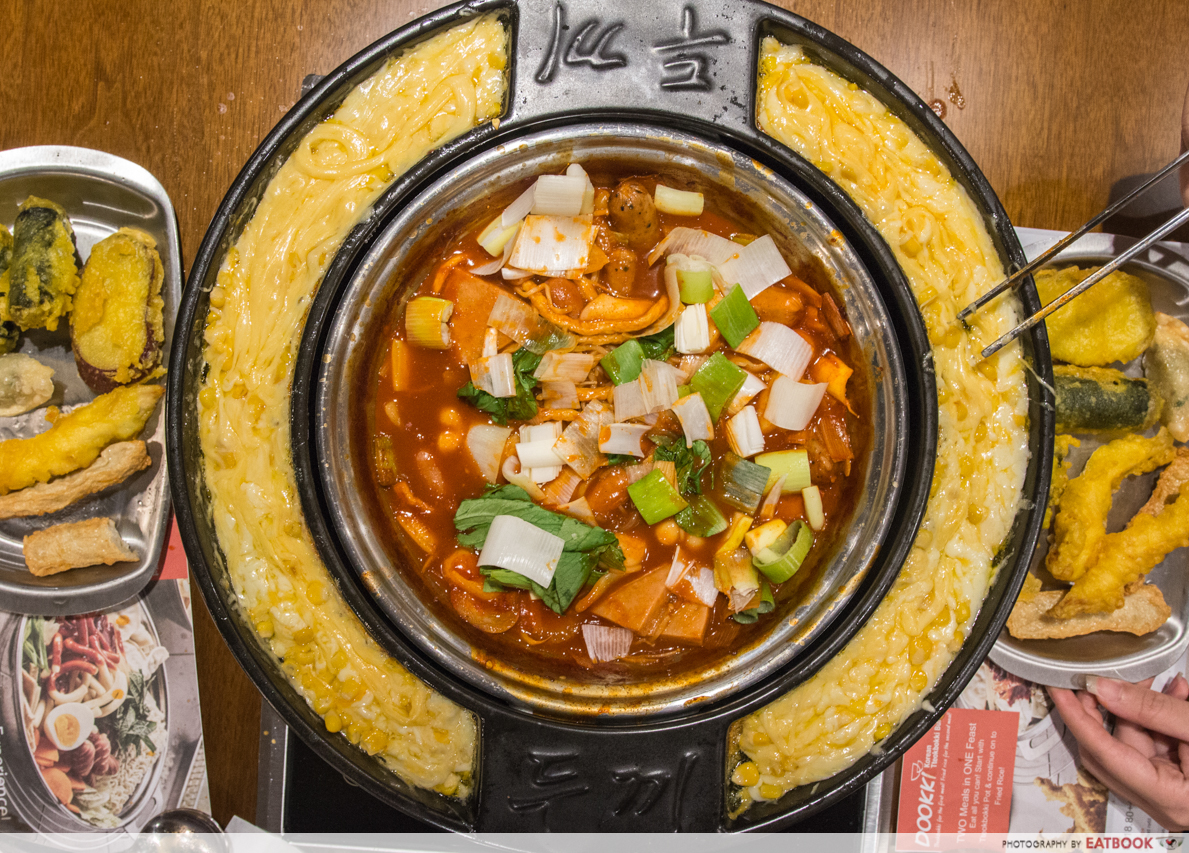 With the recent abundance of rainy days, all I've been craving for lately is some stick-to-your-ribs, carb-loaded comfort food. Like pots of spicy stew. Or giant bowls of piping hot rice.
Dookki, which means "two meals" in Korean, is Singapore's first tteokbokki buffet restaurant that lets you enjoy exactly that. $20.80++ gets you 90 minutes of unlimited tteokbokki and noodles, all simmered in a customisable sauce along with an assortment of toppings. And if all the tteokbokki isn't enough, there's also a part two to the Korean comfort food feast, which lets you turn leftover tteokbokki sauce into kimchi fried rice.
Food at Dookki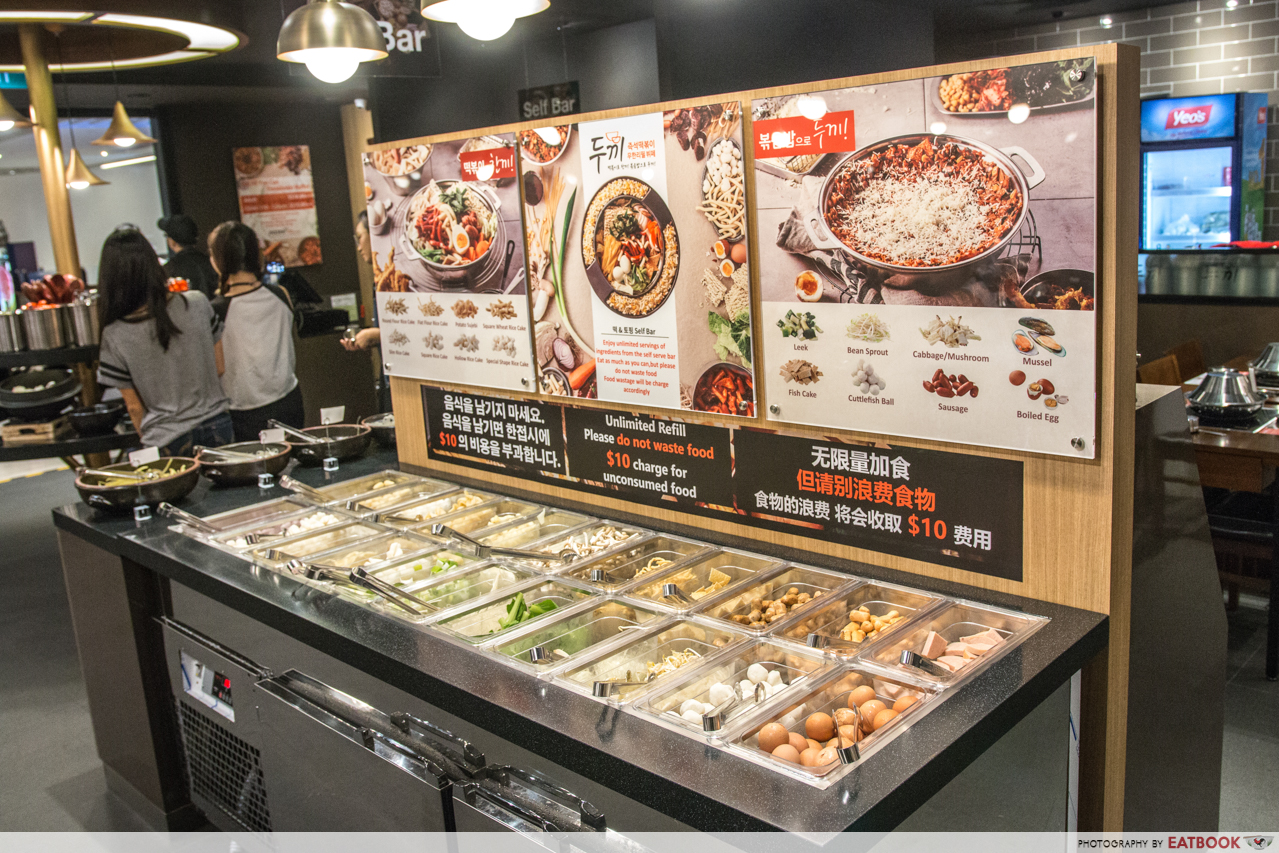 First, pour some stock into your pot and wait for it to boil. As your stock simmers, head over to the ingredients bar with the big metal bowl provided and start building your meal.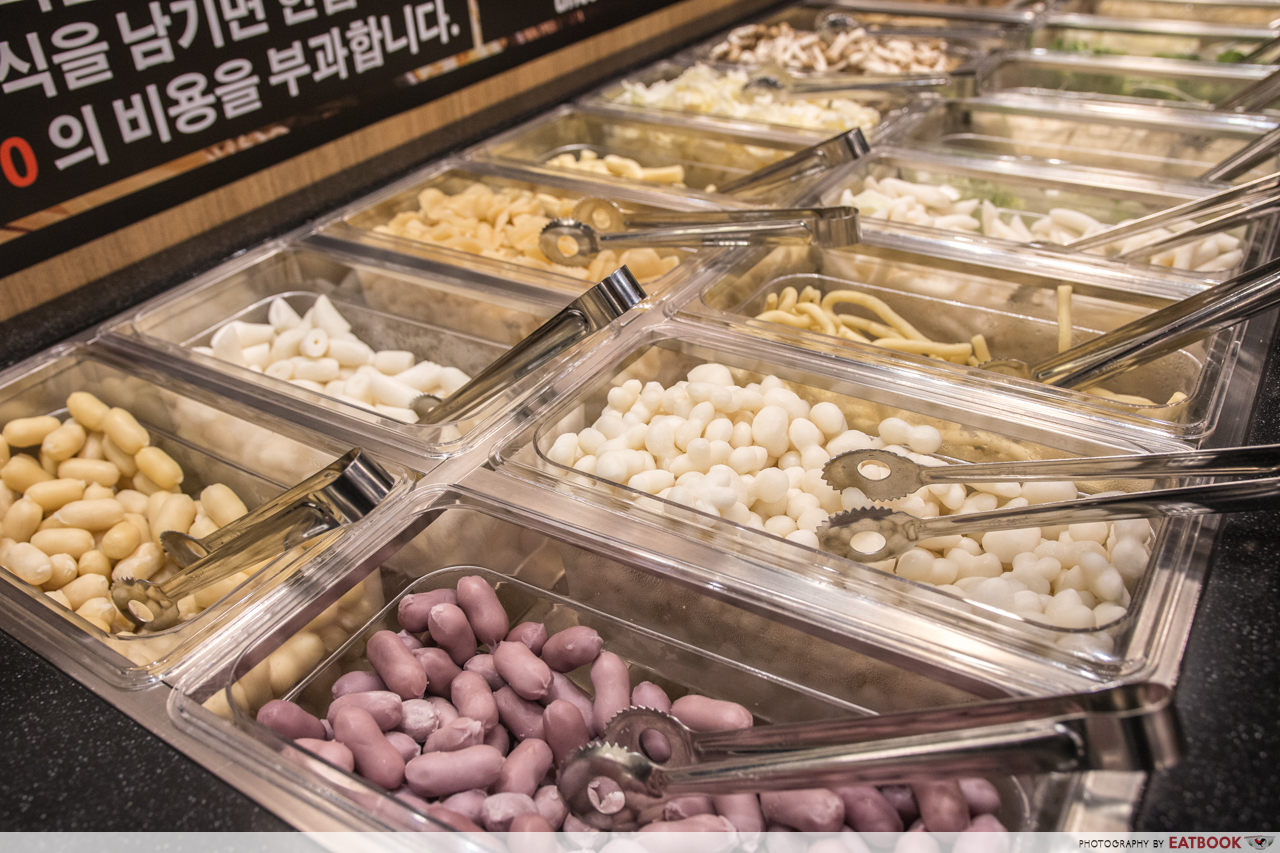 There are eight different types of tteok (rice cakes) available, from traditional tteok made from pounded rice to those stuffed with sweet potato or cheese.
The most common type of tteok you see in tteokbokki is garaetteok, which are long cylindrical rice cake sticks. Even though they're both made of pounded white rice, Hollow Tteok has a softer texture compared to the chewy-centred solid Round Tteok, and tastes more flavourful since it absorbs the tteokbokki sauce better.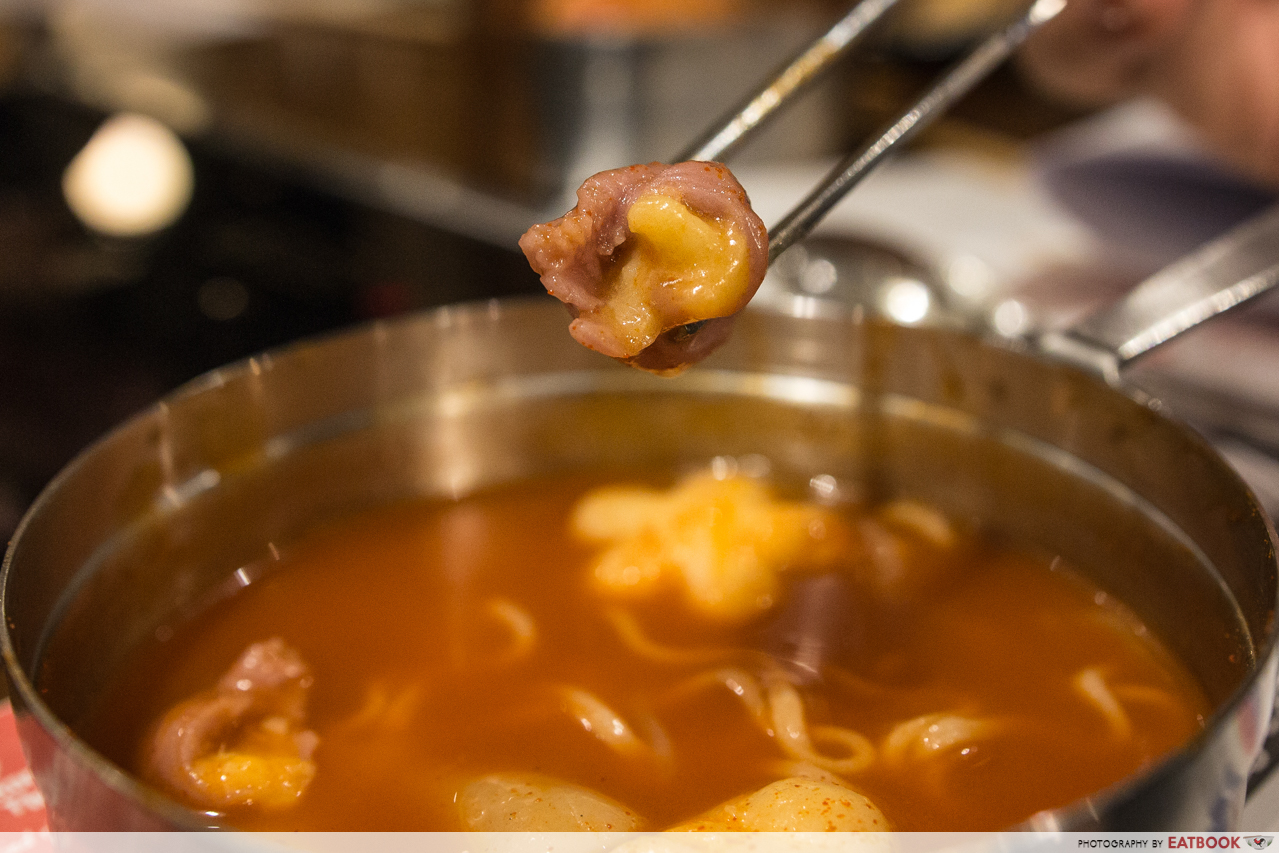 Out of all the tteok, the not-so-traditional Sweet Potato Tteok made it to the top of my list. Each purple pillow was soft and smooth, with just the right amount of bounce. I expected this tteok to be made of plain purple sweet potato flour, and was surprised to discover that the centre was instead stuffed with a creamy sweet potato filling – a welcome break from all the savoury food.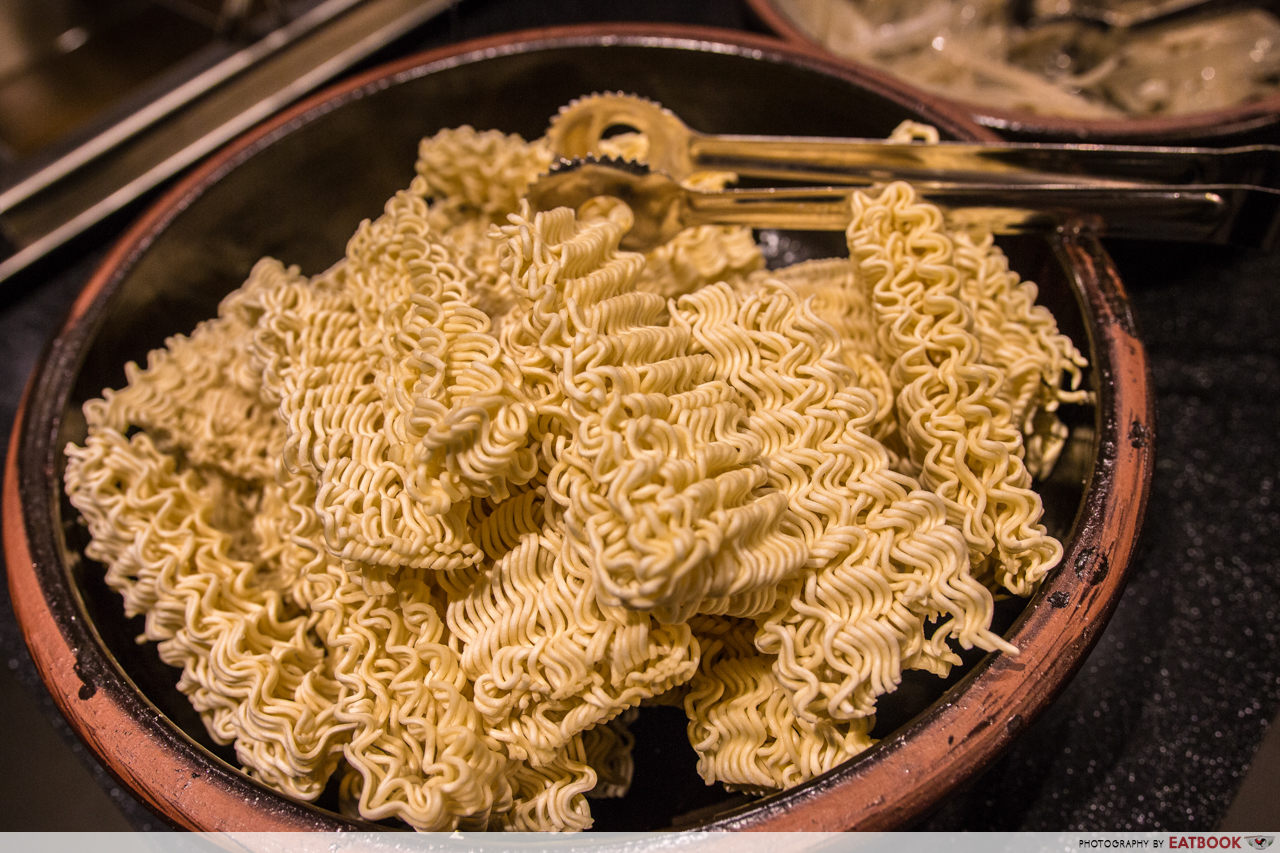 You'll find a range of ramyeon and dangmyeon (glass noodles) next to the tteok bar. If you're addicted to Shin Ramen, they even have an instant noodle section filled with three brands of pre-packaged Korean ramyeon, which you can toss into your pot.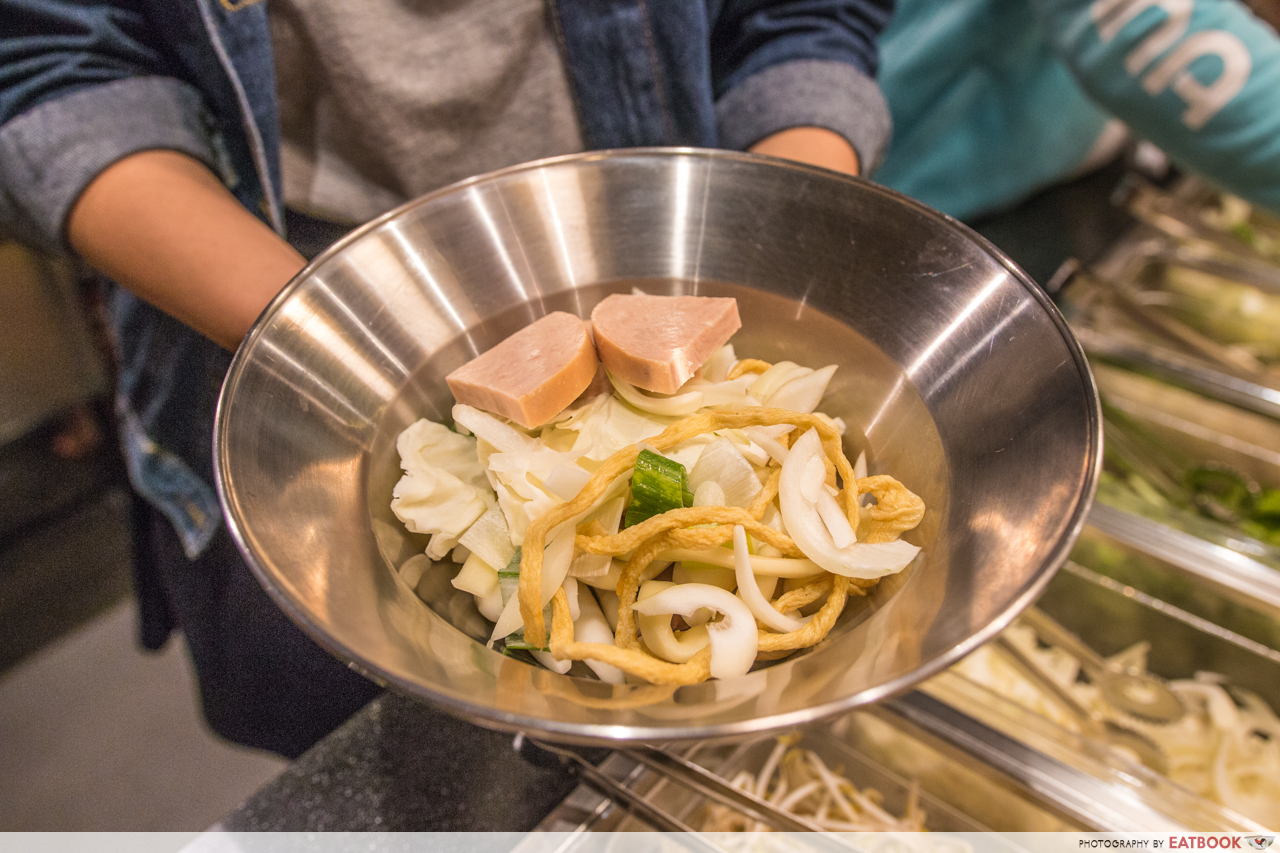 After you've gotten all the rice cakes your heart desires, fill up on veggies and mushrooms. Get lots of leeks and onions; they'll soften up as they cook and impart some sweetness to the tteokbokki stew.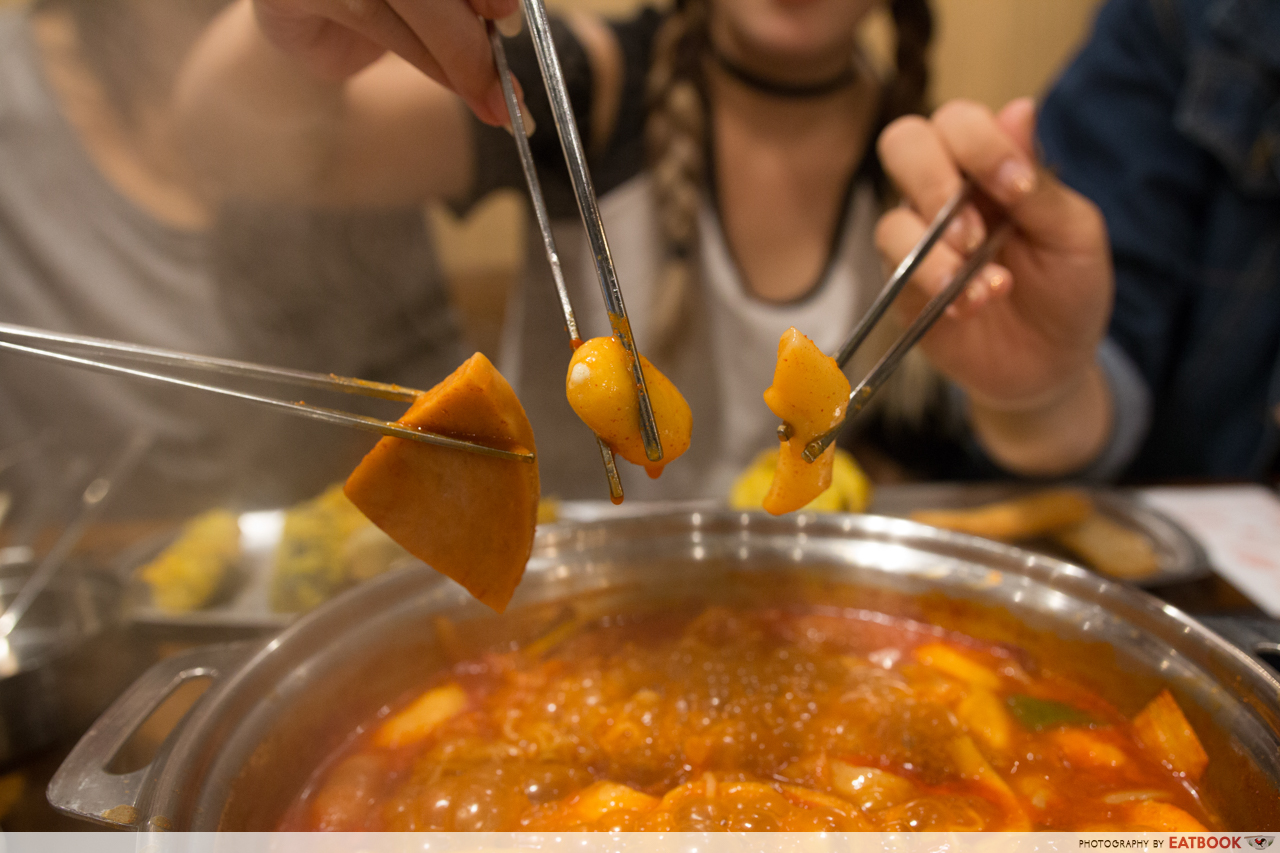 Bulk up your meal with toppings such as luncheon meat, cheese cocktail sausages, fried fishcake strips, boiled eggs, and more. Most of the meats are of the processed kind, like what you'd normally find in budae jjigae (army stew).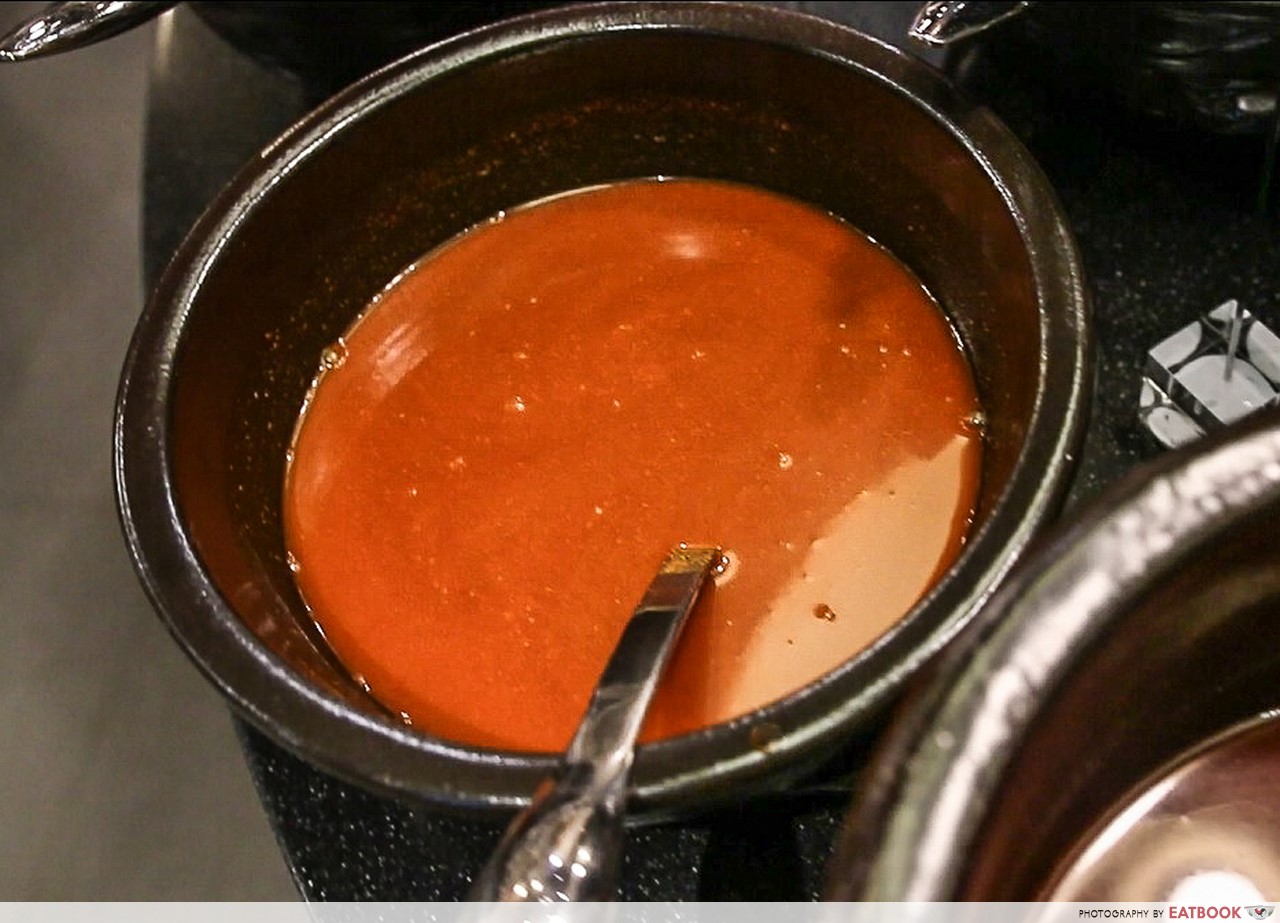 Rather than provide a generic sauce, Dookki lets you create your own sauce with their sauce station. Choose from seven different types of sauce, ranging from the soy-based Gungjung Sauce to the ferocious-looking Flame Sauce that had whole chilli pods stewing in it.
If you're feeling lost, fret not. There's a sauce-making cheat sheet that provides the recommended ratios of each type of sauce, depending on your preferred level of spiciness. There's also an option for cream sauce, for a carbonara-esque tteokbokki stew.
Double Cheese Ring at Dookki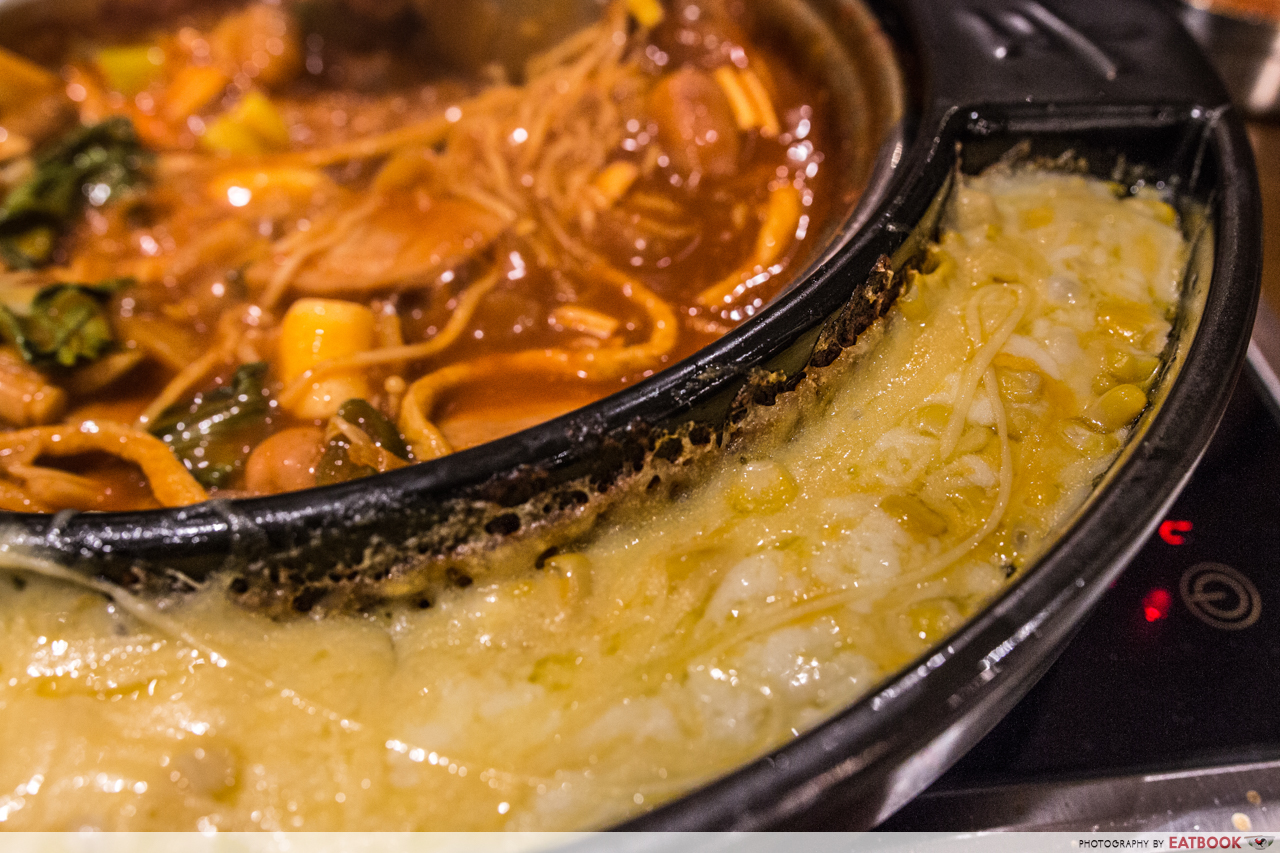 If you and your friends are crazy about cheese, you can top up $9.80 for a Double Cheese Ring. Each side of the ring was filled with a bubbling mix of sweet corn and a "secret" cheese – we suspect mozzarella.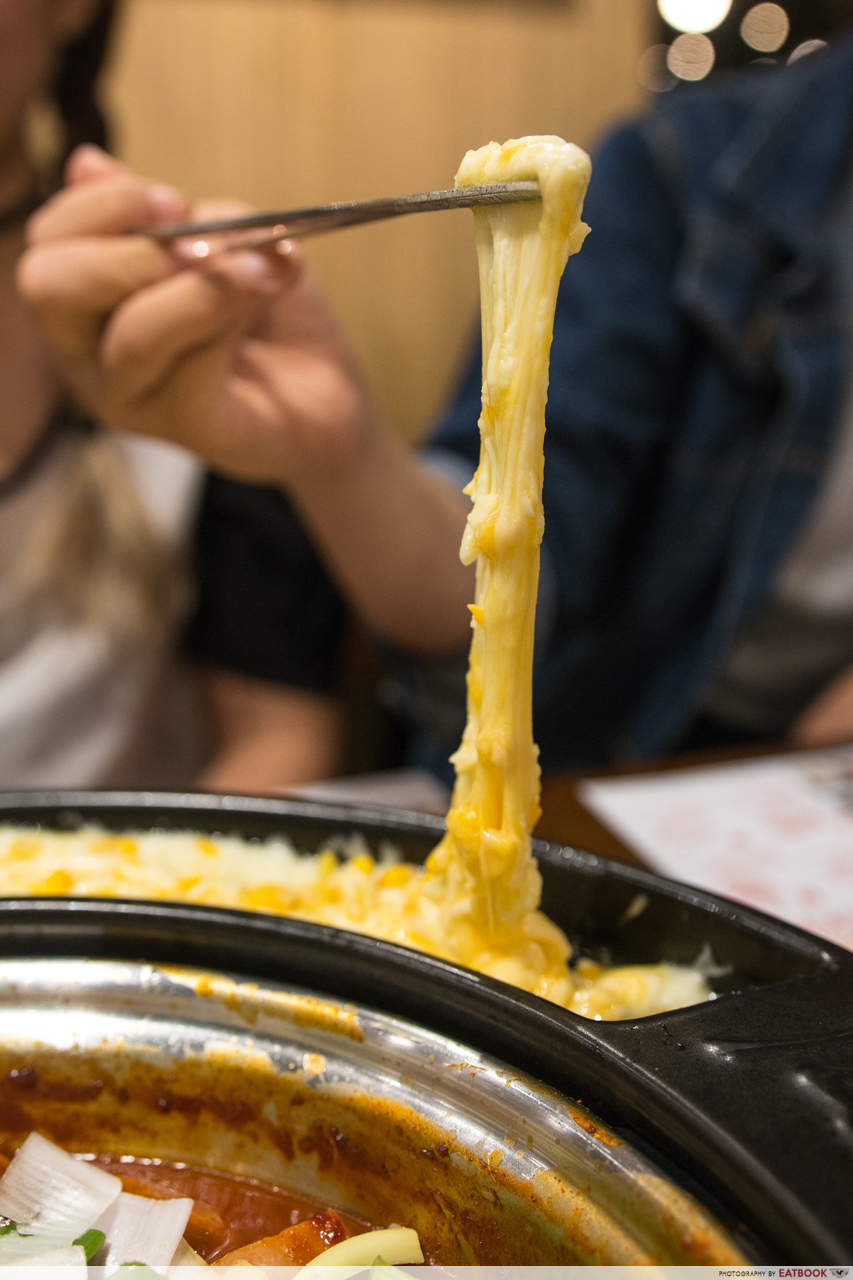 The cheese pull was INSANE. Dip the tteok or sausages into the cheese and use your chopsticks to wrap your food in a blanket of stretchy molten cheese. On the flip side, the cheese burns quickly, especially if you don't keep an eye on the heat. Be sure to give it a stir here and there to prevent it from hardening.
Eomuk station at Dookki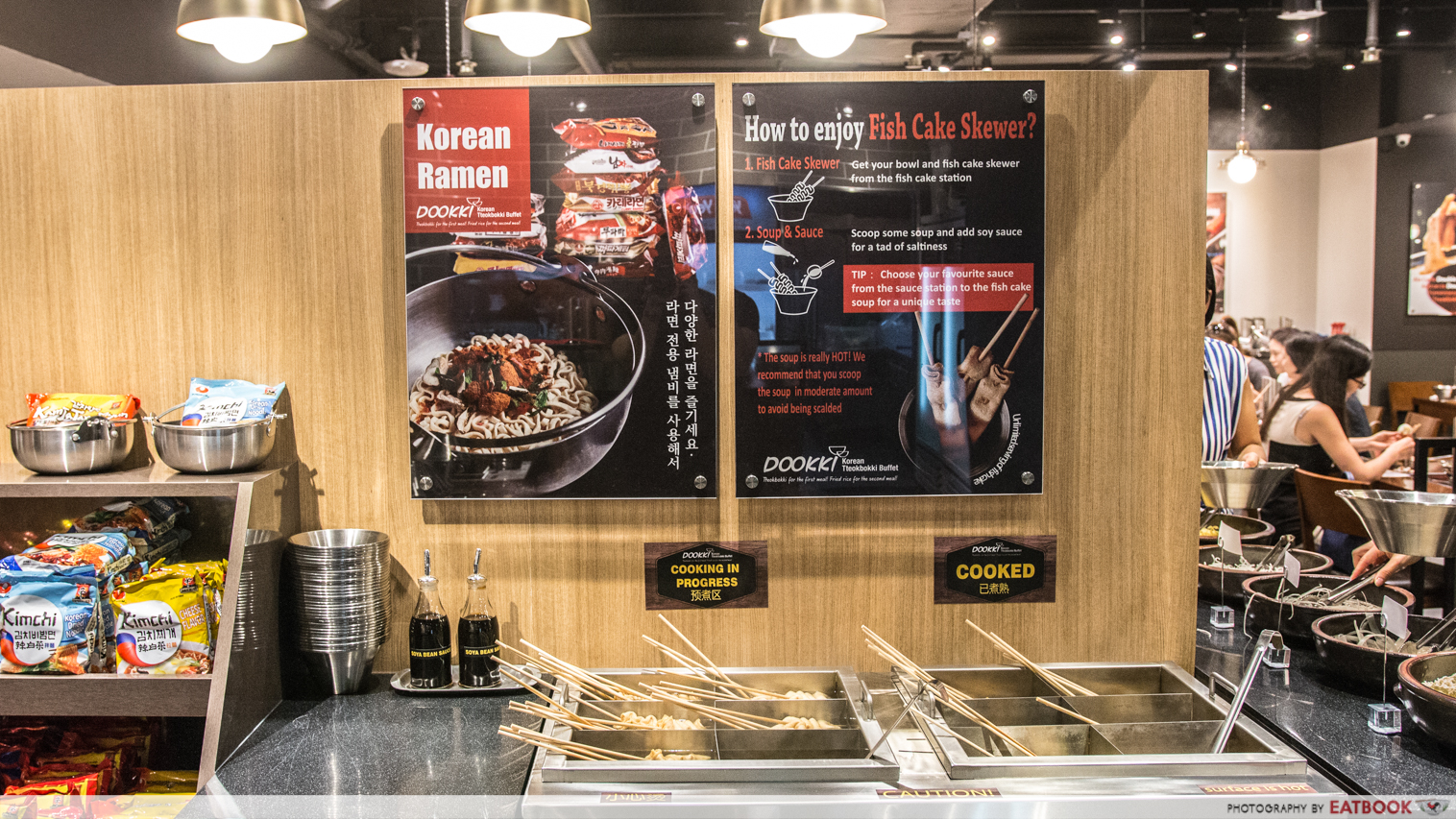 There's an eomuk station behind the ingredients bar, where you can get hot sticks of Korean fishcake boiled in a light broth. On first bite, the fishcake wasn't as salty as I expected it to be. However, you can adjust the taste with the soy sauce at the side.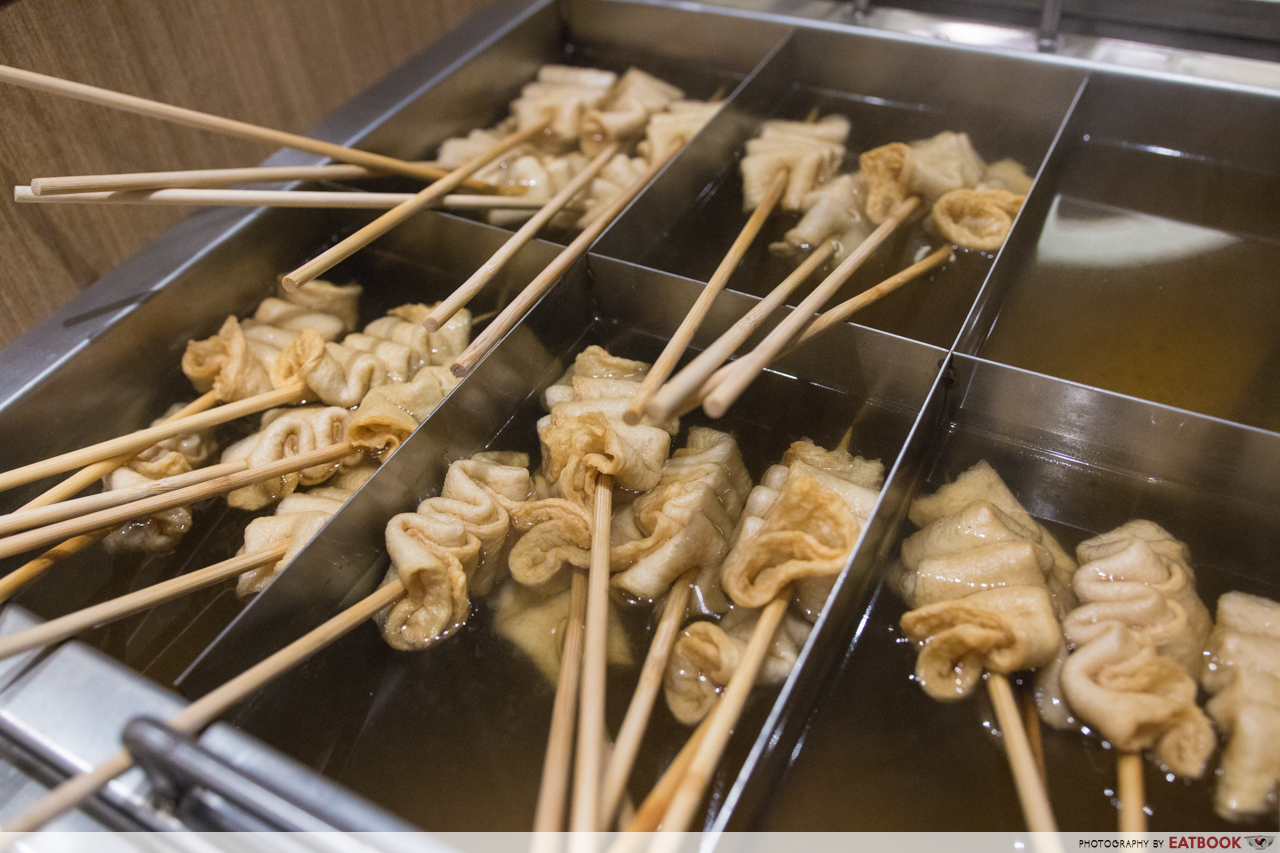 Tip: Go for the puffier-looking sticks; they've been cooked longer and are softer and more flavourful as they've had time to soak up the light, sweet broth.
Fried food station at Dookki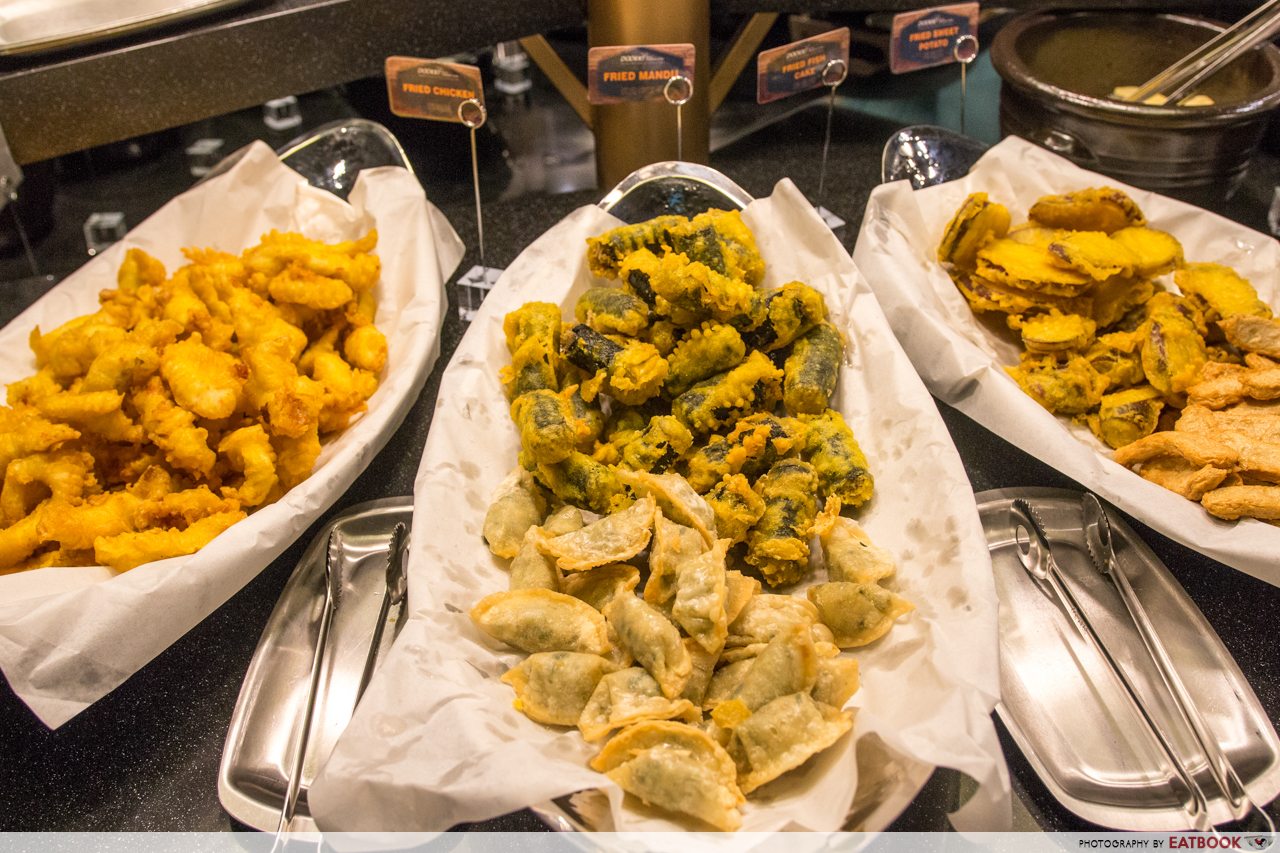 You'll find a small selection of battered deep fried items: sweet potato, chicken, fishcake, kimmari (seaweed rolls), and mandu (dumplings).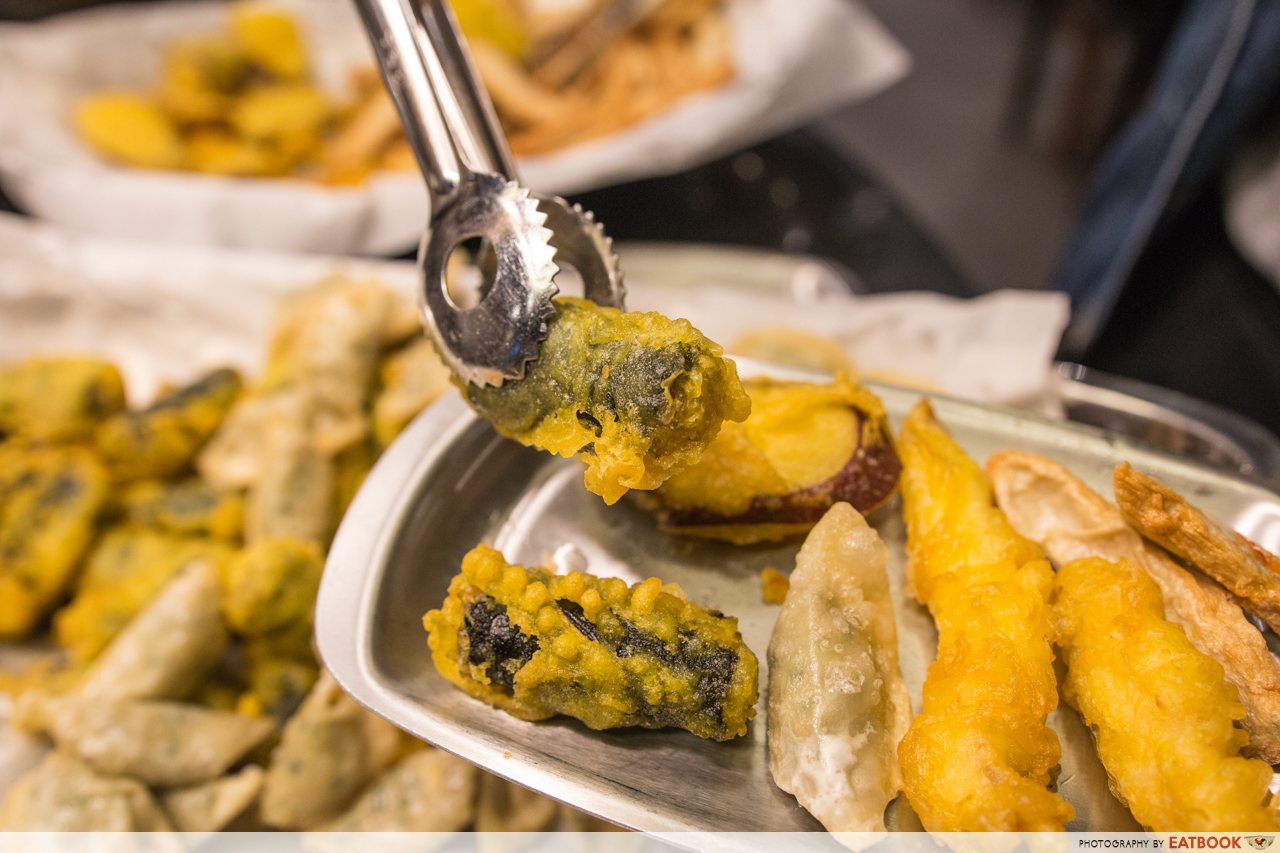 The kimmari was the most interesting out of the lot; it's sesame oil-seasoned japchae (stir fried sweet potato noodles) rolled up in sheets of seaweed. Each piece is then battered and deep fried. Each kimmari was crisp on the outside, soft and chewy on the inside.
The downside to the self-serve fried food bar is that the items were left sitting out, compromising their freshness and resulting in a greasy aftertaste. It would be better if the fried food could be enjoyed hot, or at least warm.
DIY kimchi fried rice at Dookki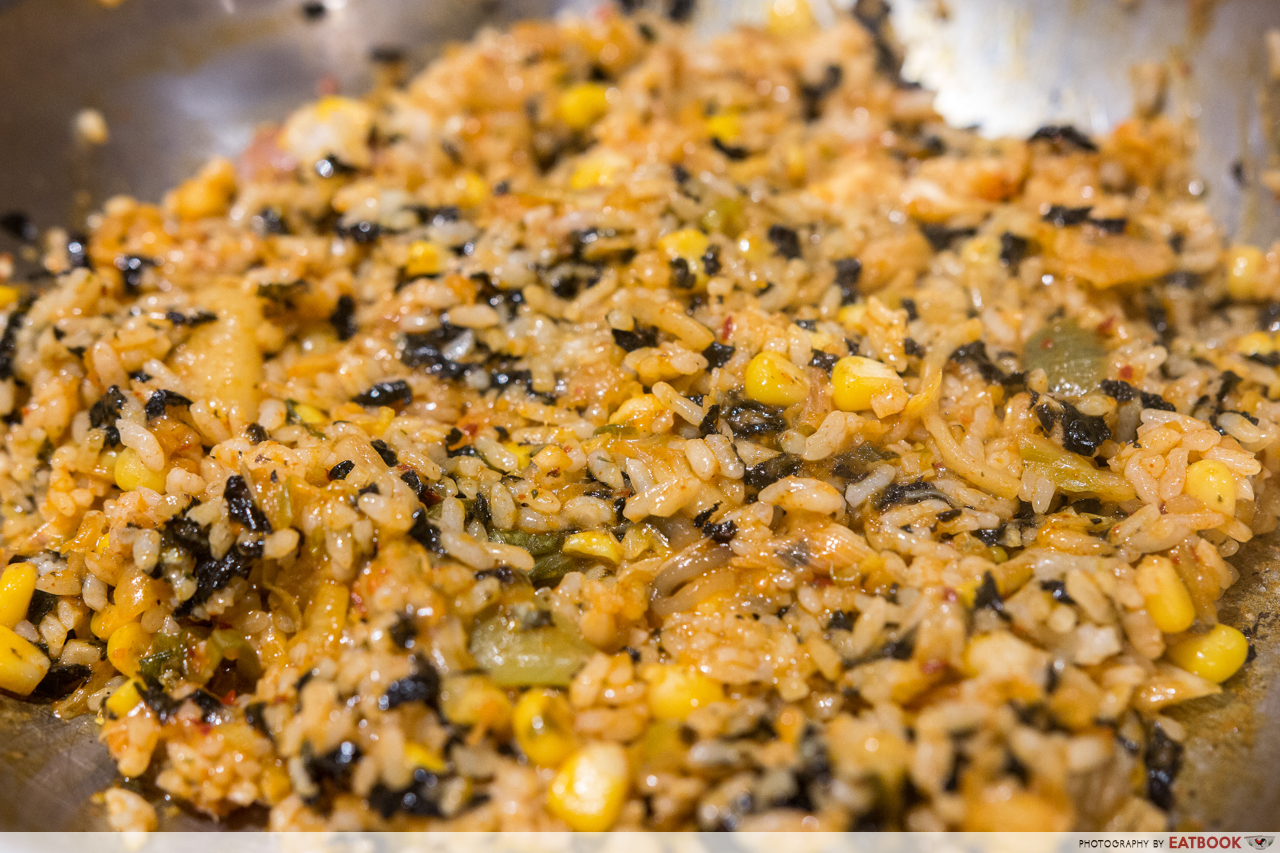 So, you've slayed your tteokbokki cravings for the week. But the meal isn't over yet, not when there's all that leftover flavour-packed sauce to mop up.
Head over to the rice bar to get started on your second feast of kimchi fried rice. The ingredients are basic: short grain rice, seaweed, corn, and kimchi. We recommend a ratio of three parts rice, one part seaweed, one part corn and two parts kimchi, followed by a generous drizzle of sesame oil.
Tip the contents of the bowl into your pot of leftover sauce, and get mixing. With the sauce sizzling and the rice grains crackling away, it's almost like making a giant bibimbap.
Kimchi fried rice encapsulates four basic tastes: sweetness from the corn, umami notes from the seaweed, and salty-spiciness from the tteokbokki sauce. The simple base ingredients were transformed in the pot, with the sticky rice grains absorbing the peppery sauce and the sesame oil adding a savory nuttiness to the mix.
The verdict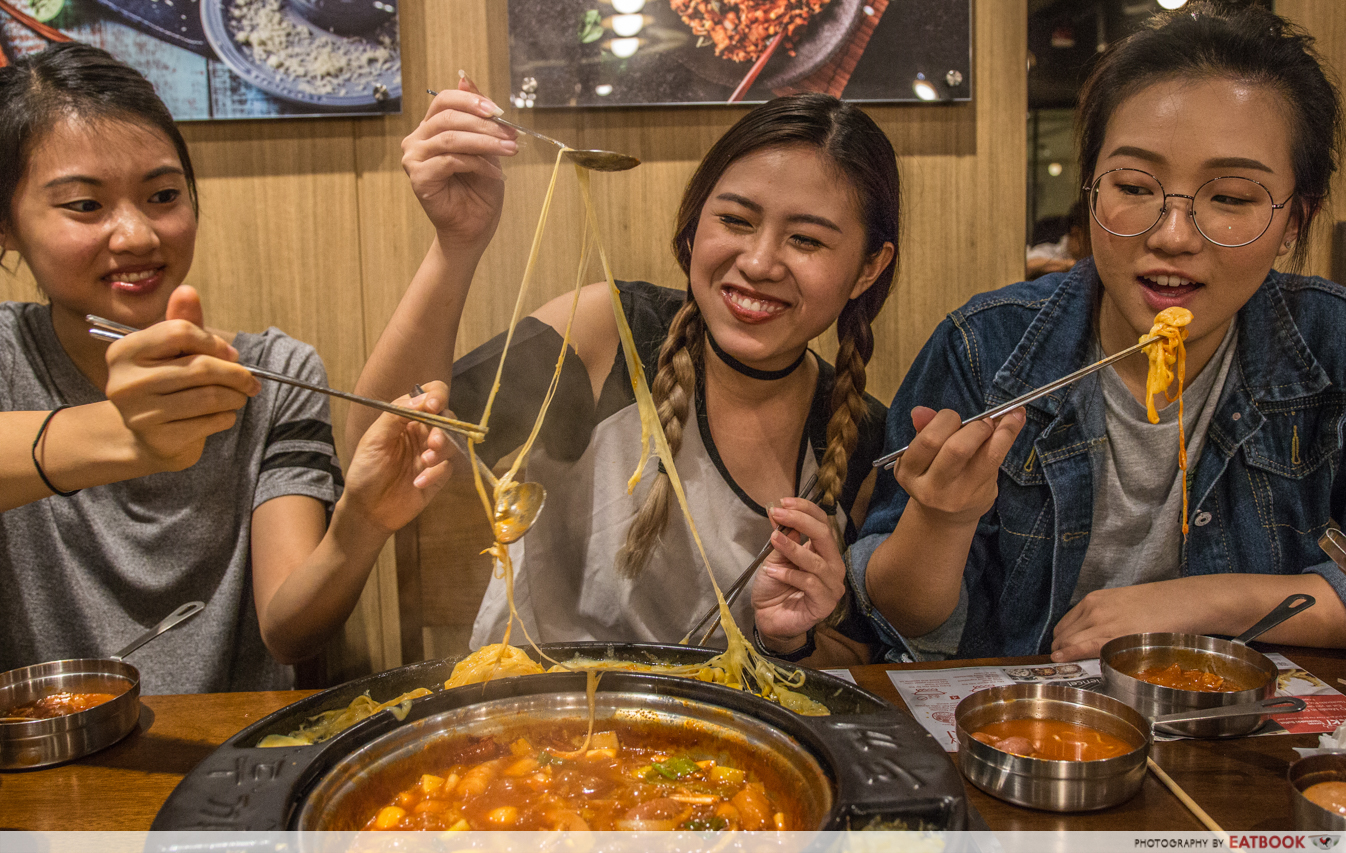 If you've been pinning for Korean comfort food too, Dookki is a one-size-fits-all solution that combines both tteokbokki and kimchi fried rice in an all-out carb buffet. DIY restaurants are always a blast, and the best part is sharing the fun of cooking your tteokbokki feast.
As that one person in the group who's not a fan of spicy food, I did find the spiciness rather daunting. It would have been perfect if Dookki had a split-pot option for two types of sauce bases – like in steamboat restaurants. Additionally, there could have been more options for fresh meat such as chicken or beef, rather than just processed ingredients.
That said, Dookki is worth the price you pay. At this point, there's no other place where you can get a tteokbokki buffet in Singapore, with plenty of variety in this interesting concept. Definitely one for the carb-lovers.
Address: 3 Temasek Boulevard, #B1-107, Singapore 038984
Opening hours: Daily 11am to 10pm
Tel: 6266 2425
Website
This is an independent review by Eatbook.sg.
Summary
Pros
– Convenient location
– First tteokbokki buffet in Singapore
– Large spread
– Value for money
Cons
– No fresh meat or seafood
– Time limit of 90 minutes
Recommended Dishes: Tteokbokki buffet ($18.80++)
Operating Hours: Daily 11am to 10pm
Tel: 6266 2425
Address: 3 Temasek Boulevard, #B1-107, Singapore 038984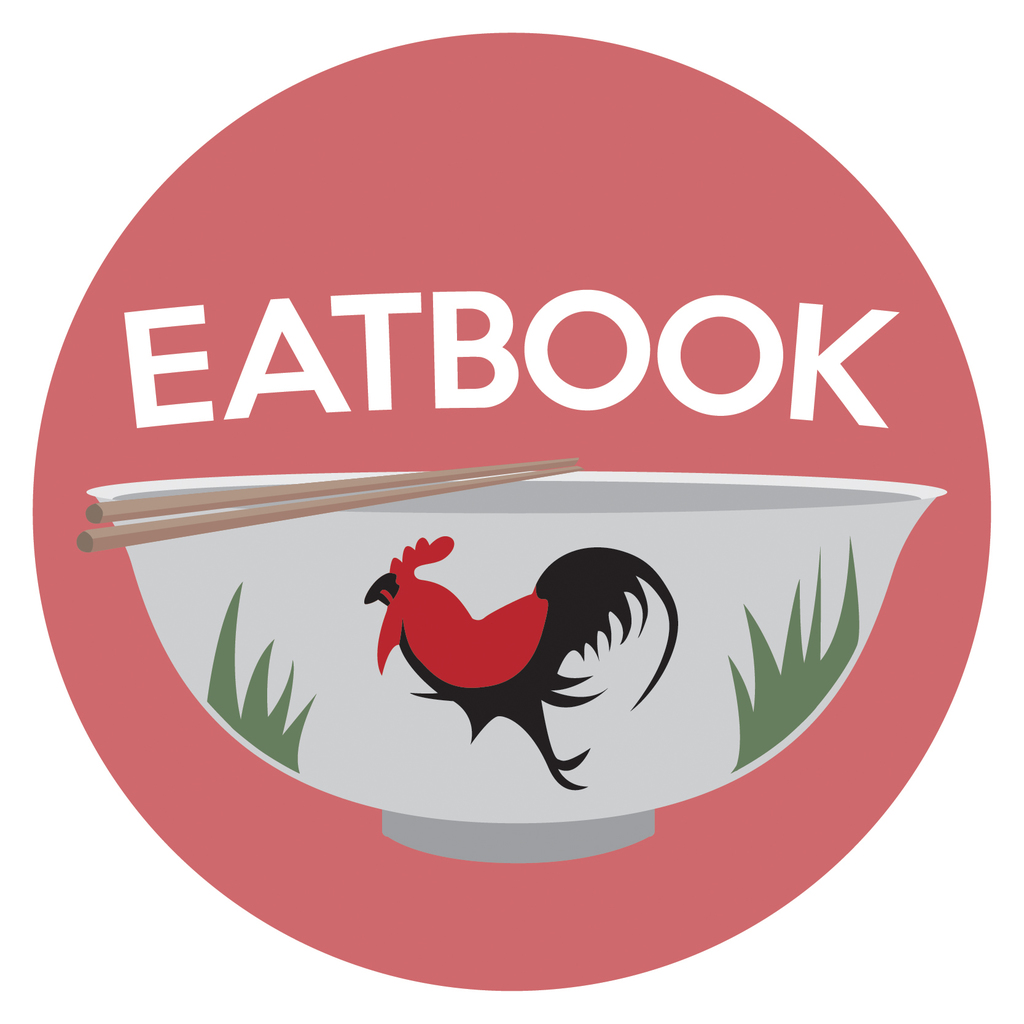 Drop us your email so you won't miss the latest news.