Sea and Blue offers Korean staples along with seafood on ice
Update (5 April 2019): Sea and Blue has permanently closed.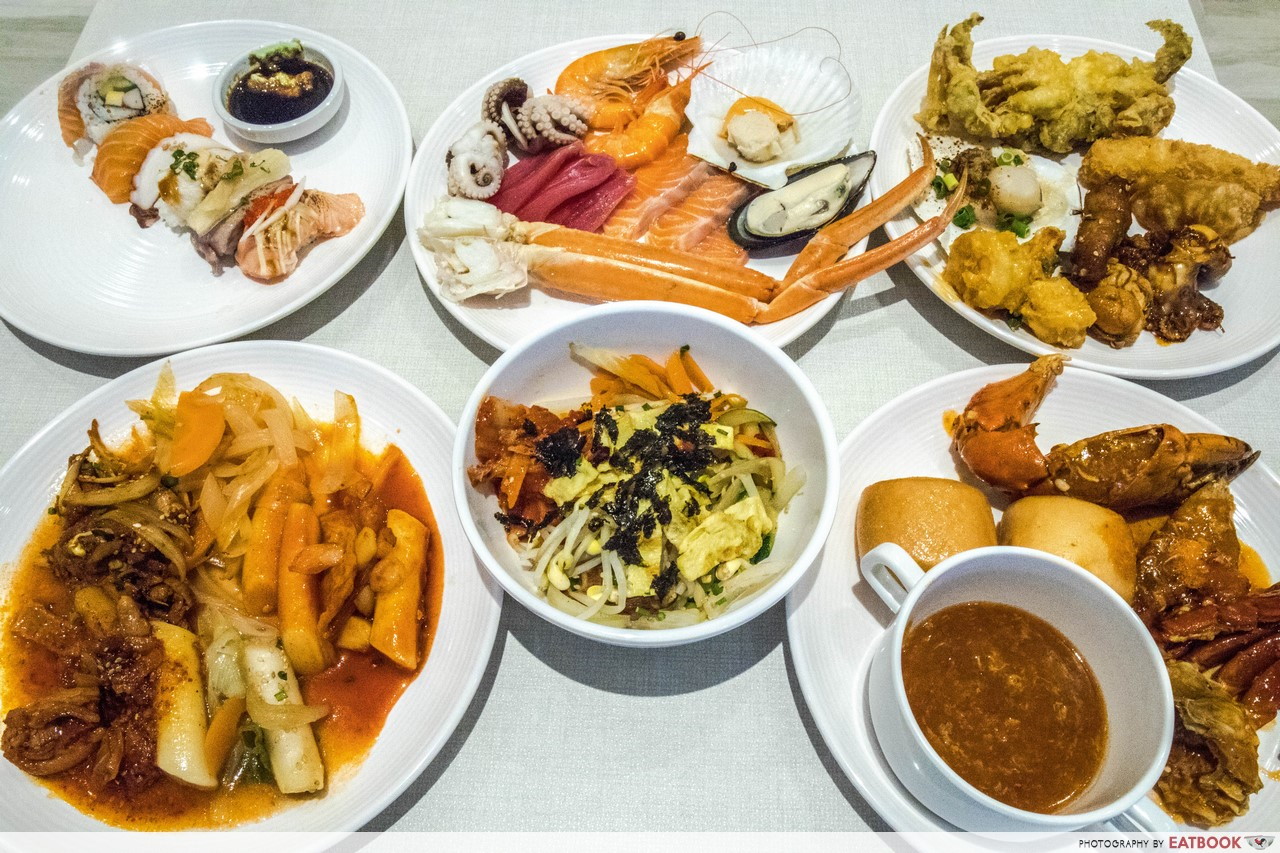 Whenever someone mentions Korean buffet, the images that come into my mind would always be that of K-BBQ. So when I realised the new Sea and Blue at Marina Bay Sands offers various Korean dishes instead of just barbecued meats, I was quite surprised. After all, aside from Dookki's tteokbokki buffet, it's not often that we hear of buffet spreads with Korean dishes.
Food at Sea and Blue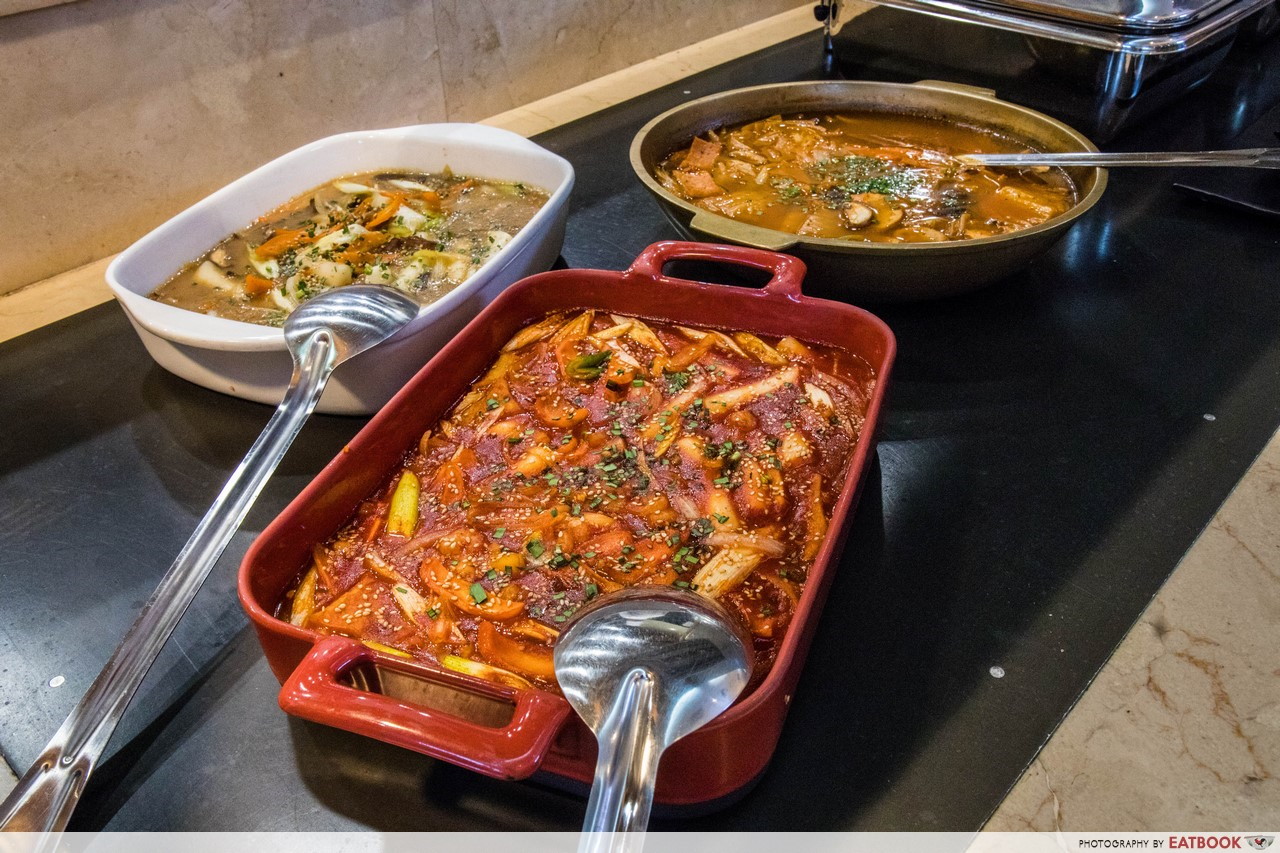 We went for their weekday lunch buffet ($42++). The restaurant switches up the spread every two weeks, so bear in mind you might not see the same dishes that we did!
As a huge fan of tteokbokki, I went straight for their Korean station. There were close to 20 dishes, made up of mostly classics such as beef bulgogi, naengmyeon, and Korean seafood pancakes.
There were two tteokbokki dishes and both were good. The Korean rice cakes they used were thick and chewy, and went especially well with gochujang base.
Their budae jjigae didn't look like typical army stews. Instead of being steeped in a thick red stew, the usual ingredients such as luncheon meat were swimming in a thin and pale soup. This is definitely one dish you can skip to save more space in your tummy.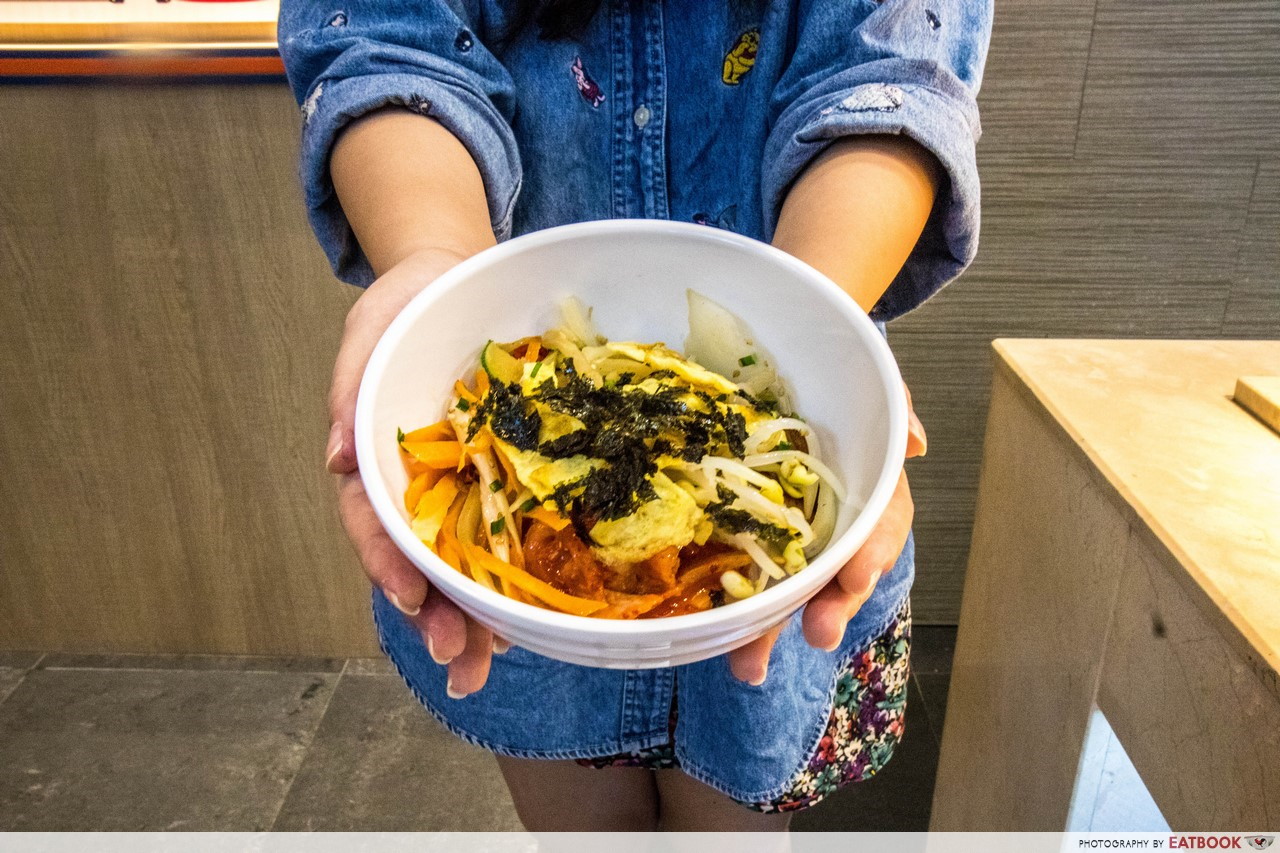 There's also a DIY bibimbap counter where you can assemble your own rice bowl. This is great for fussy eaters who dislike certain toppings such as bean sprouts.
There were quite a number of veggie toppings, and you can pile your bowl with spicy bulgogi from the same station. Sunny side ups are replaced by scrambled eggs, which may annoy true bibimbap fans, but that wasn't an issue for me 'cause I was kinda distracted by the seafood station beside it.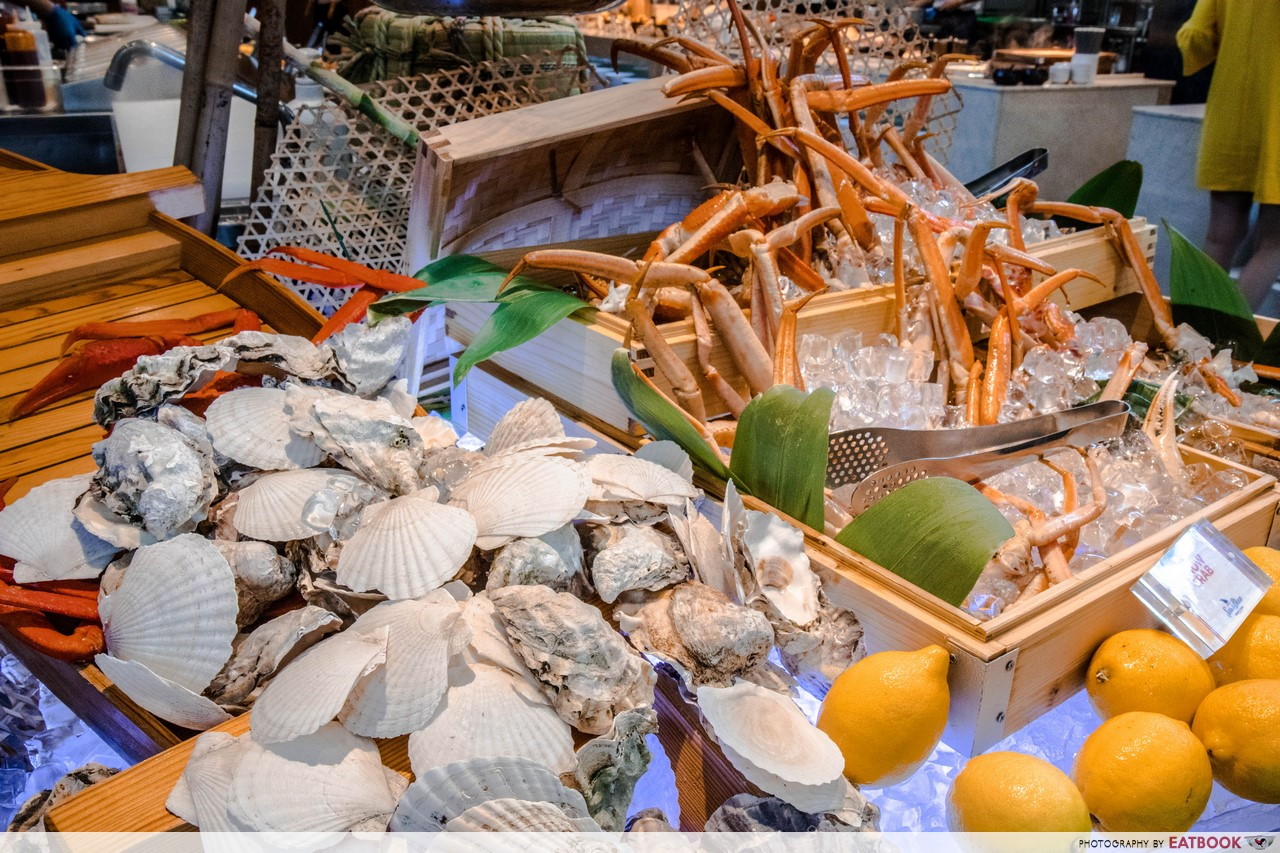 Filled with salmon and tuna sashimi, mussels, prawns, and scallops, the seafood station was simple but enough to satisfy my seafood-loving taste buds. A highlight was their Snowcrab legs, which were really sweet. The sashimi slices weren't as thick as I'd have liked them to be, but I'm not gonna complain about that when there's an unlimited supply of it before me. Their dinner buffet includes another sashimi dish and oysters on ice.
Beside the seafood station is a sushi counter with 14 plates of sushi. The types of sushi are on rotation, and some we spotted were salmon sushi, inari sushi, and mini kimbap.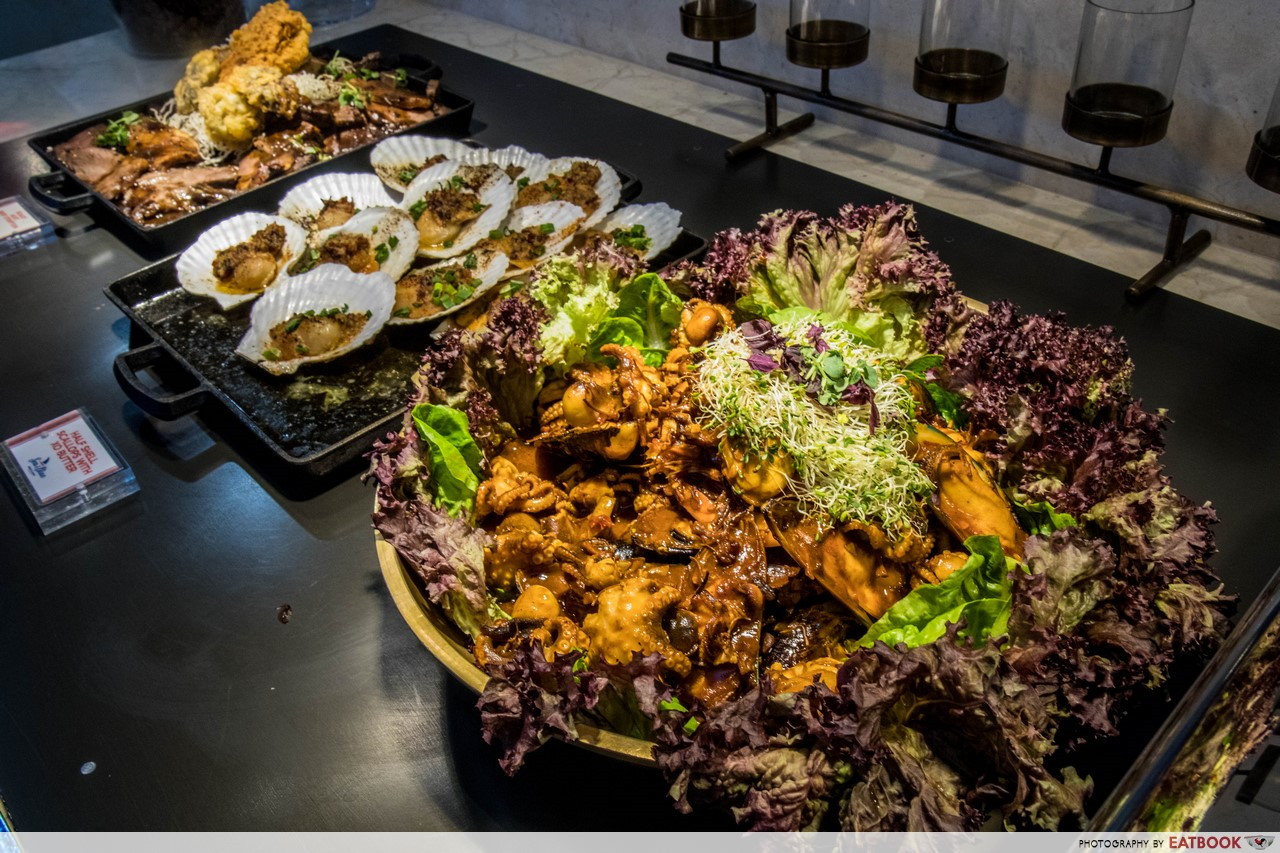 There were a couple of cooked seafood dishes as well, along with classic zi char plates such as chilli crab, salted egg prawns, and sweet and sour pork. The salted egg prawns didn't carry a strong enough flavour, and the sweet and sour pork was way too tough and dry.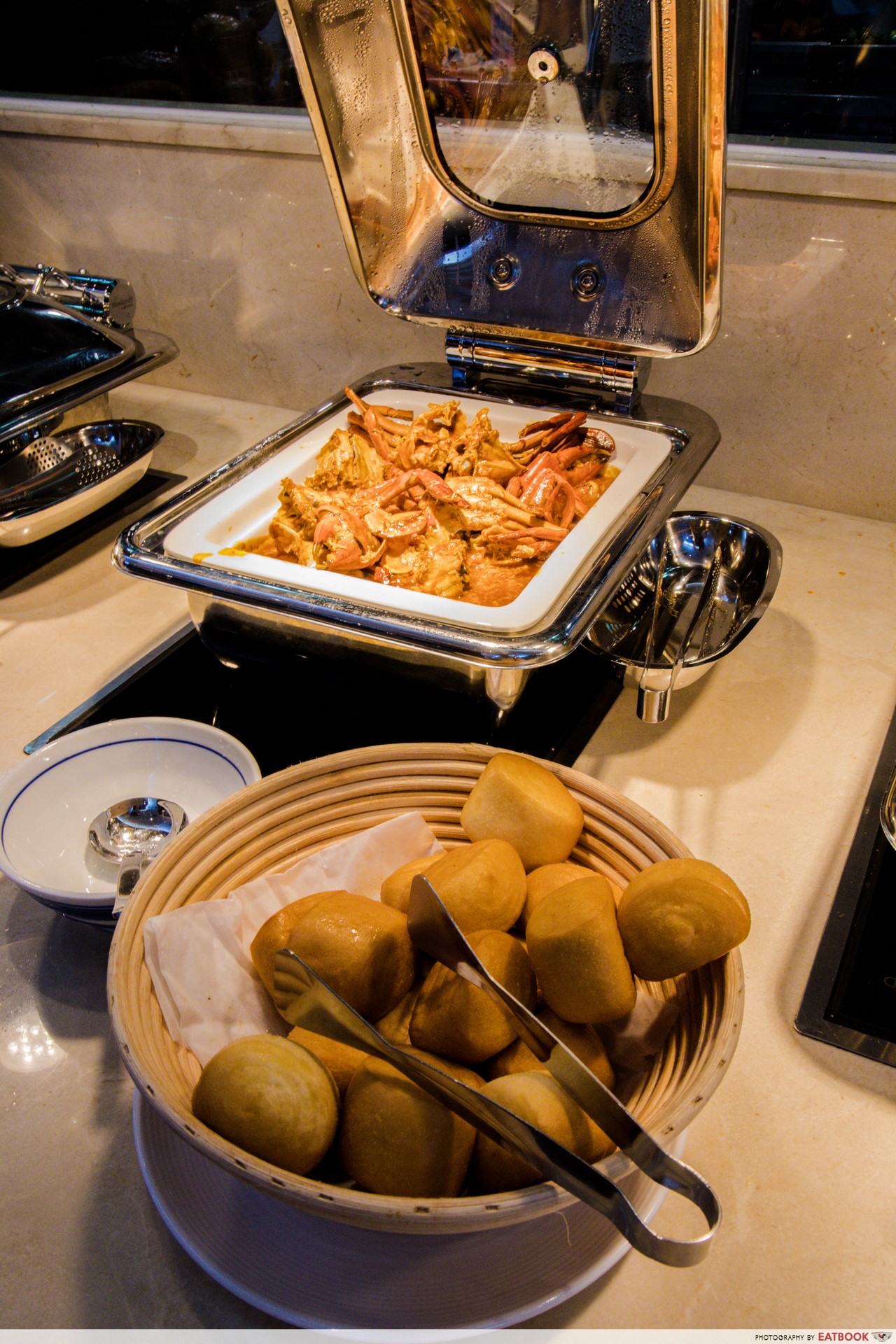 While this was definitely not as good as chilli crabs from zi char places, it was enough to hit the spot. The crabs were surprisingly big and meaty, and there were plenty of claws in the tray. However, the tough and dry mantou on the side weren't able to absorb the chilli crab sauce well, which was a real downer.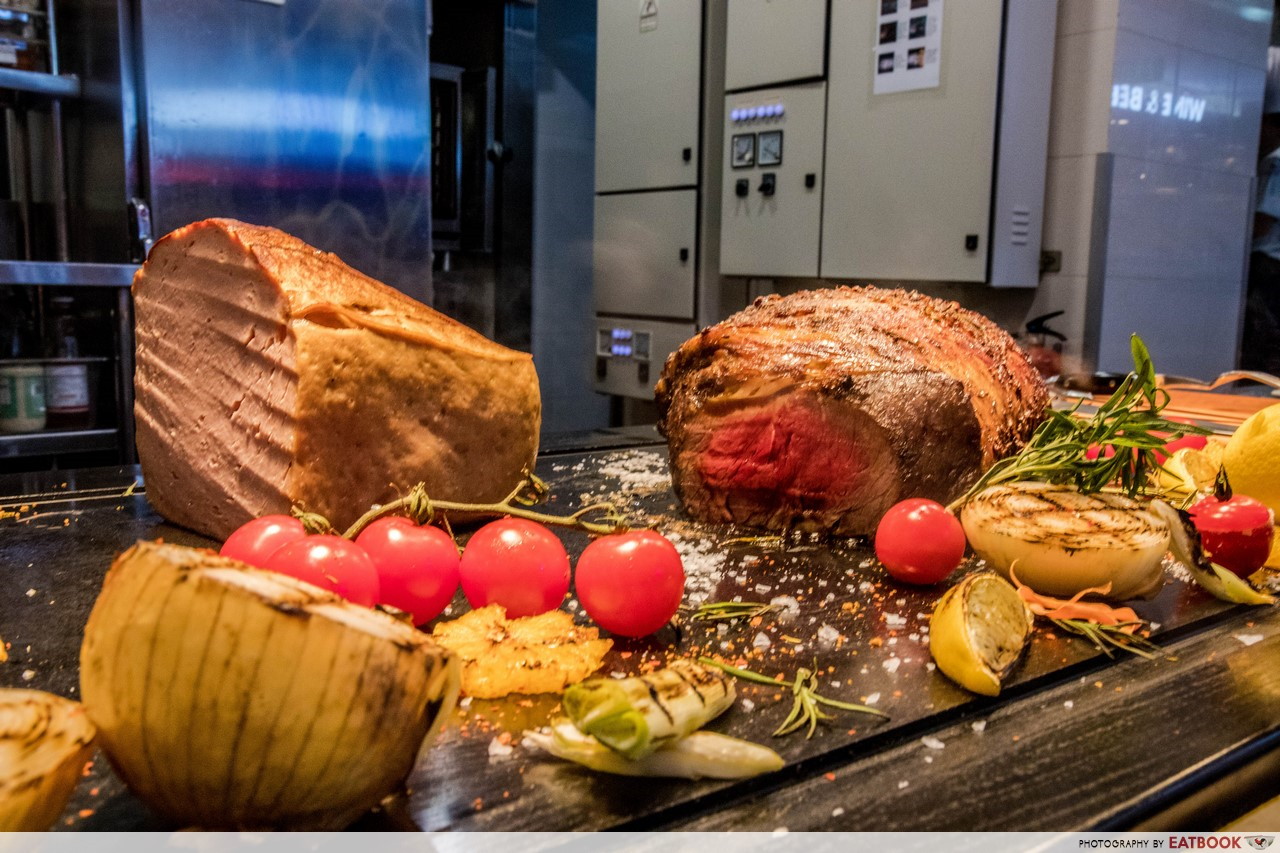 If you're more of a meat lover, there are some meat options you can get. Their roast beef is available daily, and we also spotted sio bak, chicken rice, and roast chicken.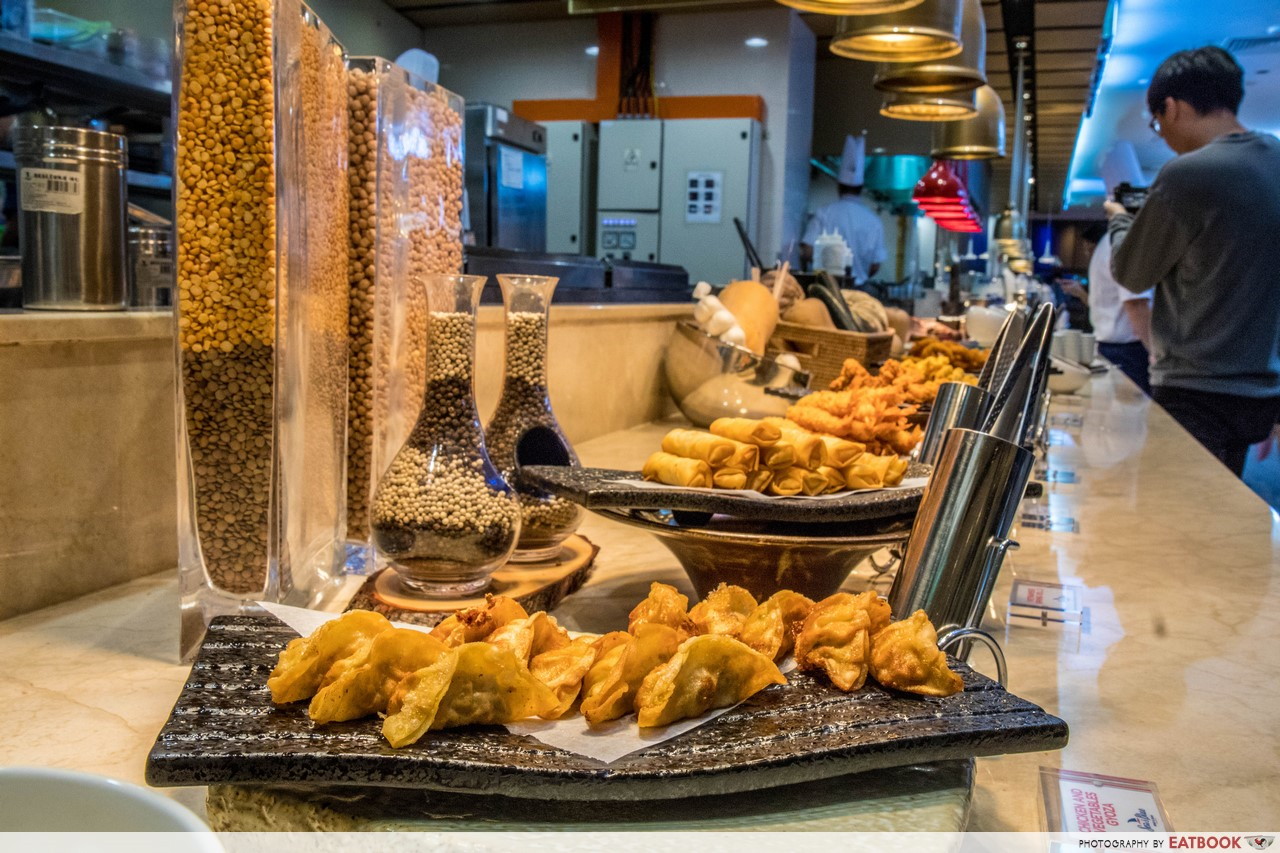 There was a row of fried bites, including tempura prawns, deep-fried dumplings, and spring rolls. A must-try here is deep-fried soft shell crab, which comes in the form of a whole crab, and was really savoury and juicy. As someone who isn't even that big a fan of crab, I was tempted to polish off the entire tray of it.
Western food-wise, you'll find pizza, pasta, and salads. The pasta here is prepared after you place an order, so you'll get it piping hot.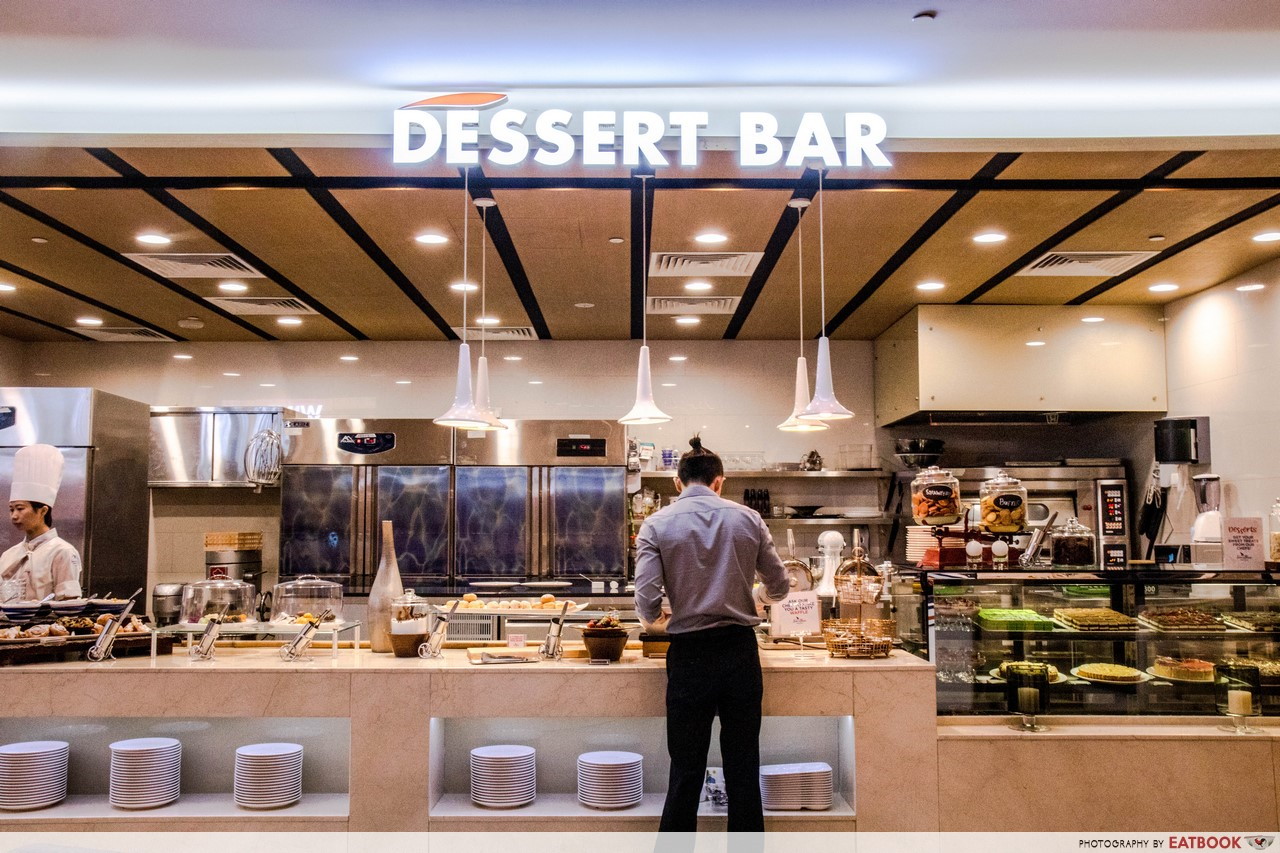 I was quite impressed by the dessert station. It was huge, and the cakes were kept in a glass fridge instead of being left out in the open. There were 10 cakes and tarts in the fridge. Cookies, Korean sweet rice cakes, and other small pastries were also available.
There were bingsu and waffle stations where you can ask the chef to prepare these desserts for you. The bingsu, unfortunately, was more like an ice kachang, as the toppings they offer are pretty basic, such as longan and red bean. Give it a miss, especially if you enjoy regular bingsu.
On the other hand, I really enjoyed the cakes. They came in small cubes and are considerably delicious, given that they're found at a buffet. Some flavours we saw include Oreo cheesecake, New York cheesecake and Black Forest cake.
If you're a cherry lover, cross your fingers and hope their sour cherry pie will be around the day you're there. I finished the entire slice thanks to its buttery crust and refreshingly tart filling.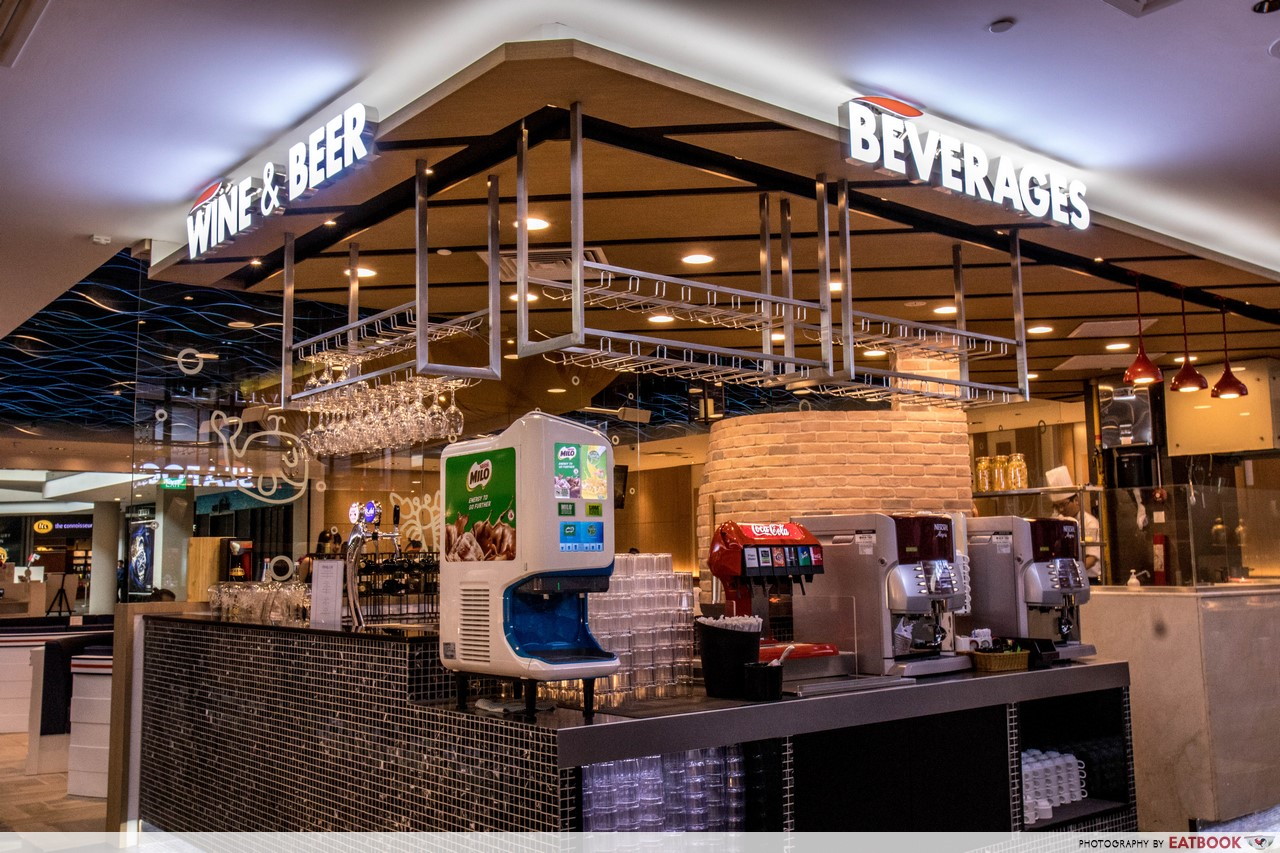 Drinks are free-flow as well, though the choices are quite simple. You'll find a soda fountain, a Milo and mango peach drink dispenser, and two coffee machines. Those who want some booze, such as soju or beer, can order them a la carte.
Ambience at Sea and Blue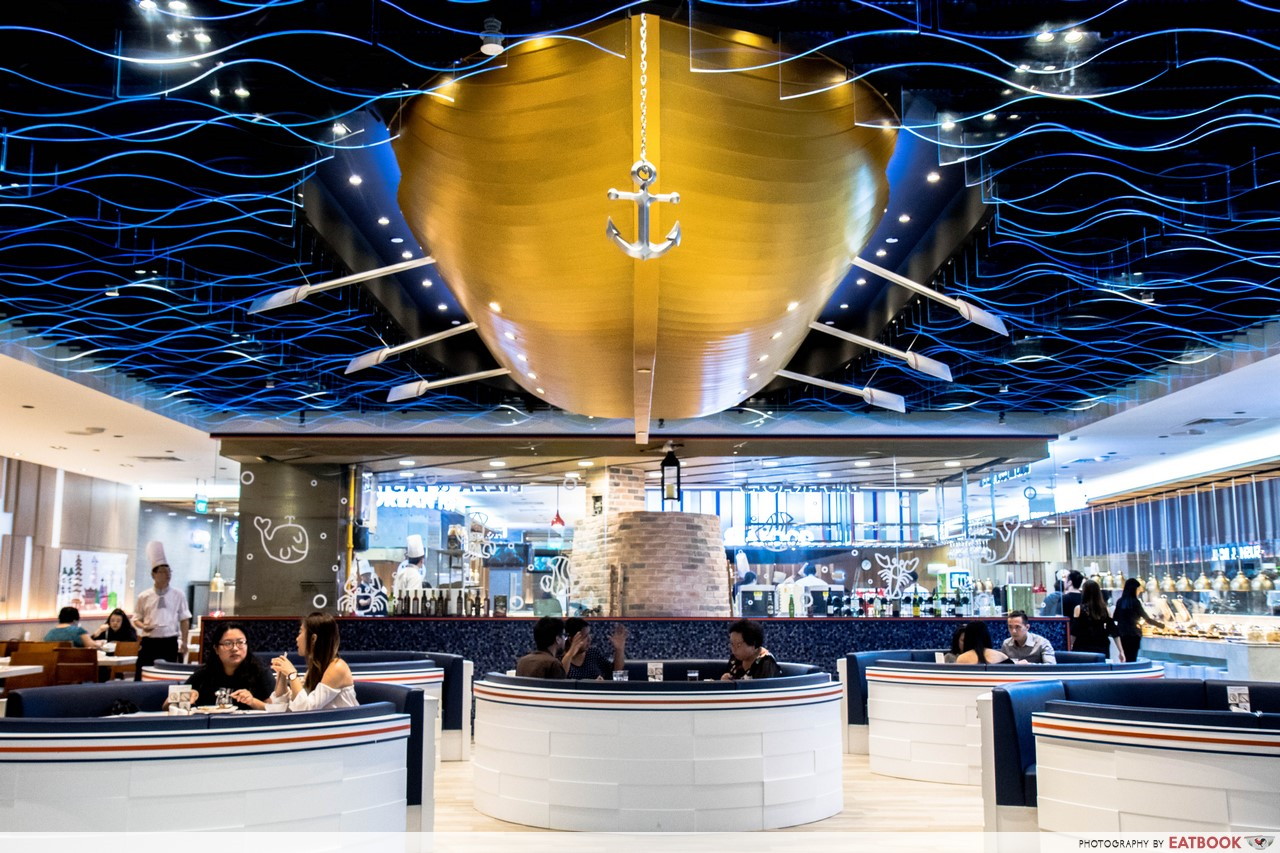 Spacious and quiet, Sea & Blue wins in terms of ambience. Perhaps it's because the restaurant is new and rather expensive, but there weren't many people when we were there on a weekday noon.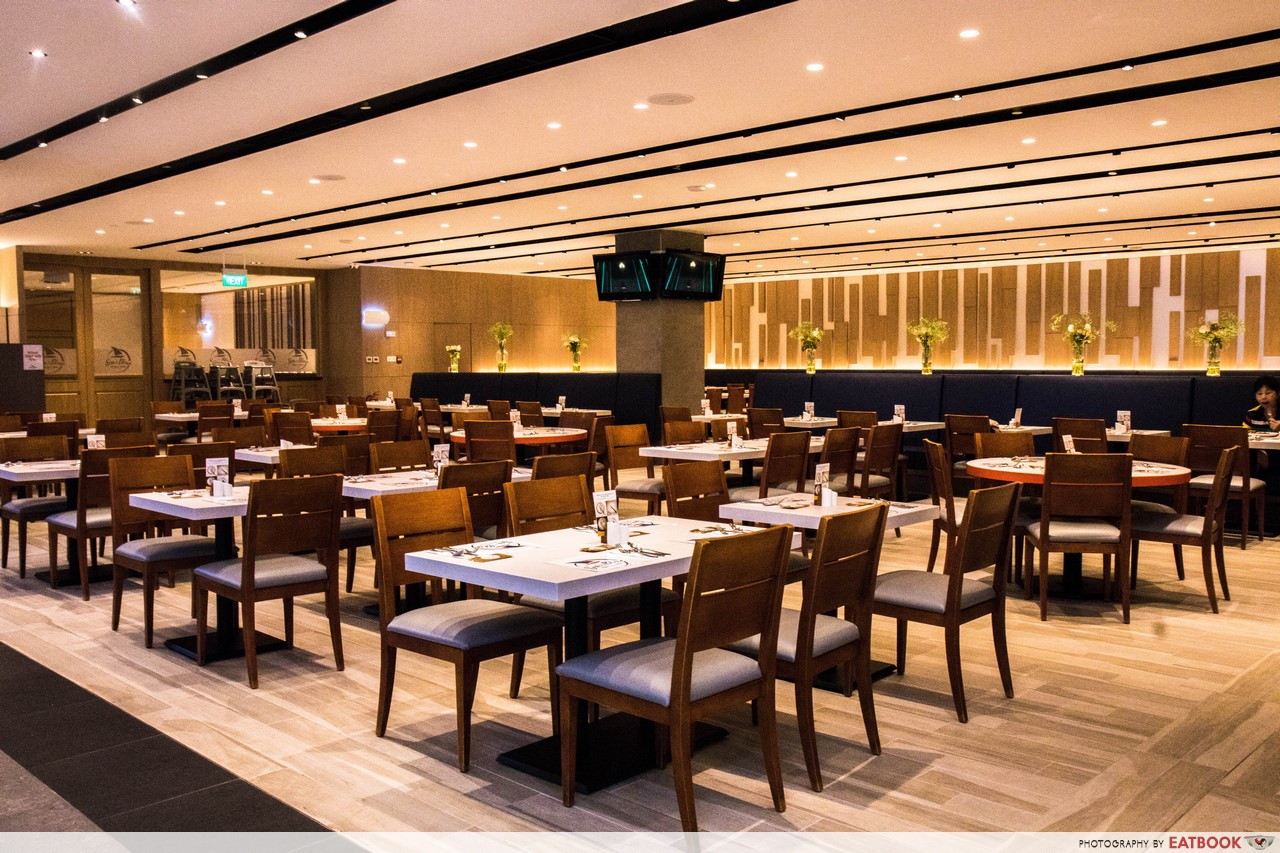 There are round booths that fit six people, as well as regular dining tables. While the former is comfier and will give your squad more privacy, it can be inconvenient when you need to fill your plate. There are four private rooms that you can book at a top-up of $30 to $50.
The verdict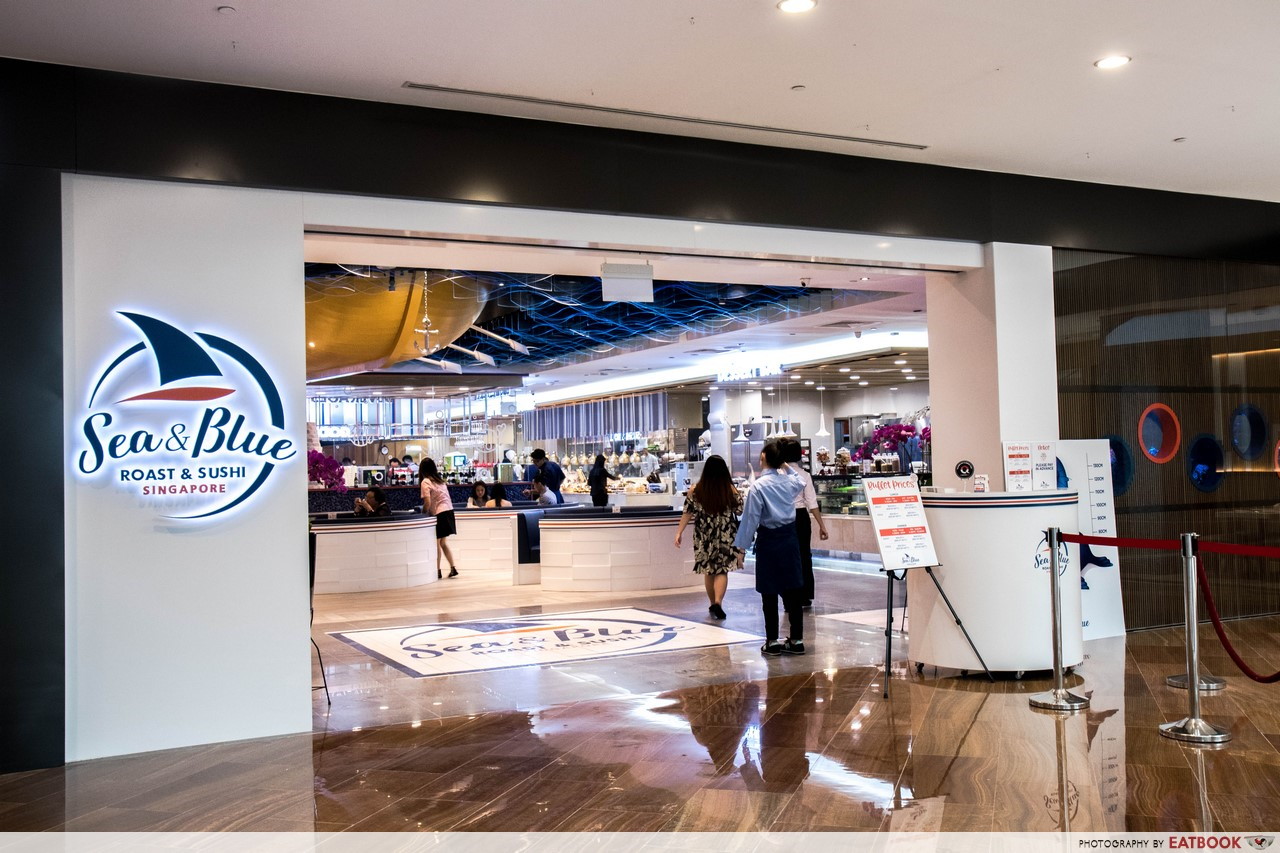 With over 100 dishes, the lunch spread at Sea & Blue is more than satisfactory. Their dinner spread offers 15% more dishes. I can already imagine my folks, who love spamming their plates at buffets, enjoying their meal here. Kids will have a good time munching on pizza, pasta, and desserts too.
That being said, the quality of some dishes left more to be desired. They weren't as good as what you could get at specialised restaurants. For the variety, you'll get a value-for-money deal if you come by during weekday lunch hours, but I'd think twice about visiting during weekends. For more pocket-friendly buffets, check out Wicked Grill's steak buffet or The Rice Table's Indonesian buffet!
Address: 2 Bayfront Avenue, #B2-01/01A, The Shoppes at Marina Bay Sands, Singapore 018972
Opening hours: Daily 11:30am to 3pm, 5:30pm to 10pm
Tel: 6688 7165
Adult buffet prices: $42++ (weekday lunch), $58++ (Mon-Thur dinner), $64++ (weekend & PH lunch), $68++ (Fri-Sun & PH dinner)
Child (80 to 130cm) buffet prices: $22++ (weekday lunch), $26++ (all other timings)
Website
This was a media tasting at Sea & Blue.
Summary
Pros
– Wide variety
– Comfortable ambience
– Family-friendly restaurant
Cons
– Quality of dishes can be improved
– Expensive
Recommended Dishes: sour cherry pie, deep-fried soft shell crab, tteokbokki, sashimi
Operating Hours:
Daily 11:30am to 3pm, 5:30pm to 10pm
Tel:
6688 7165
Address: 2 Bayfront Avenue, #B2-01/01A, The Shoppes at Marina Bay Sands, Singapore 018972