Feast on Dutch-Indonesian cuisine at The Rice Table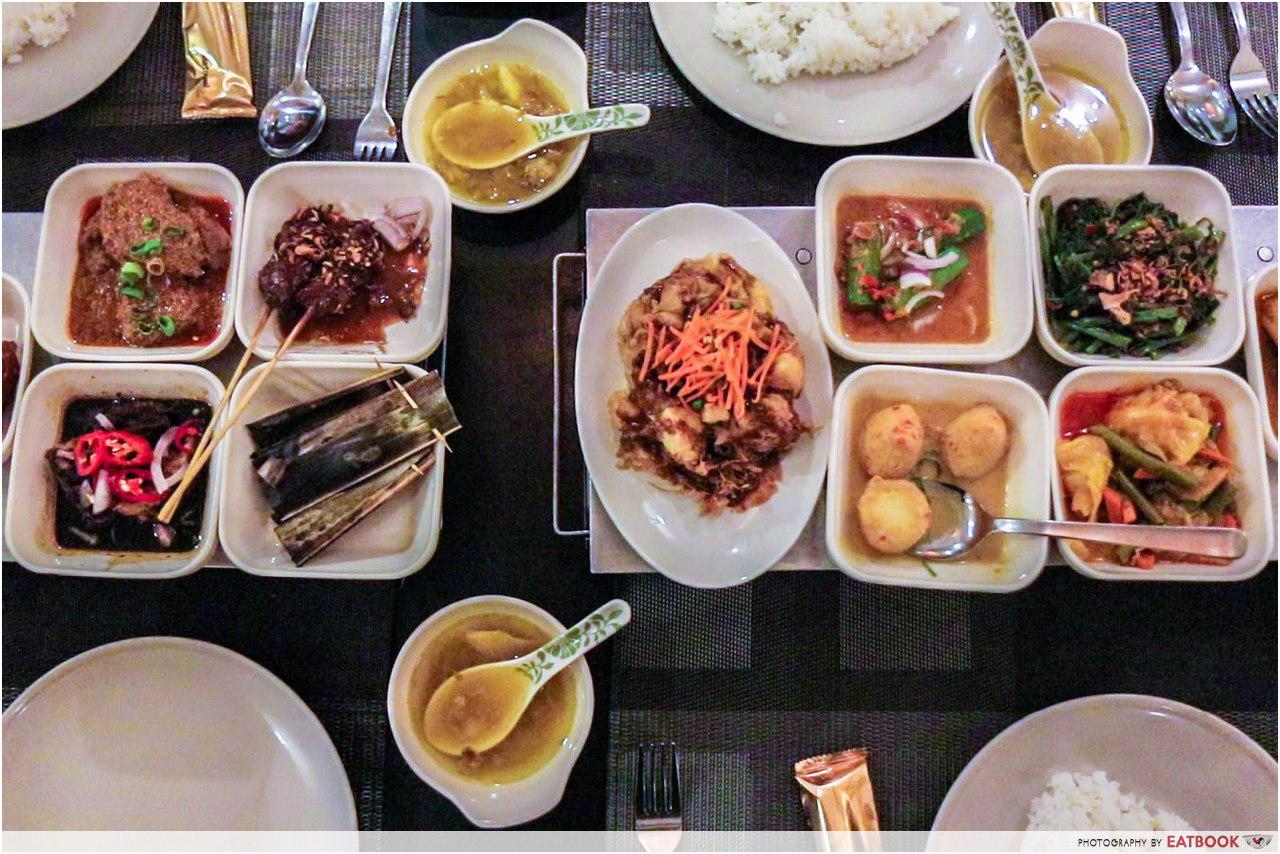 For all the goodness that comes with free-flow food, I can't deny that buffets do have their cons. Whether it's the need to constantly move about, refrain from cringing at the kid reaching out for food at the counter with his hands, or the hits and misses that come with the myriad of food, buffets can go wrong in many ways. At The Rice Table, however, their full-service buffet allows you to feast without these worries.
"Rice table" is a direct translation from the Dutch world rijsstafel and refers to a dining concept of having a wide variety of side dishes placed on the table all at once. At their All-You-Can-Eat Rice Table Lunch ($18.95), the restaurant serves 14 Indonesian dishes in a rijstaffel style with unlimited top-ups.
Food at The Rice Table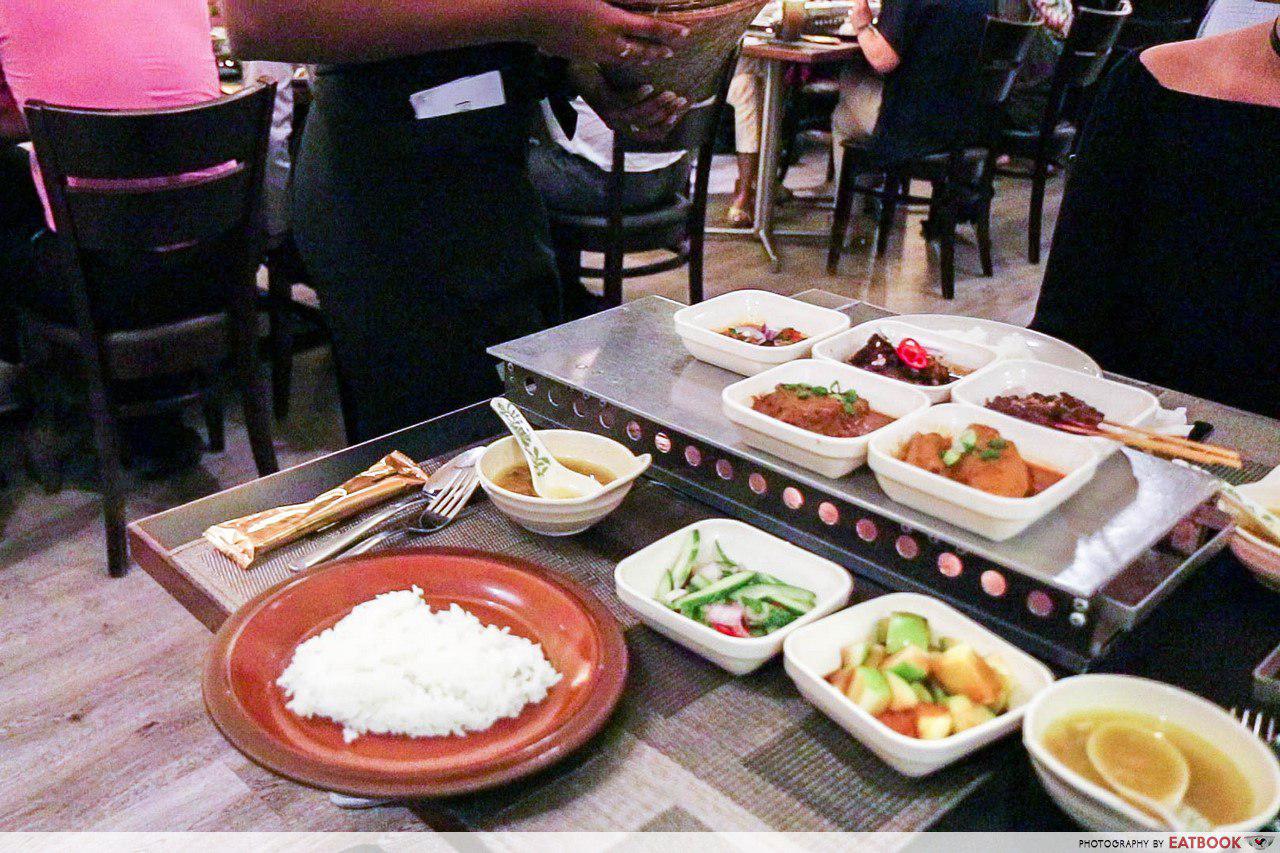 The moment we were seated in the restaurant, we were spared from the hassle of deciding what to order. The servers came almost immediately and started scooping steaming hot rice onto our plates. They then laid 14 dishes all at once onto metal food warmers called "rechauds".
Of the 14 dishes that ranged from refreshing fruit salad to the heavier ones like meat rendang and curry, three dishes stood out to me.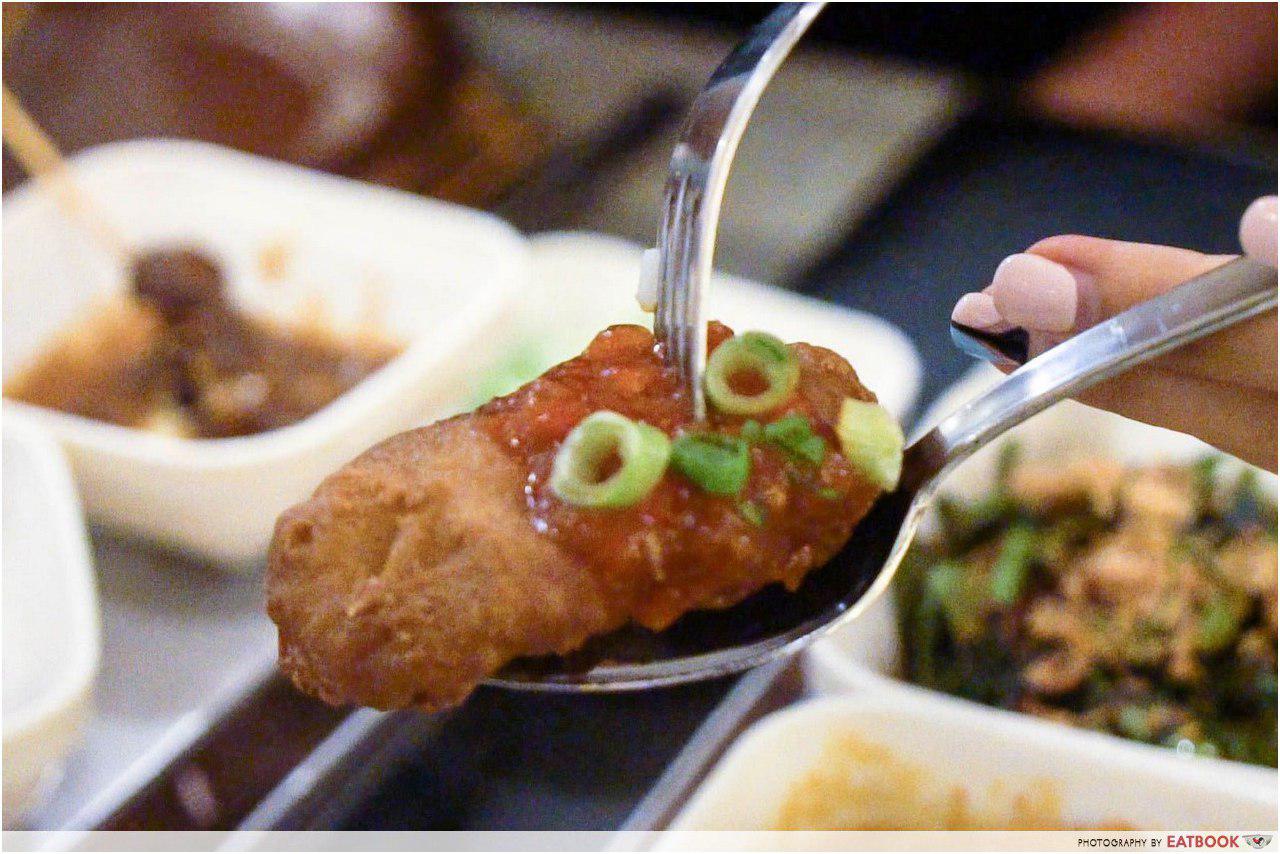 First was the well-fried Ikan Goreng, made of fried dory fillets coated with sweet and spicy sauce. At first sight, the dish did not look exceptional and I was hesitant to try it because of my one-too-many experiences with soggy, greasy, and tasteless fried fillets.
The ikan goreng at The Rice Table, however, took me by surprise. Although the batter that covered the fillet was dark in colour and looked unappetising, it was crispy, non-greasy, and held the soft flesh of the fish very well. The combination of saltiness, sweetness, and slight spiciness of the sauce was the highlight and gave an overall delightful touch to the deep-fried fish.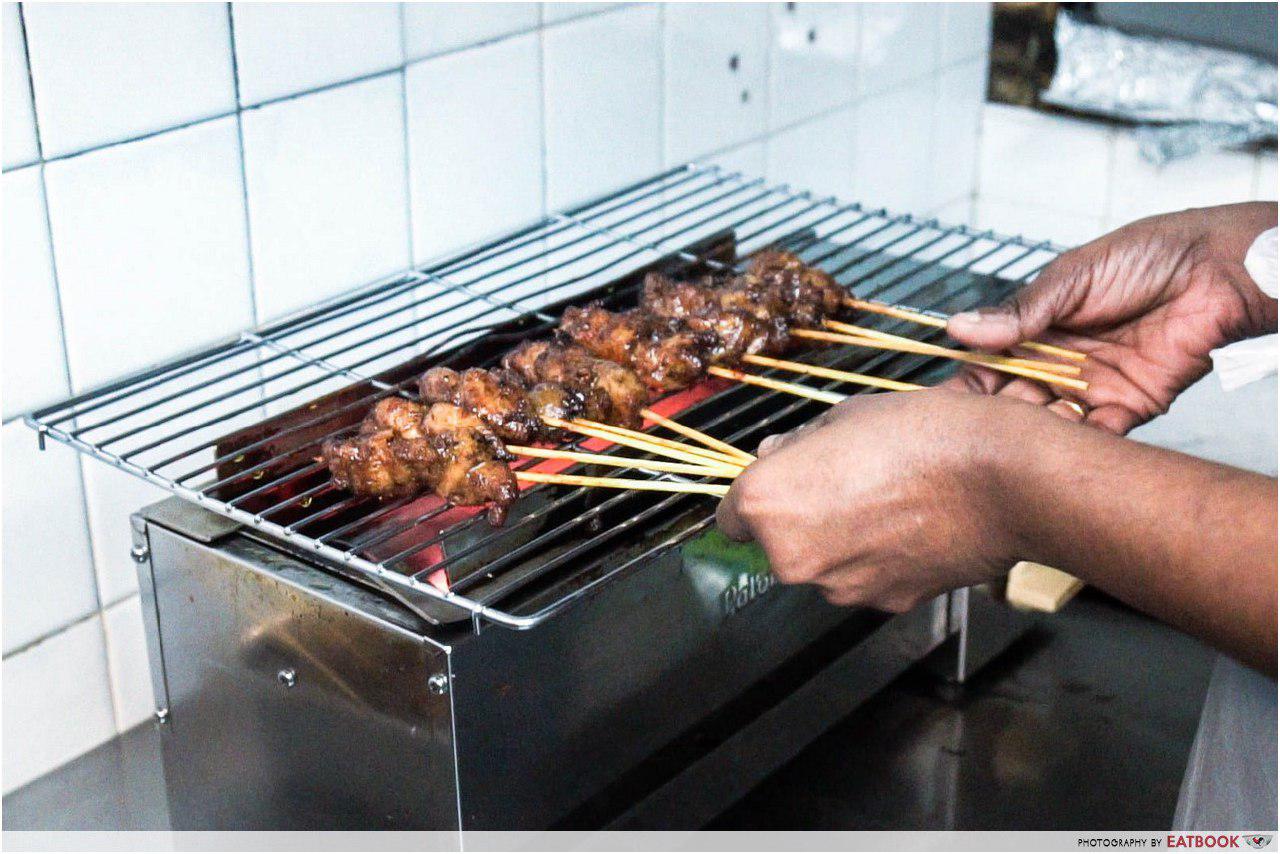 Another dish that impressed me was Sate Ayam, or chicken satay. The grilled skewer was made of crunchy chicken cubes that were thoroughly marinated and glazed with a thin layer of satay sauce. The generous chunks of meat came in almost twice the size of your usual satay and had almost no fats at all. The peanut-based satay sauce went well with the savoury meat and this was altogether a delicious savoury side dish.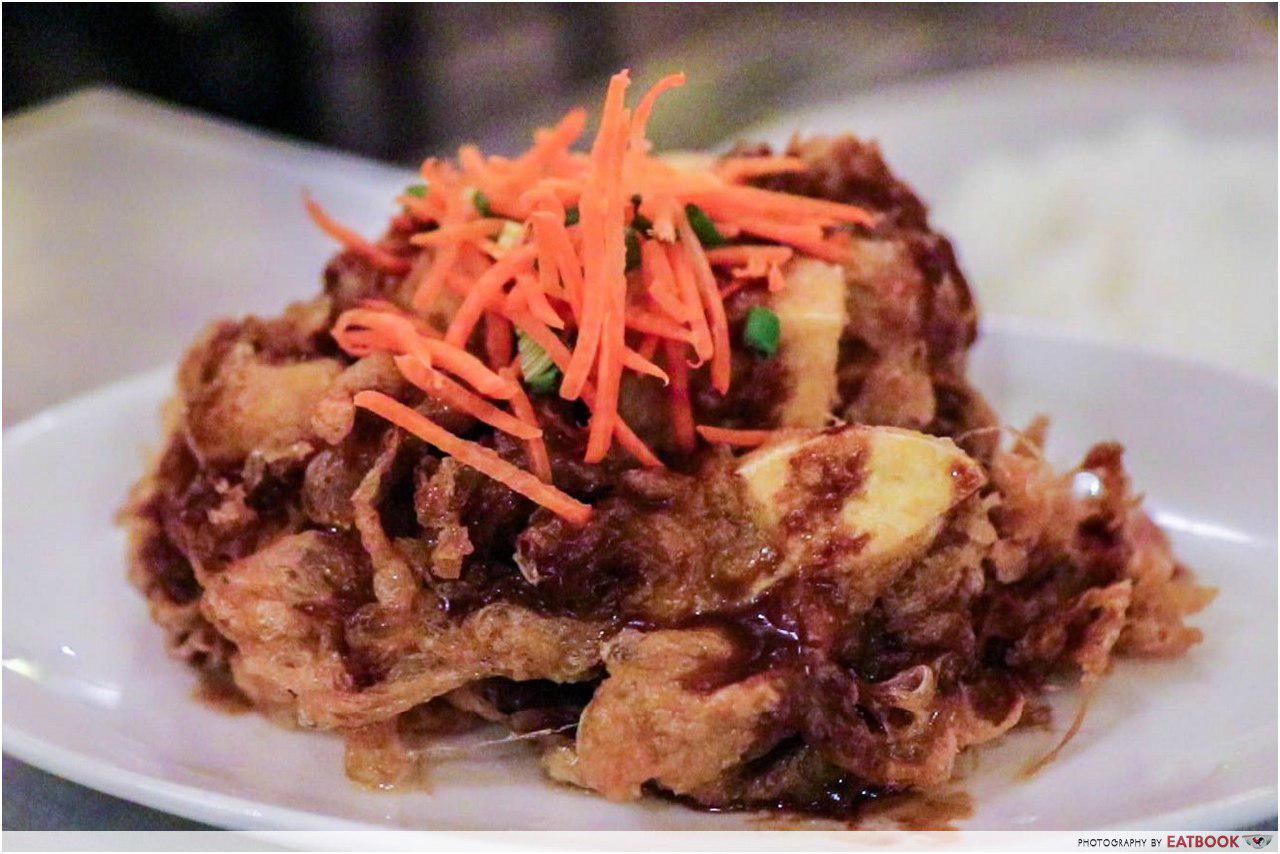 The next dish that would make me return to the restaurant is Tahu Telor, a fried tofu omelette dish. While I am no expert in Indonesian cuisine, I have tried tahu telor many times and have never been a fan as the egg seems to always be soaked in oil. This one, however, made it hard for me to stop at one serving.
The big cubes of soft, mildly fried tofu were laced with fluffy soufflé-like fried egg and drizzled generously with a sweet and savoury sauce. Although the sauce was poured unsparingly over the egg, it was not overwhelming but made the relatively plain egg and tofu juicy and tasty.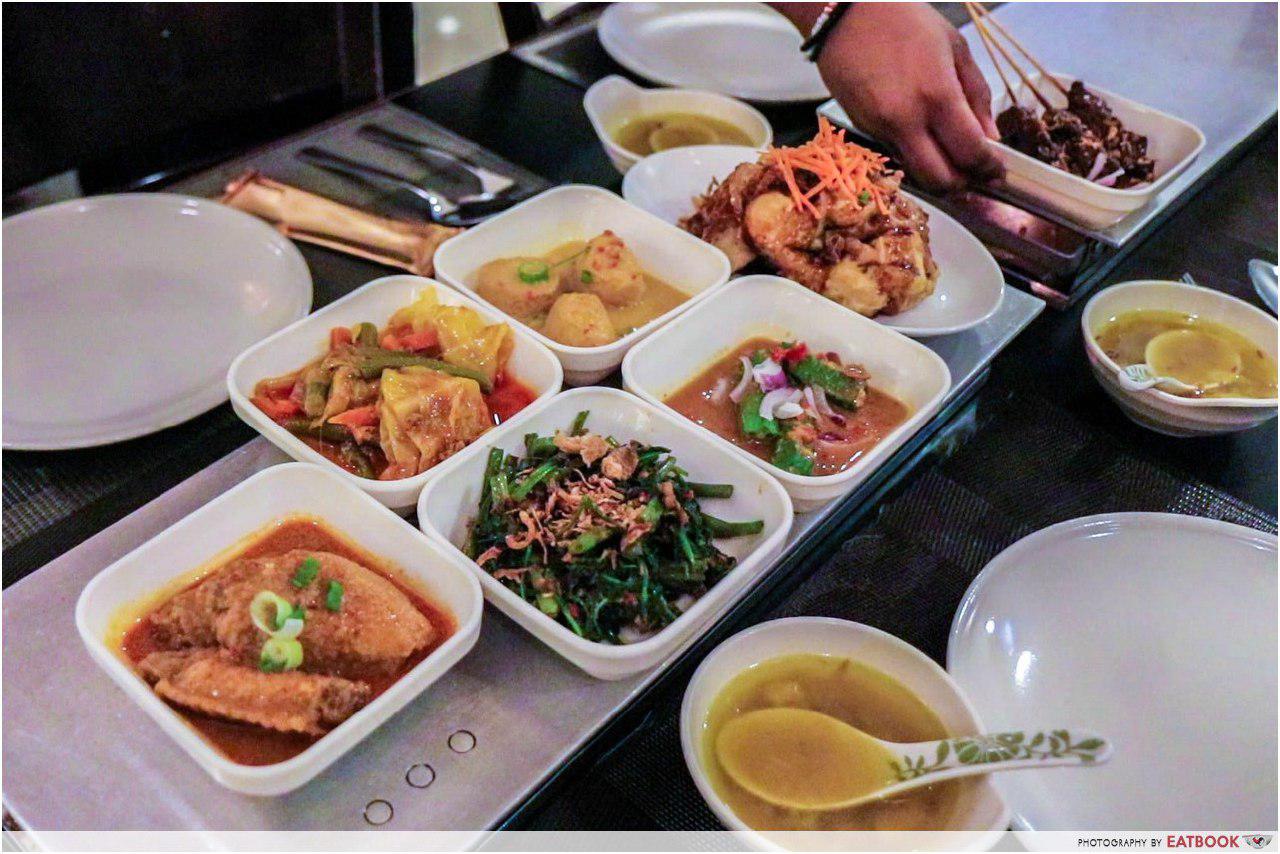 It was almost impossible to pick just a few dishes that impressed me the most. Of the 14 dishes, each had its own distinct taste and were all very well-executed. The more fiery dishes like Ayam Kalio (chicken curry) and Daging Rendang (beef rendang) were incorporated with fragrant coconut flavour and went especially well with the steamed rice.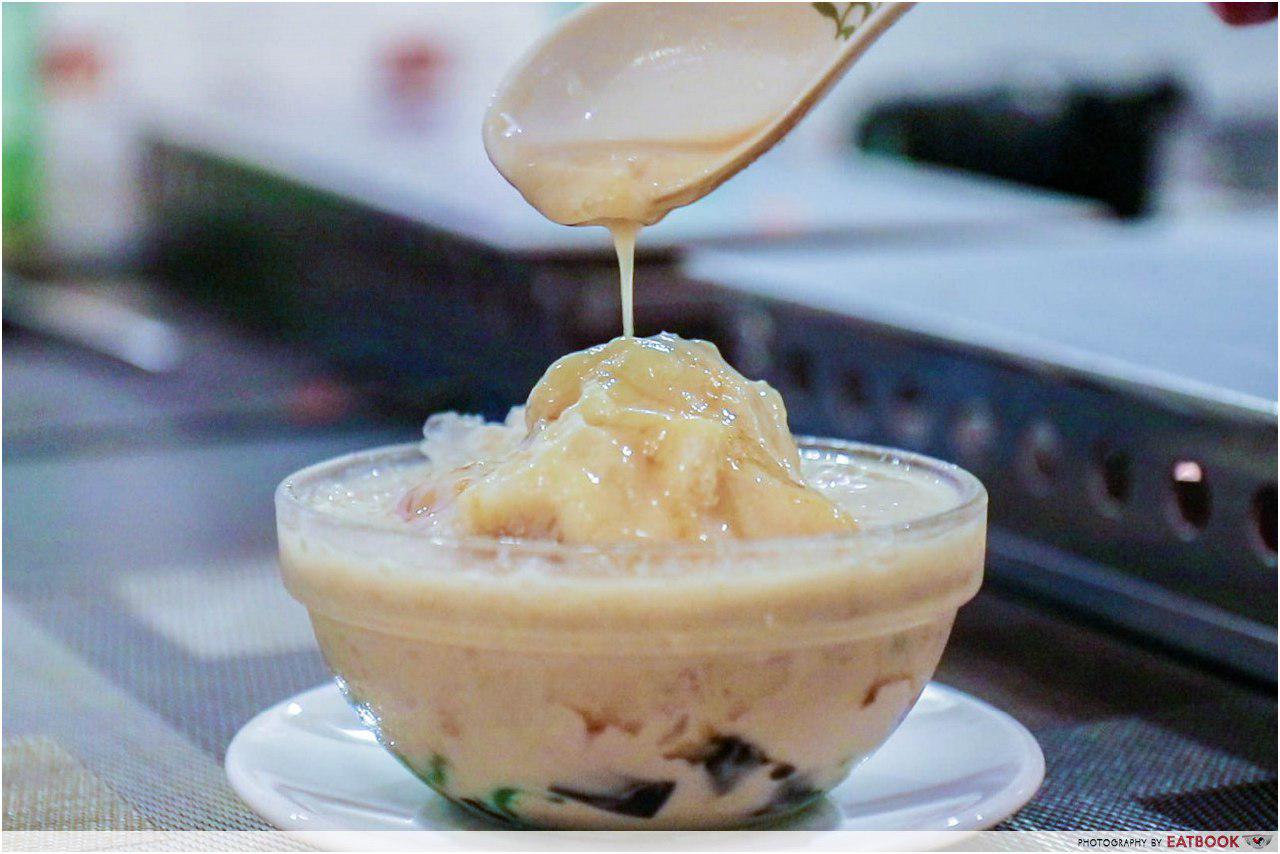 To end off the meal, we also ordered Durian Cendol ($4.25+), which was not included in the buffet set. After the round of spicy and richly flavoured meal, it was refreshing to dig into the heap of sweetened shaved ice. The dessert was not too sweet and the toppings of grass jelly, kidney beans, and rice flour jelly added to the range of textures in the chendol. While it was a pleasant dessert to end the meal with, it was not mind-blowing. I was slightly disappointed by the fact that the bowl did not come with bits of durian flesh and was no different from any other chendols besides a slight durian taste in the ice chunks.
Ambience at The Rice Table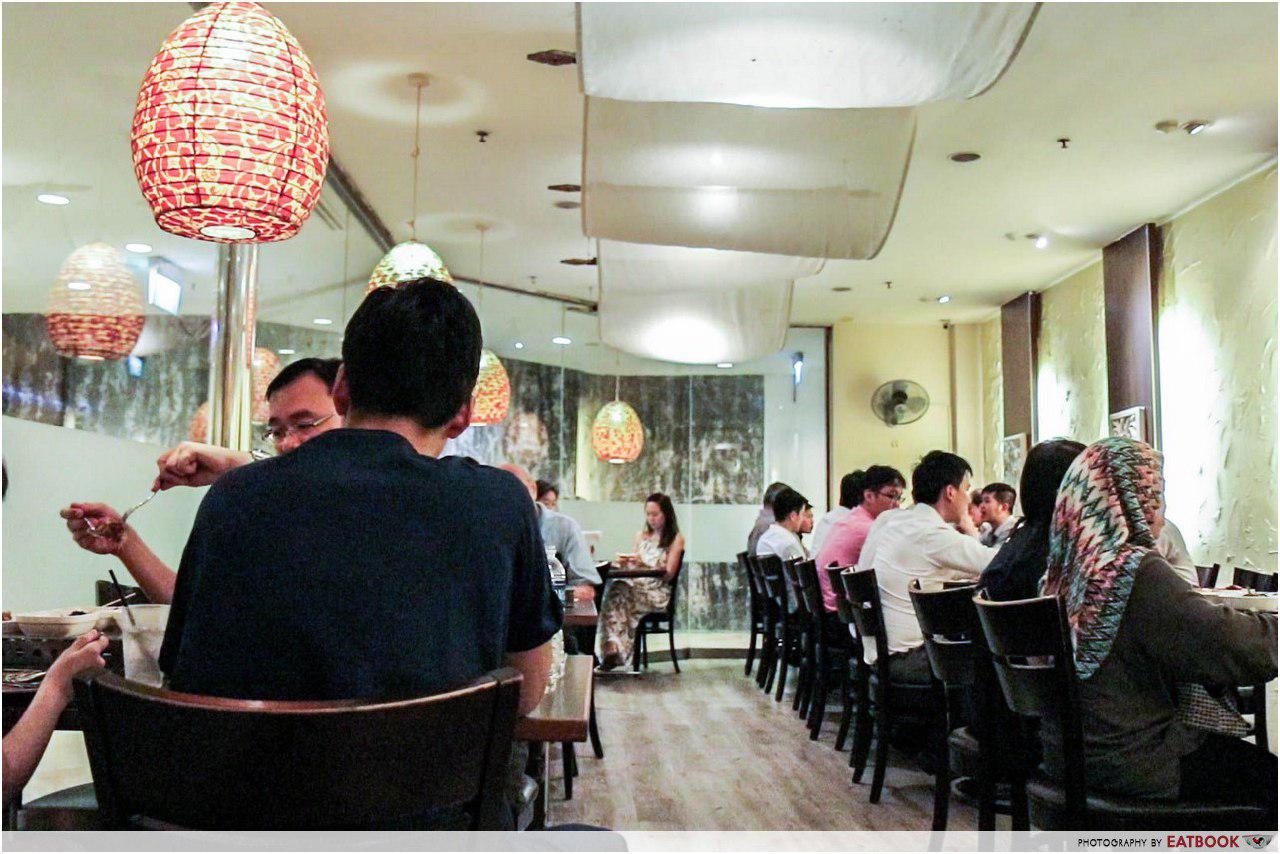 Though tucked away in a relatively quiet corner of International Building along Orchard Road, The Rice Table was surprisingly crowded with families and office workers during lunchtime. Throughout lunchtime, customers streamed in continuously and in the small space, the restaurant can get pretty noisy.
The paintings and carvings hung around the restaurant also bring a homely touch to the restaurant, giving the restaurant a laid-back vibe.
The verdict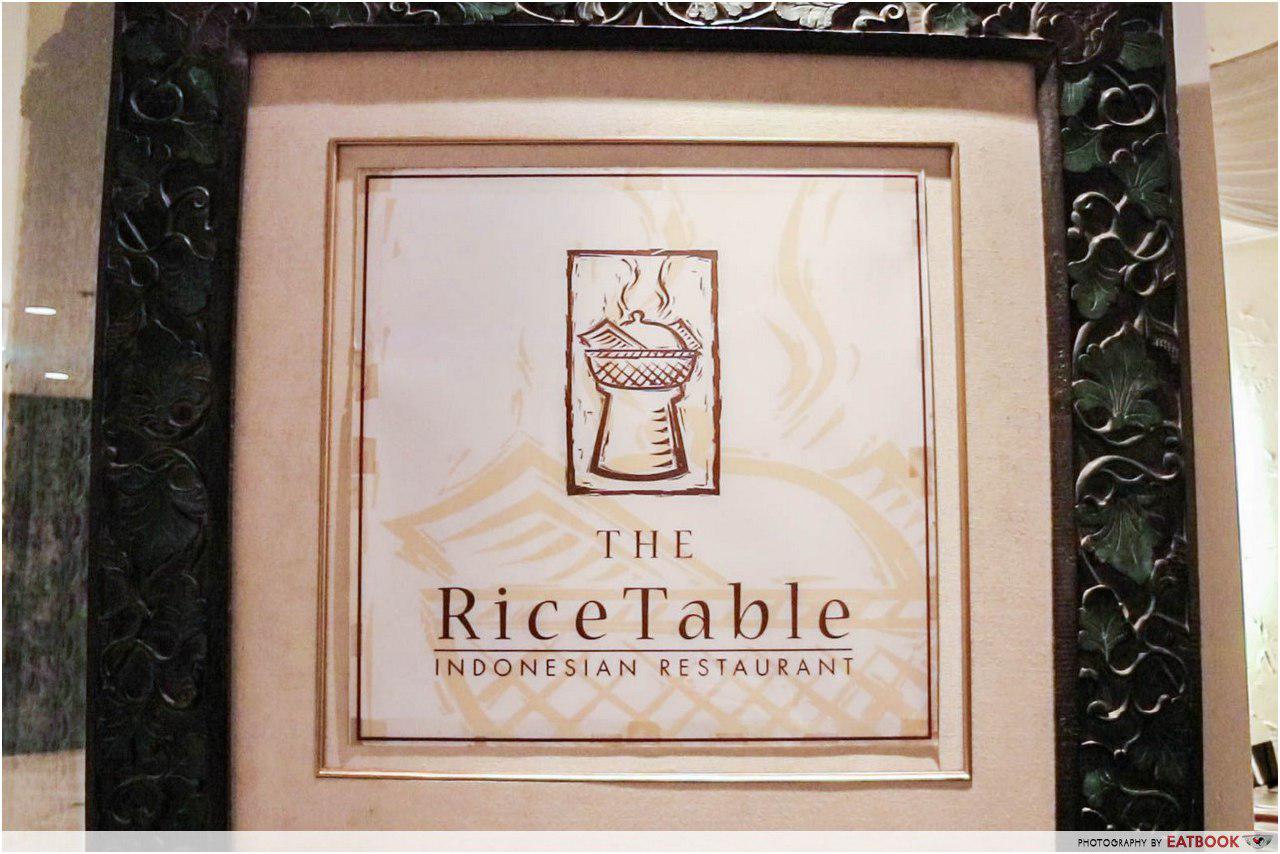 As a whole, I thoroughly enjoyed my experience at The Rice Table. I was most impressed by the amount of effort put into each of the 14 dishes to bring out its distinct flavours and not even one dish disappointed me. For a good all-you-can-eat experience in Orchard, with quality food that costs less than $20, it felt almost too good to be true.
Given its unique concept, delicious food, and affordable price, I will definitely return with my friends and family, probably to try their 20-course dinner buffet ($29.55)! If you are looking to head down to The Rice Table, I would recommend giving them a call to reserve as the restaurant can get quite packed. For more affordable buffets that cost $15 or less, check out this list of cheap buffets! Alternatively, pop by these wagyu buffets or cheese buffets to get your fix of meat and cheese.
Address: 360 Orchard Road, #02-09/10, International Building, Singapore 238869
Opening hours: Daily 12pm to 3pm (last order at 2:15pm), 6pm to 10pm (last order at 9:15pm)
Tel: 6835 3782
Website
According to their menu, The Rice Table uses halal ingredients but the restaurant is not halal-certified as they serve alcohol.
This is an independent review by Eatbook.sg.
Summary
Pros
– Value for money
– Convenient location
– Delicious food
– Wide variety of food
– Drinks and desserts are not subjected to GST
Cons
– Drinks and desserts not included in the buffet
– Limited seats
– Restaurant can get busy during peak hours
Recommended Dishes: Sate Ayam, Tahu Telor, Ikan Goreng
Operating Hours:
Daily 12pm to 3pm (last order 2:15pm), 6pm to 10pm (last order 9:15pm)
Address: 360 Orchard Road, #02-09/10, International Building, Singapore 238869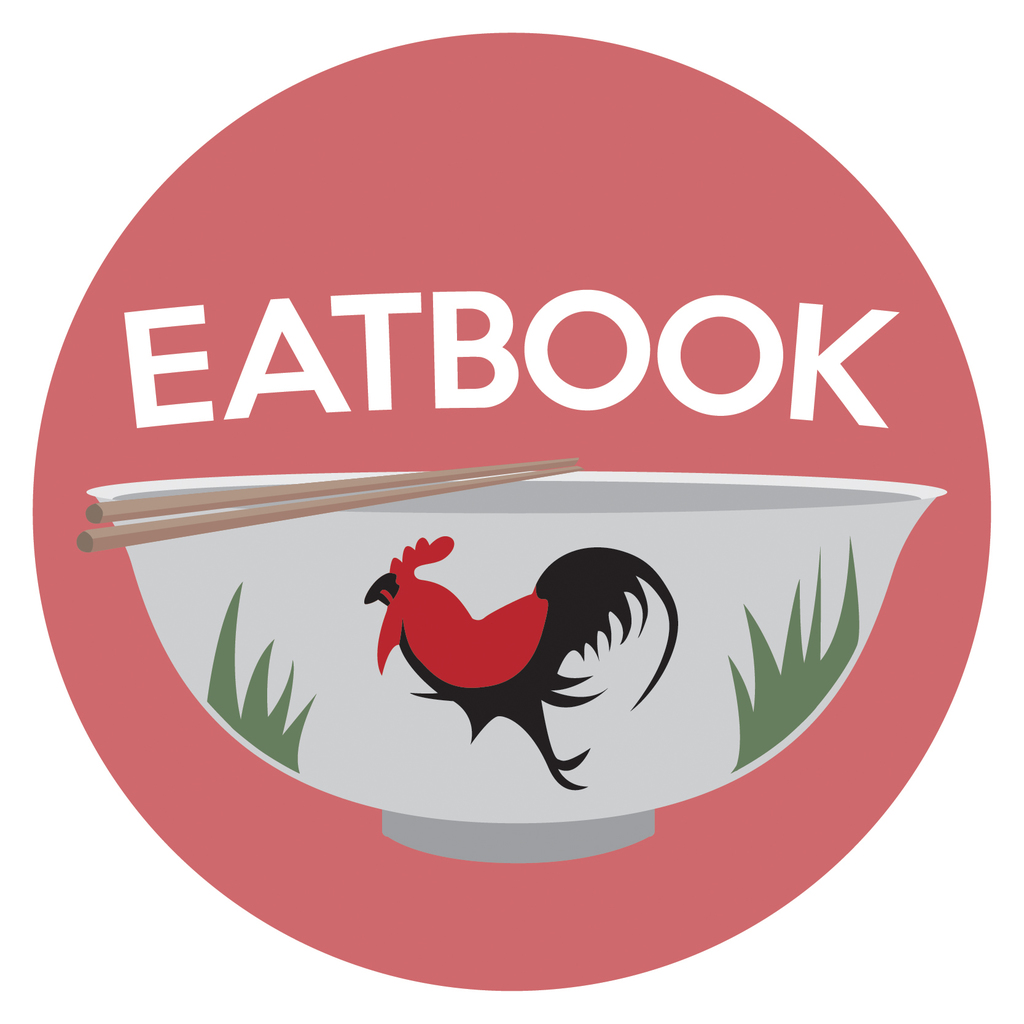 Drop us your email so you won't miss the latest news.