Grilled meats galore at Wicked Grill
Update (5 April 2019): Wicked Grill has permanently closed.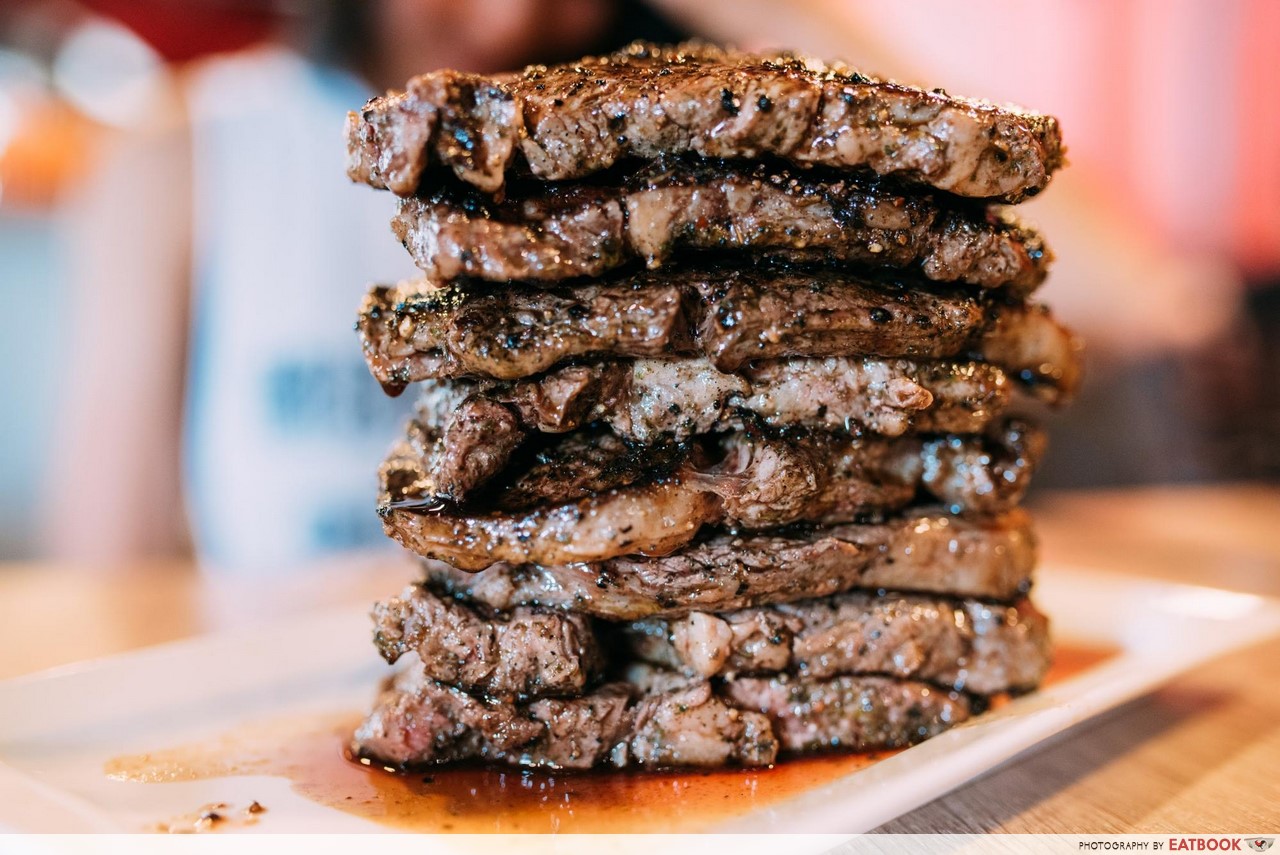 Imagine this: towering stacks of succulent steak, full racks of sticky barbecued ribs, plate upon plate of grilled chicken and fish, with an endless supply of sides and sauces to go along with this feast. It's a carnivore's dream.
At Wicked Grill, you can realise this grilled meat fantasy at their Steak Buffet, which runs from 11am to 3pm on weekends and public holidays. During each 90-minute session, this grill house at Tanjong Katong offers unlimited orders of all the grilled meats and sides your heart desires, at $29.80 nett!
Food at Wicked Grill
We delved straight into the buffet's highlight – steaks. Each order of Australian 100 Days Grassfed Ribeye Steak can be cooked to your preferred doneness, and if unspecified, will be grilled to a pink-centred medium.
The steaks are sliced slightly thinner than usual, but each slab was cooked just right – tender, juicy, and pink in the middle.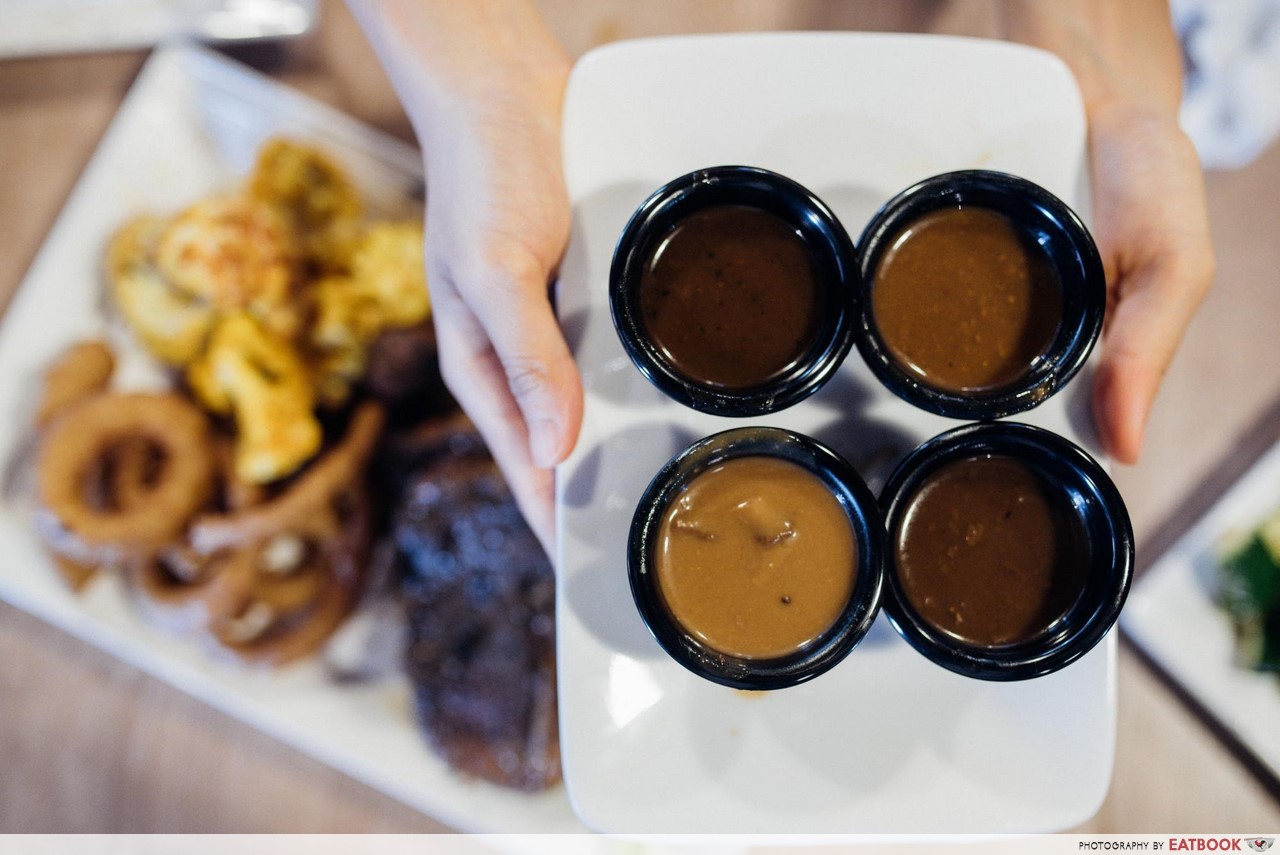 The steaks arrived seasoned with pepper and salt, but they can also be paired with four different signature sauces: mushroom, whole grain mustard, black pepper, and red wine.
Out of the four, the slightly sweet and tangy mustard made for the most harmonious pairing with the steak. My personal favourite was the red wine sauce, for its distinct wine notes and sweet caramelised onions. It reminded me of the classic roasts I enjoyed in Europe.
Fans of IKEA's meatball cream sauce will love Wicked Grill's mushroom sauce, which is similarly velvety-smooth, and also packed full of earthy mushroom flavour.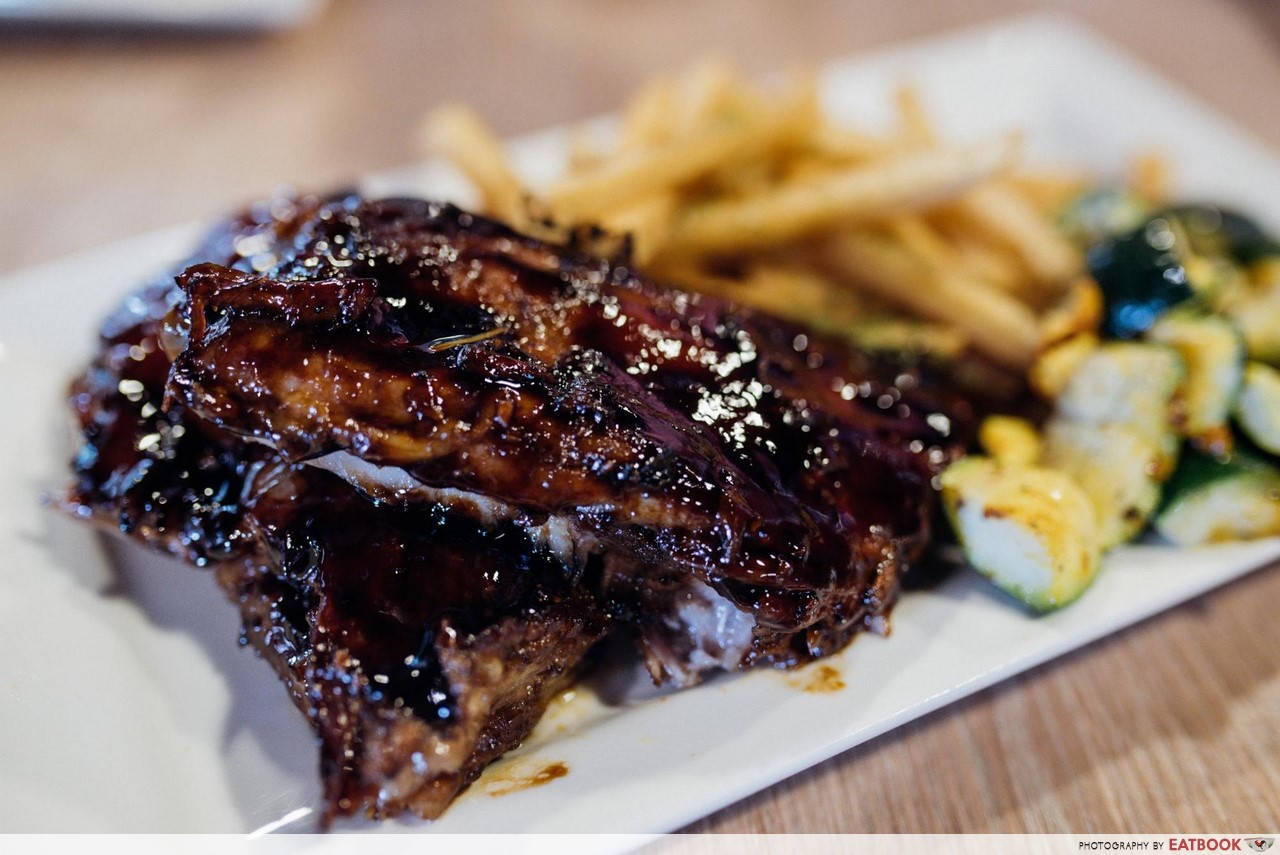 Although Wicked Grill is best known for their steaks, their St Louis Balinese Pork Ribs was an unexpected star at the buffet.
Unlike regular ribs, these Balinese pork ribs were first seasoned minimally before being grilled, with a kecap manis-based sauce brushed on at the very last stages of barbecuing. The dark Indonesian sweet soy sauce reduced into a shiny, salty-sweet glaze, adding an intense denseness to the ribs.
True to form, the pork ribs were superbly tender. The meat fell away from its rack at the touch of a fork, and I could pull it clean off the bone with my hands. A subtle garlic flavour was apparent in each succulent bite, just underneath the sticky caramelised glaze.
A more prominent smokiness in the ribs would have made them perfect, as the sweetness could come across as one-dimensional as you gradually make your way through the rack. That said, these were definitely one of the better barbequed ribs I've had – melt-in-your-mouth and addictively delicious.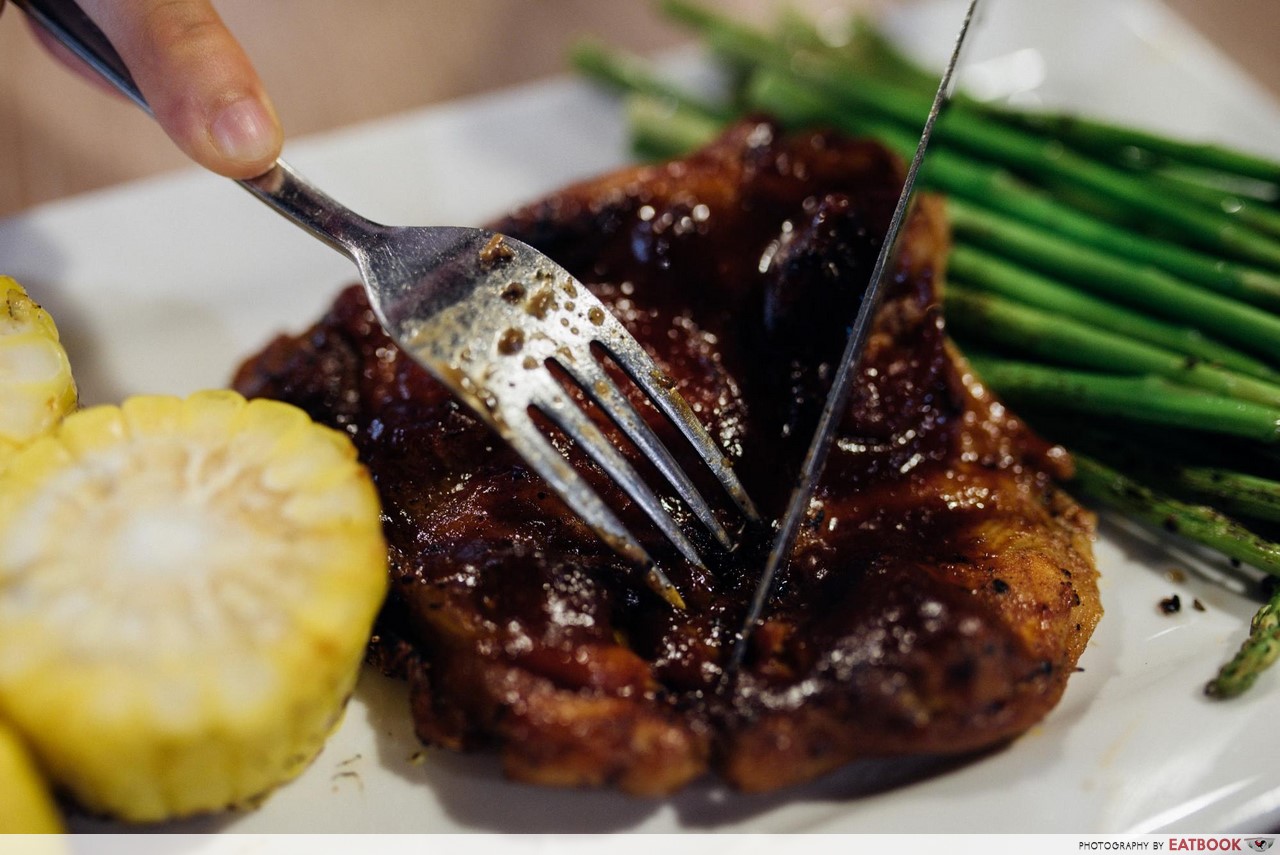 Wicked Grill serves chicken in four sauces: mushroom, Balinese-style, black pepper, and American BBQ. The American BBQ Grilled Chicken is a large slab of chicken thigh that's been marinated in an American-style barbeque sauce, before being grilled till crisp and slightly charred. This wasn't as spectacular as the Balinese ribs, but the chicken was well-grilled, with a prominent smokiness that melded into the sweet barbecue glaze.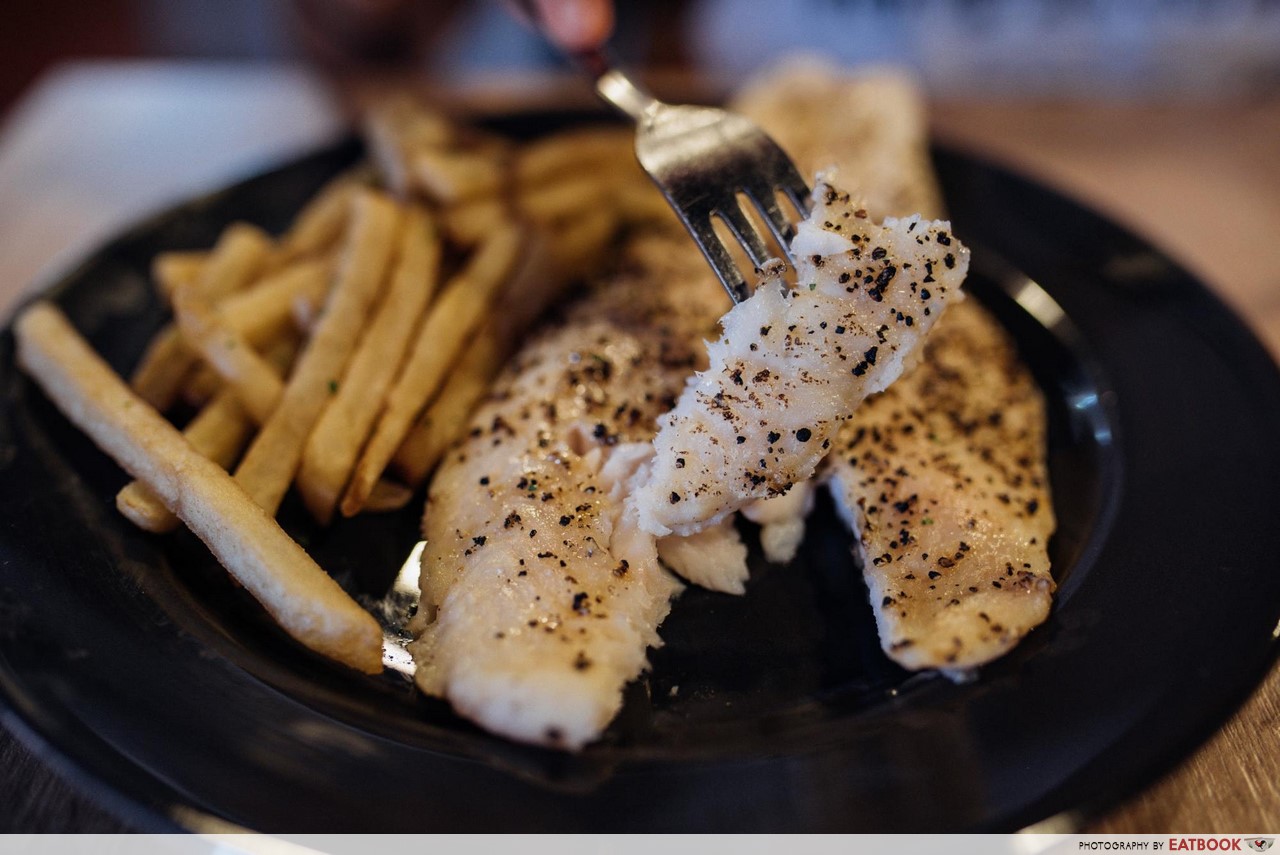 For something lighter, Black Pepper Dory makes a good interlude from the meats. Each order consists of a huge fillet of dory fish that's been lightly seasoned with cracked black pepper. The flesh flaked easily, remaining juicy and tender down to the last morsel.
To switch things up, you can add the steak sauces to the fish for a different flavour. The red wine steak sauce worked well here, with the mellow wine notes adding a touch of sweetness.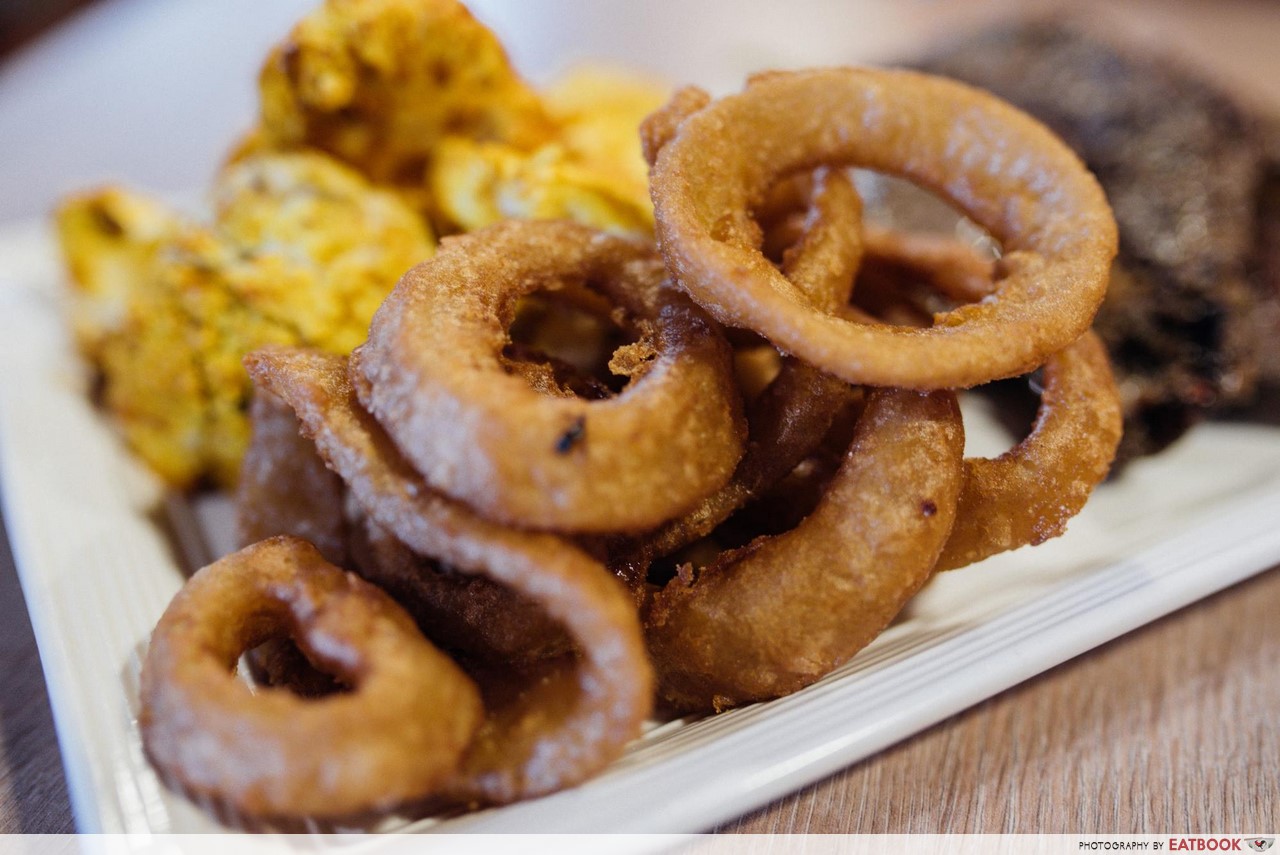 The buffet is complete with 10 sides, ranging from veggies to deep-fried finger food. Lighter sides come in the form of grilled veggies, asparagus, corn on the cob, green beans, baby carrots, and spiced cauliflower. On the flipside, more indulgent options include Cajun fries, truffle fries, onion rings, and mac and cheese.
While most sides were mediocre, the onion rings and truffle fries stood out as our favourites. Each huge ring was encased in a crisp golden crust, with a soft and sweet onion centre.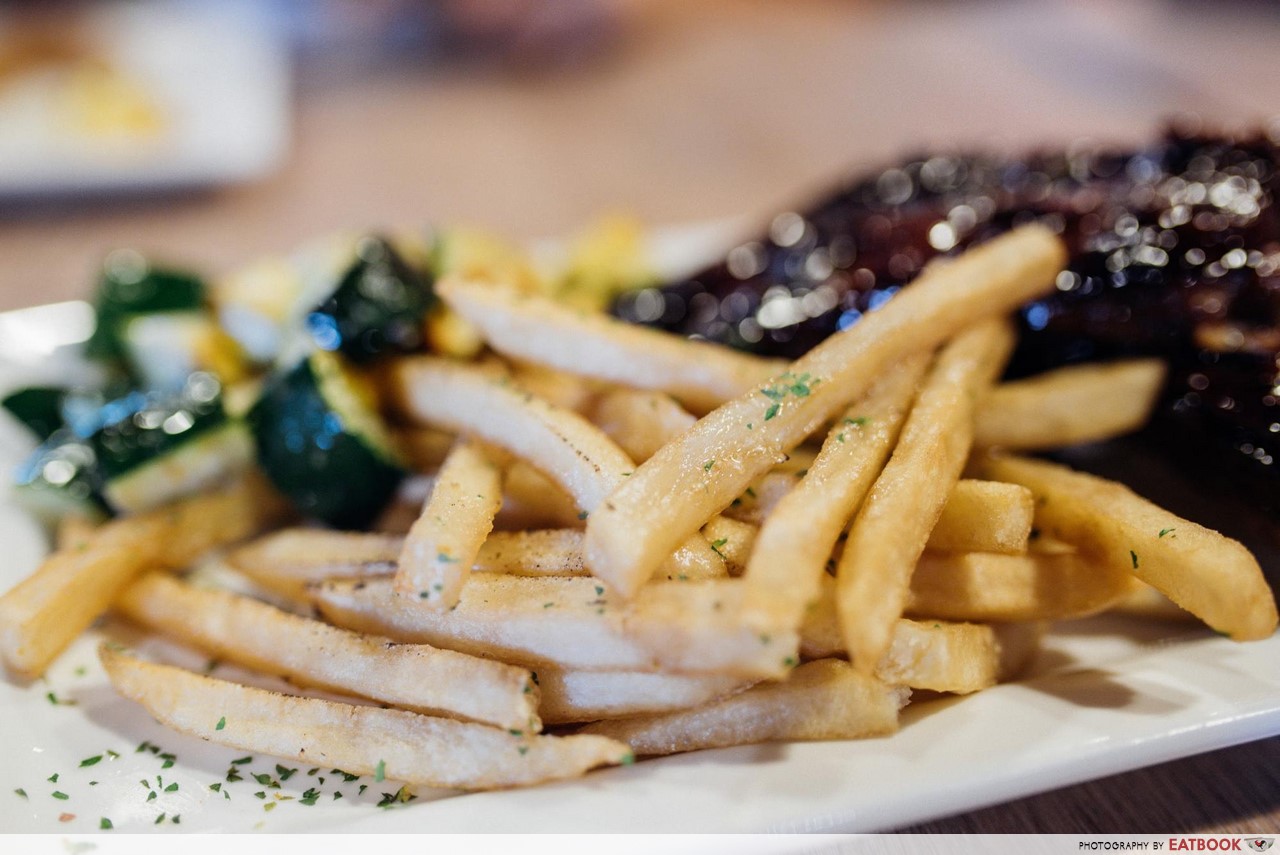 Whoever seasoned the fries went heavy-handed with the truffle oil, leaving the thin shoestring fries laced with a potent truffle scent.
Ambience at Wicked Grill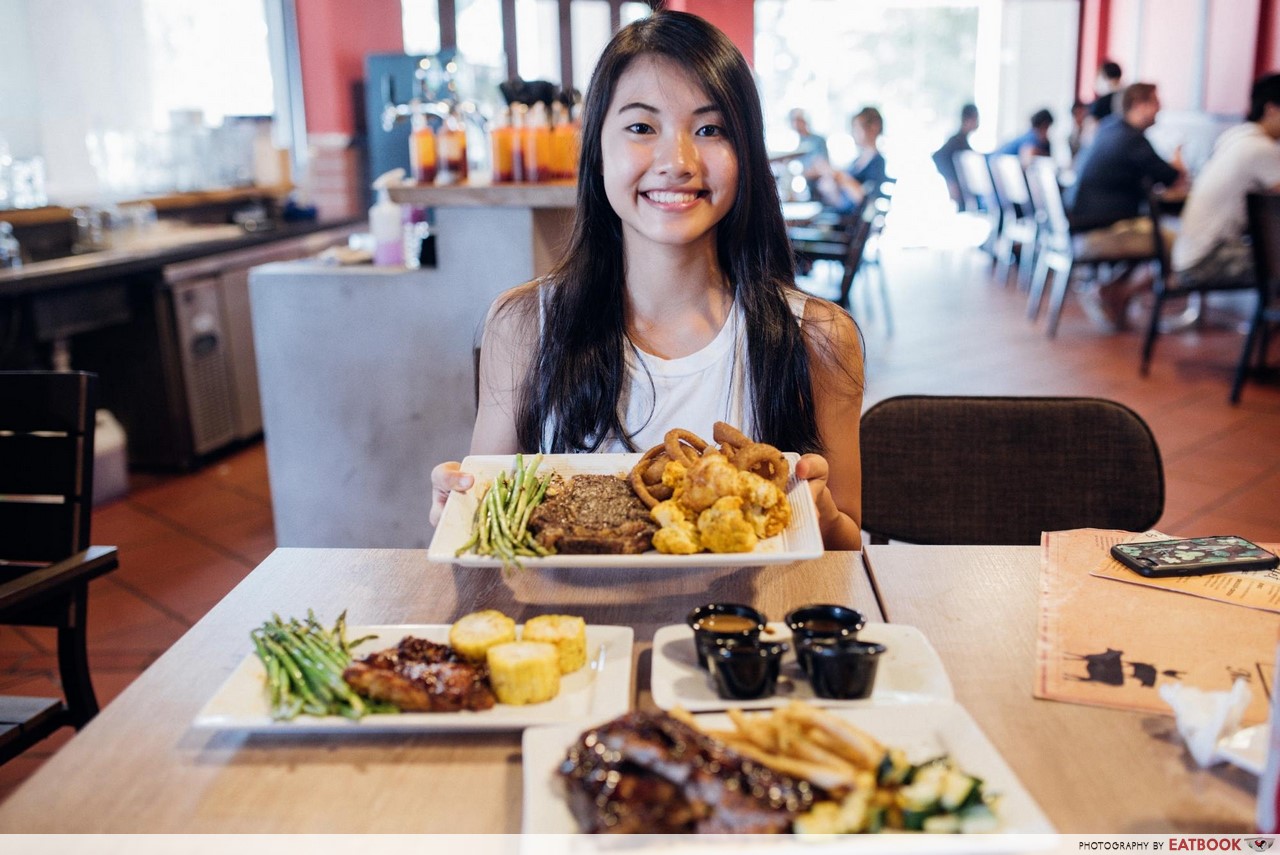 Located along Tanjong Katong's long row of eateries and shops, Wicked Grill on the weekend afternoon we were there was lively and bustling. With plenty of natural light and spaciously arranged wide wooden tables, it is great for large parties of friends and smaller family groups.
Even though the kitchen was sending out platter after platter to accommodate the huge buffet orders, we didn't experience any problems with catching the staff's attention as they remained alert and on the ball throughout service. 
That being said, we noticed the serving times for dishes varied. Some meats were dished out within minutes, while others arrived half an hour or so later. We checked in with them and were told it was Wicked Grill's kitchen policy to prepare every order on the spot. This ensures that the quality of their food is not compromised because of speed or quantity, but it results in sporadic waiting times. One other gripe was that some dishes and sides were served closer to room temperature, rather than piping hot.
The verdict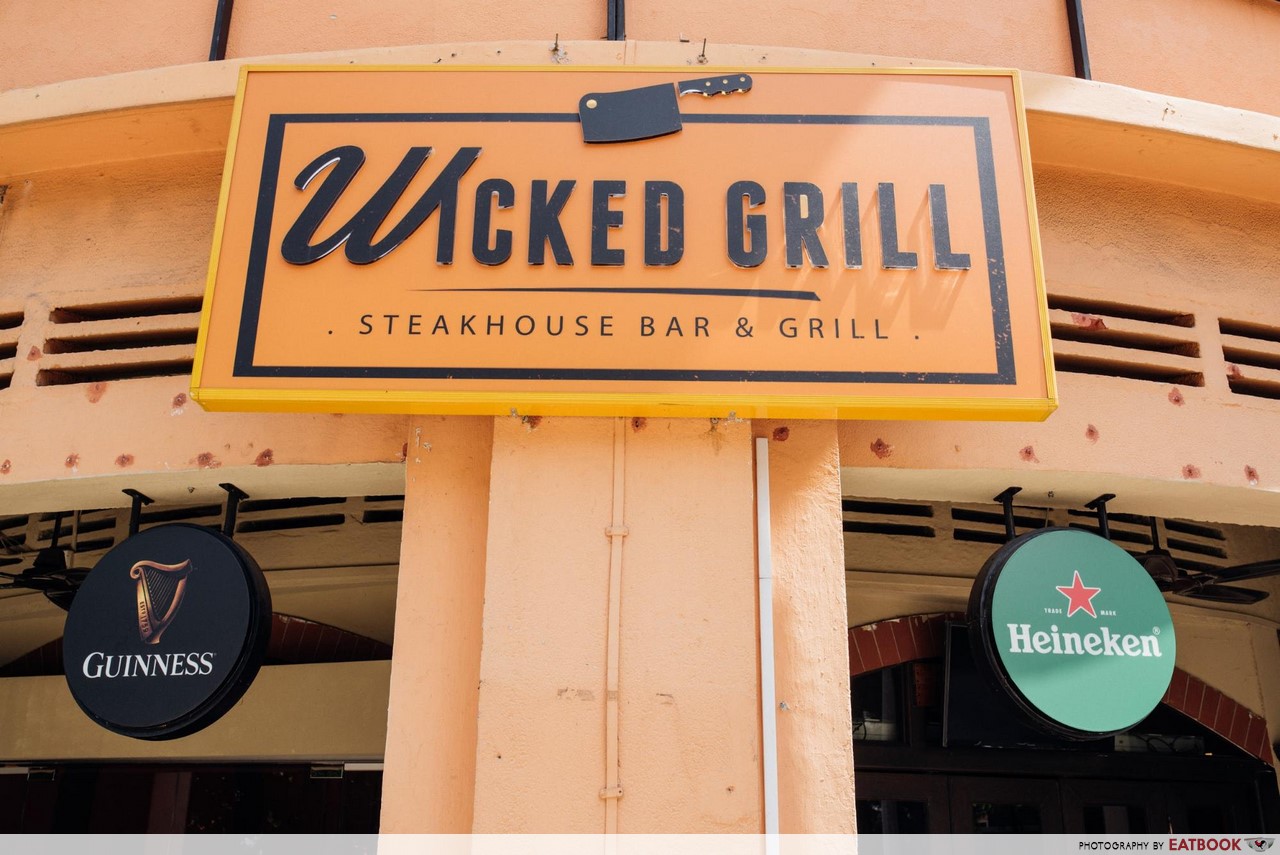 In terms of value for money, Wicked Grill's weekend buffet is a solid yes, especially if you've got a huge appetite for meat. If you and your crew can pack away stacks and racks of meat like no one's business, this place is a dream come true. For just the unlimited orders of well-prepared grilled steaks and melt-in-your-mouth barbecued ribs, you'll be getting your money's worth. Time to call up your steak squad! For more meat buffets, check out this list of wagyu buffets around Singapore!
Address: 306 Tanjong Katong Road, Singapore 437089
Opening hours: Mon-Fri 5pm to 11pm, Sat-Sun & PH 11:30am to 3pm, 5pm to 12am
Steak Buffet hours: Sat-Sun & PH 11am to 3pm
Website
Steak Buffet menu
A la carte menu
Wicked Grill is not a halal restaurant.
This was a media tasting at Wicked Grill.
Summary
Pros
– Meats and sides are cooked a la minute
– Friendly staff
– Value for money
Cons
– Orders were served at sporadic timings
– The food could be served warmer
– Most sides were mediocre
Recommended Dishes: Australian 100 Days Grassfed Ribeye Steak with whole grain mustard, St Louis Balinese Pork Ribs, truffle fries
Operating Hours:
Mon-Fri 5pm to 11pm, Sat-Sun & PH 11am to 3pm, 5pm to 11pm
Address: 306 Tanjong Katong Road, Singapore 437089