Park Bench Deli reopens in Telok Ayer
Update: Park Bench Deli is permanently closed.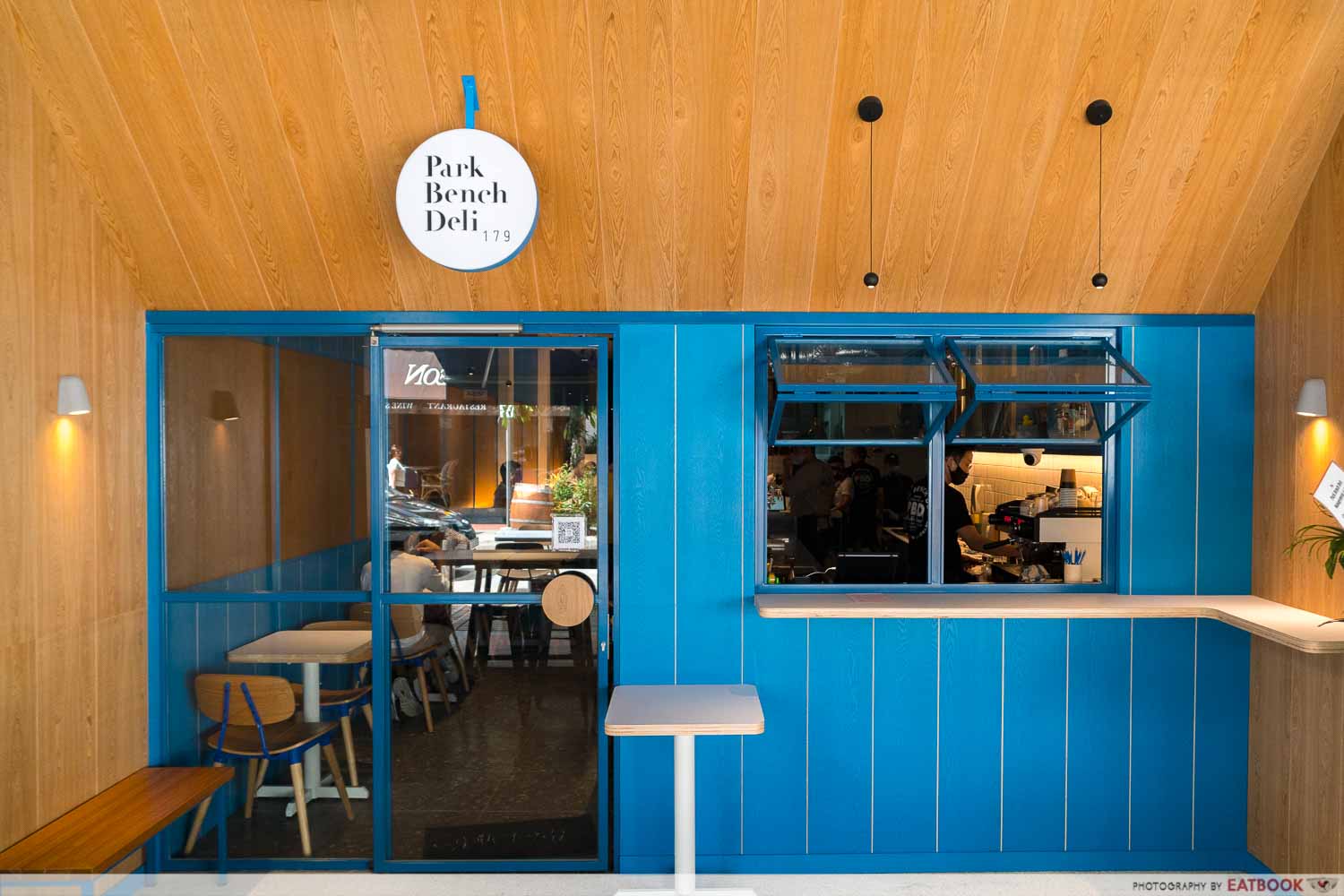 Singapore may be overrun with cafes, so to stand the test of time, like Telok Ayer's famed Park Bench Deli has, must mean that the joint has got a little bit of magic to keep fans constantly coming back for more. Having been around since 2015, Park Bench Deli closed in February this year for renovations, but have since reopened with an overhauled interior and menu. Being a PBD stan since way back when, I paid a visit to see how the new stacked up against the familiar.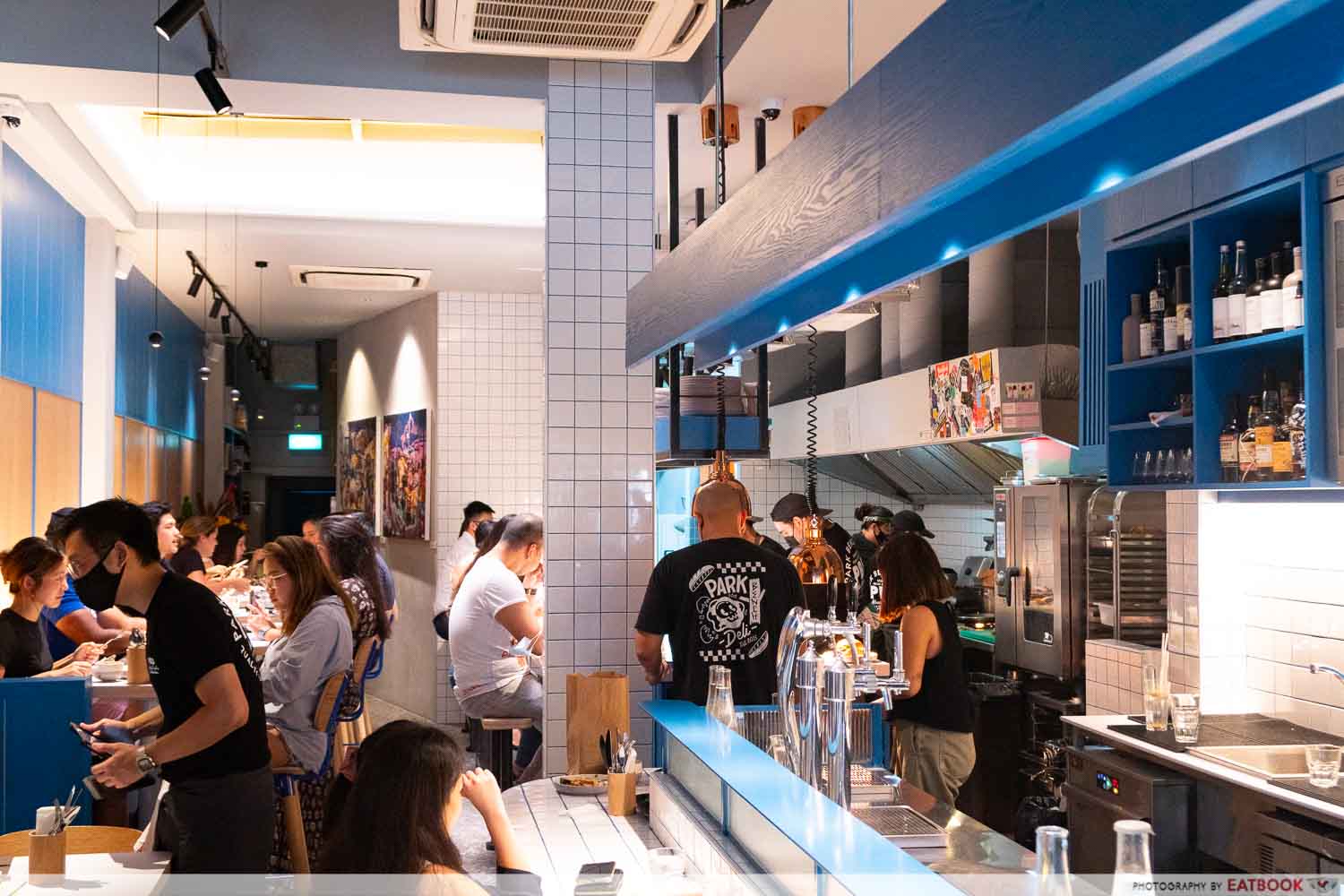 Already, a queue awaited as we arrived before lunch, growing longer as time edged closer to noon. Most were waiting to get into the now-more-spacious 42-seater cafe, but some were opting for takeaways, which you can do via a window in the storefront. 
The expanded seating is matched by an equally lengthy new all-day-dining menu. While PBD used to be a haven for sandwiches, coffee, and craft beer, their new menu cranks that repertoire up a notch with new breakfast items, salads, and burgers too.
To start off my meal and day right, I tried the Breakfast Sandwich ($15++), and Lemon Ricotta Hotcakes ($20++).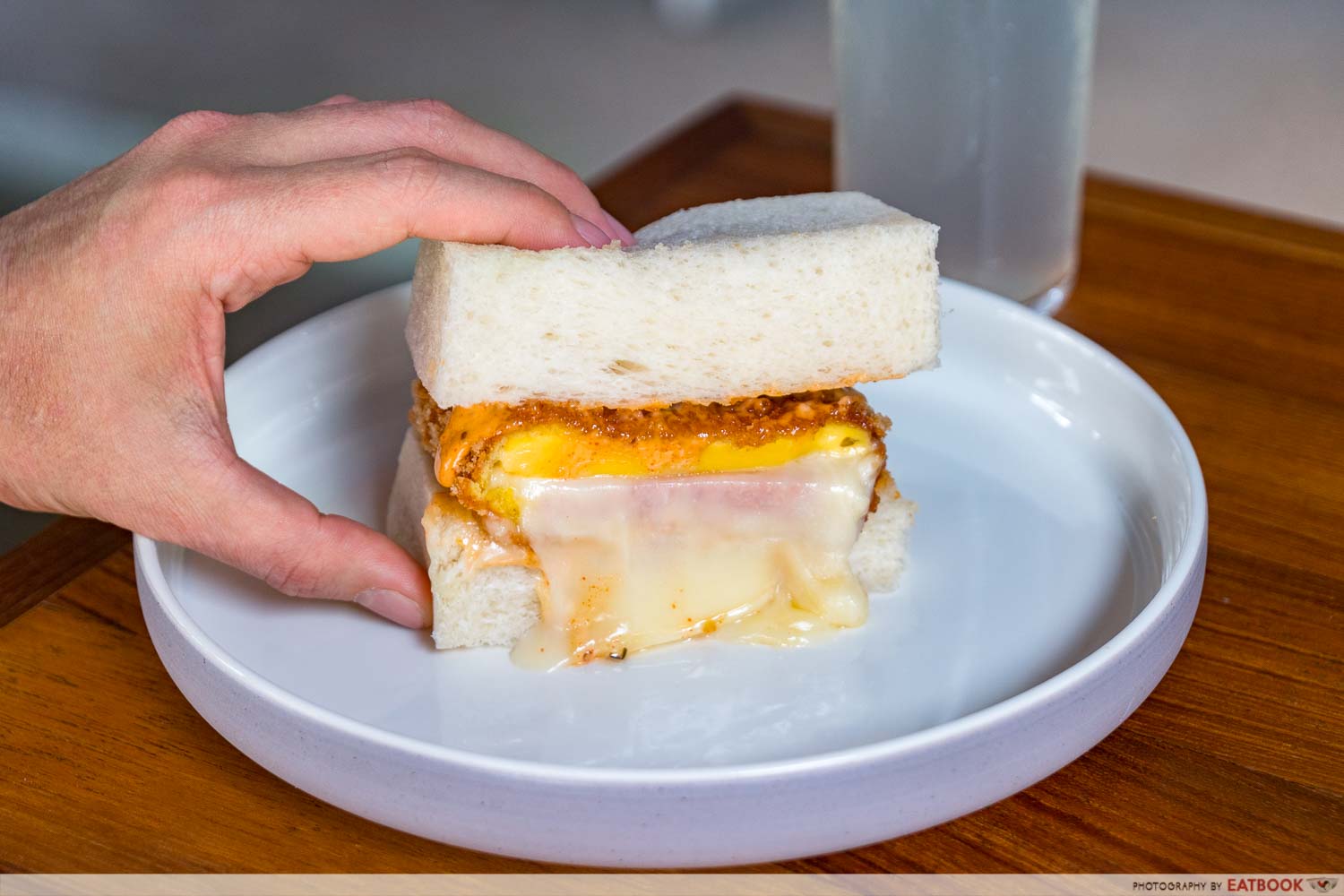 The former was a thick stack, where Japanese style milk toast bread, crusts cut, sandwiched a deep-fried katsu spam patty layered with oozy Swiss cheese, and an omelette. The patty checked big boxes for fat and savouriness, while its panko-breaded crust added a welcome crunch to counter the soft milk bread.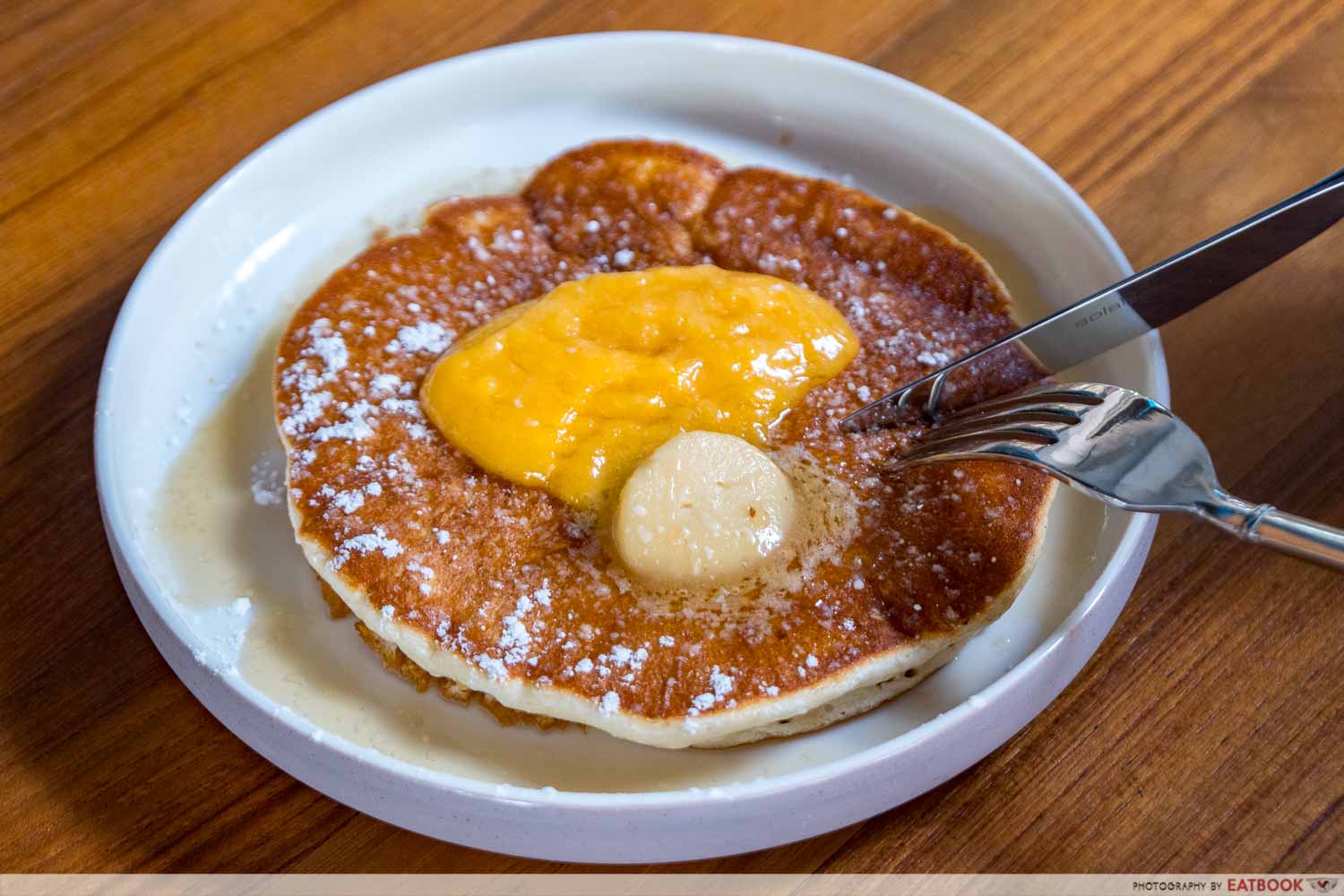 The Lemon Ricotta Pancakes were definitely the showstopper, though. Appearances are very deceiving here, as the pancake was unassuming, topped with a simple dollop of butter, lemon curd, and maple syrup.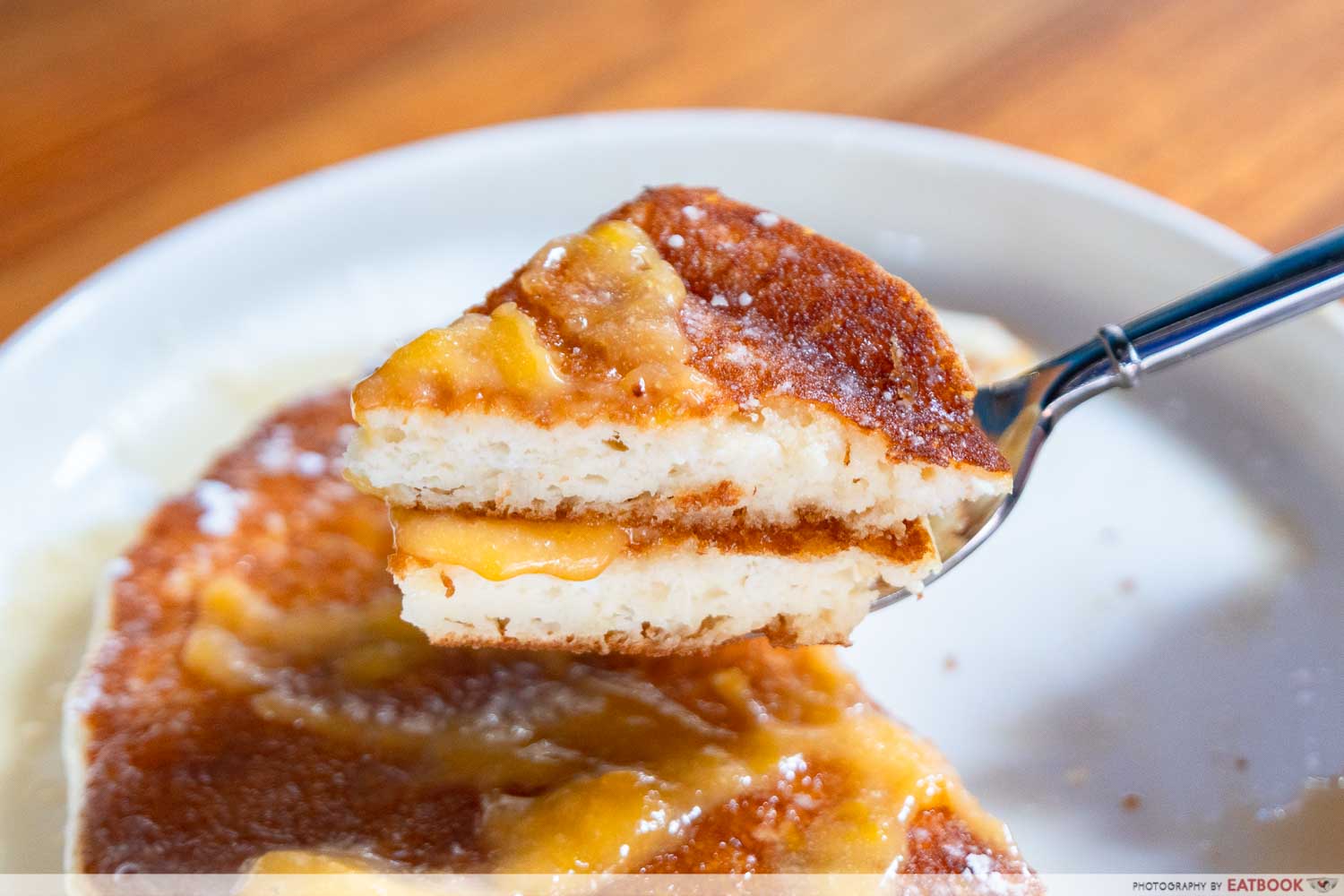 A bite quite literally sends you to cloud nine thanks to just how fluffy the pancake is, with the milkiness of the housemade ricotta shining through, brightened by the lemon curd. If PBD's Pastrami Reuben was my former reason to return to Telok Ayer, this pancake is my return ticket.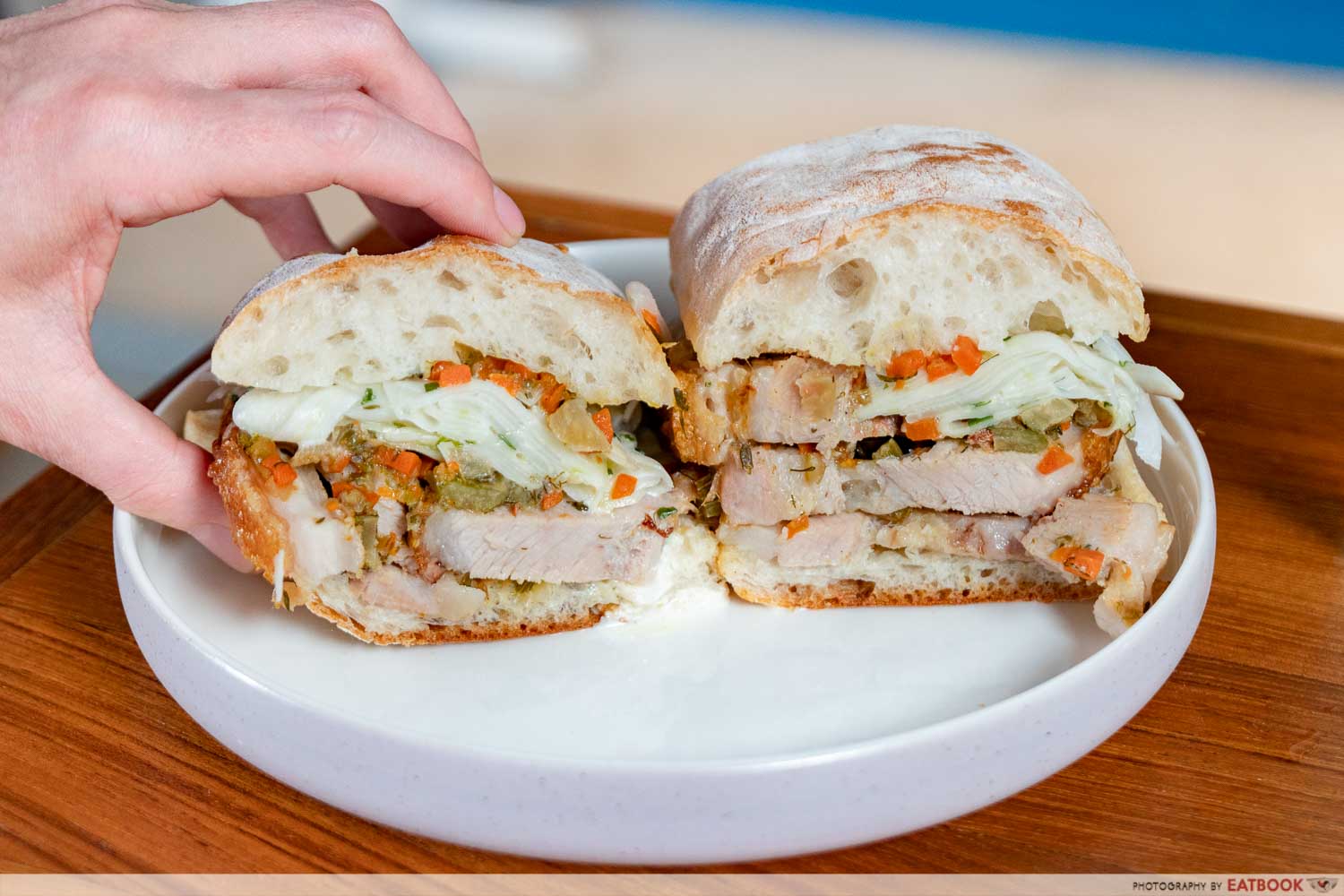 Breakfast runs from 9am to 3pm at the deli, but sandwiches are available from 11am. There are six on the menu, including a monthly special. We started off with the Porchetta ($18++), an Italian classic.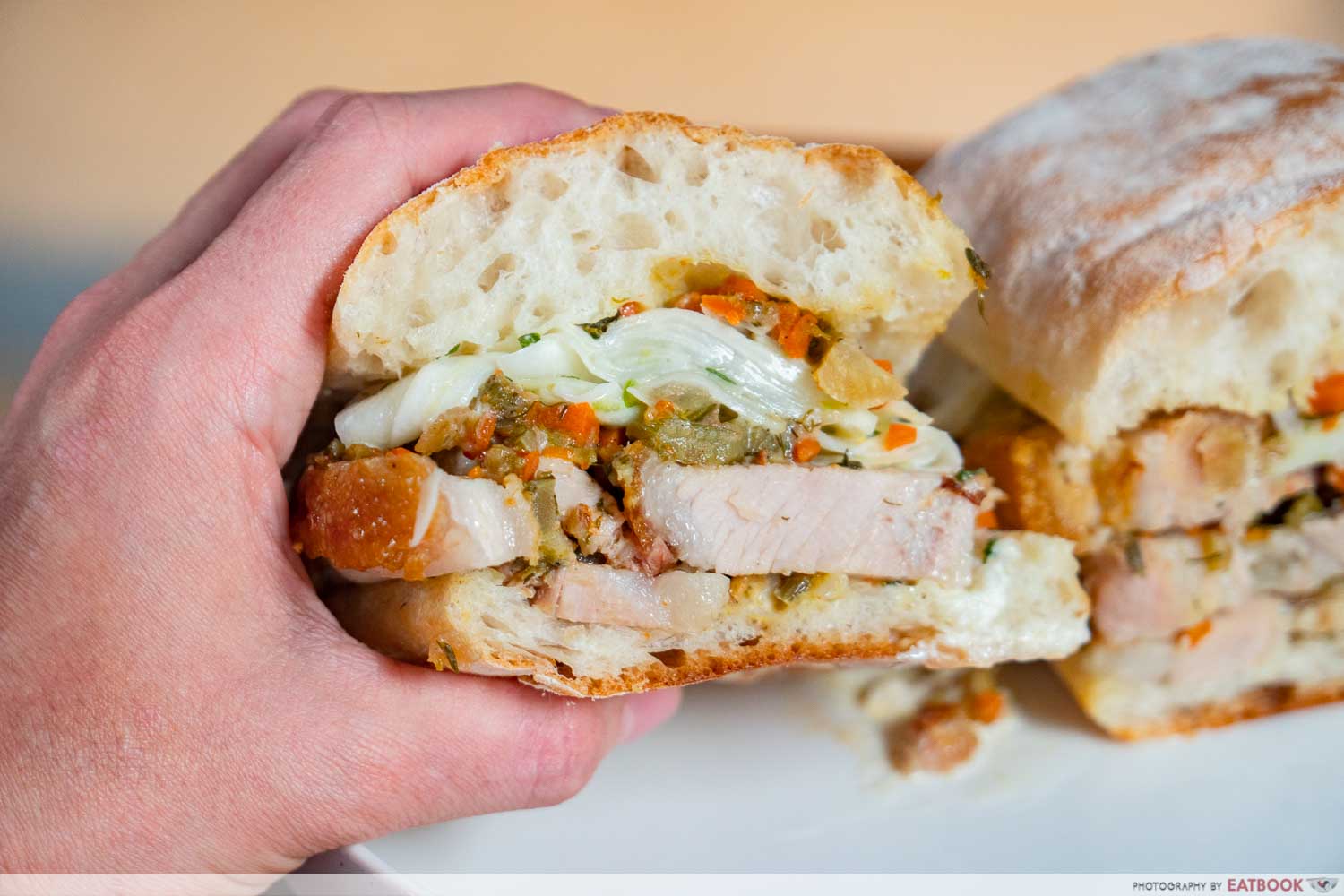 The housemade porchetta, aka crispy pork belly, packs a whole lot of ASMR crunch with every bite, doubled down with the crusty ciabatta bread. Sour cream, chives, kohlrabi, and fennel dress the pork, and while the slaw does make each bite crisper, I do wish they were a tad sourer or seasoned to offset the fatty pork belly.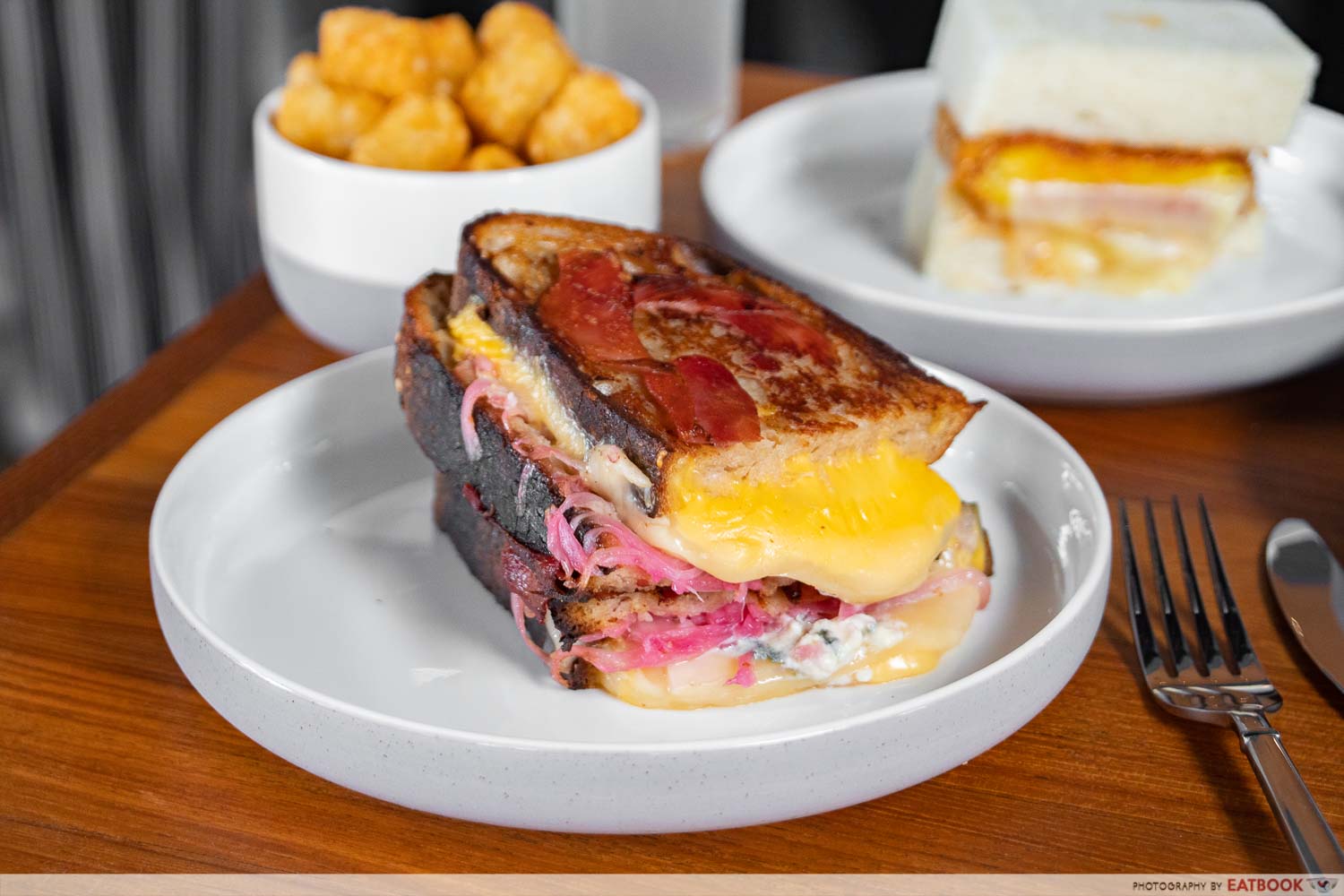 On the Grilled Cheese ($15++), there was no shortage of flavour. Made with a trio of blue cheese, cheddar, and mozzarella between crusty sourdough, this sandwich had cheese pull for days, and hit all the spots. There was also some pickled red onions for zing, along with smoky slices of prosciutto pressed onto the tops of the sandwich to keep them extra crisp.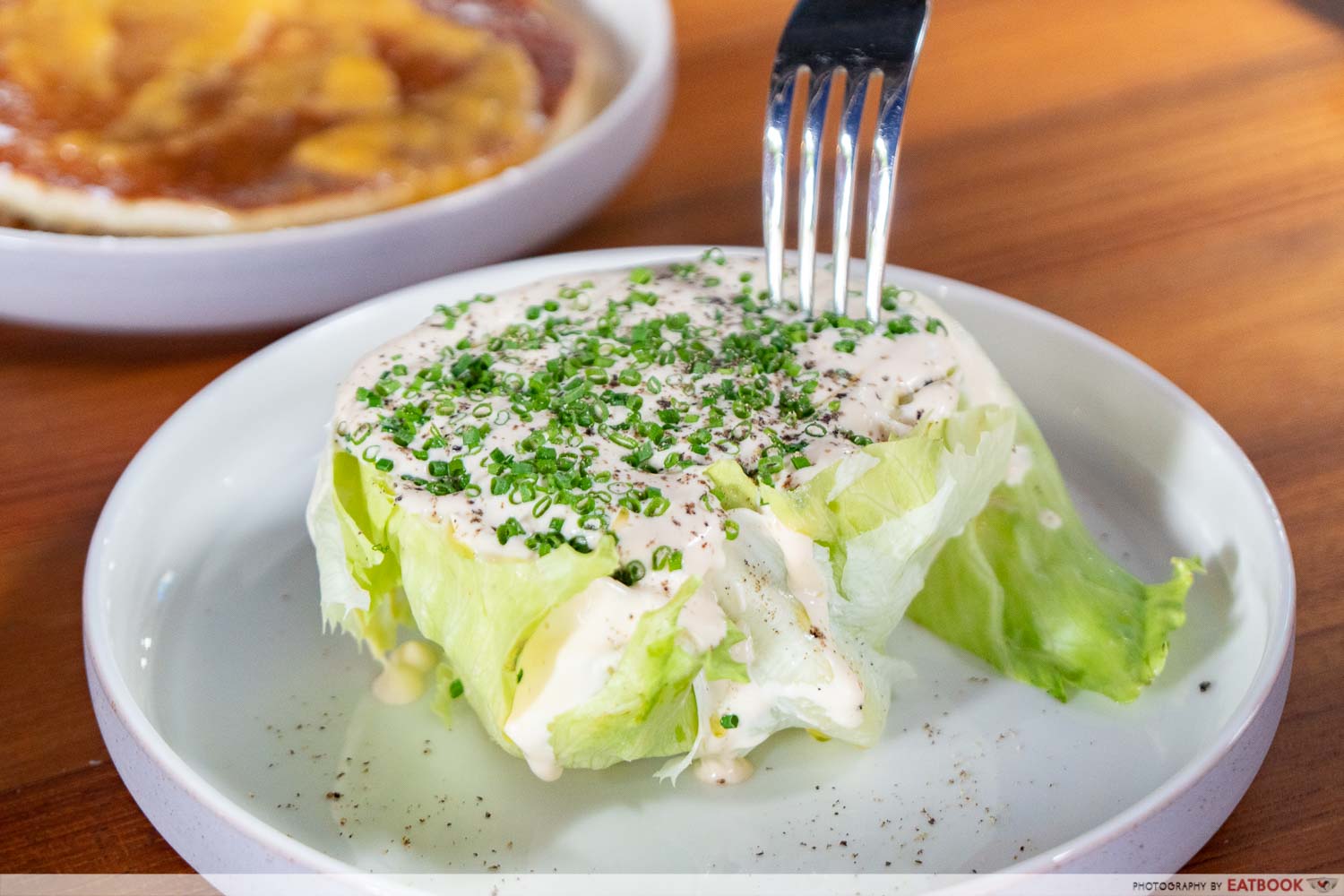 Apart from the mains, the new Park Bench Deli menu has sides to go with your meal. These include the Lettuce Wedge ($8++), a literal wedge of iceberg with house-made dressing, Tater Tots ($8++), which also come with truffle oil and parmesan for $16++.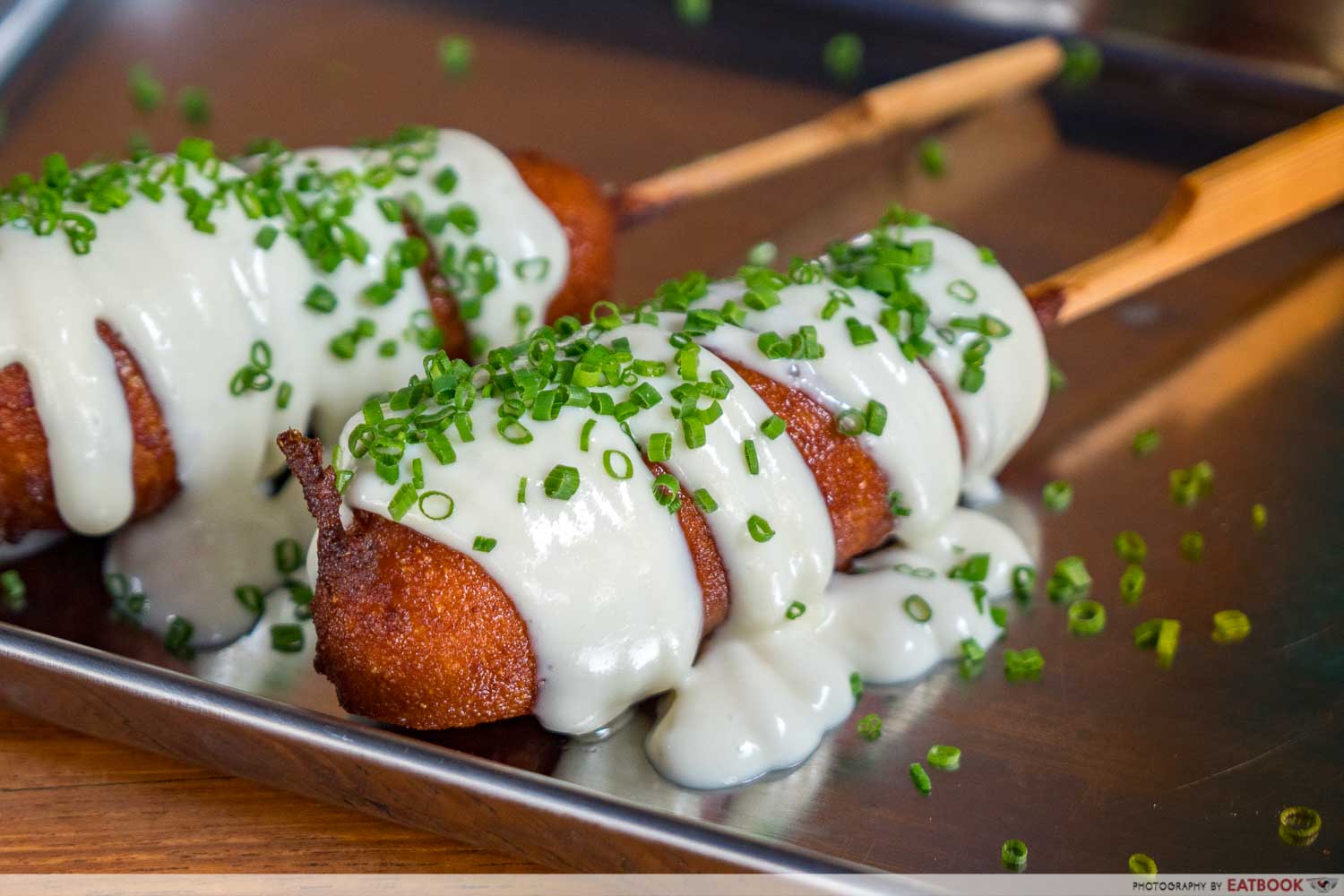 Also, to go with their cocktail menu, the eatery also has a number of bar bites, available from 5pm. Their Corn Dogs ($6++) are a must, done American-, rather than Korean-style, with a fluffy deep-fried shell around bite-sized hotdogs.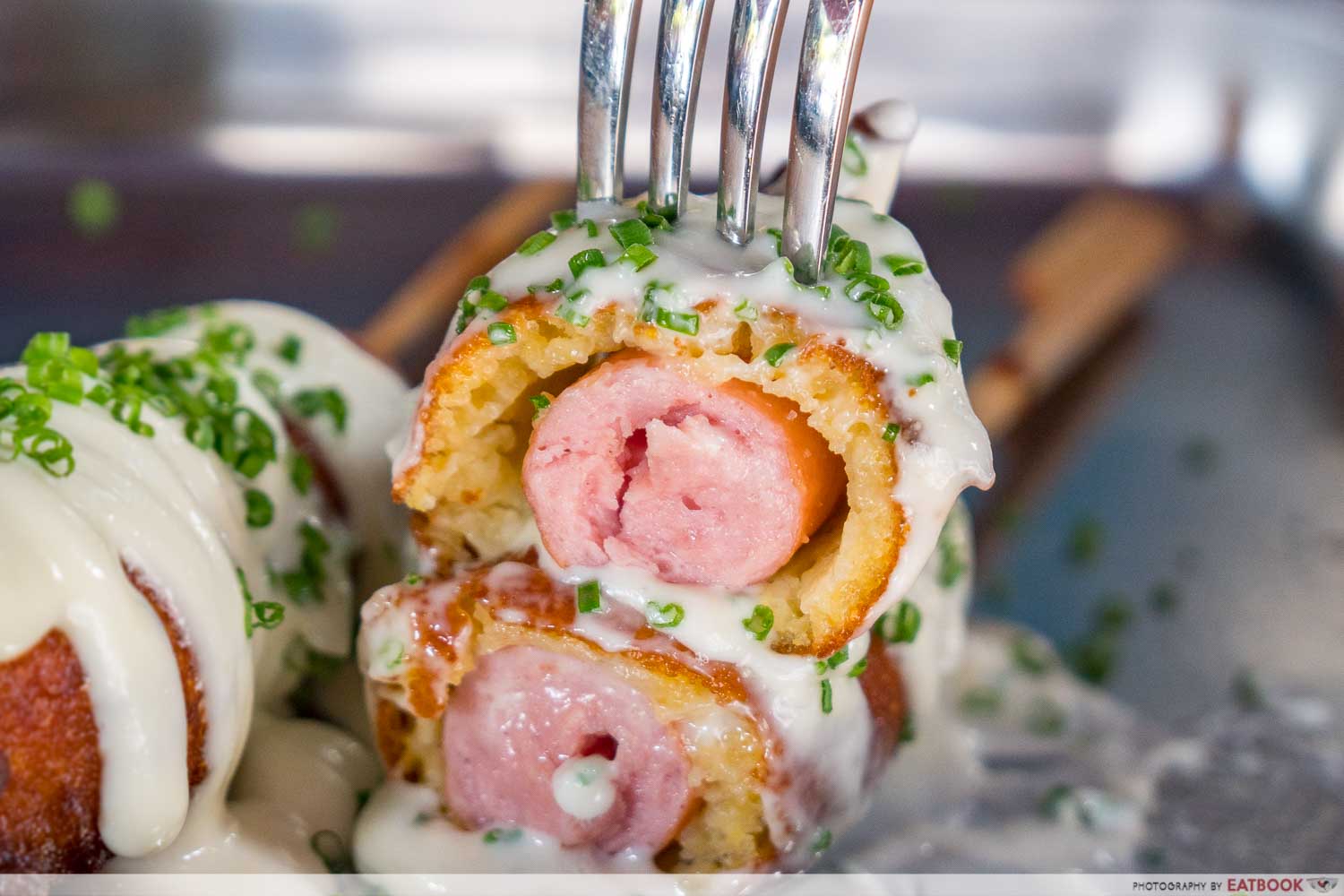 The accompanying parmesan mayo dressing tastes very much like sour cream and onion—a welcome, extra-sinful touch.
Whether you're a fan of the OG PBD menu and concept, or just happen to be hungry in Telok Ayer, the revamped Park Bench Deli is so worth the visit. I heartily recommend coming after 11am and braving the queue to get your fix, because their grilled cheese and lemon ricotta pancakes are a combo that will make your day all that much better. 
The Bravery Review: Muslim-Owned Cafe With Seafood Alfredo And Breakfast Steak
For more bites in the area, read our Telok Ayer cafe guide. Also, check out our The Bravery review, as we try out the new menu from another one of Singapore's longstanding cafes, as they settle into their new Telok Ayer address.
Address: 179 Telok Ayer Street, Singapore 068627
Opening hours: Tue-Sun 9am to 3:30pm, 5pm to 10pm
Tel: 6815 4600
Website
11 Telok Ayer Cafes Serving French Crepes And Fried Chicken Sandwiches For Brunch
Photos taken by Keith Kok.
This was a media tasting at Park Bench Deli.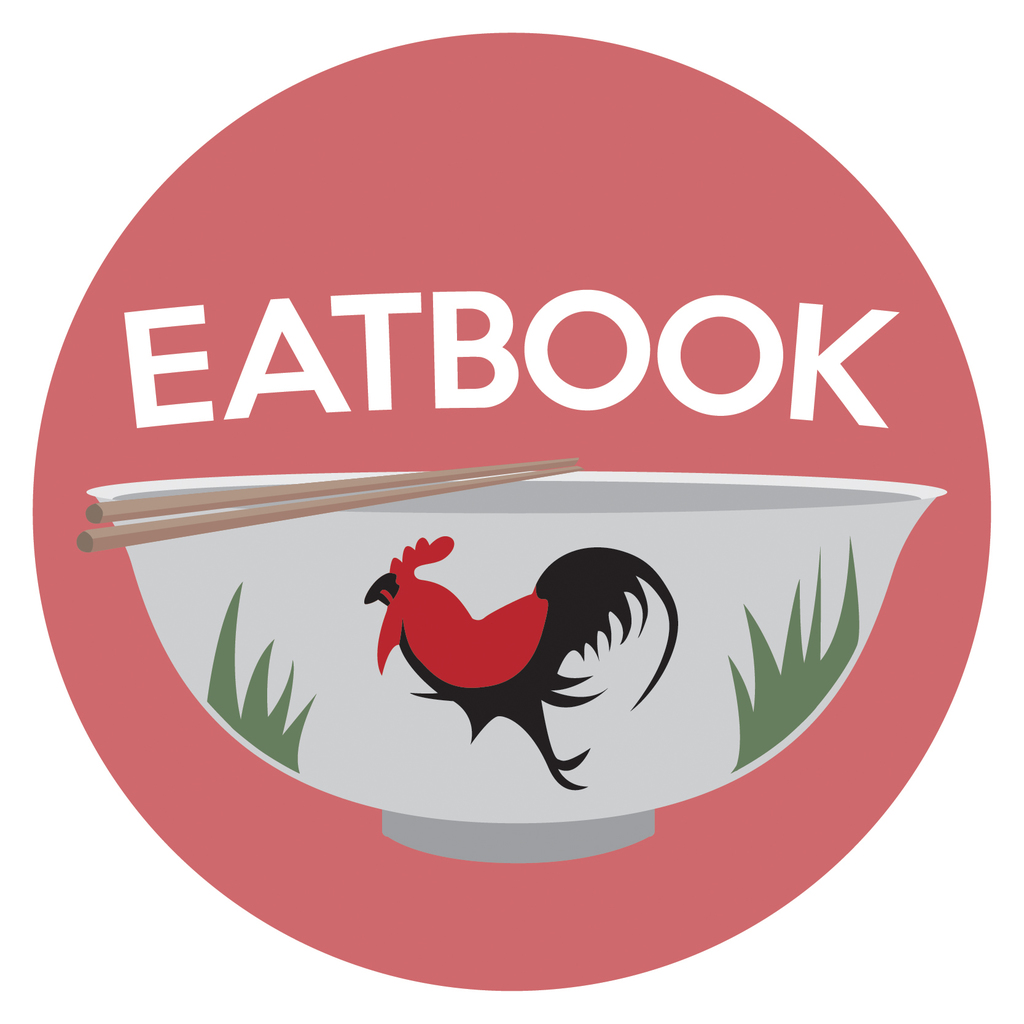 Drop us your email so you won't miss the latest news.