Lola's Cafe Holland Village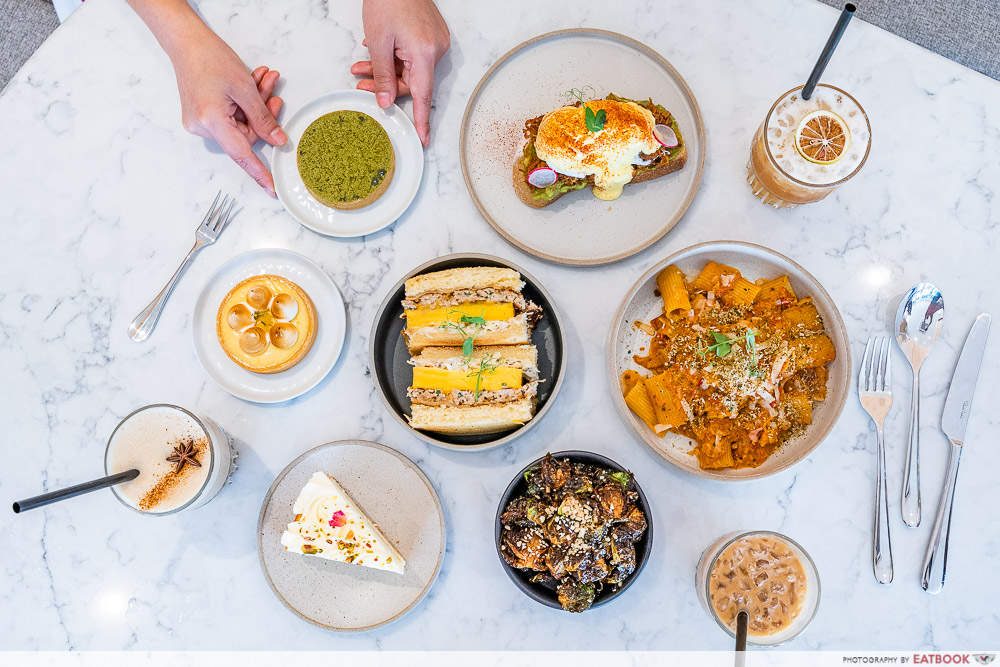 I've been to the orginal Lola's Cafe in Kovan a grand total of twice, mainly because it's so far away from where I stay. I constantly hear my friends who stay in the area raving about them, but the FOMO wasn't great enough for me to make the journey there.
So when they opened their second outlet in Holland Village, it was with deep satisfaction that I received this news, since they're now in my corner of the world too—thus necessitating a visit to the gorgeous new cafe.
Food at Lola's Cafe Holland Village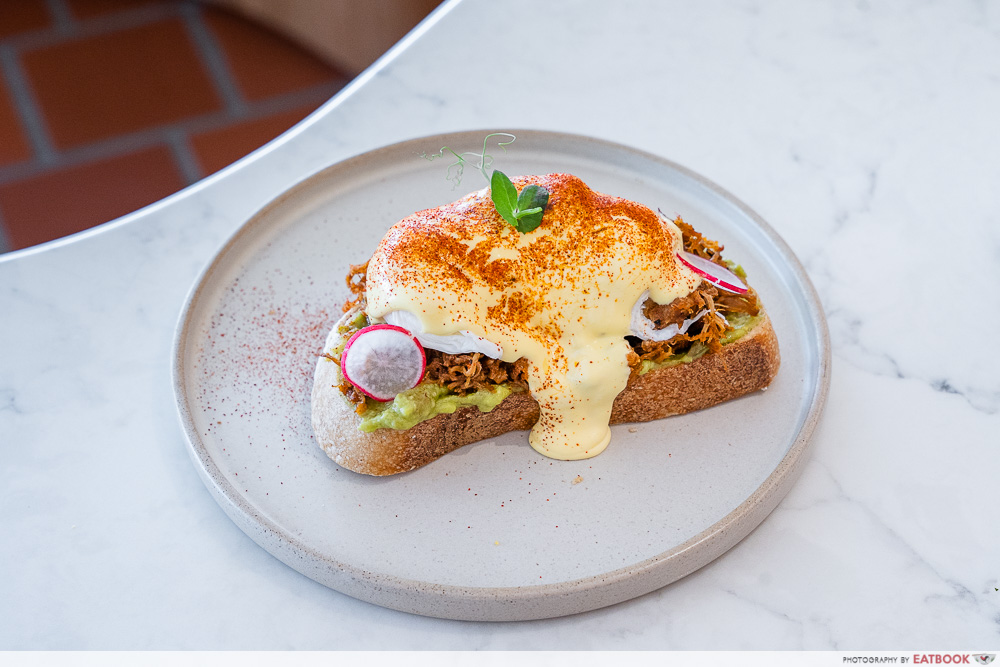 The menu at Lola's Cafe in Holland Village is similar to their OG Kovan branch. Their brunch selection, available from 9am to 3pm daily, includes favourites such as Lola's Breakfast ($23++) and Pulled Pork & Avocado Eggs Benedict ($18++).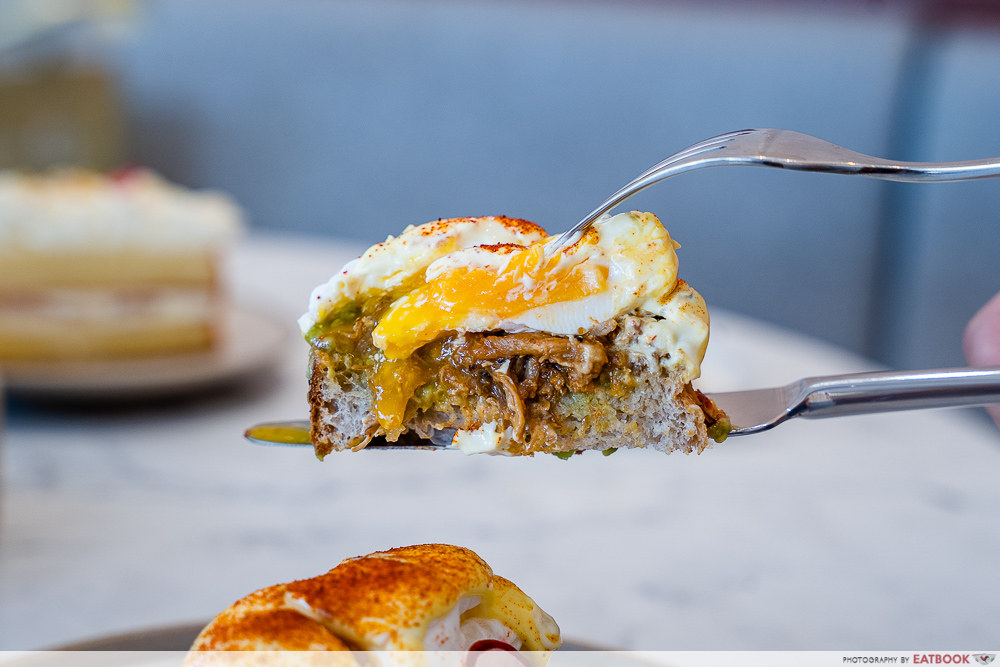 The Pulled Pork & Avocado Eggs Benedict is one of their most popular brunch items, and it's not hard to see why. Served in a neat stack with a slice of sourdough as its base, it's then layered with smashed avocado, six-hour smoked chipotle pulled pork, poached eggs, and hollandaise sprinkled with smoky paprika.
This was deeply flavourful, with the smattering of paprika contrasting the light tanginess of the hollandaise, and adding an extra smoky depth to the pork. We did find the pulled pork a tad dry on its own, but you don't really realise this when you eat it all together.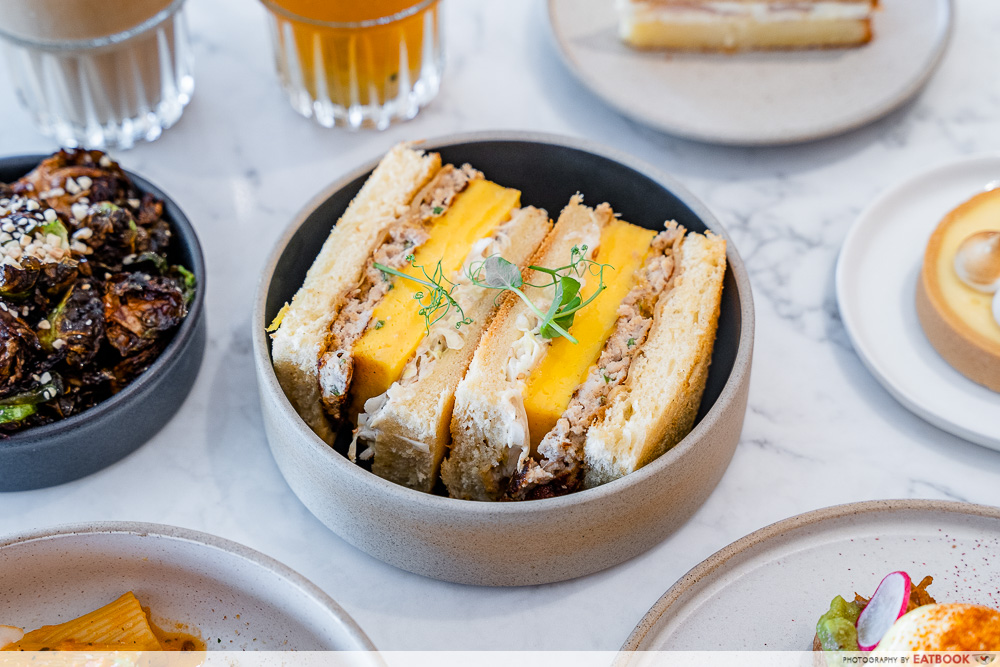 A new, outlet-exclusive dish is Tsukune Sando ($17++), which I was rather excited to try, because tsukune is a must-order for me whenever I spy it on a menu. Here, the Japanese chicken meatball is flattened into a patty, and sandwiched in brioche slices with tamagoyaki, pickled daikon, slaw, cheddar, and furikake mayo.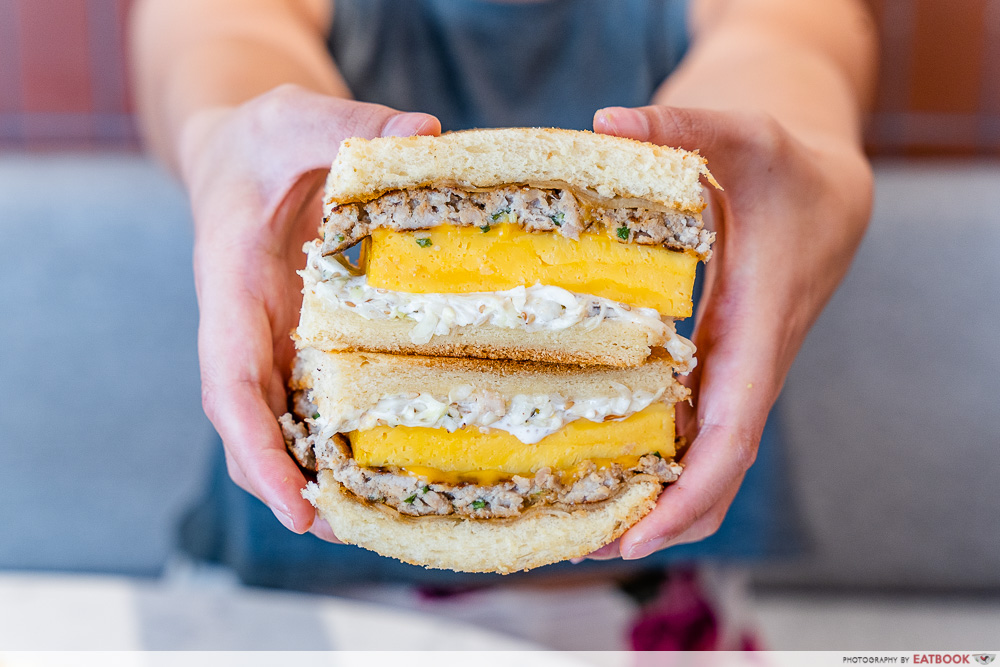 I wanted to like this, but I felt that the tamagoyaki was too dense and overshadowed the tsukune, the latter of which was actually pretty tasty on its own. I also wished they had used shokupan instead of the eggy brioche, and Kewpie mayonnaise too, but this is my personal preference. It's still a work in progress since it's a new dish, so I'll give it a shot again next time.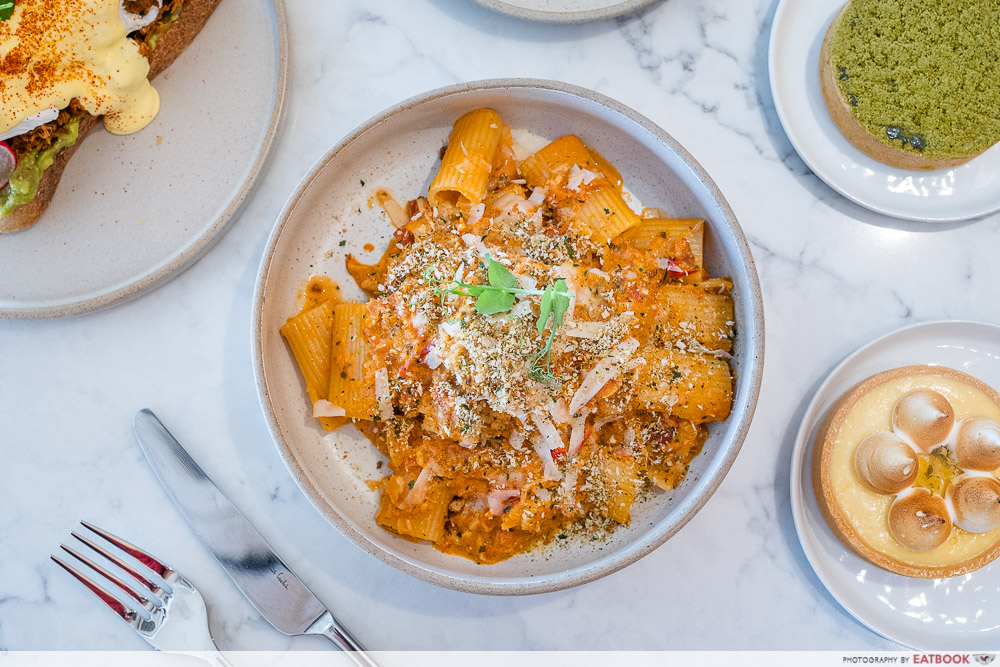 What I did enjoy was Spicy Crab Rigatoni ($20++), which is one of three Holland Village-exclusive pasta dishes. The choice of pasta was excellent, since its tubular shape and ridged surface caught the sauce perfectly.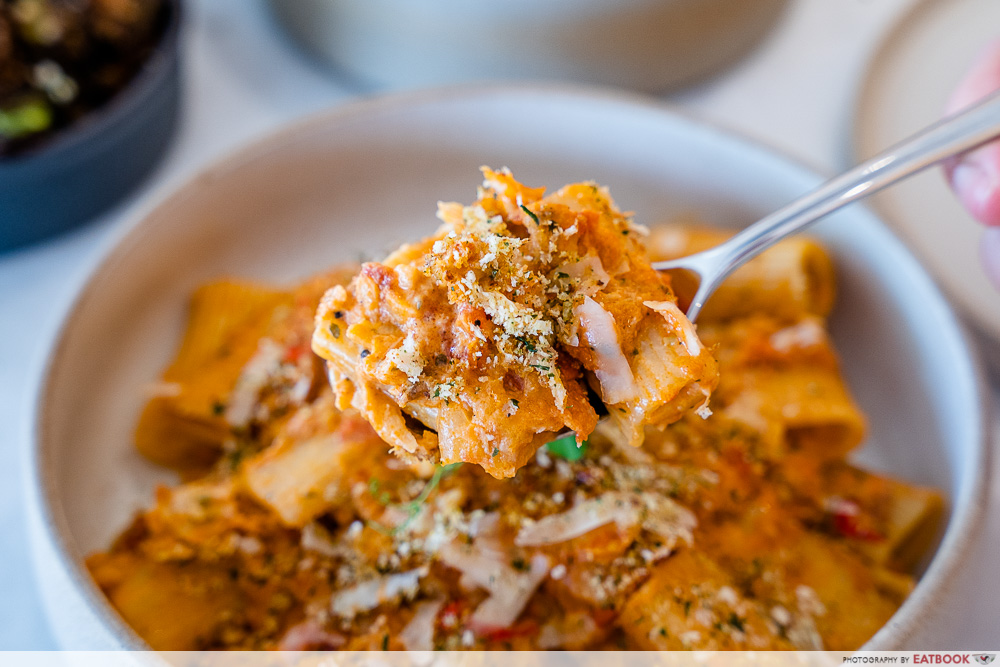 Blue swimmer crab meat, loved for its delicate sweetness, was used here. The crab meat didn't come in chunks but rather was evenly distributed throughout. I also appreciated how they hadn't gone overboard with the spiciness.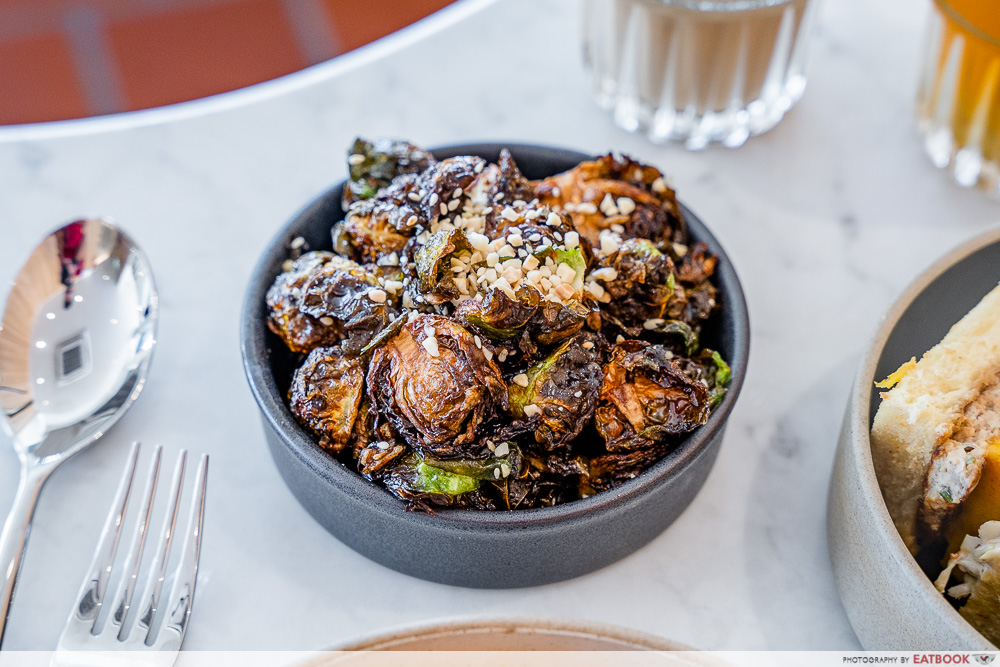 If I had to only pick one dish that I'd eat every single time I'm here, it would definitely be the Charred Brussels Sprouts ($12++). Almost every piece was evenly charred, but not overly so as to taste burnt. Adding to the deep, smoky caramelisation of each Brussels sprout was a super addictive, slightly honeyed black garlic glaze—I loved it.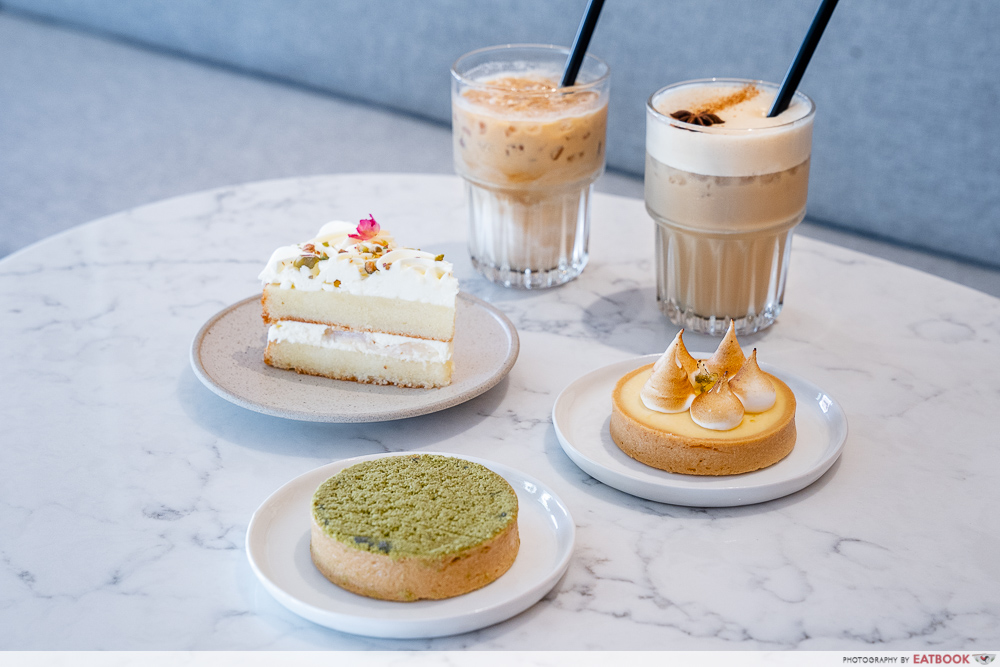 Lola's is known for their desserts, so we couldn't leave without trying some too. Seeking a respite from the heavier flavours of our mains, we went for Lychee Rosewater Cake ($6.50++), where rosewater scents both the vanilla sponge and buttercream, with thick lychee slices between the layers, and crushed pistachio and dried rose petals atop.
The flavours of this cake satisfied what I was looking for, but we found the cake sadly a touch dry.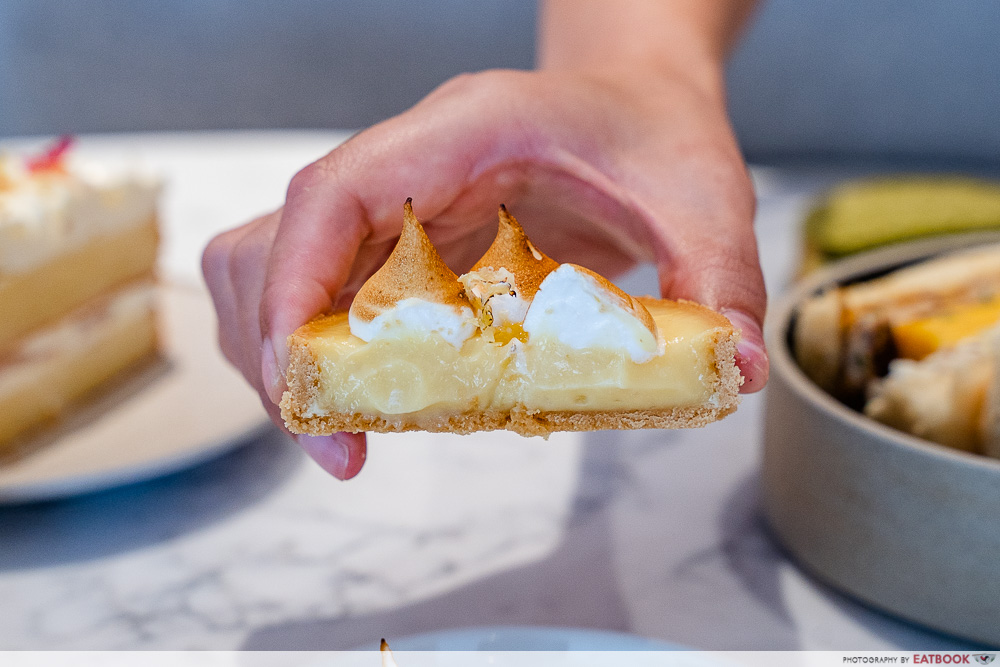 Moving on to the Lemon Meringue Tart ($7++), which my dining companion's other half simply adores. We found it pleasantly tart. I really liked the slices of candied lemon peel, which I could do with more of, greedily. The tart also scored points for not being overwhelmed with too much meringue.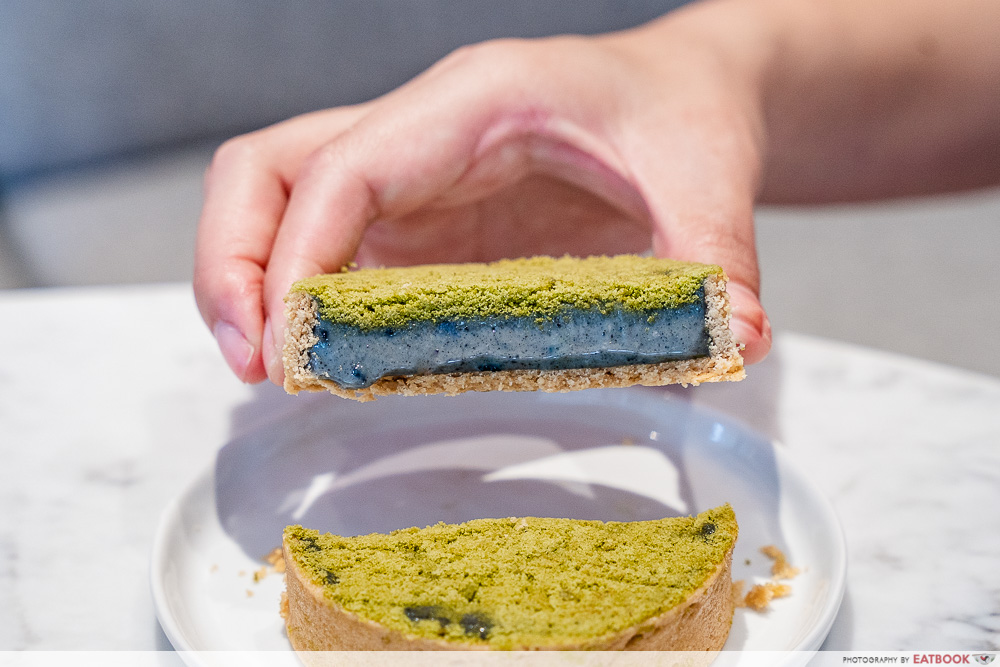 The unaminous favourite of our desserts was the Black Sesame Tart ($7++), which cut open to reveal oozing black sesame white chocolate ganache—mimicking the traditional Chinese dessert, zhi ma hu, AKA black sesame paste. Don't be put off by the mention of white chocolate, because you wouldn't even know it was there.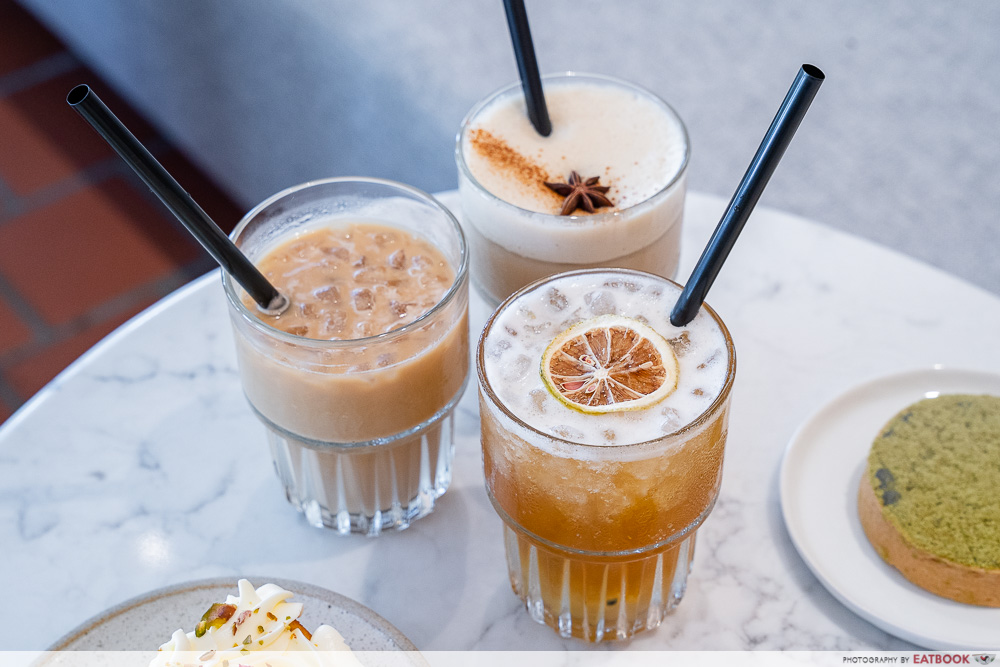 Order a coffee, such as the White (from $5.50++), and you get to pick between the house and seasonal blends. I was also attracted to the aesthetic of their Chai Latte With Soy Milk (from $7++), and Iced Passion Fruit Earl Grey ($6.50++), both of which were easy drinking.
If you can't make it earlier in the day, there's a separate dinner menu starring one of Lola's Cafe's most popular dishes: Tuscan Seafood Stew ($23++). Items you'll only get at Holland Village are the Black Garlic Fried Chicken Burger ($18++) and Mushroom & Ricotta Ravioli ($20++).
Keong Saik Bakery Opens At Holland Village, With New Miso Kouign-Amann And More
Ambience at Lola's Cafe Holland Village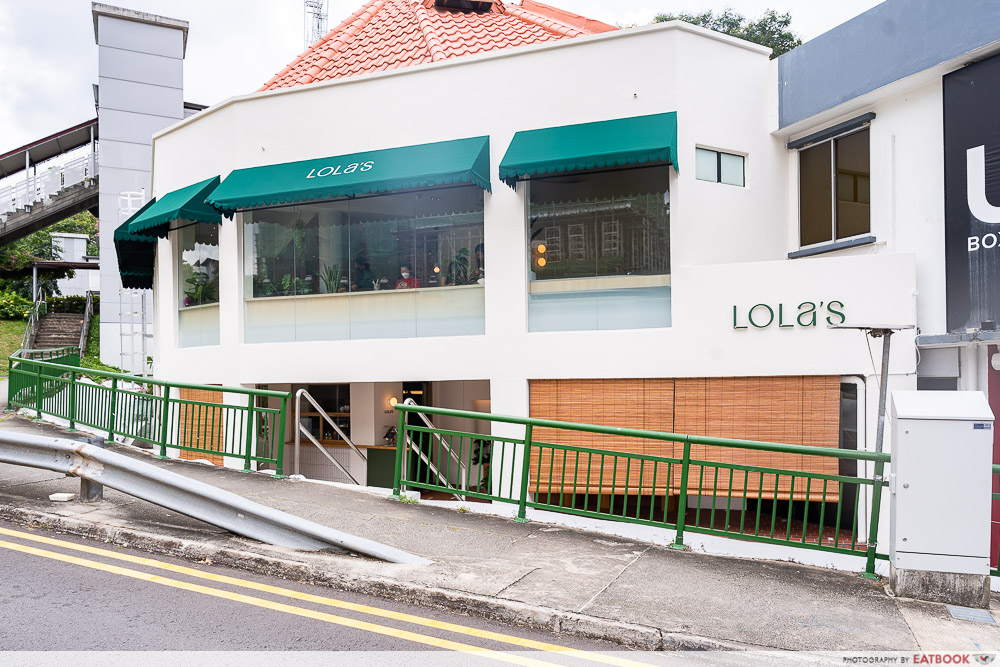 Lola's is a very short, four-minute stroll from Holland Village MRT Station—make sure to exit via the escalators on the Holland Village side, not towards Chip Bee Gardens. They've taken the large corner unit at the end of Lorong Mambong, giving them space for air-conditioned seats upstairs. There are also outdoor seats on the first floor, although these are sheltered from the elements and ventilated with fans.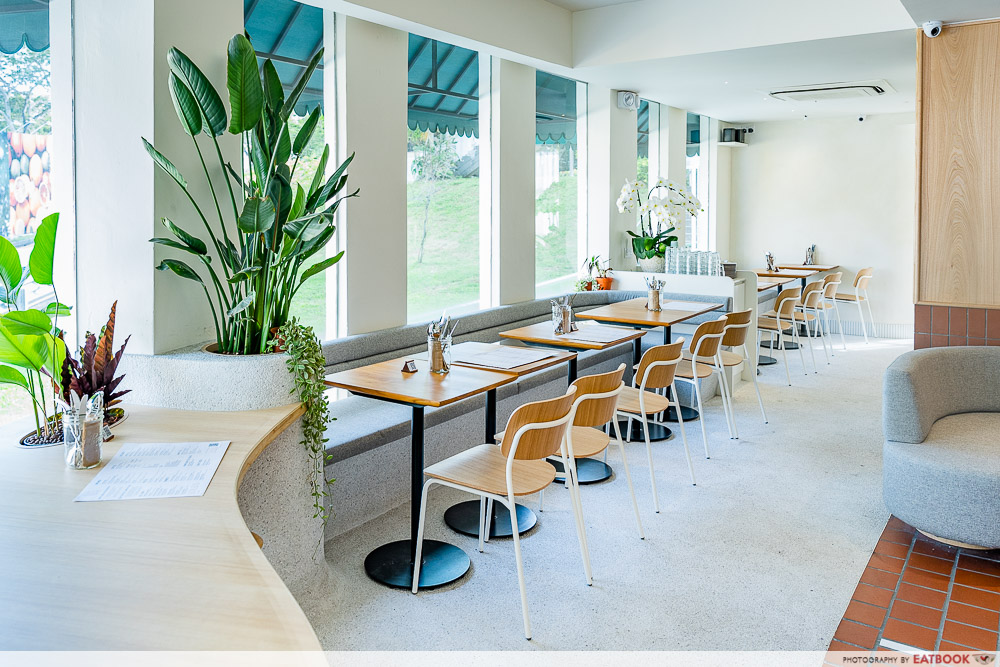 The space is Scandinavian in design, decked out in trendy neutrals and earthy tones. The high ceiling, greenery, and sinuous, rounded furniture lend softness and flow to the cafe. There are long, curved couches with cushioned seats and backrests around bigger tables, and counter seats against the window—so there's a dining space for dining parties of every size.
The verdict
Cafe food might indeed be DIY-able at home at much more wallet-friendly prices, but it comes as a whole experience that I'm more than happy to pay for. It doesn't hurt that the sundrenched interiors of Lola's HV are exactly what I like, whether it be alone time, or for brunch with friends. Now I can rave about my own Lola's experiences, too.
If you're not joining the crowds at Lola's Cafe, pop over to Keong Saik Bakery at Chip Bee Gardens for some pastries instead. Otherwise, there's also Wang Dae Bak at Holland Piazza if you're looking for something more substantial.
Address: 48 Lorong Mambong, Singapore 277699
Opening hours: Tue-Sun 9am to 9:30pm
Website
Lola's Cafe is not a halal-certified eatery
Wang Dae Bak Korean BBQ Opens In Holland Village, With Angus Ribeye And Pork Belly Sets
Photos taken by John Lery Villanueva.
This was a media tasting at Lola's Cafe Holland Village.
Lola's Cafe Holland Village Review: New Scandi-Style Cafe With Outlet-Exclusive Tsukune Sando And More
Lola's Cafe Holland Village Review: New Scandi-Style Cafe With Outlet-Exclusive Tsukune Sando And More -

8/10
Summary
Pros
– Generous portions
– Food was generally tasty and well-executed
Cons
– Tsukune Sando could be improved
– Lychee Rosewater Cake was a little dry
Recommended dishes: Charred Brussels Sprouts ($12++), Spicy Crab Rigatoni ($20++), Black Sesame Tart ($7++)
Opening hours: Tue-Sun 9am to 9:30pm
Address: 48 Lorong Mambong, Singapore 277699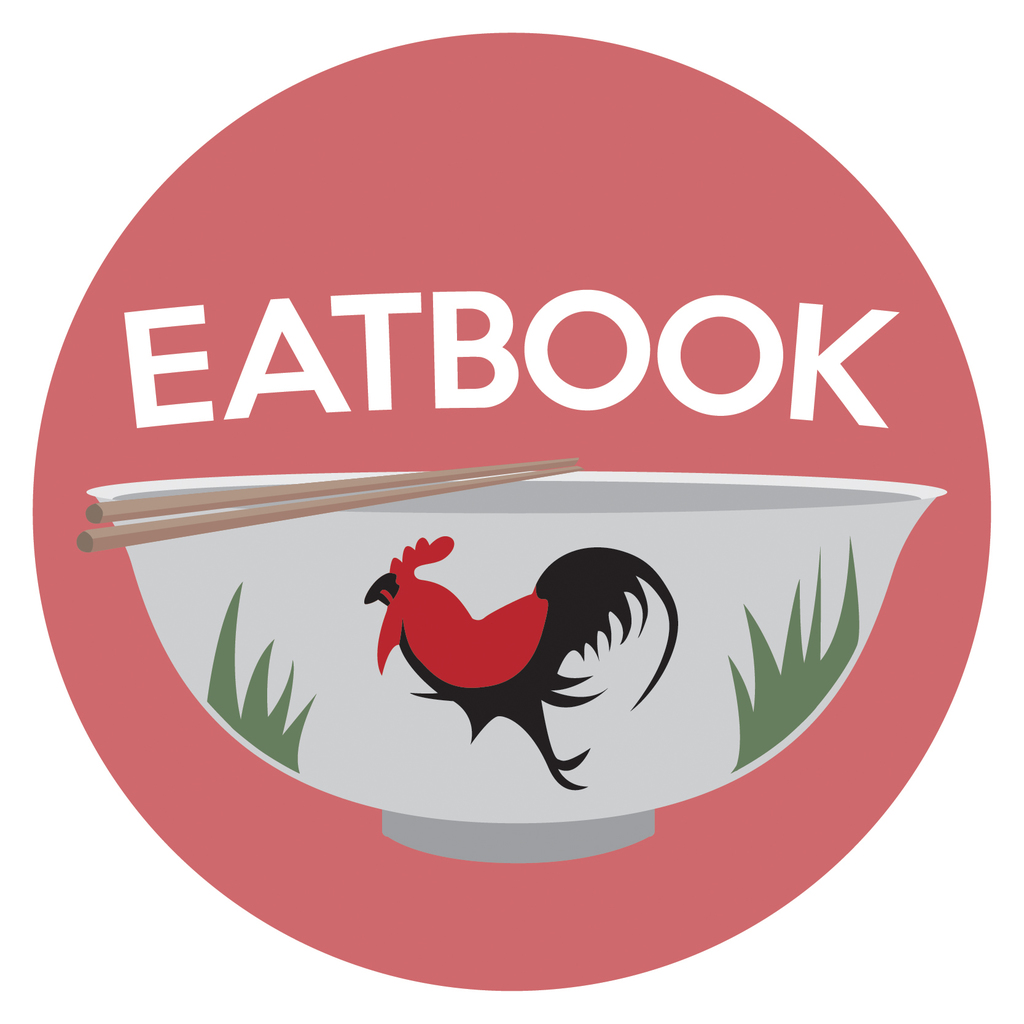 Drop us your email so you won't miss the latest news.