Breakfast Grill in East Coast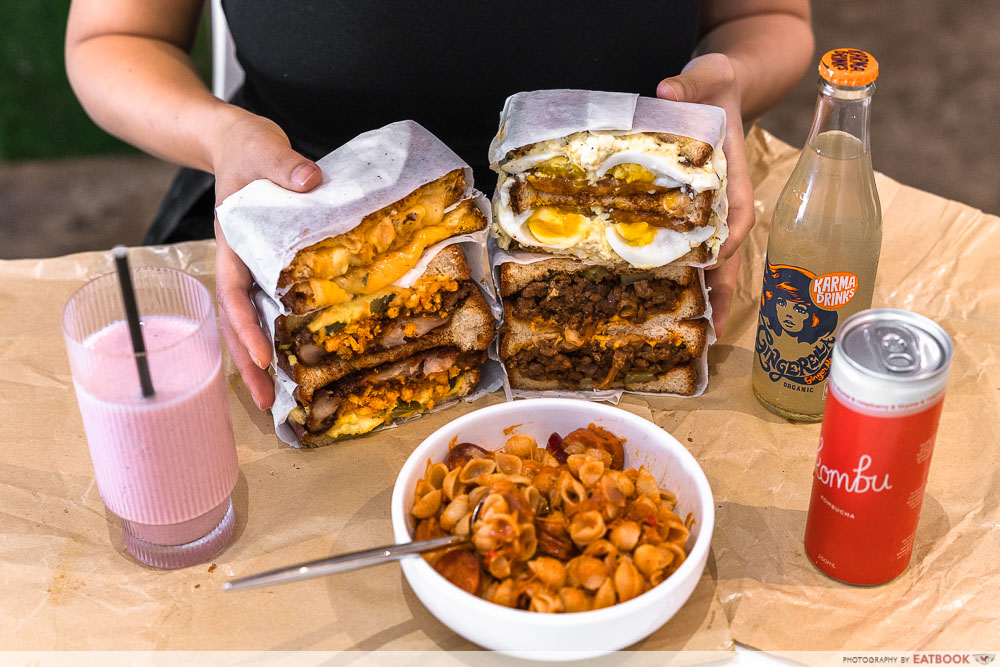 It's simply human nature to find excess appealing—to a certain extent. It's why we love indulging in buffets and get excited when we see XXL-anything. So when I chanced upon newly-opened Breakfast Grill and its thicc, super-stuffed sandwiches, I was immediately drawn to them.,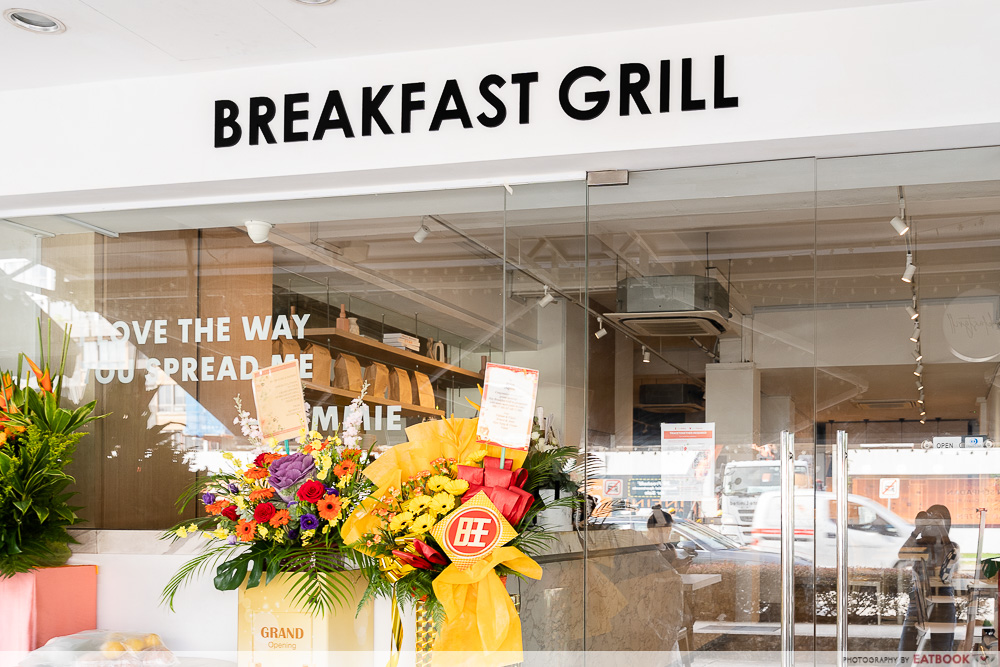 If you're familiar with the Siglap-Joo Chiat area, you'll know of Penny University and Beach Road Prawn Noodle House—Breakfast Grill is nestled within this same stretch of shophouses, located just down East Coast Road from Chin Mee Chin Confectionery.
Food at Breakfast Grill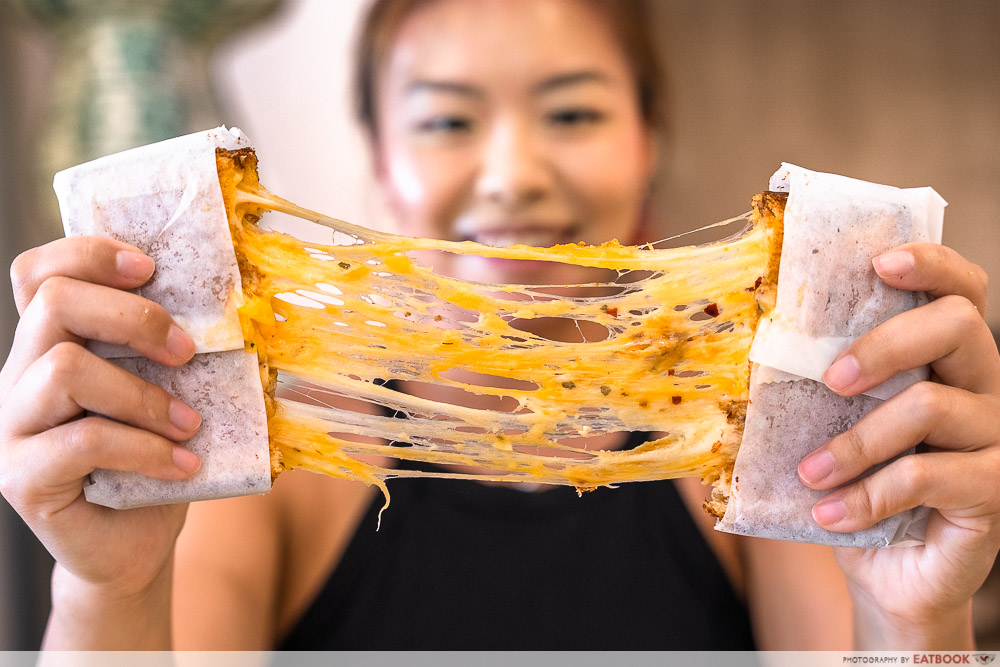 The menu at Breakfast Grill is uncomplicated, with nine All Day Sammies, an assortment of sides, and a selection of Bites that are only available after 11am. Prices for the sammies range from a basic Cheeses ($11), to the more complex Hot Chick ($16), stuffed with scrambled eggs, a whole chicken thigh, and even Cheetos!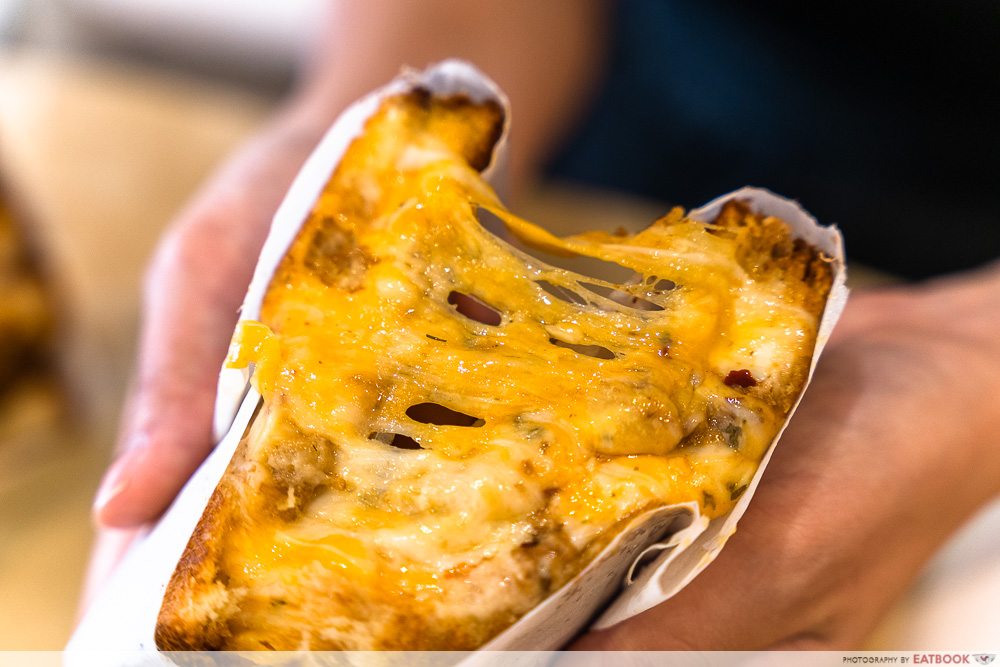 Every sandwich here comes innocuously wrapped in brown butcher paper, except for Cheeses, which is presented in a brown, wax paper baggy. Relative to its chonky peers, it arrived looking sadly flat, though that appearance is woefully deceiving.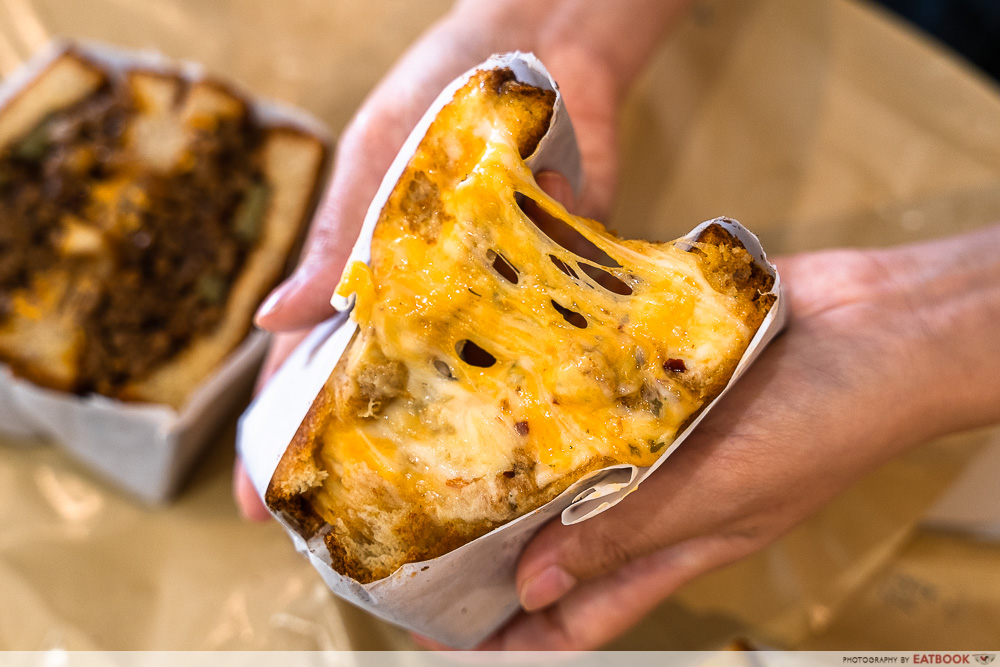 I highly recommend digging into this immediately if you're looking for any cheese pull shots. And trust me, the cheese pull can get really epic, before it cools and gets stringy, but no less tasty. The blend of mozzarella, red and white cheddar, Colby Jack, and mozzarella balls made for an intense cheese fest, while the house-made garlic spread, speckled with parsley and chilli flakes, took away some of the richness.
Grilled cheese sandwiches and Tomato Soup ($5) are a match made in heaven, so I'm happy to report that this latter element, prepared in-house, also features on the menu here.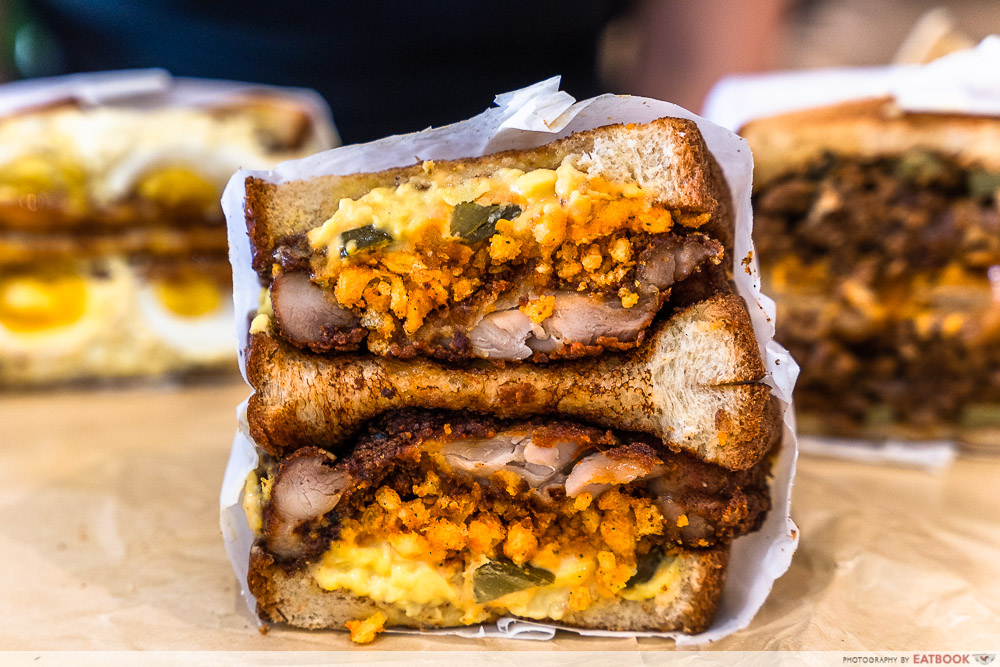 Choosing a favourite of the sandwiches I tried is tough, but Hot Chick stands out for the crushed Crunchy Cheddar Jalapeno Cheese Flavoured Cheetos that add a bright pop of colour and flavour in what could have been just another chicken sandwich.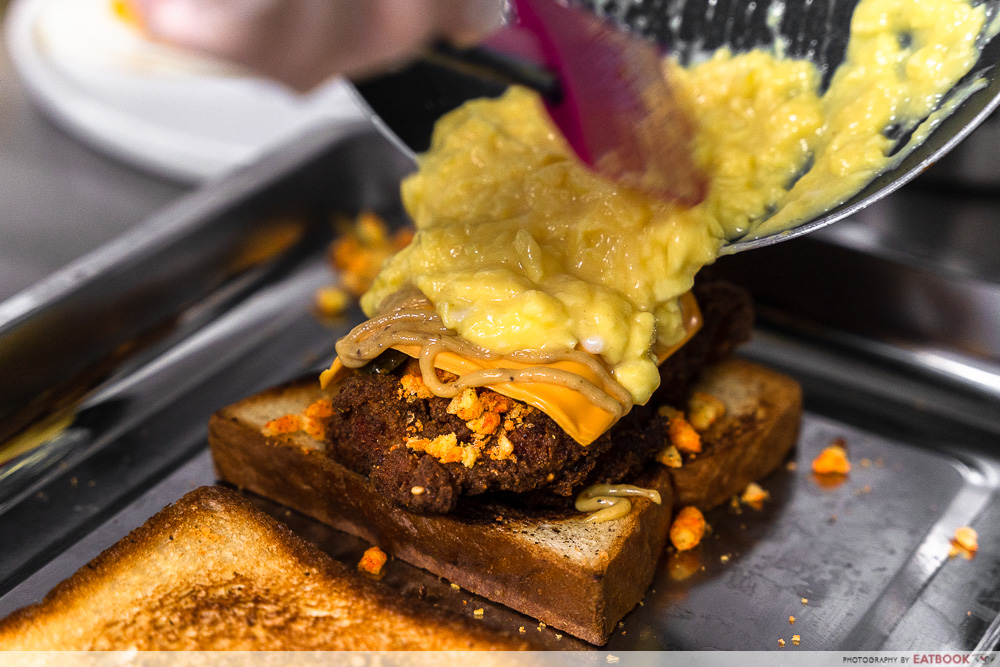 The whole sandwich is a pleasant riot of texture and flavour: there's five-spiced, deep-fried chicken thigh—crunchy outside, juicy within—oozy cheese, creamy eggs scrambled a la minute, crisp, sourish pickled jalapeno peppers, and lots of savoury, mildly spicy Cheetos. It's all tied together with an umami house-made garlic aioli and evenly toasted brioche.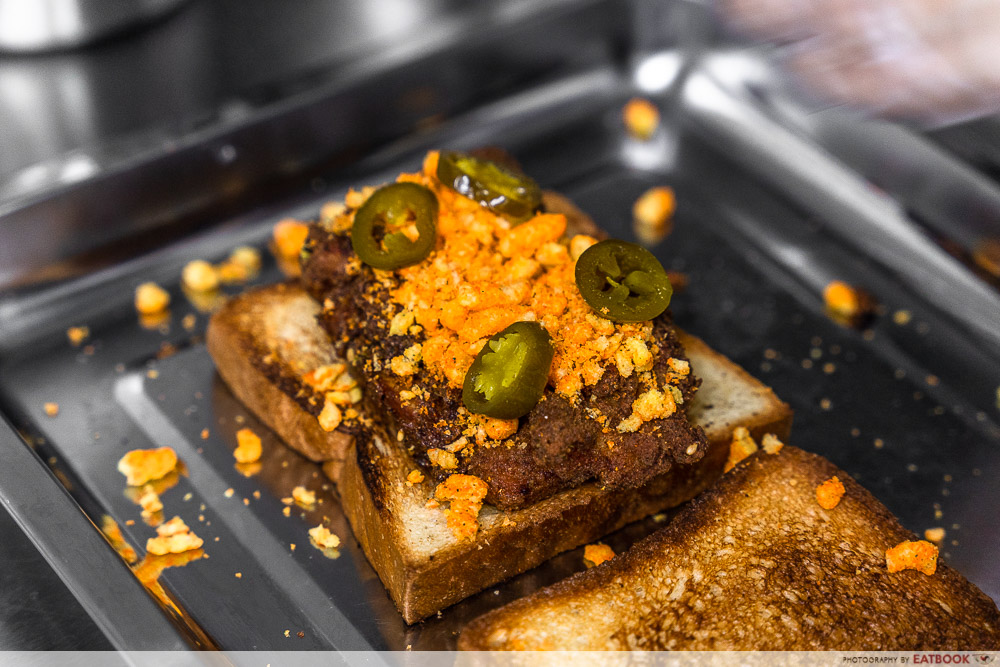 It sounds like a lot is going on, but it really is a harmonious blend. Do note that if you're not eating this right away, the CHEETOS will lose their crunch, though it doesn't make it any less tasty.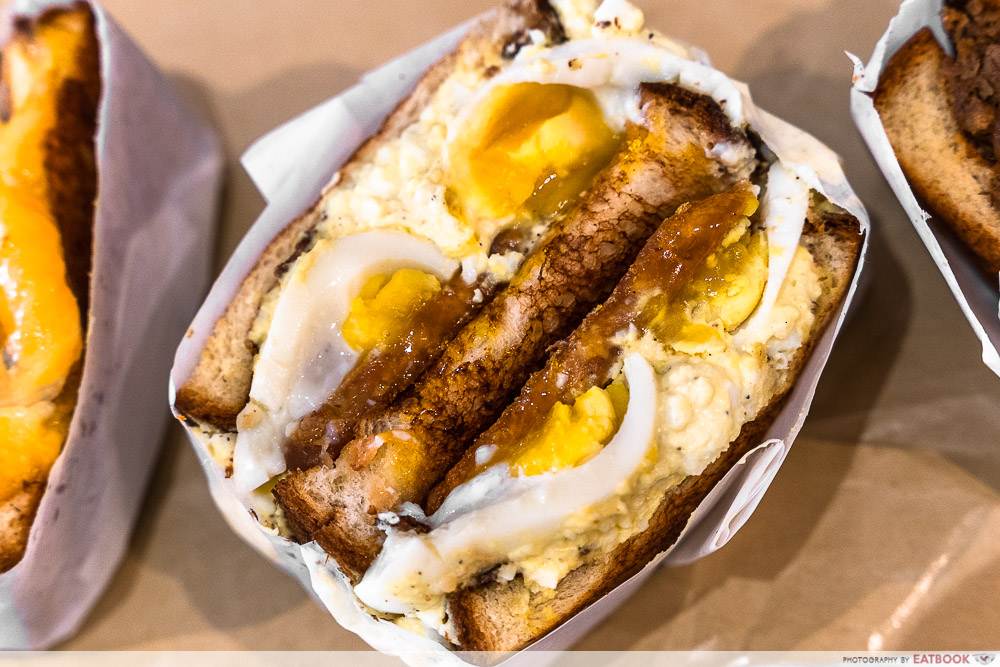 Sunday Cals ($13) draws inspiration from that konbini tamago sando that was all over social media at one point. This one fell a little short on the presentation scale, where the eggs weren't placed with that pinpoint precision so they're all of even halves—but that's just nitpicky.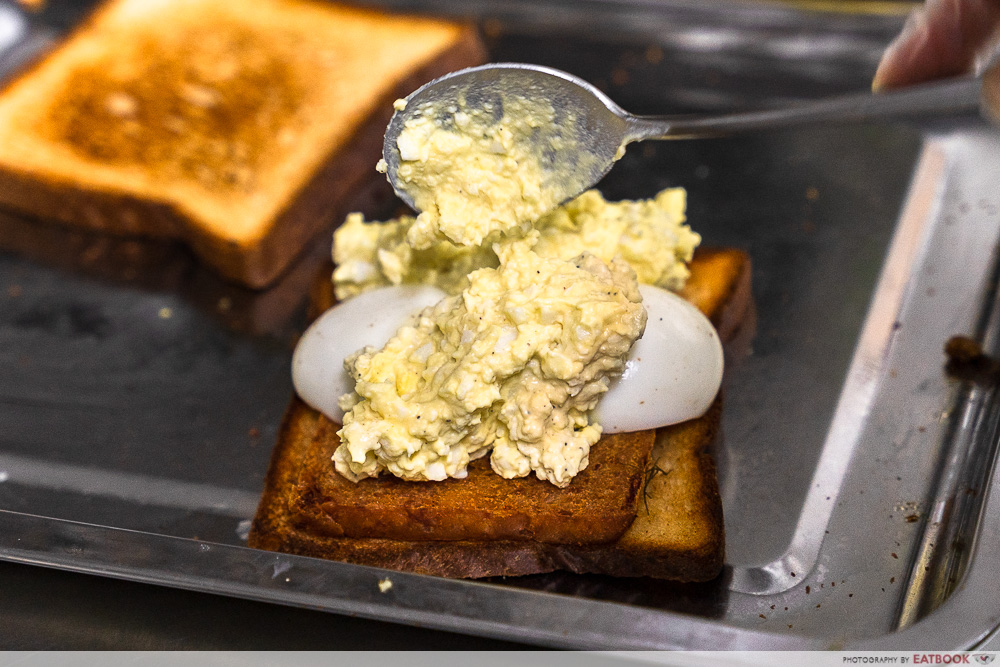 $13 may seem pricey for an egg mayo sandwich, but apart from that whole soft-centred egg, there's a tonne of egg salad in Sunday Cals.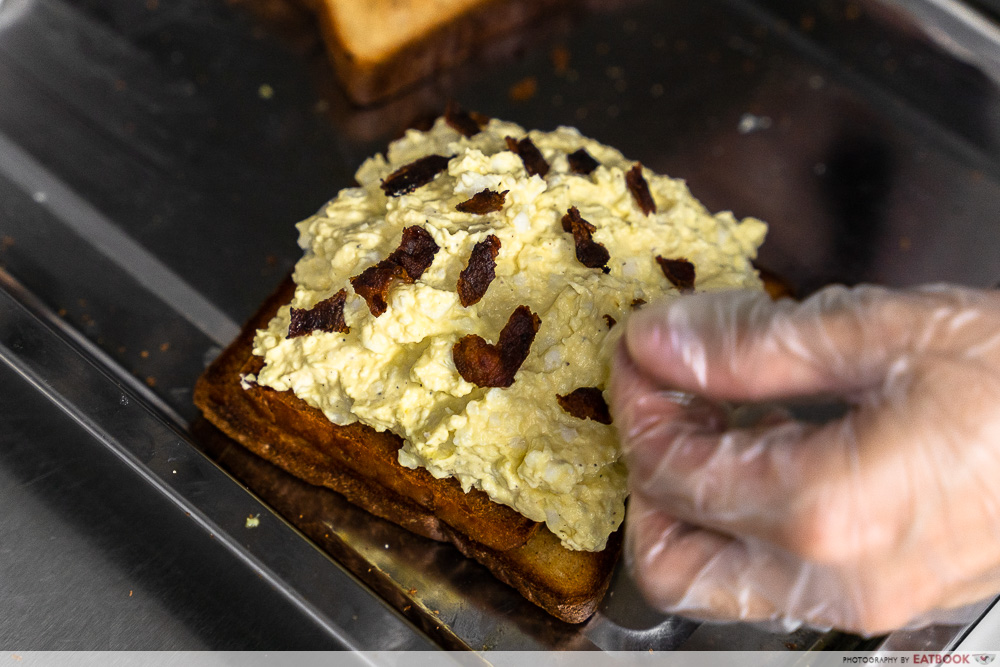 And to set it apart from all other egg sandwiches, there's a thick slice of Spam and bacon bits in this one. A plain egg sando does get a little monotonous in flavour sometimes, but I really like my processed meats, so there was no question that I'd like this one.
Plus points also go to Breakfast Grill for frying their own bacon, rather than using run-of-the-mill bottled ones.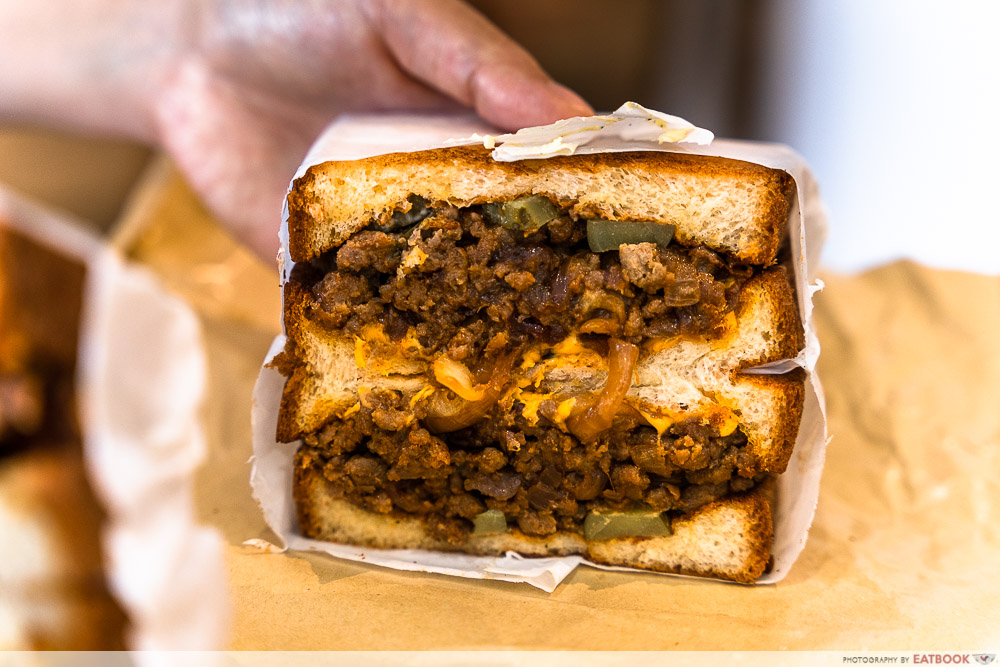 Another sandwich that we went for was the Cali ($14), a colossal beef-filled sammie accented with American cheddar and pickles—inspired by a love of cheeseburgers, except zhnged-up with spicy beef.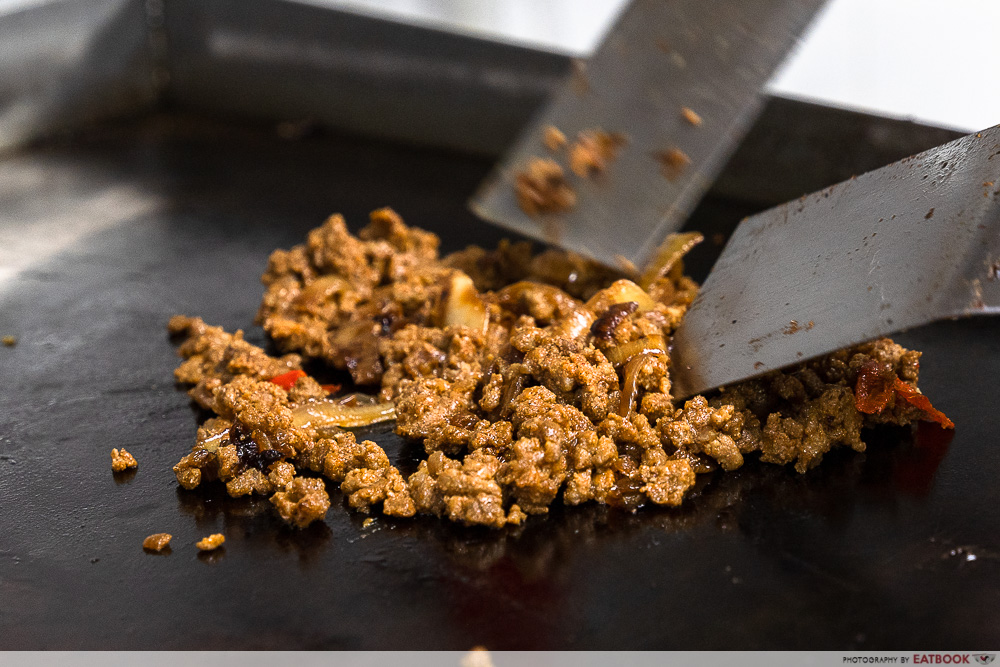 My only quibble with this was the 90% lean beef, which was a little dry upon reheating. It's probably juicier when fresh, but I do wish it was slightly fattier. I can see how the lean meat would make the sandwich much more guilt-free, though.
The beef is fried to order with a house blend of spices and onions, which lend a natural sweetness to the savoury meat. Extra steps such as this mean you should expect to wait up to 20 minutes for your sandwiches, so plan some allowance for that while they work at streamlining the processes further.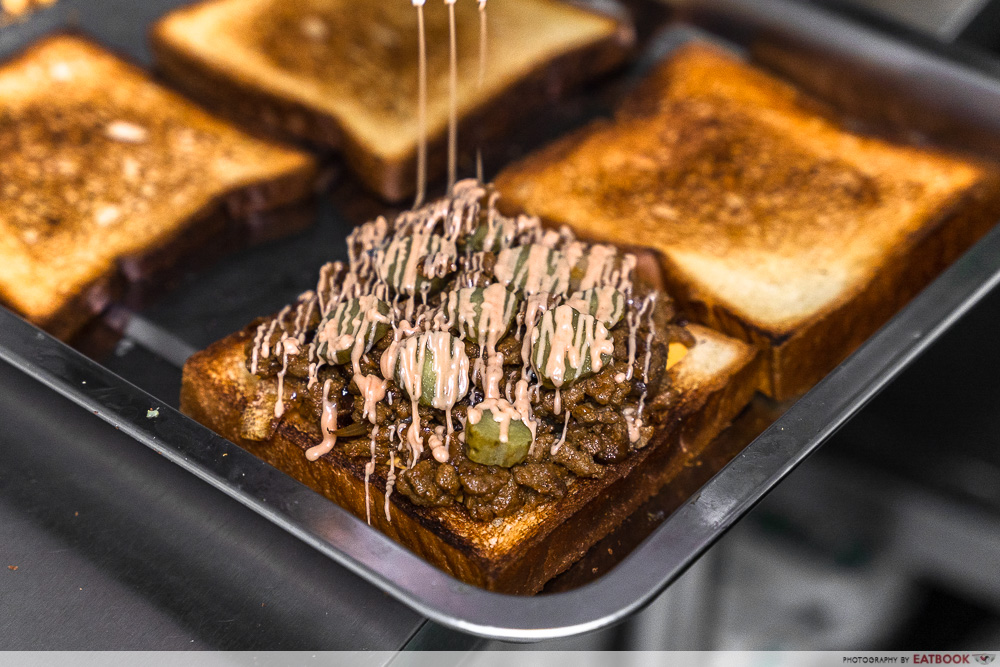 Brightening the flavour profile of this sandwich is their house-made special sauce. I liked that it was subtle and added to the sammie, without overwhelming the rest of the ingredients.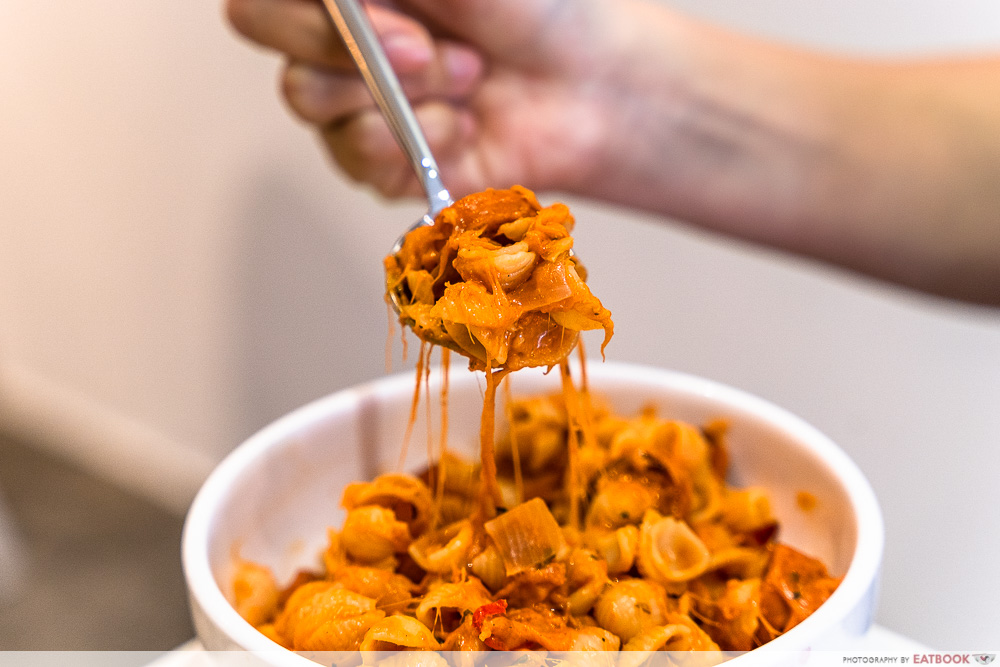 If none of the nine sandwiches tickles your fancy, there's also Chorizo Maccas ($15.50), which we had in place of Chicken & Waffles ($22). The latter is a side dish that's described as fried chicken and waffle sticks, but sadly it was unavailable when we visited.
We were no less pleased with the sizeable bowl of mac n' cheese. With bits of onion, and generously studded with lightly spicy chorizo, the tomato-based pasta bowl was rather moreish. It's prepared with no less than three different cheeses, including mozzarella for that 'gram-worthy pull!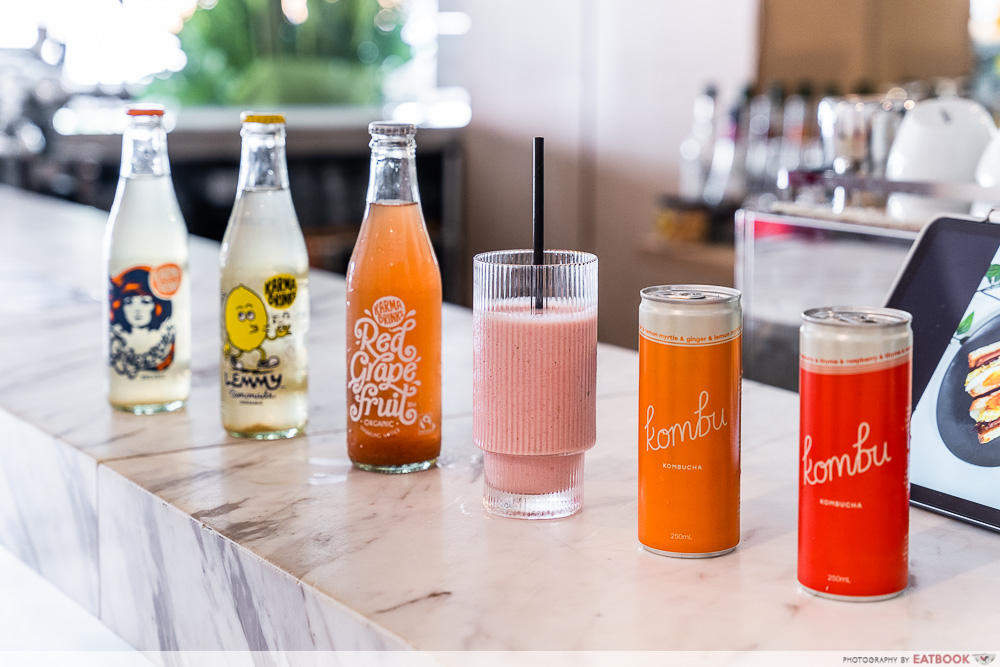 Besides your standard coffee and tea selection, Breakfast Grill also has a range of cold-pressed juices, kombucha, fizzy drinks, and a pair of shakes. We had the Strawberry ($10), which I was pleased to hear had no added sugar or artificial colouring.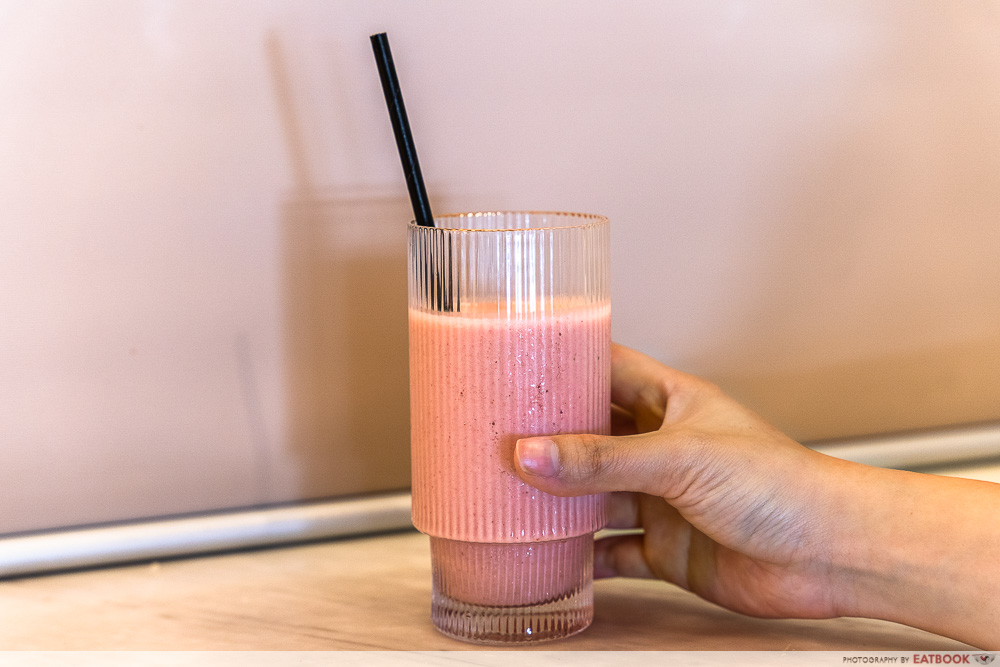 You taste the pulp of real fruit, which gives it a candy pink hue, and it's not too thick from too much vanilla ice cream. I also found out that they add Manuka honey, which gets an unquestioned tick in my books.
46 Mittsu Review: Thick Japanese-Inspired Sandwiches That Can Rival Sando, Korio And Two Men Bagel
Ambience at Breakfast Grill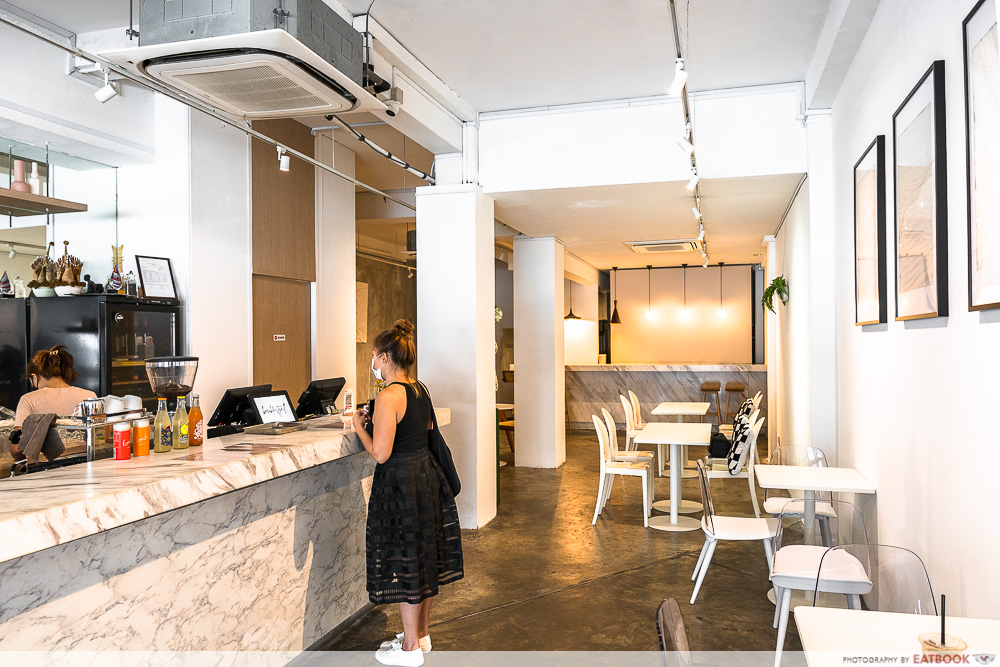 The minimalist white interiors of Breakfast Grill make for a chill breakfast hangout spot in the East. With only 27 spaced-out seats, including comfortable rattan armchairs in the back, it's cosy without being too squeezy.
They're approximately 13 to 14 minutes by bus from Eunos MRT Station, or anywhere between three and five bus stops away, depending on the service you choose. That's a 2km walk, if you're so inclined.
The verdict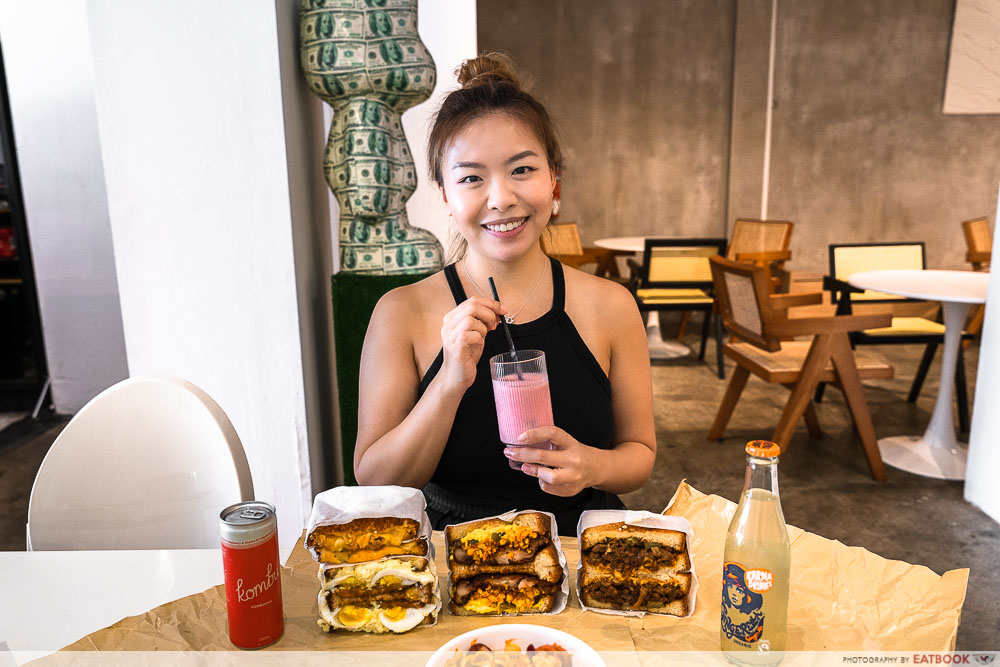 There is a care to detail in the sandwiches at Breakfast Grill that comes through in each bite. I also found out that their brioche, though purchased from a supplier, is specially made to their desired specifications so that it's the right amount of buttery. There's stiff competition when it comes to the loaded sandos market in Singapore, but Breakfast Grill holds their own, with prices that don't break the bank.
What's more, they're open every day from 8am, unlike most cafes that close on Mondays—if that's not proof of their dedication to serve the residents of East Coast and more, I don't know what is. As mentioned, expect to wait for your sandwiches, but do allow them these teething issues, since they've only just opened.
If you don't feel like getting out of the house, here's where you can get your sandwiches delivered. Otherwise, check out the more centrally-located 46 Mittsu, which blew our colleagues' minds when they visited.
Address: 380 East Coast Road, Singapore 428986
Opening hours: Daily 8am to 4pm
Tel: 8363 9502
Website
Breakfast Grill is not a halal-certified eatery.
16 Sandwich Stalls With Delivery Including Tonkatsu And Grilled Cheese Sandwiches
Photos taken by Chew Yi En.
This was a media tasting at Breakfast Grill. 
Breakfast Grill Review: Affordable Loaded Sandwiches Including A Cheetos Chicken Sammie In East Coast
Breakfast Grill Review: Affordable Loaded Sandwiches Including A Cheetos Chicken Sammie In East Coast -

7.5/10
Summary
Pros
– Very generous, tasty sandwiches
– Strawberry shake is prepared with real fruit and no added sugar
Cons
– Have to wait a while for your order
– Not very near an MRT station
Recommended dishes: Cheeses ($11), Hot Chick ($16), Strawberry ($10)
Opening hours: Daily 8am to 4pm
Address: 380 East Coast Road, Singapore 428986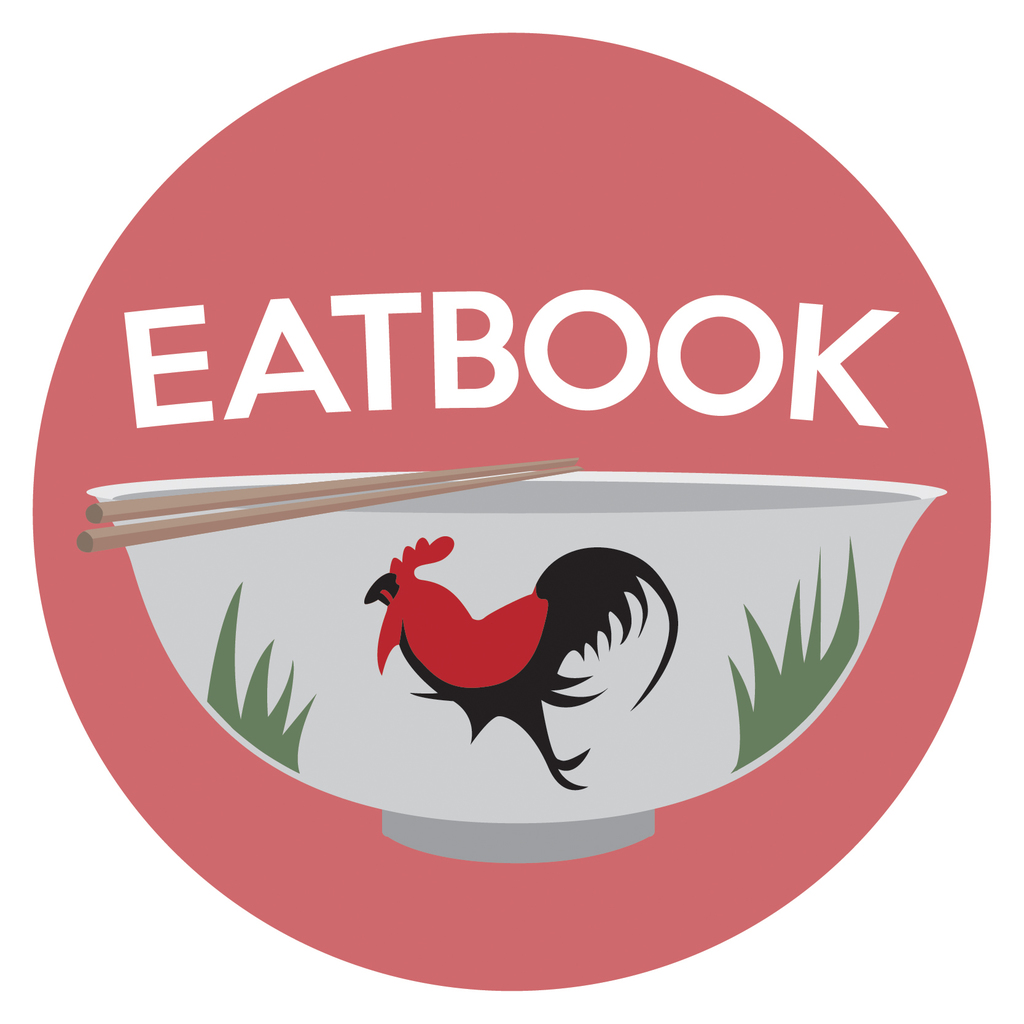 Drop us your email so you won't miss the latest news.