Equate Coffee opens its second outlet at Orchard Central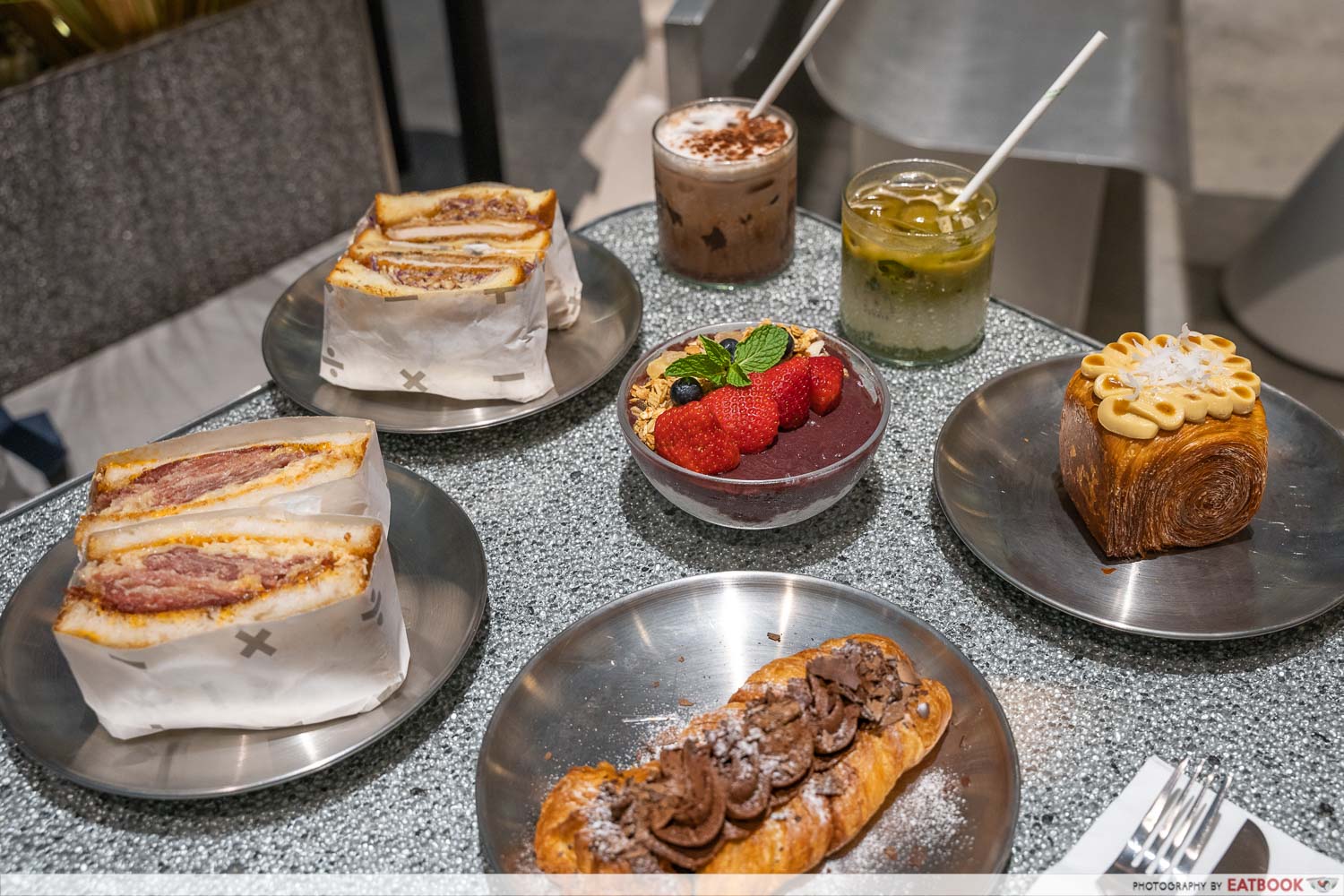 Equate Coffee recently opened its second outlet at Orchard Central last month, with an extensive menu of all-day brunch mains, pastries, specialty coffee and tea. My colleagues had been raving about the beautiful aesthetics of the cafe as well, which enticed me to visit them myself.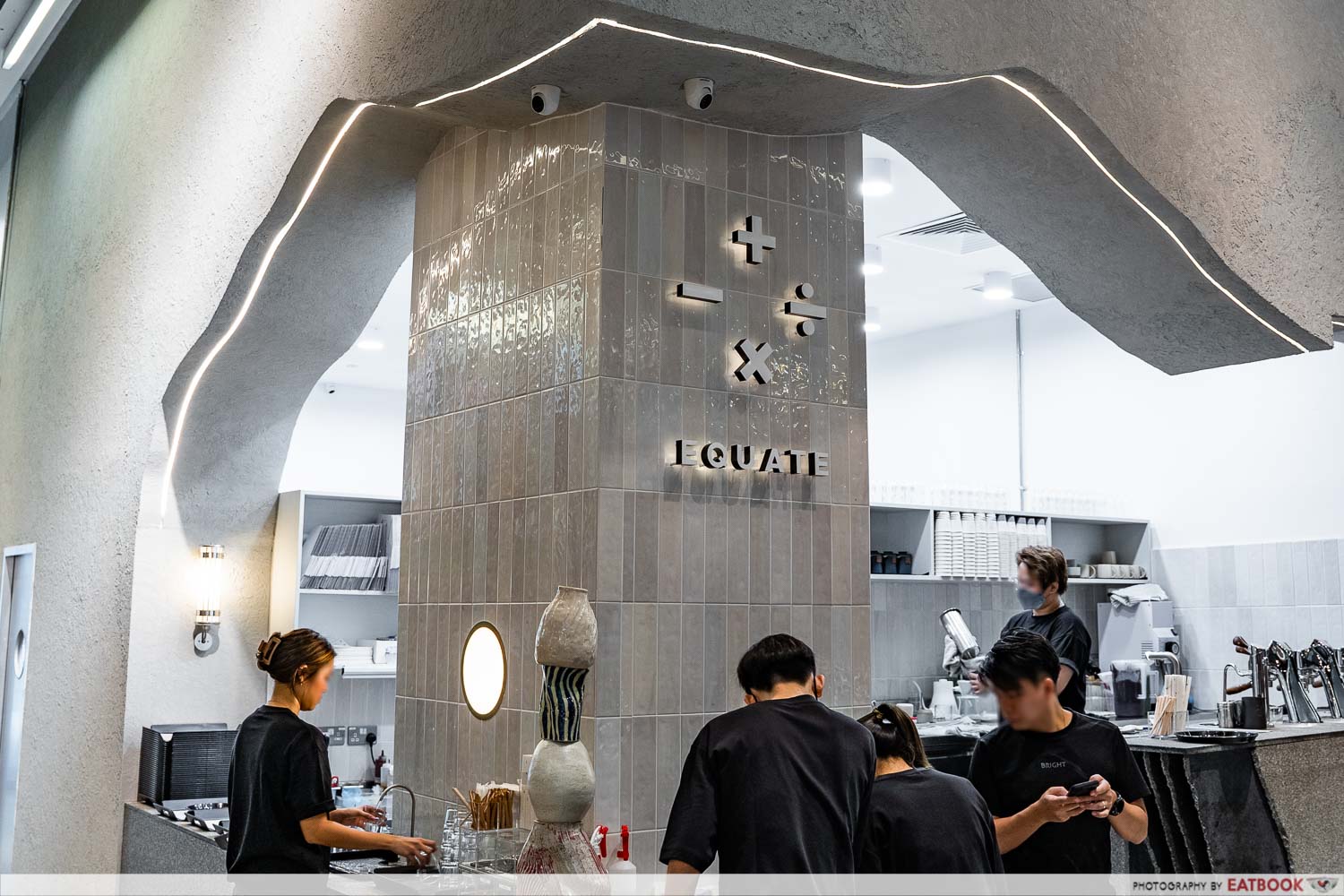 This popular minimalist cafe first opened at Tanjong Pagar Plaza, and is well-known for their pastries and filter roast coffee. While the menu here features most of the classic bakes from their original outlet, they've also added new items to their Orchard menu. What won my vote is that all the pastries and sandos are freshly baked in-house daily.
Food at Equate Coffee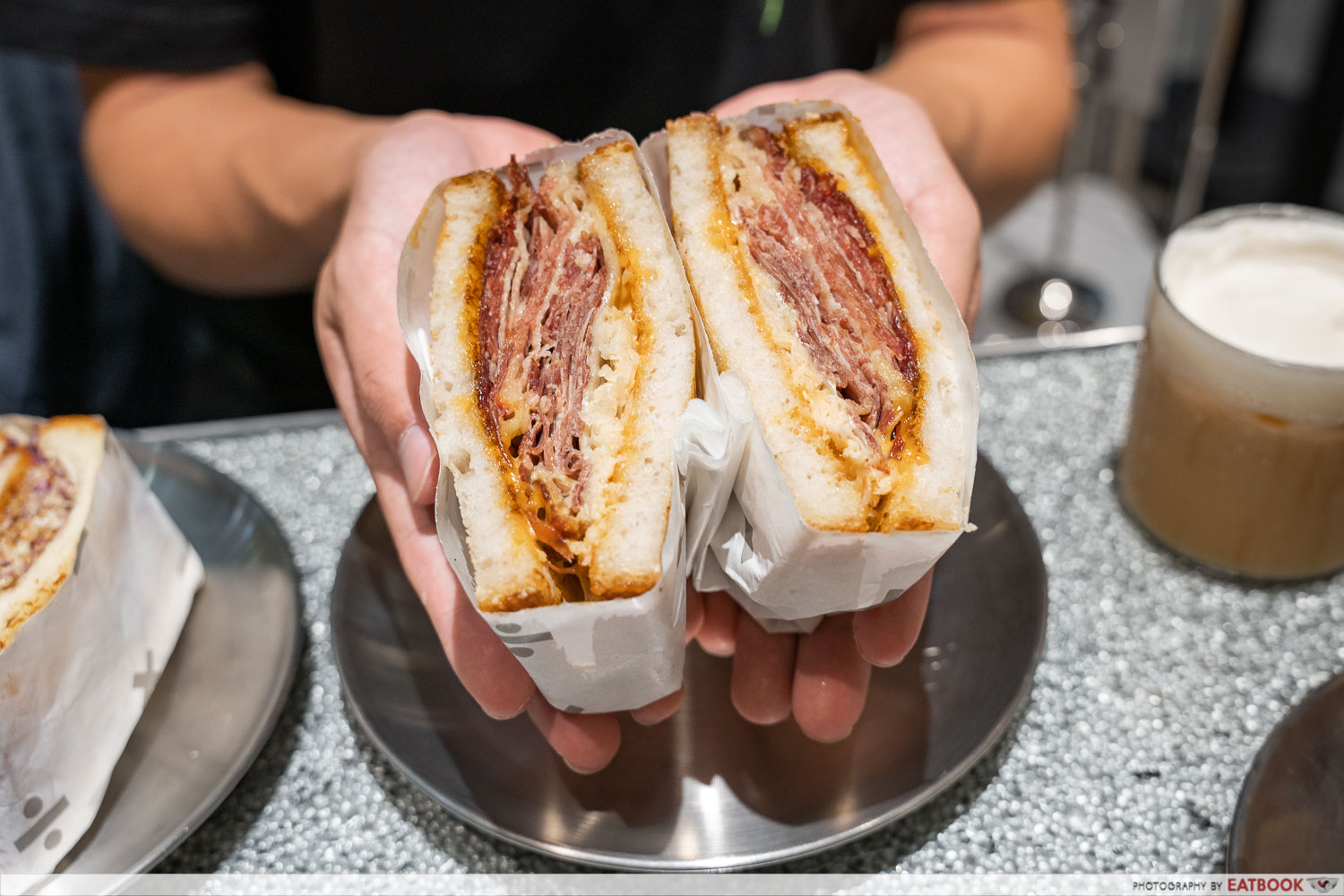 We started our meal with the newest addition to the Equate Coffee menu—the Rueben ($18.80), which came with house-made salted beef sandwiched between freshly toasted sourdough slices. 
The sando had a good bread-to-meat ratio, and I was pleased by how the sando was loaded generously with meat. The beef was also packed with a rich, savoury flavour: the result of being brined for five days and subsequently cooked using the sous vide method for one. Furthermore, the meat is said to be drizzled in a 'secret sauce', which added a nice umami depth to the sando.
Another plus point was the tangy sauerkraut and Emmental cheese, which gave the sando the right amount of saltiness and some variance in texture. 
We tried another one of their classic sandos, the Tonkatsu ($15.80), which starred Japanese panko-breaded pork loin, Emmental cheese and shredded cabbage, drizzled with sesame dressing. 
I'm not super familiar with sandos, but I noticed that the bread used in this sando looked different from the Reuben. My colleague pointed out that the Tonkatsu sando starred toasted milk bread, AKA toasted shokupan, which leans softer and fluffier. I enjoyed how I could easily sink my teeth into the soft bread and tender pork loin, though I would have preferred more sesame dressing for a stronger nutty flavour.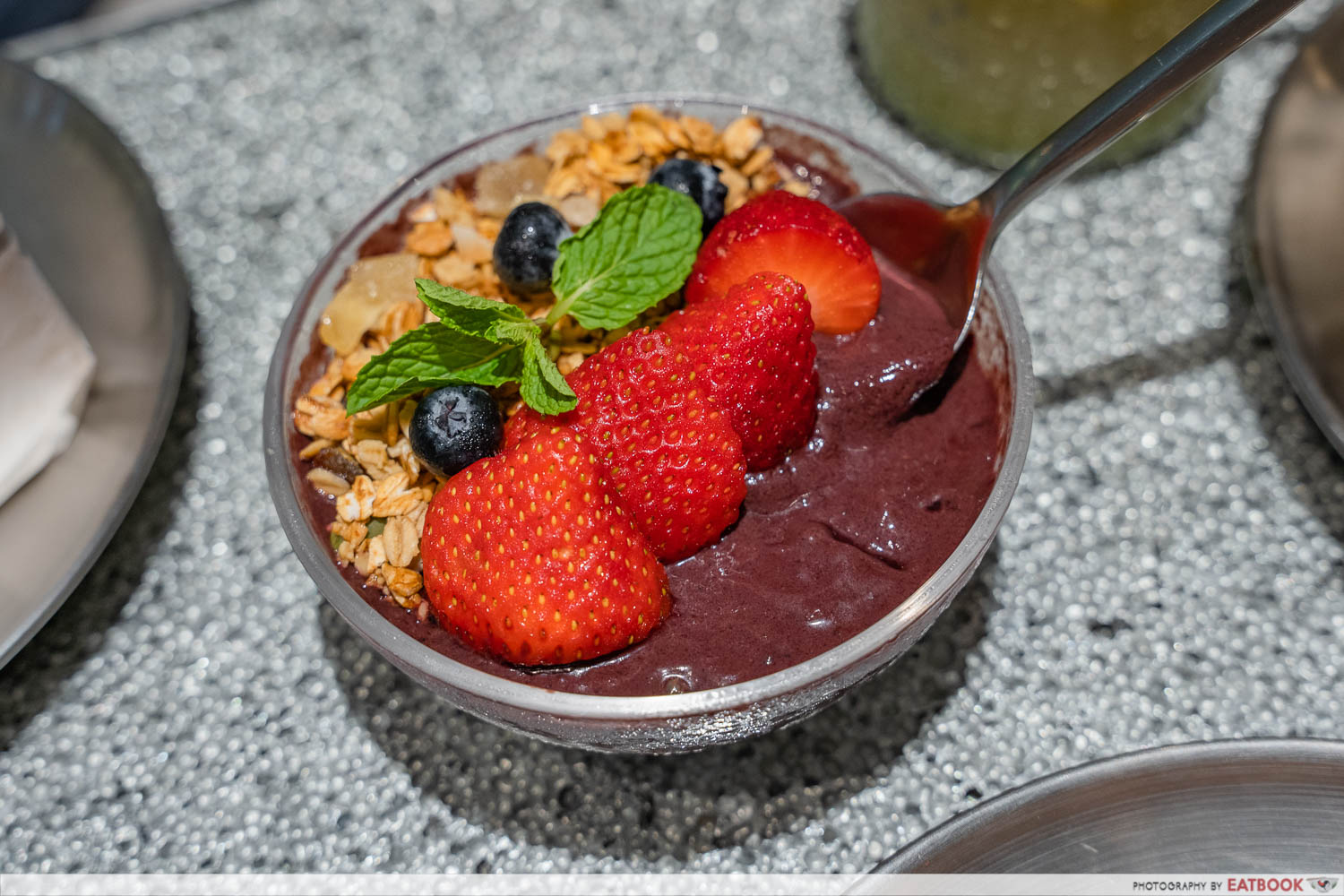 For something refreshing, you can also try the Acai Bowl ($11.80), which comprises fresh blueberries, strawberries and granola atop a house-made acai base. While I wished that there was more fruit, I liked how this bowl had a sweet layer of coconut pudding and basil seeds at its base, which gave the entire dessert a good mix of textures.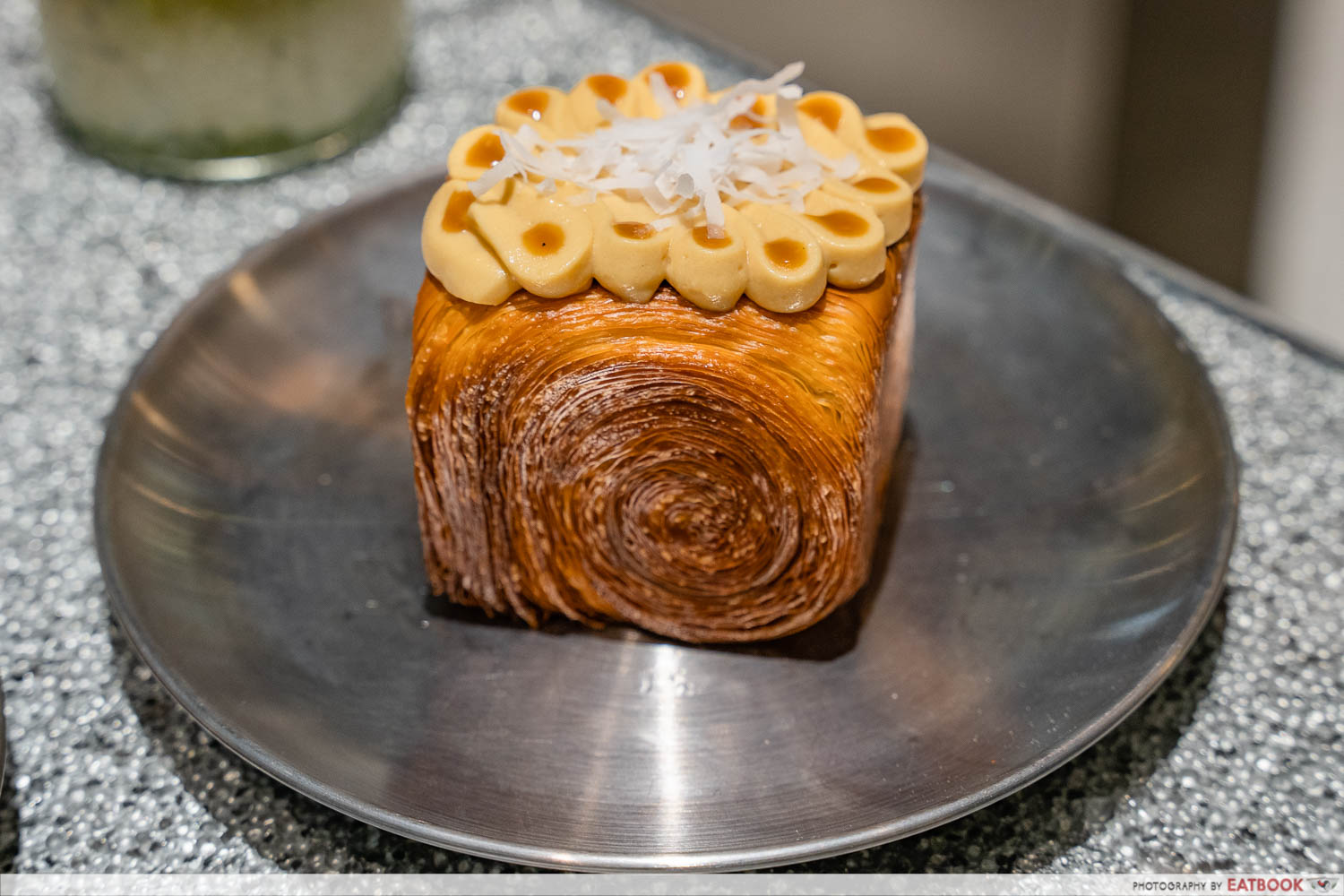 Sandos aside, we couldn't miss out on their pastries; most notably their signature croissants. We tried their new Ondeh Croissant ($7.80), which featured house-made gula melaka ganache oozing out of a cube-shaped croissant. The sweet, caramelised cream also had tiny coconut flakes, for some mild crunchiness to complement it all.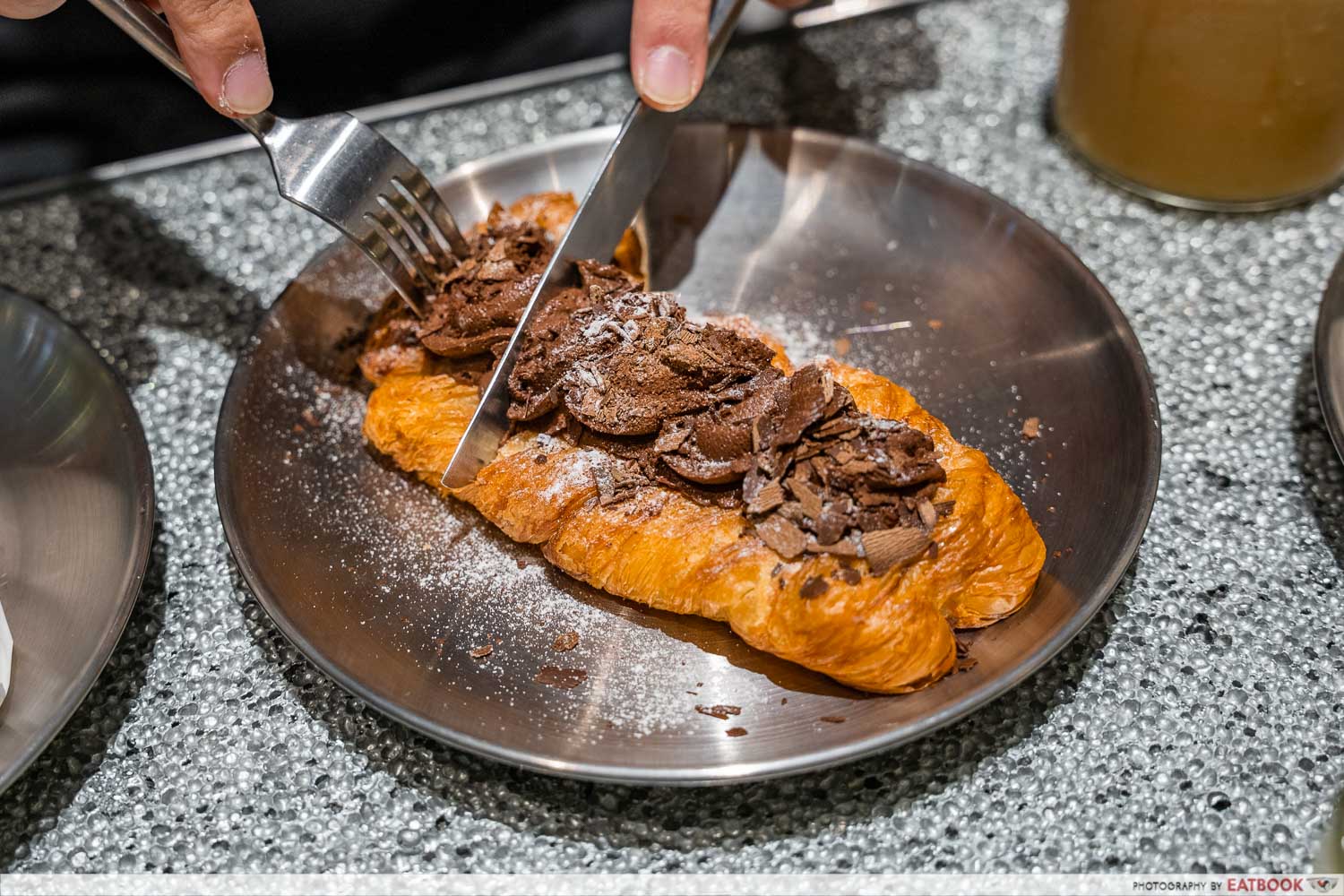 Another popular croissant here is the Pain Au Chocolat ($5.80). I found the croissant to be light and flaky, as was the Ondeh Croissant. The chocolate cream had a bittersweet note, which balanced the sweetness of the custard well.
Drinks-wise, Equate Coffee boasts a wide selection of specialty coffee, starting from $3 for a single shot of Espresso. The Dirty Matcha Latte ($8) is a great pick too, with an earthy combination of matcha and a shot of espresso. Alternatively, you can go for non-coffee or tea options, such as Iced Chocolate ($6.50) that my colleague went for.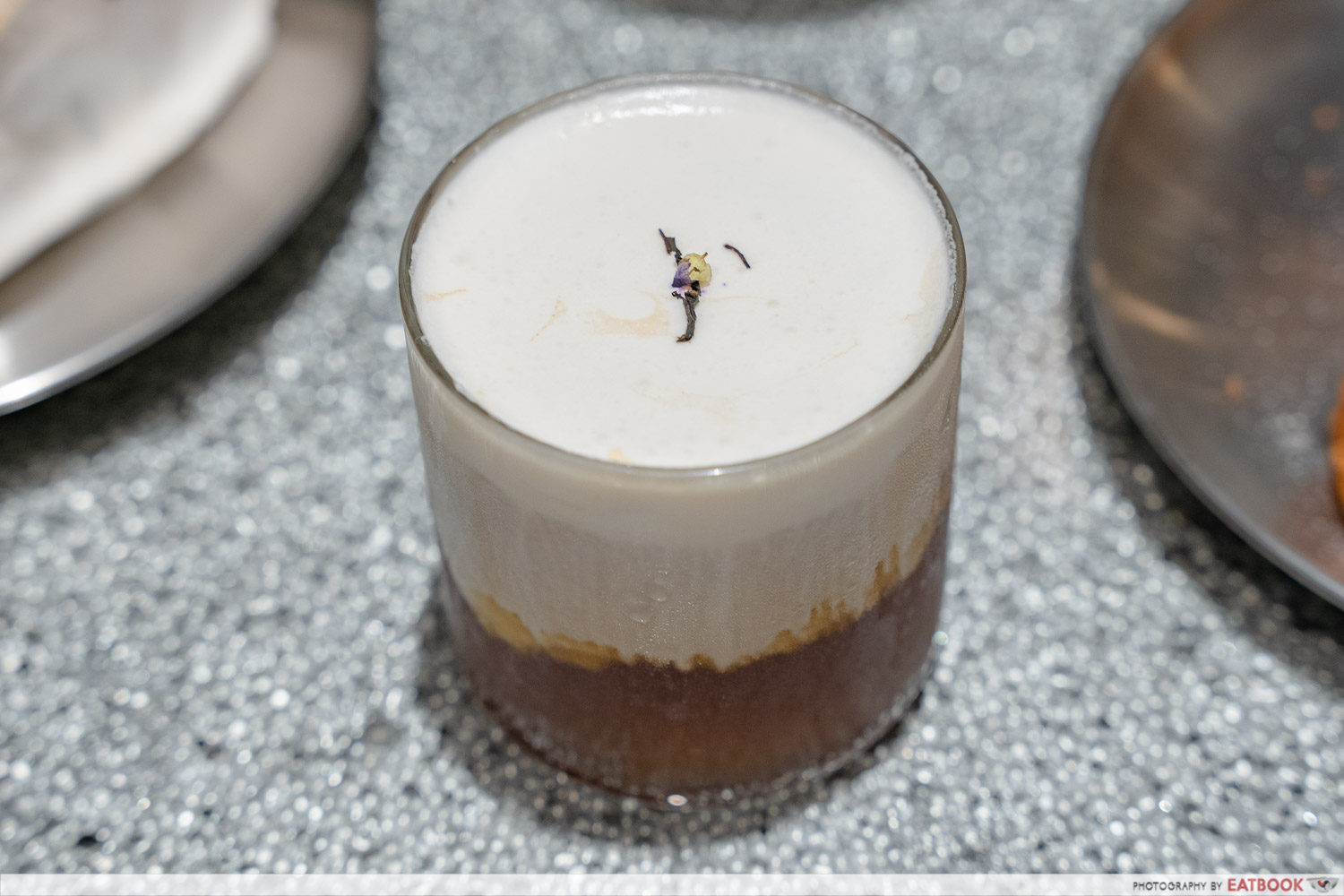 The service staff also insisted that we had to try their latest addition to the cold brew menu—the 50's Brew ($7). This specialty drink is a triple layer of Earl Grey lavender cold brew, black cold brew and a tea-infused foam. In the staff's words, it was "an atas English version of yuan yang". 
Mix the three layers of drinks together for a refreshing bergamot sweetness, with gentle hints of acidity from the coffee. I particularly loved the prominent floral fragrance of lavender here.
Ambience at Equate Coffee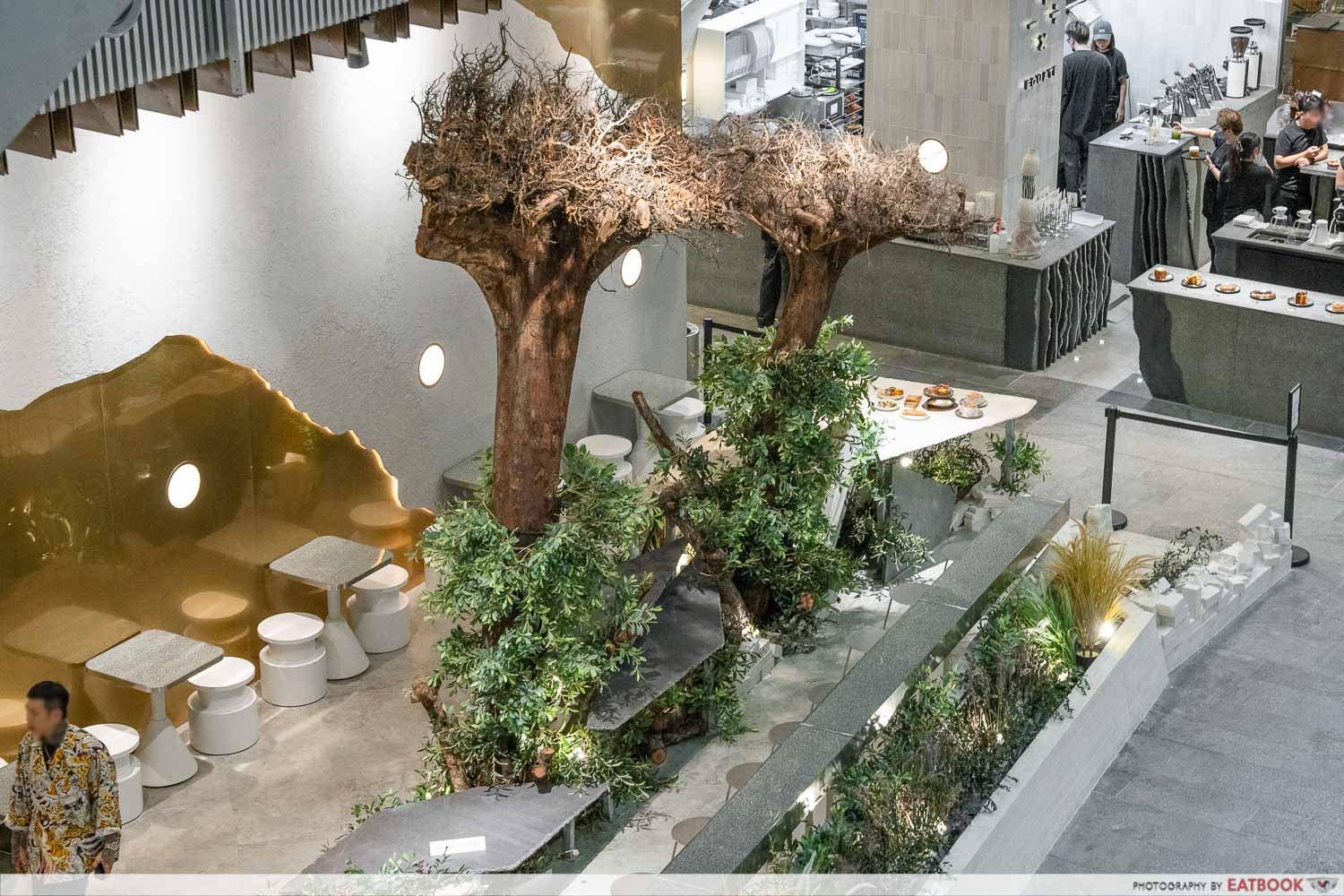 While stylish cafes are increasingly ubiquitous in Singapore, none pulls it off like Equate Coffee does, in my opinion. Taking on a minimalist design, their most eye-catching feature is the towering pair of upturned tree trunks in the middle of the cafe, seemingly defying the laws of gravity. The unfinished concrete look of the dining hall is accented with gold and lush greenery—this is the perfect place to take your #OOTD while brunching in style.
Equate Coffee is in Orchard Central, which is right above Somerset MRT Station.
The verdict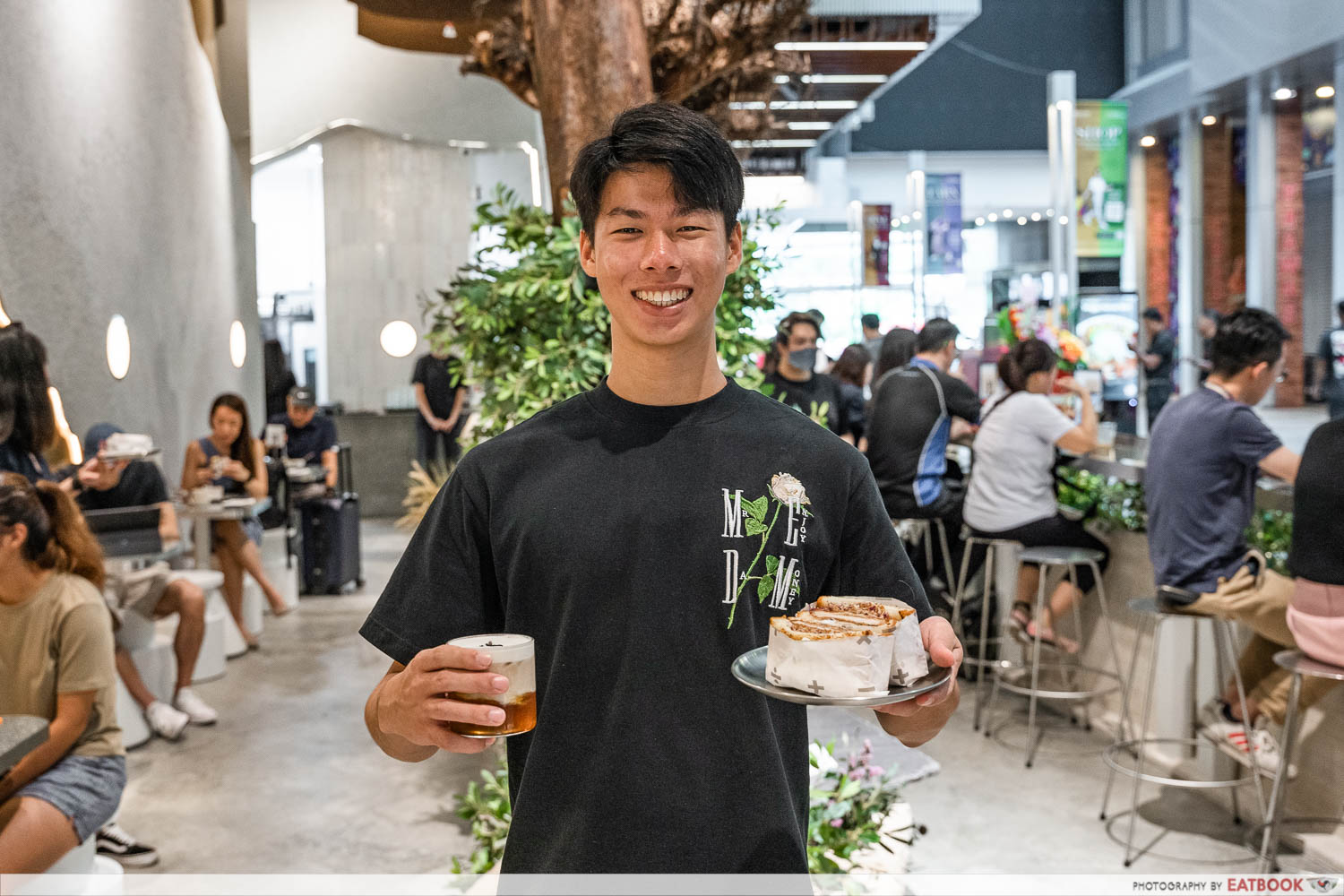 It's heartening to know that Equate Coffee continues to uphold the quality of their food and service, in spite of their expansion and busyness. I'm not exactly a coffee or tea connoisseur, but I'm certainly impressed by their well-executed beverages, in particular the 50's Brew. I also have a fascination with abstract cafe concepts, so their aesthetic cafe design definitely left me wowed. Undoubtedly, I'm certain that my first visit at Equate Coffee won't be my last. 
For other great cafes to try, check out The Glasshouse, which has truffle mac and cheese, boozy coffee and more! Alternatively, if you're a fan of bagels, check out Bag Me Up, a new bagel shop in Everton Park with unagi and Wagyu beef bagels! 
Address: 81 Orchard Road, #01-17A, Orchard Central, Singapore 238896
Opening hours: Daily 9:30am to 8:30pm
Website
Equate Coffee is not a halal-certified eatery.
Bag Me Up Review: Unagi And Wagyu Beef Bagels At This Under HDB Bagel Shop Near Outram Park
Photos taken by Casandra Kate Nicholas.
This was a media tasting at Equate Coffee.
Equate Coffee Review: Ondeh Croissant, Tonkatsu Sando And More In Orchard
Equate Coffee Review: Ondeh Croissant, Tonkatsu Sando And More In Orchard -

8.5/10
Summary
Pros
– Stunning aesthetics
– Near to Somerset MRT Station
– Tasty sandos with unique flavours
– Interesting drink items, such as the 50's Brew
Cons
– The items can be quite pricey
Recommended dishes: Rueben ($18.80), Ondeh Croissant ($7.80), 50's Brew ($7)
Opening hours: Daily 9:30am to 8:30pm
Address: 81 Orchard Road, #01-17A, Orchard Central, Singapore 238896