The Glasshouse opens their second cafe on Neil Road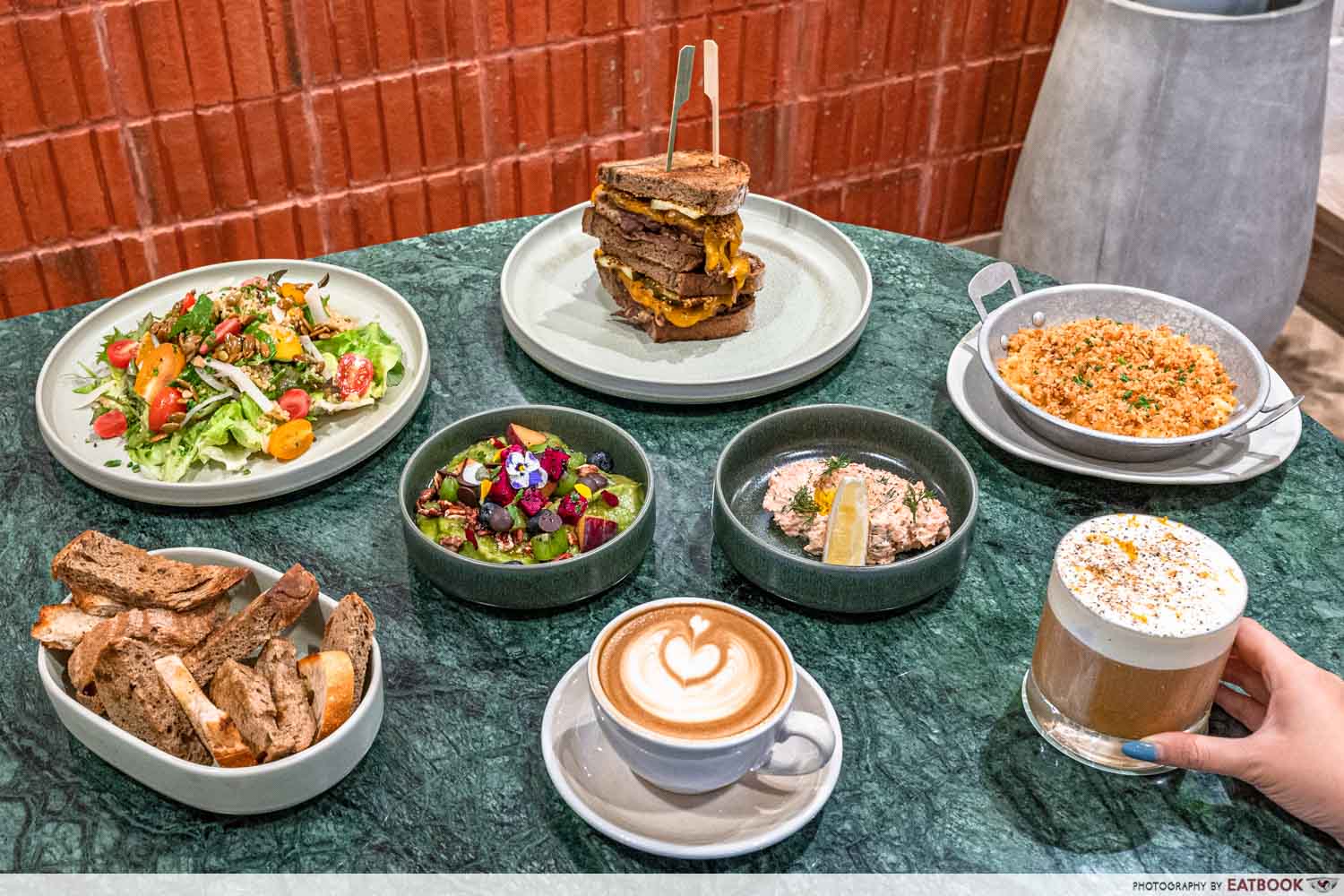 Four years after The Glasshouse first started out in a pop-up cargo container at CHIJMES, the super popular cafe has now opened their second outlet on Neil Road, a four-minute walk from Outram Park MRT Station.This brand new spot means cafe-hoppers have another aesthetic cafe to patronise in the CBD!
Food at The Glasshouse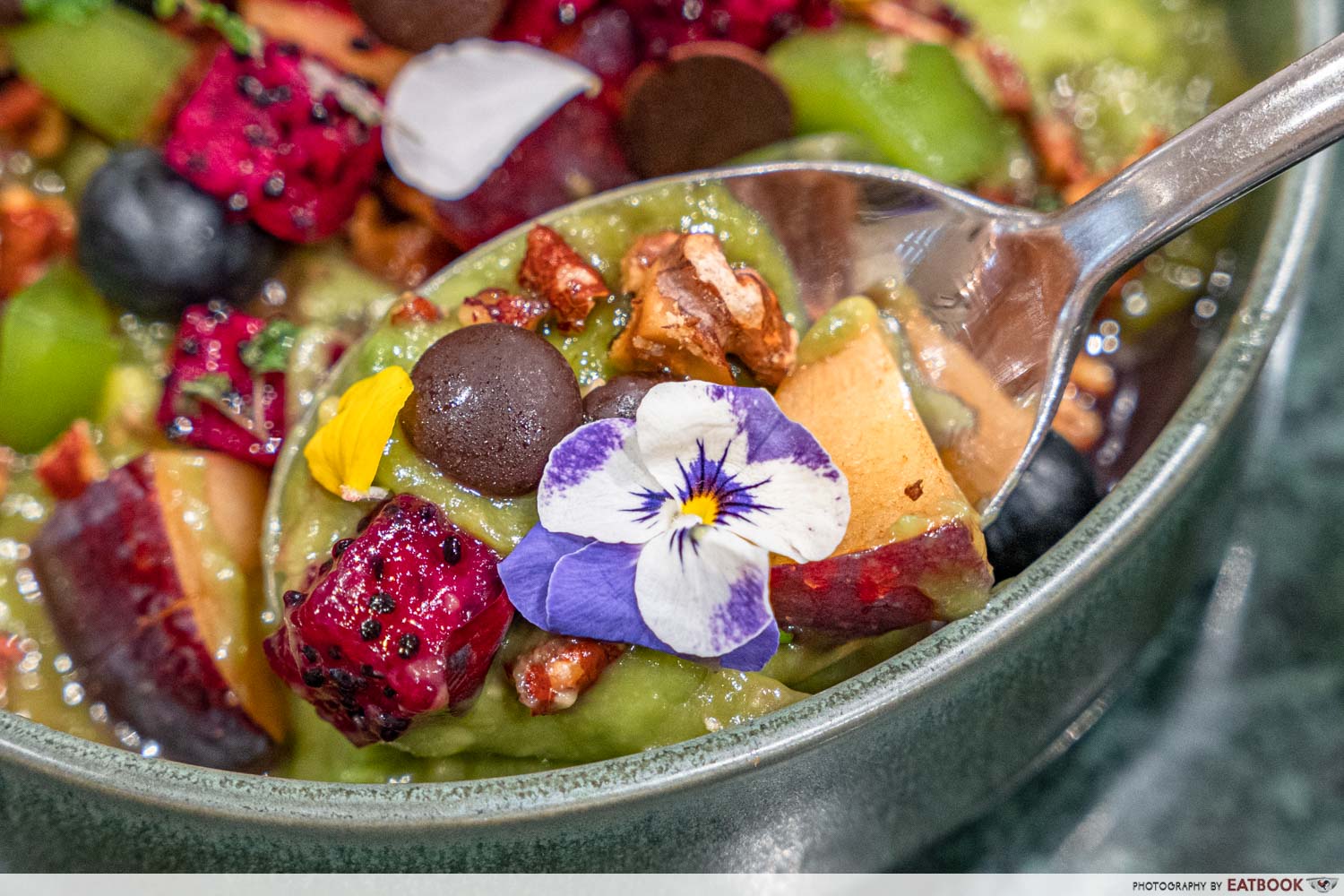 We started our meal with the Avocado Nut Parfait ($20++), which saw a mixture of nuts, fruits, and flower petals sitting atop a bed of avocado purée. It is also served with sourdough bread on the side. While I'm not the biggest fan of fruits, I found this starter sweet and refreshing. The dragonfruit peach slices were soft and juicy, and they paired well with the creamy avocado, which took a back seat due to its milder flavour.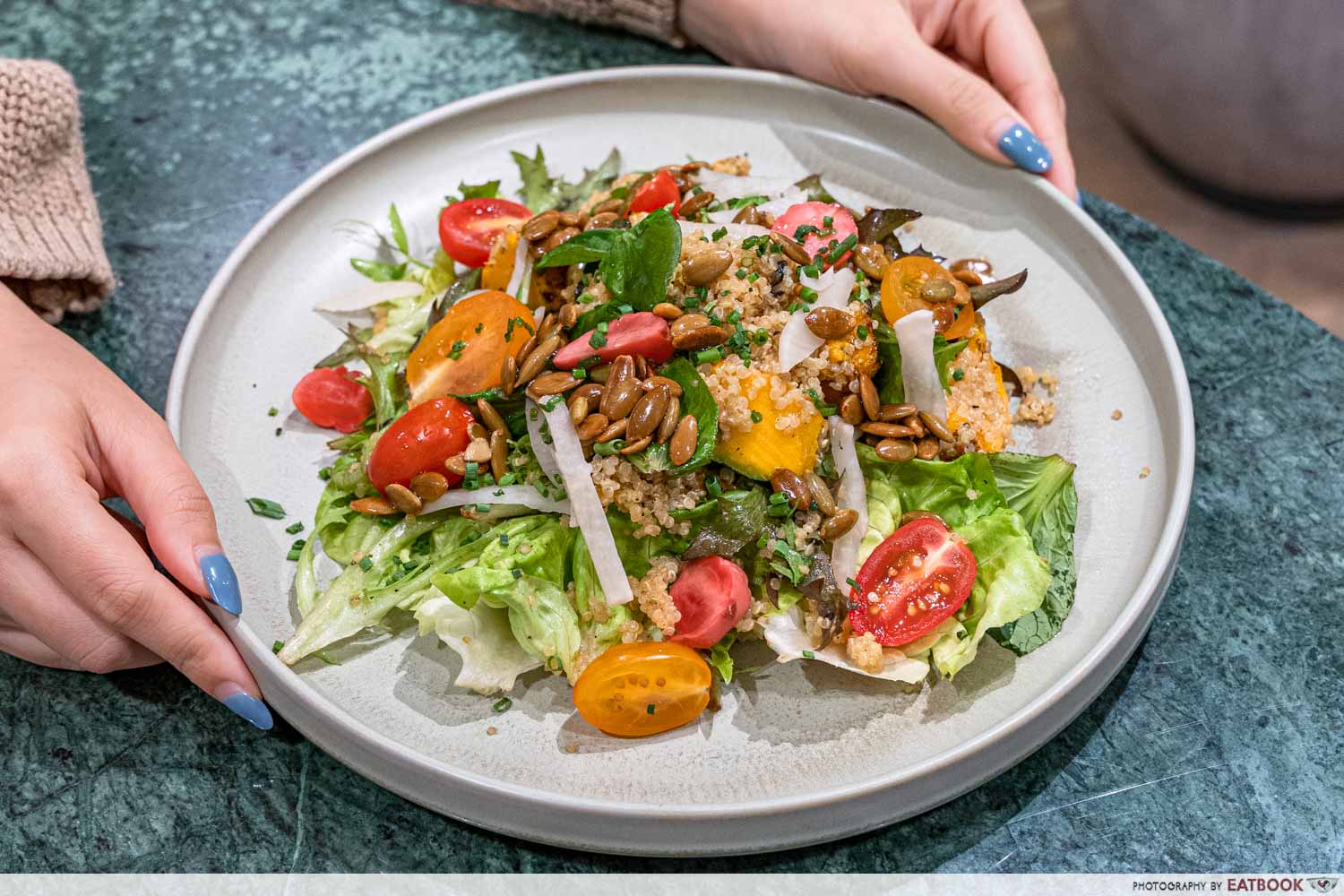 If you like salad, you can also try the Japanese Pumpkin Quinoa Salad ($18++), comprising roasted Japanese pumpkin, quinoa, pickled daikon, and cherry tomatoes, all drizzled with mustard dressing. I like how the pumpkin pieces were sweet and crunchy, though I would have preferred more mustard to balance out the sour flavours in this bowl.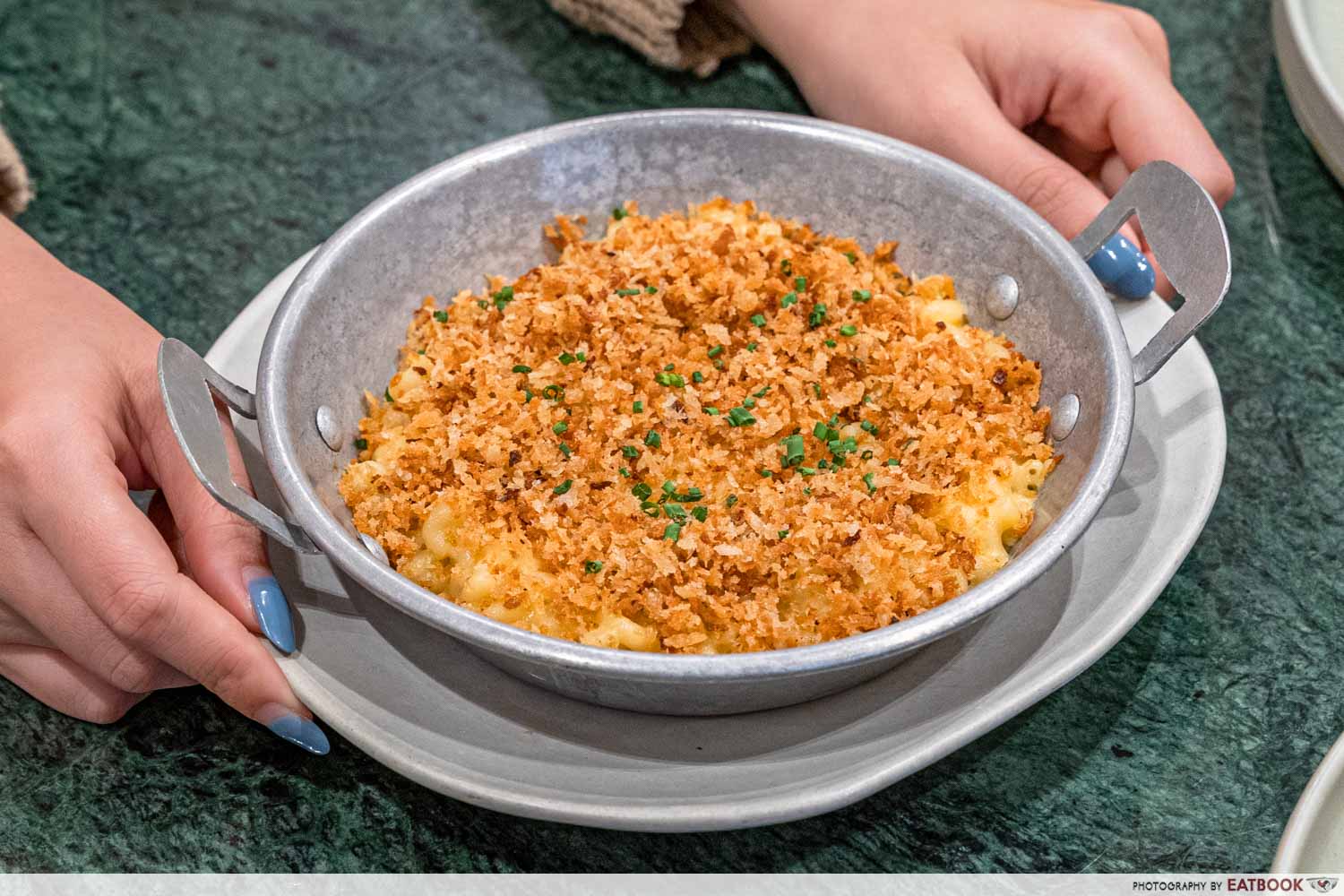 Next was the Glasshouse Mac & Cheese ($18++), comprising macaroni coated in four different kinds of cheese, including brie blue cheese and red cheddar. It is then sprinkled with beef fat crumbs and chives. There is also an option to top up $3++ for a dash of truffle oil, if you want more oomph to your dish.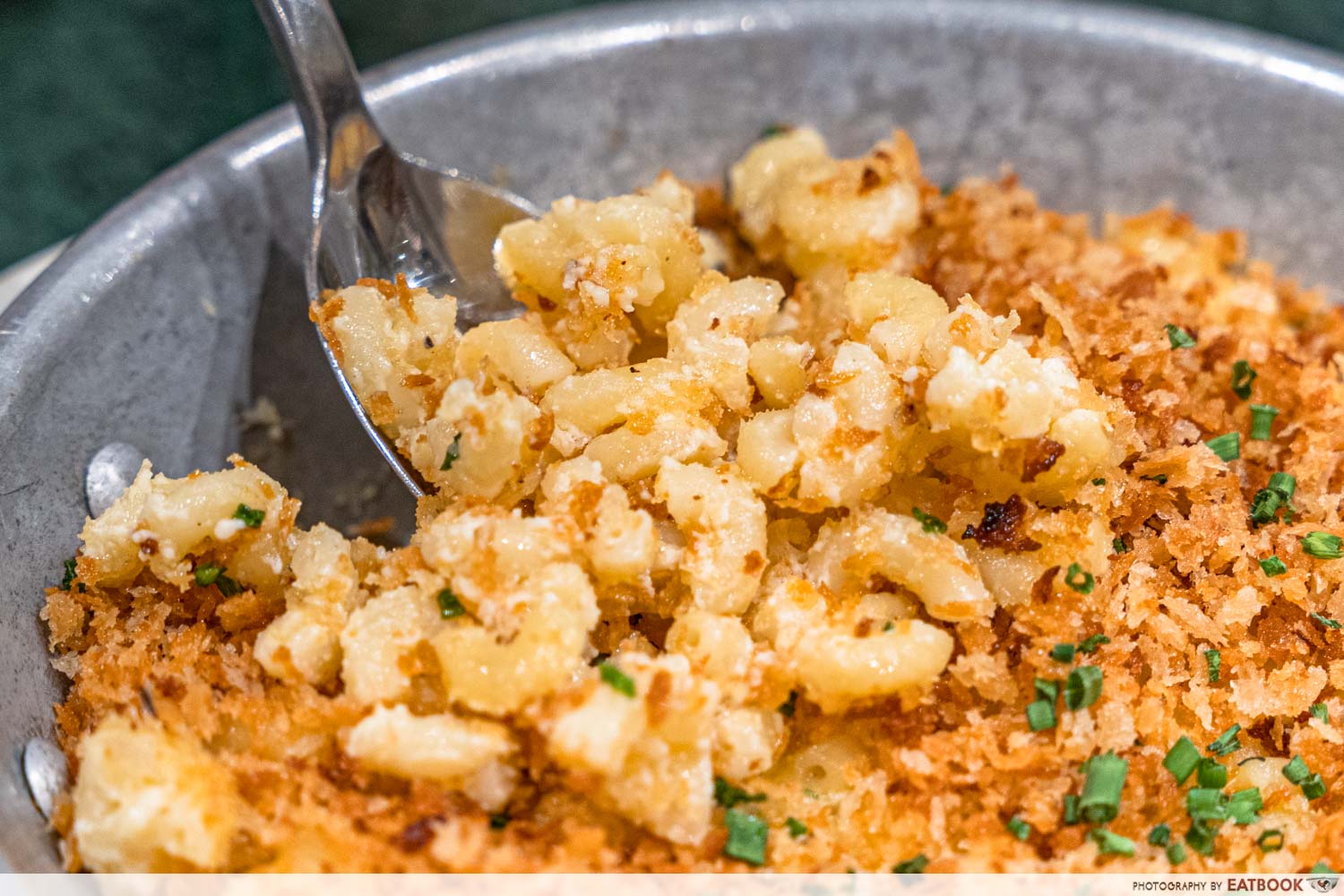 If you like your mac and cheese extra creamy, you may be disappointed with The Glasshouse's rendition, as it had a runny consistency and lacked the sinful cheese pull that the comfort food is known for. I didn't mind this watered-down version as it made the dish less jelak, although I would have preferred a more generous amount of cheese. I also thought the beef fat crumbs were a good addition, as they added some crunchiness to the dish and had a fragrant, shallot-like flavour.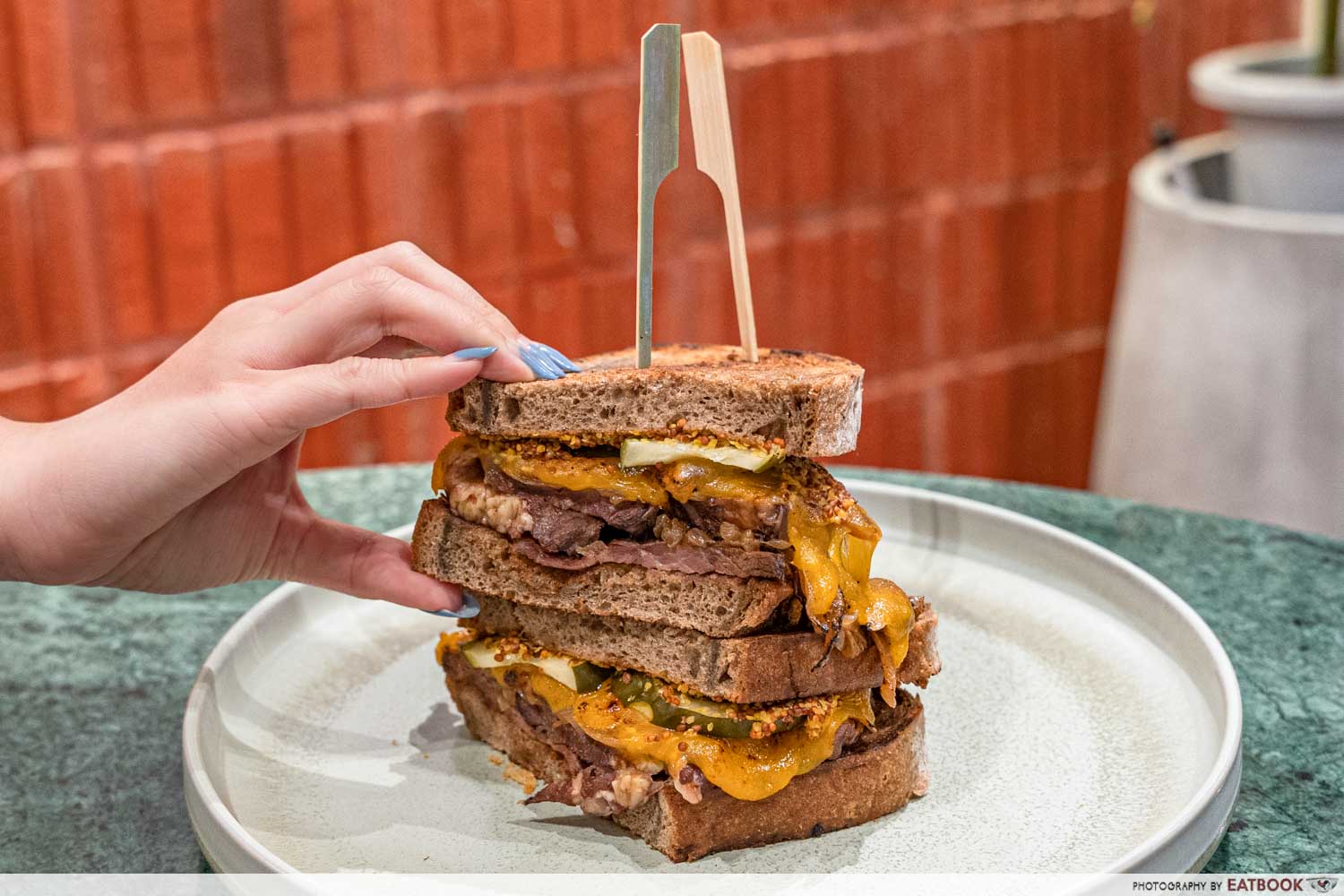 The highlight of our meal was the Roast Beef Sanger ($28++), a towering sandwich packed with a medium-rare Australian ribeye steak, sauteed onions, red cheddar, and pickled cucumber. My first impression of this sandwich was that it was huge! I consider myself a big eater, but even this was too much for me to devour on my own.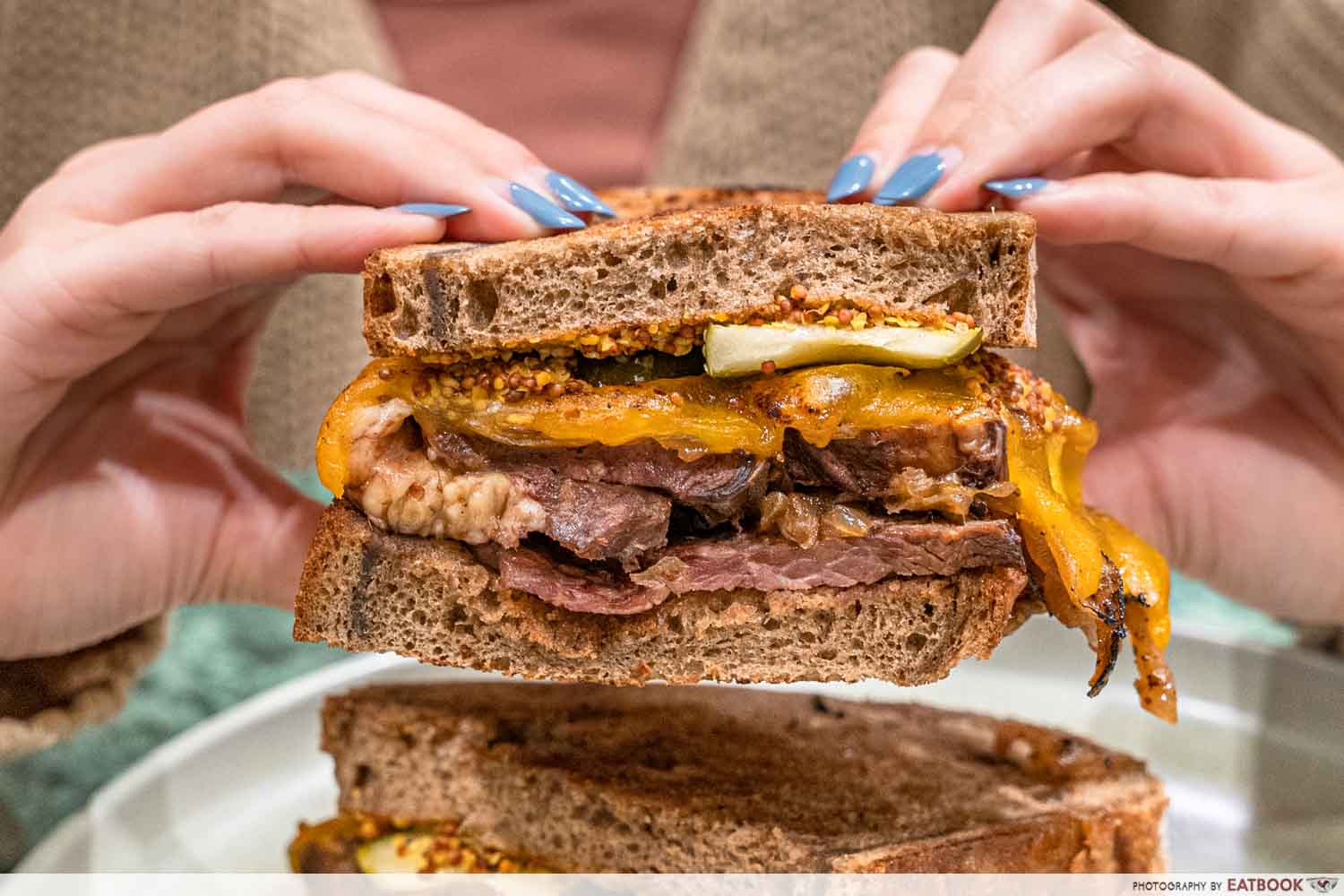 I cut out a small portion of the sandwich for my colleague. As she bit into the sandwich, she remarked that the beef was still tender despite being left out for over fifteen minutes. I shared her sentiments regarding its tenderness but found the beef to be a tad too salty, especially when paired with the cheese and pickled cucumber.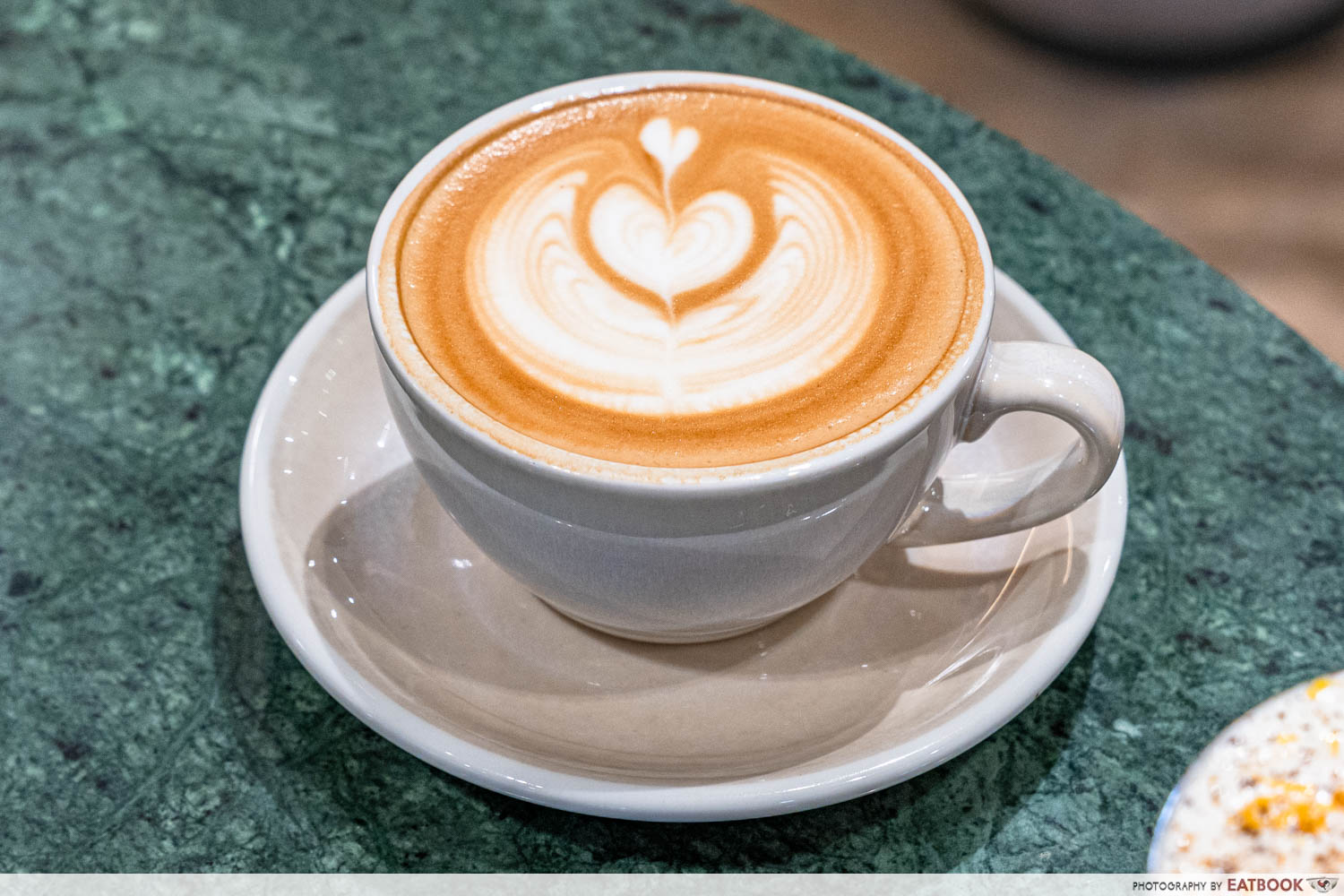 Drinks-wise, the cafe has a selection of coffee and tea, starting from $4++ for a single shot of Espresso and $5++ for a cup of Earl Grey Tea. There's also the Iced Dirty Matcha ($8++) and Seasonal Kombucha ($8++) if you want something more interesting.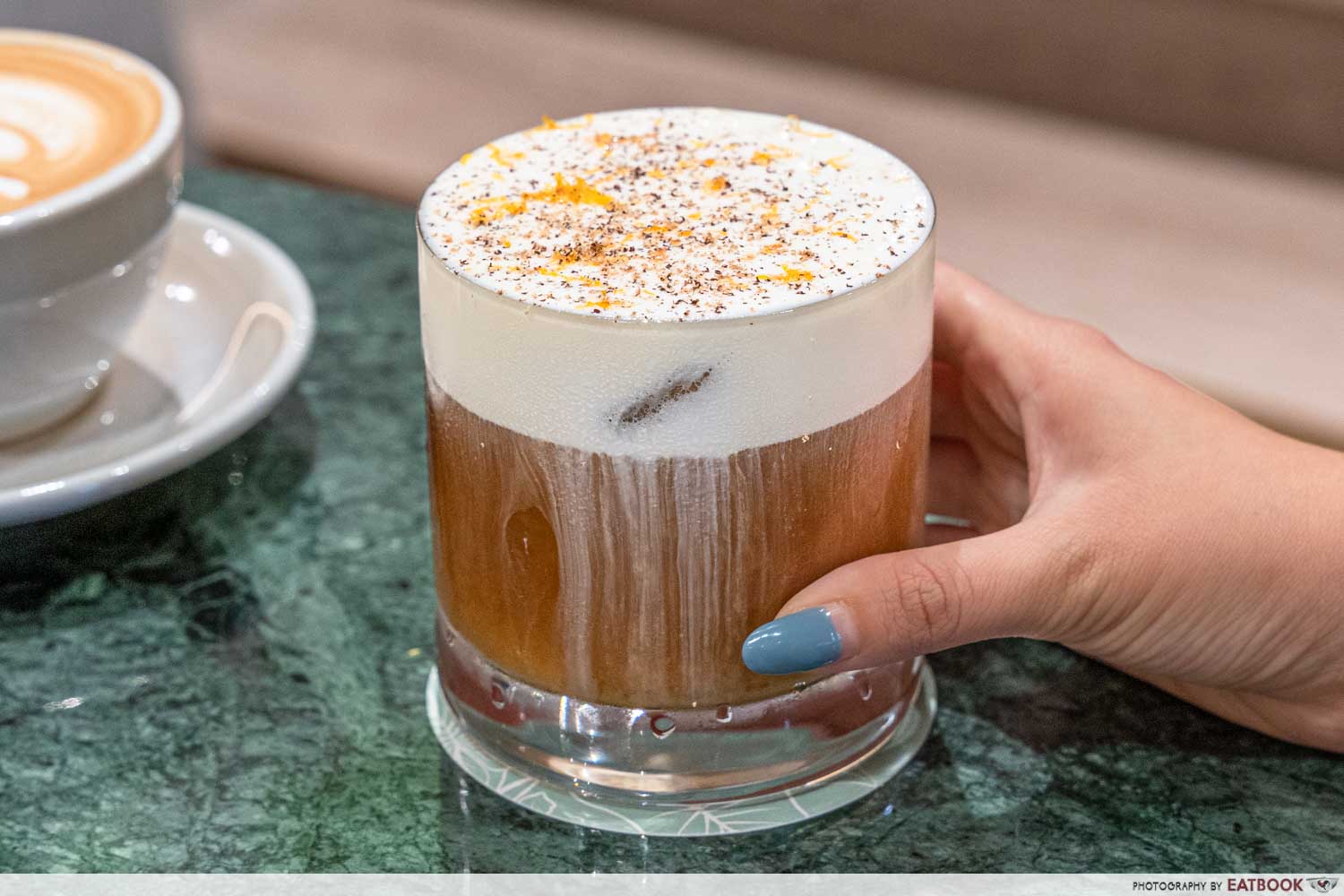 Their staff insisted we try the Mont Blanc ($10++), a coffee-based beverage with alcohol thrown in the mix. You can also opt for a non-alcoholic version, which is the one we had. It consisted of cold brew coffee at the bottom and a layer of macchiato foam with orange zest on top. I preferred to sip the Mont Blanc layer by layer instead of mixing the creamy foam with the base. This allowed me to enjoy the sweetness of the foam separately from the cold brew, which was tinged with a gentle hint of acidity.
This Glasshouse Cafe In JB Is Hidden In An Interior Design Firm, Has Brie Cheesecake And More Desserts
Ambience at The Glasshouse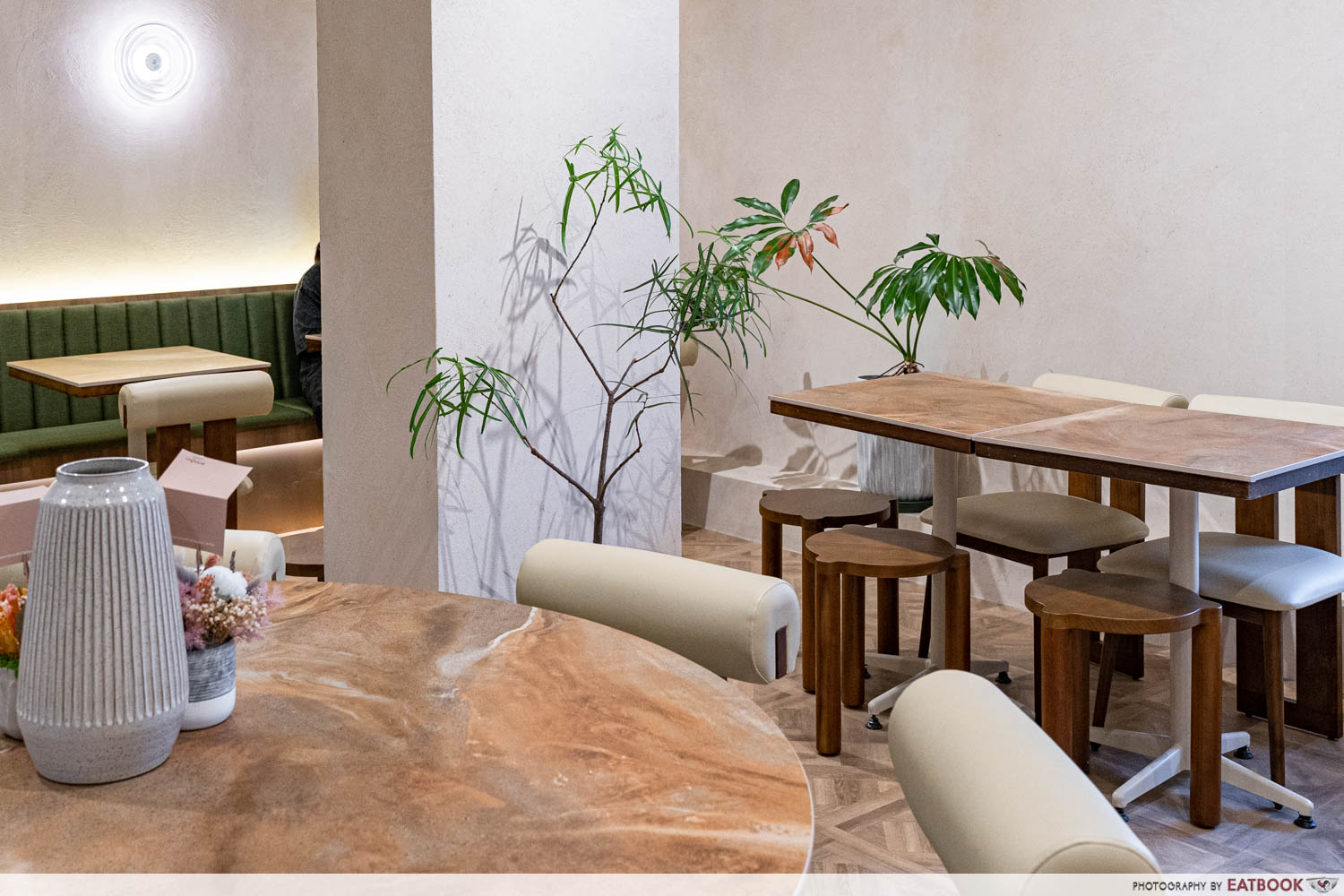 While the Neil Road outlet may not sport the same glass-fronted space as their CHIJMES counterpart, you can still expect the same clean, tranquil vibes for sure. It's also well-lit with natural light streaming in from the louvered and lattice-framed windows, typical of old-school shophouses. In fact, the cafe makes me feel as though I've stepped into someone's cosy yet opulent home, thanks to the plush sofas and round marble tables that remind me of the ones I spot at my rich relative's house during CNY.
The Glasshouse is a convenient four-minute walk  from Outram Park MRT Station, and a five-minute walk from the new Maxwell MRT Station.
The verdict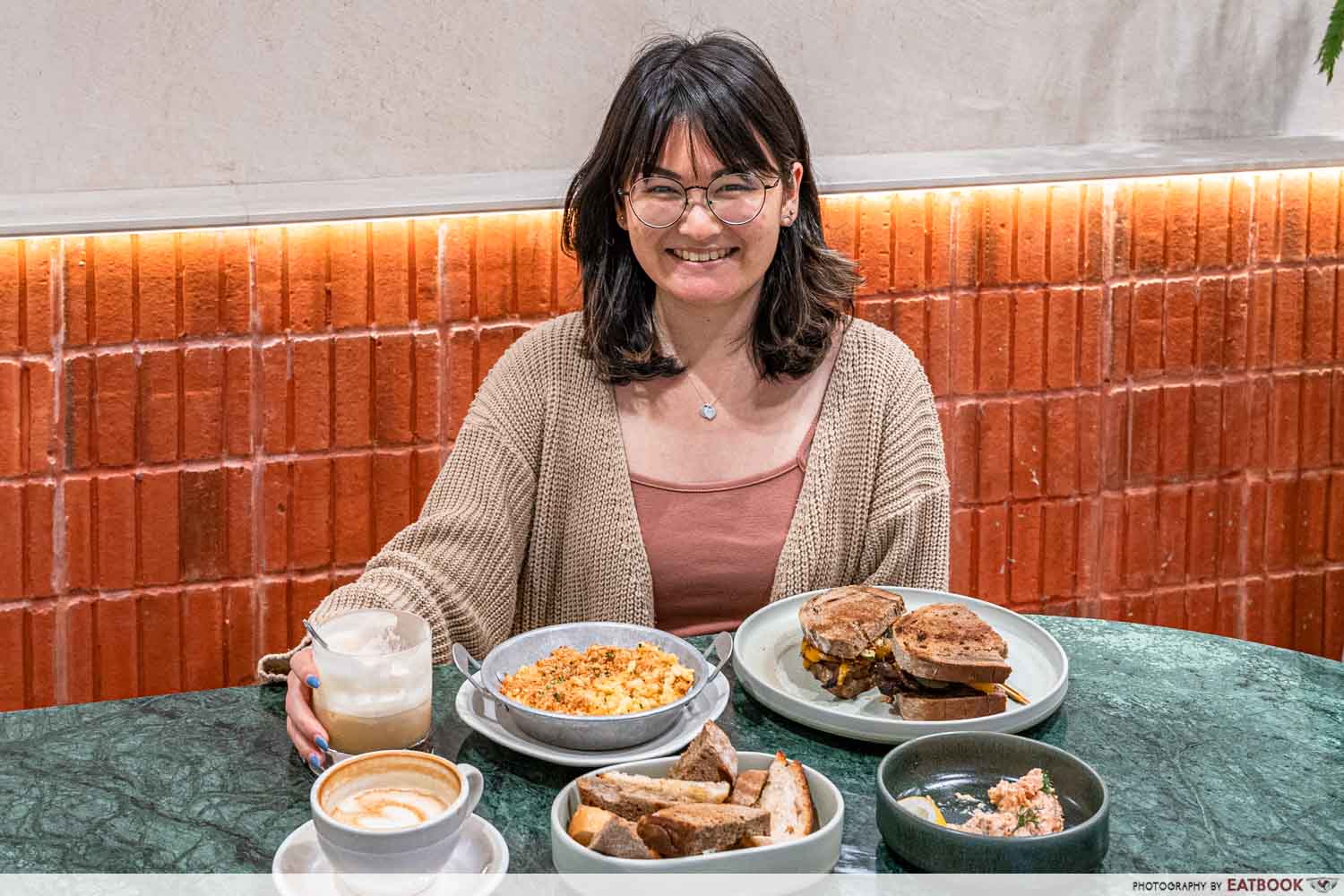 While I believe the food at The Glasshouse was on the pricey side, I was impressed by their big, hearty portions. I wasn't a fan of the mac and cheese, but I liked the avocado parfait and the Roast Beef Sanger, although it was a little salty. We've been told that more food items will be added to their menu in the coming weeks, so I'll consider dropping by again to see what else they have to offer!
If you're out to hunt down the best coffees around town, check out our list of coffee cafes in Singapore. Otherwise, Dawn is another minimalistic cafe at Clarke Quay with specialty coffees and tamago sando!
Address: 136 Neil Road, #01-01, Singapore 088865
Opening hours: Wed-Sun 8am to 6pm
Website
The Glasshouse is not a halal-certified eatery
21 Best Coffee Cafes In Singapore, Including Local Roasters To Get Coffee Beans From
Photos taken by Hui Hui Lau.
This was a media tasting at The Glasshouse.
The Glasshouse Review: IG-Famous Cafe With Truffle Mac & Cheese, Alcohol-Spiked Coffee And More At Neil Road
The Glasshouse Review: IG-Famous Cafe With Truffle Mac & Cheese, Alcohol-Spiked Coffee And More At Neil Road -

8/10
Summary
Pros
– Hearty food portions
– Aesthetic ambience
– Located near three MRT stations
Cons
– Food is quite pricey
– Mac and cheese was not creamy enough
– Roast Beef Sanger was salty
Recommended dishes: Avocado Nut Parfait ($20++), Roast Beef Sanger ($28++), and Mont Blanc ($10++)
Opening hours: Wed-Sun 8am to 6pm
Address: 136 Neil Road, #01-01, Singapore 088865