Bag Me Up has unagi and Wagyu beef bagels at Everton Park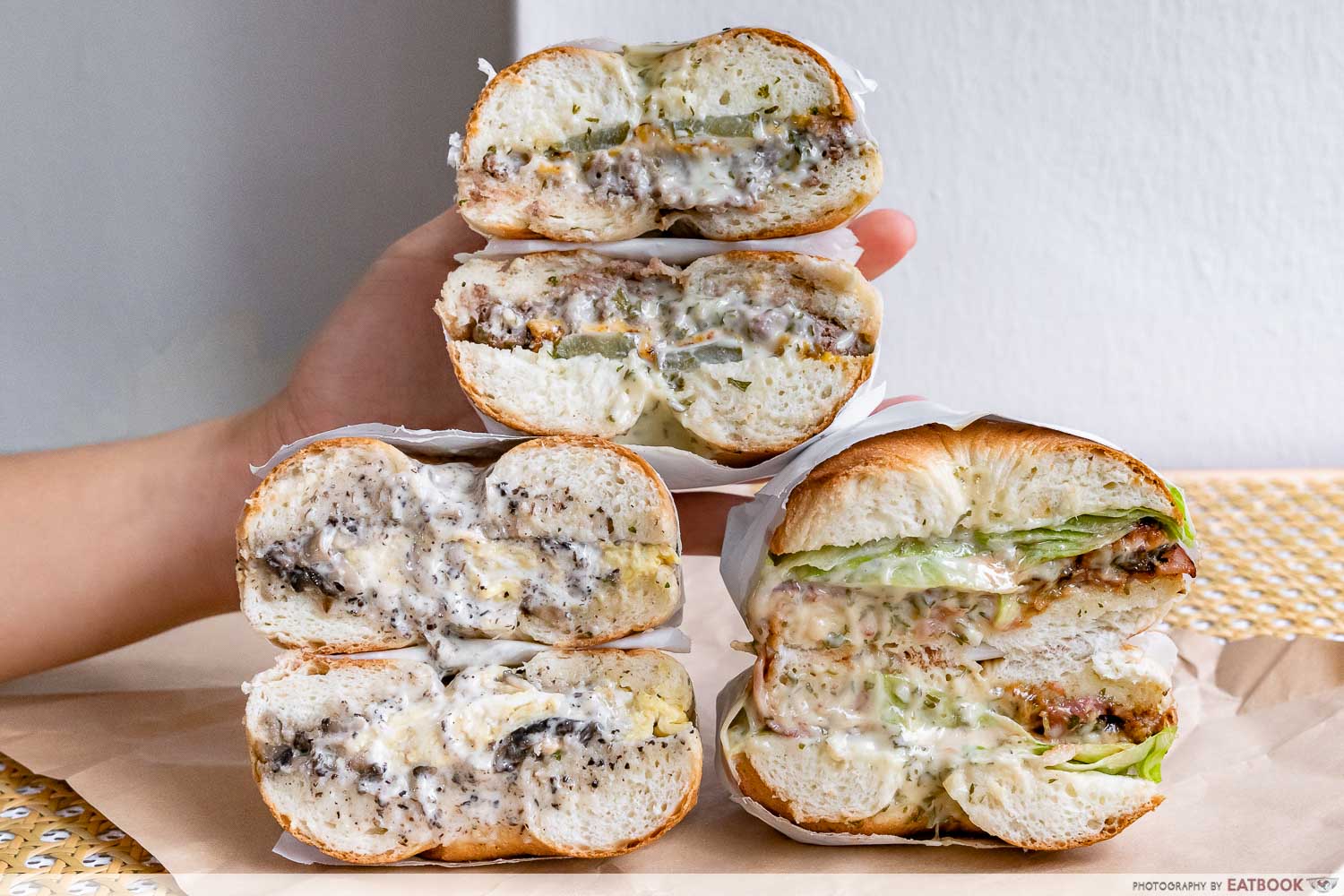 I've only been with Eatbook for a month, but I've never seen anyone as obsessed with bagels as my colleagues. In fact, we even had an entire video of tasting the best bagels in Singapore⁠, which is probably more than enough proof of our love for bagels. 
So, it wasn't very hard to imagine our excitement when we caught wind of the latest opening in town—Bag Me Up, a new bagel house at Everton Park. Located along a row of aesthetic cafes, boutiques and bakeries, Bag Me Up offers a delicious range of unique bagel sandwiches.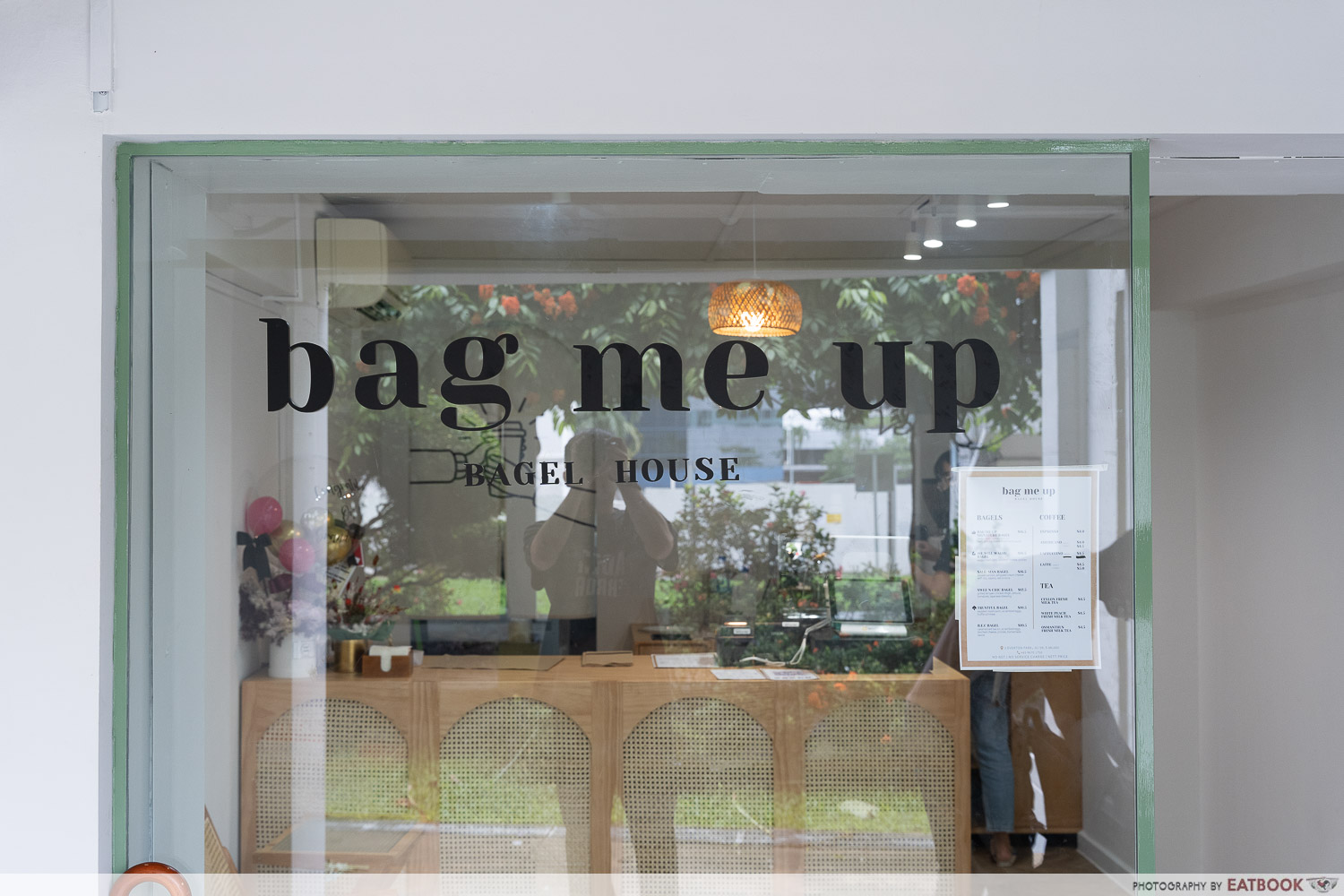 When I first heard of Bag Me Up, the linguistic side in me immediately assumed that their name was a mere pun on the word 'bag-el'. However, it turned out that apart from their special bagel sandwiches, their takeaway bag was, in fact, the key differentiator from other bagel stores.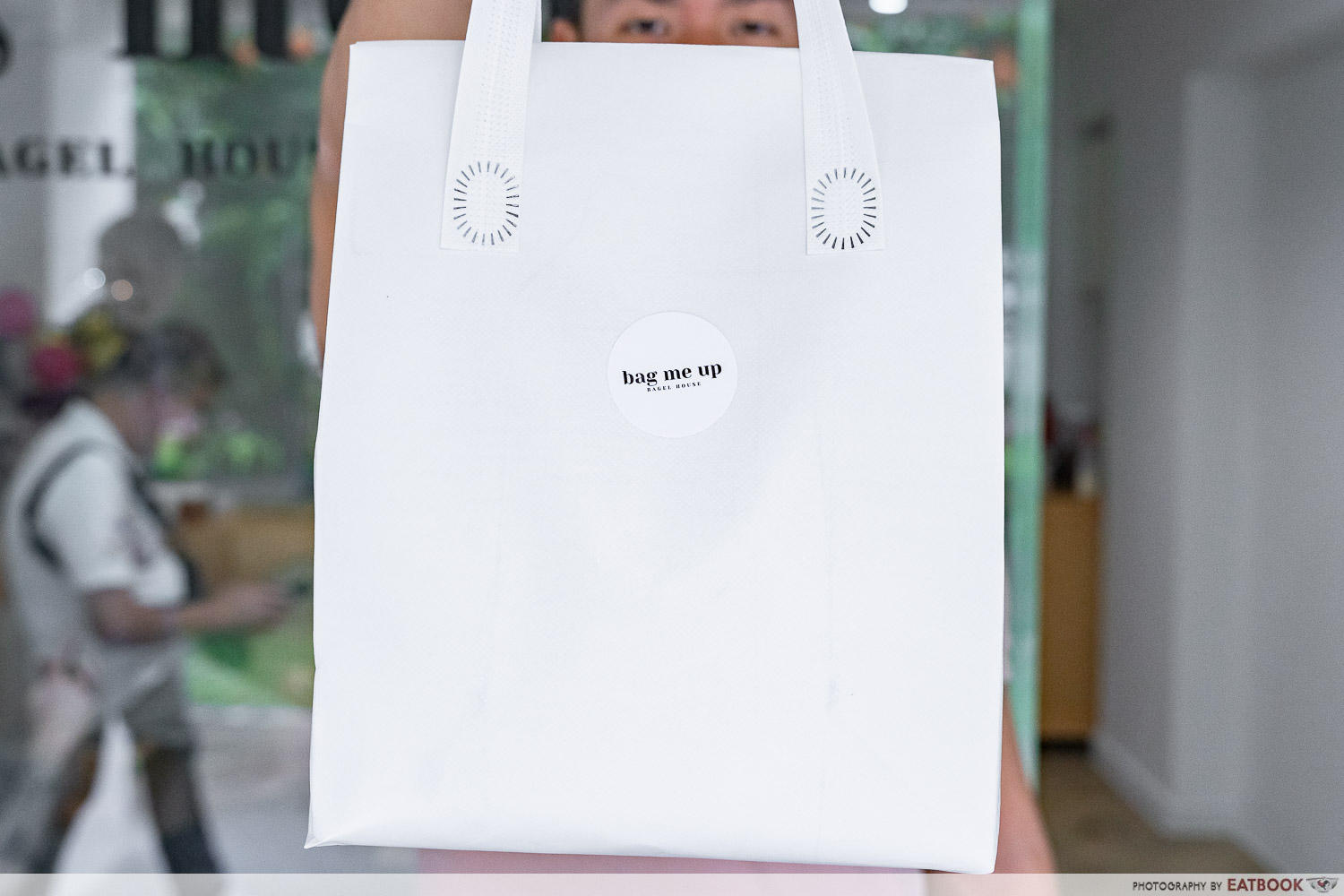 All of their bagels come neatly packed in an aesthetic, white thermal bag which keeps the bagels piping hot for a longer period of time.
Food at Bag Me Up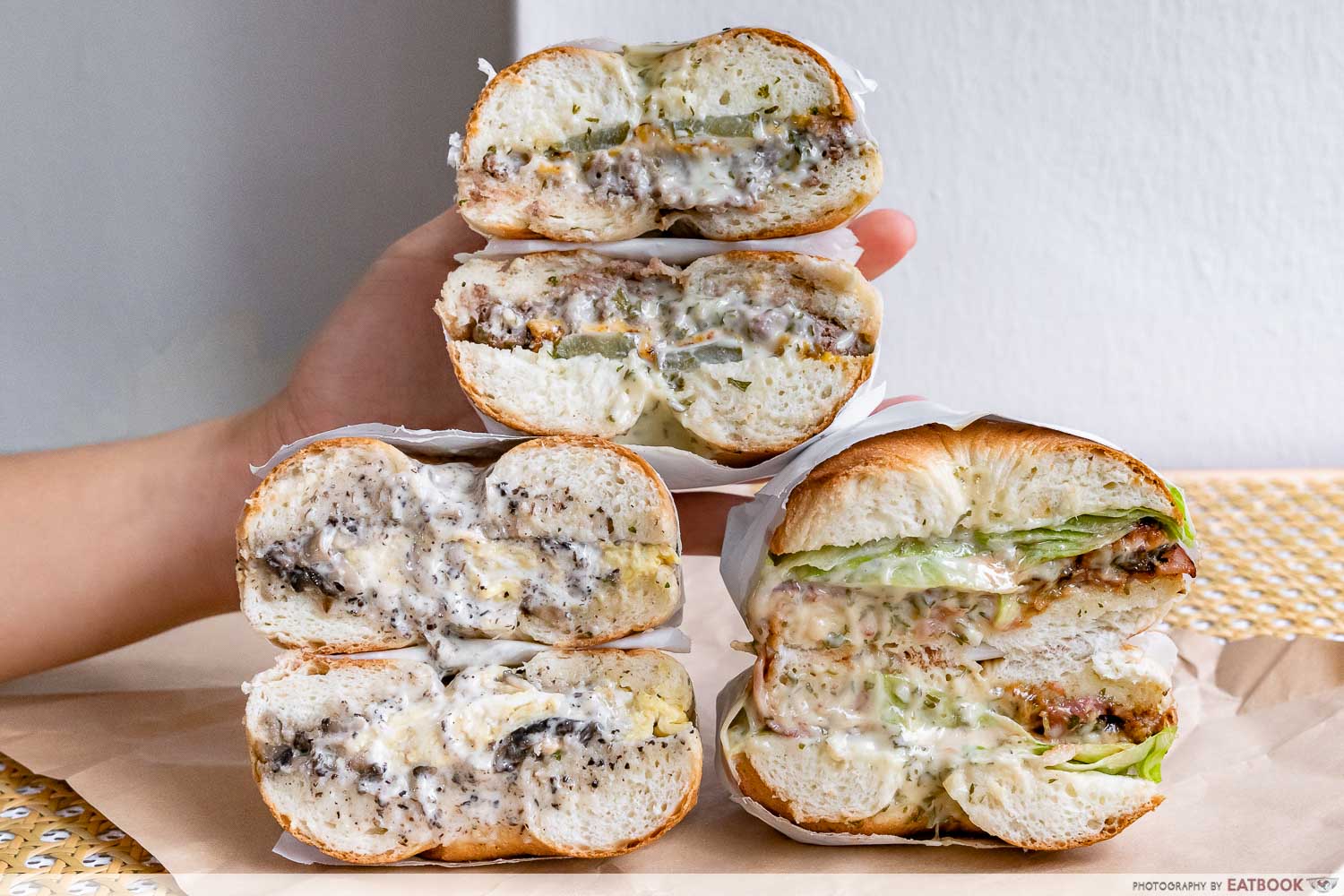 Bag Me Up offers only six bagels on their menu, including a select choice of coffee or tea. Based on my past experiences with bagels, I was expecting different buns to choose from. However, here at Bag Me Up, they offer only six bagel sandwiches on their menu, and all of them are prepared with the same house-made bagel bun. Boasting a dense and chewy texture, the bagel bun only comes in a plain flavour, which meant the flavour of the ingredients would be more pronounced, allowing them to shine.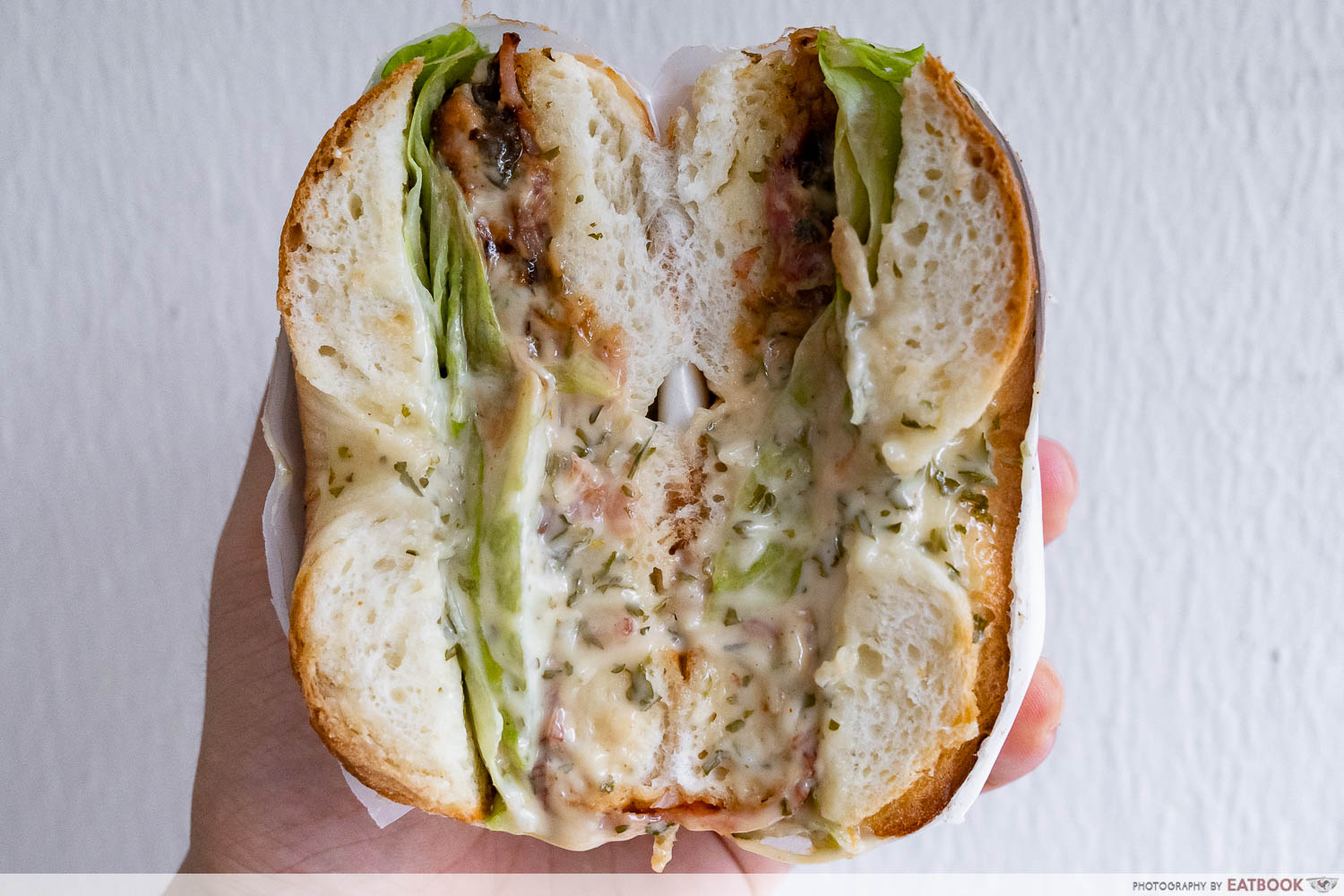 As I scanned the menu, my eyes were instantly drawn to the Bag Me Up Signature Bagel ($16.50). It featured unagi, AKA grilled eel, lettuce, and ham sandwiched between their signature bagel buns. I've never seen bagels with unagi before, so this was definitely a treat we could not miss.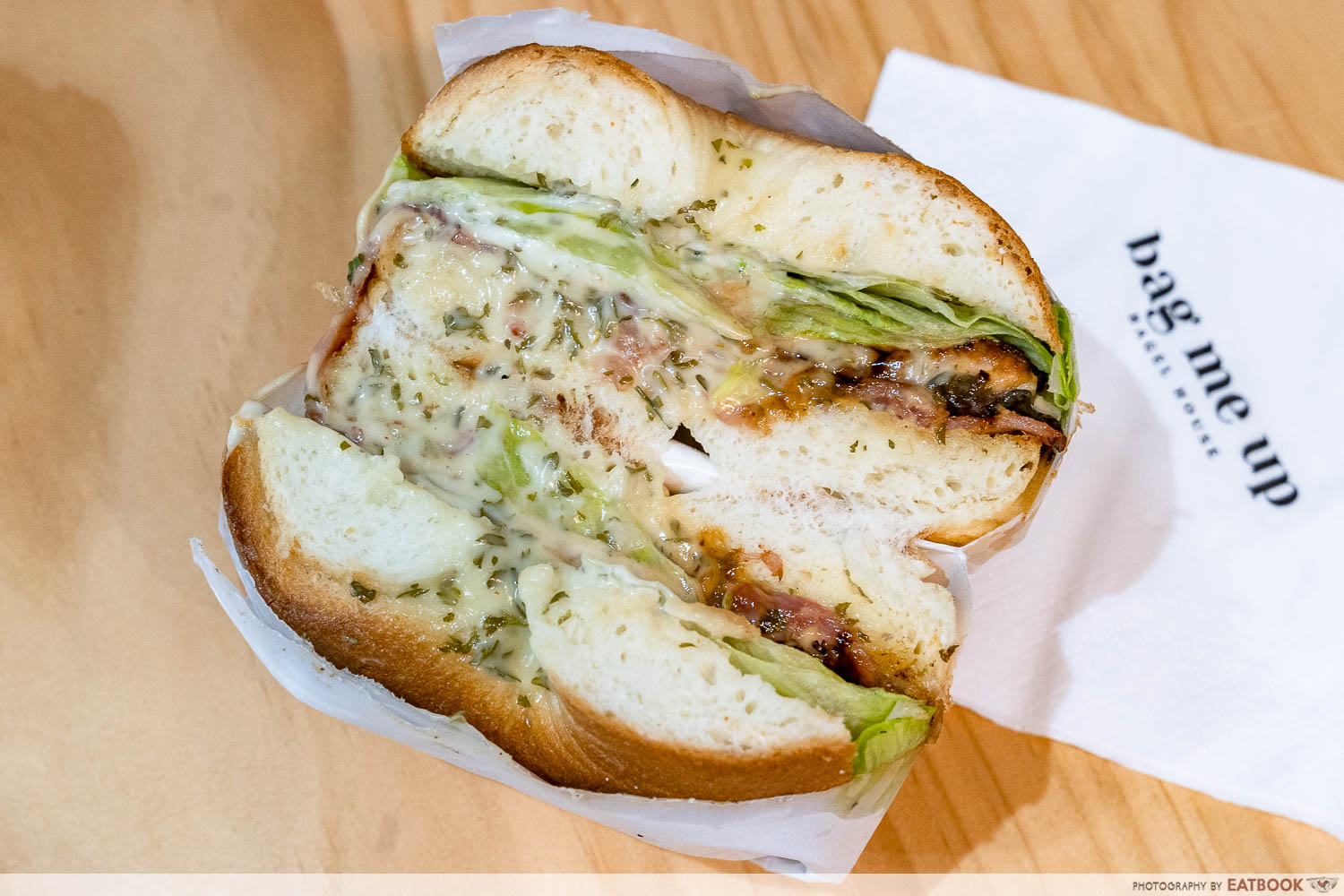 The unagi boasted a slightly charred aroma, and stole the show with its distinct sweet and savoury glaze. I'd prefer the meat to be thicker for more bite, but considering its affordable price point for a premium ingredient, I'd let this slide.
I was also slightly let down by the fact that the saltiness of the ham overpowered the sweetness of the unagi. Nonetheless, I did enjoy the fragrant herb sauce within the bagel, which balanced the strong flavours with its tangy notes.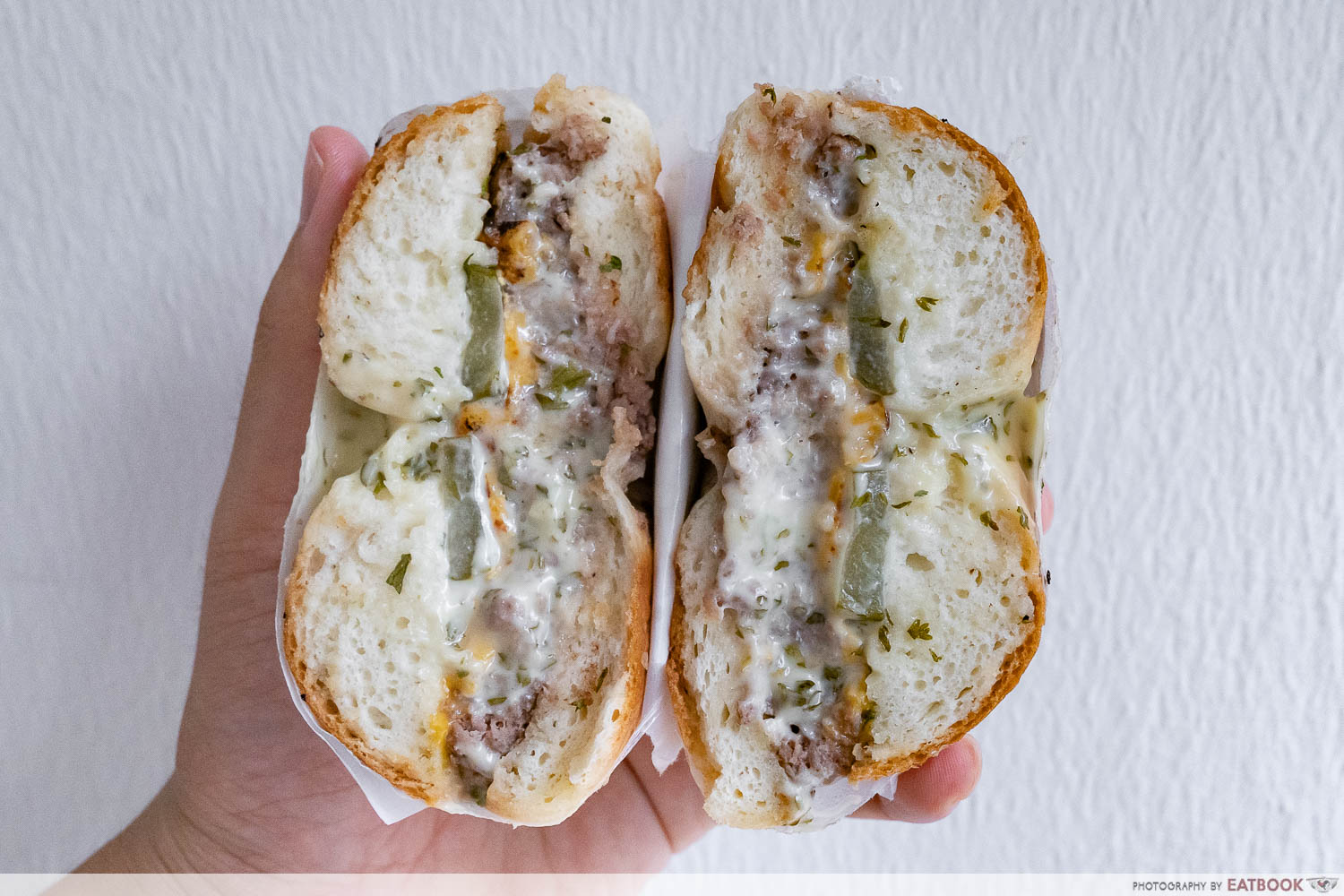 Our favourite bagel was the We Will Wagyu Bagel ($16.50), which starred a thick Wagyu beef patty, blanketed with a layer of blow torched cheese, and pickles. The beef patty was delightfully tender and juicy, which paired wonderfully with the melted cheese, giving each mouthful a hint of smoky savouriness. Texture-wise, the pickles added a nice crunch to complement it all.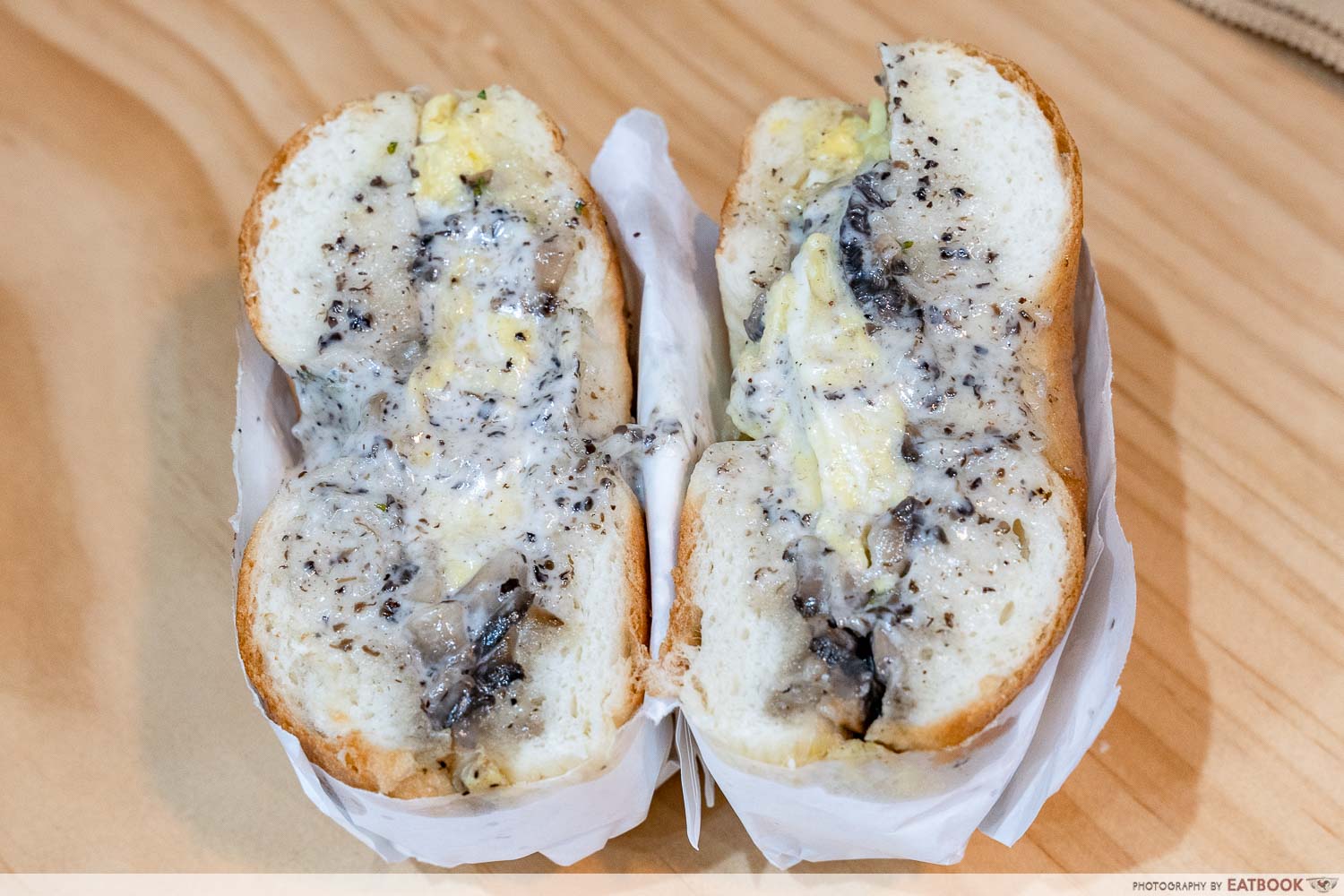 Bag Me Up also offers meatless bagels—the Trustful Bagel ($10.50), which consists of sauteed mushrooms, scrambled eggs and truffle schmear, AKA truffled cream cheese spread. The earthiness of truffle and sauteed mushrooms were a good match. I greatly enjoyed how much truffle schmear there was, with the cream cheese adding a boost of savouriness. The pleasant medley of flavours meant each bite of this bagel was truly addictive.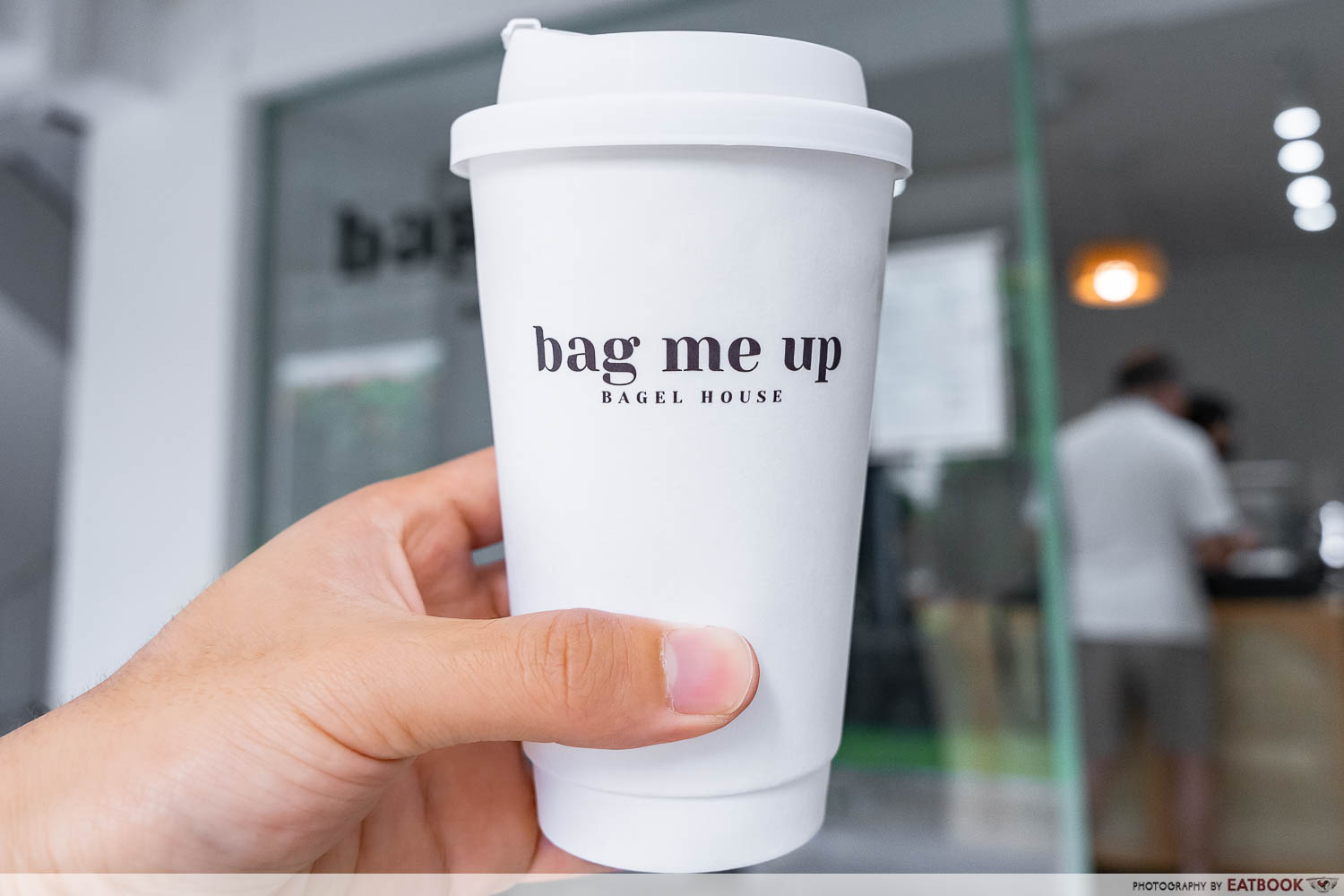 On the side, I also got their White Peach Fresh Milk Tea ($4.50). I was pleasantly surprised by the aromatic, fruity notes of the white peach, which blended perfectly with the light sweetness of the milk tea. 
Ambience at Bag Me Up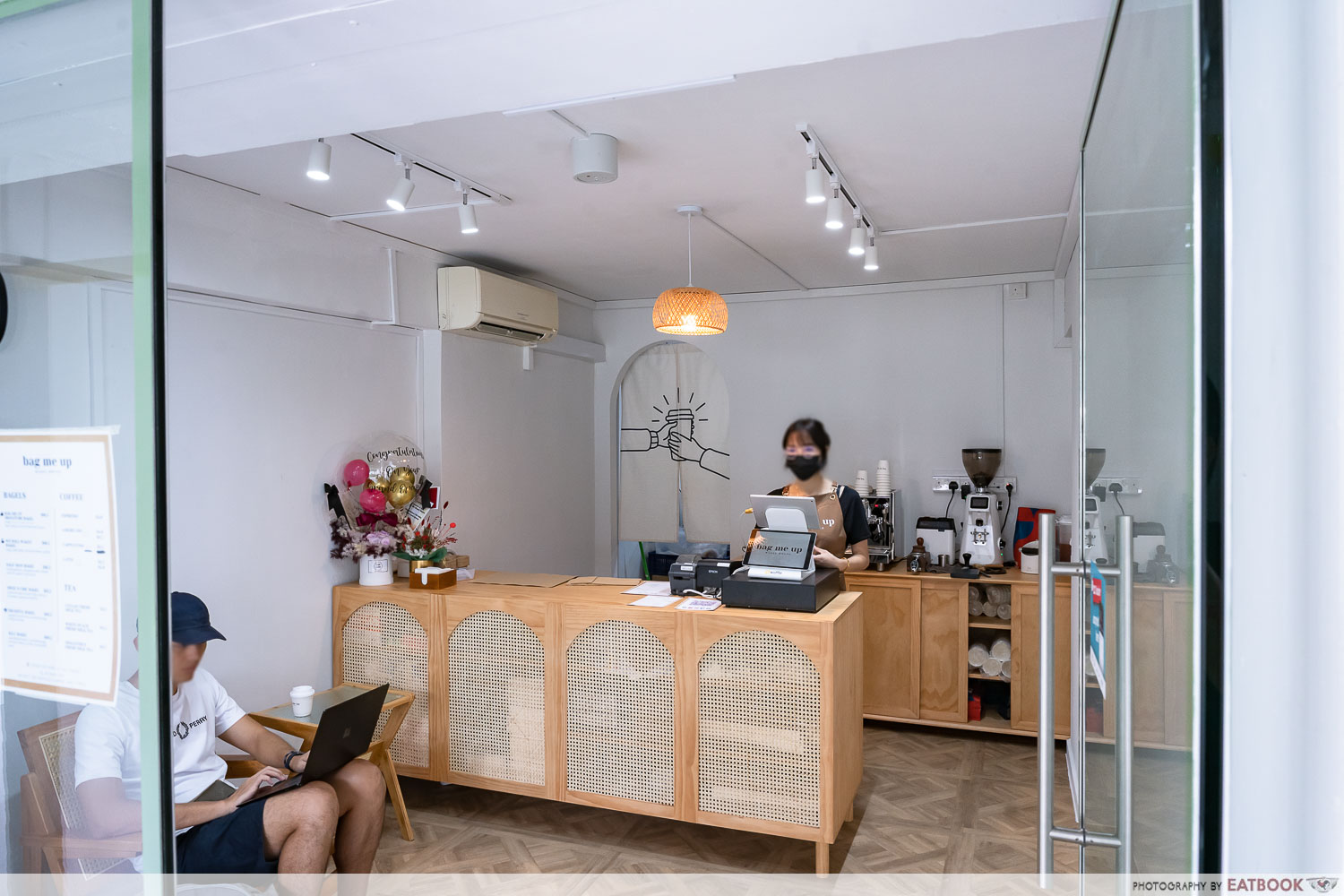 While the store boasts a cosy, minimalistic interior, there's limited seating available if you'd like to dine in. Thankfully, their takeaway thermal bag keeps the bagels warm, so you don't have to worry about your food getting soggy if you're bringing them home.
Bag Me Up is a 10-minute walk from Outram Park MRT Station.
The verdict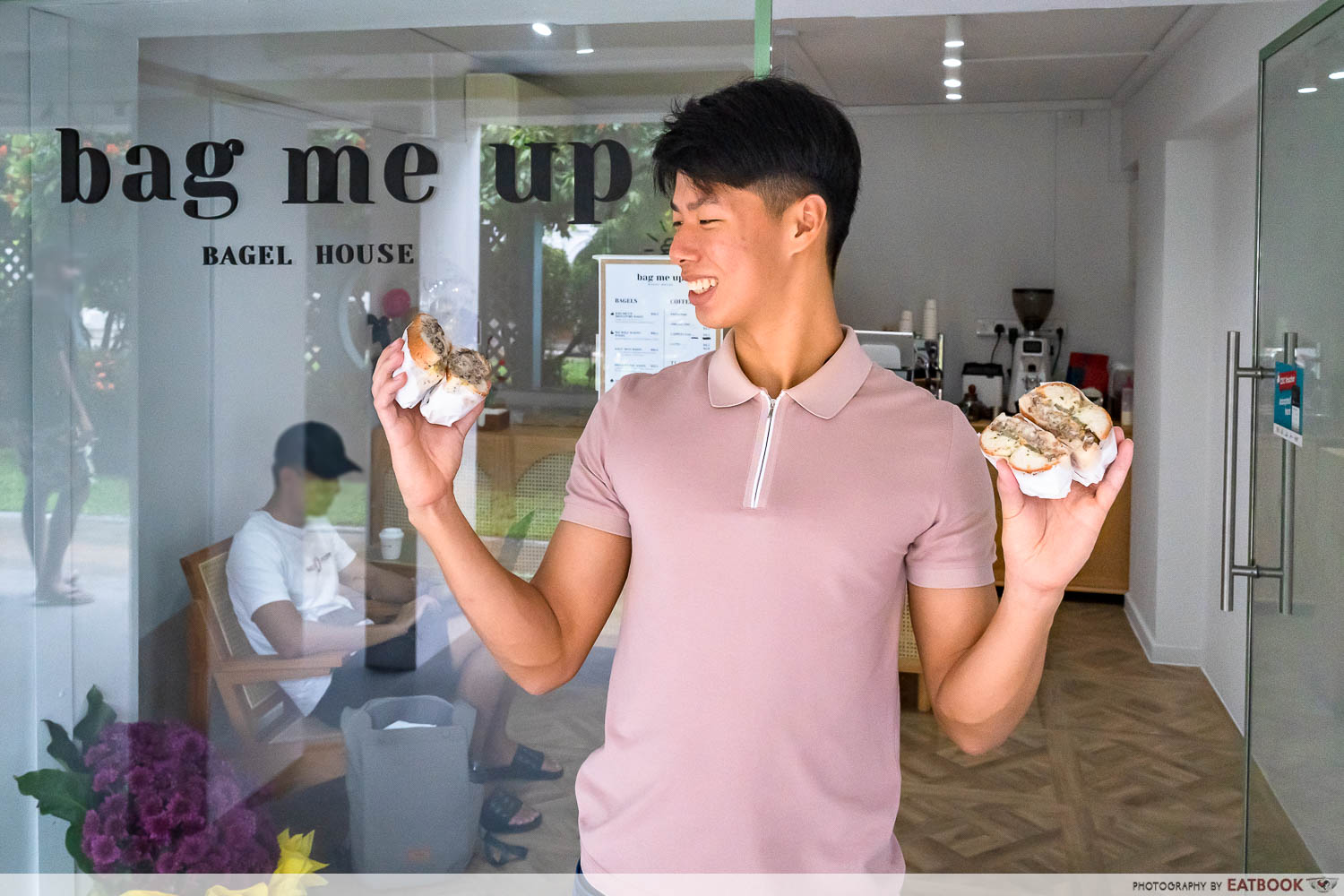 Although the bagels lean costly, their unique fillings justify the price you pay. Moreover, I also appreciated that we got a reusable thermal bag to go with our purchase, which was definitely handy in keeping our bagels fresh and warm. I'm willing to rate them as pretty great bagels that I'll definitely be back for more.
For other great bagel places to try, check out B for Bagel, a bagel shop from Korea which has smoked salmon and peach bagels. Alternatively, take a look at our Everton Park food guide while you're in the area!
Address: 2 Everton Park, #01-59B, Singapore 081002
Opening hours: Wed-Mon 9:30am to 5pm
Tel: 9670 1750
Website
Bag Me Up is not a halal-certified eatery, but uses no pork or lard. 
B For Bagel Review: Korean Bagel Shop In Tanglin Mall With Smoked Salmon And Peach Bagels
Photos taken by Jasper Juay.
This was an independent visit by Eatbook.sg
Bag Me Up Review: Get Unagi, Wagyu Beef Bagels At This Under HDB Bagel Shop Near Outram Park
Bag Me Up Review: Get Unagi And Wagyu Beef Bagels At This Under HDB Bagel Shop Near Outram Park -

8/10
Summary
Pros
– Thermal bag provided for the bagels
– Bagels with unique fillings, such as unagi
Cons
– The unagi was not meaty enough
Recommended dishes: We Will Wagyu Bagel (S$16.50), Trustful Bagel ($10.50)
Opening hours: Wed-Mon 9:30am to 5pm
Address: 2 Everton Park, #01-59B, Singapore 081002