B For Bagel in Tanglin Mall for sweet and savoury bagels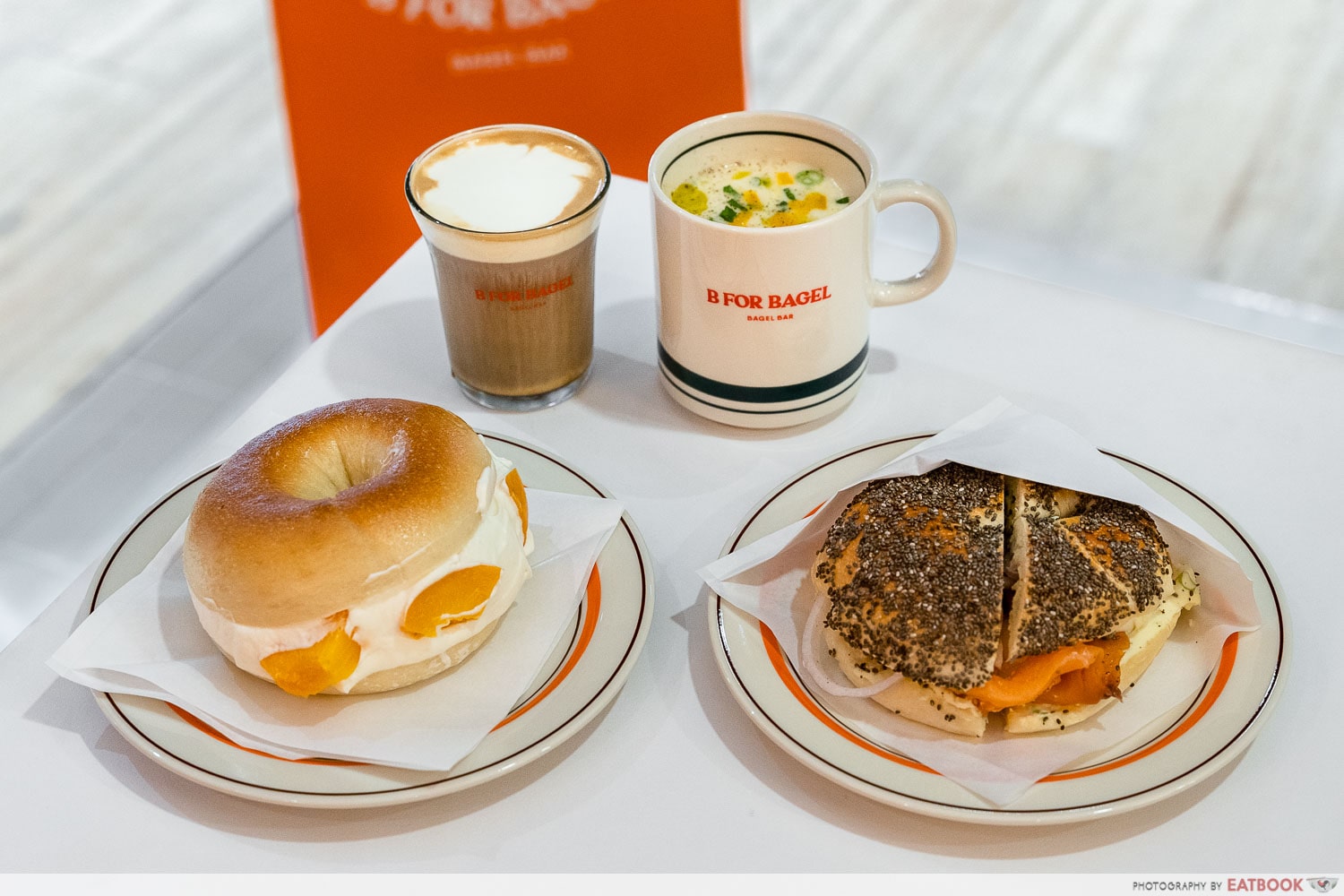 The newest entrant to Tanglin Mall is B For Bagel, a Korean bagel brand hailing from Gangnam, Seoul. Specialising in a variety of sweet and savoury bagel sandwiches and toasts, B For Bagel makes all their bagels from scratch, in the premises of their store.
Wooly's Bagels Review: Loaded Otah And S'mores Bagel Sandwiches Near Farrer Park
Food at B For Bagel

We ordered the Smoked Salmon Bagel ($16.90+) and topped up $2.90+ for the soup set. My first impression of this bagel sandwich was that it looked substantial and was generously filled with thick pieces of salmon, tomato slices, and onions. The creamy onion soup that came with it had a peppery taste and was mildly cheesy.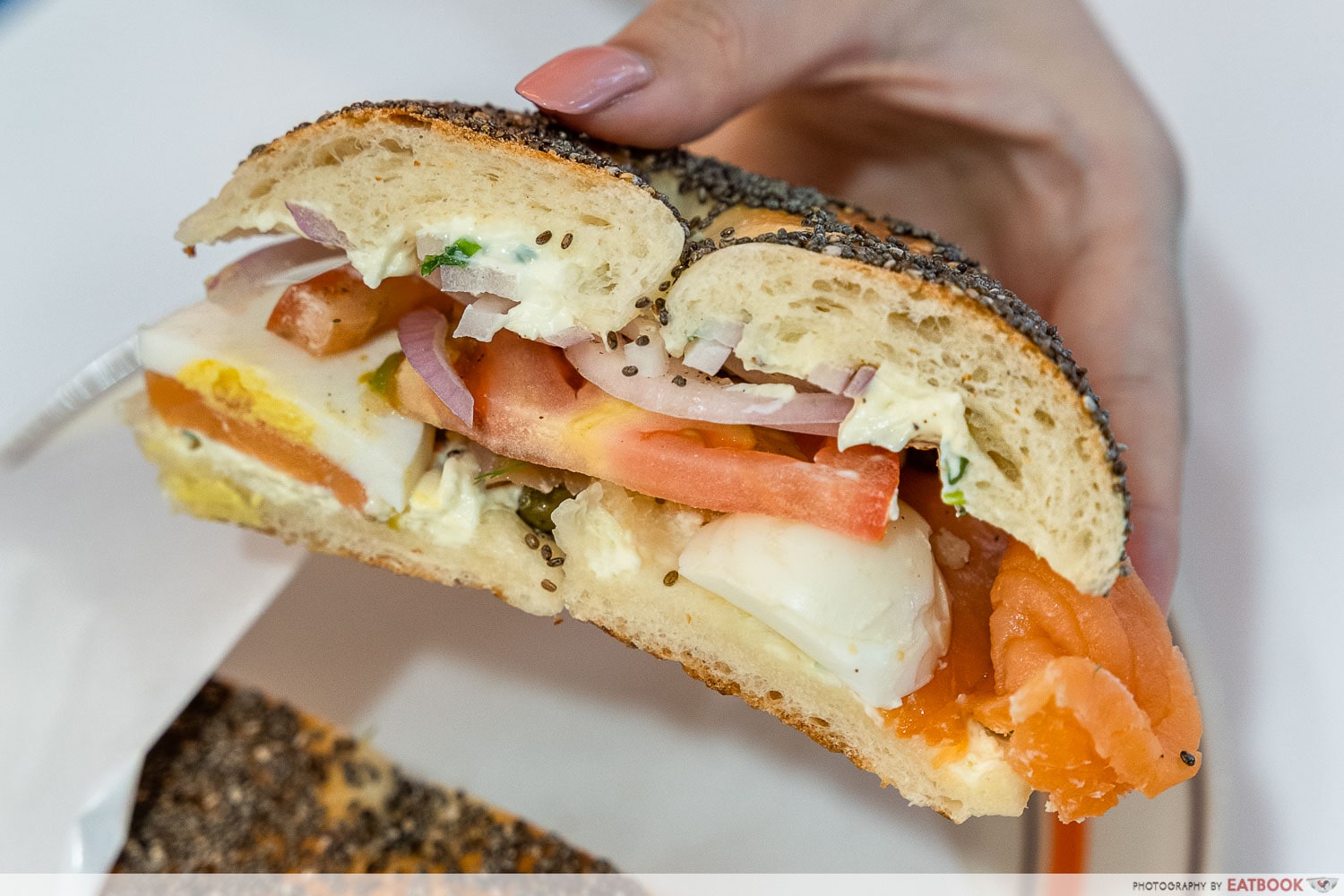 The bagel buns were covered in chia seeds and was light and chewy inside. With each bite I took, the bagel offered a burst of different flavours, from the saltiness of the smoked salmon to the tanginess of the tomatoes and the floral tartness of the capers.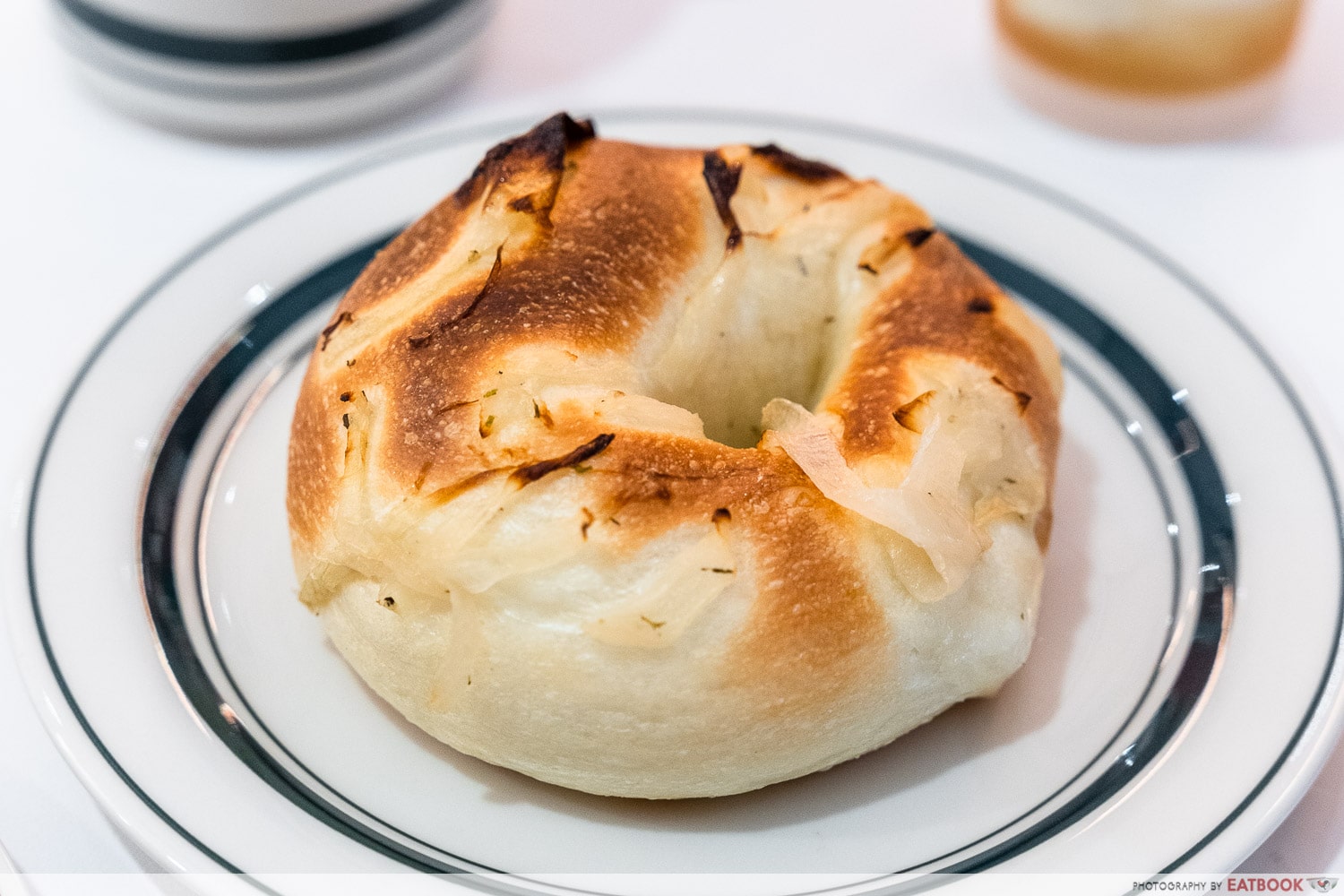 The Onion Bagel ($4.50+) is another one of their popular savoury bagels. It may look simple, but it packed a punch of flavours. As the inside of the bagel was plain, we decided to get a tub of Maple Cream Cheese ($4.30+) to pair with it.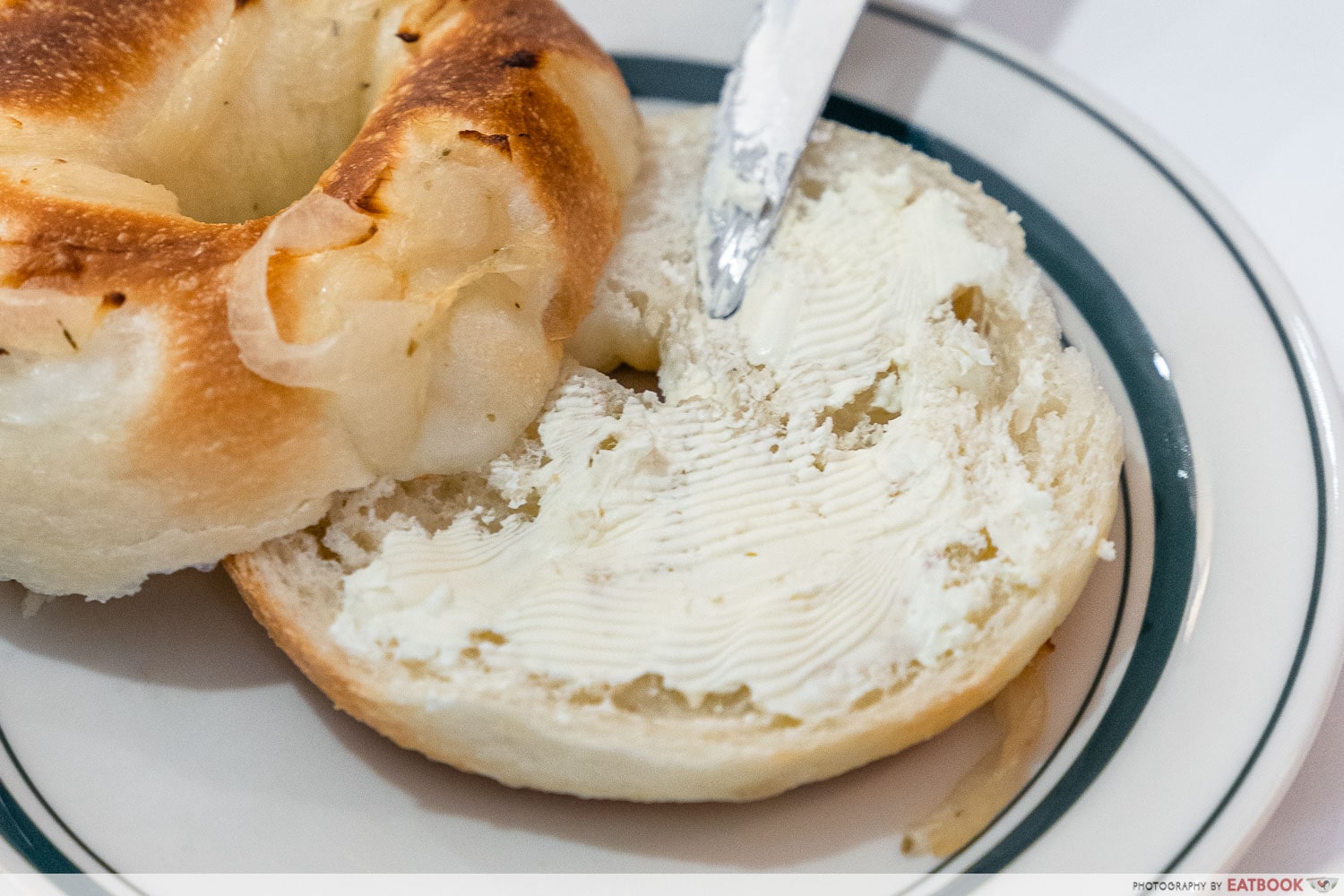 I loved how the onions on top of the bagel tasted sweet and were lightly charred. I lathered the bagel with rich and chunky cream cheese, which was sweet with a light tang. Don't forget to dig all the way to the bottom of the tub for more of that sweet maple syrup!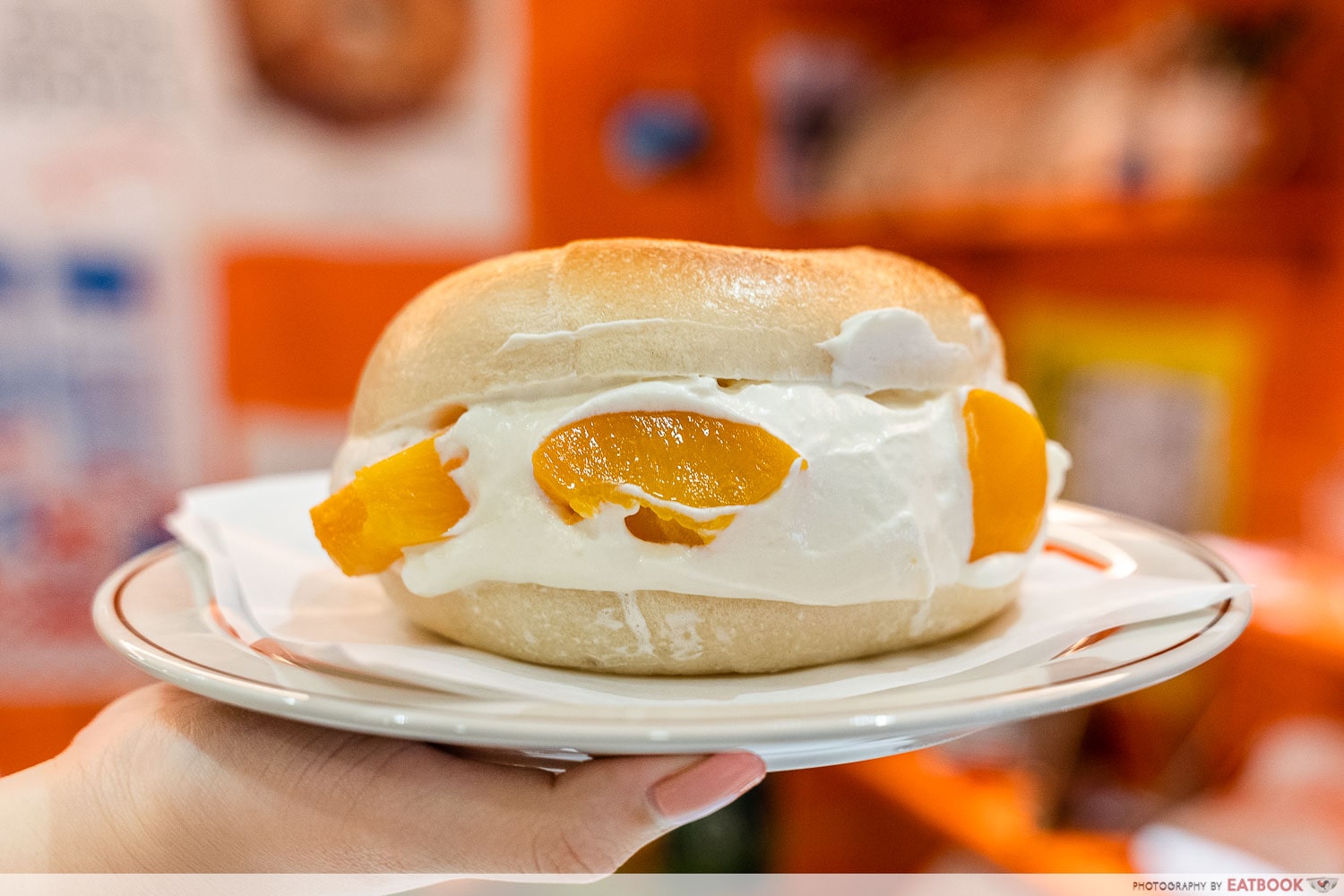 Those with a penchant for sweet bagels will love the Peach Cloud ($7.50+), which was loaded with whipped cream and peach slices. This bagel definitely lived up to its name as biting into the cream felt as if I was biting into clouds; it melted in my mouth within seconds. Although the bagel was completely stuffed with cream, the flavours were not overpowering as the cream was not greasy.
For my morning cuppa, I ordered the Einspanner ($6.50+), which is a Viennese-style latte. The coffee was strong and had a bitter aftertaste that my colleague wasn't a fan of, but that was easily overcome by mixing in the sweet and foamy whipped cream.
Keen's Bagelry: Bagel Shop In Bugis Has Japanese And NYC-inspired Bagelwiches
Ambience at B For Bagel
Decked in a vibrant orange, B For Bagel resembles a retro diner from the 60s with its neon signs and vintage-style posters. We're not fluffing when we say that every corner makes for an aesthetic shot—especially the small retail section AKA Instagram corner where you can pick up bagel tees, caps, and keychains. There's even a small chair that you can utilise to strike your best pose.
B For Bagel is a 15-minute walk from Orchard MRT Station.
The verdict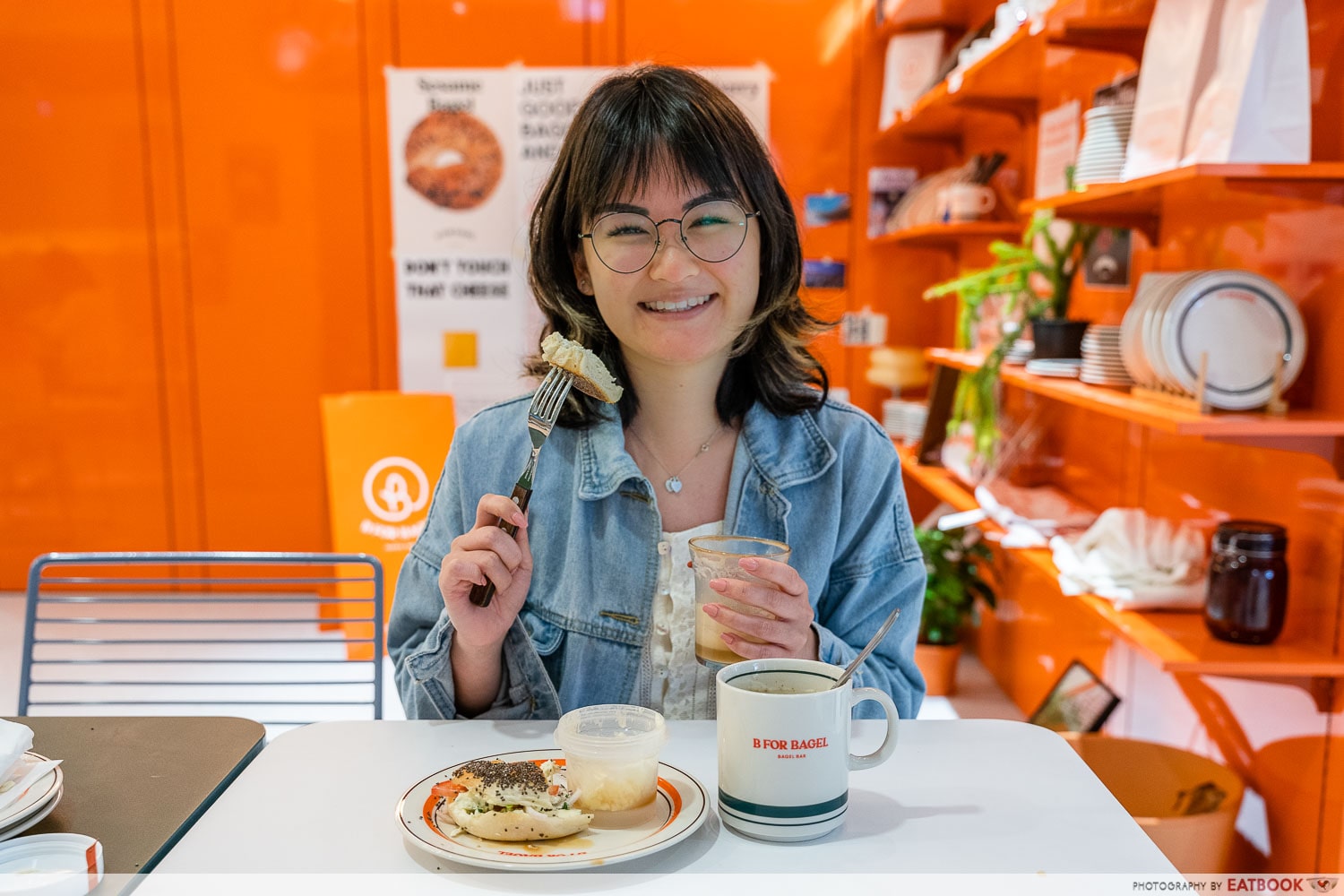 I have zero complaints about my experience at B For Bagel. The bagels were delicious, the vibes were great, and the staff were friendly. If I had to make one complaint, it'd be that they close at 5pm, which is unfortunate because I would love to drop by for dinner one day. I dare say B For Bagel is one of the best bagel places in Singapore that's worth making the trip down for.
For a list of the best bagel places in Singapore, check out our 20 best bagels guide. If you're looking for more food in the area, read our Lucky Saigon Cafe review.
Address: 163 Tanglin Road, #B1-125,126, Singapore 247933
Opening hours: Daily 10am to 5pm
Tel: 8781 0079
Website
B For Bagel is not a halal-certified eatery.
20 Best Bagel Places In Singapore Including Two Men Bagel House, Onalu And More
Photos taken by Casandra Nicholas and edited by Tan Zi Hui.
This was an independent review by Eatbook.sg
B For Bagel Review: Korean Bagel Shop In Tanglin Mall With Smoked Salmon And Peach Bagels
B For Bagel Review: Korean Bagel Shop In Tanglin Mall With Smoked Salmon And Peach Bagels -

9/10
Summary
Pros
– Delicious sweet and savoury bagels that are made from scratch
– Instagrammable spots
Cons
– Short opening hours
– Quite far from the MRT station
Recommended dishes: Smoked Salmon Bagel ($16.90+), Onion Bagel ($4.50+), and Peach Cloud ($7.50+)
Opening hours: Daily 10am to 5pm
Address: 163 Tanglin Road, #B1-125,126, Singapore 247933