Joji's Diner is a retro American cafe at Serangoon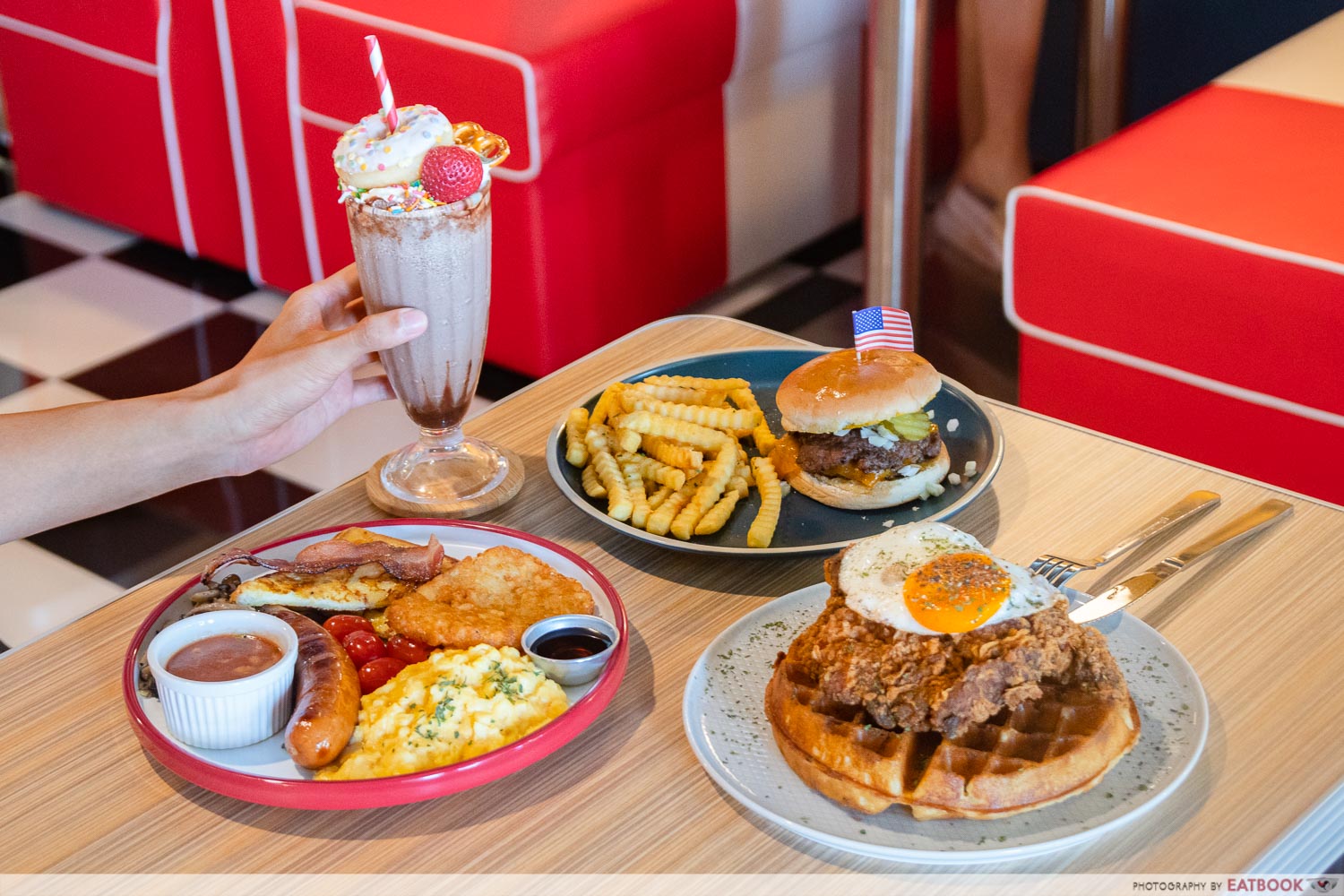 Joji's Diner, an American-style diner at Serangoon, has been popping up on social media ever since dining-in restrictions were lifted. Being an iconic symbol of American culture, diners are places of comfort, where people go for no-frills, greasy American grub that is fast, cheap and filling. Over at Joji's Diner, they attempt to replicate this charm with their affordable all-day breakfast.
Breakfast Club Review: Hawker Stall Has Cafe Breakfast And Rosti From $5.90 At Kovan
Food at Joji's Diner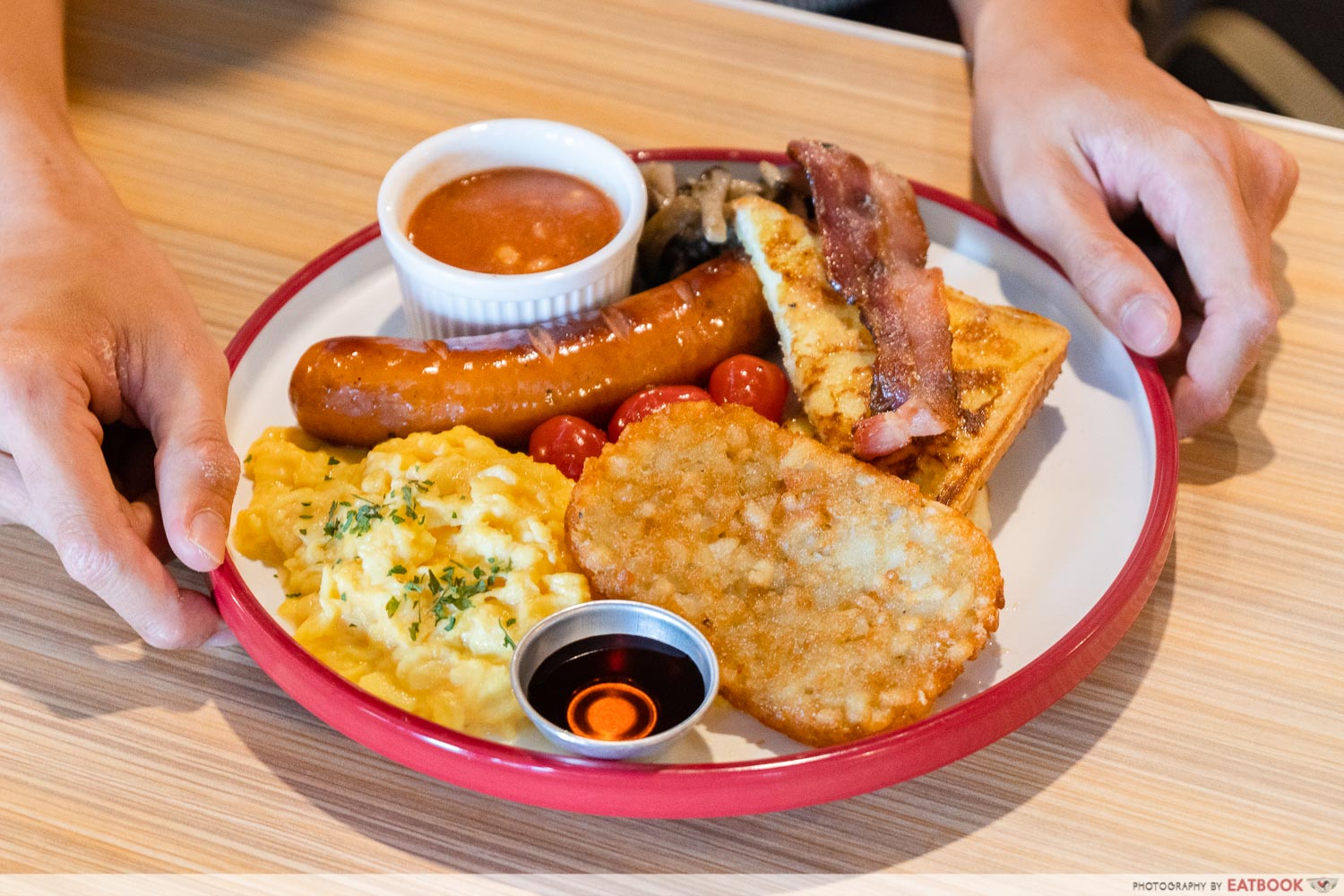 Joji Diner's All-Star Platter ($12.50), the most expensive item on the menu, was served as an all-star line-up of breakfast hits, such as bacon, scrambled eggs, sausage, and a hashbrown. It immediately reminded me of a better version of the Big Breakfast set from McDonald's.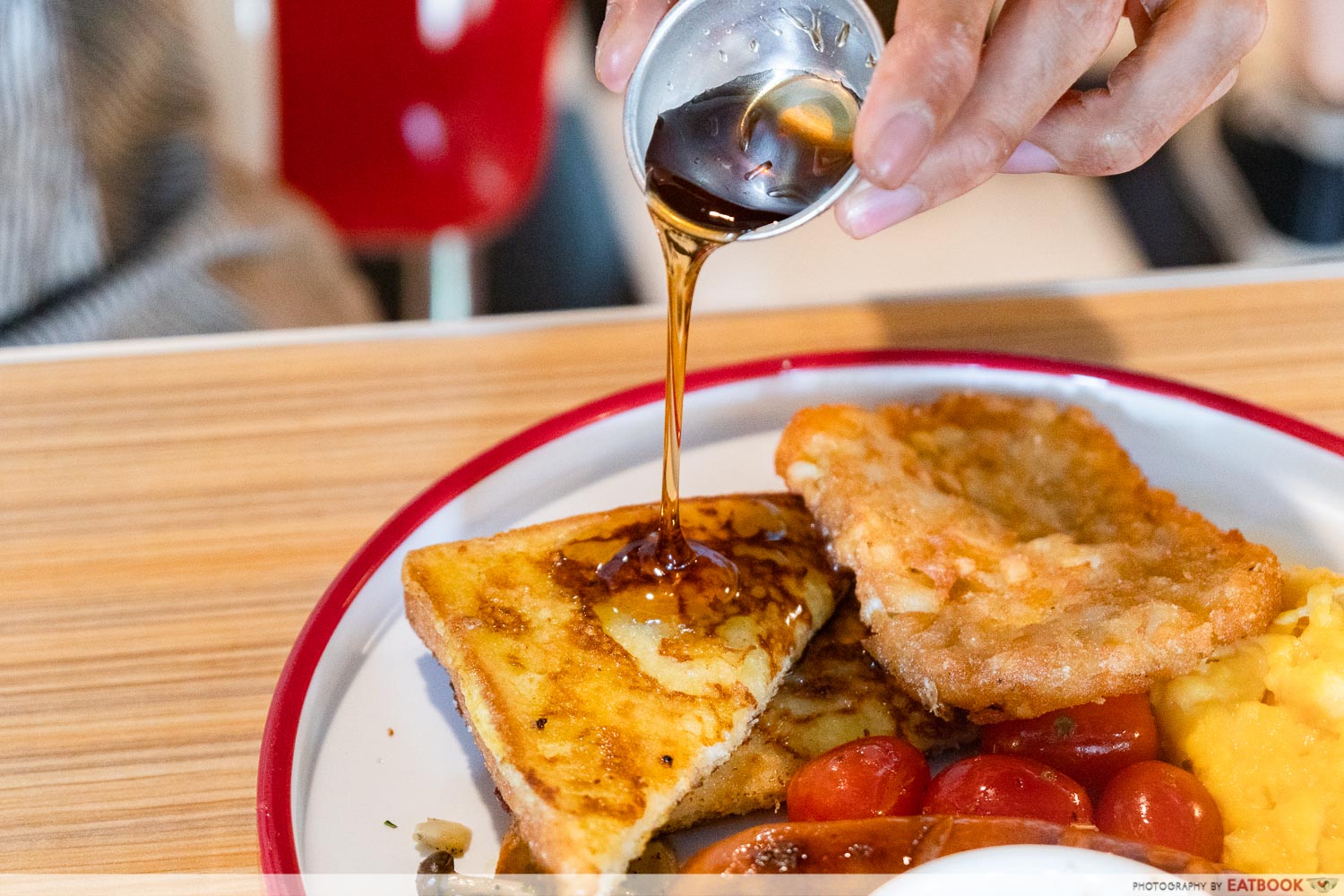 Despite me flooding the french toast with maple syrup thanks to my overzealous hands, it still shone through with light cinnamon flavours. The cinnamon cut through the greasiness as well.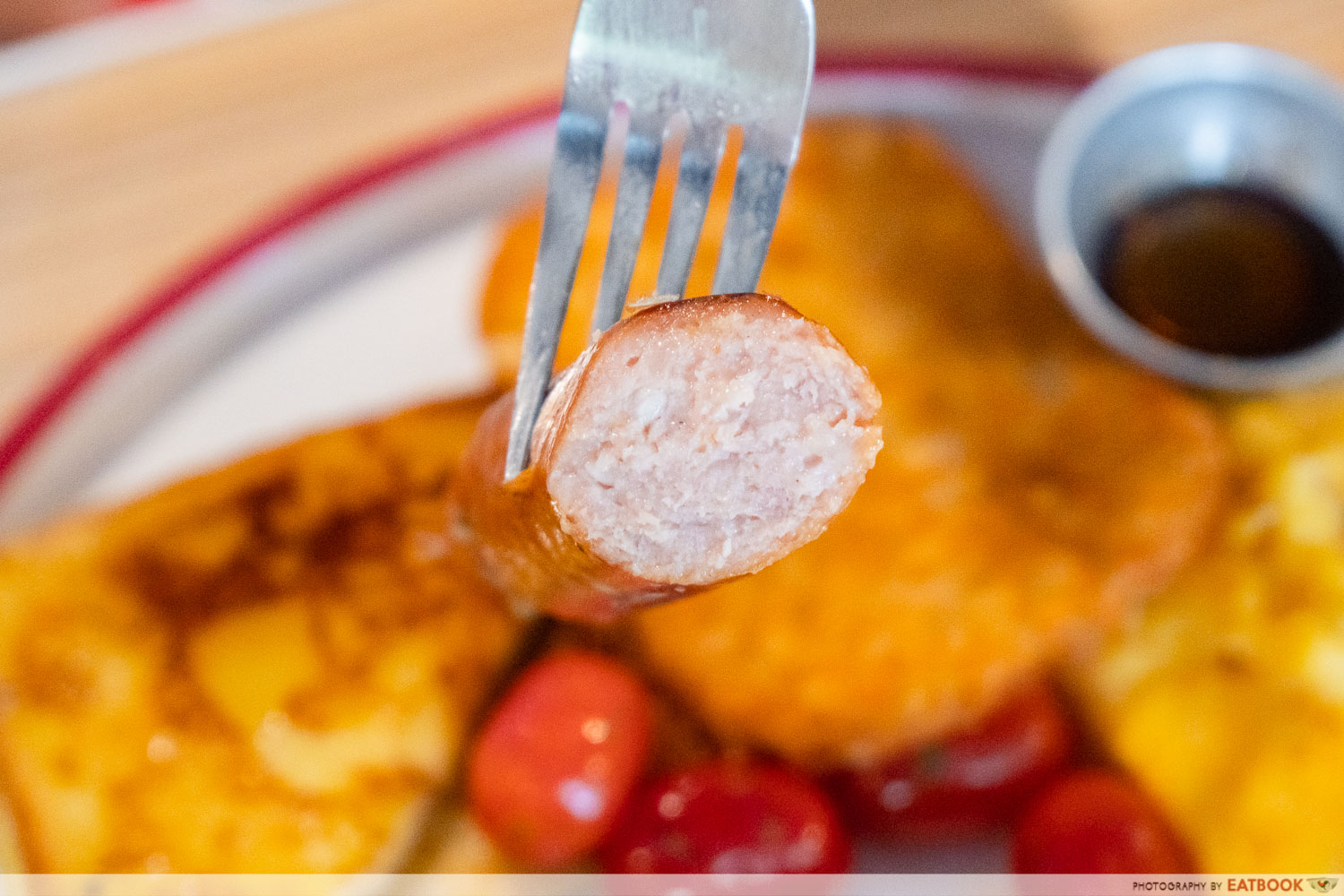 These german sausage sausages, another breakfast essential, had a crisp crunch and burst with savoury flavours. These flavours were further enhanced by the salty cheese within.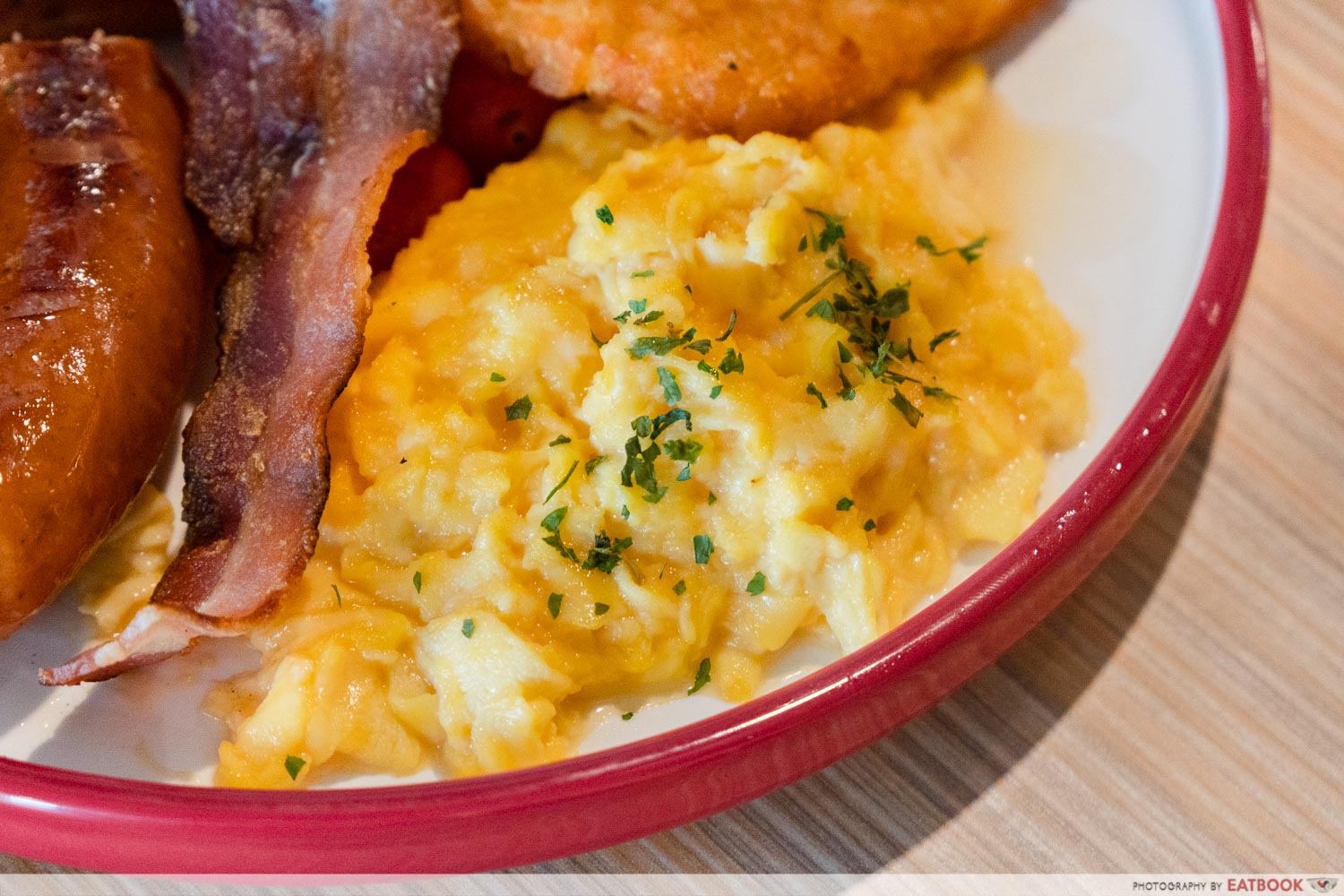 Their buttery scrambled eggs were smooth and melt-in-the-mouth. That being said, the oiliness got to me after a while and I found the buttery flavours a little cloying halfway through munching on the yellow cloud.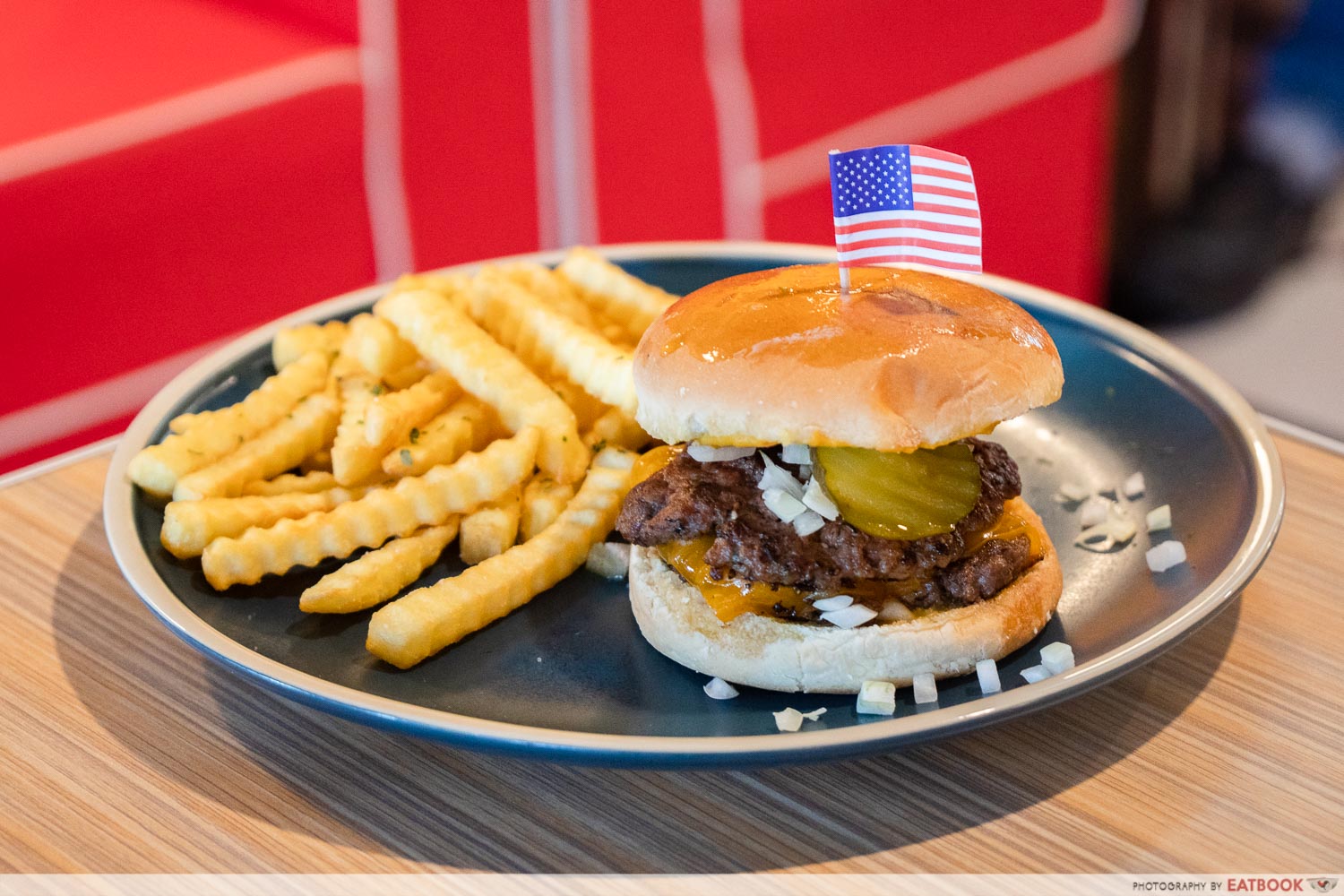 As a fan of crispy, seared smashed burger patties, I wanted to find out how the diner executes this American staple. Their Smash Burger ($11.90) features fluffy burger buns cushioning two beef patties, lined with cheese and pickles.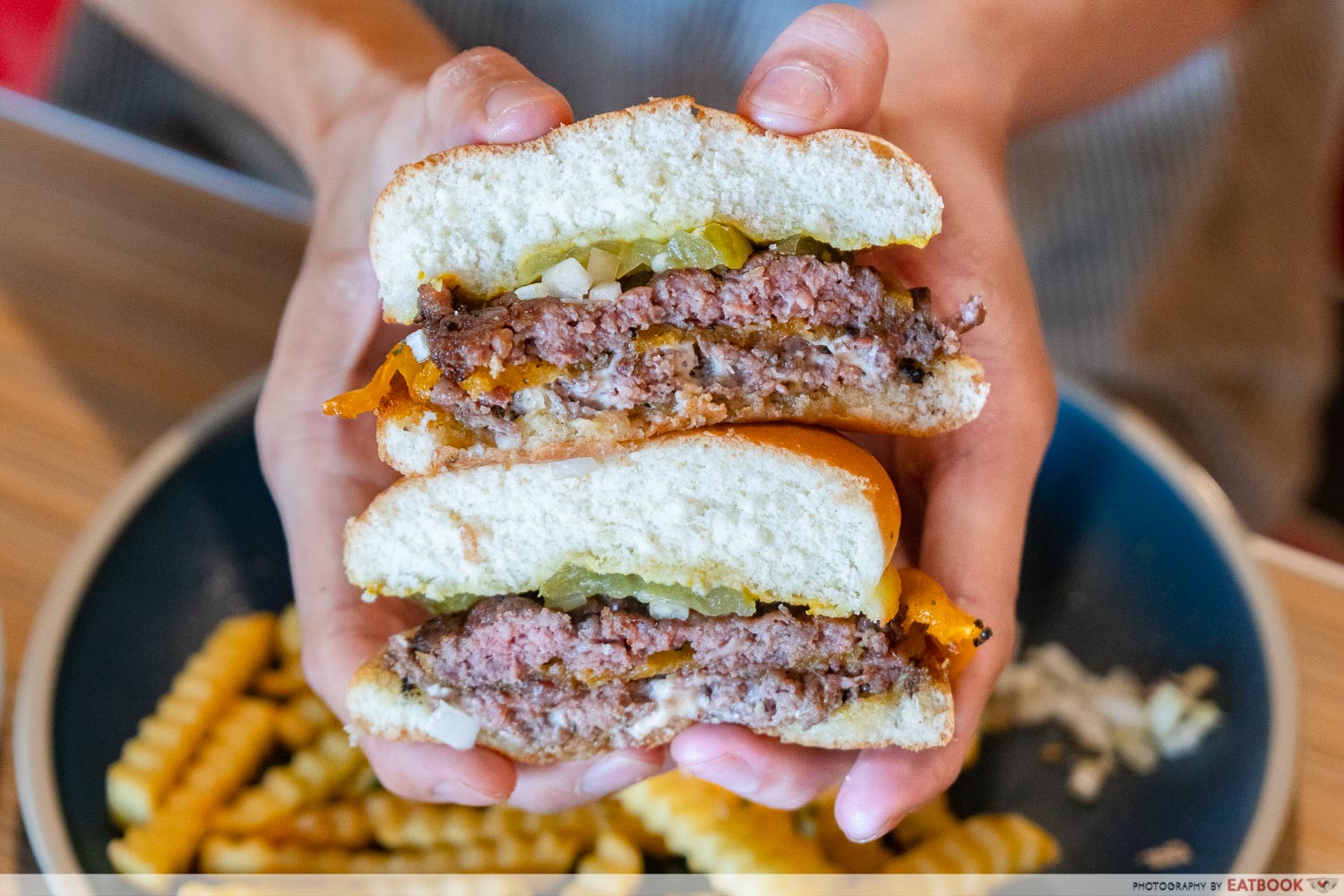 A common problem with fast food burgers is a sogginess that sets in, and I'm glad to announce that this wasn't a problem with Joji's burger. This allowed me to enjoy the fluffy buns in their full glory. However, the slightly over-salted beef patties did not carry the characteristic smoky charred flavours of smashed burgers, and were a slight letdown.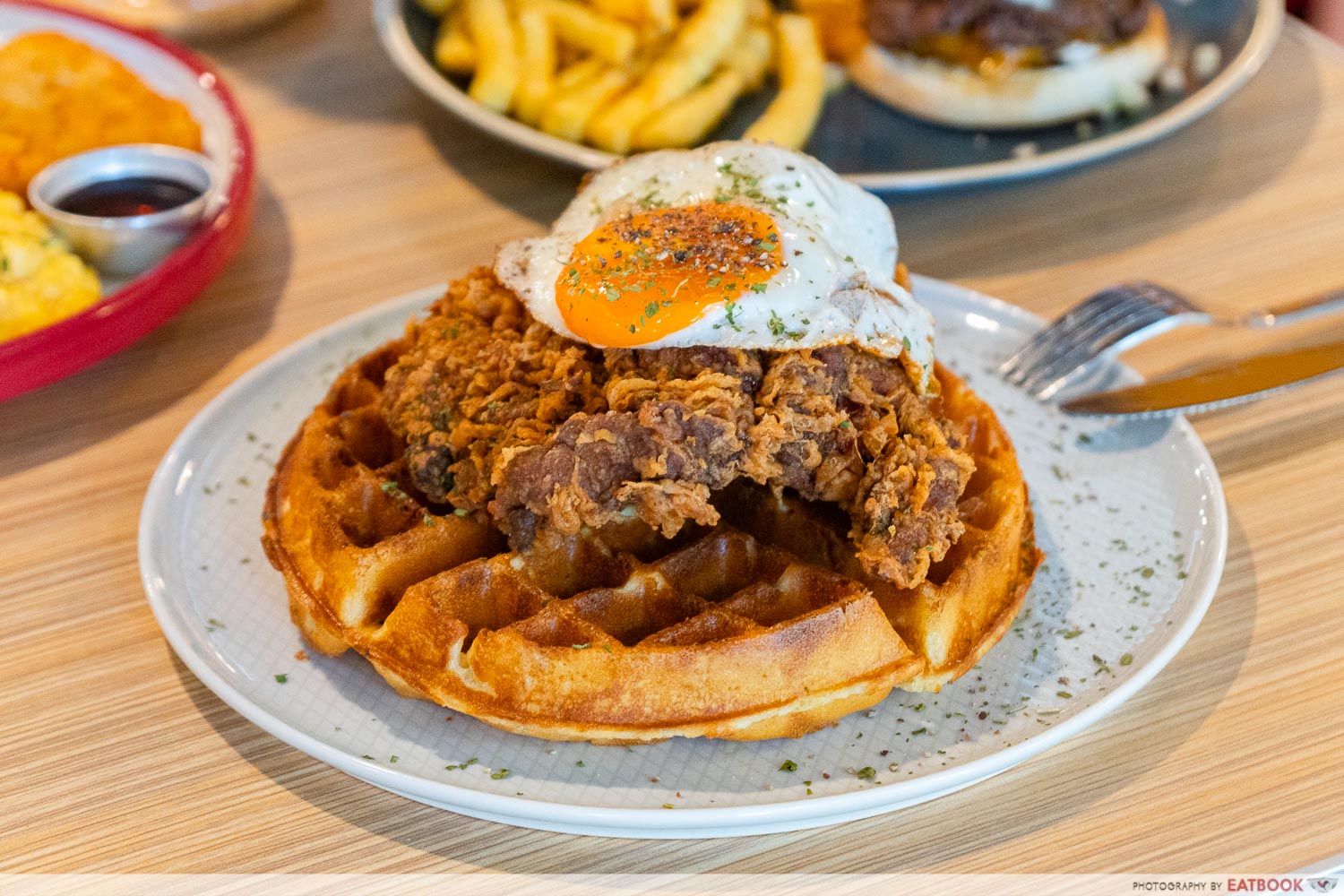 My favourite dish at Joji's Diner would be their Chicken and Waffle ($12.90). Arriving like a little pyramid, the waffle base tapers to a generous piece of fried chicken, followed by a sunny-side-up egg on top.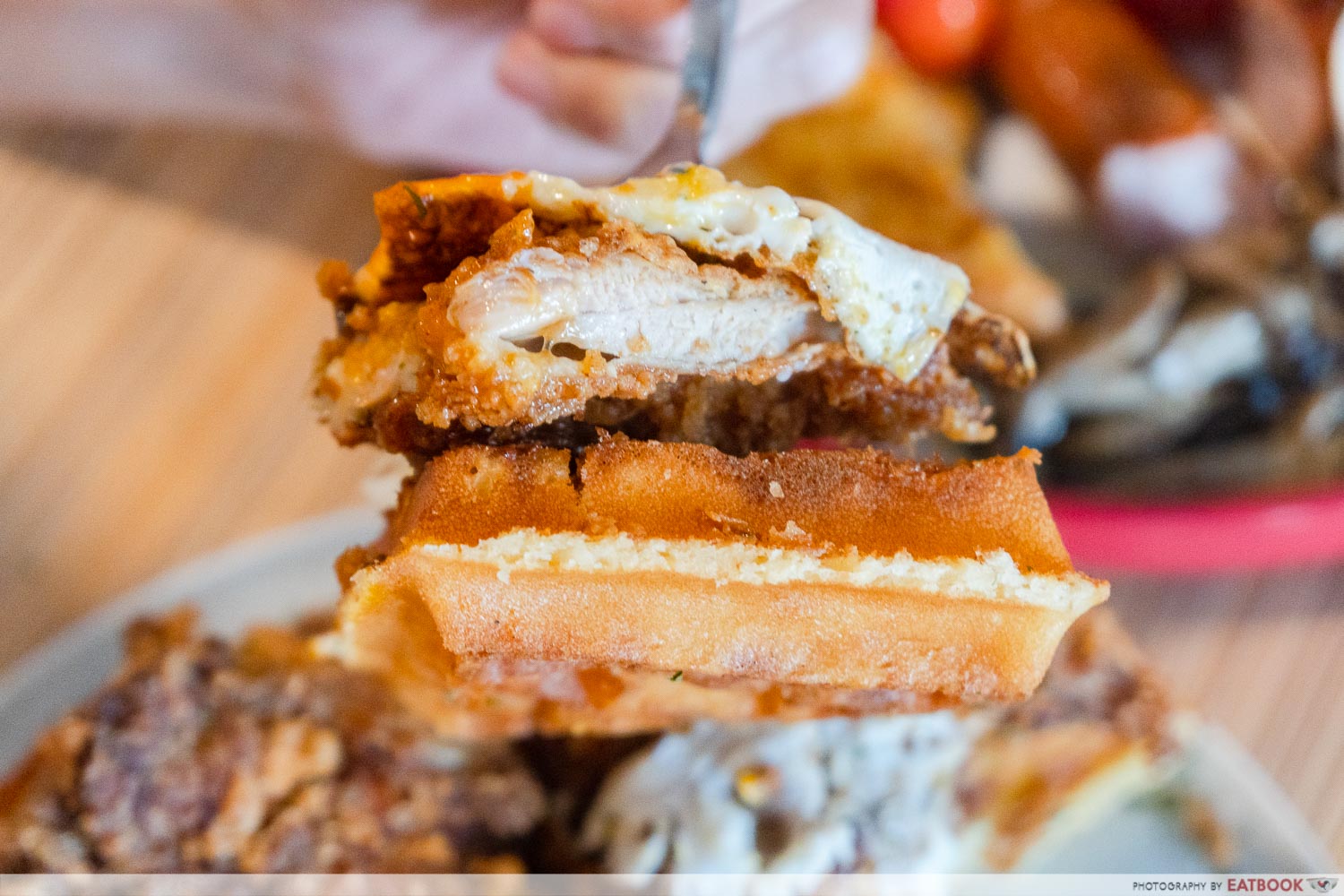 The waffles had strong diary undertones, which seemed to point towards a generous ratio of butter and milk in the batter. These milky flavours contrasted well with the tasty fried chicken. I would have preferred for the chicken to be a tad crispier, but the generous portion made up for the shortfall.
Unfortunately, the sunny-side-up was the weakest link, as it was a tad burnt on the underside and bore a bitter taste.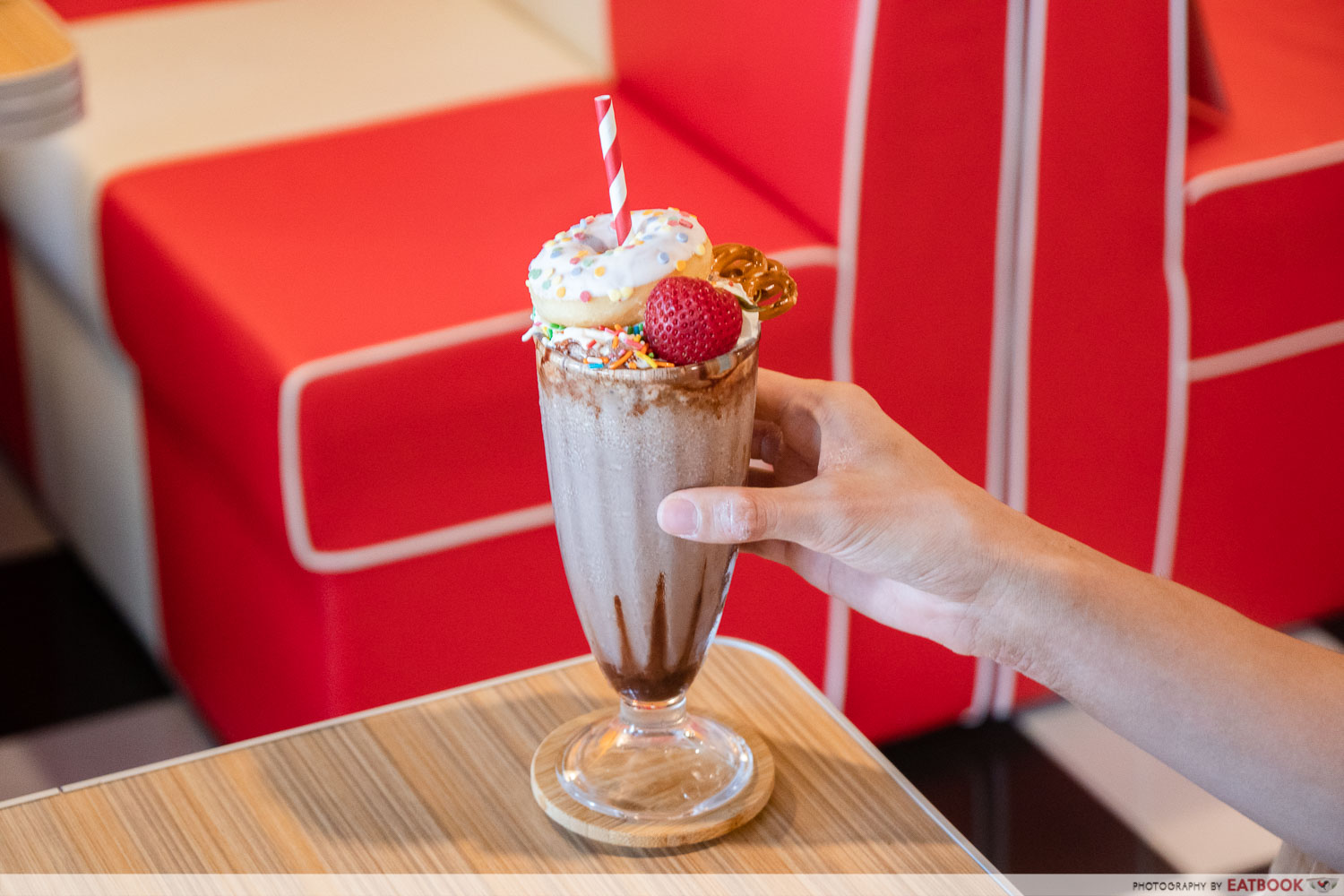 The Big Bang ($8.90) chocolate milkshake is so blissfully sinful that it can function as a meal on its own. Atop a thick malty drink lay liberal amounts of whipped cream, mini-pretzels, a strawberry, and a mini doughnut.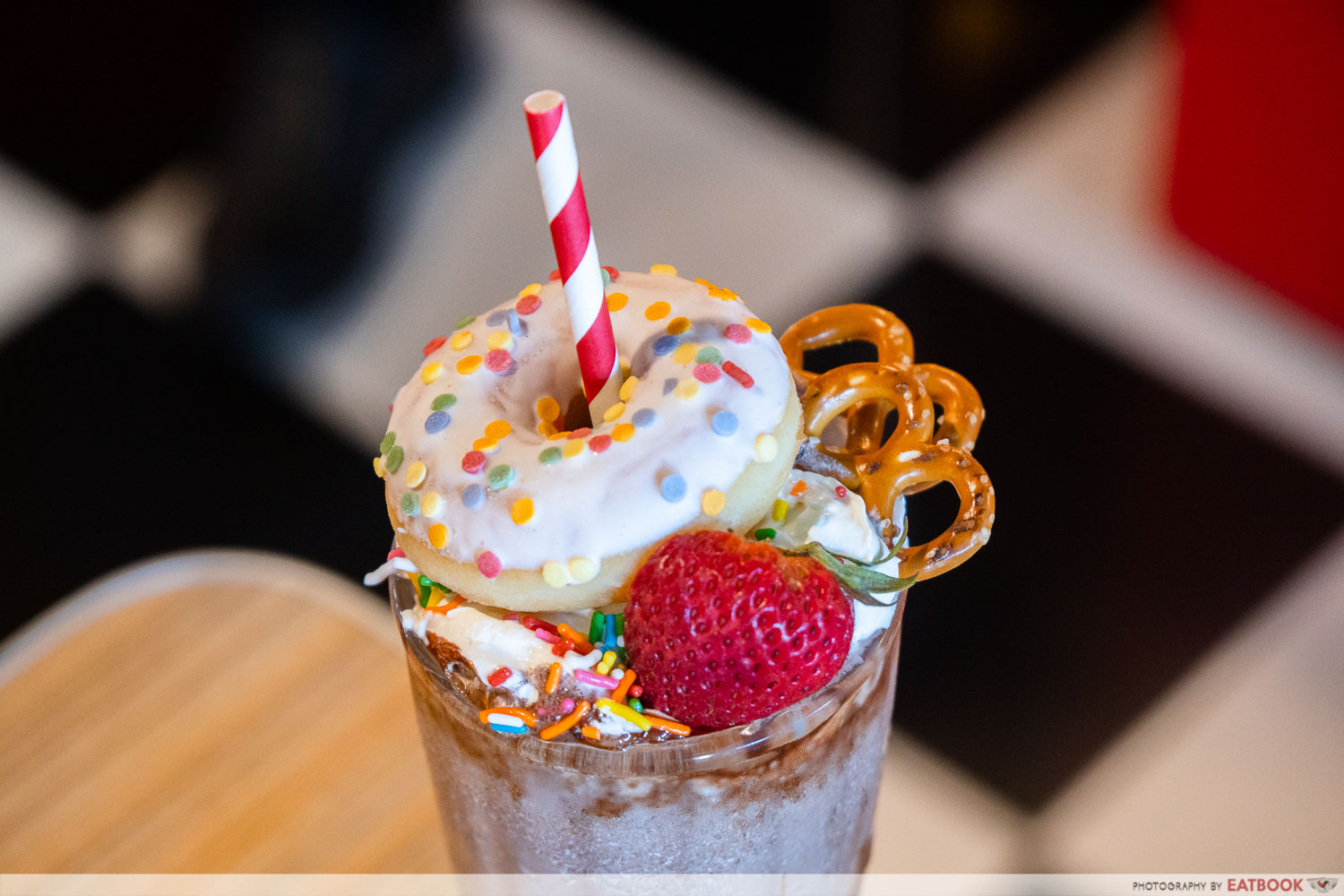 I would recommend sharing one of these with a dining companion as the sweetness overload got jelak after a few sips. Their menu also includes a few coffee and tea items, for those looking to get something lighter to wash down the hearty breakfast sets.
Downstairs Review: Retro Void Deck Cafe With Lu Rou Mian And Salted Egg Chicken Nasi Lemak In Suntec City
Ambience at Joji's Diner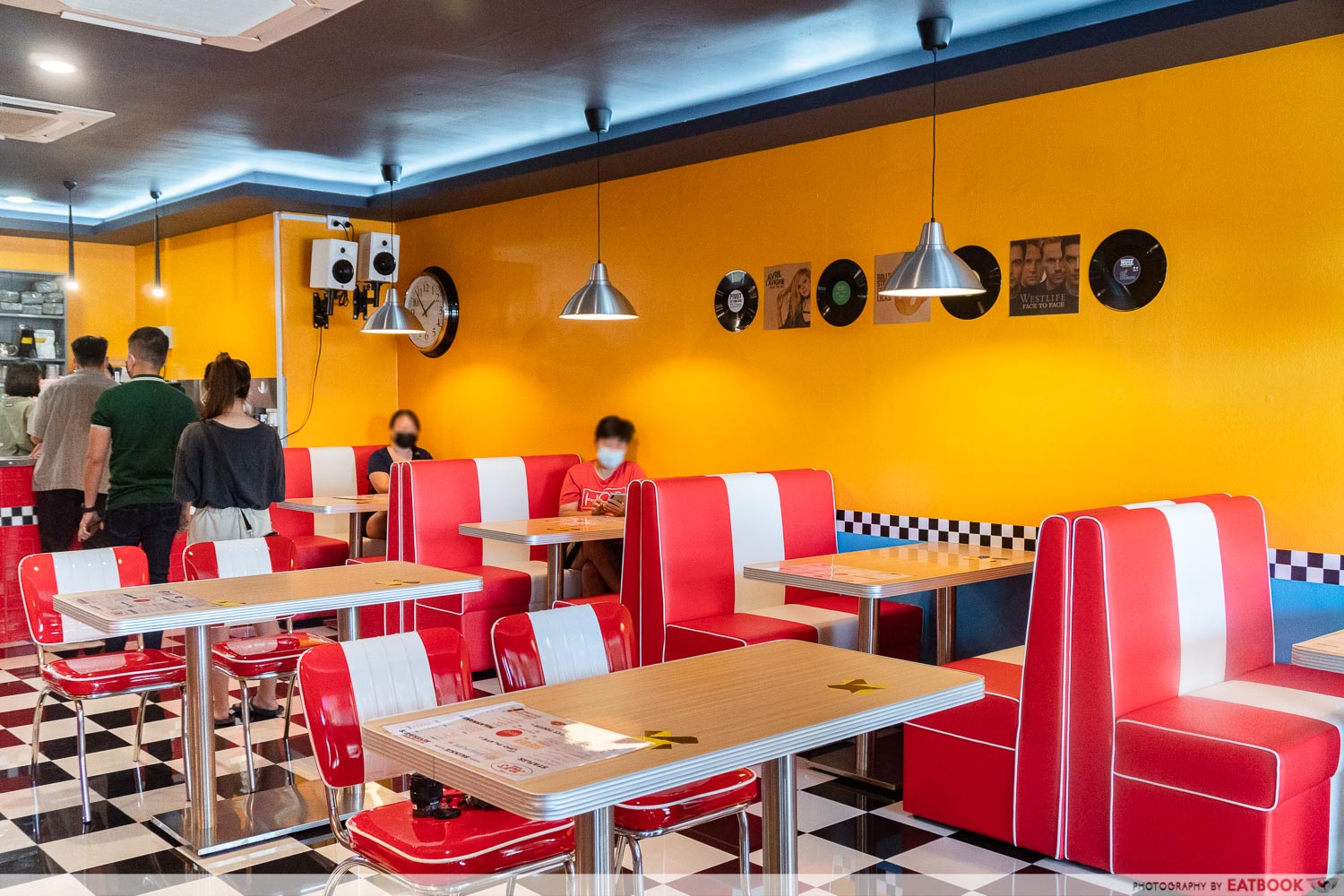 The entire store's decor bears a vintage look with its contrasting colours, jukebox, and gumball machine, making the diner a wonderful #ootd spot. You might find yourself photobombed by their endless stream of customers, thus I would recommend visiting after the hype wears off. 
With a six-minute walk from Serangoon MRT Station, Joji's Diner is right beside famous supper spot Song Kee Fishball Noodles.
15 Serangoon Garden Market Food Stalls That Deserve As Much Attention As Chomp Chomp
The verdict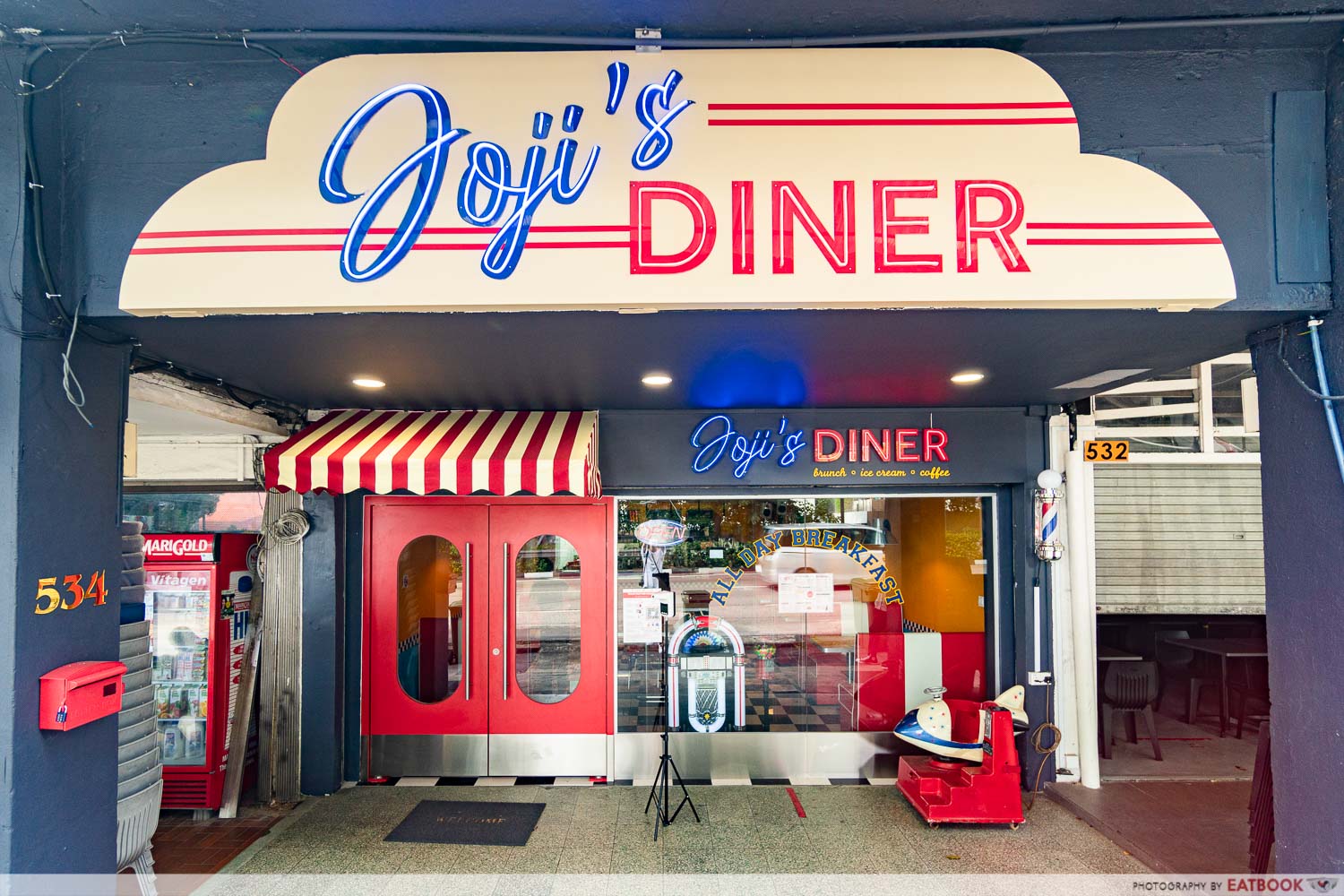 Joji's Diner excels in the field of serving American diner-style food at very affordable prices. This breath of fresh air to the Serangoon neighbourhood is such an attraction to the residents, that you will find queues forming even before their opening hours. The popularity, however, seemed to have taken a toll on customer service and it was a roller coaster of warm greetings and cold, hard expressions for customers who took a little longer to finish up their food.
For more food around the area, check out our NEX food guide for Korean volcanic fried rice, Taiwan toast and more. Otherwise, for other breakfast places nearby, check out our review of Apollo Coffee Bar, for risotto, french toasts and more. 
Address: 534 Upper Serangoon Road, Singapore 534549
Opening hours: Daily 10am to 10pm
Tel: 6993 0461
Website
Joji's Diner is not a halal-certified eatery.
Photos taken by Keith Kok
This is an independent review by Eatbook.sg.
Apollo Coffee Bar Review: New Cafe At Serangoon Gardens That Reminds Us Of Bali's Sisterfields
This post was originally written on 25 June 2021.
Joji's Diner Review: Retro American Diner At Serangoon For Chicken Waffles And Burgers Under $12.90
Joji's Diner Review: Retro American Diner At Serangoon For Chicken Waffles And Burgers Under $12.90 -

7.5/10
Summary
Pros
– Generous portions
– IG-worthy ambience
– Prices are affordable
Cons
– Customer service was a hit-or-miss
– Need to wait for a table
Recommended dishes: Smash Burger ($11.90), Chicken and Waffle ($12.90)
Opening hours: Daily 10am to 10pm
Address: 534 Upper Serangoon Road, Singapore 534549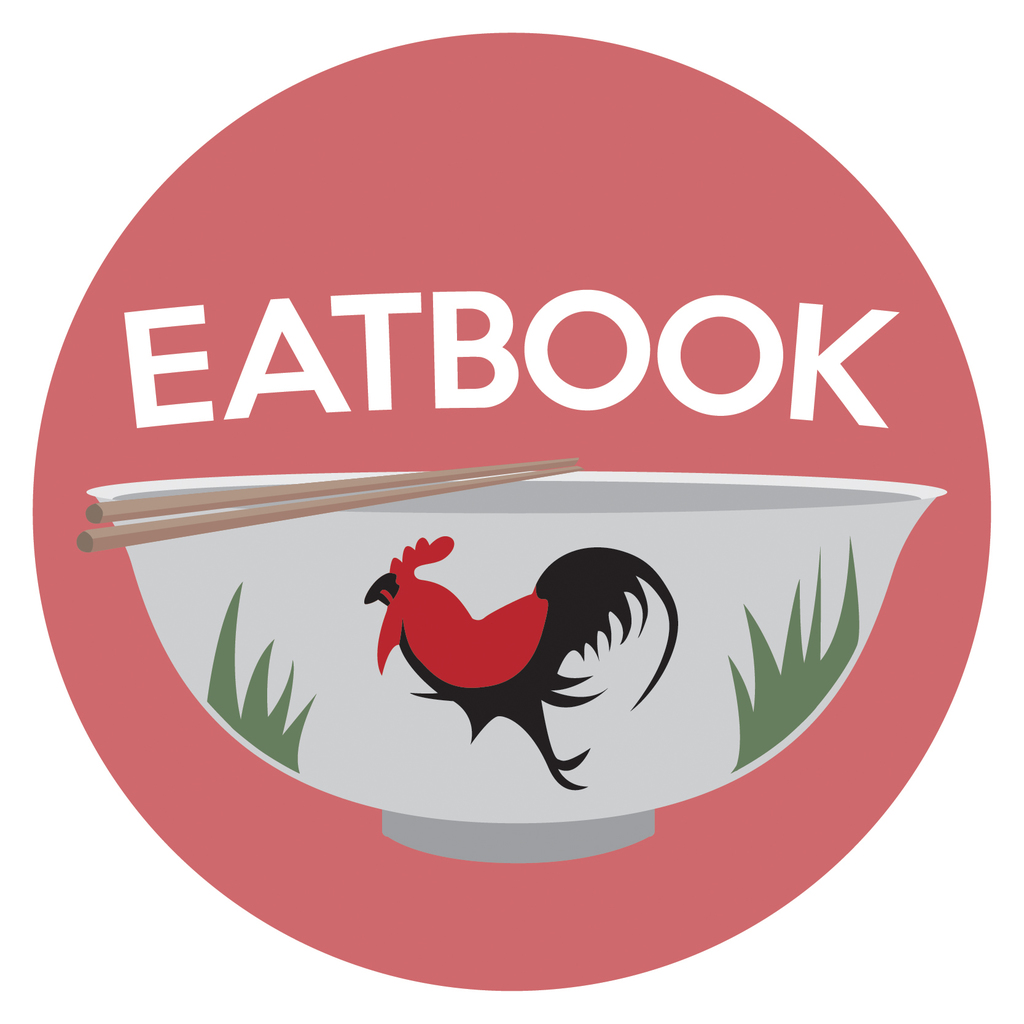 Drop us your email so you won't miss the latest news.