---
Serangoon food worth travelling for
---
One thing I've always been certain about is how much I love Serangoon food. Growing up at my ah ma's house in Serangoon really exposed me to the food scene there. Now that I've moved out, I always look forward to going back to visit my grandparents, and conveniently exploring the neighbourhood and its many great eats. I'll let you in on just a few of my favourites!
---
1. SimpleBurger Inc
---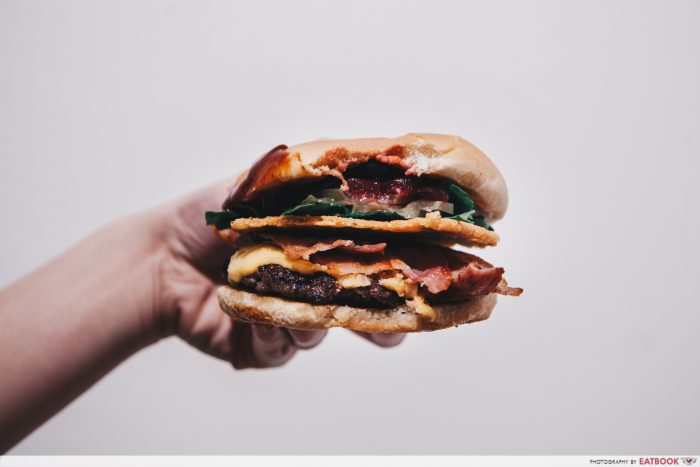 SimpleBurger Inc, a unique stand-up burger joint, is opened by the same owner of popular Western food chain, iSteaks Diner, so you can be certain the food here won't disappoint. SimpleBurger Inc adopts a DIY concept, which means you get to customise your own burger. There's even a vegetable station where you get to pile up on free-flow veggies! We loved the Natural Beef Patty Burger ($11), which contained a mix of striploin and ribeye. The beef was smoky, grilled and juicy, despite containing no seasoning. We also topped up Parmesan Cheese ($1) and salty Bacon Strips ($1), among other add-ons. If you haven't tried building a burger before, SimpleBurger Inc is definitely worth a visit.
Check out our full review of SimpleBurger Inc!
Address: 1 Maju Avenue, #B1-21/22, myVillage, Singapore 556679
Opening hours: Daily 10am to 10pm
Tel: 6634 2526
Website
---
2. King's Laksa Steamboat
---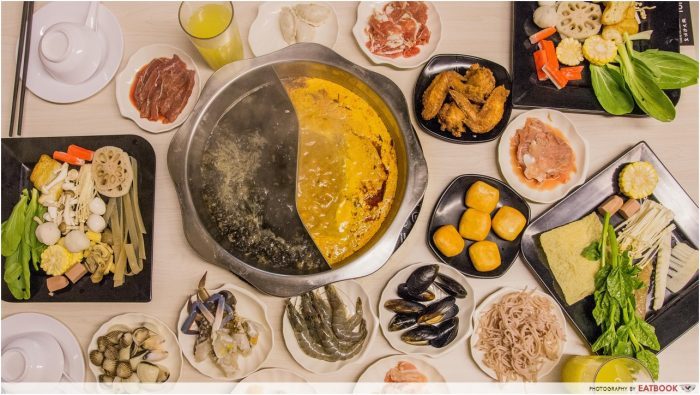 King's Laksa Steamboat not only offers steamboat with soup bases such as laksa and ma la, but also free-flow har cheong gai! The buffet costs $21.80++ during lunch on weekdays and $26.80++ for lunch and dinner on weekends. Kids aged six to 12 get an exclusive discount at $16.80++. The laksa soup was creamy and spicy, without being overly jelak. The hot pot also came with a variety of meats, as well as seafood like Flower Crab and La la Clams. Come with an empty stomach and get ready to feast like a beast!
Find out more in our full review of King's Laksa Steamboat.
Address: 17 Teck Chye Terrace, Singapore 545724
Opening hours: Daily 11am to 11pm
Tel: 6287 8010
Website
---
3. Lau Wang Claypot Delights
---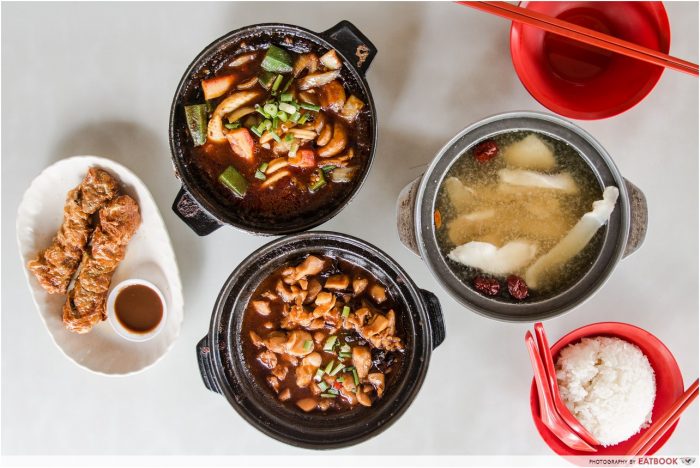 Lau Wang Claypot Delights is located in the coffee shop just a short walk away from NEX Shopping Centre. The Sesame Chicken ($5.20/$7.20) is a popular choice here. Taking us by surprise, every tender piece of chicken was well marinated and fragrant with sesame oil. If you're in the mood to challenge your taste buds, give the spicy Sambal Seafood ($8.50) a try. It was delivered to our table with fish, squid, crab sticks and lady's fingers simmering in a bubbling hot sauce. For something wholesome and comforting, get a bowl of Herbal Fish Soup ($6/$8.50) to sip on. The umami broth contained hints of sweet goji berry, with a slightly bitter aftertaste, while the fish had a bounce to its bite.
Read on in our full review of Lau Wang Claypot Delights.
Address: 263 Serangoon Central Drive, #01-43, Singapore 550263
Opening hours: Daily 11am to 9:45pm
Tel: 9001 0814
---
4. Srisun Express
---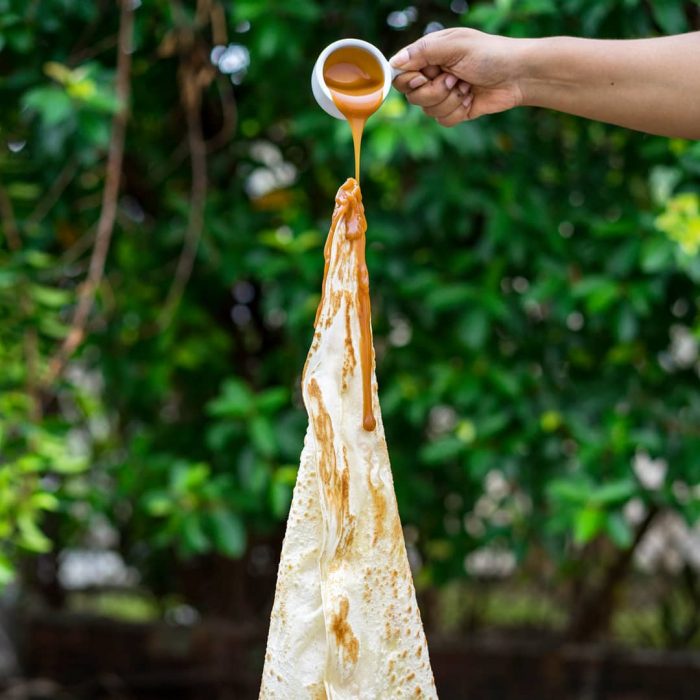 Image credit: @srisunexpress
Srisun Express is the perfect late-night spot to makan with your friends after work. Not only is this prata eatery open 24 hours, it also has a huge menu to cater to every palate. Apart from classics such as Maggi Goreng ($5) and Prata ($1.50), Srisun Express also puts a spin on everyday fare, fusing it with Western and even Mexican cuisine. Take their Butterscotch Tissue Prata ($6.60) for instance, a massive, cone-shaped prata dripping with butterscotch syrup. Other dishes worth a try include their Tikka Tacos ($8.80) and Masala Fries ($4.40). They even have giant drink towers ranging from $12 to $16 so you and your pals never run out of a good beverage!
Address: 56 Serangoon Garden Way, Singapore 555952
Opening hours: Daily 24 hours
Tel: 6282 2325
Website
---
5. Chong Qing Grilled Fish
---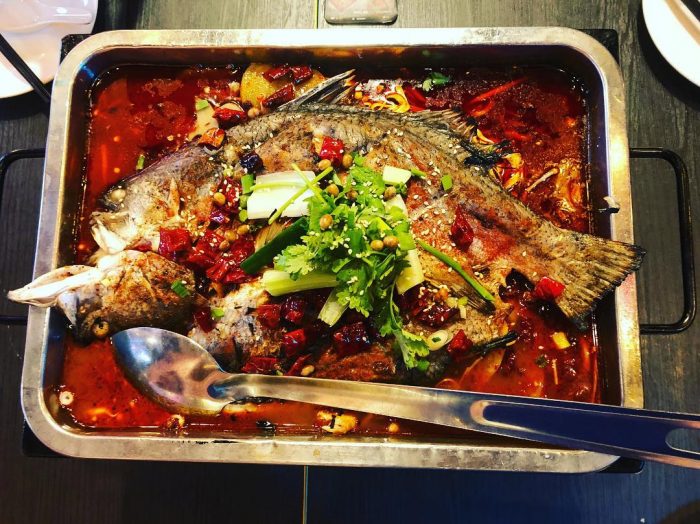 Image credit: @msjtohjn
If you love ma la, head on down to Chong Qing Grilled Fish for a delightful taste of Chongqing's red hot, spicy cuisine. This eatery specialises in none other than grilled fish. Pick your desired fish, such as Sea Bass ($32/$38) or Golden Snapper ($36/$42), and select a flavour: Spicy Fragrant, Fermented Blackbean, Spicy Numbing, Pickled Cabbage, Hot and Sour, Fresh Chillies or Mushroom Herbs. You can then add on optional ma la ingredients to your dish. If you're not a fan of fish, don't let the store name chase you away! Chong Qing Grilled Fish has a lot more to offer, from vegetables to seafood to meats. Some interesting dishes to try include their Sichuan 'Water-Cooked' Beef with Fragrant Chilli Oil ($16) and Salted Egg Calamari with Thai Herbs ($14). This place also opens till 2am, making it an ideal location to jio your friends to for supper.
Address: 2 Maju Avenue, Singapore 556680
Opening hours: Daily 4pm to 2am
Tel: 6702 6680
Website
---
6. Bee Kee Wanton Noodle
---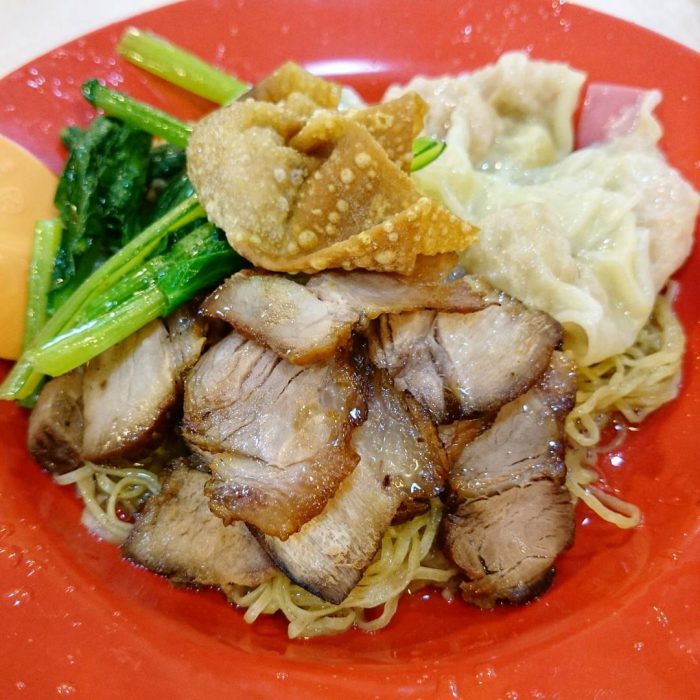 Image credit: @tame_bunny
Bee Kee Wanton Noodle ain't your average noodle stall. Jumping on the truffle bandwagon, they also offer Truffle Wanton Mee ($8), apart from regular wanton noodles. What makes this bowl of noodles so special is the mee itself. Instead of ordinary yellow wanton noodles, Bee Kee uses a lighter, flatter kind of springy noodles that have been doused in truffle oil, giving the dish a heavenly aroma. Fried lard is also provided in a small container at the side, so you can top your noodles off with this compulsory sinful treat!
Address: 2 Lorong Lew Lian, Chuen Kee Coffee Shop, Singapore 531002
Opening hours: Daily Mon 7:30am to 4:30pm, Tues-Sun 7:30am to 8pm
Tel: 9877 3310
Website
---
7. The Plain Jane
---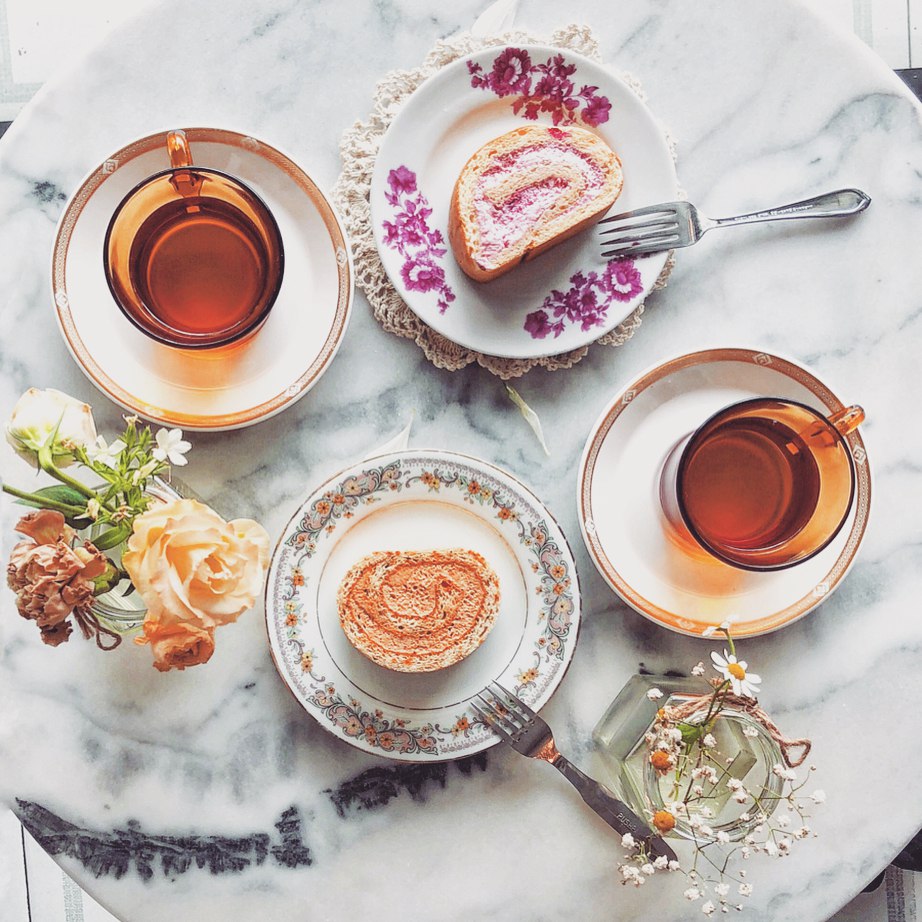 Image credit: @vivi_rrr_
Fancy some dessert? Sip daintily on tea and stuff yourselves silly with swiss rolls over at The Plain Jane. These sweet treats may look simple, but they sure do taste out of this world. Their popular Swiss Rolls ($5.90/$6.90) are stuffed with creamy decadence ranging from Nutella Chocolate to Meringue Roulade and Thai Milk Tea! Get zapped to Britain by indulging in some Scones ($2.90) or a sweet slice of Apple Tea Cake ($4.90), and wash it all down with a classy cup of Chai Tea Latte ($5.50). The calming, contemporary setting at The Plain Jane will take your breath away, so do come on over when you're seeking refuge from the hustle and bustle of the concrete jungle.
Address: 211 Serangoon Avenue 4, #01-10, Singapore 550211
Opening hours: Mon-Tue & Thur 12pm to 8pm, Fri 12pm to 10pm, Sat 10am to 10pm, Sun 10am to 8pm
Tel: 6281 2477
Website
---
Serangoon food will make your stomach growl
---
Be it sweet or savoury, Serangoon's food checks all the boxes. Many of the eateries here also open till late, making Serangoon a perfect supper hangout. Stop drooling at your screen, grab a couple of close friends and head on down to sample the food for yourselves!   
If you're planning on heading down to a food court in the vicinity, check out our compilations of must-try stalls in Chomp Chomp Food Centre or Serangoon Garden Market Food!