First Street Teochew Fish Soup has old-school fresh fish soup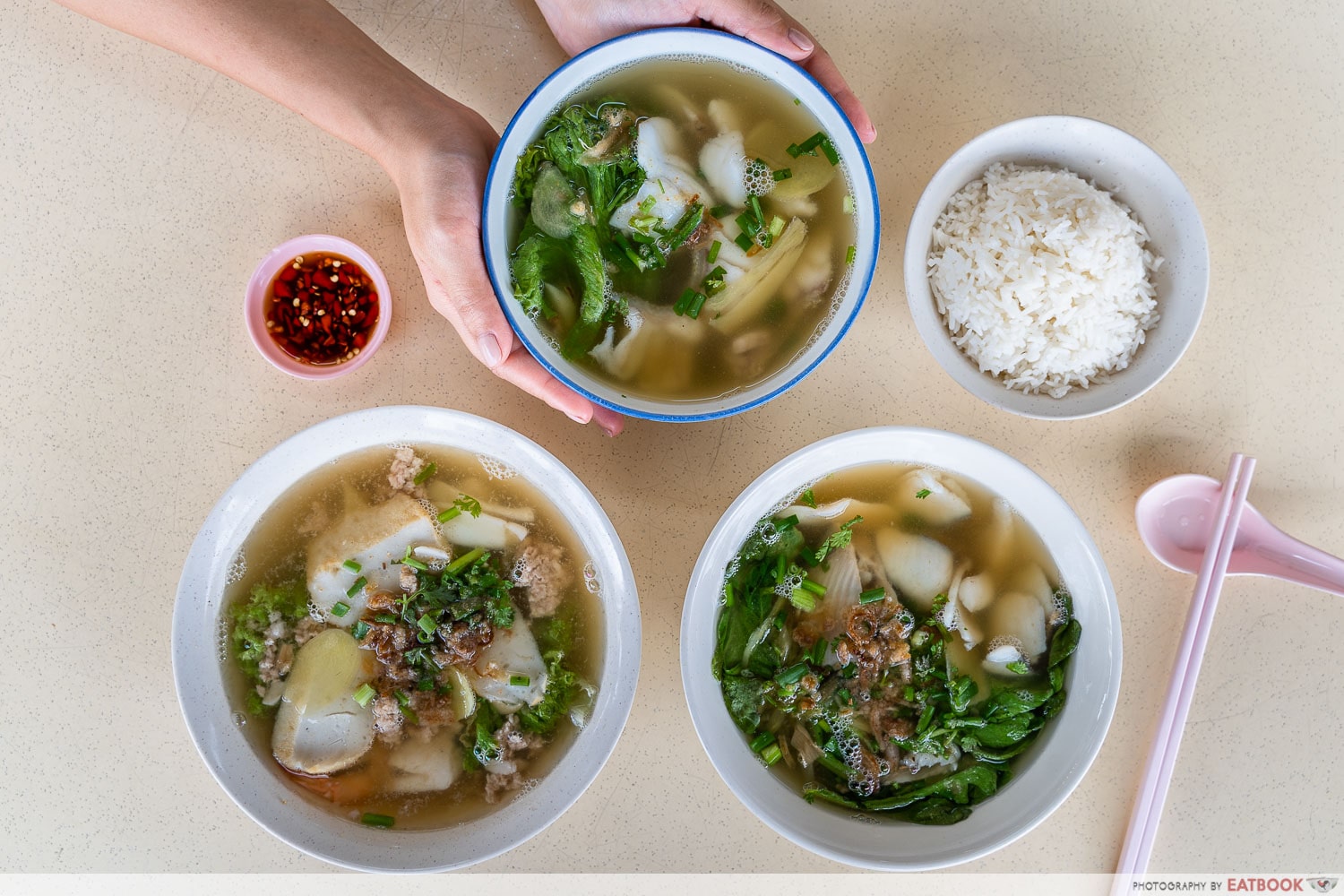 When I think about having fish soup, I usually head to Maxwell for Jin Hua Fish Head Bee Hoon. I only ever have their Carnation milk-zhnged version, with fried fish fillets—the deep-frying usually masks any fishiness. But I've always heard about the great First Street Teochew Fish Soup, with their clear, sweet soup and super fresh fish.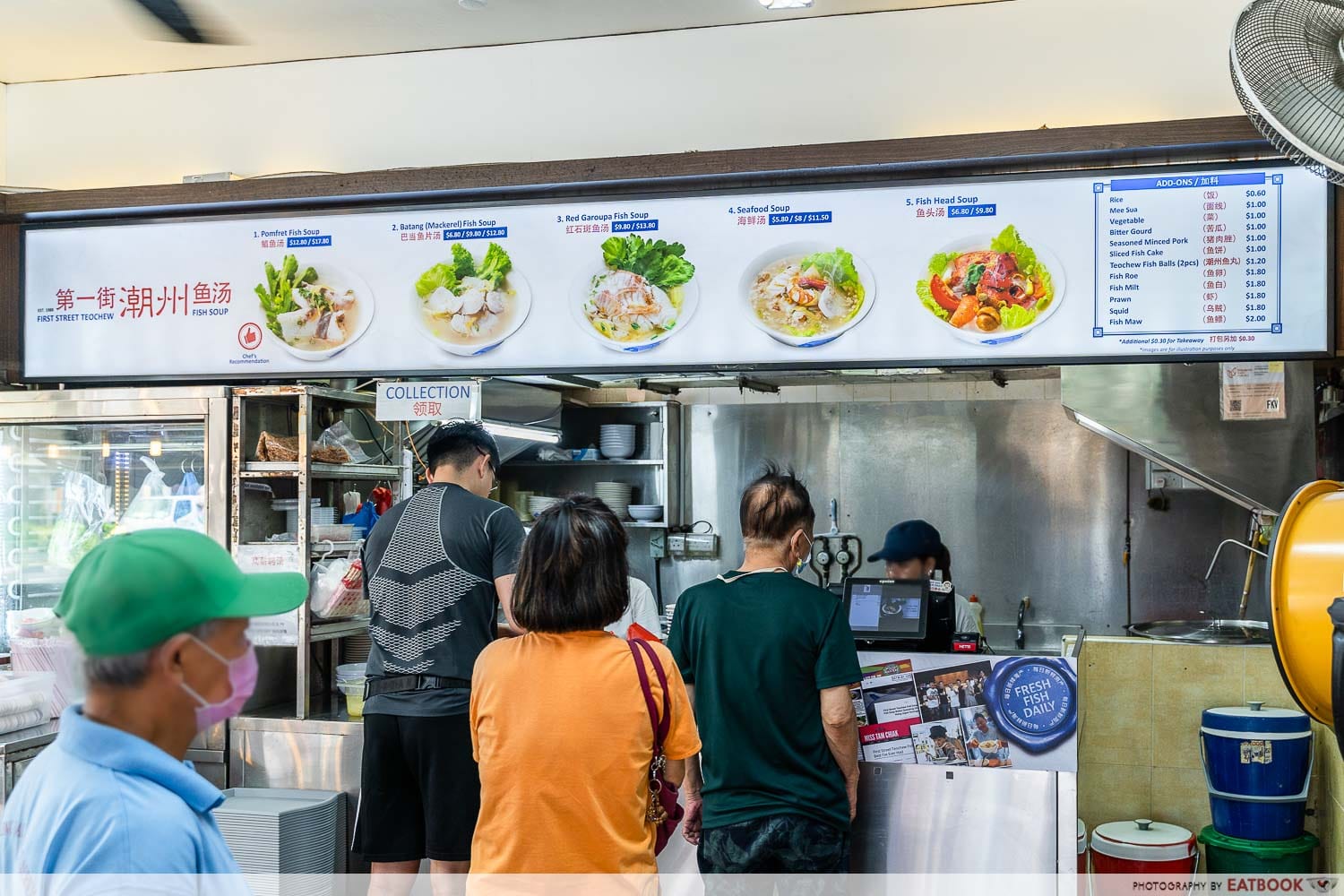 With a history that dates back to 1988 when they first started out at First Centre, and a recipe so good they inspired the BreadTalk Group to invest in them, surely this fish soup must be worth something. So when the chance arose for me to try it for myself, I decided to make the journey to their OG outlet in Kovan, join the queue, and give it a shot.
Food at First Street Teochew Fish Soup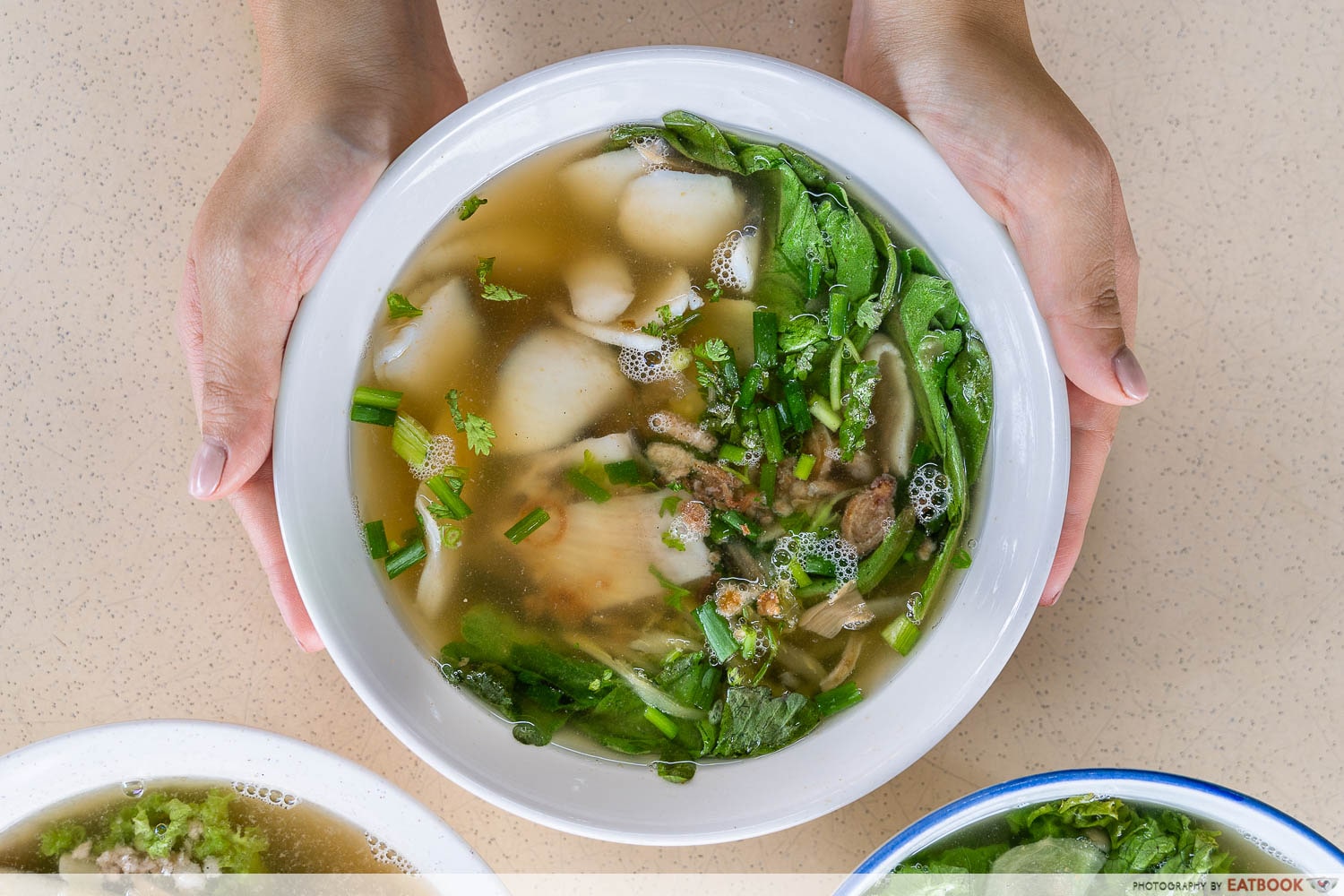 There are only five choices on the menu, and a bevy of add-ons should you choose. Since it came with a thumbs up, we started with their Pomfret Fish Soup ($12.80/$17.80), which is also the most expensive item here.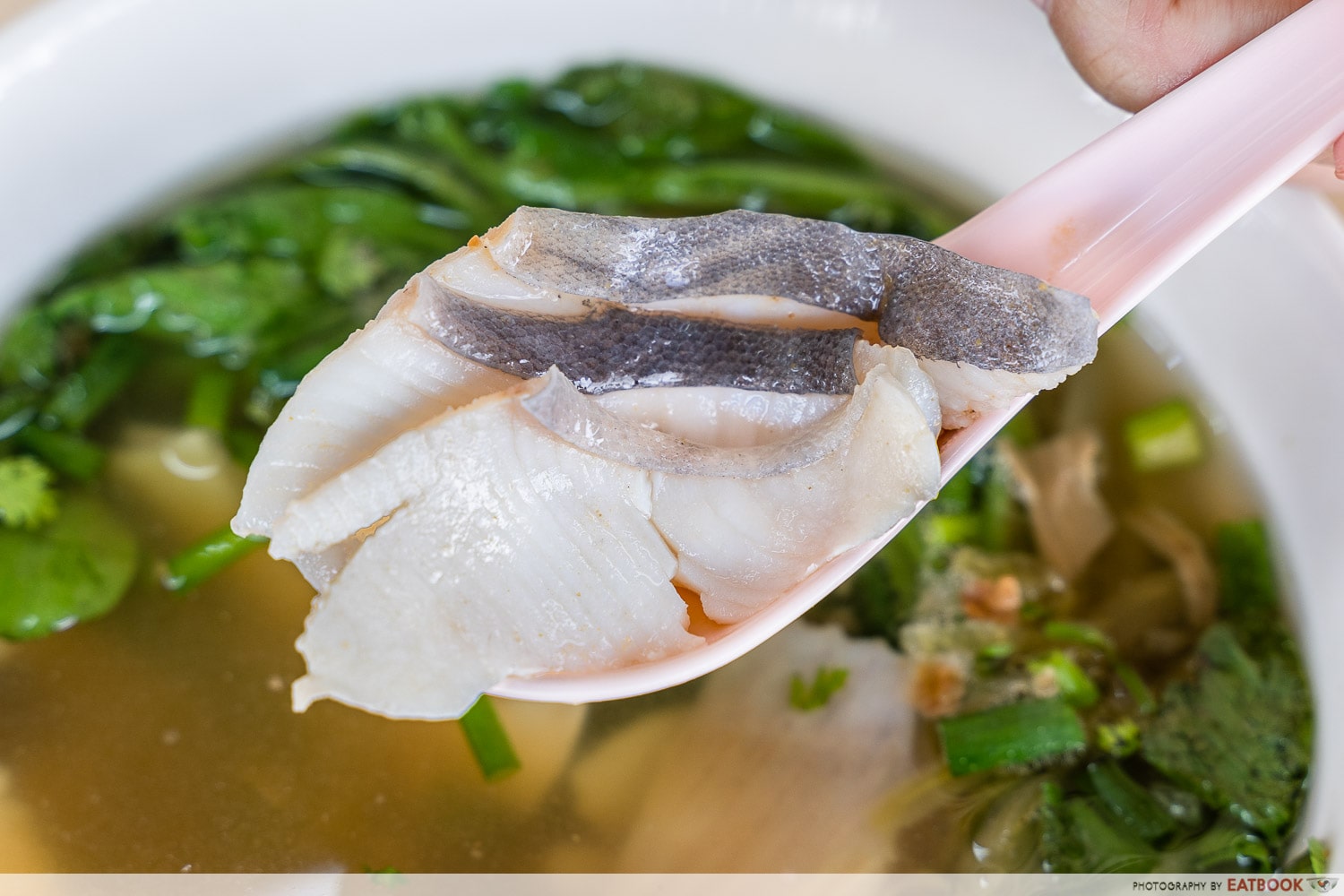 I wasn't surprised that this cost more, since pomfret is widely known to be a more expensive fish—especially the Chinese silver pomfret, or 斗鲳 (dòu chāng), which is what's used here. Still, there were a good 10 or more evenly thin slices of the delicate, smooth fish in the naturally sweet soup.
All the fish that goes into the soups here are bought fresh from the market before dawn each day, so there's little need for excessive seasonings and rich, flavourful gravies. The fish are lightly marinated, however, and dried sole fish added to the soups for savouriness.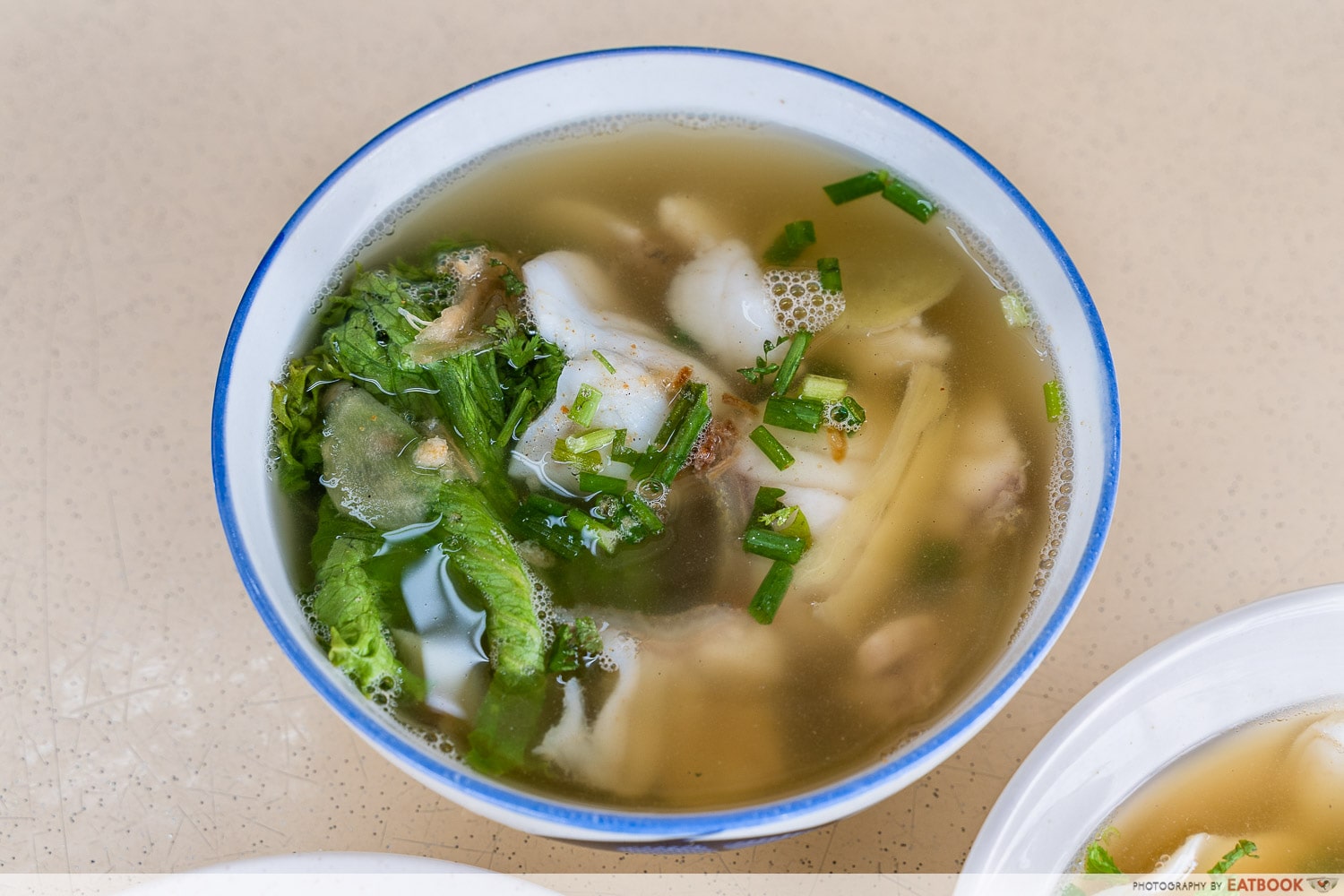 Moving down the price scale, we tried the Red Garoupa Fish Soup ($9.80/$13.80). Similarly, this came with tang oh, AKA chrysanthemum greens. I typically don't like the flavour of this vegetable, but it didn't overpower the light, tasty soup.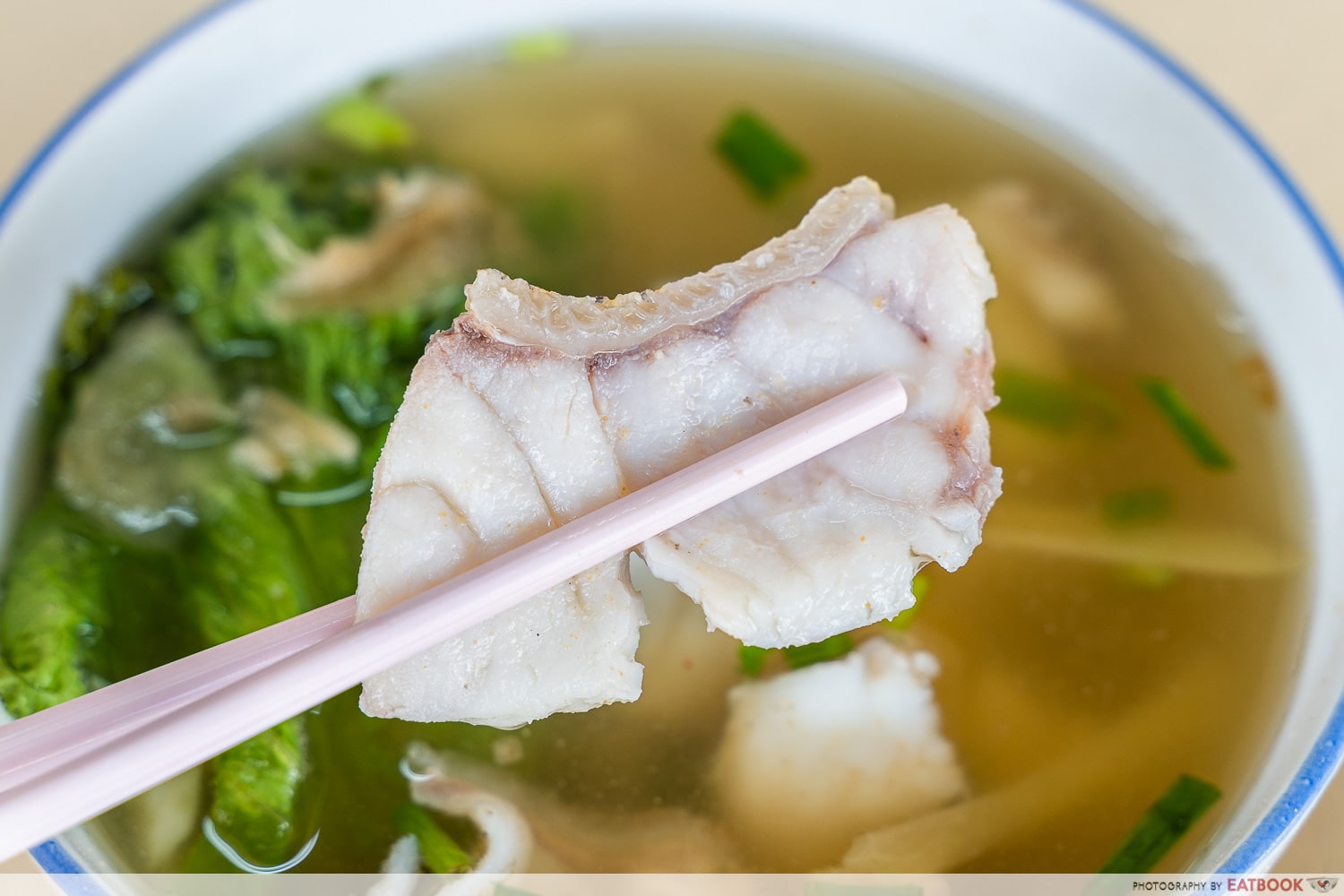 If you prefer a meaty fish, go for the garoupa over pomfret. Poached just right, the slices of fish had garoupa's characteristic bounce and body. Perhaps because I had this when it was cold, the fish was a tinge fishy, but this was easily fixed with the Teochew-style, chilli padi- and tau cheo-laced soya sauce dip provided.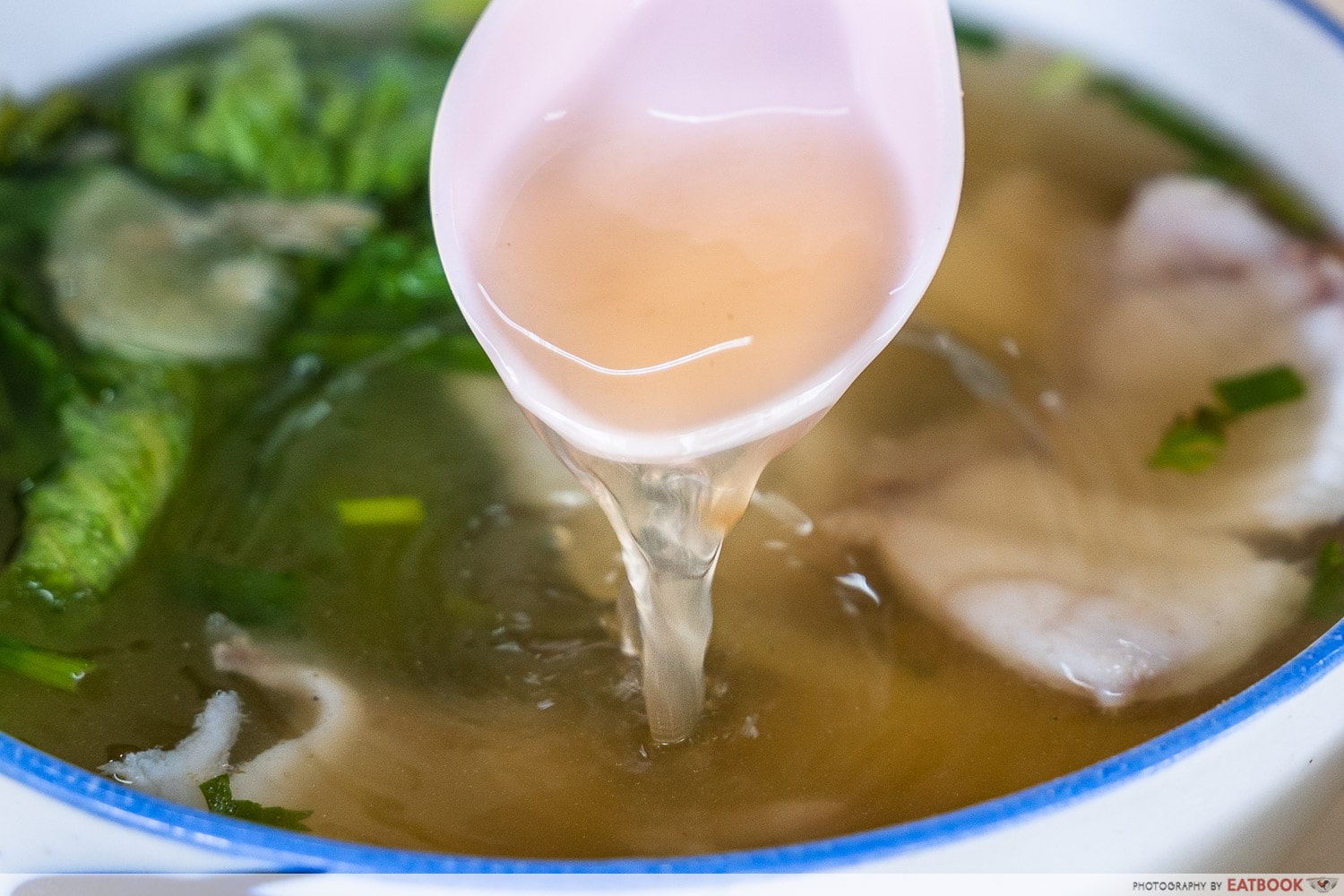 Apart from the tang oh and fish, you'll find fried shallots, ginger slices, and bits of salted preserved vegetables. Between the two soups, I personally found the garoupa soup to be more robust in flavour, though I'd be equally satisfied with either.
Do note that none of the fish soups here come with rice ($0.60) or mee sua ($1). I also discovered that you can't get your mee sua on the side; rather, it's immediately cooked into whichever bowl of soup you purchase. There's also a $0.30 surcharge for takeaway orders.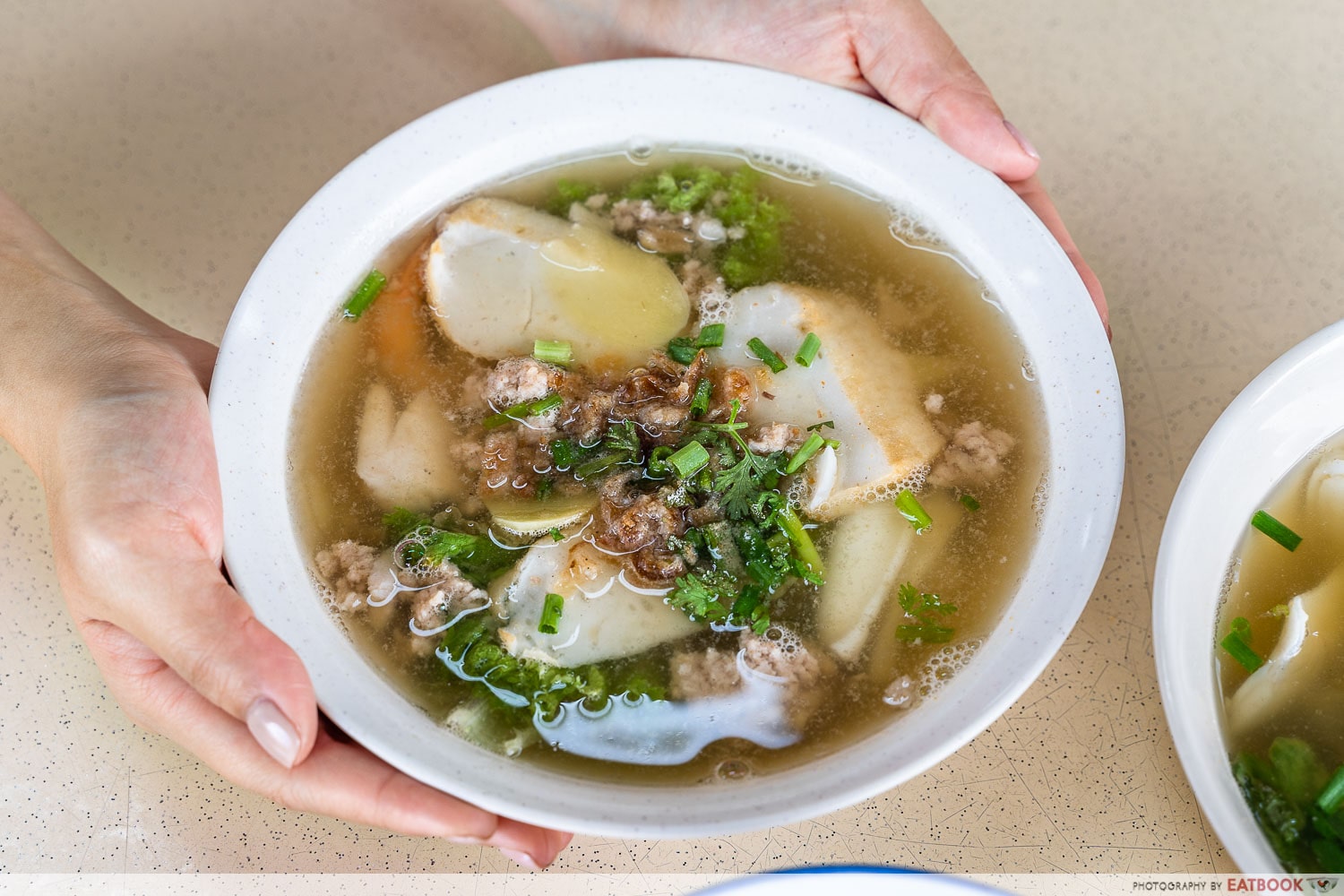 The Batang (Mackerel) Fish Soup ($6.80/$9.80/$12.80) at First Street Teochew Fish Soup is the most popular dish here, but I decided to skip that in favour of Seafood Soup ($5.80/$8/$11.50), since this also features batang slices.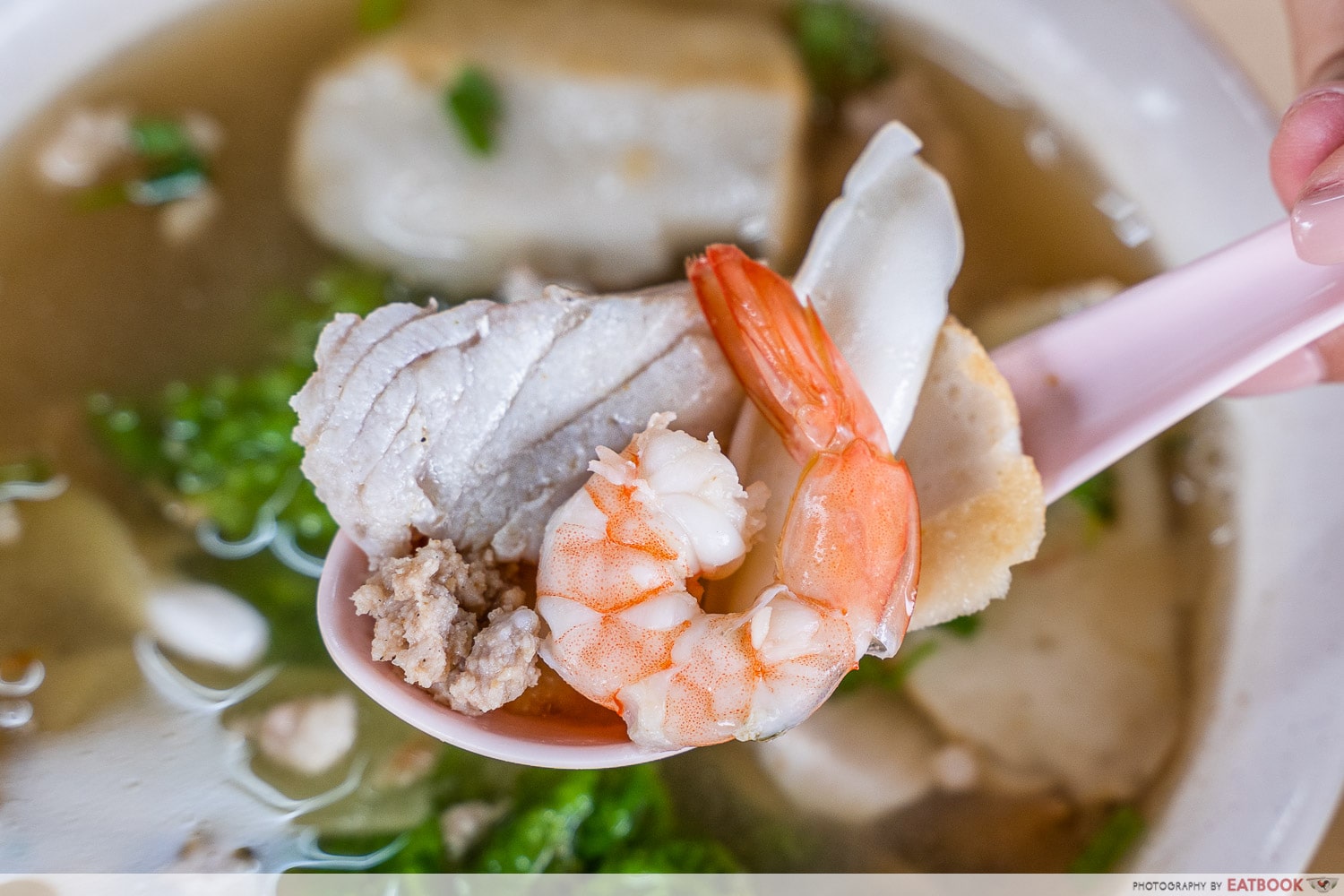 I was pleasantly surprised that the batang slices, while rougher and firm in texture, also come across fishy. However, it still stands that they don't have the same flavour as pomfret and garoupa. The Seafood Soup also came with small prawns, fresh squid, fishcake slices, and seasoned minced meat—all of which gave this bowl a different, but also good, sort of taste.
In fact, it's a popular option amongst diners to top up $1 for Seasoned Minced Pork in their fish soups, since the meat and seasonings bring body and flavour to the clean-tasting soup. If I were to have these soups again, I'd definitely spring for the extra minced pork.
This Fish Soup Stall In Aljunied Sells $3 Fish Soup And Braised Duck Porridge
Ambience at First Street Teochew Fish Soup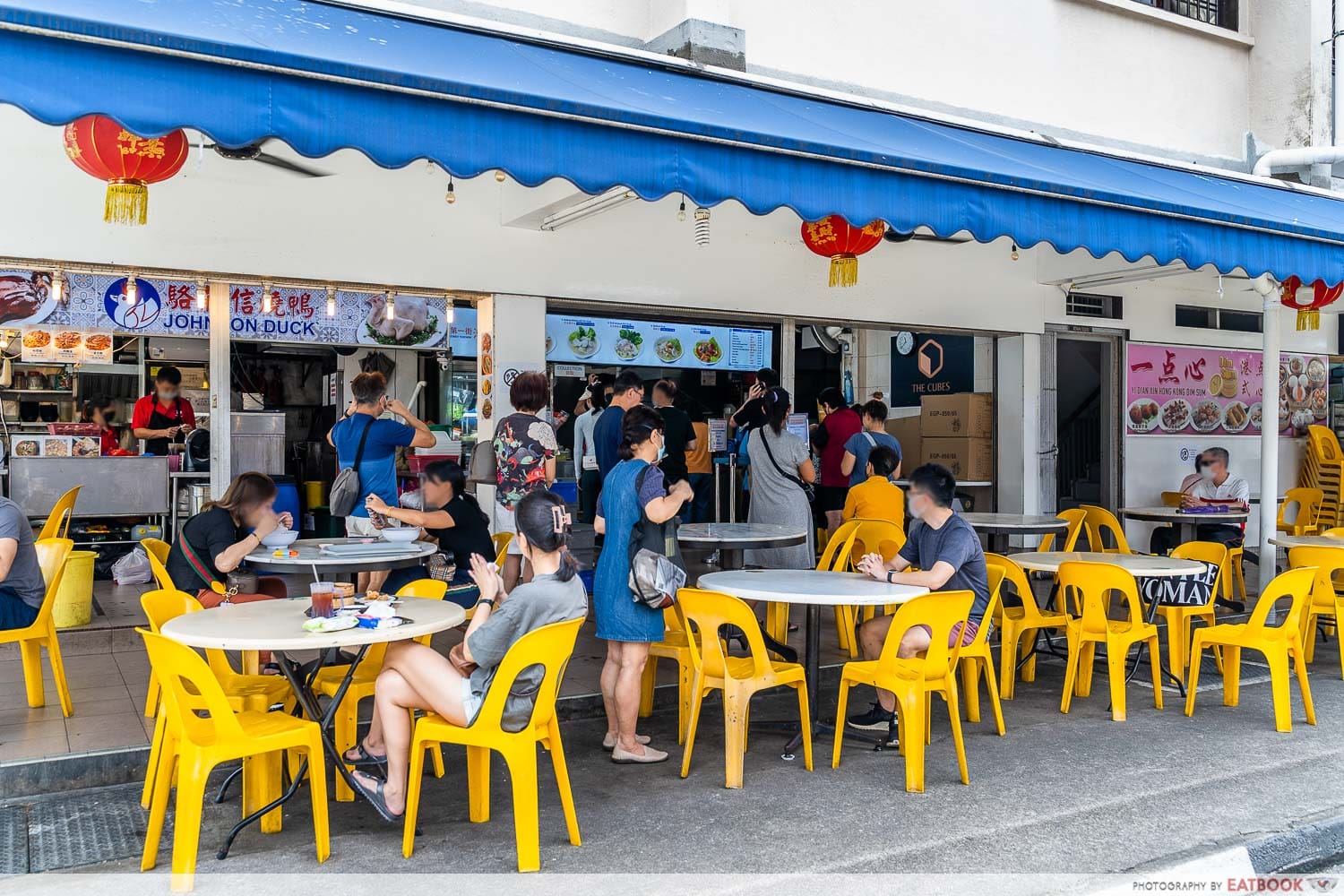 First Street Teochew Fish Soup is located in a coffeeshop that's 11 minutes on foot from Kovan MRT Station, while Hougang MRT Station is 12 minutes away by bus. The coffeeshop isn't very big, and it gets pretty crowded come lunchtime, with the limited number of tables filling up quickly. Some of the tables are right by the road, so there's a chance they might get wet during stormy weather, in spite of the awnings.
The verdict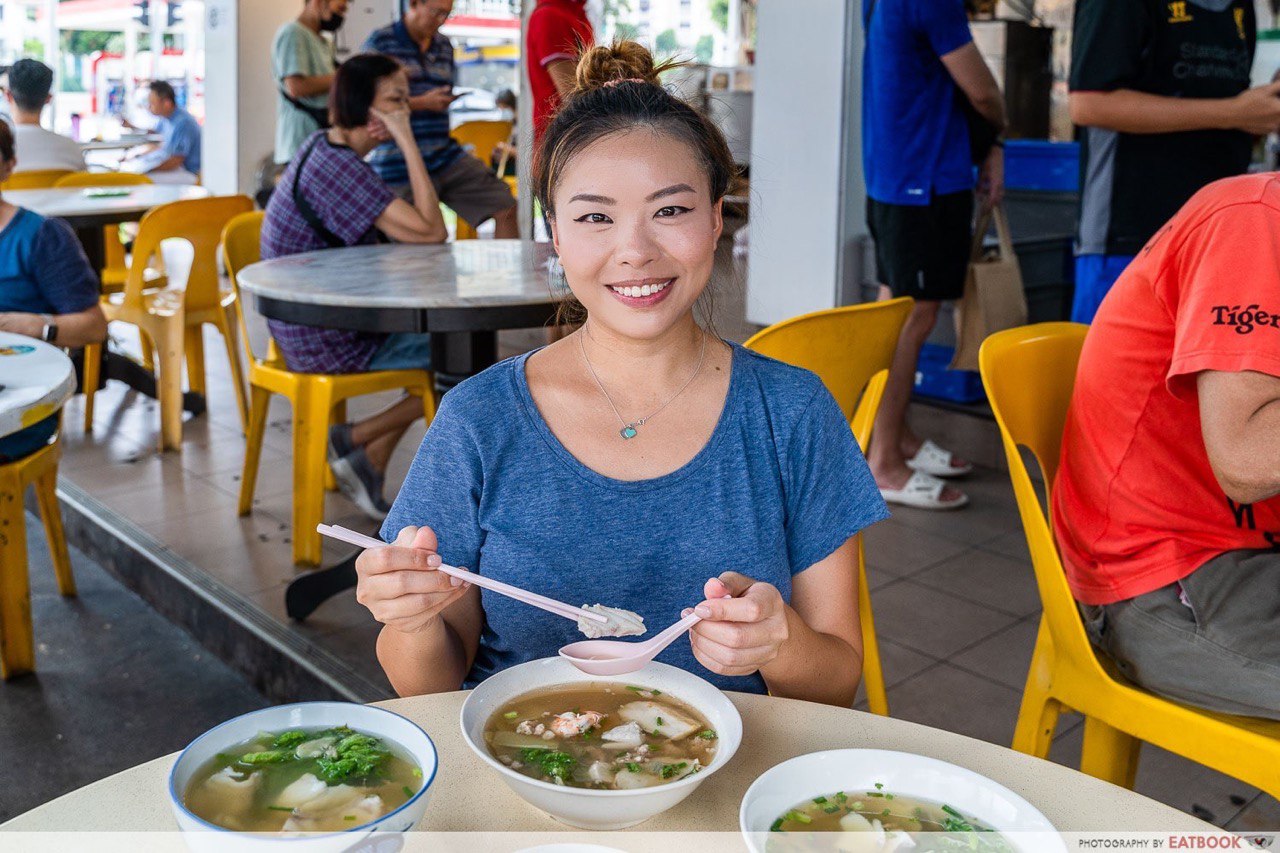 Honestly, I still prefer the milky, evaporated milk and fried fish version of fish soup, or the ultra gao and collagen-y sort that Milkfish specialises in, because I like the more intense flavours. But I will still give credit to First Street Teochew Fish Soup for having these unassuming bowls down pat. They also get plus points in my books for selling mee sua!
We've got a guide to fish soup in Singapore, so you could always check out another place closer to home. Otherwise, Ng Soon Kee Fish Soup in Aljunied sells bowls of $3 fish soup and braised duck porridge!
Address: 1014 Upper Serangoon Road, Singapore 534752
Opening hours: Daily 8am to 3:30pm
Website
First Street Teochew Fish Soup is not a halal-certified eatery
11 Famous Fish Soup Stalls Including Arcade Fish Soup And Blanco Court Fried Fish Noodles
Photos taken by Tan Zi Hui
This was an independent visit by Eatbook.sg
First Street Teochew Fish Soup Review: Old-School Fresh Fish Soup From The 1980s
First Street Teochew Fish Soup Review: Old-School Fresh Fish Soup From The 1980s -

7.5/10
Summary
Pros
– Fresh fish
– Delicately sweet soup
Cons
– Slightly costly
– Not very conveniently located
Recommended dishes: Pomfret Fish Soup ($12.80), Seafood Soup ($5.80)
Opening hours: Daily 8am to 3:30pm
Address: 1014 Upper Serangoon Road, Singapore 534752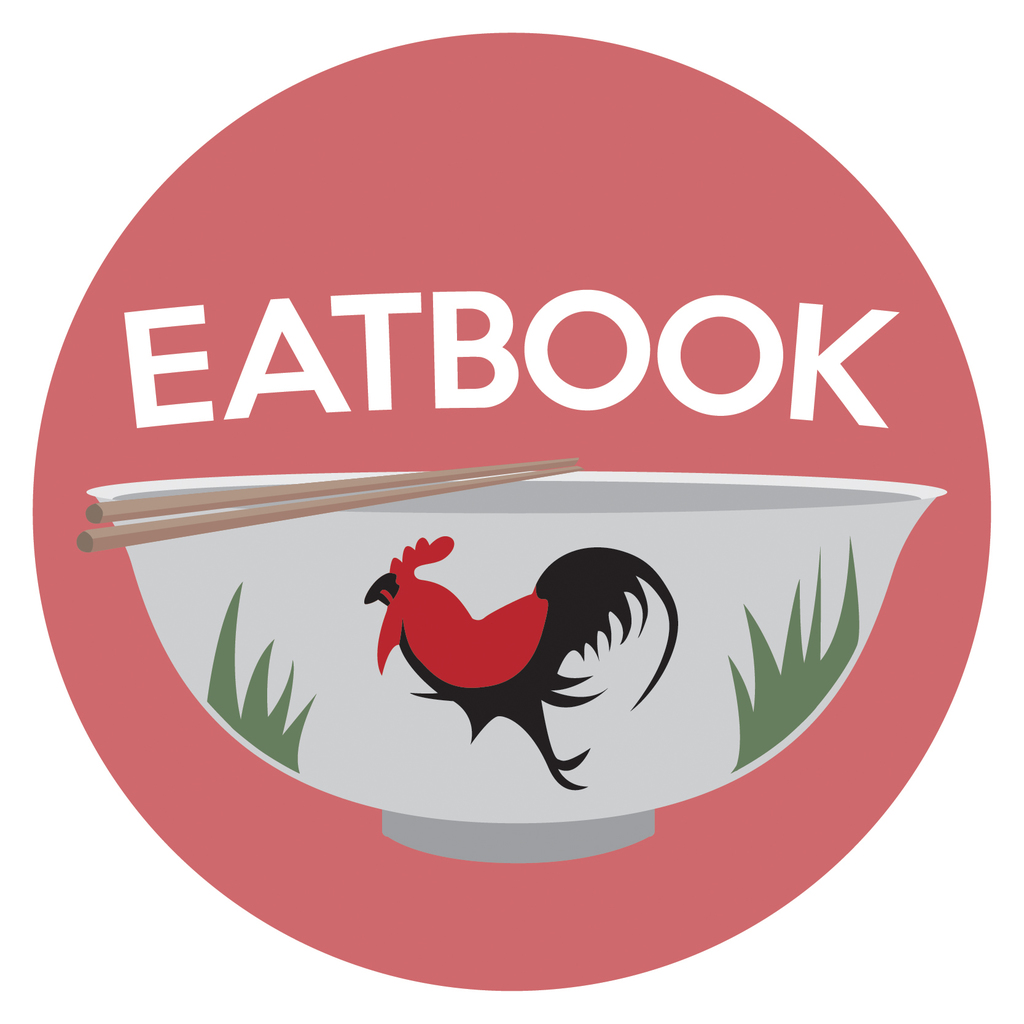 Drop us your email so you won't miss the latest news.